Last updated on September 19, 2023
It's no secret that a clean home is a happy home. Not only does it look and feel nicer, but it's also healthier for you and your family. Dust, dirt, and other allergens can build up in your home and cause respiratory problems, skin irritations, and other health issues.
If you're like most people, you're probably too busy to keep your home as clean as you would like. But who has the time to clean, especially if you have a full-time job and a family to take care of? That's where professional cleaners come in.
This is what I've learned from recently acquiring the help of a professional cleaning service. If you're looking for a cleaner near you, there are a few things you can do to find the right one.
In This Post:
Ask Around for Referrals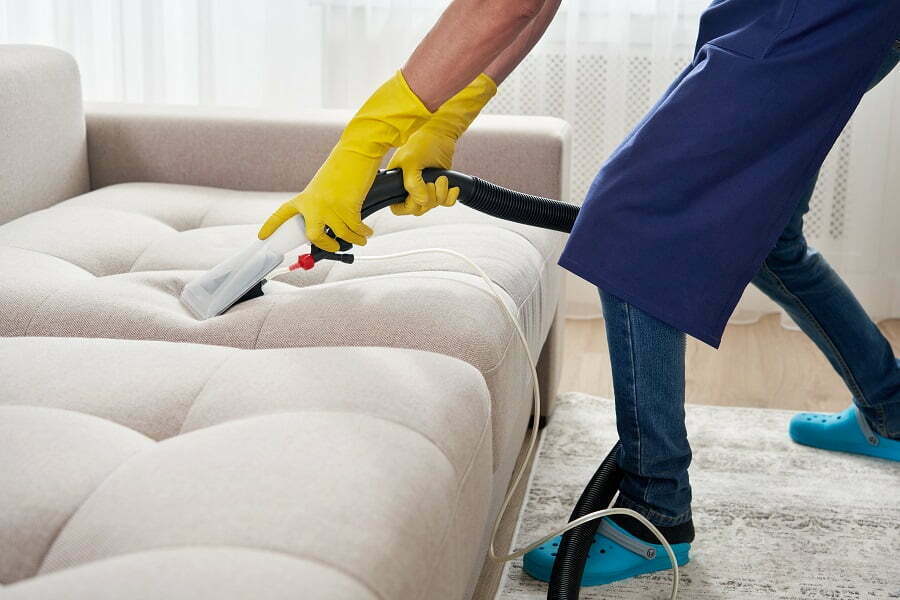 If you're looking for a reliable cleaning service, ask your friends, family, and neighbors to see if they have any recommendations for cleaners in your area. Chances are, someone you know has used a professional cleaner and can give you a good idea of what to expect.
When you get referrals, be sure to ask about the cleaner's reliability, cost, and quality of work. This will help you narrow down your options and find the right fit for your needs.
Don't hesitate to ask for referrals from your friends and family. With their help, you can find a trustworthy cleaner who will do a great job in your home.
Check Online Directories
If you're looking for a cleaner, one of the best places to start your search is online directories. These can be great resources for finding local businesses that offer cleaning services.
When you're searching online directories, make sure to read reviews of the businesses that you're considering. This will give you a good idea of what others have thought about their experience with the company.
There are a number of online directories in Australia that list cleaners in your area, such as Finder.com.au or Trustedcleaner.com.au.
Search on Google
Nowadays, when we want to search for or look for information, the first thing that comes to mind is to google search it. This is because google is such an effective and accurate tool. This is by far the easiest way to find cleaning services near you.
A simple Google search for "cleaners near me" should turn up a number of options in your area. The only problem is you'll likely get a long list of results, which can be a bit overwhelming, so you'd need to narrow it down to a few.
Look for Online Reviews
Once you've found a few potential cleaning services, you can read online reviews to get some insight into the quality of their work and how satisfied previous customers have been. Just watch out for fake reviews, as many of them are bound to be. So take what you read with a pinch of salt. You can quite easily tell which are genuine reviews as they are a lot more detailed and realistic. In contrast, fake reviews are generic and overly positive basic comments.
Contact the Cleaners
Once you've narrowed down your options, contact the cleaners to ask questions or schedule a consultation. Once you've found a few potential candidates, make sure to contact them and ask for quotes. This will help you compare prices and services so that you can find the best deal possible. Be sure to also ask about any discounts or promotions that they may be currently offering.
Ask About Their Experience
When you're speaking with potential cleaners, be sure to ask about their experience level and the types of cleaning they're able to do. This will give you a good idea of what they're capable of and whether or not they're suited for your needs. An experienced cleaner will be able to take on most cleaning tasks with ease, whereas a novice may struggle.
If you have specific cleaning requirements, such as deep cleaning or dealing with tough stains, be sure to let the cleaner know in advance. This way, they can make sure they bring the right equipment and supplies to get the job done properly.
Inquire About Pricing
When it comes to finding a cleaner, one of the things you'll need to consider is pricing. There are a few different ways that cleaners charge, so it's important to understand the options before making a decision.
Hourly rates are probably the most common way that cleaners charge. This means that you'll pay for each hour that the cleaner works. The advantage of this is that you know exactly how much you'll be paying upfront. The downside is that it can be difficult to estimate how long the job will take, so you may end up paying more than you expected.
Another option is to pay by the job. This means that you'll agree on a price for the entire job before the work begins. The advantage of this is that you'll know exactly how much the job will cost. The downside is that it can be difficult to estimate how long the job will take, so you may end up paying more than you expected.
Finally, some cleaners charge by the square foot. This means that you'll pay a certain amount for each square foot of space that needs to be cleaned. The advantage of this is that it's easy to estimate the cost of the job. The downside is that it can be more expensive than other options.
Ultimately, the best way to choose a pricing option is to figure out what makes the most sense for your specific situation. Consider factors like the size of the job, how often you need cleaning services, and your
Schedule a Time for Cleaning
Once you've chosen a cleaner, schedule a time for them to come and clean your home. This will allow you to meet with the cleaner in person and get a feel for their personality and work ethic. It's also a great opportunity to ask any lingering questions that you may have.
Be Present During the Cleaning
If possible, try to be present during the cleaning so that you can see firsthand how they do their job.
Give Feedback
After the cleaning is done, be sure to give feedback to the cleaner about your experience. This will help them improve their services for your next cleaning session and for future customers.
Liked reading this? Here's more: