Last updated on October 17, 2022
If you have a large backyard, then you may be considering erecting a gazebo. Gazebos are perfect for adding shelter to your garden, creating a shady play area, and even giving you somewhere to enjoy your garden when it's raining.
Setting one up will make your backyard more weather-resistant, meaning that you are able to use it all year, rather than just in summer.
However, designing a gazebo set-up can be very challenging. If it's something that you are struggling with, then this post's got you covered.
Here are six things to consider when you are setting up a gazebo.
In This Post:
Gazebo Purpose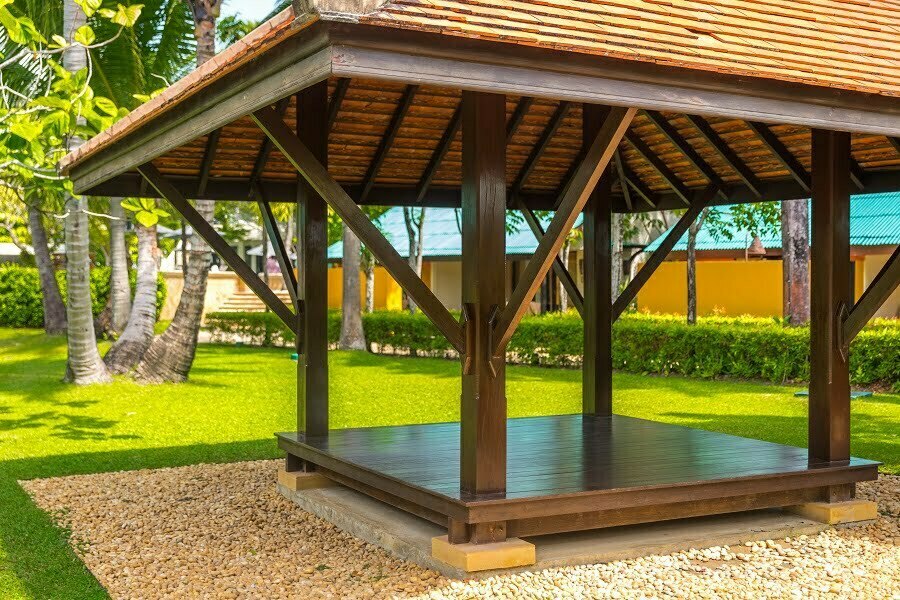 What do you want a gazebo for? Some people use them as shelter from the sun or rain, and others use them as a way of protecting things like grills and barbeques from bad weather. Your gazebo's purpose is something that you need to give serious thought to so that you can get the one that's right for you.
According to the experts from this website, there are many different types of gazebos. And, each type is designed for a specific purpose. Only once you have identified your reason for needing a gazebo can you then go out and buy one. If you are not sure which type you need, then speak to a representative of the company that you intend on buying a gazebo from.
Manufacturer
Another thing that you need to consider is your gazebo's manufacturer. Ideally, you should shop with a brand or company that is known for its commitment to high-quality products. The best way to determine whether or not a product manufacturer does supply good products is to read their reviews.
Consistently positive reviews are a strong indication that you can trust the company from whom you plan on buying a gazebo. Also, consider asking around and getting recommendations from friends and family. If any of them have a gazebo, then they will be able to recommend a supplier to you.
Type and Cost
What type of gazebo do you want? Again, you need to know your gazebo's purpose before you can answer this question. Most people buy gazebos made with metal beams, that have fabric covers.
However, you can also buy gazebos with plastic covers or even fully-functioning metal doors. Cost is another thing to consider. Metal gazebos cost a lot more than plastic or fabric ones. You should only consider buying a metal one, or even a wooden one if you have a very large budget. Otherwise, it is a bad idea.
That said, wooden and metal ones do tend to last a lot longer.
Installing Chairs
Inside your gazebo, consider installing chairs and a table. If you are going to keep your gazebo in the same place, or if it is made from a material like metal or wood, then you may want to consider actually fixing the chairs and tables to the ground, or at least to the gazebo's floor.
Fixing them to the ground or the floor of the gazebo will mean that they don't get blown over in the wind. If a storm hits your area and your gazebo's furniture isn't fixed down, then it could end up breaking your gazebo, and being thrown across your yard.
Barbeque Area
A lot of people, especially in the United Kingdom where the weather's notoriously rainy, is to set up barbeque areas inside their gazebos. If this is something that you are planning on doing, then you need to make sure that it is safe for you to do so first.
As most gazebos are made using fabric, naturally an open flame can be very dangerous. Exposing your gazebo to fire could lead to it catching alight, and then spreading through your yard and even to your house. Some grills have to be connected to a gas supply, too, which is another thing to think about.
Enclosed Gazebo
Do you want a gazebo that's open or that's enclosed? Some wooden or metal gazebos are enclosed, with walls, doors, and windows. Most fabric gazebos can be fully opened, or closed, using a zip. If you are going to be using your gazebo infrequently then it's better to opt for a non-enclosed gazebo.
Also, if the weather gets very warm where you live, then a non-enclosed gazebo is a better option then, also. If it gets hot, then an enclosed gazebo will warm up and become very unpleasant in the summer.
Buying a gazebo can be difficult. If you plan on picking one up, then consider the various points outlined and listed here. Taking them into consideration will help you to make a better decision.
Liked reading this? Here's more: