Last updated on September 17, 2022
Are you in the market for a Growlerwerks uKeg, or any other pressurized keg? If so, you're likely wondering how to choose the right one.
With all the different sizes, colors, and features available, it can be difficult to know which one is right for you. This blog post will give you 7 tips to help make your decision easier.
In This Post:
Ensure You Have Enough Kegerator Storage Space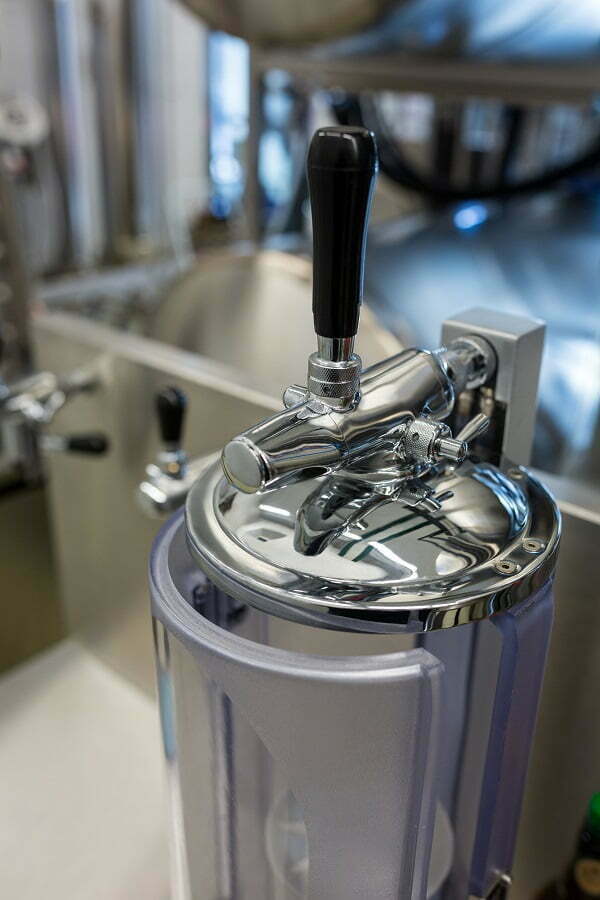 If you're planning on purchasing a pressurized keg, like the Growlerwerks uKeg, you'll need to make sure you have enough space in your kegerator to store it. Pressurized kegs are larger and require more storage space than regular kegs, so be sure to measure your kegerator before making a purchase.
Additionally, you'll need to ensure that your kegerator can accommodate the weight of a pressurized keg. Pressurized kegs are heavier than regular kegs, so check your kegerator's weight limit before making a purchase.
Finally, you'll need to ensure that your kegerator has enough space to accommodate the tap system. Pressurized kegs require a larger tap system, so check your kegerator's dimensions before making a purchase.
Consider Whether Its Portability Matters to You
Do you plan on using your growler at home, or do you want to be able to take it with you when you travel? If portability is important to you, you'll want to ensure that the growler you choose is easy to transport.
Some growlers come with carrying handles or straps, which can make them easier to carry. Others are designed to fit in car cup holders, so you can take them with you on the go. Think about how you'll use your growler, and choose one that suits your needs.
In addition, you'll want to consider the size of the growler when making your decision. If you plan on using it for long hikes or camping trips, you'll want to choose a smaller size that won't be too heavy to carry. On the other hand, if you're mostly using it at home, you may prefer a larger size that will hold more beer.
You'll Want to Look at the Features & Accessories
There are a few key features and accessories that you'll want to look for when shopping for a pressurized growler.
First, make sure that the growler has a pressure relief valve. This safety feature will prevent the growler from exploding if the pressure gets too high.
Second, you'll want to ensure that the growler has a pressure gauge to allow you to keep an eye on the pressure inside the growler and make sure that it doesn't get too high.
Third, you'll want to ensure that the growler has a tap. This will allow you to easily dispense the beer from the growler without opening it up and leaving all the carbonation out.
Finally, you'll want to ensure the growler has a carrying strap. This will make it easier to transport the growler, especially if it's full of beer.
If you keep these features and accessories in mind, you'll surely find the perfect growler for your needs. You can find the right Growlerwerks uKeg with Stonex or any other vendor of your choice, as long as you get what you want.
Determine Whether you'll Store it Outside
If you live in a warm climate, it's important to consider whether you'll be storing your growler keg outside or inside. If you plan on storing it outside, consider whether you'll need to purchase a cover and ensure it's in a shady spot and well-ventilated.
If you live in a cold climate, you'll want to ensure that your growler keg is stored in a temperature-controlled environment, such as a garage or basement. You'll also want to ensure that it's stored in a dry place, as moisture can cause the seals to fail.
Either way, keeping your growler keg clean and well-maintained is important. Read the instructions carefully with your growler keg and follow them to the letter. By taking good care of your growler keg, you'll be able to enjoy fresh, delicious beer for many years to come.
Consider the Maintenance Levels Required
Most pressurized kegs are designed to be low-maintenance, but there are still some things you need to do to keep them in good working order.
Ensure you understand the cleaning and maintenance requirements before purchasing a pressurized keg. Otherwise, you may end up with a keg that's difficult to keep clean and in good working condition.
You may also want to check the warranty before you purchase a pressurized keg. Some manufacturers offer extended warranties for an additional fee. This may be worth the investment if you use your keg frequently.
Consider the Temperature Control & Displays
Most pressurized kegs will have some form of temperature control, whether a simple on/off switch or a more sophisticated digital display.
If you're planning on serving many different types of beer, then temperature control is something you'll want to consider. Otherwise, you might want to stick with a simpler keg.
Some pressurized kegs also come with a CO₂ regulator. This is not strictly necessary, but it can be very helpful in ensuring that your beer is properly carbonated.
Consider the Noise Levels
One of the great things about pressurized growlers is that they will keep your beer fresh and carbonated for weeks, but one of the not-so-great things is that they can be noisy. If you're planning on using your growler at home, get one that won't disturb your family or roommates. Some growlers are designed to be quiet, so look for one of those if noise concerns you.
In addition, noise levels can be important if you're planning on taking your growler out in public. If you're using it at a tailgate or picnic, you don't want to be the one with the growler making too much noise. Look for a growler designed to be quiet and won't disturb those around you.
Finally, noise levels can also be important if you plan to use your growler at work. If you're using it in the office, ensure you get a growler that won't disturb your coworkers. There are plenty of quiet growlers on the market, so find one that will work well in your office environment.
The Takeaway
Buying the right Growlerwerks uKeg (or other pressurized kegs) doesn't have to be complicated. Just follow these simple tips, and you'll be sure to find the perfect keg for your needs. Start by listing your priorities, and then work through each keg's different features and options.
Liked reading this? Here's more: