Last updated on November 14, 2023
Archway decorating adds artistic relevance to your home because it utilizes unique design elements to transform an otherwise ignored architectural feature into a stunning highlight.
I'm incredibly proud of the unique designs I've created in this article, "20 Archway Decorating Ideas: Stylish Homes Made Creative with Tips and Tricks", and I sincerely hope you are as inspired and enjoy them as much as I enjoyed creating them.
Archways can transform any home space into an elegant, eye-catching focal point. They provide a unique opportunity to showcase your personal style, whether you prefer a classic, modern, or eclectic touch.
This article will delve into a variety of archway decorating ideas, from hanging artwork to utilizing lighting, to help you enhance your archway's aesthetic appeal.
We'll explore how to choose the right decor based on your archway's design and surrounding areas, and share some handy tips to ensure your archway becomes a standout feature in your home.
Stay tuned for a comprehensive guide that caters to all your archway decorating needs.
Floral and Leaf Garlands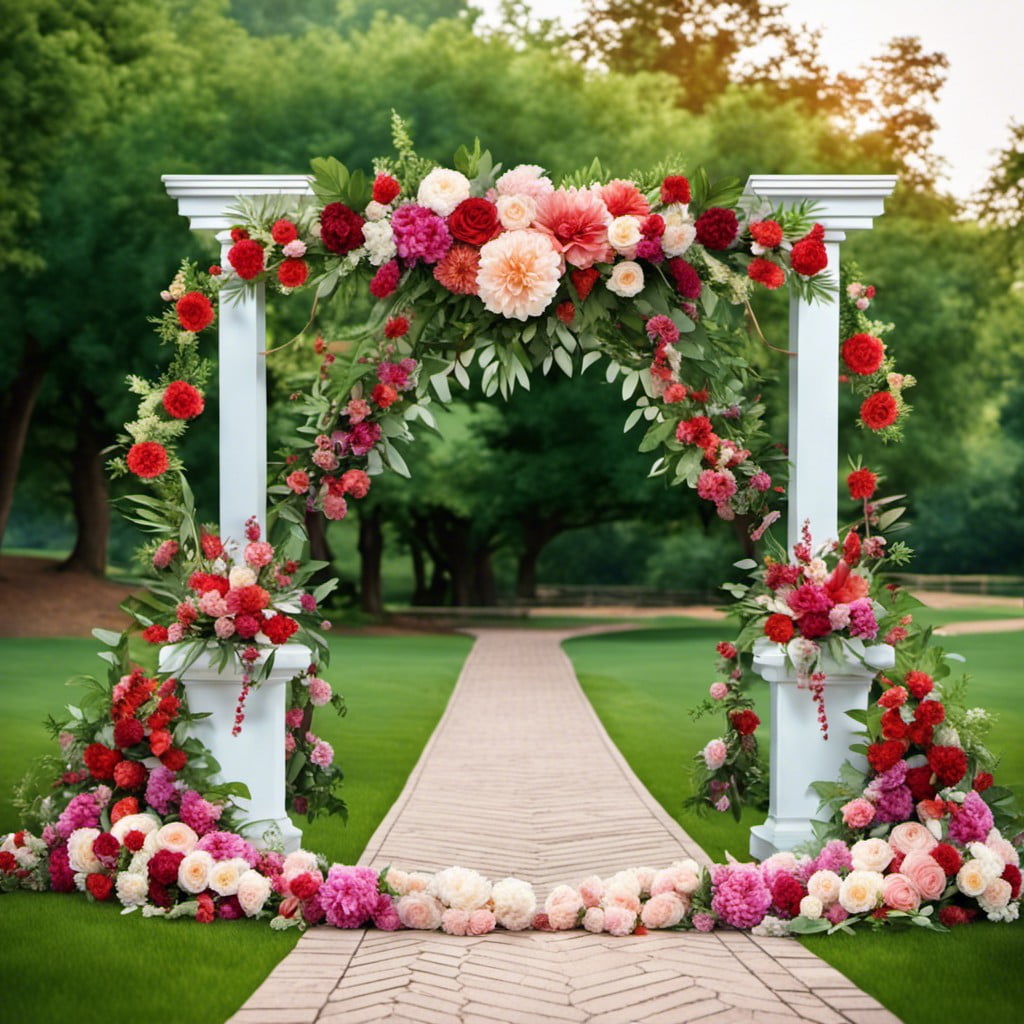 Channel your inner botanist with these nature-inspired decorations. Weave strands of silk flowers with faux vines for a lush, romantic look. Opt for a variety of blooms and verdant foliage to add pops of color and texture, while maintaining a natural elegance.
Simple to attach, you can fasten them to the archway using transparent threads or tiny nail hooks. Remember, it's all about layering and asymmetry when arranging your garlands — this helps create an organic, free-flowing appeal.
This method of decoration is suitable for any season and is a delightful addition to both formal and casual settings, perfect for garden parties, weddings, and even everyday hallways.
Even better? These silk creations require no maintenance, ensuring they'll remain vibrant and beautiful all-year-round. So even if you don't have a green thumb, these floral and leaf garlands let you bring in nature inside in the most charming way possible.
String Lights and Lanterns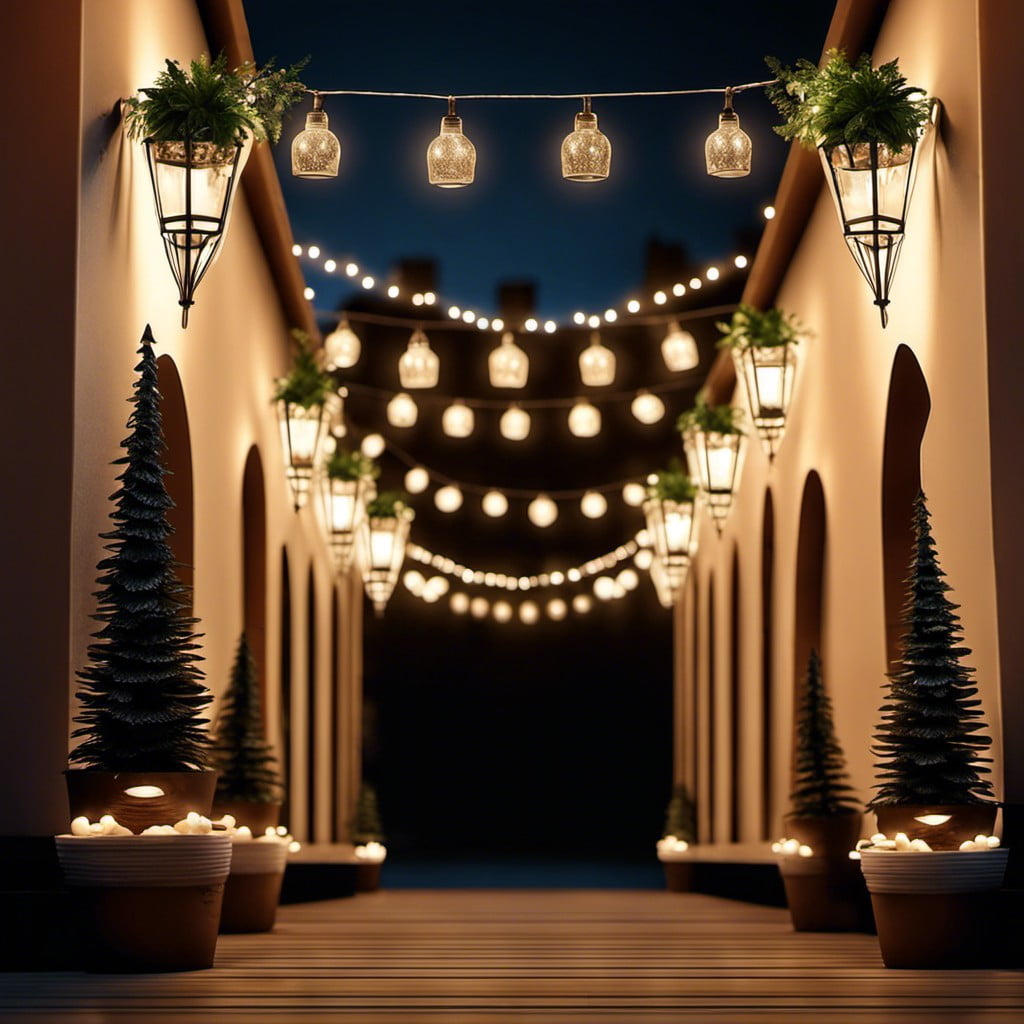 To set the perfect mood, twinkle lights or vibrantly colored lanterns are choice options. Effortlessly creating a warm, inviting ambiance, these elements are particularly effective in evenings and at night.
A few ways to utilize this ideal mix of illumination and decor includes:
Wrapping lights around the archway: This creates a halo effect of soft, ambient lighting.
Hanging lanterns: Use different sizes and shades for a multilayered effect. Solar lanterns, for an eco-friendly choice, charge during the day and light up at dusk.
Combination: Blend both lights and lanterns for dynamic lighting.
Event-specific decorations: Depending on the occasion, add red lanterns for Chinese New Year or skull string lights for a Halloween touch.
Battery-operated LED lights: For indoor archways, these provide a safe alternative to traditional bulbs.
Fabric Drapes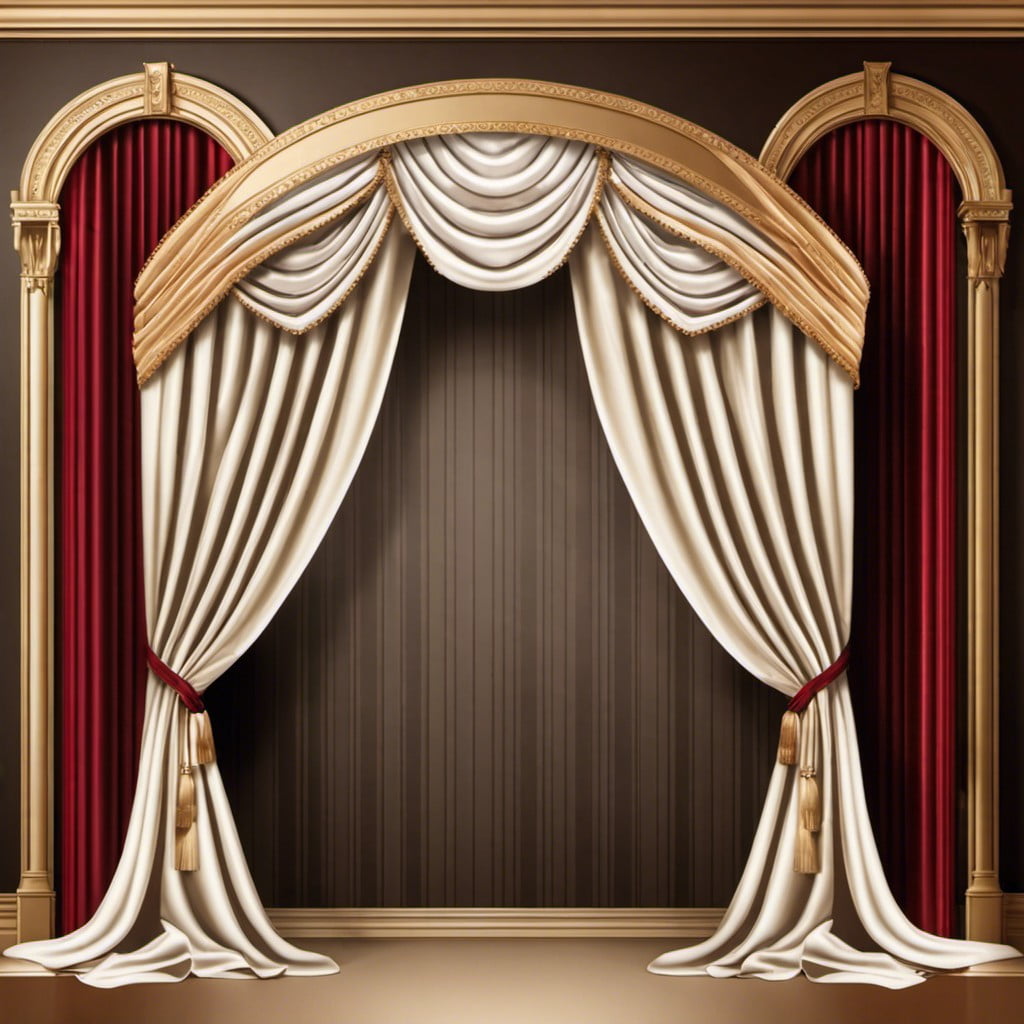 Offering a textured look with a sense of elegance, fabric drapes add a classic touch to any archway. Ideal for both interior and exterior arches, their versatility extends to a wide variety of events from weddings to formal dinners.
Considerations when choosing your drape:
Material: Soft, flowing fabrics like chiffon or voile work best for a romantic setting, whereas bold patterns or heavy velvet might suit a honed theme.
Color: Choose colors that harmonize with your overall design scheme. Light colors can create an airy, open feeling, while darker shades add depth and richness.
Attachment Method: Simple hooks or ties work well to secure the fabric at either side of the arch, allowing it to billow and flow beautifully.
Remember, the key to successful draping is ensuring the fabric is secured fine and falls naturally, gracefully enhancing the curvature of the arch.
Rustic Wooden Accessories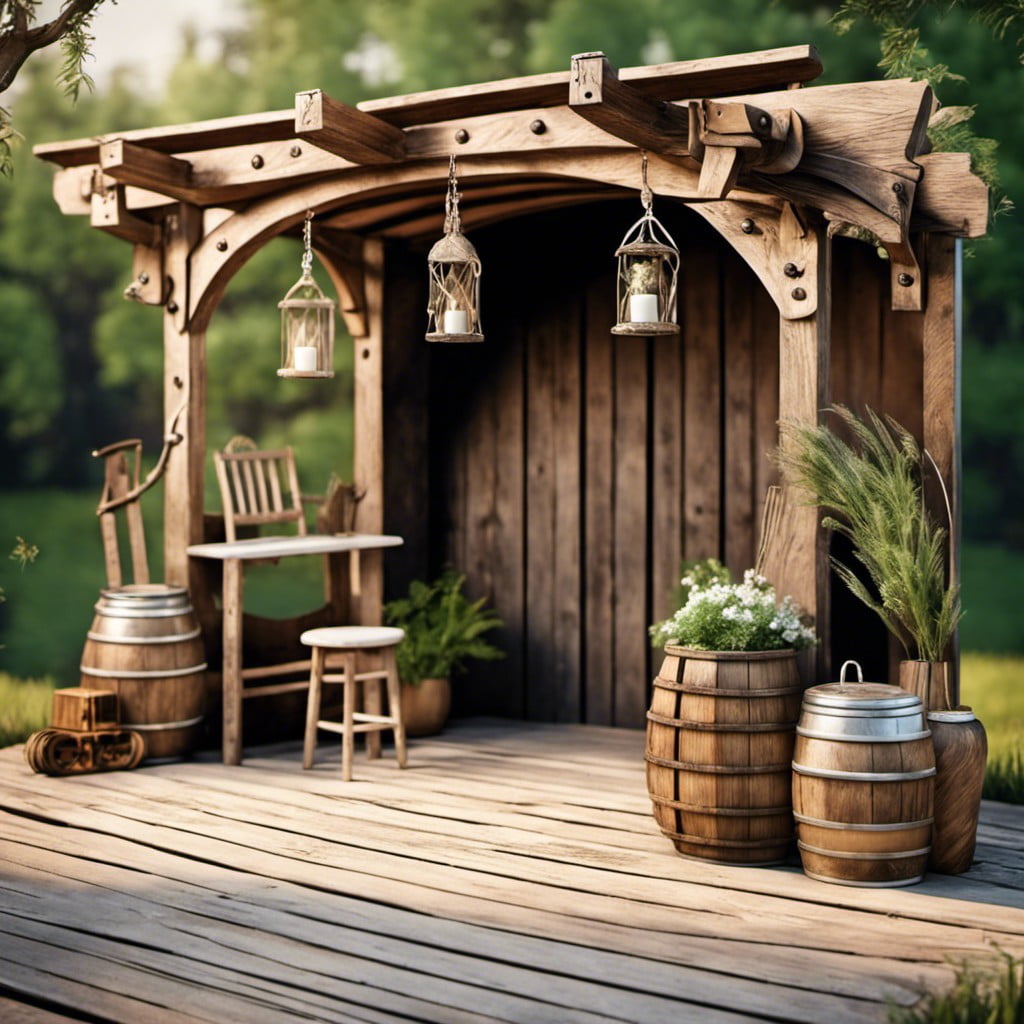 A charming touch to any archway is the incorporation of rustic wooden accessories. This style introduces an earthy warmth with its raw and natural aesthetic.
1. Wooden Plaques: Use an antique, weathered wooden plaque to implement a charming, country-style look to your arch. Add a favorite quote or simply paint it in a distressed style for added effect.
2. Beam Accents: Rough, thick beams attached to the top of your archway can create a farmhouse-style ambience. They give a feeling of strength and reliability, reminiscent of sturdy, age-old barns.
3. Birdhouses: Hanging a couple of miniature, wooden birdhouses from your archway can be a delightful touch, demonstrating a love for nature and wildlife.
4. Vintage crates: Attach small, vintage wooden crates on either side of the archway, fill them with blossoming flowers for an added rustic charm. Always opt for reclaimed or recycled wood when possible, to contribute to sustainability.
Incorporating such elements does more than just decorate your archway – It tells a story of appreciating the beauty in simplicity and loving the old-world, nostalgic charm.
Paper Flowers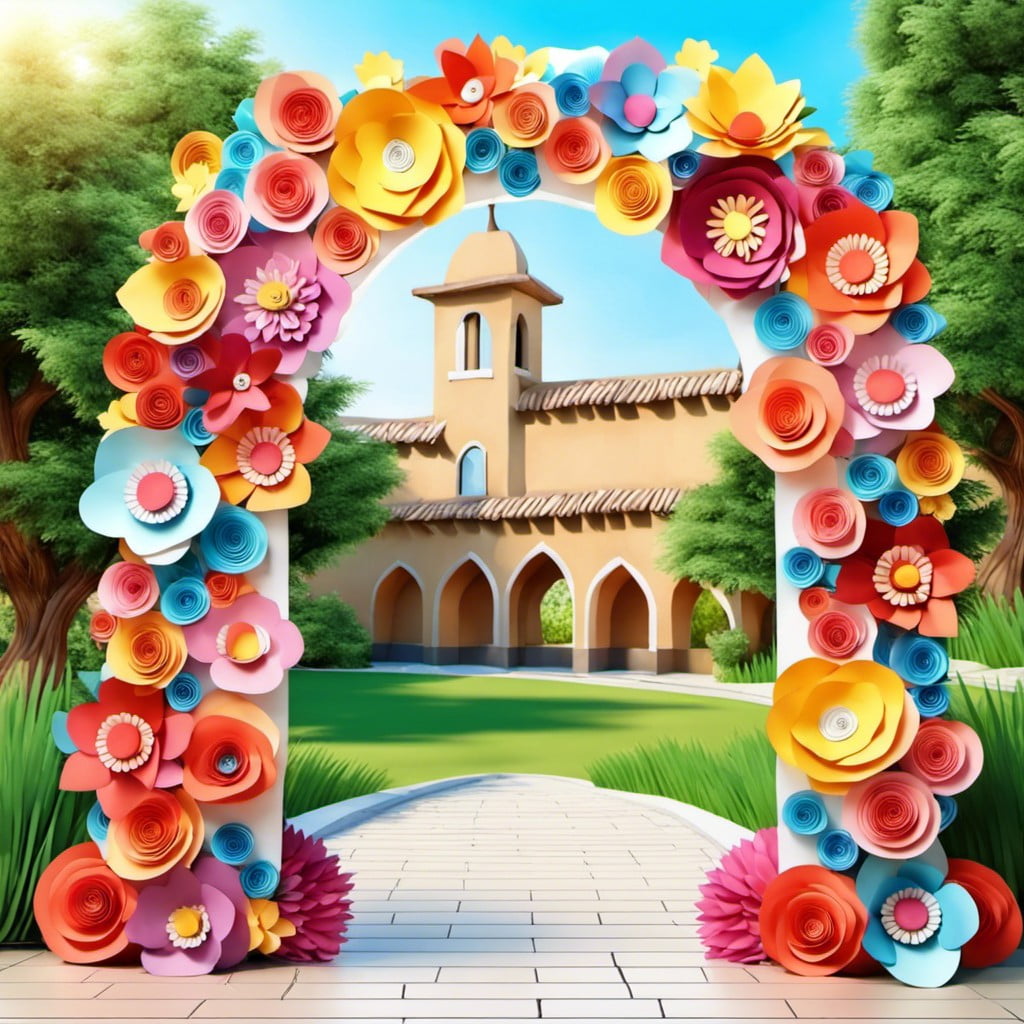 Creating an enchanting scene isn't hard with paper flowers. For an immediate explosion of delicate beauty use floral origami or tissue paper varieties. You can mix and match colors and designs, allowing for a bespoke feel that's tailored to your personal style. All you need is crafting paper, scissors, and adhesive, creating a budget-friendly decor option.
Having a spectrum of sizes can add visual interest, while keeping the colors cohesive can maintain a sense of order. Hanging the crafted flowers individually or clustering them together both make for whimsical displays.
Remember, paper flowers are not only aesthetically appealing but also enduring—they won't wilt like real flowers. This option allows you to enjoy the bloom all year round! Your archway can always stay vibrant and joyful, regardless of the season.
Balloon Cluster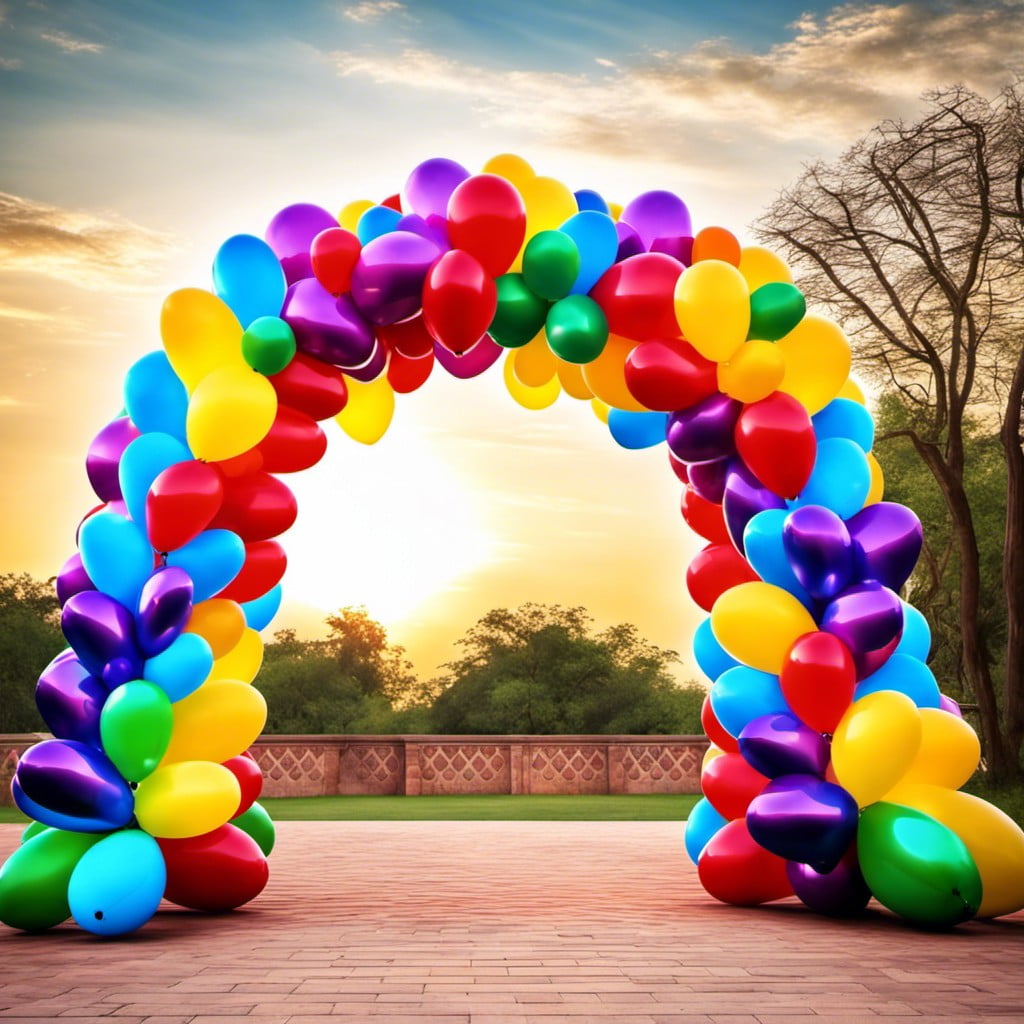 Creating a balloon cluster requires two simple components: balloons and a string to tie them together.
Opt for balloons in colors that complement the design scheme of your space; consider mixing different sizes for visual interest.
Inflate the balloons and secure them onto the string in clusters; this provides a sense of abundance and visual variety.
Moreover, they can be positioned to frame the top of the archway, or allowed to end at various lengths down the sides.
For a more festive or celebratory touch, consider adding in a few helium-filled balloons that float upward.
This decoration idea is certainly an easy, cost-effective, and instant way to add charm and cheer to your archway.
Ribbon Bows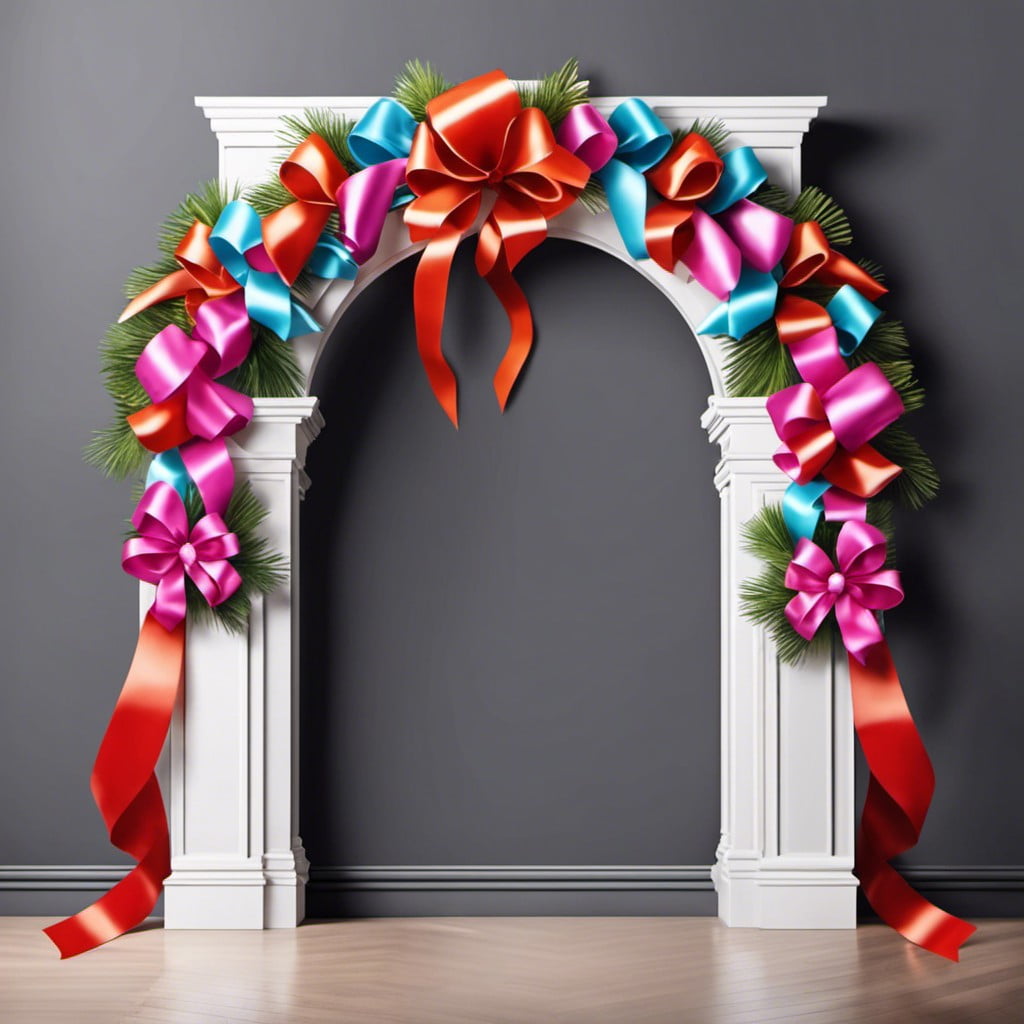 Perfect for a variety of archways, ribbon bows bring a touch of elegance and vibrant color. Here's how they contribute to your decor:
1. Versatility: Different types and textures of ribbon, from satin to burlap, can complement any archway style or event.
2. Color Opportunity: Ribbon bows offer a chance to inject color to your archway, matching or contrasting with your overall color scheme.
3. DIY-Friendly: Making ribbon bows is a fun, easy DIY project, allowing for personal touches.
4. Cost-effective: They offer an affordable yet stylish decoration alternative.
5. Seasonal Variation: Ribbon bows can be changed with seasons or holidays, keeping your archway decor fresh and appropriate year-round.
Remember, with ribbon bows, simplicity often works best, and less can be more. A few strategically placed bows can significantly enhance the visual appeal of your archway.
Seasonal Wreaths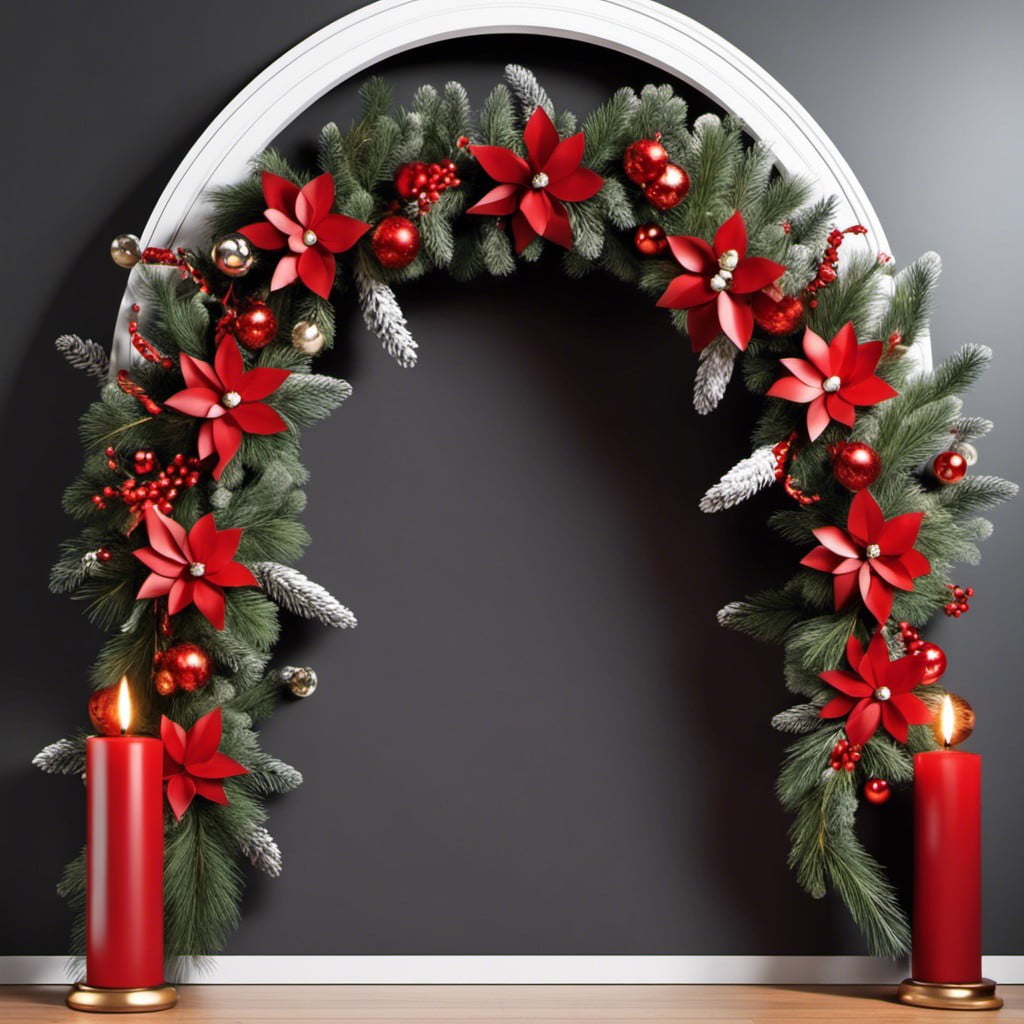 As we venture into each season, it's always a delight to accent our home decor with a touch of the outdoors. The wreath serves as a universal symbol of celebration, and it's the perfect decor for any archway. Whether it's cherry blossoms in the spring, sunflowers in the summer, or holly and pine in winter, wreaths tailored to the season add a vibrant splash of color and festivity.
Crafting a wreath is rather simple. Select materials that are seasonal, yet durable. Look for a mix of greenery, bright flowers, or festive elements like mini pumpkins for fall. Creating a balanced, symmetrical look is key, as is ensuring your wreath is sturdy enough to withstand the season's weather challenges.
Don't forget, a fresh wreath can bring the delightful scents of the season indoors. Imagine a winter wreath of evergreen filling your hallways with the comforting smell of a forest, or a summer flower wreath bursting with the aroma of a wildflower field.
With so many possibilities, your archway will never fail to impress visitors and bring consistent freshness, season after season. It's time to embrace your creativity and curate the perfect wreath to represent each distinct time of year.
Potted Plants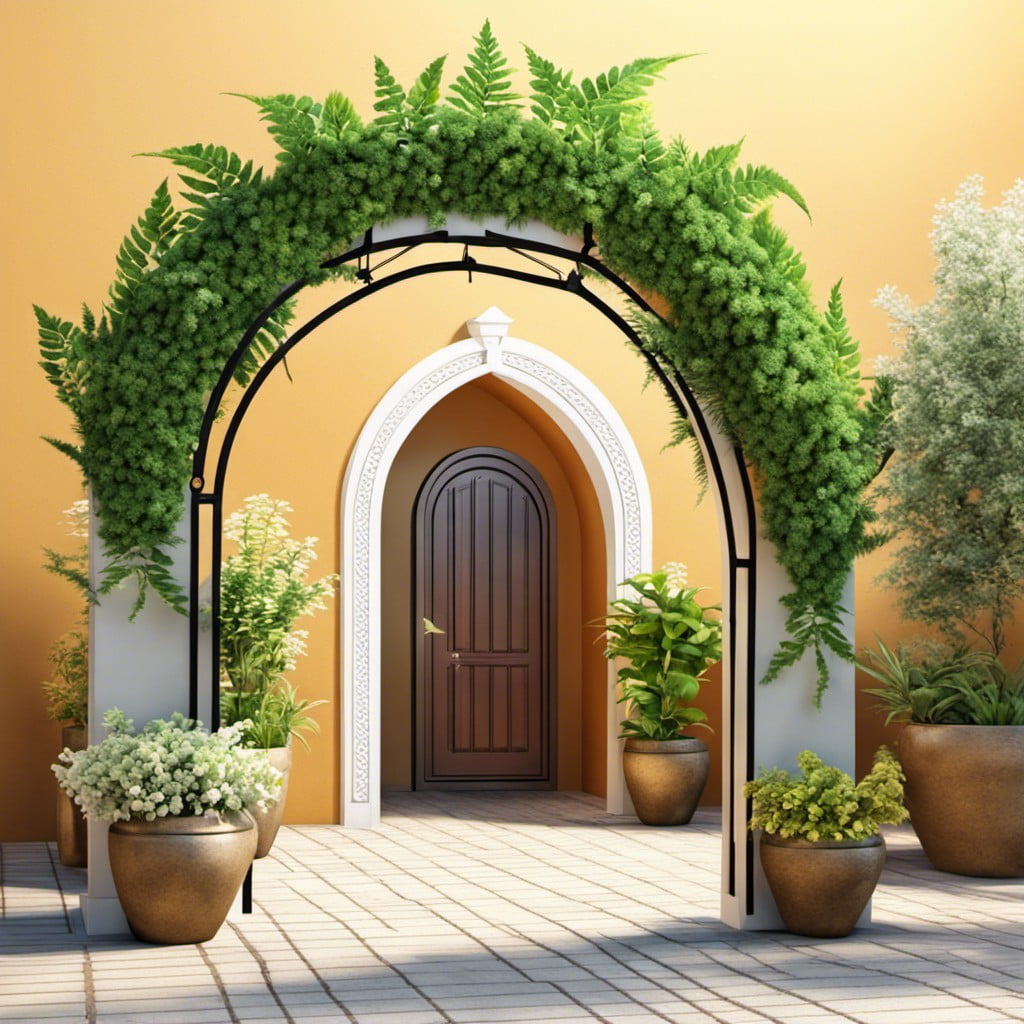 Incorporating greenery into an archway can instantly bring a sense of vitality and freshness. Choose a variety of houseplants in different sizes to add dimension. One strategy is to use larger, bushier plants at the base for instant impact and smaller, trailing plants up higher for an attractive visual cascade. Succulents, spider plants or small ferns can also perform well.
Remember, it's not all about greenery. Use pots with different shapes, sizes, and colors to add a unique touch. Terracotta pots can give a rustic feel, metallic pots can bring a touch of glamor, and ceramic pots with unique designs can incorporate personal style.
Ensure to place the plants in a way that doesn't inhibit passage—safety first. Lastly, take into account the light requirements for your chosen plants, as they will need to thrive in the available conditions.
In doing this, you don't just frame your archway beautifully; you also improve air quality and bring nature right into your home!
Hanging Terrariums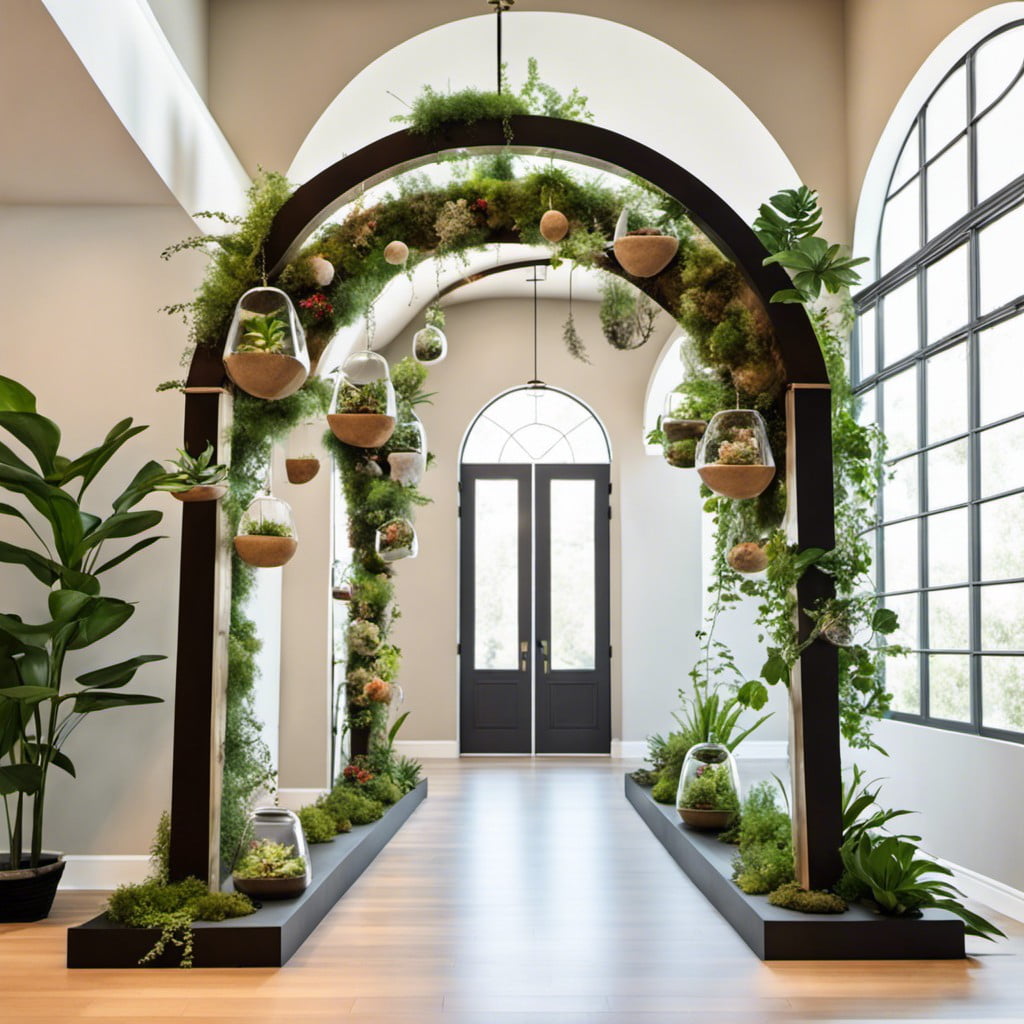 Incorporating elements of nature into archways can enhance a home's holistic aesthetic. With their contained environment, terrariums are a unique option that fits this purpose.
1. Biodiversity: Different species of miniature plants can thrive together in one terrarium, creating a diverse pop of color and texture.
2. Shape and Size Diversity: Terrariums come in various shapes and sizes, providing options to suit any archway design.
3. Location Flexibility: Including hangers in your setup allows you to adjust terrarium height for visual interest.
4. Maintenance: Properly constructed terrariums require minimal upkeep making them an attractive option.
5. Customizable interiors: Terrariums can be personalized with figurines or decorative rocks to blend with your overall decor theme.
Remember that less is more when incorporating hanging terrariums into your archway design. Too many can lead to a cluttered appearance. Balance and space are essential for achieving that sophisticated look.
Christmas Ornaments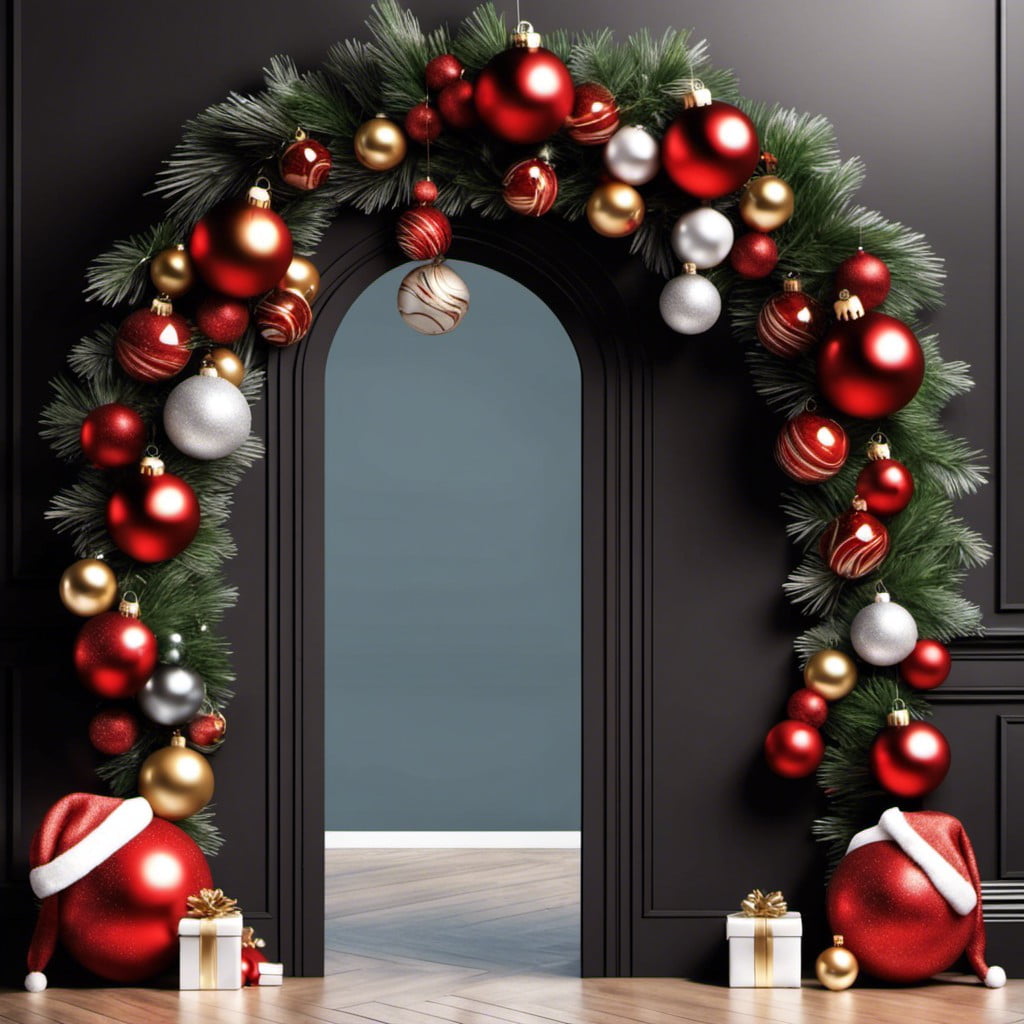 Delve into the festive spirit by embellishing your archway with Yuletide baubles. Vibrant bell-shaped ornaments impart a classic Christmassy mood, while twinkling baubles in a variety of colors add a joyful touch.
Snowflake ornaments, especially when coupled with white LED lights, create a magical snowy winter feel. Ensure a balanced look by hanging ornaments symmetrically and complement them with a matching garland.
From glass globe balls to stars and angels, choice of ornament should reflect the overall theme of your Holiday décor, rendering a cohesive aesthetic. Up the creative ante by repurposing old ornaments, painting them in new hues, or adding a dusting of glitter on them for an updated bespoke touch.
Incorporate a cluster of ornaments on either side of the archway to tie the look together and amplify the festive vibe.
Climbing Vines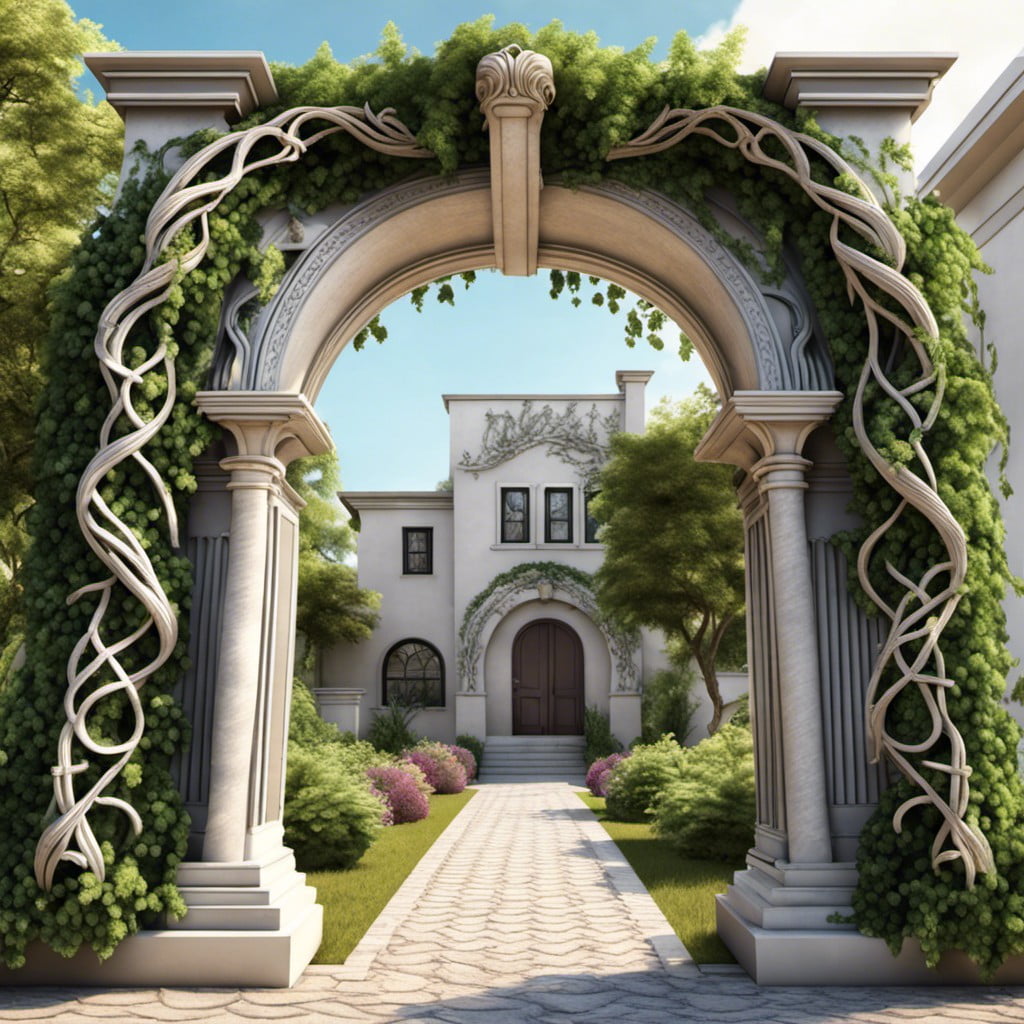 Taking inspiration from the outdoors provides a lush, natural feel. One such inspiration is the elegant display of climbing vines.
When incorporating them, it's advised to select either real or faux vines based on maintenance preference. Real vines, while gorgeous, require frequent trimming and watering. Artificial vines offer near-zero maintenance and can easily be replaced or altered.
To effectuate a captivating visual delight, vines can be entangled around the archway or designed to fall downwards. This creates an illusion of taller ceilings, infusing the room with an air of grandeur.
In addition, they offer an effortless transition from indoor to outdoor living spaces. Pairing these with white fairy lights or rustic wood accessories can elevate the overall aesthetic. An added benefit – they work all year round, adapting smoothly with seasonal decors.
Fairy Lights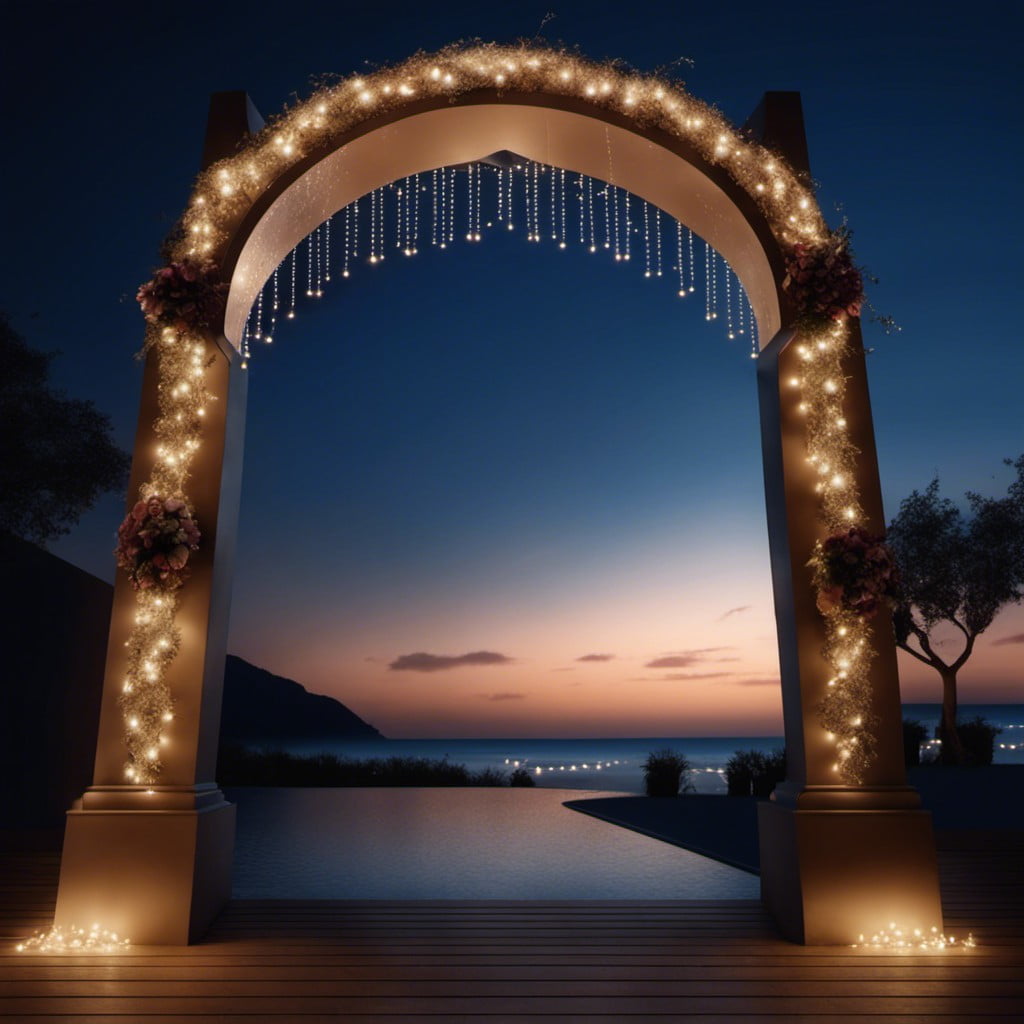 For a touch of whimsy and warmth, there's nothing quite like these delicate gems. They're versatile, simple to install, and can instantly transform an uninteresting archway into a magical passage.
To maximize their effect, they can be draped along the arch's contour or woven into intricate and sparkling webs to catch the eye. Creating patterns, like stars or waves, can further enhance the visual appeal.
Their low lighting offers a gentle glow, turning your archway into an inviting nook when other lights are dimmed. Plus, remember they come in a variety of colours, allowing you to choose one that best fits the overall palette of your space.
Moreover, fairy lights are energy-saving and can be solar-powered for outdoor archways, underscoring both beauty and sustainability. With them, the romantic, enchanting ambience is just a flick of a switch away.
Metallic Streamers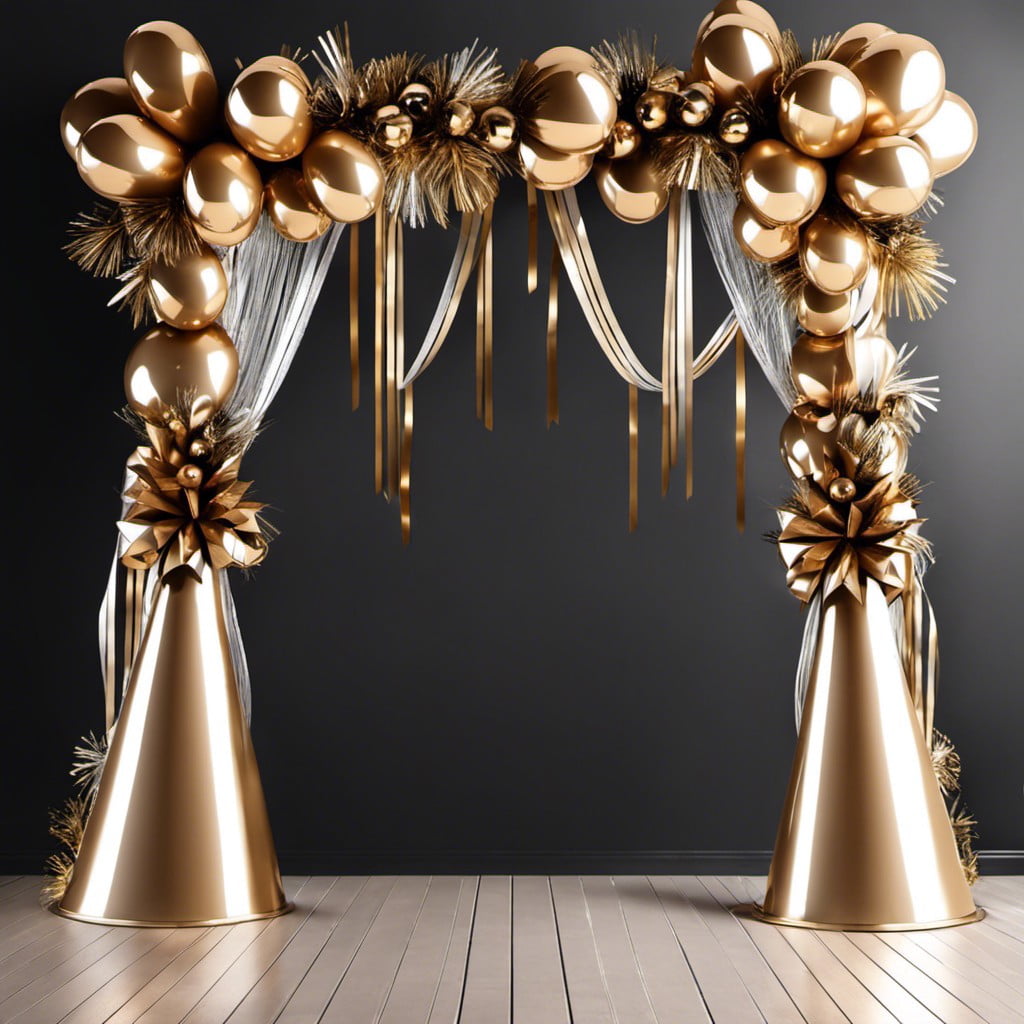 Dipping into the effervescent charm of metallic materials promises a vibrant and gleaming aesthetic that any archway can benefit from. Borrowing from the glamour of tinsels, these streamers catch light beautifully and can impart a sense of celebration throughout the year.
Here are some effective ways to utilize these charming elements in archway decoration:
Layering: Layer various shades of metallic streamers across the width of the arch, creating a cascading waterfall effect.
Twisting: Twist different colored streamers together and drape them across the archway for a dynamic, festive look.
Hanging Loosely: Allowing metallic streamers to hang loosely from the top of the arch is simplistic yet chic.
Pairing: Combine metallic streamers with fairy lights to give a soft, enchanting glow to your archway at night.
Remember, metallic streamers can offer both understated elegance and vibrant panache, depending on how they're used. It's all about choosing the right colors and styles to meld with the existing decor, and trying out variations until the perfect look is achieved.
Halloween Cobwebs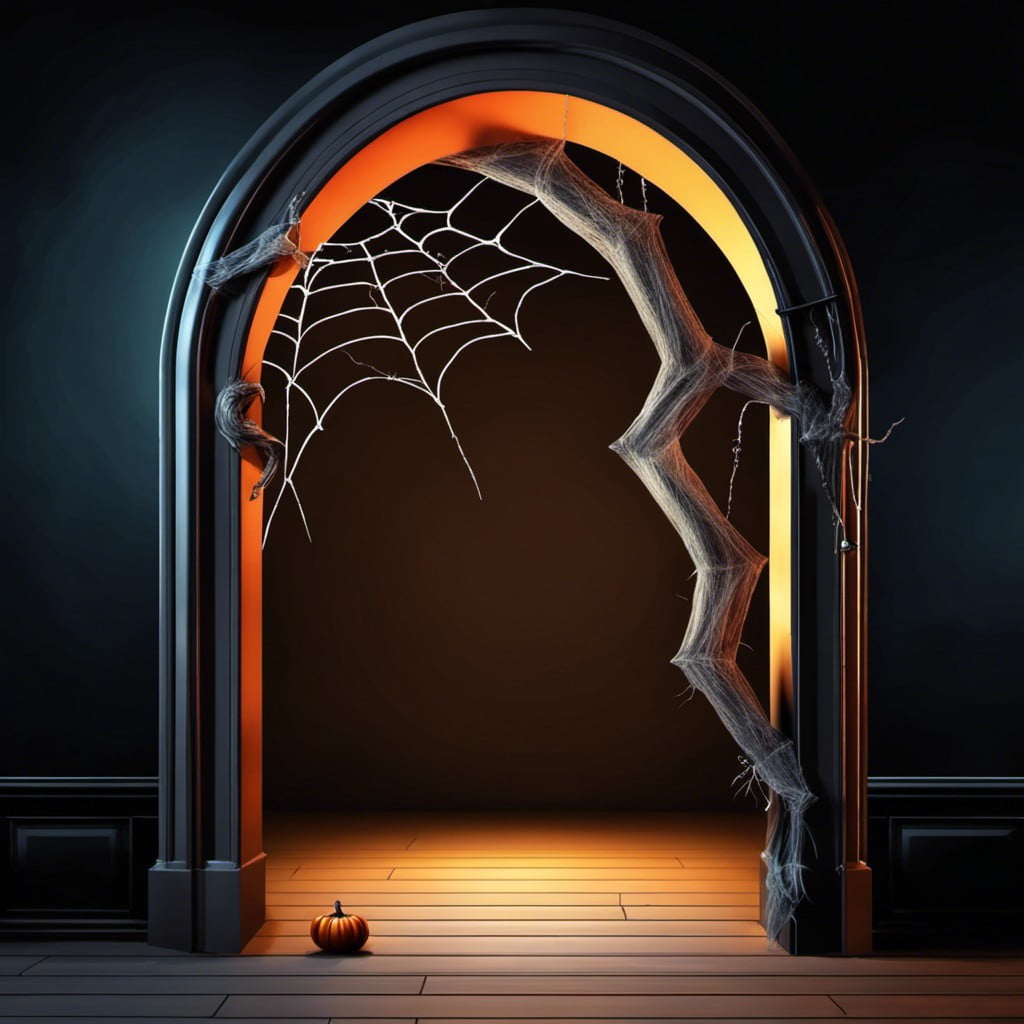 For an eerie ambiance, artificial cobwebs make a standout choice. You can typically find them in party supply stores or craft sections, especially as October approaches. Accentuate your archway by stretching the cobwebs thin so that they appear more realistic, and don't forget to add a plastic spider or two for that extra shiver. A warning: be careful when placing these webs so they do not hinder the walking path. After all, you want to spook guests, not ensnare them!
Several methods can be used to secure your cobwebs. You could use transparent tape, small removable hooks, or utilize existing protrusions on your archway. The irregular pattern of cobwebs allows for imperfect installation – in fact, a slightly asymmetric arrangement may just boost the terrifying factor.
Use the cobwebs in conjunction with other elements. They mix well with dim lighting or drawn shades for a haunted-house feel. Another spooky option is to combine them with faux neon bugs hanging whimsically or perhaps, with a faux aged sign reading 'Beware!'. Be creative, there's no limit to how frighteningly fabulous your archway can look!
Origami Birds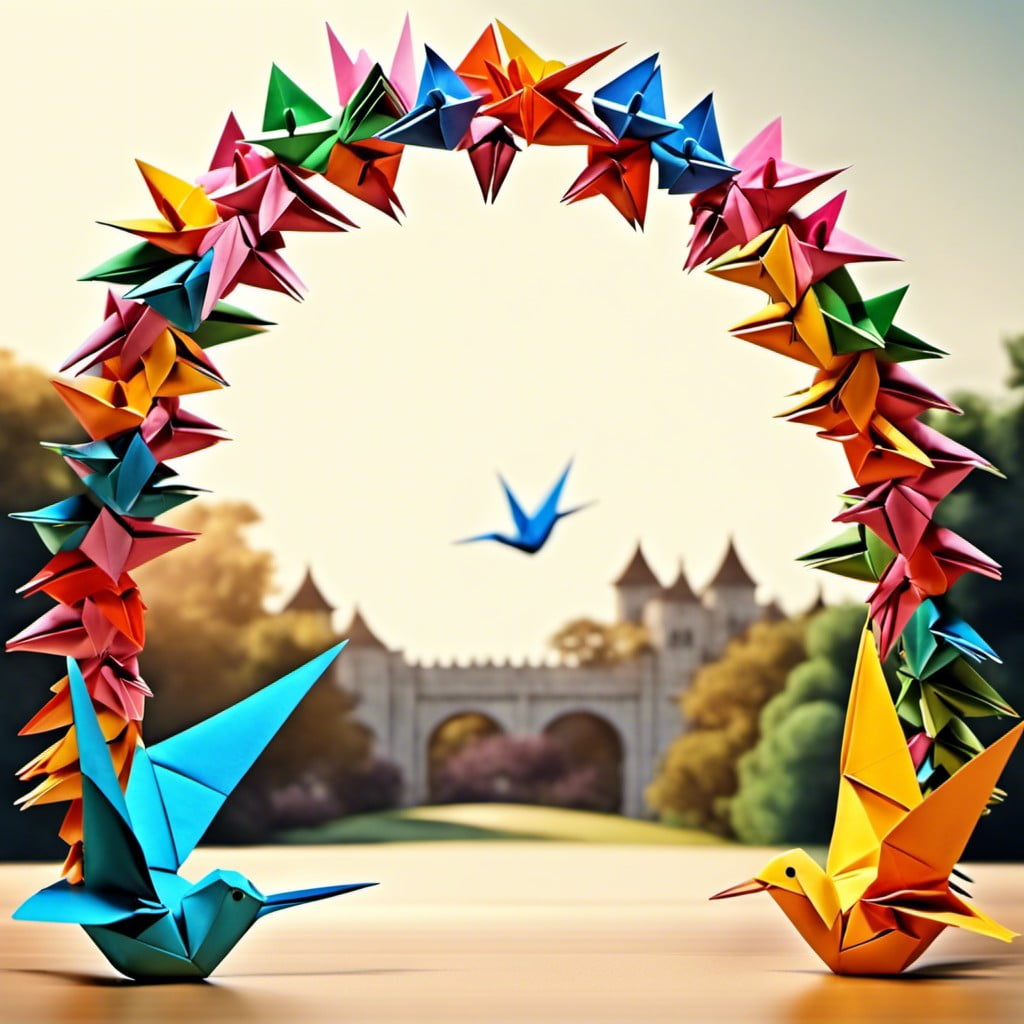 Embracing the art of paper folding can spark a joyous transformation for any archway. These unassuming art pieces radiate whimsy and windswept grace as they flutter from above. Adding them to your decor elevates a space from ordinary to enchanting.
Additionally, the variety of bird forms you can achieve is astounding—sparrows, cranes, or perhaps even a flock of phoenixes for added flair. They're not only visually striking but also a conversation starter, stirring curiosity about the delicate craftsmanship involved.
Make these paper companions in varying sizes and shades to create a depth and texture that's visually appealing. If you're a fan of bright pops of color, experiment with vibrant papers. Alternatively, keep it minimalistic with white or tone-on-tone hues for a serene ambiance.
Rest assured, these little wonders are relatively simple to make once you've mastered a few folds. An array of online tutorials readily available can guide you through the folding process. You can attach them to clear string or fishing line, allowing your origami birds to 'fly' and 'soar' from your archway.
Remember, it's all about creating a dynamic and unique sensory experience through these delicate paper sculptures. They offer a fresh perspective on personalizing an archway, making it a lovely passage to walk underneath or stop and admire.
Chandelier Centerpiece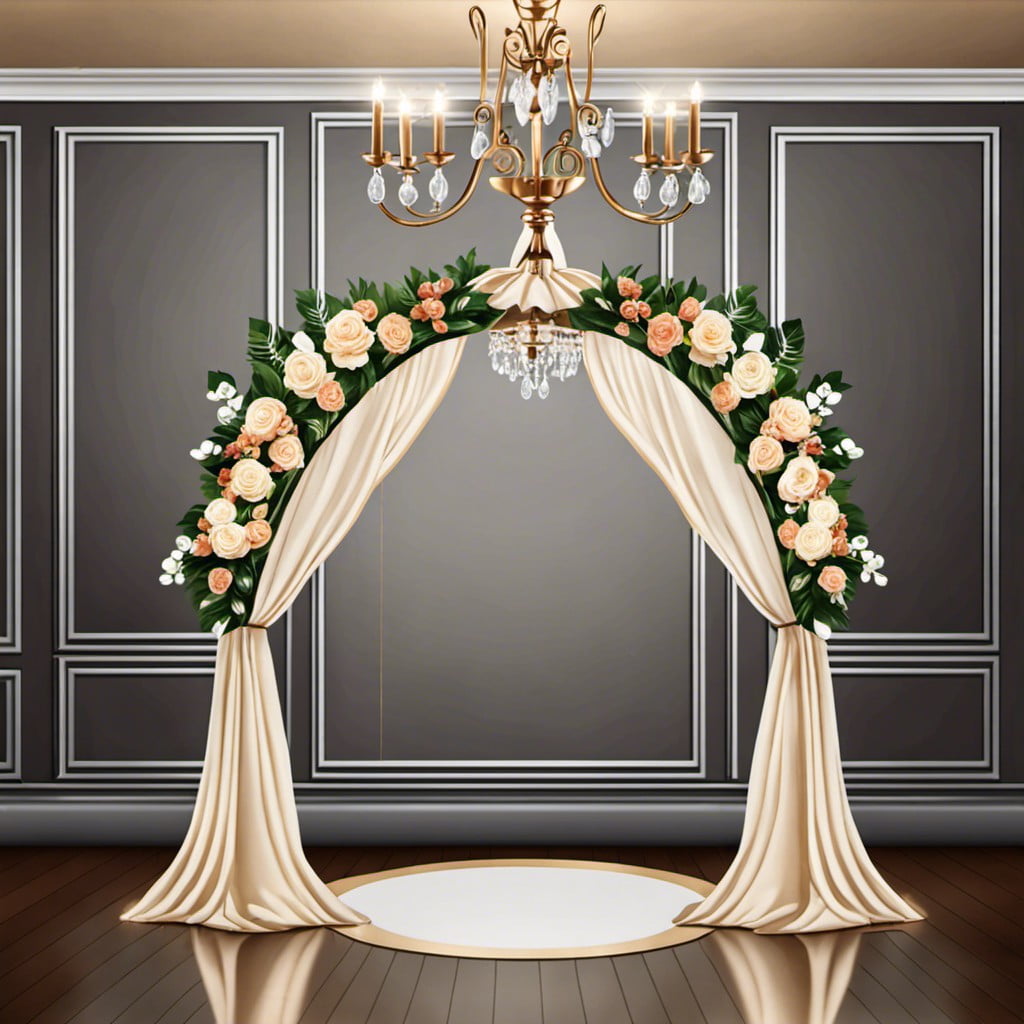 Re-purposing a chandelier as a dramatic centerpiece adds a grandiose touch to the archway decor. Choose vintage, crystal, or more modern designs based on the overall theme of the decor.
The chandelier brings with it an innate elegance and helps create a well-lit space with its soft lighting. The trick is to hang it with care, ensuring that it's centered under the arch.
Based on size, one chandelier or a cluster of small pieces can be used. For an added touch, incorporate seasonal elements like fake snow during winter or greenery during spring.
Also, don't forget to check for a power source or opt for battery-operated versions to avoid wiring chaos.
Tassels and Pom Poms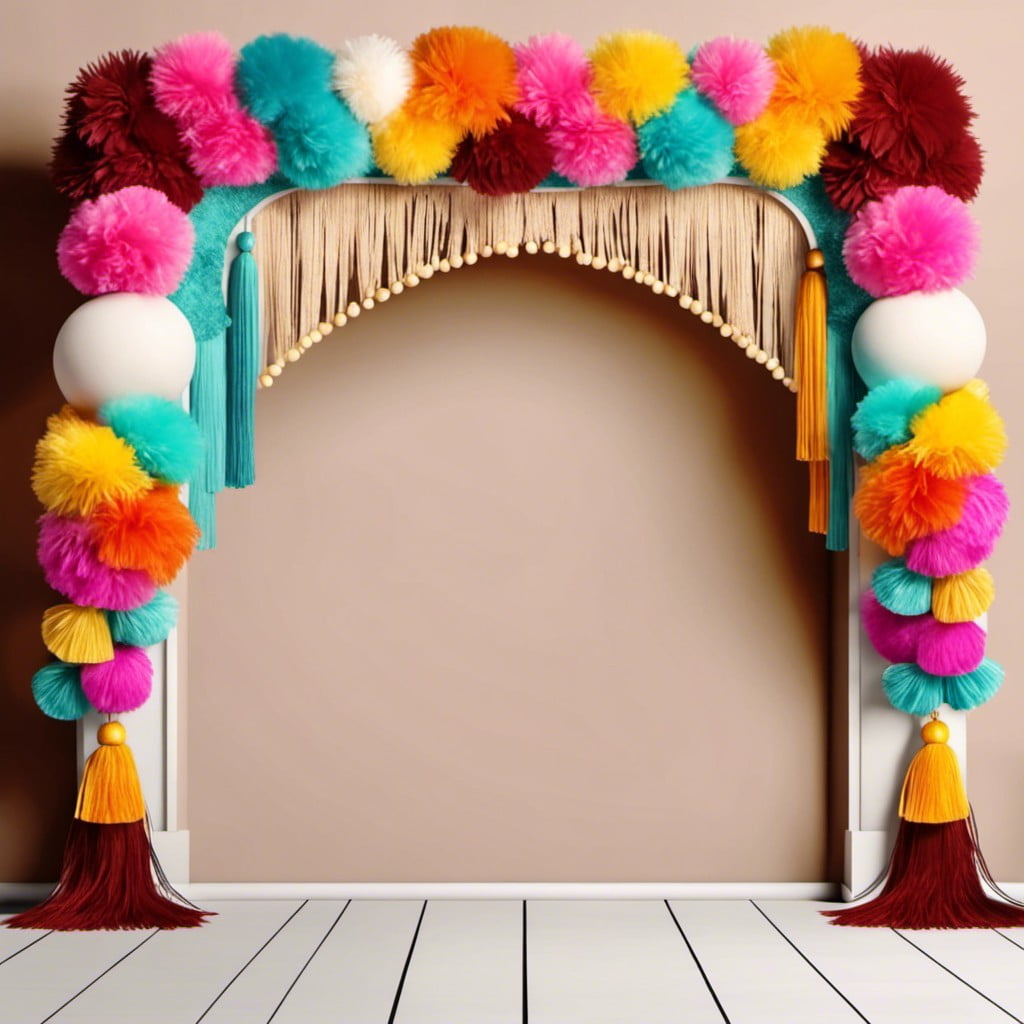 These colorful, playful accessories can add an unexpected pop of color and texture. They have the ability to transform your archway into a fun and vibrant space.
Choose tassels and pom poms that complement the colors and design theme of your surrounding decor.
1. Materials matter: Opt for colorful yarn, silk, or even faux fur.
2. Size variation: Mix and match different sizes for a layered appearance.
3. Vary position: Don't limit your decorations to the top of the archway, consider hanging ones at different lengths for an appealing visual cascade.
4. Balance: Try to evenly distribute the tassels and pom poms across the archway to achieve a balanced look.
5. DIY option: Consider making your own tassels and pom poms to ensure an exact color match with your existing decor.
6. Enhancements: Add extra flair by attaching some beads or small bells at the end of the tassels.
Remember, there is no strict rule of how many tassel and pom pom decorations you should use. It all depends on personal preference and the overall look you're trying to achieve.
Up-cycled Door Frame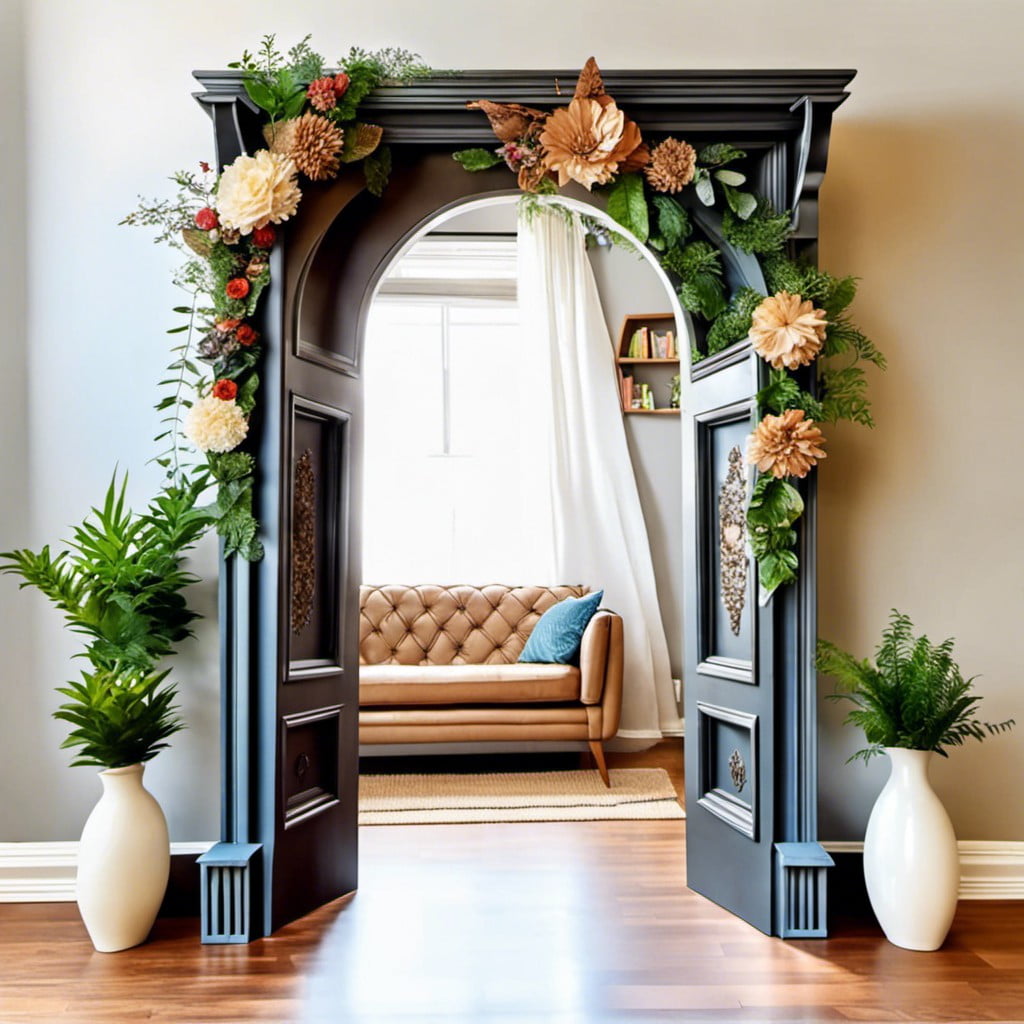 An excellent approach to archway decoration is the use of an up-cycled door frame. This style presents an opportunity to fuse functionality with creative expression; while adding character to your space.
Here's how to pull off this unique design:
1. Select an Old Door Frame: Choose one with an appealing rustic aesthetic. Shabby chic, farmhouse, or a weathered look could offer the most visual interest.
2. Refurbish: Make sure the frame is clean and stable. If you prefer, add a coat of paint, maybe in a color that contrasts or complements your interior design.
3. Install: Securely install the frame on your archway, ensuring it is sturdy and safe.
4. Accessorize: Add hooks, hanging plants, or small light fittings to the frame for that extra flair. Remember, less is often more.
5. Enjoy: Stand back and appreciate the new focal point in your room, which will surely attract compliments from visitors.
Remember, the primary beauty of up-cycled door frames comes from their uniqueness; no two are ever alike!
Ivy and Berries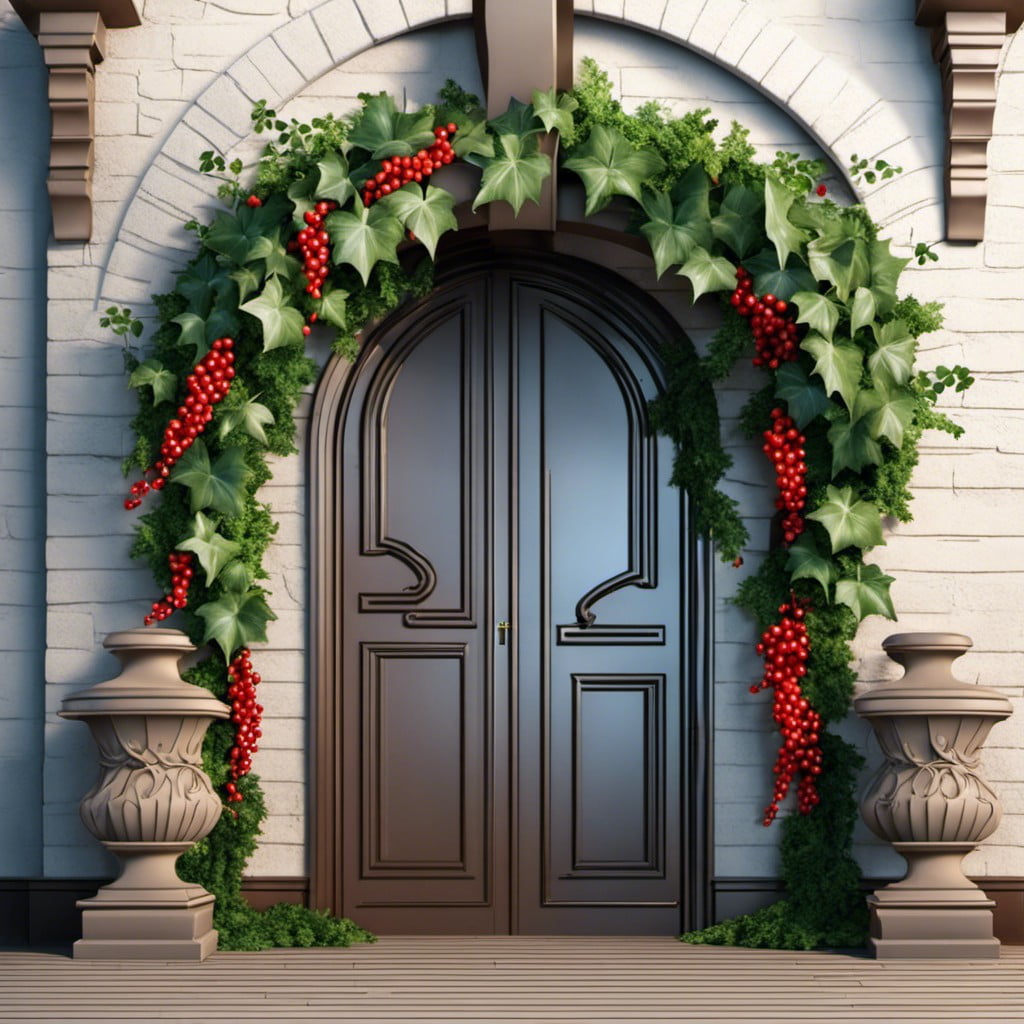 When it comes to utilizing Ivy and Berries, their natural appeal places them as a timeless choice for archway decorations. Choose English Ivy for its dense, glossy green foliage, or go a shade brighter with variegated ivies. Pair this with clusters of red, blue, or black berries for a pop of color.
1. Seasonality: Take advantage of the seasonal appeal of berries, perfect for fall or winter settings.
2. Versatility: Both ivy and berries can be mixed with other elements like fairy lights or wood accessories for unique designs.
3. Maintenance: While live plants require care, opt for artificial ivy and berries if the archway is in a hard-to-reach area.
4. Safety: If using real plants, confirm they are not poisonous, especially if the space is accessible to children and pets.
5. Aesthetic: The combination can present a classic, rustic, or festive vibe, depending on arrangements.
6. Enhanced Visual Depth: Ivy's dense greenery against the vibrant berries adds depth and visual interest to any archway.
Liked reading this? Here's more:
Recap: