Last updated on November 28, 2023
Bamboo decoration ideas are becoming increasingly popular because of their eco-friendliness, versatility, and unique aesthetic appeal.
I am proud to present my article on 20 Creative Bamboo Decoration Ideas, filled with unique designs I crafted, and I sincerely hope you find it as delightful and inspiring as I did creating it.
Bamboo, with its natural, rustic charm and versatility, can be a wonderful material to incorporate into your home decor. Whether you're aiming for an Asian-inspired aesthetic, a tropical feel, or just a touch of eco-friendly elegance, bamboo can be used in a myriad of ways to achieve your desired look.
From bamboo wall hangings and furniture to light fixtures and accessories, this article will provide you with a plethora of bamboo decoration ideas. Stay tuned for in-depth details on how to select, install, and care for bamboo decor, ensuring it remains a stunning feature in your home for years to come.
Bamboo Wall Art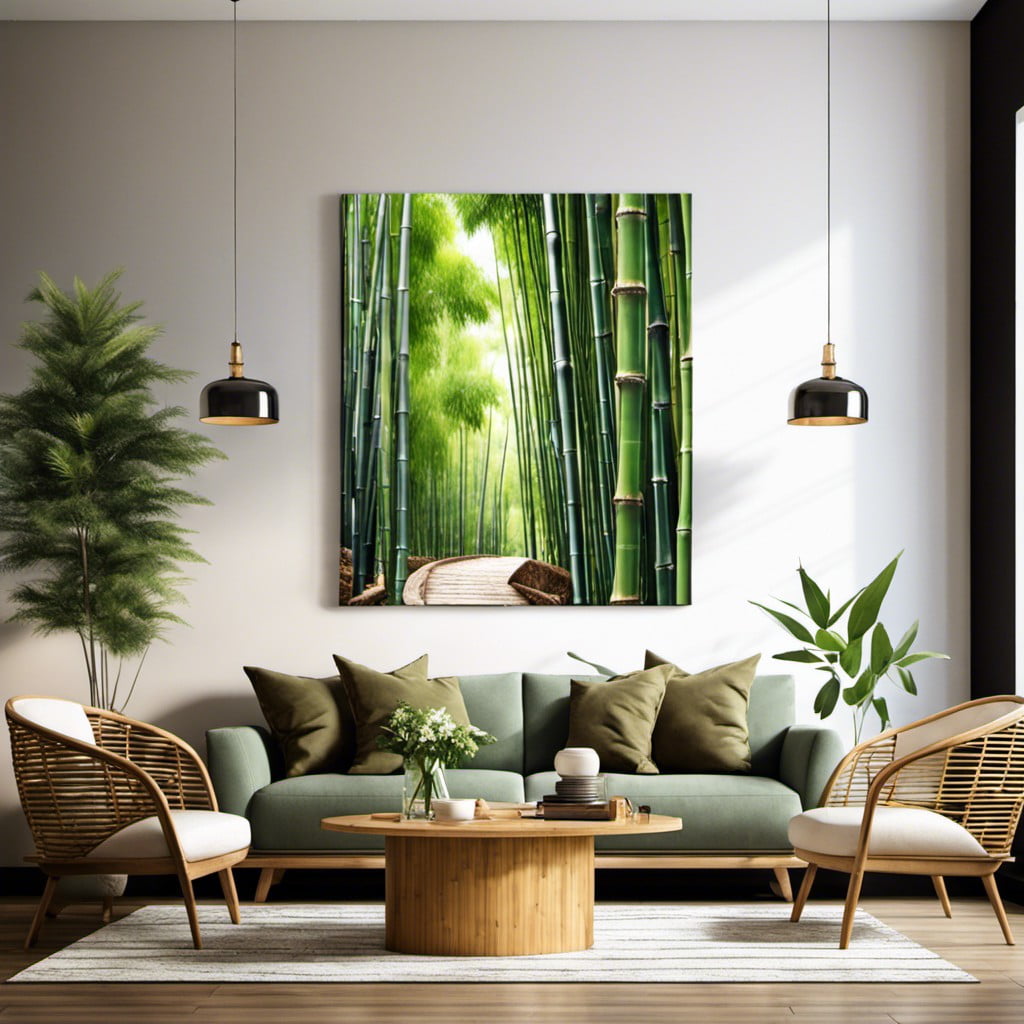 Embracing the eco-friendly appeal of this material, wall art crafted from bamboo exudes both elegance and natural charm. The versatility of bamboo allows artists to create diverse designs, ranging from abstract patterns to nature-inspired themes.
Whether it's a sculptural piece or a simple wall hanging, bamboo art pieces can bring your walls to life.
Key features to consider when choosing bamboo wall art are: color, which can range from light tan to dark brown, allowing you to match it with your existing decor; and size – smaller pieces can be grouped to create a gallery wall, while a larger piece can serve as a focal point.
Additionally, the finish of the bamboo can alter its overall appearance, with options varying from a glossy polish to an aged, rustic look.
Bamboo wall art is typically lightweight, making it easy to hang, and its robust nature ensures durability. It's not only a green choice but also a haven for those seeking a break from traditional art mediums.
So, when thinking of redesigning your wall aesthetics, consider the visual impact of bamboo wall art to introduce an eco-conscious and tasteful element to your space.
Bamboo Flower Vases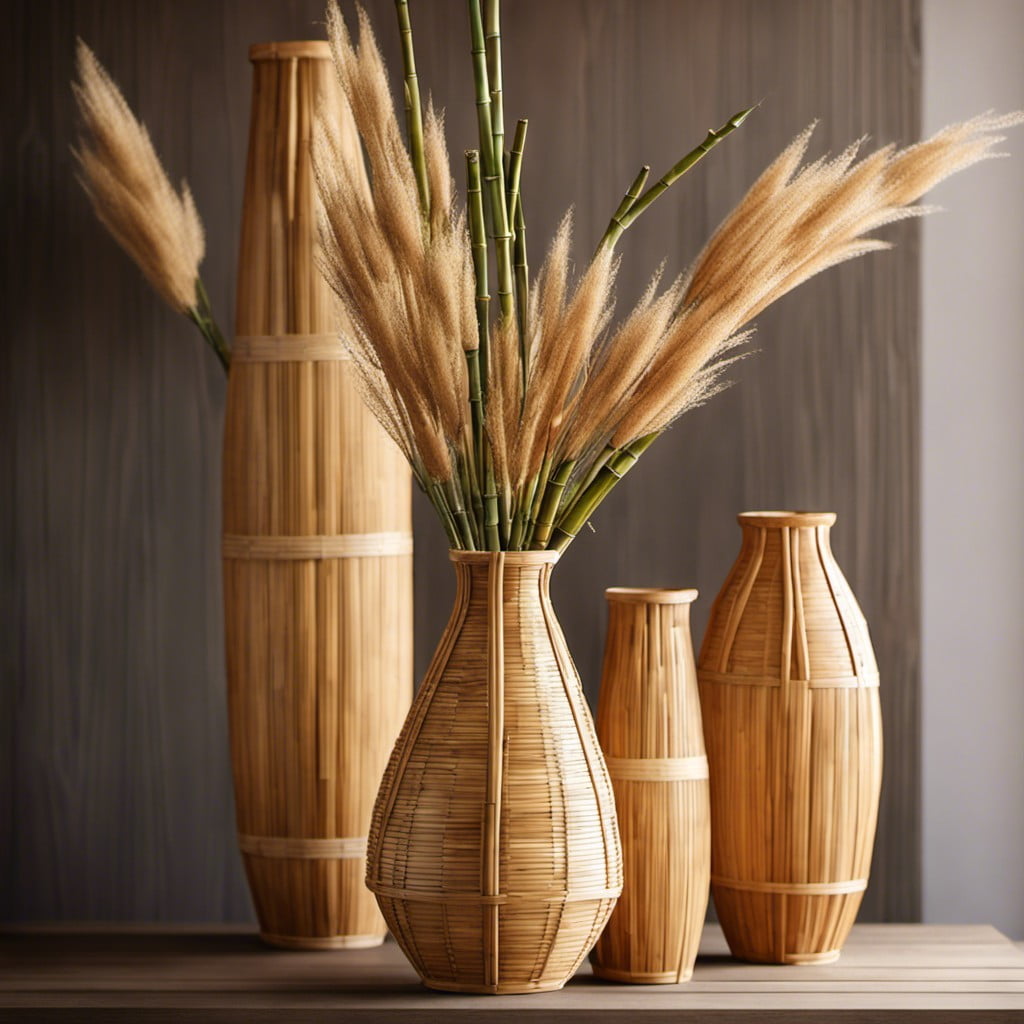 Offering an organic touch to home decor, these earthy vessels are both practical and aesthetically appealing. With the exceptional strength and unique patterns that come naturally with bamboo, each vase becomes a one-of-a-kind piece.
Here are some essential points to bear in mind:
Shapes & Sizes: These beautiful decorations come in a broad range of heights, widths, and shapes. From petite rounded holders for single blooms to tall cylindrical vases for large bouquets, let the florals inspire the choice.
Personalization: Bamboo has a versatile surface perfect for personalization techniques such as carving, painting, or varnishing, enabling an added layer of customization.
Complementary Decor: As versatile as they are charismatic, these vases pair harmoniously with either modern minimalist or rustic country decor. Pair them with neutral tones to allow the bamboo's natural colors to stand out, or with vibrant shades to create a contrast.
Eco-Friendly: Sustainability is an added benefit. Bamboo, a quickly renewable resource, makes these flower vases an environmentally friendly choice for home decor.
Maintenance: While bamboo is known for its durability, it's essential to prevent water stagnation for long durations, necessitating the occasional vase cleaning to maintain pristine condition.
Thus, with a broad set of options in terms of function and design, bamboo vases make for stylish and sustainable additions to any home decor.
Bamboo Room Dividers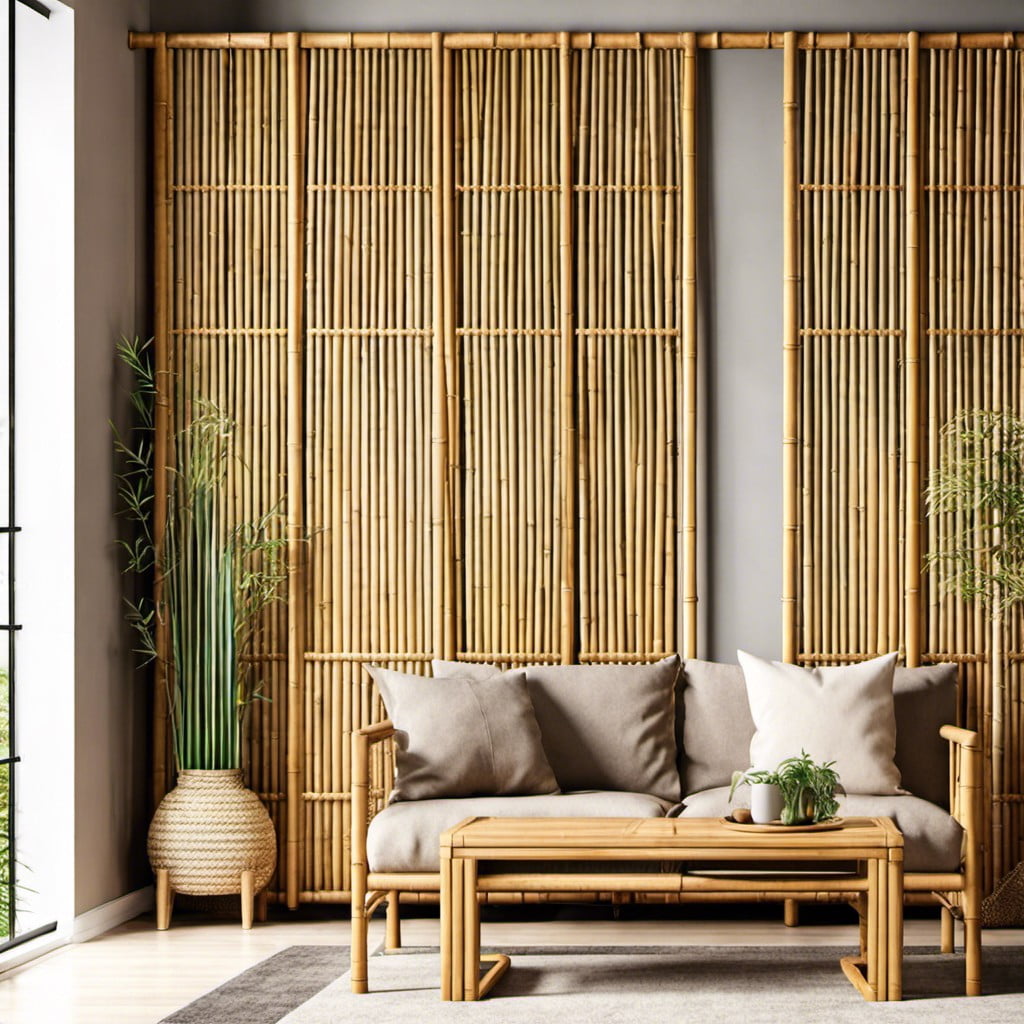 With their unique appeal, these dividers add both aesthetics and practicality to any space. Apart from creating privacy in a room, they screen off areas while maintaining an open feel.
The natural, rustic vibe of bamboo, coupled with its durability, makes it an ideal choice for this purpose. Lightweight yet sturdy, these dividers can be easily moved around to adapt to various needs, therefore serving as a flexible, functional decor element.
Styles range from tightly packed slats for enhanced privacy to looser weaves that allow light and air to pass through, aiding natural ventilation. The availability in a broad spectrum of finishes and sizes ensures they fit any room and design aesthetic.
Bamboo Framed Mirrors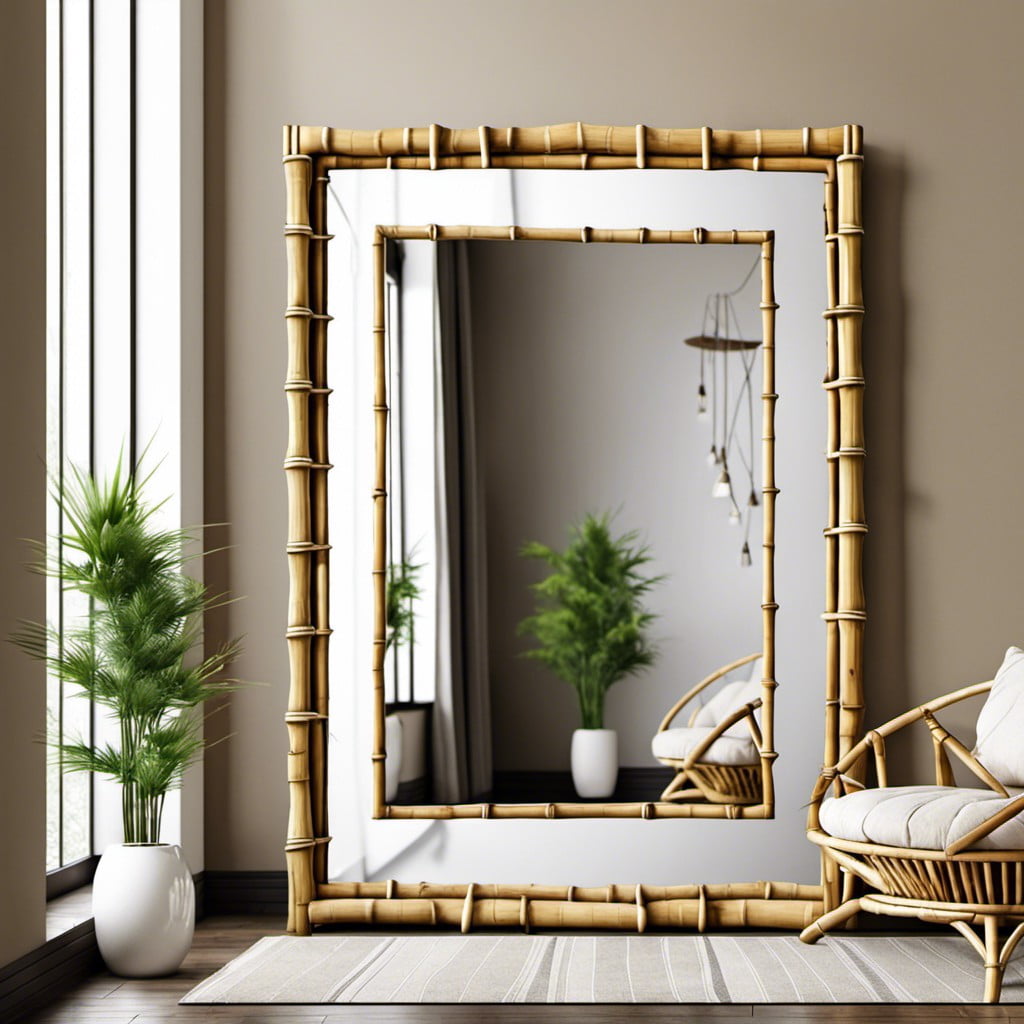 Featuring a balance of strength and elegance, these frames introduce an organic, warm aesthetic to any living space. The versatility of bamboo makes these mirror frames a suitable addition to numerous décor styles, from rustic to contemporary.
When selecting these, consider the color of bamboo that will complement your interior the most. While natural bamboo imparts an airy, light-hearted ambience, darker tones bestow a more refined and sophisticated look.
Bamboo mirrors can be a focal point in a room. Feature one above a console table in the entryway, or as a central piece in living or dining areas. They can equally feature in bathrooms to promote a full-on spa-like experience.
For a harmonious blend, integrate multiple bamboo elements into the room. This ensures the mirror doesn't feel out of place, instead underlining the connection with nature's elegance reflected in the space.
Remember inner scopes of your mirrors can be as diverse as your creativity allows – from conventional rectangular or square, to eye-catching geometric or abstract forms.
Make sure to choose the appropriate size that will complement your room without overpowering it. Larger mirrors are effective in smaller rooms, creating an illusion of space while smaller mirrors can add depth and interest to bigger rooms. Subtle yet unignorable, bamboo framed mirrors elevate interior aesthetics, granting rooms a dose of freshness and grace.
Bamboo Candle Holders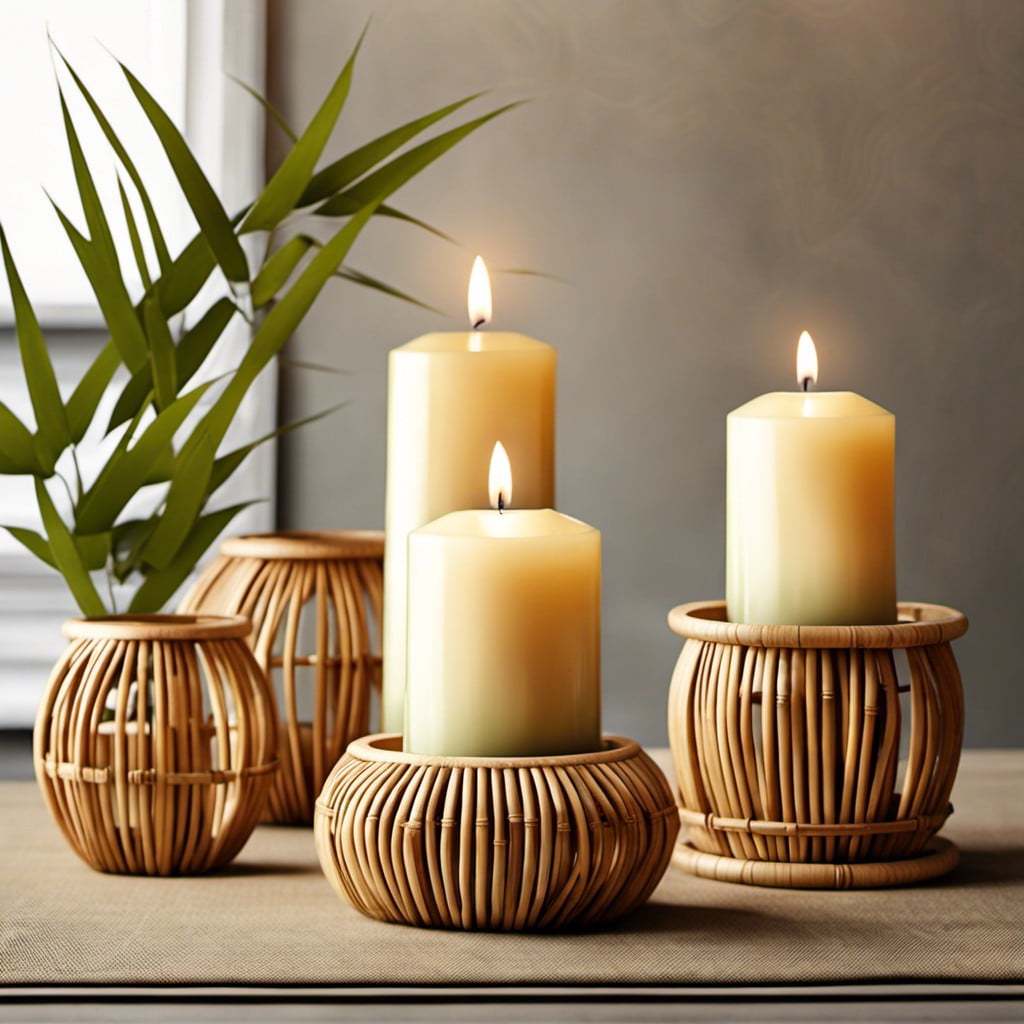 Elevating the ambiance of any room, these holders act as both functional elements and attractive accents. Fashioned from natural material, they foster a warm, inviting glow when a candle is lit. They come in a variety of designs, reflecting different crafting techniques.
Some retain the bamboo's original hue, presenting an earthy appeal, while others are painted for a more contemporary aesthetic. They're versatile, suiting events from casual dinner parties to tranquil baths. Paired with scented candles, they can enhance your home's fragrance profile. Plus, considering their lightweight build and resilience, they promise a long-lasting presence.
Last but not least, taking care of them requires little effort – occasional dusting is typically sufficient.
Bamboo Table Centerpieces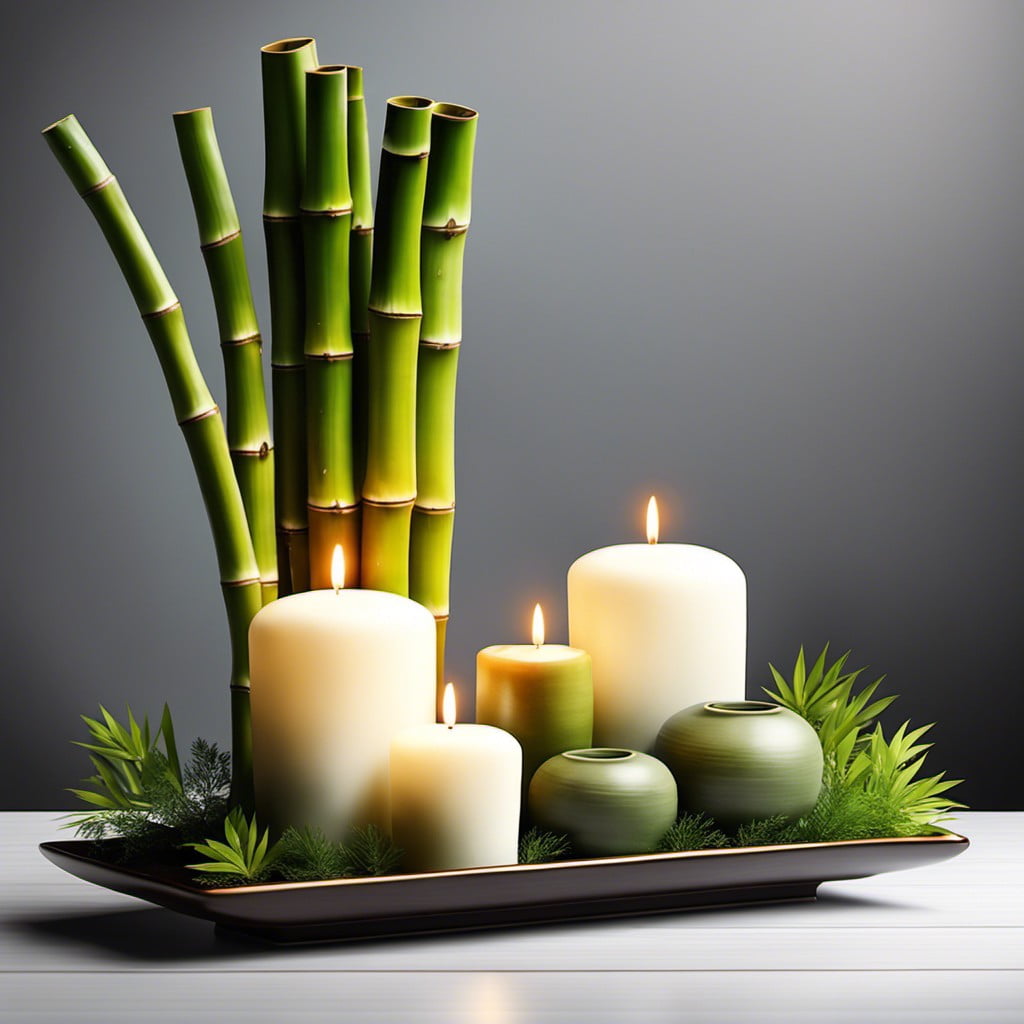 Utilizing bamboo as a table centerpiece infuses a distinctive and natural warmth to your décor. They can range from simplistic arrangements of vertically standing, thin-stemmed bamboo stalks to more complex displays incorporating bamboo leaves, flowers, and even candle holders. Let's explore the concept:
1. Minimalist Style: For a clean, chic look, use a clear glass vase and a few neatly trimmed bamboo stems.
2. Rustic Appeal: Bamboo pairs wonderfully with earthy elements like moss, pebbles, or twine, creating a captivating rustic centerpiece.
3. Pop of Color: For added vibrancy, consider dyeing bamboo a bold color that complements the palette of the room.
4. Greenery and Flowers: Intertwine bamboo with your favorite blooms or greenery for a lively, decadent display.
5. Light it Up: Inserting twinkling lights between bamboo stalks or using bamboo candle holders as the centerpiece adds a mesmerizing, soothing ambiance.
Remember, bamboo is wonderfully versatile – don't be afraid to experiment and make a centerpiece that genuinely reflects your taste and style.
Bamboo Ceiling Lamps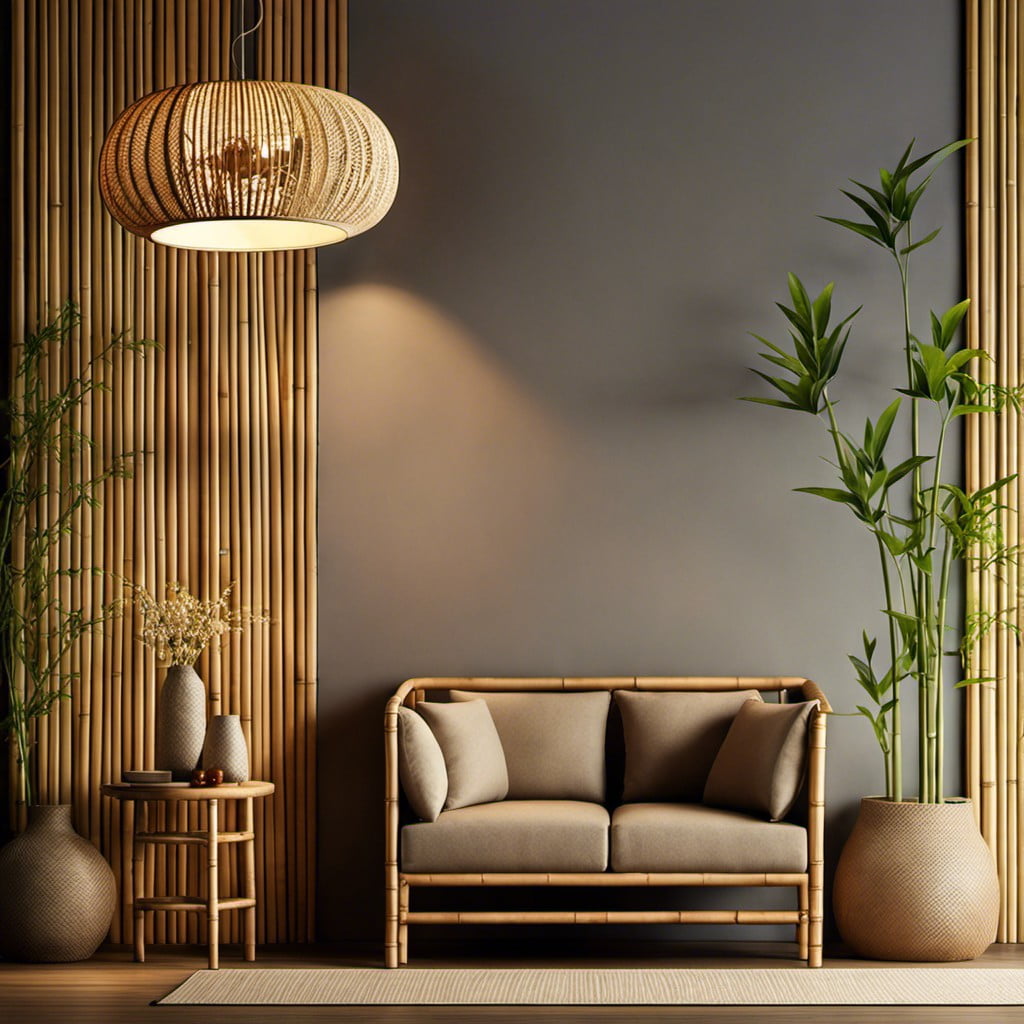 Derived from nature, these lighting fixtures don't just illuminate your rooms, but they also offer an appealing aesthetic. Available in a variety of designs and sizes, each piece is uniquely woven, providing a rustic yet sophisticated charm. Their versatility allows for integration into any decor, from contemporary to traditional.
When it comes to installation, these lamps are often lightweight, making them a breeze to mount. Both pendant and flush mount options exist, catering to different ceiling heights. Even more magnificent is the shadow play they create when illuminated, setting a calm, soothing ambience.
For those passionate about sustainability, these lamps are a great eco-friendly option. The adoption of bamboo in your decor promotes the use of renewable resources. Complete the ensemble with an energy-efficient light bulb, and you've got a combination that cheers Mother Nature.
Maintenance is easy, a light dusting often suffices. In case of stubborn dirt, a damp cloth can be used, but make sure to dry the light thoroughly afterwards to prevent damage.
Whether it is for your dining area, living room or bedroom, bamboo ceiling lamps can truly transform a space, breathing life and warmth into your interiors.
Bamboo Photo Frames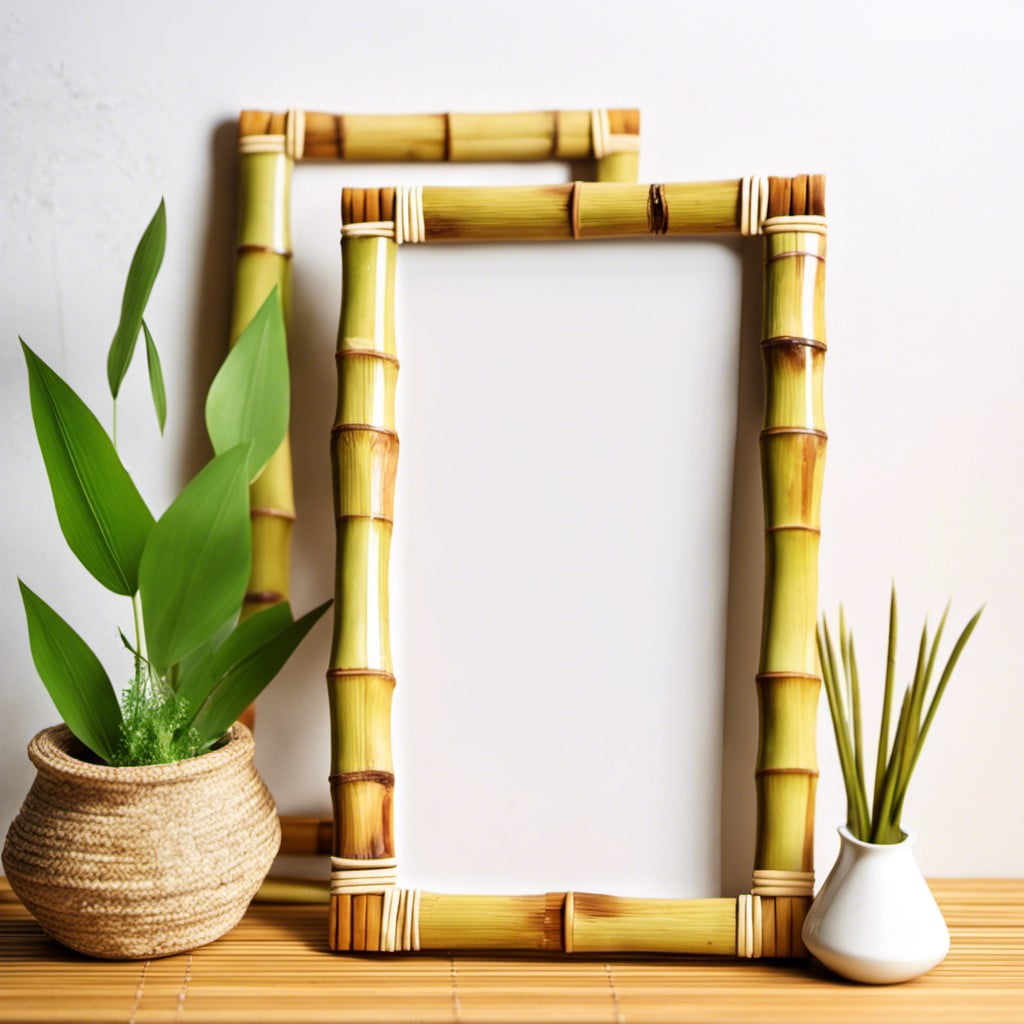 Incorporating the natural charm of these unique frames adds an eco-friendly touch to any home. The diversity in color and texture of bamboo gives every piece a distinct personality.
Opt for a simple, polished frame for a minimalist vibe, or a dark, chunky frame for a more rustic look. These can be an attractive element in any thematic design, blending seamlessly into a modern, traditional, or bohemian decor.
Bamboo frames are durable and resistant to wear, thus ensuring that the cherished moments they hold stay protected. Custom sizes can be a perfect fit for personalized artwork or photos of unusual dimensions. DIY enthusiasts may find the crafting of these frames a rewarding task.
Finally, adaptability does not end indoors as these frames can also contribute to the enhancement of exterior spaces. Outdoor living areas or al fresco dining spaces can benefit from the addition of bamboo photo frames, adding a novel charm to garden yards and patios.
Bamboo Wall Shelves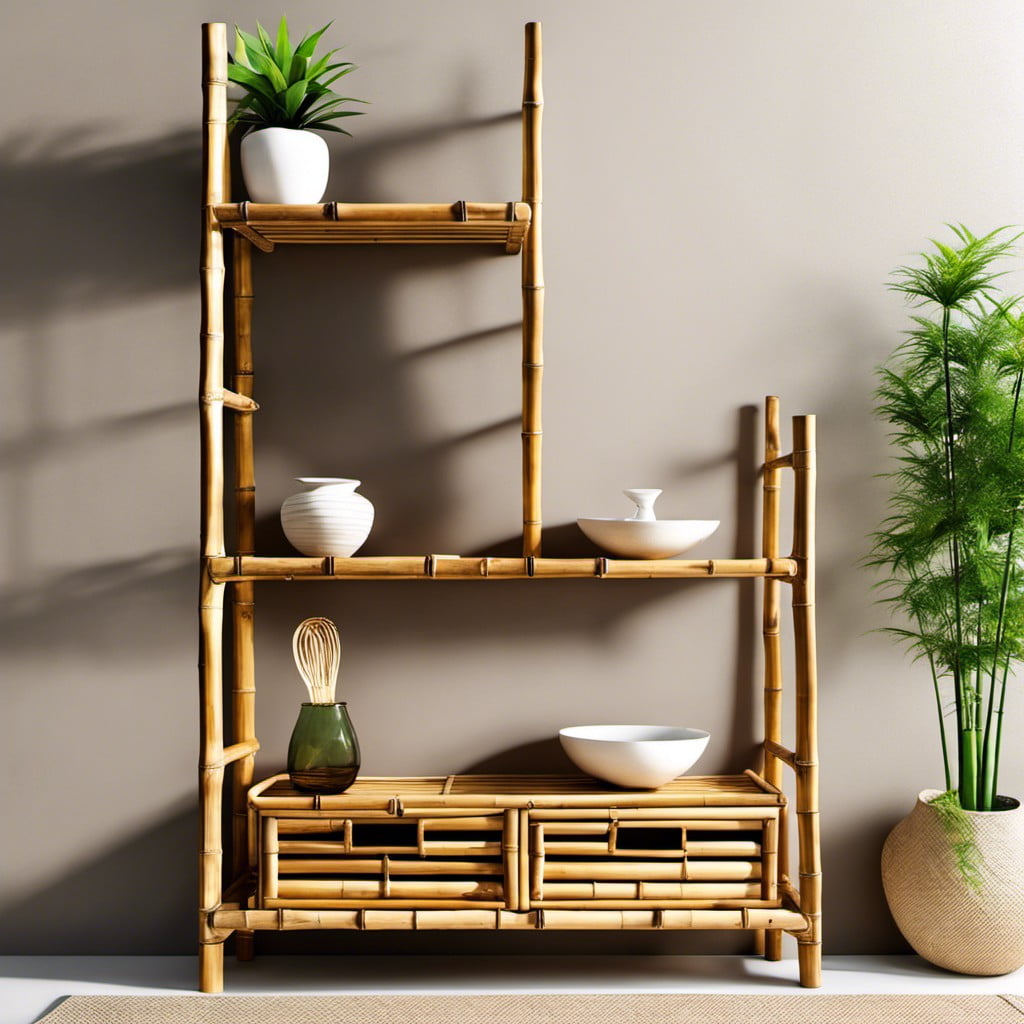 A beautiful utility item, a bamboo wall shelf, is more than just storage; it doubles as a decor piece. Easily blending with various home styles, it complements minimalist, rustic, contemporary, or bohemian themes equally well. Functionality is enhanced by the lightweight and strength of bamboo, ensuring a reliable hold.
To showcase your trinkets, place a leaning wall shelf against a clean wall. For a room with a smaller footprint, floating shelves free up floor space while providing ample display area. Consider a tiered bamboo shelf if you have a bounty of decorations or books waiting for a home. More than just a bookshelf, it is the perfect spot for potted plants or photo frames.
Consider staining or paint for added personality, or leave the bamboo in its natural state to appreciate its authenticity. People are increasingly drawn toward sustainable and eco-friendly materials. Bamboo's rapid growth makes it an environmentally friendly, renewable resource. Furthermore, its natural antibacterial and antifungal properties add a health bonus.
Remember, whether you choose to maximize your vertical space or bring the outdoors in, the right placement and style of bamboo wall shelf can truly elevate your room decor.
Bamboo Wind Chimes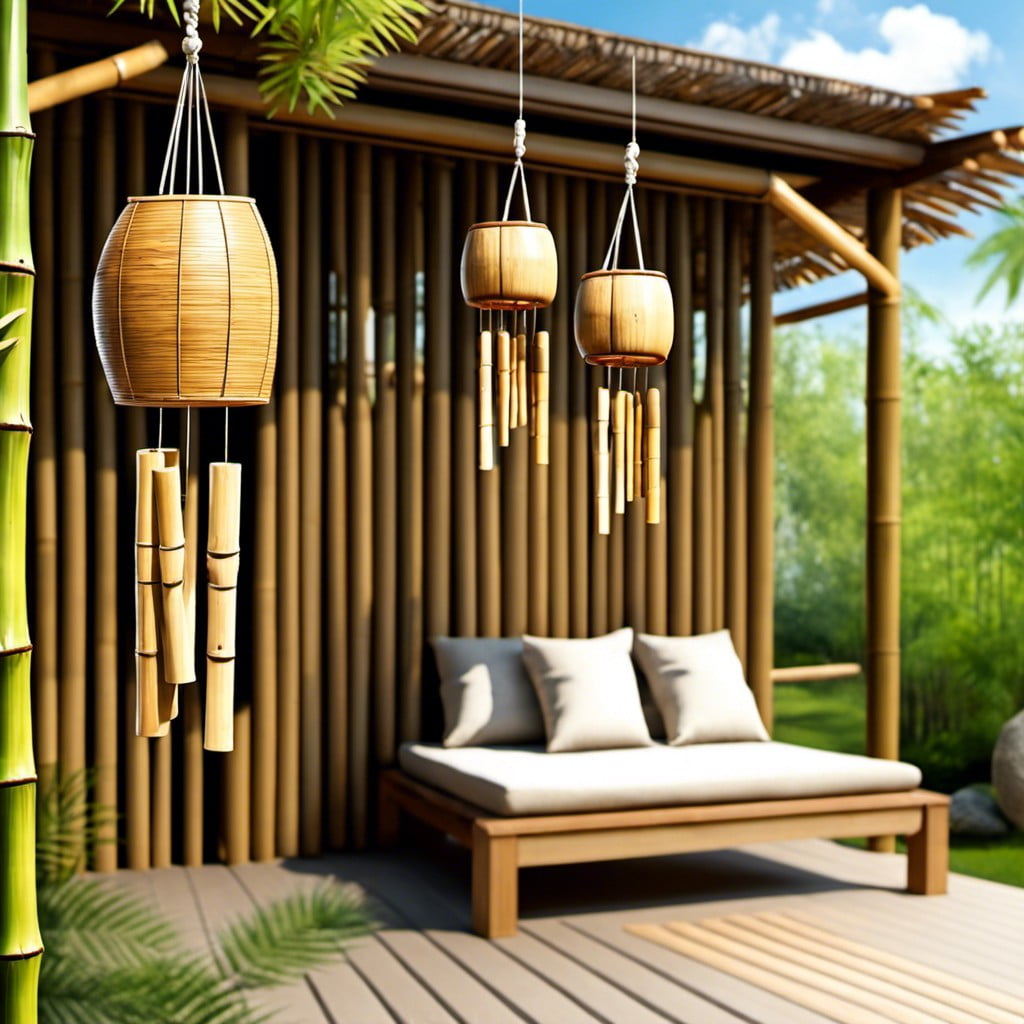 Out in the garden or even indoors, these pieces add a unique acoustic charm. Handcrafted chimes showcase bamboo's natural splendor and create soothing tones when hit by the breeze, providing a calming background melody.
There is the freedom to cut bamboo rods into different lengths for creating various sound pitches. The longer tubes generate deeper tones, while the shorter ones have higher pitches. This way, owners can customize their chimes to produce the preferred melody.
Among the most loved aspects is bamboo's durability. Even exposed to outdoor elements, these chimes last for many years. Meanwhile, they provide a neat, rustic charm that blends seamlessly with different decorative themes.
Also worth noting, making wind chimes is a fantastic DIY project for the environmentally-conscious decorator. This sustainable material reduces the demand for non-renewable resources, thus supporting eco-friendliness. Plus, it's a fun activity that both adults and kids can enjoy.
Remember, where the chime's hanging is quite vital. The spot should be one where the wind can freely move. Common areas include under a porch or near a window. A well-positioned bamboo wind chime enhances the space's aesthetics while delivering a serene, melodic calm.
Bamboo Planters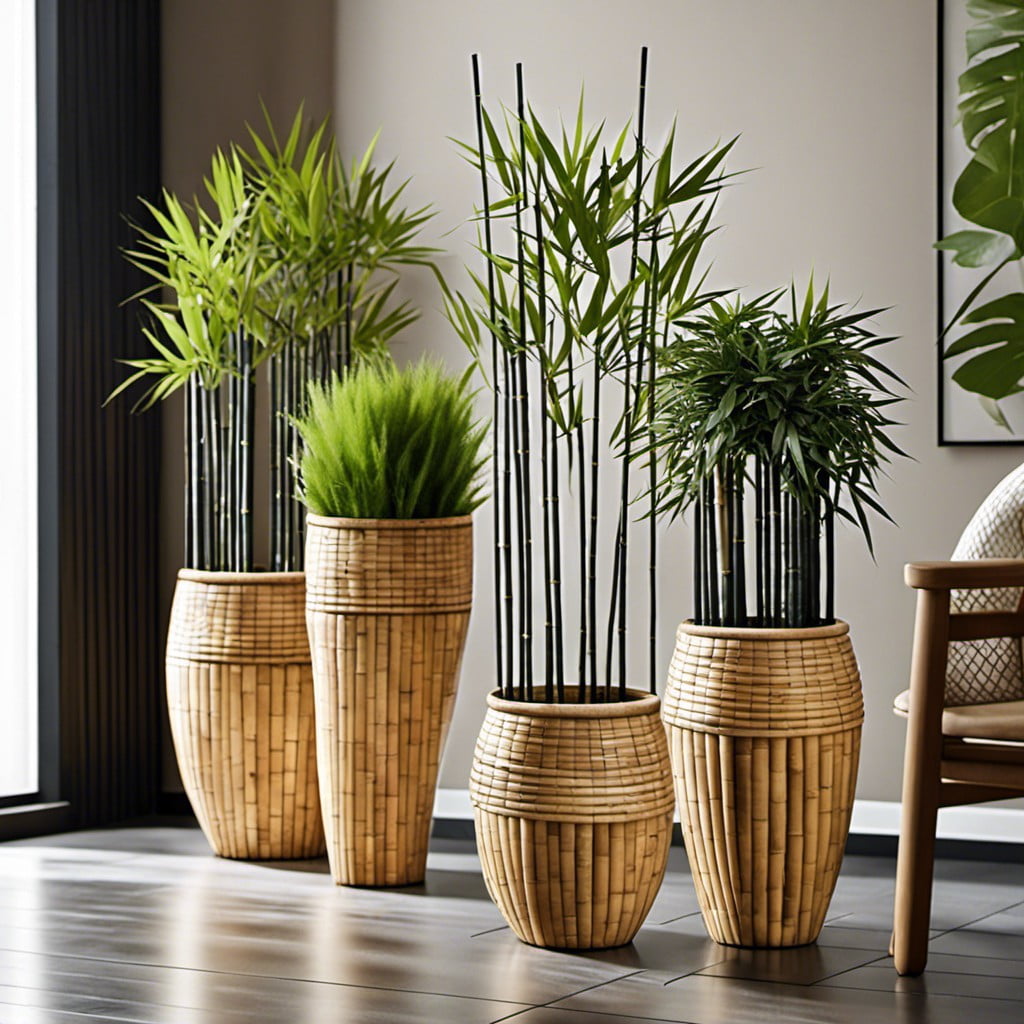 The beauty of using bamboo planters lies in their natural aesthetic and eco-friendly nature. They blend seamlessly with a variety of plants and flowers, enhancing both indoor and outdoor spaces.
1. Versatility: Whether rectangular or round, large or small, bamboo planters cater to every plant type and size.
2. Durability: Bamboo is naturally resistant to pests and weather changes, ensuring a long lifespan for your planters.
3. Eco-Friendly: Bamboo is a sustainable material. Using bamboo planters means contributing to a healthier planet.
4. Easy to Customize: Their natural color pairs well with every decor style. However, they can also be painted or stained for a more personalized touch.
5. Budget-Friendly: Unlike other materials, bamboo planters are generally affordable without compromising on aesthetic or function.
Whether a gardening novice or seasoned green thumb, incorporating bamboo planters into your decor is a surefire way to add a touch of natural elegance to your space.
Bamboo Curtain Rods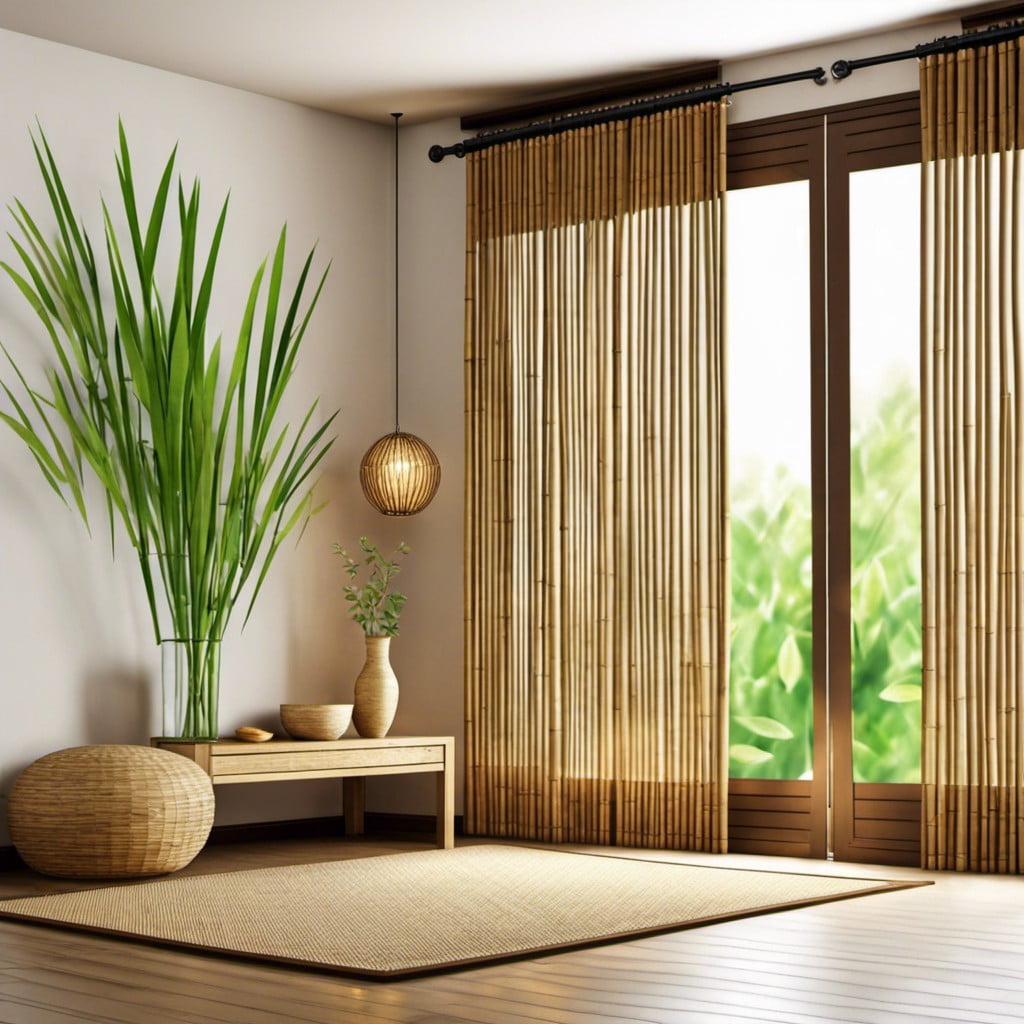 Manufactured from high-quality bamboo, these curtain rods are a standout feature, offering both durability and aesthetic appeal.
They're versatile, complementing a range of decor styles, from tropical to modern minimalism.
Fitting these rods is straightforward; they often come with adjustable brackets, ensuring an easy installation process.
They're eco-friendly too, ticking the sustainability box.
Remember, when choosing a bamboo curtain rod, consider the rod's thickness, color, and the weight of the curtains it needs to support.
Expect a smooth operation with a distinctive stylish twist from these gems.
Bamboo Garden Fencing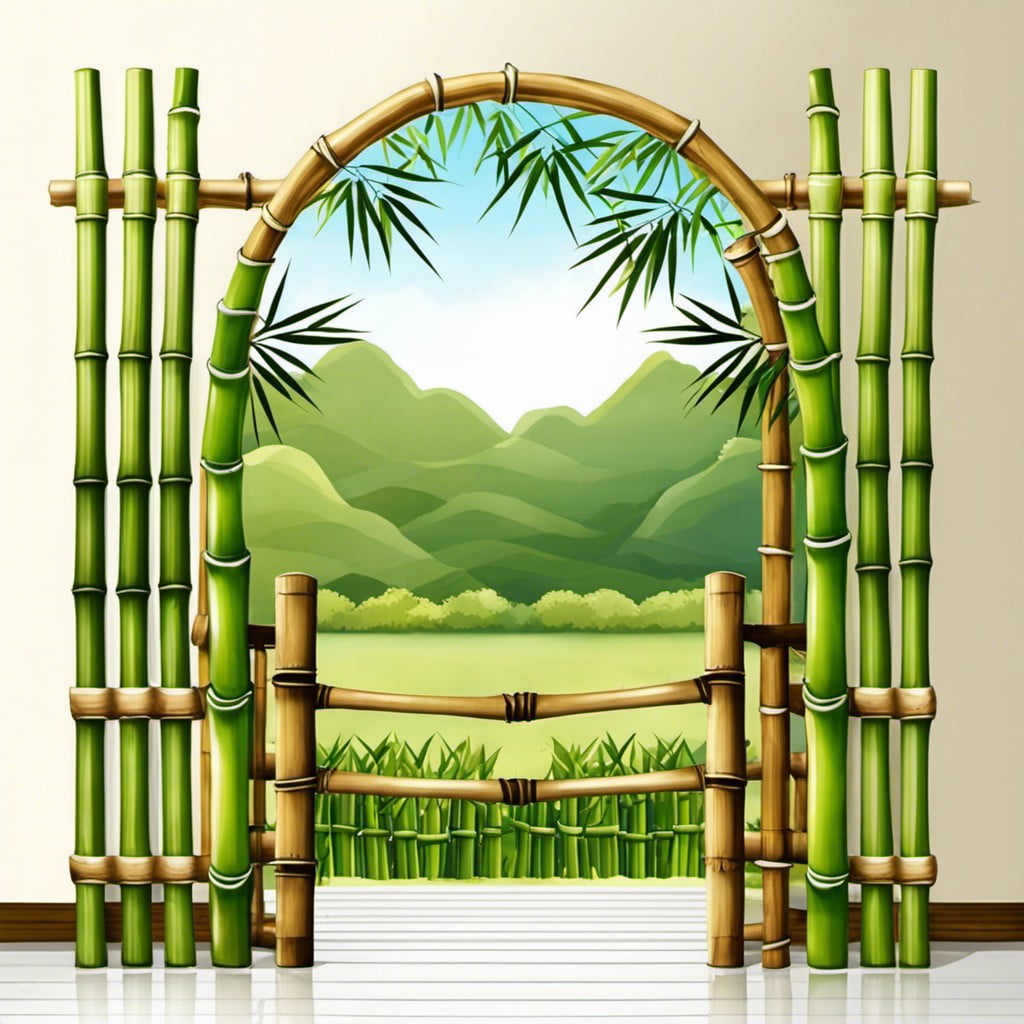 Crafted in versatile styles and sizes, these fences provide a robust and attractive border for any garden space. The natural resistance of bamboo to pests makes it an ideal choice for outdoor decoration. Lightweight yet strong, such fences can be installed with relative ease.
Here are some points that underline its potential:
Versatility: They blend seamlessly with traditional and modern designs alike, providing a refreshing contrast.
Durability: Known for its strength, a well-maintained bamboo fence can serve for years without losing its charm.
Sustainability: As a fast-growing plant, bamboo is more environmentally friendly compared to traditional wood.
Privacy: With the right style and installation, these fences do an excellent job of shielding your space from prying eyes.
Maintenance: Little upkeep is required, a simple wash now and then is enough to maintain its fresh look.
In all, such fences signify an amalgamation of style, sturdiness, and simplicity, making them a fitting choice for every garden lover.
Bamboo Torches for Outdoors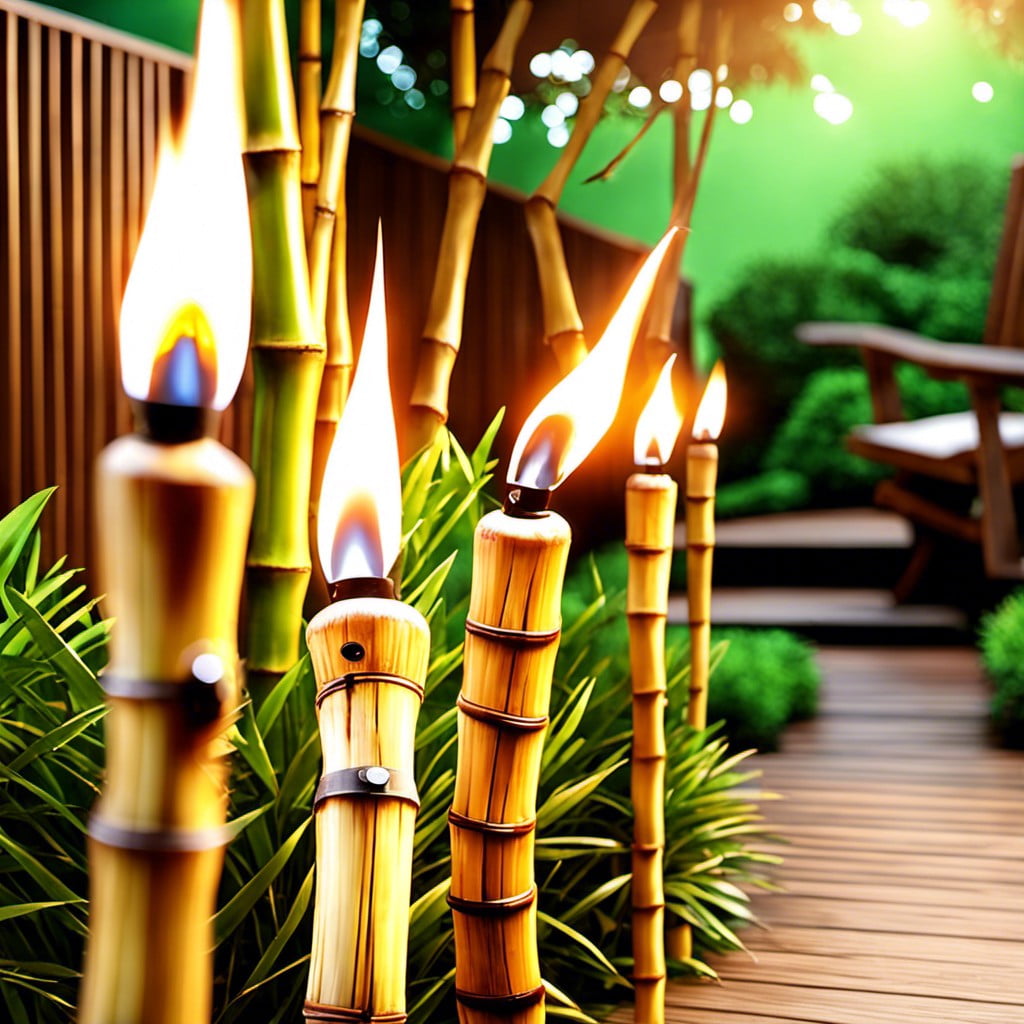 Enhancing your outdoor space can be as simple as adding these unique items. Their natural aesthetic perfectly syncs with the surrounding environment, bringing a hint of tropical appeal. They also serve a practical purpose, intensifying ambiance and providing subtle illumination during evening social gatherings or tranquil nights.
Installation is straightforward: secure the sticks into the ground directly or place them in stand-alone bases for a more mobile solution. Ensure they're placed safely, far from flammable objects. Fill with citronella oil to ward off irritating mosquitoes.
Maintenance remains minimal: top up the fuel, clean the wicks for a consistent glow, and store indoors during inclement weather to expand their lifespan. Woven bamboo covers are available for added protection when not in use.
Opt for varying heights throughout your yard to stimulate visual interest, guiding visitors along pathways or highlighting garden features. Their warm, flickering light creates a captivating atmosphere, demonstrating the transformative potential of these compelling bamboo elements.
Bamboo Placemats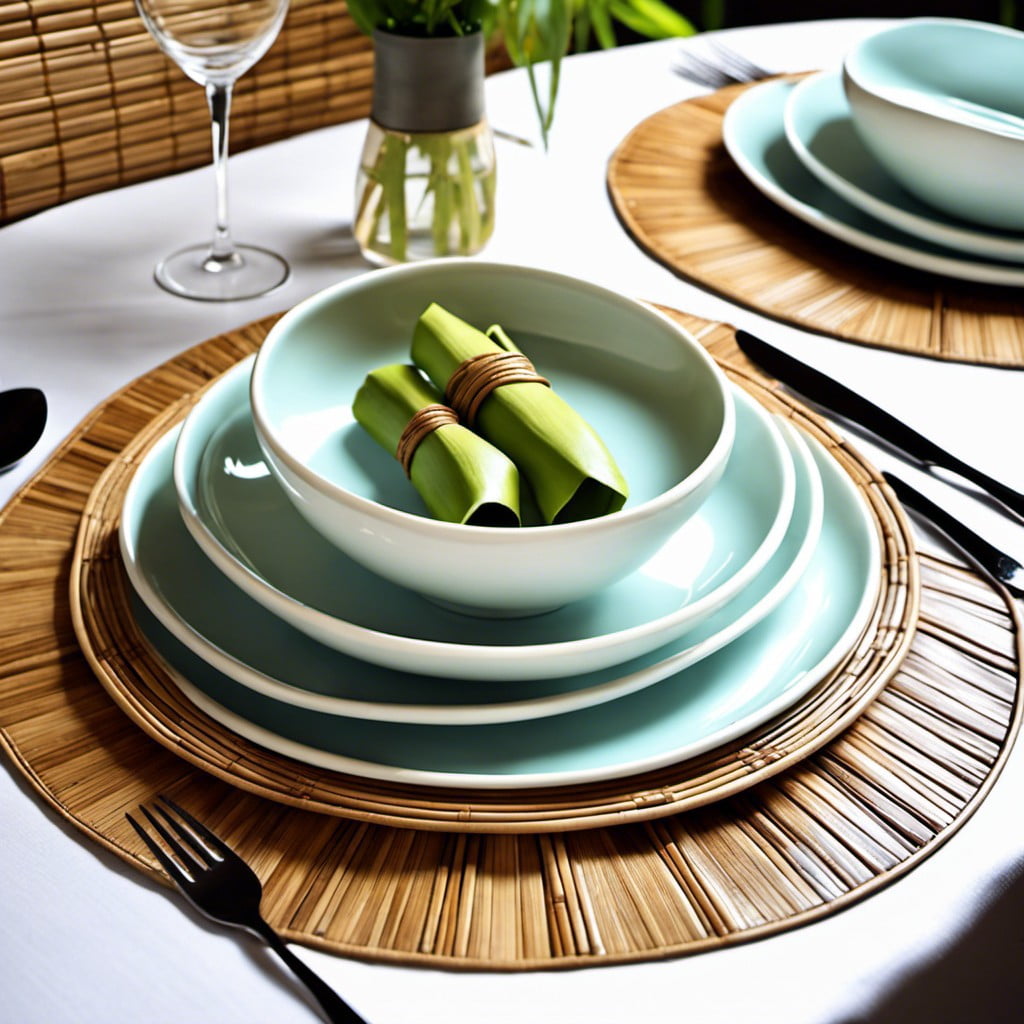 Crafted from a sustainable resource, these pieces add an organic aesthetic to any dining experience. Handwoven and durable, they not only protect your table surface but also add a touch of nature-inspired beauty to your meals.
1. Versatility: They complement almost any table setting or theme, making them fitting for everyday dining to special occasions.
2. Environmental-Friendliness: As a rapidly renewing resource, bamboo is an eco-conscious choice.
3. Easy Maintenance: A quick wipe with a damp cloth is typically enough to clean them.
4. Adds Texture: They contribute an extra layer of visual interest to your table setting.
5. Durability: Despite their delicate appearance, they can withstand years of continuous use.
While bamboo placemats are utilitarian, they also add a natural, elegant touch to your home decor.
Bamboo Bed Frames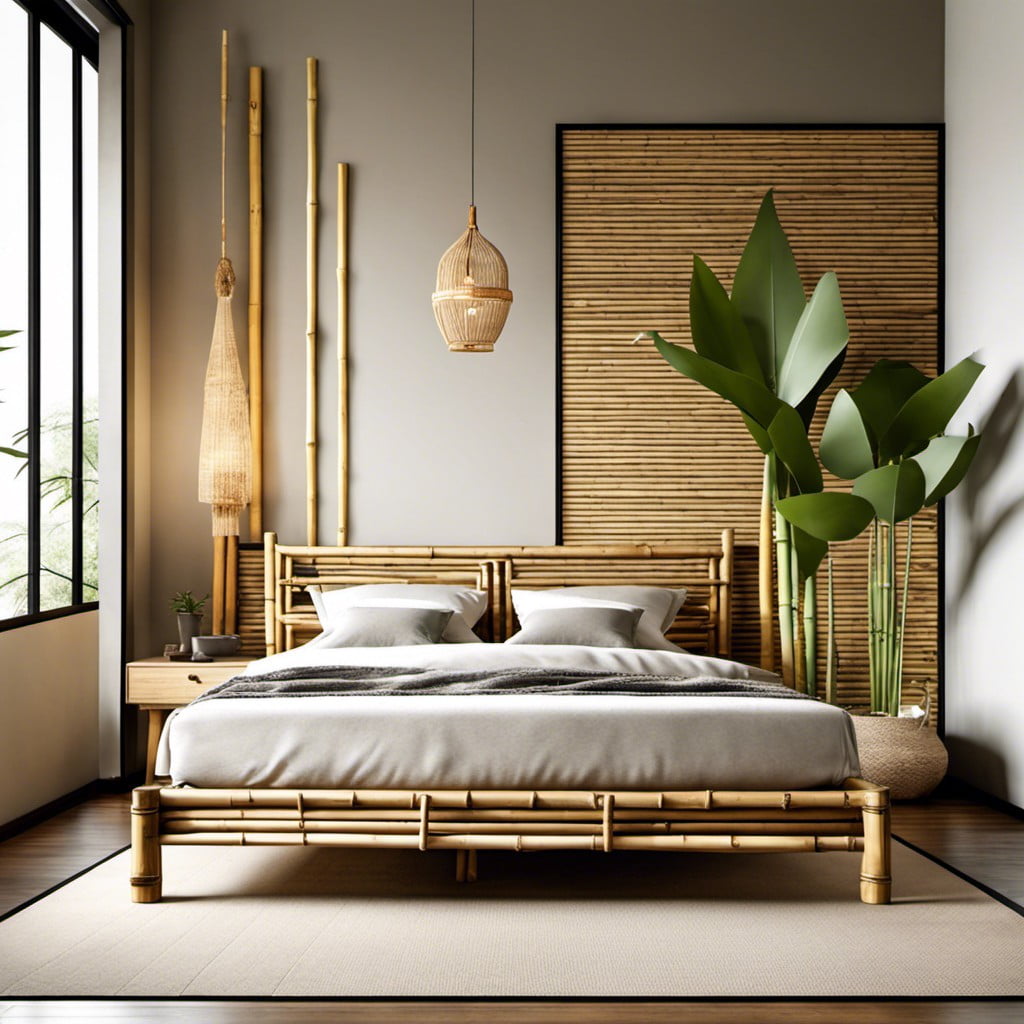 Offering both functionality and aesthetics, bed frames made from bamboo significantly uplift the bedroom ambiance.
Regarded as a sustainable and durable option, such frames are often lightweight and easy to assemble.
The sleek, minimalist design and the natural earthy hues of bamboo complement almost all interior styles – be it rustic, modern or eclectic.
For a more distinctive look, consider frames with bespoke engravings or an unvarnished surface to expose raw grains.
When purchasing, ensure you choose legally sourced bamboo to support sustainable foresting initiatives.
Importantly, clean regularly to prevent dust and pollen accumulation and coat with natural oils for enhanced longevity.
Bamboo Coasters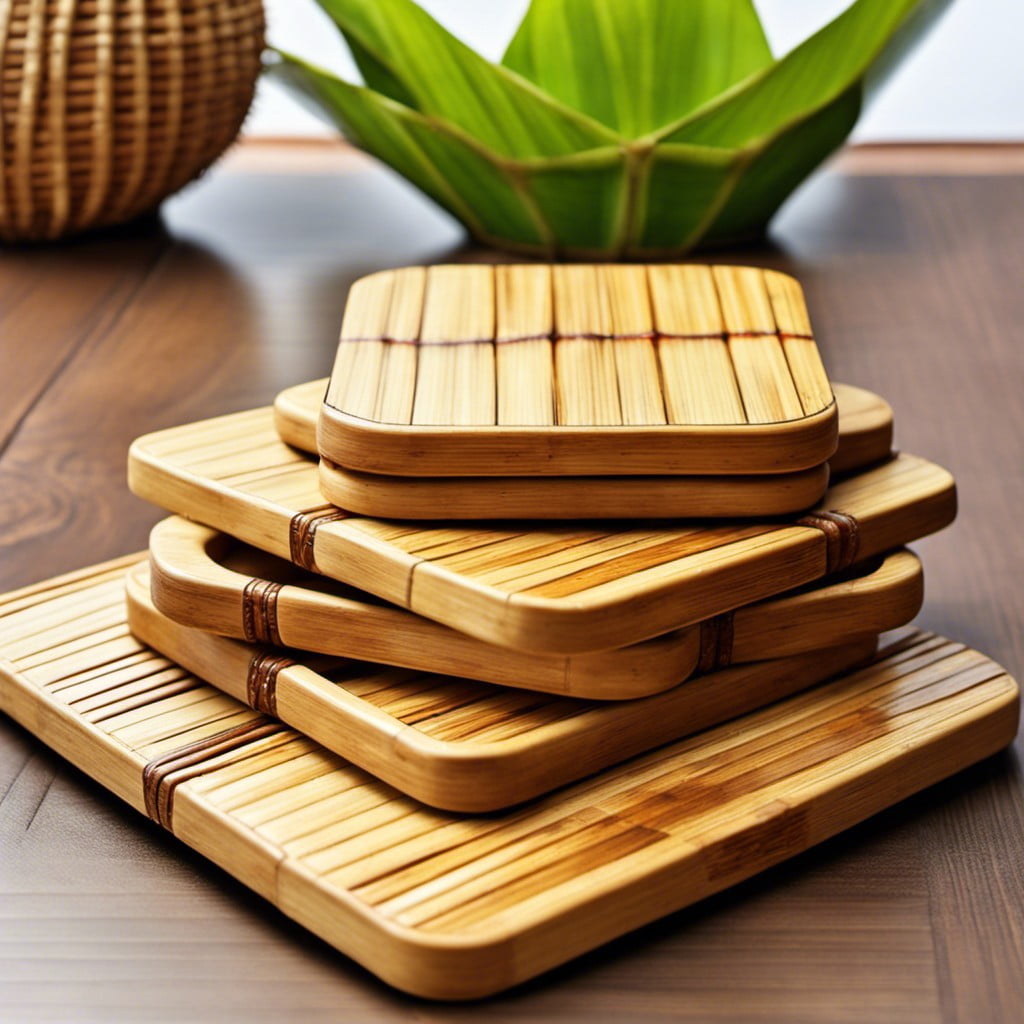 Looking for a practical way to incorporate bamboo into your decor? Consider accessories for your kitchen or dining area. One choice to consider are coasters. Fashioned from this highly durable, moisture-resistant material, they guarantee protection for your furniture against water rings and scratches.
There's a variety of options, too. These can range from a rustic, hand-carved look to a sleek, contemporary design with a lacquered finish. Some may even include a holder for neat storage when not in use. As well as the obvious functionality, bamboo coasters can add both charm and character to your space. Rich in texture and natural color, they can complement nearly any existing decor style, from boho-chic to mid-century modern.
Moreover, they can double as conversation starters – not just because of their aesthetics, but also for sustainability. Bamboo regenerates rapidly, making it highly renewable and eco-conscious choice. Beyond the visual appeal, you can take pride in knowing your decor selection is Earth-friendly.
To maintain bamboo coasters, cleaning is as simple as wiping them with a damp cloth and drying well. This ease of care, combined with their durability, ensures they'll remain a fixture in your home for a long time. In this regard, bamboo coasters are not only a stylish choice, but a practical one as well.
Bamboo Serving Trays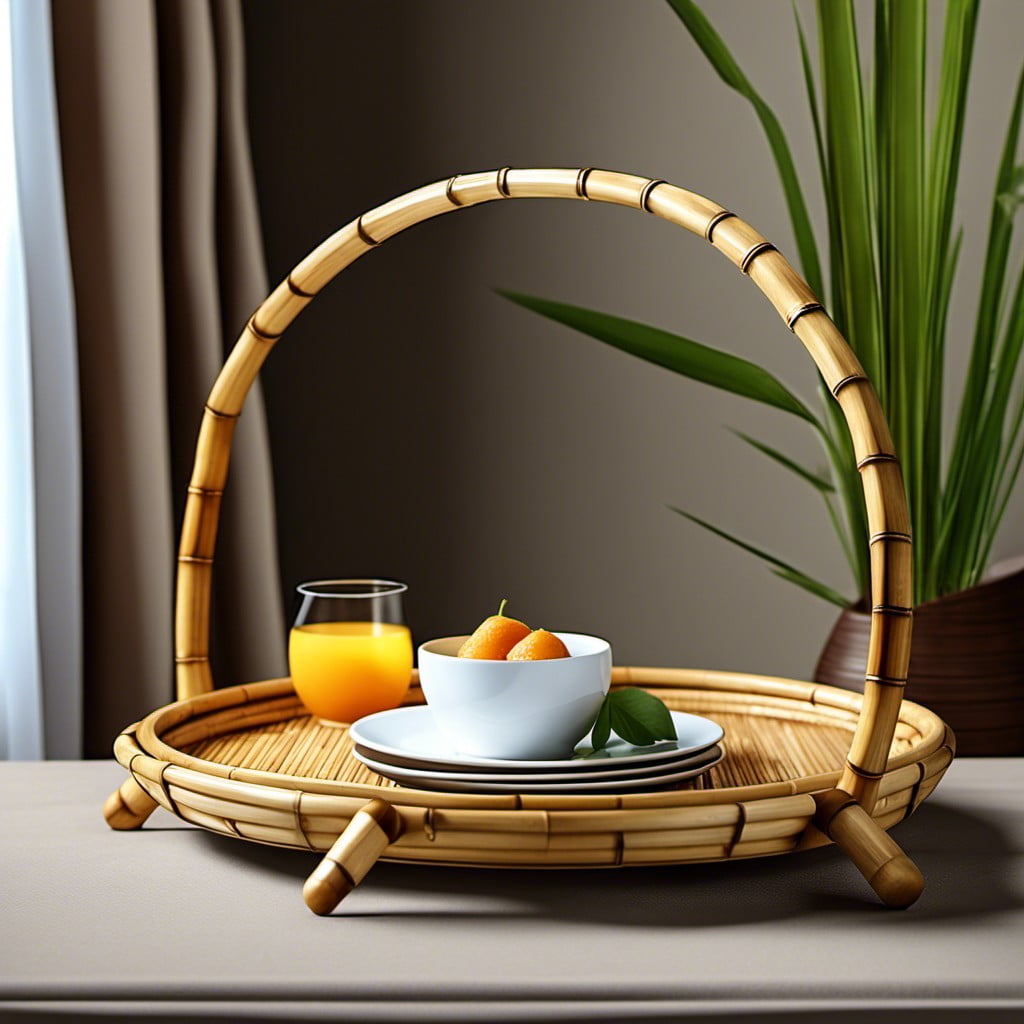 Complementing your kitchenware collection with bamboo serving trays not only infuses an earthy element but also guarantees durability and aesthetic appeal. Their lightweight nature, coupled with the unique grainy texture, delights both the user and observer.
1. Sustainability: With bamboo recognized as a fast-growing renewable resource, opting for bamboo trays provides an eco-friendly alternative to plastic.
2. Versatility: Whether for serving breakfast in bed or for displaying appetizers at a party, these trays serve myriad purposes.
3. Design options: Plain, engraved, with or without handles, a myriad of designs cater to varied personal preferences.
4. Maintenance: Bamboo trays demand basic care such as gentle hand washing, making them practical.
5. Affordability: Typically, bamboo serving trays are cost-effective, making them an attractive option for budget-conscious decorators.
Remember, every bamboo serving tray brings with itself a hint of nature right into your home. Add one to your space and watch as the organic charm uplifts the atmosphere.
Next, let's explore bamboo rugs and how they can add a layer of sophistication to your flooring.
Bamboo Rugs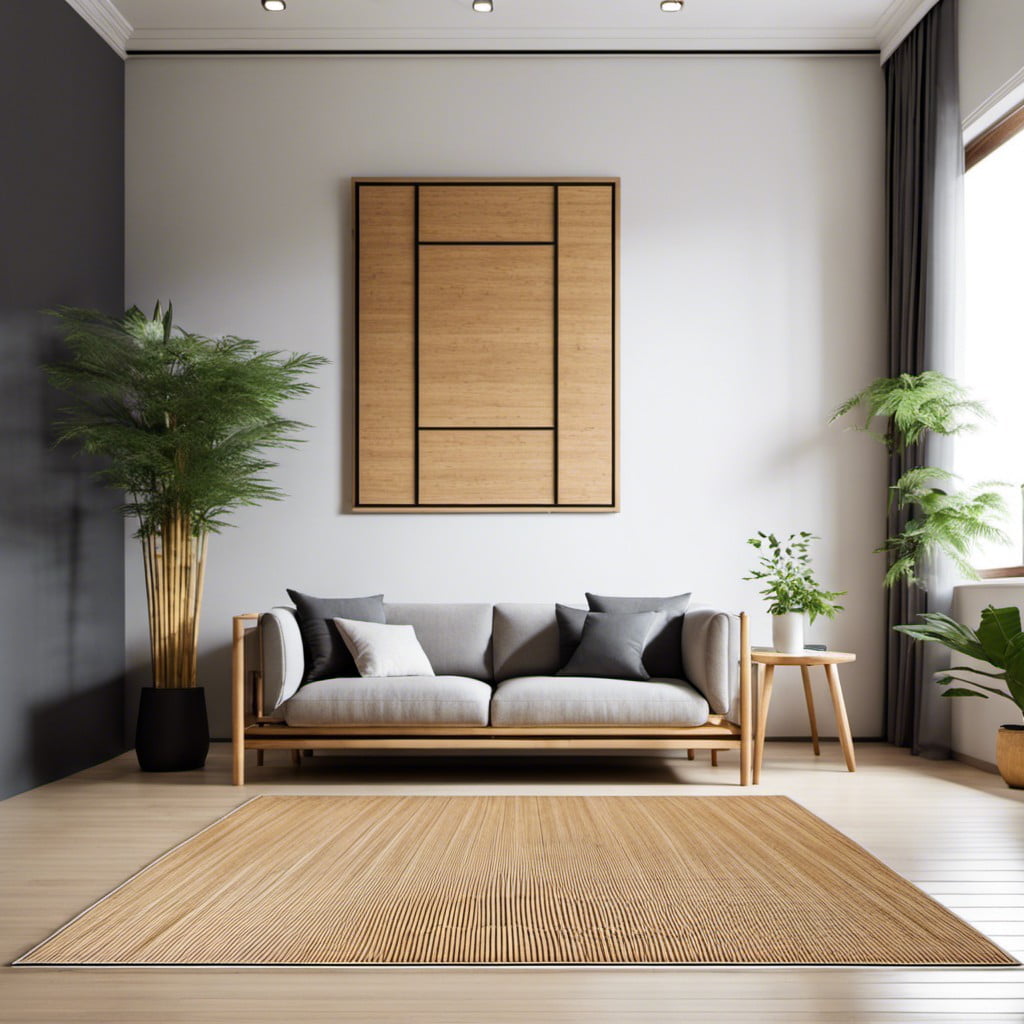 Cultivated for both their aesthetic appeal and durability, these rugs are a savvy choice for high-traffic areas. The hardness of bamboo fibers gives these rugs an innate resilience to wear and tear while maintaining their original allure.
They're also relatively easy to clean – a swift sweep can rid them of dust and dirt. For stubborn stains, mild soapy water does the job. You can find them in a range of colors and patterns to suit every taste.
For an eco-friendly floor covering that brings a touch of elegance and exoticism into your living space, these rugs offer a delightful solution. Comfortable underfoot and versatile, they complement myriad decorating styles, from contemporary to rustic. They deliver not only a visually pleasing center of interest but are also an all-natural, sustainable choice.
Bamboo Room Screens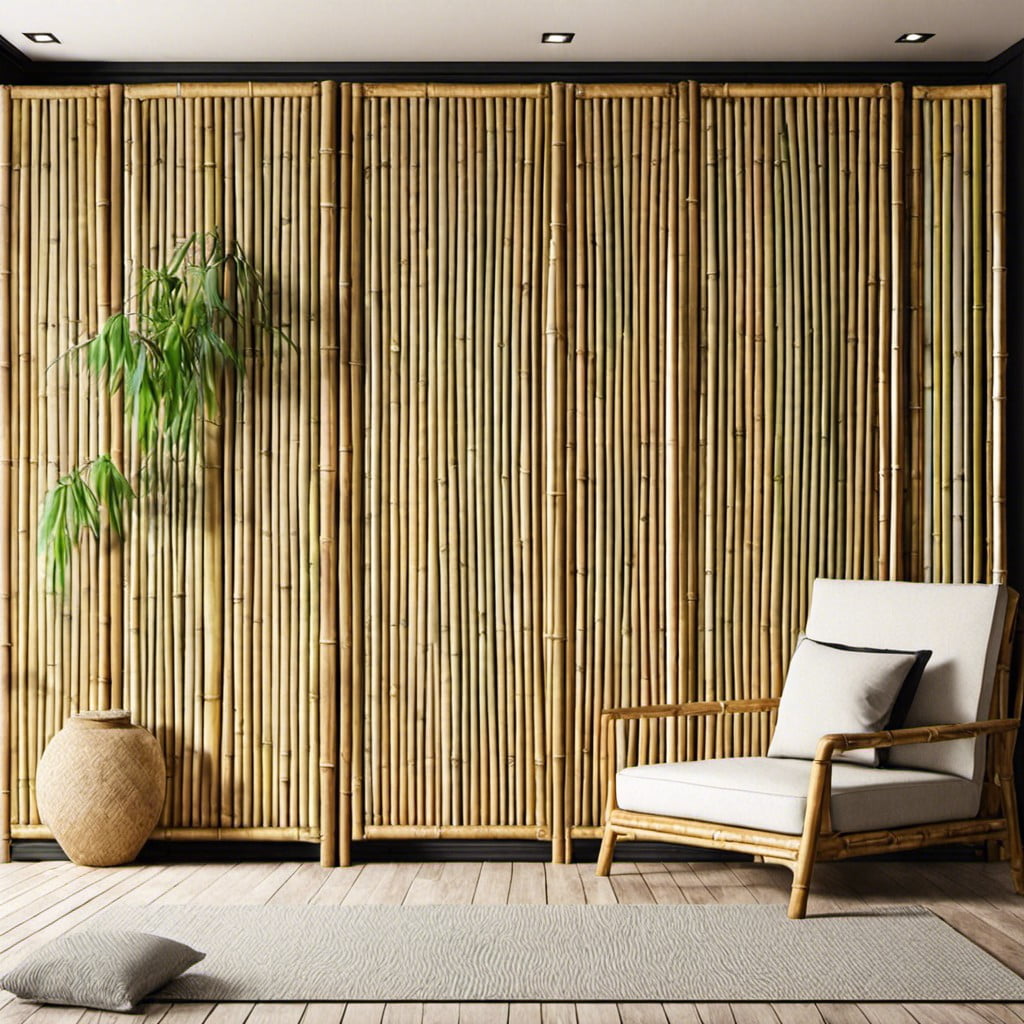 As decorative and functional items, these screens add a touch of aesthetic appeal while offering privacy. They can be used to divide a large room into smaller, intimate spaces without the need for construction. Because they come in a variety of designs, they can match any décor, ranging from minimalist to ornate.
Additionally, these screens are portable, allowing for easy configuration of space. More than just dividers, they also serve as impressive standalone art pieces, showcasing the natural charm of bamboo. Finally, bamboo screens are an environmentally-friendly choice, boasting durability and ease of maintenance.
Liked reading this? Here's more:
Recap: