Last updated on June 22, 2023
With the holiday season quickly approaching, it's time to start to think about gifts for the special people in your life. These stamped tile coasters would make great gifts for teachers, party hosts, or anyone!  They are actually great year-round gifts too.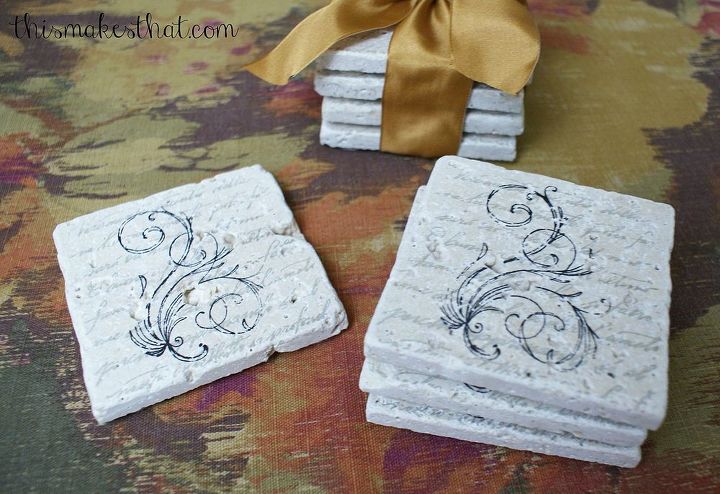 They are simple and inexpensive to make. All you need are a few supplies:
4"x4" tumbled travertine tile
stamps
StazOn ink pad
felt pads
I like the natural stone with all the imperfections so I chose a tumbled travertine tile.  I found a pack of nine tiles at Home Depot for under $4.00.  Remember before you get started make sure to clean your tile with a damp rag to get all the dust off. That way the stamp will adhere to the tile better.
There are so many wonderful stamps to choose from that I had a hard time deciding. I selected a larger Italian script stamp and a medium-size scroll stamp so I could layer the scroll on top of the script. To achieve the layering look it's best not to use the same color ink. I used Dove Gray for the script and Jet Black for the scroll. Afterward, I found some leaf stamps that I could use for fall hostess gifts.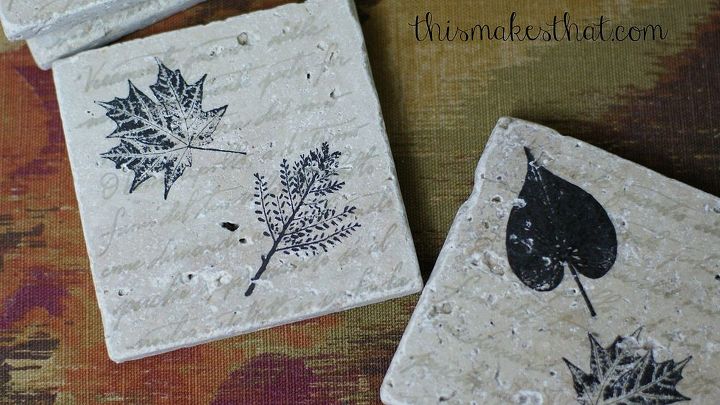 Press the stamp onto the ink pad or vice-versa.  I actually like pressing the ink pad onto the stamp so I can see where the ink is going to ensure I get all areas covered with ink.   Line up the stamp over the stone and press firmly.  Don't rock the stamp but press and then pull the stamp straight up. I recommend practicing on paper first until you get the hang of it.
I noticed there are a lot of clear stamps on the market these days. I bought a real cute dragonfly and butterfly clear stamps but had a harder time with the clear stamps vs. the wooden stamps. The clear stamps were more pliable and kept moving when I pressed down on them. I guess I'll have to practice more with them.
After the ink has dried, place felt pads on the bottom of the tile so they won't scratch the surface. I used 3/4″ pads and placed them onto the four corners. You can use a different size felt pads or even try those clear rubber pads instead.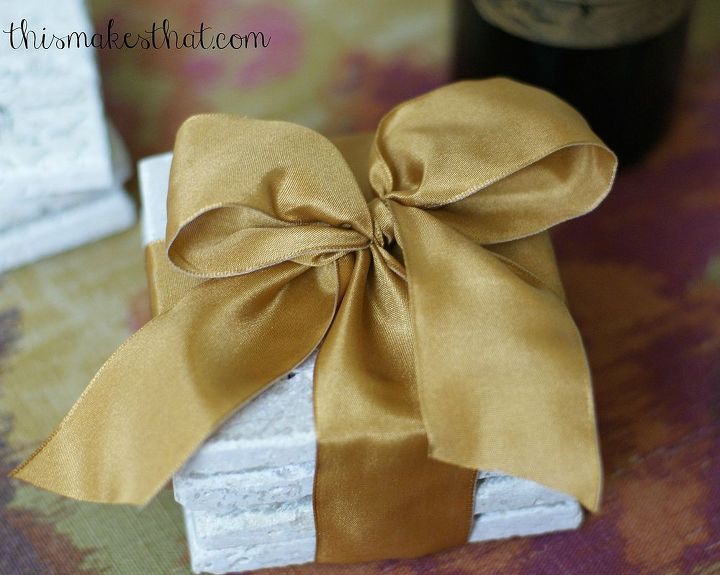 Wouldn't these make a great hostess gift? Just wrap up a set of four with a ribbon.
Liked reading this? Here's more: