Last updated on October 27, 2023
Green couches can transform any living room into a vibrant and cozy space, because they bring an unmatched blend of comfort, elegance, and a touch of nature right to your home.
I'm proud to have written and illustrated this ultimate guide on 20 Stylish Green Couch Living Room Decorating Ideas, and I hope you find it as inspiring and fun as I did creating it.
Green couches can bring a refreshing touch to any living room, infusing it with a sense of tranquility and vibrancy.
Whether you're aiming for a modern, eclectic, or traditional look, a green couch can be the perfect centerpiece.
This article will provide you with unique and creative decorating ideas to enhance your living room with a green couch.
From choosing the right wall color and accent pieces to selecting the best rug and throw pillow combinations, we've got you covered.
Stick around to discover how to make the most out of your green couch and transform your living room into a stylish and comfortable space.
Green Velvet Couch Next to a Creamy Shag Rug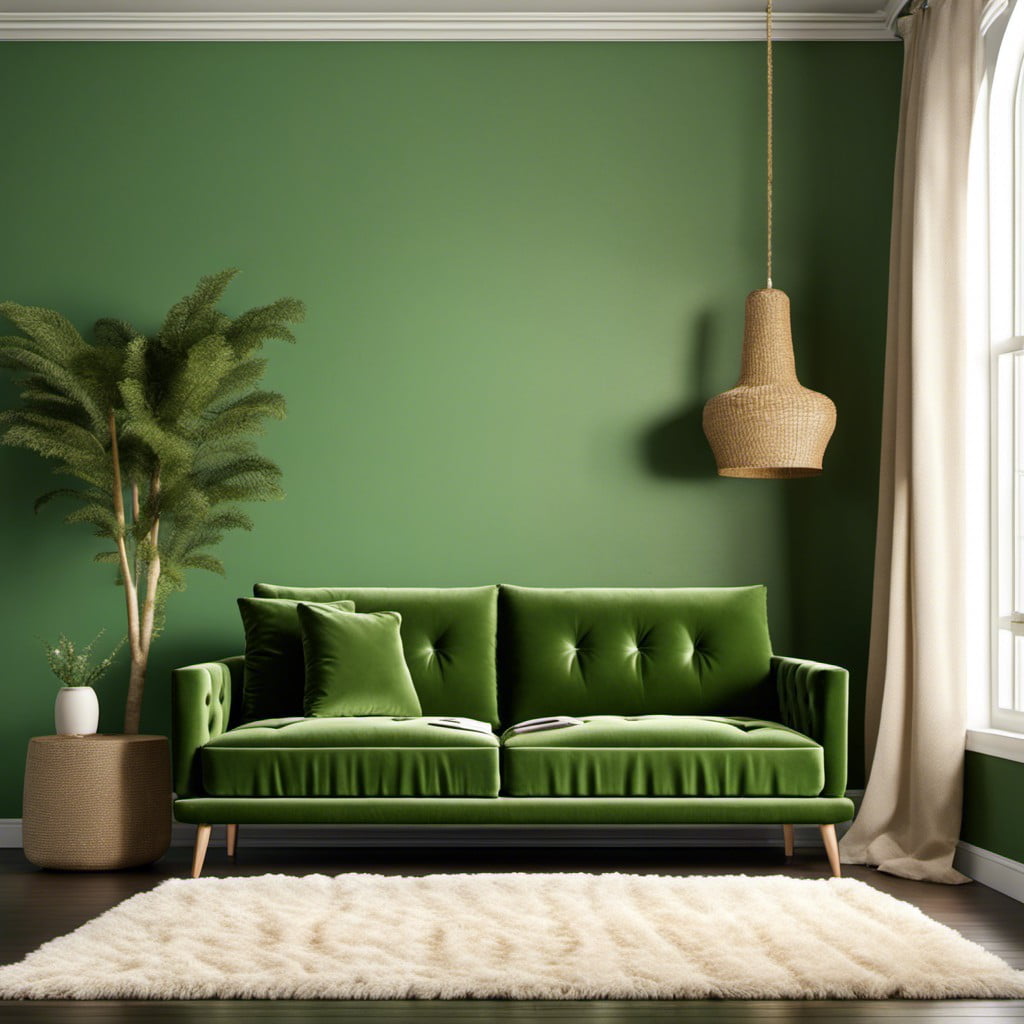 The key concept here is contrast and texture play. The luxurious finish of the green velvet paired with the cream shag rug brings a splash of elegance to the room. With velvet's shine reflecting light differently than the fluffiness of the rug, it creates a visual interest that draws the eye.
The velvet couch, being a darker hue, becomes the room's anchor, grounding the space and providing a focal point. When it contrasts against the light-tonality of a creamy rug, the room feels open, yet inviting. This approach also makes it possible to introduce a range of other colors in the decor without making the space feel crowded or overwhelmed.
A selection of quirky cushions or throw blankets on the couch can break the color monotony without stealing the spotlight. Choosing wooden or gold-tinted metallic furniture provides an added layer of contrast while remaining neutral. Lamps with ambient lighting can further accentuate the velvet's unique reflective properties.
Remember, consistency is critical. Stick to guided color schemes and themes across other decorations to make the living room feel cohesive and united. Finally, remember to ensure the rug is appropriately sized – it should extend a little beyond the couch to frame the space effectively.
Nature Inspired Room With Plants for Green Synergy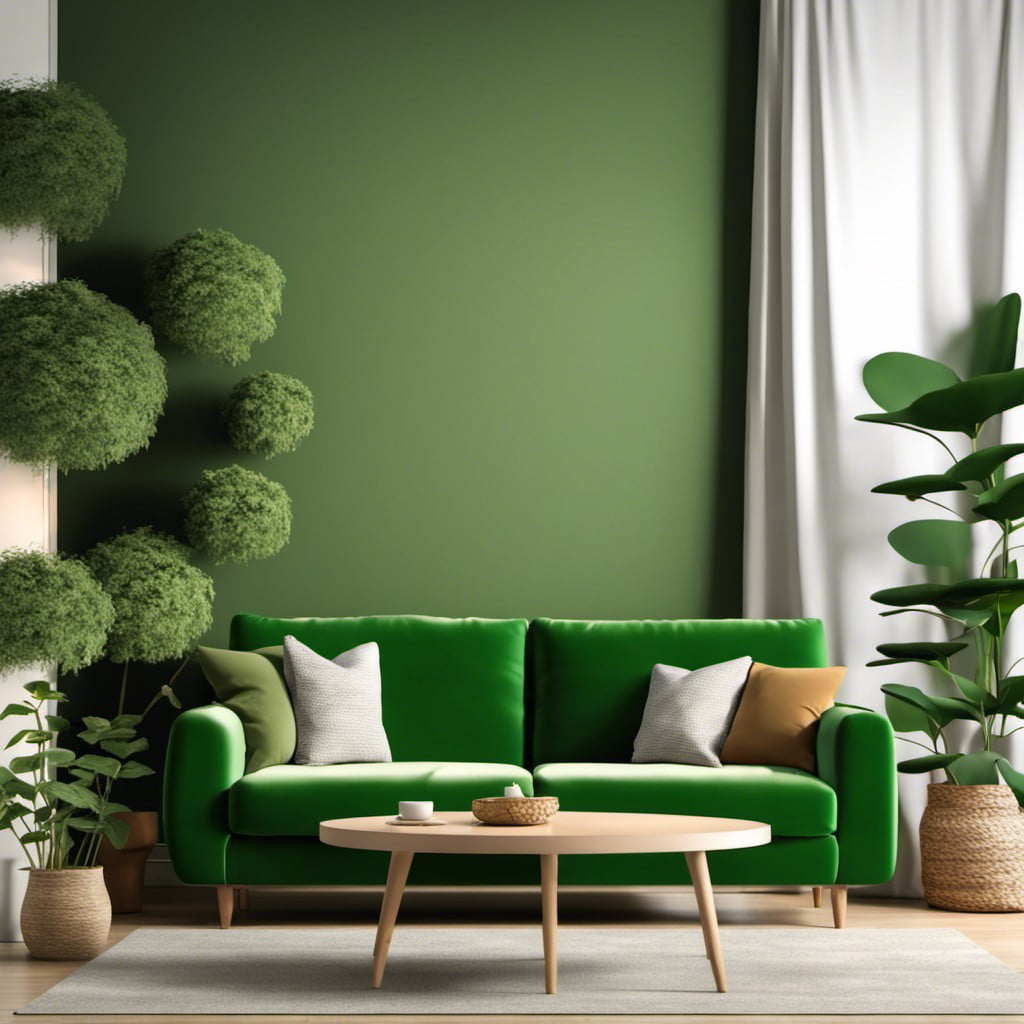 Moving forward with the motif in mind, consider adding a variety of houseplants ranging from small potted succulents to tall, leafy indoor trees. Not only will these provide an array of green tones, they also introduce a refreshing element of nature.
Place larger leaf-bearing plants at corners to draw the eye around the room. Complimenting the green couch with plants can promote a harmonious atmosphere. For an even better result, think of plant stands and hanging baskets to create a layered, dynamic look.
Remember the importance of choosing plants that suit your room's light conditions. Also, consider pots that fit into your color scheme for a well-integrated look. Remember, it's all about balance – not overcrowding the space with foliage, but adding enough to echo the color of your green couch and foster a lush, harmonious ambiance.
Dark Green Couch With Contrasting Bright Pillows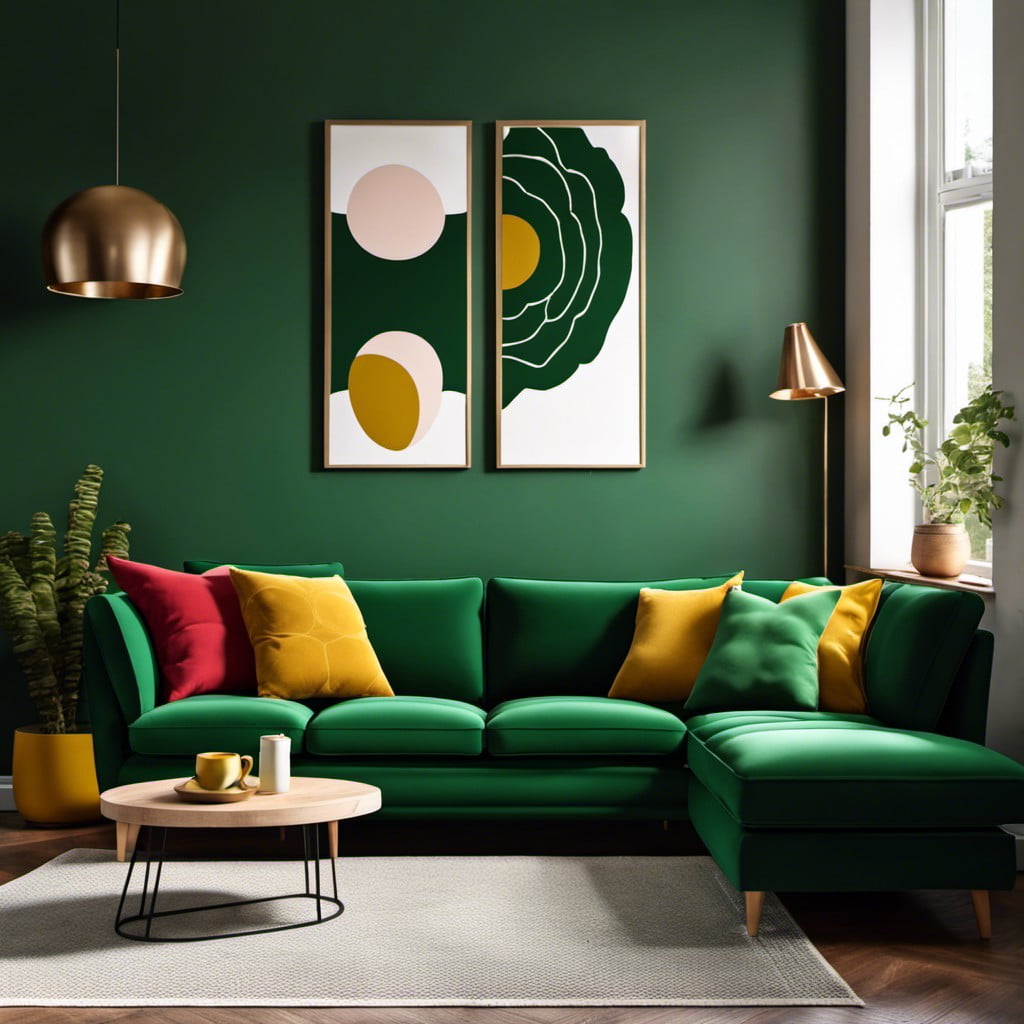 A notable way to add a spark of vitality to your deep emerald seating is by leveraging the power of contrast. Bright pillows work exceptionally well as the pops of color draw the eye and revitalize the living room area. Opt for colors like mustard yellow, hot pink, or electric blue for a daring, contemporary appeal.
Choosing patterns or distinct textures can further enhance this contrast. Consider stripes, geometrical patterns, or floral prints to maintain visual interest. Texture adds depth, so don't shy away from different fabric types– velvet, faux fur, or linen can contribute tactile variety.
Lastly, ensure there's a balance. Too many bright pillows can be overwhelming and divert attention from the green couch. Stick to an odd number grouping – either three or five pillows, and experiment with different shapes and sizes. This formula often leads to an ideal balance of color, pattern, and texture.
White Walls for the Bright Green Couch to Pop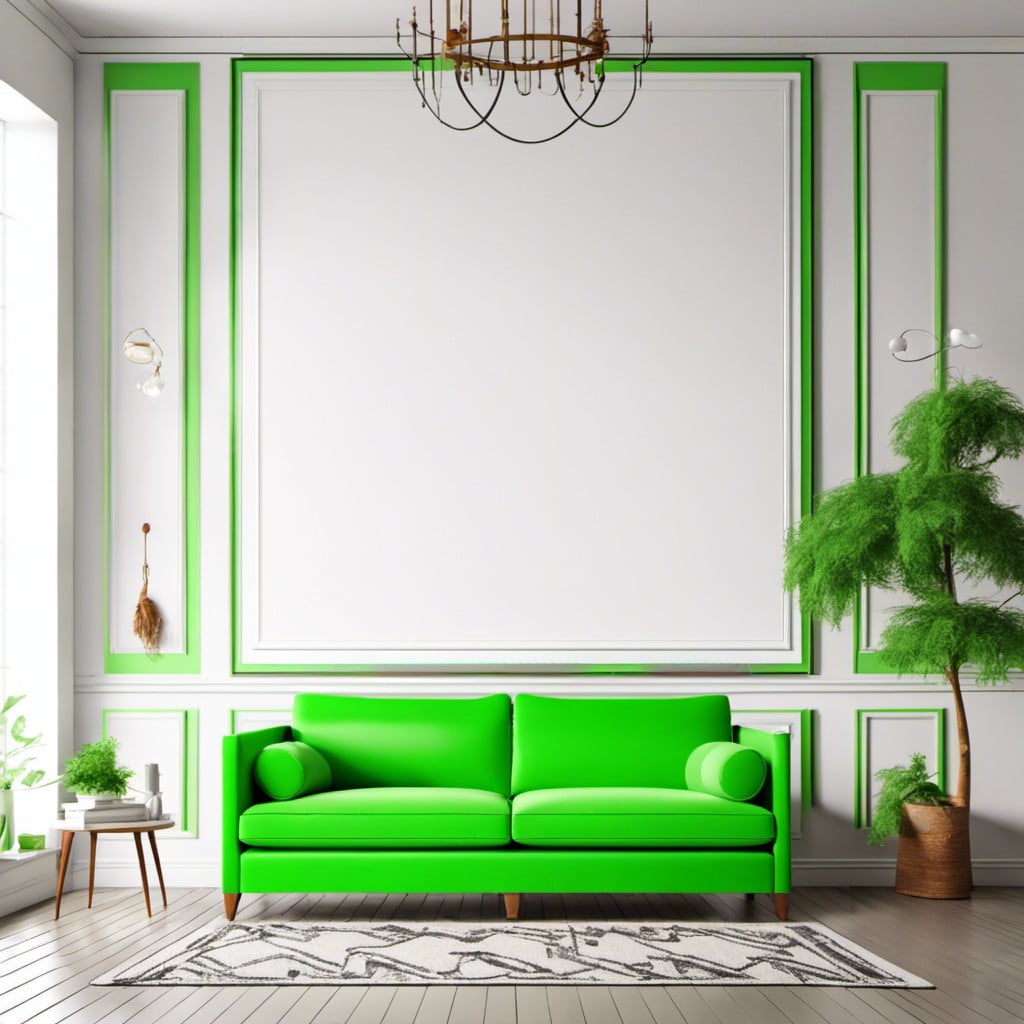 To make the most out of your vibrant green couch, harness the power of contrast and simplicity. Firstly, consider a beautiful, pure white shade for your walls. This crisp backdrop serves dual functions — enhancing the vivacious hue of the couch and giving the room an open, airy feel.
Take note of the following key points:
White paint has numerous undertones; choose wisely to match the tone of your green. A cool undertone works best with a blue-ish green couch, while a warmer white is ideal for a yellow-based green.
Keep the rest of the décor relatively neutral. You don't want other overpowering colors stealing your couch's spotlight.
Use texture to add interest — white wainscoting or exposed brick can add a unique touch without introducing new colors.
Furniture in natural wood tones add a warm counterbalance to the cool white and bright green. Consider a coffee table or shelves in oak or walnut.
For a modern touch, employ clean lines and geometric patterns in your accessories and other furniture pieces. For instance, a cubic coffee table or rectangular art frames.
Remember, the goal here is to let the bright green couch be the star of the room. White walls and carefully chosen accents will underscore its beauty without distracting from it.
Vintage Theme With Green Chesterfield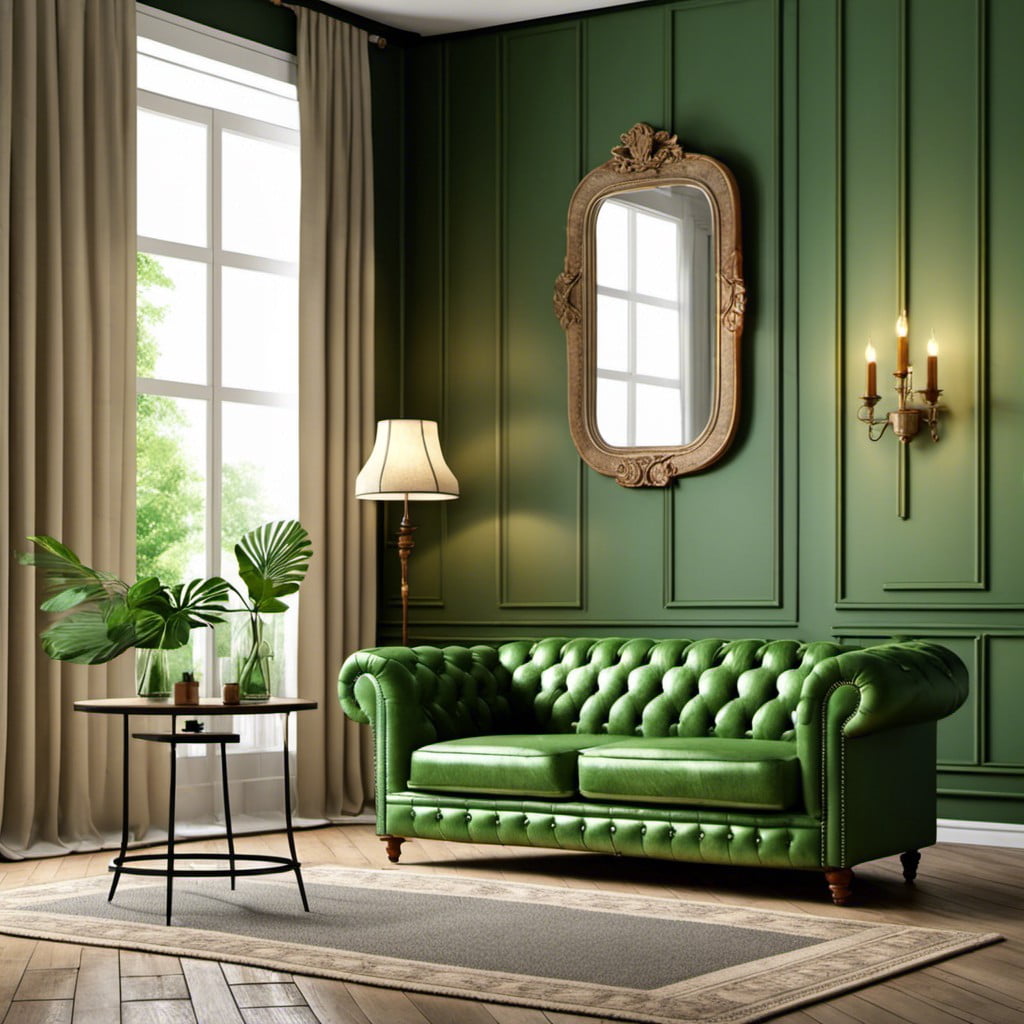 Embracing a vintage theme can turn your space into a stylish yet cozy area, exuding class and comfort. A Chesterfield, characterized by its deep-buttoned upholstery and high arms, is the perfect blend of luxury and timelessness. When upholstered in green, the Chesterfield offers a unique charm that's effortlessly classic.
1. Aged, weathered elements: Antique mirrors, old trunks, or repurposed mailboxes not only act as functional pieces but also add to the vintage charm.
2. Mix of textures: A wooden coffee table, or a medley of plush and knitted throw blankets offer visual interest and contrast to the sleek leather Chesterfield.
3. Neutral palette: A backdrop of creamy white, or the soft tones of an aged wood panel wall, allows the green Chesterfield to shine.
4. Inclusion of classic patterns: A Persian rug, or paisley throw pillows integrate seamlessly with the vintage aesthetic.
5. Ornate lighting: Crystal chandeliers or Tiffany lamps help illuminate the Chesterfield, creating warm inviting tones.
Remember, vintage does not necessarily mean old-fashioned. It's about lending character and charm to your living space while keeping it warm and inviting.
Metallic Gold Accent Table Beside Green Couch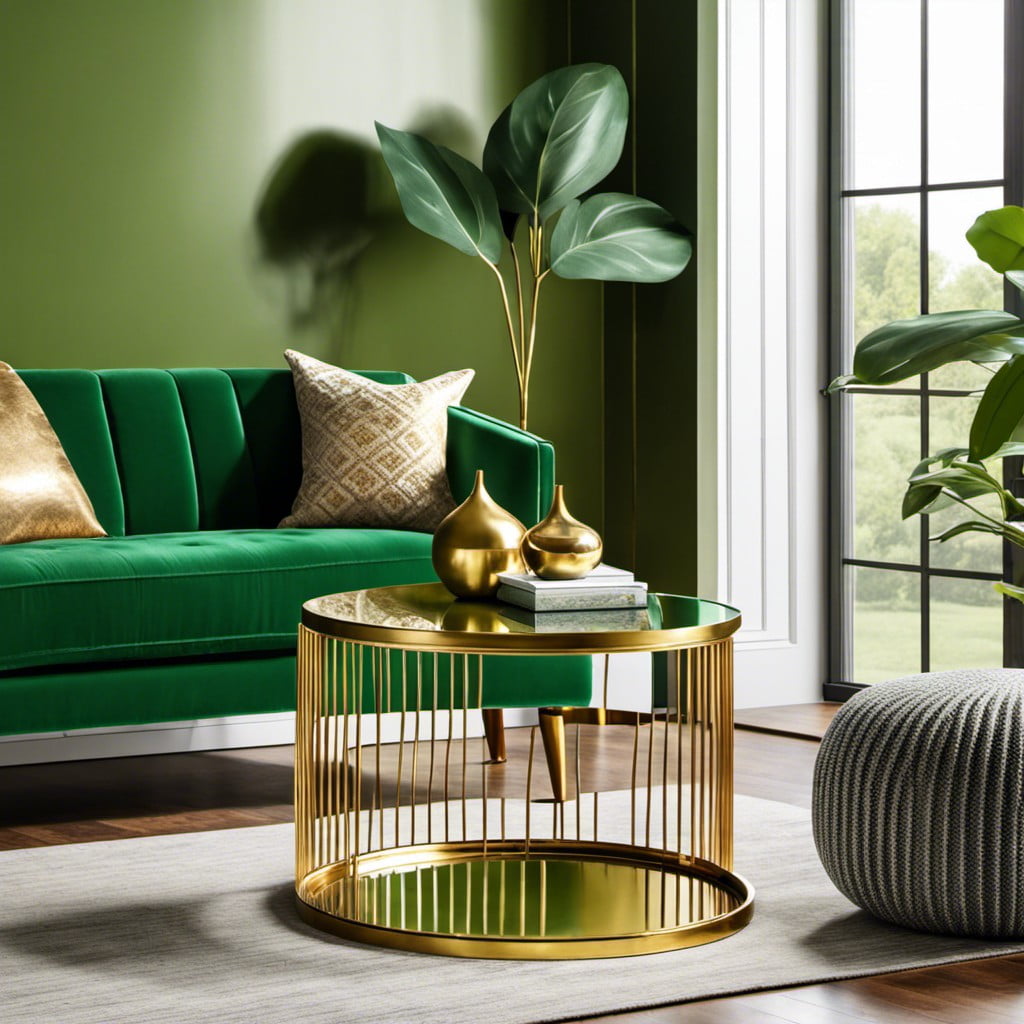 Pairing a metallic gold accent table with your green couch can add a touch of elegance and sophistication. Start by choosing a table with a unique design or intricate detail which establishes it as a focal piece.
Next, choose your accents carefully. A gold-framed mirror or a gold-rimmed clock overhead works well to create harmony. For the table itself, consider adding an interesting piece like a vintage gold lamp or a gold-trimmed picture frame. Use books as pedestals to add dimension on the table.
Remember, the goal is to enhance, not overpower your green couch. Position the table to the side of the couch, not the front. This allows it to act as a supporting element and provides practical benefits like a place to sit your coffee cup or book, without overwhelming the space. Also, ensure that the gold tone of the table matches other gold elements used in the room to maintain a seamless look.
Light Green Couch With Warm, Wooden Décor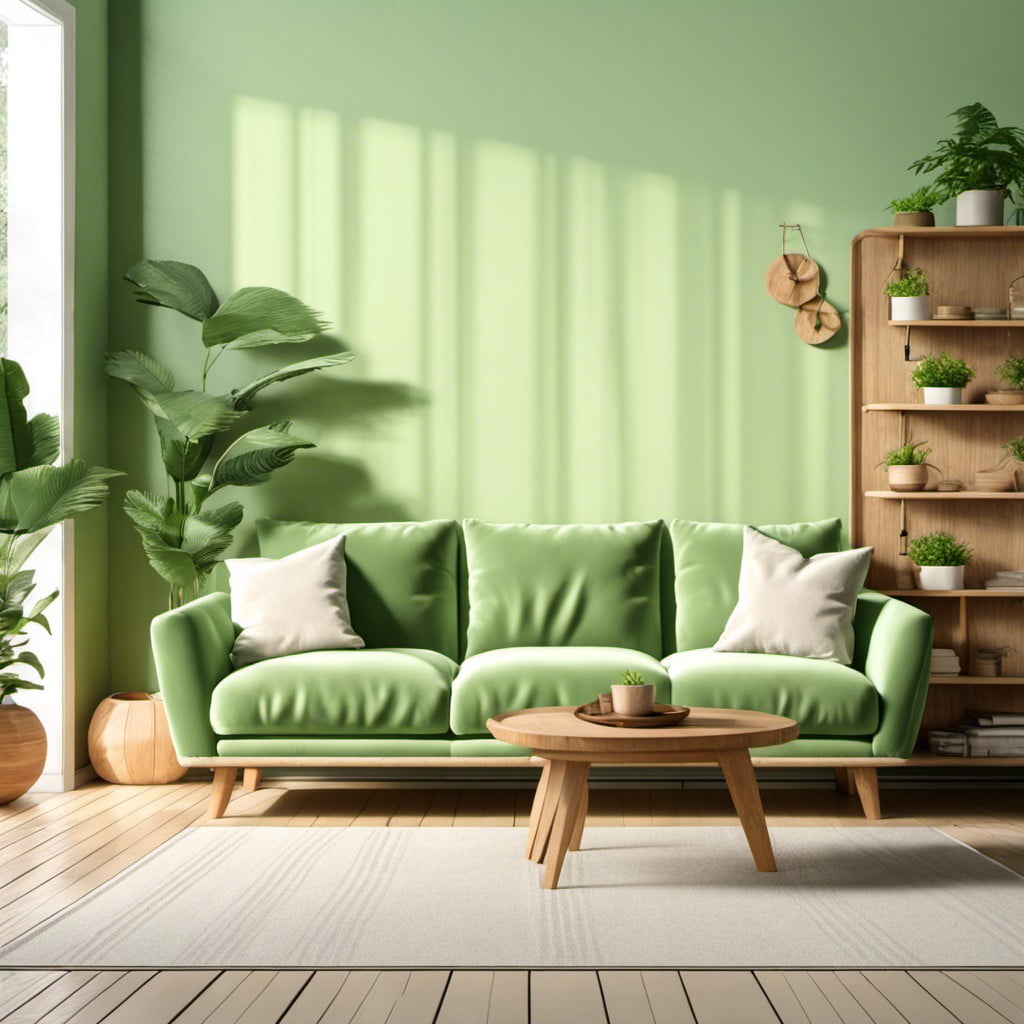 Ensuring the couch stands out is key, which you can achieve by incorporating furnishings constructed from warm woods such as oak or walnut. Their natural color can enhance and balance the lightness of the couch. Consider trying a coffee table and bookcases in these inviting wood tones.
In addition, wood-textured wallpaper can add a cozy and homely feeling to your living area. Such wallpapers are available in various beautiful designs, ranging from light birch to rich mahogany effects. Alternatively, a rustic wooden wall shelf above your couch can create a pleasing visual interest.
When choosing additional décor items, opt for those made of wood or with wooden elements. For instance, a wooden lamp base, wooden picture frames, or mirrors with wooden borders. However, remember to stick to your color palette to keep the warmth and avoid clashing.
To add a final touch, a wooden tray on the coffee table, topped with some fresh flowers or indoor plants, can subtly tie the entire look together. It's a simple but effective way to evoke a feeling of warmth and calmness while allowing the light green couch to be the focal point.
Geometric Patterned Rug Under a Green Sofa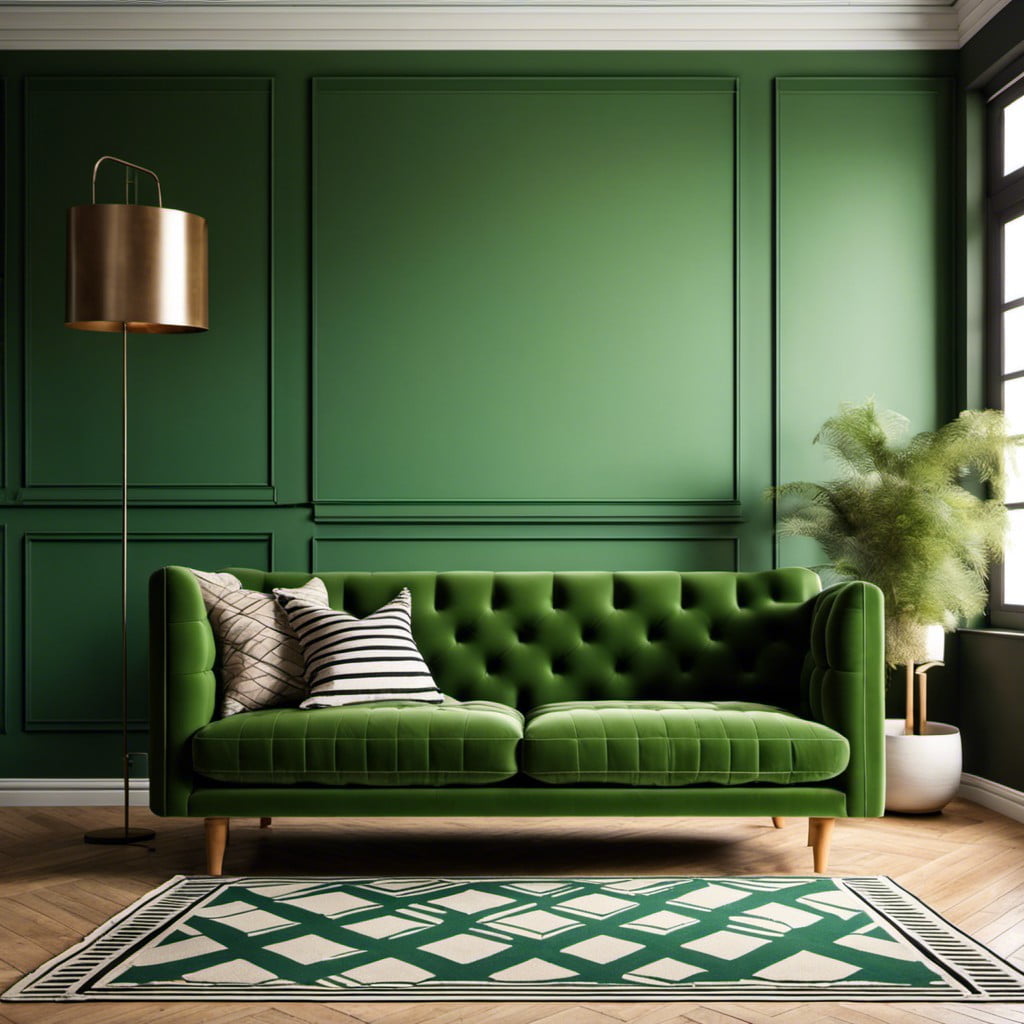 Incorporating a geometric patterned rug under your sofa can work wonders in bringing the entire décor together. It not only grounds your space, but adds an extra layer of dimension to the room.
Here's how to pull it off with ease:
1. Opt for contrasting colors: If you've got a light green couch, include a darker or bolder patterned rug and vice versa. This contrast helps highlight both the couch and the rug.
2. Experiment with shapes: Don't stick to traditional square patterns. Hexagons, circular patterns, and abstract designs can all complement your green couch beautifully.
3. The size of the rug matters: To attain balance, make sure your rug is large enough to accommodate at least the front legs of your couch.
4. Keep other elements subtle: As a geometric rug is quite a statement piece, ensure other décor items in your room are relatively understated not to detract from the stunning combination you've just created.
5. Match one of the rug colors with other parts of the room: This will create a cohesive look and will bring the whole room theme together.
These simple but effective tips should help you in generating a visually appealing and harmonious living space.
Boho Theme With a Green Futon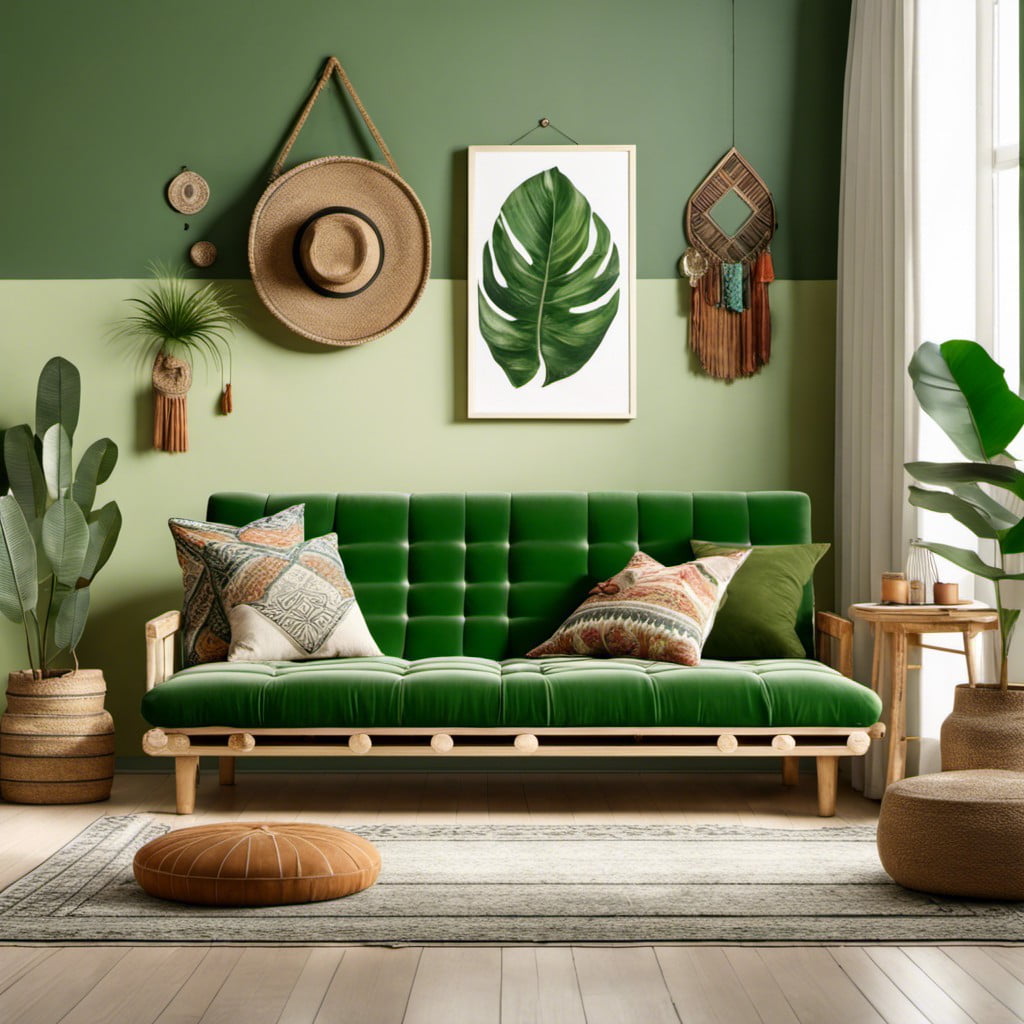 Overflowing with originality and character, the Bohemian style pairs well with a green futon. Its relaxed and welcoming vibe aligns with a signature Boho look. Eclectic patterns and vibrant colors are at the heart of this theme.
To create visual intrigue, layer in throw pillows with various patterns and hues. Mix and match globally-inspired textiles such as colourful Turkish or Moroccan rugs.
Next, consider adding elements of nature. Large leafy plants can serve a dual purpose as décor and natural purifiers, their green leaves harmonizing with the futon.
Lastly, include diverse elements like globes, driftwood, string lights, and vintage mirrors. Remember, the key to a successful Boho theme is uniqueness and personality. The more eclectic, the better!
Green Leather Sofa With Black and White Wall Art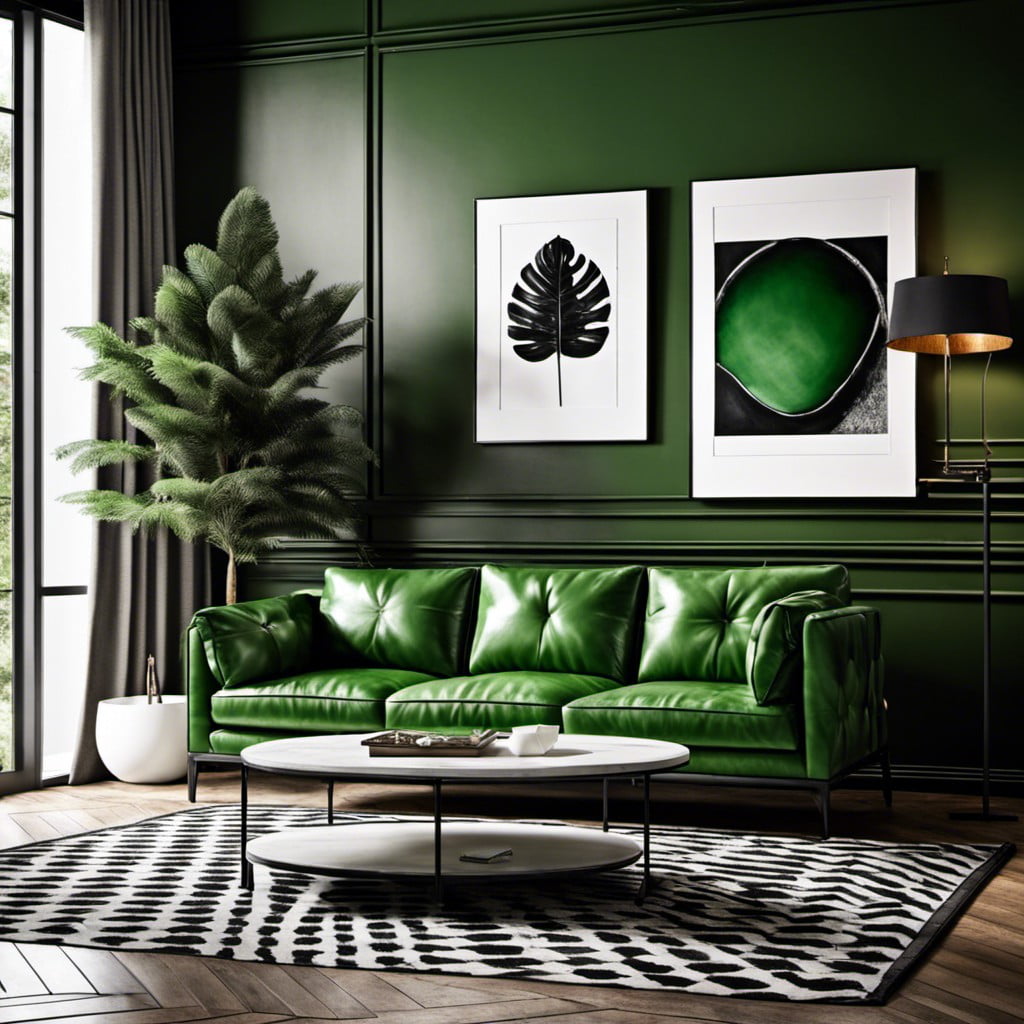 Creating drama is key in this design arrangement. A green leather sofa can effortlessly become the room's focal point, especially when surrounded by black and white wall art pieces. The contrasting colors offer a visually arresting tension while maintaining balance. The boldness of the black and white elements can temper the vibrancy of the sofa's color. Graphic prints or abstract pieces work wonderfully here.
For an extra layer of depth, consider introducing frames of various textures – perhaps matt black or glossy white. Experimenting with layout patterns – linear, asymmetric, clustered – will also contribute to the overall aesthetic, giving your living room a modern, gallery-like feel.
Green Couch With Blue Painted Walls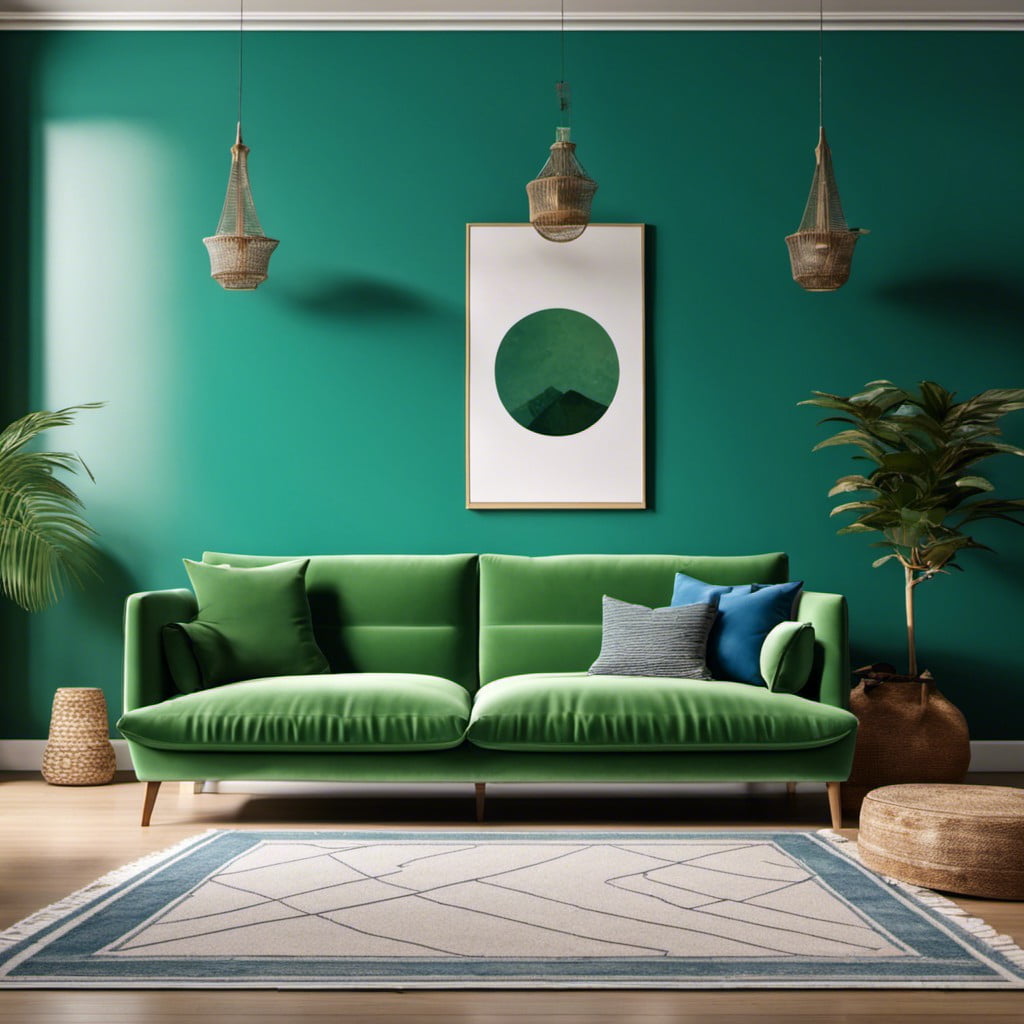 Pairing a lush, green couch with blue walls can create an unexpectedly delightful living space. This combination draws upon nature's timeless hues, much like the serenity of an evergreen against a clear sky.
Start by selecting the perfect shade of blue for the walls. Steer clear of overly bright or pastel blues. Lean towards soft, muted tones like powder blue, robin's egg, or even a deep, ocean-inspired teal. This ensures the wall color compliments, instead of competing with, the prominence of the green.
Next, focus on arranging the furniture. Position the couch where it becomes a statement piece but isn't overpowering. Near a large window or against the largest wall can work great in this scenario.
Lastly, accessorize tactfully. Opt for neutral or wooden furniture items to maintain a calm, relaxed ambiance. Incorporate lighter or darker shades of green in items like throw pillows or art pieces to reinforce the color scheme and create harmony throughout the room. A few indoor plants would also help tie everything together organically. Always remember the goal is to create a calm, refreshing sanctuary that's pleasing to the eye and soothing to the mind.
Matching Green Curtains and Green Couch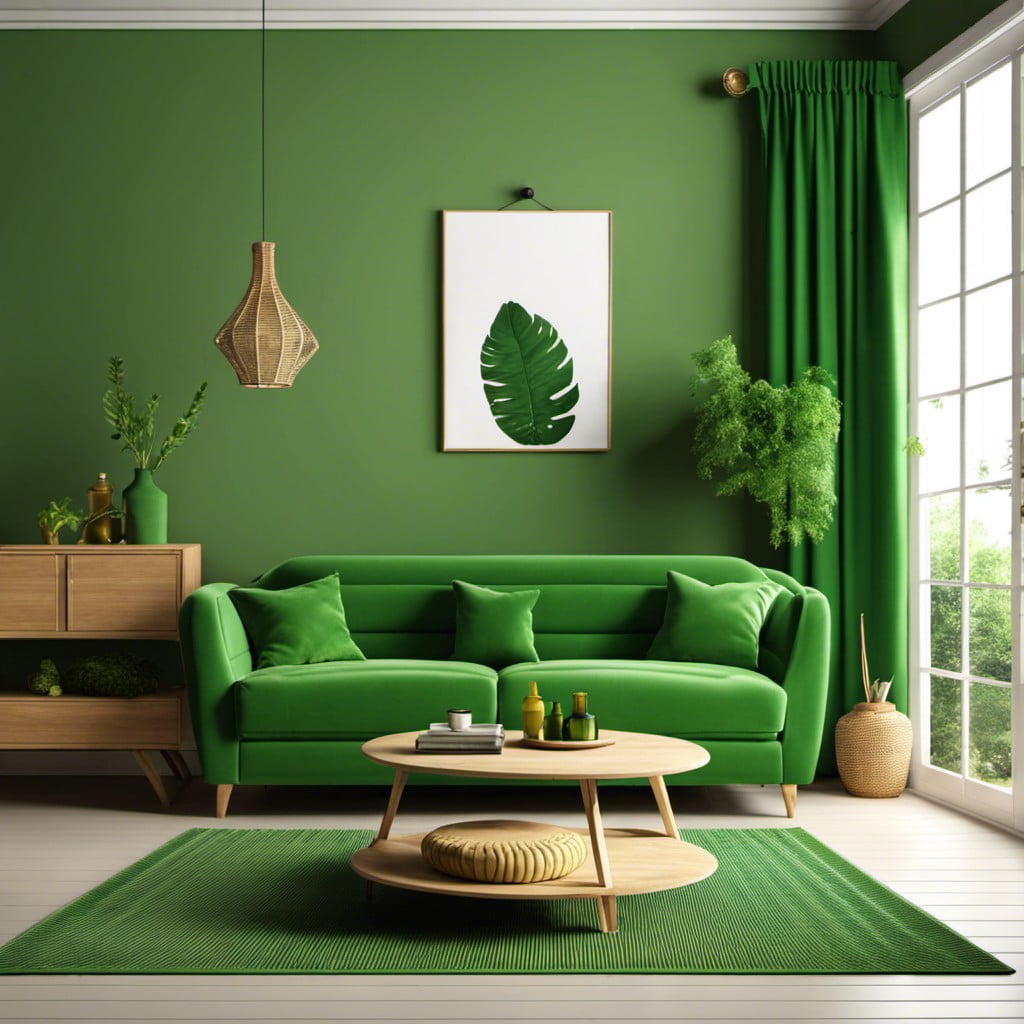 A harmonious blend can be achieved easily by synchronizing your curtain color with your couch. Opt for patterns or textures in the same green color spectrum for a balanced interior.
Emerald green curtains with a lighter hue sofa, or vice versa, can create contrast while maintaining cohesion. Opting for fabrics like velvet for your curtains can also add an element of luxury. Remember, complementing textures contribute as much to the aesthetic as the color.
Lighting plays a crucial role too, as different intensities could alter the appearance of your green matching components. Lastly, consider the length of your curtains. Long, floor-length curtains could add drama, while shorter ones maintain a casual appeal. In either case, the key to a beautiful room is balance and cohesiveness.
Rich Green Couch With Earth-tone Throw Pillows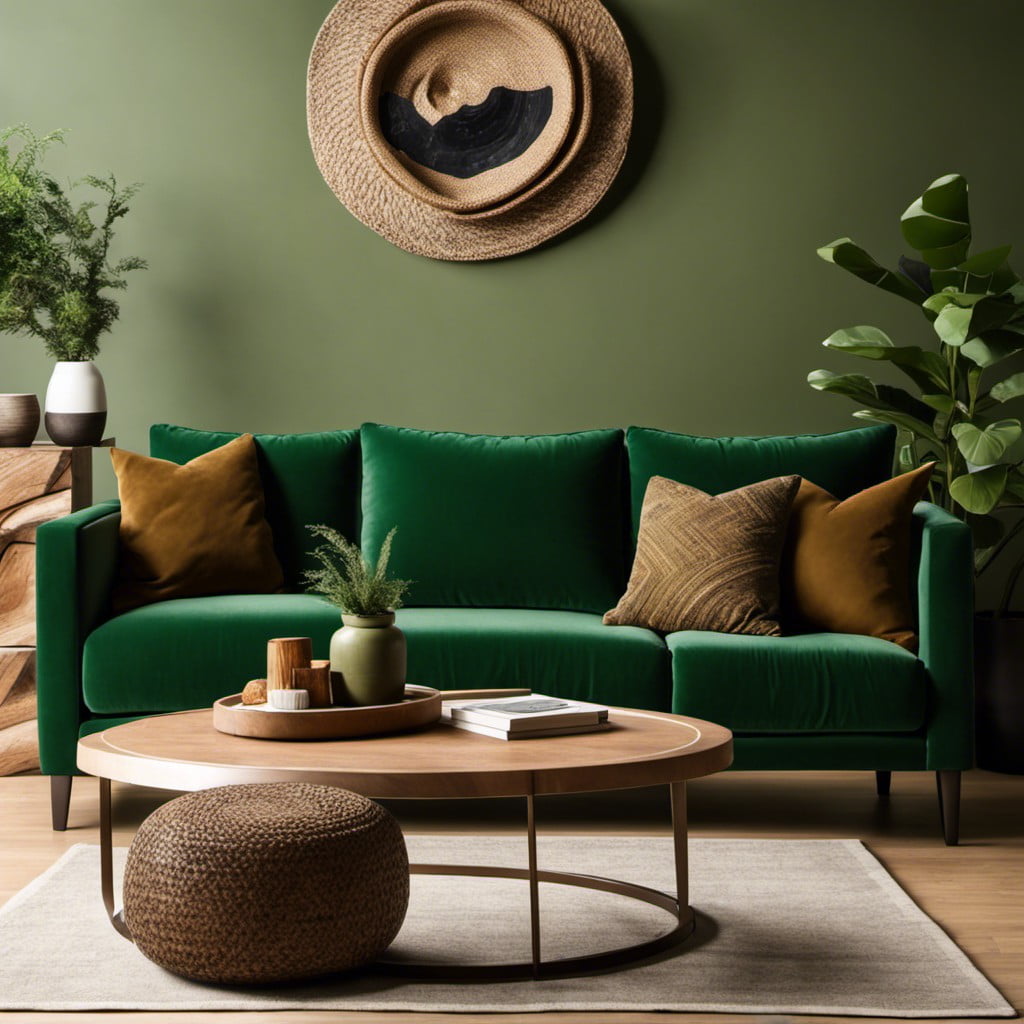 Creating a harmonious balance within your living room can be achieved by pairing a rich green couch with earth-tone throw pillows. The analogous colors create a soothing and calming environment, adding elements of nature into the interiors. Pillows in shades of burnt orange, taupe, brown, or forest green can enhance the richness of the couch.
1. Taupe throw pillows can soften the bold statement of the green couch, making the space appear more inviting.
2. Burnt orange pillows add warmth to the room and create a subtle contrast against the green.
3. Pairing with brown pillows can bring out the earthy undertones of the green couch.
4. Forest green pillows, slightly darker or lighter than the couch, add interest while maintaining an overall harmonious look.
Textiles and patterns can also be played with. For instance, a beige velvet pillow or a pillow with a geometric pattern in earth tones could add both texture and visual interest to the living room setting.
Green Couch With Yellow Accent Pieces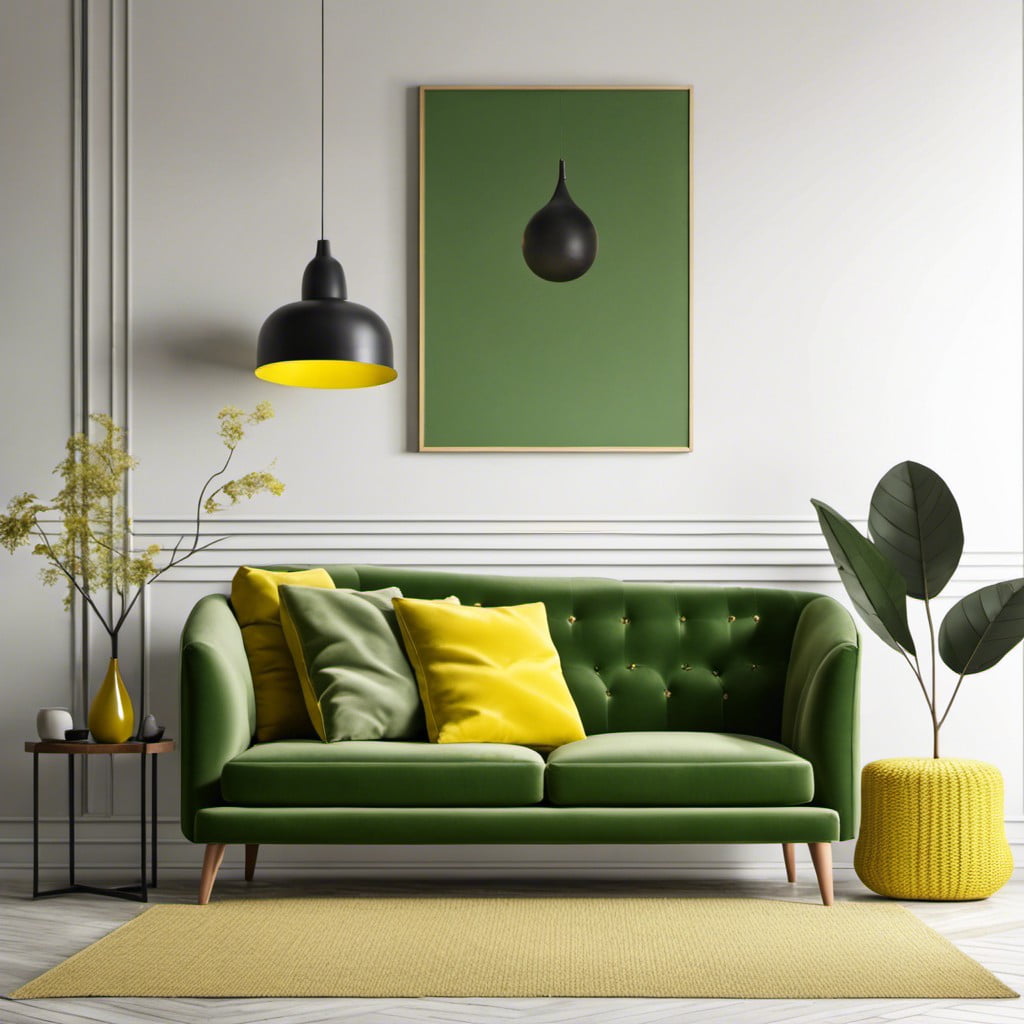 Adding yellow accents not only brightens your living room, but also creates a spontaneous contrast that captures the eye.
Think about highlighting the green couch with yellow toss pillows or a lemon-hued throw blanket.
A brass floor lamp also doubles as a hint of yellow and an added source of warm light.
Alternatively, a sunflower painting with dominant yellow hues can become a stunning focal point against the green couch.
An area rug with yellow patterns provides a tasteful connection between the couch and other decorative elements.
Remember, the yellow focus isn't merely aesthetic; it evokes feelings of joy and optimism too.
Whitewashed Brick Wall Against a Dark Green Couch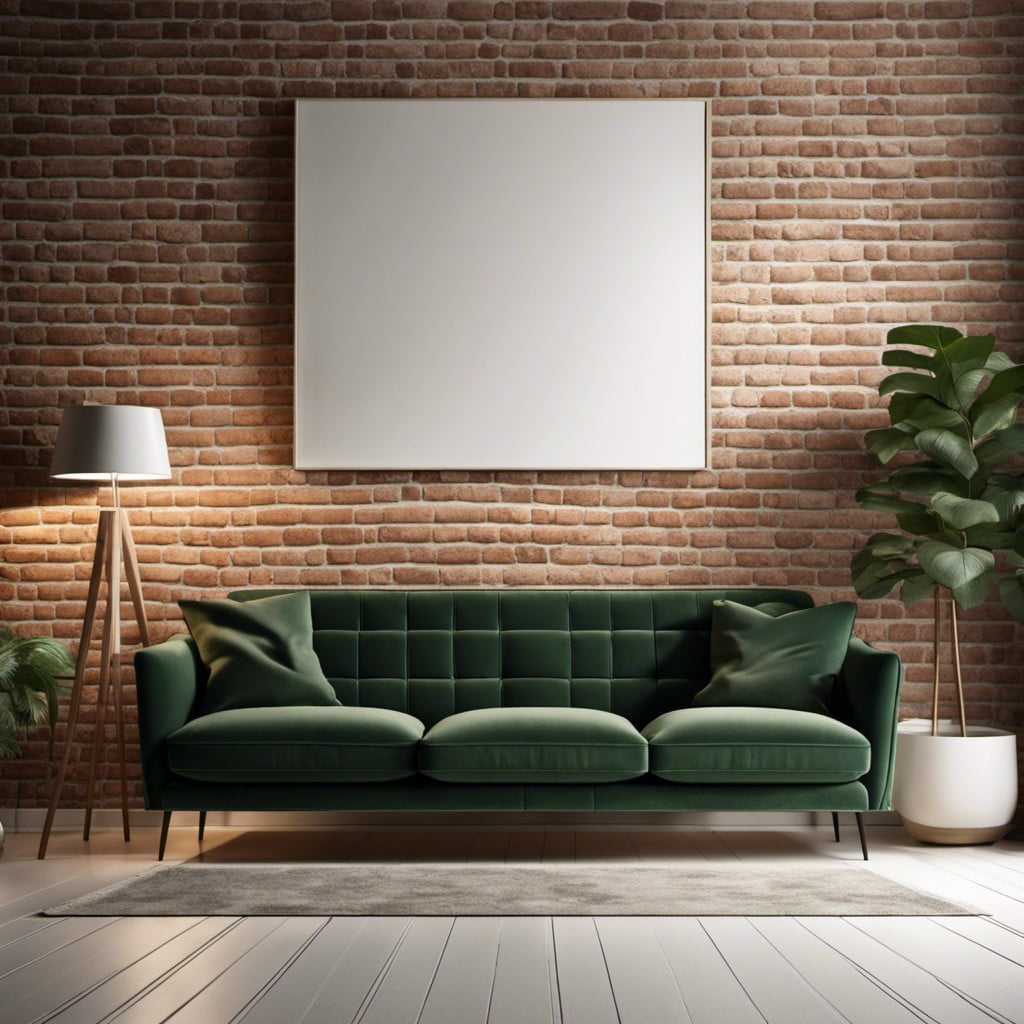 A combination of a rustic whitewashed brick wall and a sophisticated dark green couch can create a stunning visual contrast. It delivers an interesting mix of modern and traditional aesthetics. The neutral tone of the brick wall allows the deep hue of the green couch to stand out, creating a dynamic focal point in the room.
1. Brick Texture: The rough texture of the brick wall adds an organic touch to the interior, balancing the smoothness and opulence of the dark green couch.
2. Light Reflection: The whitewashed surface can reflect light, making the room brighter and more inviting, and amplifying the green couch's richness.
3. Versatility: This pairing can be enhanced with different color schemes. Metallic accents or earth-tone decorations can complement both components nicely.
4. Space Amplification: The horizontal pattern of the brick wall can visually widen the space, preventing the dark-colored couch from overwhelming small rooms.
5. Urban Touch: It's the perfect backdrop for an urban loft-style setting, with the brick offering an industrial vibe and the green couch suggesting a touch of luxury.
Remember to consider the wall's condition and the type of whitewash used to achieve the desired effect, as these factors can significantly affect the appearance and durability of the wall.
Dark Wooden Floor With a Retro-style Green Couch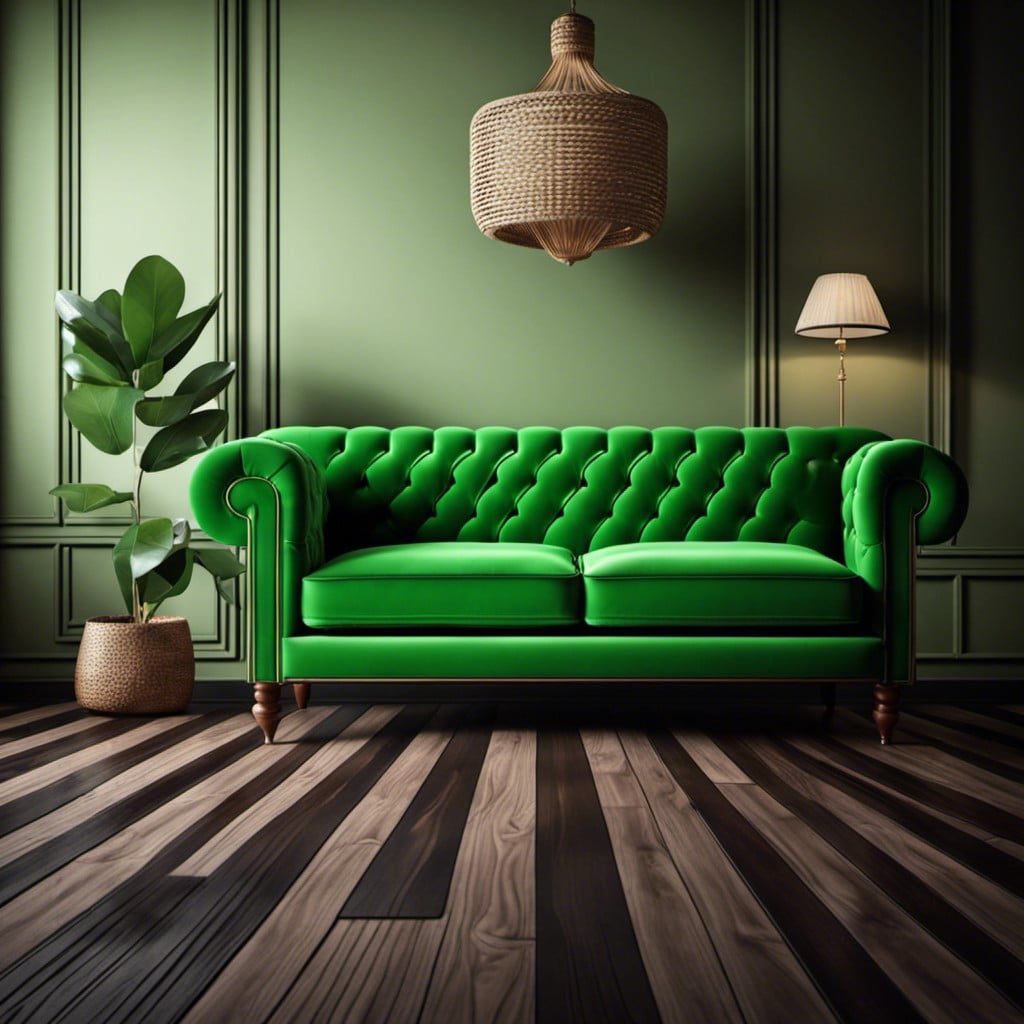 Pairing dark hardwood floors with a retro-style couch in a vibrant green hue can create an inviting and charming appeal. Here are some concepts to consider:
Dark wooden floors offer a natural depth to the space. With this classic foundation, lighter hues, such as the couch's green, stand out with more prominence.
To enhance the connection between the floor and the couch, introduce a lighter rug with hints of green. This small detail can seamlessly tie your setup together, creating a visual pathway from the floor to the couch.
Consider vintage or rustic elements to accentuate the retro feel. Throw in a mid-century coffee table or brass table lamps. Their distinctive textures and shapes can add layers of visual interest even in relatively spartan setups.
Lastly, balancing the statement green couch and darker floor with lighter, neutral walls can prevent the room from looking too heavy. A hint of white or beige on the walls can provide the perfect backdrop.
Remember, the goal here is to create a room that feels balanced and inviting, where the couch serves as the centerpiece among complementary elements.
Corner Setup for the Green Sectional Couch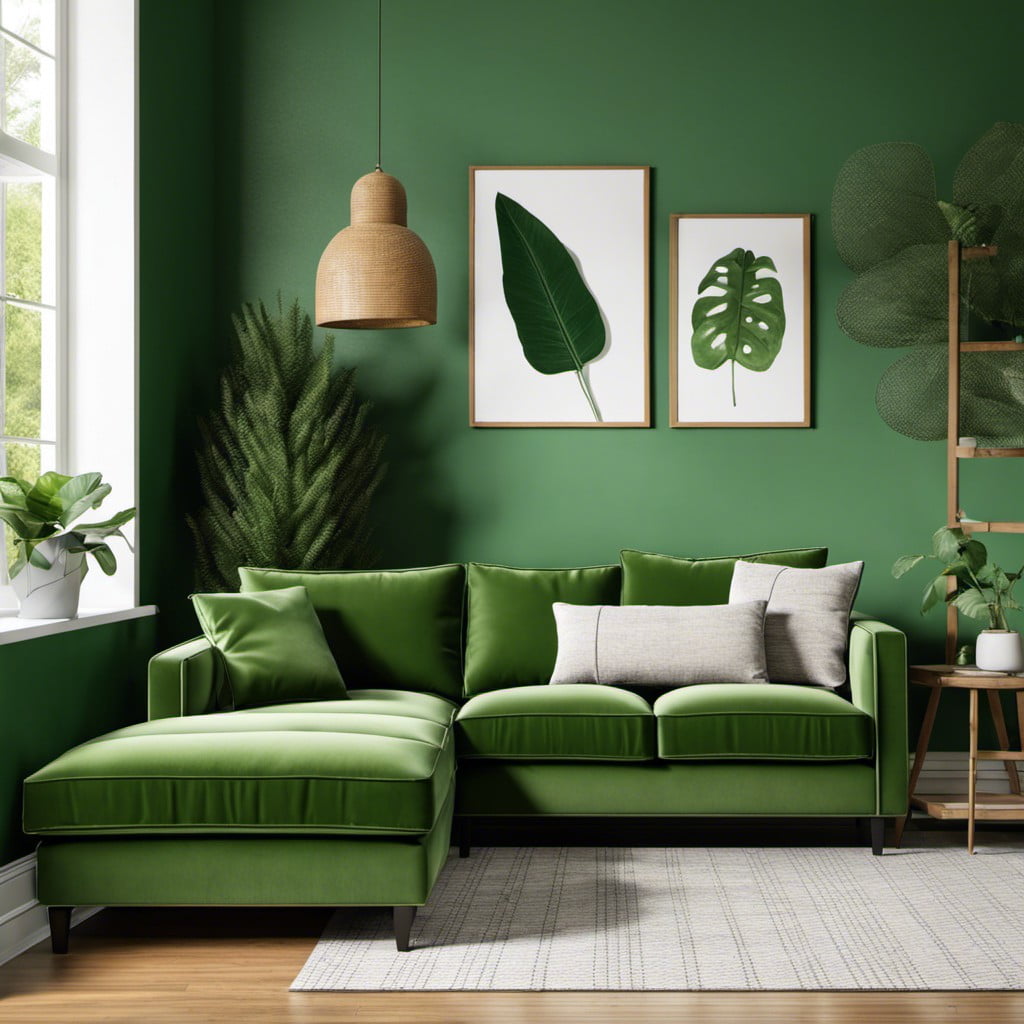 Corner layout is excellent for maximizing seating and making the room more inviting. A green sectional couch, with its welcomes hue, is the perfect candidate.
1. Place it diagonally: Makes for an interesting architectural detail. Great for creating a casual, laid-back vibe.
2. With a coffee table: Choose a round or oval table to maintain flow and ease of movement.
3. Floating layout: Make sure the foundations of the couch face the focal point of the room. The back should not block the entry.
4. Layer with rugs: Helps to anchor the furniture arrangement and add a cozy feeling.
5. Unique lighting: Couple the corner with a floor lamp or a side table with a table lamp.
6. Throws and Pillows: Opt for different textures and patterns for visual interest.
Remember, balance is key. You want your green sofa to enhance rather than overpower the room. Play with different elements and see what feels right for your space.
Green Couch With Minimalist Monochrome Accents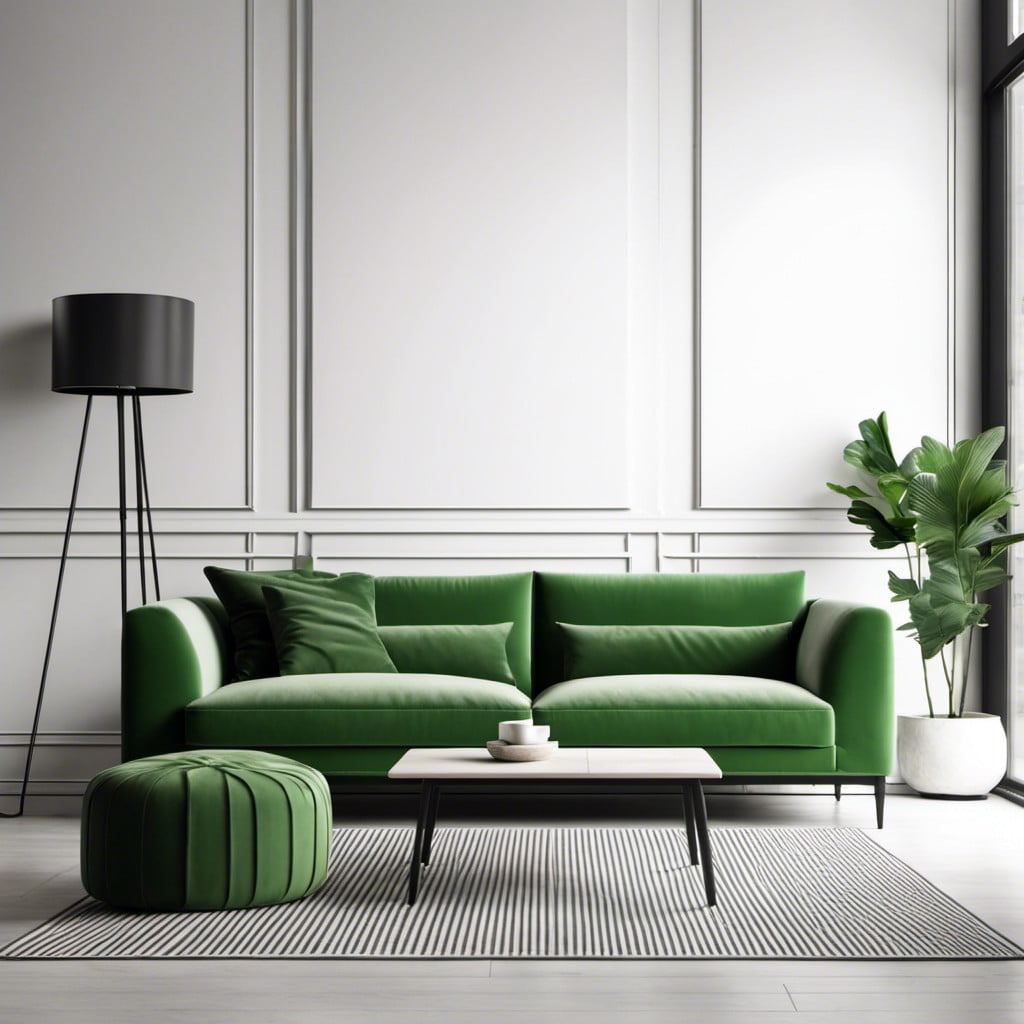 Defying tradition, this concept takes a bold approach by pairing your green couch with black and white elements. Immerse the room in a sea of monochromes, painting the walls white or light grey, maintaining an airiness.
Draw attention to the couch by placing a black side table or coffee table next to it, preventing the green from overpowering the room. Think sleek black picture frames, white geometric vases, or a classic monochrome rug underfoot.
Experiment with textures. A high gloss black lamp or shaggy white pillow adds dimension while utilizing the minimal color scheme.
Remember, simplicity reigns supreme. Choose two to three uncluttered patterns that repeat across pillows, rugs, or drapes. Maintain consistency in your chosen shapes, and keep accessories minimal. The vibrant green couch is the superstar, supported by a chorus of black, white, and grey tones.
Natural Lighting to Enhance Green Couch Tones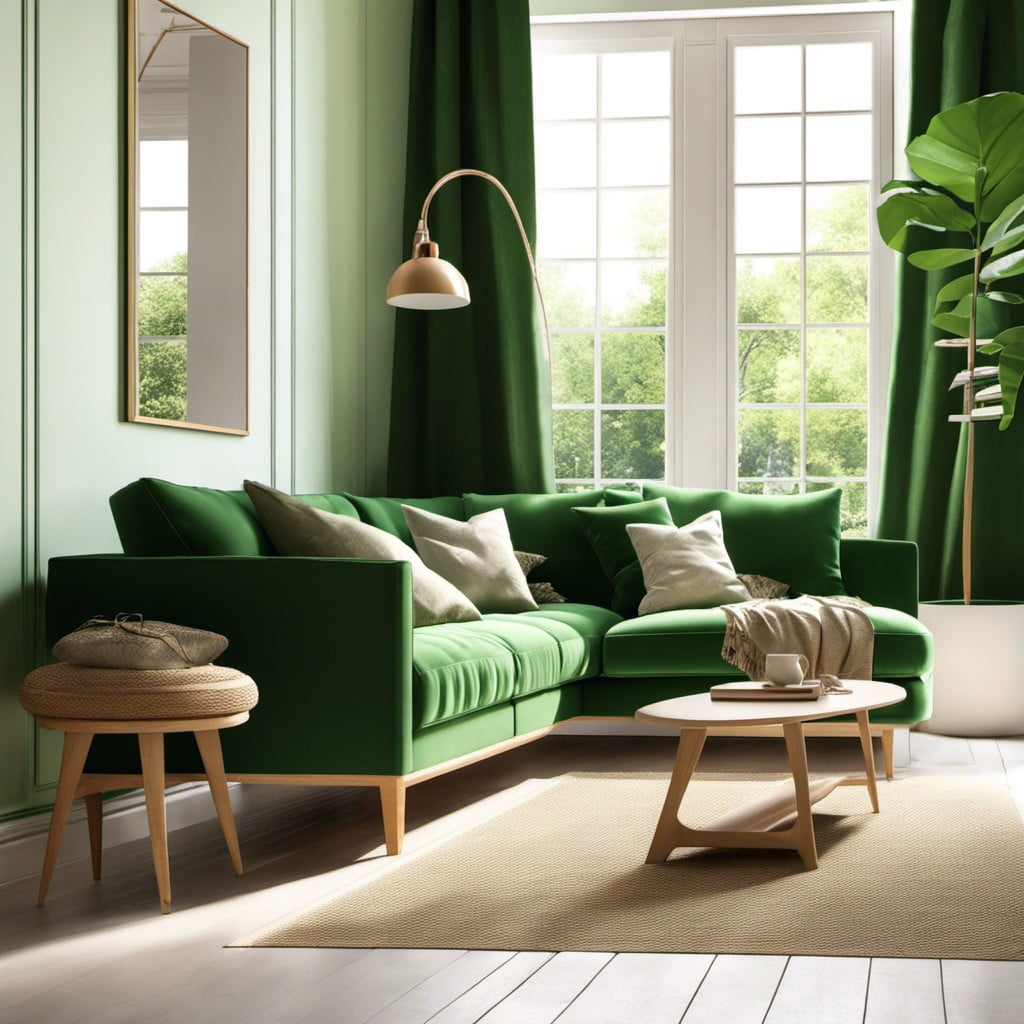 Capitalizing on sunshine's golden glow can dramatically elevate the look of your green couch. Position your sofa near a window to bathe it in natural brightness, which beautifully accentuates the rich green shades.
Window treatments can also play a significant part. Opt for sheer curtains that diffuse soft, gentle light, or choose full-length drapes for controllable lighting and additional privacy.
Remember, the time of day is crucial. Daylight defines the vibrancy of color while the more subdued evening light gives the couch a relaxing, calming effect, perfect for unwinding.
Depending on the room's orientation, consider using mirrors opposite the window to distribute light evenly throughout the room. For rooms where daylight is limited, go with light walls and strategically chosen light fixtures to enhance overall brightness, highlighting your green showpiece to its finest.
Morrocan Style Lanterns With a Green Velvet Couch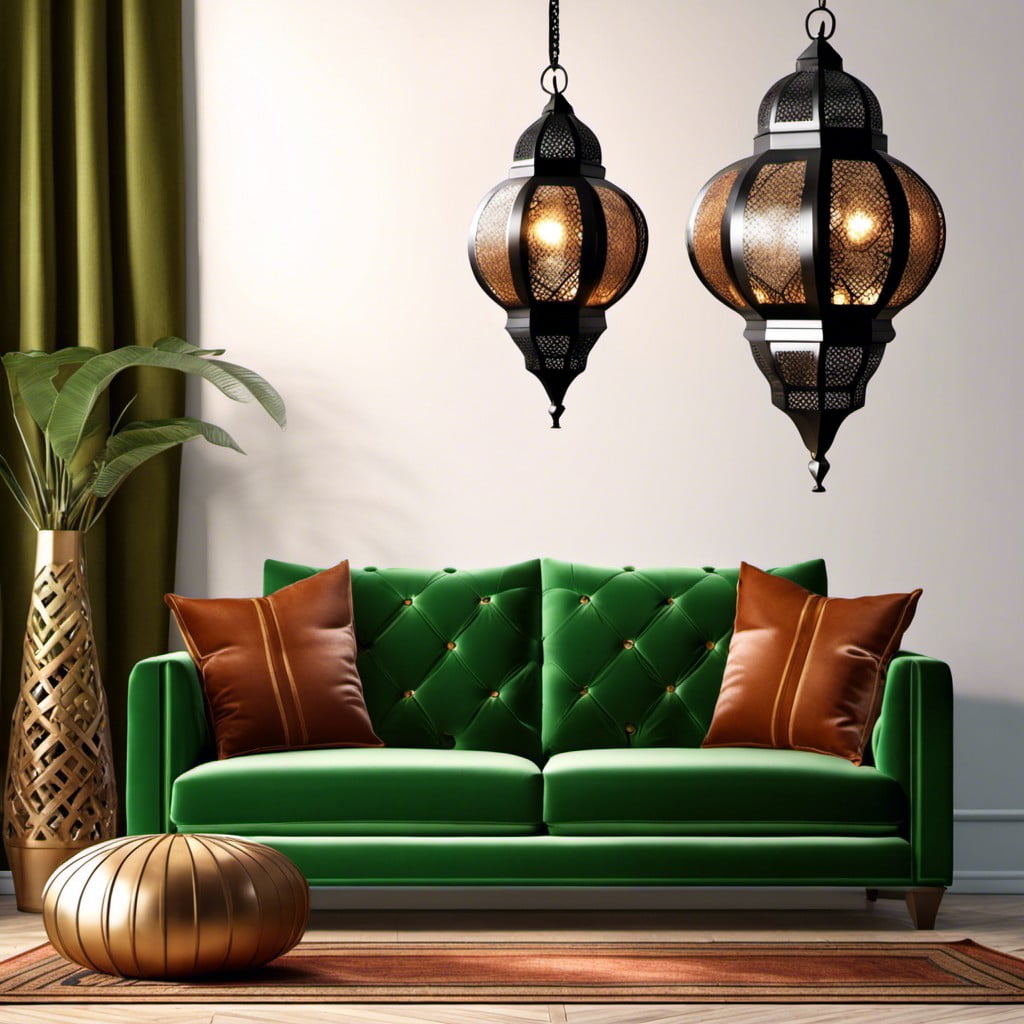 Drawing from the lush desert landscapes and bustling marketplaces of Morocco, one cannot underestimate the aesthetic appeal of intricately designed lanterns. Placed strategically, these luminous objects add an exotic touch to your room.
1. Supplement Your Lighting: Besides the primary light source, use Moroccan lanterns for soft, enhancing the coziness that the plush green velvet couch exudes.
2. Shape and Design Matter: Go for geometric patterns to create fantastic light shapes on the walls. They complement the uniform texture of a velvet couch rather well.
3. Placement is Key: Set lanterns on side tables or hang them over the couch to create a visual interest point.
4. Size Variation: Combining both large and small lanterns enhances the layering effect, pulling together a balanced room décor.
Remember, in this quest for exotic allure, consistency is key. Stick to one material for the lanterns with similar patterns, subtly aligning with the gorgeous green couch.
Liked reading this? Here's more:
Recap: