Last updated on August 3, 2023
Times are changing. Dishes are getting bigger, heavier, and taking up more space. Kitchen cabinet weight limits never used to be a concern, but it is now an essential question with more people than ever cooking gourmet meals at home and requiring more storage!
Many of us would imagine that every kitchen cabinet can handle any weight in them, but sadly that is not the case. Whether you are storing a quality expresso machine, tinned food, or dishes, poor-quality cabinets are not invincible and may collapse.
How much weight can a kitchen cabinet hold? On average, kitchen cabinets should hold up to 272 kilograms, or 600 pounds. Manufacturers tend to build cabinets that can hold no more than 500 pounds, mainly due to costs reasons and because many of their customers will not need to store anything heavier than that.
Standard kitchen items, like a quality espresso machine or a microwave, will not cause your cabinets to collapse as long as they have been stored correctly.
In This Post:
What Should You Look for in High-Quality Kitchen Cabinets?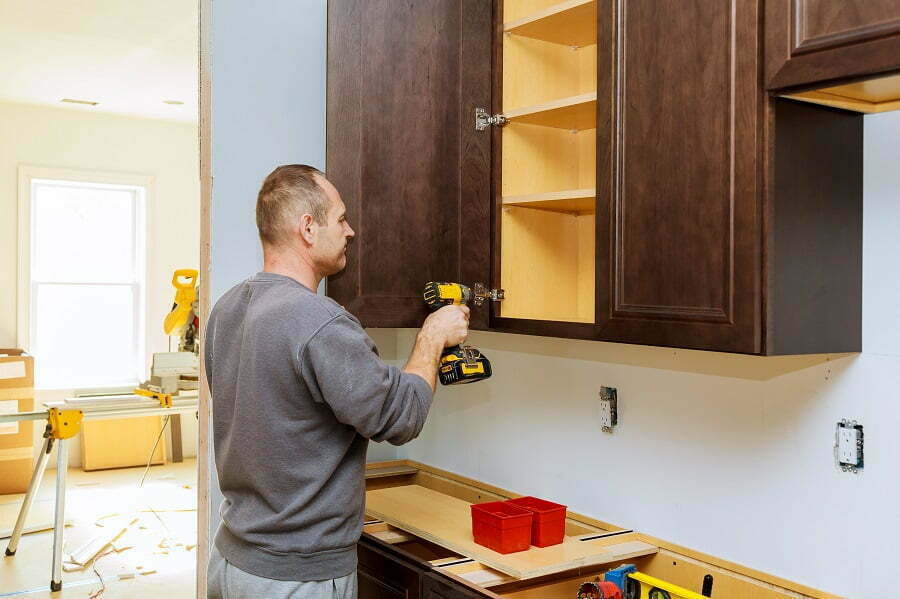 Similar to when you are looking to hire a company to do some DIY work for you, there are several standard questions that you should be asking to make sure you find high-quality, durable, and long-lasting cabinets that will be able to hold up to 600 pounds, as per the industry standard.
When you are considering making a kitchen cabinet purchase, consider these crucial aspects.
Long-Lasting Quality Kitchen Cabinet Frames
If the frames of your kitchen cabinets frames are high-quality and long-lasting, then your cabinets will have stability. Cabinet frames keep your cabinet box in shape when they are being despatched to your home and also once they have been installed in your home.
Cabinets without frames tend to be much trickier to install as you need a high level of precision and accuracy, leaving you no room for error.
Sturdy Kitchen Cabinet Box Materials 
Another vital thing to consider when purchasing kitchen cabinets with good weight capacity is that the cabinet box must be built with reliable and durable materials.
Top-quality cabinets tend to be built with plywood and furniture board lining. These materials are well tested, so you can be sure your cabinets will stand the test of time.
Fully Assembled Kitchen Cabinets
Some manufacturers provide kitchen cabinets that come fully assembled to your front door. These cabinets can be installed almost instantly, and although they tend to cost a little more for the convenience they provide, you can be sure that they have been built durably.
What Makes Kitchen Cabinets Fall?
Weight is often the main factor that causes kitchen cabinets to fall, but there are also a couple of other aspects that can cause this issue that you may want to consider.
Compromised Wall Studs 
When you hang up your kitchen cabinets, the cabinets must be attached using uncompromised and strong wall studs.
If your cabinets are attached with studs that have become rotten, possibly due to exposure to water, then they become much more likely to fall.
Incorrect Wall Anchoring 
Kitchen cabinets must be hung using a solid anchor to ensure that they stay in place. If an incorrect anchor is used, your kitchen cabinets will quickly be discounted and cause damage.
Ensure you choose tried and tested anchor types that have a very large head. This sort of screw will hold significantly more weight for your kitchen cabinets.
The Takeaway
Hopefully, this article has provided you with essential information that you need to purchase a kitchen cabinet that will hold the amount of weight you need it to.
Before any major purchase, it is always worth doing your research and talking to professionals when putting up kitchen cabinets. You do not want to have them fall and deal with the fallout of that catastrophe.
Liked reading this? Here's more: