Last updated on December 3, 2023
Explore these effective, tried-and-tested methods for removing chalk from concrete because your patio, driveway, or sidewalk deserve to maintain their clean, unblemished look.
Removing chalk from your concrete surfaces doesn't need to be a chore. By leveraging common household items or commercial cleaners, you can achieve a clean, chalk-free concrete space.
This article provides a simple, efficient step-by-step guide that takes the hassle out of eliminating unsightly chalk stains or designs from your driveways, sidewalks, patios, or built structures.
Procedures, safety measures, do's and don'ts – we're poised to cover it all.
Proceed reading to uncover a comprehensive path towards a revived, spotless concrete surface.
Key takeaways:
Safety measures: Wear protective gear, goggles, mask, and adequate ventilation.
Soak with water: Wet the chalky area before cleaning.
Use scrubbing brush: Manual labor is better than harsh chemicals.
Consider pressure washer: Effective for stubborn chalk, but be cautious.
Remove tough spots with vinegar: Spray, scrub, rinse to dissolve chalk particles.
Safety Measures for Chalk Removal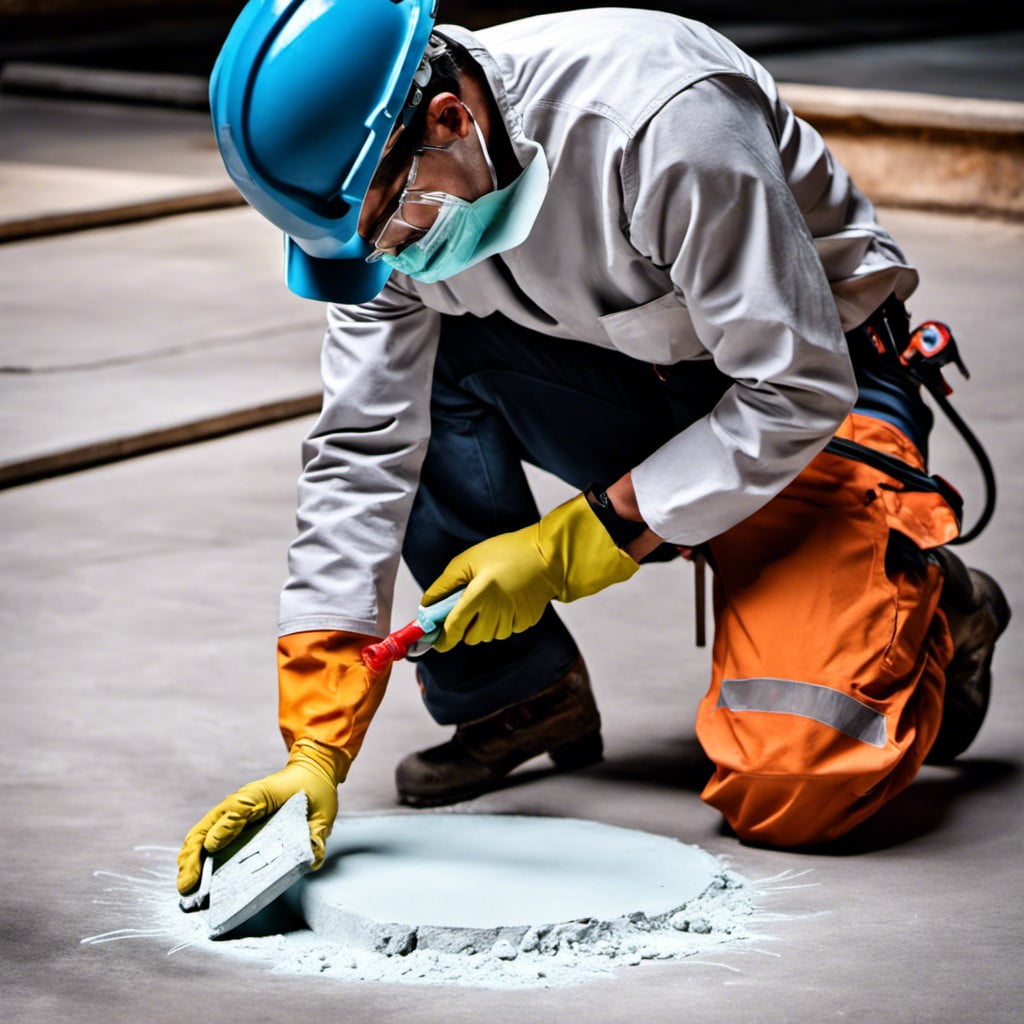 Dealing with chalk on concrete can pose certain risks if not approached properly. As you gear up to bring back the pristine state of your concrete, equip yourself with the right safety gear. A pair of protective gloves are essential to avoid direct contact with cleaning solvents, some of which may contain harsh chemicals. Safety goggles offer protection for your eyes against splashes. We cannot overemphasize the importance of wearing a mask, particularly if you will be using bleach-based solutions. Adequate ventilation is key, especially if the cleaning takes place indoors. Lastly, attire that covers your skin saves you from potential splashes and allergic reactions. Always remember, safety first!
Techniques for Chalk Extraction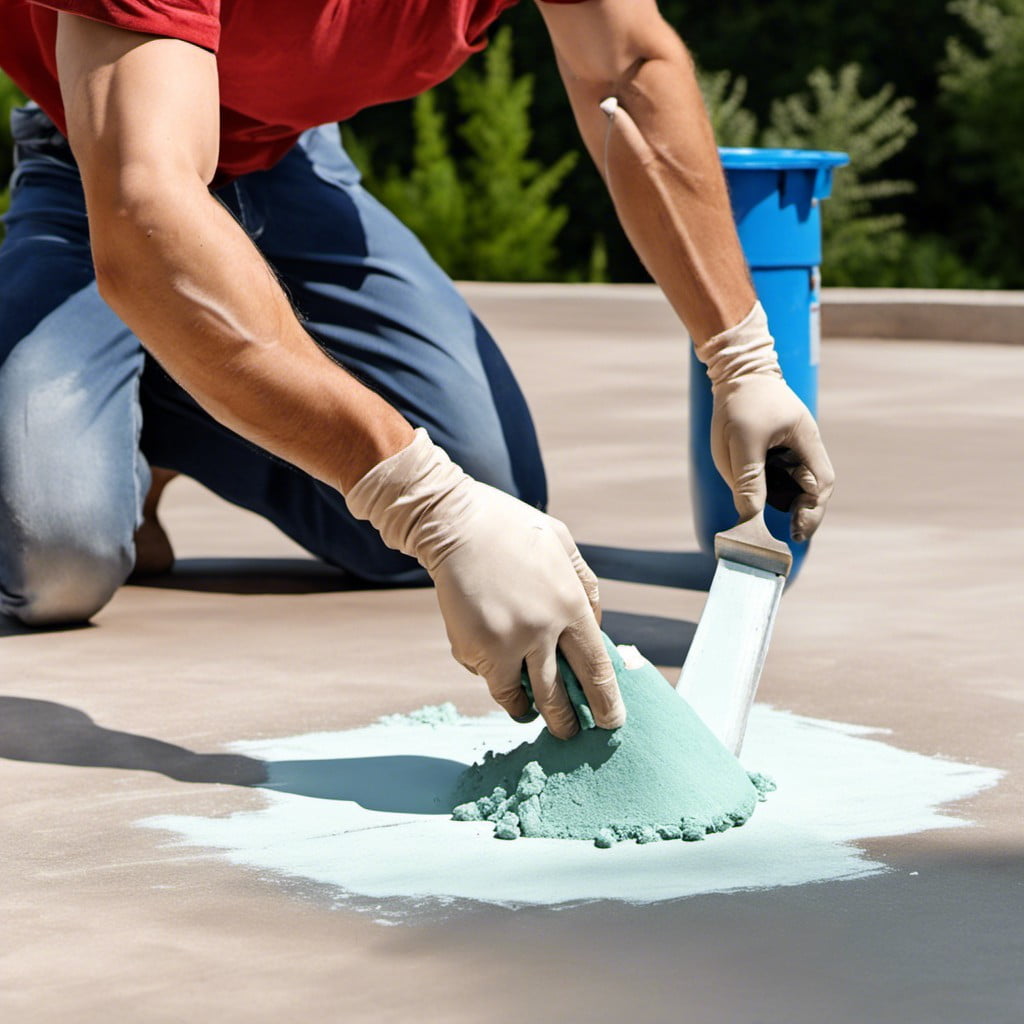 First, soaking the chalky area with water can help in loosening its grip on the concrete. A good rule of thumb is to make sure the entire kids' masterpiece or offensive graffiti is drenched, but not swimming.
Second, you'll want a stiff-bristled scrubbing brush. Manual labor is often the key in cases like these where chemicals could potentially harm the concrete's sealant. Remember, elbow grease is cheaper and more readily available than any specialty cleaner.
Third, consider using a pressure washer if the chalk proves stubborn. The direct, concentrated spray of water can be more effective than scrubbing alone. But beware, a too-high pressure setting could etch the concrete.
Lastly, tackle tough spots or stains left behind using vinegar. Its natural acidity works wonders in dissolving chalk particles. Spray it on, let it dwell for about five minutes, then scrub and rinse. If a faint outline still remains, try repeating the process or leaving the vinegar to sit a little longer.
Surface Restoration Post-Chalk Removal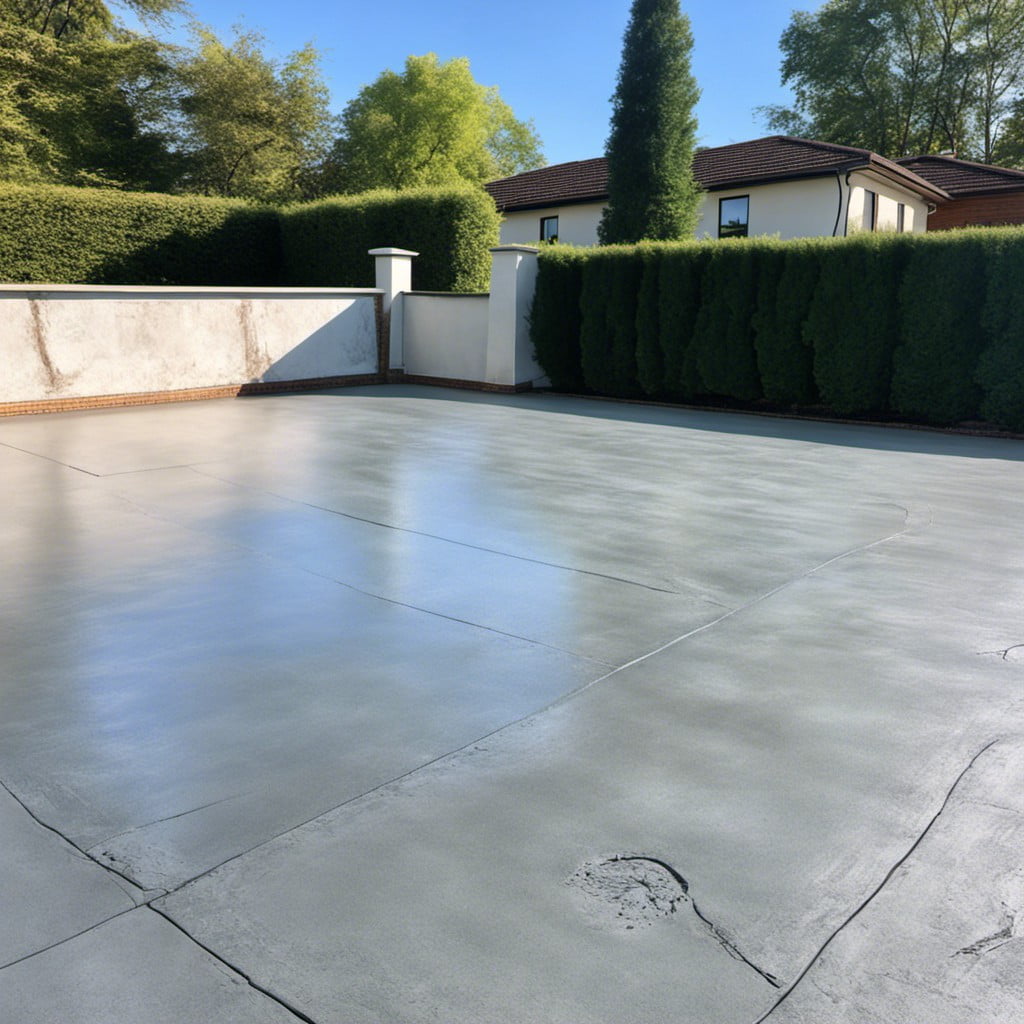 Following chalk removal, it's vital to ensure the concrete returns to its original state. Here are some steps to assist in this process:
1. Rinse the Area: Clear any residual dust or particles by diligently washing the affected surface with water.
2. Apply Concrete Sealer: To protect your concrete surface from repeated staining, apply a coat of a quality concrete sealer.
3. Regular Maintenance: It's essential to routinely clean your concrete surfaces with non-abrasive cleaners to keep them in pristine condition.
Following these steps will help maintain the longevity and appearance of your concrete surface post-chalk removal.
FAQ
Does chalk come off concrete?
Yes, chalk can be effectively removed from concrete surfaces with methods such as brushing, rinsing and the application of a soft scrub.
How do you get sidewalk chalk off a patio?
To get sidewalk chalk off a patio, scrub the affected area with a stiff-bristled brush and hot water, apply an all-purpose bathroom cleaner like Soft Scrub, then rinse off the area once the stain is eliminated.
How do you get sidewalk chalk off stucco?
To remove sidewalk chalk from stucco, apply a good cleaner or degreaser, then wash using water, repeat washing if needed, scrub if necessary, and ensure to rinse well with clear water, allowing to dry thoroughly.
What are the best techniques for removing chalk from brick surfaces?
The most effective techniques for removing chalk from brick surfaces include using a power washer, employing a vinegar-water solution, or utilizing a formulated brick cleaner.
Can power washing effectively remove sidewalk chalk from concrete?
Yes, power washing can effectively remove sidewalk chalk from concrete.
What precautions should be taken when removing chalk from colored concrete?
When removing chalk from colored concrete, ensure to use a gentle, non-abrasive cleaning solution and to test a small, inconspicuous area first to prevent discoloration.
Liked reading this? Here's more:
Recap: