Last updated on November 5, 2023
Discover engaging Minecraft party decoration ideas because transforming your space into a world of pixelated adventure will ensure a memorable experience for your guests.
I am proud to present to you my uniquely designed 20 Minecraft Party Decoration Ideas and hope they inspire you and deliver as much joy to your celebration as they did to me creating them.
Planning a Minecraft-themed party can be an exciting task, especially when it comes to decoration. From block-shaped treats to green pixelated décor, there's a plethora of ideas to transform your party space into a real-life Minecraft world.
This article will provide you with creative and practical decoration ideas that will surely captivate your guests and make your Minecraft party unforgettable. Whether you're looking for DIY projects or ready-made solutions, you'll find comprehensive details here to bring your Minecraft party to life.
So, if you're ready to dig deep into the world of Minecraft party decorations, let's get started!
Minecraft Balloon Standees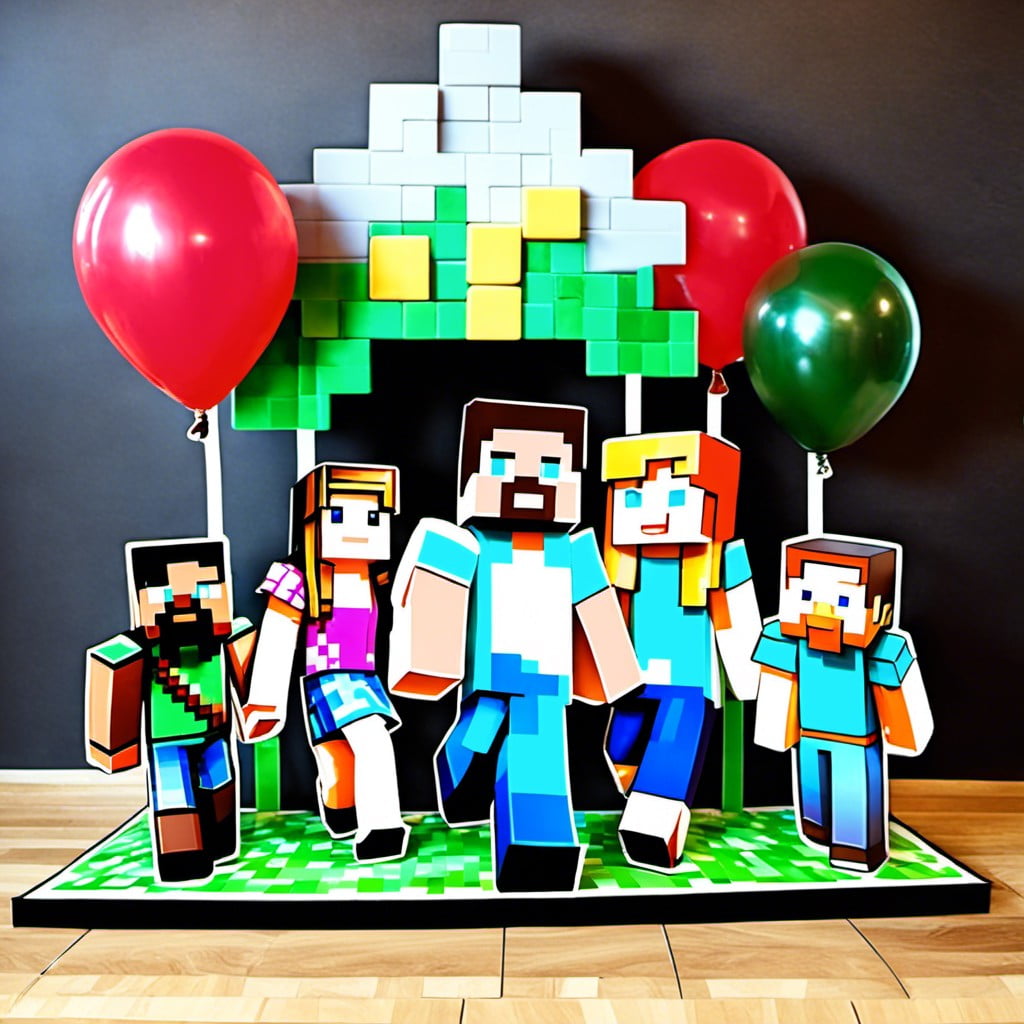 Inflated latex balloons – green for 'Creepers', white for 'Ghasts', and mix black and white for 'Endermen' – can really add that punch of color to the venue.
To make them look like characterized standees, you can create faces using black and white papers.
Glue eyes, mouths, and other features on the balloons exactly as they appear on Minecraft characters.
Ensure the balloons are standing tall; you may need to weigh them down with balloon weights or attach them to supports.
Easy setups can include corner clusters or lining them by the entrance for a grand Minecraft-themed welcome.
Try varying the sizes of balloons to create a feeling of depth and scale, which is a key visual element in the animated game.
Creeper Pinatas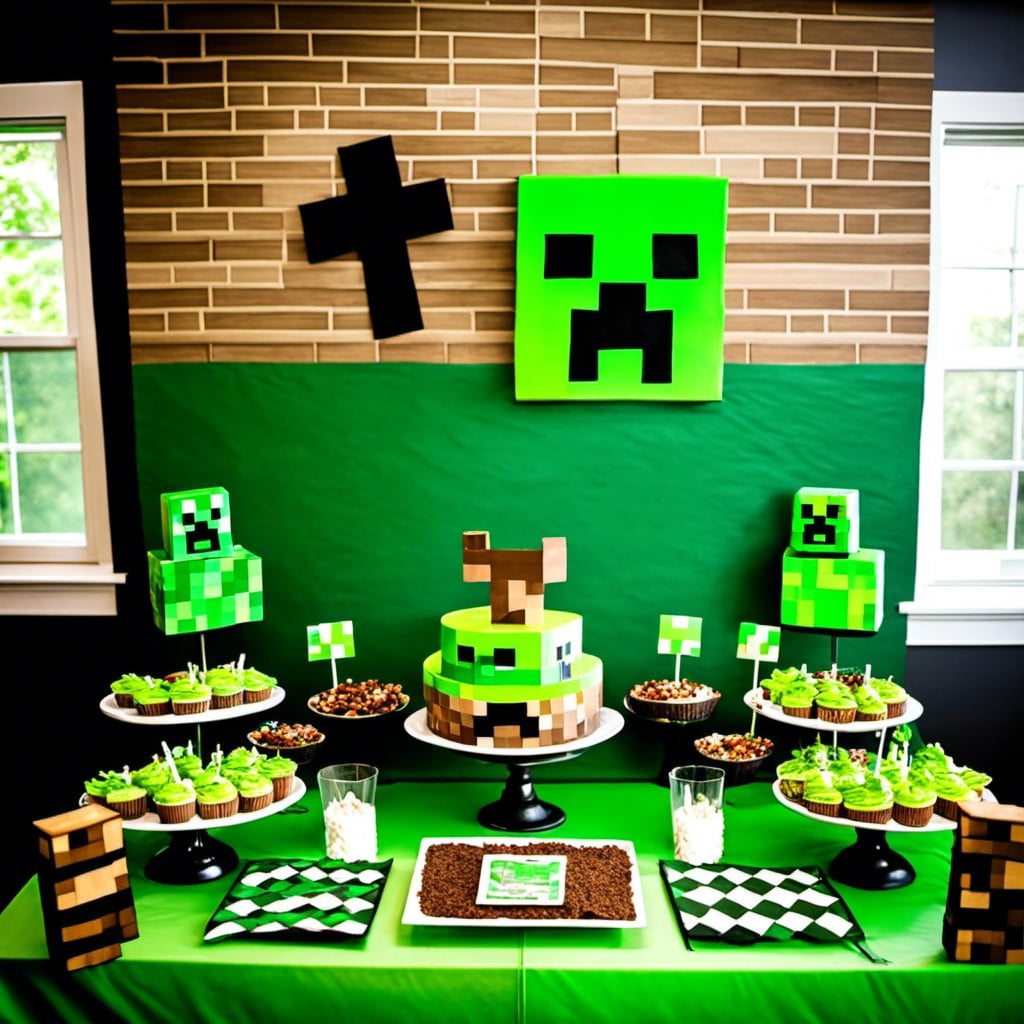 Nothing brings more joy to a party than the thrill of a good ol' fashioned piñata game. If you're planning for a Minecraft bash, a Creeper piñata is a must-have. Crafted to resemble the infamous characters from the game, these green menace filled with treats will add excitement and fun.
For a DIY project, you'll need a rectangular box, green crepe paper, and black construction paper for the face. Cover the box in layers of fringed crepe paper for that pixelated look, and then add on the Creeper's distinct face with the black paper. Fill it with mini Minecraft toys, candy, and maybe some tiny TNTs – just kidding!
If you prefer a fuss-free option, a variety of pre-made Creeper piñatas are available online. Hang it in an open space where kids have room to take a swing. Bust it open and watch the little ones scramble for the coveted prizes. It doesn't just serve as a game but also enhances the theme of the party. A memorable centerpiece, guaranteed! Plus, it gives the kids a taste of a real Creeper explosion – minus the property damage, of course.
Minecraft-themed Cake Topper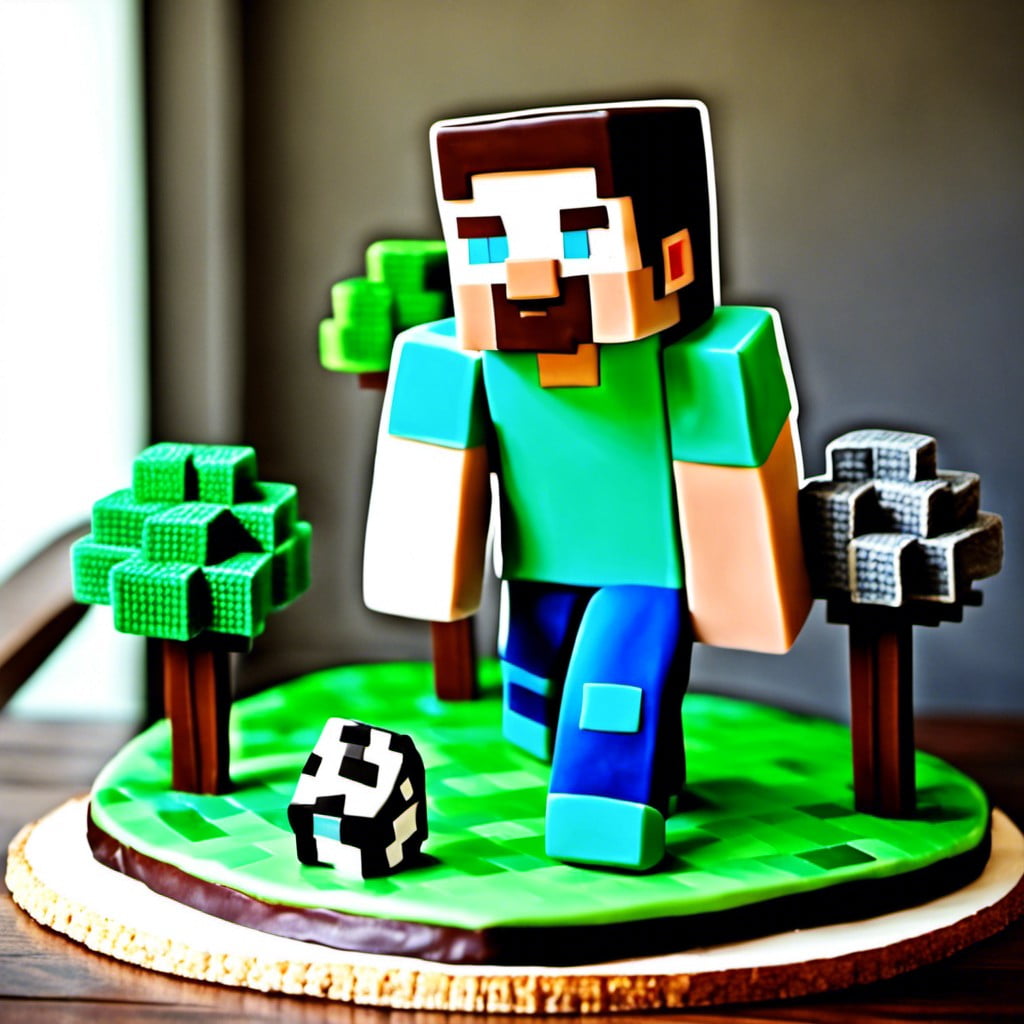 Enhancing your party cake with a Minecraft-themed topper is an excellent idea. Consider using elements iconic to Minecraft, like Steve head, Creeper or even a Diamond Pickaxe. These can easily be made with sugar paste or purchased-ready made from bakery supply stores.
Ensure the topper is edible and child friendly. Remember, the purpose is not only to make the cake look visually appealing but also to stay coherent with the Minecraft party theme.
Add a lighter touch by incorporating fewer common elements like endermen or redstone dust, this will surely impress the attendees familiar with the game and spark interest among those who aren't.
Pixelated Tablecloth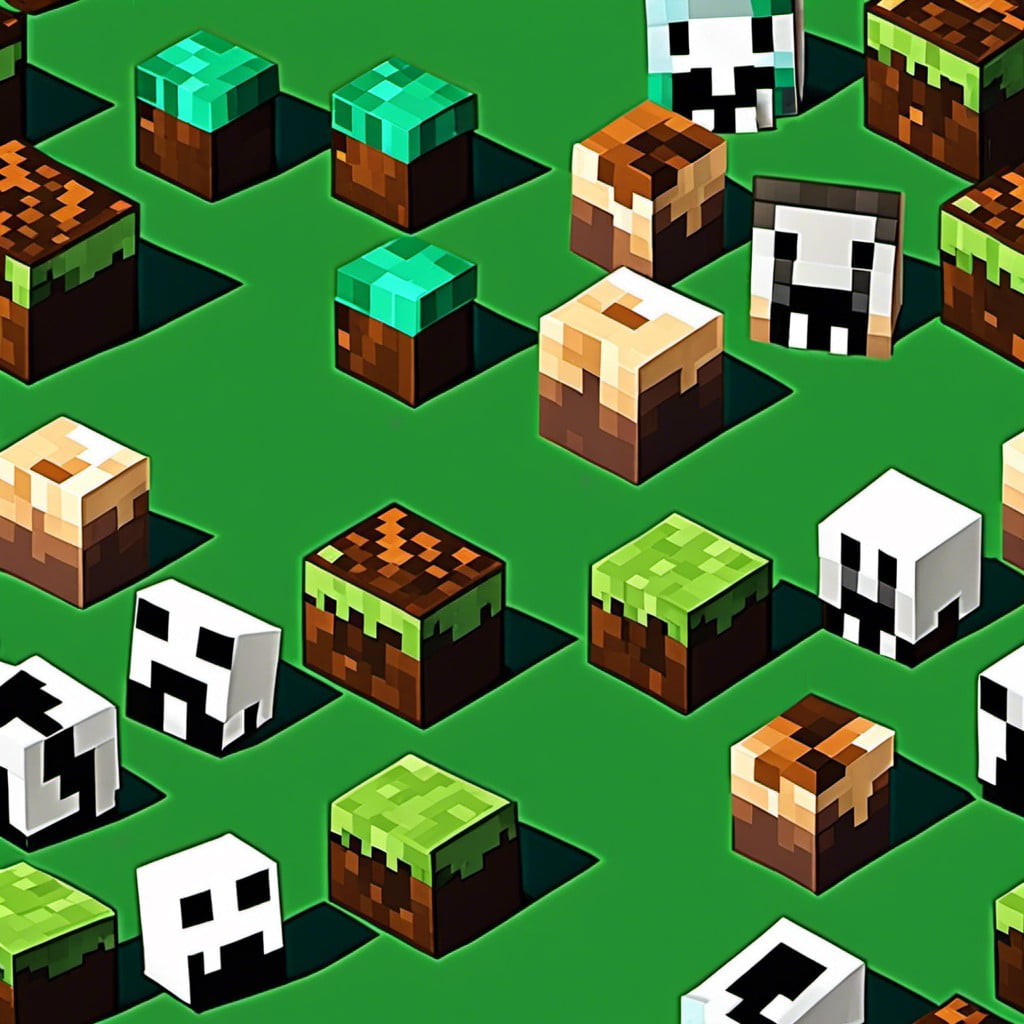 A pixelated tablecloth can be the centerpiece attraction of your Minecraft-themed party. It's not just about covering the table, but adding a significant touch of the game's aesthetics to the party environment.
1. Materials: You can source an off-the-shelf tablecloth with Minecraft-themed patterns, or customize one yourself. If opting for the latter, you'll need a plain cloth and fabric paint to create that pixelated effect.
2. Design Suggestions: Aim for popular Minecraft elements like Creeper green, dirt brown, diamond blue, TNT red. The trick is to make small square patches, just like pixels.
3. DIY Approach: Using a grid pattern can be extremely helpful to keep your pixels aligned. Start with pencil outlines, then proceed with the paint.
4. Additional Decor: If you're feeling extra creative, add pixelated napkins for added theming.
5. Fun & Interactive: Having this craft done by guests, especially kids, can be an engaging activity before the party starts.
Bringing Minecraft's unique pixelated design to your party setup with a customized tablecloth can be an extraordinary way to impress your guests. A colorful and creative tablecloth will certainly make your buffet or snack table stand out!
Diamond Ore Napkins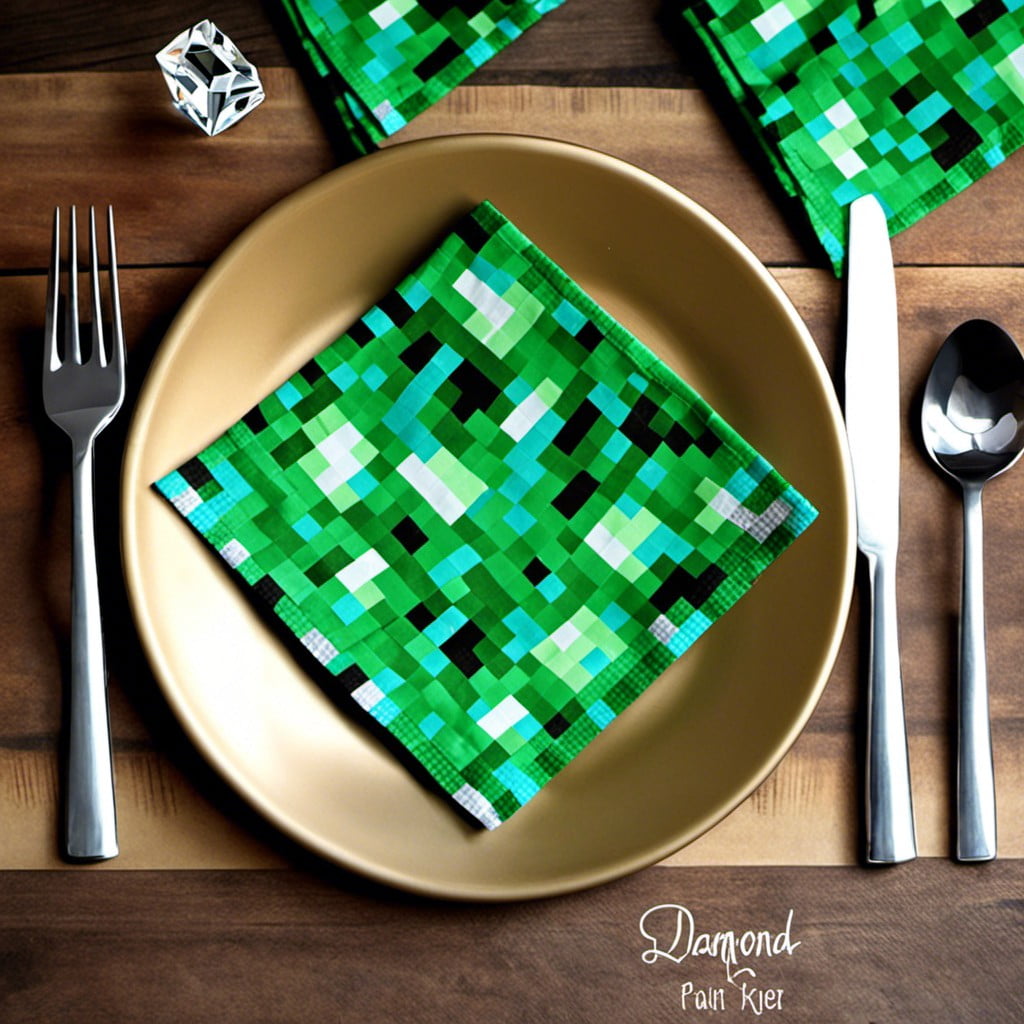 A well-arranged table goes a long way in setting the scene for a Minecraft party, and what better detail than diamond ore napkins? They have a dual role: functionality and enhancement of the party's theme.
Here's how to incorporate diamond ore napkins into the party setup.
1. Fold them into triangles or rectangles to resemble the natural shape of diamond ores in Minecraft.
2. Use graphic blue and grey prints that mimic the exact color and texture of the game's diamond ores. Don't worry – these are available online or you can DIY.
3. For a fun activity, get plain white napkins and encourage guests to color their own diamond ore napkins with washable markers.
4. Think placement. Use them as accents — under drinking glasses as coasters or casually draped over dessert plates.
Remember, every detail counts to bring the Minecraft universe to life. Elevate your party with these game-centric elements for that added charm and fun!
Minecraft Table Centerpiece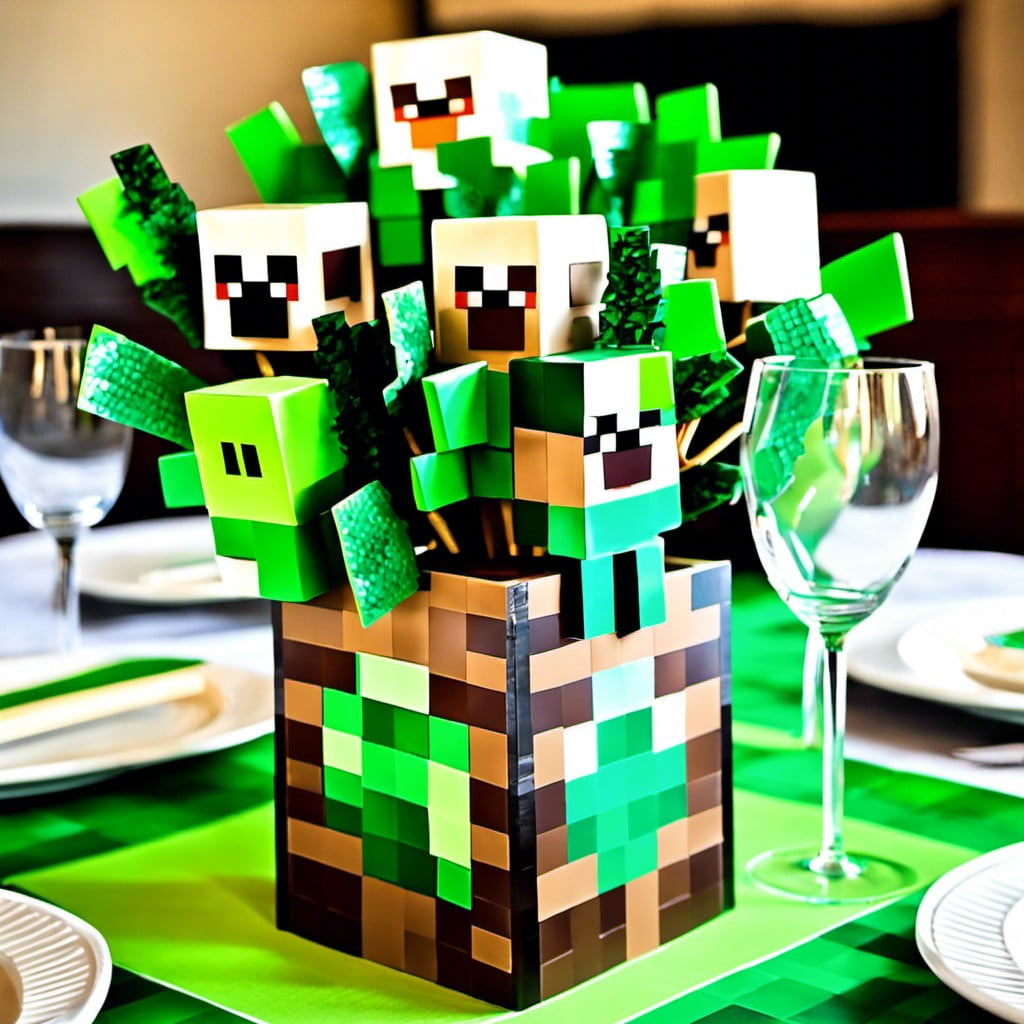 Designed to draw in the viewers' eyes, the centerpiece is a pivotal piece in every decoration strategy. The Minecraft-themed one can be especially engaging.
Start with a square or rectangle platform to resemble the iconic blocks from the game – cardboard, foam or even wood will suffice, pending on availability and preference. For a real Minecraft feel, paint it in shades of green and brown to mimic grass blocks.
You can then add mini figures of the game's beloved characters like Steve, Alex, or a cute ocelot. Of course, don't forget the villains – creepers, Endermen or zombies can also find their way to your centerpiece for the full game effect.
To make it more attractive, you can use other elements from the game. Crafting tables, TNTs, or even a tiny version of diamond sword can be added. Consider using LED tea lights to mimic torches, giving both the magic touch and the needed illumination.
To increase interaction, the centerpiece can double as a game. You can place gold chocolates or small, wrapped candies to represent the in-game loots and let the guests 'mine' them during the party.
The key here is to understand that you are crafting your very own Minecraft world where anything is possible. Use your creativity to make a unique table centerpiece that becomes the focal point of your decorations!
Creeper Green Cups and Plates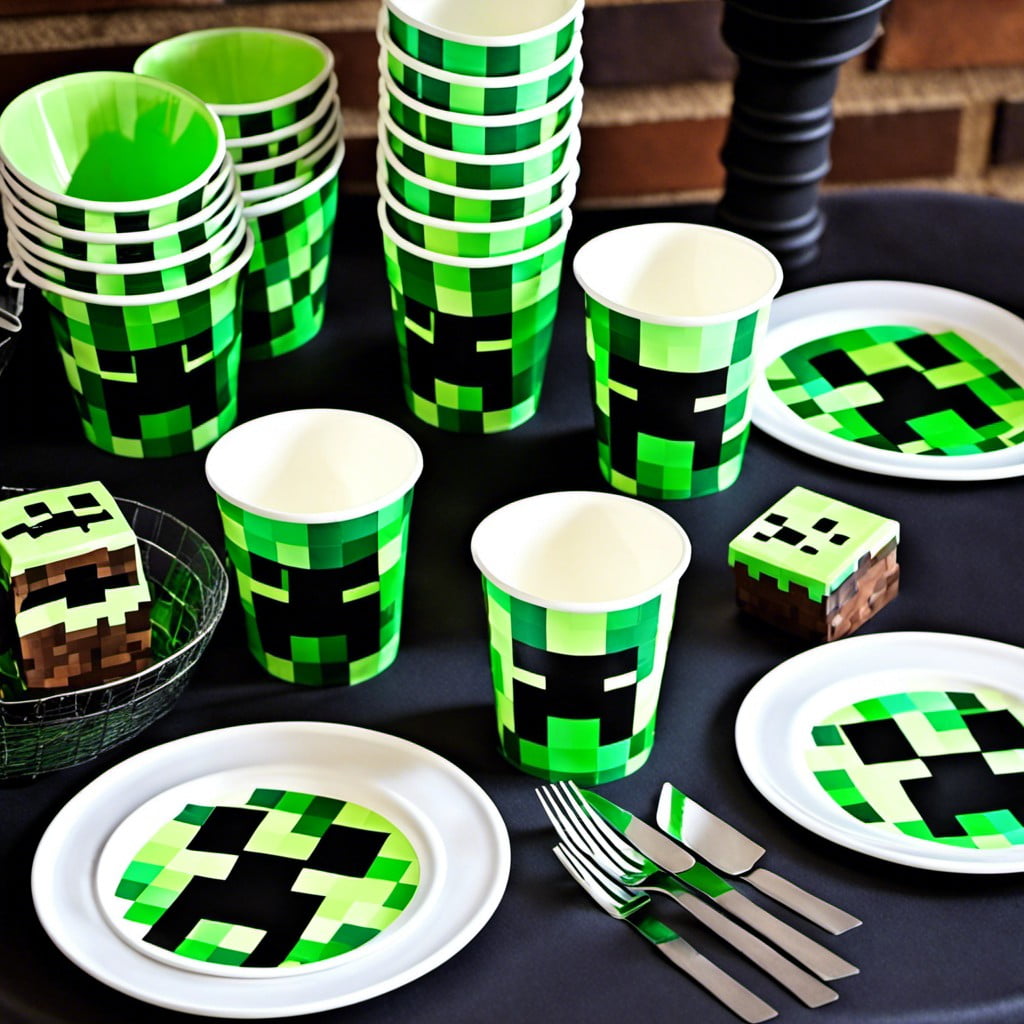 Selecting party ware that echo the game graphics can be a big hit! Opt for utensils in Creeper Green. This hue not only resonates with Minecraft's iconic character but also provides a vibrant pop of color on your party table.
1. Choose plates and cups featuring pixelated green and black creeper faces to make the party more authentic.
2. For a fun twist, consider DIY-ing the creeper faces onto plain green cups and plates using a black marker.
3. Using themed cups and plates eliminates the need for additional table decorations, simplifying the party planning process.
4. Make sure you get enough cups and plates to last through the party and perhaps a few extra for those unexpected spills or guest arrivals.
5. The fun doesn't stop at the main course. Extend the creeper theme to dessert by investing in creeper green napkins and dessert plates as well.
Remember, details matter. The more authentic your party looks, the more fun your guests will have!
Enderman Party Banner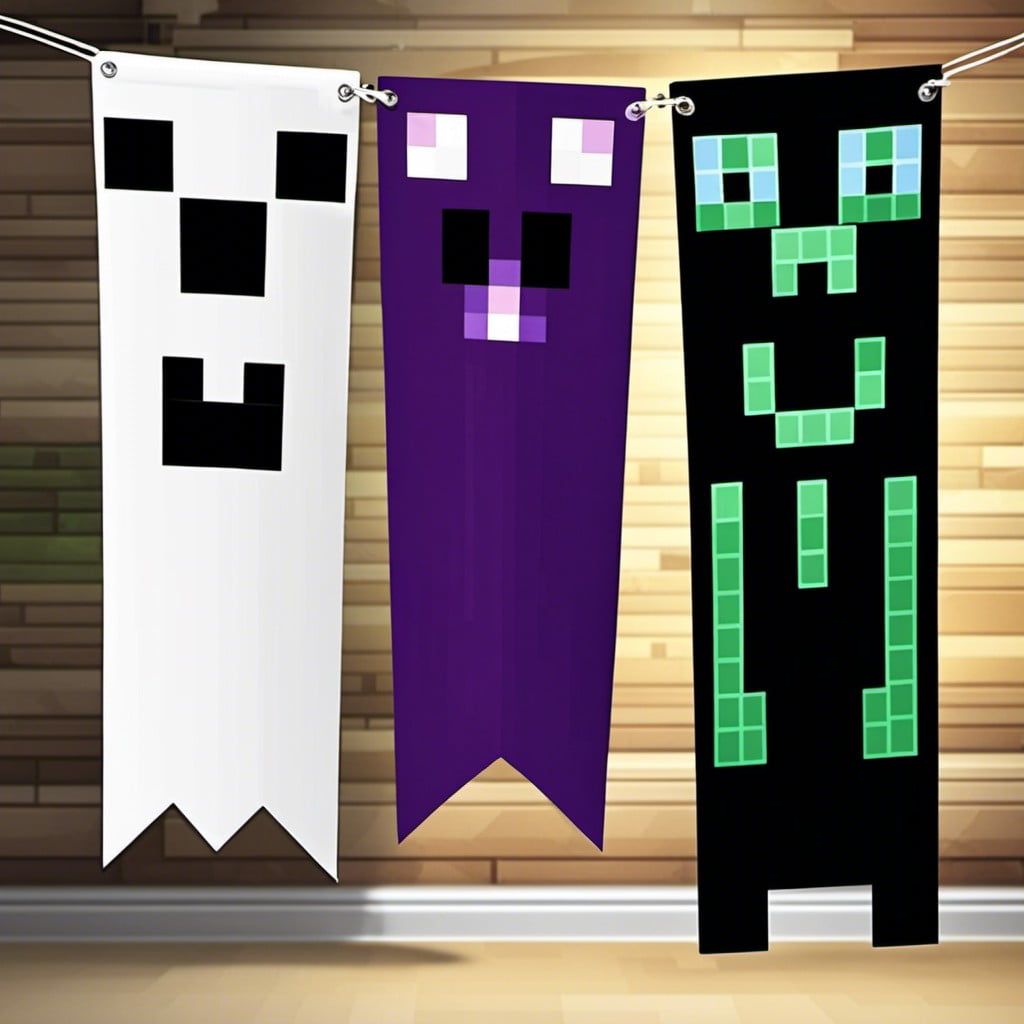 Creating the perfect Enderman party banner requires a bit of creativity coupled with a keen eye for details. With this ominous Mob's unique design featuring its black shade and glowing purple eyes, there are a few steps to ensure a striking decoration.
Firstly, it's about having the right materials – black and purple paper or card stock, string, scissors, and adhesive. You'll be cutting out several rectangles from the black card to represent the Endermen body, and smaller purple pieces for its eyes.
Secondly, stringing them together is crucial. Utilize a strong and sturdy string that can hold the weight of the Enderman cutouts. Remember, it's best to place them at an equal distance from each other to maintain a balanced look.
Last**l**y, consider the placement of the banner. It should be at a height that is easy to see but not obstructive to party activities or movement. Ideal locations include above the main party table, across doorways, or window frames. No matter where you decide to place it, an Enderman party banner is sure to add a distinctive touch to your Minecraft-theme celebration.
Remember to handle with care; Endermen are notorious for their teleporting abilities when disturbed!
Minecraft Character Cutouts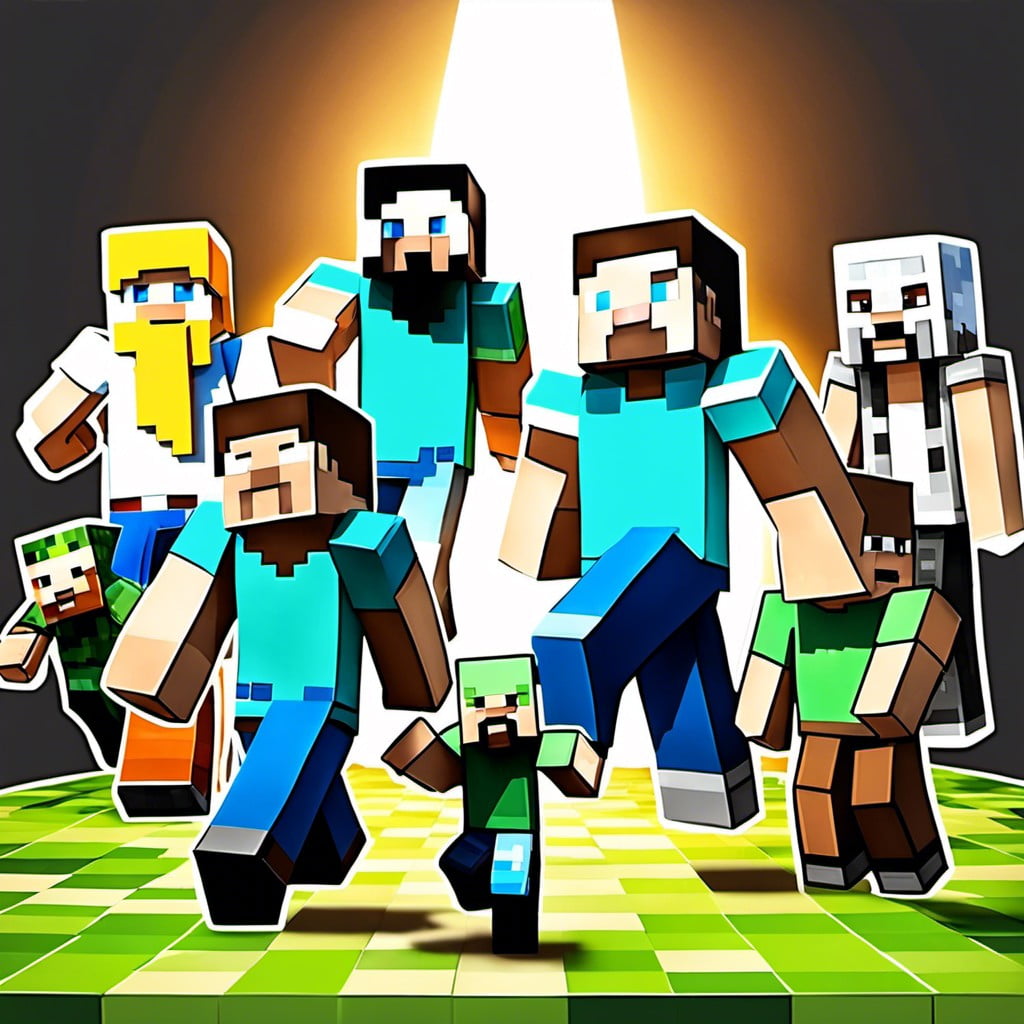 Creating life-sized character cutouts can add an immersive touch to any Minecraft party. Aim for popular favorites such as Steve, Alex, Creepers, and Endermen. Here's how you can make the party come alive with these cutouts:
1. Material Selection: Corrugated plastic sheets are durable, lightweight, and easy to work with. They are aptly suited for this task.
2. Sizing: A life-sized cutout should stand about 5 feet tall. Plenty of templates are available online to help with measurements.
3. Printing and Cutting: Download high-resolution Minecraft character images and print them onto adhesive vinyl sheets. After this, apply them on the plastic sheets. Cut along the contours of the character image using a precision knife to yield your cutout.
4. Support: Don't forget to affix supporting sticks or easels at the back to enable the cutouts to stand on their own.
5. Placement: Strategically place these cutouts around your party area. They can serve not only as photo props but also fun decorative elements that contribute to the thematic authenticity.
With these easy steps, you can convert a typical gathering into an extraordinary, vibrant Minecraft party.
Mine Blocks Wall Decals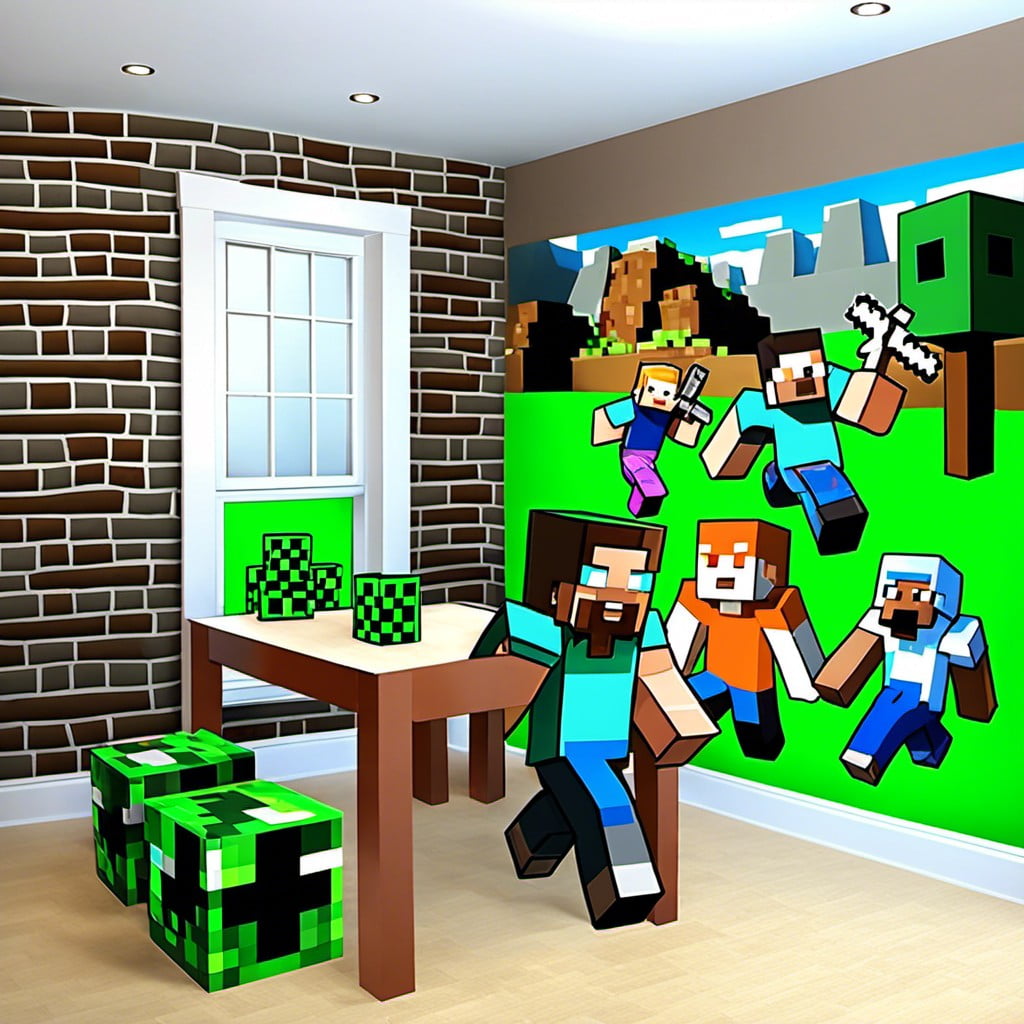 Wall decals provide a quick, efficient way to transform your party space. The charm of Mine blocks decals lies in their distinct pixelated design that mirrors the game's aesthetic. These decals can be placed anywhere, on walls, doors, or even the ceiling. Opt for reusable versions, making them a viable decorating option for bedrooms post-party.
Here's how you can incorporate these into your themed party:
Create a Scene: Arrange different blocks like grass, stone, or even TNT to replicate an iconic Minecraft landscape.
Mix Sizes: Use both large and small decals for a more dynamic look.
Hang Them Low: Have some decals at eye-level for younger attendees to enjoy.
Balance Colors: Strive for a balanced mix of bright and earth tones, reflecting the game's environment.
Remember, the goal isn't to cover every surface but to create focal points that draw the eye and heighten the party atmosphere.
DIY TNT Party Favors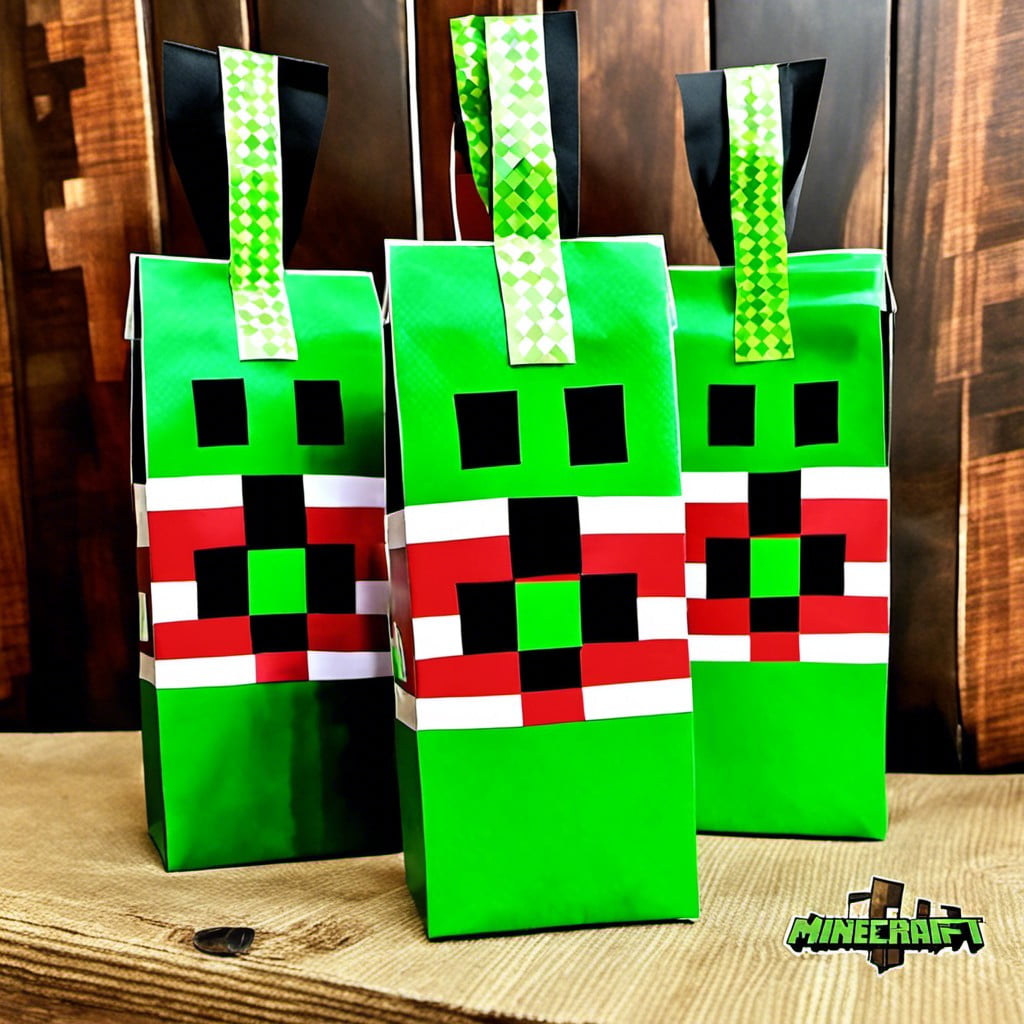 Creating these vibrant party favors is a fun and easy task. All you need are small rectangular boxes, red wrapping paper, and black vinyl letter stickers.
Begin by carefully wrapping the boxes with the red paper, ensuring the corners are smooth and sharp. Using the stickers, proceed to spell out "TNT" on each side of the boxes.
You can fill these exciting little treats with small toys, stickers, or candies that the party goers would love.
Remember, it's the attention to such personalized details that can transform a good party into a memorable one.
Pixelated Backdrop for Photo Booth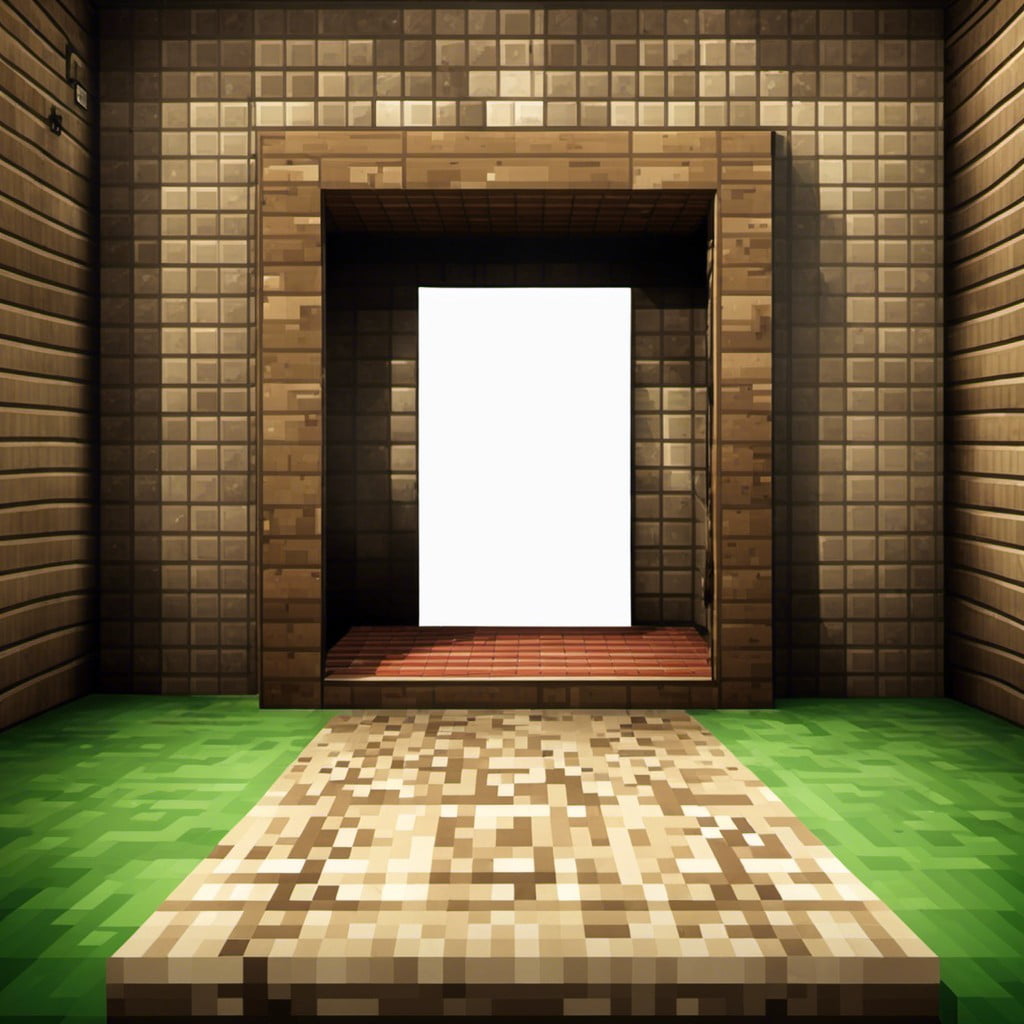 Creating your own pixelated backdrop will undoubtedly make your party stand out. Consider sticking by the basic gaming color palette, with blocks of green, brown, gray, and black to mimic the Minecraft terrain.
Here's your guide:
Choose the material: Opt for sturdy poster board, cardstock, or even painted wooden boards for a durable setup.
Create your blocks: Cut out square pixels measuring 2×2 or 4×4 inches. You'll need a good mix of colors for variety.
Arrange your terrain: Start from the bottom with dirt and stone colors, then move up to grass and sky complementary hues.
Fix the pixels: Use strong adhesive to stick your pixels. If using wood, consider small nails or hot glue.
Add variety: Incorporate 3D elements like Creeper or cube-shaped chickens for an interactive atmosphere.
Ensure stability during the event. Don't forget to set aside a space for props and a camera stand in front of the crafted scenery. Remember – you're fostering a space for fun and exciting photo opportunities to capture memories. Making it as engaging as possible will make your Minecraft party an unforgettable experience.
Diamond Ore Glow in the Dark Decorations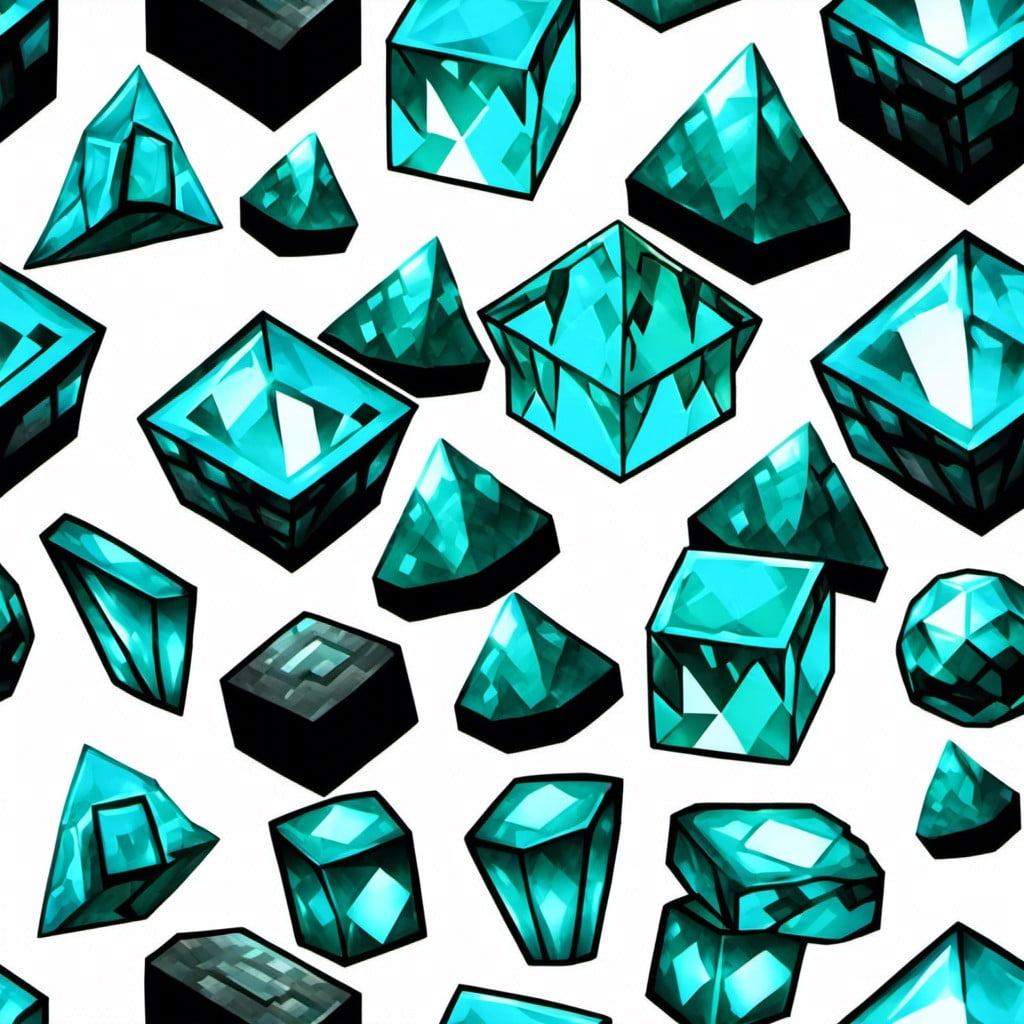 To craft these radiant additions, start by purchasing glow-in-the-dark duct tape. Cut the tape into square shapes to mimic Diamond Ore blocks from Minecraft. Sure to be a hit with the kids, these can be stuck onto walls, doors, or used to outline pathways – just remember to turn off the lights for the full effect!
Alternatively, find some square-shaped lanterns or lamps. Once again, cut your tape into squares and affix to the surface, ensuring a random pattern for an authentic look. Powered up, they'll glow, mimicking in-game Diamond Ore nocturnal luminescence. These luminous decorations will not only provide a unique party aesthetic but also a cool interactive element for your young gamers.
For an upgraded version, consider using LED battery-operated lights placed inside square glass vases, again decorated with your glow-in-the-dark tape. An excellent choice for a main table centerpiece or to illuminate the party buffet.
Remember, safety first! Always monitor kids around glow-in-the-dark decorations.
Minecraft-themed Helium Balloons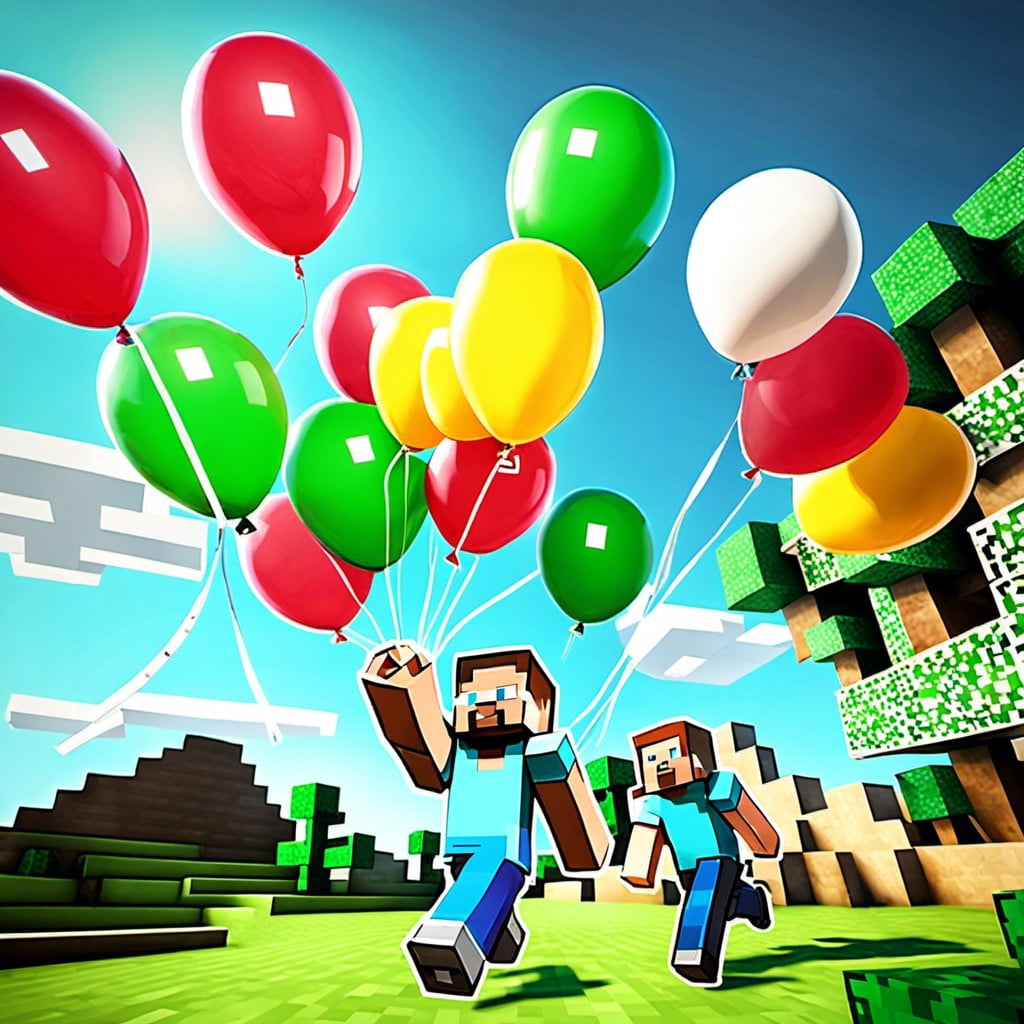 A helium haven complete with game-inspired balloons adds a delightful canopy effect! It's a simple yet effective way to level up your party décor game. Opt for Creeper, Enderman, or even colourful pixelated balloons. They're available in online stores, selling party supplies.
For a more interactive option, get plain helium balloons and markers to let the little gamers craft their own designs. This will not only augment the festive atmosphere but also add an extra interactive layer to the party. They can even take home their creations as party favors! Voilà – decoration and entertainment rolled into one.
Grass Block Dessert Stand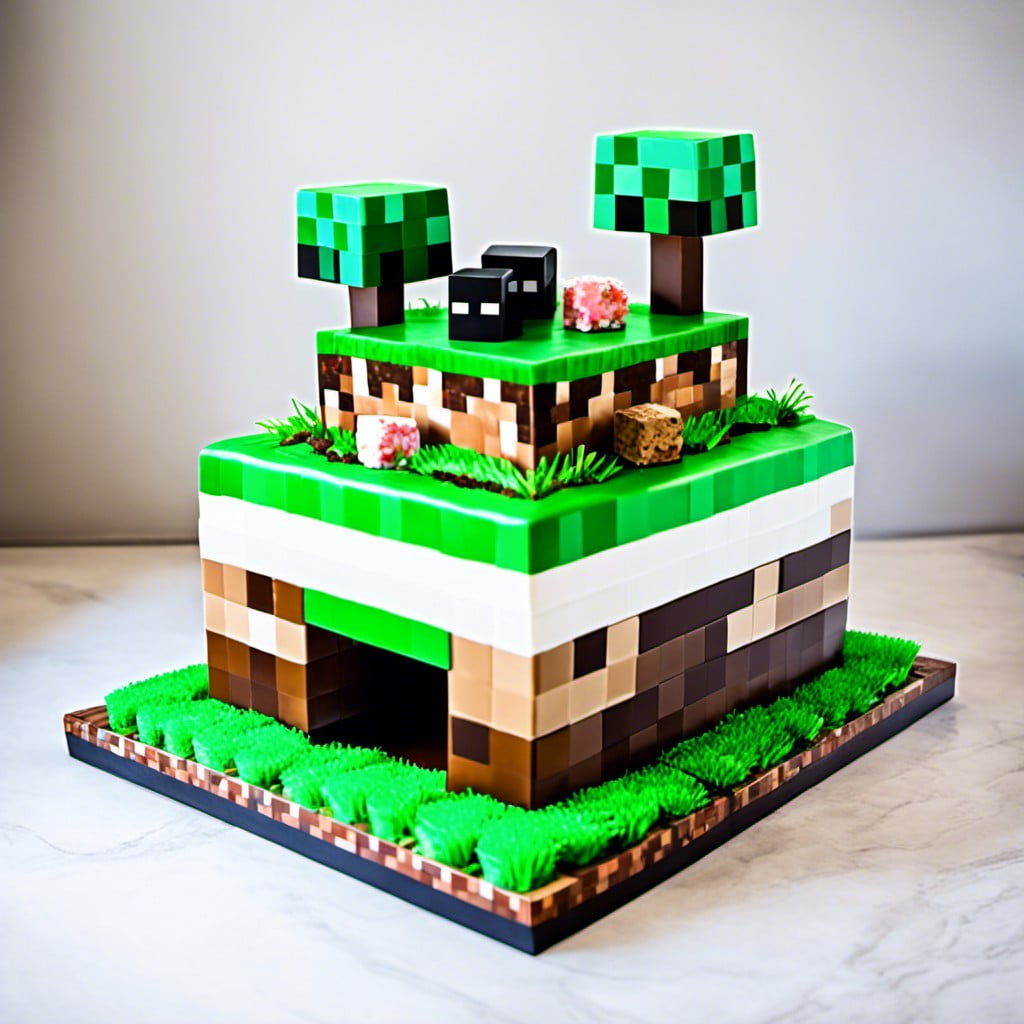 Taking inspiration from the quintessential game block, transform a simple cake or dessert stand into an immersive decor piece. Here's how to pull it off:
Opt for a wooden cake stand for a natural, block-like base.
Top the stand with artificial grass or green icing to mimic the texture-like patterns of the grass block.
If you're feeling creative, consider attaching small, edible chocolate blocks around the edges for that signature 'dirt' effect.
Place this grass block dessert stand center stage on your party table, hosting a Minecraft-themed cake or cupcakes.
This DIY project is a surefire way to wow your little gamers and add a touch of authenticity to your Minecraft party!
Minecraft Character Headbands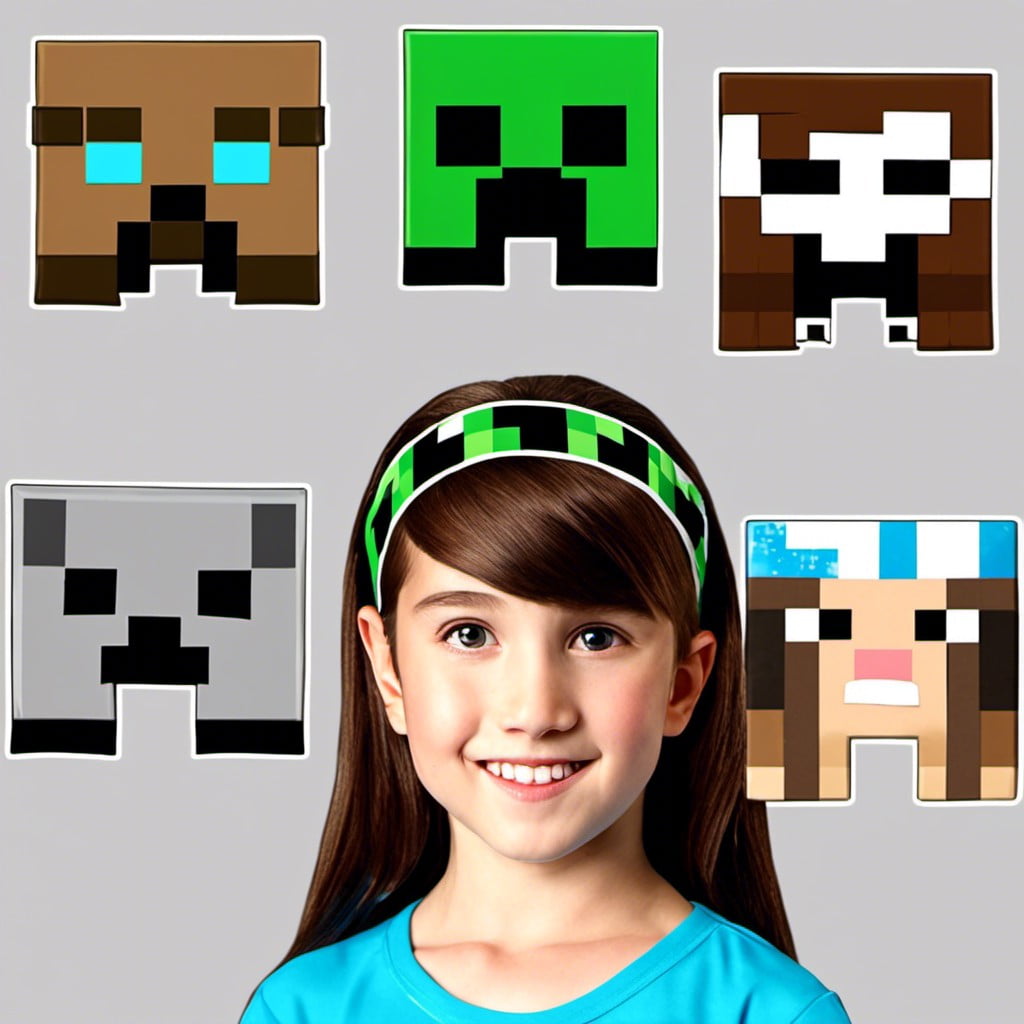 Crafting headbands that mimic recognizable Minecraft figures can add a dose of fun for party-goers of all ages. Here's a simple guide to get you started:
1. Start with a basic green, black, or brown headband for the base. It's essential to pick colors aligning with the character you're aiming to portray, such as a brown headband for Steve or a green one for a Creeper.
2. Cut pixelated shapes from colored foam sheets to create the characters' faces. These sheets are not only lightweight, but they're also flexible and easy to secure to the headband.
3. Use a hot glue gun to fix the foam cut-outs onto the headband. Always remember to allow the glue to cool before trying the headband on.
4. To make the crafting process more engaging, turn this activity into a game where attendees can design and wear their custom-made Minecraft headbands.
These homemade accessories are not just party props but can also be unique party favors for guests to remember the Minecraft fun they had!
Treasure Chest Filled With Party Goodies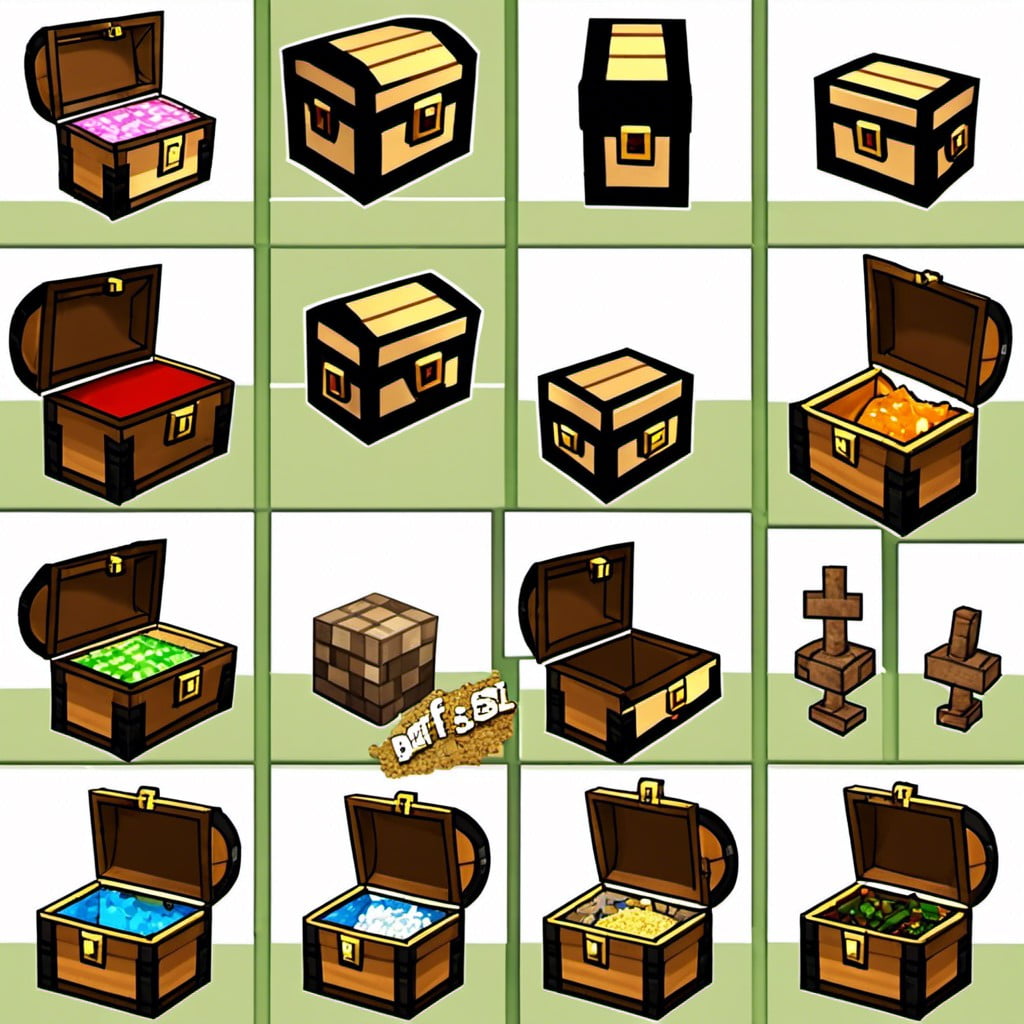 To bring the classic Minecraft world to life, nothing outshines the idea of a tangible, interactive feature like a themed treasure chest. This fun and exciting piece of decor doubles up as an engaging activity for attendees.
Adorn a simple wooden box, easily sourced from craft supply stores, with stickers or decals to resemble a Minecraft treasure chest. For a touch of authenticity, a green emerald or golden nugget in the design won't go amiss.
This chest can spark joy by being loaded with Minecraft-themed goodies, such as mini figures, pixelated sunglasses, keychains, and stickers. Small, inexpensive toys like bouncy balls, Rubik's cubes, or play jewelry can also serve as amusing trinkets for younger guests.
Placing the chest in a noticeable spot ensures it'll intrigue and draw in the party-goers. It'll serve as a symbol of the virtual game treasure chest, adding an immersive vibe to the whole party.
Minecraft Craft Station for Kids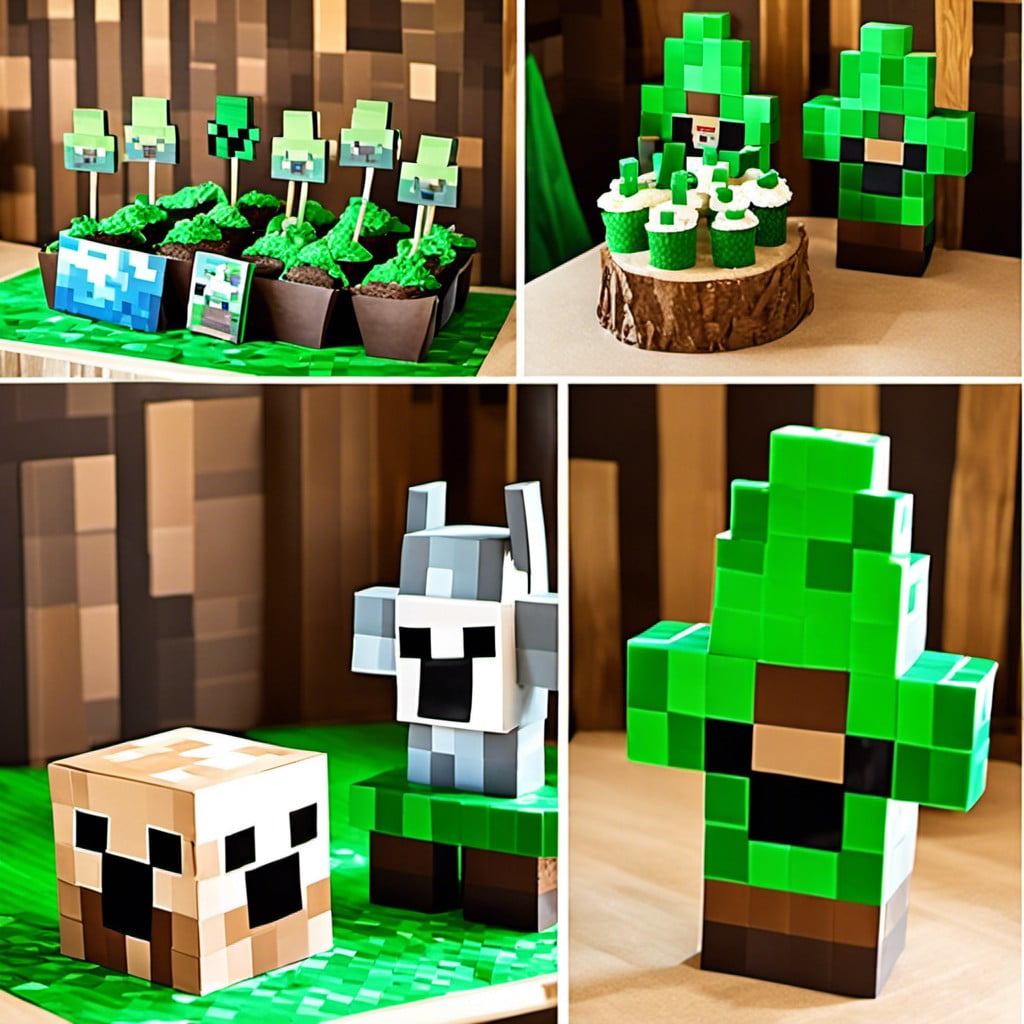 In setting up the craft station, ensure it is both engaging and simple for little hands. Opt for basic crafts that embody the pixelated aesthetic of Minecraft. Use colored square paper plates to create a Minecraft character mosaic challenge, or origami lessons to fold paper into characters like Creepers or Steve.
You may provide kids with green and brown clay to sculpt Minecraft creatures and landscapes. Add a painting corner where they can paint wooden blocks to look like Minecraft ores.
Consider a bead station where kids can string together keychains from small set of interchanging beads representing the various minerals and gems in the game.
Remember, the craft station is not only a source of entertainment, but also an opportunity to inspire the creativity and imagination of your little guests. The crafted items could also serve as precious keepsakes, reinforcing the unforgettable Minecraft experience long after the party ends!
Creeper Face Cookies On a Tray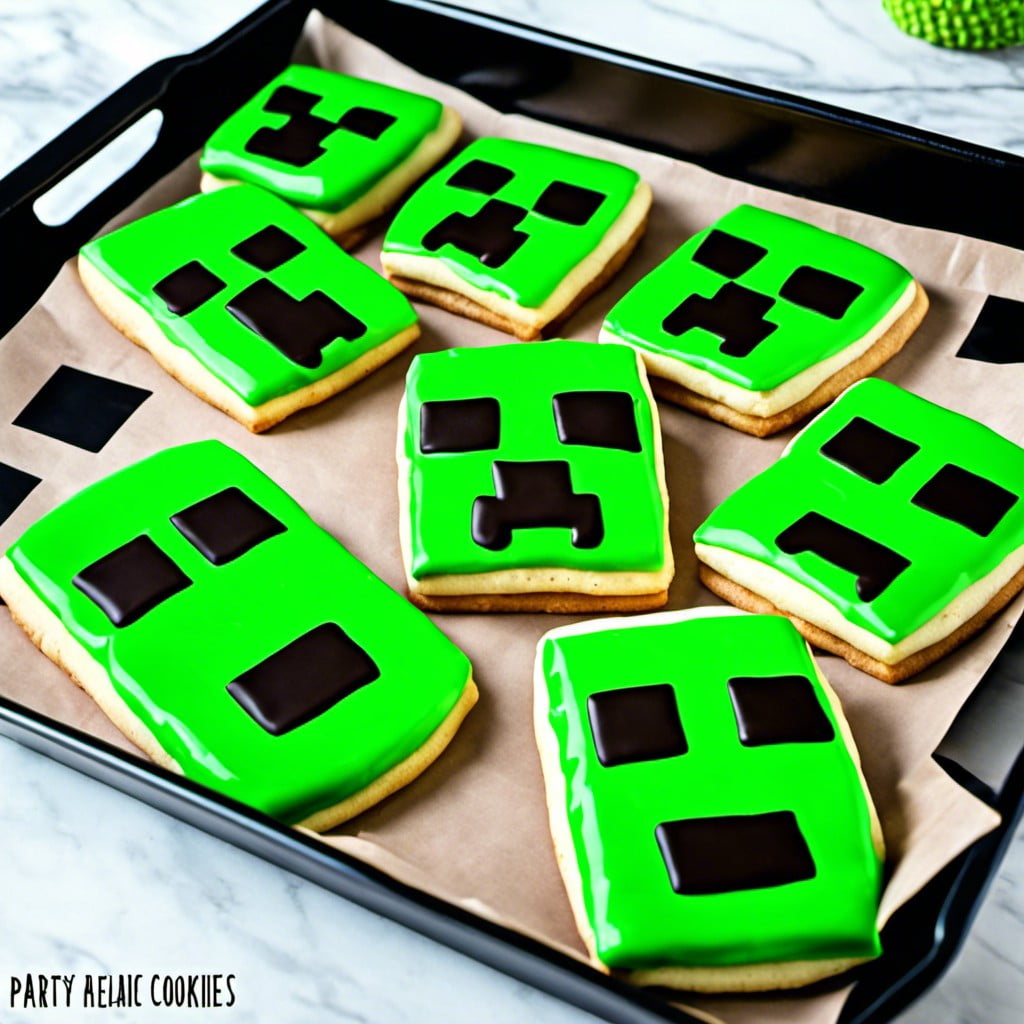 For a snacking option that's both delicious and visually consistent with the theme, try baking some square cookies, which you can decorate with green icing to resemble the iconic Creeper face.
You'll need dark green icing for the face and black for the eyes and mouth.
Don't worry about getting each facial detail perfect; it's the green square shape and overall pixelated design that will make them recognizable.
Arrange your finished cookies on a tray or board for easy accessibility during the party.
Such detailed party snacks are bound to impress your guests, both kids, and adults, adding more fun to the Minecraft environment you've created.
Consider adding labels near your cookie display to let guests know what they are, which could also trigger interesting conversations about everyone's favorite Minecraft characters.
Minecraft Pistons Serve Ware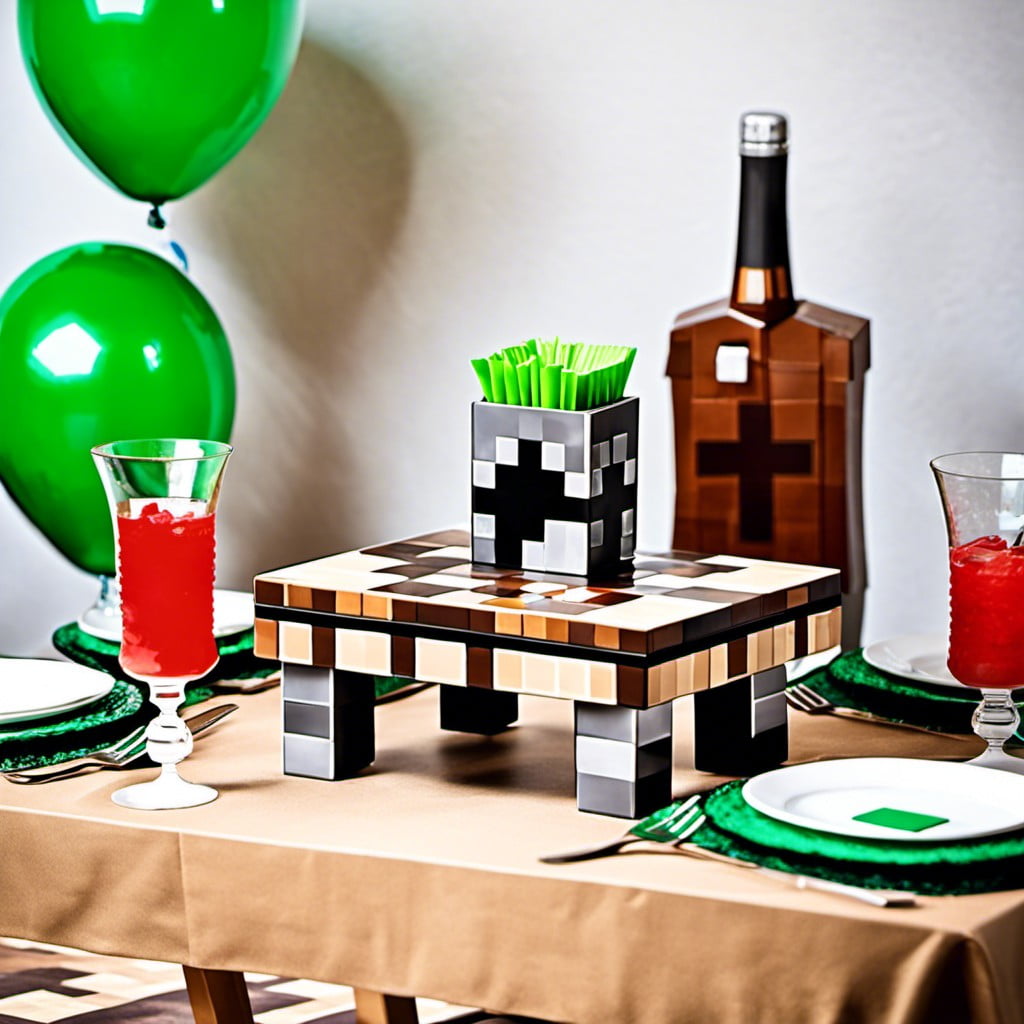 Pistons serve ware can ignite a wave of excitement among your party attendees. Cast from high-quality plastic and painted to resemble the game's iconic push-and-pull devices, they make an excellent addition coming last in your decoration journey.
Here are some points to consider:
Relevance: Ideal for serving snacks and can double as intriguing party decor, adding authenticity to your Minecraft theme.
Versatility: Suitable for a range of small to mid-sized foods, these creative containers can hold everything from chips to small cupcakes.
Safety: Despite their substantive appearance, these items are lightweight and child-friendly, with no sharp corners.
Durability: They're sturdy enough to last through the party.
Fun Factor: Offer a unique hands-on experience for your guests, sparking conversation and excitement.
Remember, party preparation is not just about aesthetic appeal. A successful party marries visual appeal with functionality. Pistons serve ware, in this regard, hits the mark brilliantly.
Liked reading this? Here's more:
Recap: