Last updated on November 11, 2023
Dive into this article because it brims with fresh and unique pumpkin decorating contest ideas that will leave your guests marvelling at your creativity.
Dive into the festive spirit with a pumpkin decorating contest, a fun and creative activity that can bring everyone together. From spooky faces to intricate designs, the possibilities are truly endless when it comes to decorating pumpkins.
Whether you're planning a contest for your neighborhood, school, or office, it's essential to have a well-thought-out plan to ensure everything runs smoothly. This article will guide you through the process, providing you with unique theme ideas, judging criteria, and tips for organizing a successful pumpkin decorating contest.
Stick around to discover how to make your pumpkin decorating contest the talk of the town.
Pumpkin Decorating Contest Ideas for Halloween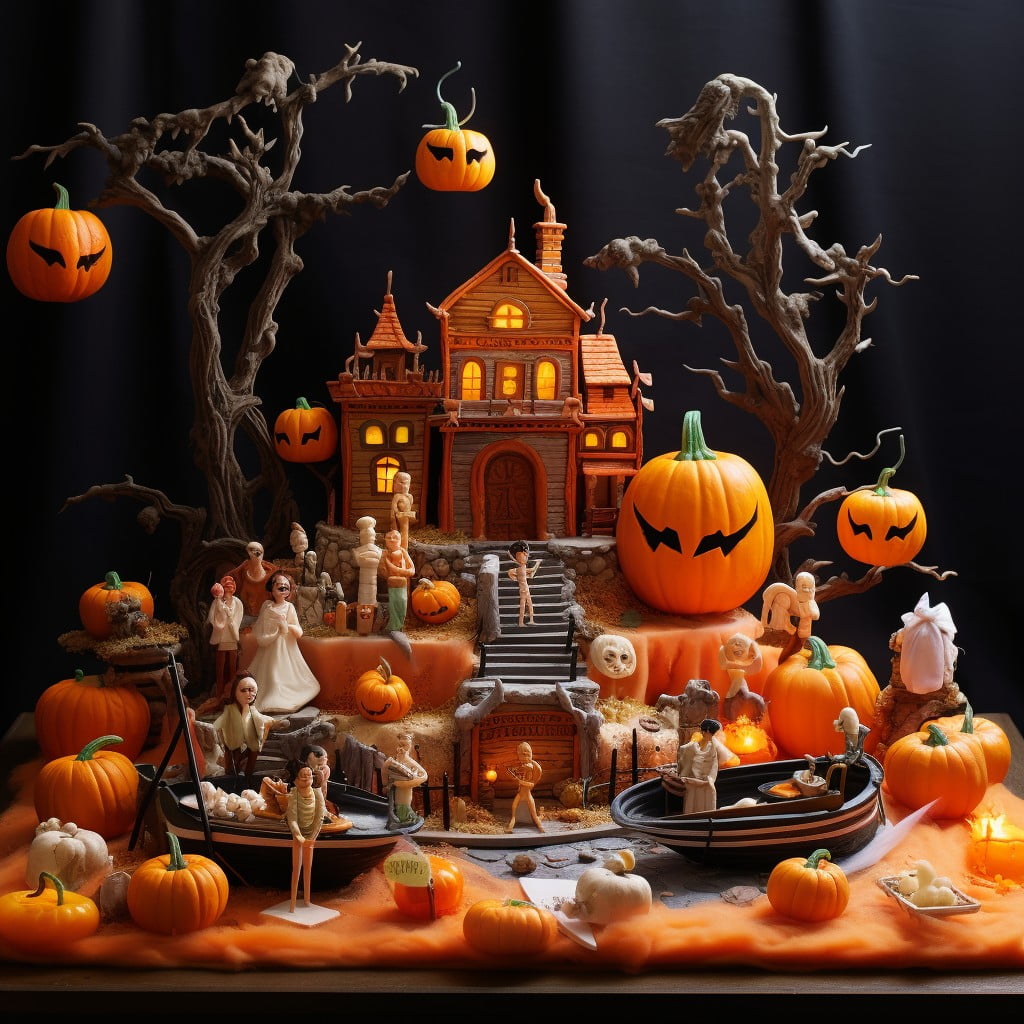 A Halloween pumpkin decorating contest is a fun and creative way to celebrate the spooky season. But, what makes a contest truly engaging is unique and fresh ideas. Below are few innovative themes to consider:
1. Fantasy Inspired: Invoke the magic of fairytales. Think dragons, unicorns, and fairy godmothers. Utilize vivid colors and glitter for added charm.
2. Animal Kingdom: From the manes of the jungle to birds in the sky, animals offer endless inspiration. Focus on specific features that capture the essence of the chosen animal.
3. Iconic Characters: Popular film and cartoon characters always make an impact. They resonate with all ages and are sure to spark creativity.
4. Seasonal Themes: Embrace the colors and motifs of autumn. This could involve fall foliage, harvest crops or even weather elements like rain clouds or snowflakes.
5. Spooky yet Cute: Not all Halloween decorations have to be scary. Try for a cute approach with cuddly monsters, friendly ghosts, or smiling witches.
Remember, the goal isn't to carve the most intricate design, but to have fun and let creativity shine.
No Carve Pumpkin Decorating Techniques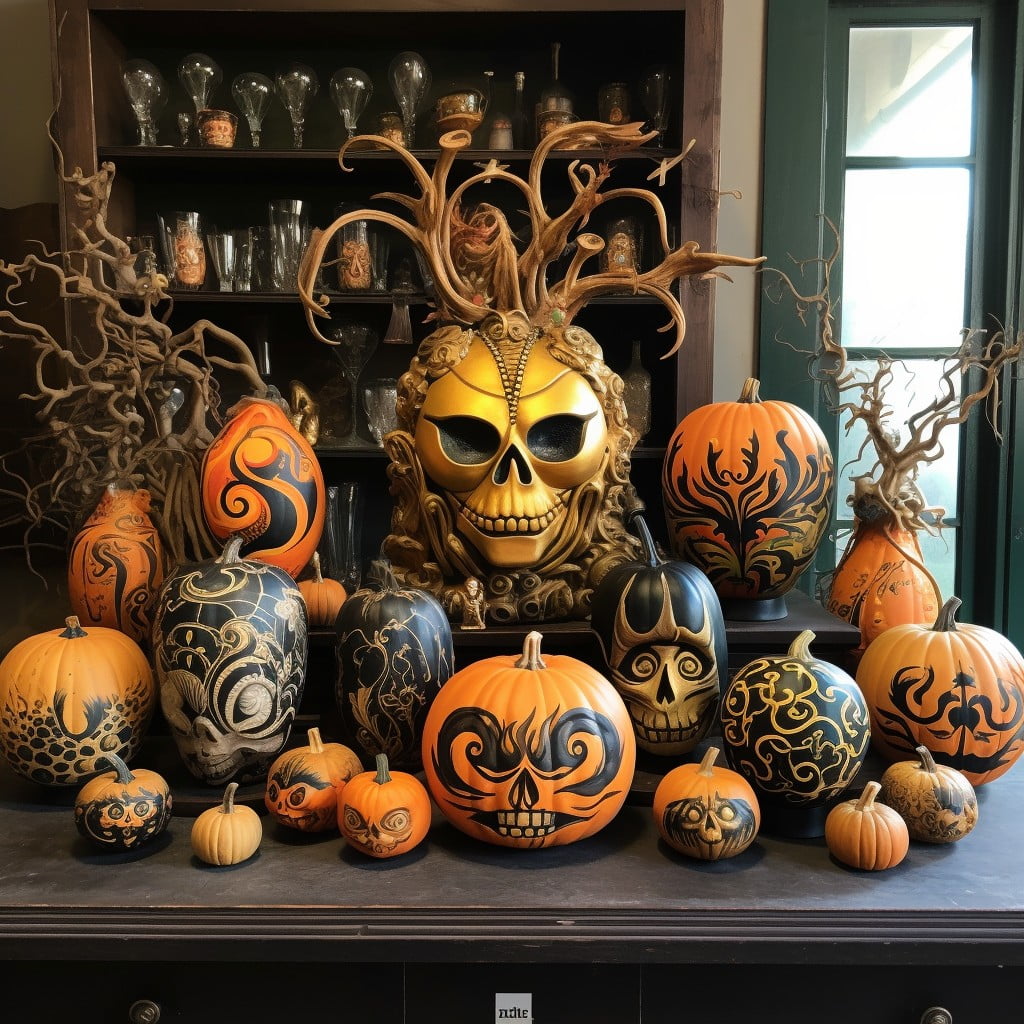 Moving beyond the traditional jack-o'-lantern calls for creative, no carve alternatives. Here are a few examples:
1. Decoupage Pumpkin: This expedient technique involves pasting cutouts from magazines, newspapers, or fabric with special glue to create a collage surface. It's simple and can be themed around anything you enjoy, from vintage botanical prints to colorful comic books.
2. Painted Pumpkin: Grab some acrylic paints and brushes to create any theme or design you desire. Think polka dots, stripes, or even a detailed portrait.
3. Bedazzled Pumpkin: Craft gems or rhinestones glued onto the pumpkin surface can result in a glamorous crystal-like centerpiece. This is perfect for those wishing to add a bit of sparkle to their Halloween.
4. String Art Pumpkin: This involves wrapping colored string or yarn around pins placed into the pumpkin to create abstract designs or specific shapes.
Remember, these activities are not just for adults but can also be fun for kids. So grab a pumpkin and start decorating!"
Cheeseburger Themed Pumpkin Decoration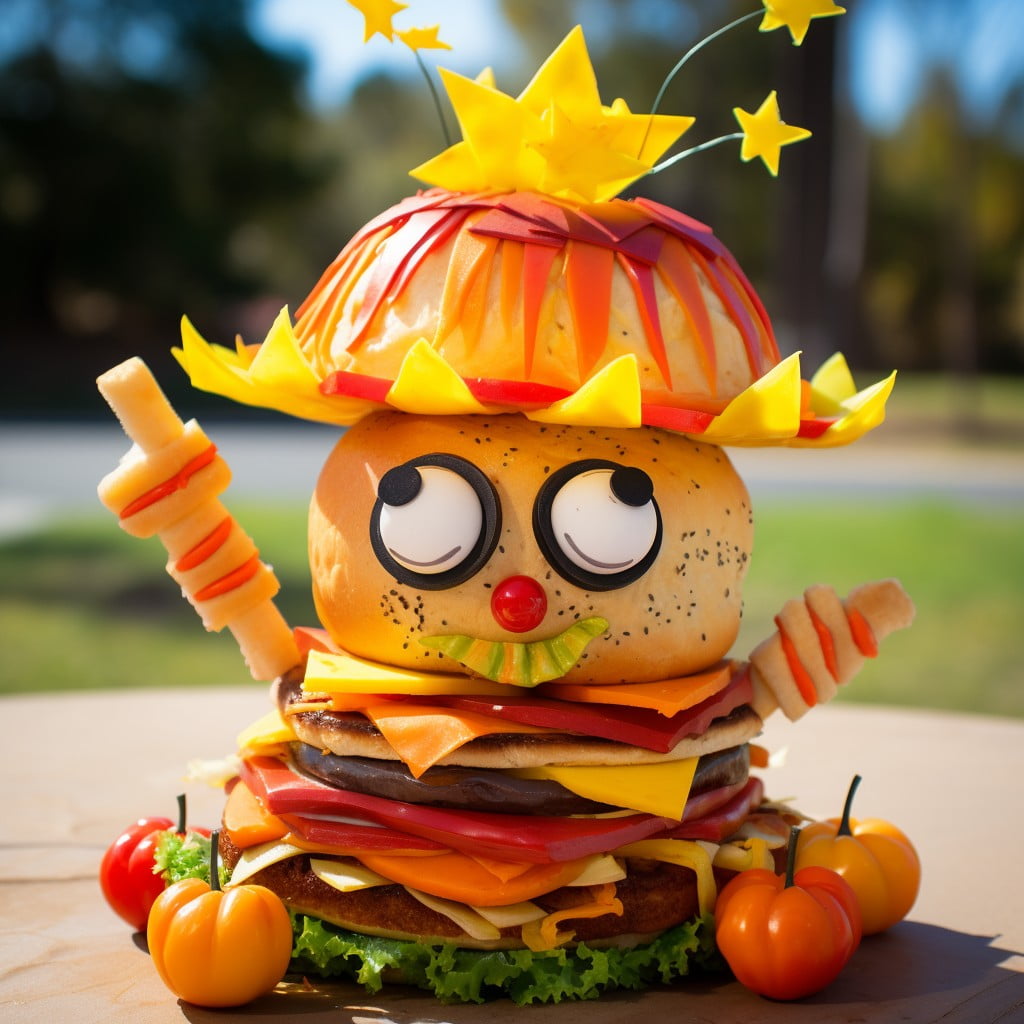 The key to a successful cheeseburger-themed pumpkin decoration lies in the selection of three diverse pumpkin sizes. Spare the large one for the burger's base and top bun while the smallest will represent your cheeseburger's core. Remember, the authenticity of your cheeseburger pumpkin involves shades of brown and yellow acrylic paint, replicating the bun and cheese respectively.
To begin, paint the larger pumpkins' tops brown like the bun's crust, allowing their bulky bottom to retain the natural orange, emanating the bun's interior. For the smallest pumpkin, a round of bright yellow paint will suffice, illustrating the cheese. Once dry, pile them in order – large, small, then large again. Add faux lettuce, tomatoes and other ingredients using colored construction paper for an appealing, realistic touch.
This theme's charm lies in its creativity, spicing up a simple pumpkin to appear as a tasty, mouth-watering cheeseburger. It's not just an amazing display, but a fun, engaging project that effortlessly combines culinary creativity with your love for pumpkins.
Tub of Popcorn Inspired Pumpkin Design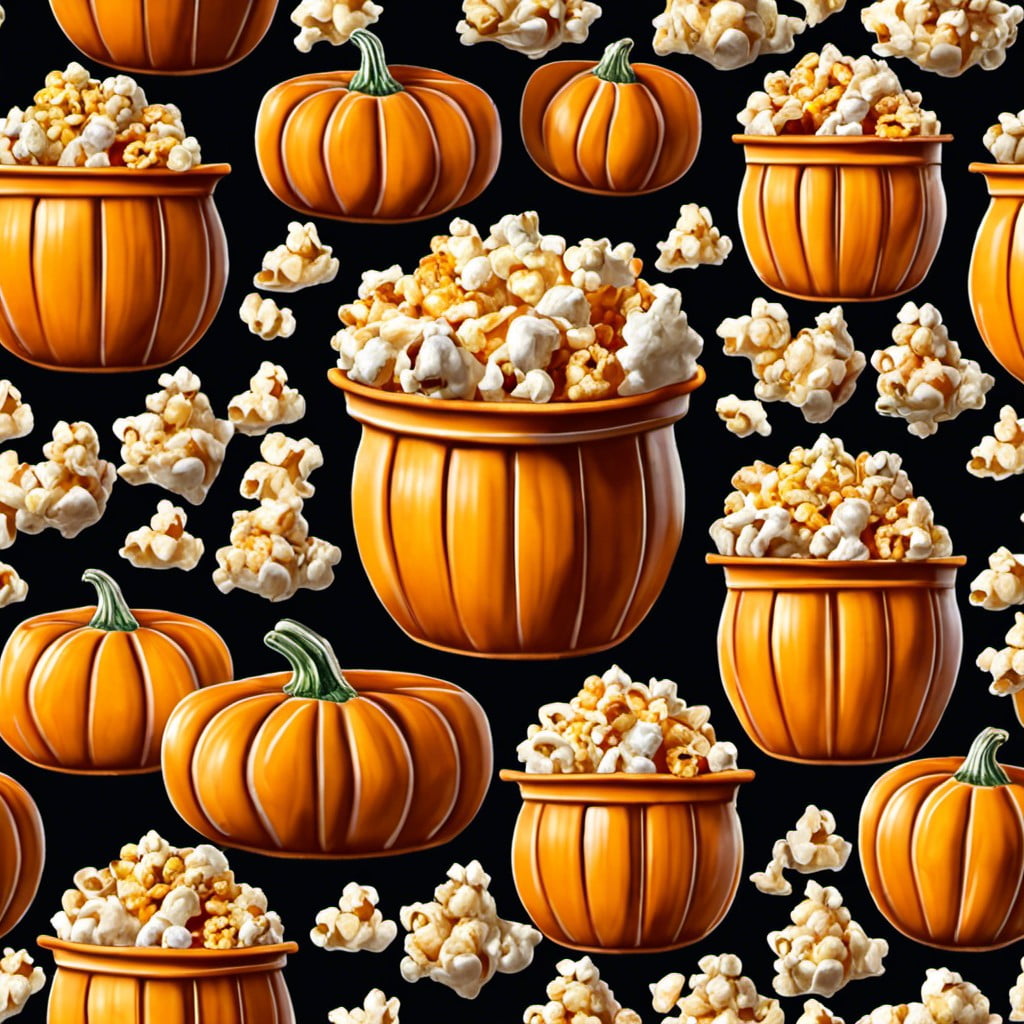 To create the Tub of Popcorn look, begin by painting the entire pumpkin white. Allowing it to dry properly is crucial for a polished, finished look.
Once dry, use a dish sponge to dab on yellow paint on the top area, this will mimic butter melting on the popcorn. While the paint is still wet, press on actual popcorn or crumpled yellow and white tissue at the top to resemble popcorn.
For the final touch, using red and white paint or felt strips, make vertical stripes around the pumpkin to mimic traditional popcorn tub patterns. The beauty of this decoration technique lies in its simplicity. It is also a fun, mess-free activity to enjoy with all age groups.
Cactus Look Pumpkin Decoration Idea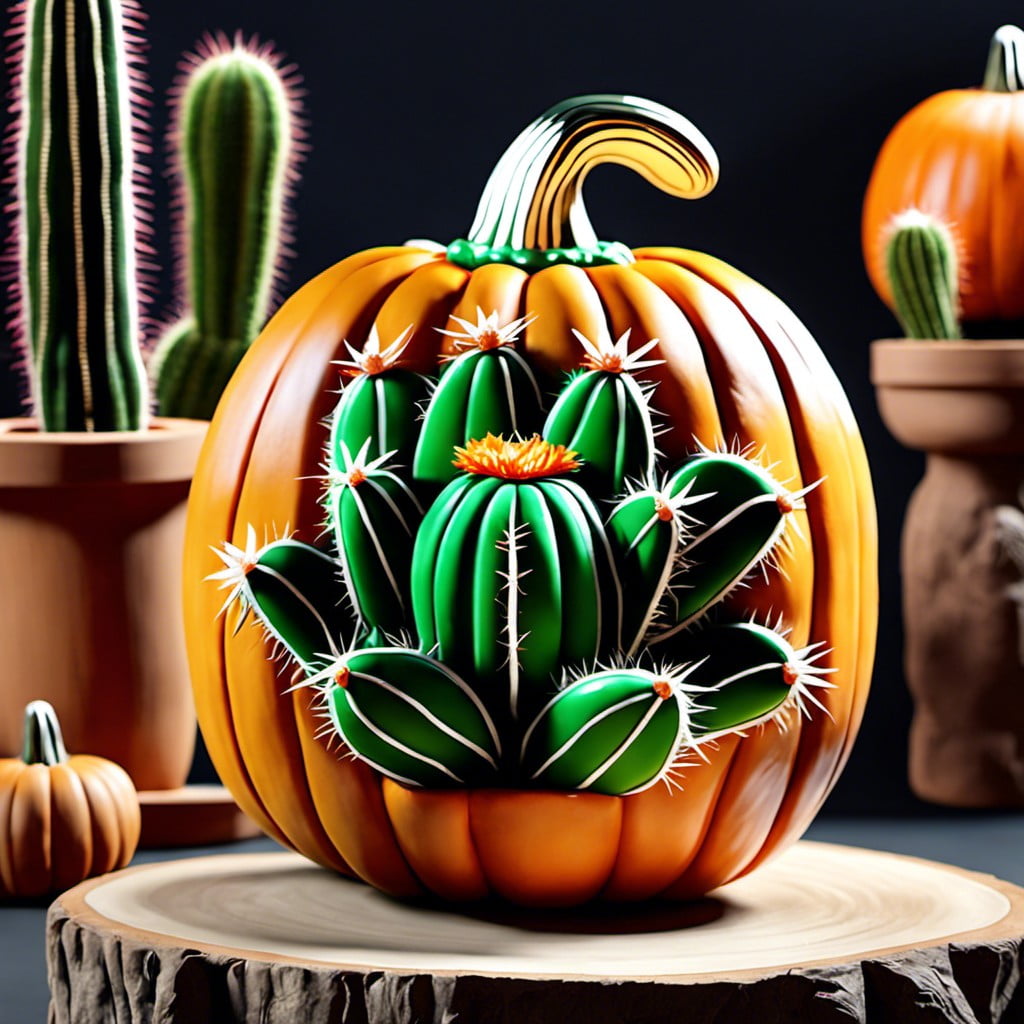 Adopting the cactus style blends contemporary design with a fun personal touch for your pumpkin decoration.
Start with a smooth, round pumpkin to mimic the cactus's shape, and opt for a spray paint in a verdant hue for a realistic look.
Don't forget to get creative with your choice of fake flowers for the cactus bloom; vibrant colors like hot pink or bright yellow are recommended.
You can use skewers or toothpicks to create that prickly texture inherent to cacti – just remember safety comes first!
Place these around in a natural, random pattern.
A terracotta pot adds the perfect finish, contextualizing your cactus pumpkin in a desert-like vibe.
This decoration idea is more than just a pumpkin, it's a gardening escapade on your porch!
Country Cabin Inspired Pumpkin Decorations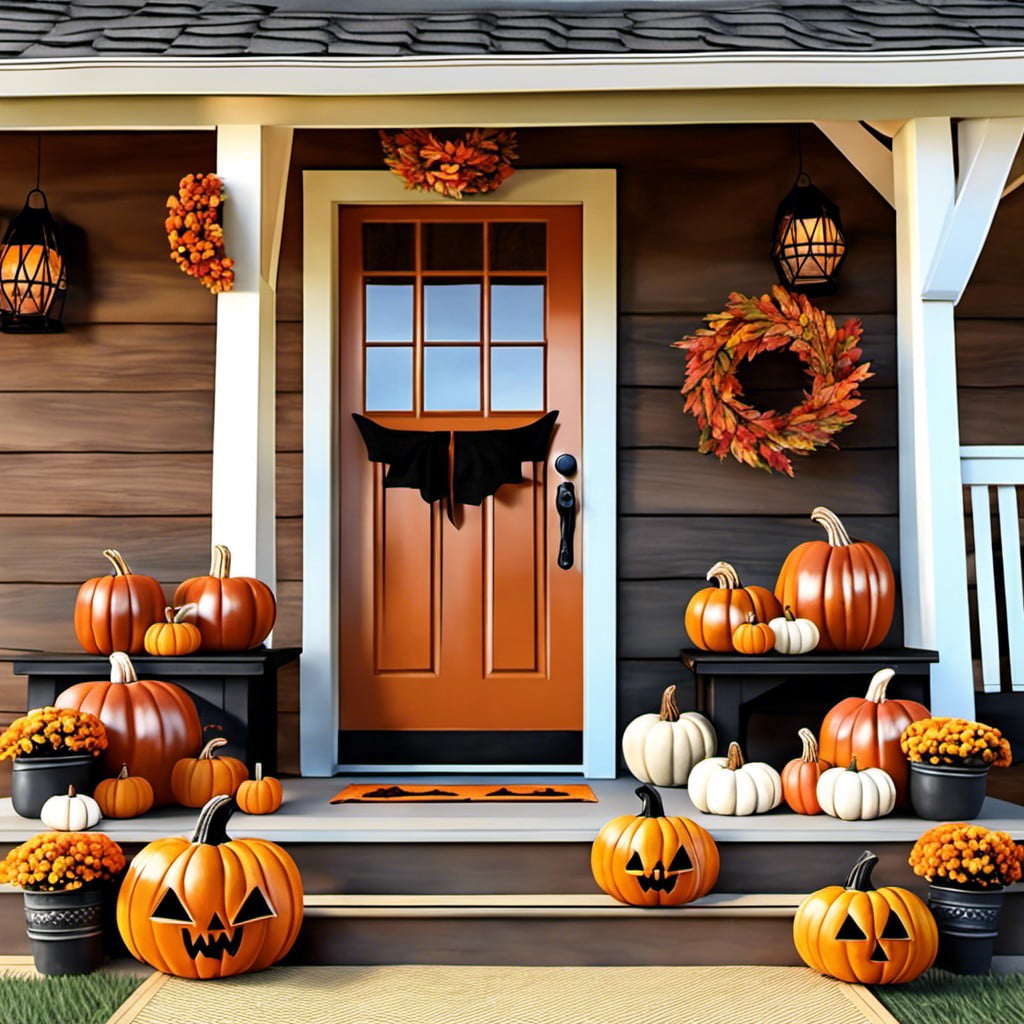 Injecting a bit of rustic appeal to your pumpkins is a great way to harmonize with a warm, cozy autumn aesthetic. Gather supplies ubiquitously found in a country cabin. These items include twine, tree bark, dried flowers, and even flannel fabric.
Twine can be artfully wrapped around the pumpkin for a charmingly simple look. Combine with a hot glue gun to affix pieces of tree bark and dried flowers, emulating a picturesque log cabin surrounded by fall foliage.
Using cut-outs of flannel fabric, you can design delightful patterns like plaid trees or cozy cabins. Apply a decoupage medium to stick them on and seal your design. The fabric textures will add a depth to your pumpkin, making it stand out from the typical paint-only decorations.
Remember, the goal is to capture the essence of a country cabin with elements that are distinctive yet harmonious, giving your pumpkin a uniquely charming appeal.
Baby Yoda & BB8 Pumpkin Decoration Designs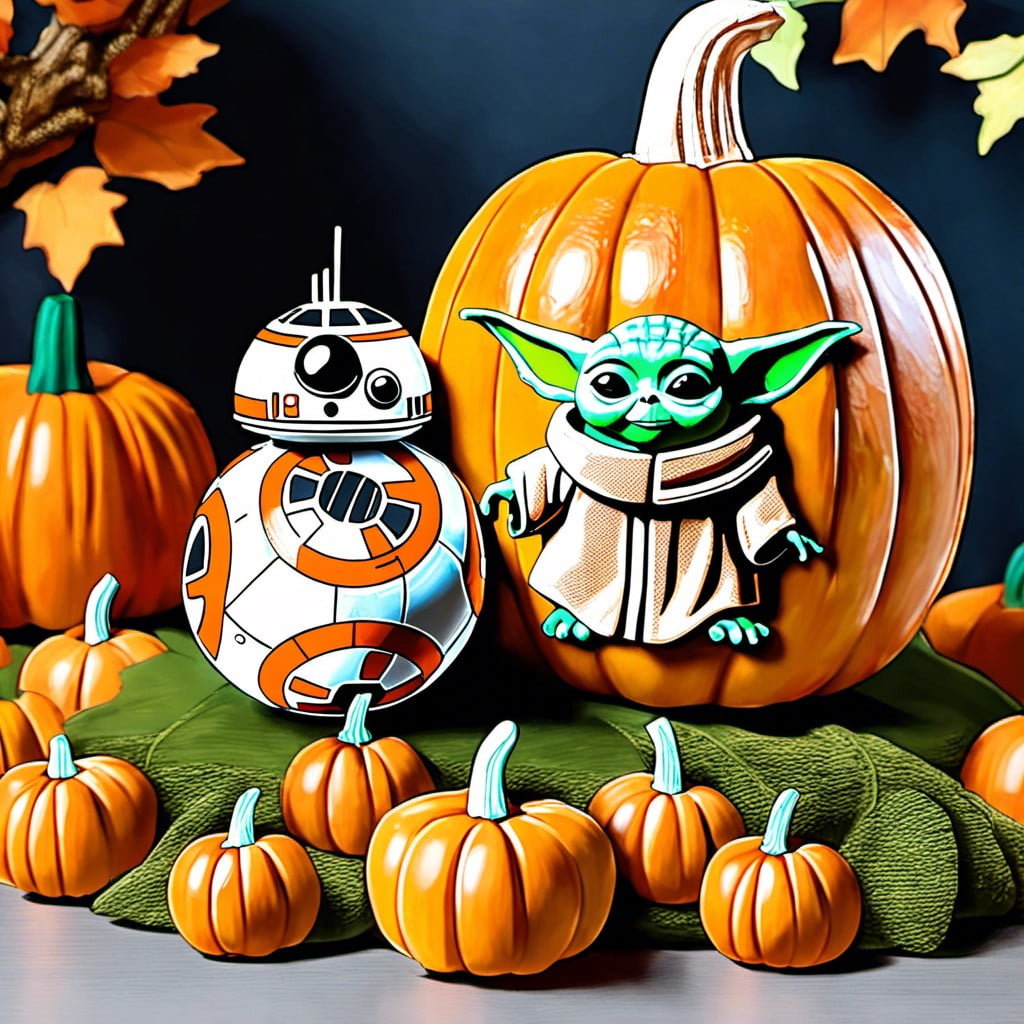 To create a Baby Yoda design, start with painting your pumpkin in Yoda's distinct green. After the base color is dry, carve out the big ears, body, and the charming expressive eyes with black paint. Add white and black semi-circles at the end of the eyes for the innocent, shiny effect. Draw wrinkles on the forehead to replicate Yoda's old, wise look. For additional creativity, a small cloth can be secured around the neck of the pumpkin to represent Yoda's robe.
On the other hand, for a BB8 design, a predominantly white pumpkin should be your base. Circular detailing can be carved on the pumpkin to replicate BB8's body. Interestingly, carving straight lines around the center will give a three-dimensional effect to the design. The head of BB8 can be represented with a smaller gourd, painted in white with simple black features. The two can be stacked together to complete the character.
Following these steps brings the popular Star Wars characters of Baby Yoda and BB8 right to your doorstep. Remember to engage your creativity, and the essence of these unique characters will come to light in your pumpkin decorations.
FAQ
How do you hold a pumpkin decorating contest?
To hold a pumpkin decorating contest, invite participants to carve pumpkins, bearing in mind their ability to handle sharp tools, and decide whether to supply the knives and carving tools or ask each participant to bring their own.
How do you judge a pumpkin contest?
Judging a pumpkin contest involves evaluating each pumpkin's creativity, relevance to their group, and the quality of the carving and decorating.
What do you need for a pumpkin carving contest?
For a successful pumpkin carving contest, you will need carving utensils such as knives, spoons, and scrapers, plastic drop cloths, cookie sheets, stencils, wipes, and, of course, one pumpkin for each participant plus a few extras.
What are effective techniques for promoting a pumpkin decorating contest?
Utilize social media platforms, local community boards, newsletters, email blasts, and word-of-mouth to promote a pumpkin decorating contest effectively.
What criteria can be used to assess the entries in a pumpkin carving contest?
The criteria to assess the entries in a pumpkin carving contest can include originality and creativity of design, complexity and difficulty of carving, precision and cleanliness of cuts, overall aesthetic appeal, and effective use of pumpkin's 3D form.
How can you create engaging and fair categories for a pumpkin carving contest?
To create engaging and fair categories for a pumpkin carving contest, consider factors such as pumpkins' size, carving complexity, creative theme, age of the carver, and originality of the design.
Liked reading this? Here's more:
Recap: