Last updated on October 28, 2023
Dive into this delightful amalgamation of Toy Story decoration ideas because the vibrant, nostalgic elements are guaranteed to turn any space into a segment of Andy's room.
I take immense pleasure in presenting my unique and innovative Toy Story decoration ideas, crafted and illustrated for your unforgettable parties; I sincerely hope they inspire you as much as they inspired me during creation.
Dive into the vibrant world of Toy Story with decoration ideas that bring your favorite characters to life.
From Buzz Lightyear-inspired centerpieces to Woody-themed wall decor, these suggestions will transform any space into Andy's room.
Whether you're planning a birthday party or redecorating a children's room, this article provides a comprehensive guide to creating an immersive Toy Story environment.
Stay tuned for detailed instructions, practical tips, and creative ideas to infuse every corner with Pixar magic.
Toy Story Character Standees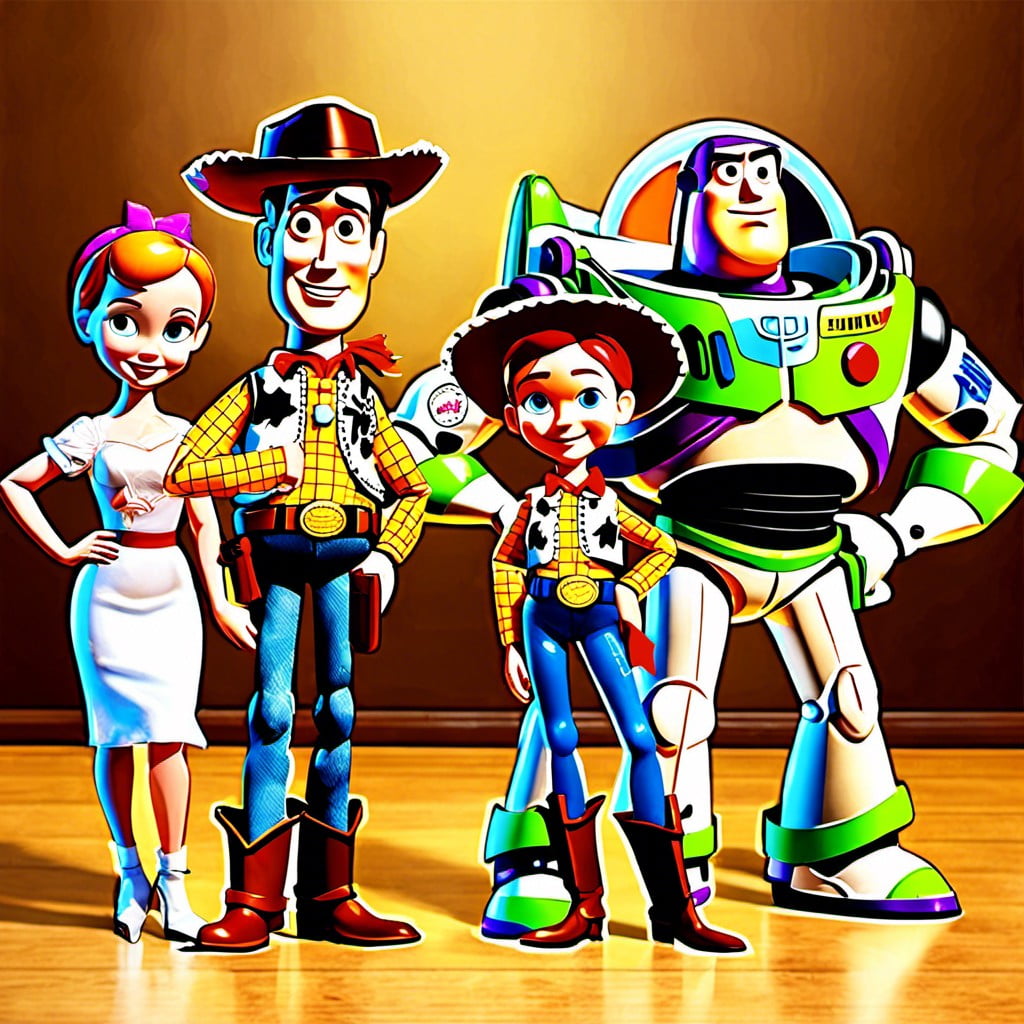 Having various character standees placed strategically around the party venue is an excellent way to bring the fun and excitement of Toy Story to life. There's no shortage of characters to choose from – from the main leads like Sheriff Woody and Buzz Lightyear to secondary characters like Rex, Slinky Dog, or even the adorable three-eyed aliens.
Consider having standees in different sizes for variety and a more dynamic display. Larger standees can serve as photo backdrops – a chance for guests to have their pictures taken "with" their favorite Toy Story characters. Meanwhile, smaller standees could be interspersed among your other decor, or even used to indicate different areas of the party, like the food table or activity areas.
Ensure the standees are sturdy enough to withstand a full day of party festivities. You can commission a local printer to make these or purchase them online. Alternatively, for hands-on organizers, creating your own DIY standees can be a fun pre-party activity.
Wherever they are placed and however they are used, the standees will undoubtedly add that extra oomph to your event, leaving a lasting impression on your guests. After all, which Toy Story fan wouldn't enjoy partying alongside their beloved characters?
Buzz Lightyear Spaceship Centerpieces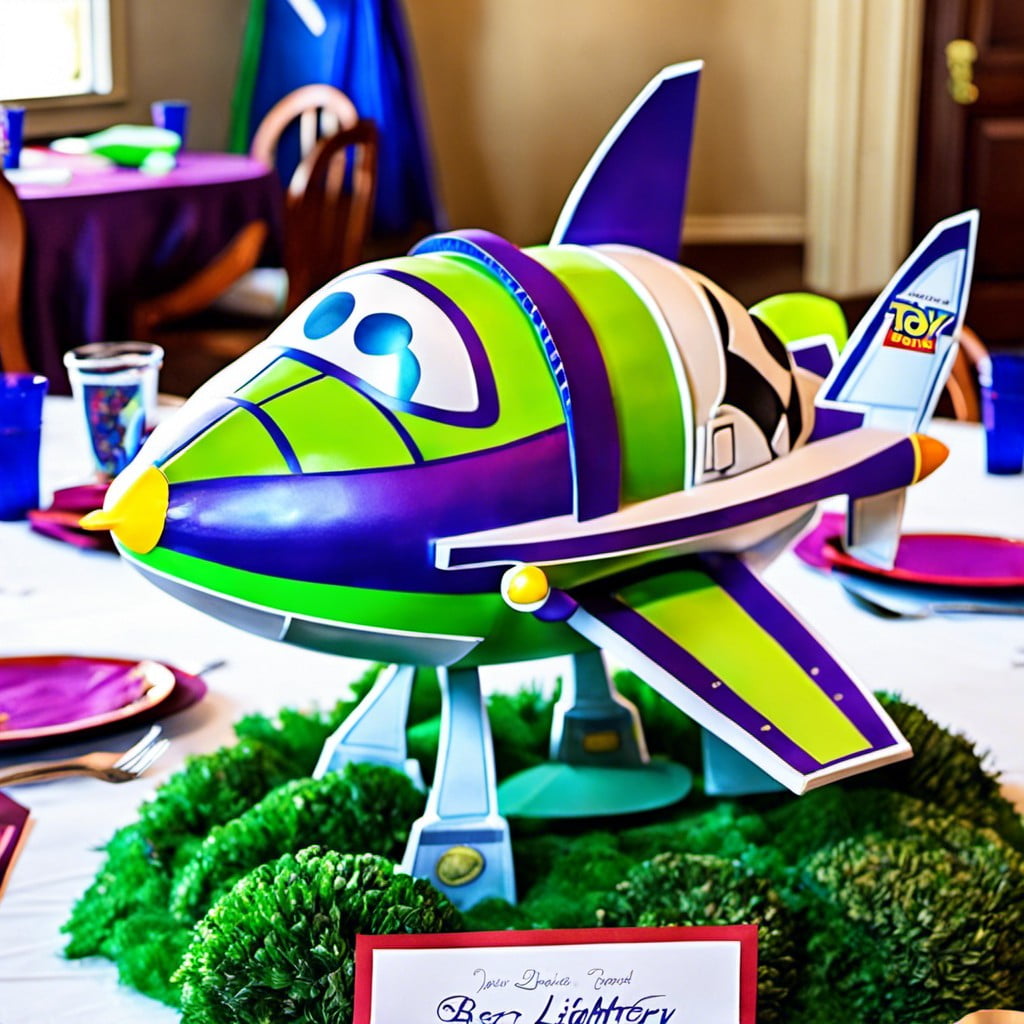 Creating celestial charm on your table can be easily achieved by incorporating mini spaceship centerpieces. A simple idea is to use printable templates. Print, cut-out, fold, and voila, little Buzz Lightyear spaceships.
If craft isn't your forte, consider buying pre-made spaceship toys.
For a lightspeed twist, add some LED mini lights to mimic the spaceship's glow. You can attach these lights to the bottom of the spaceship cutouts or toys. Battery-powered string lights could also work exceptionally well for this purpose.
Remember, the key is to keep it fun yet practical. These spaceships should not only enhance your décor but also evoke the adventurous spirit of Buzz Lightyear among your guests. For an extra planetary touch, sprinkle the table with star-shaped confetti or glitter.
Last but not least, you can also use these spaceships as unique favors. Let your guests 'blast off' into the night with a spacecraft souvenir from your Toy Story extravaganza.
Sheriff Woody Themed Tablecloths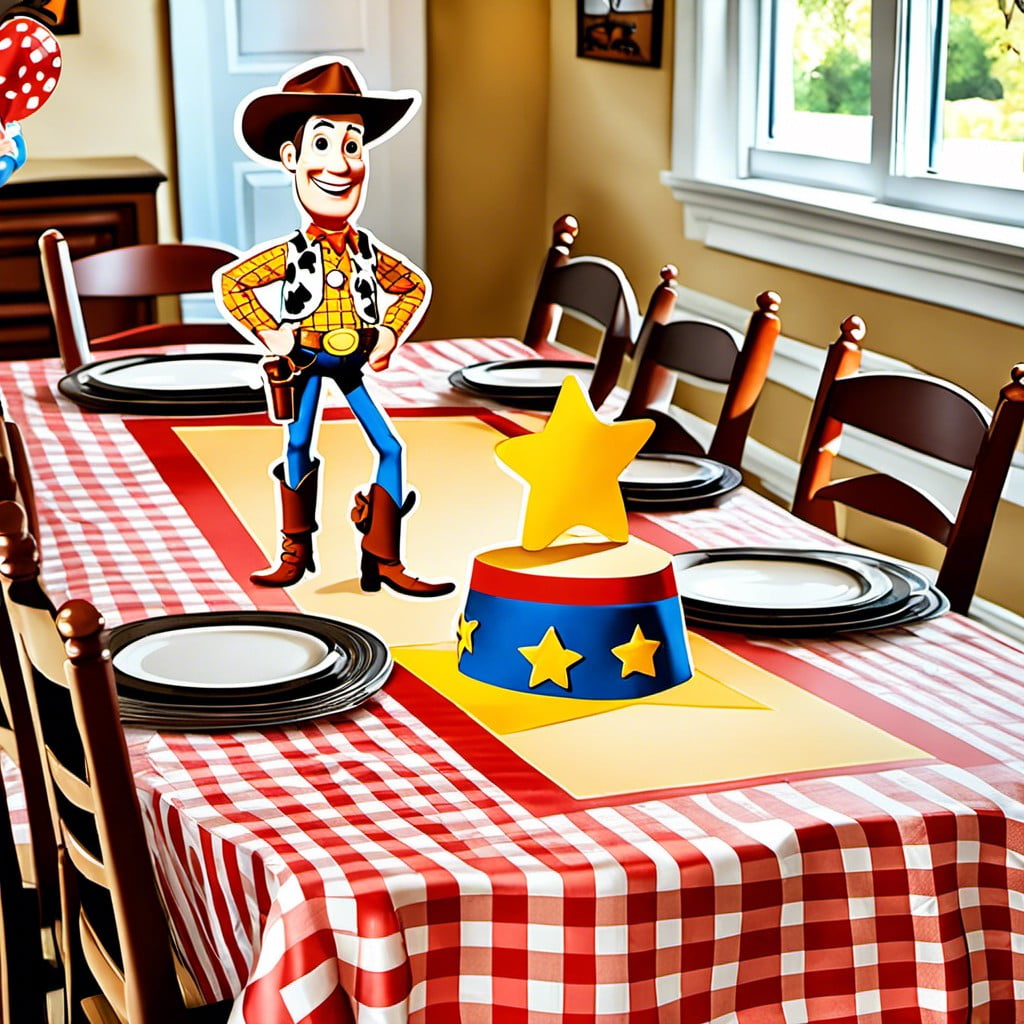 For a quick and seamless way to introduce the Toy Story theme, invest in vinyl or fabric tablecloths featuring Sheriff Woody's iconic cowboy design. Integrating the high-energy color scheme, these coverings infuse your space with vibrant yellows and blues, instantly engaging your guests. They also serve the practical purpose of protecting your tables from inevitable party spills!
To increase the fun, opt for tablecloths that incorporate various Toy Story symbols such as Woody's Sheriff badge, his classic red bandana pattern, or even a hint of the character's cowboy boot design. All of these choices will instantly transport your guests into the world of Woody and his companions.
Remember, party decorations not only provide visual appeal but also contribute to the overall party atmosphere. Therefore, don't shy away from showing off the enthusiastic charm of Sheriff Woody through your tablecloths – they will indeed be a hit among your guests!
Toy Story-themed Balloons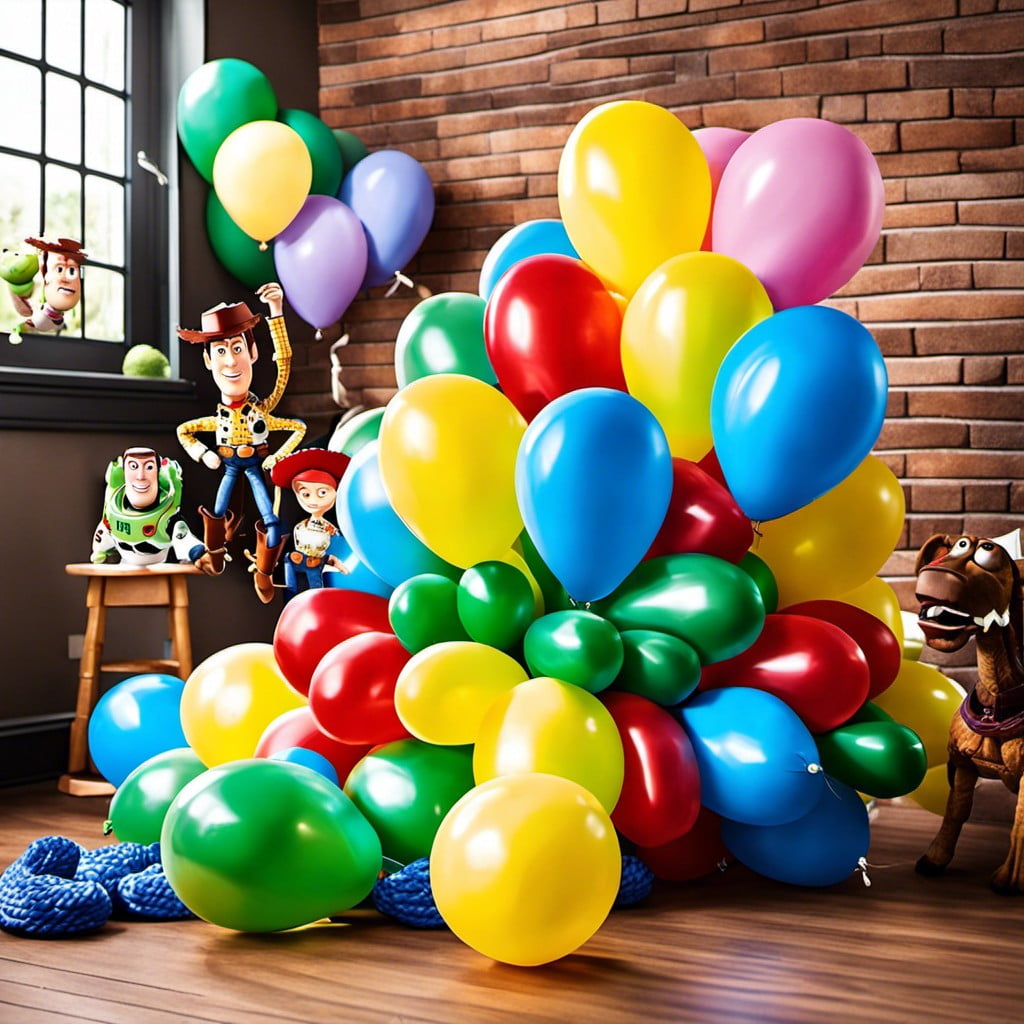 Make sure to incorporate balloons – a quintessential party decoration – festooned with the familiar faces of Andy's toys to set the mood.
Opt for an assortment that includes Woody, Buzz, Jessie, and the charming alien trio.
If you're looking for a splash of color without characters, consider red, blue and yellow balloons reflecting Buzz Lightyear's iconic suit.
Helium filled mylar balloons can also float above tables or at the entrance. Just remember to secure them with weights.
Additionally, you may fill clear balloons with green alien-themed confetti for that extra touch.
Venturing for a statement piece? A balloon arch at the party's entrance in Toy Story colors creates a spectacular welcome.
Balloons can easily be customized using DIY methods if pre-made options are unavailable, adding a personal touch to your décor.
Slinky Dog Garland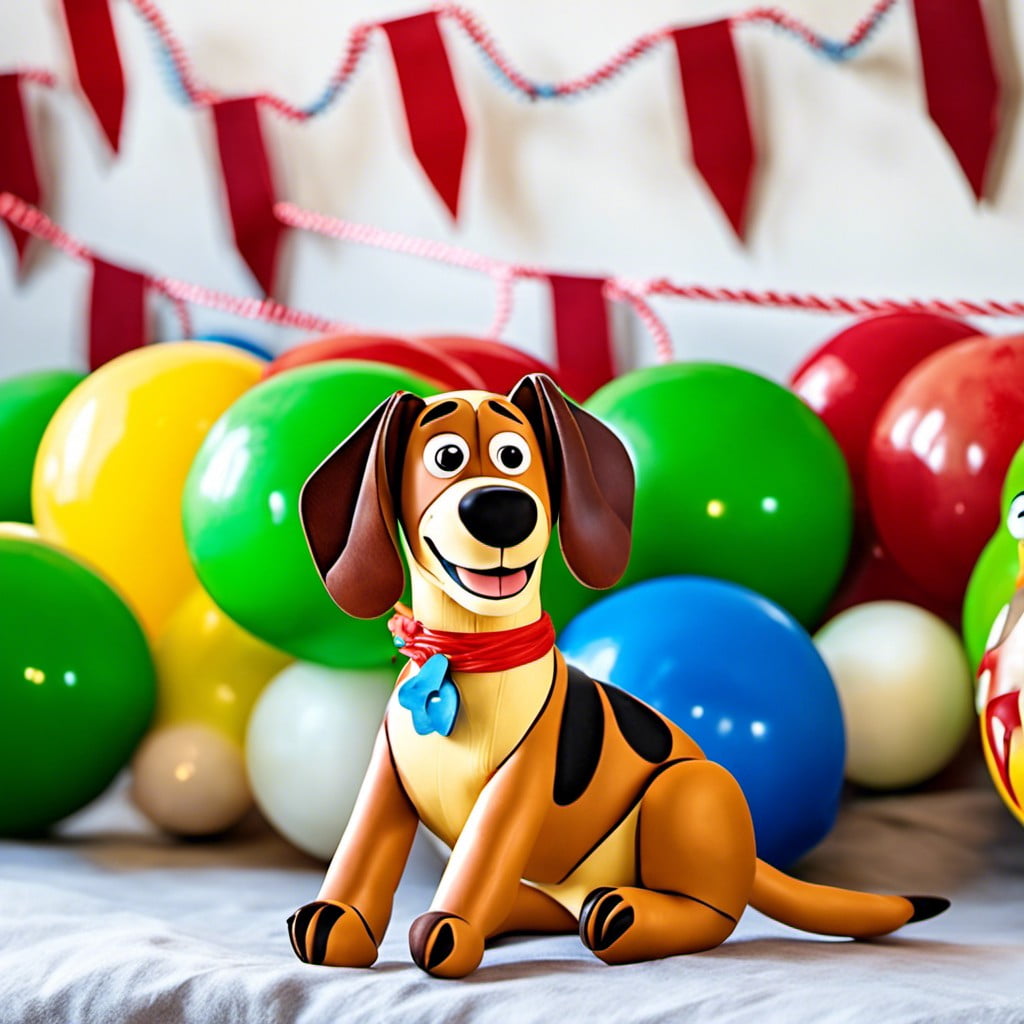 Creating this delightful decoration is as straightforward as it is fun. First, invest in a good amount of spiral wire or flexible garden tie. The goal is to emulate Slinky Dog's springy body, so consider painting it silver for an authentic finish.
For the head, ears, and tail, cut out shapes from card stock, using a picture of the friendly canine as a guide. Once ready, connect everything together, head and tail affixed on each end of the spiral wire. Remember to keep the size manageable to balance aesthetics with safety.
To hang, use clear string or fishing line for an effect of the garland floating in mid-air. If it's a children's party, do keep the garland at a height where it's visible but out of reach for the kids. This decoration offers a festive touch, bringing an iconic Toy Story character to life in a playful, interactive way.
Toy Story Character Inspired Cupcakes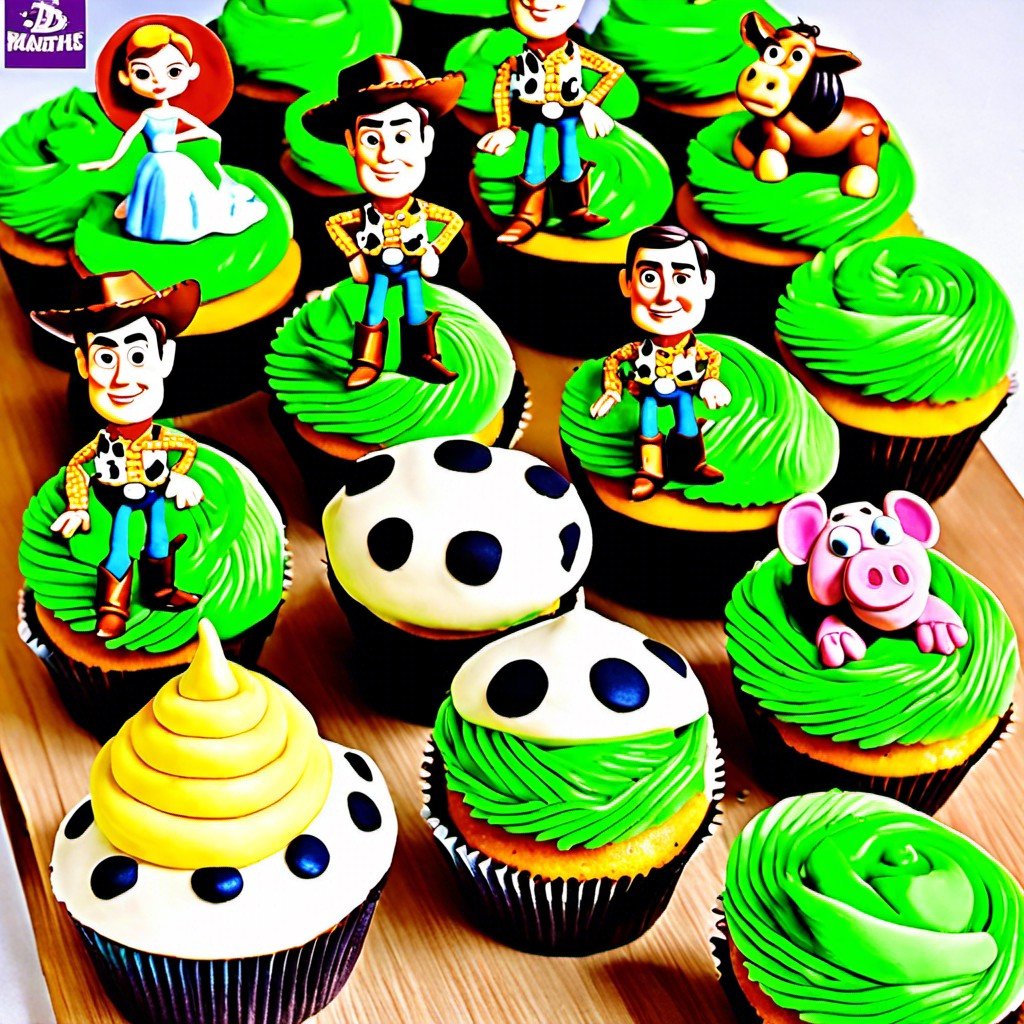 Creating character-inspired cupcakes can truly ignite the party atmosphere, infusing the essence of Toy Story right into the menu.
1. Buzz Lightyear: Craft these with silver cupcake liners and frost with green and purple icing. Edible sugar eyes and assorted sprinkles can complete the astronaut-look.
2. Sheriff Woody: Use blue or red cupcake liners and decorate the top with yellow icing, to mimic the iconic sheriff badge. Chocolate piping can represent the cowhide pattern on his vest.
3. Alien: With a green icing base, adding three edible eyeballs and making a smiling mouth with black icing will capture the Alien look.
This edible form of decoration adds charm to the table scene, while lending a delectable nod to Toy Story's much-adored characters.
Alien Popcorn Boxes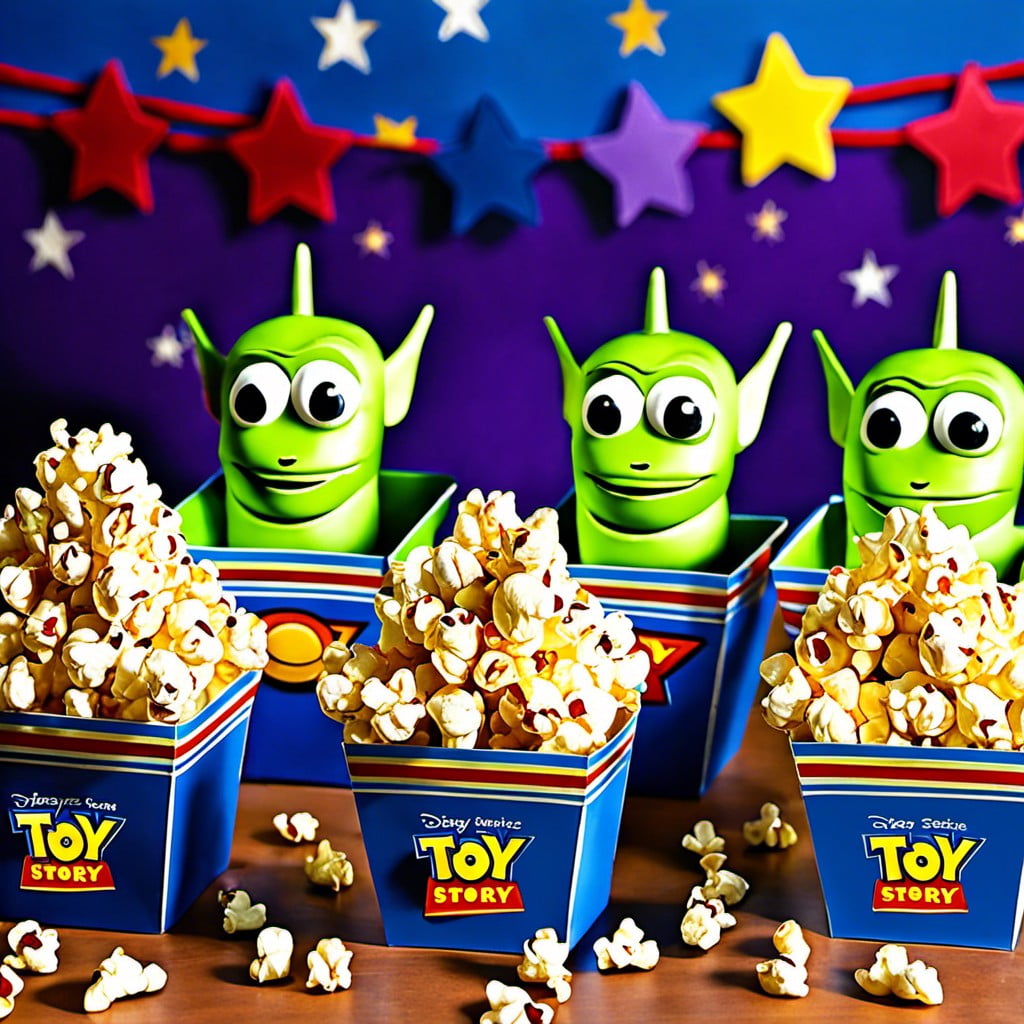 To make these, purchase simple green popcorn boxes, and decorate them with three large googly eyes to mimic the look of our beloved three-eyed aliens. For an extra touch, add a triangle-shaped piece of blue paper on the front to give a resemblance to the alien's uniform. This DIY project contributes to the overall theme and makes snagging a snack feel like an interactive part of the event. It's a fun, creative activity that results in an irresistibly delightful and delectable treat container that adds just the right amount of thematic flair to your Toy Story party.
Forky DIY Crafts Table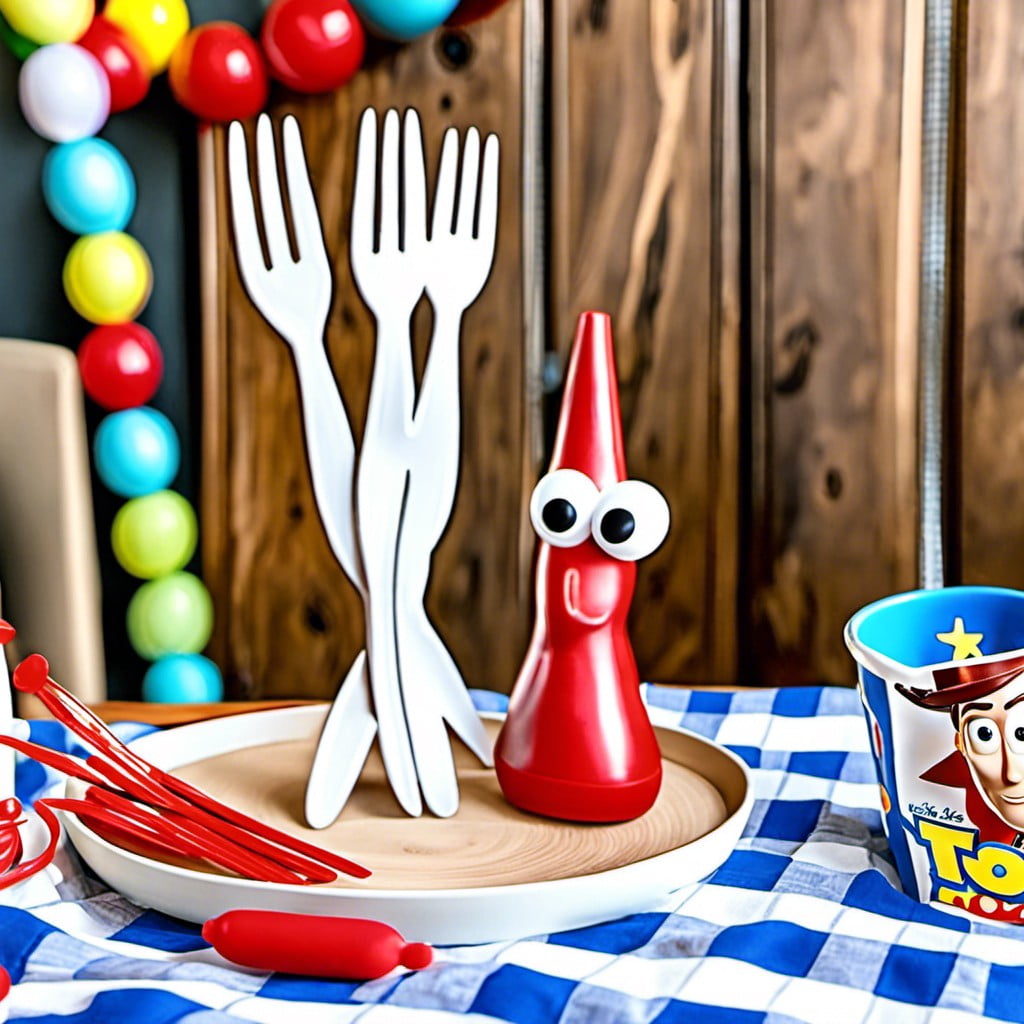 Creating this attraction is an exciting way to bring "Toy Story 4" into focus. The table should encourage guests to make their own versions of the beloved spork character.
To achieve this, lay out clean plastic forks and sporks along with googly eyes, pipe cleaners, Popsicle sticks, and wax paper. Offer red, blue, and white modeling clay for additional detailing.
With these resources, guests can replicate Forky's well-known face or let their creativity soar, crafting one-of-a-kind, personalized party favors.
Keep the setup simple and straightforward to maintain a pleasant, stress-free crafting environment. Safety is key; ensure all sharp tools are used under appropriate adult supervision.
Jessie's Cowgirl Hat Napkins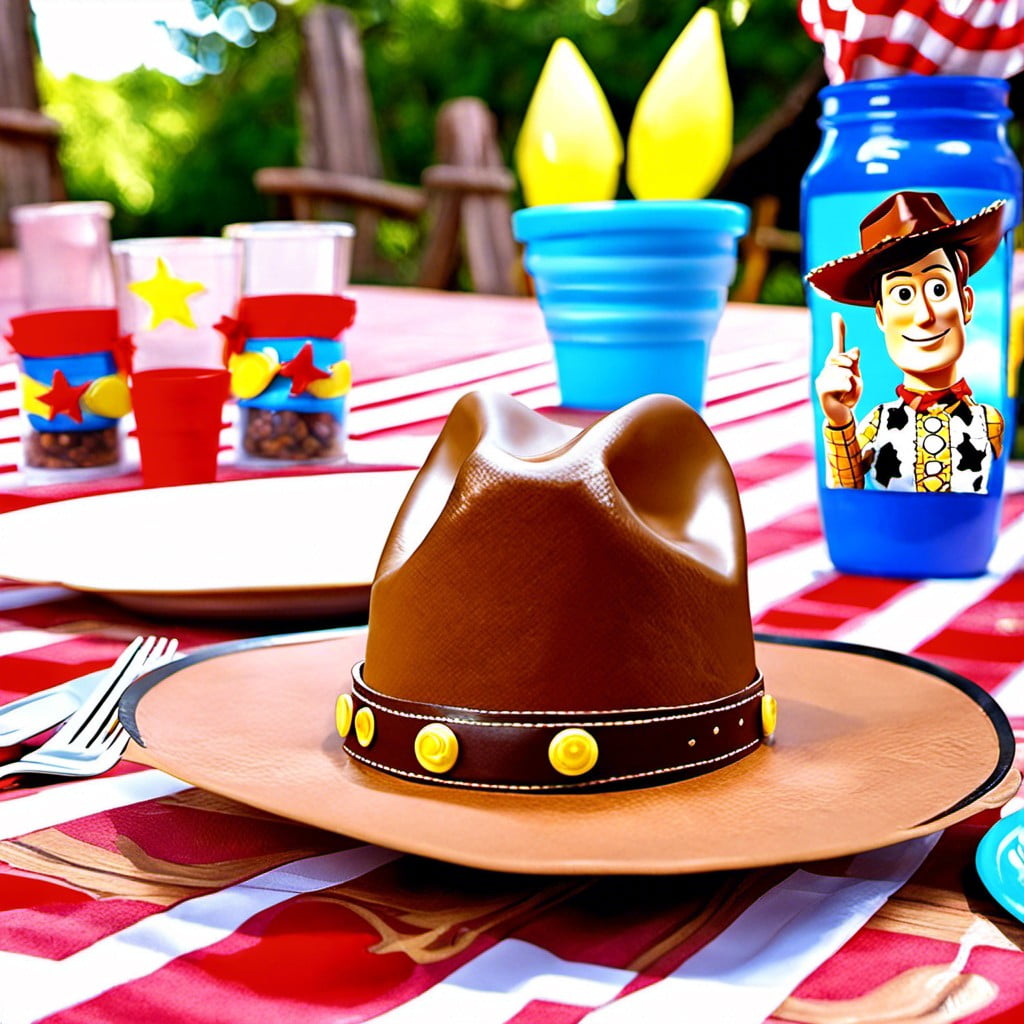 To capture Jessie's vibrant character on your party table, opt for red napkins folded into the iconic shape of her signature cowboy hat. The hat's simple structure doesn't demand expert folding skills, a beginner's level tutorial can guide you through this task with ease.
Elevate the design by incorporating a white band around each 'hat' using a strip of white paper or ribbon. For a personal touch, consider adding a tiny braid at the corner to resemble Jessie's hair. These napkin hats won't only serve a practical purpose at meal times, but they'll also enrich the overall visual aesthetic.
Top them off by placing them at the center of each plate to mimic the look of an actual hat thrown carelessly in rest after a day of wild west adventures. Rest assured, these creative napkin designs will infuse a sense of Jessie's charm into your party decor.
'Andy's Room' Entrance Banner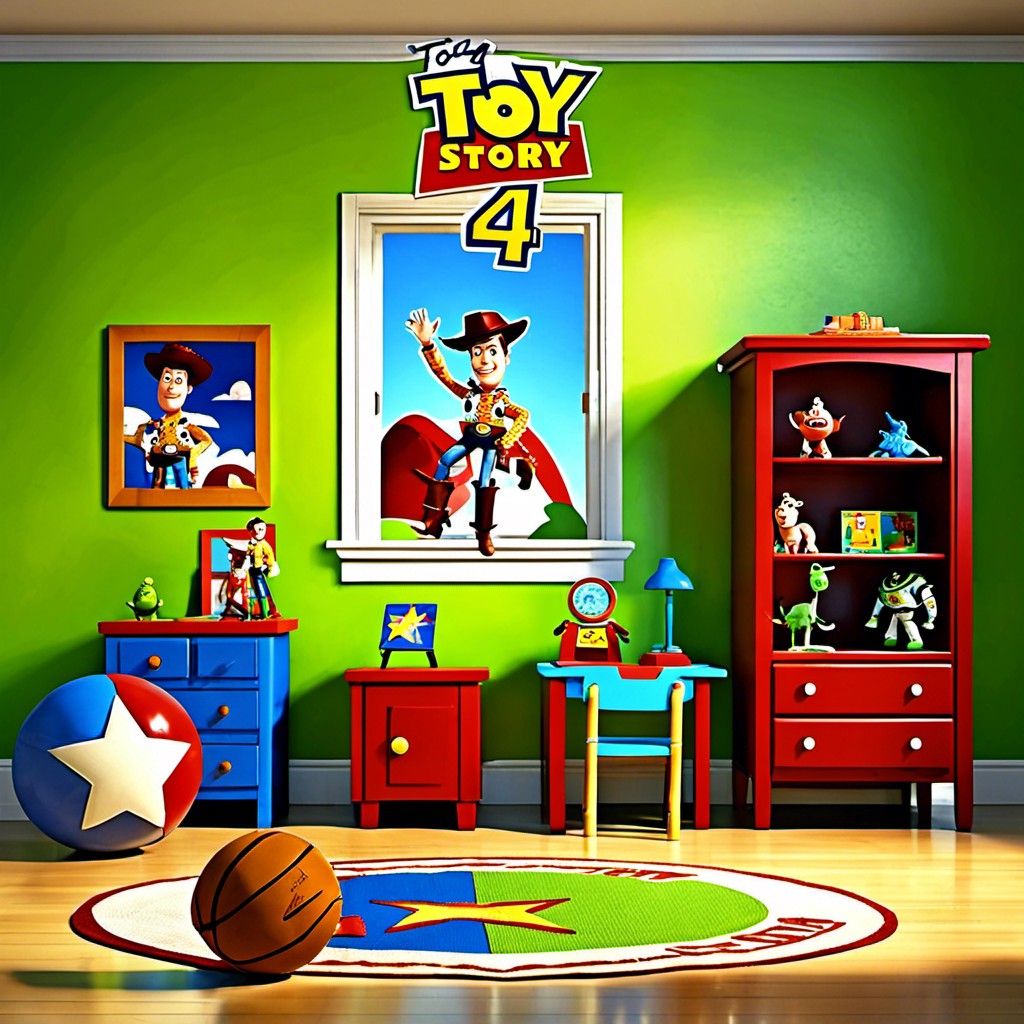 To transport partygoers straight into the heart of the film, emulate the distinct aesthetic of the protagonist's bedroom. Using an oversized banner recreates the environment depicted in the popular animation, providing an immersive Toy Story experience straight from the doorway.
A few points to consider:
Opt for the usual blues and whites imitating Andy's cloud-patterned wallpaper.
Add some essential Toy Story catchphrases like 'There's a snake in my boot' or 'To infinity and beyond' to bring the characters to life.
Crafting the banner in the style of Andy's handwriting boosts authenticity.
Remember, the goal is to set the stage for a Toy Story-filled celebration, and what better way to start than by inviting attendees into Andy's Room?
Toy Story Movie Posters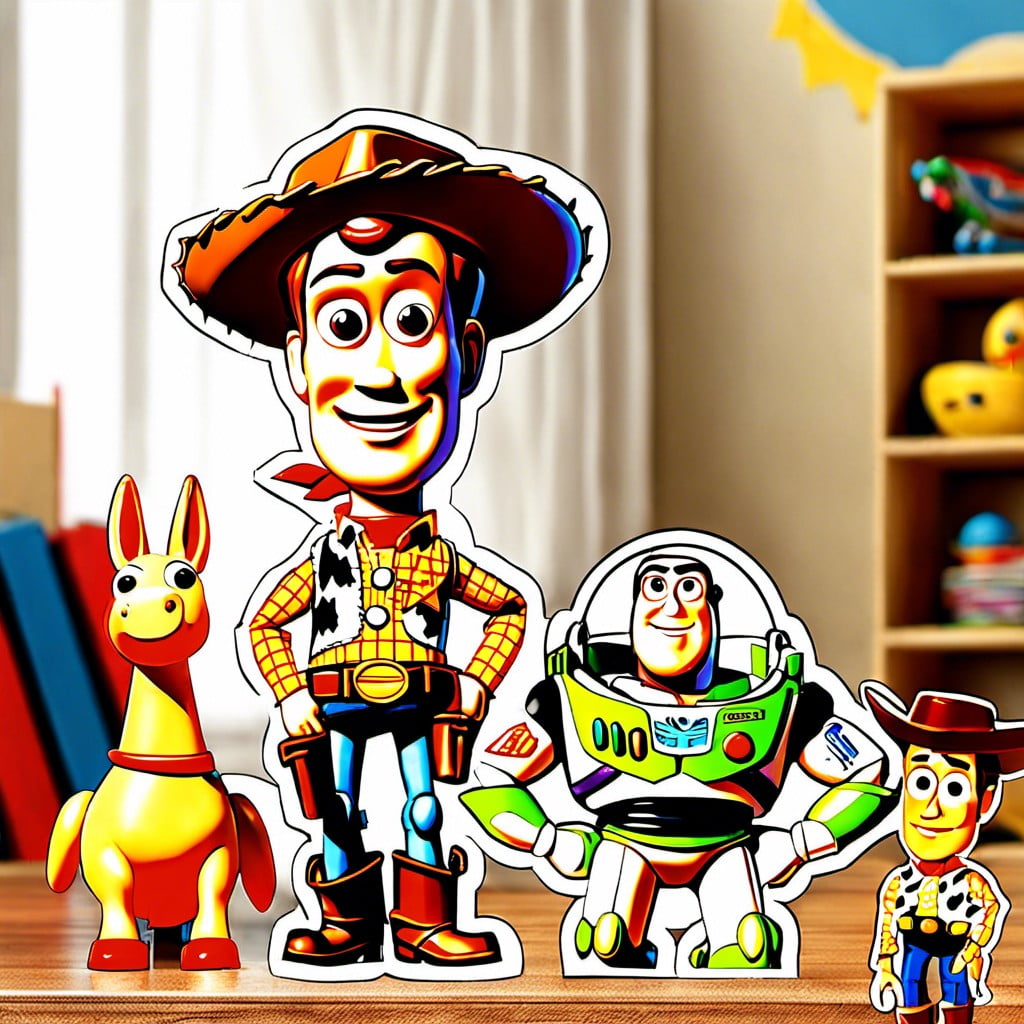 Creating an immersive atmosphere is crucial in any themed decor. Hanging authentic movie posters around the event space enhances the cinematic ambiance.
Select posters of different Toy Story movies to reflect the evolution of the beloved characters. Consider frames for a polished look, or attach them using themed magnets for a more whimsical feel.
Choose spots of high visibility for impact, such as the entrance, the snack area, or main hangout zones. For a twist, miniature versions of these posters can also serve as fun table placemats or party favors.
Aim for diversity in poster styles to keep the visuals interesting and engaging. Make sure the posters are secure and flat against the surfaces to ensure safety and visual appeal. Opt for reprints instead of originals to avoid any potential damage during the celebration.
Mr. Potato Head Wall Decals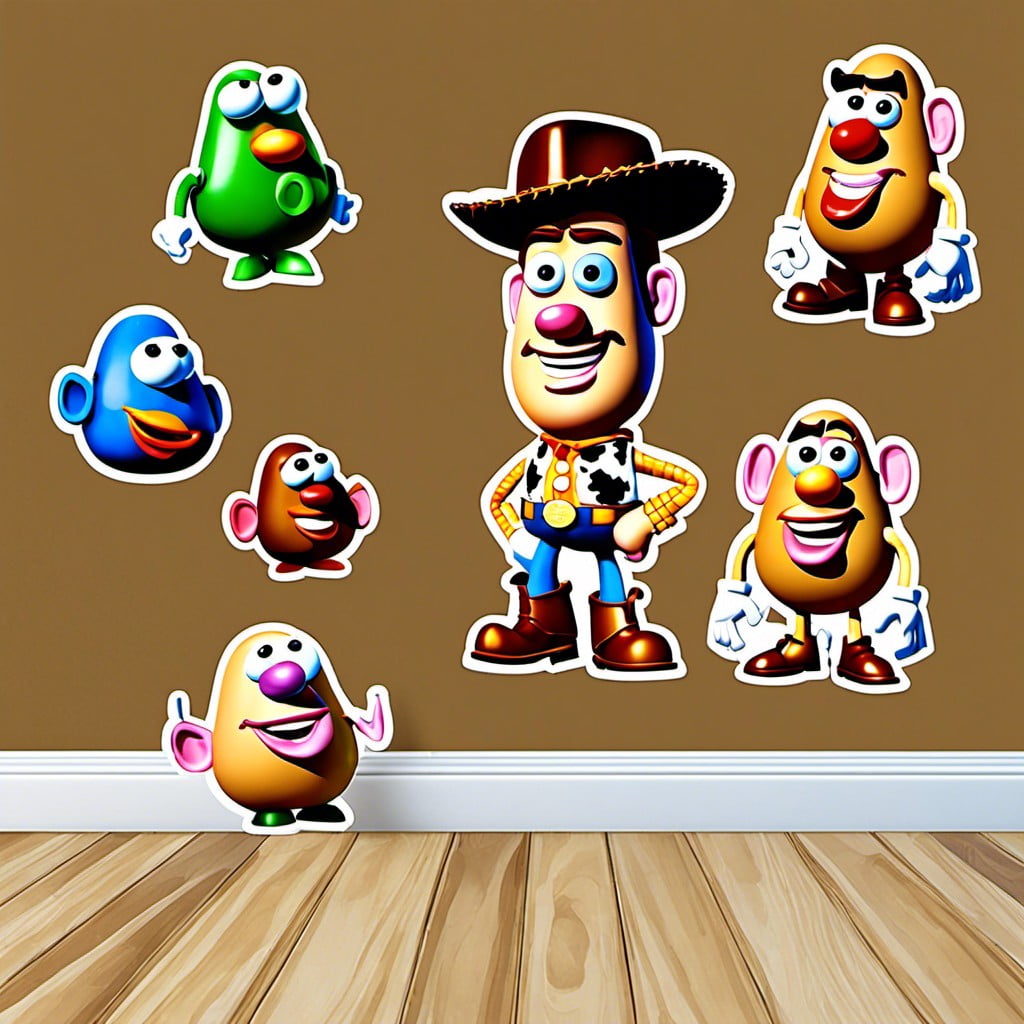 Sporting his characteristic mustache and expressive eyes, these decals can give any wall a playful touch. Effortless to apply, they offer flexibility, as they can be repositioned without suffering damage or leaving marks. The decals come in an array of sizes, suitable for both small and large spaces. With their vibrant colors, they can brighten up a room, establishing a cheerful atmosphere.
Moreover, they provide an excellent storytelling opportunity, sparking children's creativity. They can engage with the decals, rearranging Mr. Potato Head's quirky components like eyes, nose, and hat, mimicking the fun they experience while watching Toy Story.
Remember to position the decals where they are easily visible, but away from furniture that might scrape against them. This way, you maintain the aesthetic appeal of the room and extend the life of the decals. A blank wall or the side of a wardrobe can work perfectly.
Green Alien Hanging Decorations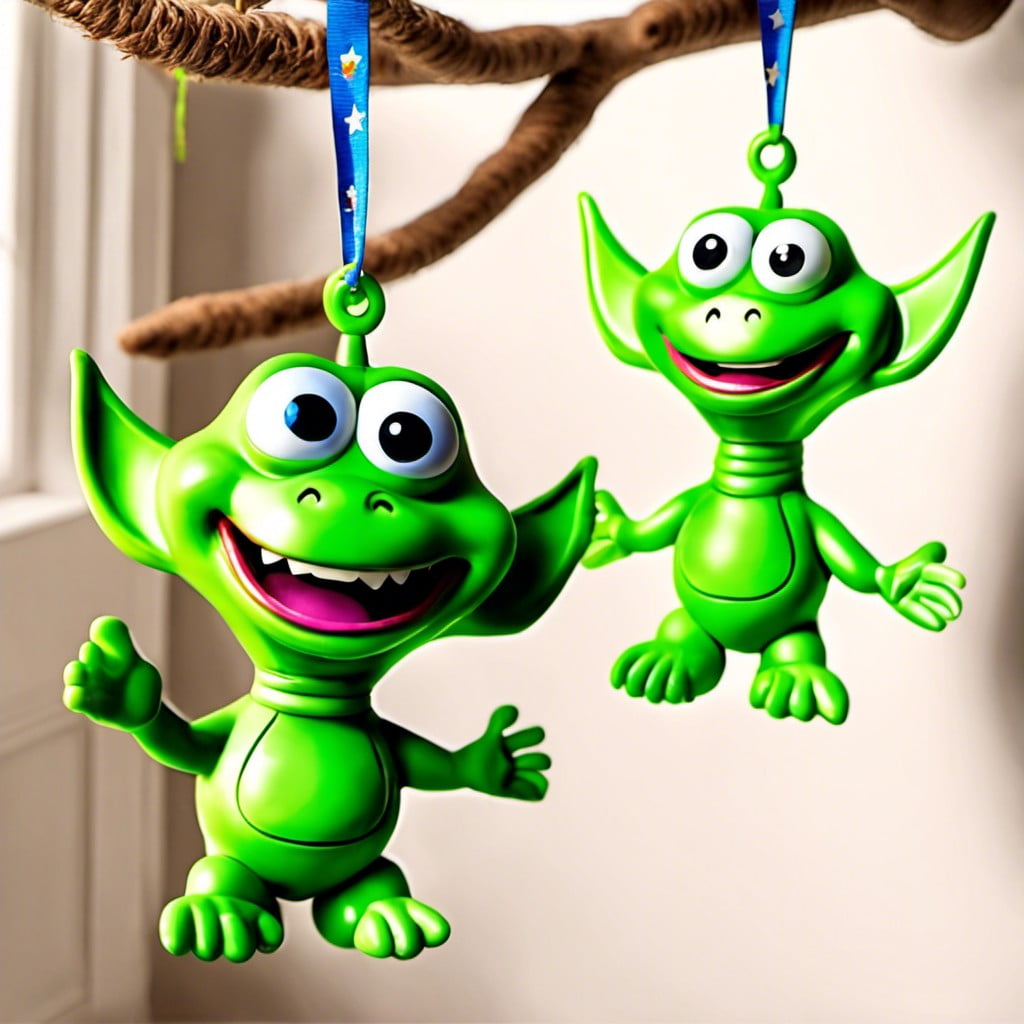 Creating these adorable little extraterrestrials can be achieved using green helium balloons, googly eyes, and a little bit of craft glue.
Make sure to strategically place them at various heights around the room to portray the floating sensation the aliens experience in the crane game.
Additionally, using transparent fishing line will give the illusion of the lovable green creatures hovering in mid-air.
These decorations serve as fun and identifiable elements of the Toy Story universe, ensuring your party is truly out of this world.
The dangling aliens provide not just eye-catching decor, but also, a playful backdrop for memorable photos.
Toy Story Printed Tableware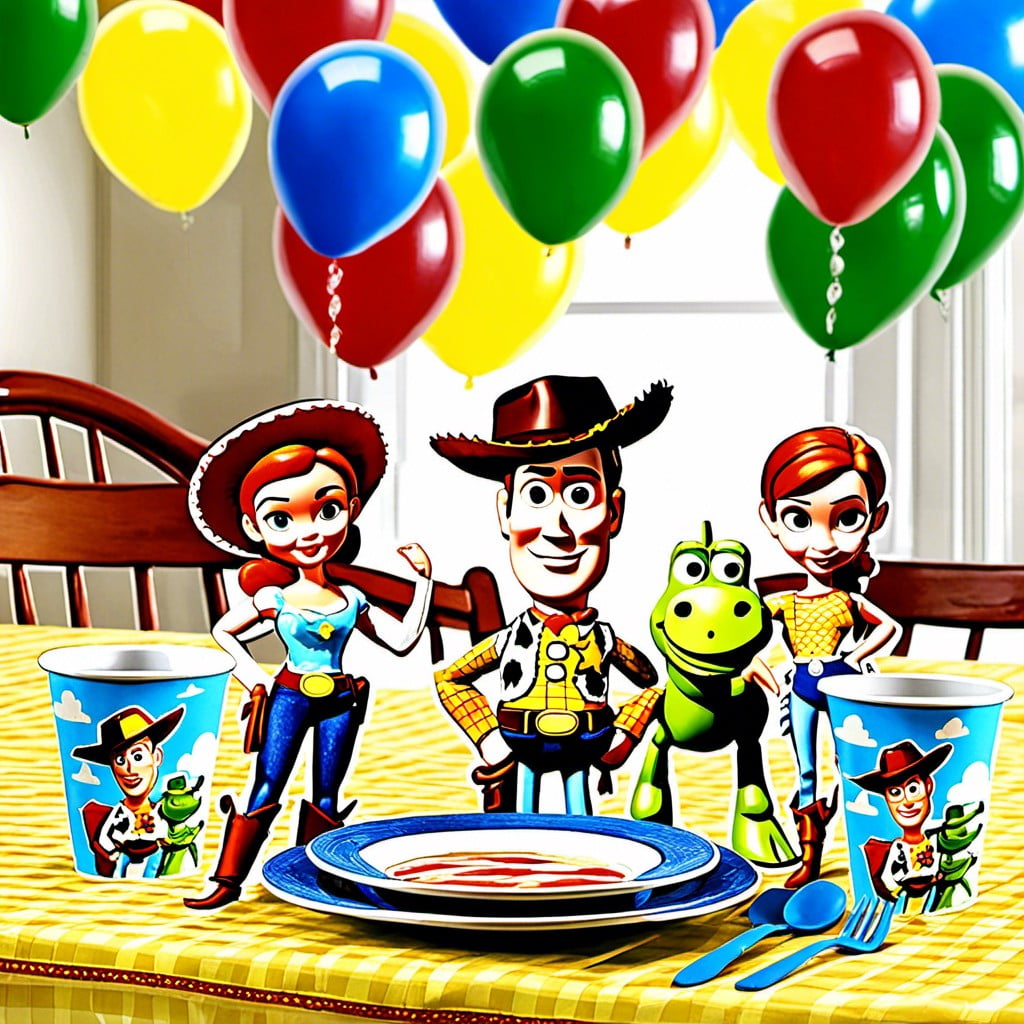 Dive deep into your party aesthetic with plates, cups, and napkins adorned with the well-loved characters of the Toy Story franchise. They can be a fun way to add a splash of color and personality to your party decor.
When selecting tableware:
Opt for themed paper plates and cups, they are not only charming but conveniently disposable.
Napkins with character prints can double as table decor and are useful for snack time.
Consider sturdy plastic tablecloths highlighting Buzz or Woody to protect surfaces from spills.
Remember to include themed plastic forks, spoons, and knives for cute, cohesive presentation at meal times.
It's an uncomplicated way to meld function with decoration, enveloping guests in the Toy Story universe down to the minutest details.
Buzz Lightyear Party Hats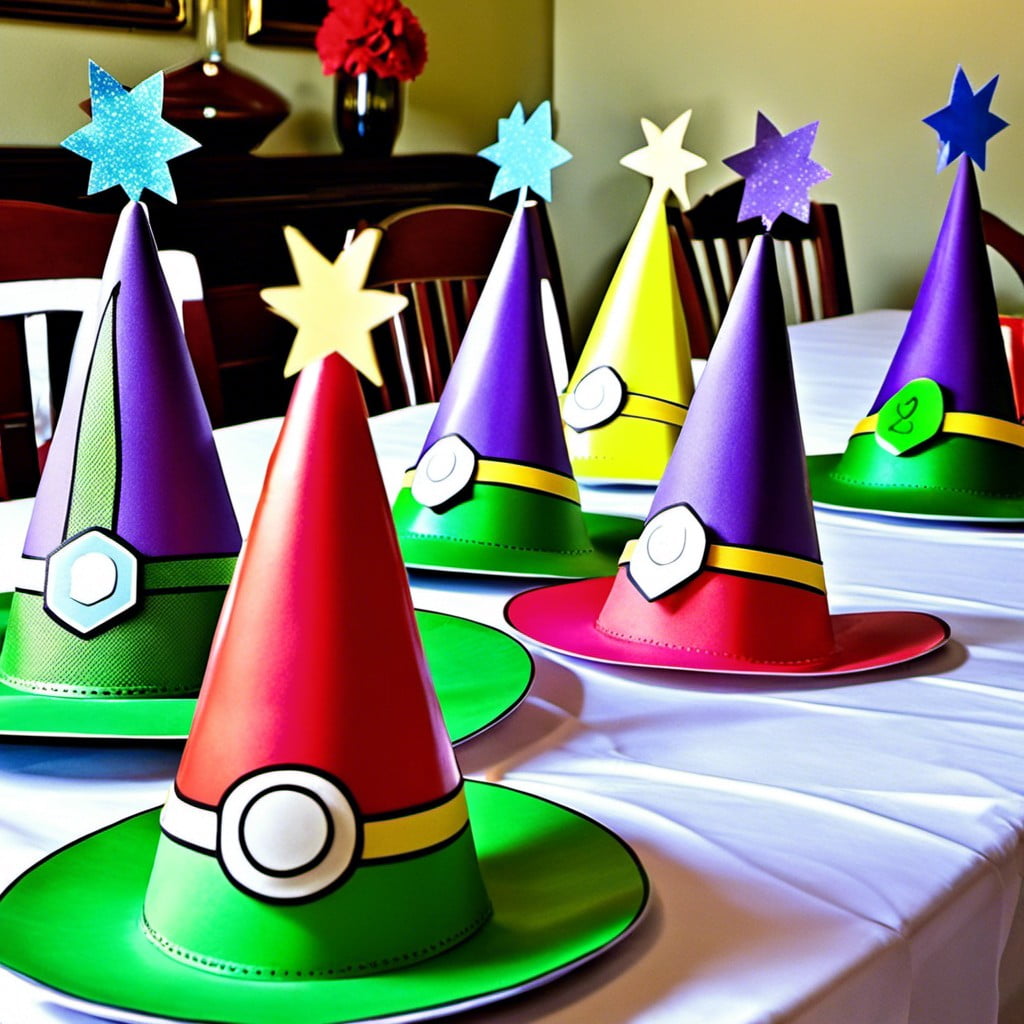 To create a memorable experience, try your hand at crafting. Materials needed include colored cardstock and a bit of creativity for the design.
Modeling the hats after Buzz's signature style will certainly spark excitement among the little guests.
Green and purple should dominate, with a pair of wings attached to each side.
Don't forget to include a chin strap for added authenticity.
To make things simpler, templates of the hats can be found online for an easy DIY project.
Imagine the photo opportunities with a swarm of mini Buzz Lightyears running around the party!
Etch A Sketch Welcome Sign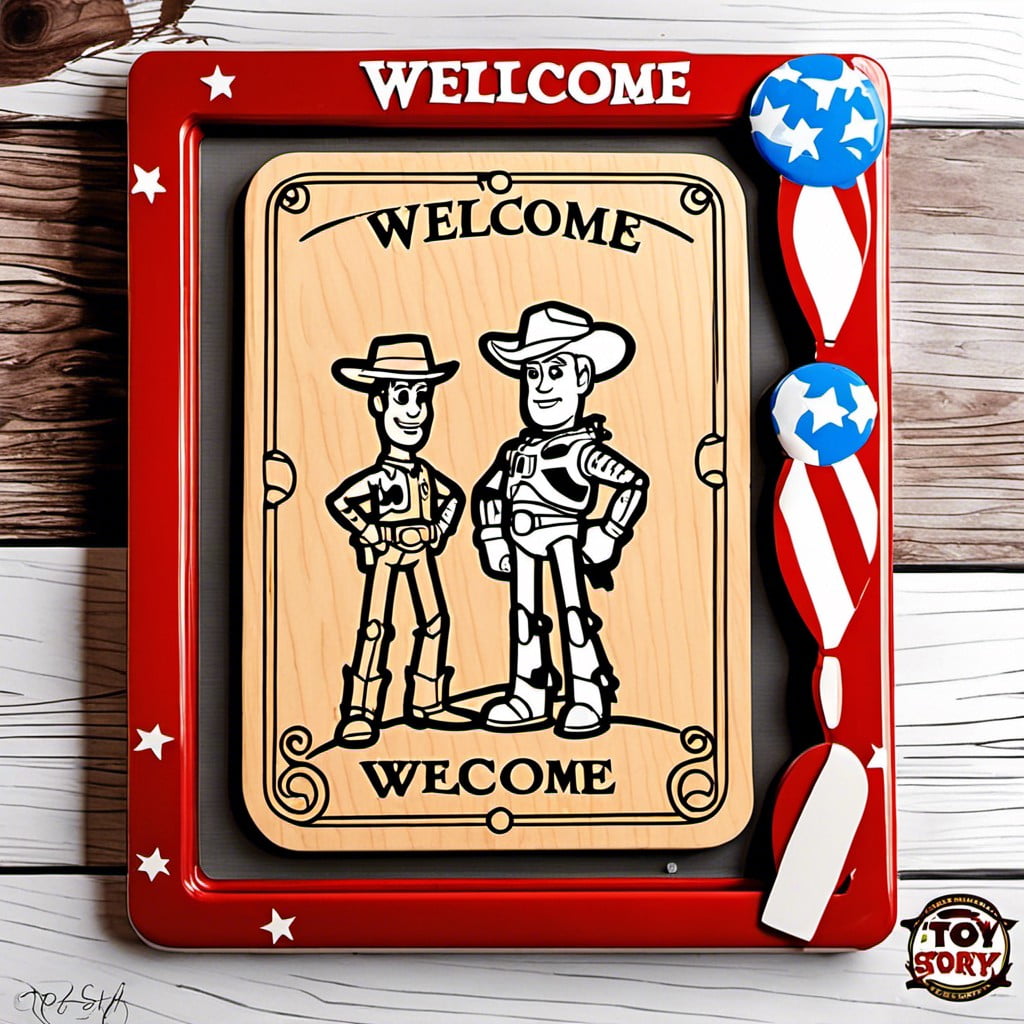 A nostalgic and ingenious idea, an Etch A Sketch welcome sign will surely catch any guest's attention. This sign can serve as both a decoration piece and an opportunity for engagement at a Toy Story-themed party.
1. Concept: The Etch A Sketch, a classic toy reminiscent of childhood, embodies the joy and fun of the Toy Story film series.
2. Design: Aim to mimic the original design for authenticity. Use red board with white dials and an interior screen where you can write your message.
3. Content: Customize your words. They can range from a simple "Welcome" to fun quotes from the movie. It adds a personal touch and sets the tone for your party.
4. Placement: Position the sign strategically at the entrance of the venue. It will provide a dramatic effect that will immediately transport guests into the world of Toy Story.
5. Creative Engagement: After snapping pictures of your charming welcome sign, encourage guests to scribble their own messages or film-based doodles on it throughout the party. This creates a fun interactive element to your decor.
Remember, an Etch A Sketch welcome sign isn't just an artistic statement; it's about recreating the joy and nostalgia of the beloved movie, while sparking a sense of adventure as guests step into your Toy Story universe.
Rex Dinosaur Themed Punch Bowl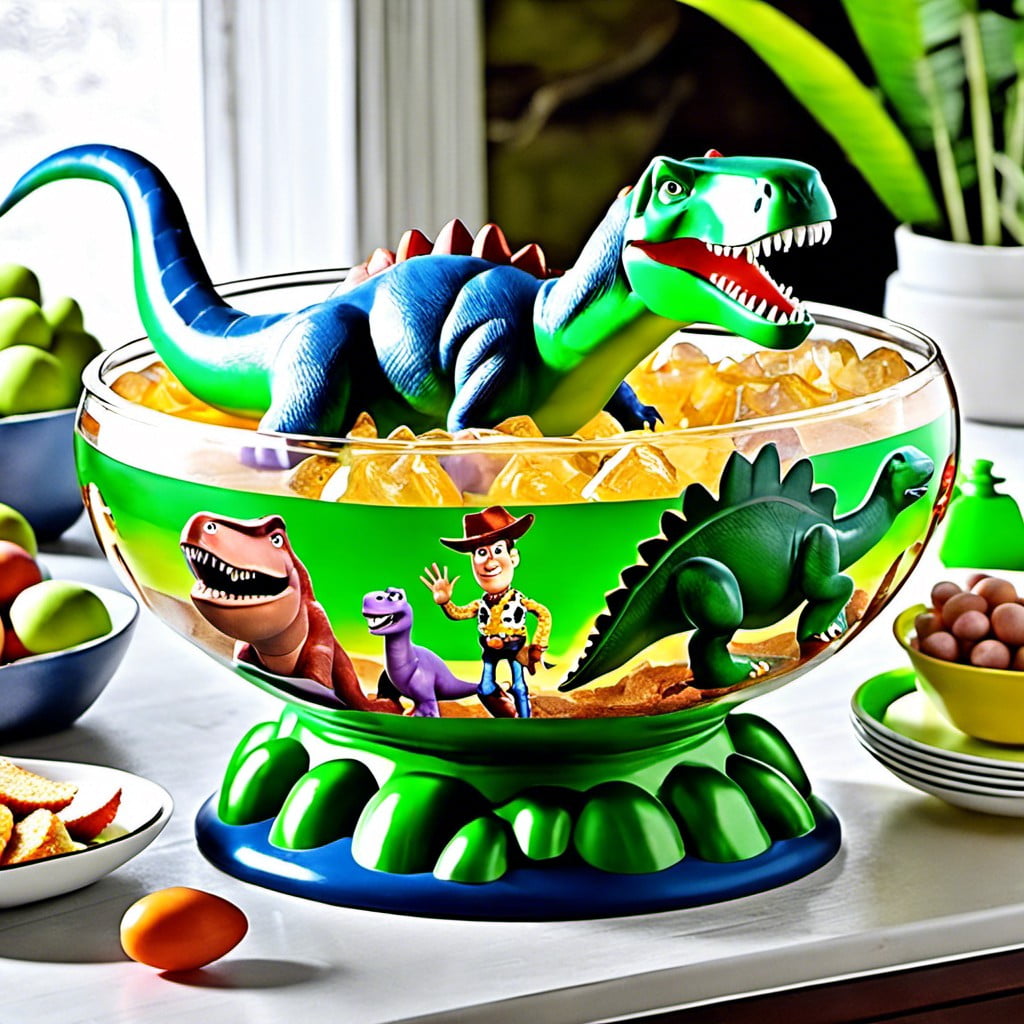 Creating this focal piece is quite simple. Start by finding a punch bowl that is large enough to accommodate your needs. Green, plastic ones work best to keep in theme with Rex. Next, you'll need to create a stand in the shape of dinosaur legs. This can either be done using papier-mâché or by finding a suitable ready-made prop from a party store. Position the punch bowl on the stand and surround it with green foliage or small toy dinosaurs to create a Jurassic ambiance. Finally, fill it with a green beverage like lime sherbet punch or green fruit juice to complete the "Rex-themed" effect.
This vibrant addition not only functions as a drink station, but also adds a great attention-grabbing feature. It effectively enhances the Toy Story ambiance without going off-trend. Of course, if you have young guests, ensure the punch bowl is securely fastened to avoid any spills or breakages.
Cloud Wallpaper Like Andy's Room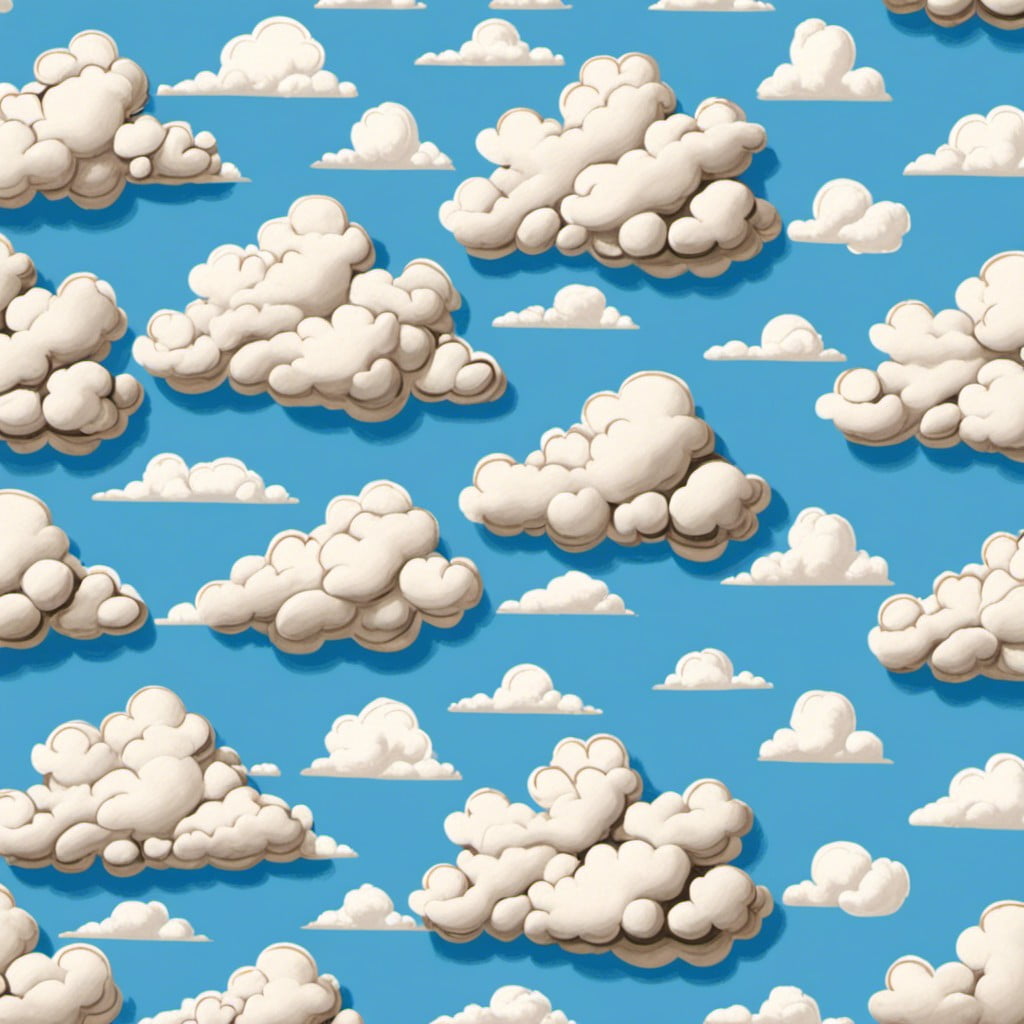 Transforming your walls into a replica of Andy's bedroom can dramatically increase the authenticity of your Toy Story decoration. A notable feature of Andy's room is the fluffy white clouds on a sky-like blue backdrop. Achieving a similar effect can be done in few ways:
1. Stencil and Paint: Create or purchase stencils in the shape of clouds. Paint your walls with your chosen shade of blue and once it's dry, use the stencils to add white clouds.
2. Wallpaper: An easier, but slightly more expensive alternative could be to find pre-made Toy Story-inspired wallpaper online. You can find options that mimic Andy's walls exactly.
3. Wall Decals: If painting or papering sounds daunting, wall decals are a non-permanent option. These stick-on designs can be removed without leaving marks.
Consider the most suitable option based on your budget, time availability, and redecoration plans. Remember, the aim is not perfection, it's to capture the heart-warming essence of Toy Story in your decor.
Pizza Planet Pizza Boxes for Snack Station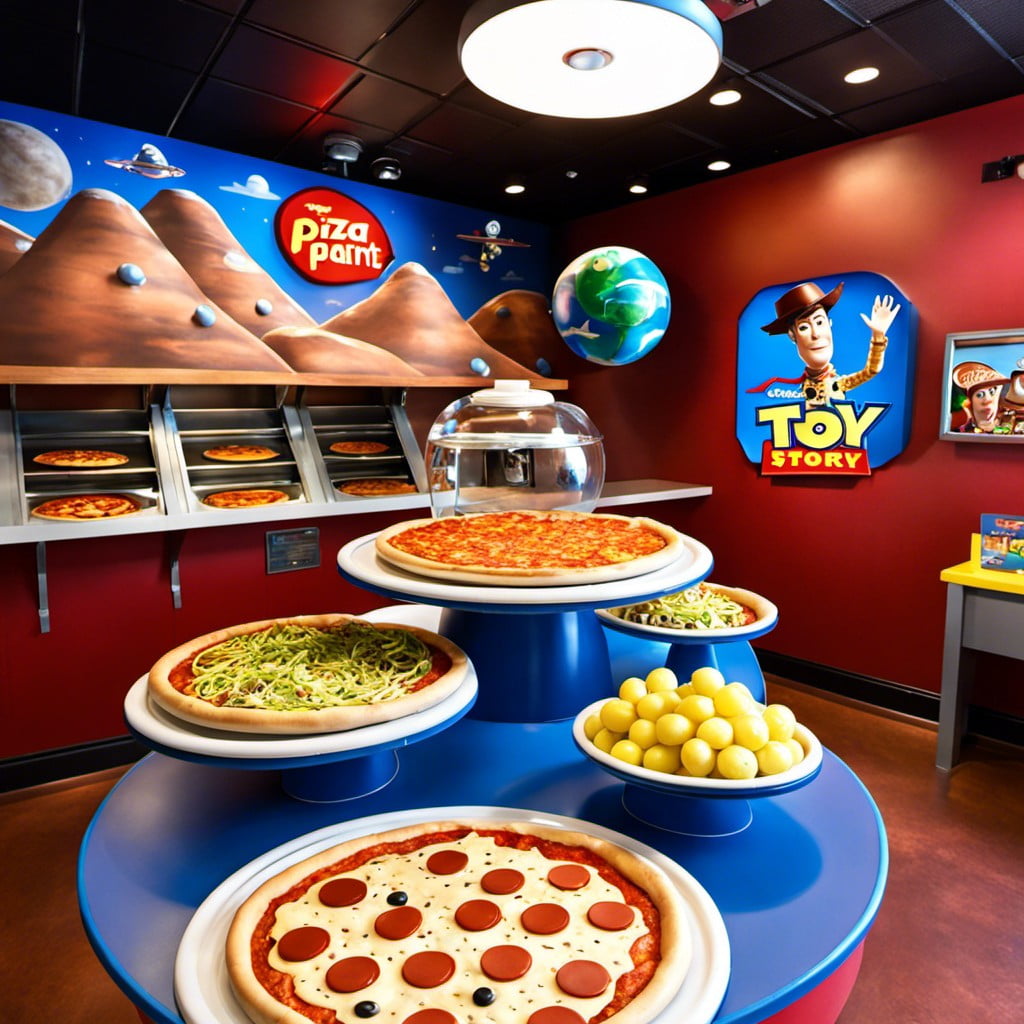 Creating a snack station with an authentic Toy Story vibe can easily be achieved by using Pizza Planet pizza boxes. These are a clever nod to the iconic animated franchise where Pizza Planet is a predominant setting.
Here's how to go about it:
1. Replicate the Pizza Planet logo: With a round piece of cardboard, red and yellow paint, and a bit of artistic talent, recreate the design. Once dry, affix it onto white pizza boxes.
2. Vary box sizes: Different sized boxes stack nicely and add visual interest to your snack station. Don't forget to fill each with delicious pizza, or for variety, use them to hold other snacks or goodies.
3. Use LED lights: To take it to the next level, wrap your stack of Pizza Planet boxes with white LED string lights. This illuminating touch will capture the eye, and heart, of any true Toy Story fan.
4. Enhance with character figures: Lastly, position a few Toy Story figures amongst the boxes for an interactive touch. A tiny Buzz Lightyear or Sheriff Woody instantly elevates your snack station from satisfactory to superb.
Colorful Toy Blocks for Table Settings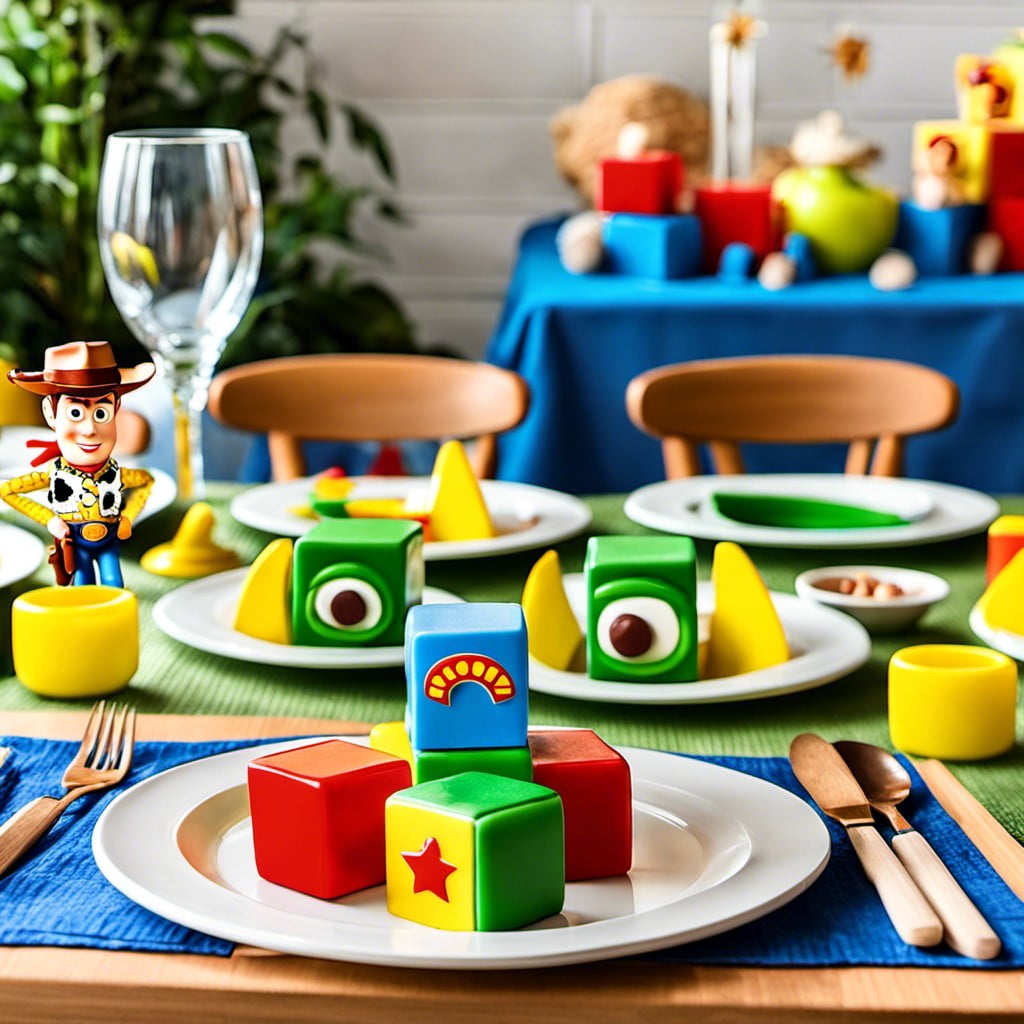 With a few simple steps, these versatile pieces can transform an ordinary table into a vibrant, Toy Story-inspired setting.
1. Arrange a mixture of sizes: Variation will add depth and interest to your tabletop. Stick to smaller blocks for individual place settings and consider larger ones as table centerpieces.
2. Distribute vivid hues evenly: Toy Story is synonymous with color and energy, mirror that by dispersing bright reds, blues, yellows, and greens across your tables.
3. Incorporate recognizable patterns or numbers: Simulate the look of numbered blocks or those with recognizable patterns that children can associate with their favorite Toy Story characters. A block with '95' could remind them of Lightning McQueen, for example.
4. Use as name card holders: Carve slots into the blocks and they can hold name cards adding a personal touch to the party.
Remember that the name of the game is fun and cheer, so there are no rules set in stone. Be creative and playful with the arrangement and layout providing a visual delight for your party guests.
Liked reading this? Here's more:
Recap: