Last updated on January 5, 2023
Everyone wants to keep their wood in a natural state for a much longer time but it gets damaged due to the outdoor exposure to water, sunlight, and humidity. There are so many ways in which you can protect your crafted wood from outdoor conditions which harm your wood and decrease its lifeline.
It is very important to protect them from swelling, warping, and rotting to maintain their beauty. Here we are providing you with the three best ways possible you can waterproof the wood by yourself to protect it from outdoor exposure.
In This Post:
Method 1: Apply hand-rubbed oil finish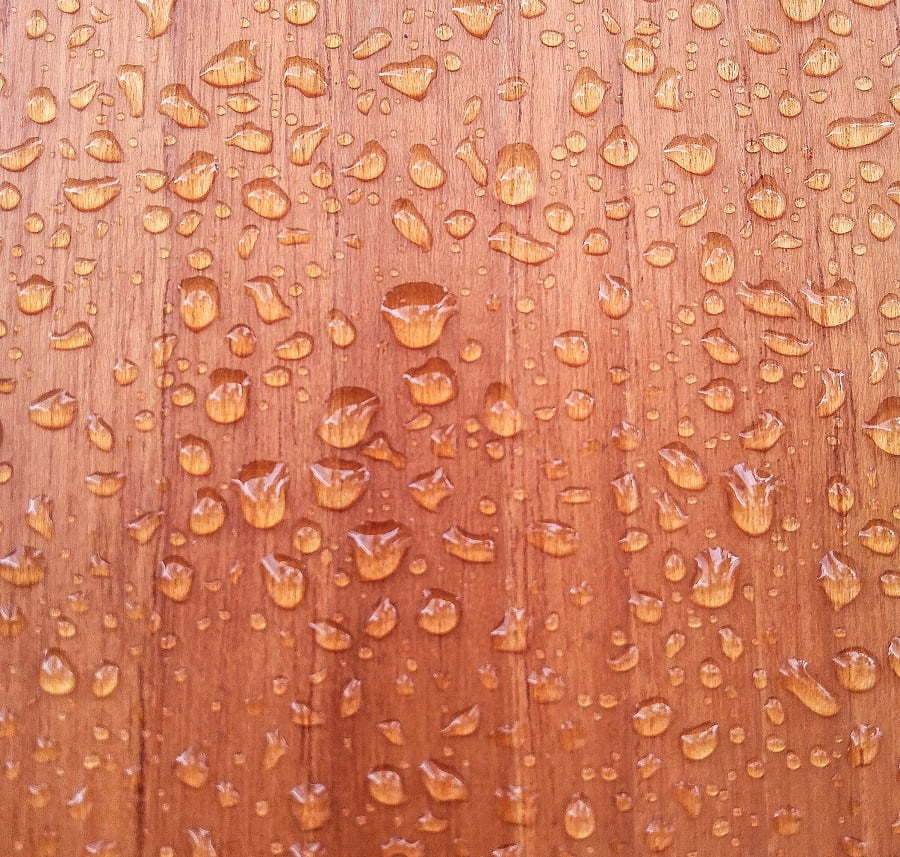 Linseed oil is very well known for its basic wiping properties for all oil finishes. It is somehow extracted from the flax plant by a complex process which later combines the formula with Tung oil to get a high-quality linseed oil. It is very useful in protecting the dark-grained woods because it preserves the drying time due to its sticky texture. You need to apply this mixture in a customized portion which includes linseed oil, mineral spirit, and polyurethane 1/3 part each. Here are the safety steps in which you can easily apply the mixture to get the best results out of it.
Step1: Get a bristle paintbrush that would help you to apply the oil on the wood, but before applying it, just make sure that the wood is sanded and cleaned on the surface.
Step2: Once you complete the first cycle of applying the oil on the wood then wait for a few minutes so that the oil gets dry by the time. You can restart applying the paint when you spot the dryness in any part of the wood.
Step3: Once both the cycles get completed, then you can easily wipe out excess residual oil with the help of dry rags.
Step4: You can apply the final finish with sandpaper after it gets completely dry by keeping overnight untouched.
Method 2: Apply sealants for best-waterproofing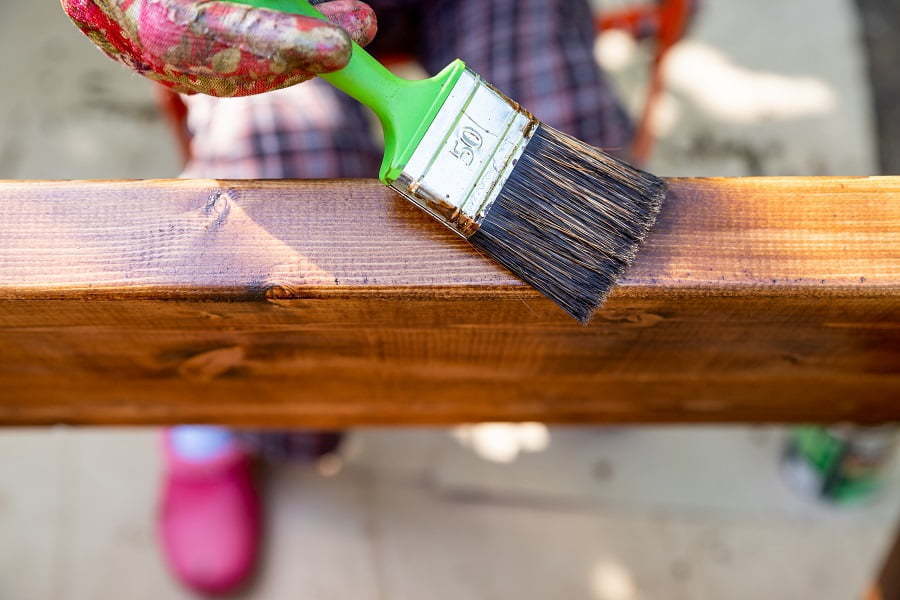 There are many trusted sealants in the market which are well known for their excellent waterproofing properties such as polyurethane, varnish, and lacquer. You can choose any of them to use or apply on your outdoor wood to protect it from exposure such as water, sunlight, and humidity.
However, it is a very complex task so in order to enhance skill and master the art it is recommended to check waterproofing wood tutorial that helps to provide a proper process with detailed knowledge.
The best part of applying this coating is that you got two choices to apply it evenly on the surface of the wood. You can either apply it with a brush or you can just spray it on the clean surface. One thing which you need to keep in mind is that you have to apply this coating at room temperature for best results.
Also sometimes people shake the container before using it which causes the creation of bubbles on the surface.
Let us now dive into some properties of these sealants in detail.
Polyurethane sealants allow you different finish effects such as light or harsh glossy shine. It won't make your wood yellow by the time because it is an oil-based polyurethane that protects your wood for a longer time.
Varnish protects your wood from scratches because it is a combination of resin, drying oil, and solvent. It also contains UV absorbents which protect it from harsh sunlight and outdoor exposure.
Lacquer is believed to develop yellow color over time as it contains a mixture of resin in alcohol. Apart from this unattractive property, lacquer is well known for the scratch-free and deep-toned finish on the wood. You can apply these easily in both indoor and outdoor projects at room temperature for better results.
Method 3: Apply the stain-sealant combination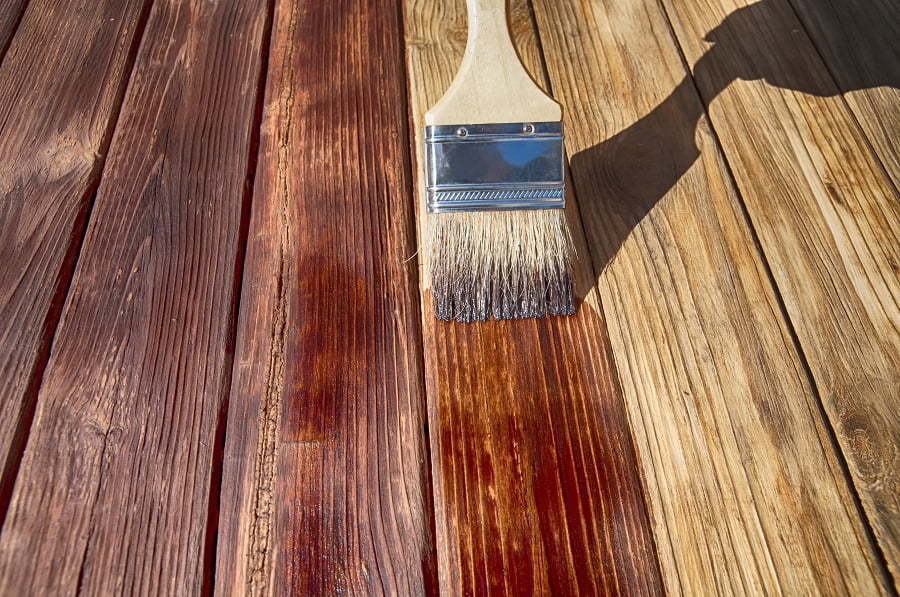 You can consider this amazing combination when you are running out of time and you have to cover a very large surface area of your outdoor wood. Many people In this world are applying this combination because there are two benefits of applying such combination. The first benefit is that it applies a darker shade of color to the wooden deck and the second benefit is that it gives water-resistant property to your wooden deck in a single coating. Just make sure that you reapply this coating again after one year because it loses its properties by the time.
Although this combination is Alkyd based product though it does not lose any residue on the surface because many of the parts get absorb by the way and the remaining gets evaporate in the environment. Most people prefer this combination to apply in indoor projects, but if you have less time and you want a proper waterproof coating in less time than last long for a certain period, then you can apply this stain-sealant combination without any doubt.
Takeaway
All these three methods are very safe for the outer projects and it does not harm your wood in long term. You don't need any kind of helper to finish this project these are simple to apply by using a bristle brush. Just make sure to keep precautions such as handy gloves and sunglasses to prevent your eyes and hands from such solvents.
Liked reading this? Here's more: