Last updated on August 9, 2023
As the holidays come closer and closer, people start looking forward to having a great holiday with their family and friends. If you are planning on having a Christmas party this year, then you are surely in the right place.
This article will provide some tips on how to throw a great holiday party for all of your friends and family.
In This Post:
Hire a Decorator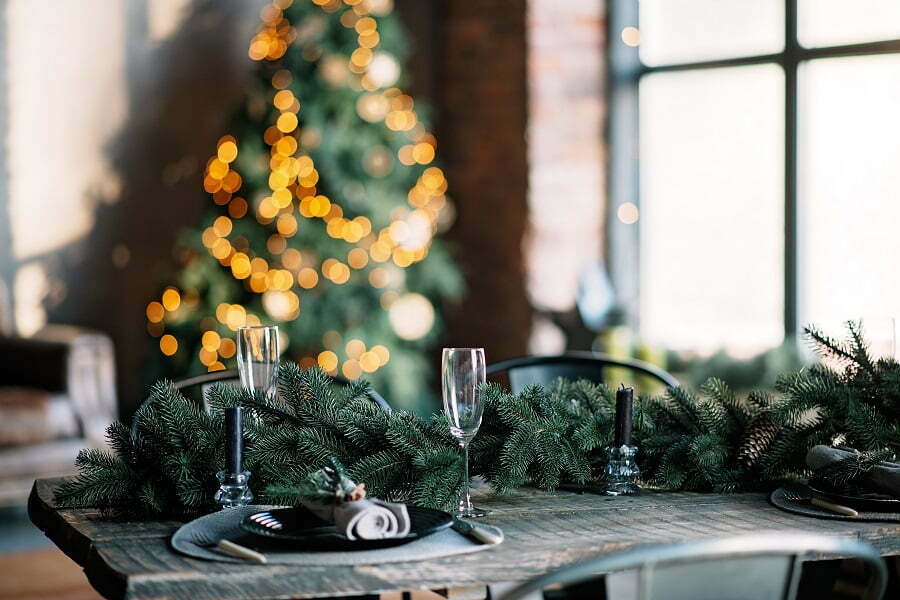 One of the best ways to make a great holiday party is to hire a decorator. Hiring a holiday decorating company will make decorating for your party incredibly easy. All you will need to do is direct the decorator to your home, and they will handle everything else! Most Christmas parties are small affairs, which means that there isn't much necessary needed to complete the job. If this is the case for you there's the added bonus that hiring a decorator won't cost too much. Here is what to look out for when hiring a company to decorate your party:
Experience
The first and most important thing to look out for when hiring a company is their experience. You don't want to work with a decorator who has no experience in this area. This will only lead to the entire party being very mediocre.
References
Always check references before you hire a company for your party. If you have friends who have recently had holiday parties of their own and can vouch for a decorating company then this is definitely useful information to know about. You should also do some research on Google or Yelp to see if other people are happy with their services.
Flexibility
The second thing to look for is how flexible the decorator is. You should hire someone who can accommodate your needs and wants for your party. This will make them much more desirable than other companies.
Affordability
Finally, you want to make sure that the company charges an affordable fee for their services. As mentioned, Christmas parties are usually small affairs, which means that they won't charge too much money for their services. If this is the case then you should definitely work with them!
Make Food and Drinks a Priority
One of the most important parts of any holiday party is food and drinks. You don't have to do much in order to prepare for this aspect, but you should definitely put it on your priority list. If you want to make sure that everyone has a great time at your party then here are 2 tips to help you out with this task if you are forgetful or not too organized:
Make a Menu
Start by putting together a menu for the food aspect of your event. There are many different things that you could do when making a menu, a lot of food to choose from. One of the most traditional party foods is finger food, which includes snacks such as cheese and crackers or chicken wings. Another popular option that goes over well at parties is a buffet-style menu where guests can serve themselves by going up to a table full of different containers filled with delicious food. There are many other options when it comes to planning the menu for your event, but this should get you thinking in the right direction!
Drinks For Your Guests
Another important aspect of any holiday party are drinks. You should make sure that you have plenty of drinks on hand for all of your guests (both alcoholic and non-alcoholic). If you want to make people feel like they're partying hard then you can even hire a bartender for the evening. This is usually an affordable option and will make your party much better!
Invite Guests Ahead of Time
The best way to ensure that people show up at your event is by inviting them in advance (a week or two before the actual date). The first step is obviously sending out invitations, which means putting together all of the information about your party (when it is, location, etc). Then give them around 2 weeks to send their RSVP in. When it comes to the type of and the manner in which you send out invitations, you have a few options:
Handwritten Letters
This is the most traditional form of the holiday party invitation. If you choose to send out handwritten letters then you should just write them out by hand on nice card stock or stationery, use your best penmanship and make sure that they are festive. You can even do this for more than one invitation (send out an invite on December 1st and another one closer to the 15th).
Emails
One of the most popular forms of electronic invitations nowadays is email. This is a great option if you're going to send out a lot of invitations. Remember to ask your guests to RSVP by email as well.
Text Messages or Phone Calls
This is a very quick and simple way to send out an invite. For the most part, guests will probably be expecting a phone call or text message from you, but they might not remember to RSVP if you don't follow up on it. So make sure that you do!
Online Invitations
Finally, there is also the option of electronic invitations via social media such as Facebook or Twitter. People tend to create different pages for holiday events so that they can share information about what is going on with their friends, family, and acquaintances. This only works well if you have many people following your page already. 
Have Music and Speakers
Similar to food and drinks, having music and speakers can make or break your holiday party! If you want to make sure that everyone is dancing the night away (or at least has fun) then you should make it loud. However, don't do anything too loud as it can scare people off if they're not used to partying hard. Also, keep in mind that there are different types of music genres for different people. You can even hire a DJ to take care of this aspect for you, which is usually affordable!
In conclusion, having a holiday party is a great way to spend time with your friends during the Christmas season. Some of the things that you should remember when planning your event are decorating, writing invitations in advance, having drinks for everyone, having plenty of snacks at hand, and having music playing throughout the night!
Liked reading this? Here's more: