Last updated on August 13, 2023
Discover a plethora of creative and festive ideas to transform your simple chalkboard into an enchanting Christmas tree masterpiece this holiday season.
The holiday season is here, and what better way to spread the Christmas cheer than with a festive chalkboard? A Christmas tree chalkboard is not only a unique decoration but also an excellent way to showcase your creativity. Whether you're looking for inspiration or just curious about this fun DIY project, we've got you covered with 20 fantastic ideas.
From traditional to modern, rustic to elegant, there's something for everyone in this list. So grab your chalk and let's get started on creating the perfect Christmas tree chalkboard!
In This Post:
Tree Shape With Chalk Names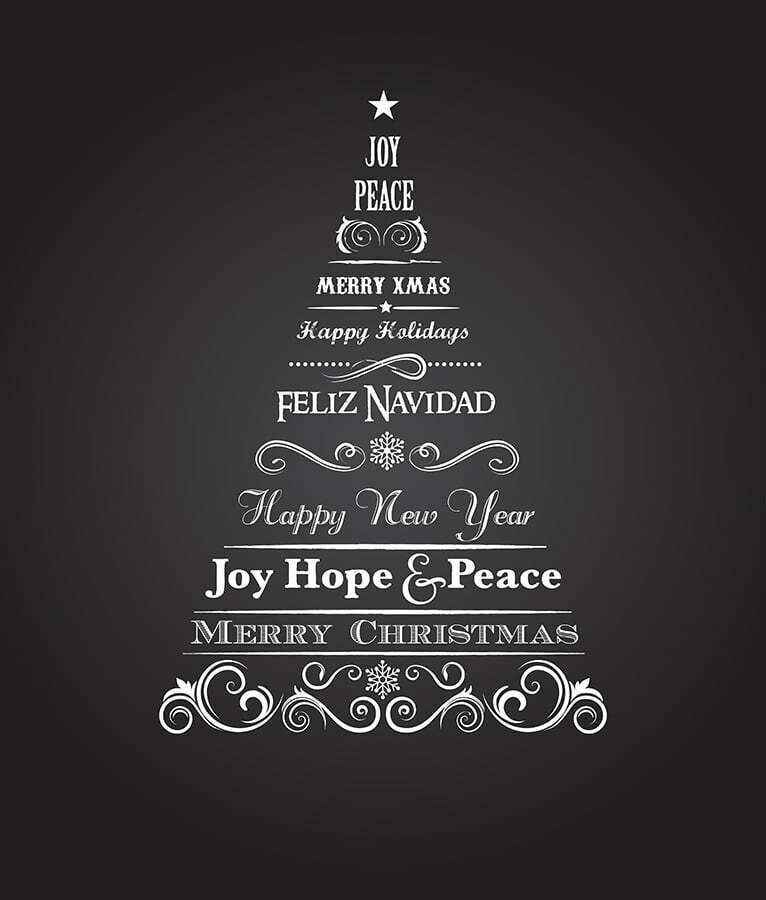 One of the simplest and most classic ways to use a Christmas tree chalkboard is by drawing the outline of a tree and writing names on it. This idea works great for large families or holiday parties where guests can write their own name on an ornament-shaped chalk piece.
You can also add some festive touches like lights, garlands, or even small gifts under each person's name to make it more personalized. The best part about this idea is that you can easily erase and update the names as needed throughout the season!
Kids' Drawing Tree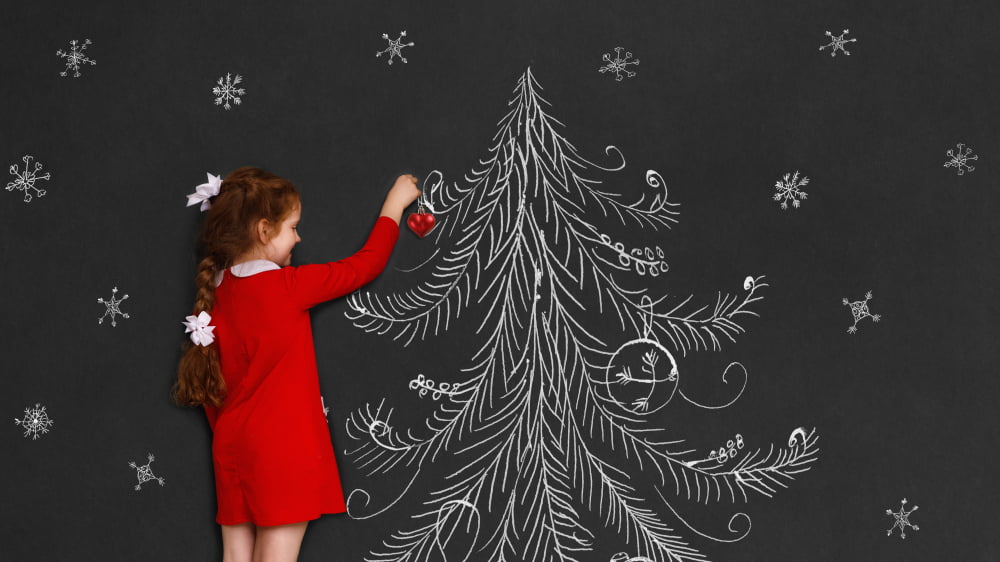 Create a large tree shape on the board and encourage your little ones to draw their own ornaments, presents, and decorations onto it with colorful chalks. This will not only keep them entertained but also add a personal touch to your holiday decor.
You can even turn it into an activity by having them draw one ornament each day leading up to Christmas or have them compete in drawing challenges like who can create the most unique snowman or Santa Claus!
Chalkboard Countdown Tree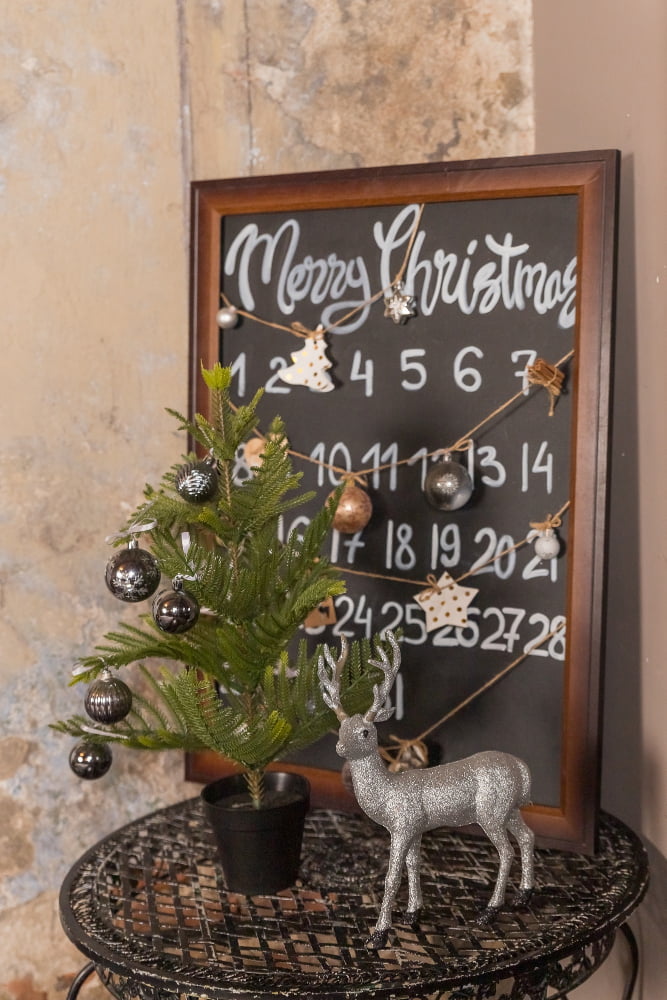 To create this type of chalkboard tree, simply draw or trace a large Christmas tree onto your chalkboard surface. Then, divide the branches into sections for each day leading up to Christmas Day.
Each day, write a new message or activity on that section of the branch with colorful chalk markers.
Colorful Ornaments Tree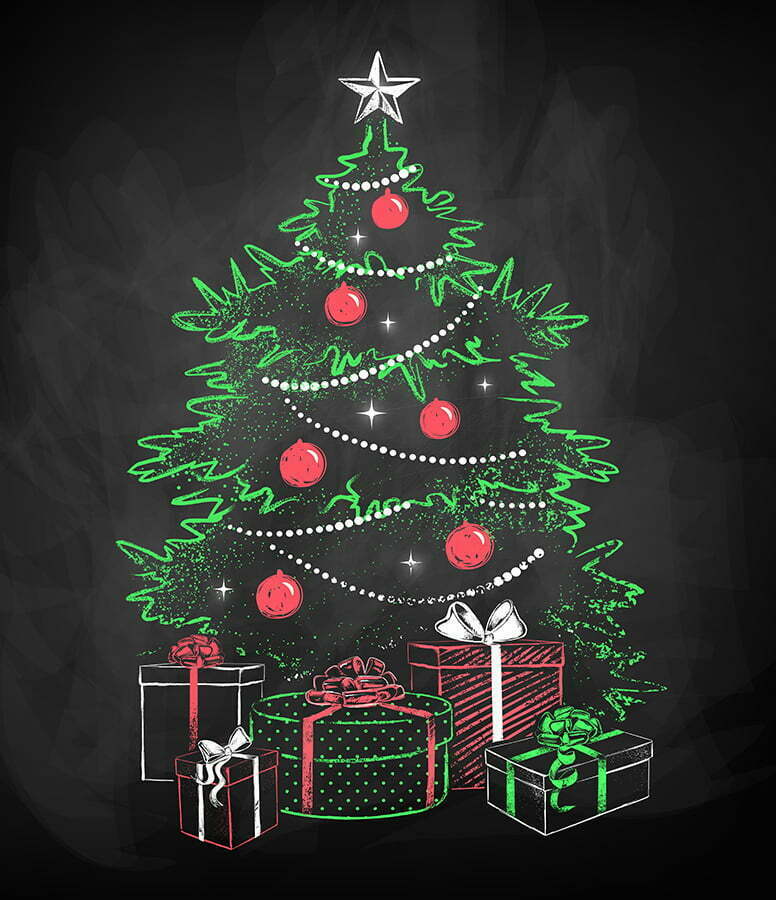 You can draw a simple outline of a tree and then fill it with different colored circles or ovals to represent ornaments. To make it more interesting, you can add patterns or designs on each ornament using white chalk.
This idea works well for those who want to create an eye-catching display that will brighten up any room during the holiday season. This design allows you to experiment with different color combinations and patterns until you find one that suits your taste best!
DIY Gift Tags Tree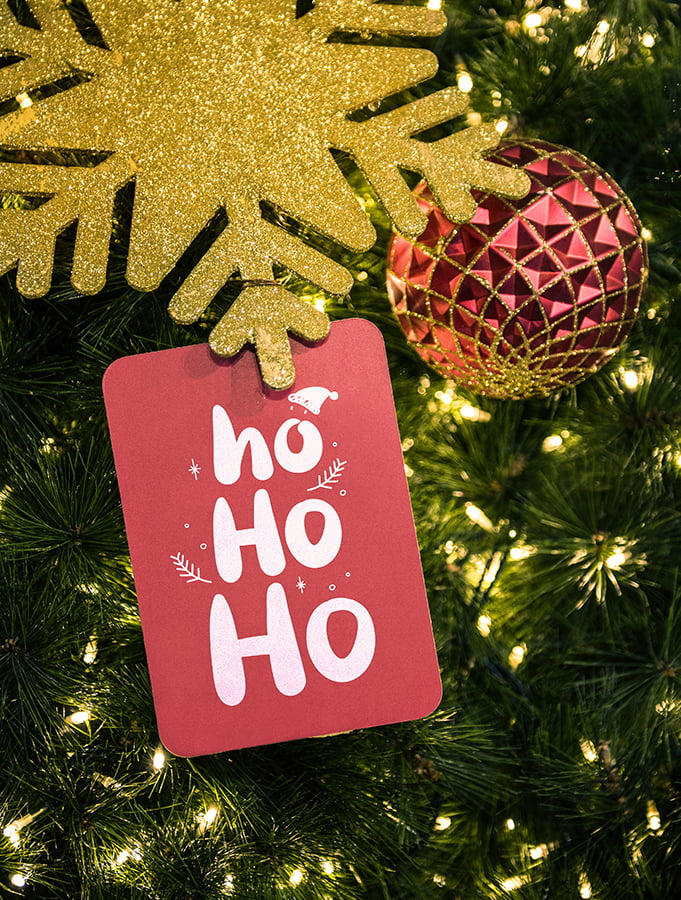 You can use different colored cardstock or paper and cut out various shapes like stars, snowflakes, or even mini trees. Write the recipient's name on each tag with a white chalk marker and hang them on the branches of your chalkboard tree using twine or ribbon.
This adds a personal touch to your gifts while also being eco-friendly by reducing waste from store-bought tags. Plus, it's an easy DIY project that you can do with kids!
Festive Song Lyrics Tree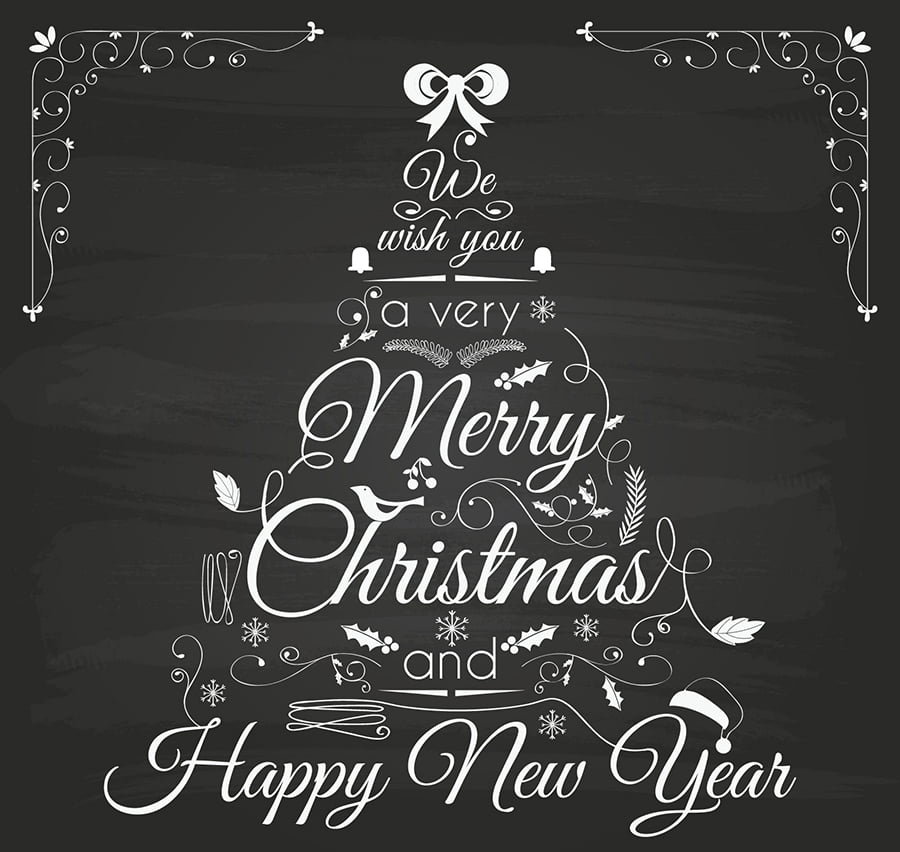 You can choose your favorite holiday songs and write the lyrics in different fonts and colors, creating a beautiful visual display. This idea works especially well if you have musical guests coming over during the holidays or if you're hosting a sing-along party.
Some popular songs to consider include "Jingle Bells," "Deck the Halls," "Silent Night," and many more!
Chalk Bucket List Tree
This idea involves drawing a Christmas tree on your chalkboard and filling it with various activities or tasks that you want to accomplish during the holiday season. You can include anything from baking cookies, watching classic movies, going ice skating, or volunteering at a local charity event.
As you complete each task throughout the month of December, simply check it off your list! Not only does this add an element of excitement to your daily routine but also helps ensure that you make time for all those special moments during this busy time of year.
Daily Chalkboard Advent Tree
Each day, you can write a new message or activity on the chalkboard that corresponds with that day of December leading up to Christmas Eve. Some ideas for daily messages could include holiday trivia questions, festive quotes or sayings, small acts of kindness to perform throughout the day, or even just simple reminders about upcoming events and activities.
This type of chalkboard tree is perfect for families with children who are eager to participate in holiday traditions and enjoy counting down each passing day towards Christmas morning!
Minimalist Chalk Line Tree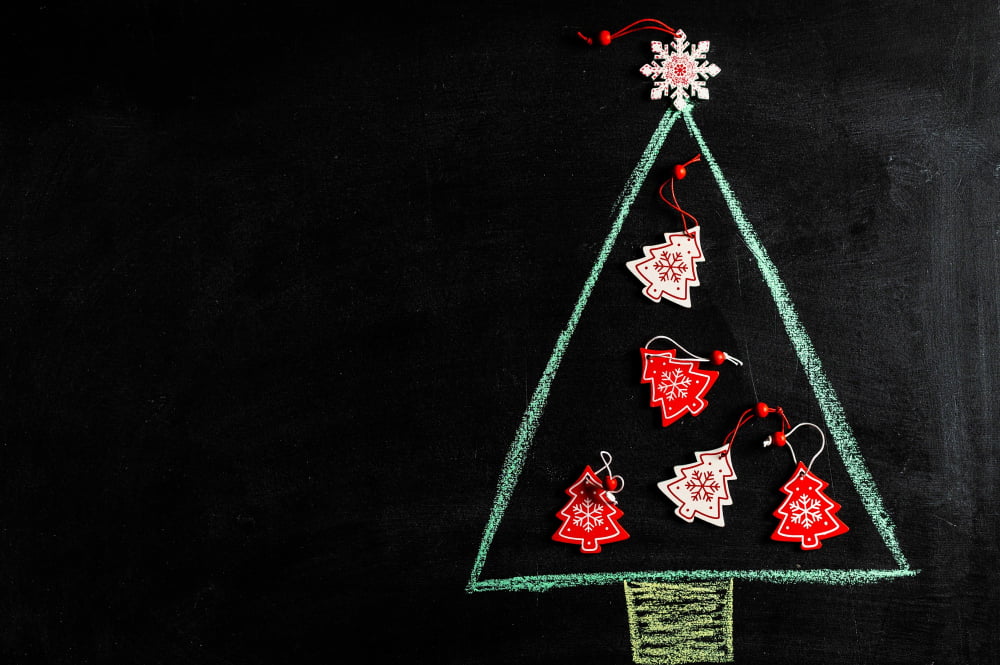 To create this design, simply draw a straight vertical line down the center of your chalkboard surface using white or colored chalk. Then, draw horizontal lines branching off from the main trunk to represent branches.
Keep the lines thin and simple for an elegant effect. You can add small dots or circles at the end of each branch to represent ornaments if desired, but otherwise keep it clean and minimalistic! This style works particularly well in homes with contemporary decor schemes or smaller spaces where you want to make an impact without overwhelming your room with too much decoration.
Family Handprint Tree
To create this chalkboard, start by drawing a large tree trunk and branches on the board. Then, have each member of your family dip their hands in different colored chalk paint and press them onto the board to create leaves on the branches.
You can also add names or initials next to each handprint for a personal touch. This unique decoration will not only look beautiful but will also serve as a special memory of your time spent together during the holiday season.
Snowflake Stencil Tree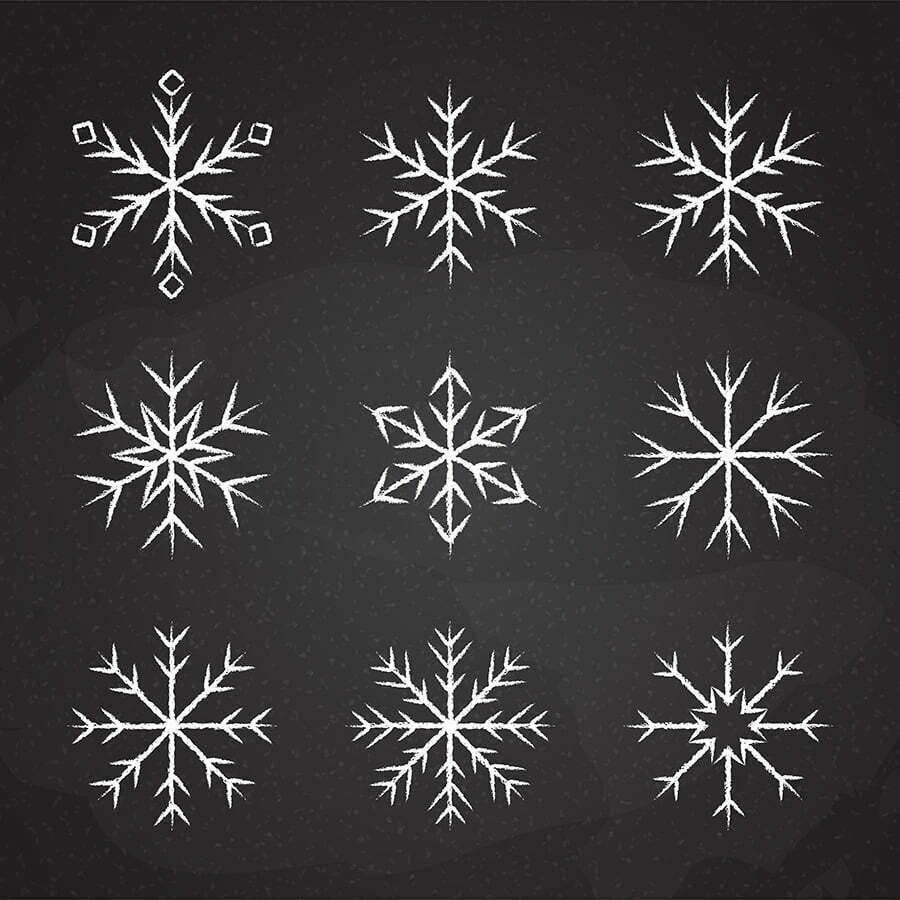 This design adds a touch of elegance and sophistication to your holiday decor. You can use different sizes and shapes of stencils, or even create your own unique designs.
To achieve this look, start by drawing an outline of the tree on the chalkboard with white chalk. Then, place your stencil over each branch and fill it in with white or silver colored chalk for a beautiful winter wonderland effect that will make any room feel cozy during the holidays!
Inspirational Quotes Tree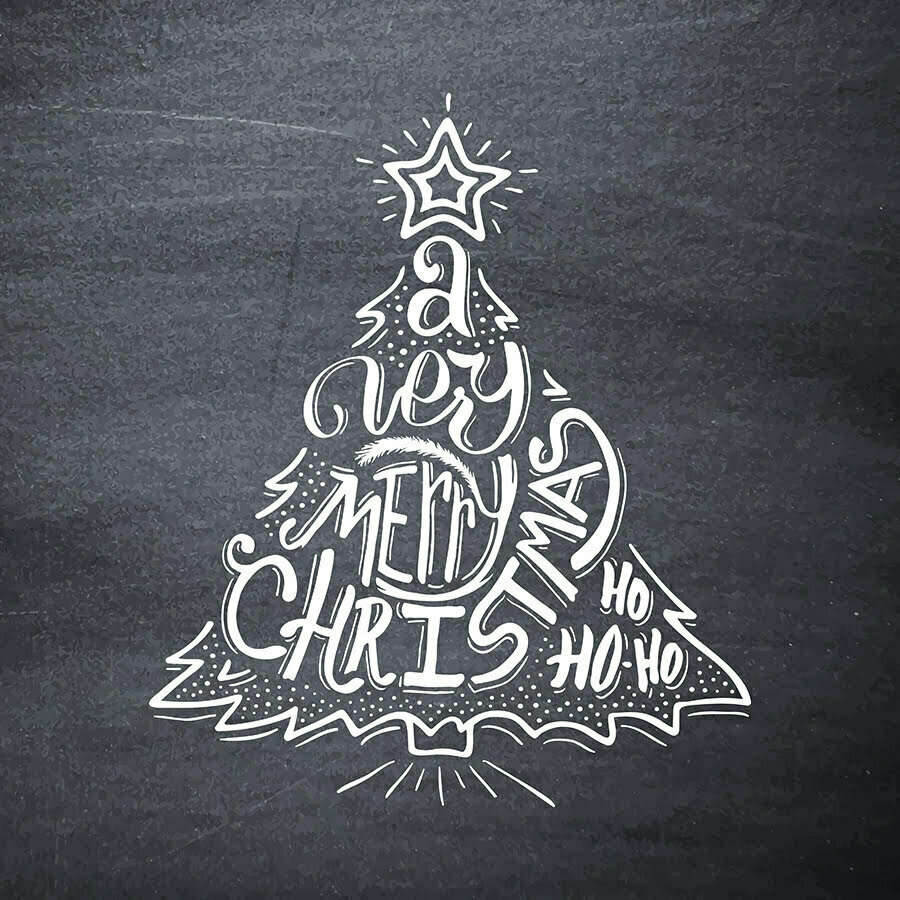 You can write your favorite quotes or even create a theme, such as gratitude or kindness. Some ideas for quotes include "Believe in the magic of Christmas," "Spread love and joy this season," or "Every day is a gift." This type of chalkboard tree not only looks beautiful but also serves as a daily reminder to stay positive during the busy holiday season.
Winter Landscape Tree

To create this look, start by drawing the outline of a bare winter tree on your chalkboard. Then, use white or light blue chalk to draw snowflakes falling around the branches of the tree.
Add some hills or mountains in the background with shades of gray and white for depth. You can also add small details like birds perched on branches or deer grazing in the distance to complete this serene winter scene.
This design is perfect if you want something simple yet elegant that captures the essence of wintertime festivities without being too flashy or over-the-top!
12 Days of Christmas Tree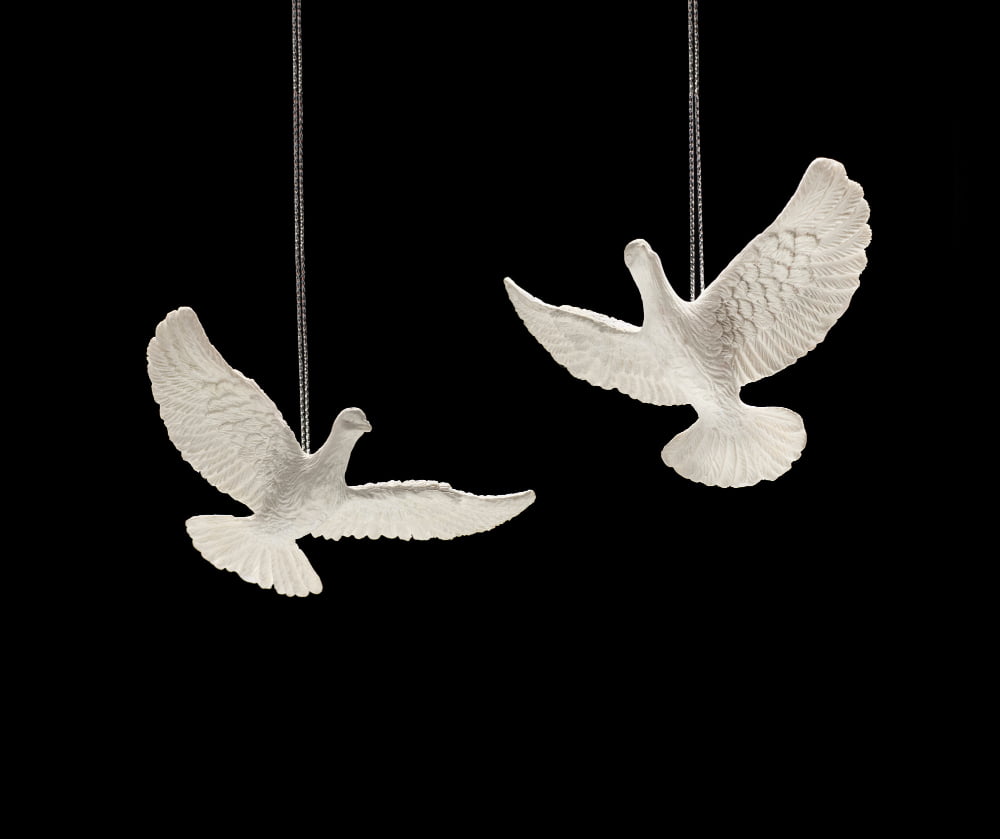 Each day, add a new element to the tree based on the lyrics of the song. For example, on day one you could draw a partridge in a pear tree and then add two turtle doves on day two, three French hens on day three and so forth until all twelve days have been completed.
This idea is perfect for those who want to create an interactive experience with their family or guests during the holiday season as they try to spot each new addition every time they visit your home.
Santa's Workshop Chalk Tree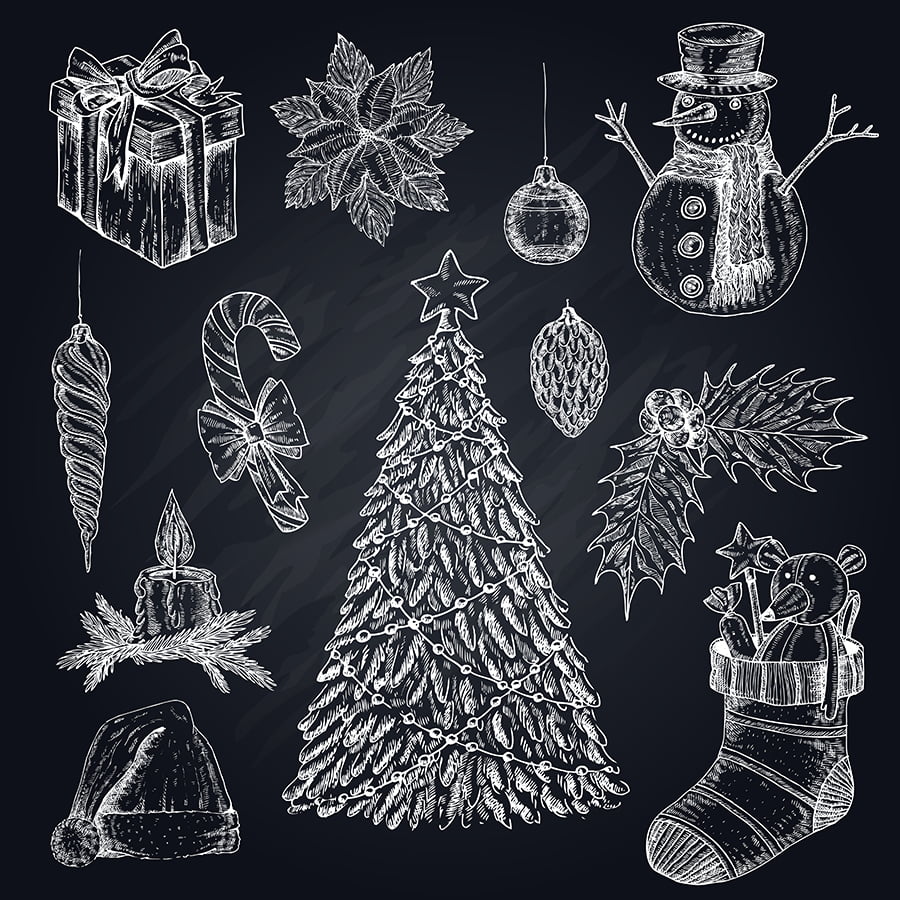 This can be achieved by drawing the outline of a Christmas tree on the chalkboard and filling it with various tools, toys, and decorations that are commonly found in Santa's workshop. You can also add some text or speech bubbles to make it look like the elves are busy working on their tasks.
To make this theme even more fun, you could draw small presents under each item and write down funny messages or jokes related to them. This will surely bring some laughter and joy into your home during the holiday season!
Rustic Chalkboard Tree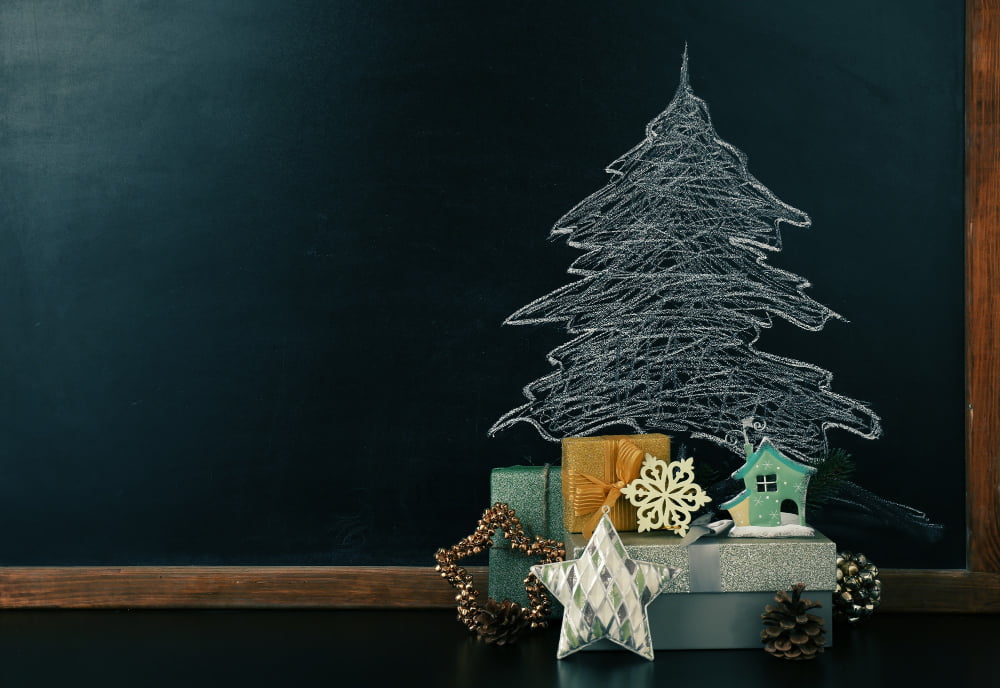 To create this look, start with a large chalkboard in the shape of a tree. Use white or light-colored chalk to draw the outline of your tree and then fill it in with darker shades for depth and texture.
Add some rustic charm by using natural elements such as pinecones, twigs, or burlap ribbon as ornaments on your chalkboard tree. You can also use stencils to add festive words like "Joy" or "Peace" onto your board for an extra touch of holiday cheer!
Christmas Tree Trivia Board
Create a chalkboard tree with different branches representing various categories such as history, movies, music, and traditions. Write questions related to each category on small pieces of paper or cards and attach them to the corresponding branch using string or ribbon.
Your guests can then take turns answering questions by writing their answers directly onto the chalkboard using colored chalks. This activity is perfect for family gatherings or parties where you want everyone involved in some festive fun!
Baby's First Christmas Tree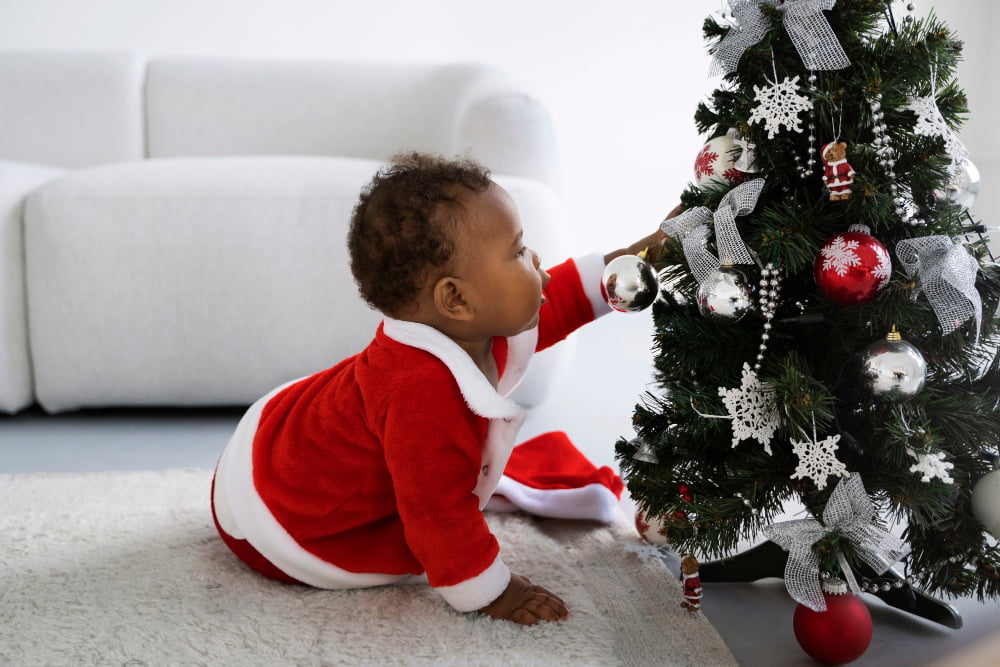 A chalkboard tree can be a great way to commemorate this milestone. You can create an adorable design by drawing your baby's handprints or footprints on the tree branches and adding their name and age in chalk.
Another idea is to use the chalkboard as a photo display for your little one's first holiday pictures with family members or friends. This will not only make for cute decorations but also serve as cherished memories that you'll look back on fondly in years to come!
Chalkboard Tree Party Game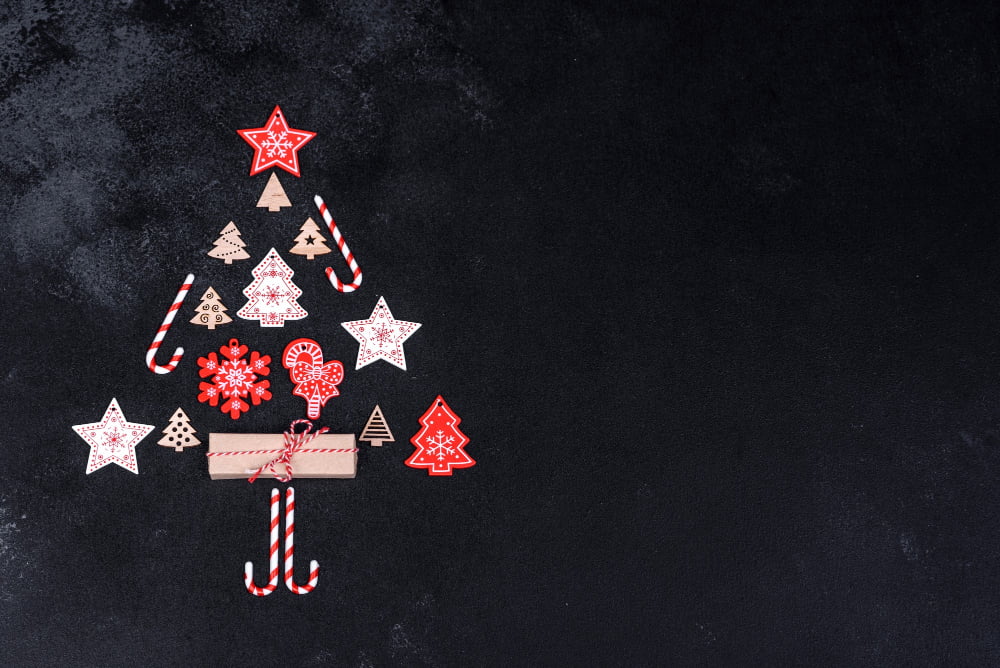 Draw a large tree on the chalkboard and have guests take turns adding ornaments or decorations to the tree with their own personal touch. This can be done in teams or individually, and prizes can be awarded for the most creative designs.
It's an interactive way to get everyone involved in holiday fun while also showcasing their artistic abilities!
Food Menu Christmas Tree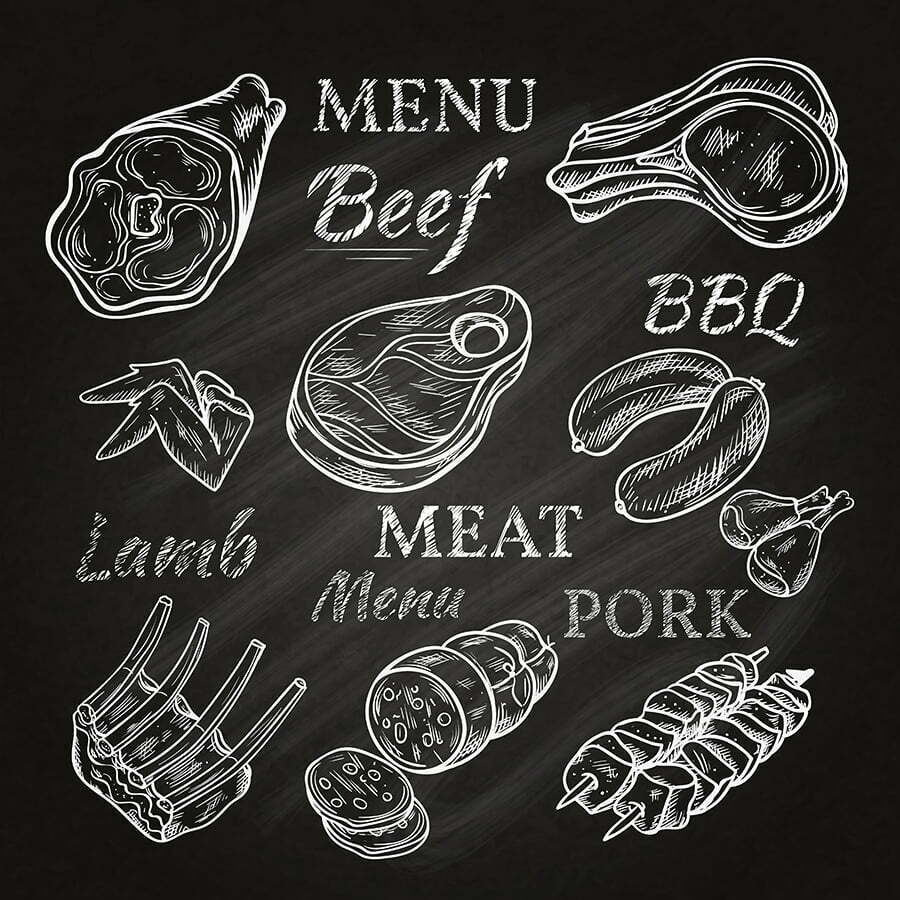 This idea not only adds to the festive decor but also helps guests know what's on the menu. You can draw a large tree shape and write each dish name as an ornament hanging from its branches.
Alternatively, you could create smaller trees for different courses such as appetizers, entrees, and desserts. Don't forget to add any dietary restrictions or allergy information if necessary!
Liked reading this? Here's more: