Last updated on August 9, 2023
Discover a plethora of creative and festive Christmas chalkboard ideas to add that extra touch of holiday cheer to your home this season.
As the holiday season approaches, it's time to start thinking about how to decorate your home for Christmas. One of the most versatile and charming ways to add festive cheer is by incorporating a chalkboard into your decor.
With endless possibilities for customization, a Christmas chalkboard can be both practical and beautiful. In this article, we'll explore 20 creative ideas for decorating your own Christmas chalkboard that will make your home feel cozy and inviting throughout the holiday season.
So grab some chalk and let's get started!
In This Post:
Snowflake Doodles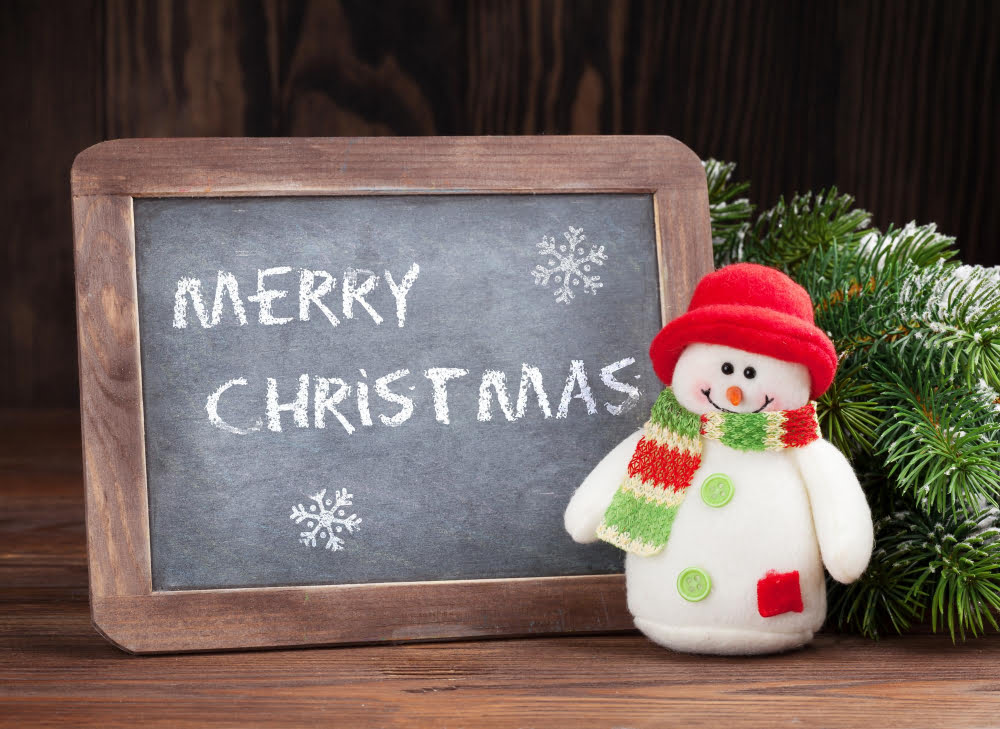 Snowflake doodles are a classic and elegant way to decorate your Christmas chalkboard. You can create intricate designs or keep it simple with basic shapes.
Start by drawing a large snowflake in the center of the board, then add smaller ones around it for a beautiful effect. Use white chalk on a black background for maximum contrast, or experiment with different colors to match your decor theme.
Snowflakes are versatile and timeless, making them an excellent choice for any holiday season!
Santa Claus Drawing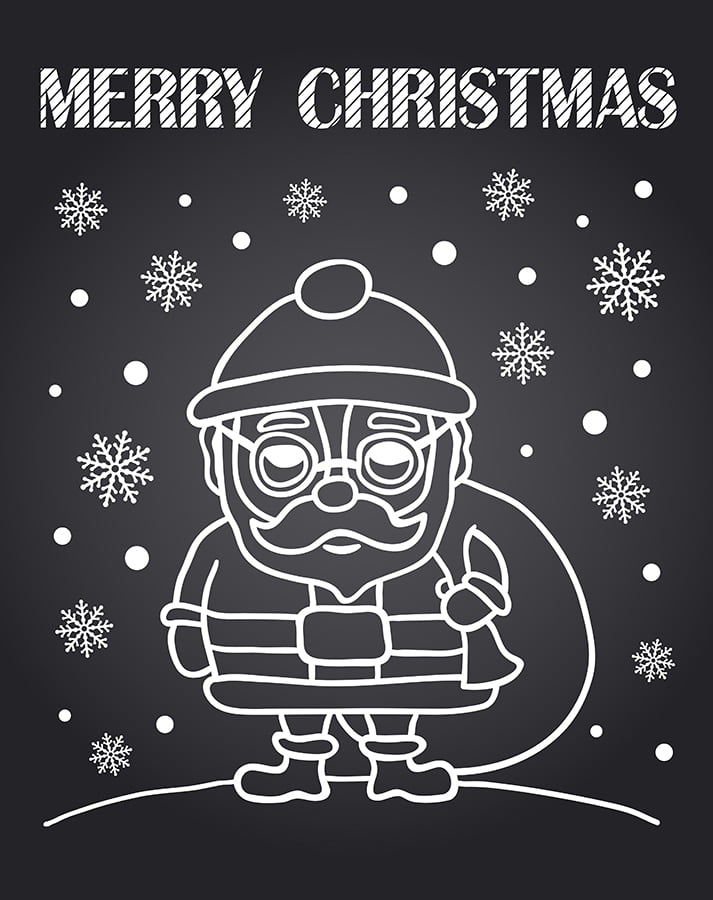 You can draw Santa in various poses, such as holding a sack of presents or riding his sleigh with reindeer. To make your Santa stand out, use bold colors like red and white for his suit and hat, black for his boots and belt buckle, pink for his rosy cheeks, and blue or green shades to add depth to the background.
Don't forget to add details like fur trim on the coat or beard strands on Santa's face. With some practice, you can create an impressive Santa Claus drawing that will bring joy to anyone who sees it!
Festive Wreath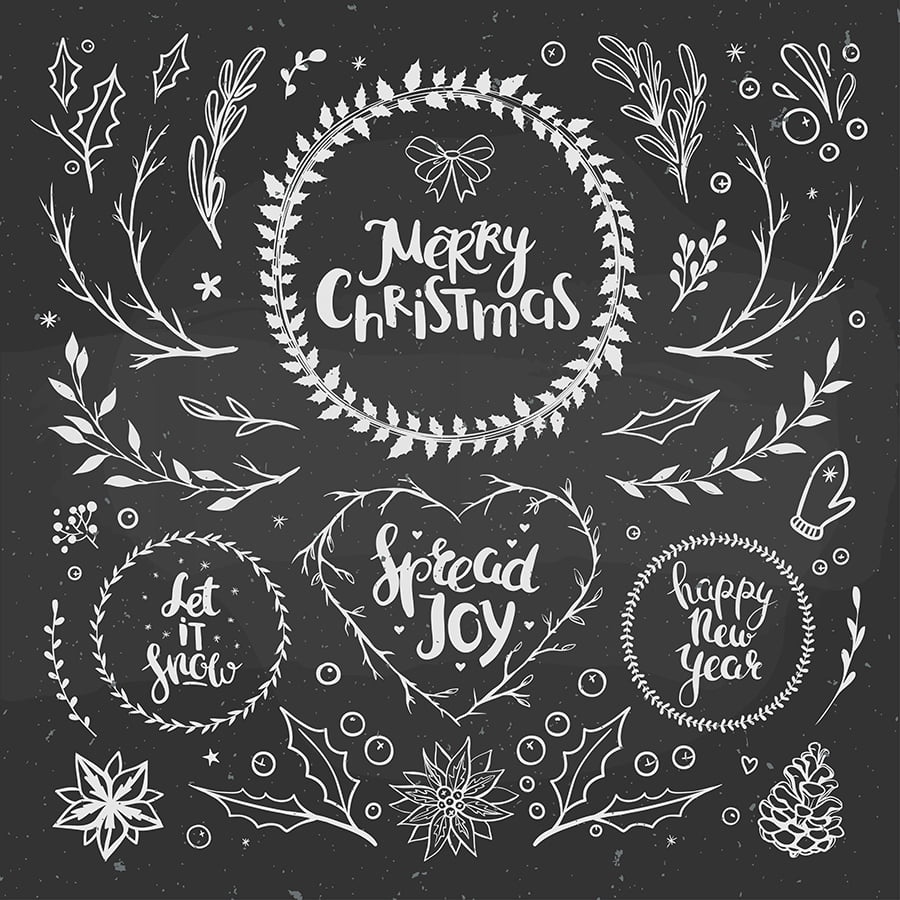 Draw the outline of the wreath and fill it with greenery, such as holly leaves or pine branches. Add some red berries for pops of color and tie a bow at the bottom to complete the look.
You can also add small ornaments or lights to make it even more festive!
Christmas Tree Sketch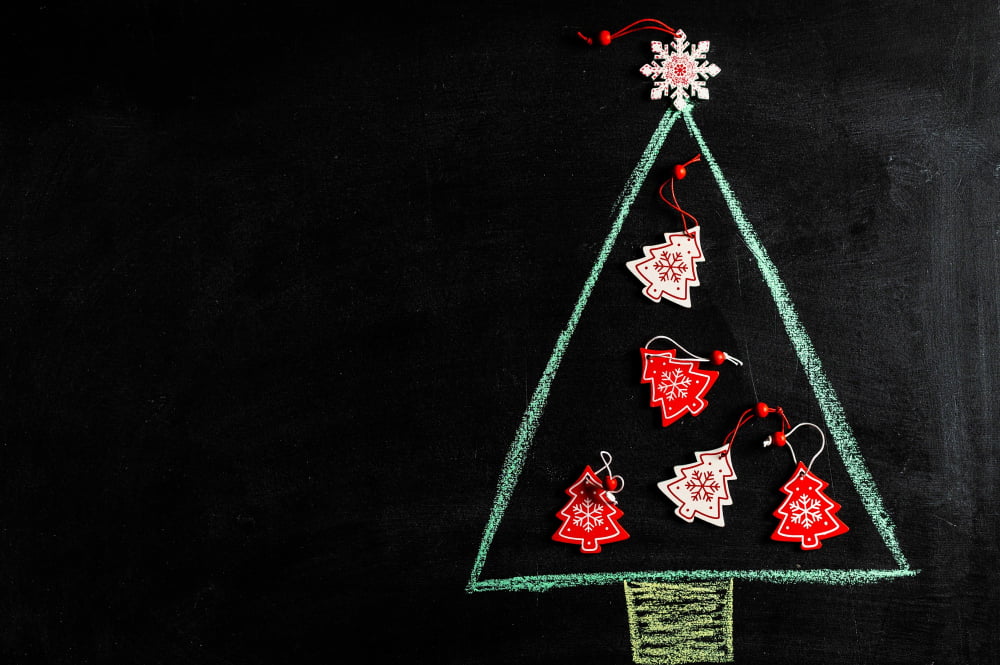 You can draw a simple or intricate tree depending on your skill level and preference. A minimalist approach would be to draw an outline of the tree with branches, while more detailed designs could include ornaments, lights, presents underneath the tree, and even a star on top.
Use different shades of green to add depth to the drawing or incorporate other colors like red for ornaments or brown for trunk details. Don't forget to add some snowflakes falling around it! This design will surely bring holiday cheer into any room in your home!
Reindeer Family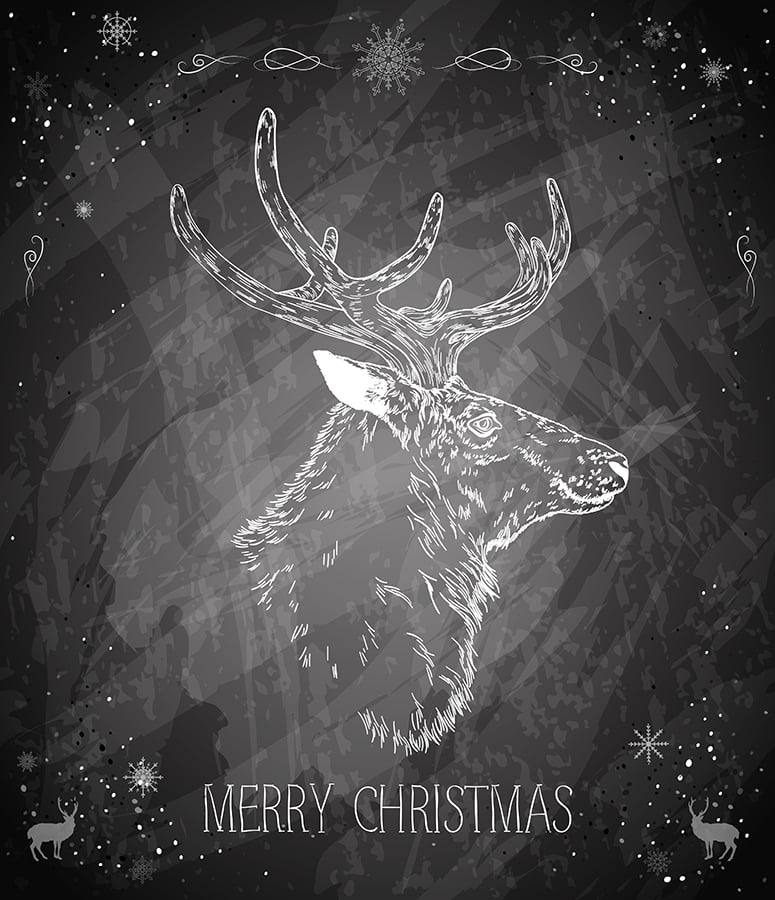 Draw a large reindeer with antlers and add smaller ones beside it to represent the whole family. You can also include their names or initials for a personalized touch.
This design is perfect for families who want to showcase their love and unity during the holiday season, making it an excellent addition to any home decor theme.
Joyful Snowman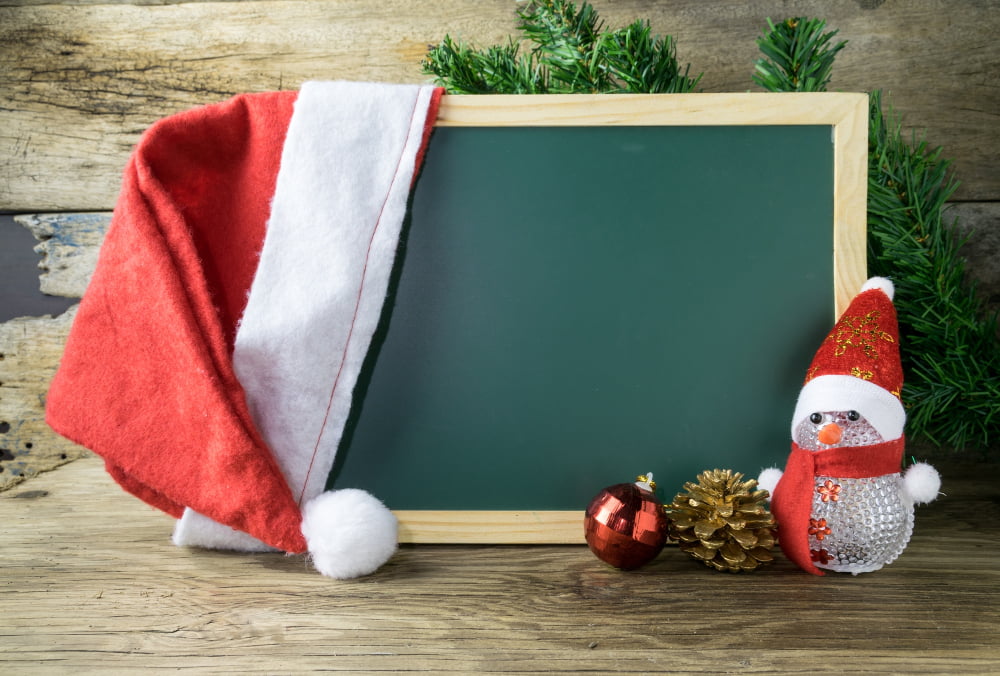 It's easy to create a joyful snowman on your chalkboard with just a few simple steps. Start by drawing three circles for the body, head, and hat.
Add stick arms and coal eyes, nose, mouth buttons to give it personality. Don't forget the scarf! You can add some festive touches like holly or mistletoe in its hat or hands to make it even more cheerful.
A joyful snowman will bring warmth and happiness into any room during the holiday season!
Holiday Countdown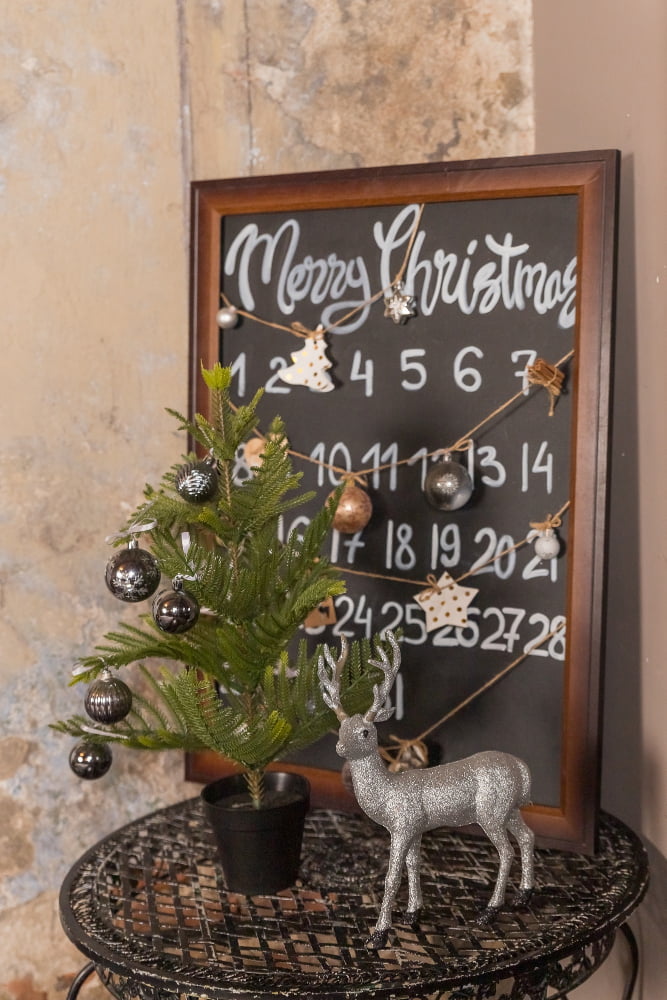 A chalkboard can be a fun and interactive way to keep track of how many days are left until Santa comes. You can create a simple countdown by drawing numbers or use creative designs like hanging ornaments, snowflakes, or even little elves marking off each day with chalk.
This idea not only adds some festive flair to your home decor but also builds anticipation for the big day!
Gift Box Border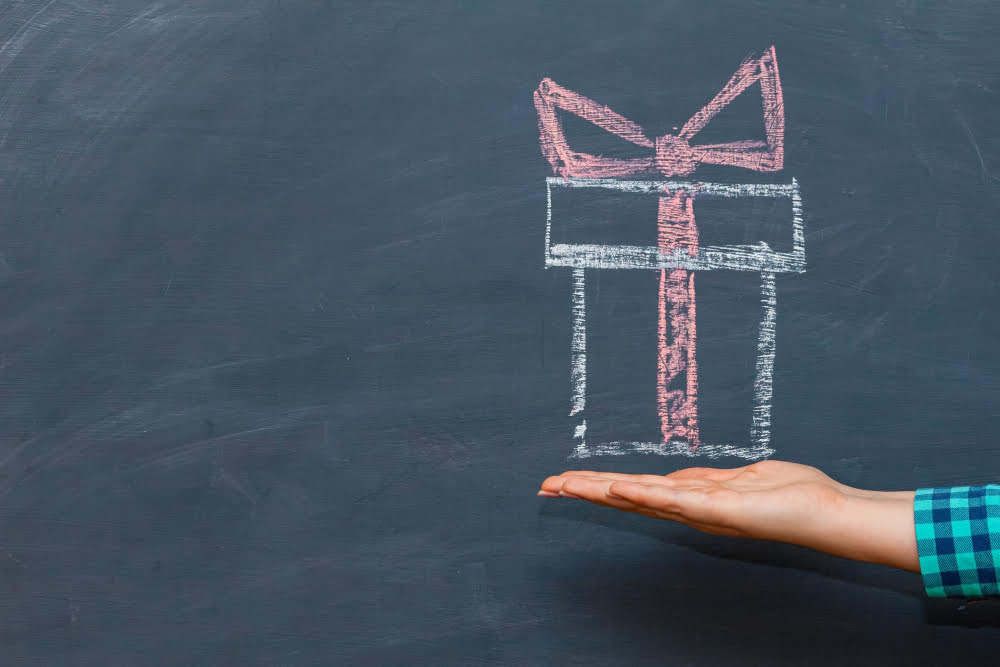 To create this design, start by drawing a large rectangle in the center of your board. Then, draw smaller rectangles inside the larger one to create the look of stacked gift boxes.
Add bows and ribbons on top of each box for an extra touch of holiday cheer. This design works well as a border around other Christmas-themed drawings or as its own standalone decoration on your chalkboard wall or easel display.
Christmas Carol Lyrics
You can choose from classic carols like "Silent Night" or modern hits like "All I Want for Christmas Is You." Write out the lyrics in beautiful calligraphy and decorate with holiday-themed illustrations. This is a perfect idea for those who love singing along during the holidays, as it adds an extra touch of joy and warmth to any room.
Nativity Scene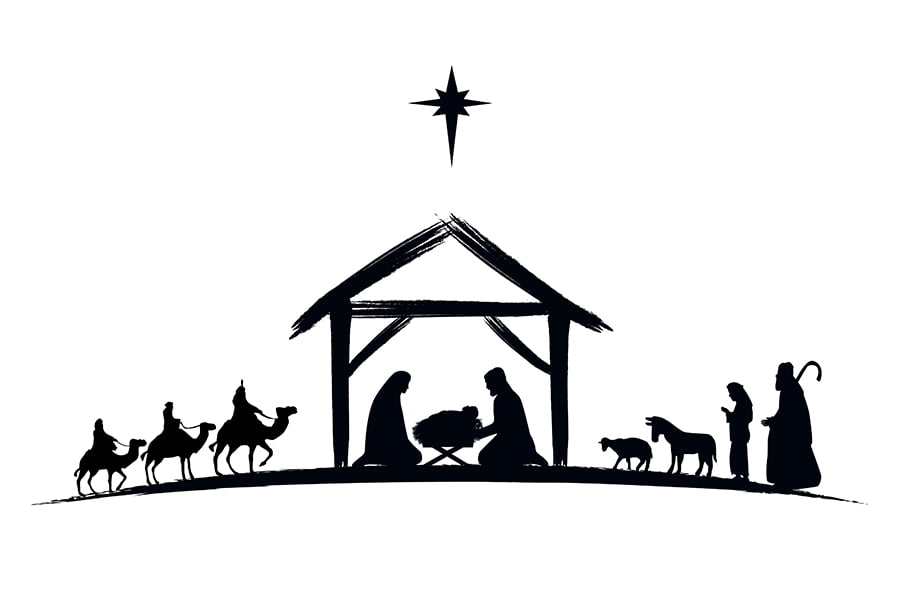 This idea is perfect for those who want to add a touch of tradition and spirituality to their holiday decor. To create this scene, start by drawing the stable where Jesus was born, then add Mary, Joseph and baby Jesus in the manger.
Don't forget about the shepherds and their sheep as well as the three wise men bearing gifts! You can also include angels singing above or even an illuminated star shining bright in the sky. A nativity scene on your chalkboard will not only look stunning but it will also remind you of what Christmas is truly all about – celebrating Christ's birth with loved ones!
Holly Garland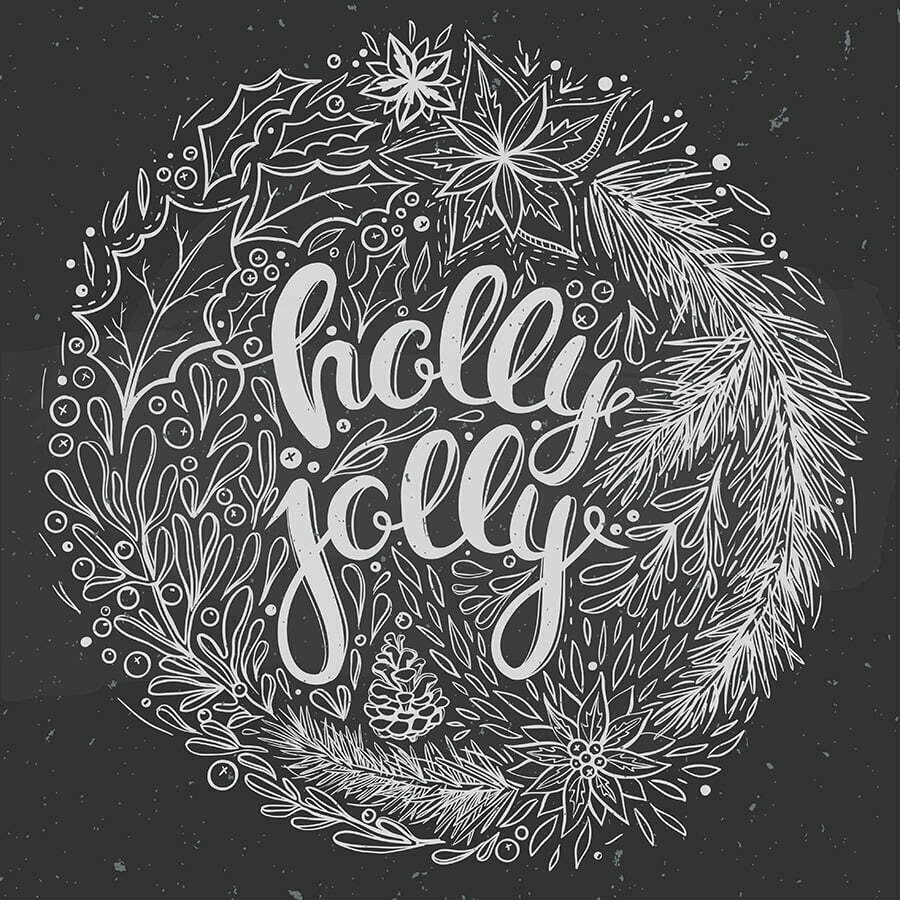 To draw holly, start by sketching the leaves with green chalk. Then, add red berries and white highlights to make them pop.
You can create a simple garland by drawing several holly branches connected together or you can add other elements such as ribbons or bows for extra flair. This design works well in any room of the house and adds an elegant touch to your holiday decor scheme.
Hot Cocoa Recipe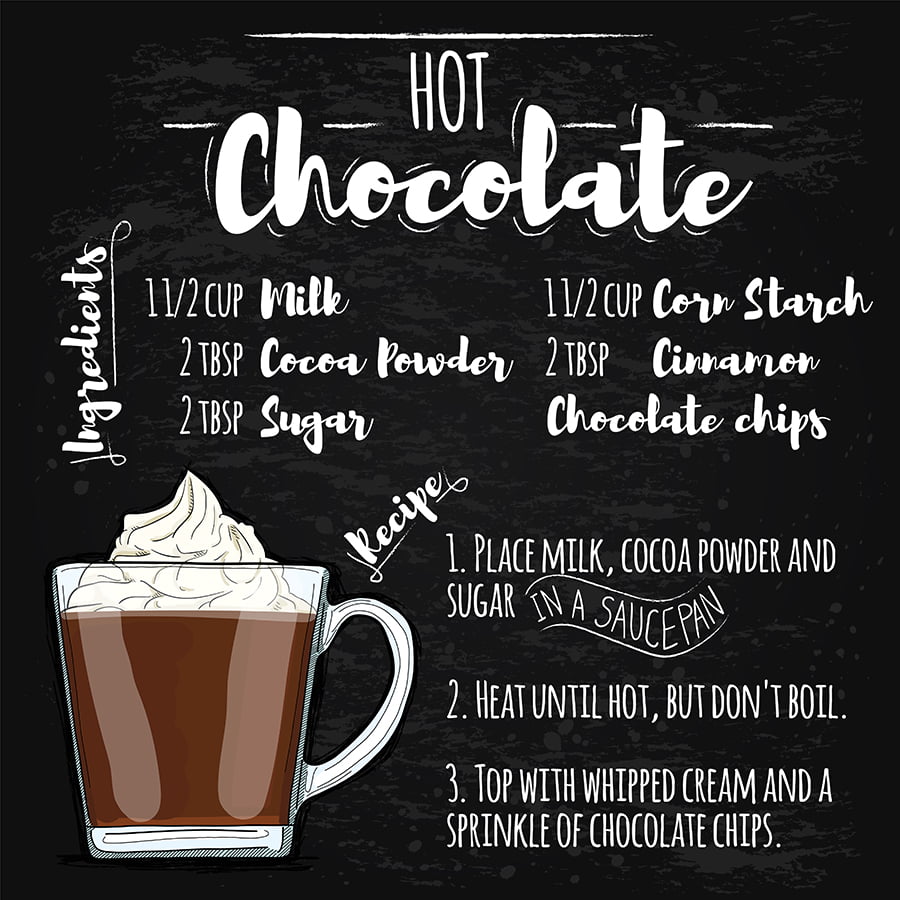 Why not add some festive flair to your chalkboard by including a recipe for this classic winter drink? Keep it simple with just the ingredients and instructions, or get creative and include illustrations of marshmallows, candy canes, or other toppings. Your guests will appreciate having something cozy to sip on while they admire your holiday decor!
Winter Wonderland Landscape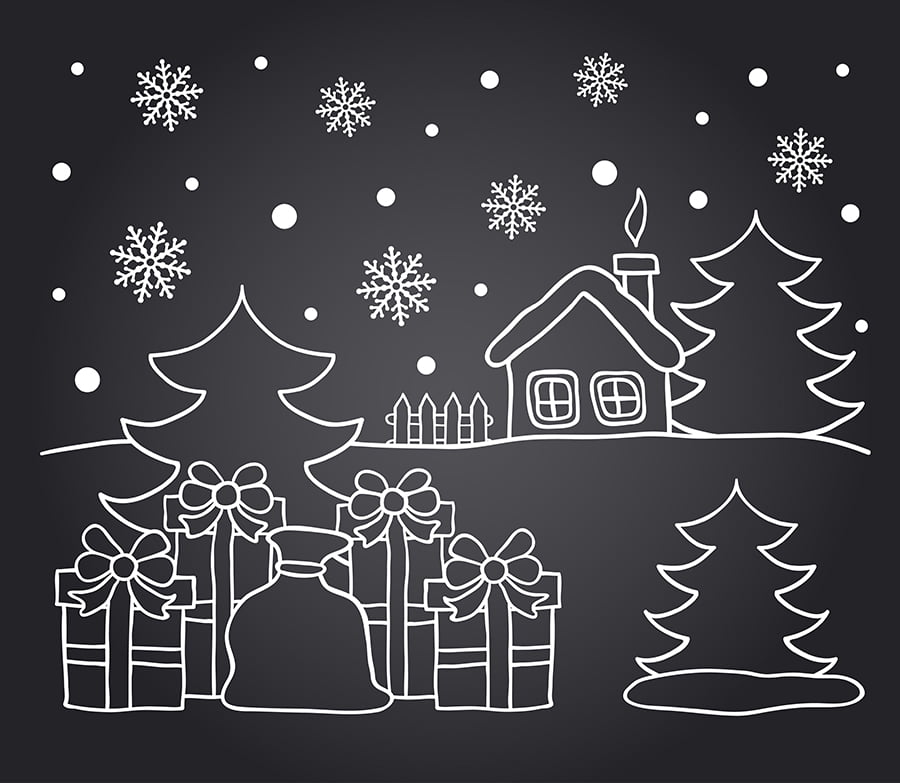 To create this look, start by drawing a snowy landscape with trees and hills in the background. Add some snowflakes falling from the sky to give it an extra wintery feel.
Then, use white chalk to add highlights and shadows to your design, making it look more three-dimensional. You can also add some cute animals like deer or rabbits peeking out from behind trees or playing in the snowdrifts for added charm.
This design is perfect if you want something that's both festive and elegant at the same time!
Elf On the Shelf
The idea behind it is that an elf comes to visit your home during the holiday season and reports back to Santa Claus each night about whether or not children have been naughty or nice. Each morning, the elf moves to a new spot in your home, creating fun surprises for kids as they search for their little visitor.
Incorporating Elf on the Shelf into your chalkboard decorations can be both festive and entertaining! You could draw an outline of an elf with space next to it where you can write daily messages from him/her, such as "Don't forget to brush your teeth!" or "Let's bake some cookies today." Or you could create different scenes each day with props like miniature presents, tiny snowmen figurines, and more!
Candy Cane Pattern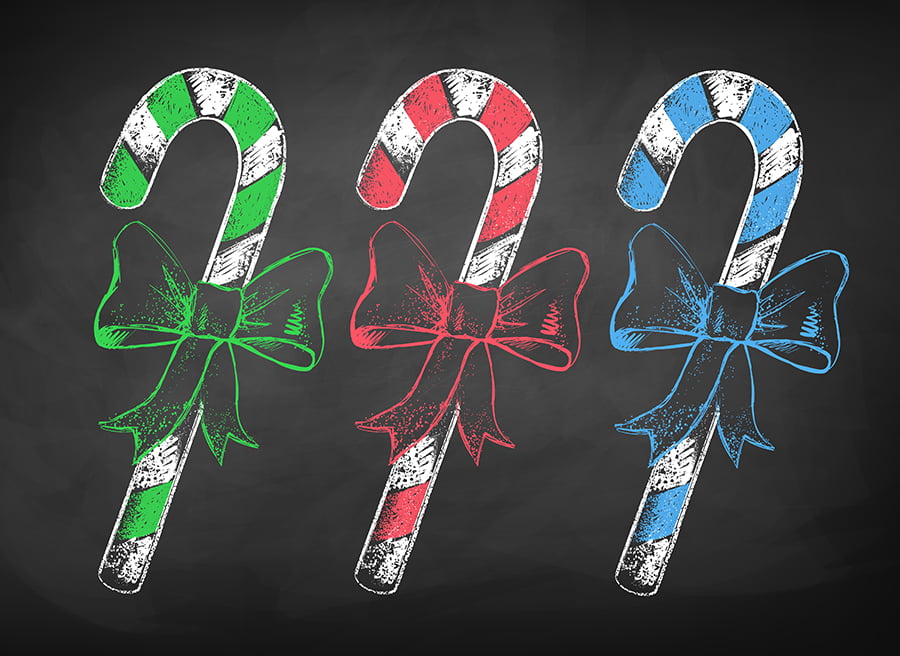 To create this design, start by drawing diagonal lines across the board in alternating red and white colors. Then add curved lines to connect the diagonals, creating candy cane shapes throughout the board.
This pattern is simple yet festive, making it perfect for adding some holiday cheer to any room in your home!
Seasonal Greetings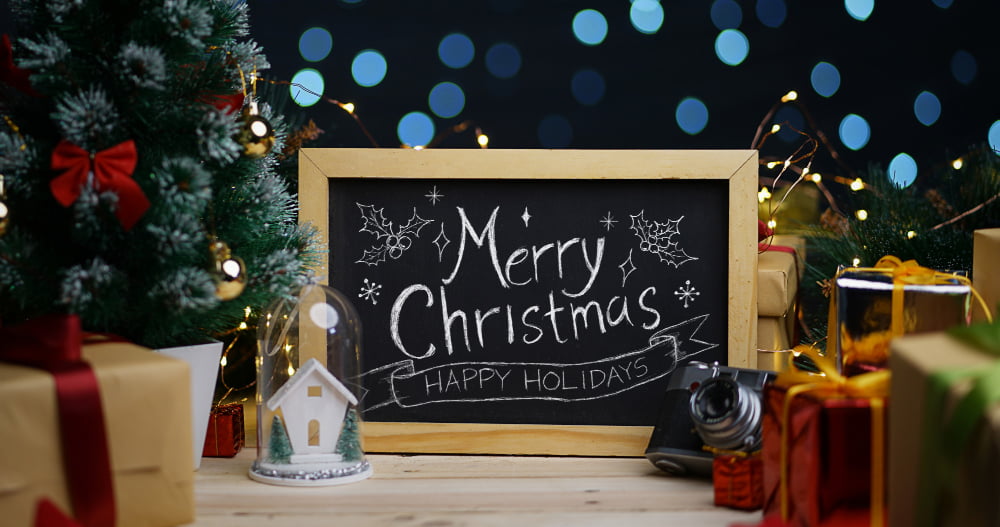 You can write "Merry Christmas" or "Happy Holidays" in beautiful calligraphy, or use stencils for a more uniform look. Another idea is to incorporate different languages into your greeting, such as "Feliz Navidad" (Spanish), "Joyeux Noël" (French), or even "Mele Kalikimaka" (Hawaiian).
Adding seasonal greetings to your chalkboard will instantly make it feel festive and welcoming.
North Pole Signpost
You can draw a simple post with arrows pointing in different directions, each labeled with the name of a different location associated with the holiday season. Some ideas for labels include "Santa's Workshop," "Reindeer Stables," and "Gingerbread House." This design allows you to get creative while also adding an element of playfulness to your decor.
Gingerbread House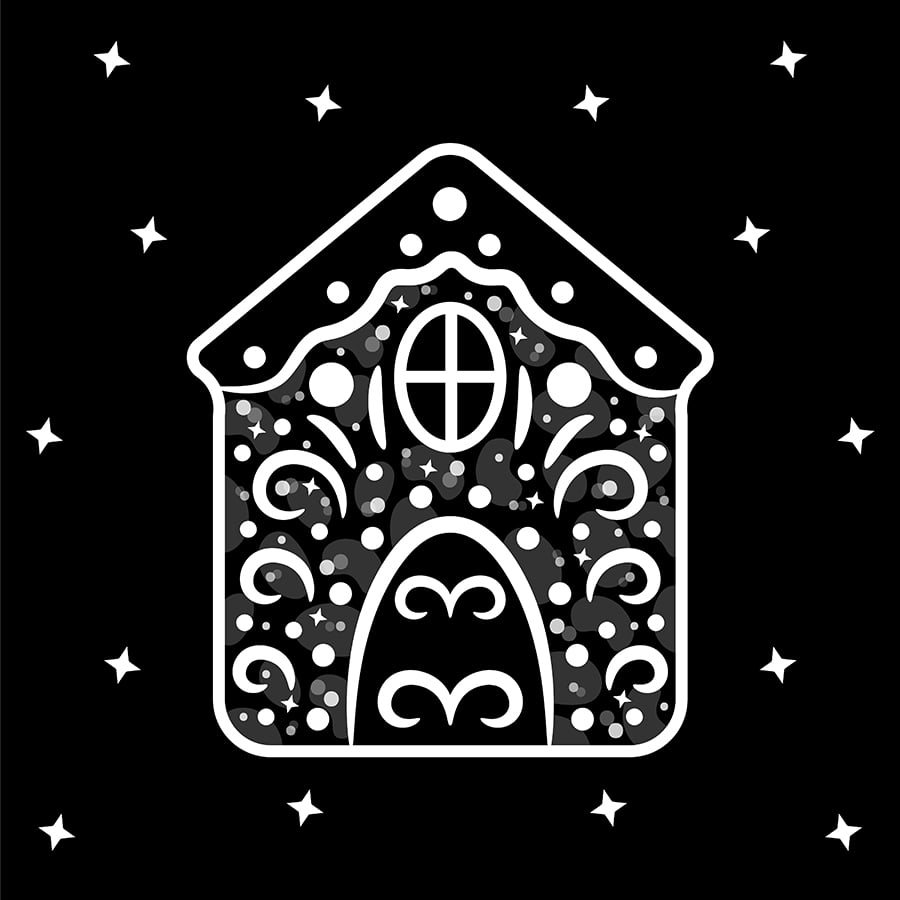 Draw the outline of the house with white chalk and then fill in details like candy cane pillars, gumdrop shingles, and frosting snow. You can also add little gingerbread people or animals to complete the scene.
This is a fun activity for kids to do as well – they can draw their own gingerbread house or decorate one you've already drawn!
Family Photo Outline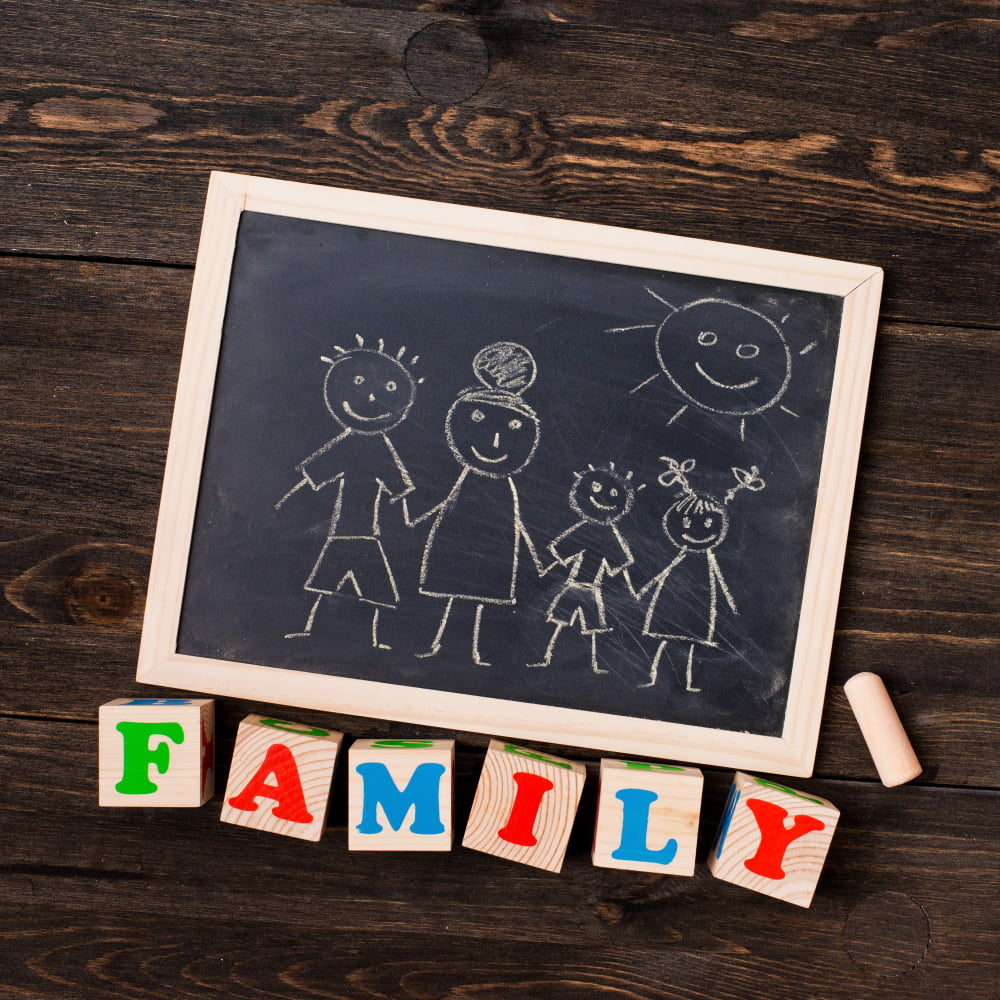 Simply draw an outline of your family members and add their names underneath. You can also include any pets you have in the drawing! This is a fun activity for kids to participate in, as they can help create the outline and decorate it with festive colors or patterns.
It's a unique way to showcase your family during the holiday season, and adds a personal touch to your home decor.
Ornaments and Stockings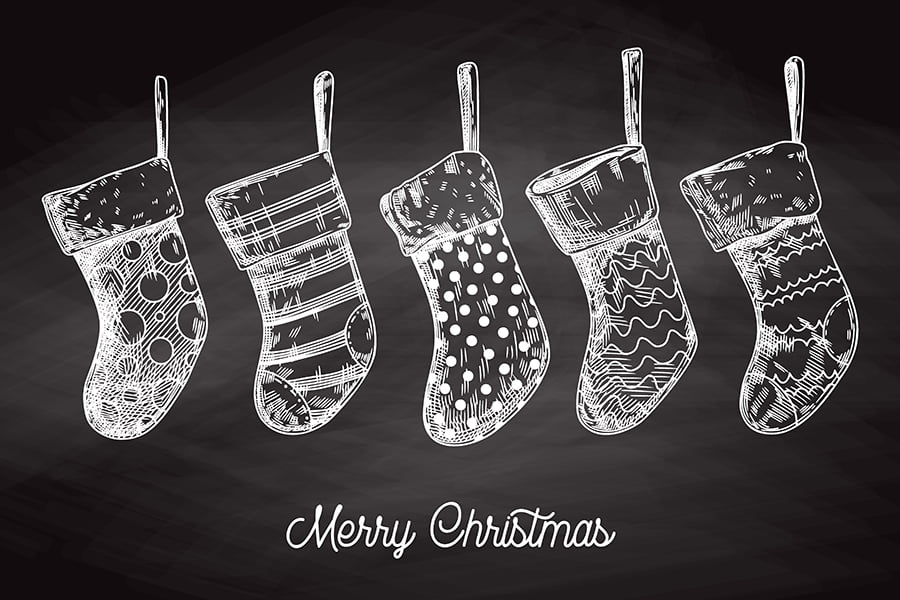 Draw simple outlines of ornaments in various shapes, such as round balls or stars, and add details like stripes or polka dots to make them stand out. You can also draw stockings hanging from a mantel with names written on each one for a personalized touch.
Another idea is to create an interactive design by drawing empty stockings and encouraging family members or guests to fill them in with their own drawings or messages throughout the holiday season.
Liked reading this? Here's more: