Last updated on November 3, 2023
Imbue your home with sacred aura this festive season because this article brims with innovative Ganpati decor ideas tailored for every space and aesthetic.
"I am proud to have authored this article and created these 20 unique Ganpati decor ideas, and I sincerely hope you find as much inspiration and joy in them as I did in making them."
Celebrating Ganpati with style and grace requires a blend of traditional elements and creative ideas. This article is a treasure trove of innovative Ganpati decor ideas that respect the religious significance of the festival, while adding a touch of uniqueness.
From eco-friendly themes to royal-inspired setups, we've got every detail covered. Whether you're looking for minimalistic designs or extravagant decorations, you're in the right place.
Dive in to discover how to make your Ganpati celebration truly memorable.
Floral Archway Entrance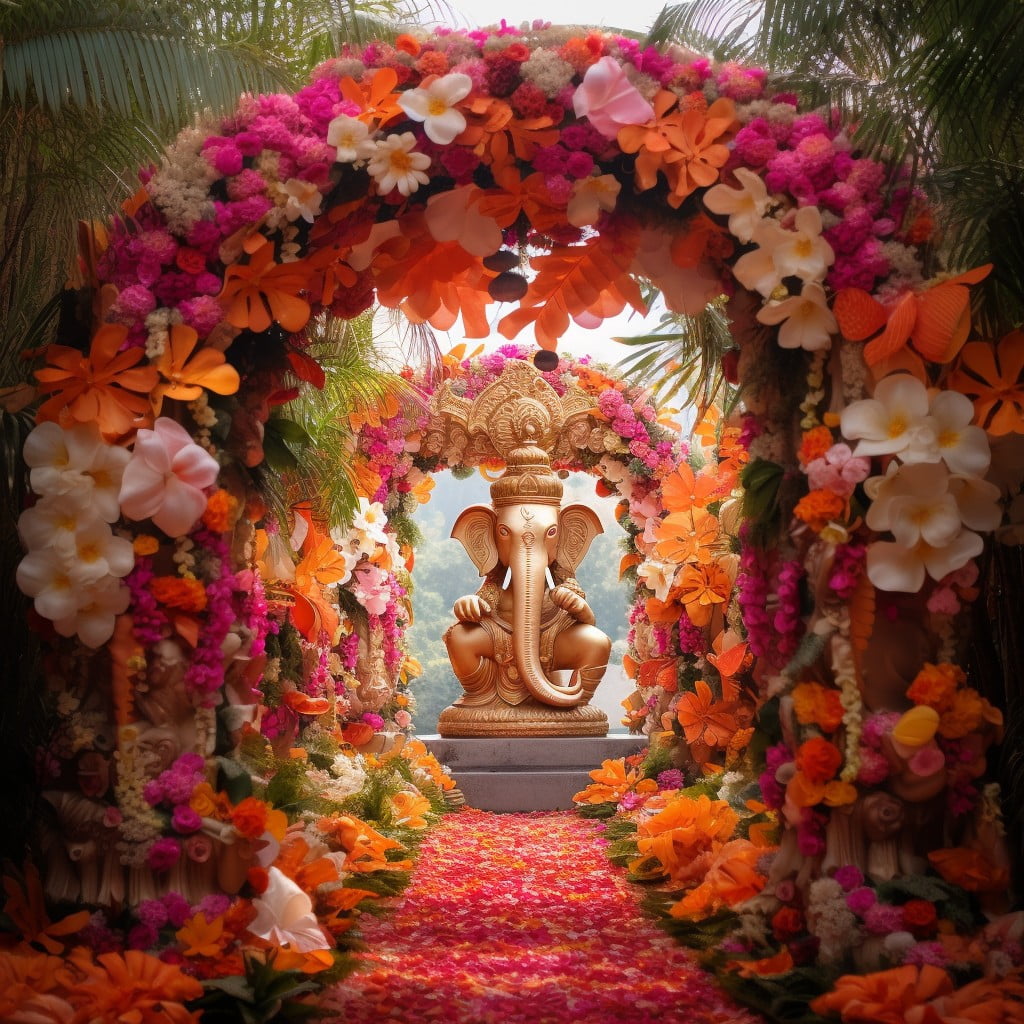 Creating an enchanting welcome, an archway richly adorned with flowers serves as an inviting portal. Marigolds, roses, and jasmine are popular choices considering their traditional significance and aromatic qualities.
Support structures, either ready-made or improvised, can be used to arrange the flowers, ensuring an impressive entrance. To add your personal touch, intertwine strings of pearls or beads.
Remember, it's all about creating an eye-catching burst of colors that sets the festive tone for your Ganpati celebrations.
Remember, more than capturing the essence of elegance, a floral archway functions as a symbol of auspiciousness, warmly inviting Lord Ganesh into your home.
Illuminated Diya Decoration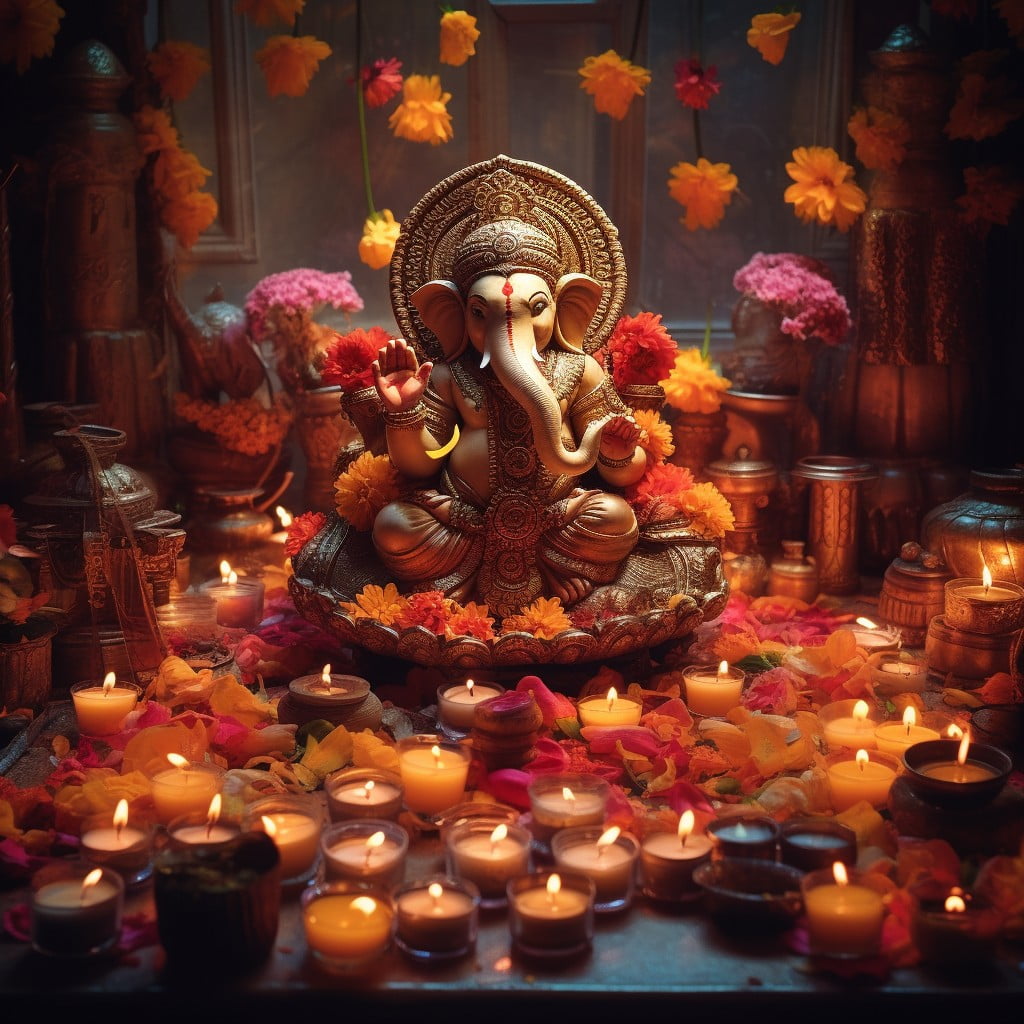 Mastering the art of placing diyas can create a stunning visual spectacle. To start, choose from a variety of diyas – clay, brass, or adorned with intricate designs. Place them on window sills, at entrance doors, corners, around the idol, and even in water-filled urns for a floating effect. Remember, it's all about creating a warm and positive glow.
Spacing is key to ensure safety and maximize effect. Try arranging them in traditional patterns or symbols synonymous with Ganesh Chaturthi. If you prefer an eco-friendly option, consider using oil diyas that are both reusable and easily refillable.
To enhance the ambiance, pair your diyas with scented oils. Not only does this fill your home with a divine fragrance, but certain fragrances like rosemary or lavender can set a soothing environment. For a creative twist, consider color-coordinate the diyas with your overall décor theme.
Peacock Feather Theme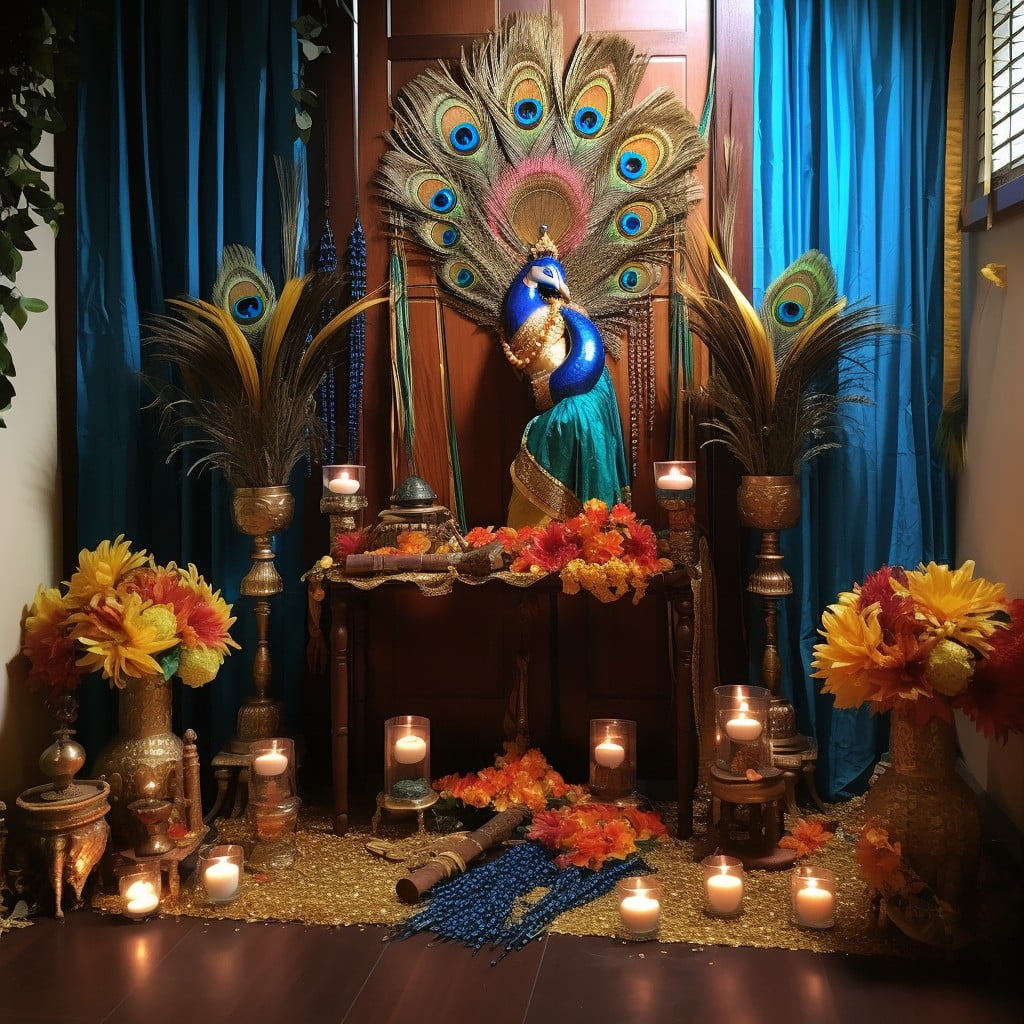 Drawing inspiration from Lord Krishna's affinity for peacock feathers, craft a festive decor that radiates grandeur. Use a rich color palette of shimmering blues, teals, and greens to mimic the vibrant plume, interspersed with sparkles of gold and violet.
1. Wall Design: Consider adorning a backdrop with artificial peacock feathers. This can be an array of feathers fastened in fascinating patterns, or simply a large peacock print for a striking focal point.
2. Centerpiece: A peacock figurine or statue embellished with gloriously jeweled feathers can serve as a captivating veneration space centerpiece.
3. Accents: Incorporate the peacock color scheme subtly through cushions, draperies, or rugs around the veneration space.
4. Candles: Gilded peacock themed candle holders add just the right element of serene ambience.
Above all, blend tradition and creativity while keeping eco-friendliness in mind, ensuring this stunning bird will be around to inspire generations to come.
Draped Silk Fabrics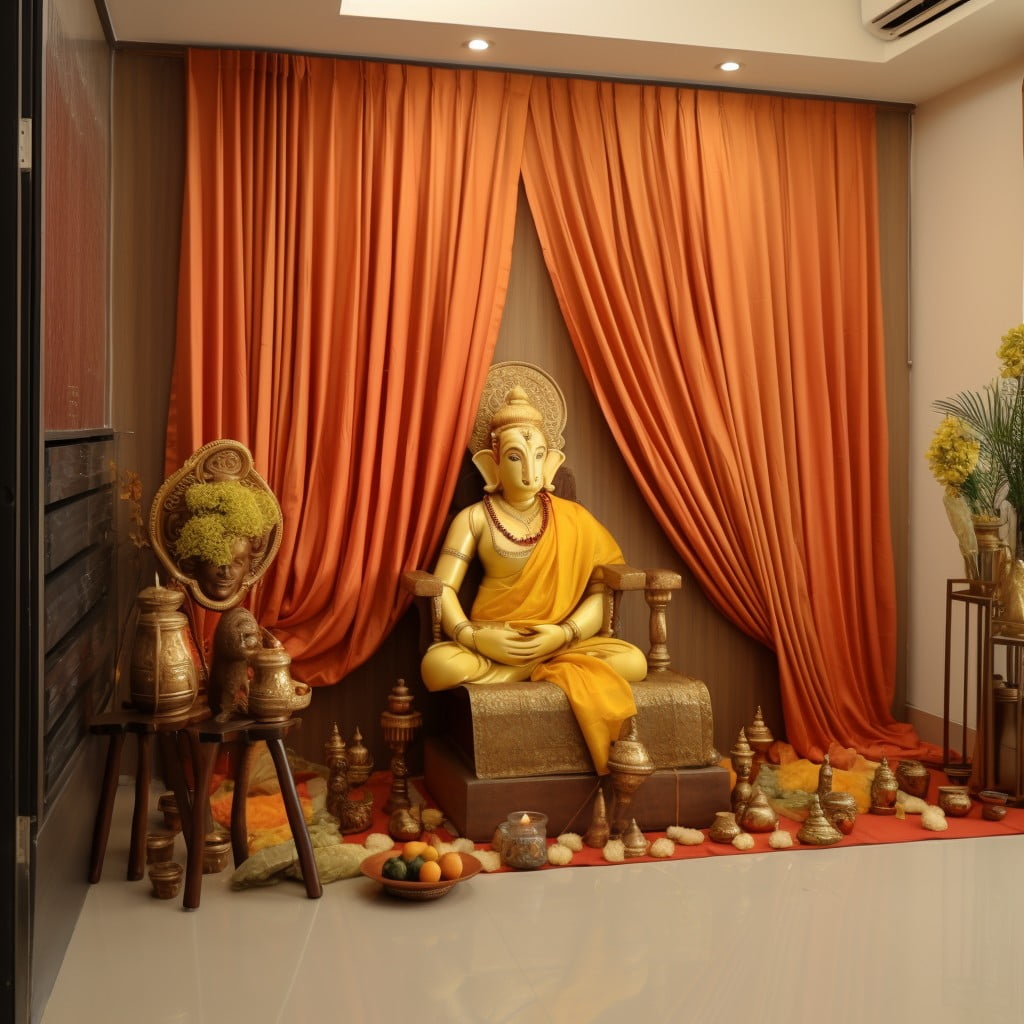 Silk, renowned for its rich and elegant texture, is a wonderful choice for Ganpati decor. Draped delicately on the mantap or idol's pedestal, it can add an element of opulence to your setup. Vivid hues such as royal blue, deep red, or bright orange are fantastic options.
Here are some tips to use silk drapes creatively:
Achieve depth and visual interest by layering silk fabrics of varying shades.
To accentuate the glossy sheen of silk, employ warm lighting.
Using golden or silver gota borders can add a festive touch to your drapes.
Pairing silk with intricate lace or ornate embroidery creates an eclectic mix.
To keep the arrangement neat, use decorative tie-backs or brooches.
Remember, the intention is to enhance the festive aura without overwhelming the idol. Proper balance and harmony are key!
Traditional Rangoli Designs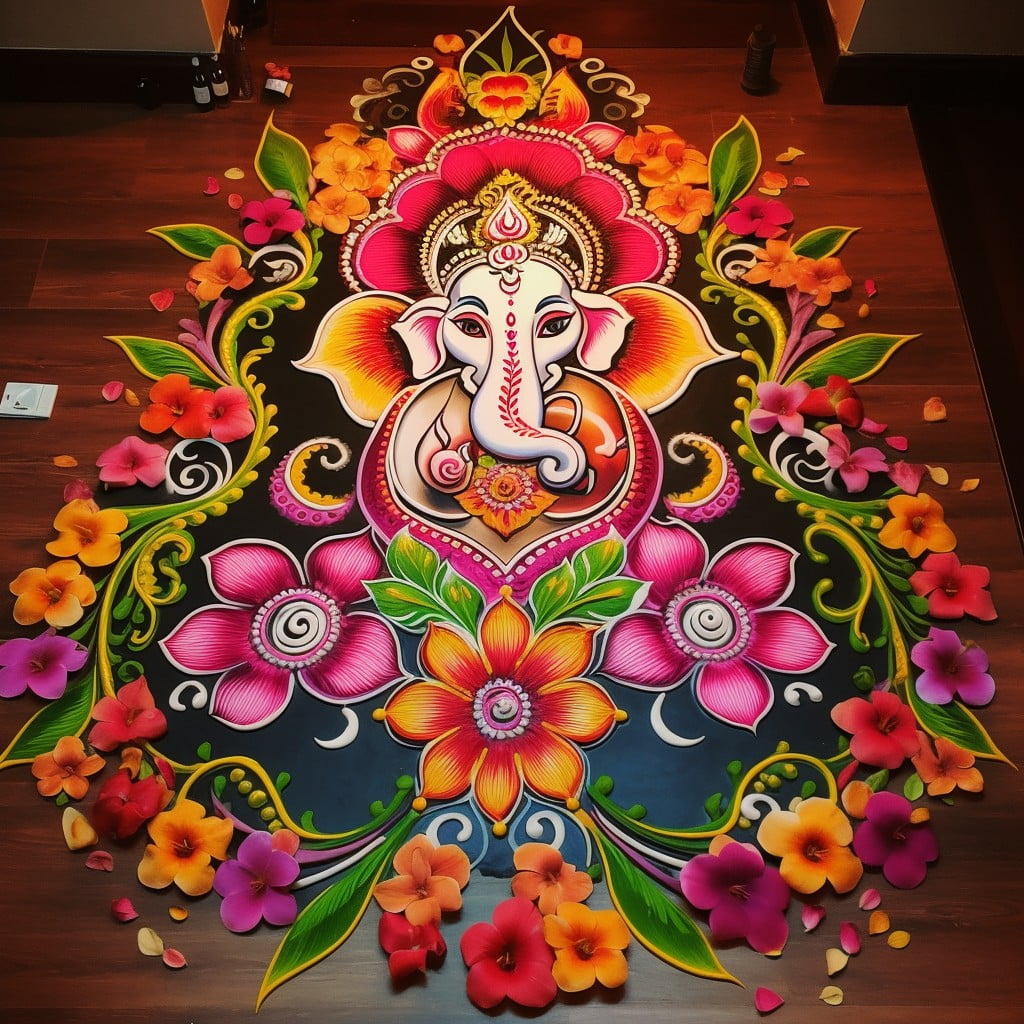 Creating vibrant patterns on the floor with colors is an age-old Indian practice, symbolic of welcoming and celebrating life. These patterns, generally crafted with finely ground white stone powder or rice flour, are types of Rangolis, making for a beautiful start to any festive decor.
Here are few aspects to focus on:
Color: From vivid reds to sunny yellows, use the full color spectrum to depict the joy of the festival.
Symmetry: Traditionally, Rangoli designs are symmetrical, symbolizing balance and harmony.
Icons: Incorporate icons sacred to Lord Ganesha, like Aum, Swastika, or images of the deity himself.
Placement: Place your masterpiece at the entrance or center of the room, drawing immediate attention and setting the festive mood.
Creativity: Add a personal touch. In addition to colored powders, use flowers, crystals, or even candles for added depth and texture.
Remember, the goal is to invite beauty, prosperity, and the divine; infusing the event with a positive aura.
Eco-friendly Decor Using Plants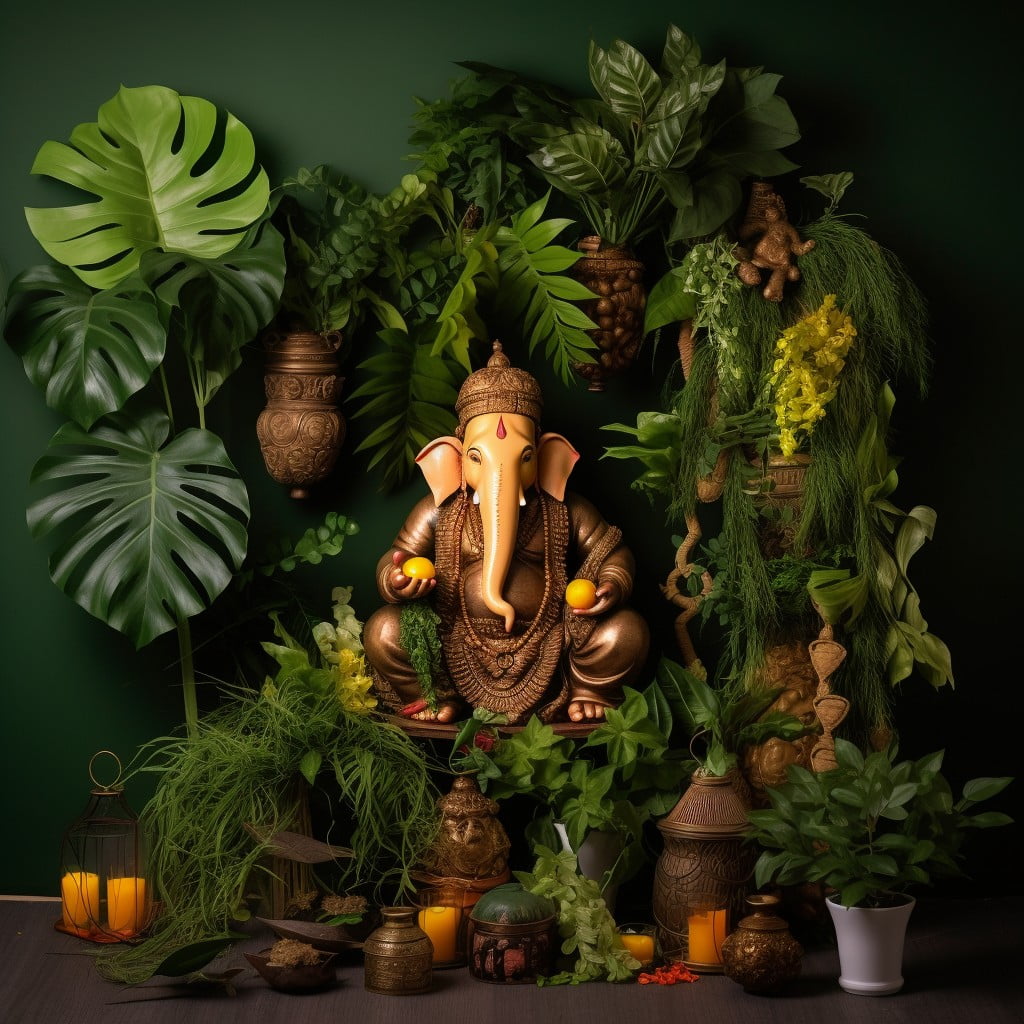 Incorporating plants into the decor showcases a sense of duty towards preserving nature while creating a calming ambiance. Various plants like Tulsi, money plant, or bamboo can be used as they are often associated with good fortune and spiritual importance.
Arranging different sized pots at the corner of the decoration stage can create an alluring green space. Alternatively, small potted plants can be lined up along the edges of the platform where the idol is to be placed.
Different types of creepers could be elegantly hung around the Ganpati setting to create a splendid visual effect. You can also explore innovative setups like vertical gardens that can act as a backdrop for the idol.
An intriguing twist could be using fruit-bearing plants like pomegranate or coconut tree saplings. The fruits emerging from these plants would not only add color but symbolize prosperity.
Be sure to use plants that can thrive indoors, and don't forget to water them regularly to maintain their freshness throughout the festival.
Handmade Paper Lanterns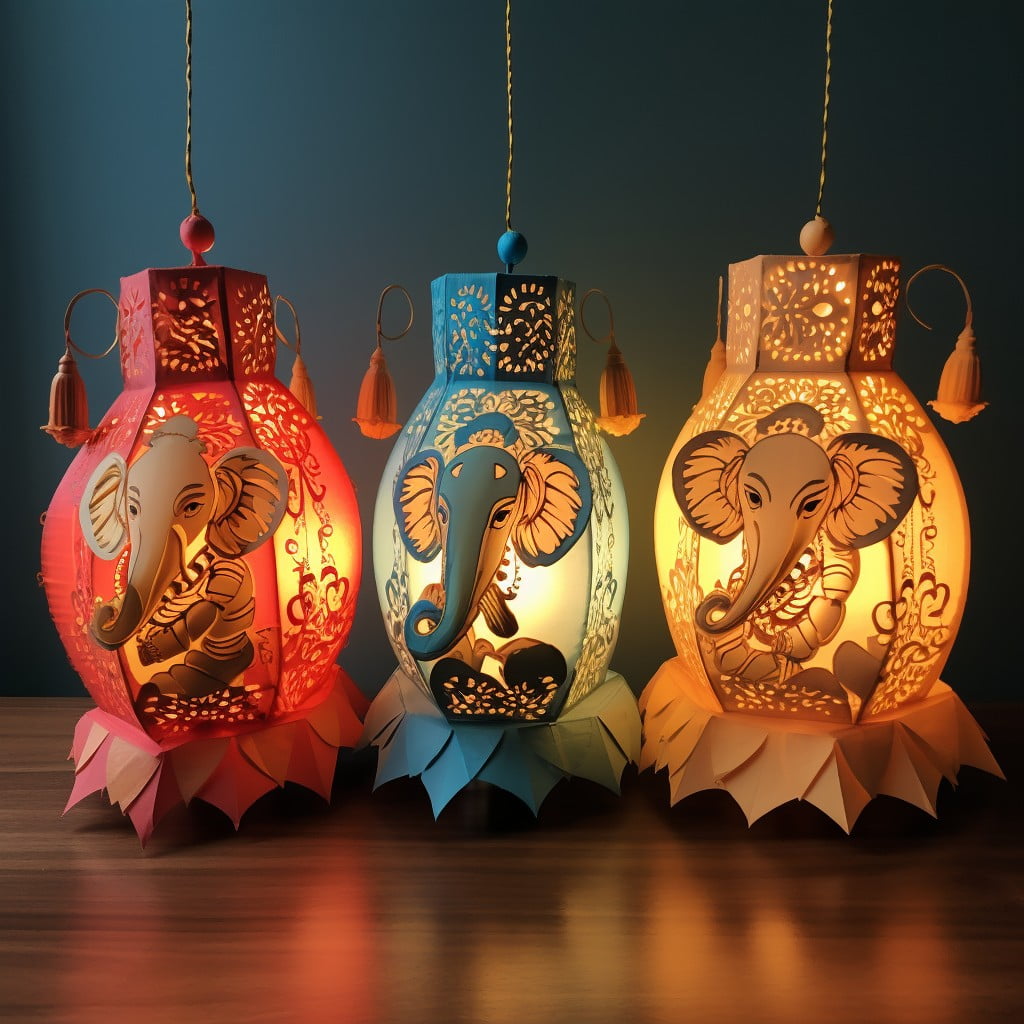 Crafting your own paper lanterns adds a heartwarming personal touch to the festivities. Choose from various shades of colorful papers or use printed ones to add more visual appeal.
Practically, these lanterns serve to bring warm, ambient lighting around the place, creating an inviting atmosphere.
Start with simple shapes like spheres or cubes and gradually try complex models if you're comfortable. To increase safety, replace the traditional candles with LED tea lights. Not only are they safer, but they also last longer, ensuring a constant, unwavering glow throughout the celebrations.
Don't hesitate to embellish these lanterns with ribbons, sequins, glitter, or even small bells for an added festive touch. Moreover, hang them strategically at different heights across the room or along the entrance pathway for a charming visual display. Just remember to ensure they are securely attached to prevent any accidents.
Experimenting with sizes and patterns can also lead to a dynamic and visually appealing display. From star-shaped lanterns for a whimsical touch to cube ones with intricate cut-outs for a modern and sophisticated look, the possibilities are endless. With patience and creativity, handmade paper lanterns can turn into glowing testimonials of one's artistic skills.
Gold and Red Velvet Decor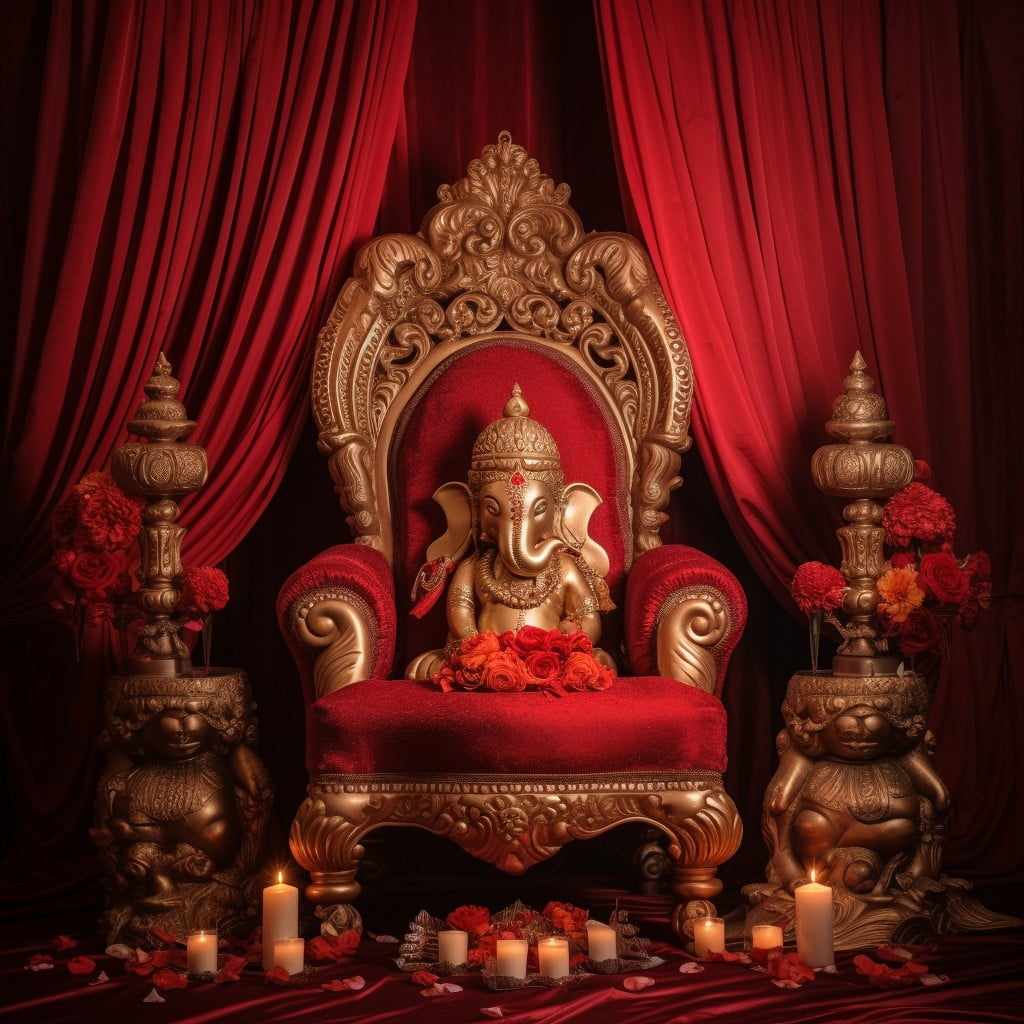 Incorporating these bold, regal hues can instantly uplift the aesthetic of any space.
Luxurious red velvet drapes, set against a backdrop of shiny gold surfaces, create a visual feast that is both captivating and inviting.
Start by selecting a high-quality velvet textile. Choose curtains, cushion covers or throws in a rich, ruby red.
Gold accents can be introduced through secondary elements such as picture frames, corner tables, or decorative trays.
You might also consider gold-toned fabrics juxtaposed against the red velvet for added depth and drama.
Coordinate all the accessories in such a way that it exudes the warmth of the golden glow.
Experimenting with different textures and golden sheens can also contribute a more sophisticated feel.
Lastly, remember to strike a balance – while these colors are undeniably eye-catching, overdoing it can lead to a visually cluttered space.
Antique Brass Accessories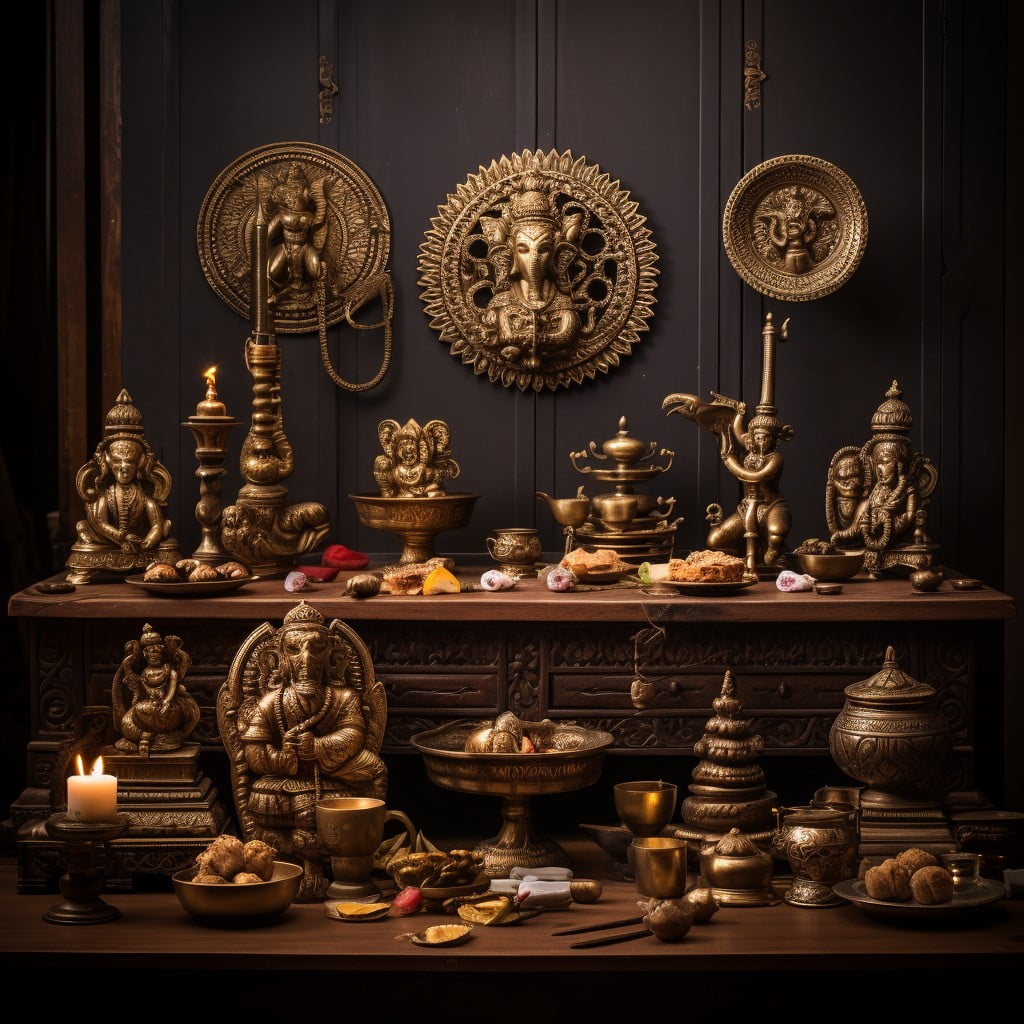 Peeking into the past can provide some truly unique decor elements for your Ganpati festivities. Antique brass provides a rustic charm and traditional appeal that is simply unmatched by modern furnishings. Look for brass diyas, incense holders, vases, or even temple bells as these items have significant cultural and festive symbolism.
Pair up larger items like brass urns or statues with smaller accessories for a layered look. Consider polishing them for a golden glow or let the natural patina add a historical essence to the environment. Brass can also be beautifully combined with flowers, vibrant colored fabrics, or other metals.
Keep an eye on flea markets, thrift stores, or online marketplaces for best deals on these timeless artifacts. Care for these precious pieces correctly, and these can become heirlooms, to be cherished at every celebration.
Remember, there's a thin line between tasteful and cluttered, so strive for a balanced, harmonious arrangement. Antique brass accessories can really elevate your Ganpati decor, making it a festival to remember.
Marigold Flower Garlands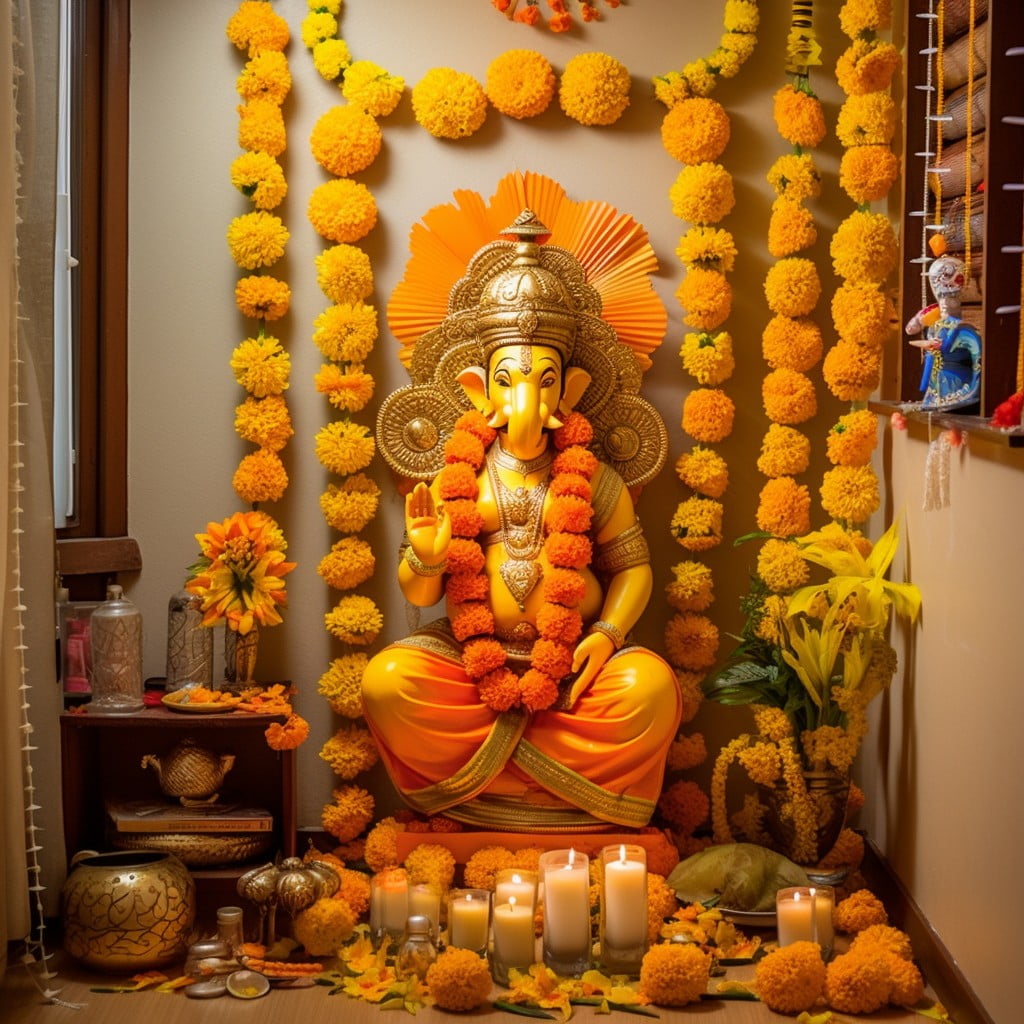 Marigolds, with their bright and rich colors, have been a consistent symbol in Indian festivities. Particularly well-suited for ganpati decor, these garlands can transform the ambiance of any room instantly.
1. Brightness and Vibrance: The saturated hues of marigolds are a visual treat, infusing an area with energy and liveliness.
2. Symbolism: Marigolds symbolize positivity and happiness – a fitting sentiment for the ten-day festivities.
3. Versatility: These garlands can adorn wall hangings, frames, pillars, or even the idol of Lord Ganesha itself.
4. Easy Arrangement: They are pliant and can be twisted and looped around objects, offering various options for creative decoration.
5. Pairing Possibilities: Combined with mango leaves or interspersed with other flowers, marigolds add a traditional charm to the decor.
Dim lights highlighting the marigold garlands can make your Ganpati decor truly stand out with its high contrast vibrance and beauty.
Decorative Clay Pot Arrangement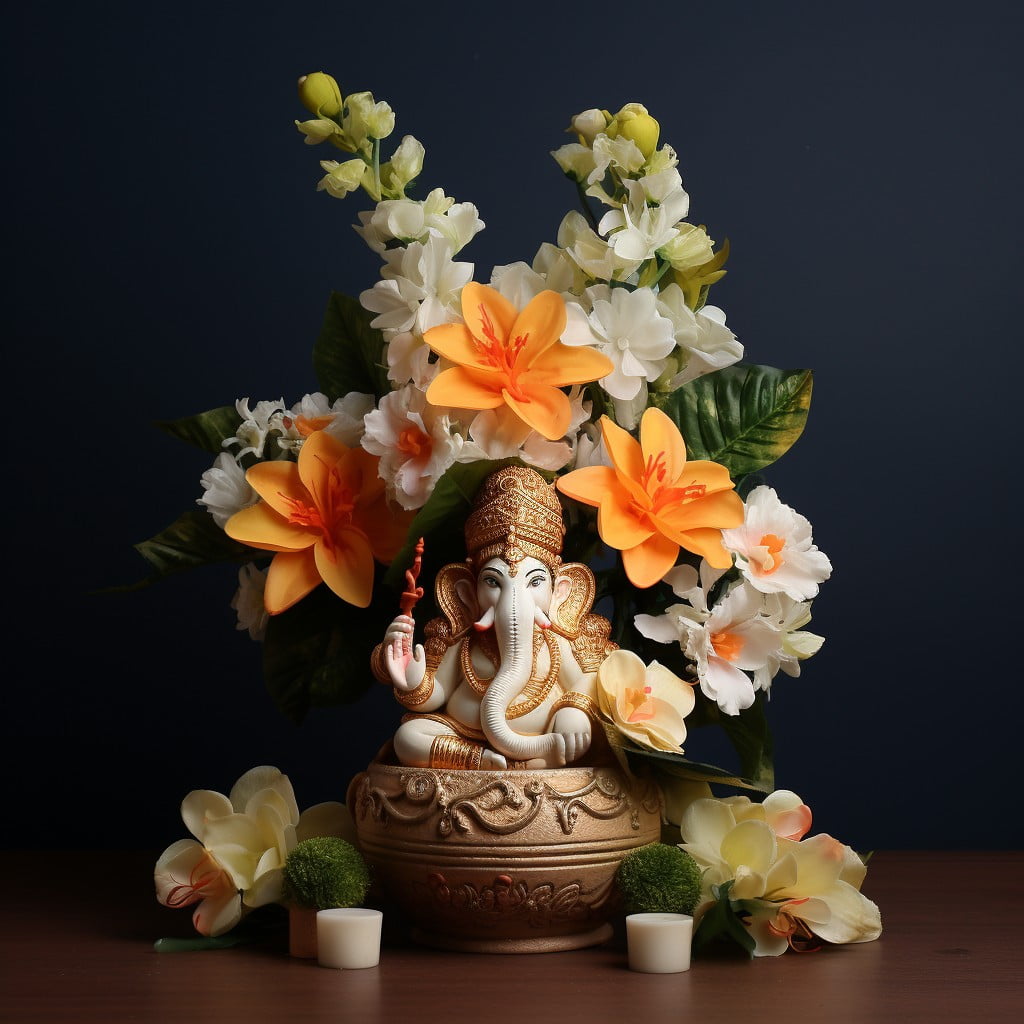 Engaging with the quintessential terra cotta pots can lead to captivating decorative arrangements for Ganpati celebrations.
1. Painting: Use acrylics to design intricate patterns or even simple motifs. A gradient of hues or bold contrasts can be quite eye-catching.
2. Layering: Stacking smaller pots on top of larger ones can add uniqueness to your display. Adorn the rims with vibrant ribbons or lace trimmings for an extra touch.
3. Hanging: Suspend pots from above to create intriguing visual interest. Whether with thread, wire or jute ropes, they can make impactful décor elements.
4. Filled Pots: Use to house small plants, flowers, or even tealight candles. The resultant fusion of tradition and nature can be quite a spectacle.
Remember, although clay pots have an inherent rustic charm, a little creativity can transform them into stunning décor elements for your Ganpati festivities.
Coconut Shell Crafts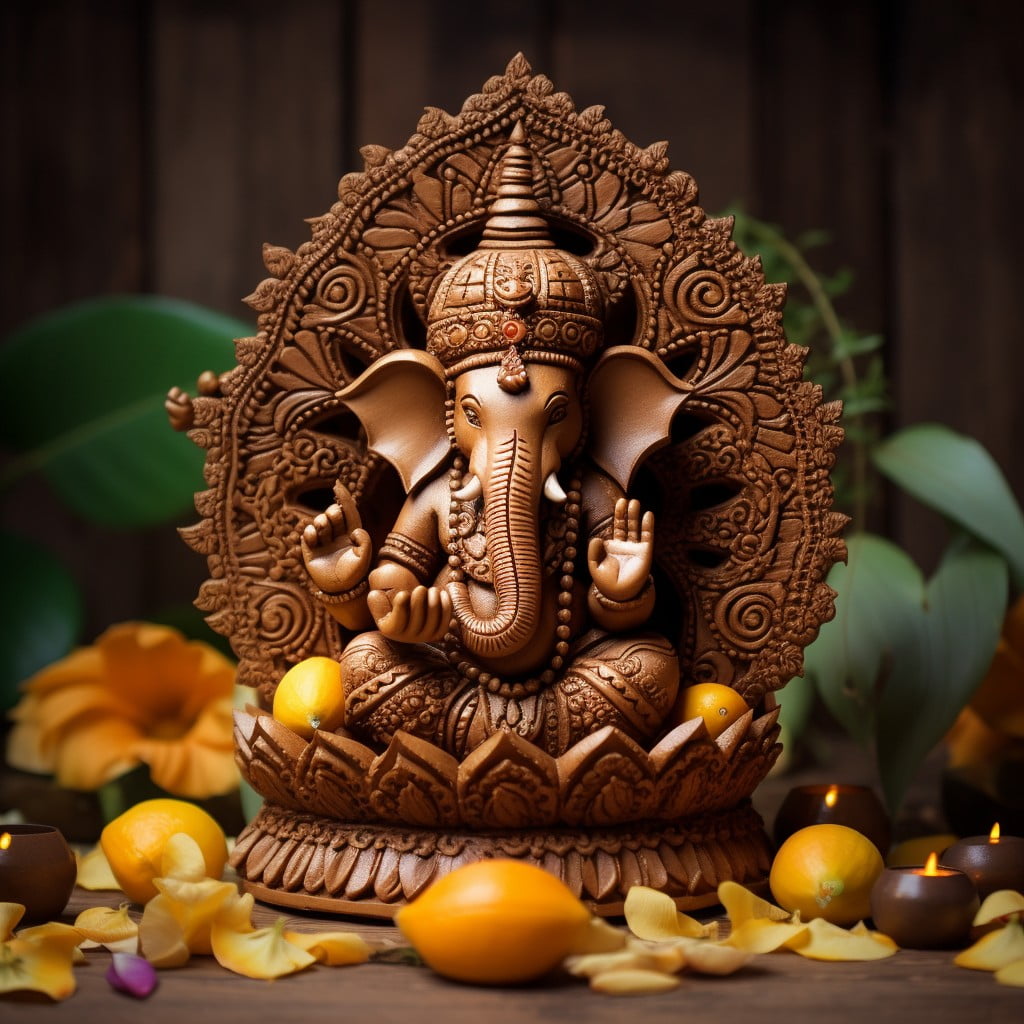 Coconut shell crafts, a unique and eco-friendly option, offer an ideal blend of nature and aesthetics. Create suspensions using halved shells and patterned twine, which can gently sway and twirl as wind chimes. Another possibility is designing artistic bowls for fruits or sweets after polishing and varnishing the cut halves. They offer a rustic yet refined appeal.
Some choose to etch, burn, or paint designs onto the shells, creating symbolic motifs or traditional patterns. In the context of Ganpati decor, these can include spiritual symbols associated with Lord Ganesha.
Maintaining the authenticity of the Indian culture with this form of decor is a brilliant choice. Using coconut shell crafts adds a traditional touch to the festive ambiance while making a statement about your commitment to environment-friendly practices.
Mix coconut shell crafts with other creative elements like brass or terracotta, to transform the Ganpati Mandap into a visual delight. Play around with different ideas depending upon your preference and the area of decor.
Lattice-work Backdrop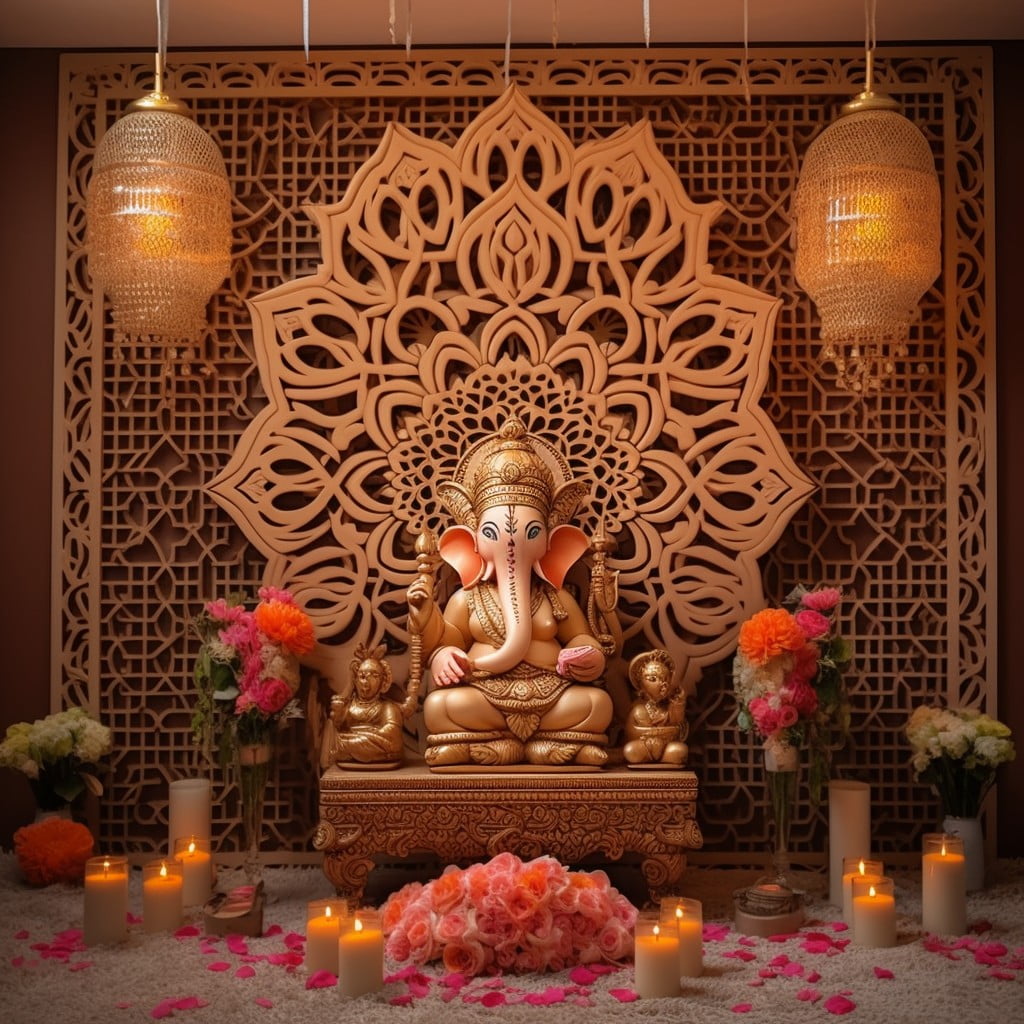 A backdrop of lattice-work can bring a fascinating charm, adding an element of architectural depth to the space. This classic technique, featuring an ornamental criss-cross pattern, can ingenely reflect the essence of the festival.
Here's how to incorporate it:
Select a high-quality wooden or PVC lattice that complements your overall decor theme. Remember, it's often the backdrop that binds the entire space together!
Depending on the size of your Ganpati idol, choose your lattice-work size. It could either span the entire wall or can be confined to a smaller area immediately behind the idol.
Decorate it! Weave in string lights or intertwine marigold strings through the lattice-work pattern for extra allure. Even small bells or pom-pom garlands can add a playful touch.
Incorporate the lattice-work into other parts of decor for a well-rounded look. This could be on tablecloths, cushion covers, or matchstick blinds.
Lastly, don't shy away from occasional foliage. Creeper vines or ivy can add a touch of freshness to the arrangement. Try weaving them through the lattice, creating a natural, earthy look.
Ethnic Torans and Wall Hangings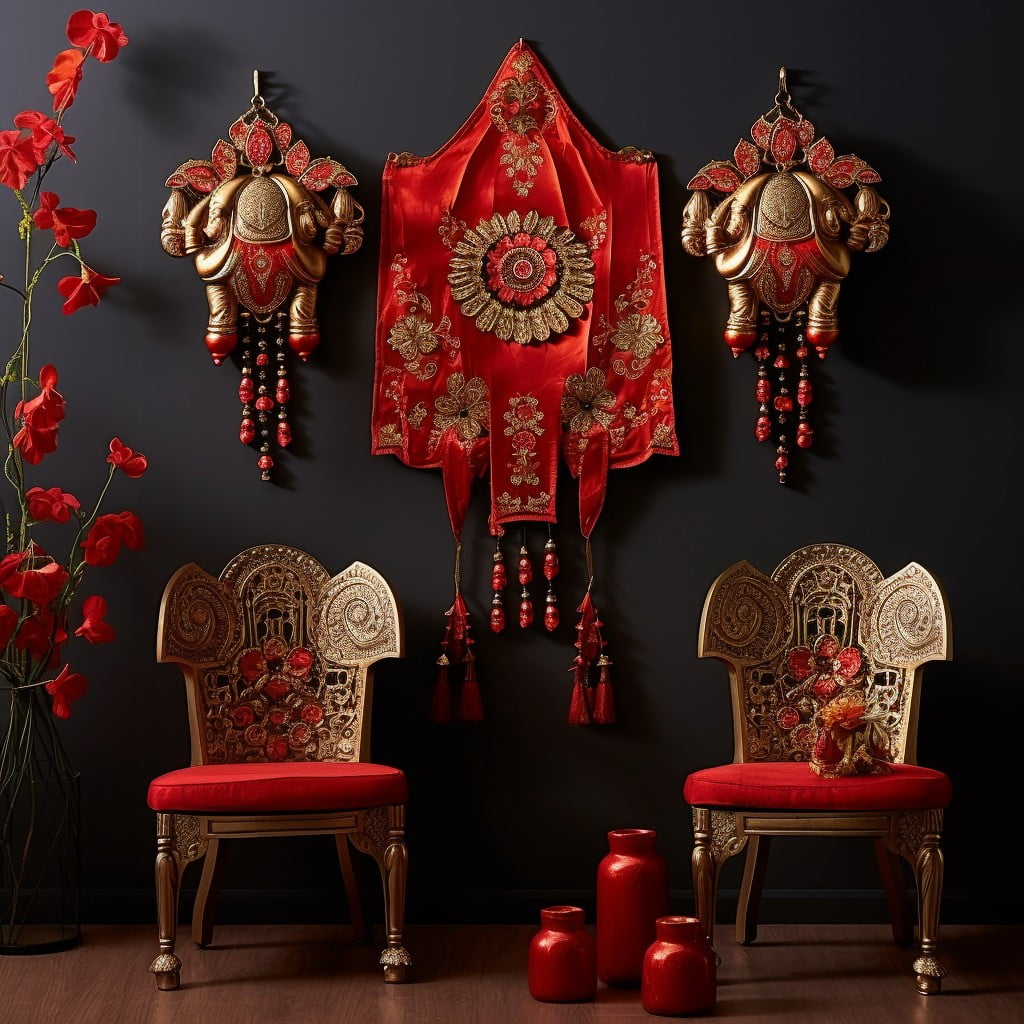 Garnering inspiration from traditional Indian homes, the inclusion of Torans and wall hangings can significantly enhance a space's visual appeal. A Toran, a decorative door hanging, is usually embellished with motifs of auspicious symbols, intricate beadwork, and shiny sequins that catch the eye. They are often crafted from colorful threads, silk, or even jute for an earthy feel.
On the other hand, wall hangings can be an eclectic mix of embroidered cloth patches, metal charms, or painted clay figurines that depict scenes from mythology related to Lord Ganesha. Position them strategically on focal walls or around the pooja area to create a festive ambiance.
Material selection is critical and can include silk thread, pompoms, mirrors, or brass bells for an additional charm. DIY enthusiasts might enjoy creating their custom designs, a fun and engaging project that can also involve family members.
Remember, these decor elements not only beautify the space but are also believed to ward off evil and bring prosperity and good luck. So, it's an excellent idea to incorporate them into your Ganpati celebration.
Ornate Mirror Decorations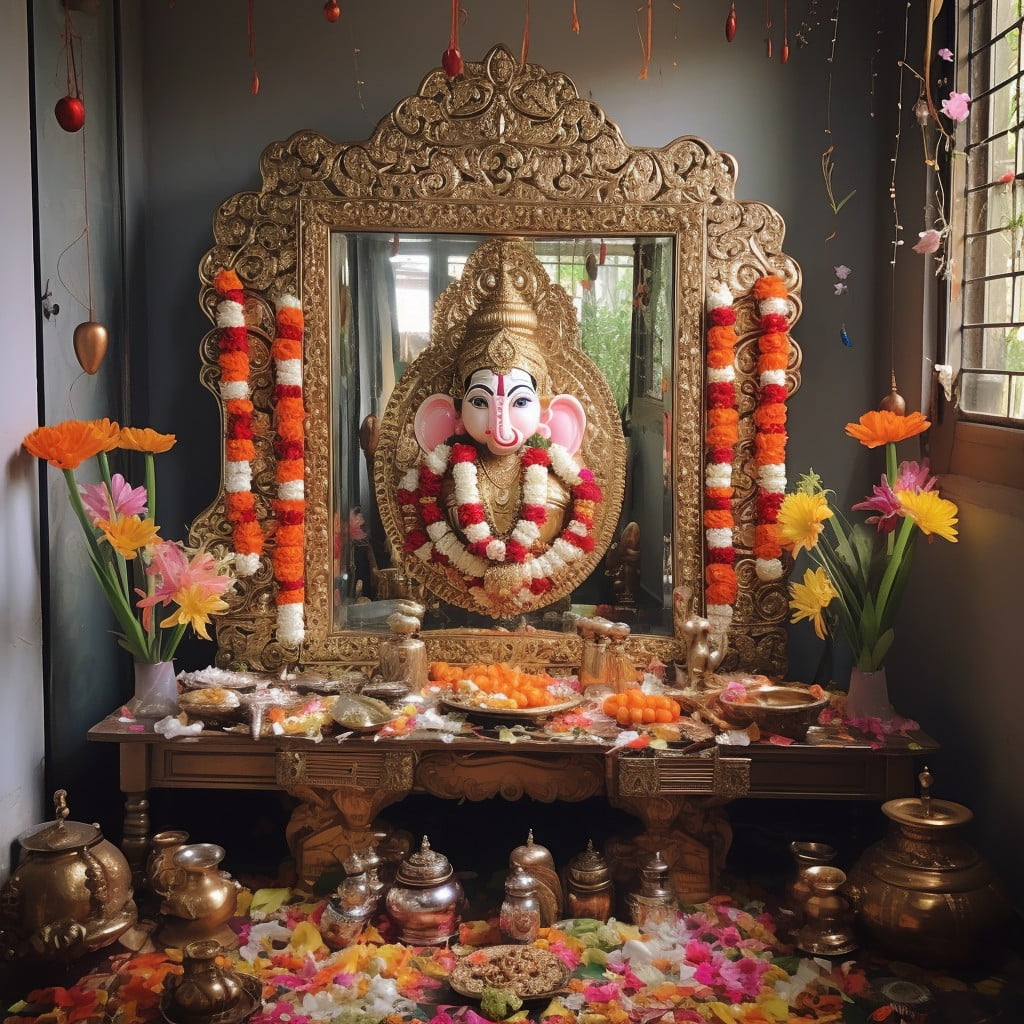 Ornate mirror decorations can amaze with their power to beautify and amplify. These vintage-style embellishments are increasingly popular due to their intricate designs and reflective brilliance.
Here's how to incorporate them into your Ganpati decor:
1. Wall Decor: Position several small mirrors across a prominent wall to reflect the lights and colors of the decoration. Mix shapes and sizes for added interest.
2. Altar Design: Use a large, statement-making mirror as a backdrop for the Ganpati idol. It not only magnifies the deity but also adds depth to your decoration.
3. Table Settings: Embed tiny mirrors on table mats or runners. The reflection from diyas or candles will evoke a magical shimmering effect.
4. Door Hangings: Framing your door with a mirror-studded toran will intrigue guests even before they enter your home.
Remember to handle mirrors with care and keep them out of reach of children. Small touches involving mirrors can simply transform the vibrancy of any decor.
Sea Shell Artwork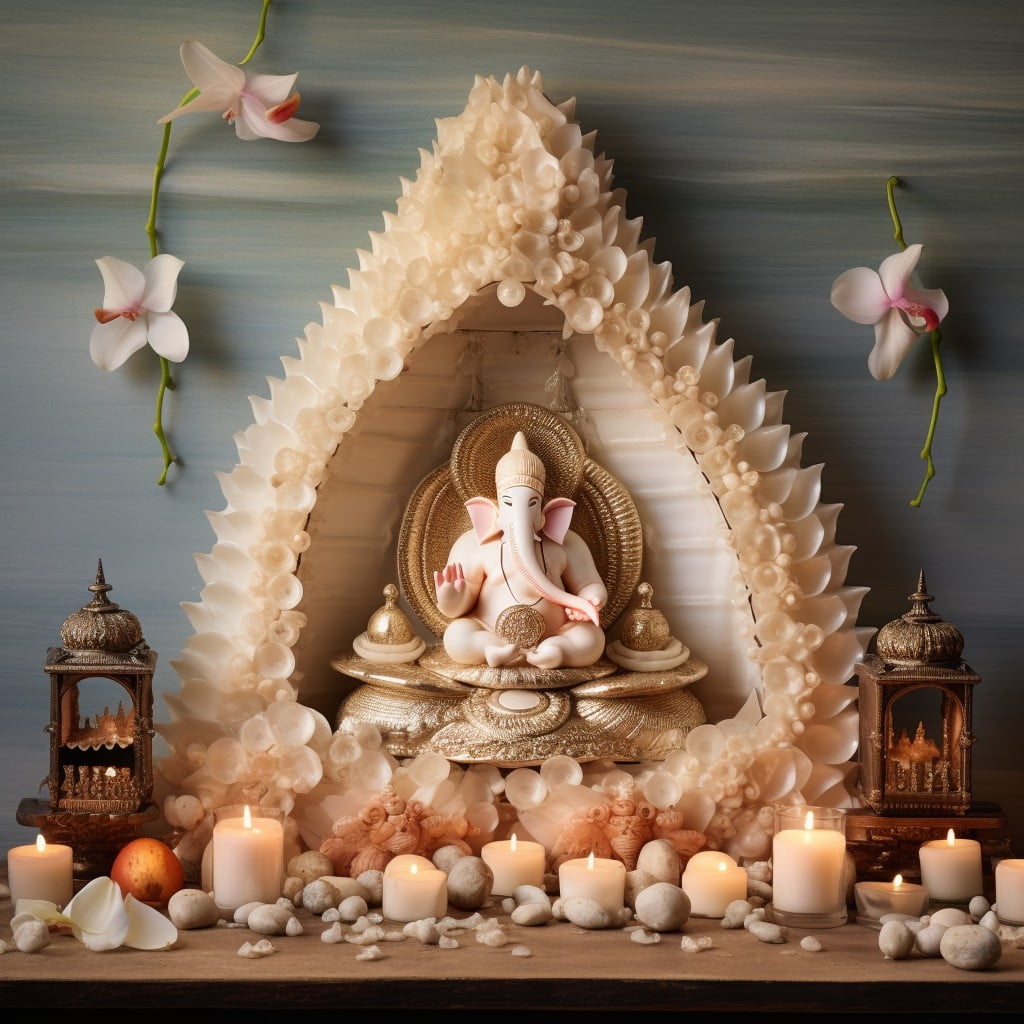 Using shells collected from beach trips can add a touch of coastal charm to your Ganpati decor. Here are a few creative ways to incorporate them:
1. As a centerpiece: Display a collection of diverse shells in a clear glass bowl or vase to draw the eye.
2. Shell Garland: Thread shells onto sturdy string to create a unique garland that can be strung around the idol or across the room.
3. Table Scatter: Sprinkle smaller shells on the table to bring a sense of the seaside to your space.
4. Shell Lanterns: Attach shells to the outside of a jar. Place a candle inside to create a warm, nautical glow.
5. Framed Shell Art: Arrange shells behind a glass frame to create a stunning artwork that can be hung behind the idol as a backdrop.
Remember, it's all about celebrating the natural beauty of the shells, so avoid overcomplicating your designs.
Decorative Rice Light Strings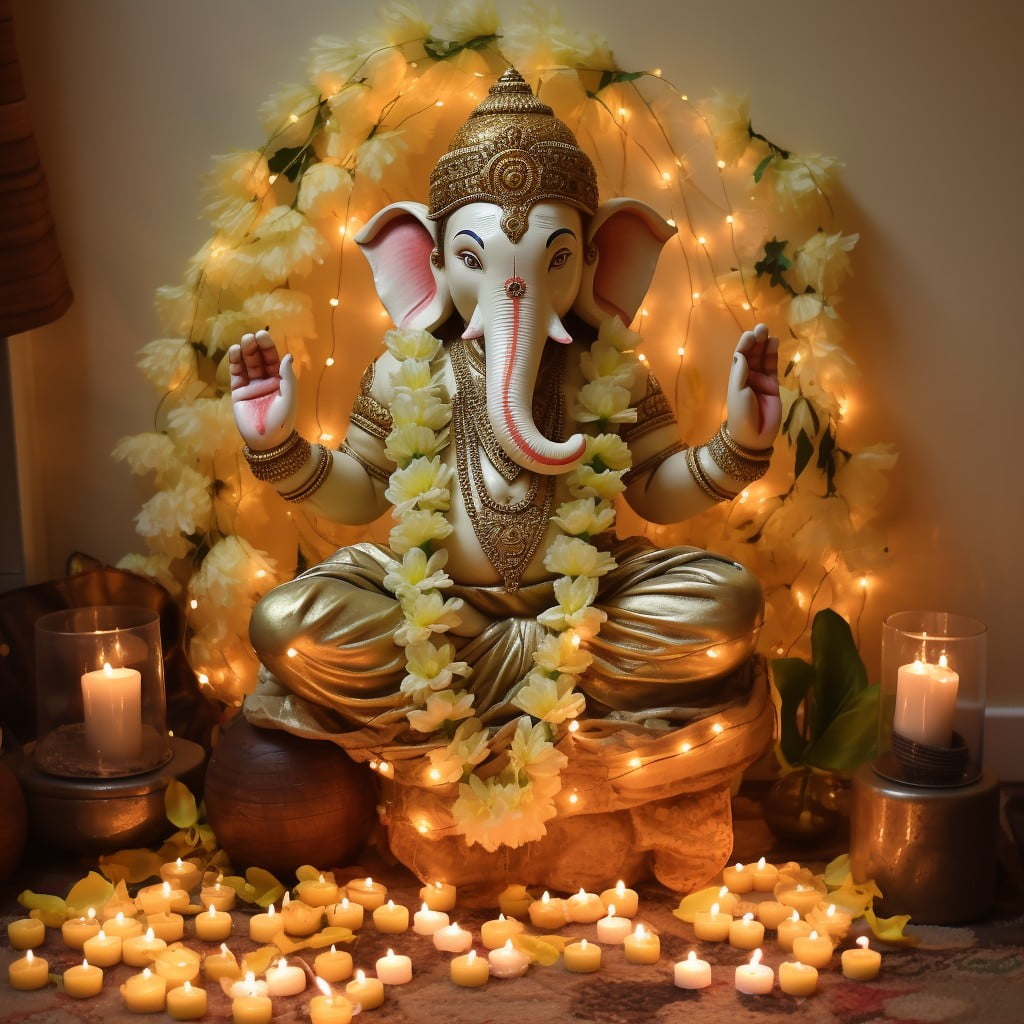 Rice light strings are a classic choice that breathes life into the overall aesthetic. They lend a soft, warm glow that subtly illuminates the idol, creating an atmosphere of serenity and divine presence.
Here are a few things to consider:
Choosing the Right Color: Warm white is a common favorite as it replicates the comforting glow of real candles. Multi-colored strings also make a vibrant choice and can complement a wide variety of themes.
Strategic Placement: Hang them around the idol, drape them along the wall or run them along the edge of the table. Experiment with different setups until you find what looks best.
Mixing and Matching: Combine rice lights with other decorative elements. For instance, pair them with diyas to enhance the spiritual glow around the Ganpati Idol.
Safety Precautions: Make sure the plug of the lights is kept away from water or any other liquid. Use quality lights that meet safety standards to avoid exposure to hazardous conditions.
Lotus Theme Decor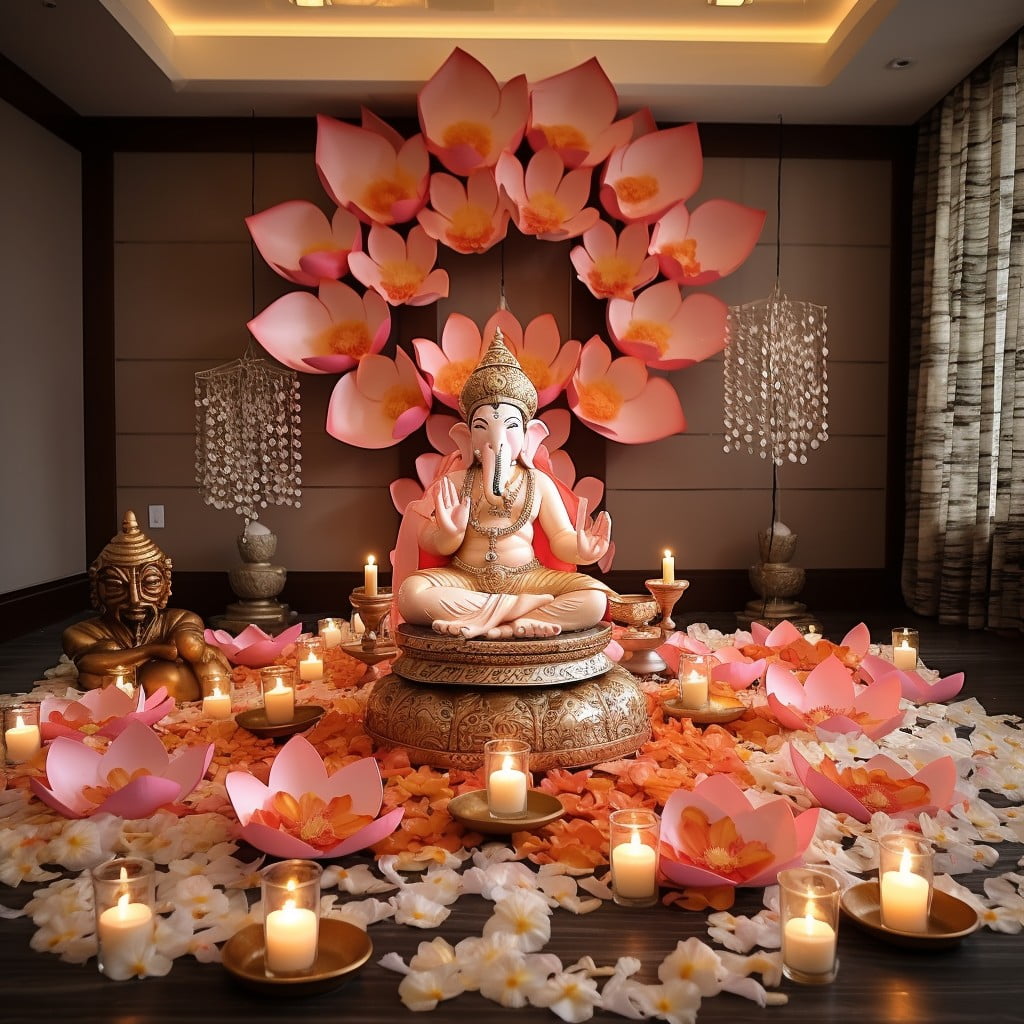 To create an unforgettable divine vibe, turn to the national flower of India, the Lotus, often associated with deities and spirituality.
1. Table Centerpieces: You can effortlessly put together a compelling centerpiece with vibrant, floating lotus blooms in brass urns filled with water. Use both open blooms and buds for a dynamic effect.
2. Wall Hangings: Lotus-shaped candles or artificial lotus flowers can make a great addition to your Ganpati backdrop. They beautify the space without overpowering the primary deity.
3. Rangoli Patterns: Integrate the lotus motif into your rangoli designs. Colored flour, flower petals or colored rice can be used to make these patterns around the Puja room.
4. Lotus Pedestal: Consider placing the Ganpati idol on a pedestal that resembles a lotus. Not only does it look arresting, but it also symbolizes purity and spiritual awakening.
Remember, subtlety is key. Do not overwhelm the space with excessive lotus elements. Balance them with other complementary décor elements for a harmonious look.
Beaded Curtain Decorations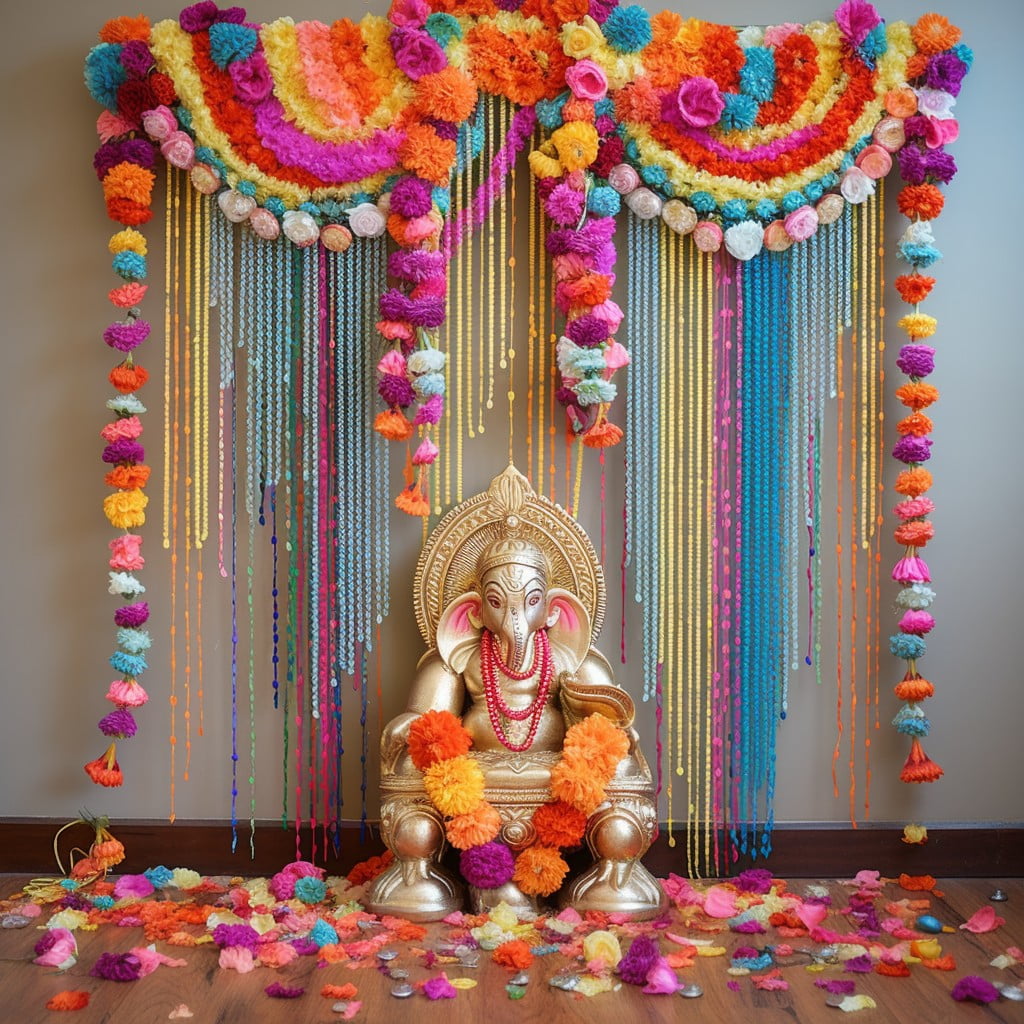 A captivating choice to enliven your Ganpati festivity space, beaded curtains not only add an artistic touch but also serve a functional purpose. Ideal for doorways, windows, or as room dividers, they create an enchanting play of light and color, adding depth to your overall decor.
Consider these points when integrating beaded curtains into your decor scheme:
Material Choices: From shimmering glass and colorful plastic to more rustic wood or metal, choose a material that complements your overall theme.
Color Selection: Opt for vibrant colors to stand out against neutral backgrounds, or stick to metallic hues for a subtle sparkle.
Design Patterns: Pick unique patterns that reflect the festivity spirit. Traditional motifs or floral designs would be a great fit.
Mixing Beads: Mix and match different types of beads to create a unique and engaging visual appeal.
Alignment with Other Elements: Make sure the curtains synchronize with the other decor elements for a congruous appearance.
With these tips in mind, you can utilize beaded curtains to lend a rich, celestial charm to your Ganpati decoration, orchestrating a stellar display that leaves everyone spellbound.
Traditional Carpet and Cushions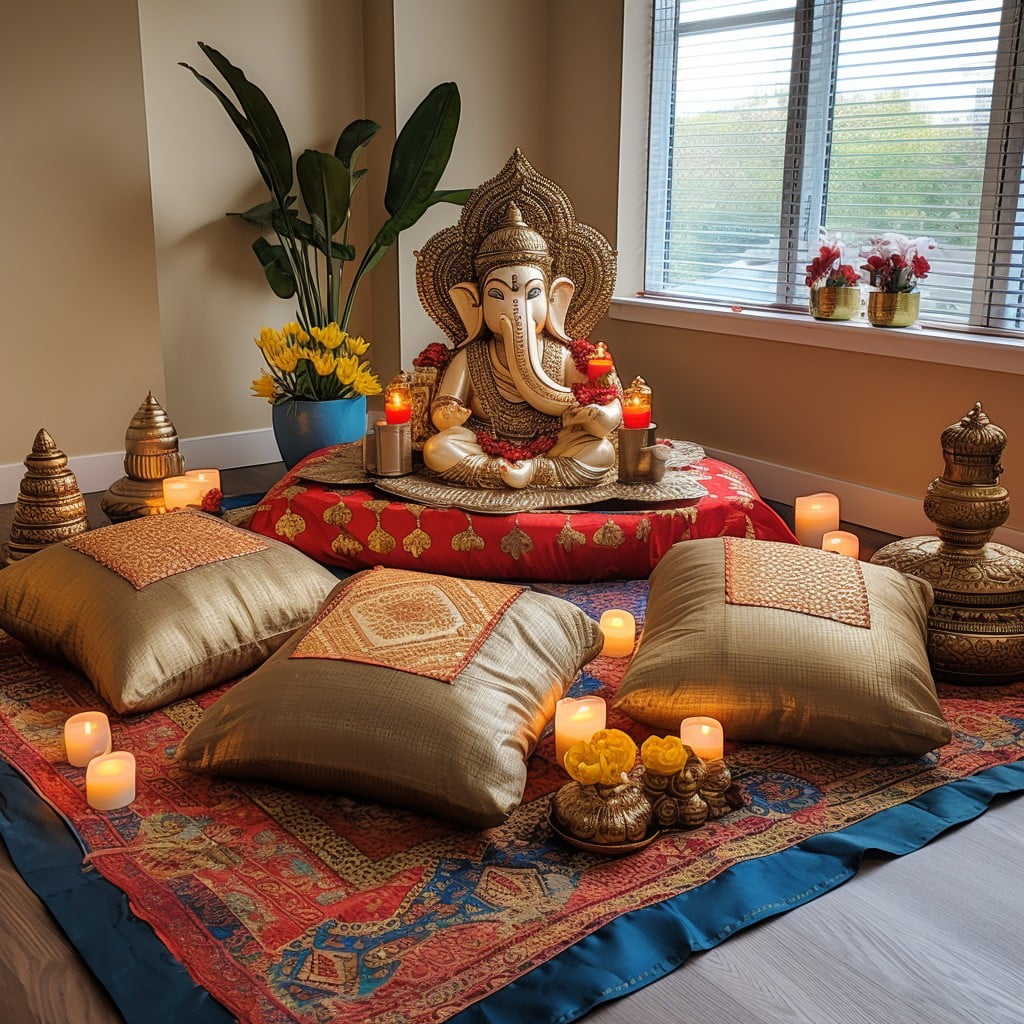 Offering a plush seating area, this idea brings a rich touch of tradition to the celebration. Use an intricately designed carpet, featuring motifs of Hindu deities, as the base. Around the idol, arrange a few colourful cushions, each an embodiment of Indian textile artistry.
Opt for some embroidered or brocade ones in jewel tones like emerald and ruby for an opulent feel. Look for designs inspired by Madhubani or Kalamkari for an extra ethnic look. Always make sure the colours complement the overall decor theme.
It not only creates a comfortable praying space for devotees but also sets the tone of classic elegance throughout the festive days. Keep the seating area clean and tidy as it boosts positive energy evoking a sense of peace and calm.
Liked reading this? Here's more:
Recap: