Last updated on October 29, 2023
Illuminate your home with serene and stunning white Christmas decorations this year, because minimalism is the trending aesthetic to beacon the peaceful spirit of the season.
"I hope you will find as much joy and inspiration in my article on 20 Elegant White Christmas Decoration Ideas, which I had the pleasure of writing and designing, as I did creating it."
White Christmas decorations offer a timeless and elegant touch to any home. From sparkling white lights to frosted Christmas trees, white decor can transform your space into a winter wonderland.
This article will provide a plethora of ideas on how to incorporate white elements into your holiday decorations. Whether you're seeking inspiration for your Christmas tree, table setting, or outdoor decorations, you'll find detailed suggestions to create a dazzling white Christmas right here.
Stick around to explore all the ways you can make your holiday season bright and white!
Icicle Lights Hanging Around Windows
When it comes to creating a winter wonderland at home, icicle lights are a magical touch. Accentuate the charm of your windows and give your house an ornate festive facade.
Hang them from the frame, ensuring they drape evenly. Different sizes can add depth to your design and mimic the natural formation of icicles. Opt for white LEDs for a crisp, snowy glow.
Remember to connect them to an outdoor socket or use an extension cord from indoors with a seal-tight outdoor protector, ensuring all safety standards. A timer will save energy and make your decoration task stress-free by automatically turning the lights off during the daytime or late night.
Snowflake Stickers On Windows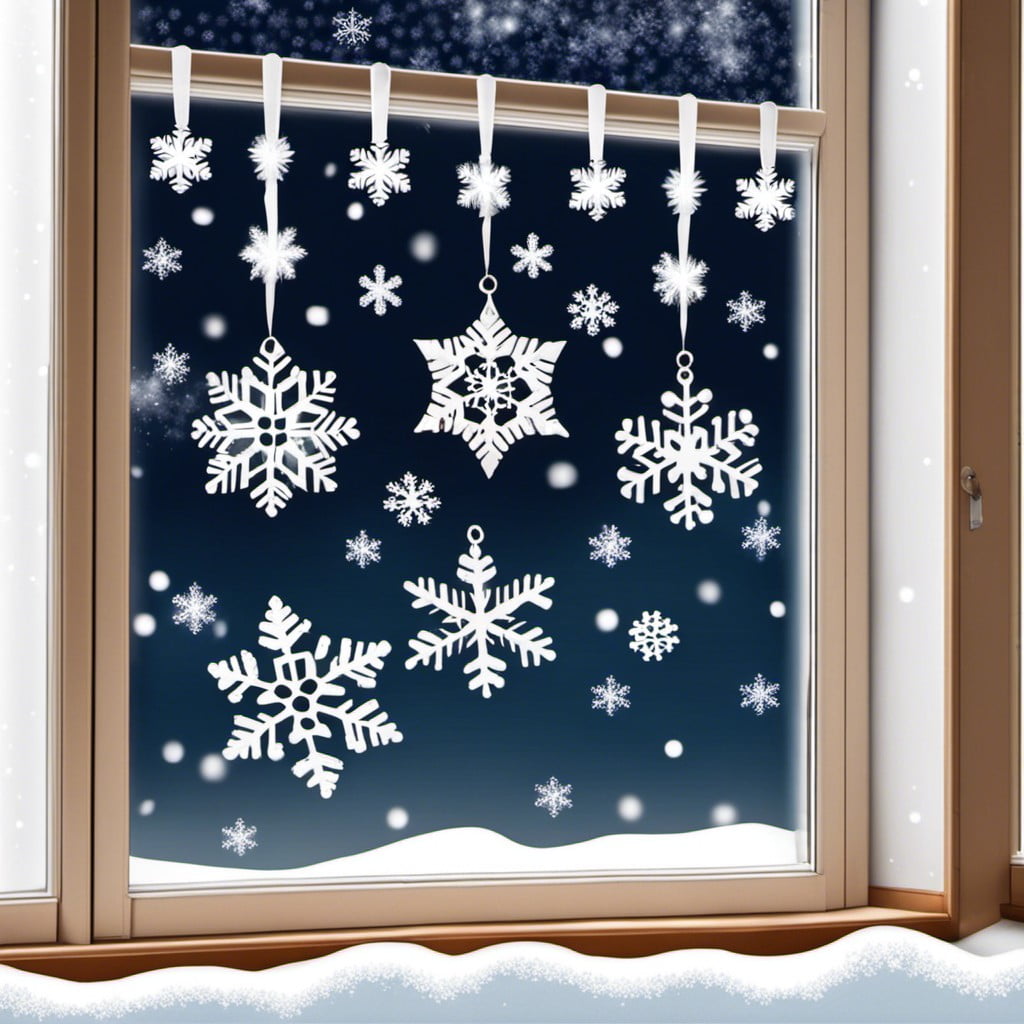 Adhesive snowflake stickers can effortlessly transform your windows into a magical winter landscape. Easy to apply and remove, these delicate designs mimic the intricate and unique beauty of snowflakes, adding a festive charm.
From small snowflakes clustered in the corners to larger ones scattered across the glass, the creative possibilities are endless.
Placing the stickers at different levels can create a sense of depth and movement, resembling snow gently falling. For a nighttime glow, position them around the edges of the window where they'll catch the light from indoors or from your outside holiday lights.
Consider involving your kids in the decorating process, turning it into a fun family activity that builds excitement for the holiday season. Don't be afraid to experiment and get creative – each snowcape can be unique, just like every snowflake.
White Christmas Tree With Silver Ornaments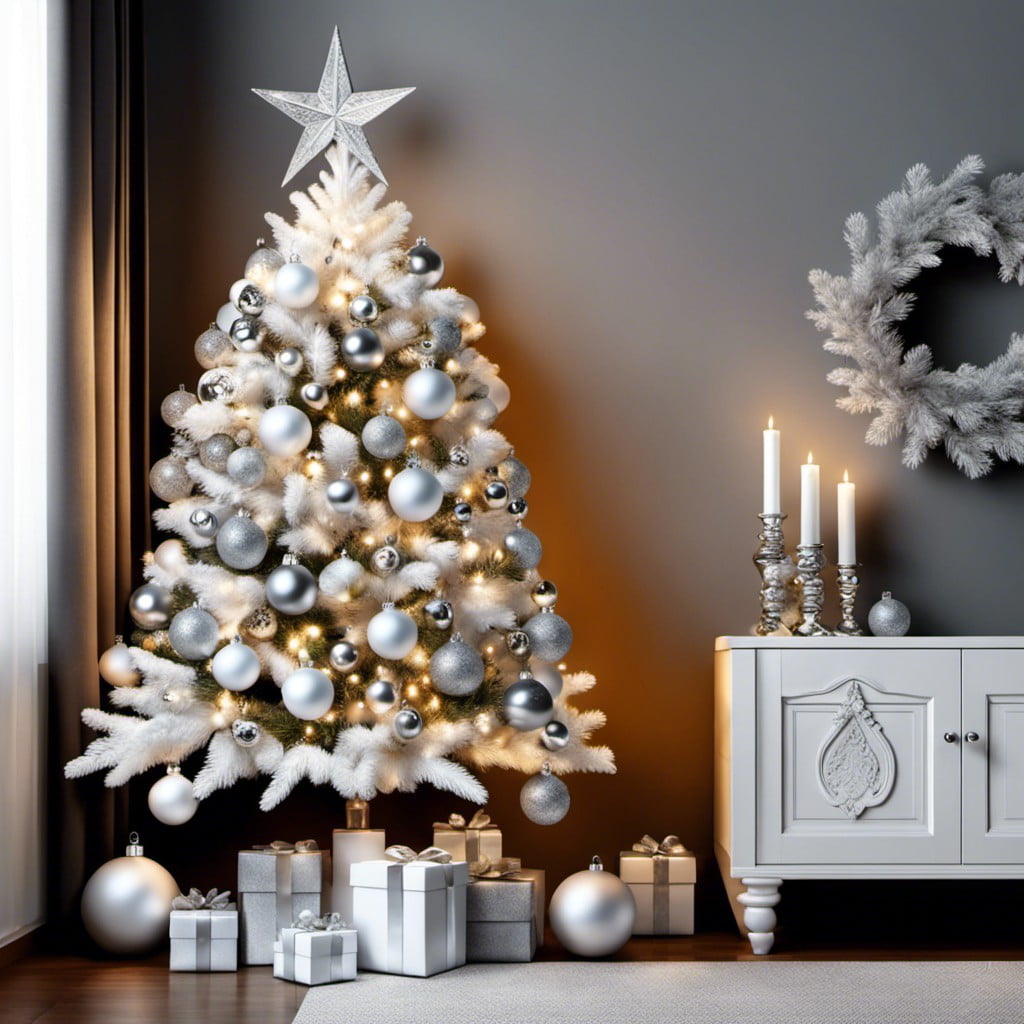 Silver ornaments provide a stellar contrast with a white Christmas tree, enhancing its frost-like appeal and adding a touch of sophistication. Here are some insightful points to consider:
1. Utilize an array of silver ornaments varying in size and texture. Larger ornaments can act as focal points while smaller ones fill in any gaps, creating a balanced look.
2. Mix in matte and shiny finishes. This variation helps to create depth and interest as the lights from the tree bounce off the ornaments differently.
3. Incorporate silver ribbon. Beyond baubles and tinsel, a loosely wound silver ribbon can add a seamless flow and continuity to the tree, linking clusters of ornaments together.
4. Select ornaments in different shapes to break up uniformity and add an element of surprise. Stars, hearts, icicles, or even whimsical designs keep the tree looking fun and festive.
5. Nestle some ornaments towards the trunk of the tree. This adds depth, makes the tree look fuller, and allows lights to reflect beautifully off the silver ornaments.
6. Finally, don't forget to top the tree with a silver star or a delicate angel for the perfect finishing touch.
White Garlands Adorning the Staircase Railing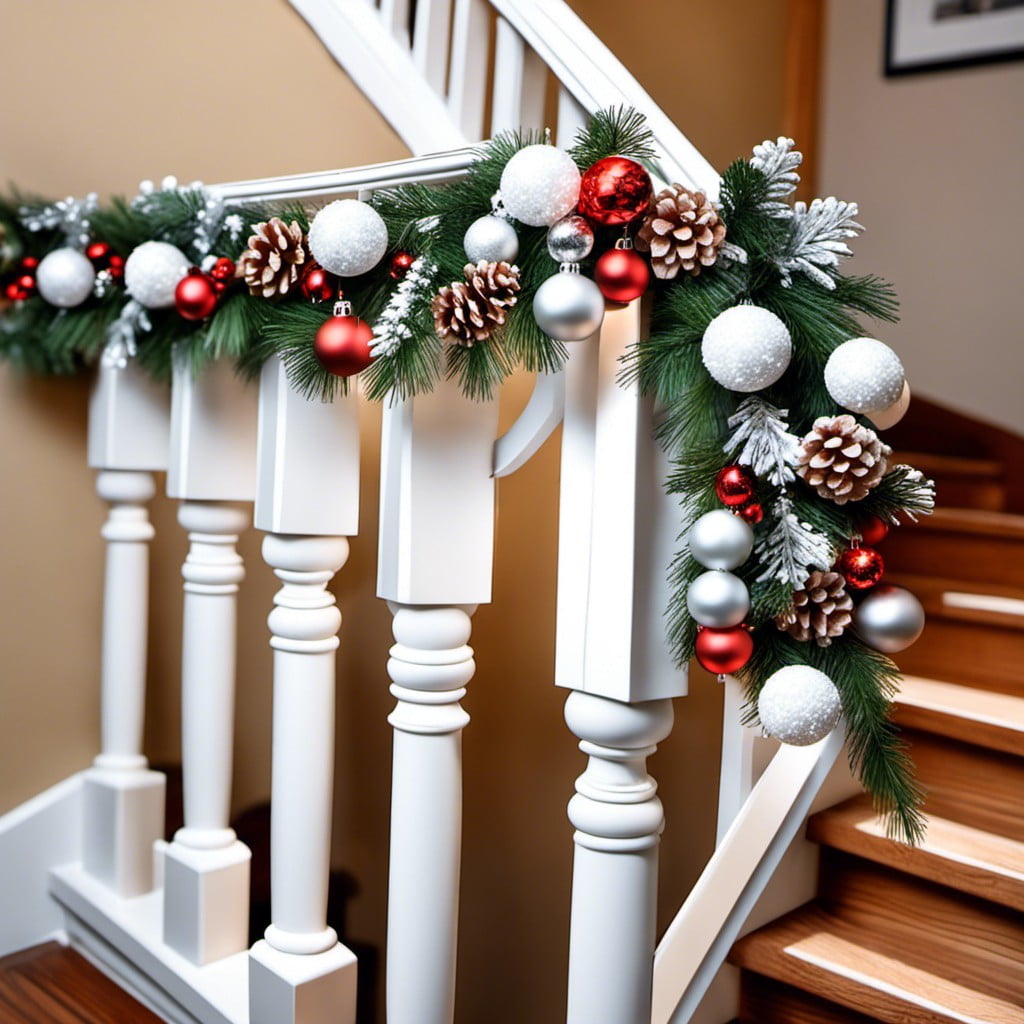 Consider materials like tulle, cotton, or faux fur to create a snowy effect on your staircase railing. Ensure it's securely fastened, evenly spread, and cascades perfectly to mimic a winter wonderland scene.
Complement this with some silver or crystal accents – they catch light beautifully, exuding a frosty shimmer.
Incorporate faux pine garlands or real pine if available. Pine adds a hint of traditional Christmas vibe and blends flawlessly with a white palette.
Intersperse it with sparkling ornaments or snowy pine cones for a more festive feel.
Lighting is also crucial; fairy or LED lights woven into the garland will offer a twinkling ambience, especially in the evening. Stick to cool white lights to keep up with the white theme and subtly illuminate the whole composition, making your winter garland doubly attractive.
Remember, your stairway is often one of the first things visitors see upon entering your home, so make it enchanting with white theme decorations, transforming the everyday familiar sight into a captivating holiday spectacle.
Mason Jar Snow Globes As Table Centerpieces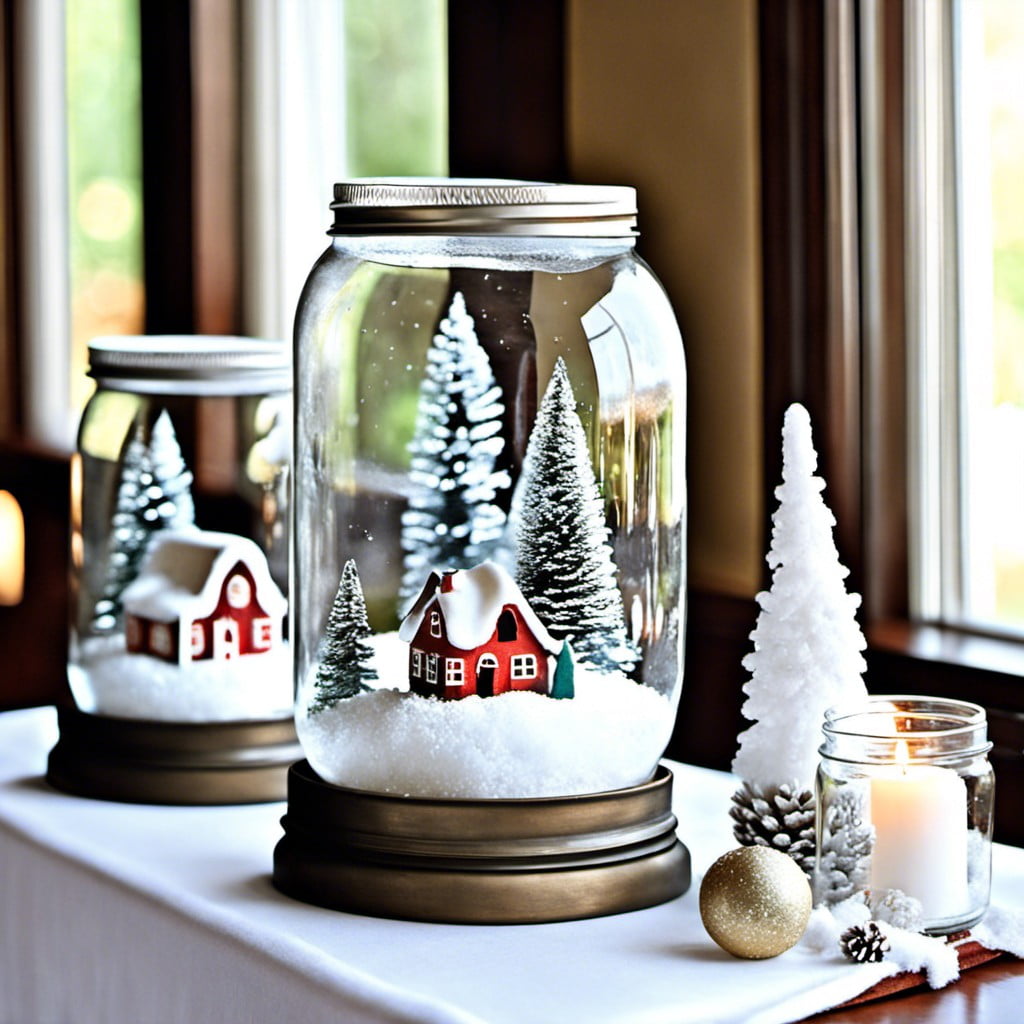 Crafting these charming decoration pieces is relatively simple. First, select a variety of Mason jars, varying sizes will create visual interest on your table. Choose miniature winter scene figures, like trees, animals, or even a mini Santa Claus that fit well within the jar. Secure these figures to the jar lid with adhesive, ensuring they're properly positioned for the viewer's enjoyment when the jar is screwed on and flipped upside down.
Next, fill your Mason jar with distilled water along with a pinch of white glitter to act as the snow. Screw the lid, with the mini scene, onto the jar. You've now created your personalized snow globe. Get creative and add bows or ribbons around the jar lid for that extra festive touch.
Light up your centerpiece by placing small, battery-operated tea lights around the jars. This will add a twinkling effect that captures the magic of a silent, snowy Christmas night right on your table. Arrangement is key – group the jars in a stylish manner, possibly in the center of your dining table, on the coffee table, or along a mantle for maximum visual impact. This do-it-yourself project doesn't just provide a unique decorative touch, but is also a fun, festive activity to help immerse you in the holiday spirit.
White and Silver Candleholder Arrangements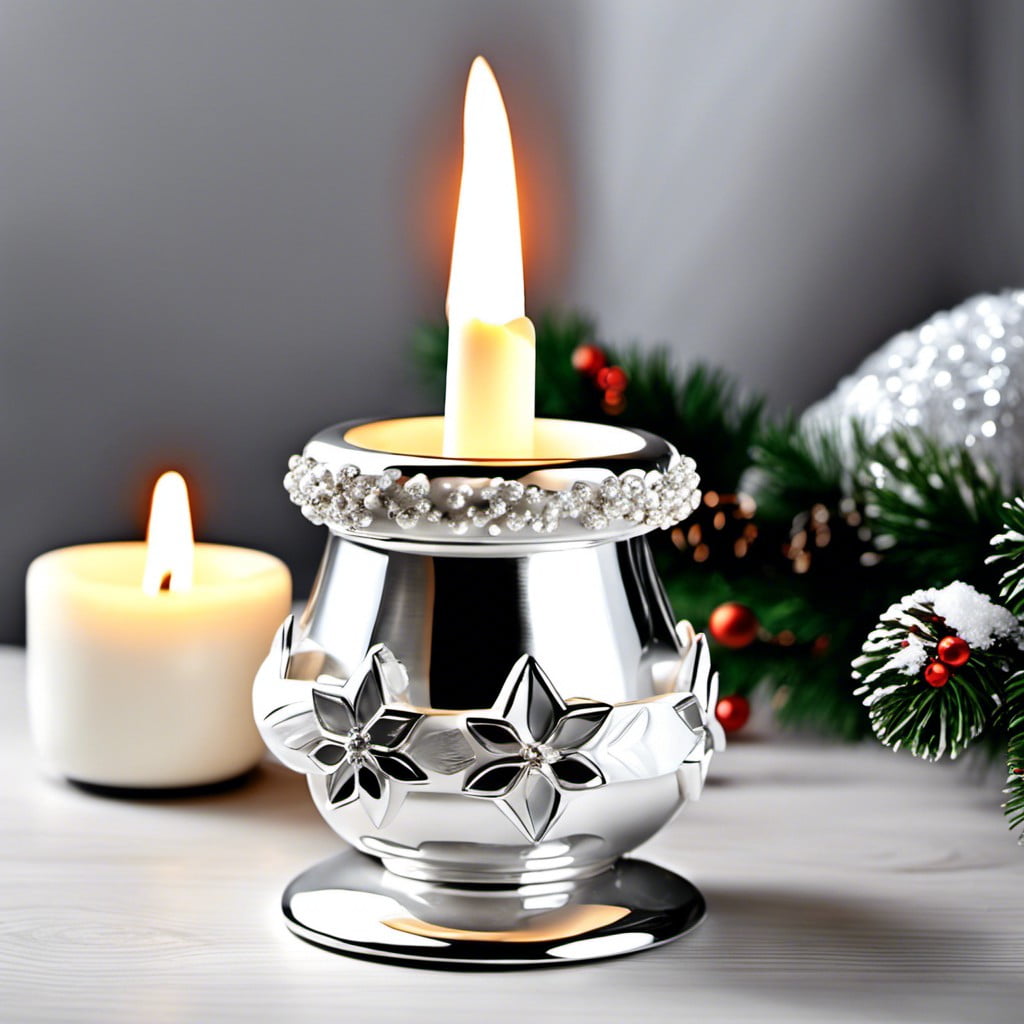 A timeless pairing, silver and white provide an elegant, wintry radiance. Let's explore a few quick steps to create a fine candleholder arrangement for a more delightful ambiance.
1. Cloth Selection: Start with a white, satiny cloth to mimic a snowy base. A satin material gives a reflective quality perfect for the light from the candles.
2. Use Varied Sizes: Choose candleholders of different heights for a captivating staggered look. Include tall, medium, and short ones.
3. Color Scheme: Predominantly white candles maintain the snowy Christmas theme. Silver candleholders introduce a cool touch of metallic elegance.
4. Pebble Decoration: White pebbles around the base of the candleholders can mimic a scatter of fresh snowfall.
5. Add Some Greenery: Introducing natural elements such as holly or pine sprays can add contrast and freshness.
Remember, safety comes first. Ensure the arrangement is sturdy, and keep watch of lit candles. With these simple steps, your candleholder arrangement will be a beautiful, glowing centerpiece.
Frosty Pinecone Wreaths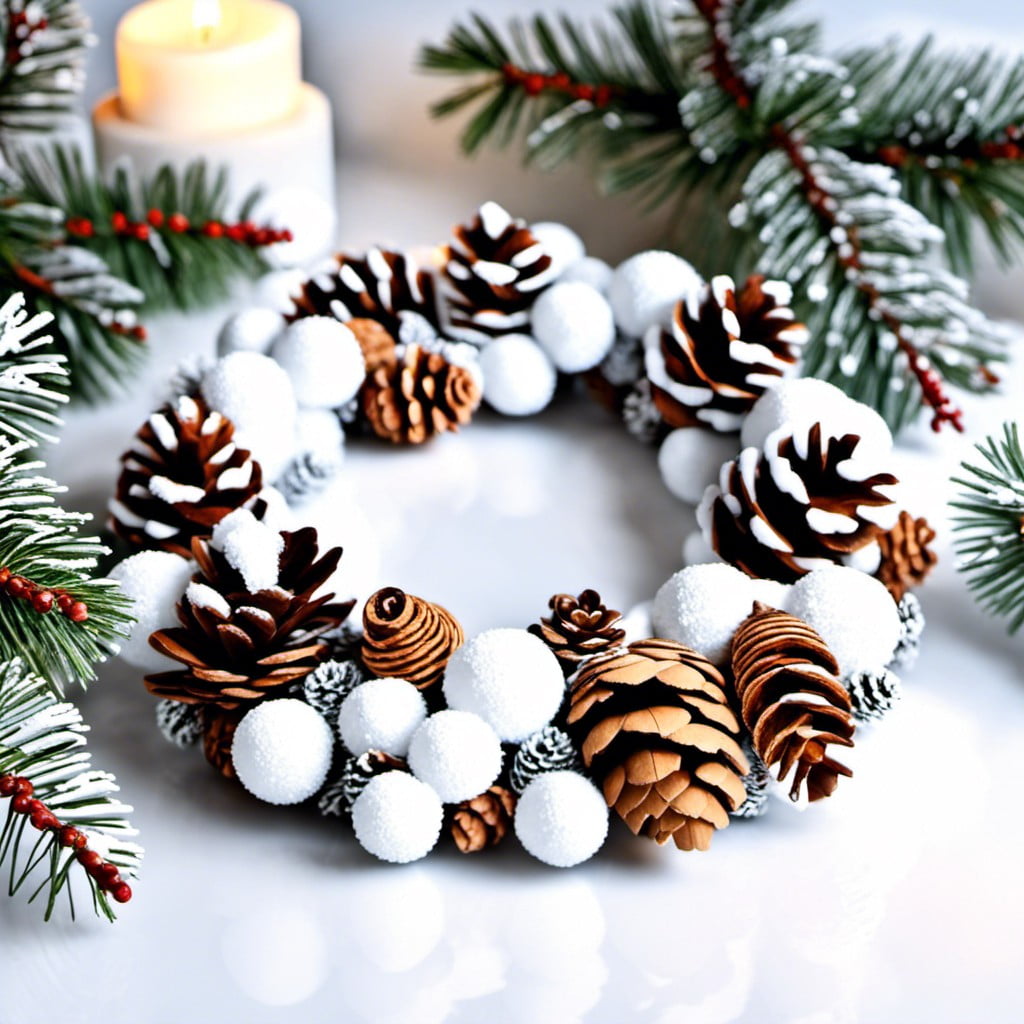 Delightfully rustic and charming, frosty pinecone wreaths create an enchanting entrance to your home. They're quite simple to make, offering a fantastic activity for a relaxed winter afternoon.
Firstly, gather enough pinecones, ideally of varying sizes. Keep in mind, these can be collected from your backyard, parks, or purchased from craft stores. Once you have your collection, spray them with a white paint to create the "frosty" effect. Let them dry completely before moving to the next step.
Next up, arrange them on a circular wire wreath frame until you are happy with the configuration. Start with larger cones, filling gaps with smaller to create an abundant look. Secure them with a hot glue gun, ensuring they are firm.
For a touch of added elegance, consider incorporating silver ribbons or sparkling baubles. Just remember to keep the embellishments subtle, so they don't detract from the frosted pinecones.
This is a brilliant way to embrace the winter theme whilst sustaining a classic holiday charm. The wreath can be hung on the door, above the fireplace, or anywhere else that needs a touch of snowy sparkle. Make sure to store it carefully post-season, it's fully reusable the next year!
White Poinsettia Flower Arrangements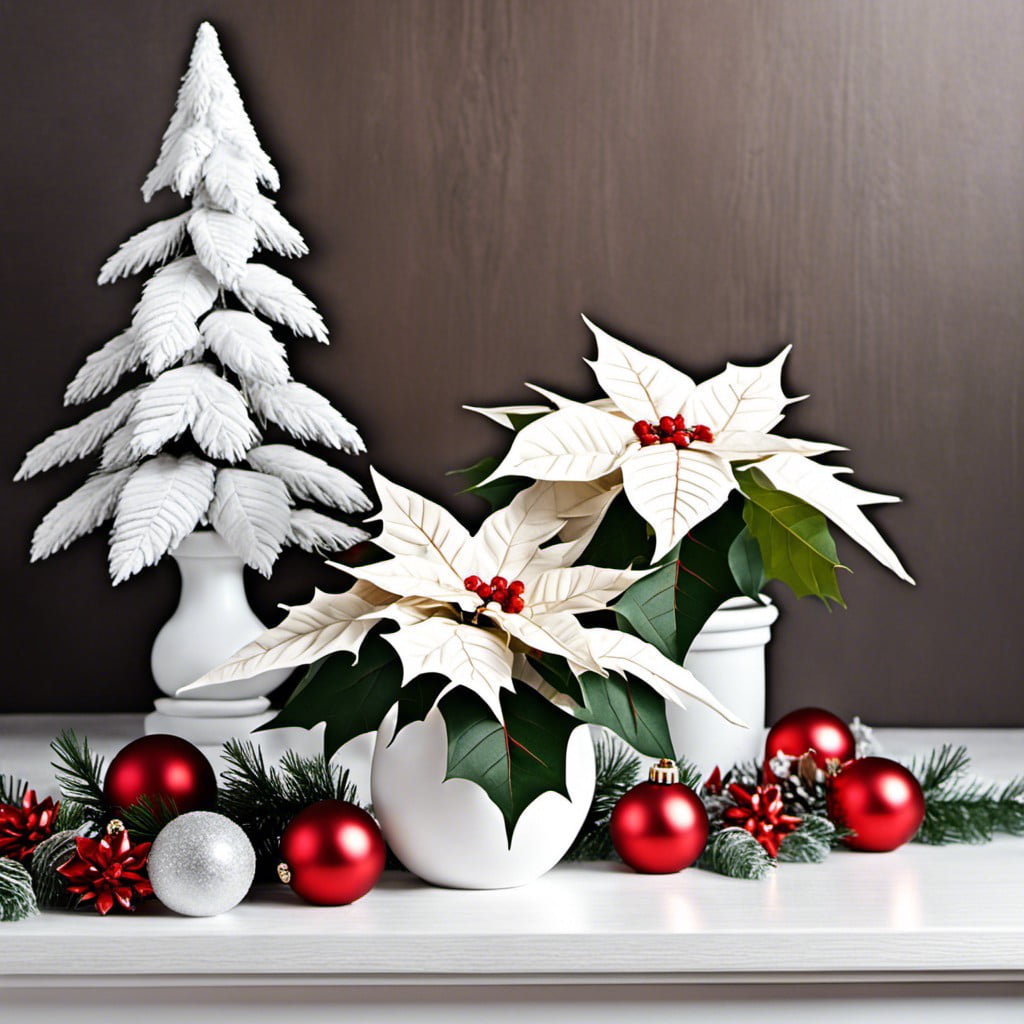 The beauty of poinsettias, particularly the white variety, makes them an excellent choice for contributing to a snowy holiday ambiance. Let's explore how they can be used to maximize their potential.
1. Centerpieces: A bouquet of white poinsettias in a silvery or glass vase can serve as a magnificent focal point for dining tables. Pair them with miniature LED string lights for a touch of warmth.
2. Mantel Decor: Arrange a few poinsettia plants interspersed with white candles on the mantelpiece. This creates a stunning festive display that lights up the room.
3. Entryway: Utilize large poinsettia pots on either side of the main door to welcome guests with a festive feel.
4. Small Arrangements: Disperse smaller arrangements around the home, like in the bathrooms or guest bedrooms, to sprinkle winter magic in every corner.
Remember, it's essential to maintain poinsettias correctly for them to last through the holidays. They prefer indirect sunlight and require careful watering. Too much can lead to root rot, while very little can wilt the leaves prematurely. With careful maintenance, these ornamentations can last beyond the holiday season, carrying the cheer into the new year.
Snowy Tablecloth or White Faux Fur Table Overlay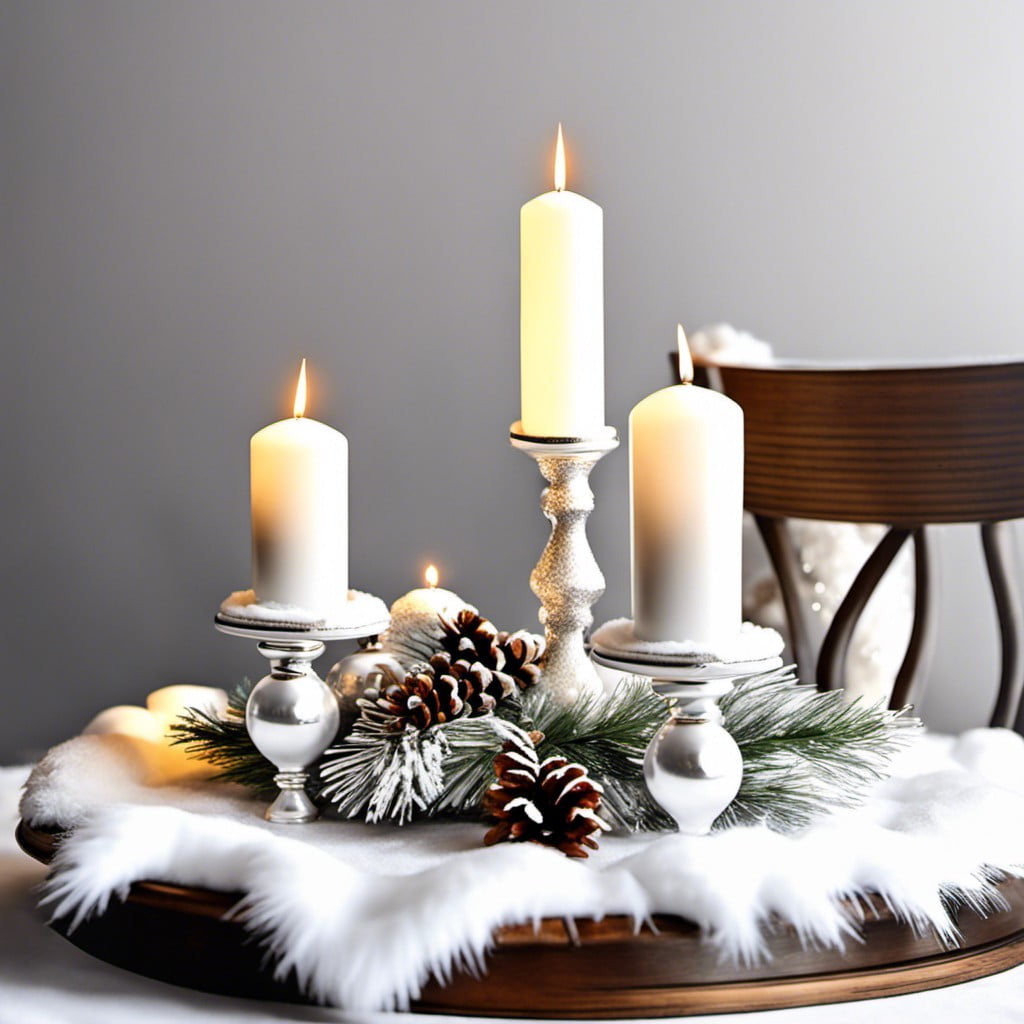 Adding a snowy tablecloth to your dining area can instantly transform the ambiance, setting a wintery tone. Pick a cloth with a sparkly or glossy finish to resemble the shimmer of real snow. Consider placing delicate crystal centerpieces that glisten under the chandelier's glow, enhancing the snow-like illusion.
On the other hand, a white faux fur table overlay is an excellent alternative to capture the season's essence. It brings in a warm yet luxurious touch reminiscent of a winter wonderland. You'll achieve a plush look which can be emphasized with silver ornaments or candleholders. Minimalist tableware will stand out beautifully against the soft, white background.
Both options work well depending on your style preference, but remember, the key to achieving wintry elegance is to maintain a balance and not overwhelm your table with too many elements.
White Stockings Hanging On the Mantle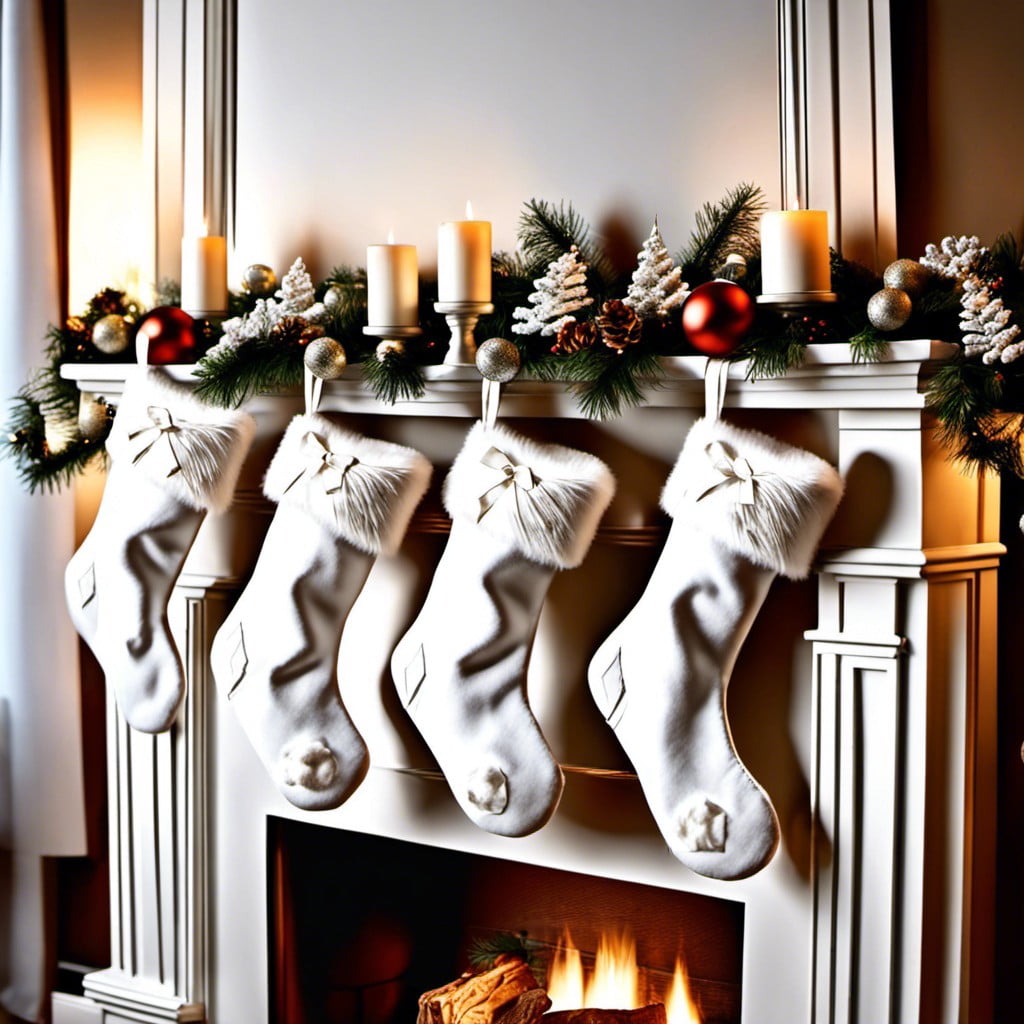 Consider choosing stockings in a plain white or an intricate lace fabric for a touch of elegance. Satin or velvet textured stockings add a cozy feel. Try ones with subtle silver embellishments for a dash of festive sparkle.
A cable knit design can infuse a classic holiday comfort. Remember that these should complement the rest of your mantle décor – twinkly lights, garlands, or candles – to create a cohesive appearance.
To customize further, consider adding embroidered names or initials on each stocking for a personal touch.
White Tulle Bows On Christmas Tree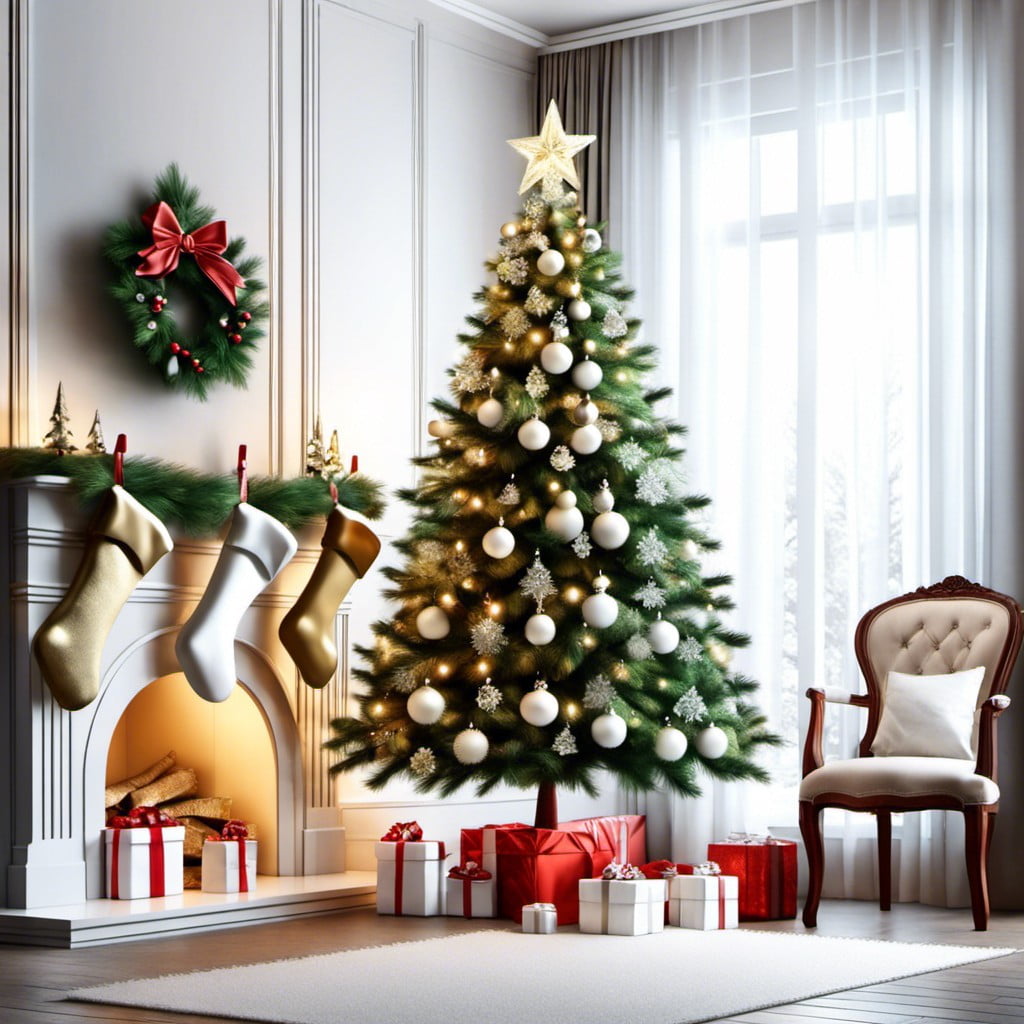 Graceful and chic, the soft folds of a tulle fabric bow add a whimsical touch to any holiday setup.
For a compelling look, strategically place your bows around. Secure them tightly so they appear to float in the branches.
Mix in smaller bows with larger ones for a sense of variety. Opt for a shimmery white tulle to imbue a subtle glow. This will keep your tree shimmering, even in the softest light.
Try a different approach and incorporate bows along with other traditional ornaments. This unique element elevates your Christmas decoration to new aesthetic heights.
Remember, using tulle bows is all about fun and creativity. So don't be afraid to experiment with different styles and mixes. It's the perfect way to customize decoration that resonates with your personal taste.
DIY White Paper Snowflake Decorations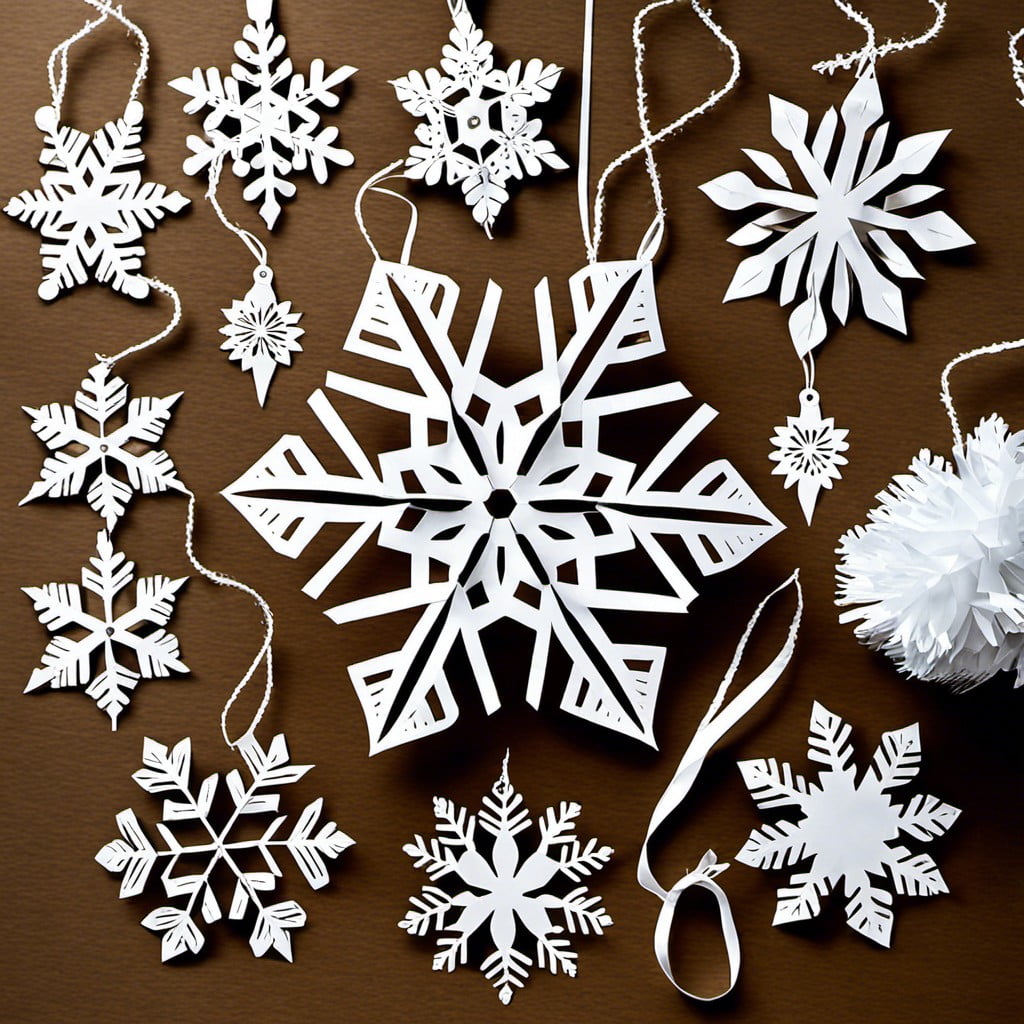 Creating these charming decorations requires no more than some standard printer paper, a pair of scissors, and a little patience. Experiment with different cutting patterns to produce a variety of shapes and designs. These snowflakes can be suspended from the ceiling using transparent fishing lines for a magical snowfall effect indoors.
Here are simple steps to follow:
1. Fold a sheet of white paper into a square, then fold the square in half twice.
2. Craft your design by cutting into the folded edges of the paper.
3. Unfold the paper gently to reveal your unique snowflake.
4. Secure a length of fishing line with tape and hang them from your ceilings, light fixtures, or chandeliers.
Remember, no two snowflakes are alike. Give your home a unique touch by creating your own patterns, displaying your artistic flair, and sharing the joy of DIY crafts with friends and family.
Decorative White Pillows and Throws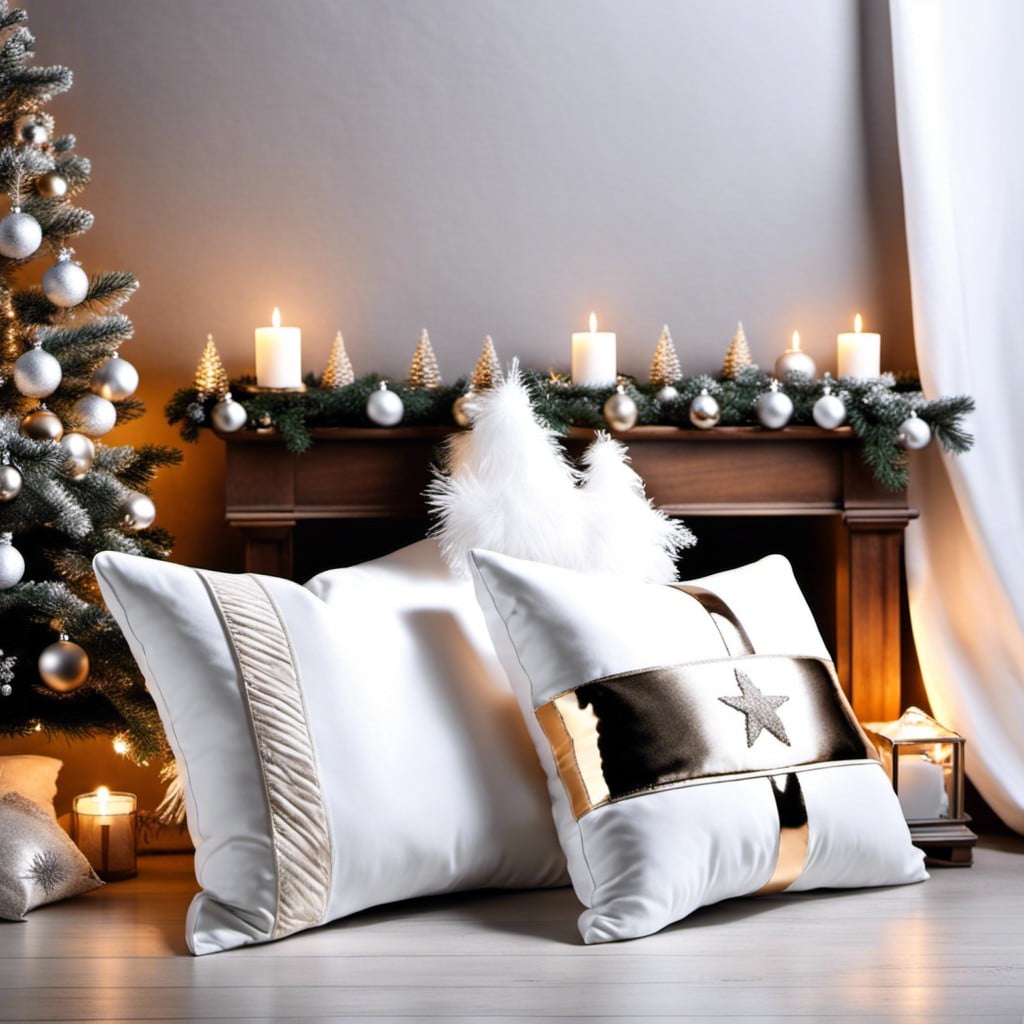 Incorporating white into the home decor doesn't have to tread solely on the path of traditional ornaments. Versatility presents itself with throws and pillows, integral in adding comfort and warmth to your living space.
Consider faux fur white throws that not only emulate the snow-covered landscape outside but also invite a feeling of coziness. They can be elegantly draped over your chairs, sofas, or can even be spread on the floor by the fireplace.
For a more subtle yet prosperous display of white Christmas, opt for white pillows. Pillows with intricate silver or blush pink embroidery can beautifully contrast the white, reminiscent of the festive cheer.
If minimalism entices, clean white pillows with unique textures or weaves can sustain the theme without overwhelming the space. An alternative can be sequined or beaded pillows that mimic falling snow, blending in with the holiday spirit.
The key is to experiment with varied textures and patterns while maintaining the visual tranquility that the color white gifts. Remember, scattered strategically, these pieces not only enhance the aesthetics of your home but also serve practical purposes, endorsing functionality with fashion.
Feather-filled Clear Glass Ornaments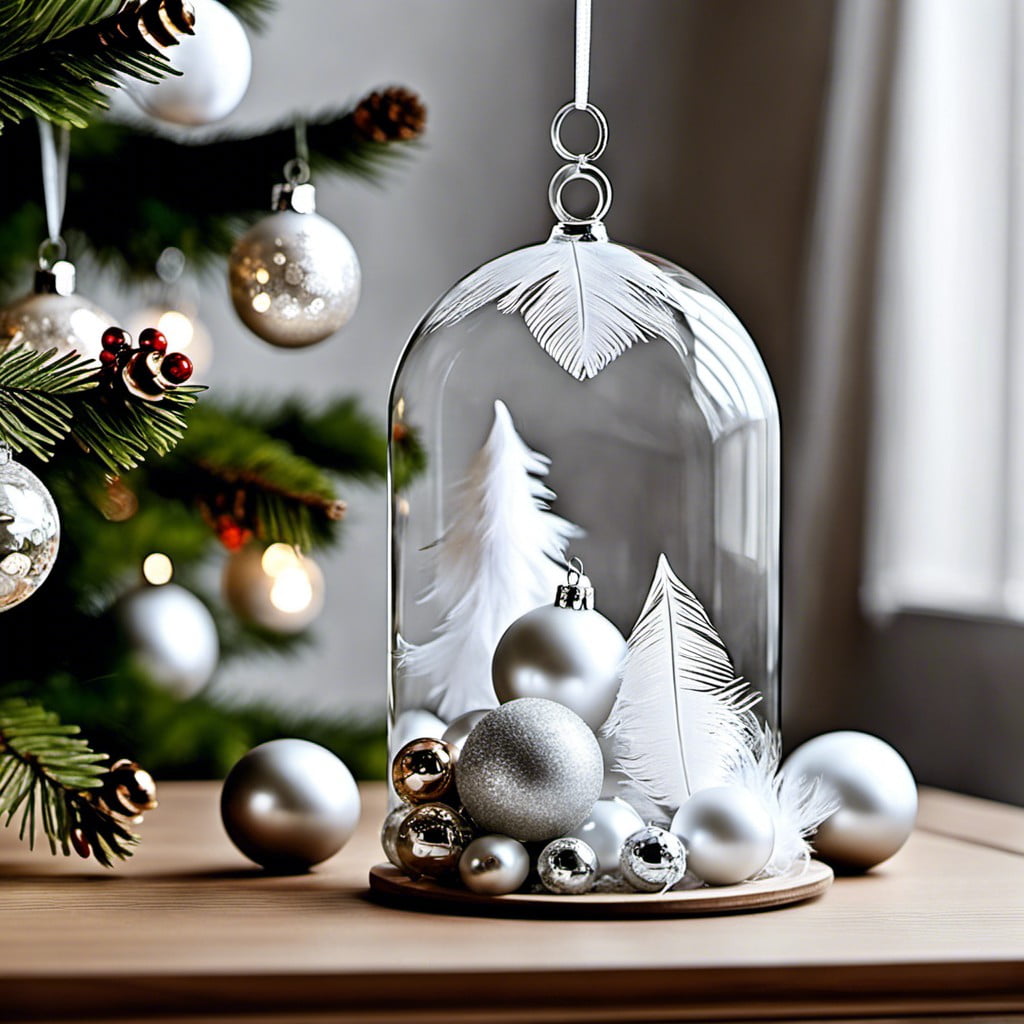 Creating these ornaments is both easy and fun. Select clear, glass ornaments and feathers of the same color. Depending on your preference, you can choose different shades of white to add depth.
The next step is simply inserting the feathers into the ornament – a great activity for the whole family. To secure the contents, reattach the ornament cap. Now you're ready to hang your homemade decorations.
They can either be placed on the Christmas tree as a unique piece or used as part of a centerpiece. Remember to position them where they can catch the light, enhancing their inherent beauty.
The effect of an array of these ornaments, seen sparkling in the flickering fireplace light or under the soft glow from the tree, brings a touch of elegance and whimsy to your festive surroundings.
White LED Mini Lights Around the House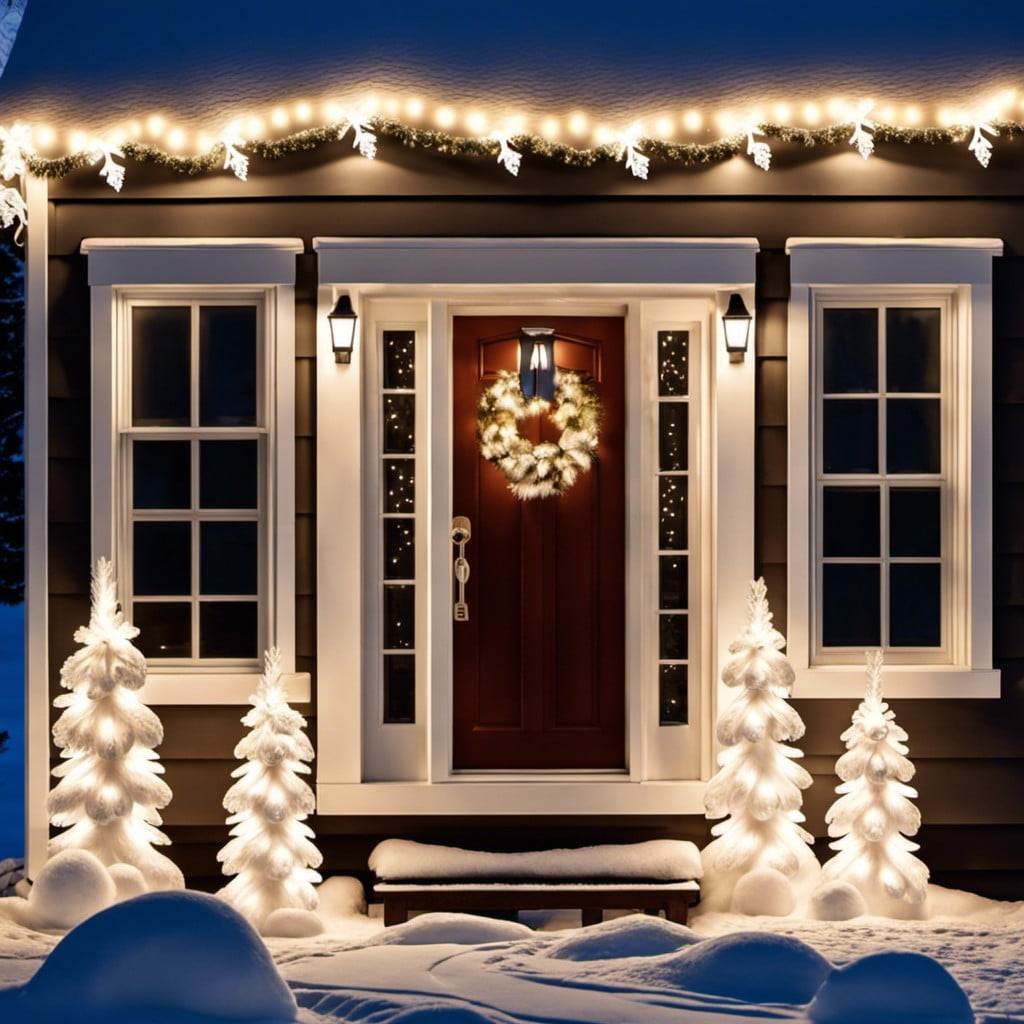 By harnessing the unassuming charm of LED mini lights, you can transform ordinary spaces into visually arresting wintery wonderlands. Once reserved for Christmas trees, these versatile strands of illumination, upon strategic arrangement, evoke Yuletide serenity throughout the home's interior and exterior.
1. Draped over doorways and windows, they frame living spaces with a soft, inviting glow.
2. Entwined within garlands atop mantles, they enhance the festive vibrancy.
3. Woven amongst banister railings, they create a magical path, guiding guests upstairs.
4. Looping around mirrors and picture frames infuses everyday decor with holiday cheer.
5. Nestled within clear glass jars or vases, they serve as homemade luminaries.
6. Outlining outdoor walkways or decks, they offer a warmly lit welcome, enhancing curb appeal safely.
Remember to be mindful of surplus cord visibility to keep the aesthetic clean. The recommended bulb colour temperature is warm white for indoor use to complement the cosy ambience, and cool white for the outdoors, for a crisp contrast against the night. These eco-friendly, energy-saving lights prove to be a practical accessory that lifts your all-white Christmas decor to new heights.
White Faux Fur Tree Skirts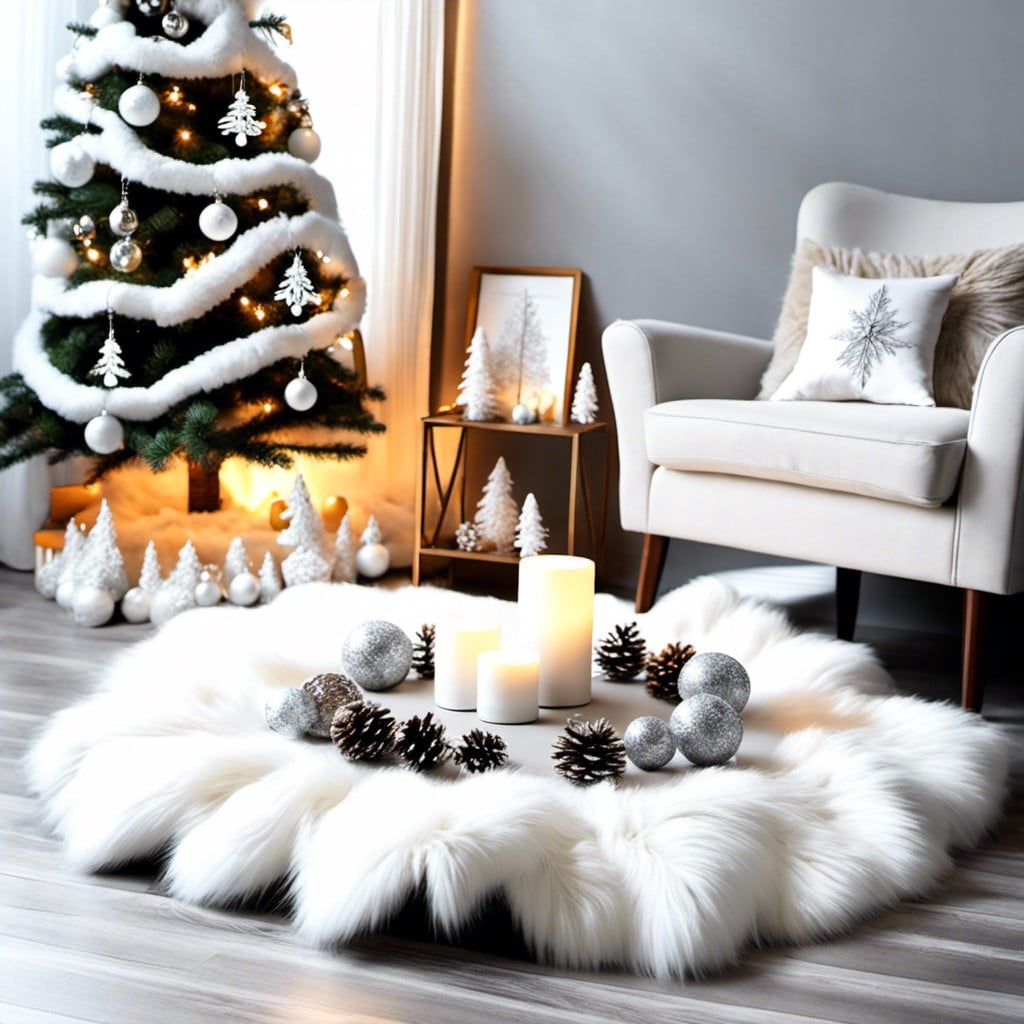 Keeping warmth and luxury under your tree ensures that the festive brilliance doesn't end at the boughs. A white faux fur tree skirt does just this, establishing a cozy yet elegant base. It pairs beautifully with any style of ornaments, from classic red and green to cool silver and gold.
The soft, plush texture of the skirt provides a beautiful contrast against the rough texture of the tree, adding a touch of sophistication. It's perfect for neatly tucking away those less pleasing strands of tree lights or camouflaging the stand.
You can further enhance its appearance by placing beautifully wrapped gifts in complementary colors atop it. This also works wonders for artificial trees, concealing the metal base and lending a more authentic look. This simple, yet stunning addition is sure to be a focal point in your Yuletide decor.
Remember, not all skirts come in one size. Measure the base of your tree before making a purchase to ensure a proper fit. Maintenance is easy, most versions are machine-washable, ensuring you can reuse your cozy base for years to come.
Snowy Scene in Glass Terrariums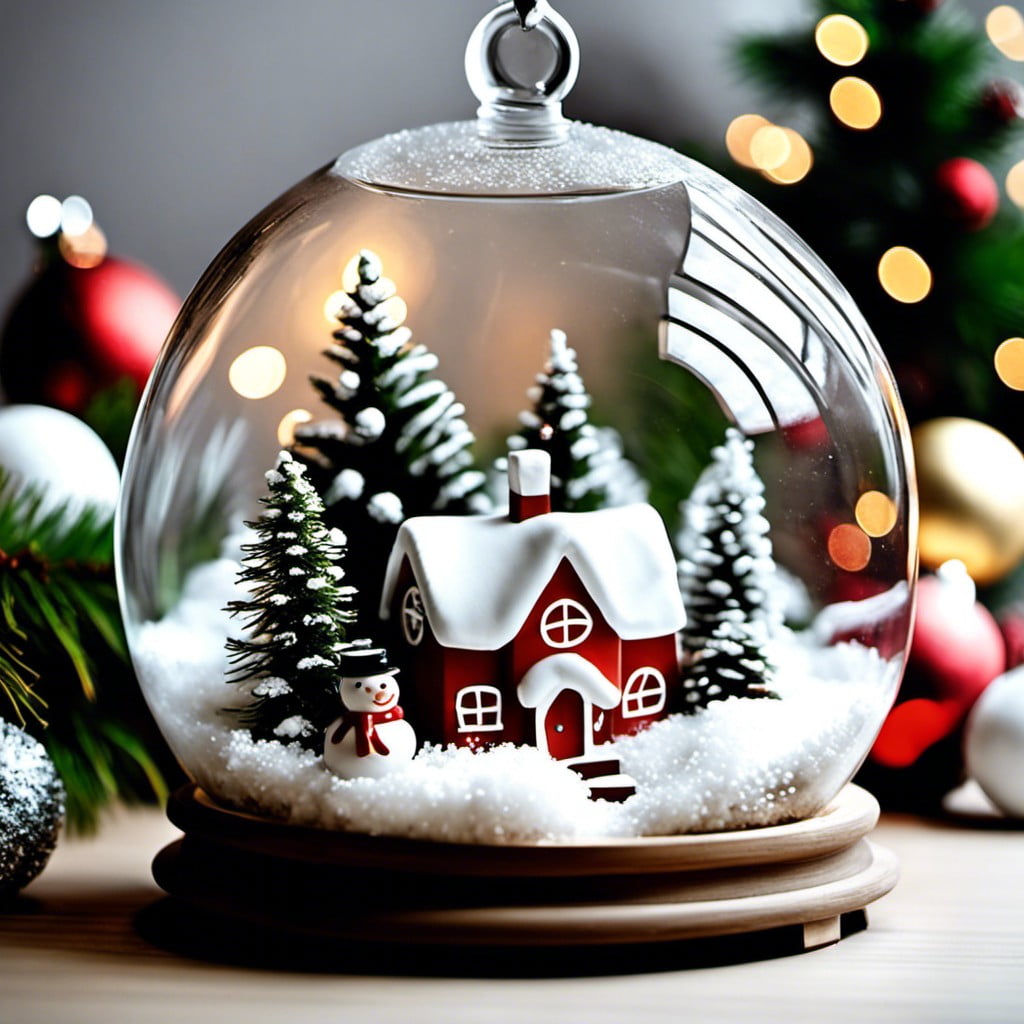 Crafting miniature winter landscapes in your glass terrariums is a unique, artful approach to holiday decorations.
Here's how you can create a breathtaking snowy scene:
1. Choose a glass terrarium, either open or closed. Place a layer of pebbles at its base for drainage and to mimic a snowy terrain.
2. Opt for miniature evergreen trees, small twiggy branches, or moss to create a wintry "forest."
3. For a touch of white winter charm, sprinkle some artificial snow or finely shredded coconut on the inner elements.
4. Incorporate some miniature figures like deer, cottages, or tiny people for the complete Christmas vignette.
Creating these wholesome scenes in terrariums has an enchanting effect that turns the usual "green" hobby into a festive activity.
Frosted Twig and Cone Porch Pots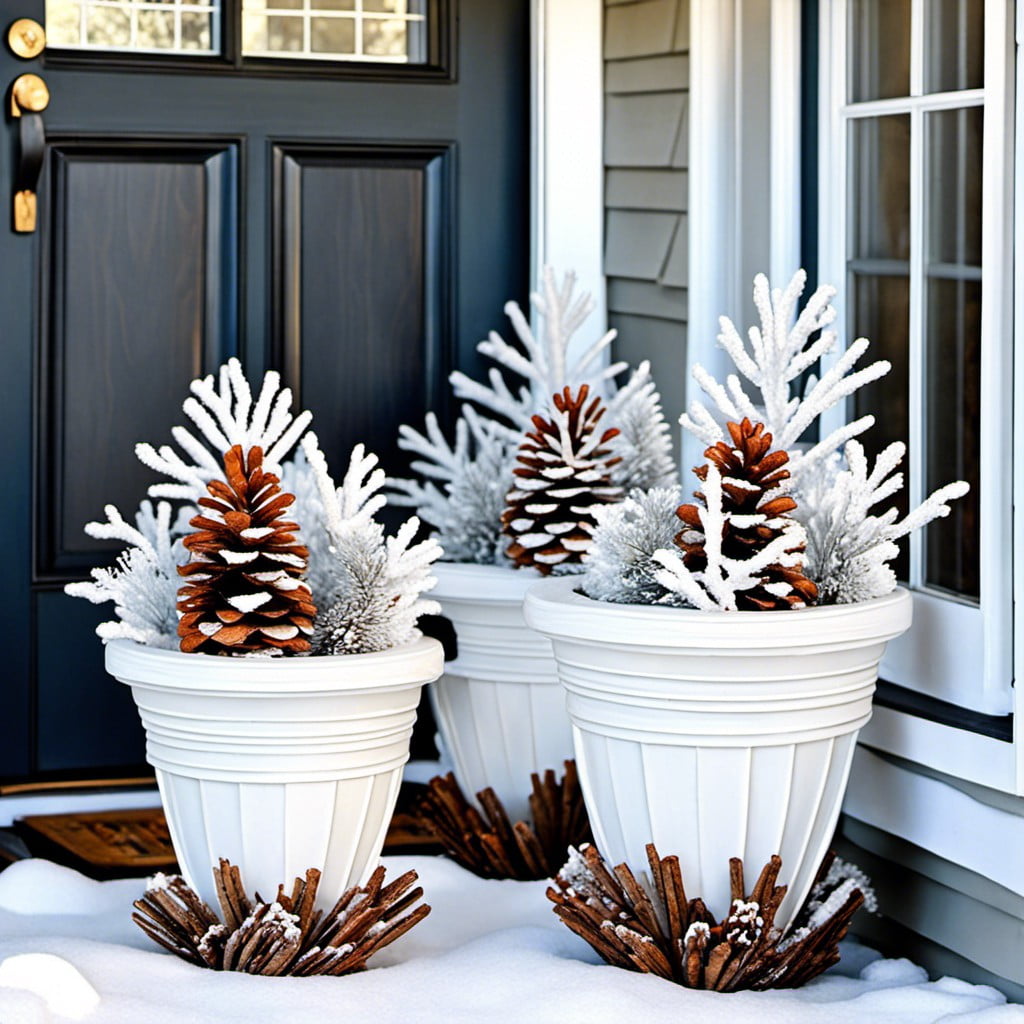 Creating an enchanting Christmas atmosphere begins right at the doorstep. Begin by selecting a range of twig sizes, bearing in mind that larger ones should form the base to enhance stability. Opt for twigs with an ice-glazed or frosted effect for that wintery appeal.
Next, gather pine cones, preferably touched with a dusting of faux snow. Both small and large-sized variants work well – the mix of sizes provides texture and depth to your arrangement.
You'll need garden pots as bases. White or icy blue ones can heighten the frosted feel. Fill them with floral foam or a heavy material to secure your twigs.
First insert the larger twigs, followed by the smaller ones. Distribute them evenly. After that, scatter your snow-dusted pine cones throughout, ensuring some are visible at the top and sides.
For a final flourish, add string lights to illuminate your frosty masterpiece when dusk falls. This overall arrangement gives a feeling of a miniature winter forest at your doorway, greeting guests with a touch of Christmas magic as they arrive.
DIY Icicle Chandelier With Crystal Beads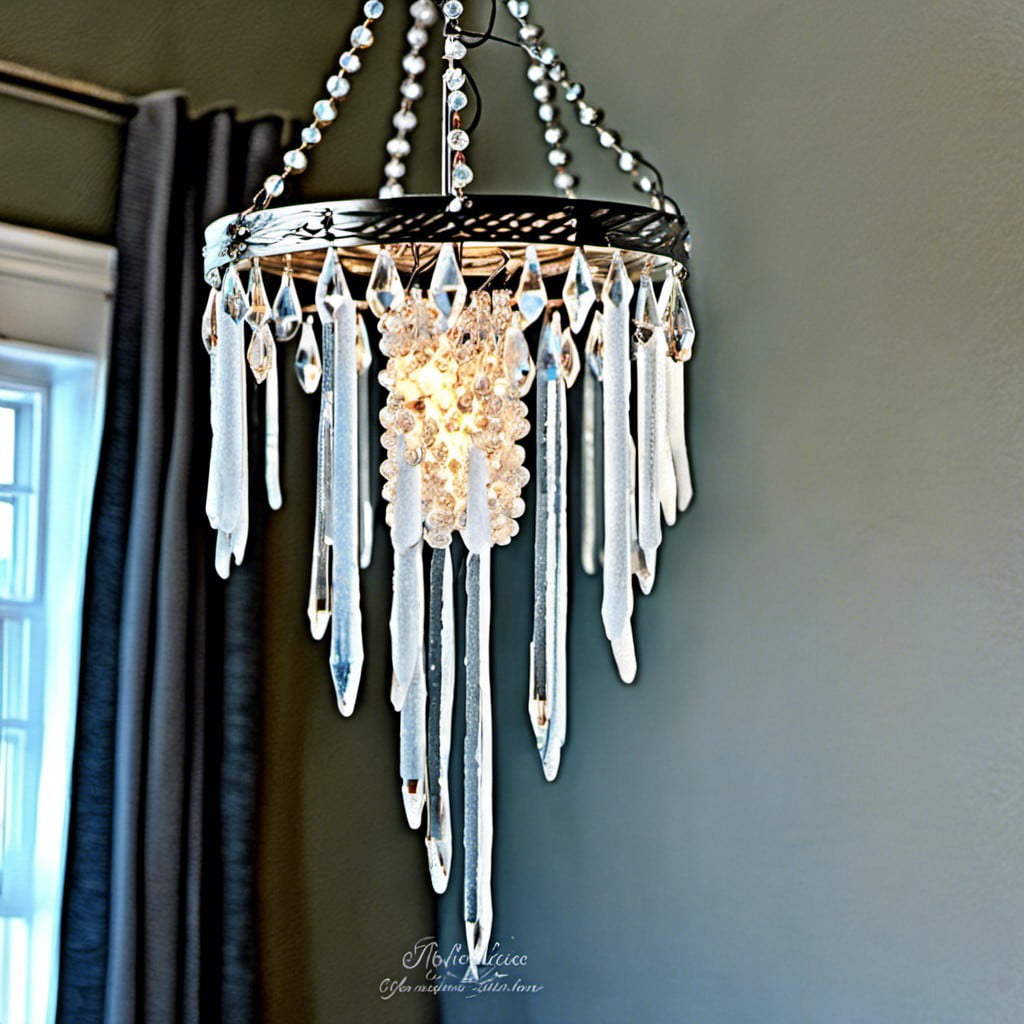 Creating an icicle chandelier involves several easy steps. First, purchase strands of crystal beads and clear fishing line. Then, measure the length you want your icicles to be and cut your beads accordingly. Varying lengths will provide an organic, icicle-like effect.
Next, string your beads on the fishing line. One simple method is to tie a knot on one end of the line, thread on your beads, then tie another knot at the finish to keep all in place. Repeat this for each icicle strand you'd like to include in your chandelier.
Once your strands are ready, attach them to a metal or wooden hoop that fits your aesthetic. If using a metal hoop, simply tie each strand of beads around it at even intervals. For a wooden hoop or branch, you may need to use small eye hooks screwed in at each attachment point.
Finally, suspend your creation from the ceiling using sturdy wire or more fishing line. Make sure it's secure, then enjoy the sparkling beauty that resembles a wintery, indoor cascade of icicles. To add more glamour, consider hanging it over a dining table or entrance way. The light from the crystal beads reflecting on the surrounding surfaces will create a mesmerizing effect.
Snowman Figures Decorated in White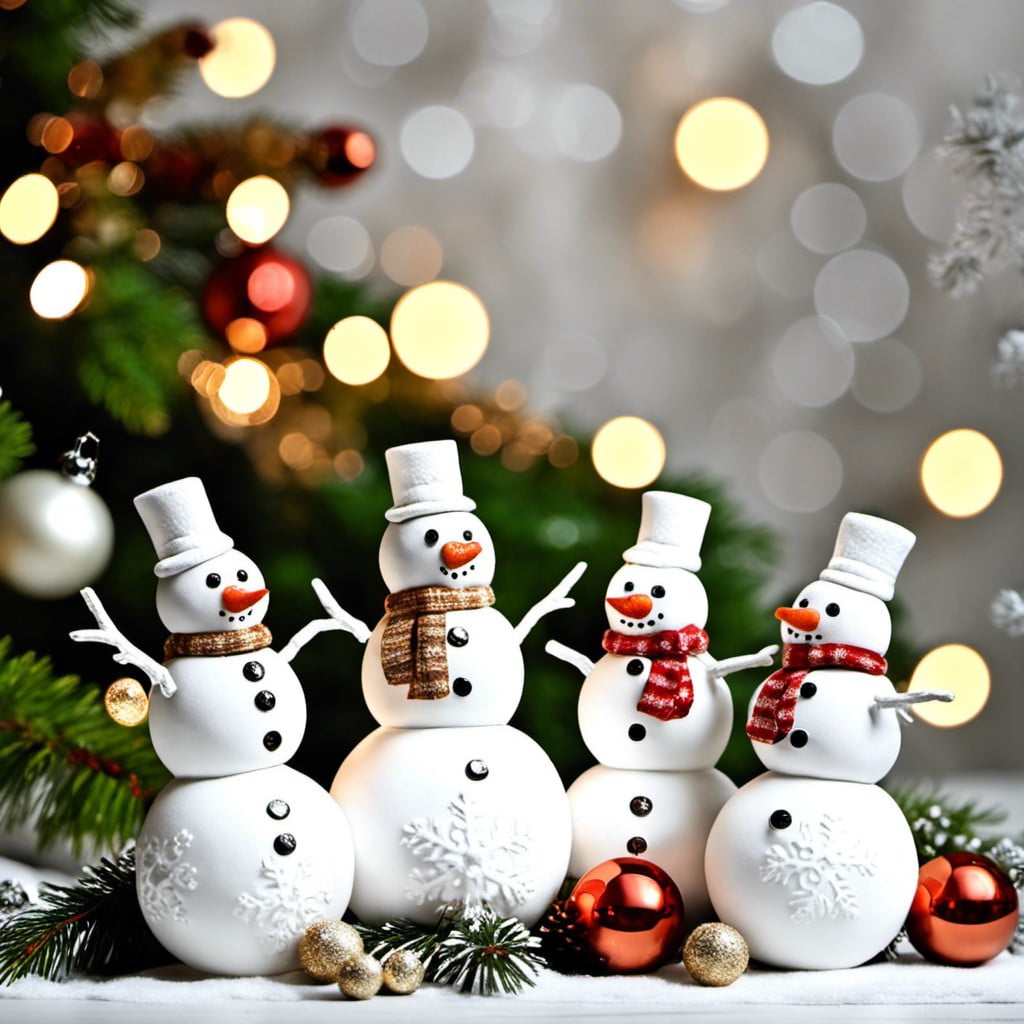 Snowman figures bring instant holiday charm and fun. They can stand alone or become part of a themed table centerpiece. Opt for figures draped in faux glitter snow or fluffy white cotton for a touch of wintry elegance.
Alternatively, heighten your home's festive spirit with DIY projects.
Crafting homemade snowmen can be a fun family activity. Use white styrofoam balls of different sizes, some glue, and glitter for a simple, sparkly snowman.
Alternatively, make one out of white felt or white yarn for a cosy, plush feel.
Place these cheery snowmen on entry tables, floating shelves, or any corner needing a dash of holiday spirit. Remember, their white color can complement other Christmas decors and bring continuity to your overall theme.
Liked reading this? Here's more:
Recap: