Last updated on October 19, 2023
Dive into this article because it is brimming with creative ideas to transform your conventional Christmas tree into a stunning, pink spectacle that will be the talk of the town.
I'm really proud of the 20 Unique Pink Christmas Tree Decoration Ideas I've created for your holiday celebrations and I genuinely hope they inspire you and bring as much joy to you as they did to me when creating them.
Pink Christmas trees are a unique, eye-catching way to celebrate the holiday season. They're a bold choice, but with the right decorations, they can be just as classy and festive as a traditional green tree.
Whether you're looking for a soft, pastel look or a vibrant, candy-colored theme, there are plenty of ways to make your pink Christmas tree shine.
This article will provide a variety of decoration ideas, from ornaments and lights to tree toppers and skirts, to help you create a stunning pink Christmas tree that will be the talk of your holiday gatherings.
So, let's dive into the world of pink Christmas tree decorations and explore the endless possibilities.
Pink Glass Ball Ornaments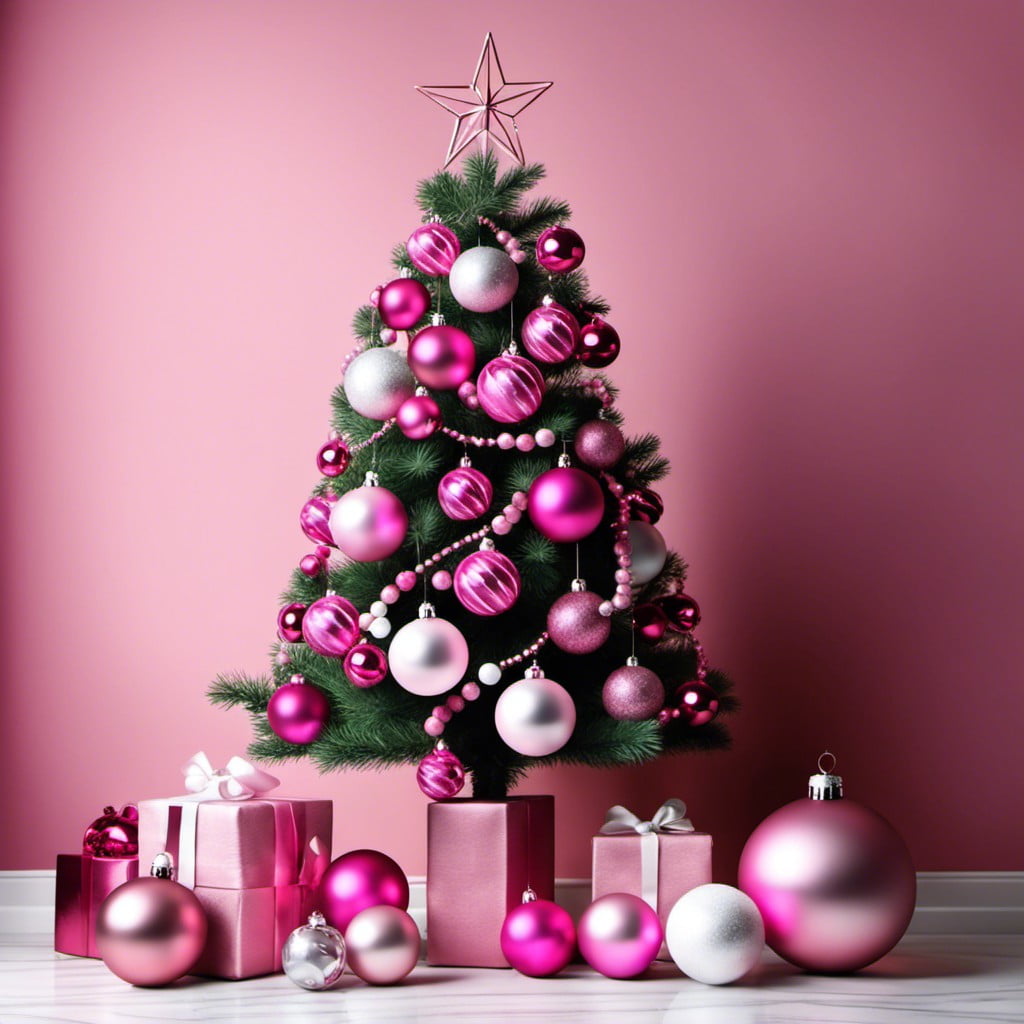 Delicate yet captivating, these ornaments add the right touch of elegance to your festive spruce. Opt for a mix of shiny, matte, and glitter-finished balls to add some depth and visual interest.
Remember, ornaments don't have to be just hung from branches. Consider placing a few in a clear glass bowl or scattering some around your tree skirt for that extra whimsy.
And for a captivating visual effect, don't shun the idea of combining different sizes. Smaller glass balls look stunning nestled alongside larger ones, creating an engaging composition that grips the eye.
Rose Gold Star Tree Topper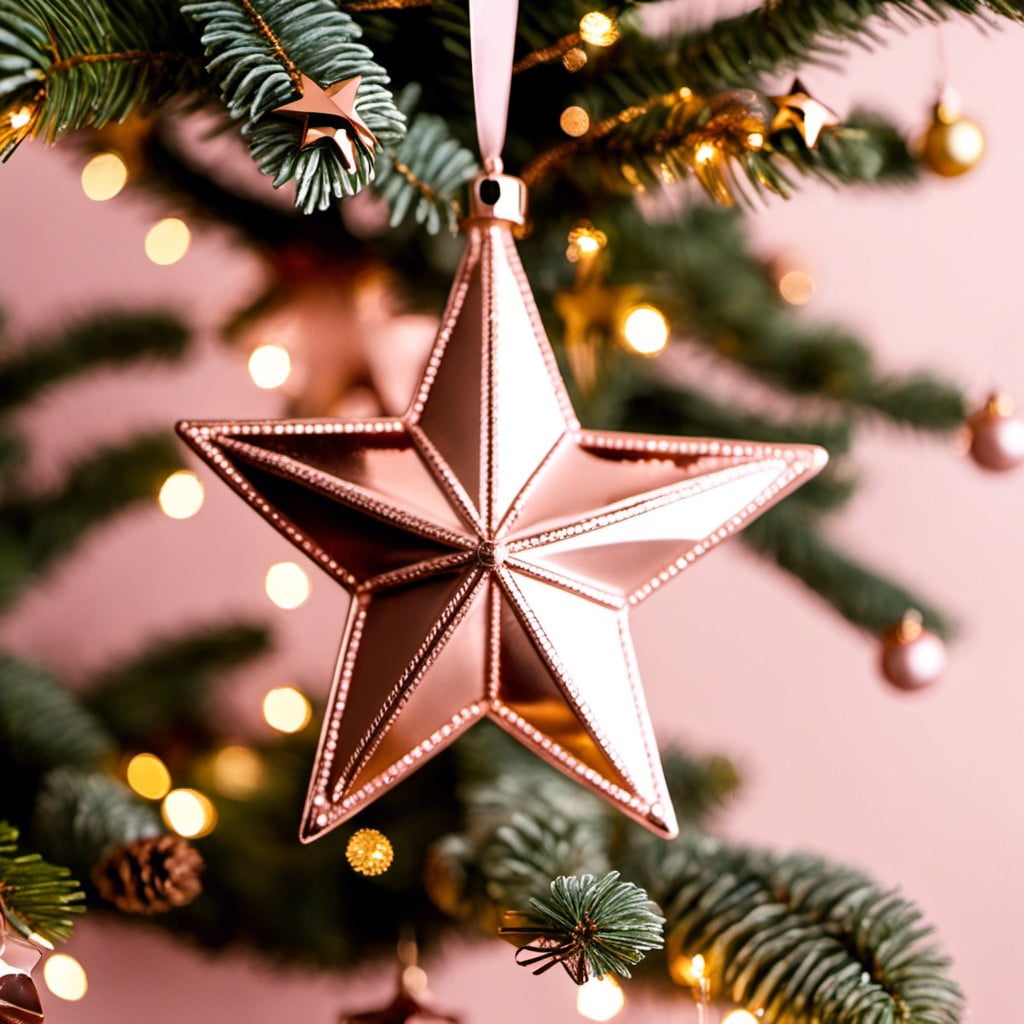 A sparkling addition to your pink Christmas tree can be obtained by placing a star at the apex. The shimmering rose gold hue brings an added layer of elegance and warmth. This choice aligns the festive spirit of Christmas with modern design trends, giving your tree a beautiful contemporary touch.
Points to bear in mind with this particular decoration:
Ensure the star is scaled to the tree size— it should be noticeable but not overwhelming.
The metal texture of rose gold stars adds a stunning contrast against softer, matte pink ornaments.
Choosing a light-up star variant can offer a nice, soft glow that enhances the overall tree lighting.
Complement this topper with similar rose gold decorations intermittently placed, to create a cohesive aesthetic.
Remember, successfully decorating is about creating a balance. With your star tree topper, aim for both visual harmony and a celebratory holiday sparkle.
Pink Feather Boas As Garlands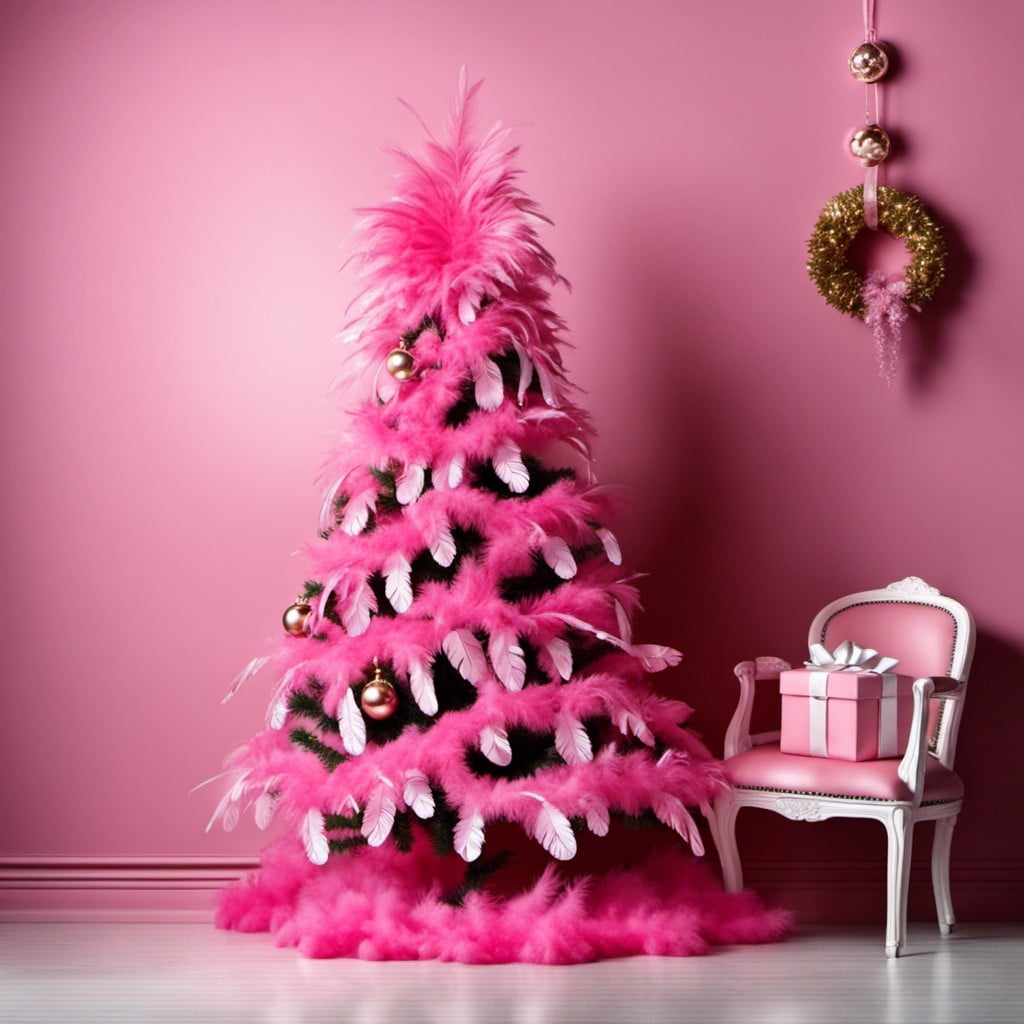 Feather boas serve as a luxurious, tactile alternative to traditional garlands. Think of them wrapping around your tree in luscious loops, introducing a unique texture and enhancing the overall pink theme.
Here's how to incorporate these fluffy accessories effectively:
1. Density matters: Choose a boa with a higher feather count for a fuller look.
2. Layering: Don't be afraid to layer multiple boas for added volume and texture.
3. Mixing hues: Use varying shades of pink for depth and dimension.
4. Placement: Hang them lower on the branches so they drape beautifully.
Remember to handle with care, as feathers can be delicate. With these tips, your tree will ooze chic and fluffy charm, making it the centerpiece of your holiday home decor.
DIY Pink Glitter Ornaments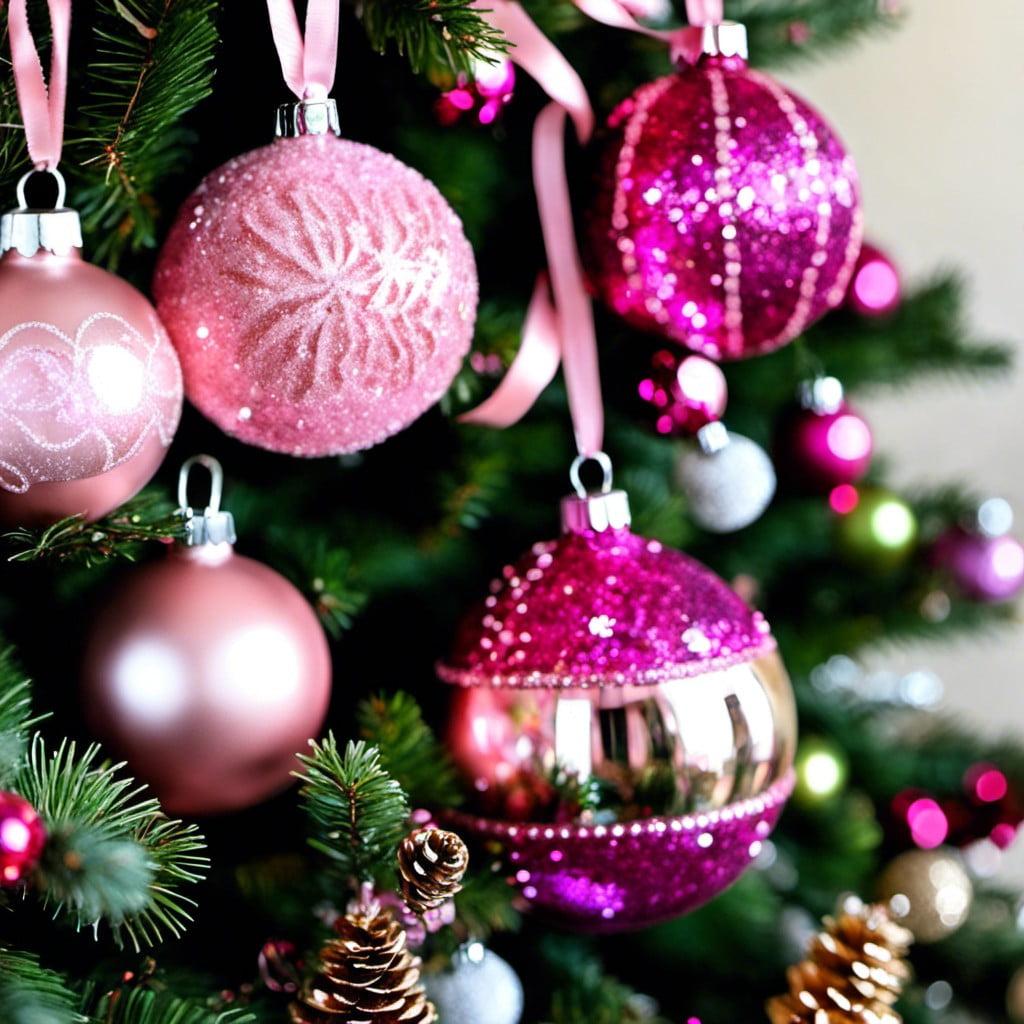 Creating your own pink glitter ornaments involves a few straightforward steps, providing you with a personalized touch to your tree.
Start by sourcing clear glass or plastic baubles, to which you'll apply glue on the outside.
Sprinkle generously with pink glitter, ensuring consistent coverage.
Opt for different shades of pink to add variety and depth.
Once dry, shake off the excess and voila!
Your very own handcrafted, gleaming decorations are ready to be hung on your pink Christmas tree.
This activity not only enables creativity but is also a fun, festive craft to engage family members of all ages.
Pink Silk Ribbon Bows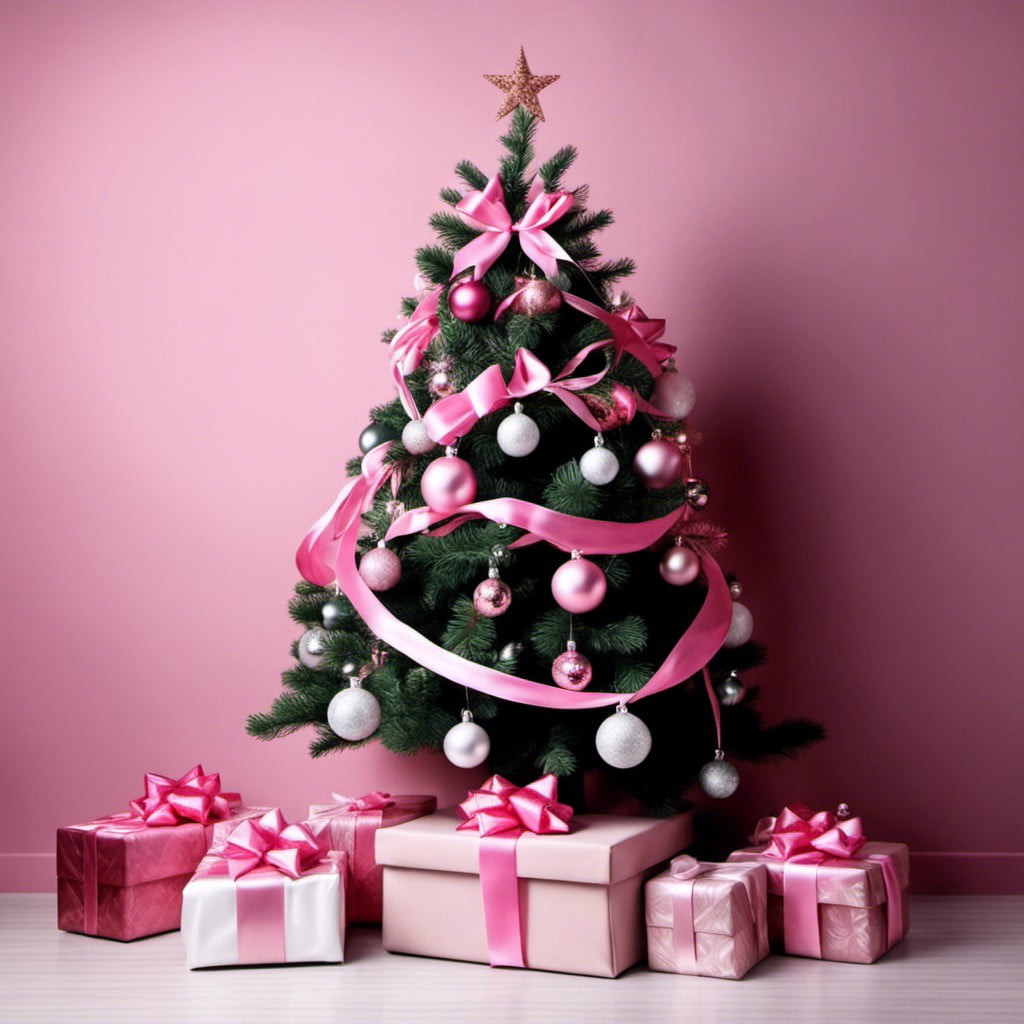 Crafting silk bows adds a touch of elegance to your pink Christmas tree. Opt for a rich, blush-toned silk ribbon for a subtle shimmering effect.
You can either go big with plump oversized bows for statement pieces or create numerous smaller bows for a consistent theme throughout the tree.
Consider pairing these with clear or pearl ornaments to accent the delicate nature of the silk. Placement can vary; some choose to evenly distribute bows around the tree, while others prefer grouping several together for a dramatic pop of texture and color.
Regardless of the method used, these bows are a compelling addition, effortlessly upgrading your tree decoration game. They strike a perfect balance between simplicity and sophistication, elevating the overall aesthetic.
Not a fan of crafting? Fear not. Ready-made silk bows are easily available in stores and online platforms, offering variety in size, design, and shade of pink, making customization a breezy task.
Blush Pink Poinsettia Clips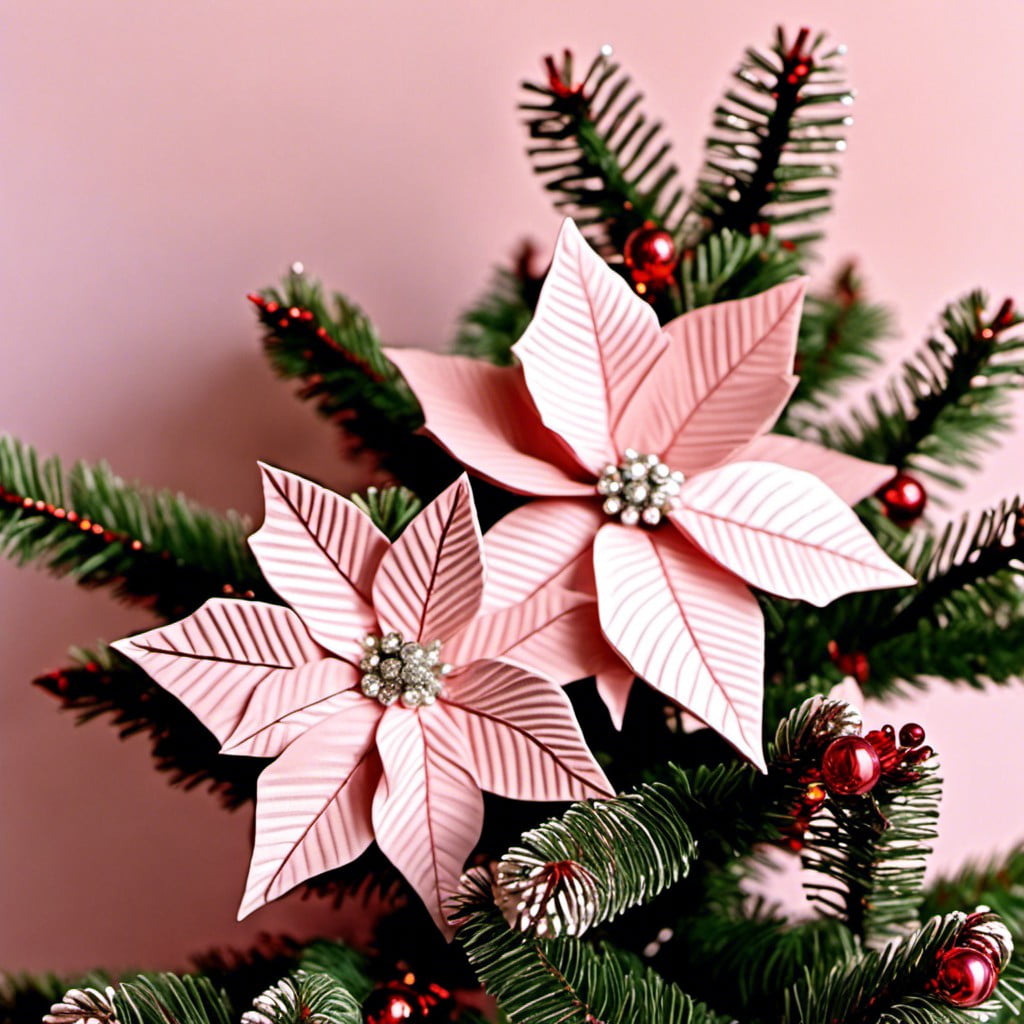 Offering a lovely pop of color and a touch of tradition, these ornate floral clips are instant eye-catchers. Simply attach them to the branches.
The blush tone lends a soft, dreamy quality that can be accentuated further with strategically placed fairy lights.
When opting for these, ensure a balanced look by distributing them evenly around the tree.
They seamlessly combine with other ornaments but can also stand out as the solo feature.
Opting for a variety of sizes gives a more organic and dynamic effect.
Remember, it's all about creating visual appeal and festive cheer.
Pink Sequin Tree Skirt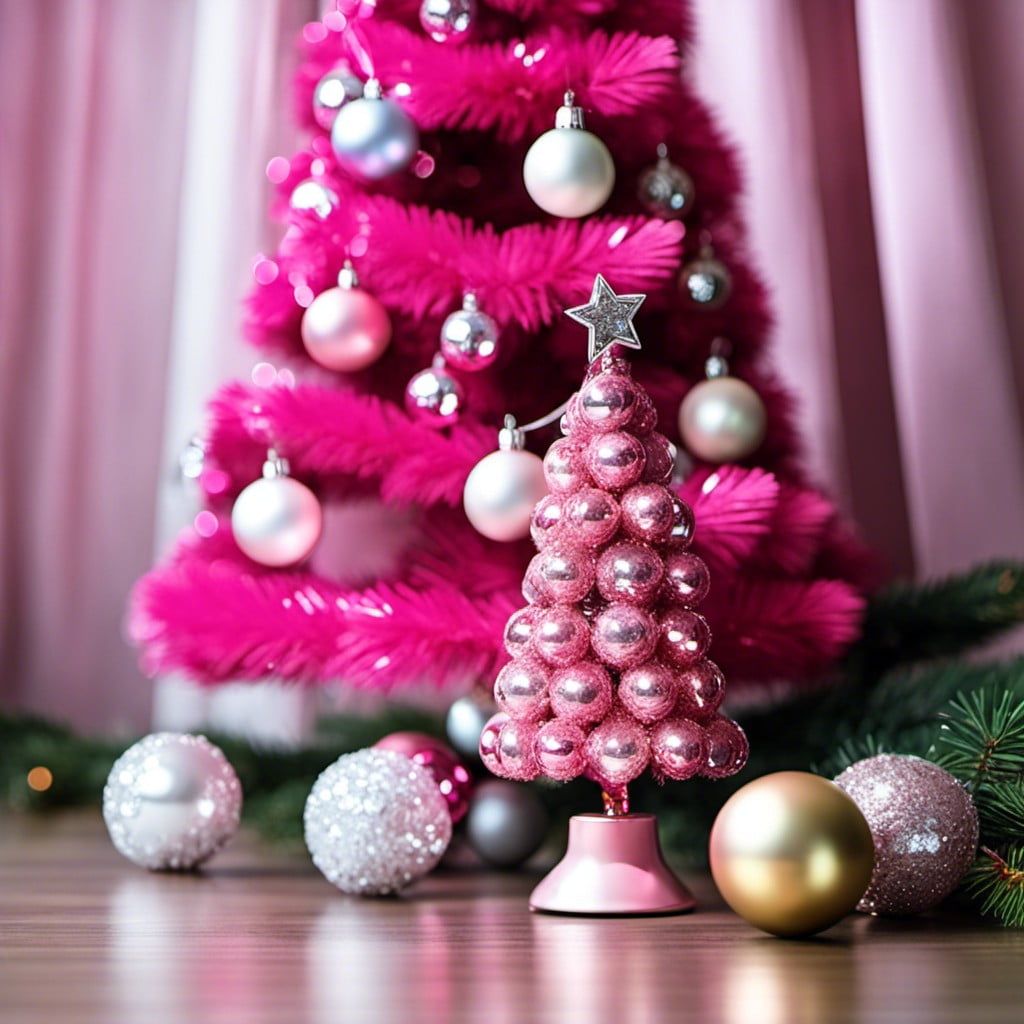 In terms of sparkle and glitz, nothing quite compares. Shimmering sequins make this tree skirt a standout choice for a radiant pink Christmas theme. Dressing your tree base in a sequined skirt provides an enchanting aesthetic, enhancing the magic that the holiday season brings.
1. Luxurious ambiance: A sequin skirt exudes luxury, delivering a chic and elegant twist to your decor;
2. Reflective properties: Sequins catch and reflect light, creating an enchanting shimmering effect around the base of your tree;
3. Concept enhancement: With its presence, it bolsters the radiance of twinkling lights and glossy ornaments;
4. Versatility: Despite its unique colour and sparkle, it effortlessly complements other decorations;
5. Durability: Sequin skirts are typically sturdy, making them an enduring addition to your Christmas decor arsenal.
Remember, maintaining a balance with other ornaments is crucial. Allow the sequin tree skirt to be a highlight, but not overpowering. This method will contribute to an aesthetically pleasing pink Christmas tree that captivates the attention and hearts of holiday guests.
Fuchsia Candy Cane Ornaments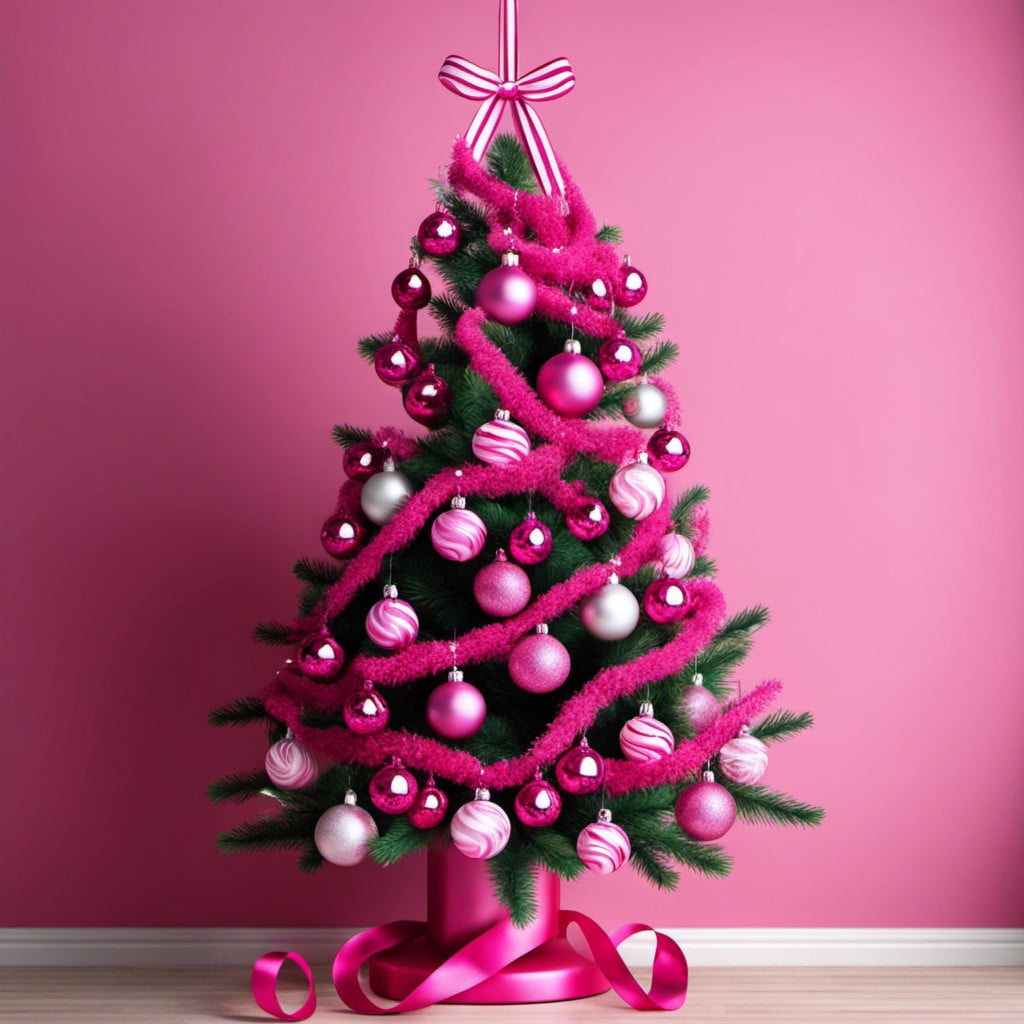 Adorning your tree with these striking ornaments will add a touch of delightful novelty. Fuchsia provides a vibrant contrast against the already rosy backdrop of your pink tree.
To craft a cohesive aesthetic, select candy cane ornaments in varying shades of fuchsia. Opt for both shiny and matte finishes, building texture and depth throughout your tree.
Consider hanging these near the tree's edges to draw focus and reflect light beautifully. The classic candy cane shape introduces a touch of whimsy, reinforcing the playful Christmas spirit.
To intensify the festive look, couple these canes with similarly themed elements like gingerbread ornaments or delicate snowflakes.
Communications need to be received without delay.
Baby Pink Bauble Clusters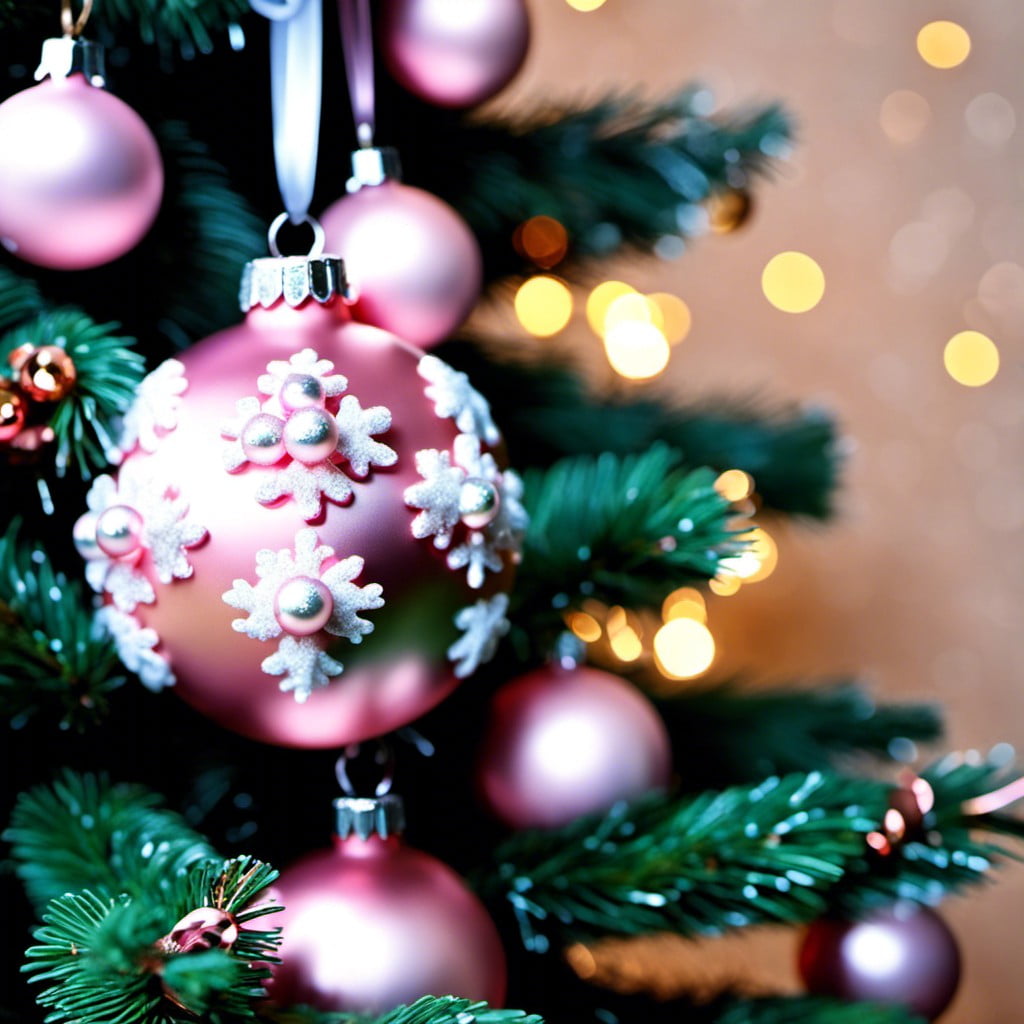 Adorning your Christmas tree with clusters of baby pink baubles adds a fresh take to traditional color schemes. The different shades of pink bring depth and interest to your tree.
A mix of matte and shiny finishes ensures a variety of textures that catch and deflect light for an appealing visual effect. Strategically place the clusters, ensuring an even distribution around the tree.
For a cohesive look, choose baubles that complement each other in size and tone, but don't shy away from placing one or two oversized baubles for an unexpected twist. Keep in mind that less is often more; it's not necessary to cover every branch.
The empty spaces let the tree – and the ornaments – breathe, highlighting their individual beauty.
Pink Frosted Pine Cone Decorations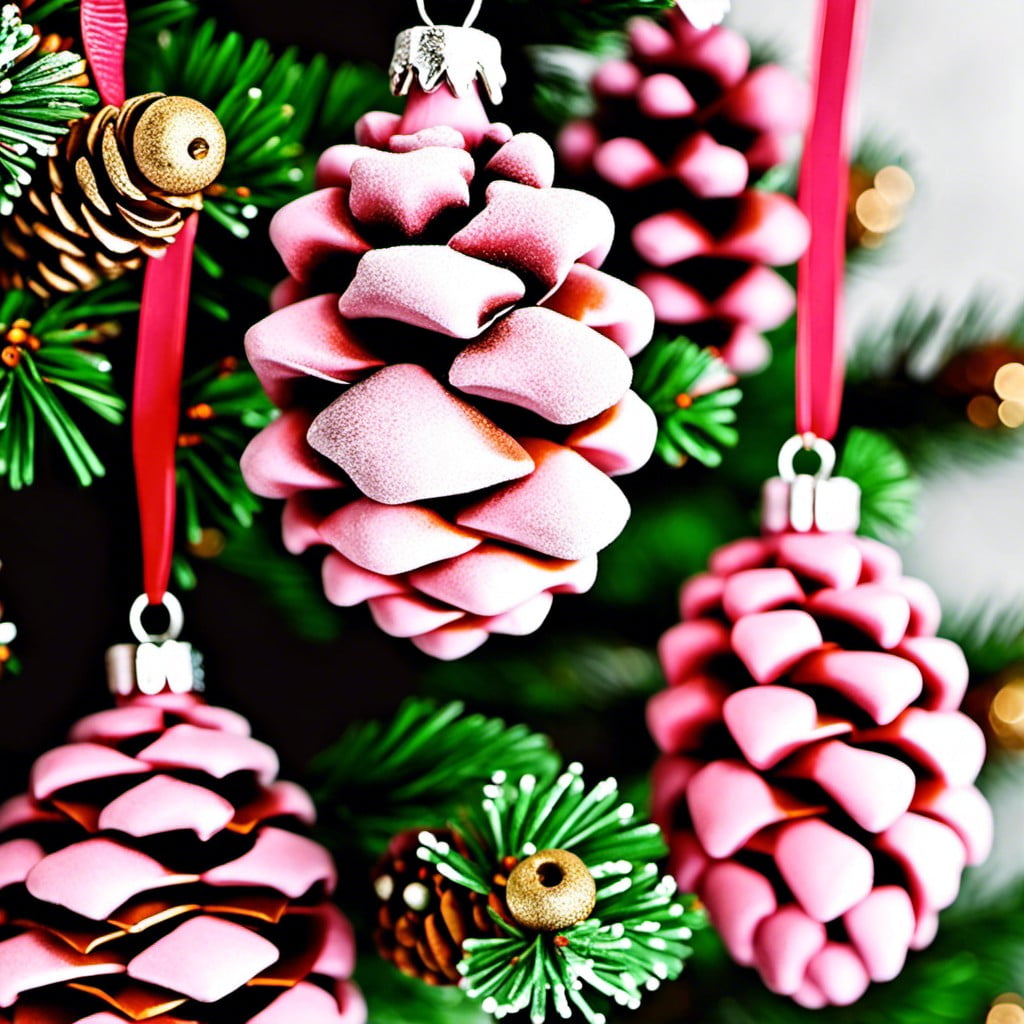 Opting for natural elements that carry a hint of winter charm can truly elevate your tree's aesthetics. Pink frosted pine cones, are an excellent example. Lightly dusted with a layer of pink frost, they add the right combination of rustic appeal and glitz.
1. Material: Real or artificial pine cones can be used. While real ones have an authentic feel, artificial ones last longer.
2. Frosting process: A simple DIY project would involve spray painting the cones in your desired shade of pink, and then adding a sprinkle of pink glitter while the paint is still wet.
3. Placement: Scatter them throughout the tree, ensuring some are visible near the front and others lurk in the back to provide depth.
4. Sizing: Mix different sized pine cones to add variety and maintain visual interest.
5. Pairing: Pair with clear or white decorations to bring out their pinkness and maintain color balance.
This unexpected and charming addition to your tree is sure to attract attention and compliments.
Pearl and Pink Bead Garland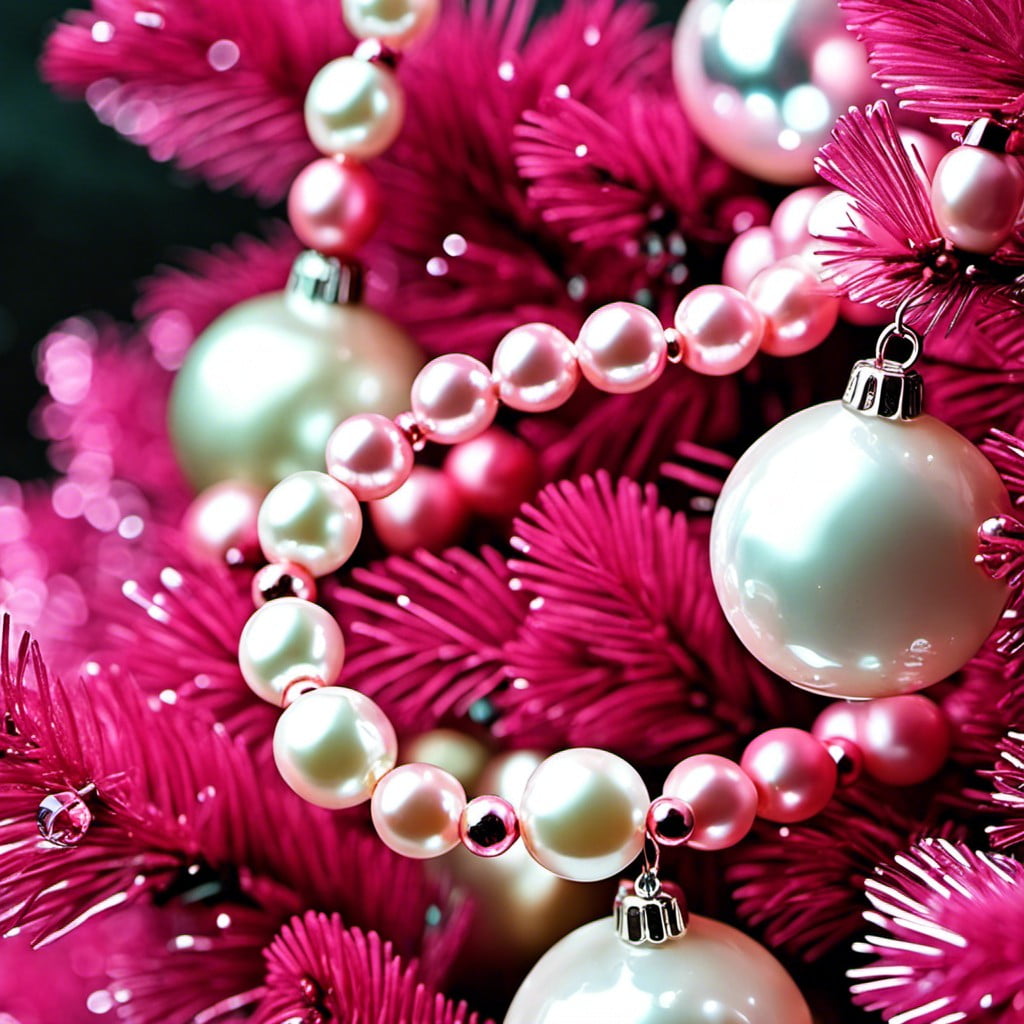 Adding an elegant touch to your pink Christmas tree would involve incorporating elements with a refined shine. A garland made of pearls and pink beads fulfils this need admirably.
Here are a few key points to remember:
Try contrasting sizes: Use a combination of large pearls and small pink beads for variety and visual interest.
Achieve balance: It's essential to distribute the garland evenly around the tree, creating a pattern without any awkward gaps.
Complement with lights: Arrange the garland near light strands so the pearls can reflect the lights, adding a magical twinkle.
Consider the length of the garland: It should be long enough to wrap around your tree multiple times. It can either drape loosely or tautly, based on your preference.
Layer the decorations: Start with your lights, then drape on the garland and finally, arrange the ornaments. This creates a beautifully composed look.
Flamingo Themed Ornaments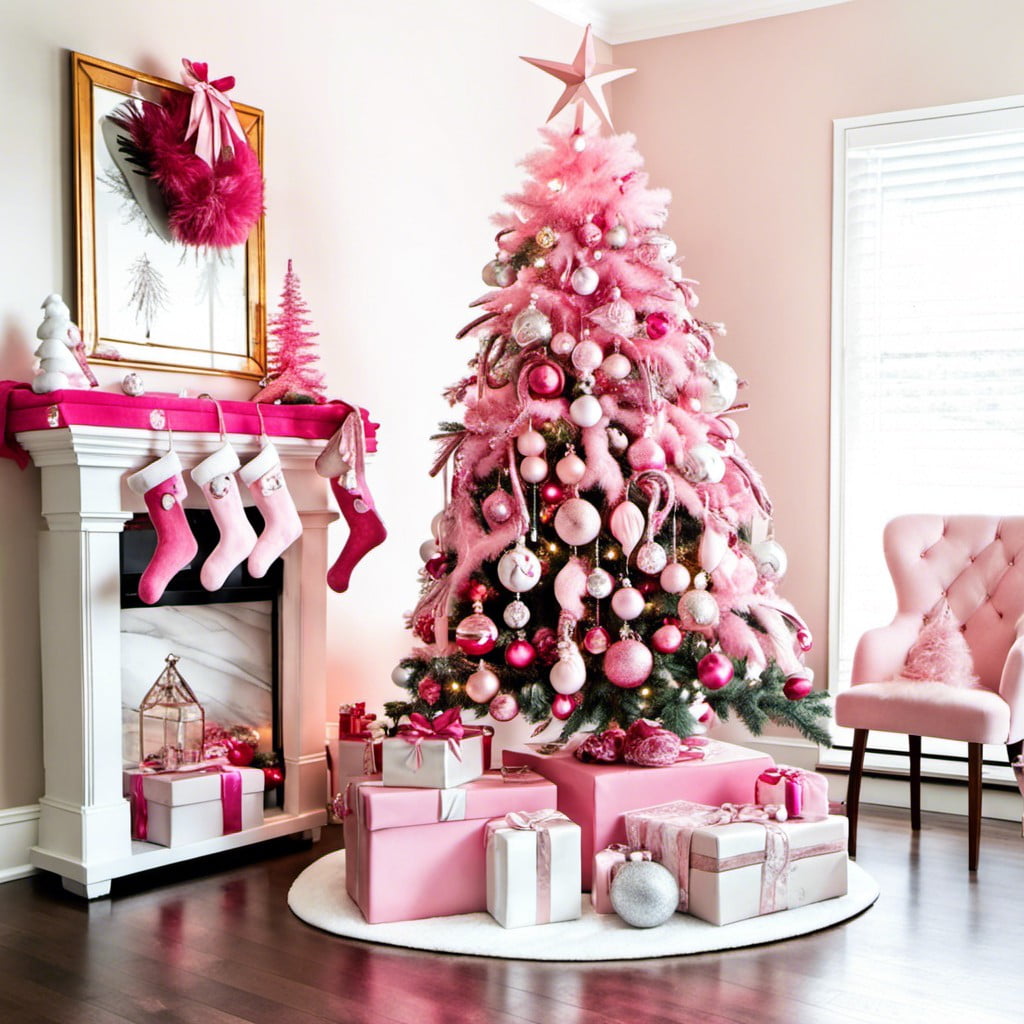 For a fun twist to traditional holiday decor, flamingos offer a unique touch that's hard to miss. These playful birds are a popular choice, especially when adorned in festive outfits, from Santa hats to Christmas lights.
Here are few pointers on incorporating them into your pink tree:
Variety: Opt for an assortment of flamingos in different hues of pink, shapes, and sizes to create visual interest.
Arrangement: Position them on multiple levels around the tree, but avoid clustering them too closely.
Balance: Ensure that they're evenly distributed among other ornaments to maintain harmony.
Theme Consistency: They should complement other decorations. Pair them with palm leaf ornaments and tropical baubles for a full-on tropical-inspired tree.
Playfulness: Don't be afraid to add a humorous touch with a festive flamingo tree topper!
Remember, the key is not to overdo it, and have fun with the process!
Pink LED Fairy Lights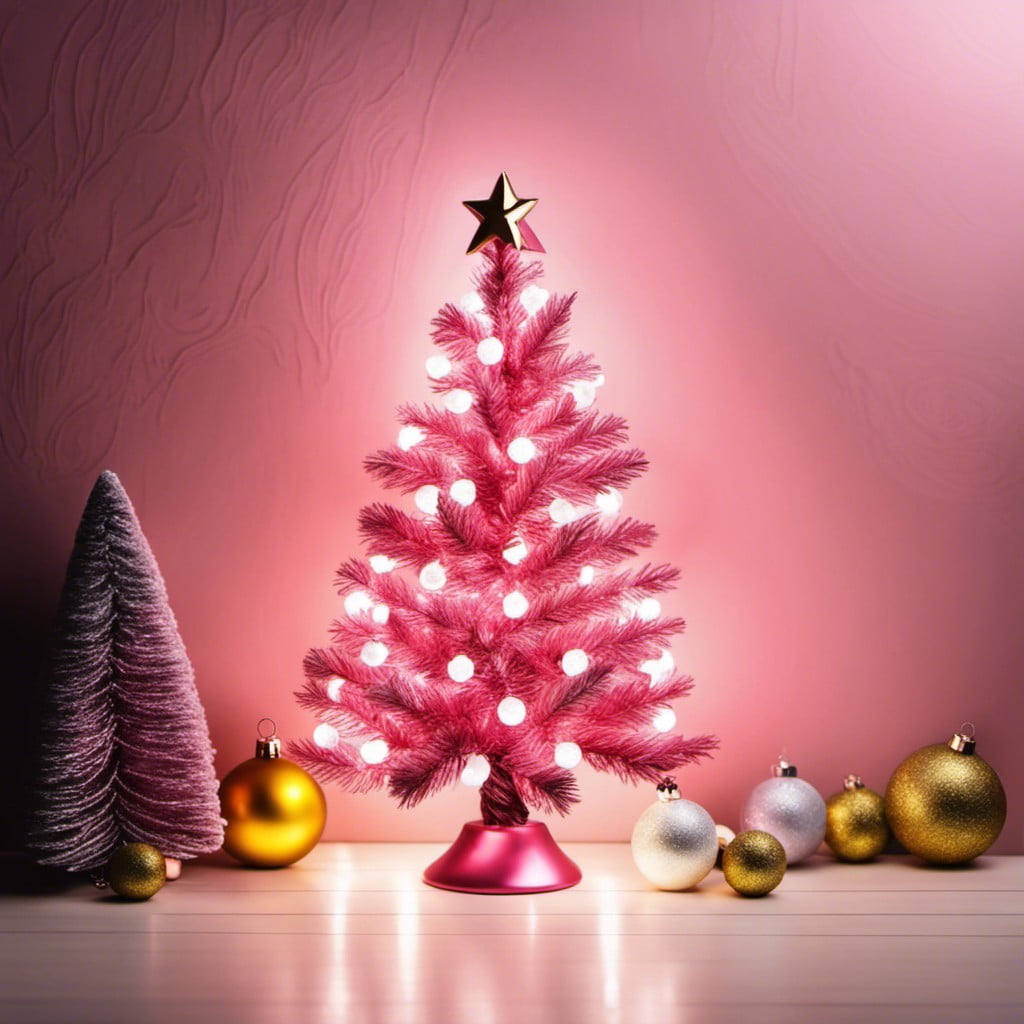 Installing lights on your tree lends a warm, inviting luminosity to the overall display. Opting for pink LED fairy lights can add a magical touch. Not only are they energy efficient but they lend a soft, captivating glow, highlighting the other decorations beautifully.
When it comes to positioning, you can thread them throughout for an evenly balanced shine. Alternatively, consider spiraling them around from top to bottom for a more structured illumination pattern. Either way, these lights work perfectly with other pink tones, creating a cohesive, enchanting visual. They are usually waterproof, so are perfectly safe for indoor and outdoor trees.
In terms of variety, there are options for different bulb shapes, light modes (steady, flashing, etc.) and even remote-controlled operation. Whether you go for tiny micro LEDs or larger globe bulbs, pink LED fairy lights undoubtedly provide that much-needed sparkle to your pink Christmas tree.
Glittering Pink Snowflake Ornaments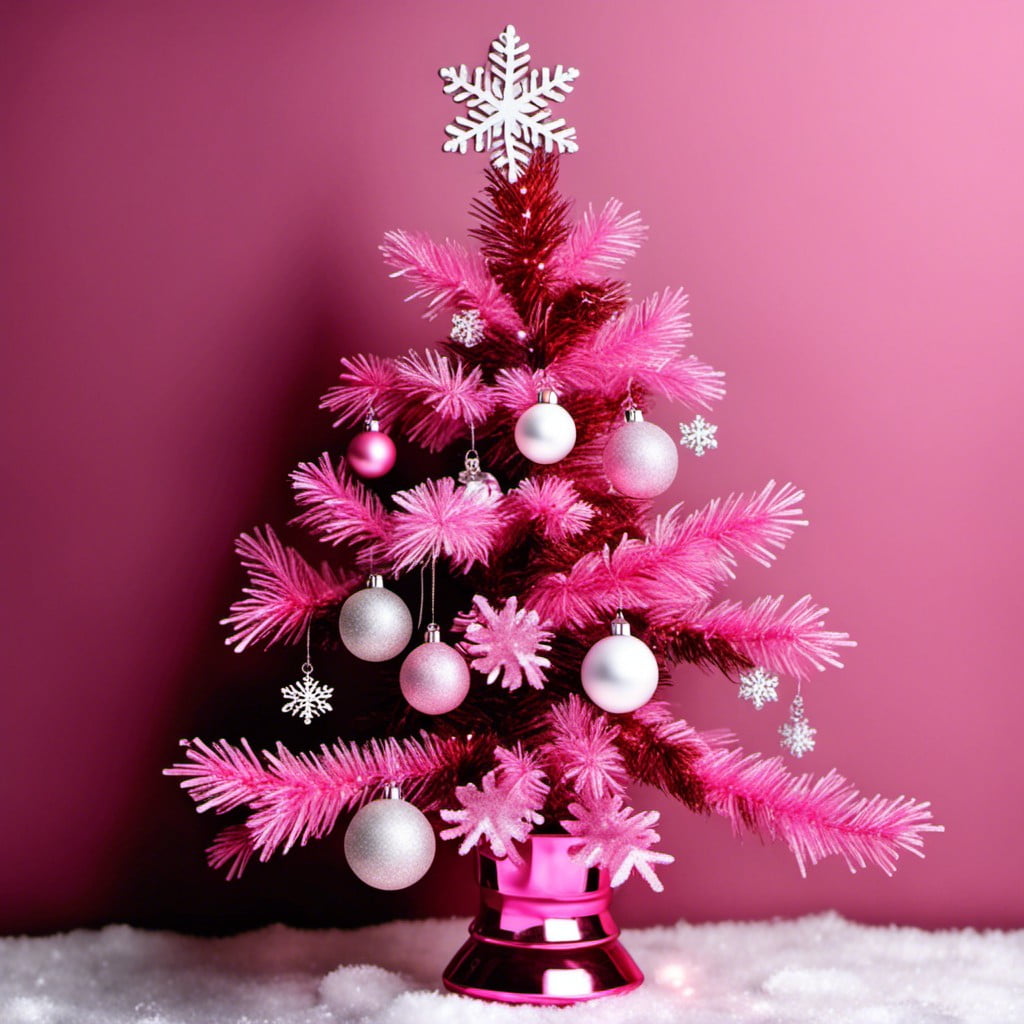 Adorn your tree with a sprinkle of frosted magic! When considering an ornament with glitz and charm, one must not overlook the impact of Glittering Pink Snowflake Ornaments. These additions bring a dazzling wintery touch to complement the warm pink hues – a fantastic juxtaposition.
Here are some instructive pointers to note:
Opt for varying sizes to add depth and interest to your Christmas tree.
Position these shimmering embellishments at different heights to create an eye-catching sparkle.
Consider mixing matte and shiny textures to enhance the visual interest.
If crafting your own, use iridescent versus opaque glitters for a softer twinkling effect.
Pair them with softer pink baubles to build a contrast of bold and delicate on your tree.
Glittering Pink Snowflake Ornaments offer an unconventional pop against the traditional Christmas theme. Remember to enjoy the creative process as you bring your unique festive vision to life!
Pale Pink Tinsel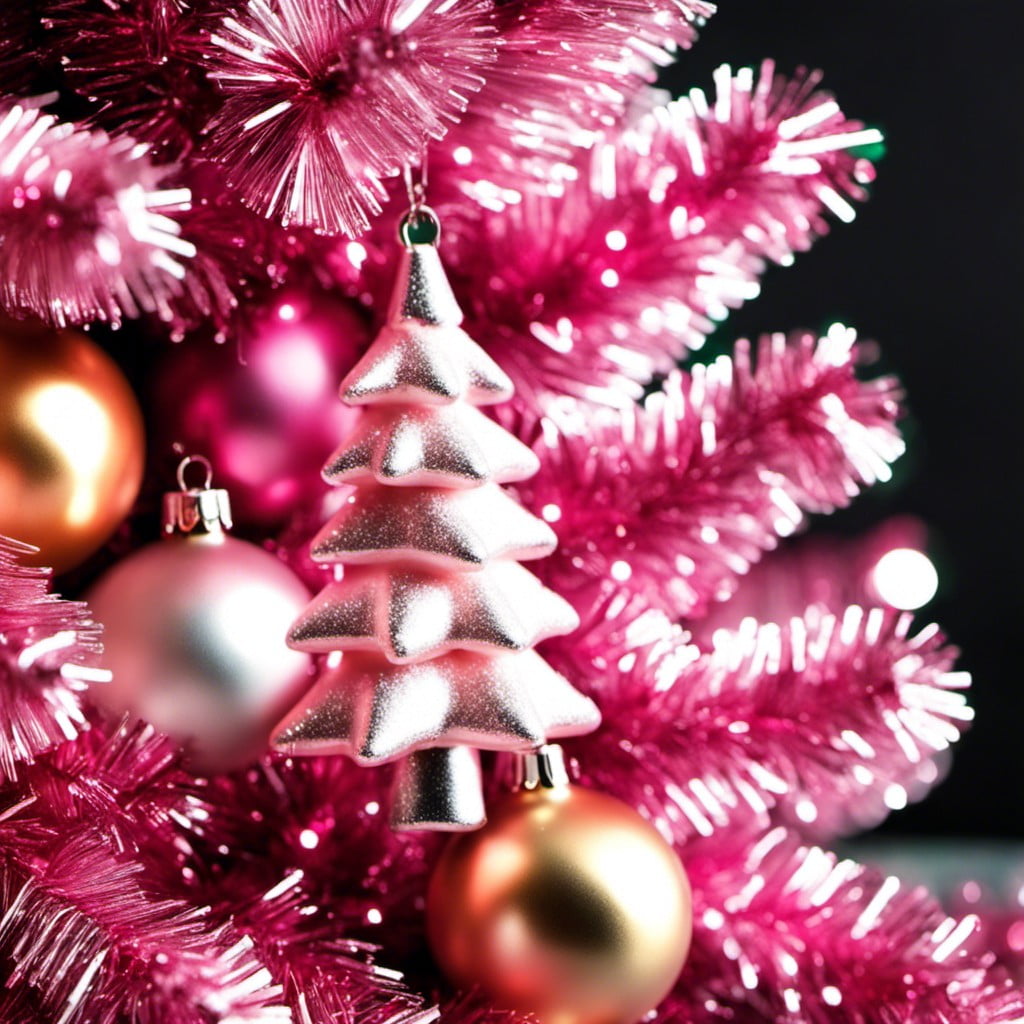 Let's draw your attention towards tinsel which is a classic element in Christmas decoration. Opting for a pale pink shade introduces a soft blush to the tree, imparting a fluffy snow-like effect, especially under the glow of the lights. Moreover, it adds texture, lending an extra layer of opulence to your tree, contributing to a frosty winter wonderland illusion.
A few things to take into consideration:
1. While wrapping it around your tree, ensure continuity and balance. Don't leave large gaps, but also prevent it from looking overly dense.
2. Mix it with strings of white pearls or silver beads to accentuate its delicacy and provide color variation.
3. Layer it. Start from the top of your tree and come down in a spiral form. This technique imparts a more natural and nuanced look.
4. If you're using LED lights, place them near the tinsel. The twinkling lights bouncing off the tinsel produce an almost magical glimmer.
5. Pair it with ornaments of similar or contrasting colors. A mix of blush, fuchsia, and ivory baubles would harmonize beautifully.
Remember, tinsel is an enhancement, not the main act. Use it to augment and highlight other elements.
Pink Velvet Stocking Hangings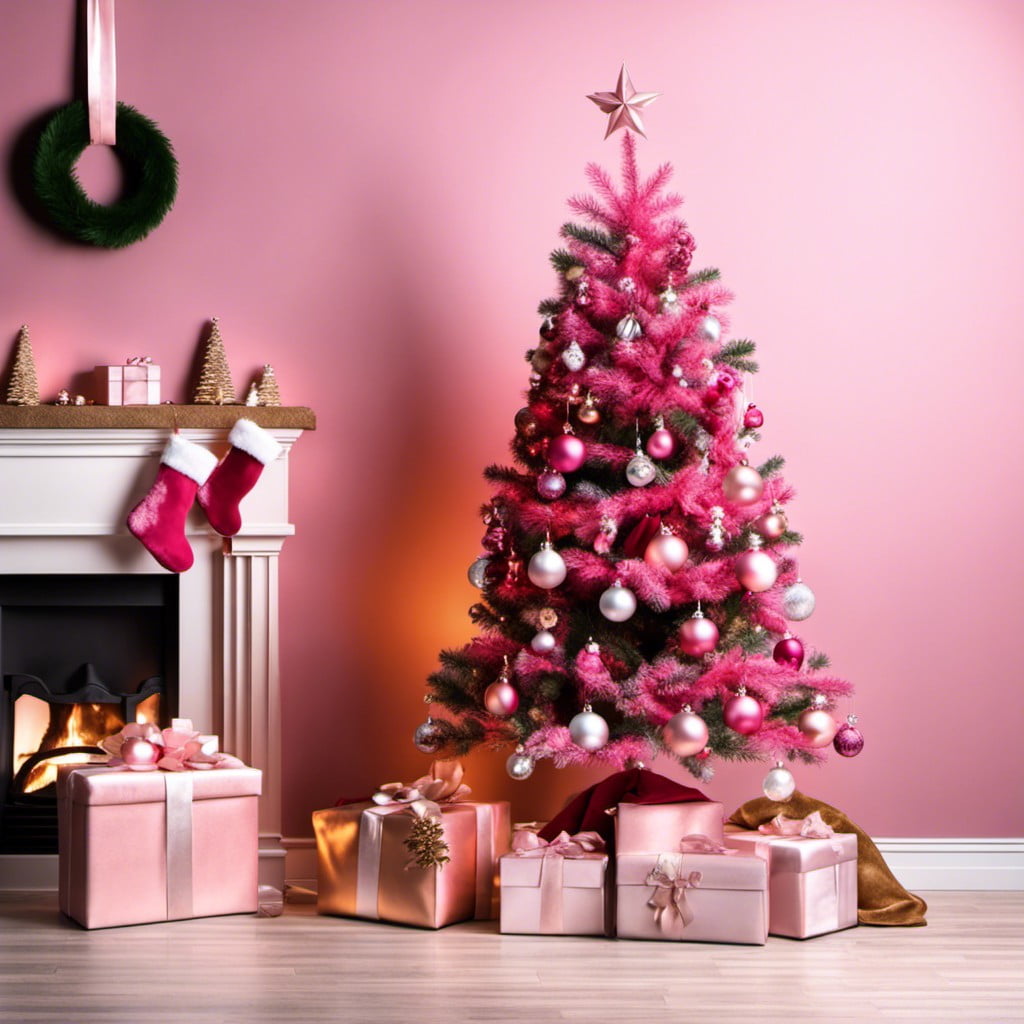 Investing in luxurious, fabric-based decorations never disappoints. Velvet, with its rich and sumptuous texture, effortlessly befits the festive atmosphere. You'll marvel at the transformation stockings can bring when made from this royal fabric and hanged. Their plush texture cohesively interlaces with the soft blush of a pink Christmas tree, enriching the overall visual warmth.
These velvety delights can be studded with brooches for an added glam factor. For a more modest approach, let the velvet itself shine with pure, plain designs. Remember, filled or empty, they serve as captivating eye-catchers, and their velvety look will make them stand out among your ornaments.
There's no rule saying only one stocking per person! Suspend multiple ones in varying shades of pink to blend harmoniously with your tree. Perhaps, juxtapose lighter shades of velvet stockings with darker pink tree decorations to add an eye-pleasing contrast.
Just picture the velvety stockings hung carefully; their fabric reflecting the sparkling tree lights subtly, adding an extraordinary charm to your pink Christmas tree.
Remember, these pink velvet stocking hangings are not just decorations; they reverberate the comfort of Christmas, while inviting the viewer to touch and feel their soft texture, engaging in the holiday spirit more deeply.
Pink Crystal Icicle Decorations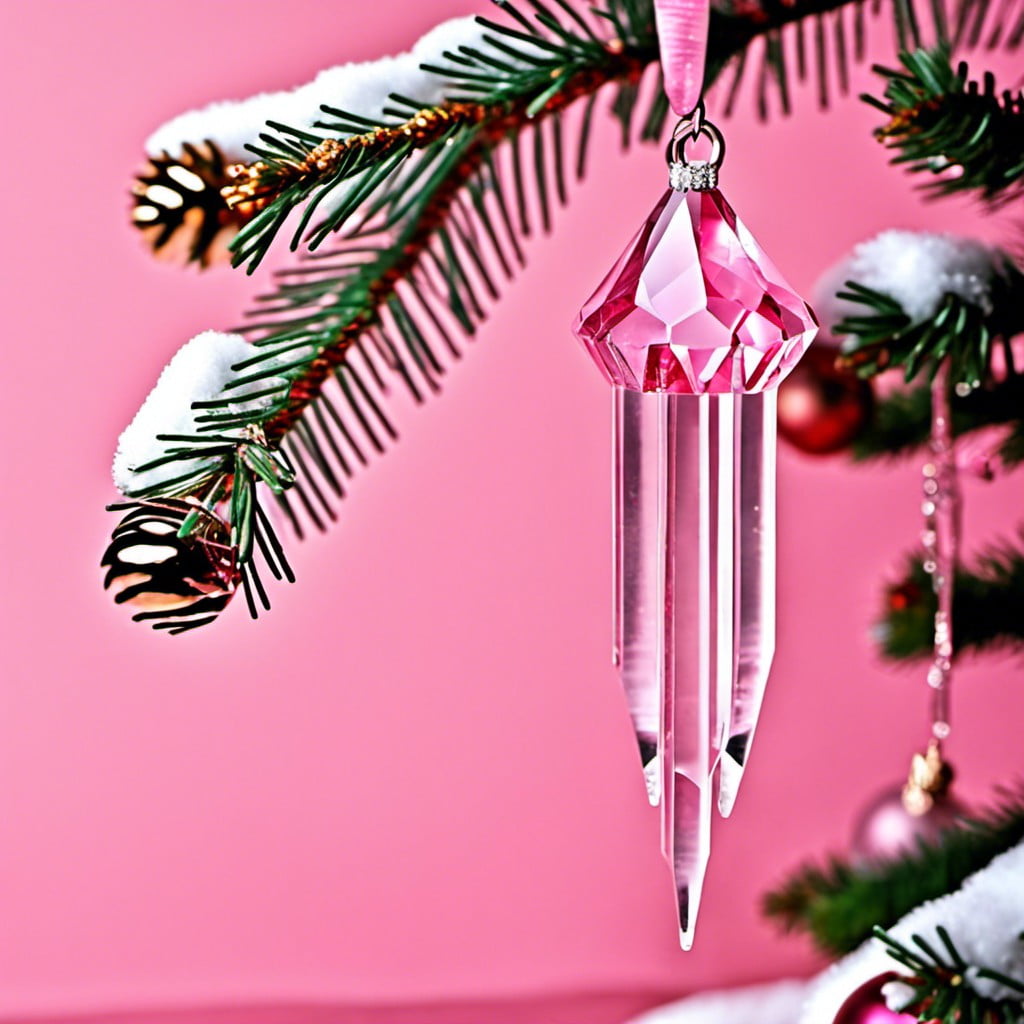 The striking beauty of these decorations lies in their simplicity, adding a dash of elegance and frosty charm reminiscent of a wintry landscape. Ideally, they should be hung from higher branches to mimic nature's design.
Here's how to harness their full potential:
Contrast: Due to their transparency, these icicles create a stunning contrast when set against the warm pink hue of the Christmas tree, giving it a balanced, chic look.
Lighting: Try placing them near your tree lights. The light will refract through the crystal, creating a lovely twinkle effect that beautifully complements the overall glow of the tree.
Grouping: They can be grouped together at various lengths to mimic a natural icy cascade, adding depth and visual interest to your tree.
Variety: Available in different sizes and shapes, select a mix to add variety and keep the eye moving. Remember, the goal is to echo the randomness found in nature.
Remember, less is often more with these types of decorations. A few well-placed crystal icicles can make a big impact, becoming a focal point without overwhelming the overall decor.
Sugar Plum Fairy Tree Topper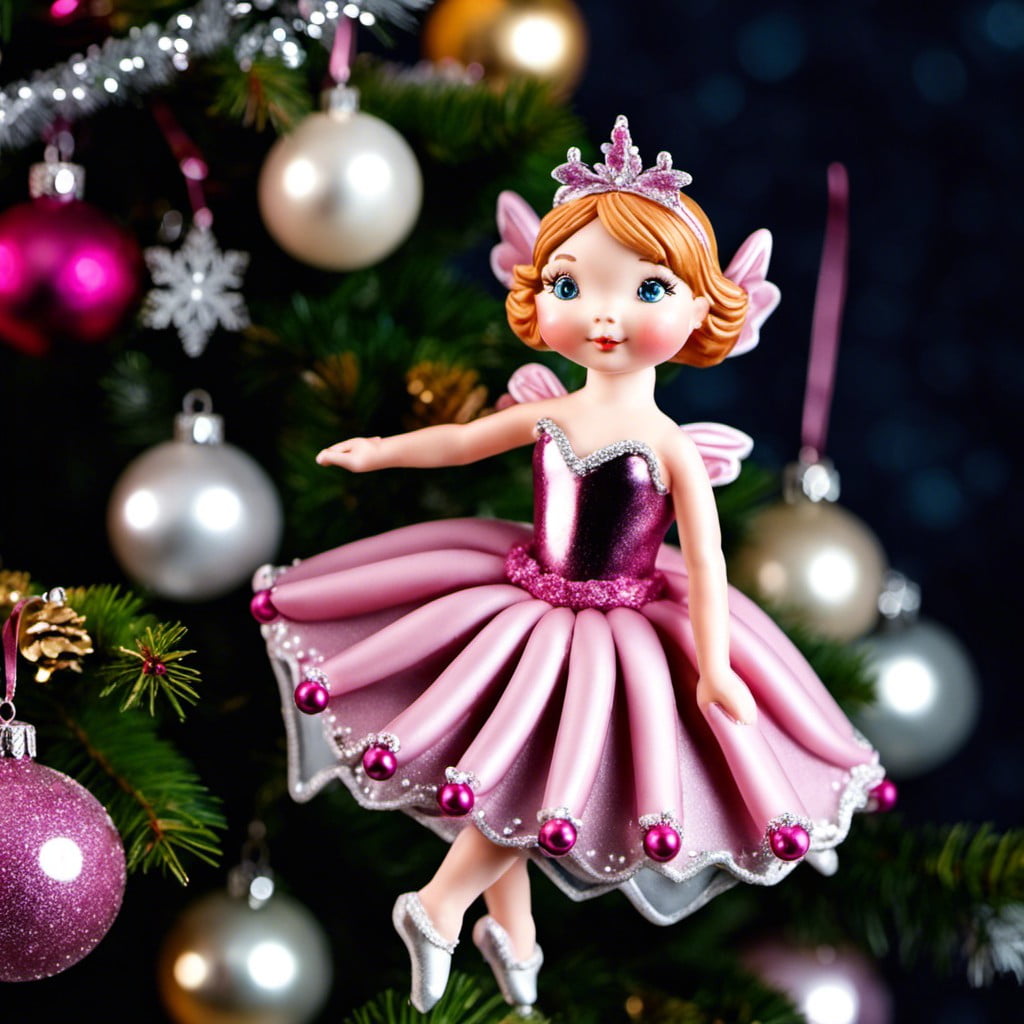 A sugar plum fairy tree topper gives that final magical touch to your pink Christmas tree. Starting with her delicate, iridescent wings that shimmer against the tree lights, to her charming pink attire befitting a fairytale, this embellishment elevates the festive charm.
Consider these points:
Subtle Spread: The fairy's wings offer a tasteful variety without overwhelming the tree's central pink theme.
Size matter: This topper size should complement your tree. For a dwarf tree, opt for a moderately-sized fairy, while taller trees demand a more sizeable topper.
Light Interaction: Position the fairy in a way that the tree lights catch onto her glittery wings and tutu for an enchanting glow.
Quality: Opt for a well-constructed topper, with sufficient reinforcement in the base to stabilize it atop your tree.
This charming addition is sure to transport onlookers to the Land of the Sweets in Tchaikovsky's famous ballet, The Nutcracker.
Pink Macaron Ornaments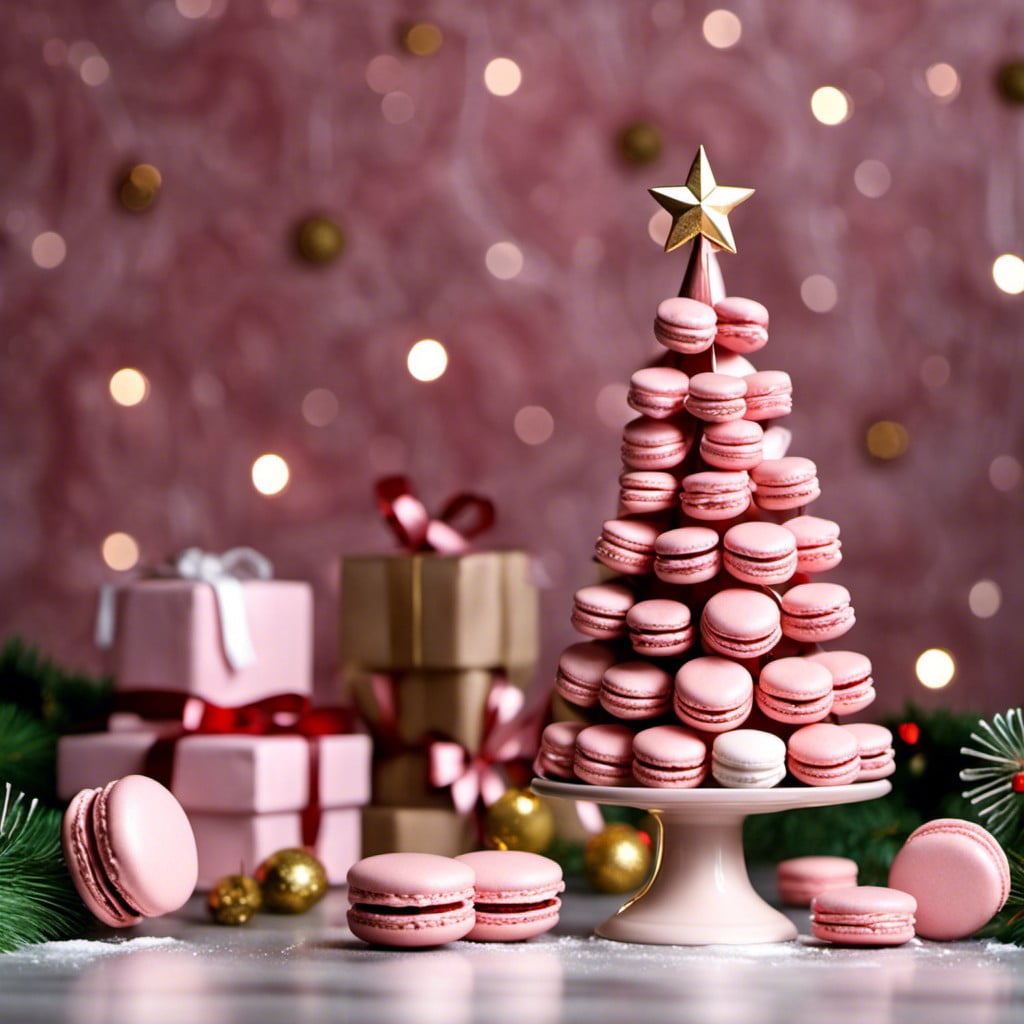 Dainty and delightful, these sweet treats aren't just for patisseries anymore. Transformed into hanging trinkets, they add a touch of whimsy to your festive decor. The vibrant colors and playful shapes echo the holiday spirit while upholding the down-to-earth authenticity of a home-baked dessert.
1. Select macarons in various hues of pink, to match your tree and accentuate its color scheme. Mimic an ombre effect by arranging them from light to dark.
2. Opt for macarons of different sizes to add visual interest, placing bigger ones towards the base and smaller towards the top.
3. Display them with the shiny edge facing outwards to catch and reflect the twinkling Christmas lights.
4. Pair them with similar themed decorations like candy canes or cookie cutter ornaments to further emphasize the dessert theme.
5. Use clear fishing line to hang them, so it seems as if they are floating amidst the branches.
A batch of these tasteful baubles will frame your tree with a playful nod to French confectionery, making your decor uniquely festive and eye-catching.
Cherry Blossom Stick-ins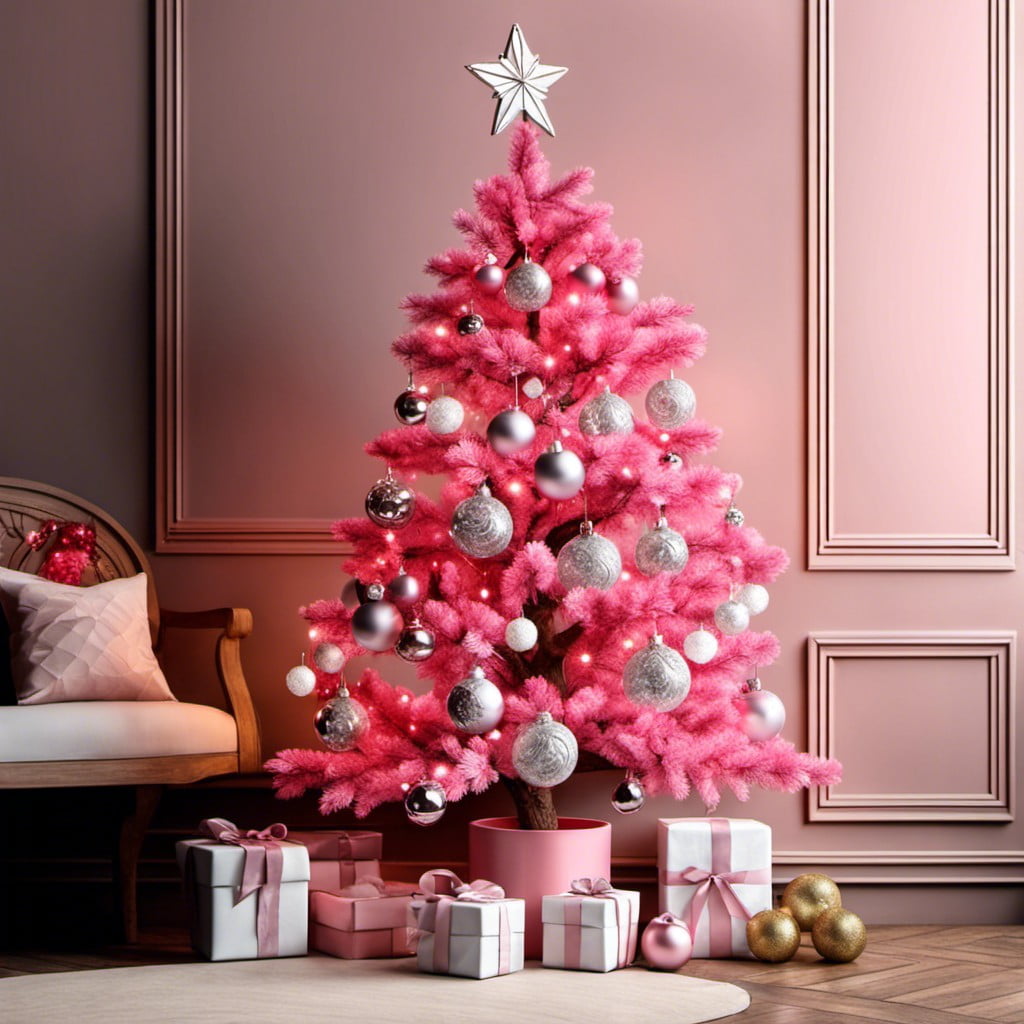 Taking elegance to a whole new level, these delicate floral accents are not to be missed. Perfect for creating a unique blend of traditional and modern festive decor, they are an ideal choice for a distinctive aesthetic.
Easily attached amidst your other ornaments, they add a touch of whimsy to the entire tree. Due to the inherently thin stems of cherry blossoms, they maintain an almost ethereal presence, enhancing the pink theme without overwhelming it.
These stick-ins can be manipulated to appear as if they are real branches extending from your tree. Each stem typically features multiple blossoms, multiplying their visual impact. Remember, they are flexible elements, so feel free to experiment. Some decorators favor clustering them; others prefer a more spread-out approach.
Whether they imitate the blossom season of Japan in your home or just add some extra texture to your tree, cherry blossom stick-ins create an atmosphere that is at once serene and festive in your pink-themed Christmas celebration.
Liked reading this? Here's more:
Recap: