Last updated on November 10, 2023
Embark on the fascinating journey of primitive decorating because it gives your home a unique charm and nostalgic aura that is hard to resist.
I'm thrilled to present this article and original designs on 20 Primitive Decorating Ideas, an endeavor I truly enjoyed creating, and I ardently hope it sparks inspiration and fun for you as it did for me.
Primitive decorating, often referred to as country or rustic style, is all about celebrating the simplicity and charm of an earlier era. This style is characterized by warm, neutral colors, distressed furniture, handcrafted items, and vintage pieces.
Whether you're looking to transform your entire home or just add a touch of rustic charm to a room, these primitive decorating ideas can help. They cover a range of themes, from cozy farmhouse kitchens to rustic living rooms, and even include tips for creating your own primitive decorations.
So, buckle up for a journey back in time as we explore the world of primitive decorating.
Use Rustic Wood Furniture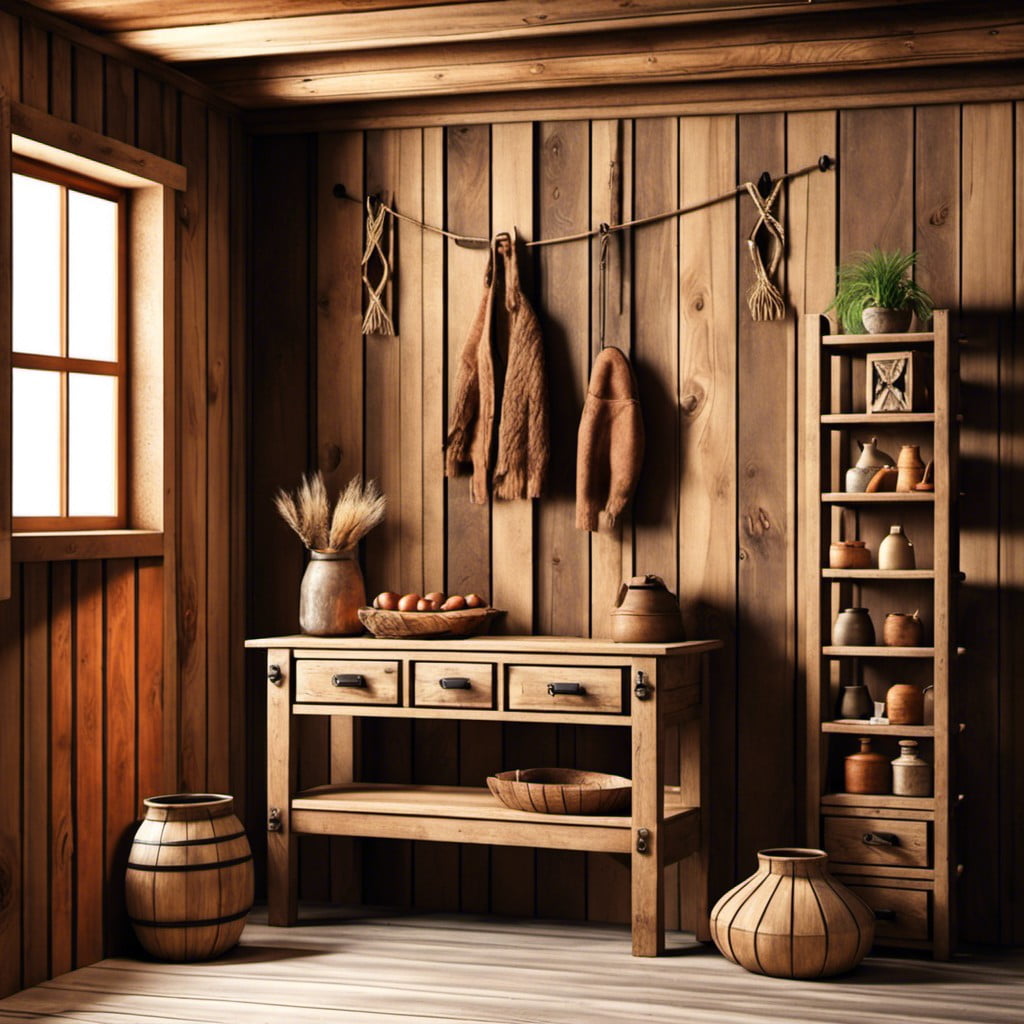 Incorporating rustic wood into your interior décor lends an earthy, robust touch to any room. There's a wide array to choose from, with options including reclaimed barn wood, distressed finishes, or hand-carved pieces.
Keep in mind the inherent character and beauty wood carries. Consider tables, chairs, or storage units in their natural colors, emphasizing their age and use. Don't shy away from pieces showing visible knots, cracks, or imperfections; these features enhance the authenticity and charm. On the other hand, select pieces carefully to ensure they are sturdy and functional aside from being aesthetically pleasing.
Moreover, complement these robust pieces with soft textiles like wool or linen to add a cozy feel. Whether it's a dining table made from old oak or a weathered pine bookshelf, rustic wood furniture helps achieve a timeless and serene atmosphere, a sanctuary away from the modern, fast-paced world.
Hang Woven Baskets On Walls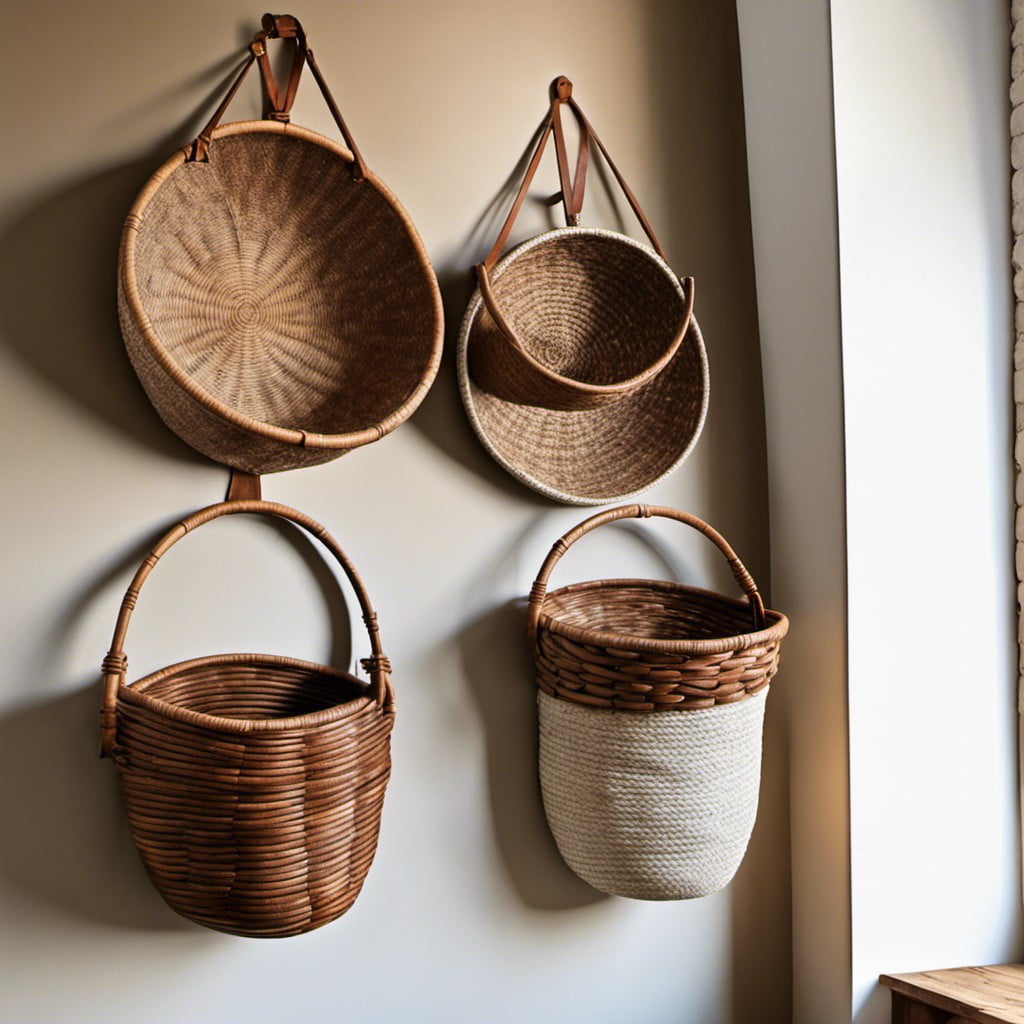 A popular and aesthetically pleasing trend, the use of woven baskets as wall decor adds a cozy, rustic touch. They're practical, providing both visual interest and bonus storage. For maximum impact, consider grouping baskets of different shapes and sizes. Position larger ones at the center and smaller ones around the edges for a well-balanced composition.
Baskets made of materials like wicker, straw, or sea grass bring distinct textures, enhancing a room's layered look. They also possess a color range from pale wheat to deep russet, allowing them to blend beautifully with practically any color scheme.
Remember to securely fasten each basket to the wall, particularly if they're used for storage. Command strips or small nails often suffice for lighter baskets. With this simple yet impactful adjustment, your home becomes an inviting, primitive-inspired haven.
Display Antique Quilts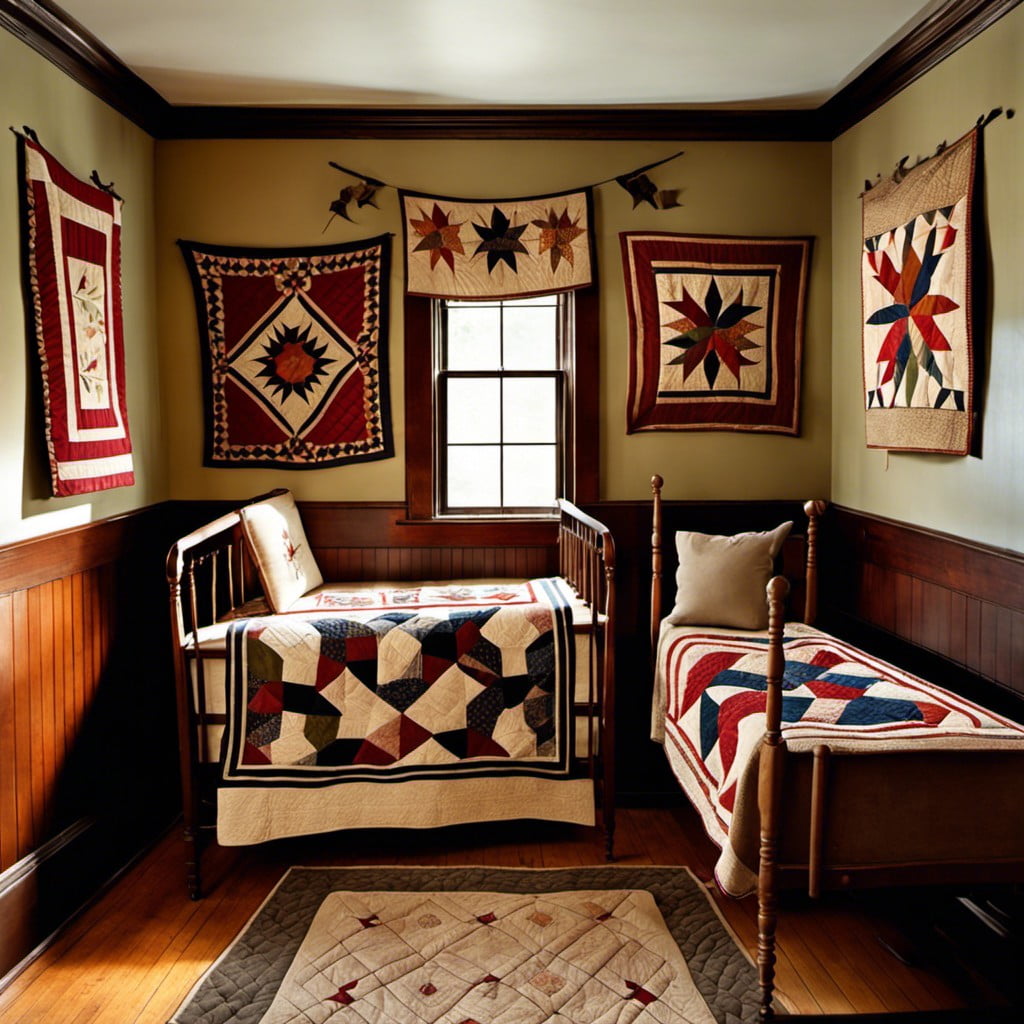 Antique quilts hold a distinctive charm and narrate a historical tale. They add a layer of richness to primitive decor, creating a cozy atmosphere.
Adopting a few key steps ensures these cherished pieces get the spotlight they deserve:
Prioritize proper hanging: Hang these quilts like artwork. Avoid direct sunlight or damp areas. This maintenance boosts longevity.
Play with positioning: Alternating between full spread or folding in a grain sack fabric creates visual intrigue.
Mix with modern elements: If you want a twist on the traditional, place antique quilts alongside contemporary furniture for a contrast effect.
Utilize them functionally: Don't limit quilts to the wall. Drape them over a primitive cedar bench or couch.
In essence, integrating antique quilts builds a unique aesthetic character.
Install a Stone Fireplace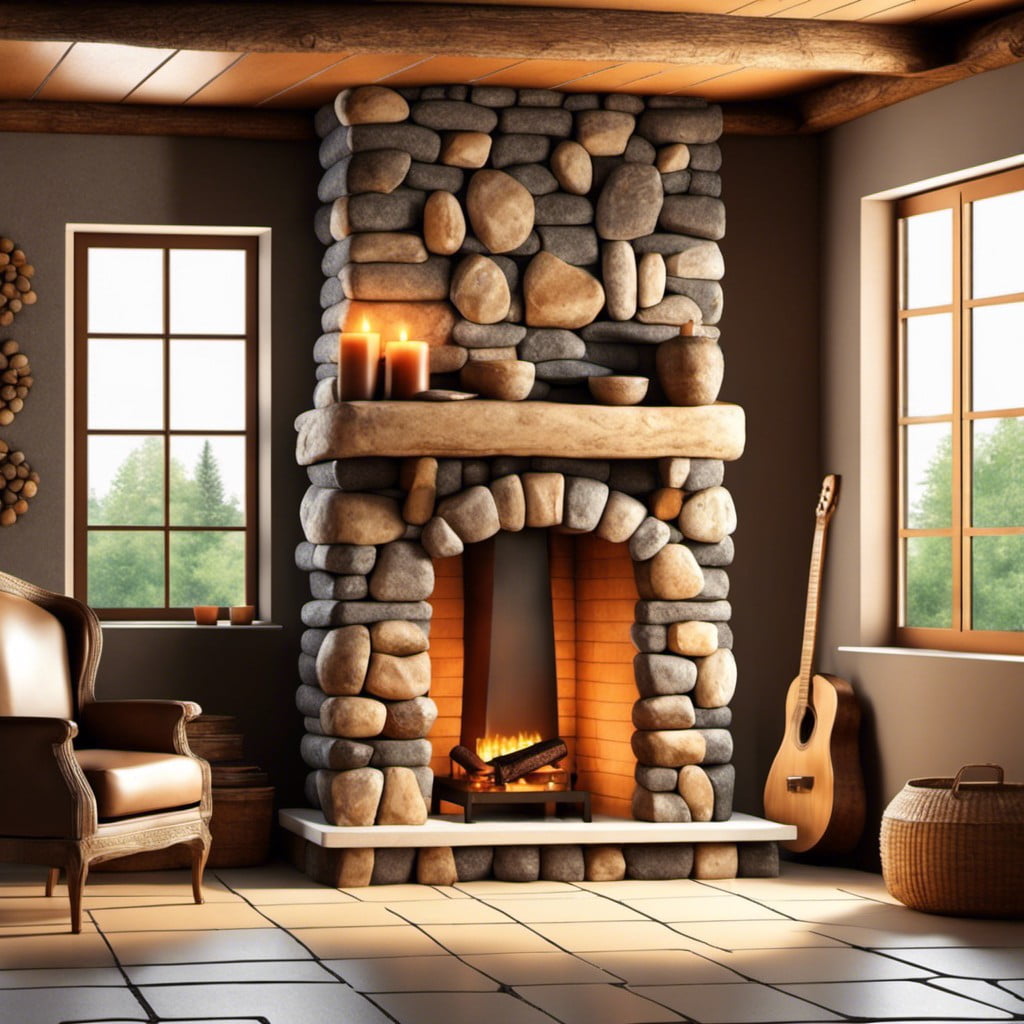 There's no denying the timeless charm that stone fireplaces bring. They are ideal for that rugged, naturalistic look.
First, choose a stone that best suits the room. This could vary from slate, limestone, to river rock.
If you love DIY projects, you could consider a stacked-stone fireplace. It's not just about aesthetics – remember, functionality is essential.
Consider if you'd prefer an open hearth or a wood-burning stove in your stone facade. Besides, don't forget the mantelpiece.
Reclaimed wood adds a hearty dose of rustic appeal.
Lastly, remember to consider the scale; the fireplace should fit comfortably within the room, neither dwarfing it nor getting lost in it.
The perfect stone fireplace can lend an authentic touch of primitive decor to your living space.
Use Handmade Pottery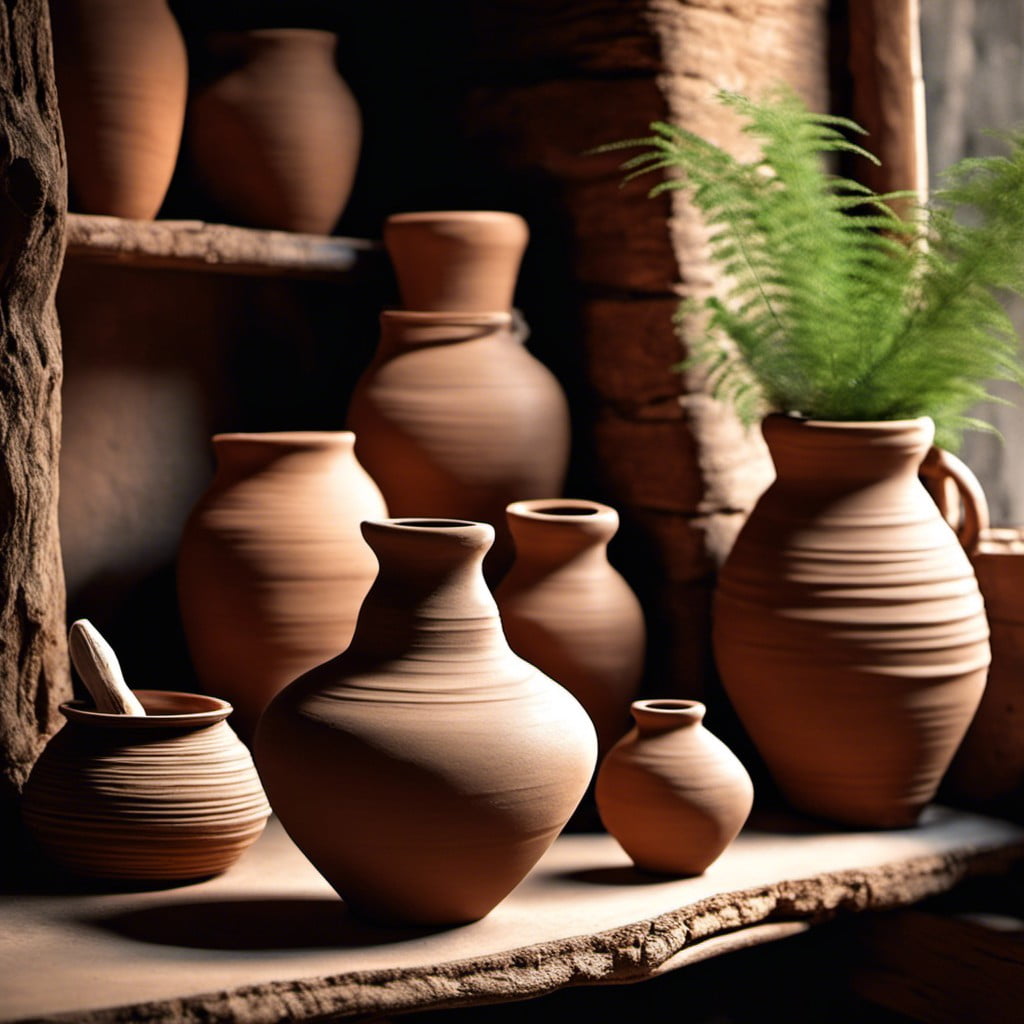 Handmade pottery serves as a timeless component in any primitive decor scheme. Rich in earthy tones and organic shapes, these pieces lend natural warmth to your space.
Opt for designs that emulate a bygone era, featuring rugged looks and imperfections that exclusively belong to traditional handcrafting processes.
Be it pottery bowls placed on a rustic wooden table, ceramic planters on window sills, or handcrafted earthenware mugs displayed on open shelves, these elements radiate a rustic charm that seamlessly complements your primitive-themed interiors.
Remember, the inherent beauty of handmade pottery relies on its individuality. Each creation carries a unique appeal, narrating the story of its maker.
As a result, they don't just serve as decorative pieces but also conversation starters, turning your home into a fascinating art gallery.
Always handle these pieces of art with care, their rustic aesthetics and raw materials making them a tad more susceptible to damage.
By incorporating handmade pottery in your decor, you embrace an authentic semblance of history and character, enhancing the primitive allure of your space.
Display Vintage Kitchenware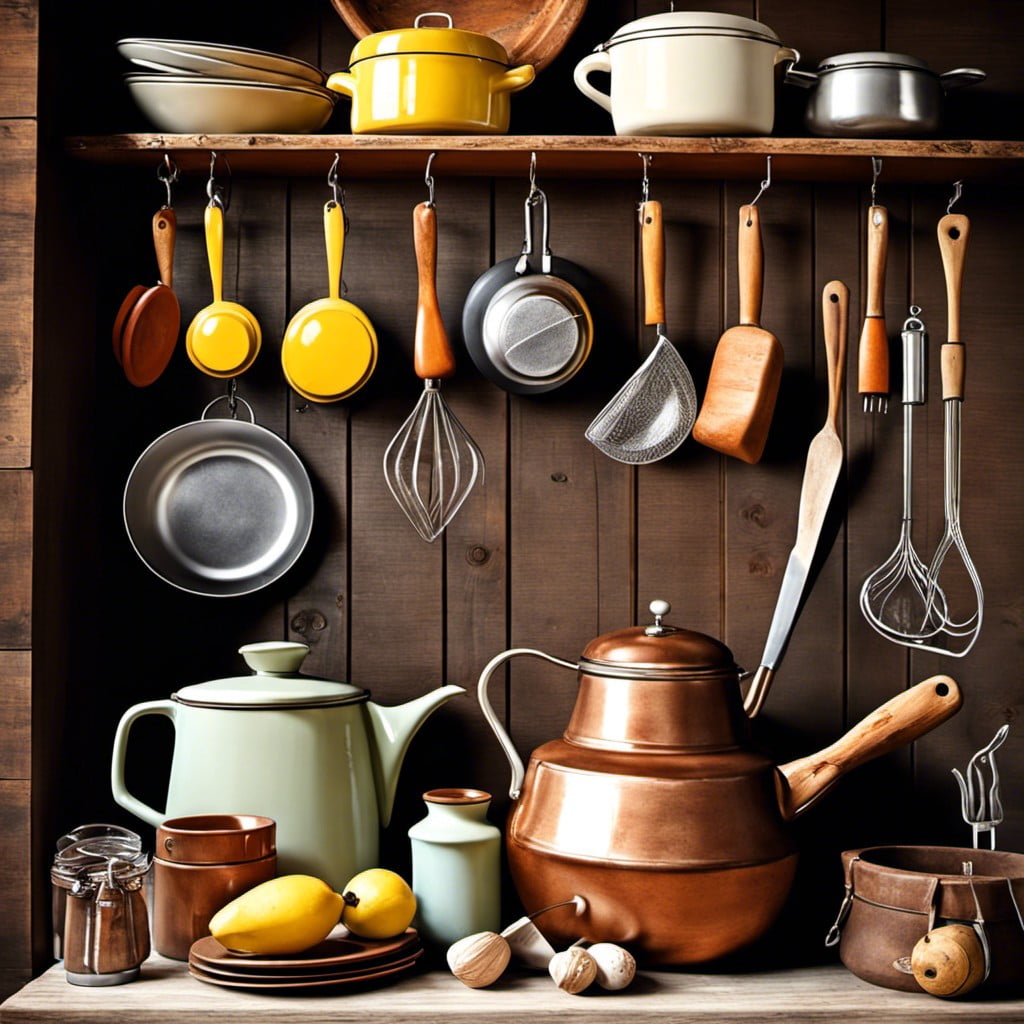 Vintage kitchenware becomes art when displayed creatively. Not only can this evoke a heartwarming sense of nostalgia, but it also gives unused items a new purpose. What makes engaging arrangements?
1. Grouping Similar Items: Create a visually interesting display by grouping items with similar materials or colors. Consider showcasing a collection of antique utensils or wooden bowls.
2. Shelving: Open shelving can visually enlarge a small kitchen and, when coordinated well, can turn everyday items into decorative pieces that speak to your home's unique personality.
3. Collections: Vintage pitcher and basin sets can be a focal point when displayed on a wooden hutch. An assortment of cookie jars or teapots expresses a whimsical charm when placed deliberately on floating shelves.
4. Contrast: Remember, contrast enhances aesthetic appeal. Rough-textured cast iron pans can look striking against a softly painted wall, and a line of gleaming copper mugs can serve as a delightful contrast to a rustic, weathered shelf.
Remember, these tips aren't just limited to actual kitchen spaces. You could also create a captivating display in a dining room, or truly anywhere in the house for a touch of vintage warmth.
Use Primitive Dolls for Decor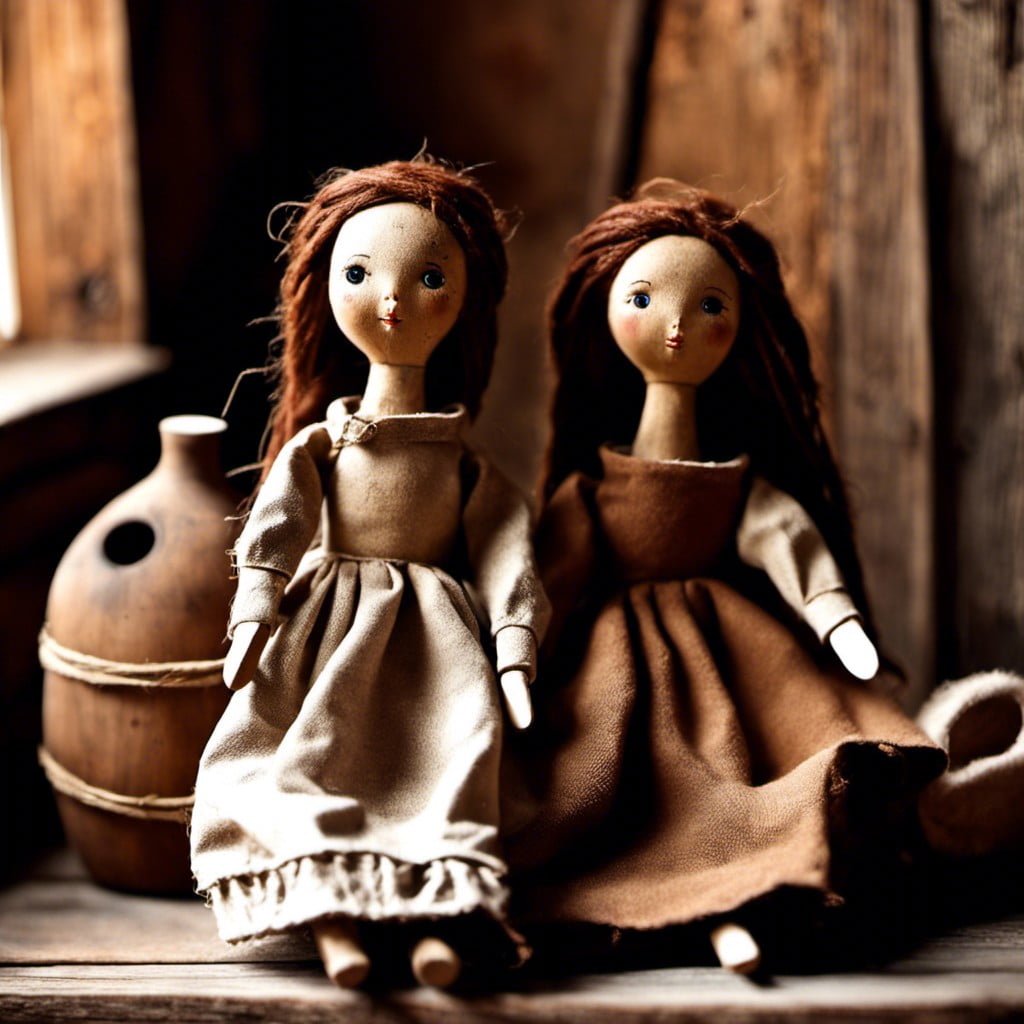 Capturing nostalgia and innocent charm, handcrafted dolls can enhance the authenticity of your primitive décor. Dating back centuries, these dolls were initially made from scraps of clothing and remnants, thus translating into perfect elements of adorning any corner of your home.
Here's some ways to integrate them into your space:
Corner Display: Settle a few dolls in a visible corner, perhaps on an antique chair, a stepstool or even a worn-out suitcase to exhibit their old-world charm.
Shelf Arrangement: Line them up along a rustic wooden shelf or a worn-out window sill for a playful appeal. You can also mix and match them with other collectables for a diverse aesthetic.
Wall-mounted Cabinet: A glass-fronted cabinet preserving these dolls on your wall not only safeguards them but also adds to your room's unique personality.
Table Centerpiece: Create an enchanting centerpiece using a doll and some antique trinkets on your dining or coffee table.
Remember, these dolls are a symbol of coziness, simplicity and heritage, each telling a story that adds to the allure of your primitive style home.
Use Candle Sconces for Lighting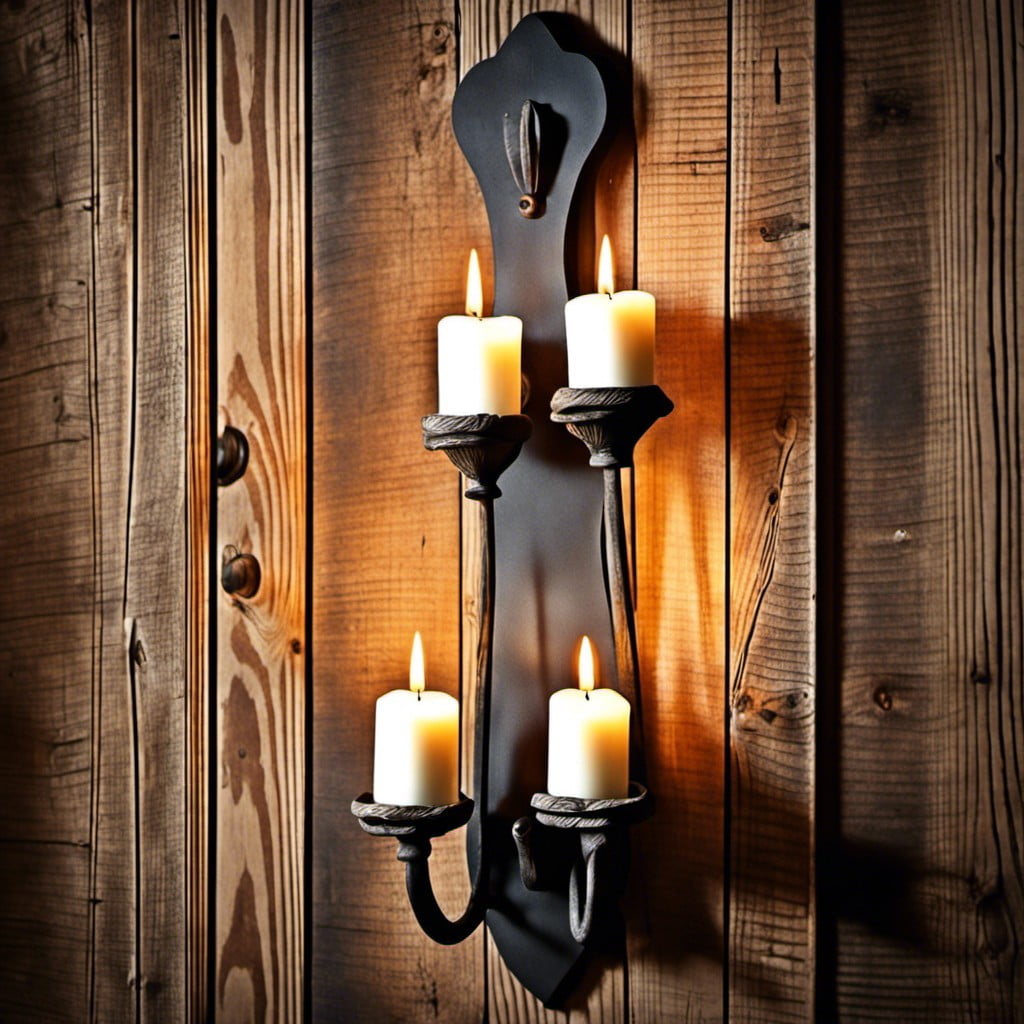 Keeping your surroundings well-lit, while preserving the primitive charm, is a key aspect of authentic decor. Candle sconces effectively fulfill this role. They represent a form of lighting that's been used since medieval times, are often wall-mounted, and provide a gorgeous ambient glow.
However, ensure to choose sconces with designs that reflect the era you are emulating. Opting for materials such as worn-out metals, rustic woods, or even cast iron can help create the desired effect. The candles you choose matter, too. Go for beeswax or tallow candles, as they were commonly used in earlier times.
Remember to safely mount these sconces on your wall, away from flammable materials. Grouping them together adds a touch of drama and warmth, enhancing the overall aesthetic of your space. Taking these factors into account, you will imbibe a beautiful primitive aesthetic while ensuring functional lighting.
Stitch Samplers to Frame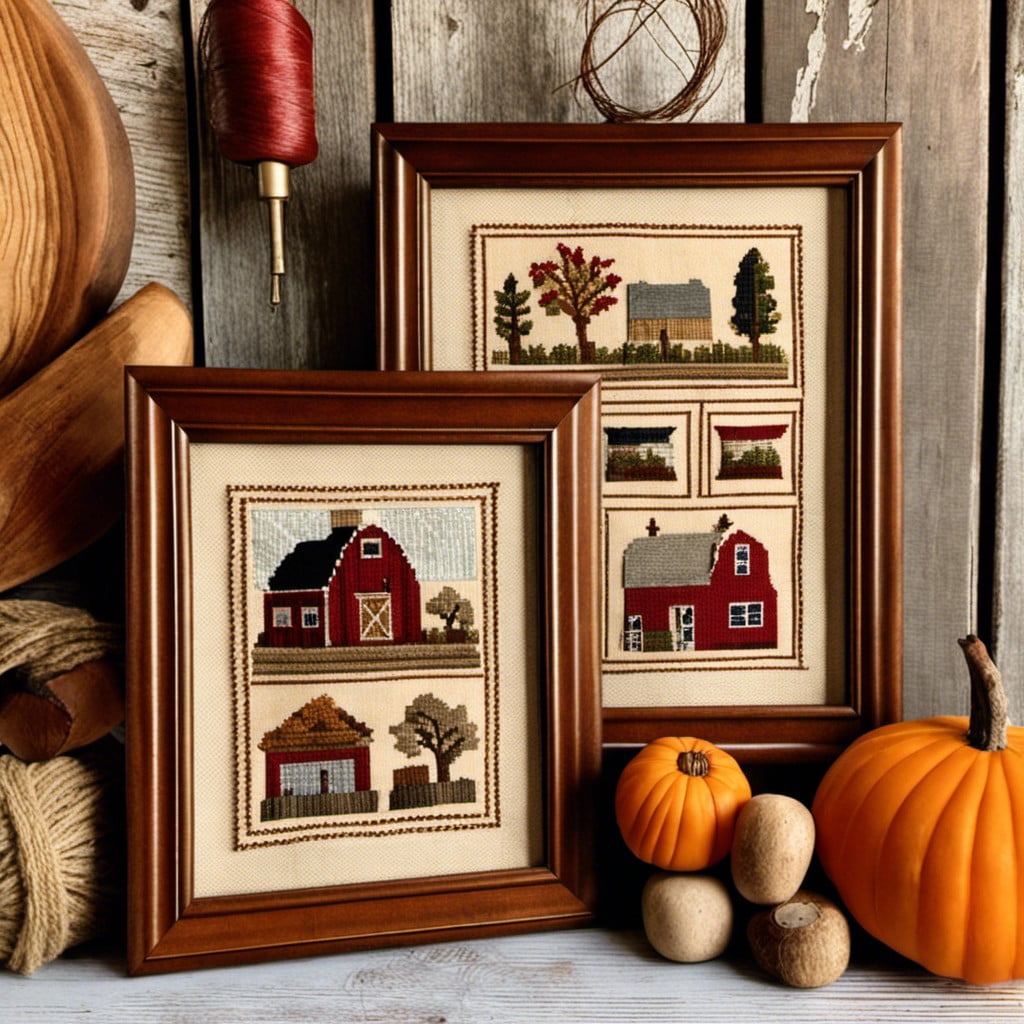 Known for their timeless appeal, samplers offer a unique blend of tradition and creativity. Originally used for teaching young girls the art of needlework in the 18th century, they now serve as a visually appealing decor element. Reviving this art form will not only enhance your decor but also add a vintage feel.
To create your sampler, choose a rustic, simple design – often, these feature a quote or saying that corresponds with your home's theme. Cross-stitch and embroidery techniques give character to the handmade aesthetic.
Opt for faded thread colors, such as warm browns, muted reds, or soft blues, which seamlessly blend with other primitive decor aspects. Choose an antique-looking frame to enhance the vintage appeal.
Remember, samplers can be placed in any room, whether it's the kitchen, living room, or bedroom. It's a multipurpose decor item that adds texture, warmth, and a touch of history to any setting.
Hand-paint Signs With Warm Sayings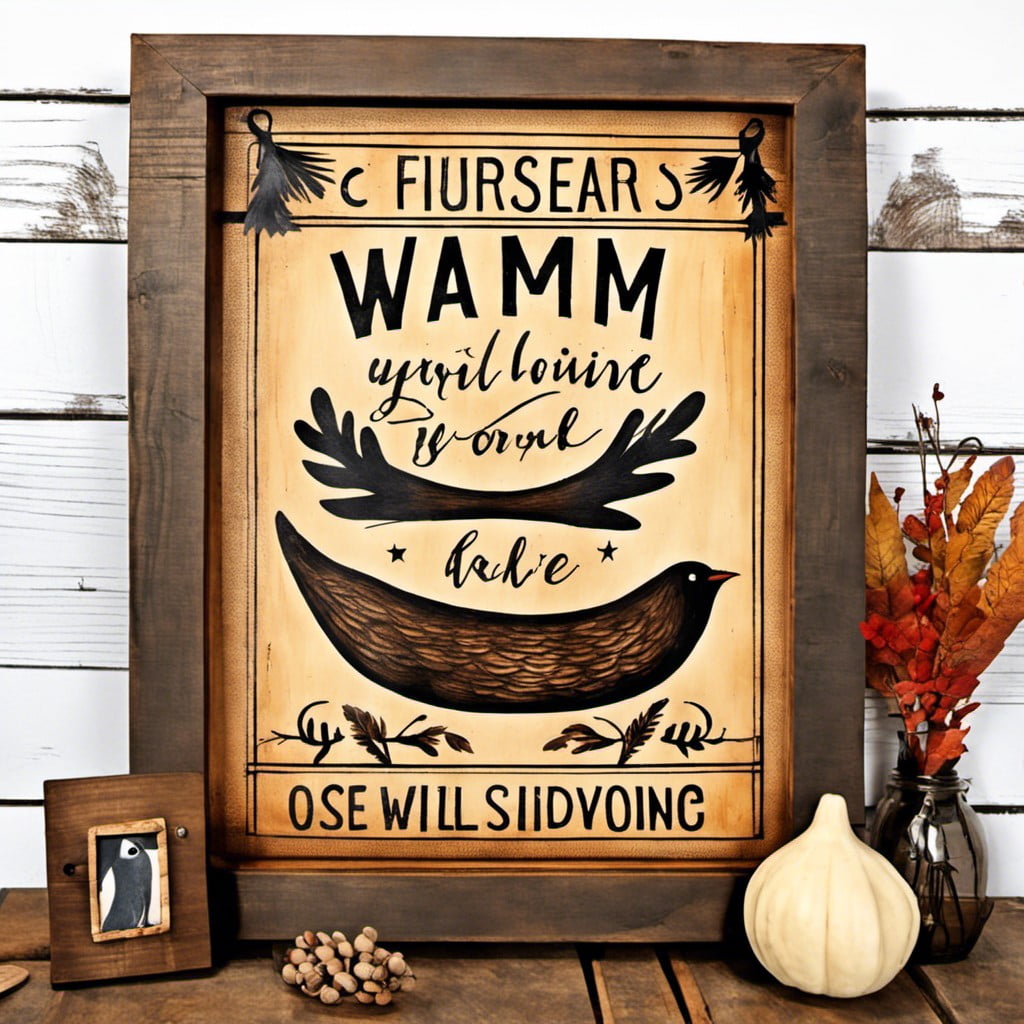 With a handful of old wooden planks and some paint, one can bring charm and warmth into their space. The artistry doesn't have to be precise or complex, as primitive decor thrives on simplicity and a touch of rusticity.
Experiment with phrases that hold meaning to you, it can be anything from classic sayings like "Bless this Mess" to personal favourites such as "Gather here with Grateful Hearts."
Let the signs age naturally over time or speed up the process using sandpaper and tea staining for a truly vintage feel. This is an enchanting way to breathe life into the weather-worn and revitalize your decor with a personal touch, creating a home that tells your story.
With this primitive decorating idea, you're not just putting up a sign, you're sharing wisdom and love, one rustic plank at a time.
Use Galvanized Metal Accents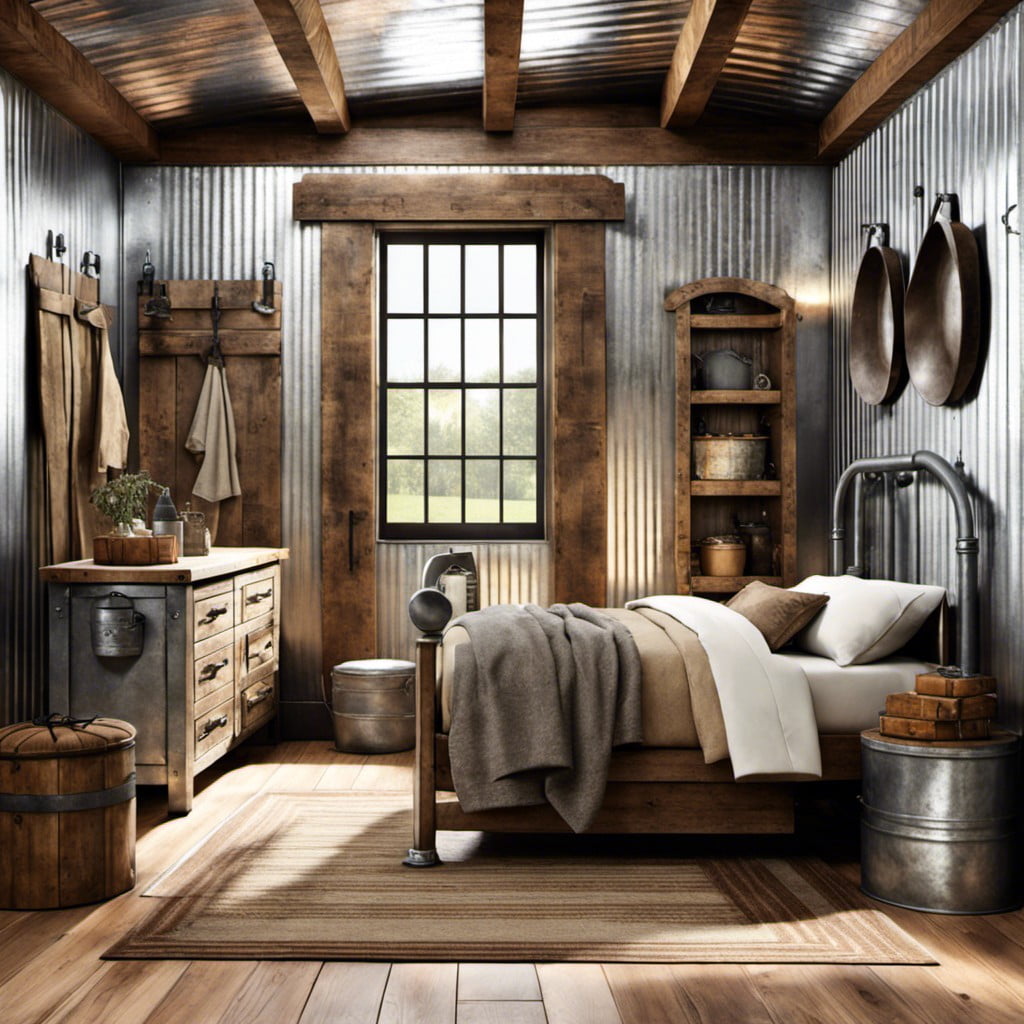 Harnessing the innate rugged appeal galvanized metals offer, you can boost your primitive decor. This material provides a rustic flair reminiscent of days when everything was handcrafted from available resources.
Among your design accents, consider including vintage metal trays, adding an old wash tub for holding firewood, or even a galvanized metal bucket for a unique flower vase.
A wall-mounted watering can might act a novel plant holder, bringing an outdoor feel inside. Offering both versatility and robust charm, this material is a reliable element in primitive design – able to weather both time and trend with enduring appeal.
Install Barn Wood Shelves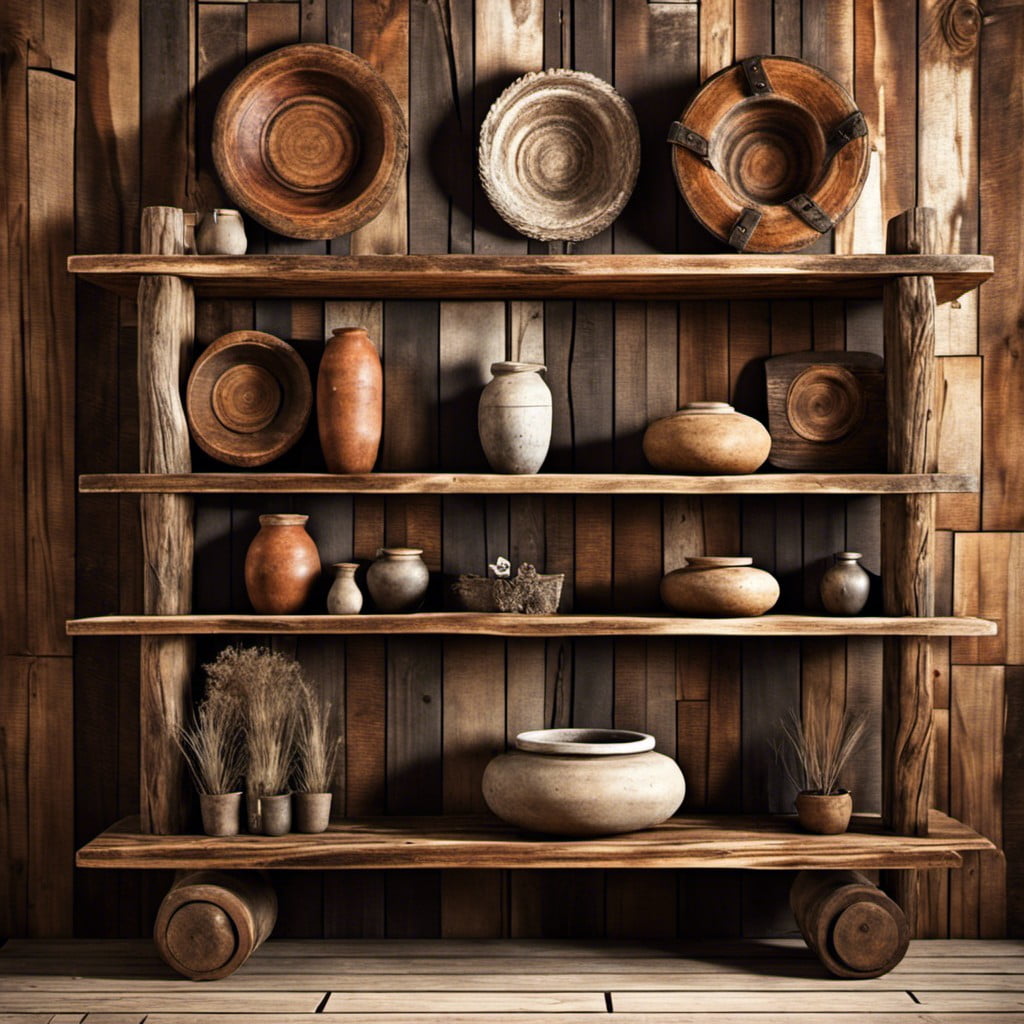 Harnessing the natural, worn beauty of repurposed barn wood not only lends an air of authenticity but also offers functional benefits. The grainy texture and rustic hues of the wood add visual interest to any room, whether it's a kitchen, dining area, or living room.
To let the wood be the star, refrain from overloading the shelves. Opt for sparse, tastefully curated items that complement the rustic charm rather than overpower it. Items such as glass jars, earthenware pottery, or vintage tomes can enhance the aesthetic, while their practicality makes it a decorative yet useful addition to any space.
Remember to consider the wall where the shelves will be mounted. The contrast could be striking against a pale, understated wall, once again highlighting the unique characteristics of the rustic material. Moreover, if possible, position the shelves where they can catch natural light, as it will further help to highlight the old-world allure the barn wood carries.
Remember, there's a line between a clean, primitive style and an overly-weathered look – it's all about achieving the right balance and letting the organic appeal of barn wood shine.
Use Natural Fiber Rugs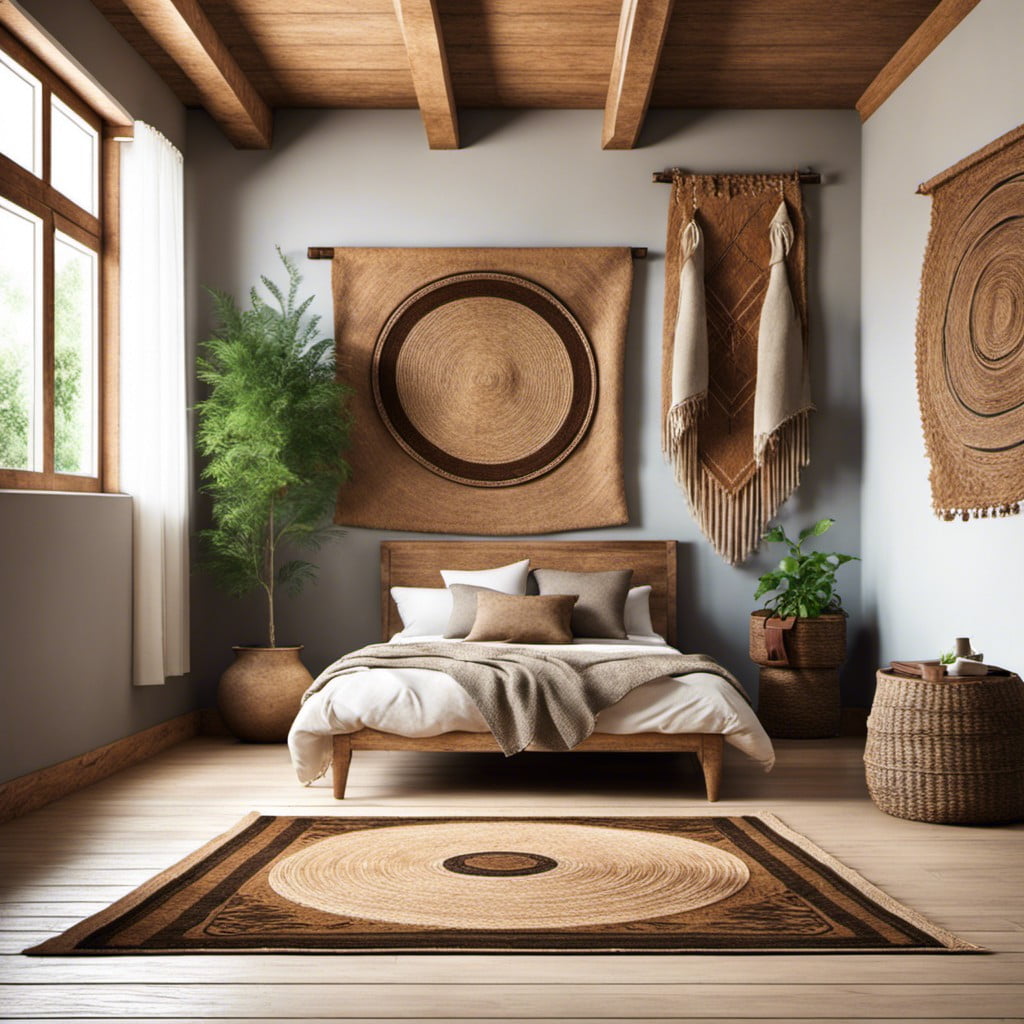 Natural fiber rugs bring an earthy, textured feel to your space, epitomizing the idea behind primitive decorating. These rugs can be handmade or purchased, but should be made from natural materials such as wool, cotton, jute or sisal.
Placement is paramount. A sisal rug under your dining table or a thick, chunky wool rug in your living room not only provides comfort underfoot but also ties in the primitive theme harmoniously. Depending on your color scheme, lighter rugs can help balance darker furniture while deeper hues can create a cozy rustic space.
Maintain rustic charm by choosing rugs that avoid modern geometric patterns or bright artificial colors. Opt instead for simple designs or unadorned options. Remember, primitive decorating is all about simplicity and functionality woven into an aesthetic, and natural fiber rugs embody this perfectly.
Hang Antique Farming Tools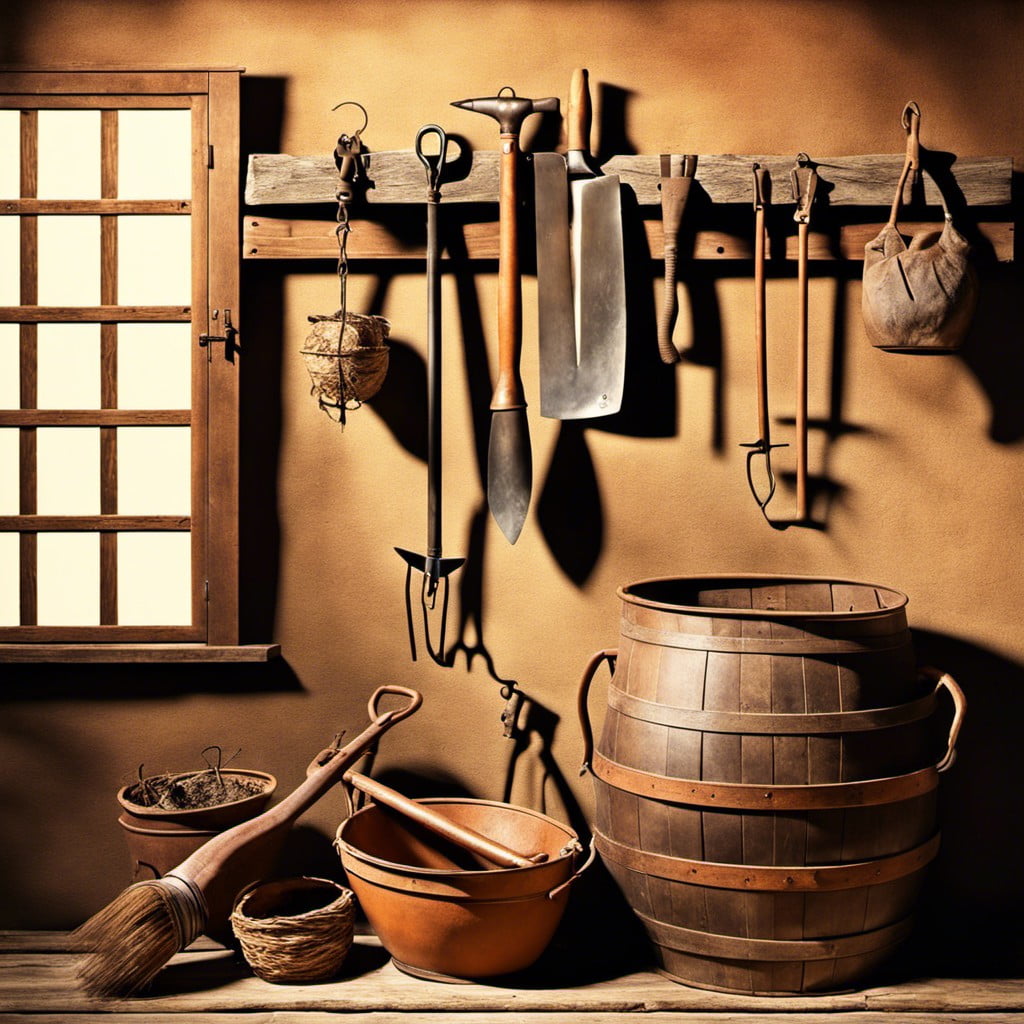 Crafted with care, these tools hark back to a bygone era where craftsmanship was key. Their weathered look creates an immediate rustic ambiance. They serve as practical reminders of the hard work and dedication that went into building the homes of the past.
Not only do they add vintage charm, their unique designs often make them conversation pieces. Consider mounting pitchforks, scythes, or antique shovels, perhaps above a doorway or as a focal point over a fireplace.
Old wheels can be repurposed into striking wall art, and hand tools offer a more subtle nod to the past when placed on bookshelves or mantels. Maintenance is easy; a light dusting keeps them looking authentic. Be sure to secure them firmly to the wall for safety.
Integrating these elements into your decor offers a genuine feel of yesteryear, enveloping guests in a warm, welcoming atmosphere redolent of simpler times.
Display Aged Lanterns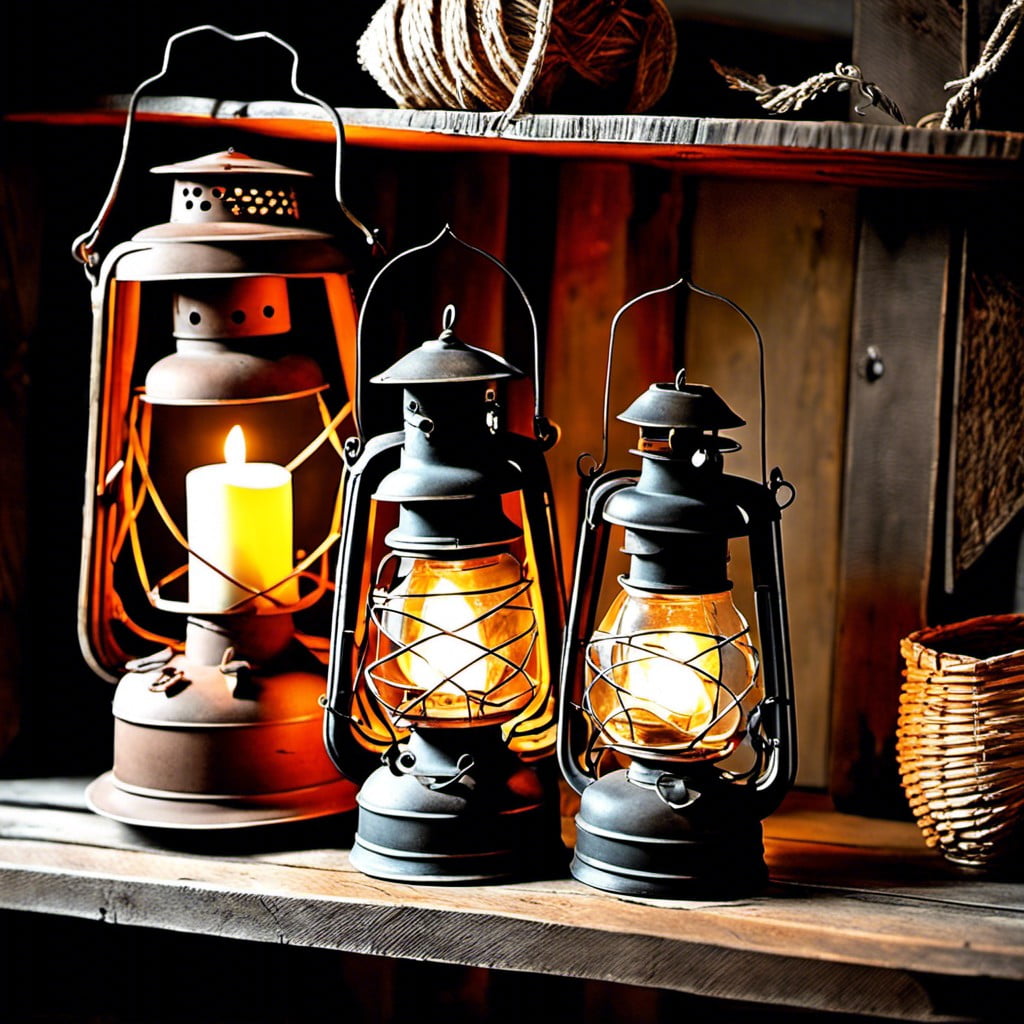 Utilizing vintage lighting enhances the ambient charm of any living space. Aged lanterns, whether hanging or placed strategically around rooms, provide an understated, cozy glow. They can be used as ambient, task, or accent lighting, depending upon their placement.
For instance, hanging them in corners or over reading nooks can create inviting, warm spaces for relaxation.
Keep your eye out not just for traditional oil lanterns but for lesser-known signal or hurricane lanterns which add extra character. Look for lamps that show a bit of age – whether real or carefully replicated – to emphasize the primitive theme.
Just a few carefully chosen pieces can make all the difference, casting dancing shadows that evoke quiet, rustic evenings of times gone by. Just always remember to ensure safety first, particularly when dealing with authentic, open-flamed lanterns. LED replicas can provide a safer, but still visually appealing alternative.
Incorporate Harvest Tables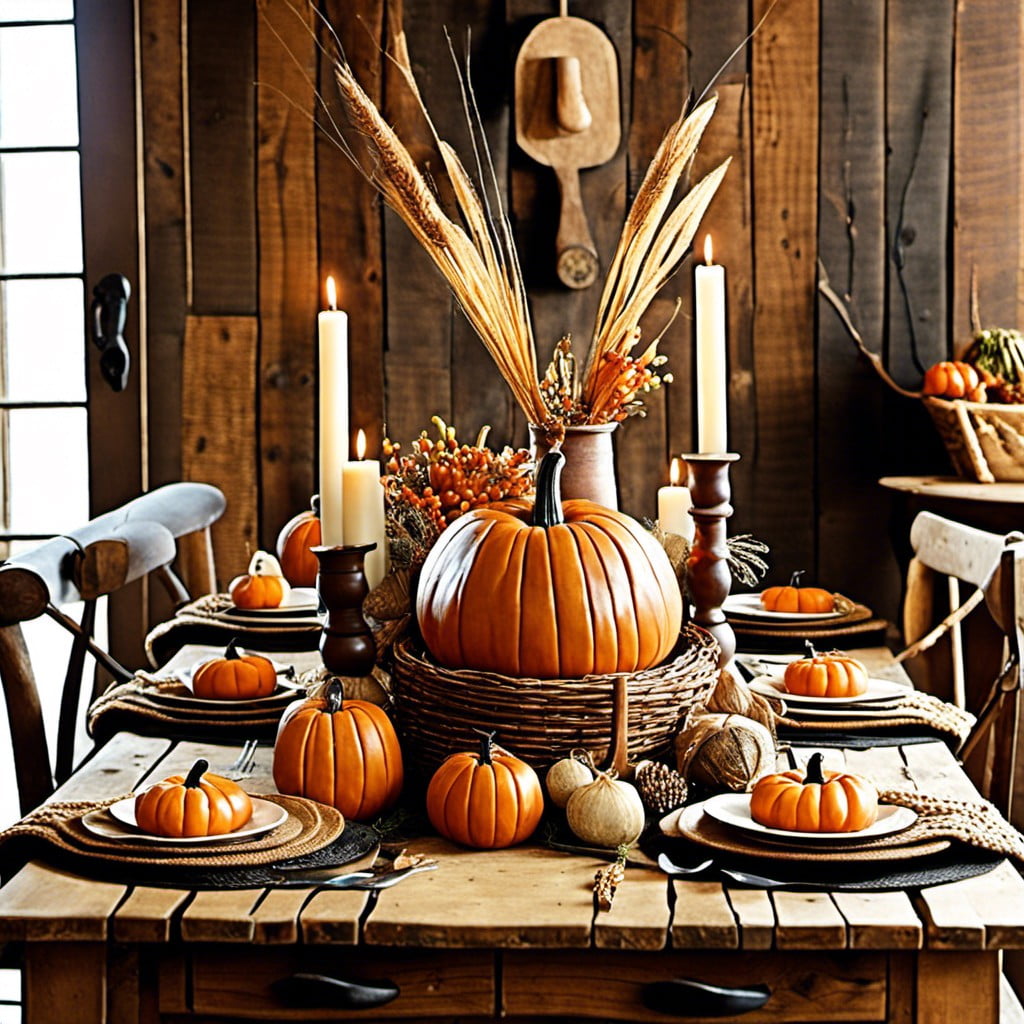 Harvest tables, also known as farmhouse tables, are an essential piece in primitive decor. Often made with sturdy, reclaimed wood, these tables boast a history, adding character and authenticity to your space.
Substantial and long-lasting, their simplicity contrasts with the ornate furniture of modern design. With wide planks of wood, rough hewn and aged, they provide a focal point for your dining area.
Not solely for use in dining rooms, they can offer a rustic counterpoint in contemporary kitchens or as a central piece in a living room. Consider pairing them with matching wooden benches or mismatched antique chairs.
Remember, the beauty of a harvest table lies in its imperfections which imbue it with rustic charm.
Display Primitive Country Prints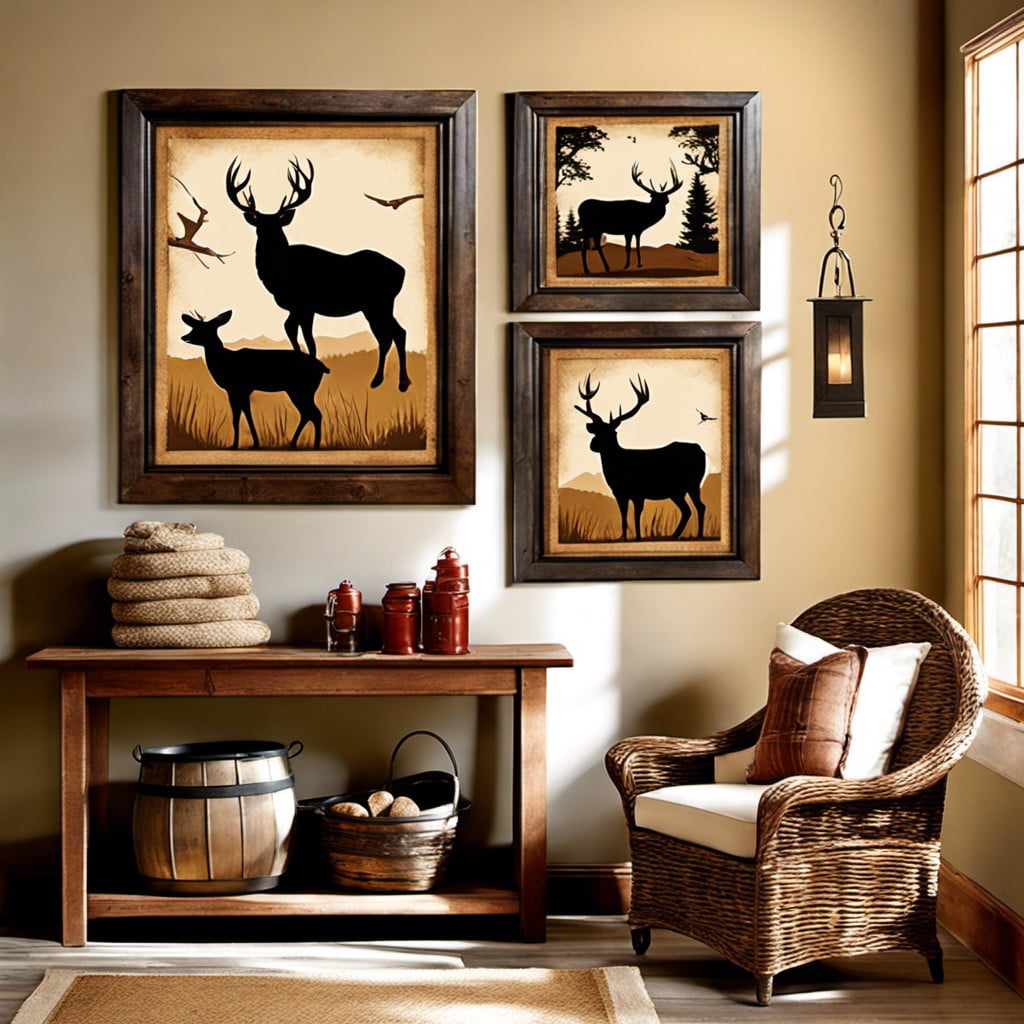 To infuse charm into your living space, place unique and aged country prints where they're most aesthetic. Often characterized by soft, earthy tones and quaint imagery, these prints could feature landscapes, farm scenes, still life, or animals. Frame them in weathered wood to enhance the primitive appeal.
Focusing on scale and proportion is essential to harmonize these prints with your decor. Larger prints make a statement on expansive walls or above a mantel, while smaller prints are perfect additions to a gallery wall or nestled amongst books on a shelf.
Don't overlook unusual spots like hallways, bathrooms, or the kitchen. Adorning these often ignored spaces with tasteful prints can lend an unexpected and delightful primitive touch. And remember, decorating should reflect your personality; therefore, select prints that resonate with you personally.
Install Wagon Wheel Chandeliers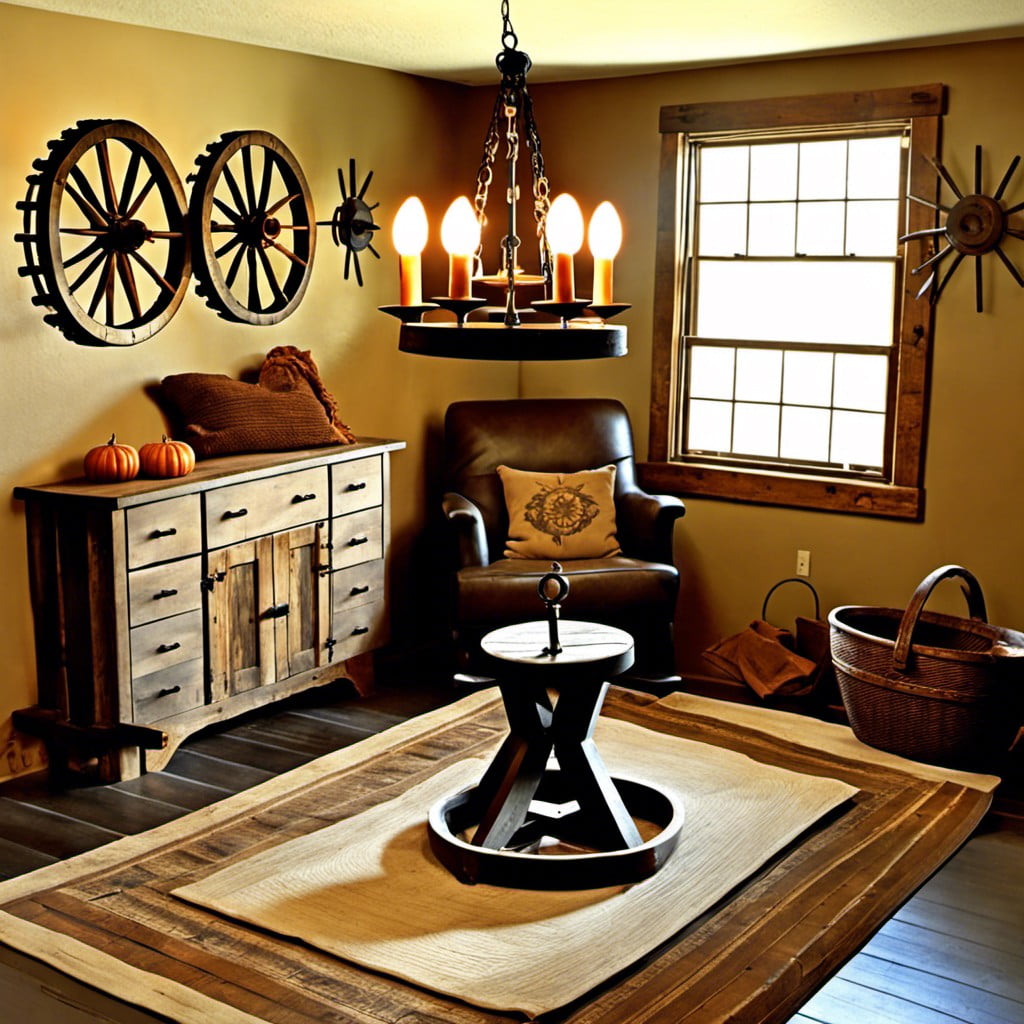 Adding a touch of the rural charm to your home, this vintage lighting fixture causes an immediate visual impact. Repurpose old wagon wheels to create this centerpiece.
Ensure the size and scale match the room – a larger wheel for spacious rooms and vice versa. Incorporate Edison bulbs for a warm, inviting glow.
Chain lengths can be adjusted to regulate the height according to the room's ceiling heights. Different finishes – weathered wood or iron-clad – can harmonize with the rest of the decor.
The position of the light matters too; center it over a harvest table or suspend it in the living room for effect. Proceed with certified electrician for safe installation.
Incorporate Cast Iron Kitchenware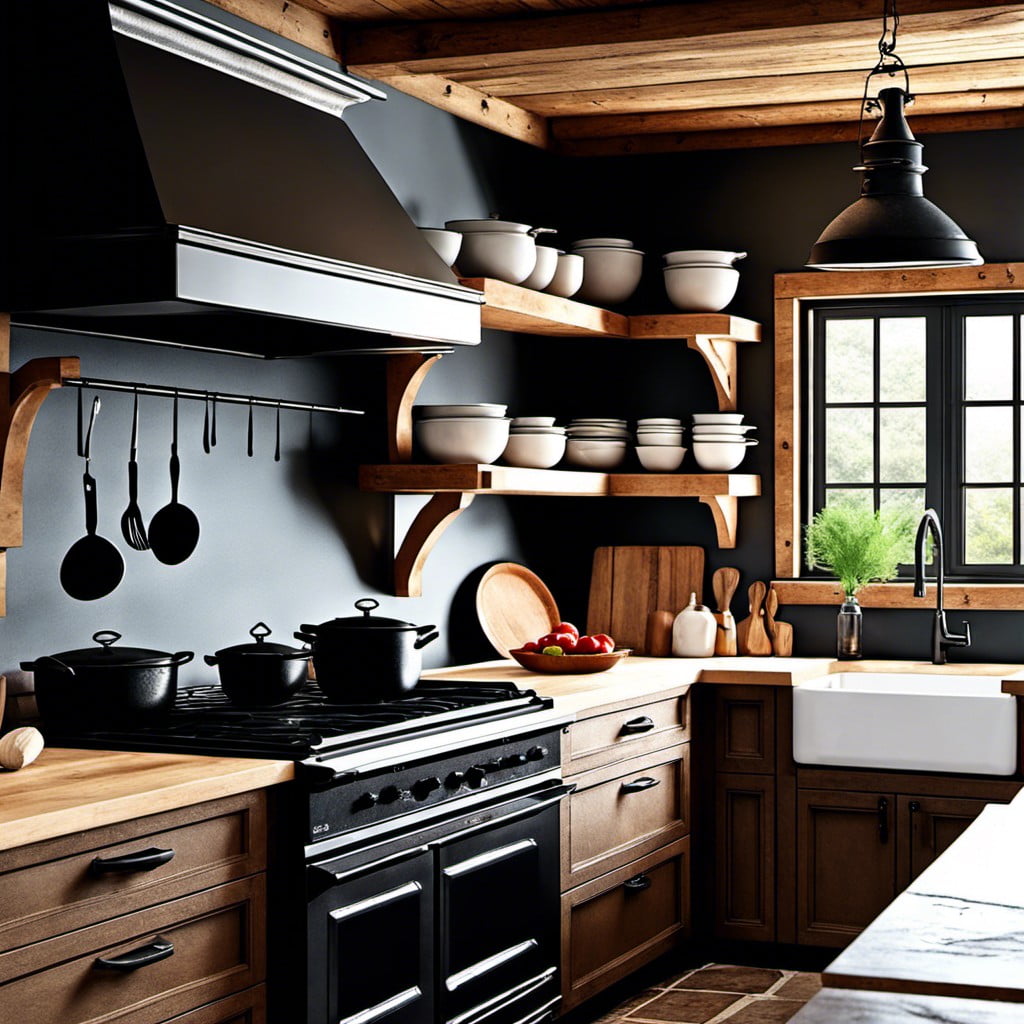 Positioned as the cornerstone of rustic appeal, cast iron items add a touch of authenticity to any primitive kitchen. Their durability and rustic charm are second to none.
Here are key ways to infuse this timeless element into your decor:
Cookware: From skillets to Dutch ovens, these essentials will look great displayed on open shelves or hanging from a pot rack. They're as functional as they are decorative.
Utensil Holder: Storing wooden spoons and spatulas in a cast iron crock not only keeps them handy but also adds a charming touch to your counter.
Trivets: These are not only practical for protecting your table from hot dishes but their intricate patterns can provide visual interest.
Tea Kettles: Display a vintage cast iron kettle on your stove for an instant primitive upgrade.
Doorstops: These utilitarian objects come in various shapes and sizes and can be used to add primitive charm throughout the house.
Remember, cast iron pieces develop a patina over time that adds to their rustic charm, melding both function and aesthetic in your primitive decor.
Decorate With Primitive Folk Art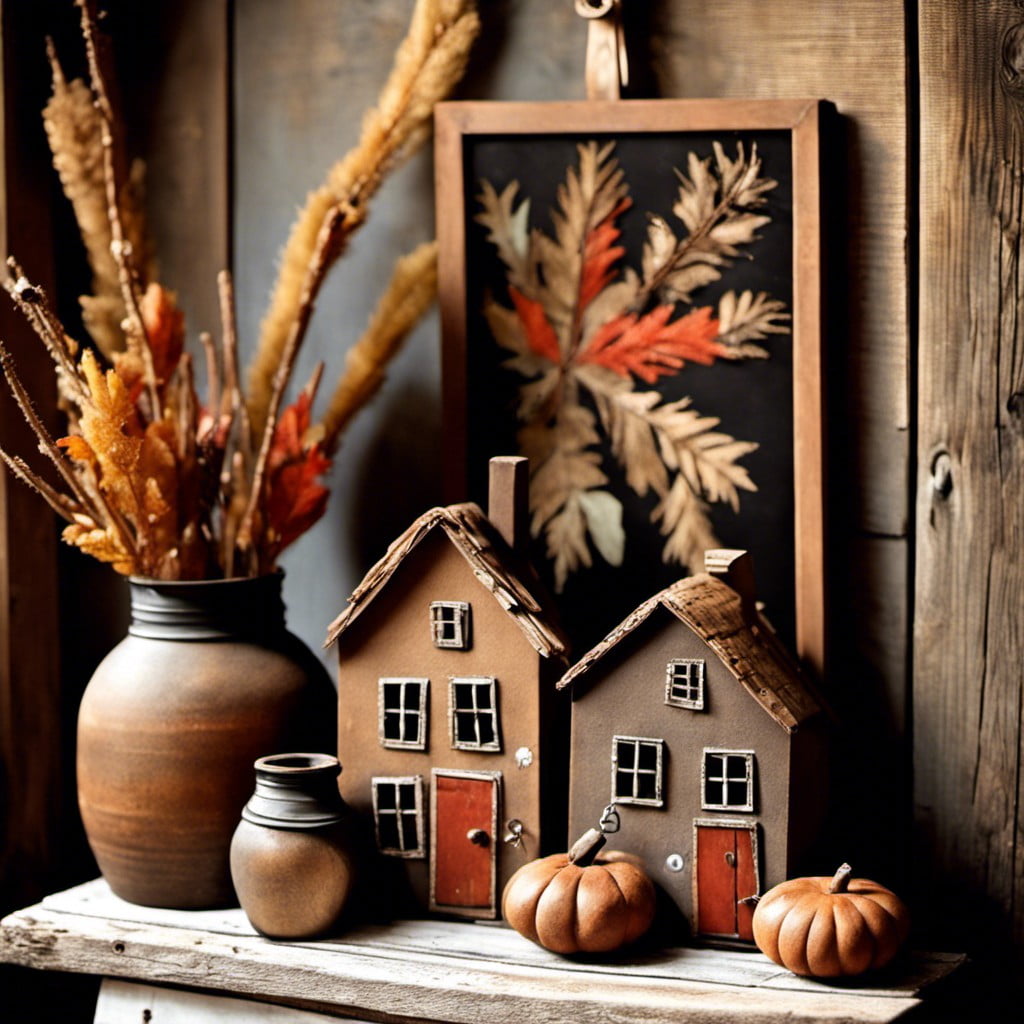 Folk art, with its rough-hewn beauty, brings an authentic touch to any space, encapsulating the spirit of primitive style. Start by acquiring pieces that resonate with you. You don't necessarily have to source expensive or rare pieces. Anything from lithographs and embroidery to wood-carvings or sculptures can add that cherished handcrafted aura.
Keep originality in focus when decorating. Assemble an eclectic yet harmonious mix, avoiding generic or mass-produced items. Folk art, by its nature, revels in character and individuality – let this guide your selections.
Consider the colors. Typically, folk art uses earthy, muted tones for a warm appeal. These hues match well with the predominantly natural color scheme of primitive decor. Blending in these pieces with your current settings becomes effortless.
Finally, remember placement is key. Whether it's perched on a mantel, making a statement on the dining table, or gracing the entryway, ensure your folk art tells a story and creates an inviting atmosphere. It's less about following a rigid layout and more about letting the pieces communicate with the room and each other.
By incorporating folk art, you'll undoubtedly highlight the charm of primitive decorating, creating a space that welcomes a sense of comfort, history, and authenticity.
Liked reading this? Here's more:
Recap: