Last updated on October 28, 2023
Enhance the naturally rustic charm of your log cabin home by adding an intentional design flair, because a little bit of foresight and planning can easily transform your woodsy retreat into a cozy and stylish sanctuary.
In creating these 20 Essential Log Cabin Decorating Ideas, I've illustrated each with unique designs, hoping you'll find inspiration and enjoy them as much as I reveled in crafting them.
Decorating a log cabin can be an exciting challenge, offering an opportunity to create a cozy and inviting space that harmoniously blends with the rustic surroundings. Whether you're looking to maintain the traditional log cabin aesthetic or you're aiming for a more modern twist, there are countless ways to achieve your desired look.
This article provides a treasure trove of log cabin decorating ideas, from clever uses of natural materials and textures, to color scheme suggestions, furniture selections, and lighting options. By the end of this read, you'll be equipped with all the inspiration and information you need to transform your log cabin into a charming and personalized retreat.
Rustic Furniture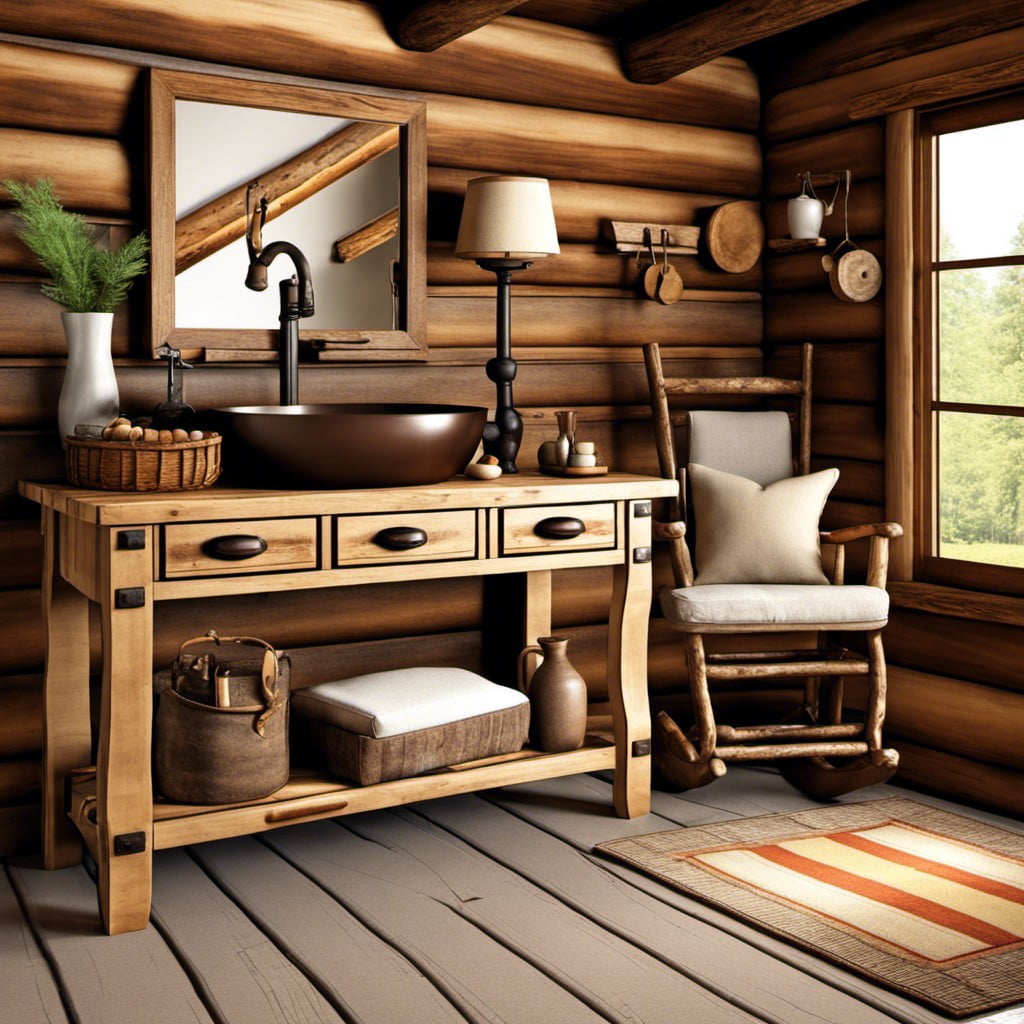 Incorporating certain pieces can dramatically enhance the cabin's aesthetic. Natural logs or distressed wood often makes the best rustic furniture. Look for beds, sofas, or coffee tables with these materials for a true log cabin feel.
Keep in mind, you may also opt for accent pieces like log stools or raw wood benches. Even bark covered picture frames can make significant additions to your decor.
The focus here is on inviting, lived-in comfort, so don't worry about matching sets too closely, an eclectic mix can add personality and a sense of history to your cabin.
Antler Decor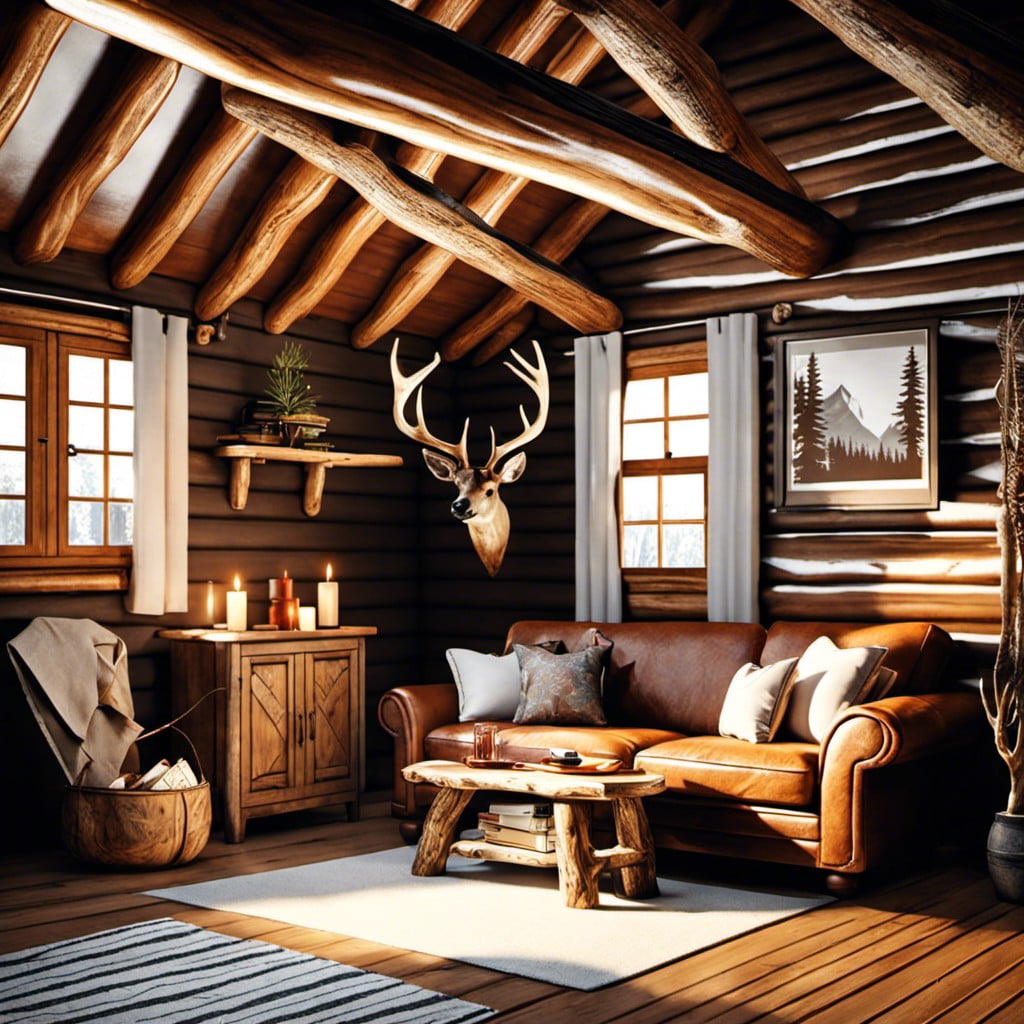 Using antlers presents a unique opportunity to merge elegance with a touch of the rugged outdoors. They offer a diverse range of options; use them in their natural form or painted to inject a pop of color into your living space.
Chandeliers made from antlers creates eye-catching focal points, whereas smaller pieces can serve as paperweights or be used in DIY projects.
Sourcing them responsibly is key – ensure they're shed naturally and collected ethically. Remember, less is more. Overusing this element can overwhelm the decor, striking a balance is fundamental to achieve the rustic charm of cabin life.
Quilted Throws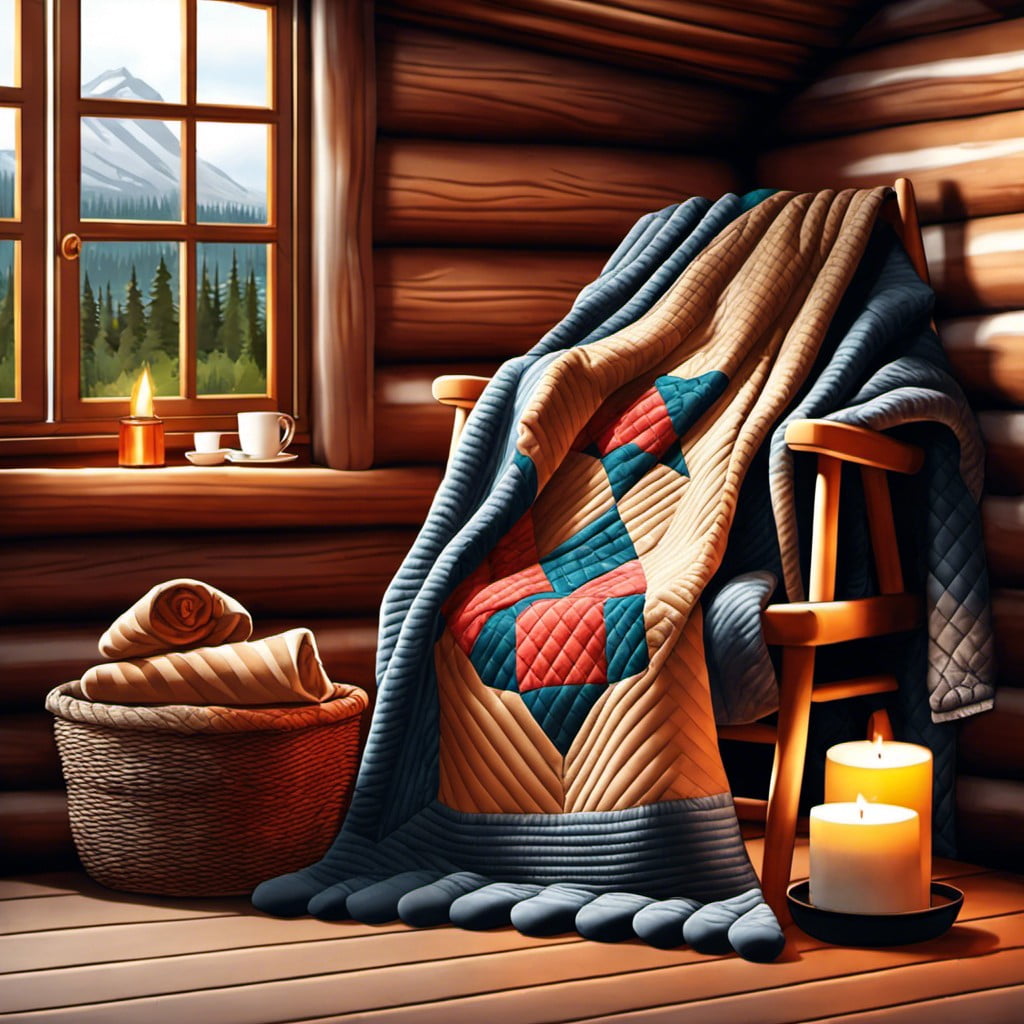 Nothing echoes the same comforting and nostalgic feel that aligns with a log cabin quite like quilted throws. These cozy assets are versatile and easily tie in with the rustic elements that define every corner and crevice of the cabin.
To embrace this:
1. Choose rustic patterns: Go for plaids, checkers, stripes, or even woodland creature designs for that undeniably warmth.
2. Play with textures: Blend them in with other textures. They complement leather, wood, or even stone quite well.
3. Use them right: Drape one over the arm of a sofa or at the foot of the bed. They can also serve as picnic blankets during warmer seasons.
4. Colors matter: Earthy tones like olive green, deep red, or warm brown pay homage to the surrounding landscapes.
5. Handcrafted is perfect: A lovely handcrafted quilt can possess that personal, homey touch—it's an object with a story.
By integrating these elements, your log cabin will inculcate that perennial log cabin spirit, providing the nostalgia of a bygone era with a touch of modern comfort.
Mounted Wildlife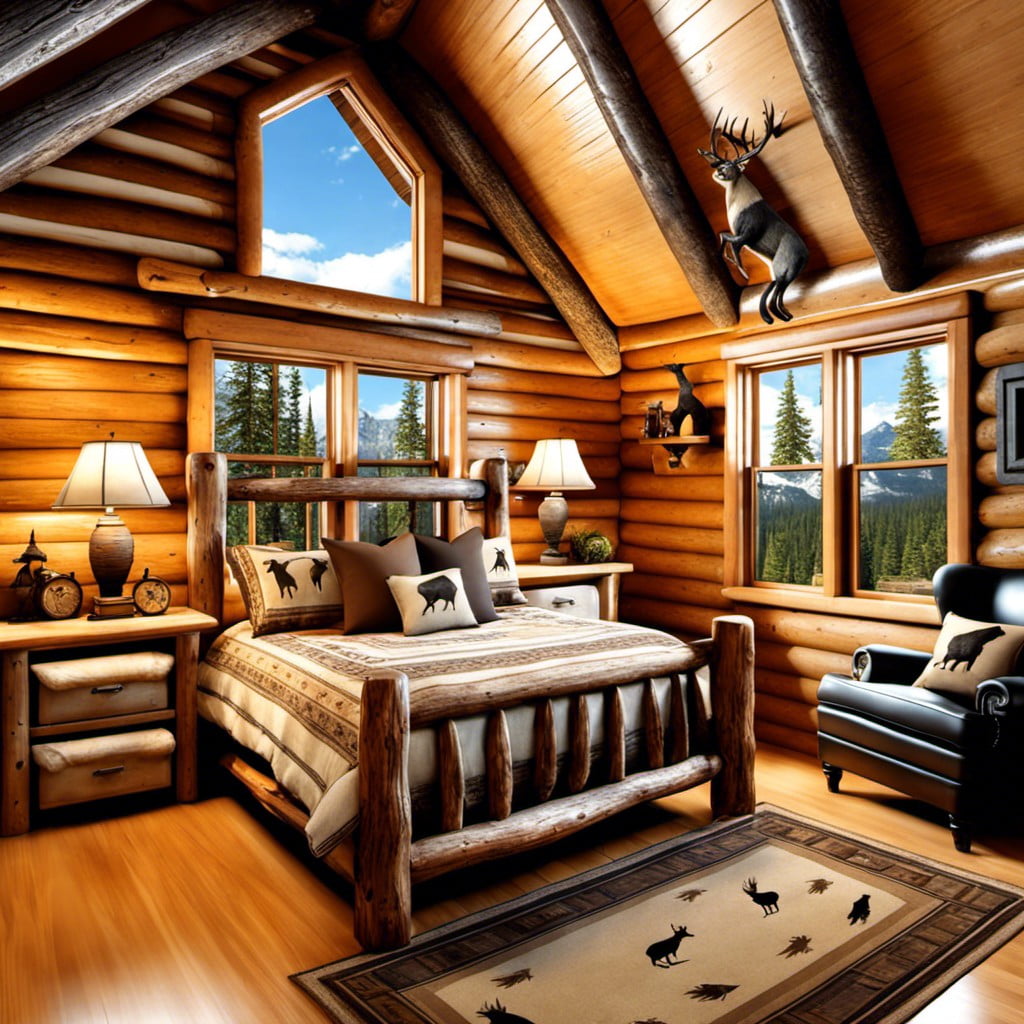 Early pioneers often displayed their skill and bravery through trophies from the hunt. Recapturing that spirit, a well-placed deer head, fish, or other taxidermy pieces can stir a synergy between the indoor space and the wilderness outside. Integrating such elements, however, requires thoughtfulness.
Here are some key points:
Position is key: Position your mounted wildlife high up on the wall to draw the eye upward and emphasize the room's height.
Size Matters: Consider the room size when choosing your wildlife display. A crowding piece may overwhelm a small space, while a too-small piece might seem lost in a larger room.
Complement the decor: Ensure the mounted piece fits in with the color scheme and style of the rest of the room.
Over the Mantle: Displaying over the fireplace often creates a natural focal point in the room.
Storytelling: An interesting background story about the piece can provoke conversation.
Respect Wildlife: Consider ethical sources or opt for vintage items/minor species.
Remember, the aim is to spark the spirit of the frontiersman, not recreate a hunting lodge.
Stone Fireplace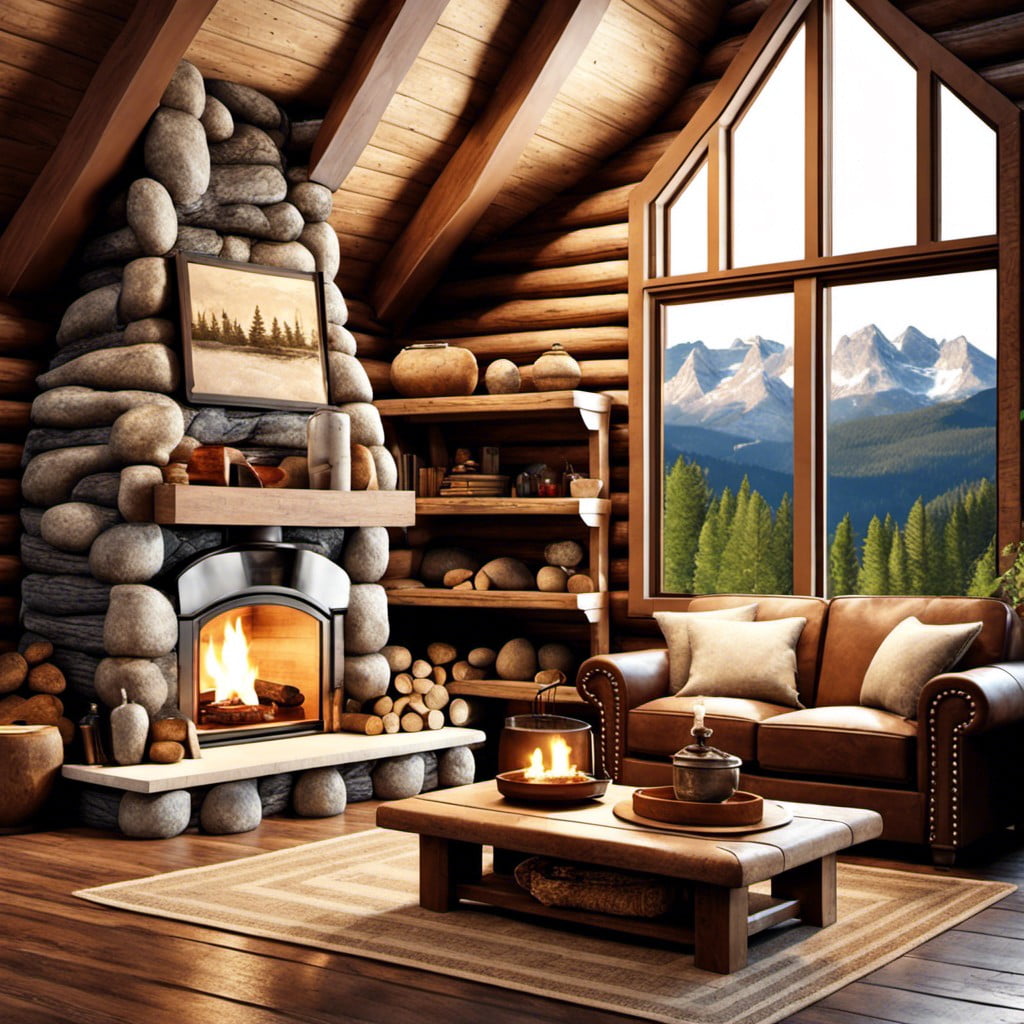 Creating a stunning visual centerpiece, the use of natural stone adds both texture and depth to the space. Warm, inviting, and effortlessly stylish, it complements the log cabin aesthetic seamlessly.
Types to consider include river rock, cobblestone, or limestone which each offer their own unique finish.
The sturdy, rugged appeal of stone is balanced by its versatility – from smooth, rounded pebbles to rigid, asymmetric slates, you have the flexibility to make it your fireplace truly your own.
Adding a reclaimed timber mantel can introduce a cohesive and charming touch, perfectly encapsulating the rustic allure of log cabin living.
A stone fireplace doesn't just ooze charm, it is also incredibly practical. The stone harbors and radiates heat long after the fire has subsided, keeping your cabin cozy through the night.
Wagon Wheel Decorations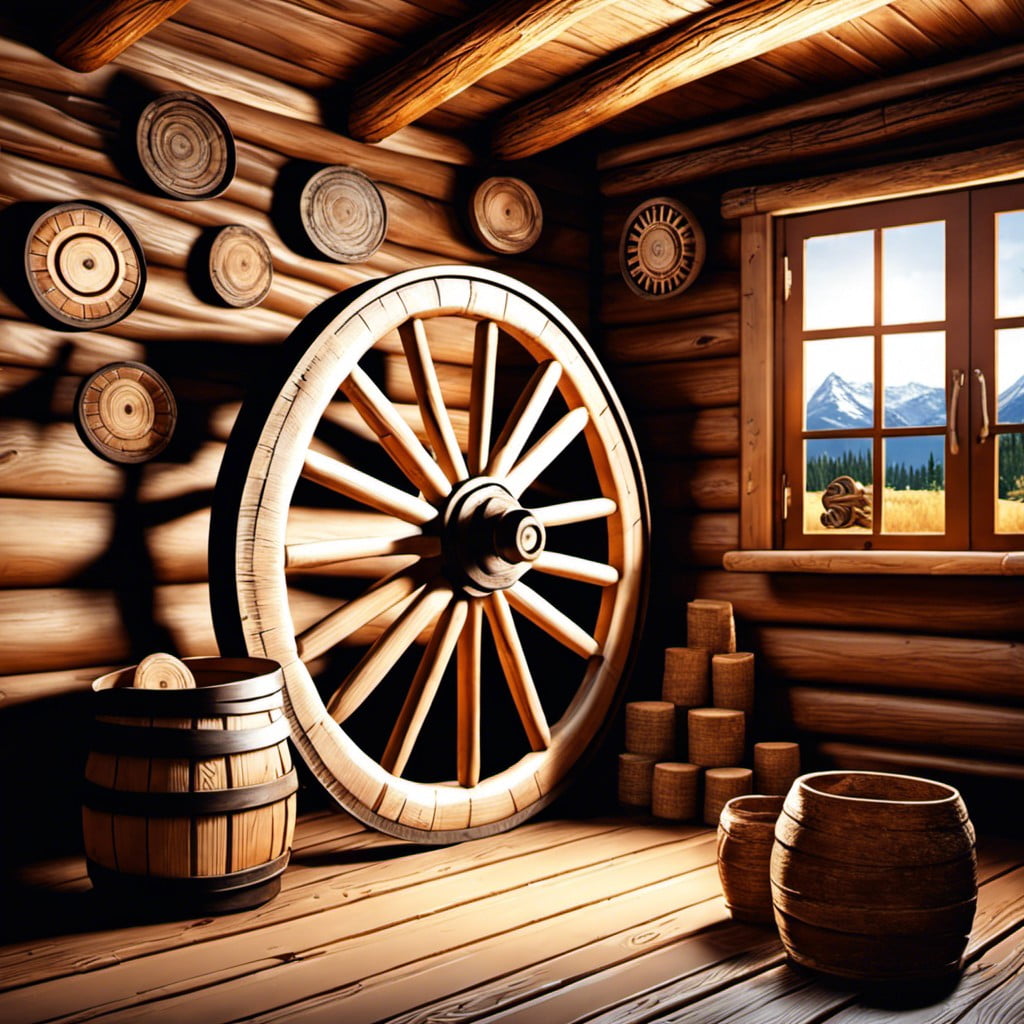 Unleashing the full potential of wagon wheel decorations can significantly enhance the charm of your log cabin. They're versatile, fitting both inside and outdoors, becoming a striking focal point in any space.
When considering indoor placement, they're perfect for hanging overhead as unique chandeliers. Simply attach light fixtures around the wheel's circumference for a rustic look that illuminates with character. Suspended above dining tables or living room spaces, they'll definitely make a statement.
For outdoor embellishment, they can encase flower beds or be propped up against cabin exteriors for an attractive aesthetic. A tip here is to pair them with vibrant blooms during warmer seasons to capture a contrast between nature's palette and the rugged wooden features.
Alternatively, repurpose a wagon wheel into a stylistic yet functional piece. It can serve as a creative base for coffee tables. Add a glass top for an interesting blend of rough, rustic allure and sleek contemporary design.
Lastly, for a touch of whimsy, arrange wagon wheels into wall art. They can be adorned with fairy lights, leaf garlands, or left bare for minimalist appeal. This way, they introduce a sense of history and nostalgia to your cabin's ambience.
Remember, when going for the wagon wheel style, moderation is key. Too many can overcrowd the space, so it's recommended to use them strategically for maximum visual impact.
Vintage Lumberjack Tools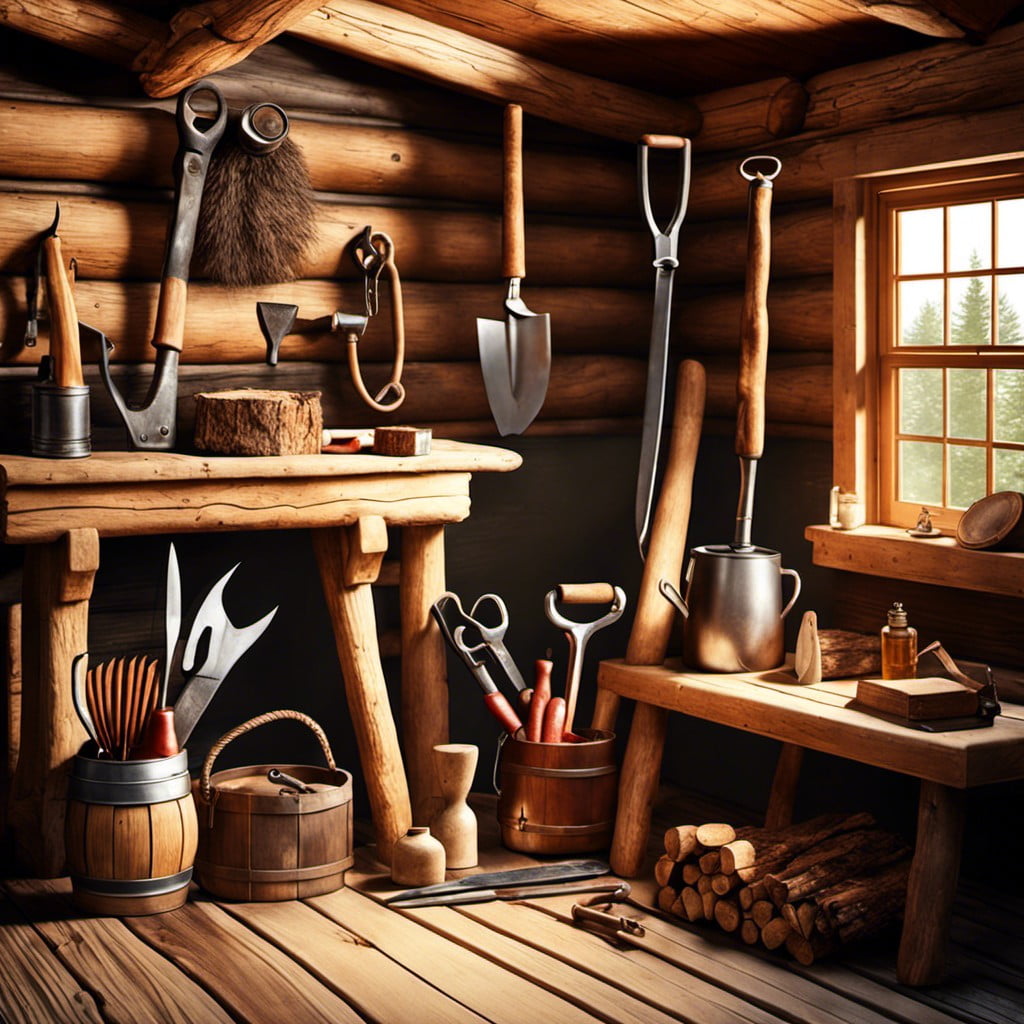 Lending an authentic touch to your cabin's aesthetics could involve hanging an old hewing axe on a wall or setting an antique crosscut saw on a hearth. If you're lucky, you might even stumble upon vintage logging hooks or timber tongs – both tools once used to transport lumber.
Besides their historical significance, these old-school implements bring a rugged look that nods to the traditional labor that built such residences.
Remember, though, moderation is key. Balance these stronger elements with soft, homely pieces to maintain a warm and welcoming atmosphere.
Tartan Bedding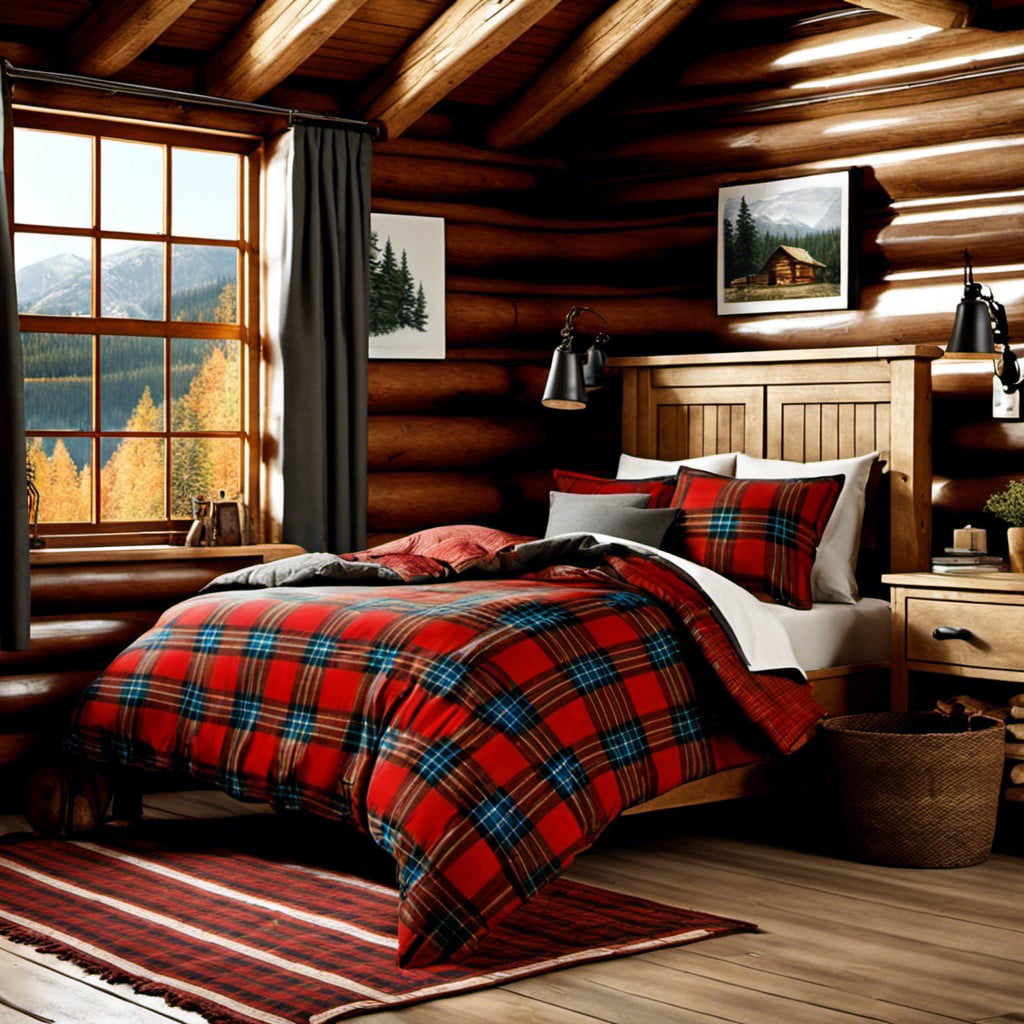 Steeped in tradition, tartan brings an undeniable charm to the bedroom. The bold, plaid patterns instantly nurture a warm, cozy atmosphere — perfect for a log cabin. Consider incorporating it in various forms.
Firstly, bedding sets are a straightforward means of introducing tartan. Opt for a set that includes comforter, fitted and flat sheets, and pillowcases. Balance is crucial with these bold patterns, so consider using white or solid color pillows as accents.
Alternatively, use throw blankets. They provide functionality and flexibility — draped over a chair or at the foot of the bed, they add an instant pop of tartan.
Also, think outside the traditional. Tartan isn't restricted to reds and greens. Explore blues, grays, or even purples for a fresh take on this classic pattern. Mix and match to create a look that's truly unique to your log cabin.
Lastly, note the quality. Cabin life can be rough on linens, choose heavyweight fabrics. Flannel tartan is an excellent durable, and warm option.
Incorporating tartan in bedding options is a versatile and effective way to bolster the log cabin aesthetic.
Log Slice Coasters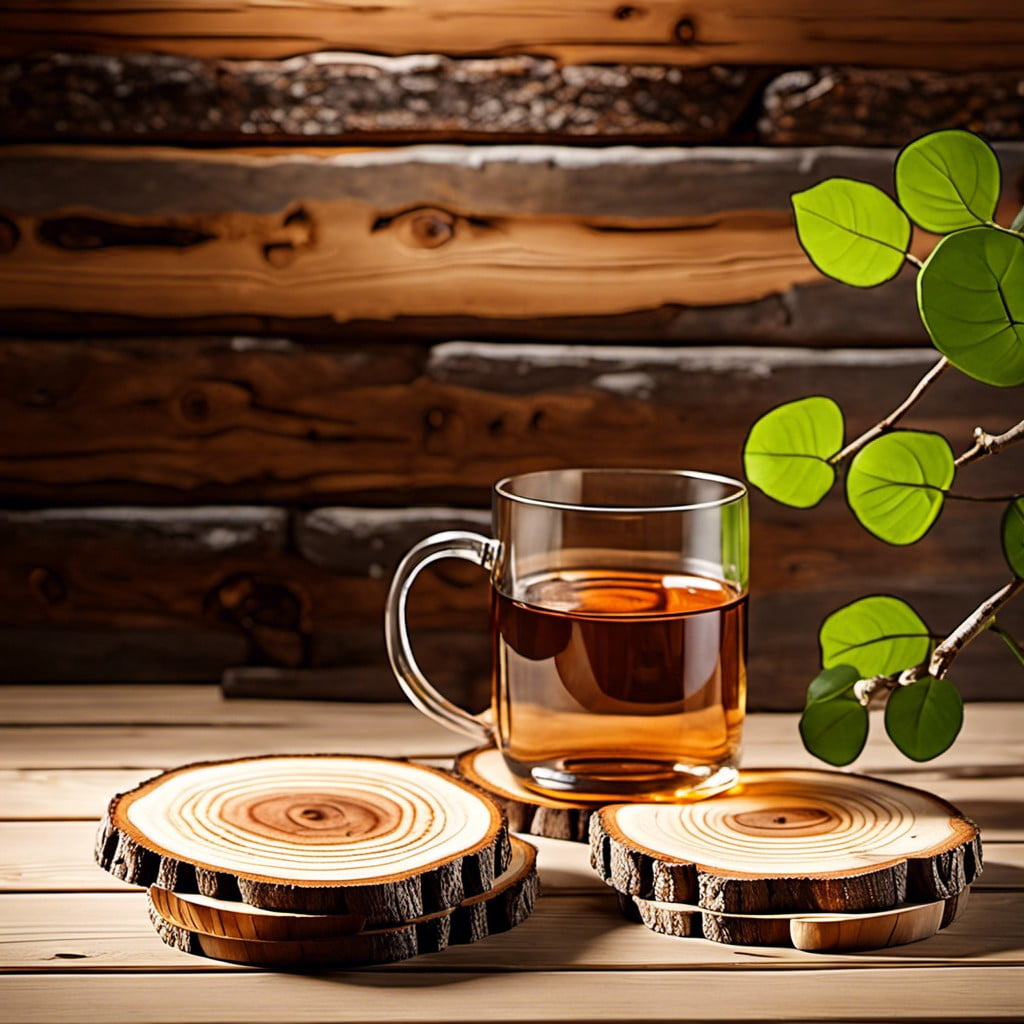 Creating these unique coasters is a simplistic yet stylish way of bringing the log cabin aesthetic into the finer details of your decor. Suitable for any table in your cabin, they are not only functional in protecting surfaces but can also become conversation pieces.
Seek out locally sourced wood for an authentic, sustainable touch. They can be personalized, engraved with images or designs that resonate with the cabin's atmosphere. However, remember to properly coat and seal them to ensure longevity and safeguard against water damage.
Each coaster, being an individual slice of log, brings with it the narrative of the very tree it came from, thus adding an additional layer of charm to your cabin.
Wooden Wall Art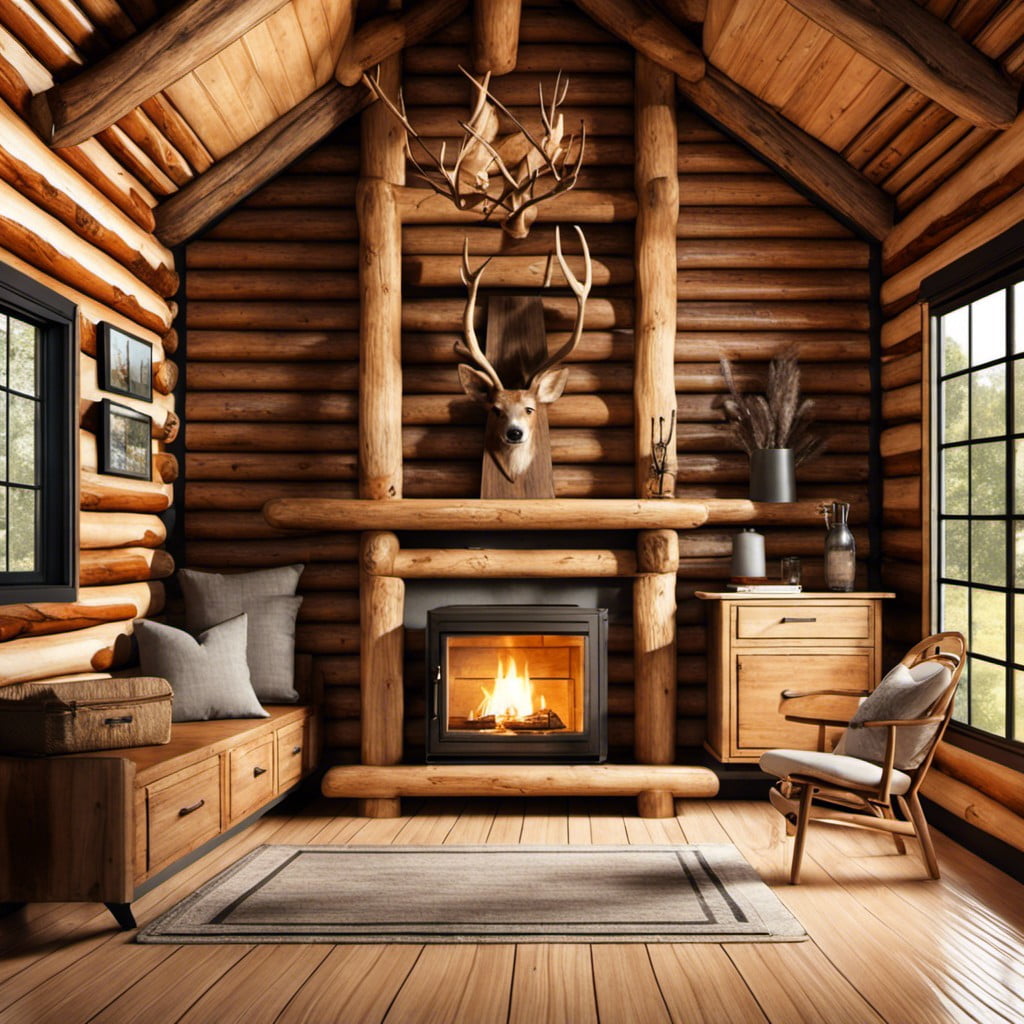 There are various ways to incorporate this wood-inspired theme into your cabin home. Wood-carved scenes of nature, such as bears in the forest or soaring mountains, are top picks for a reason. They evoke a sense of tranquility while remaining firmly rooted in cabin aesthetics.
Moreover, reclaimed wood signs with inspiring sayings or popular outdoor themes add a lovely touch of charm. If you're an owner with an adventurous spirit, consider maps or outdoor adventure symbols made of intricately cut wood. For the minimalist at heart, abstract wood art pieces, displaying geometric shapes or unique patterns, create a striking visual impact while maintaining a warm and cozy feel.
Hand-painted wooden plaques or rustic wooden picture frames help to bring personal elements to the space, allowing the family's character to shine through.
Last but not least, three-dimensional wooden sculptures and carved wooden bowls provide depth and interest, transforming ordinary walls into a focal point. Remember, the aim is to create a blend of simplicity, charm, and natural elements that resonate with the spirit of a log cabin.
Animal Skin Rugs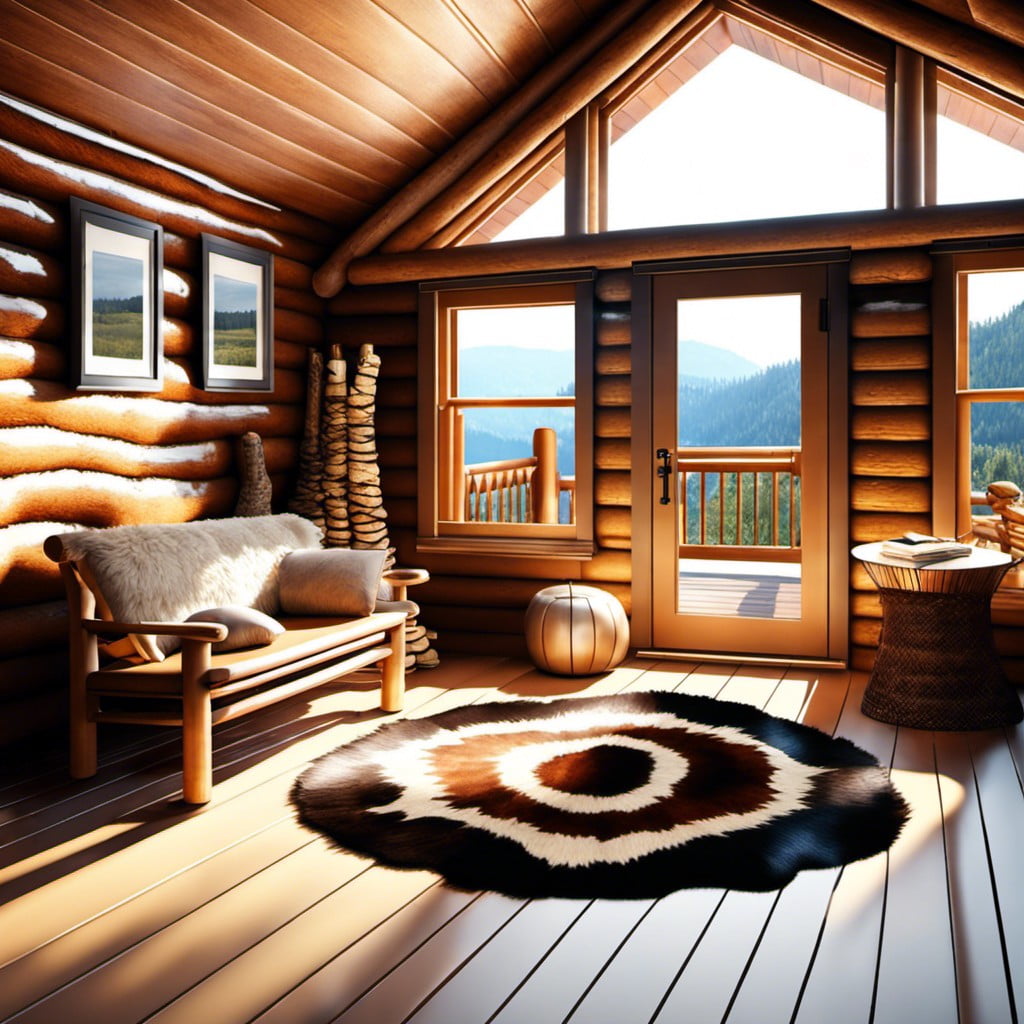 An essential addition to the rustic charm of any log home can be found in the form of animal skin rugs. Frequently, they are used to anchor seating areas, providing both warmth and visual appeal.
Not limited to bear or cowhide, these rugs come in an array of skins from deer to zebra. For a more ethical approach, faux alternatives offer equally captivating aesthetics, mimicking the natural texture and alluring patterns.
Careful placement allows these rugs to define spaces within open floor plans typical in log cabins, allowing for fluidity and connection between living areas. They pair perfectly with hardwood floors, enhancing the rustic theme without overwhelming the space.
Maintenance involves periodic shaking and spot cleaning, making these rugs not simply decorative, but practical and manageable for everyday use. Remember to consider the rug's scale in relation to the room to ensure balance and harmony in your cabin décor.
Wicker Baskets
An ideal choice for maintaining that rustic cabin feel, wicker baskets not only present a visually appealing, nature-inspired element to your decor, but they're also second to none in terms of their storage capabilities. Available in a range of sizes and shapes to suit any need, these baskets effortlessly blend function and form.
Compact and small baskets can be placed on shelves or tables, perfect for storing keys, wallets, or small daily use items. Larger baskets can find their place beside the sofa, acting as storage for throw blankets or magazines. In bedrooms, spacious wicker laundry baskets enhance the cozy cabin feel while providing practical solutions.
Each basket's unique weave brings texture to a room, complementing other rustic elements. Consider a mix of light and dark-toned wickers to create contrast and depth. Whether you choose them for their aesthetics or functionality, wicker baskets are a natural, versatile addition to your cabin's decor.
Pinecone Centerpieces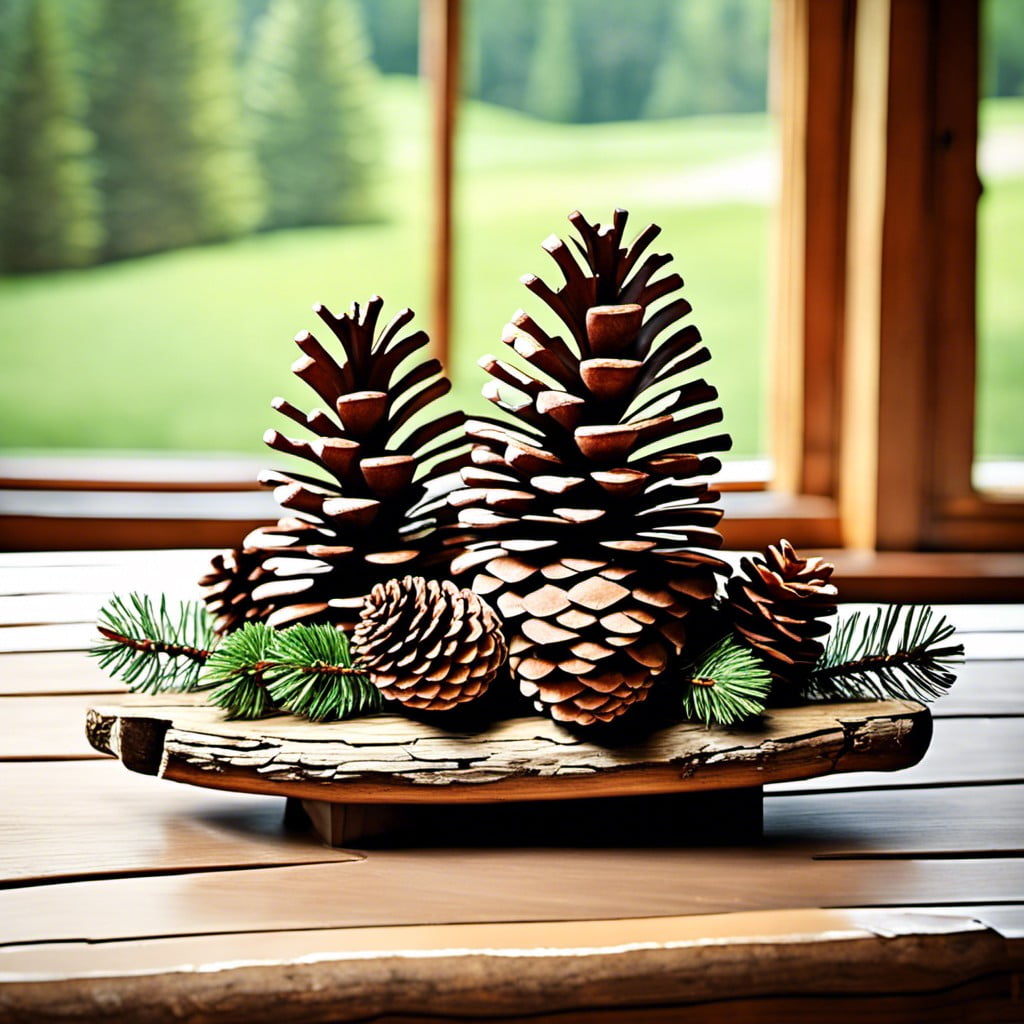 One can't overlook these delightful pieces of nature when decorating a log cabin. The charm of pinecone centerpieces lies in their natural allure, and versatility.
They can be sprayed with snow-like paint for a winter feel or mixed with berries and candles for a warm, fall ambiance.
Consider different holders like rustic bowls or clear glass vases, filled with pinecones; they can grace your dining table or fireplace mantel in an elegant yet festive manner.
For a classic touch, tie them up with burlap.
The possibilities are endless, so let your creativity shine and set a delightful visual accent in your cabin.
Lamps With Birch Base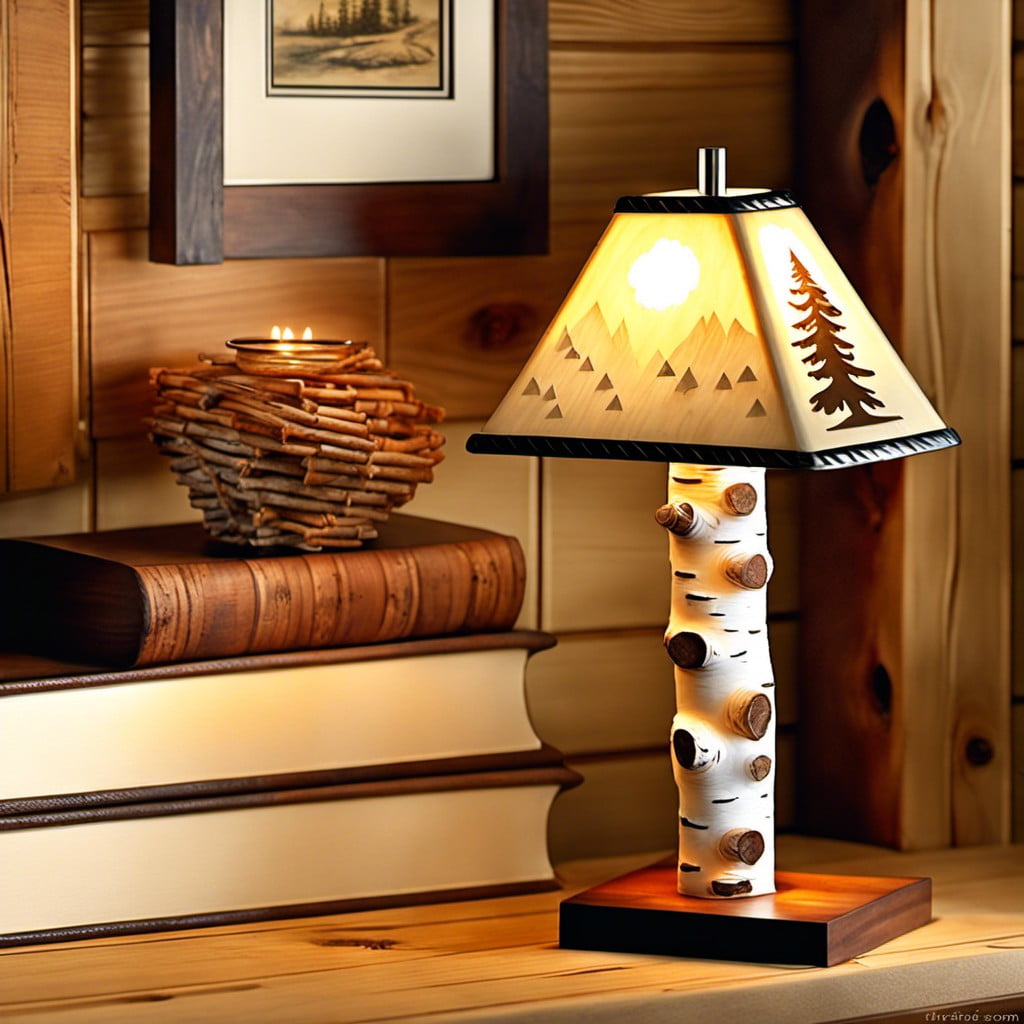 Offering a touch of nature indoors, these unique illuminations stand as a testament to your love for rustic aesthetics. The distinct texture of the birch base adds an inviting warmth, seamlessly blending with the log cabin environment.
Whether a tabletop lamp for your evening read or a standing piece for the living room, lamps with a birch base can enhance any corner of your cabin.
When selecting, consider contrasting the light hue of the birch with a darker lampshade. Options range from raw, organic shapes that preserve the form of the birch trunks to more geometric designs for a sleek, contemporary look.
To further customize, incorporate elements like faux-fur or fringed lampshades for a more traditional feel.
Ensure the electrical components are safely installed and shielded from the wooden base. Remember to position your birch lamp where it is most functional, yet visible to accentuate its beauty.
Remember, it's not just a light source, but a piece of art too!
Birch Bark Vases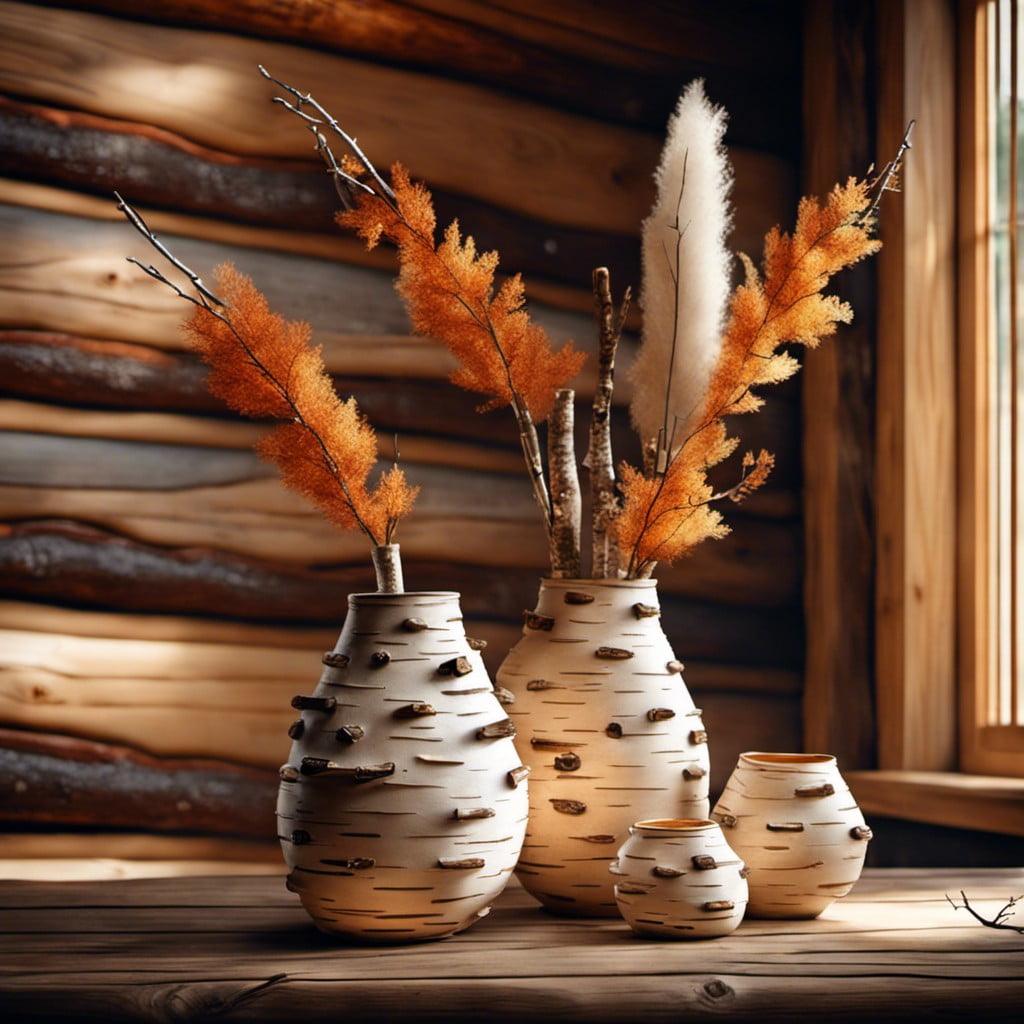 These unique vases provide a versatile, striking accent that effortlessly blends with the natural, rustic aesthetic inside your log cabin. Harnessing the innate beauty of birch, they bring elements of the outdoors inside. Their rough exterior contrasts the clean lines of flowers or branches, merging structurally simple design with organic lines and textures.
Furthermore, they can be situated anywhere from dining tables as centerpieces to bedside tables for that pastoral touch. Moreover, you can take the DIY route, adding a personalized touch to your decor. Remember, locating trees that naturally shed their bark or using cultivated bark resources will preserve the environment while you adorn your cabin.
Finally, pairing them with wildflowers or pine branches can further enhance their visual appeal.
Canoe Shelf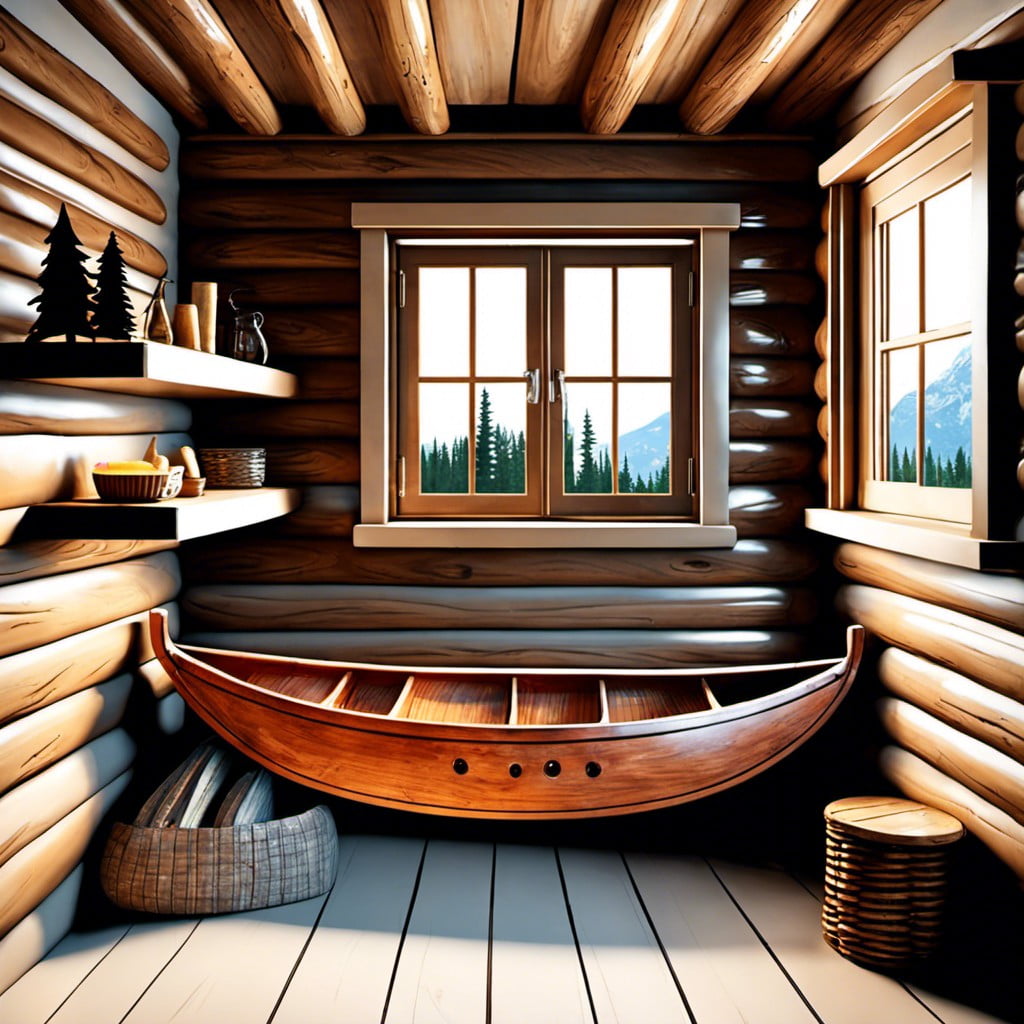 Leaning vertically against a wall or resting horizontally atop a pair of sturdy brackets, canoe shelves bring a striking nautical touch gently whispering the nostalgic call of wilderness waters. As functional as they are decorative, these pieces offer multi-tiered shelving perfect for curating trinkets, books, or cabin-themed decor.
Especially mesmerising are hand-crafted canoe shelves made from authentic aged cedar wood, radiating a robust, rustic charm. Repaint and refurbish them to refresh their look or to match your cabin's color scheme. An added layer of varnish enhances the wood's longevity, especially for those featuring natural bark edges.
Opt for wide or slim designs depending on your room's size. While a full-sized canoe may be grand, mini versions bring in a subtler, yet equally captivating accent. With thoughtful placement and careful curation of what you display, a canoe shelf can undoubtedly become the centerpiece that anchors your cabin's decor.
Leather Sofas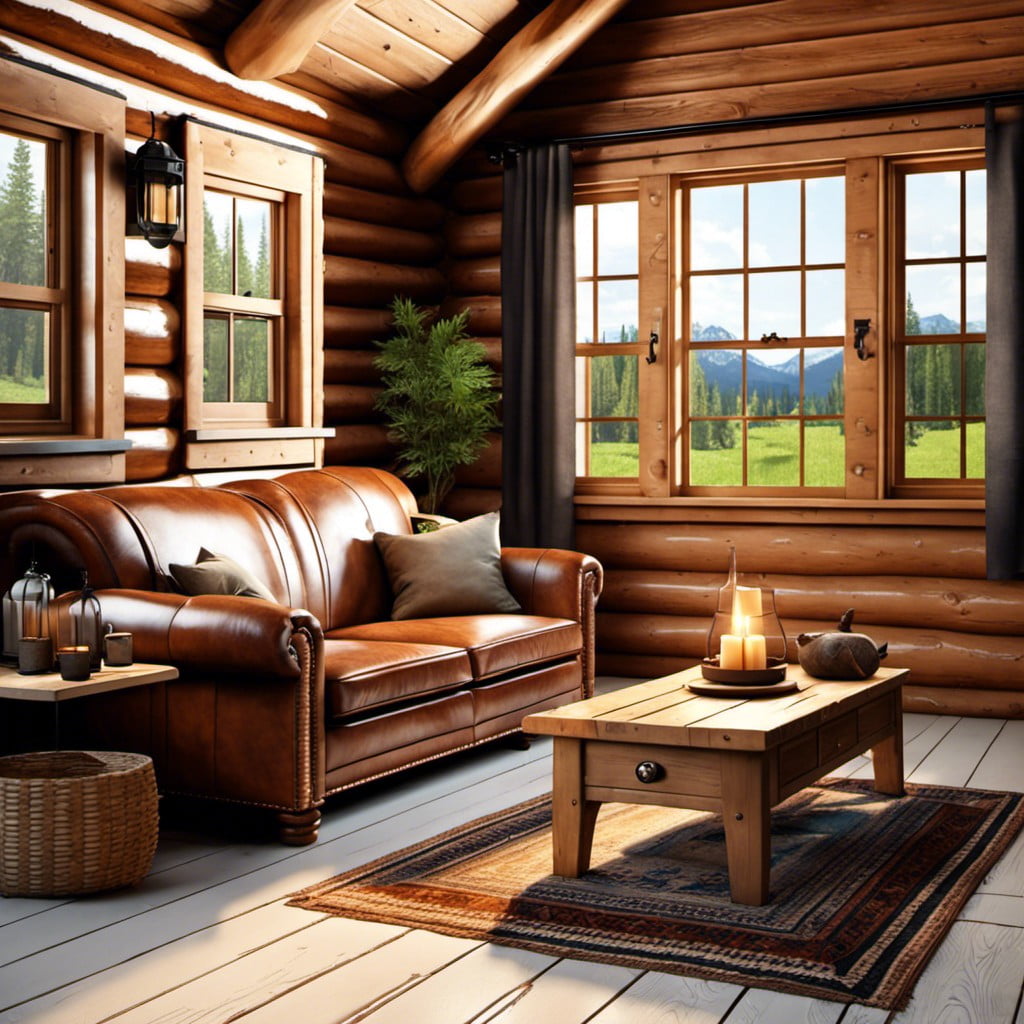 Leather furniture, notably sofas, reflect the epitome of rugged elegance in a log cabin's decor theme. Distressed, dark brown or tan, they align seamlessly with the warm wooden tones prominent in these rustic spaces. Hence, their popularity cannot be overstated.
1. They age excellently: Developing a rich patina over time, these sofas wear their age with grace, enhancing their rustic charm.
2. They are durable: Demanding minimal upkeep, leather sofas are tough and can handle countless cozy fireside chats.
3. Versatility: They harmonize well with other decor elements, be it a tartan throw or a pinecone centerpiece.
4. Comfort: Combining durability with comfort, they prove perfect for long sessions of lounging or reading.
Remember, a high-quality leather sofa, while being an investment, can become the heart of your cabin for decades to come.
Antique Oil Lamps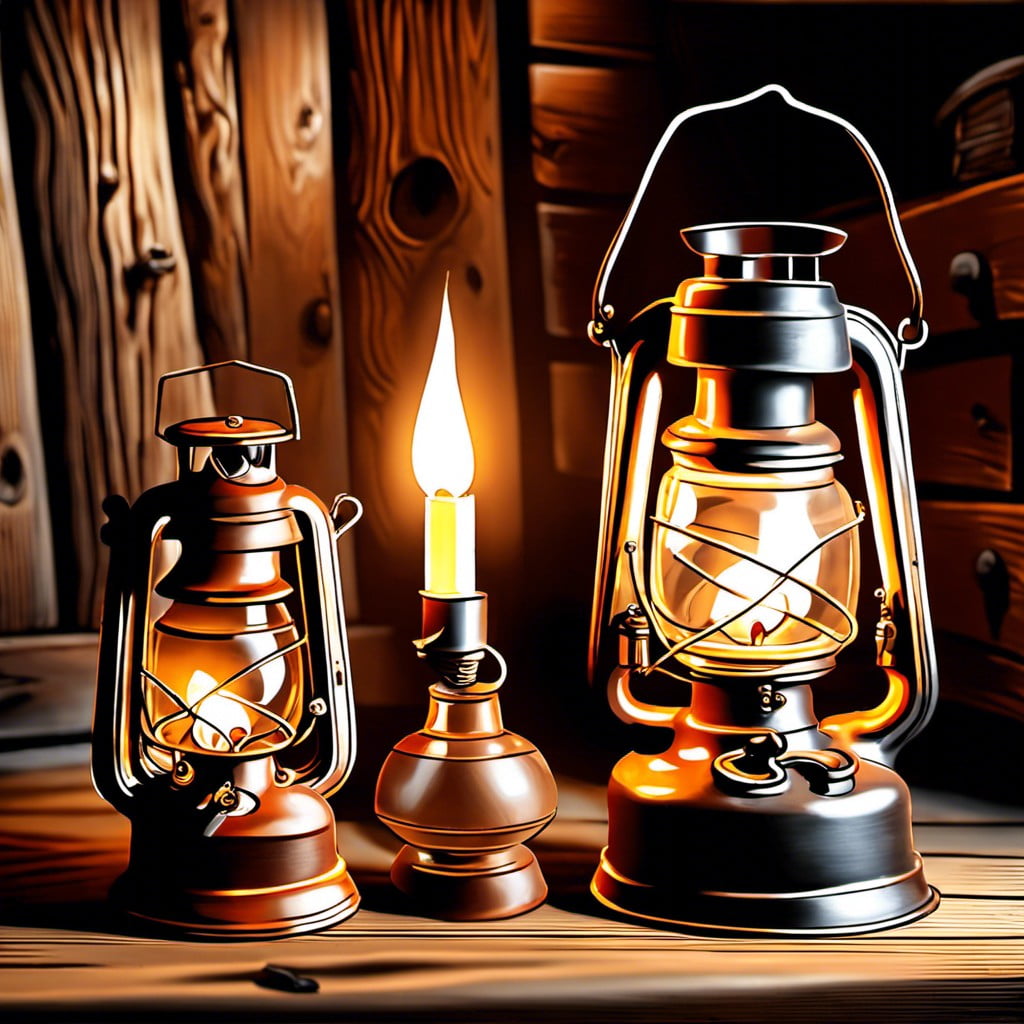 Embracing the charm of yesteryears, these historical light sources become a distinctive element within a log cabin. They not only function as soft lighting options but also serve as standalone decorative pieces.
Consider variations in shape, color, and design to introduce diversity to your space. Brass-based lamps pair well with rich wood tones and leather furniture. Clear glass lamps, on the other hand, may add a touch of elegance.
To enhance the cabin feel, look for lamps with etchings or designs inspired by nature. Remember to safely place them away from flammable materials to avoid accidents.
Wildlife Wall Tapestries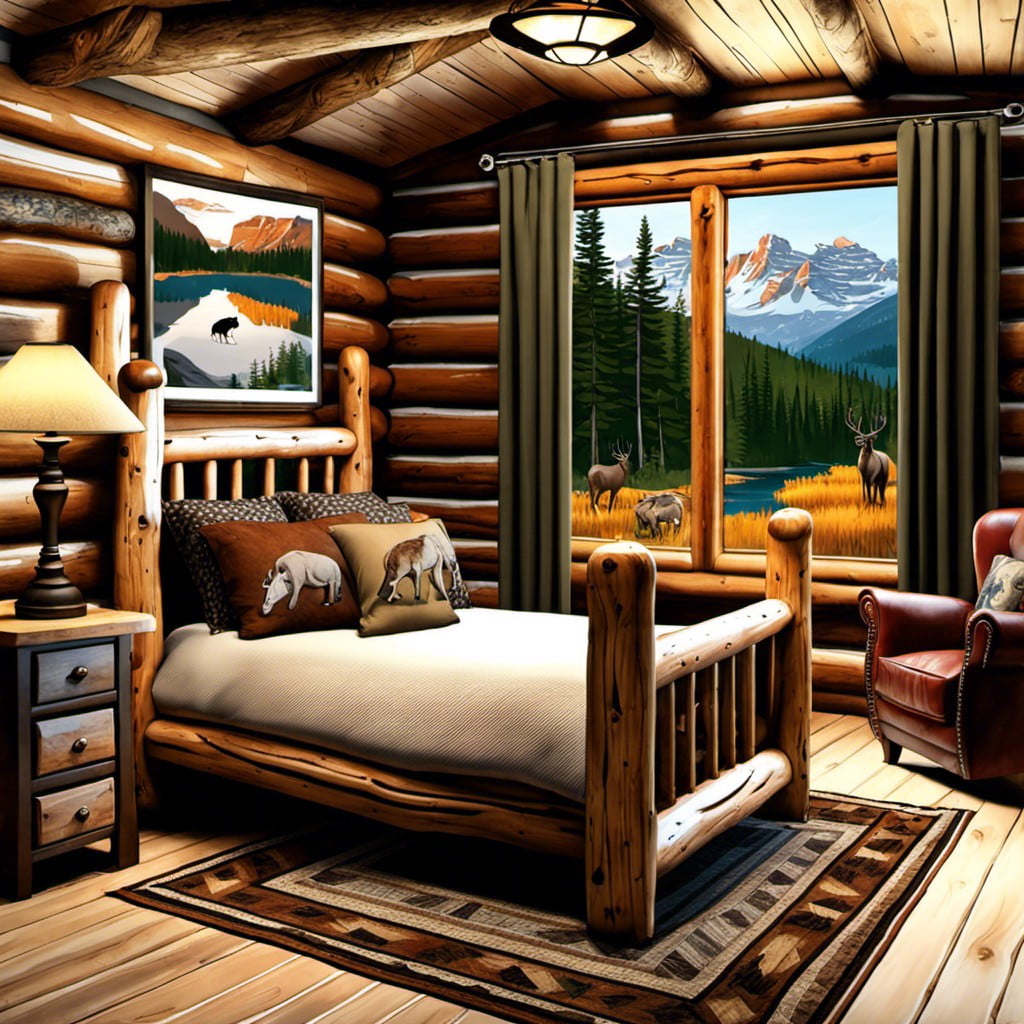 Wildlife tapestries are an excellent opportunity to add a large, visually impactful element to your wall space. Plus, they give you the ability to bring elements of nature inside your cabin walls.
Whether it's a majestic stag, a playful squirrel, a pensive owl, or a grand western landscape, these pieces can dramatically change the ambiance of a room. They can serve as an accent in your living or waiting area or be the focal point over your fireplace.
Quality is key when picking the right tapestry so invest in one that demands attention but isn't overpowering. Opt for vibrant colors and clear, detailed images.
For a more unified look, consider a design that incorporates colors from your existing decor scheme. Remember, less is more, and one well-chosen piece can be a statement of refinement.
Lantern-style Lighting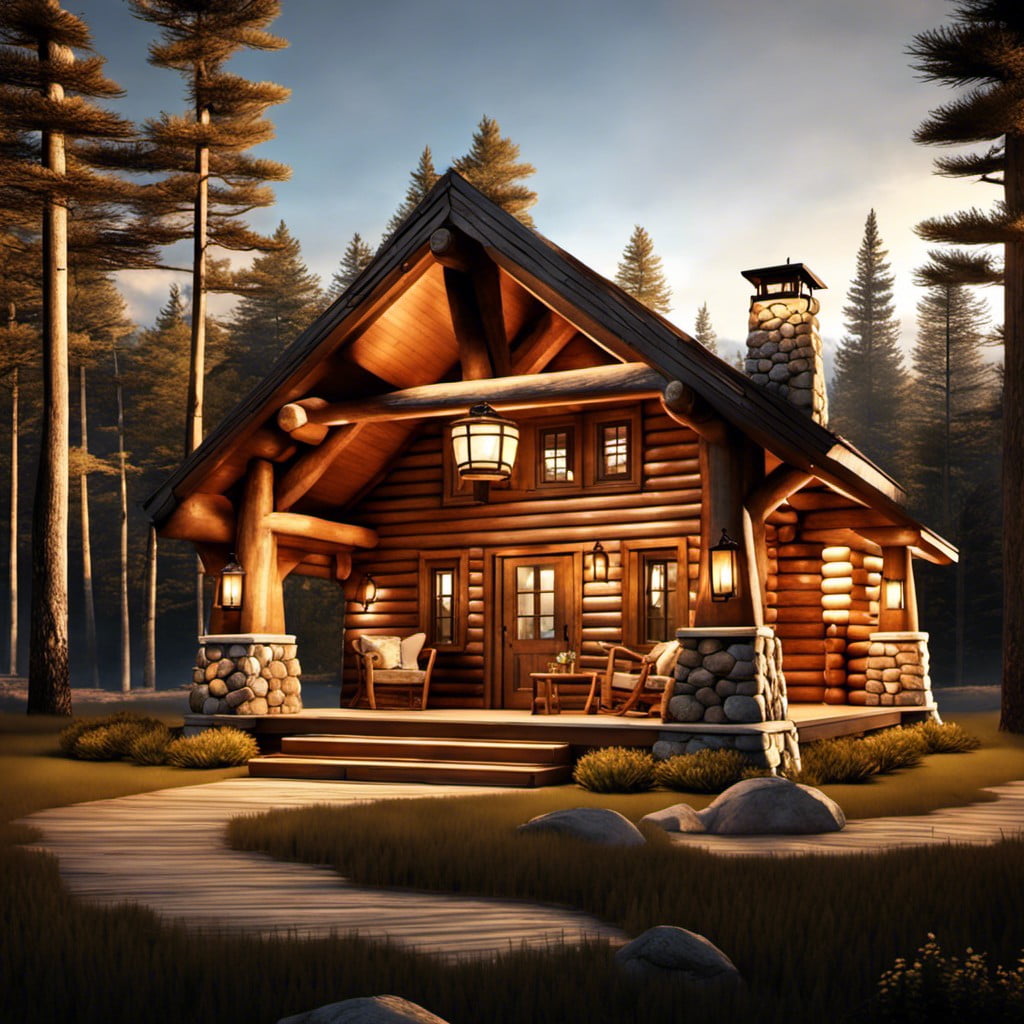 Shedding a warm, inviting glow, lantern-style lighting is a classic choice for log cabins. It effortlessly complements the rustic aesthetics and creates a cozy atmosphere.
Opt for fixtures with metallic finishes such as aged copper or black iron for that antique, old-world charm.
Consider hanging a lantern chandelier in the living area or a row of smaller lanterns above the kitchen counter.
For outdoor spaces, nothing beats a lantern-lit pathway.
The bonus is that LED lanterns are now available, offering the enchanting allure of traditional lanterns with energy efficiency.
Go a step further by choosing models with dimmers to easily control the intensity of light, turning your cabin into a ambient retreat after sunset.
Liked reading this? Here's more:
Recap: