Last updated on November 10, 2023
Upgrade your patio table decor because fantastic design ideas can transform your outdoor space into a personal oasis.
I'm thrilled to share with you these 20 elegant patio table decor ideas, each uniquely designed by me, and I genuinely hope they kindle your creativity as much as they did mine during the creation process.
Transforming your patio table into a stunning centerpiece can be as simple or elaborate as your taste dictates. From seasonal floral arrangements to rustic lanterns, the options are endless.
This article will explore a variety of patio table decor ideas that will make your outdoor space inviting and stylish. Whether you're hosting a summer barbecue, planning an intimate dinner under the stars, or simply enjoying a morning coffee, we've got you covered.
Continue reading for detailed tips, tricks, and inspiration to elevate your patio table decor to the next level.
Succulent Centerpiece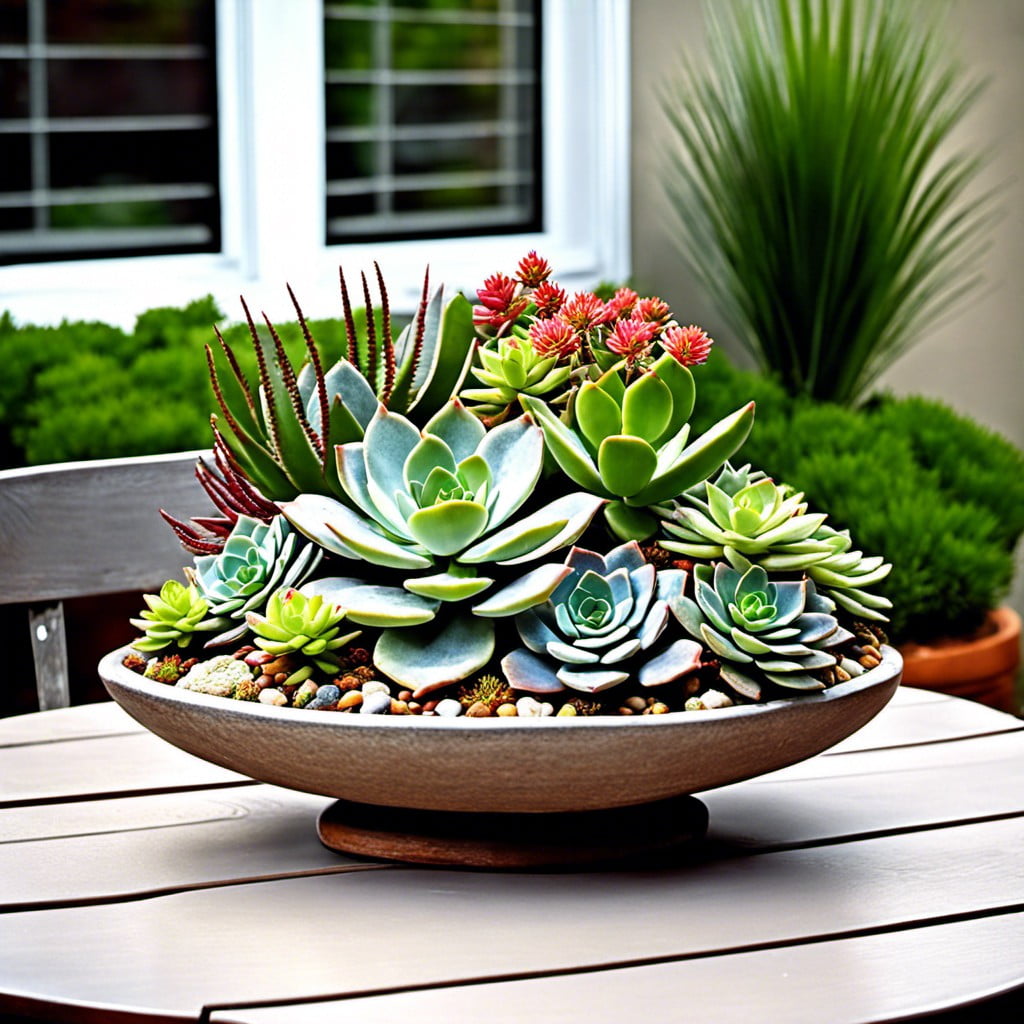 Succulents offer a great way to bring greenery to your patio table without overwhelming the space. Given their compact size, they can be neatly arranged in a low-profile bowl to create an eye-catching centerpiece.
Not only are they aesthetically pleasing, but these drought-tolerant plants also require minimal maintenance. Opt for a variety of species to create an interesting mix of colors, shapes, and textures. You can also add tiny pebbles, decorative sand, or driftwood to enhance the look.
Plus, use a shallow, wide container to spread them out in an interesting pattern. Whether for a casual barbecue or an elegant dinner party, a succulent centerpiece can add a vibrant touch to your outdoor decor!
Candle Lanterns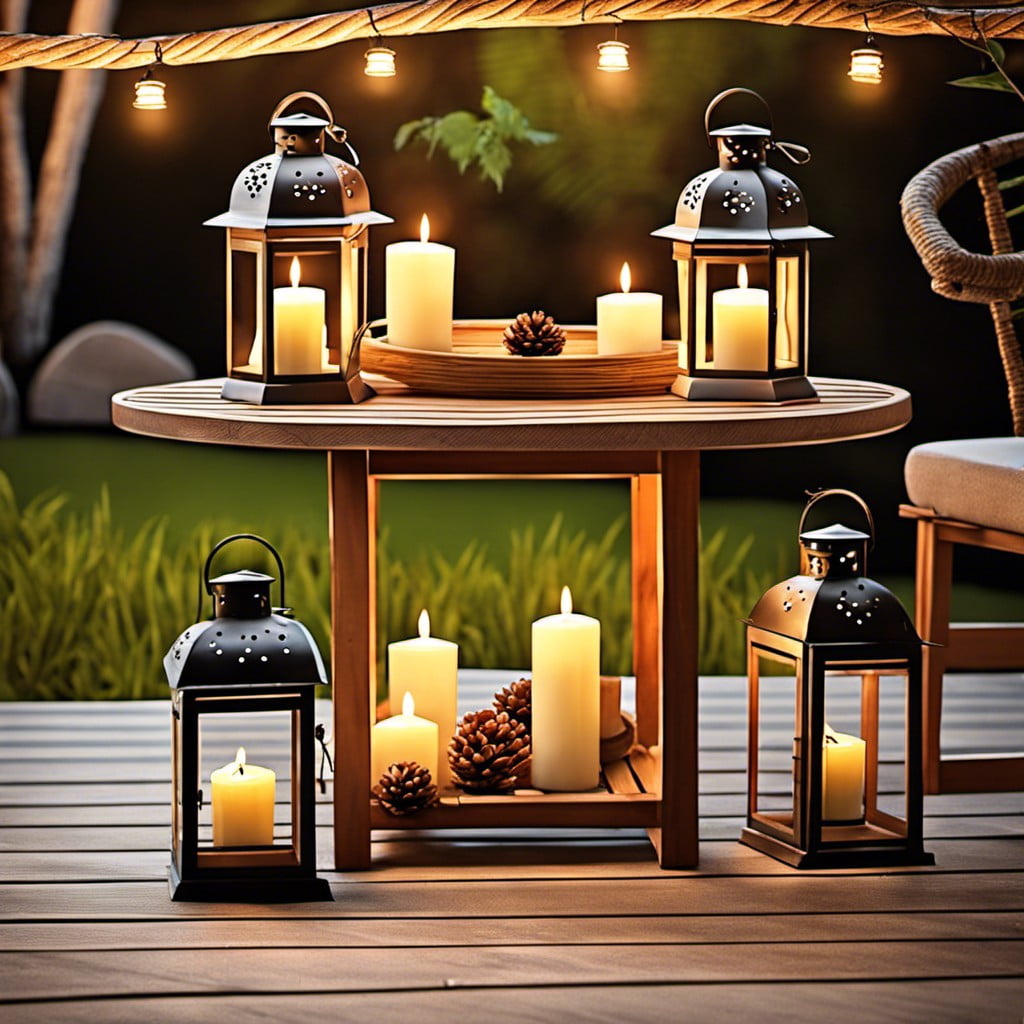 Creating a serene ambiance starts with arranging candle lanterns strategically around your patio table. Opt for a mix of sizes and shapes to achieve a visually pleasing effect. Selecting traditional wrought iron lanterns they can lend an old-world charm, or modern stainless steel designs for a more contemporary feel.
It's important to consider the safety aspect. Flameless or LED candles can be safer alternatives, especially in households with children or pets, and they recreate the soft glow of real candles effectively.
Finally, remember to take into account the wind protection feature. Lanterns with glass encasements are ideal to prevent the flame or light from being blown out. Incorporating this decor element will significantly enhance your patio's aura, providing the ideal atmosphere for an al fresco dinner or a casual gathering with friends.
Table Runner With Floral Print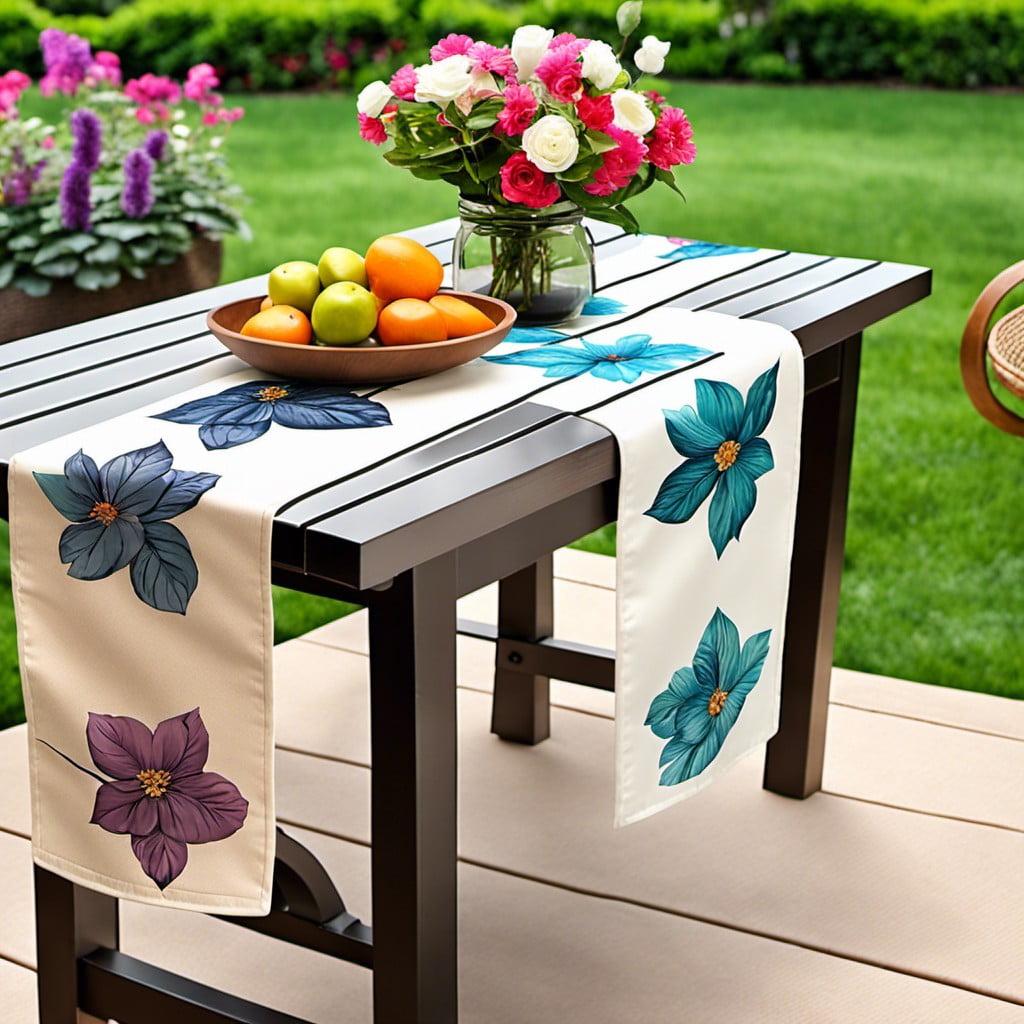 A floral print runner not only adds a touch of elegance but also brings a pop of color to the patio table. When choosing a runner, consider the following:
Match the print with the season. Light, pastel flowers fit perfectly into a spring or summer setting, while bold, rich hues are perfect for fall and winter.
Balance with other table elements. Avoid patterns that might clash with your dishes or centerpieces.
Consider the table dimensions. The runner should hang about six inches over each end of the table, but not touch the ground.
Fabric durability. Outdoor fabrics with a moisture-resistant finish can withstand unexpected weather changes.
Remember, the goal is to soften the table's look and create an inviting space for your guests. Floral runners can become the focal point that ties everything together.
Decorative Bird Cages With Ivy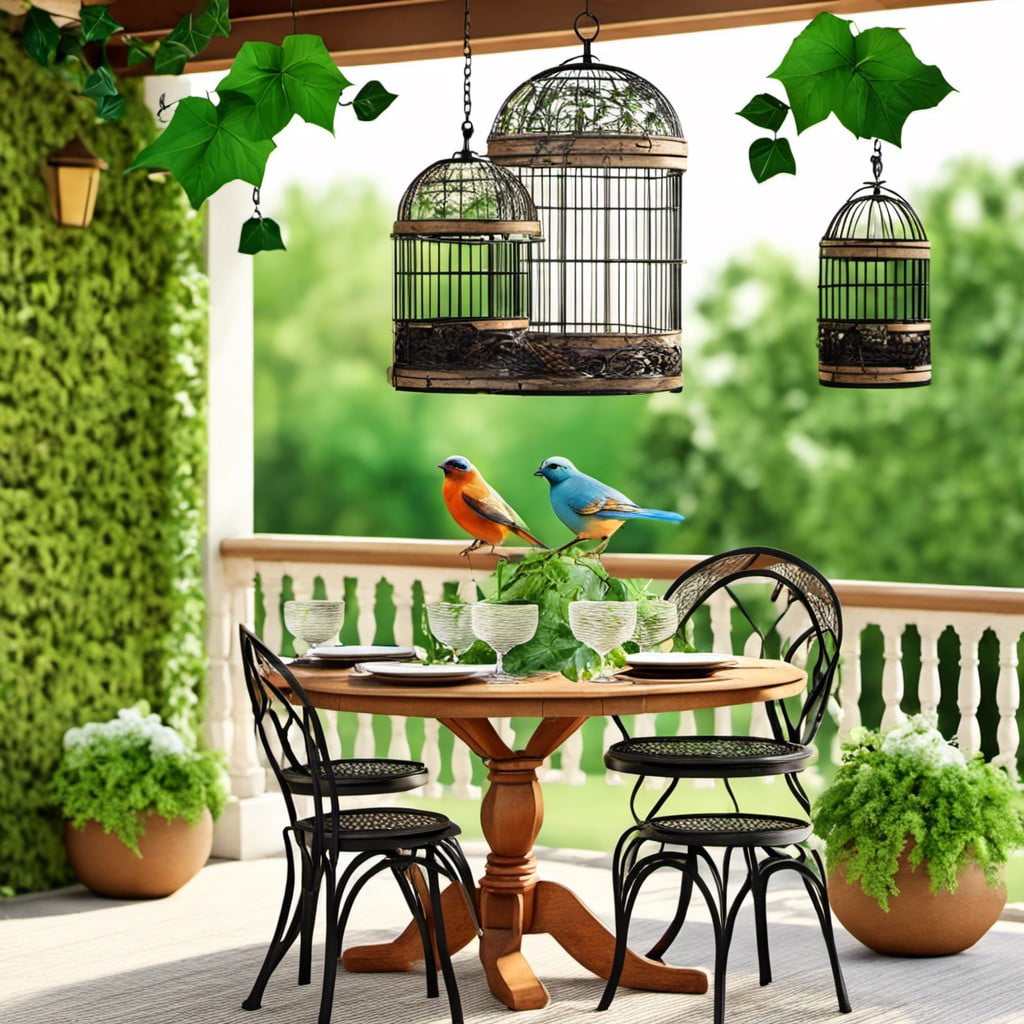 Decorative bird cages offer both a vintage charm and an open structure that elegantly showcases the vibrant green ivy. Outfit a cage with a liner of moss before adding potting soil; this will retain moisture for the plant.
Select an ivy variety that flourishes in your climate and remember to trim it regularly to maintain the desired shape and size. When combined with the sophisticated silhouette of the bird cage, it creates an eye-catching centerpiece for any patio table.
To add a whimsical touch, intertwine fairy lights around the cage, creating a magical display in the evening hours. Pair this with pastels or white accessories for a stylish and sophisticated outdoor setting.
Finally, this setup is relatively low maintenance, weather-resistant, and can be enjoyed year-round.
Fairy Lights and Mason Jars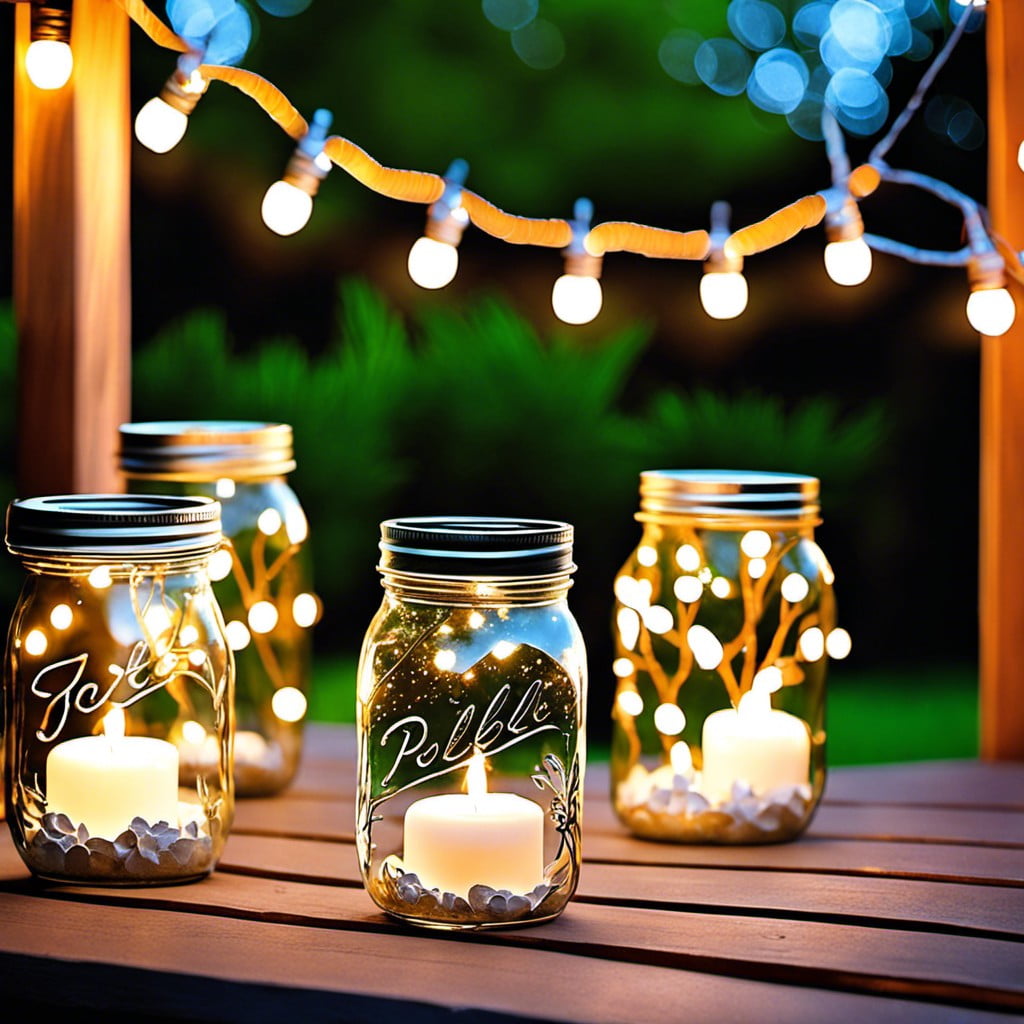 Adding an ethereal glow to your patio table, fairy lights neatly arranged inside mason jars offer a budget-friendly yet charming decor solution.
In just a few steps, one can personalize this arrangement.
First, choose a string length suitable for your jar size.
Battery-powered LED strings are ideal due to their extended life and heat-free operation.
Next, gently wind the light string and place it inside the jar.
Opt for strings with copper wire as they are more pliable and less likely to tangle.
Finally, place the battery pack underneath the jar or cleverly hide it behind other decor pieces.
Experiment with different jar sizes or light colors for an eye-catching display that transitions from a day to a night setting effortlessly.
Bohemian Style Tablecloth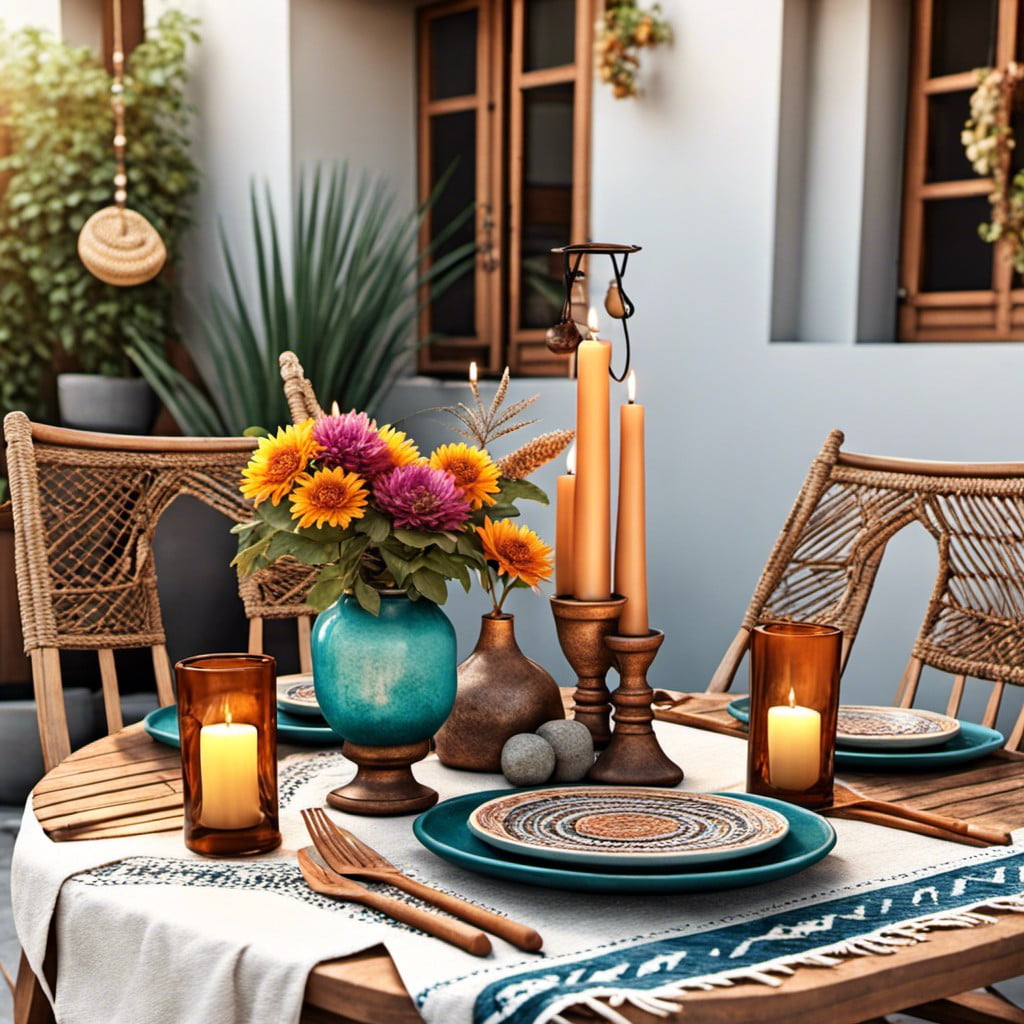 To capture a truly boho vibe, choose a tablecloth with vibrant colors and aesthetic patterns – paisleys, geometric shapes, botanical prints, or even tie-dye can be ideal.
Distinctive textures, such as lace or fringe details, can also contribute to the bohemian feel.
Remember, the hallmark of boho style is its seamless blend of various designs and colors, so don't shy away from using a tablecloth that boasts a dynamic blend of both.
Be carefree with your selection, as the boho theme thrives on artistic and creative freedom.
A beautiful, bold tablecloth can set the stage for the rest of your patio table décor.
It's the perfect foundation to layer other bohemian inspired elements like eclectic dinnerware, rattan placemats, or macramé accents.
Vintage Tea Set Display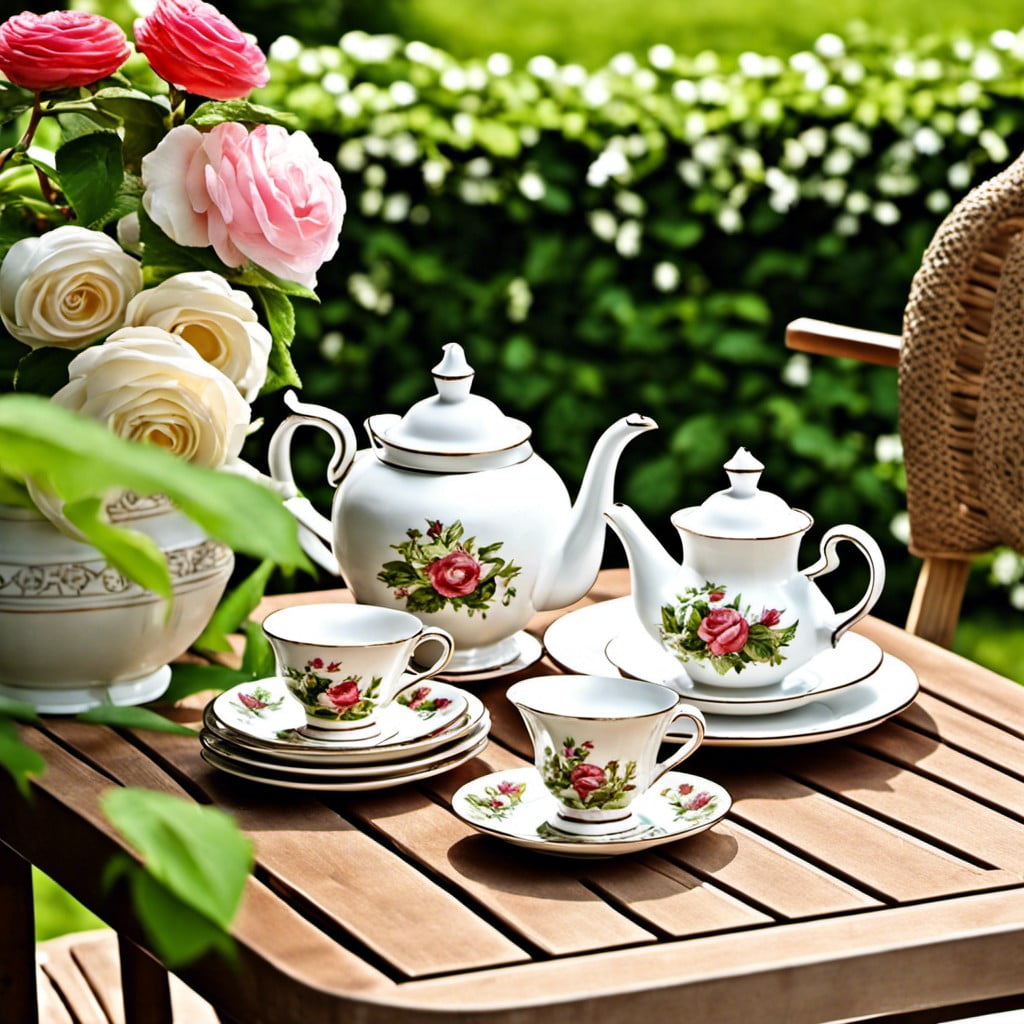 Dive headfirst into the charm of yesteryears with a carefully curated display. Old-world charm never fails to impress, and a well-selected vintage tea set can be the perfect centerpiece for your patio table. To enhance the eclectic aura, select tea sets with intricate patterns or those in a single color for a more sophisticated look.
Indulge in the beauty of serving tea or simply enjoy the appealing aesthetic.
To bring out the most of your chosen centerpiece, consider the following factors:
Material: A delicate porcelain set adds a delicate touch, while a sturdy iron set imparts a rustic air.
Variety: Mix and match pieces from different sets to create a unique assortment.
Display: Position the teapot, cups, saucers, sugar pot, and creamer impressively. Implement the use of a tiered stand for visual intrigue.
Surroundings: Add complementary elements like lace doilies or a matching table runner. Include vintage silverware if available.
Weatherproofing: Though it's an ideal decorative element, be aware of your local climate. Wind, rain, or excessive sun can damage delicate antiques.
Remember, your vintage tea set acts as a conversation starter, a piece of history shared in the heart of your home.
Miniature Potted Herb Garden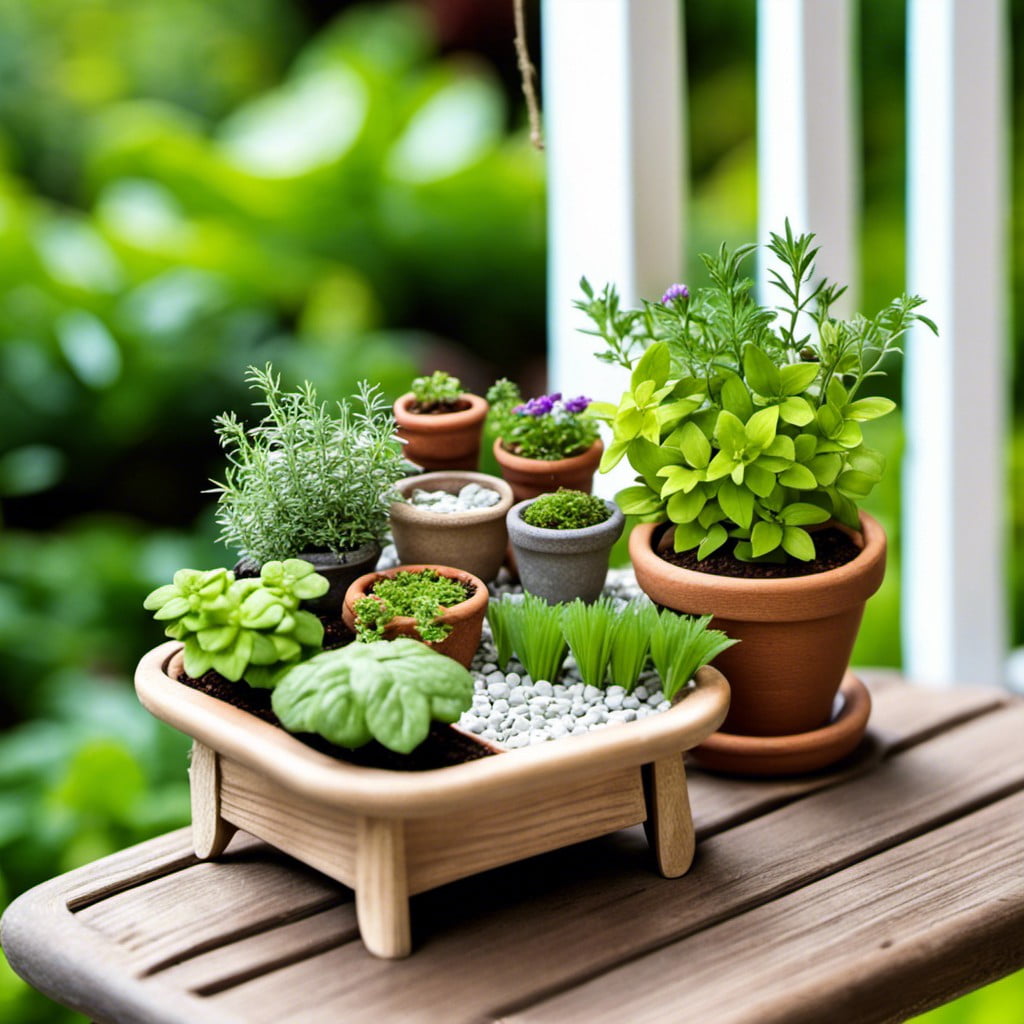 Incorporating a touch of greenery on your patio table, consider herbs as your go-to. They not only aid in creating an inviting atmosphere, but also serve a practical purpose. With herbs such as Rosemary, Mint, and Basil, you'll have access to fresh garnishes when entertaining outdoors.
1. Choose Small Pots: A cohesive collection of small ceramic or terracotta pots keeps the setup neat and manageable.
2. Mix and Match Herbs: Opt for a variety of herbs for visual interest and culinary versatility. Think beyond the common, include Parsley, Bay, Thyme, and Sage.
3. Maintenance: Remember to water regularly but avoid oversaturation. Most herbs prefer sunlight, so your patio table should be an ideal spot.
4. Styling: Arrange the pots to create appealing levels, perhaps by using a multi-tiered stand, offering a dynamic and eye-catching centerpiece.
5. Additional Decoration: Intersperse the pots with small pebbles, shells, or decorative garden markers for an elevated look.
Colorful Ceramic Plates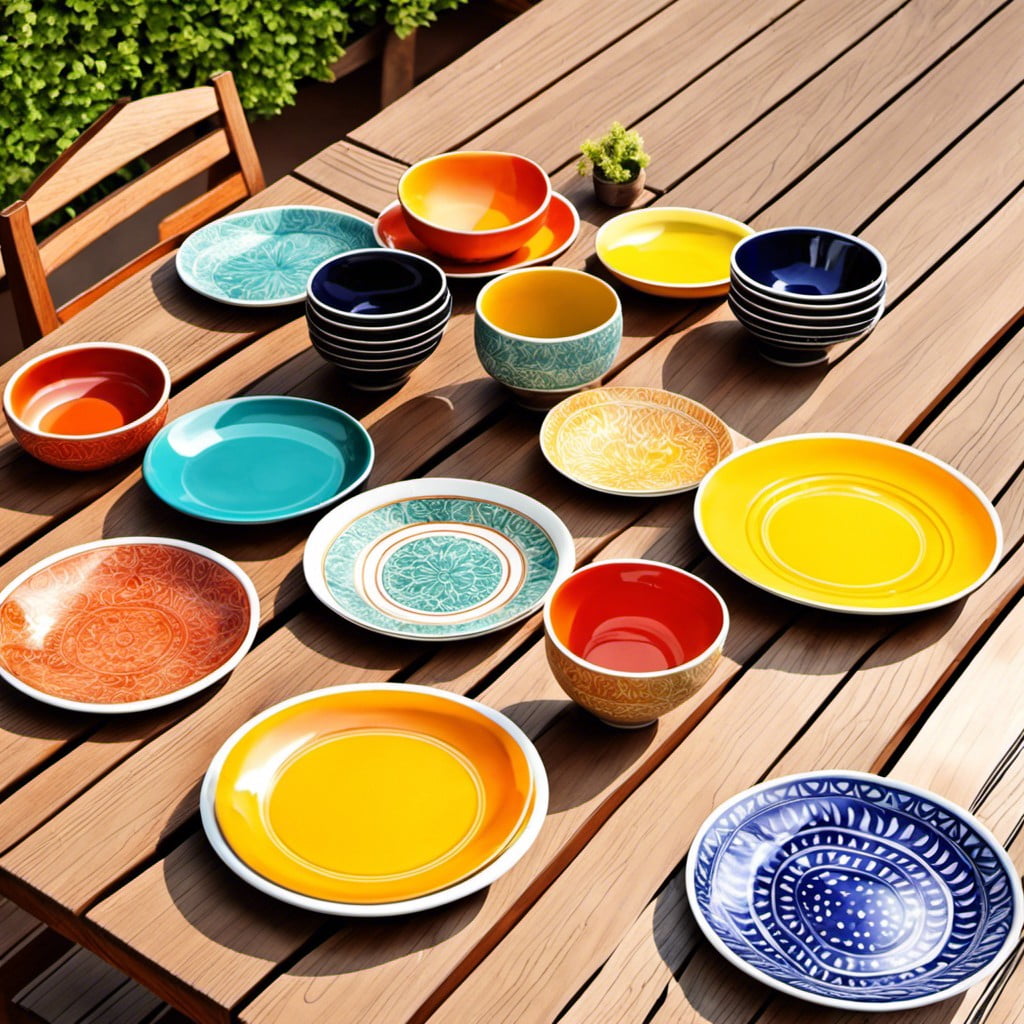 Brimming with bold hues or displaying charming patterns, these plates are ideal for adding essential pops of color to any outdoor dining situation. From rich reds to deep blues, every color has its own connotation and energy.
1. Reds and oranges can stimulate the appetite and elevate the energy of the gathering.
2. Blues, greens, and purples can imbue your setup with a sense of calm and coolness, perfect for a mid-summer lunch.
3. For a more chic and sophisticated look, pick out plates with monochromatic or geometric patterns.
4. Alternatively, plates with a lively floral or tropical design can help create a more lively, summer-fun vibe.
Remember, these plates don't just have to be for serving food. They can also function as unique tabletop accents when not in use — think of them as works of arts!
Seashell Decoration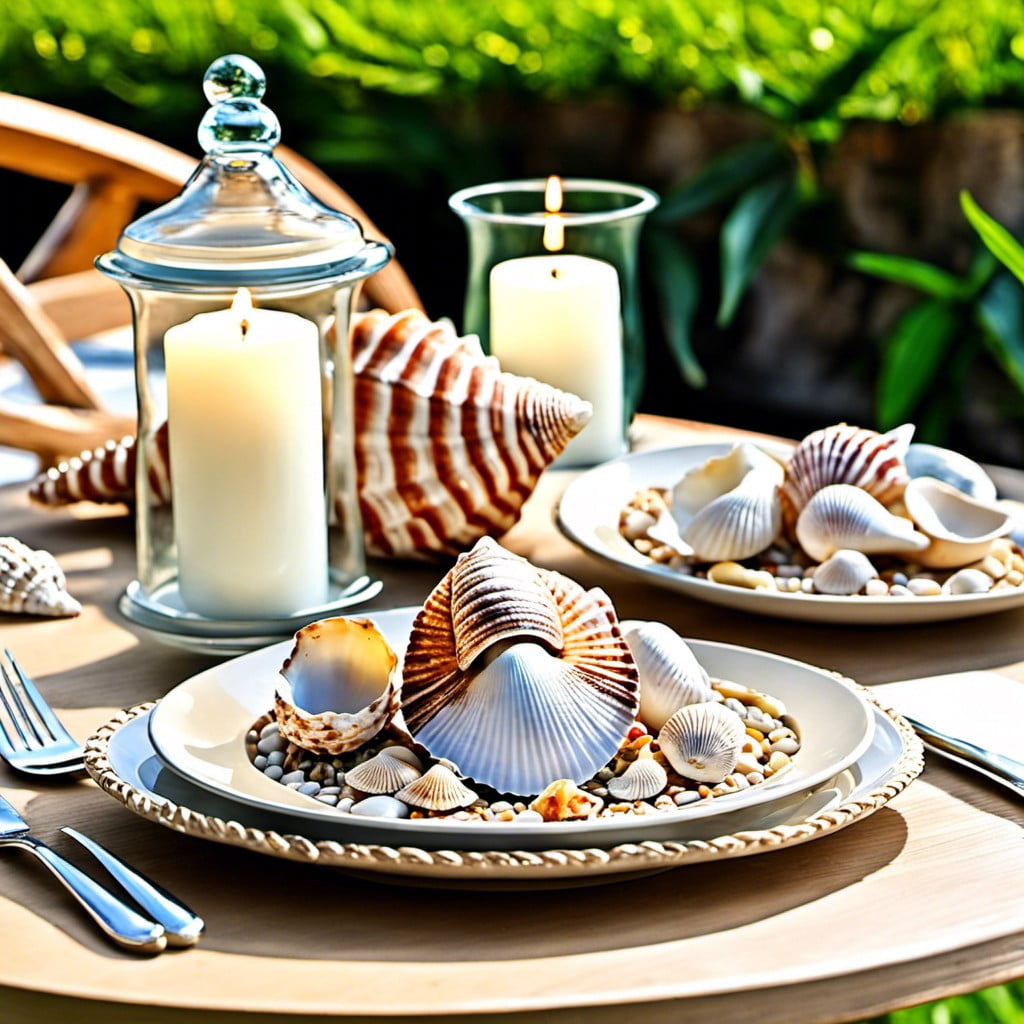 To weave in a coastal theme into your patio décor, consider seashells as your go-to element. Not only do they add a touch of the ocean to your setting, but also create a calming ambiance.
Here's how you can incorporate them:
1. Vase Filler: Collect various shapes and sizes and utilize them as filling in a clear glass vase.
2. Place Card Holders: Use larger shells with a flat base and a slit on top to hold name cards for guests.
3. Napkin Rings: Attach a corded loop to a large seashell to create a unique napkin ring.
4. Shell Garland: String smaller shells together to form a garland to drape around your patio table.
5. Candle Embellishments: Craft stores sell small bags of shells perfect for decorating around pillar candles.
Remember, moderation is key. Avoid overwhelming your table with these decorations to keep a subtle, soothing vibe.
Wicker Basket With Fruits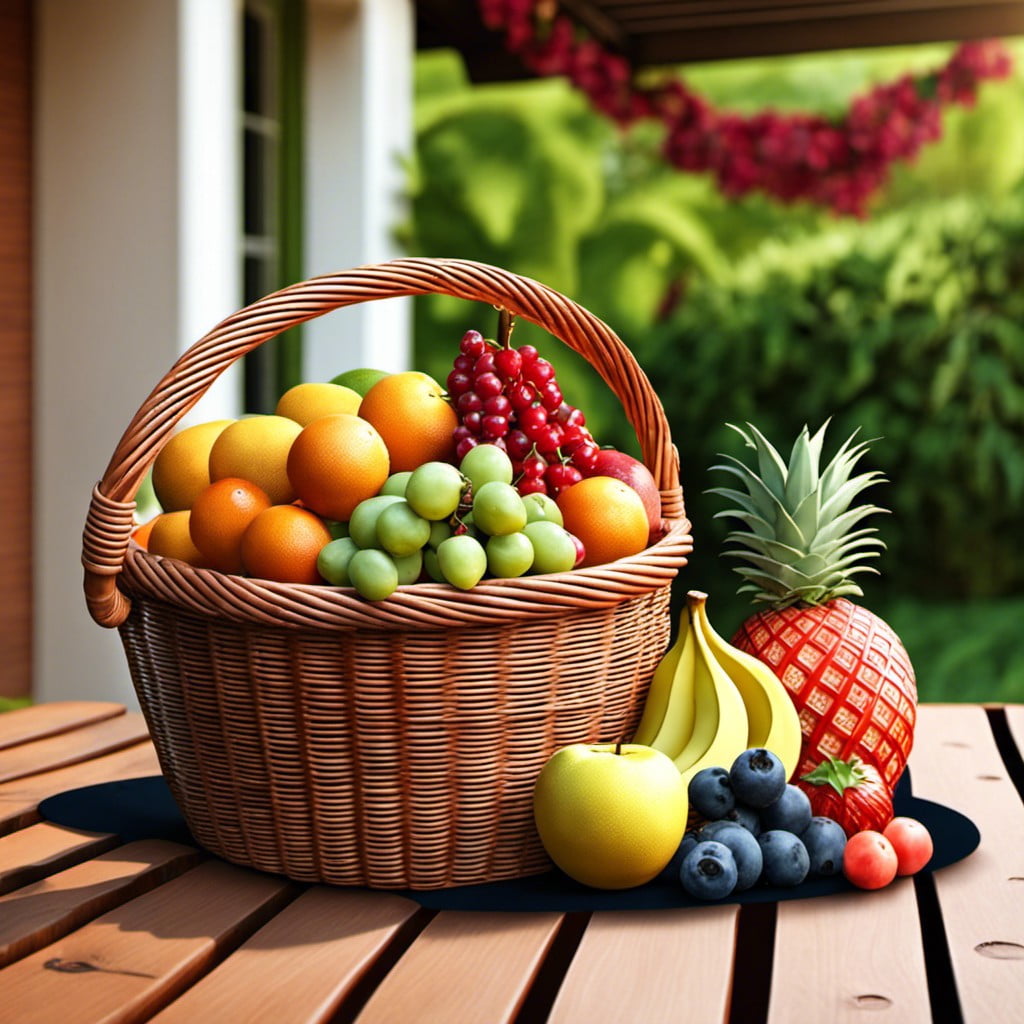 Moving on to this exciting element of decoration, it's hard to resist the organic, vibrant appeal of a well-arranged wicker basket brimming with fresh fruits. It ties in elements of nature and a splash of color, producing an effective visual charm.
Remember, size and variety matter. Opt for a basket that matches the scale of your table to avoid it looking too overpowering. Fill it generously with an array of fruits to create a full, vibrant look. Apples, grapes, citrus fruits, and bananas are not only visually stunning but also come handy for impromptu snacks.
To boost the style quotient, consider adding a few exotic fruits or those with interesting shapes and textures, such as pineapples, dragon fruits, or pomegranates. You may also intersperse the range of fruits with a few accent elements like small flowers, leaves, or twigs. Just ensure that the focus remains on the colorful produce.
An added bonus – replace consumed fruits with new ones regularly to keep the basket looking fresh and inviting at all times.
Remember, the goal is to create a tasteful balance between color, texture, and size that is pleasing to the eye while keeping it functional.
Table Top Fire Pit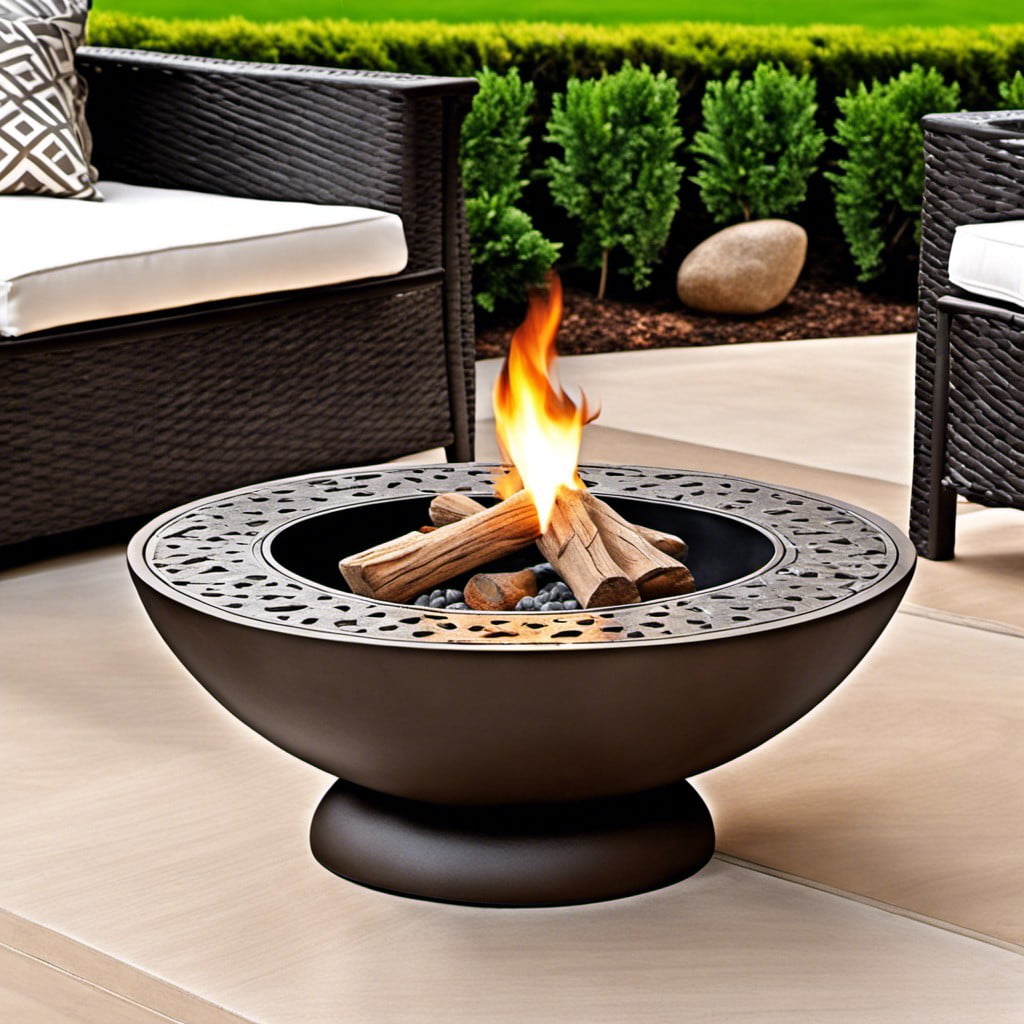 A table top fire pit not only provides a cozy atmosphere, but also comes in handy when the temperature drops after the sun goes down. Imagine sipping a hot cup of cocoa under the stars, warmed by the soft glow of a fire pit atop your patio table.
Here are essential aspects to consider:
Safety first – Choose a model specifically designed for table tops, with a stable base to prevent tipping over.
Ventless or Ventilated – Ventless models require no installation but need a clean-burning fuel source. Ventilated models necessitate installation but may be hooked up to natural gas or propane.
Design – Ranging from simple bowls to fancy architectural styles, find an option that complements your patio decor.
Material – Pick the right material, whether it's stainless steel for modernistic settings or traditional copper or stone.
No matter the style, a table top fire pit is an inviting addition, perfect for marshmallow roasting, late-night conversations, or simply creating a warm and welcoming ambiance.
Wine Bottles Converted Into Candle Holders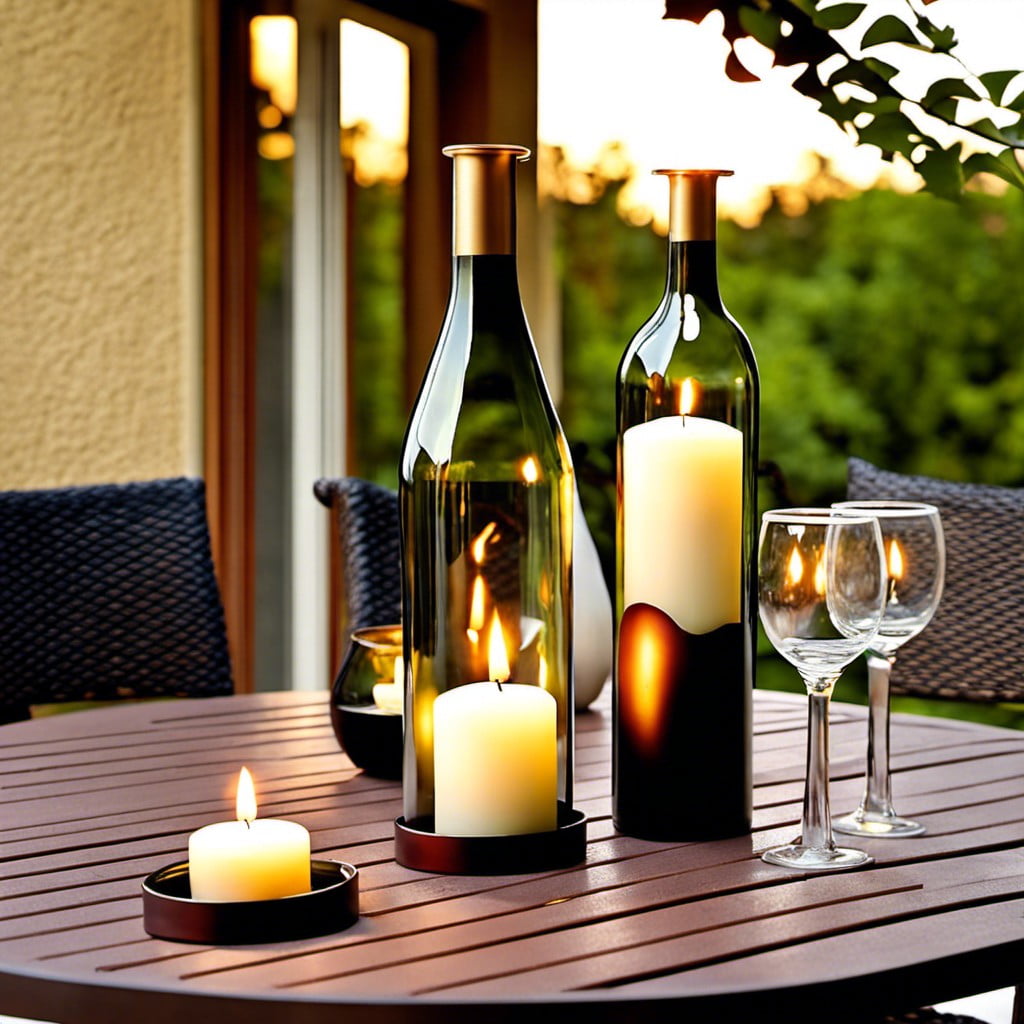 Upcycling is a chic way to add personal touches to your patio table. Now, imagine the warm glow from repurposed wine bottles on your table, adding ambience to those late evenings outdoors.
Firstly, you'll need a few empty wine bottles. Feel free to mix and match different colors and shapes for a varied look. Cleaning is paramount; ensure there's no label residue nor lingering wine fragrances that could attract bugs.
Secondly, you'll need taper candles that fit into the opening of the bottles. Melting the bottom of the candle a bit helps it adhere to the bottle's inside, ensuring it stands upright.
Consider the placement of these unconventional candle holders. They offer an excellent opportunity to play with heights, creating visual interest. However, be mindful of the spacing to avoid them becoming a fire hazard.
Speaking of which, safety is primary. Preferably, don't leave them unattended when lit. If you foresee moments of inattention, consider LED taper candles as an alternative.
Ultimately, converting wine bottles into candle holders will give your patio table an intimate, Bohemian feel while reusing what would have been waste.
Ceramic Garden Statues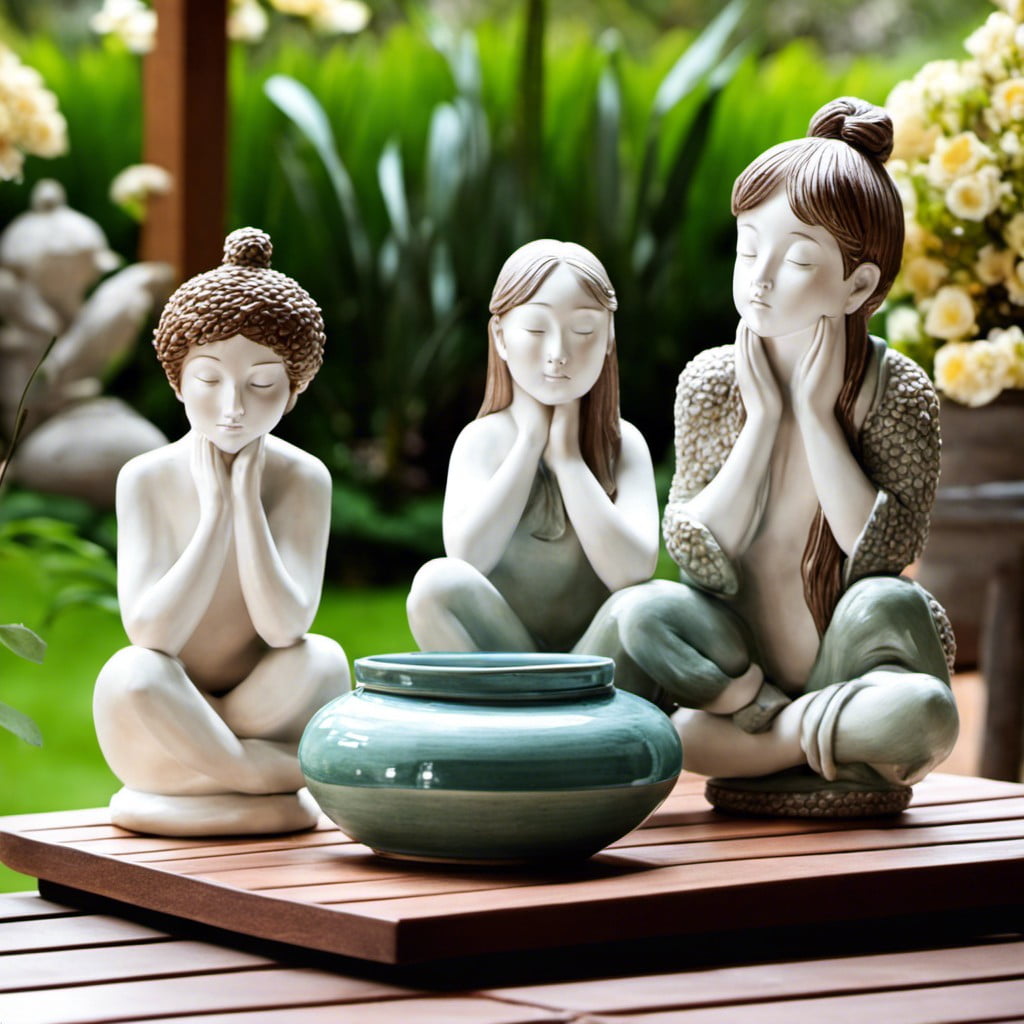 Incorporating ceramic garden statues can create a charming ambiance to your patio table decor. Ideal for both small and large tables, these versatile objects provide a range of stylistic options. Opt for whimsical animal figures to evoke a friendly, lively atmosphere, or consider classic Grecian busts for a touch of sophisticated elegance.
Use statues as conversation pieces by placing them at the center of your table or as accent pieces on the corners. Enhance visual interest by combining different sizes and designs of statues. Their weather-resistant property makes them a long-lasting addition to your outdoor set-up. But remember, avoid overcrowding your table; less is often more.
Napkins and Tablecloth With Matching Patterns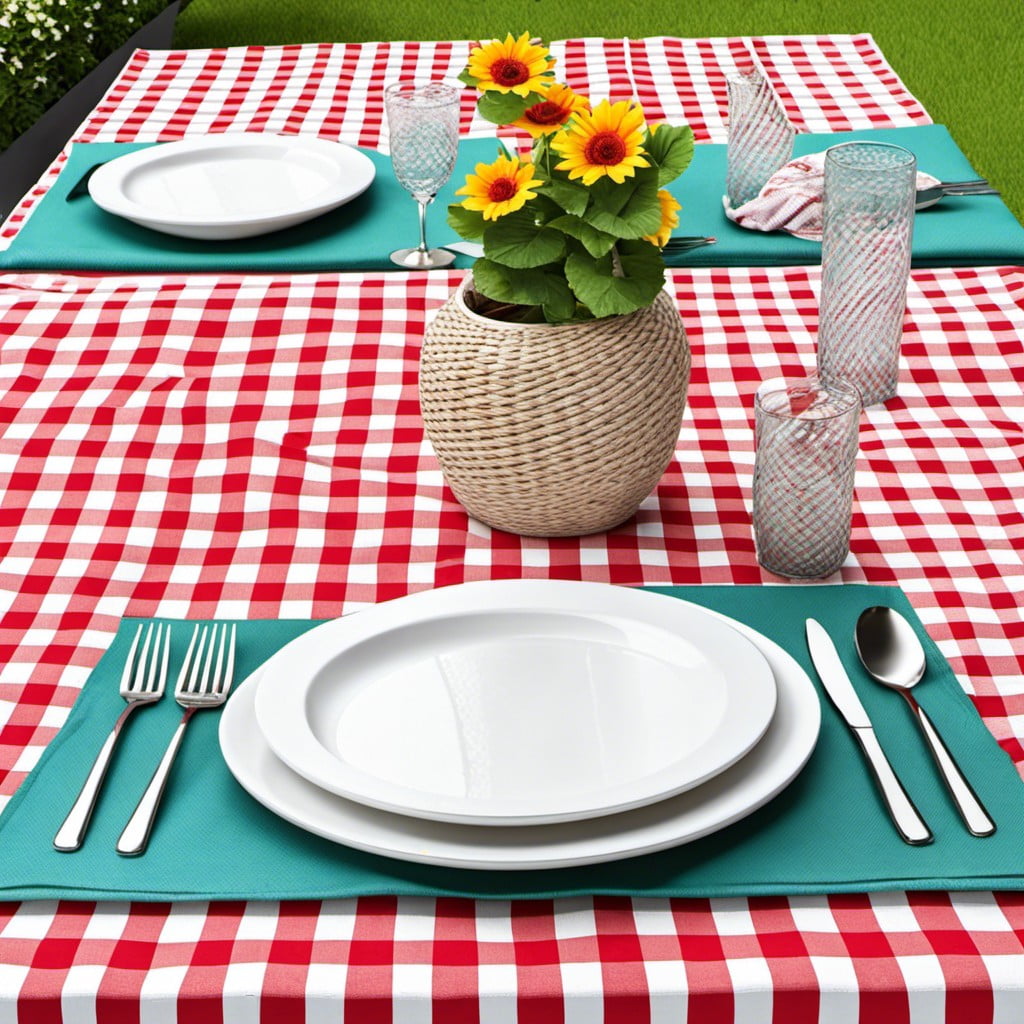 Pairing your napkins with your tablecloth in a similar pattern can create a sense of coherence and harmony. Consider color coordination to enhance the aesthetic appeal.
For a timeless look, stripes or checks can function well, while floral prints provide a cheerful, summery vibe.
Remember to choose fabrics that are durable and easy to clean, ideal for outdoor use.
To add a creative flair, explore various napkin folding techniques. This not only serves a practical purpose but also adds a touch of sophistication and charm.
Rustic Wooden Planters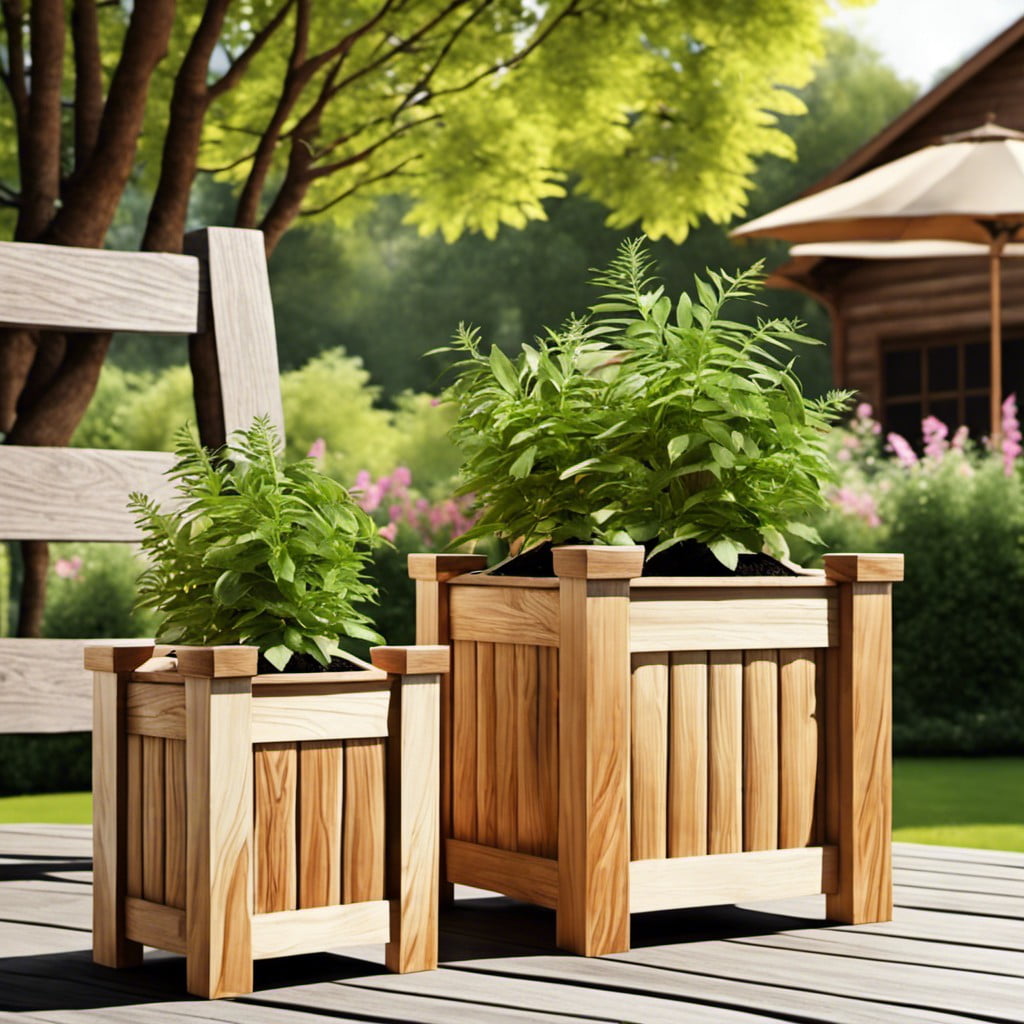 Rustic wooden planters add an earthy touch to your patio decor. They bring a sense of outdoorsy charm, effortlessly blending into the natural scenery. To make the most of their aesthetic, consider filling them with herbs, ferns, or colorful annuals. You can opt for planters made from various types of wood—cedar, pine, or even pallets—for different looks.
These versatile pieces can stand alone or be grouped together for a layered effect. For a unique twist, try looking for reclaimed or weathered wood. Alternatively, purposefully distressing new wood can give it that rough-hewn, vintage appeal. An added bonus of wooden planters is their durability, able to withstand the elements season after season.
Just remember, proper drainage is crucial to prevent your plants from getting waterlogged. A handful of pebbles at the bottom of the planter can help with this. Incorporating a variety of greenery can also add texture and depth to your tabletop display. A properly done rustic wooden planter will invariably catch the eye, creating an inviting atmosphere on your patio.
Outdoor Tablecloth Weights With Natural Motifs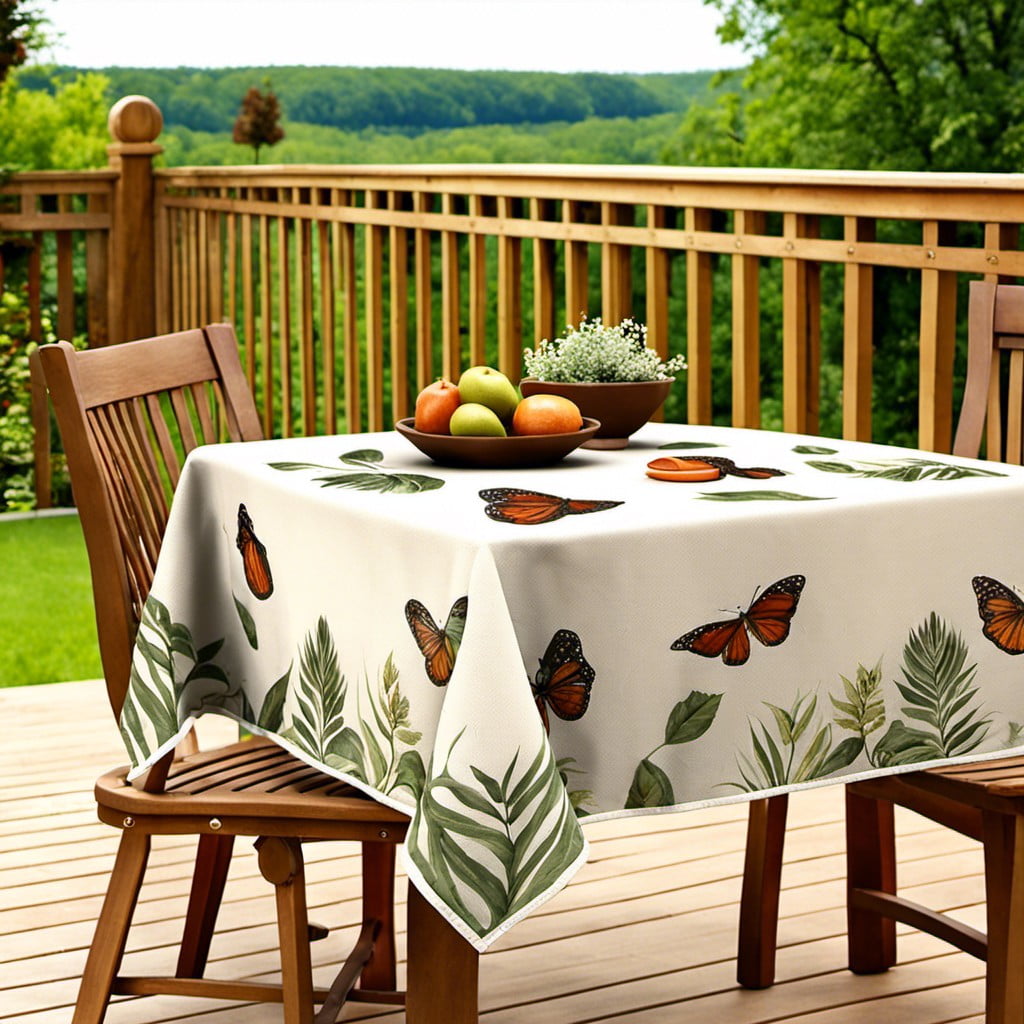 Bringing nature-inspired motifs into your patio decor can create a calming, harmonious atmosphere. Tablecloth weights, often overlooked, can significantly impact the overall look. Choose designs that mirror the serene beauty of nature – delicate butterflies, charming bird silhouettes, or even intricate leaf patterns.
These small objects, aside from being practical during those breezy afternoons, add an unexpected decorative element to your table setting. Coordinate them with other pieces of your table decor to create a cohesive look. Opt for weights made from durable materials like metal or glass for longevity.
The functional yet enchanting charm of these weights will subtly take your patio decor to a higher level of sophistication without overpowering the rest of your setup.
Hand-painted Terracotta Pots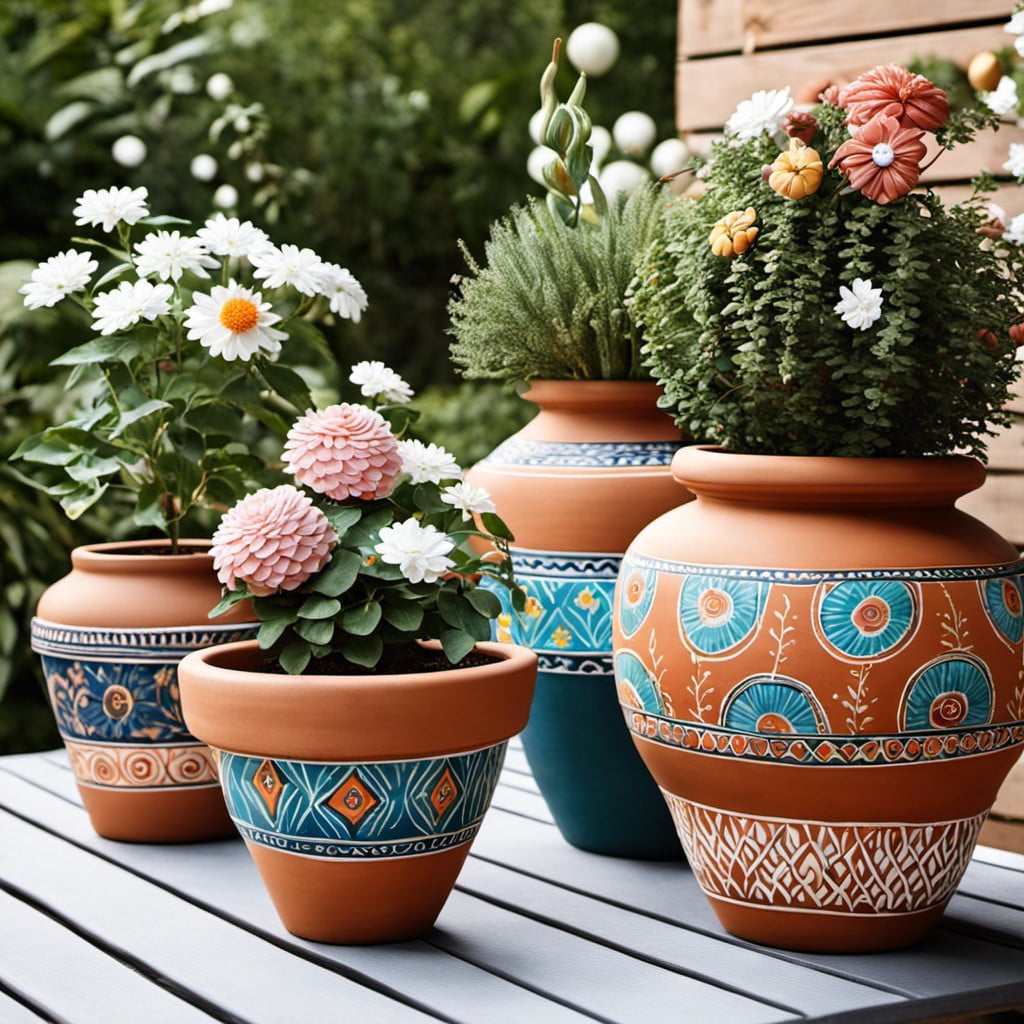 Featuring beautiful, detailed designs, these pots serve as versatile accessories, adding color and depth to your patio table. Start by selecting pots that complement your existing decor. Remember, there's no need to stick to traditional browns and oranges—experiment with blues, greens, and even metallic shades!
Each pot can be unique or form part of a bigger design theme, such as abstract, nautical, or floral. The best part? They easily double as added storage for your cocktail sticks, napkins, or even those mini garden lights you've been looking to display!
Quick tip: use acrylic paint for durability and make sure to seal it with a waterproof clear spray. Acrylics withstand the weather while keeping the colors vibrant. If you're not confident in your painting skills, stencils are a lifesaver!
Remember, there's beauty in imperfection. This is your chance to have fun and truly put your personal stamp on your patio decor. So, call up that inner Picasso, grab a brush and let your creativity run wild!
Decorative Table Top Solar Lights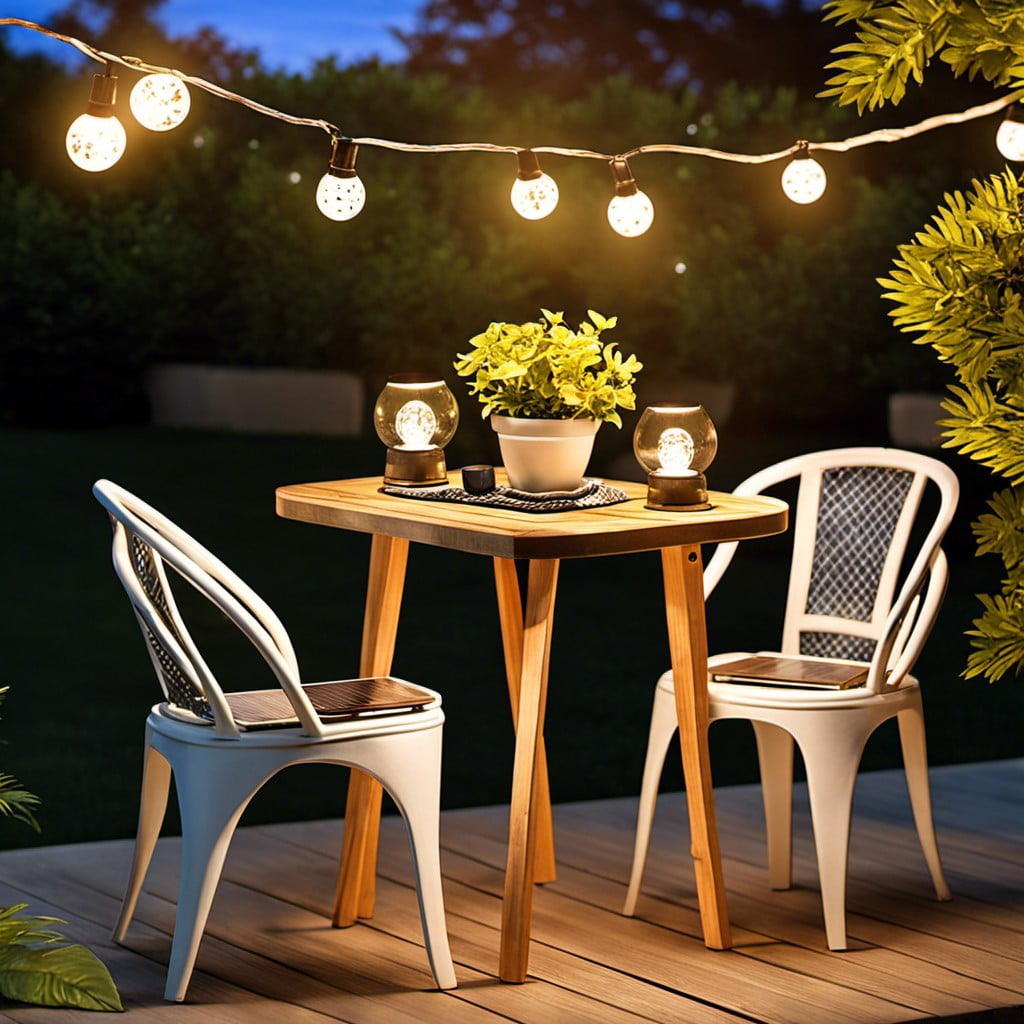 Harnessing the power of the sun, these lights cast a subtle, warm glow when dusk falls, elevating the ambiance of your outdoor space. Not only do they serve a practical function, but their designs have evolved far beyond the simple stake in the ground.
1. Versatile in placement: Because they don't require access to a power outlet, you have the freedom to arrange these decorative items on the table as you wish.
2. Environmentally friendly: Solar lights reduce reliance on electricity, making them a green choice that contributes to energy conservation.
3. Variety of styles: From sleek modern designs to whimsical shapes, there's a wide selection to complement any patio decor theme.
4. Automatic operation: Equipped with sensors, they turn on automatically at dusk and off at dawn, offering hassle-free operation.
5. Easy to set up: Without intricate wiring to worry about, setting these lights up is a breeze, which means even more time to lie back and appreciate your beautifully adorned patio.
Remember to keep the solar panel clear of debris and consider the amount of daily sunlight your patio receives when selecting the positioning for these lights. The more sunlight they absorb, the longer and brighter they will shine at night. Overall, they're an effortless way to add a touch of enchantment to your patio table.
Mosaic Tile Coasters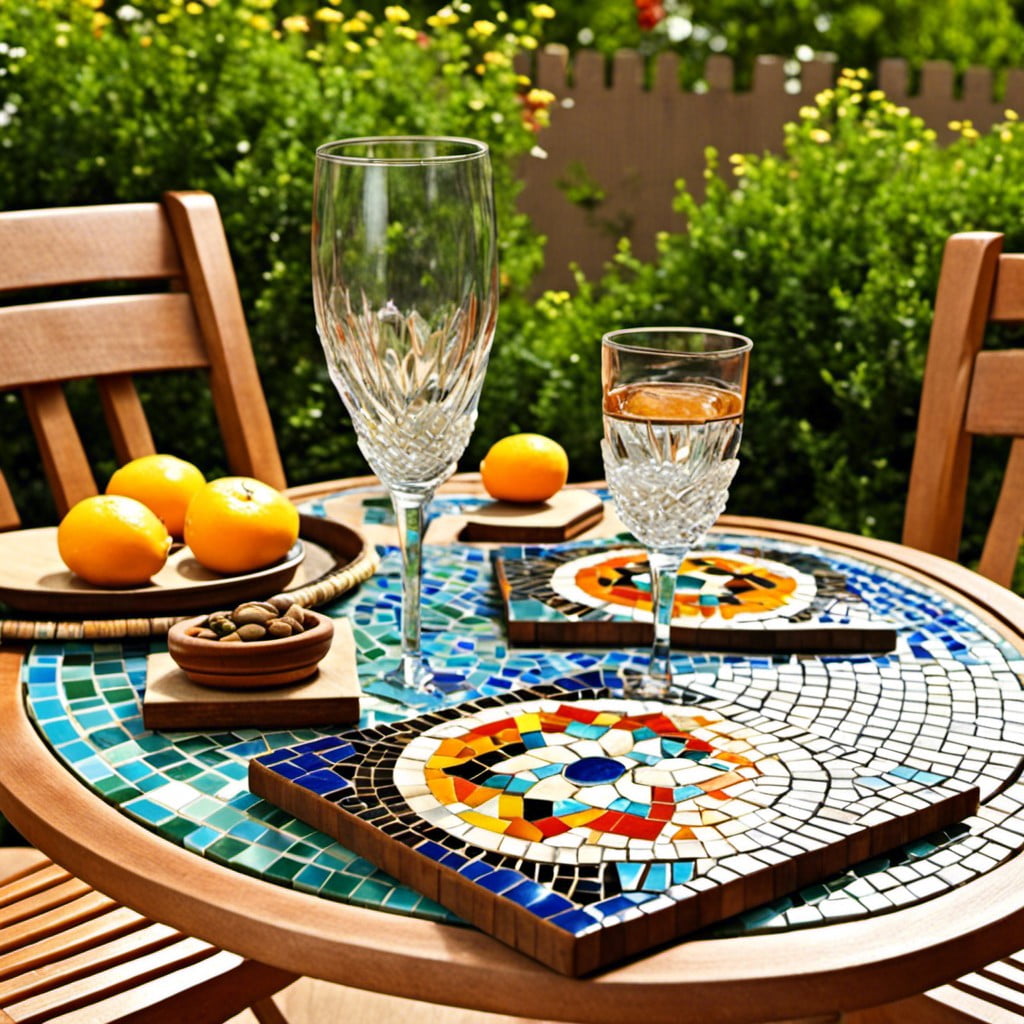 Adding mosaic tile coasters can make any patio table look more inviting and beautiful. Here are some pointers to make the best use of these artistic pieces:
1. Chose from various designs: Patterns could range from abstract to floral. A reflection of personal taste, they can be as quaint or as flamboyant as desired.
2. Size matter: Coast to coast should span more than the base of your cup or glass. Consider a 4-inch tile for optimal usability.
3. Easy homemade designs: If crafty, try making DIY mosaic coasters. Use a solid base, like a ceramic tile, and decorate the top with broken pieces of old ceramic dishes.
4. Materials: Besides ceramic, various materials like glass and stone in multiple color variations can bring a more vibrant and textured look.
5. Durability: Robust and heat resistant, they protect the table surface. Always ensure they are sealed to withstand occasional spills.
6. Multipurpose: Besides functional use, rest flower pots or decorative pieces on them. This adds an extra layer of texture and color.
7. Cleaning: Easy to clean surfaces are a must-have for any outdoor table. Most mosaic coasters can be wiped clean with a damp cloth.
Together with other well-thought-out details, mosaic coasters can add color, style, and protection to your patio setup.
Liked reading this? Here's more:
Recap: