Last updated on November 10, 2023
Exploit the paradise-like essence of a lanai because this detailed guide teems with incredible decorating ideas that will transform it into your private sanctuary.
I take full credit for crafting this article and designing unique illustrations for each of the 20 Lanai Decorating Ideas, and I hope you find it as inspiring and enjoyable as I found creating them.
Transforming your lanai into a cozy and inviting space can be an exciting project. Whether it's a tropical paradise, a serene retreat, or a vibrant entertainment hub, your lanai can reflect your personal style and purpose.
This article will guide you through a variety of decorating ideas that will help you make the most of your outdoor living space. From choosing the right furniture and color schemes to selecting the perfect accessories, we'll delve into all the details you need to create your dream lanai.
So, let's embark on this decorating journey and turn your lanai into a space you'll love and enjoy.
Tropical Plant Arrangements
Introducing a variety of tropical plant arrangements instantly breathes life and adds charm to the lanai. Strive for a mix of leaf sizes, shapes, and colors to create visual interest. Consider larger plants like monstera or banana leaf for dramatic appeal, and smaller plants like ferns or philodendron for easy ground coverage and pleasing balance.
Select pots of varying heights and materials — terracotta, ceramic, or woven baskets add texture and color. Place plants strategically for shade, privacy, or as focal points.
For easy care, choose plants that thrive in your region's climate. Understand their light and water requirements, maintaining a balance between direct sunlight and shaded areas. Last but not least, incorporate climbing plants or hanging baskets to maximize vertical space or add an element of surprise.
Always remember, a well-planned tropical plant arrangement can transform your lanai into a vibrant tropical paradise.
Teak Outdoor Furniture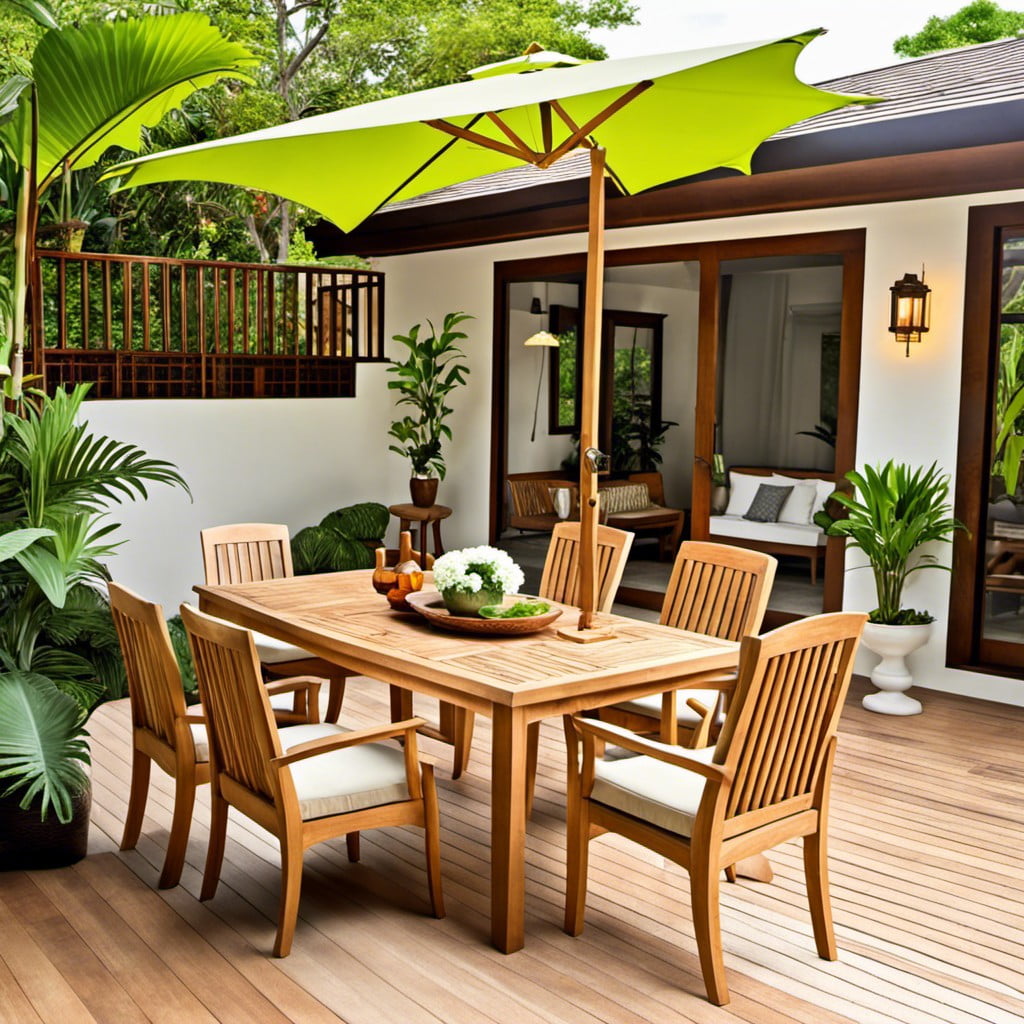 Naturally resistant to weather elements, teak boasts longevity, requiring minimal upkeep and giving a timeless aesthetic appeal. Its rich, warm color can seamlessly blend with your lanai's tropical look.
Consider a teak dining set for alfresco dinners or a comfortable lounge chair for sunbathing.
Teak also pairs well with vibrant outdoor cushions, adding comfort to your outdoor oasis.
For maximum lifespan, opt for quality-grade teak and remember to treat the wood annually with a specialized oil to preserve its glow.
String Festoon Lighting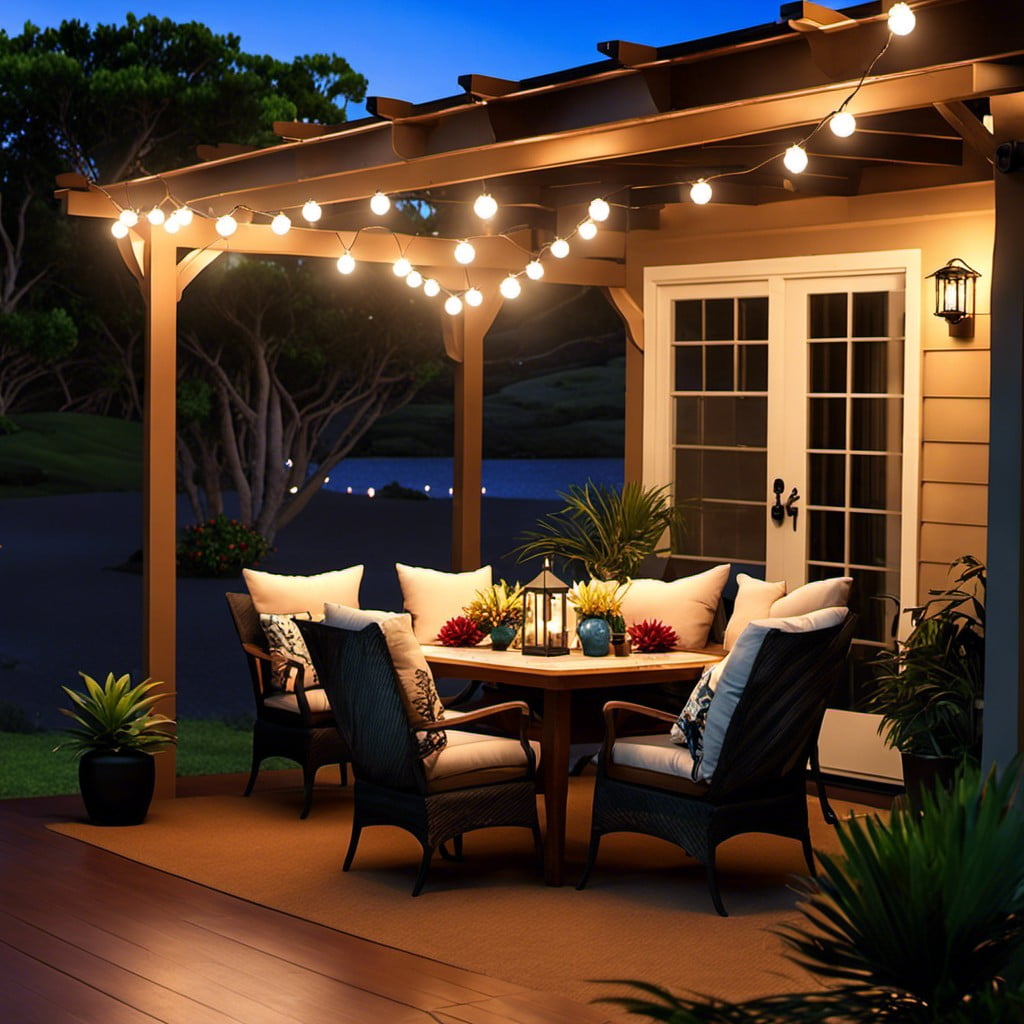 For a dreamy ambience, it's hard to beat the soft, staggered glow of festoon lights. These are often a cult favourite among lanai decorators, thanks to their effortless blend of style and function.
Here's why:
Versatility: Festoon lights are available in a variety of bulb sizes and wire lengths, offering countless layout options for any space.
Atmosphere: Their dim, warm light is perfect for creating an inviting, relaxed vibe after sunset.
Durability: Many are designed to withstand outdoor weather, ensuring their longevity in your lanai area.
Energy Efficient: Opt for LED type. They offer long-lasting illumination without hefty energy costs.
Easy Installation: Many models are simple to install— all you need are a few hooks or nails.
Incorporate these lights into your lanai using different tactics. Zigzag them overhead to create a ceiling effect, drape them against a wall, or wrap them around the trees or plants. Each layout exudes a unique charm to elevate your outdoor aesthetics.
Brightly Colored Throw Pillows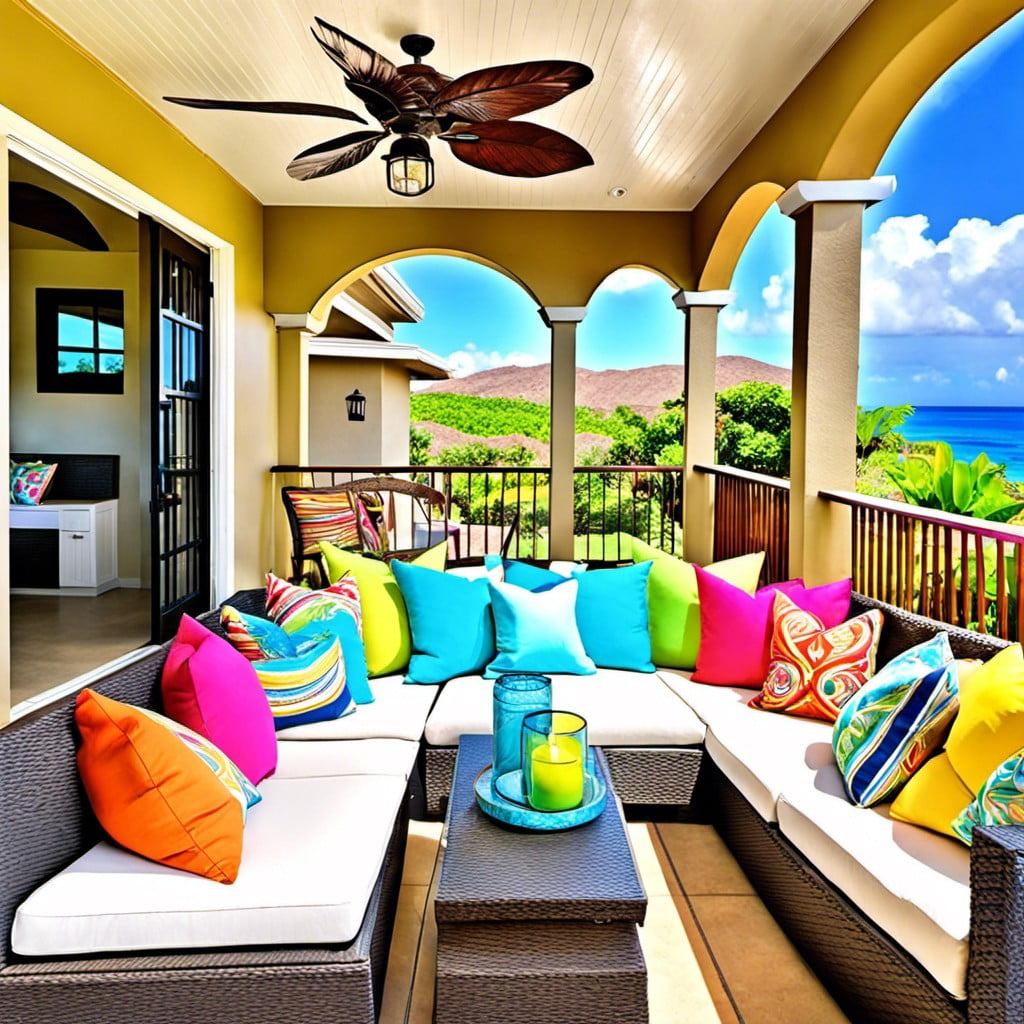 Embracing vibrant hues is a surefire way to inject life and energy into your lanai. Make comfort your priority by scattering a handful of pillows around. Opt for outdoor-friendly fabrics made to resist water and fading, ensuring they stand up to the weather. Consider mixing up the patterns too. Florals and stripes alongside geometric prints create an eclectic look, blending cohesively thanks to a unified color scheme.
Remember to choose pillow sizes appropriate for your furniture to maintain a balanced look. Storage is essential, consider a weatherproof storage box to protect them from inclement weather. With these tips, your lanai is bound to be the comfortable, fun oasis you've been dreaming of.
Outdoor Rug With Cheerful Pattern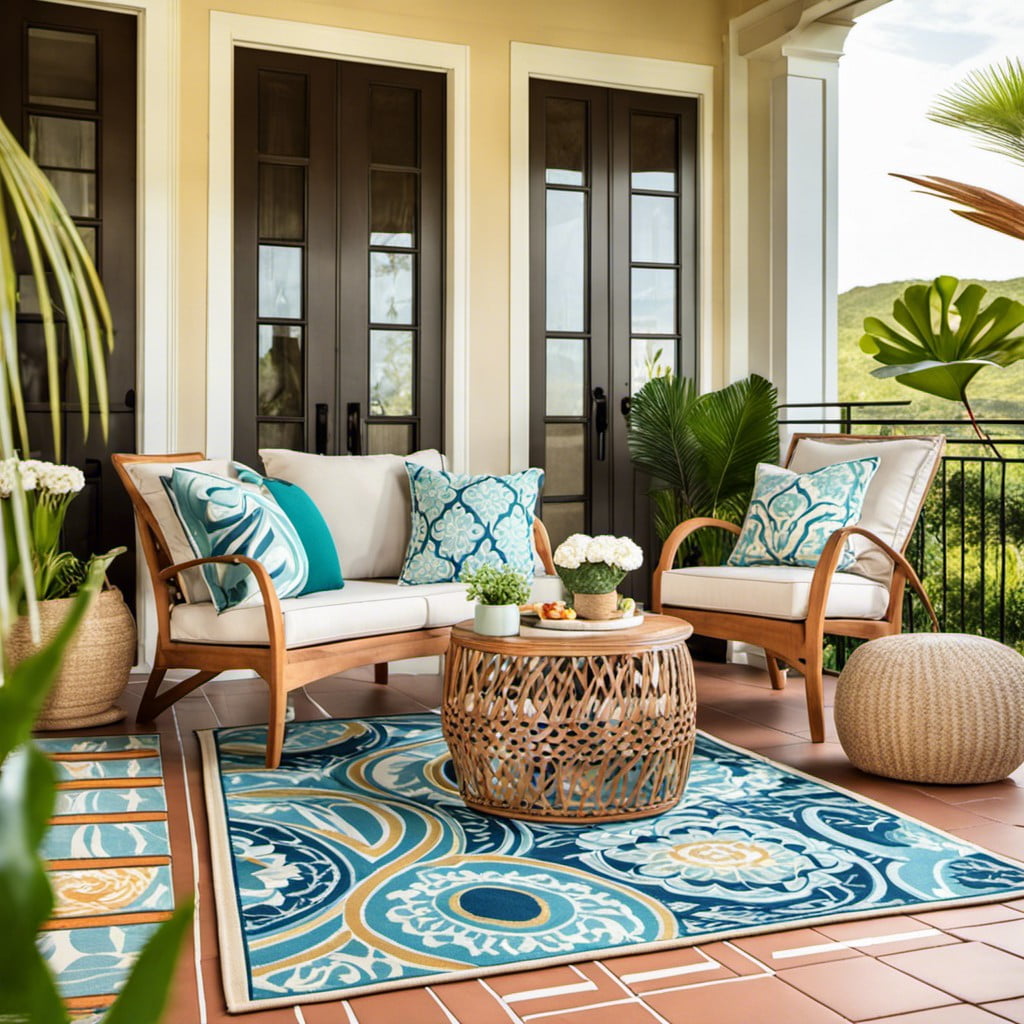 A rug not only adds a layer of comfort underfoot but also serves as an instant dash of color and pattern to your outdoor space.
Opting for marine-grade or outdoor-specific rugs can ensure durability against weather elements.
The cheerfulness of bright, sunny hues such as teals, yellows, and corals can evoke tropical vibes, while geometric, floral, or traditional motifs can add interest to the setting.
A rug also helps in defining the seating or dining area on the lanai, providing a visual anchor for the furniture.
Wicker Hammock Chair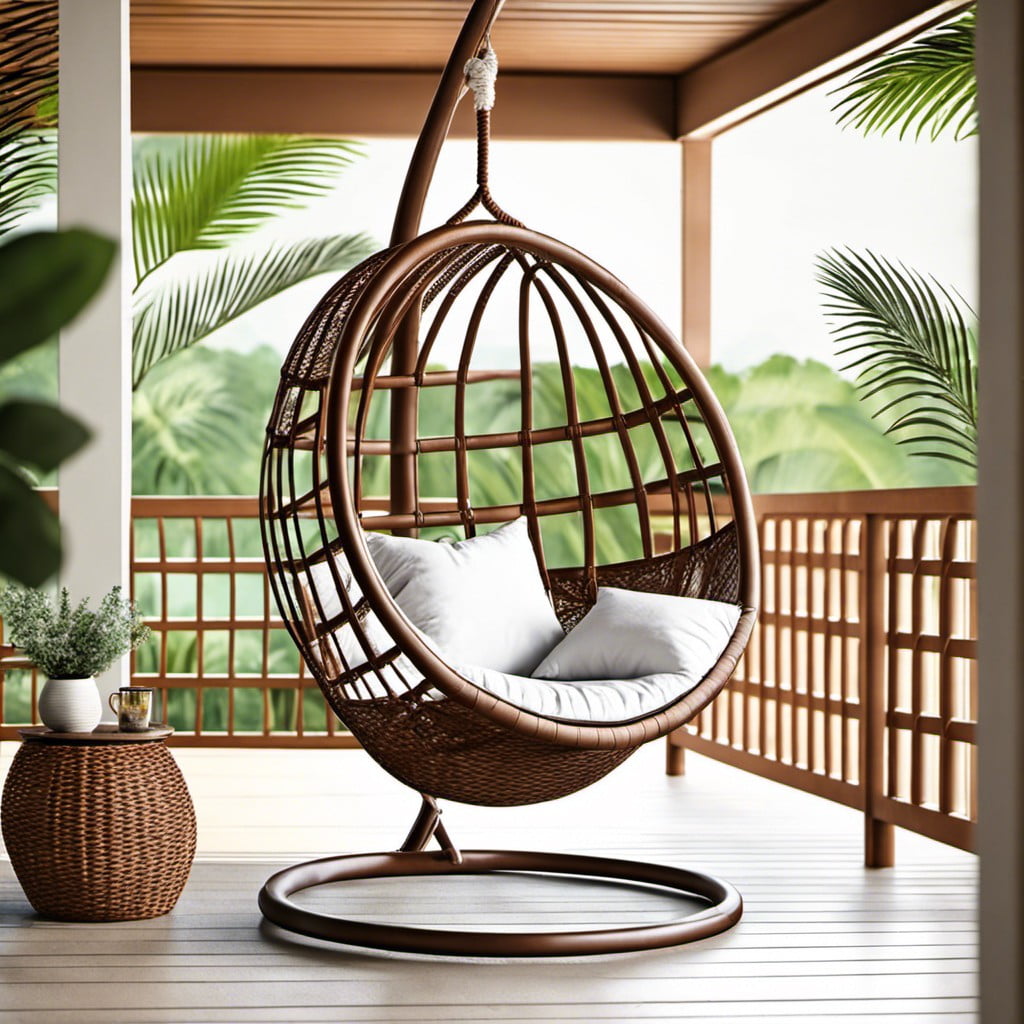 Nestled in the midst of your lush greenery, wicker hammock chairs establish a spot for relaxation and sun-soaking. They give your lanai a versatile touch – perfect for an afternoon of reading or sipping a refreshing drink.
Here are a few pointers:
1. Choose a sturdy style: Durability is key for outdoor furniture. Consider a polyethylene wicker which is weather-resistant and easy to clean.
2. Play with pillows: Enhance comfort with pillows. Opt for outdoor fabrics to resist fading and mildew.
3. Select a location: Hang it from a strong beam or buy a stand-alone style. Ensure you place it in a shaded area to avoid deterioration from direct sunlight.
4. Accessorize: Add a small side table to hold drinks, books, or a suncatcher for sparkling light effects.
Remember, safety should be prioritized! Only use secure hooks or ropes for hanging and make sure the weight capacity suits your needs.
Hanging Candle Lanterns
Adding a soft glow to your evenings in the lanai, candle lanterns can be gracefully suspended from overhead structures or artfully grouped together on a table. Choose designs with intricate metal work or colored glass for an added dash of personality. They provide both ambient light and aesthetic allure.
But safety first – place them away from combustible materials and never leave them unattended. Highlight your creative side by varying the heights to achieve visual interest. For a more modern, fuss-free option, glass enclosed LED candles can also do the trick. They are serene, practical, and uniquely charming, vitalizing your outdoor space after dark.
Wall Mounted Planters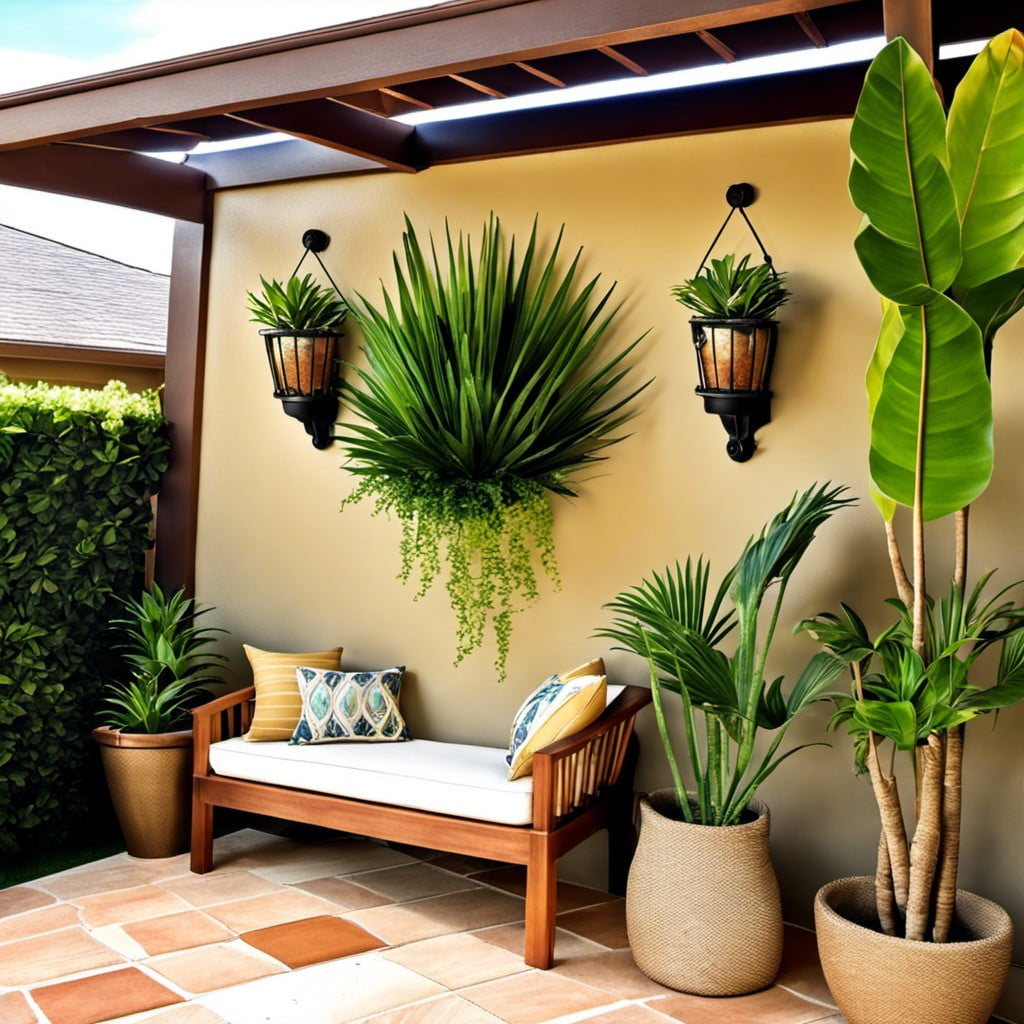 These fixtures provide an opportunity to bring the beauty and vitality of green foliage to your lanai. They come in different sizes and styles, offering flexibility in selection based on the available space.
Choosing a variety of plant types with different leaf shapes and colors can create a visually striking display. Moreover, ensure to select plants that can withstand outdoor conditions. Succulents, ferns, and certain types of herbs are popular options.
Wall mounted planters also often offer an innovative water management system ensuring your plants stay healthy without causing a water mess.
This simple yet impactful design element introduces a vibrant, organic feel to your lanai, enhancing the overall tropical ambiance.
Bamboo Shades for Privacy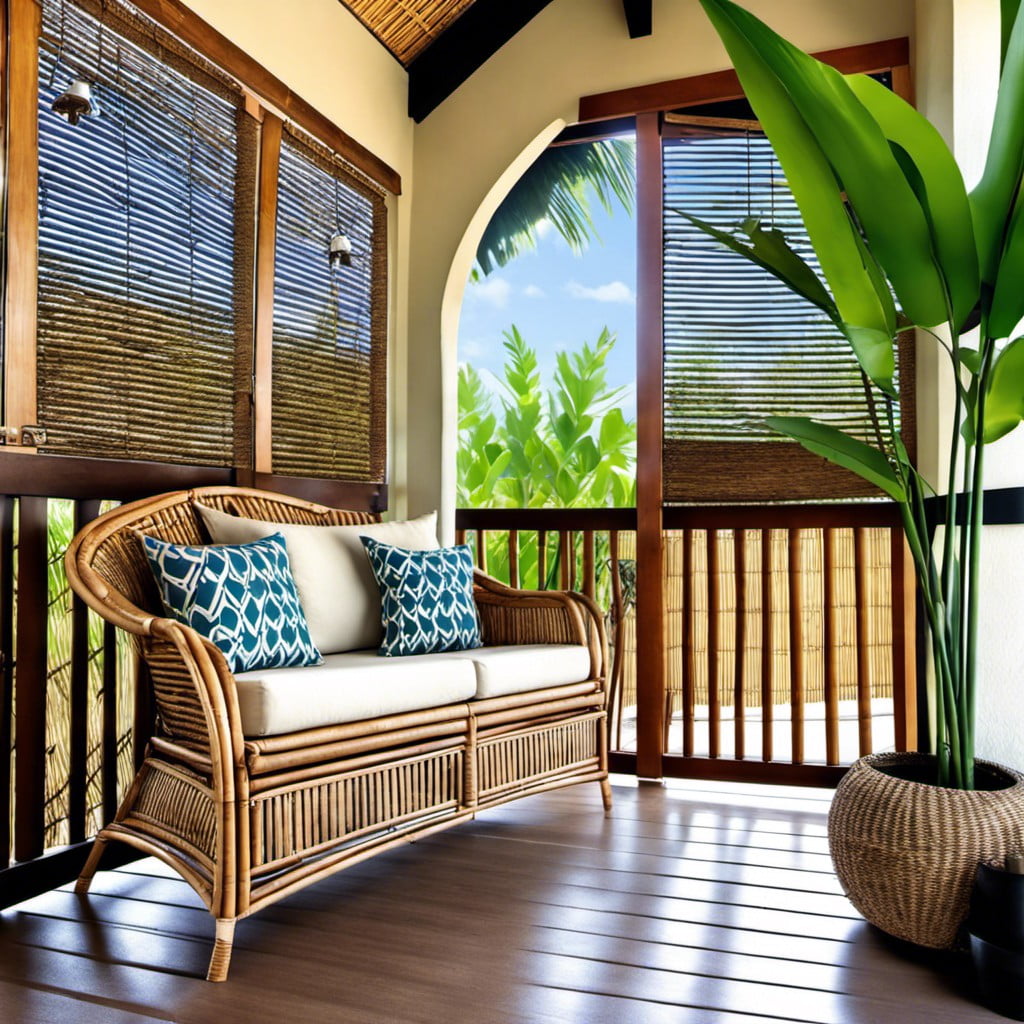 Emphasizing their practicality and aesthetic appeal, bamboo shades are a must-have for any lanai. Quite unlike regular shades, they contribute to a natural, semi-transparent barrier that fosters a sense of solitude without completely blocking your outdoor view.
First and foremost, the installation process is usually straightforward and hassle-free, permitting you to fix them either internally or externally as per your privacy requirement. Offering an array of colors, sizes, and styles, they complement a range of decor themes, from rustic to modern.
Moreover, they're not just visually pleasing but also wonderfully durable. The resilience of bamboo ensures your shades withstand varied weather conditions with nominal wear and tear. Additionally, these shades are eco-friendly, appealing to those with an affinity for sustainable decor.
Lastly, they are a breeze to clean – all you need is a feather duster or a damp cloth to keep your bamboo shades looking their best. With such benefits, these shades become a significant contributor to creating a serene and private oasis for your lanai enjoyment.
Outdoor Bar Cart Setup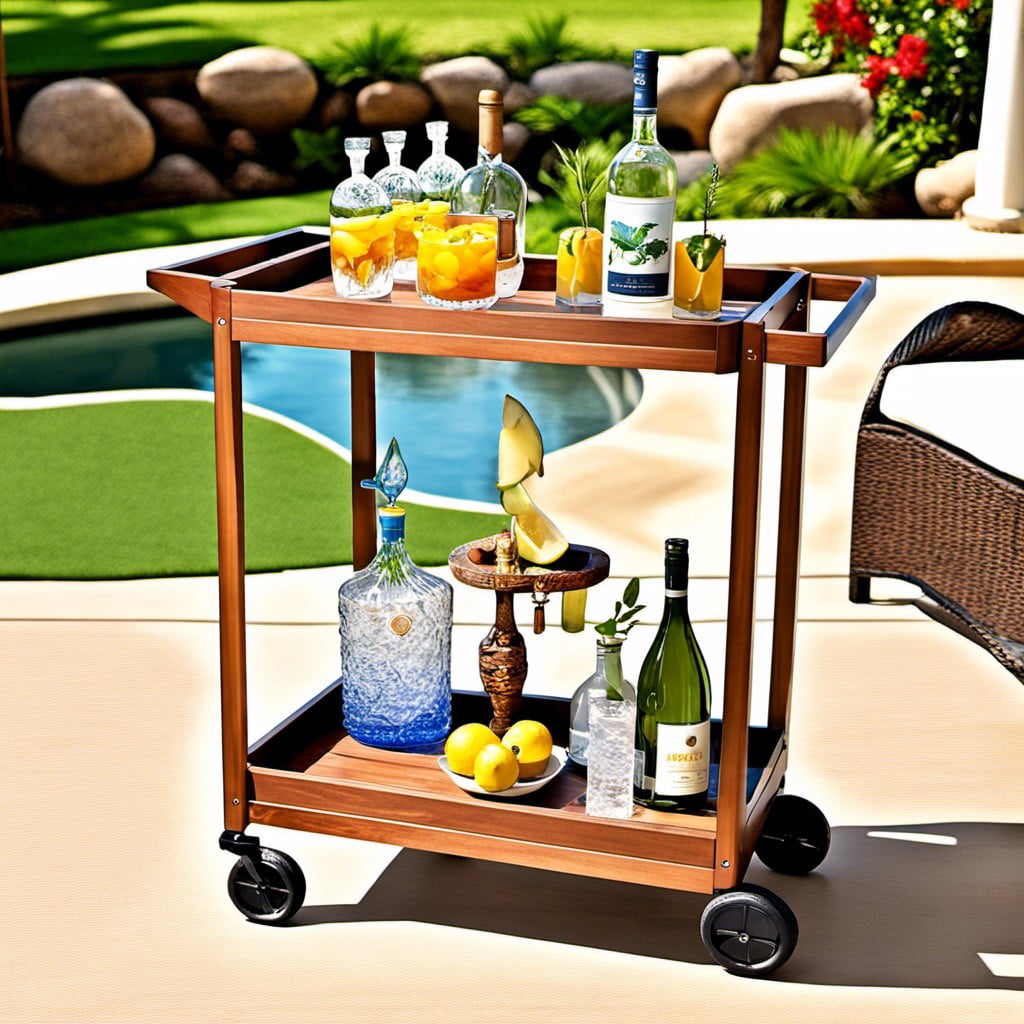 An elegantly styled and well-stocked bar cart can instantly infuse your lanai with a sense of vacation-like luxury. Here are some points to get started:
1. Material: Choose weather-resistant materials like stainless steel, teak, or wicker to ensure longevity and easy cleaning.
2. Size: Depending on the lanai's size and the frequency of entertainment, pick between compact designs or larger trolleys useful for serving larger crowds.
3. Drinks and Glassware: Stock an assortment of drinks to cater to various tastes. Include non-alcoholic beverages and plenty of water for hot days. Store glassware upside-down to prevent dust buildup.
4. Accessories: Besides the essentials, adorn your cart with a cutting board for limes, an ice bucket, coasters, cocktail napkins, and a bottle opener.
Remember, the overall look should be inviting, not cluttered. Arrange the items neatly to create a visually pleasing setup that is functional and easy to navigate for guests.
Weather-resistant Artworks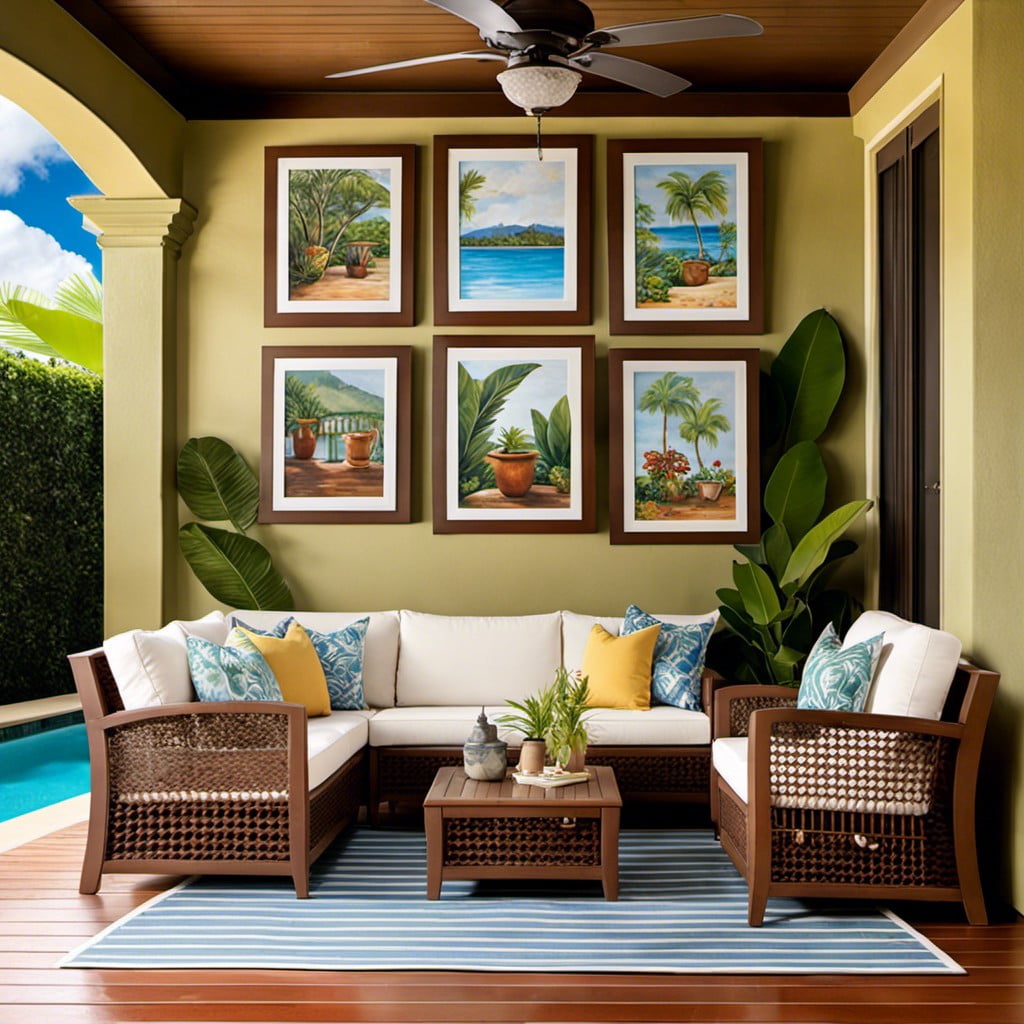 When selecting pieces for your outdoor space, it's important to consider durability in addition to aesthetics. Opt for works made from materials like stone, ceramic, or metal, which can withstand the elements.
UV-treated canvas prints featuring tropical, beach, or floral themes greatly enhance a lanai's relaxing, vacation-like vibe. Look for images in bright, vibrant colors to echo the surrounding natural beauty.
Additionally, consider sculptures or statues with a tropical motif, which not only add to the aesthetic but function as conversation starters. Remember, the aim is to create an artful balance between your interior style and the outdoors.
Keep it simple to maintain a serene and uncluttered atmosphere.
Repurposed Wooden Crates for Storage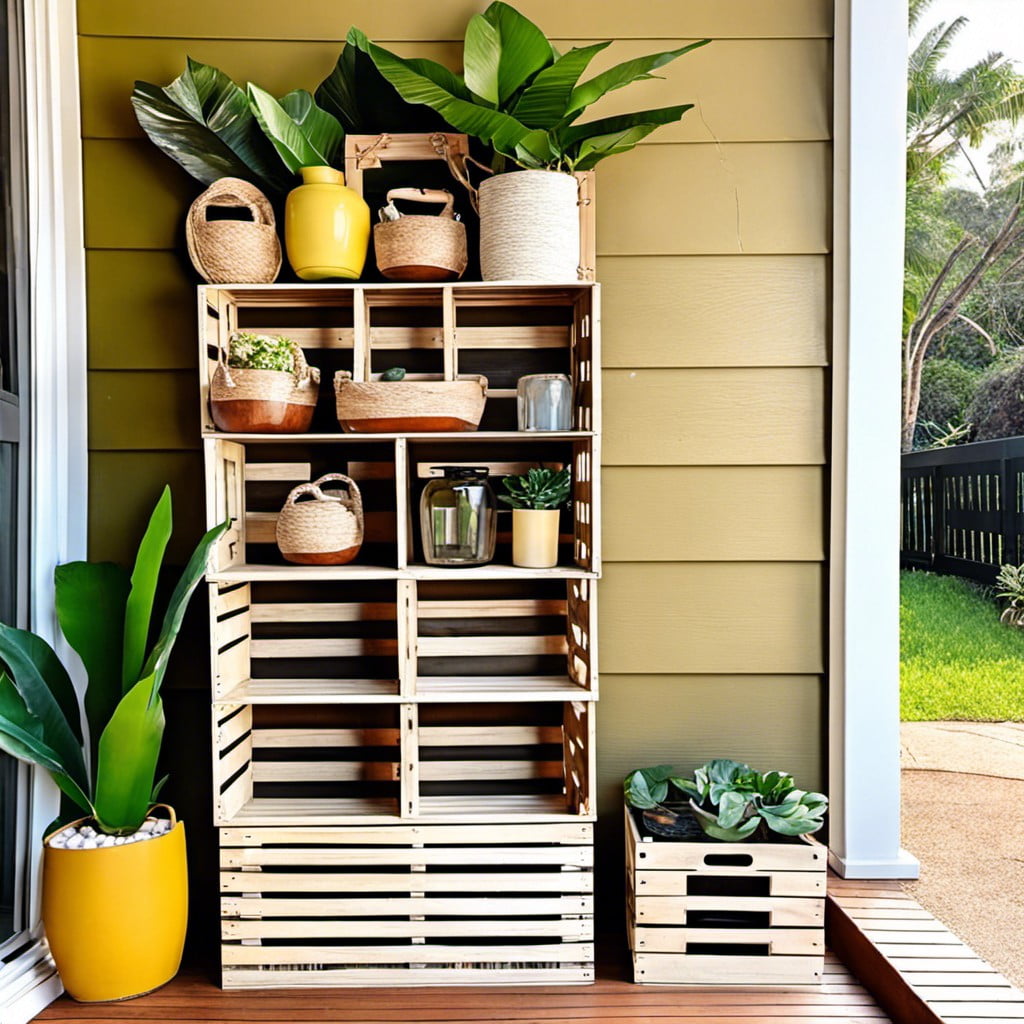 Lending an eco-friendly edge to your decor, wooden crates notch up both style and functionality. With a quick sanding and staining, these once overlooked items transform into chic storage solutions.
From charming coffee tables to stacked shelves, the possibilities are limitless. Nestle them with blankets and pillows for a cozy reading corner or fill them with colorful beach towels. They make excellent plant stands, showcasing your favorite tropical foliage.
Have fun personalizing crates with a lick of paint or a stencil design for that truly one-of-a-kind feel. Not only do these rustic additions oomph visual appeal, but they also solve storage issues, keeping clutter out of sight. Plus, they are easily movable which allows for quick redesigns at your whim.
So, keep an eye out at yard sales and thrift stores, or even online marketplaces for these versatile gems.
Ceiling Fan With a Tropical Design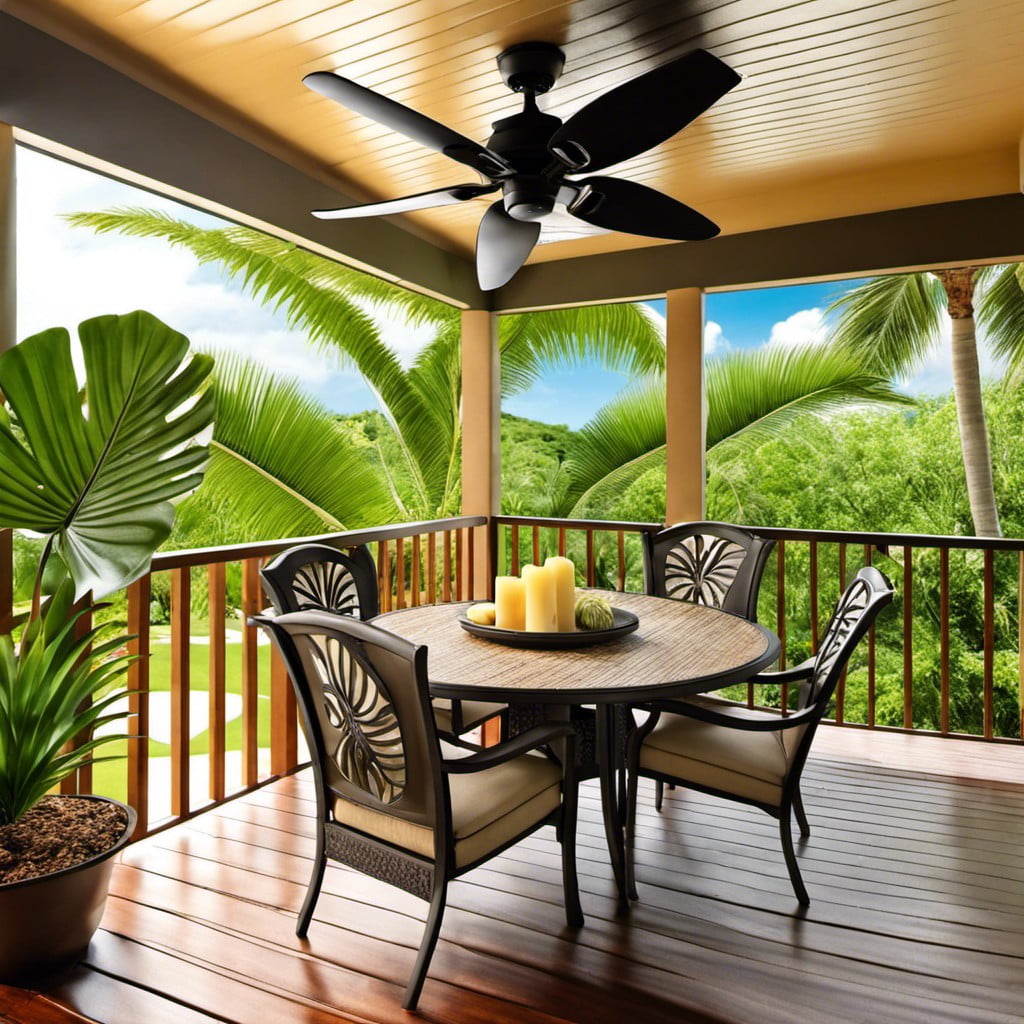 Ensuring airflow is essential in a lanai for comfort and to reduce the possibility of dampness. An apt solution – integrate a ceiling fan into your design. Opt for those with a tropical touch, often characterized by wide, palm-like blades. Besides being a functional aspect, it adds an aesthetic appeal to the area.
There are few key considerations while selecting one:
Sizing: Large fans circulate more air and are ideal for spacious lanais. For smaller spaces, a fan with a 29 to 36-inch blade span is adequate.
Outdoor rating: Lanais are usually semi-exposed. Thus, ensure your fan is either 'damp-rated' for covered areas or 'wet-rated' for open spaces.
Materials: Metal, wood, or plastic, choose a material that complements your overall decor. Remember, durability and ease of cleaning are crucial.
Lighted Fans: Fans with integrated lights serve a dual purpose. They cool down your lanai while providing ambient lighting for late-night gatherings.
Energy efficiency: Consider energy-saving models, especially if you expect to use the fan frequently.
By making the right selection, you can ensure your lanai remains a comfortable space year-round while radiating a distinct tropical vibe. Note that professional installation may be necessary if you aren't experienced in electrical work.
Outdoor Fireplace or Fire Pit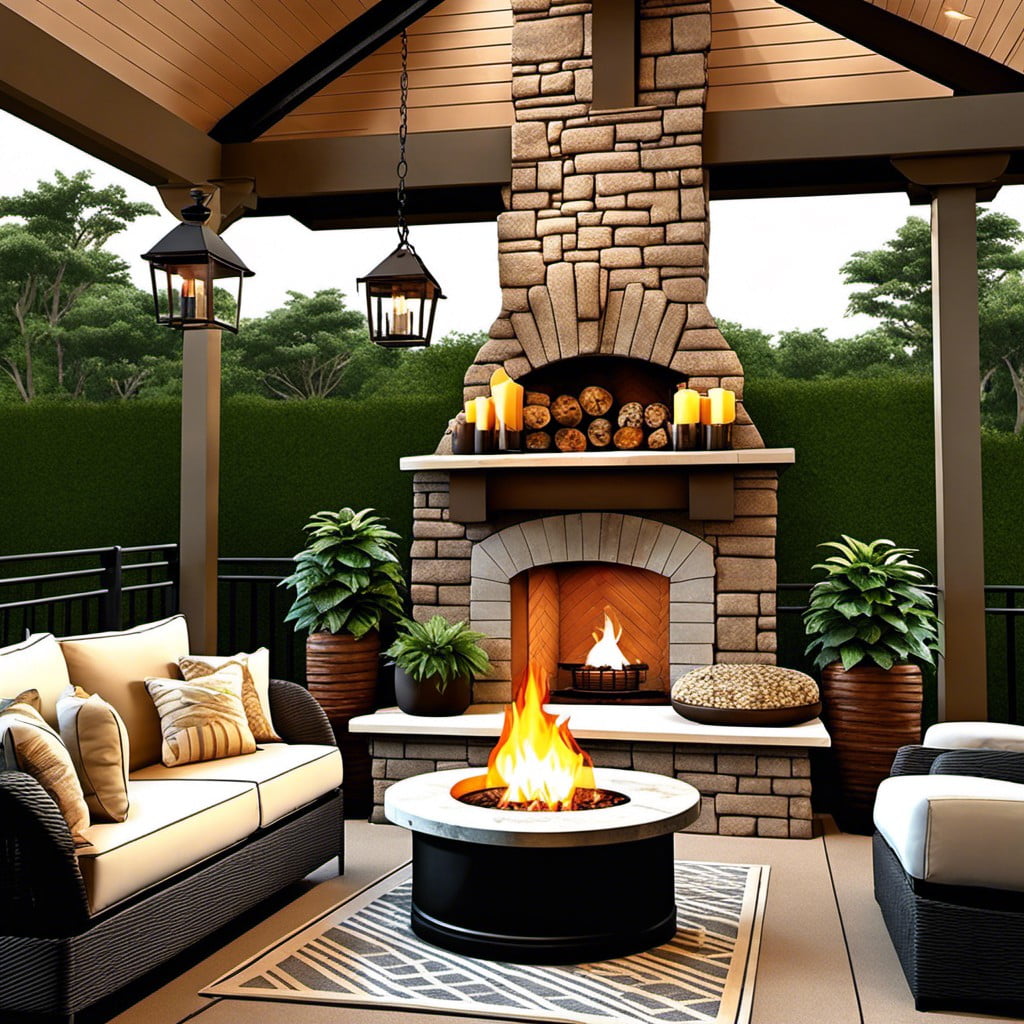 To enhance the ambiance and warmth of your lanai, consider the addition of a fire element. Not only do they serve as a focal point, but they also offer practicality by providing heat during cooler nights.
There are two chief variants: an outdoor fireplace or a fire pit.
The former exudes a more formal, structured sense of aesthetics. Its presence can be architectural, becoming a statement piece whilst also dividing the space if needed. Consider investing in one if you have a large lanai area and plan to entertain often.
In contrast, the fire pit offers flexibility with placement options. This portable piece can sit in the center of your seating arrangement, creating a more intimate and communal setting. Its size tends to be smaller compared to fireplaces so it's a great fit for compact spaces.
Both variants come in various styles and fuel types like wood, gas, or propane. Ultimately, the choice between a fireplace or fire pit would depend on your personal preference, available space, budget, and local zoning rules.
Watertight Deck Box for Cushions and Pillows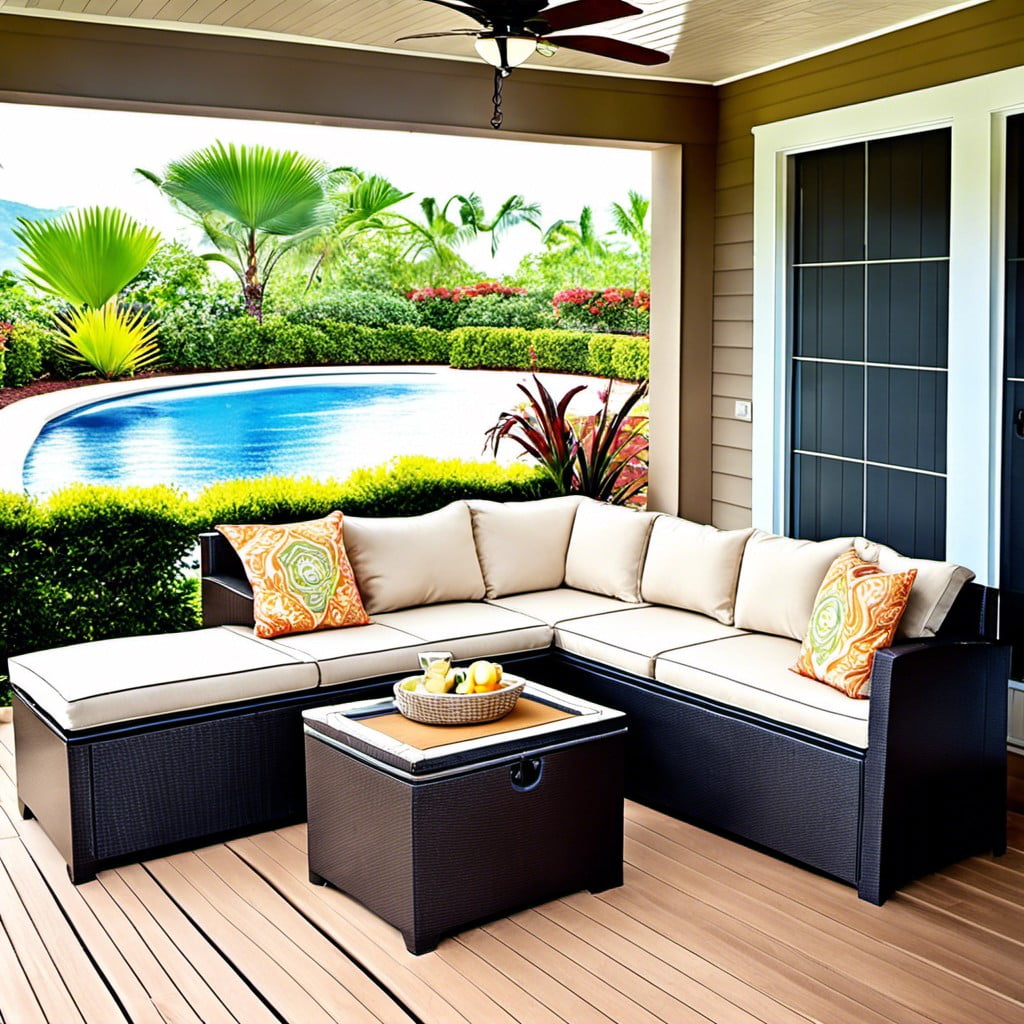 A well-selected watertight deck box serves not only as a strategy for keeping your cushions and pillows dry but also works double duty as additional seating or a serving surface. Its resilient build ensures your decoration items are safe from unexpected outbursts of weather, while its aesthetic appeal enhances the overall charm of your space.
1. Choose a box with a sturdy build and reliable sealing mechanism to ensure maximum protection against rain and snow.
2. Consider the style and color of the box; there's a wealth to choose from that can complement your existing decor.
3. The box's size and weight capacity should accommodate your storage needs. It should hold all your soft furnishings conveniently without getting overstuffed.
4. You might also want a box with wheels and handles for easy movement.
5. Inspect the interior design. Some boxes come with removable dividers or trays for better organization, which can be a neat feature.
6. Opt for a box with UV-resistant materials to prevent fading, ensuring it retains its original color despite the scorching sunshine.
7. To extend its functionality, pick a box with a flat lid that can serve as an extra table during gatherings or even an additional seating area.
Remember, it's not just about finding storage – it's about sourcing a functional piece that further contributes to your lanai's style and atmosphere.
Bamboo Wind Chimes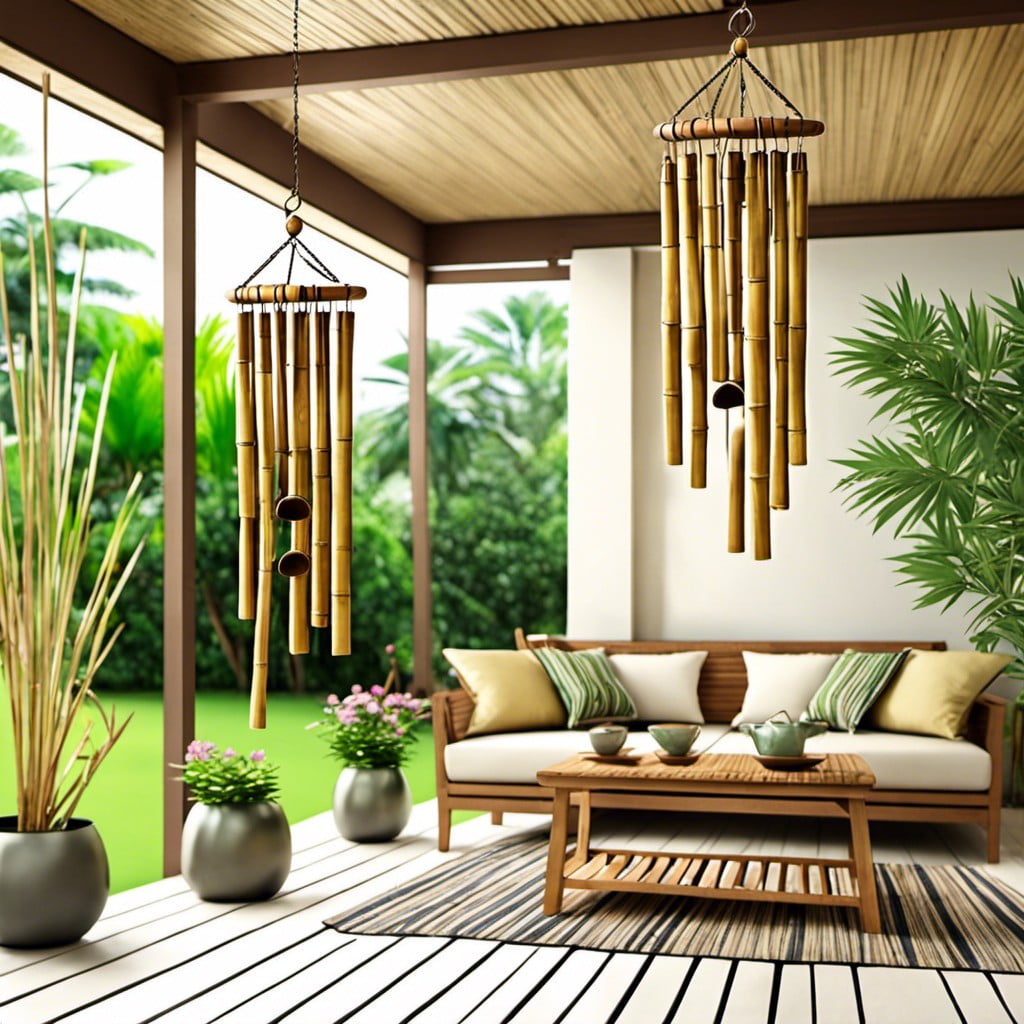 Bamboo wind chimes offer multiple advantages for your lanai. Firstly, they're eco-friendly and usually handcrafted, injecting a personal appeal and uniqueness. They're also durable and resistant to weather conditions, making them a practical addition for an outdoor space.
Their natural color blends seamlessly with any decor style, from tropical to minimalist, leaving you with a myriad of design possibilities. They add life to your lanai with their gentle, relaxing sounds. Each gust of wind creates a unique melody, setting a serene and calming ambience. Yet, they're not too loud to disrupt conversations or peaceful moments of relaxation.
Lastly, they're easy to install. Pick a spot where the wind often blows, yet out of the way of foot traffic to prevent accidents. A corner near a seating area or on the beam of the lanai ceiling might be ideal.
Remember, wind chimes are also used in Feng Shui to promote positive energy, bringing a harmonious balance to your outdoor living space with an added touch of style and charm.
Poolside Lounge Chairs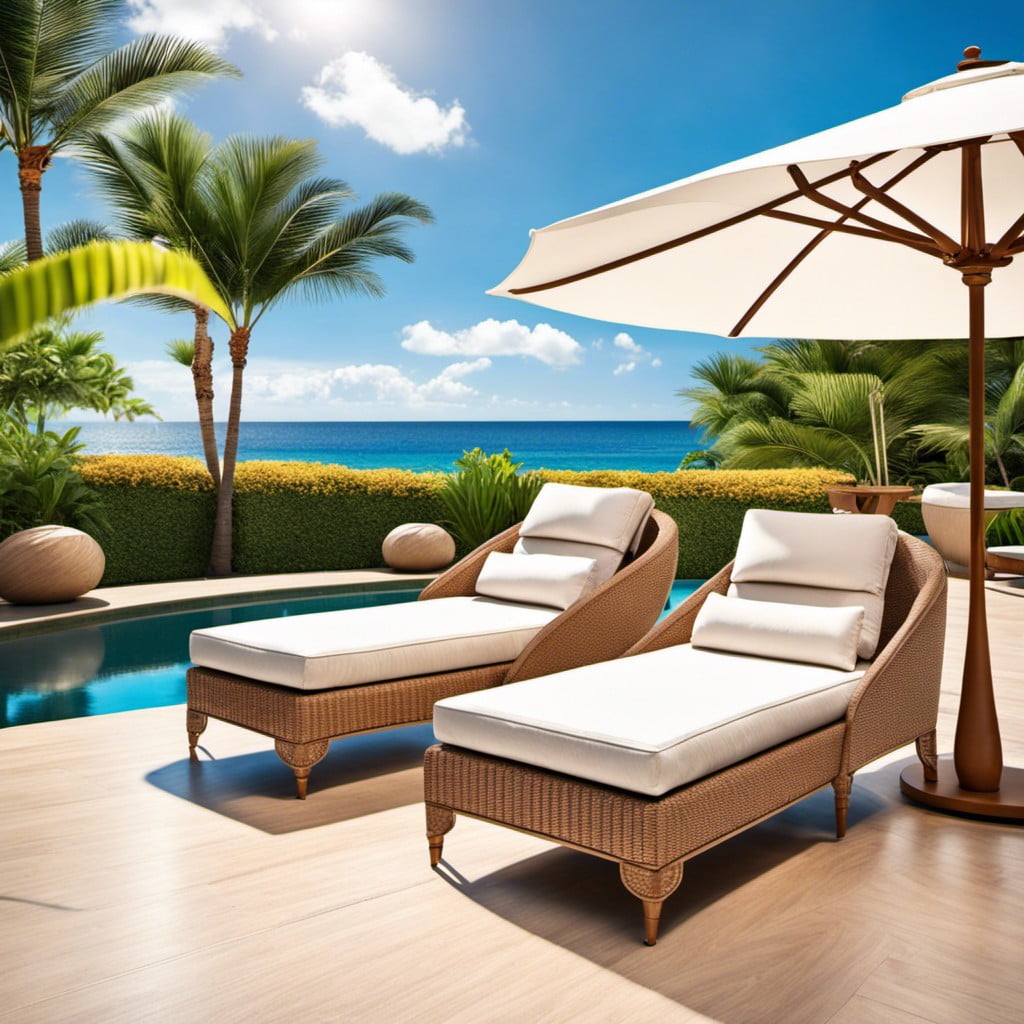 Choosing the right poolside lounge chairs significantly enhances comfort and relaxation. Look out for those made with durable, waterproof materials to withstand outdoor conditions.
The ideal chairs offer adjustable seating positions for sunbathing, reading, or napping. Consider adding colorful outdoor cushions for extra comfort and style.
For a cohesive look, match the lounge chairs' color and style with other lanai furniture and accents. Remember, optimizing the layout of your lounge chairs depending on your pool's shape and size can transform the overall aesthetic of your lanai.
Floral Ceramic Pots and Vases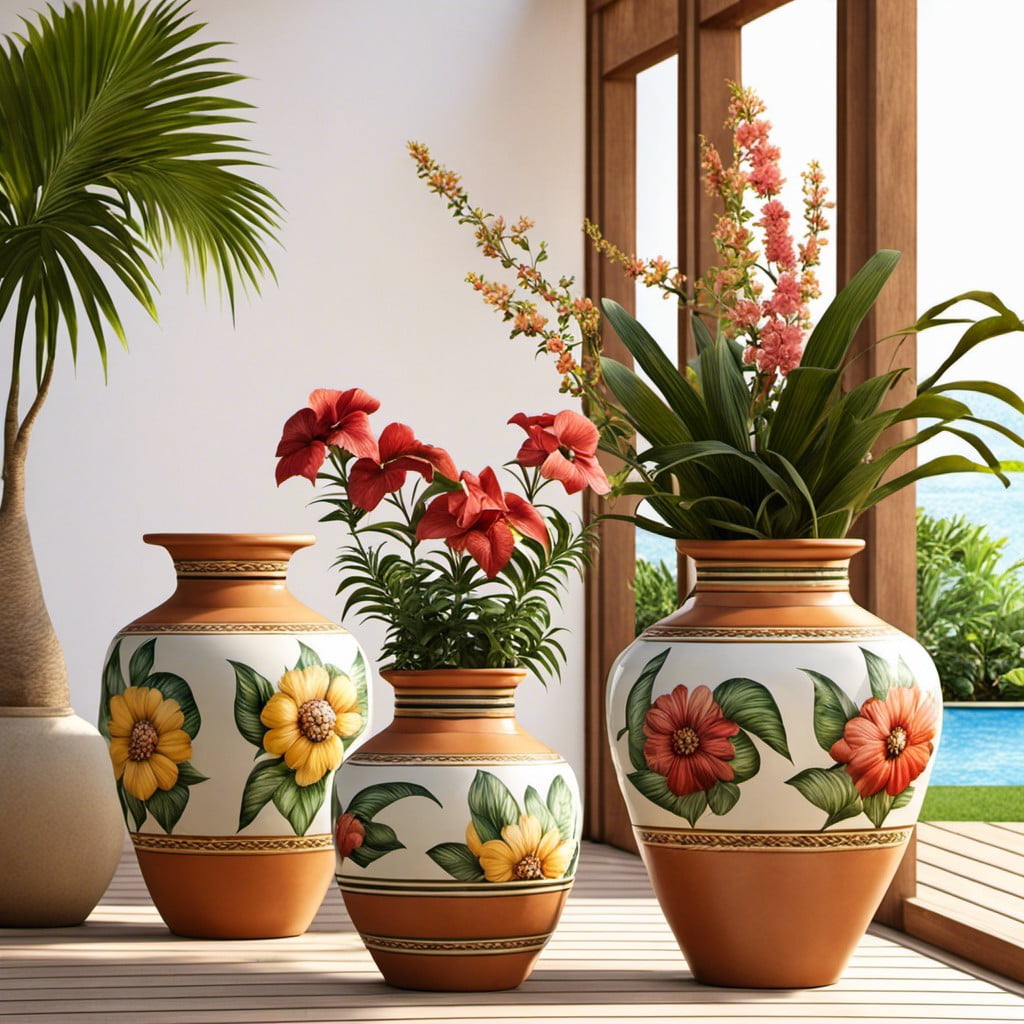 Integrating these colorful accessories into your lanai design can be a fun and creative process. Choose varying sizes to create a more dynamic arrangement.
Smaller pots are ideal for succulents or cacti while larger vases can hold lush greens or vibrant flowers. Ceramic, being a durable material, withstands different weather conditions and can last for a long period.
Hand-painted or patterned floral ceramics can bring added charm, as well as help tie in your color scheme. Don't shy away from bold colors and intricate patterns – these elements can form an engaging focal point within your space.
Remember to ensure proper drainage to keep your plant friends happy, and consider rotating them seasonally to refresh the look. Use a strategic arrangement to accentuate areas, such as the entrance to the lanai or seating area, to make your outdoor space even more inviting.
Tiki Torches for Evening Ambiance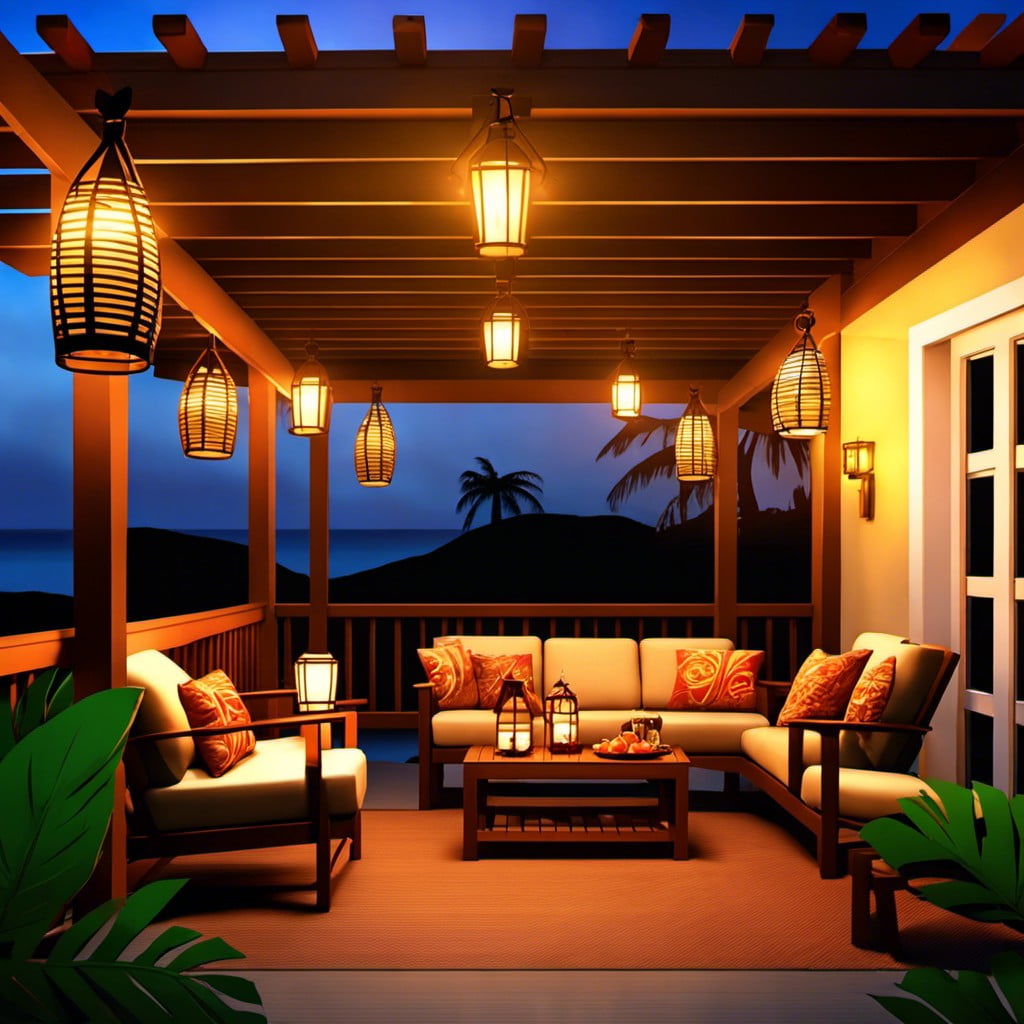 Tiki torches aren't just traditional icons in Polynesian culture; they're also incredibly practical for securing a tropical ambiance in your lanai during the evenings. Their gentle, flickering flame creates a warm and inviting atmosphere, making twilight get-togethers a memorable experience.
When selecting torches, consider the quality and style. Stainless steel options resist rust, while bamboo torches offer a more authentic aesthetic. Place them strategically around the perimeter of your lanai for the best illumination. Also, keep safety in mind – they should be planted firmly in the ground, away from flammable materials.
For an eco-friendly solution, solar tiki torches are available. They mimic a true flame's flicker but use solar energy to light up, meaning no fuel or matches are required. Not only do they contribute to setting the mood, but they are also an excellent way to keep your lanai lit without any additional cost on your electricity bill.
Remember, the glow from the torch's flame can enrapture an evening, turning your lanai into a tranquil escape under the stars. Always follow safety guidelines when using any kind of open flame to keep your evenings worry-free.
Rattan Day Bed With Canopy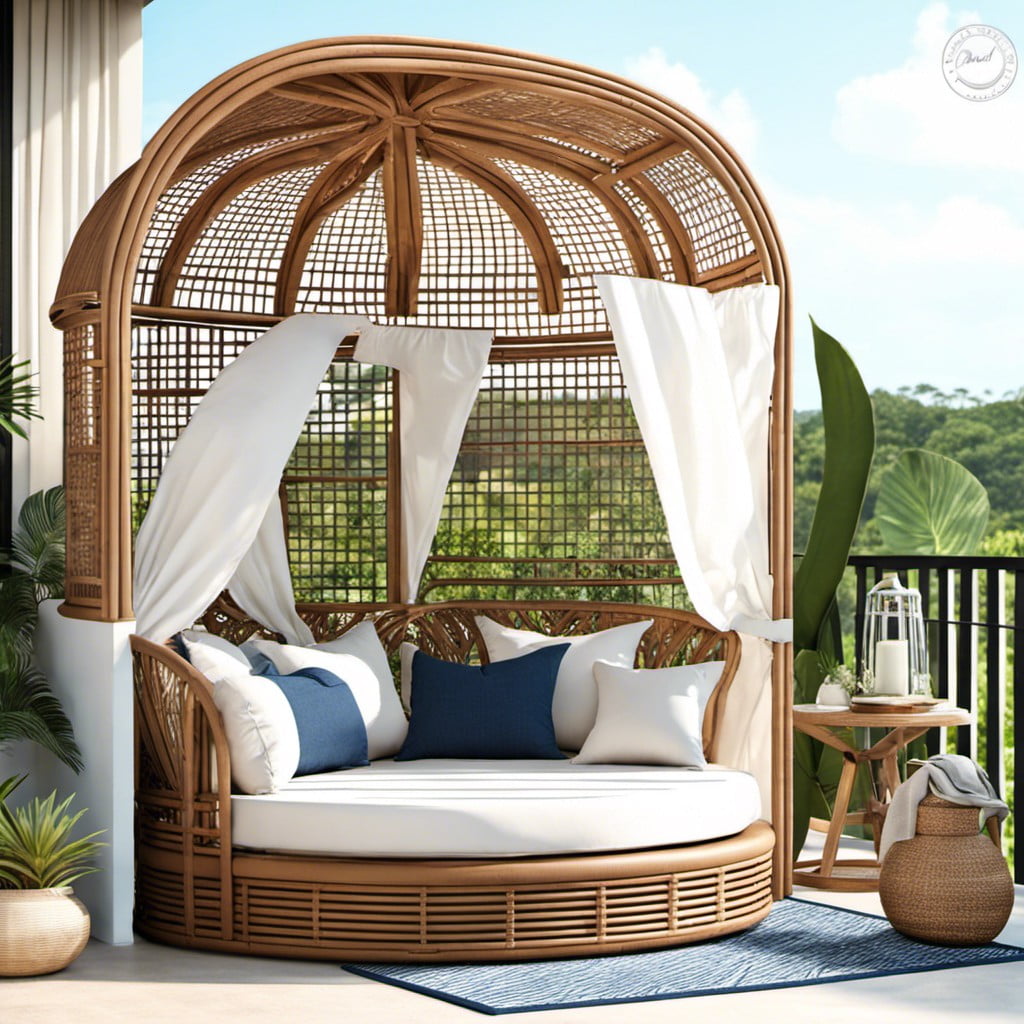 With its naturally sturdy and rustic appeal, a rattan day bed can effortlessly establish itself as the focal point of your lanai. Complement it with a canopy to lend a luxe resort-like atmosphere, while also providing a shade from the sun, enhancing comfort and privacy.
1. Structurally Sound: Rattan, being highly durable and lightweight, offers an ideal balance of function and form for an outdoor environment.
2. Versatile Designs: The day bed can be designed as a standalone piece or integrated modularly, letting you revamp the layout anytime you wish.
3. All-Weather Applicability: Consider weather-resistant fabric for the canopy and mattress, to ensure longevity and ease of maintenance.
4. Style Fusion: Mix and match with vibrant throws, or stick to earthy tones for a more subdued aesthetic.
5. Privacy and tranquillity: The open-weave nature of rattan, paired with a canopy, provides a sense of serene solitude while overlooking the surroundings.
Remember, it's all about creating your very own slice of paradise, a tranquil space to rest and recharge, enfolded in the welcoming arms of nature.
Liked reading this? Here's more:
Recap: