Last updated on October 22, 2023
Dive headfirst into a refreshing aesthetic by exploring exciting pool decor ideas, because transforming an ordinary pool into a backyard oasis is simpler than you'd think.
I am proud to present my personally curated list of 20 Stylish Pool Decor Ideas, featuring my unique designs, and I hope they inspire you to beautify your outdoor spaces as much as I enjoyed creating them.
Diving into the world of pool decor can be both exciting and overwhelming, with a plethora of design options, themes, and accessories to choose from. Whether you're looking to create a tropical oasis, a sophisticated lounge, or a family-friendly fun zone, this article is your guide to the best pool decor ideas.
We'll explore everything from poolside furniture and lighting to landscaping and artistic features, providing you with a comprehensive understanding of how to transform your pool area into your dream outdoor space.
So, prepare to make a splash in style!
Underwater LED Lights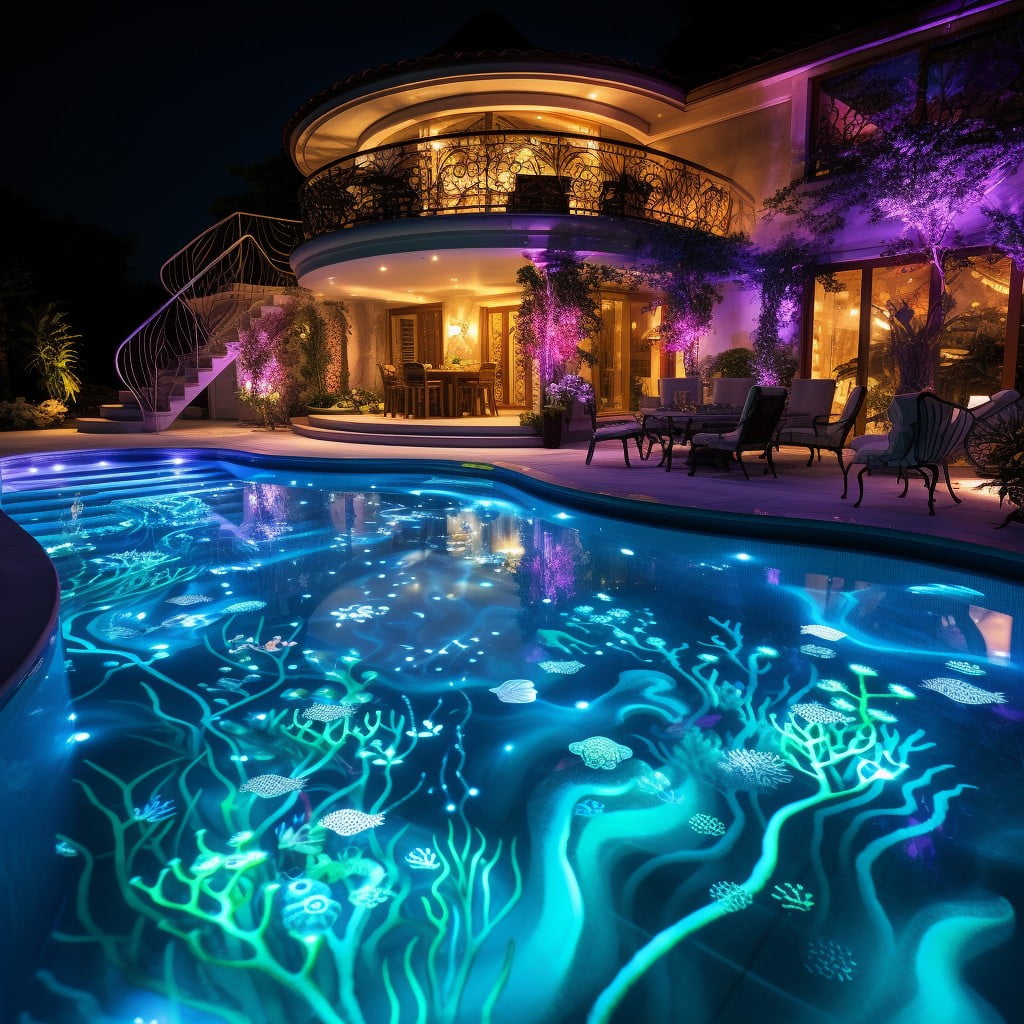 LED lights designed for submersion elevate the visual appeal of your pool, effectively transforming it from a mere swimming area to an enticing light show.
They come in many colors, offering customization to fit personal or event-specific themes.
Energy-efficient and longer-lasting, they prove not just aesthetically appealing but practical too.
Consider programmable ones for a changing lightscape.
Don't forget, installation and maintenance is best left to professionals due to the intricacies involved with underwater electrical systems.
Floating Lanterns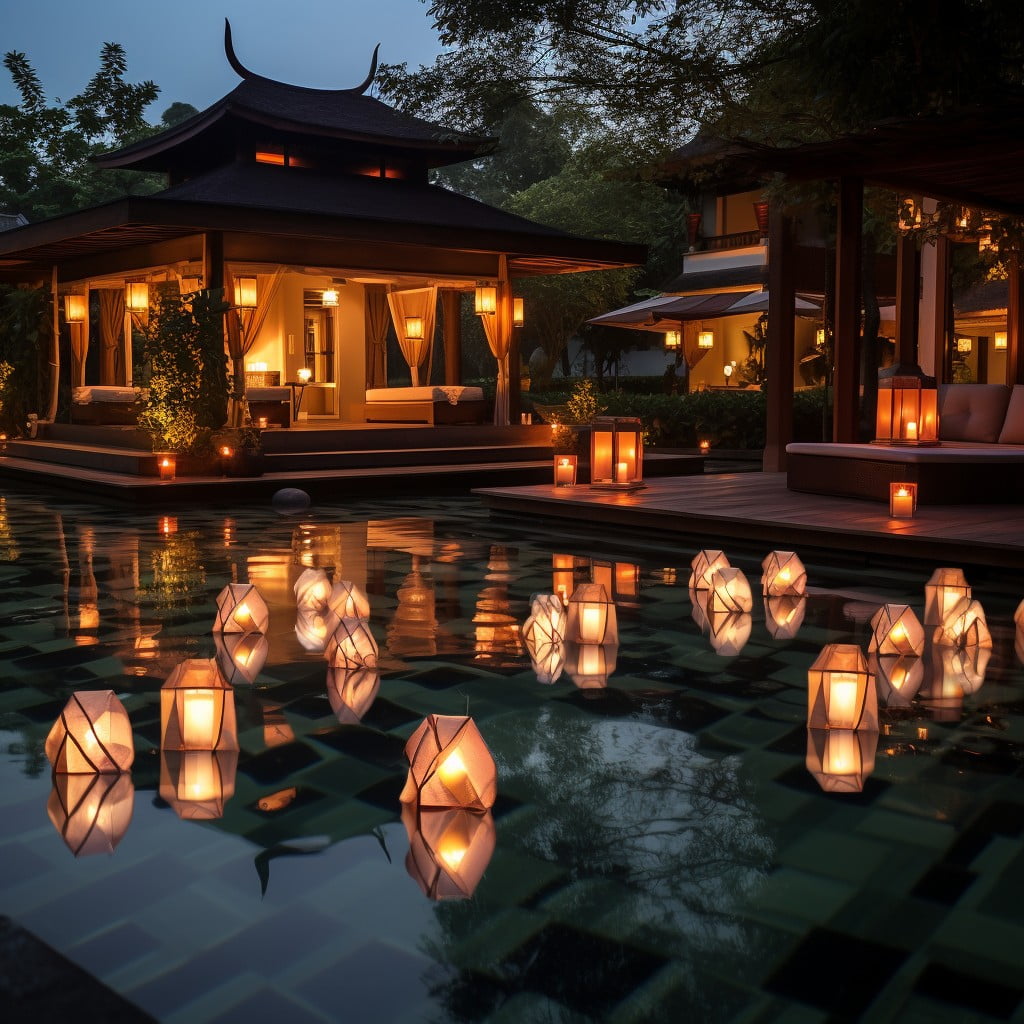 An enchanting addition to any pool decor, floating lanterns can create an astonishing ambiance during the warm summer nights. They come in an array of shapes, colors, and sizes to fit every aesthetic but all share a magical quality which lies in the reflection of their shimmering light onto the water's surface.
Safety is paramount, always ensure to use water-resistant LED bulbs or battery-operated tea lights. This will prevent any risk of an electrical hazard. The floating lanterns' materials should also be carefully analyzed. Select ones made from water-resistant and durable materials such as plastic or waterproof rice paper.
Beyond purely aesthetic purposes, they serve a functional role too. If a night swim is on the schedule, lanterns can help illuminate the water, therefore increasing visibility. This ornamental lighting technique can prove to be both appealing and practical in pool decoration.
Poolside Cabanas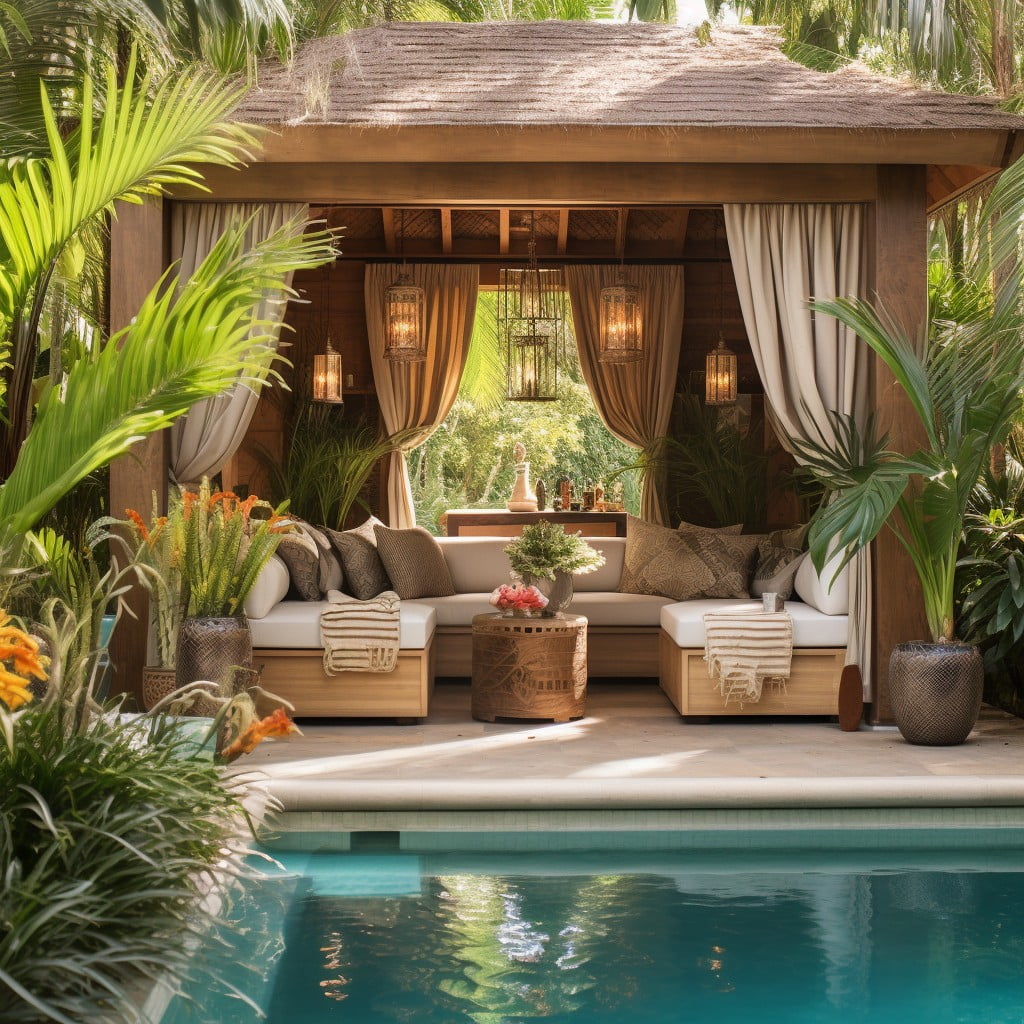 Adding a cabana adjacent to a pool creates an oasis-like feel. The versatility of cabanas allows them to serve various functions such as a private change room, nap area, or even an attractive sunshade.
For aesthetic appeal, consider matching the cabana's design with the overall theme of the pool area. Modern designs may feature clean lines and minimalist decorations, while tropical themes may opt for thatched roofs and bamboo structures.
The inclusion of waterproof curtains or foldable doors can offer added privacy and protection from the elements. Moreover, fully equipped cabanas may include amenities such as mini-fridges, storage spaces, and comfortable seating, providing a respite area during swimming breaks.
Investing in comfortable and durable furniture is paramount. Opt for materials that resist sun fading to prolong the cabana's charm. Complement the space with cushions in vibrant colors to create a warm and inviting atmosphere.
Lastly, do not overlook lighting. Soft, ambient light makes the cabana an inviting place to relax even after sunset, while adding a touch of elegance. Opt for weatherproof and energy-efficient LED options for best results.
Water-resistant Outdoor Rugs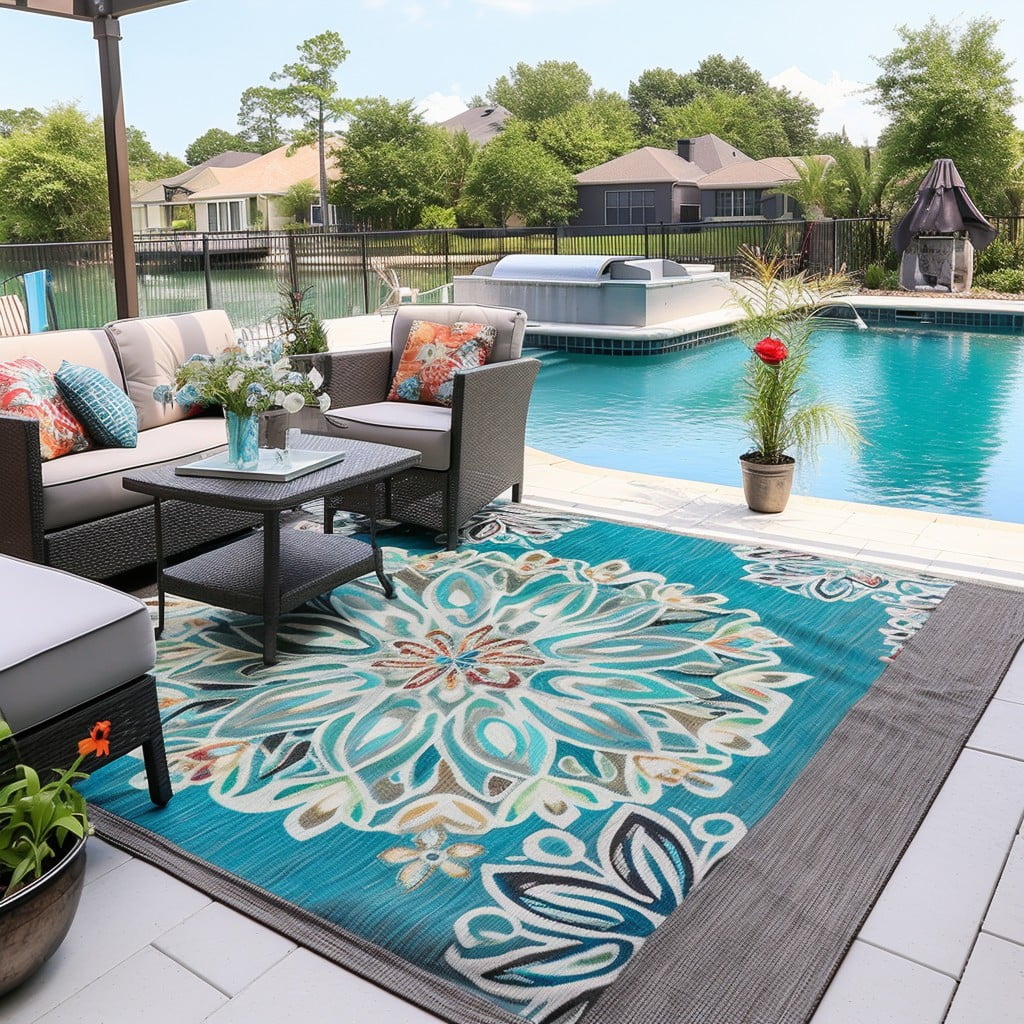 In selecting the perfect rug, prioritize durability; opt for a product crafted from polypropylene or a similar hard-wearing, waterproof material. Ensure it has UV protection to prevent color fading.
Next, think about pattern and color; try a bold geometric design or vibrant hue to create a focal point, or take a more understated approach with a natural or neutral tone to blend seamlessly with your surroundings.
Remember: all outdoor rugs should be adequately maintained to prolong their lifespan. Although water-resistant, they should be dried out promptly after heavy rain to prevent mildew.
Regular cleaning, as per the manufacturer's instructions, will also help keep your rug looking its best.
Lastly, invest in a non-slip pad — not only will this add a layer of comfort underfoot but also saves you and your guests from potential slips and falls. It's a simple add-on that increases both safety and luxury.
Mosaic Tiles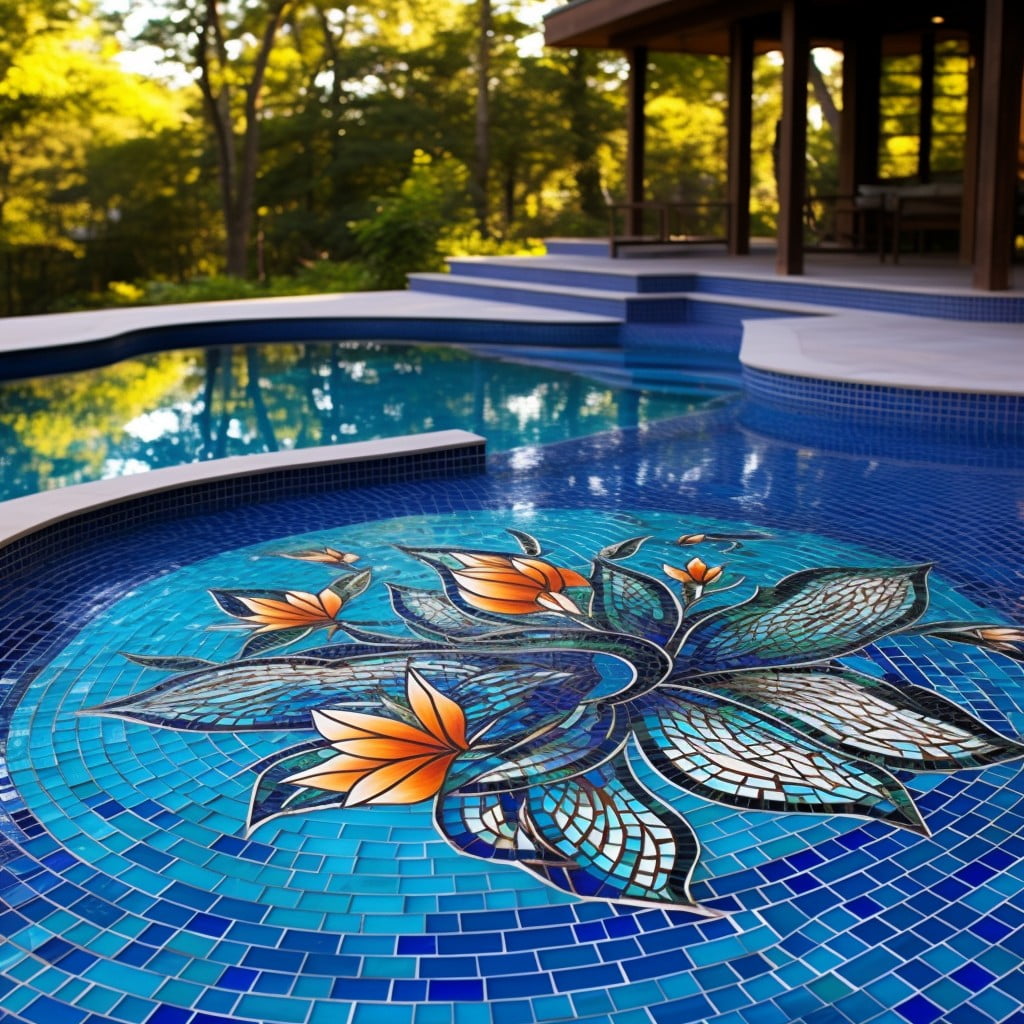 Mosaic tiles offer a unique blend of color, texture, and style. They not only add an aesthetic appeal but also enhance the durability of the pool.
Available in a plethora of designs from abstract patterns to ocean-inspired tones, they can transform your ordinary pool into a piece of art.
Consider the theme of your home and extend it to the pool area for a coherent look.
When choosing the color palette, lighter shades reflect the sun and create a captivating shimmering effect, while darker ones imbue a distinct and remarkable depth.
Always opt for slip-resistant tiles for safety.
Skilled installation is key to ensuring longevity and precision in the end result.
Waterfall Features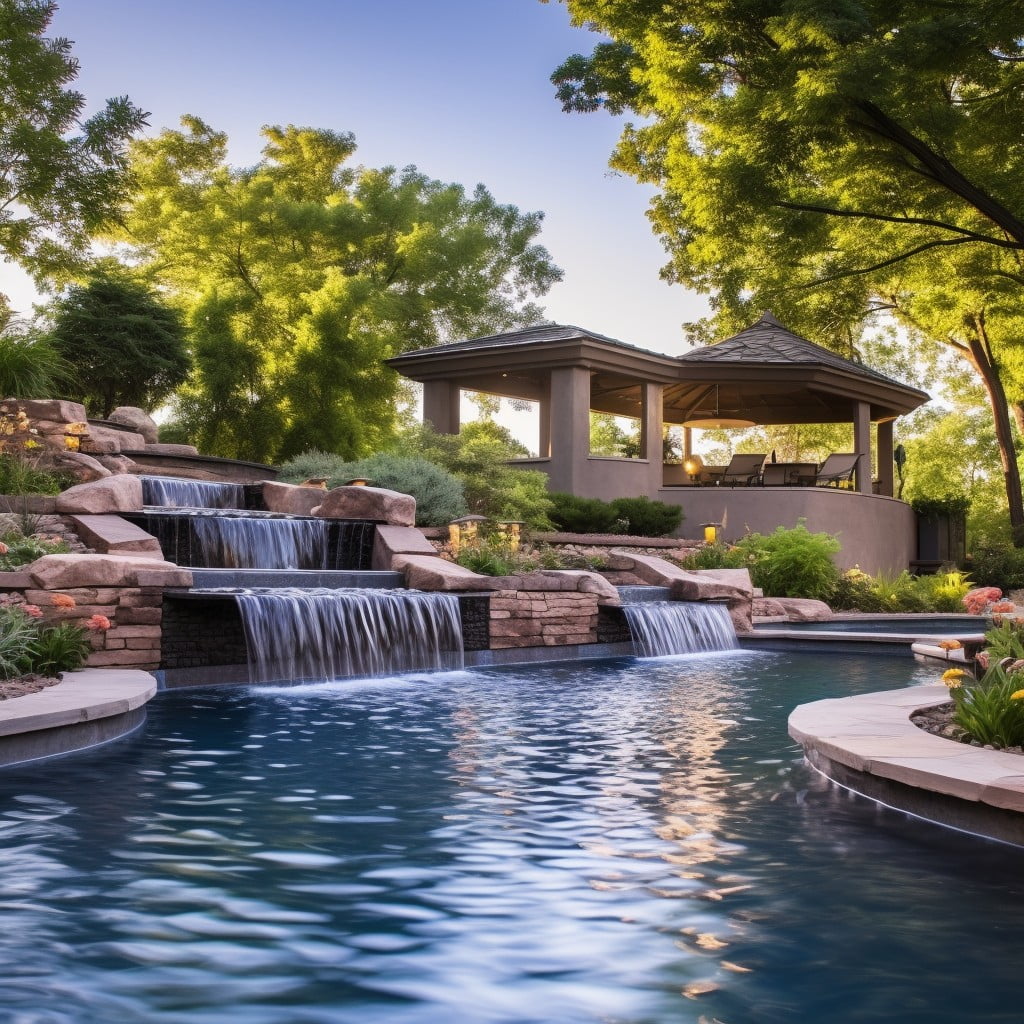 Incorporating this particular element can have a significantly transformative impact on your pool area. These features blend into the natural landscape effortlessly, adding aesthetics and tranquility. The continuous sound of water cascading down enhances the ambience and has a calming effect.
There's a plethora of options to choose from – a sheer descent, a natural rock formation, or even a multi-tiered structure can be implemented based on your style preference. Just imagine taking a dip in your pool while water cascades down near you – it's like being in a spa, but in your own backyard.
Remember, and this is crucial, to consider the size and design of your pool before deciding on a waterfall feature; it should be proportionate and blend in with its surroundings. Moreover, the choice of materials is vital to ensure durability and maintenance is manageable. Common materials include stones, rocks, tiles or even fibreglass for a modern look.
Whichever type you choose, integrating a waterfall feature will unquestionably add a fascinating dynamic to your pool decor. It's not just a visual improvement; it's about the entire sensory experience. A pool is not merely a water body… make it your personal retreat oasis.
Tropical Plants and Flowers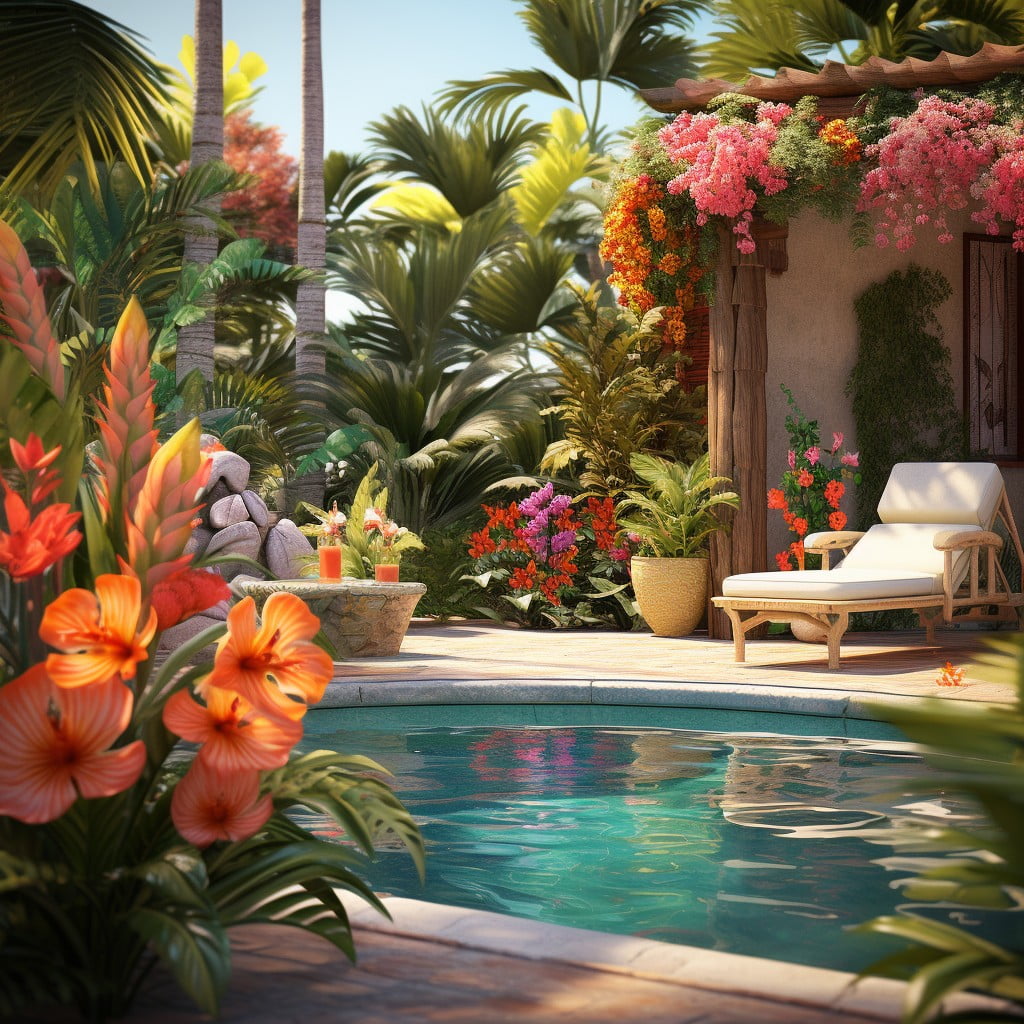 Adding a touch of the tropics to your pool area can transform your backyard into a personal paradise. These plants not only bring visual appeal but also create a sense of privacy. Regarding flower selection, hibiscus, and bird of paradise provide vibrant blooms and thrive in poolside conditions.
For leafy greenery, consider adding palm trees or banana plants. They're hardy, easy to care for, and offer a natural shade to help regulate temperatures in the sun-soaked pool area. Ferns also work optically, and they add a lush, oasis-like feel without encroaching on the pool side space.
However, always ensure your selected flora matches your local climate to keep upkeep easier. Also, remember to position these plants away from the pool to avoid leaf clutter. For adequate plant maintenance, the use of outdoor planters can hide pool machinery and keep your pool area tidy. This simple step upholds the visual aesthetic while helping your plants flourish.
Remember, the right blend of tropical plants and flowers can greatly enhance your pool's ambience, transforming it into a tranquil retreat.
Pool Deck Lounge Chairs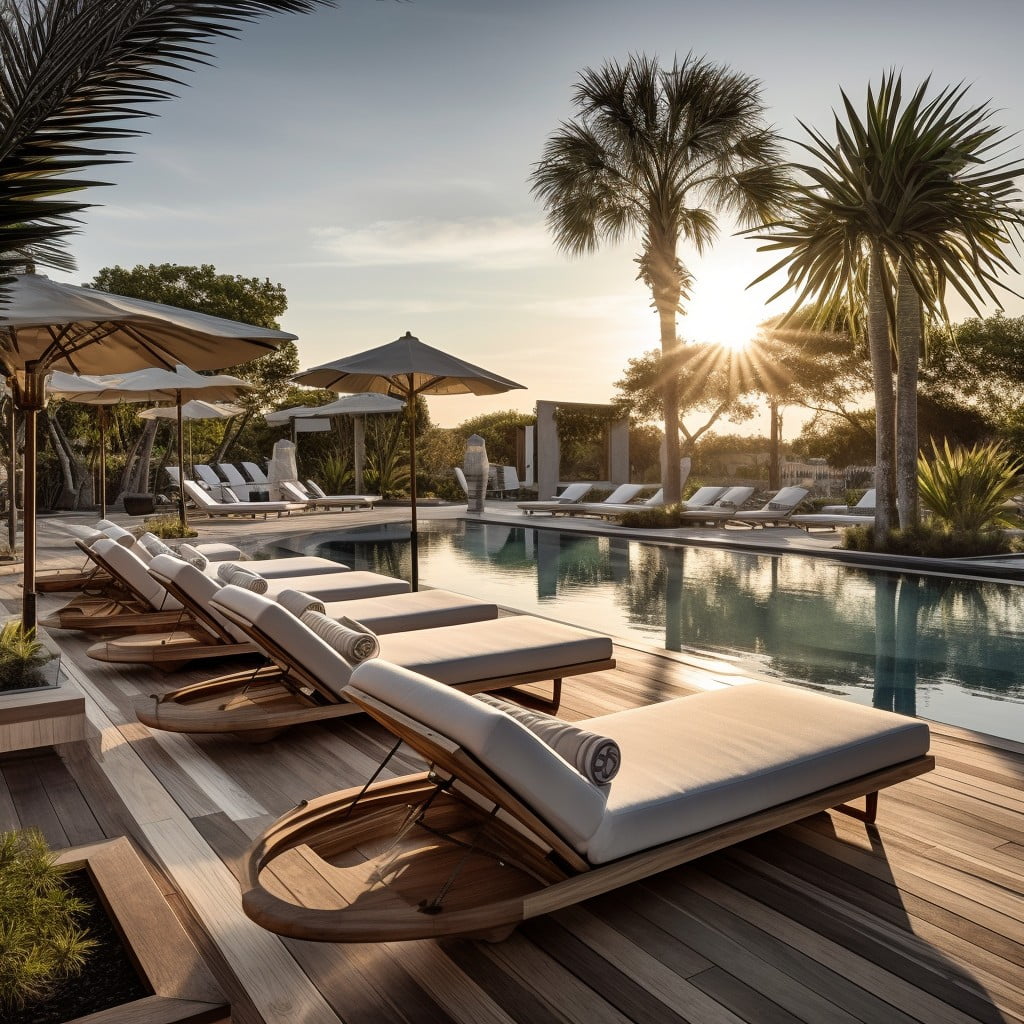 Comfort and relaxation are pivotal to the overall pool experience, and this is where lounge chairs come in. Opt for chairs that offer a harmonious blend of style and functionality.
Materials such as teak wood and wicker stand out for their durability and chic appeal. For added convenience, consider chairs with adjustable backrests and are weather-resistant.
Cushions can provide a pop of color and added comfort, but ensure they are water- and UV-resistant.
Position your chairs to face the pool for a relaxing view, or conversely, angle them towards a fire pit or outdoor TV for evening entertainment.
There are numerous configuration options to explore based on your preferences and lifestyle.
Inflatable Pool Floats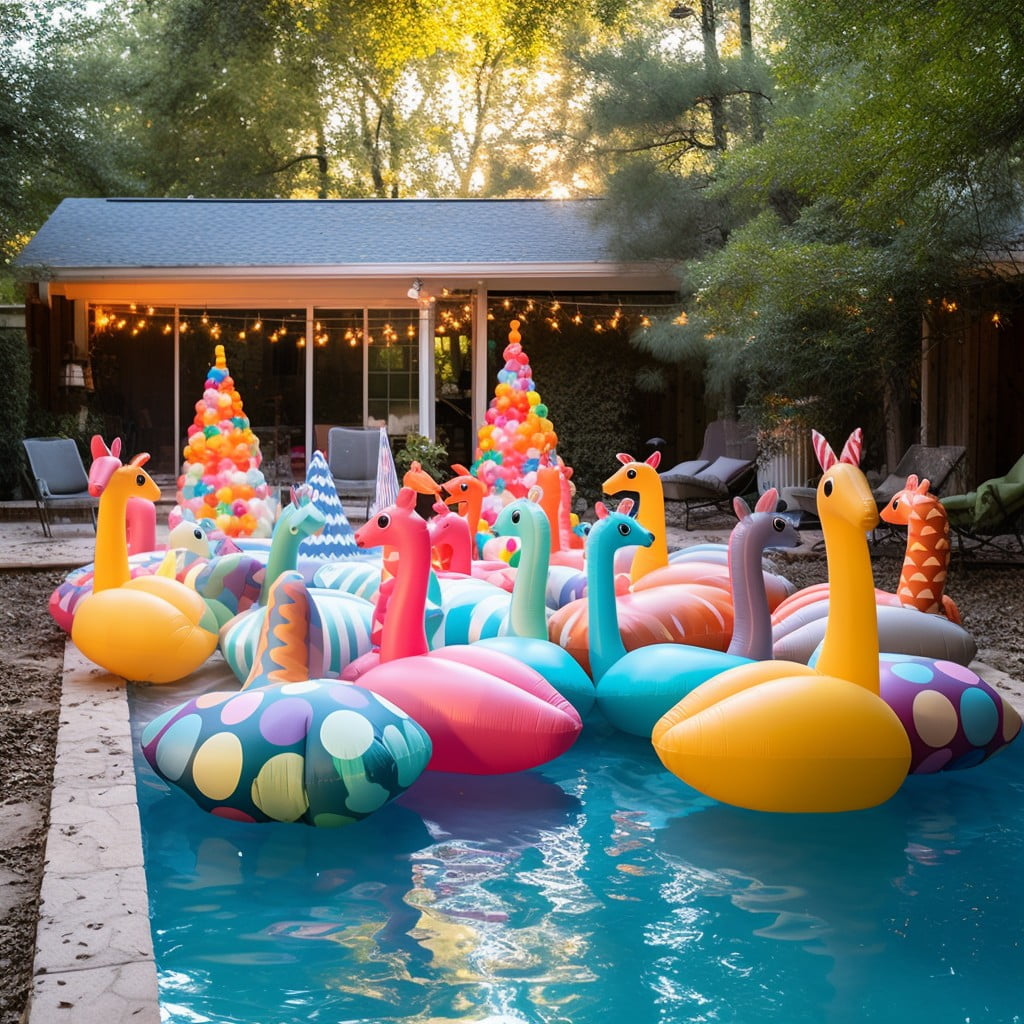 Speaking of variety and adding a fun aspect to your pool decor, nothing beats inflatable pool floats. These come in countless designs and shapes, offering something for every taste and age group. From the classic flamingos and unicorns to oversized pineapple and pizza slices, these are not only great for relaxation but also as water toys. Plus, they contribute to the overall pool ambience when not in use.
Pick bright, colourful floats to inject a dose of cheerfulness into your pool area. For a more sophisticated look, consider sleek loungers in neutral shades. Ensure to maintain and store them properly to prolong their lifespan. It's worth noting that they can also serve as an emergency safety tool for non-swimmers in the family. So, do consider having one or two around for functional purposes too. They are easy to inflate and deflate, making them portable and convenient recreational items for every pool.
Poolside Bar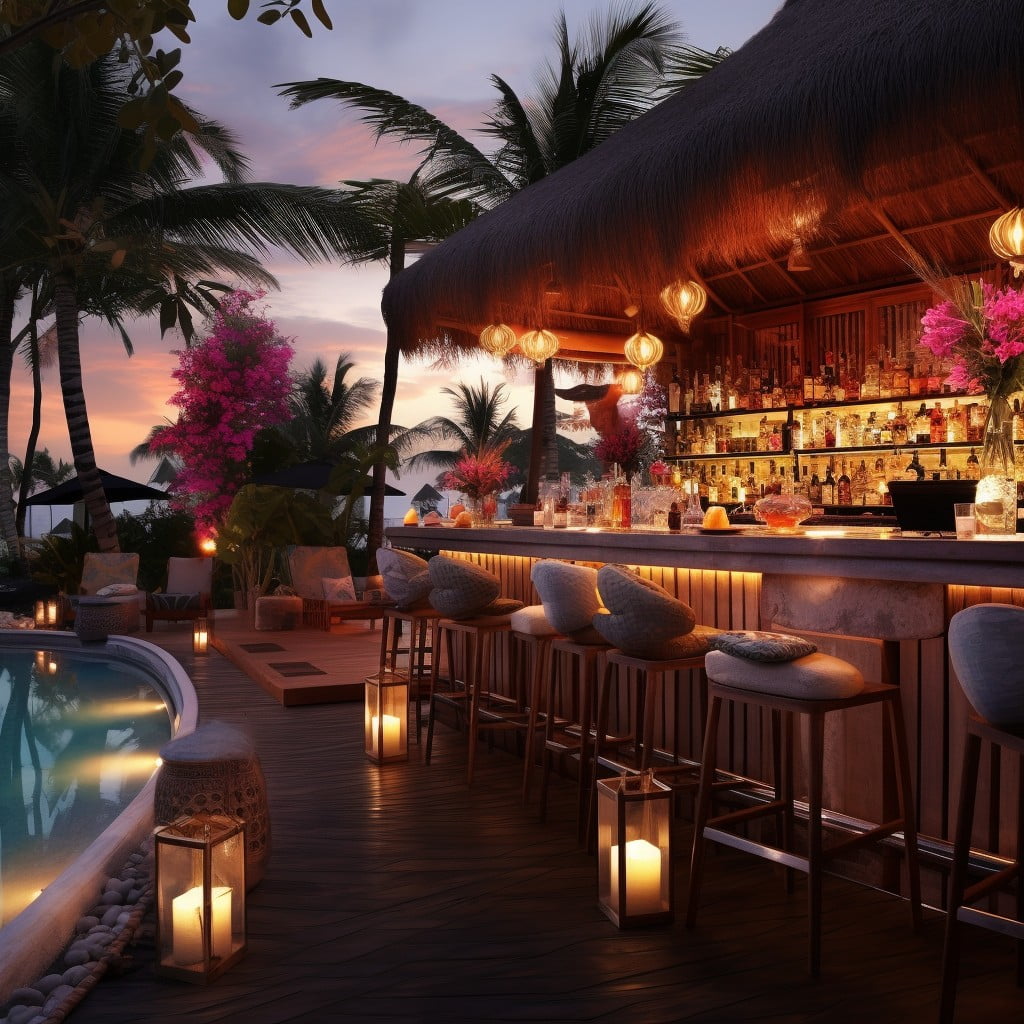 Basking in the sun with a refreshing drink in hand is synonymous with poolside relaxation. A poolside bar caters perfectly to this experience, clearly carving out a niche for chilled entertainment in any pool decor plan. The key considerations for implementing this somewhat luxurious feature should be design, durability, functionality, and party-readiness.
Favor designs that seamlessly integrate with the pool and surrounding scenery while adding a hint of exclusivity to your space. Incorporating sustainable and weather-resistant materials into the construction like stainless steel or treated wood ensure longevity.
Above all, the bar must be functional. Ideal attributes include a shaded area to protect from the sun, a mini-fridge for cooling drinks, multiple power outlets for blending cocktail mix, and sufficient counter and storage space for serving and storing a variety of beverages. As for party-readiness, consider installing an impressive range of colorful LED lights and quality sound systems to keep the fun atmosphere alive well into the night.
Remember, the aim is to create a conveniently located bar that amplifies the poolside ambiance and improves the overall pool usage experience with every relaxing sip.
Fire Pit Area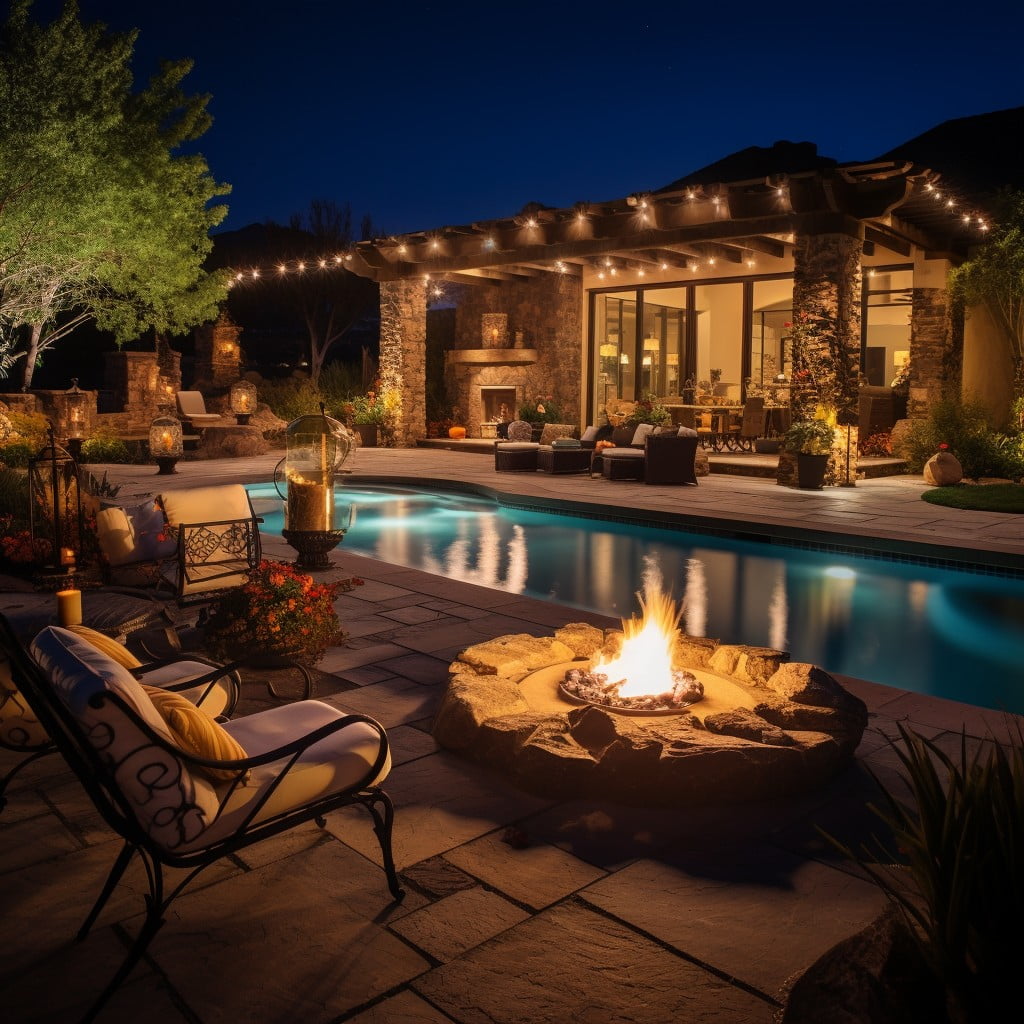 A fire pit offers more than warmth on chilly nights; it's a focal point, a gathering place, and an ideal spot for roasting marshmallows or sipping cocktails.
It's essential to ensure safety by placing it at a suitable distance from the pool and any flammable materials.
There's a plethora of designs to choose from, ranging from modern stone structures to rustic, antique-style pits.
Opt for propane fires for a clean burn or go for traditional wood-burning pits for a more authentic experience.
Adding comfortable seating around your fire pit will create a cozy, welcoming ambiance.
For an extra touch of elegance, consider integrating natural elements like rocks and plants.
Pool Fencing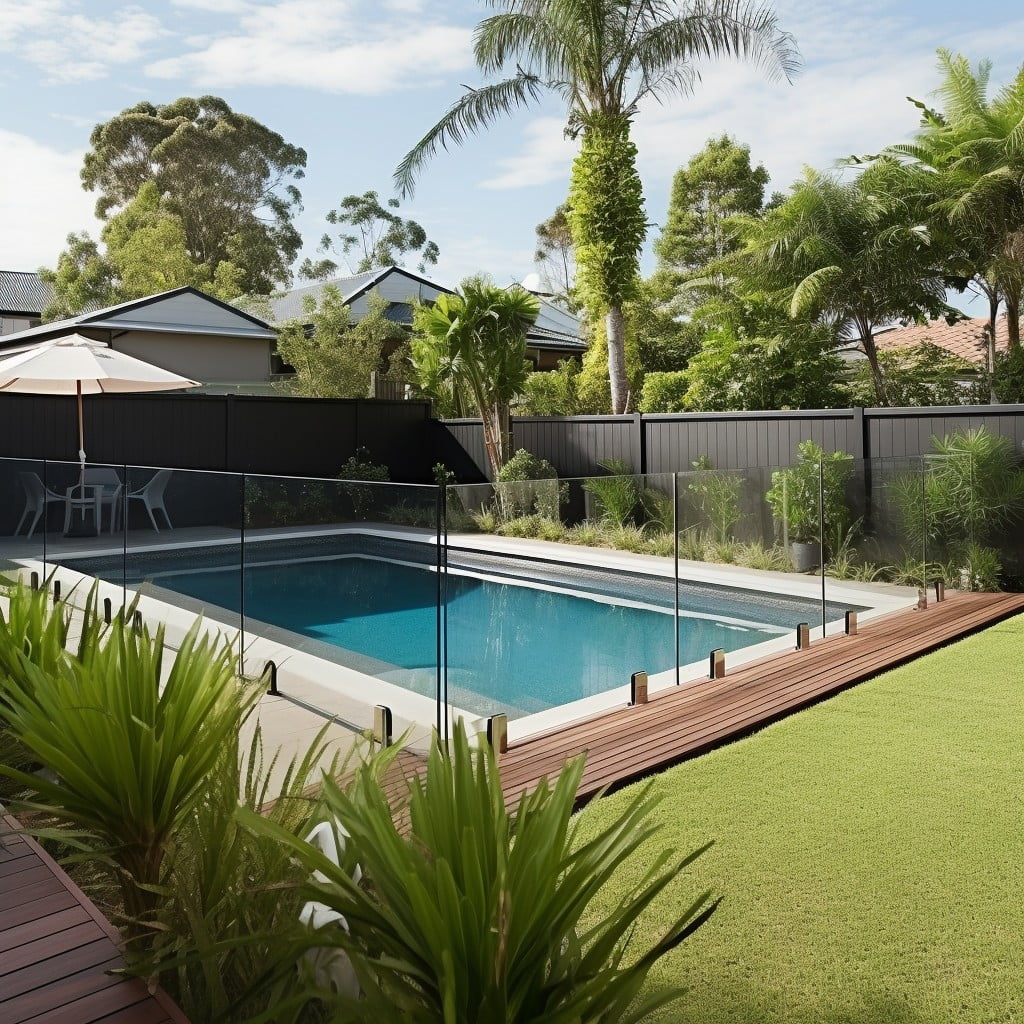 While usually considered a safety measure, pool fencing can add significant aesthetic appeal to your outdoor space. First, frameless glass fencing allows you to maintain an uninterrupted view of the pool area while offering an elegant, sleek look. It's both stylish and secure. Alternatively, opting for a wooden fence can infuse a rustic charm to your area. It works especially well for homes aiming for a more natural or country-style decor.
For those looking to create a modern and minimalist look, consider aluminum pool fencing. This material is lightweight, durable, and requires less maintenance. Plus, aluminum can be easily manipulated to form various unique designs to complement your outdoor space decor.
In addition, incorporating climbing plants or adding decorative elements like signs, lights, or hanging plant pots can turn your pool fence into a decorative feature in its own right, contributing to your overall pool decor theme. Don't forget, when selecting your fencing option, it must abide by local safety regulations.
Stone Pathway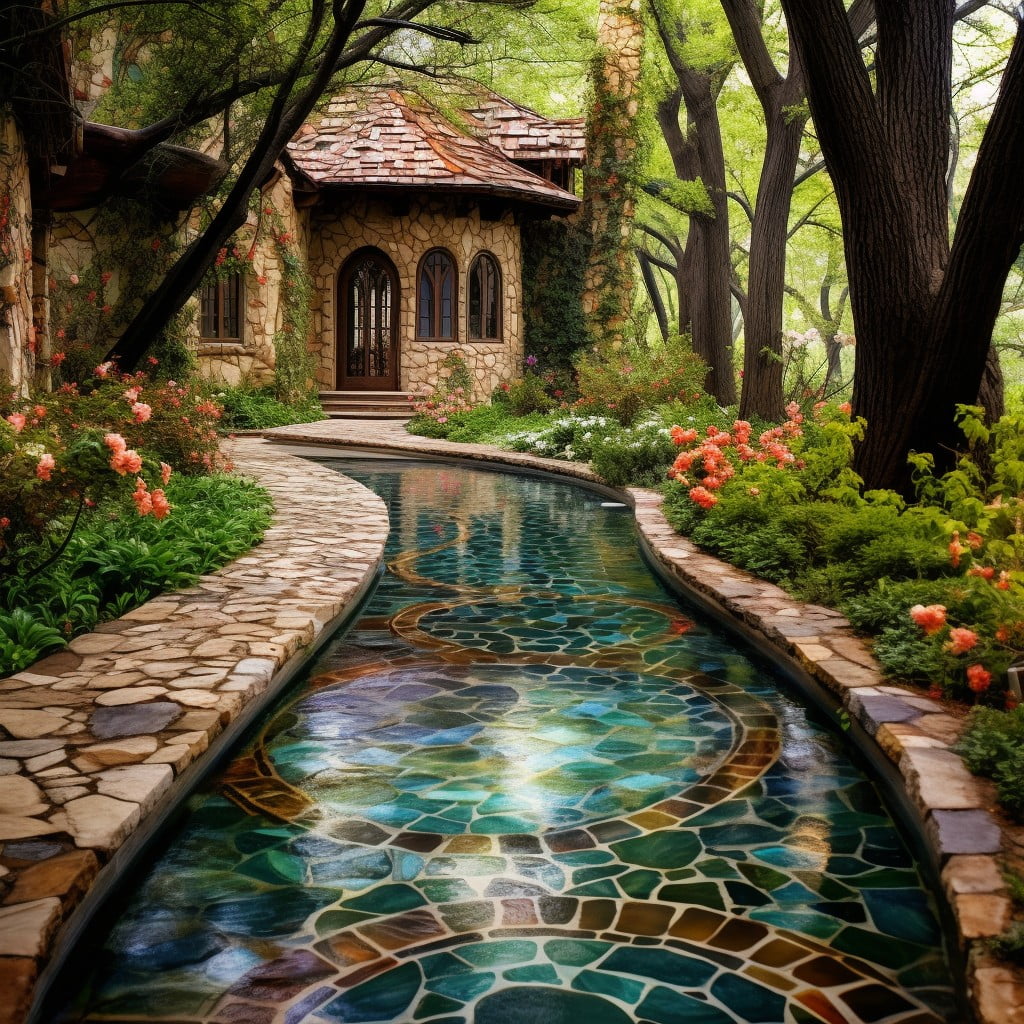 Abundantly diverse in patterns and materials, stone pathways can greatly elevate a pool's visual appeal.
Considered both for function and aesthetics, pathways should ideally be slip-resistant and resilient to water exposure. Natural stones like flagstone or slate, while slightly more expensive, are great options for their durability and non-slip surfaces.
To add a touch of elegance, consider arranging them in unique patterns. For instance, herringbone or randomized layouts can instantly draw the eye. Meanwhile, straight lines lend a clean, orderly appearance.
If your budget is limited, concrete pavers give you a stone-like feel at a fraction of the cost. They come in a variety of colors, textures, and shapes, offering abundance in decor options.
Remember, the stone pathway serves as an inviting transition from the main house to the water, guiding your guests through your carefully curated pool decor with an appeal that's both visually striking and practical.
Towel Storage Area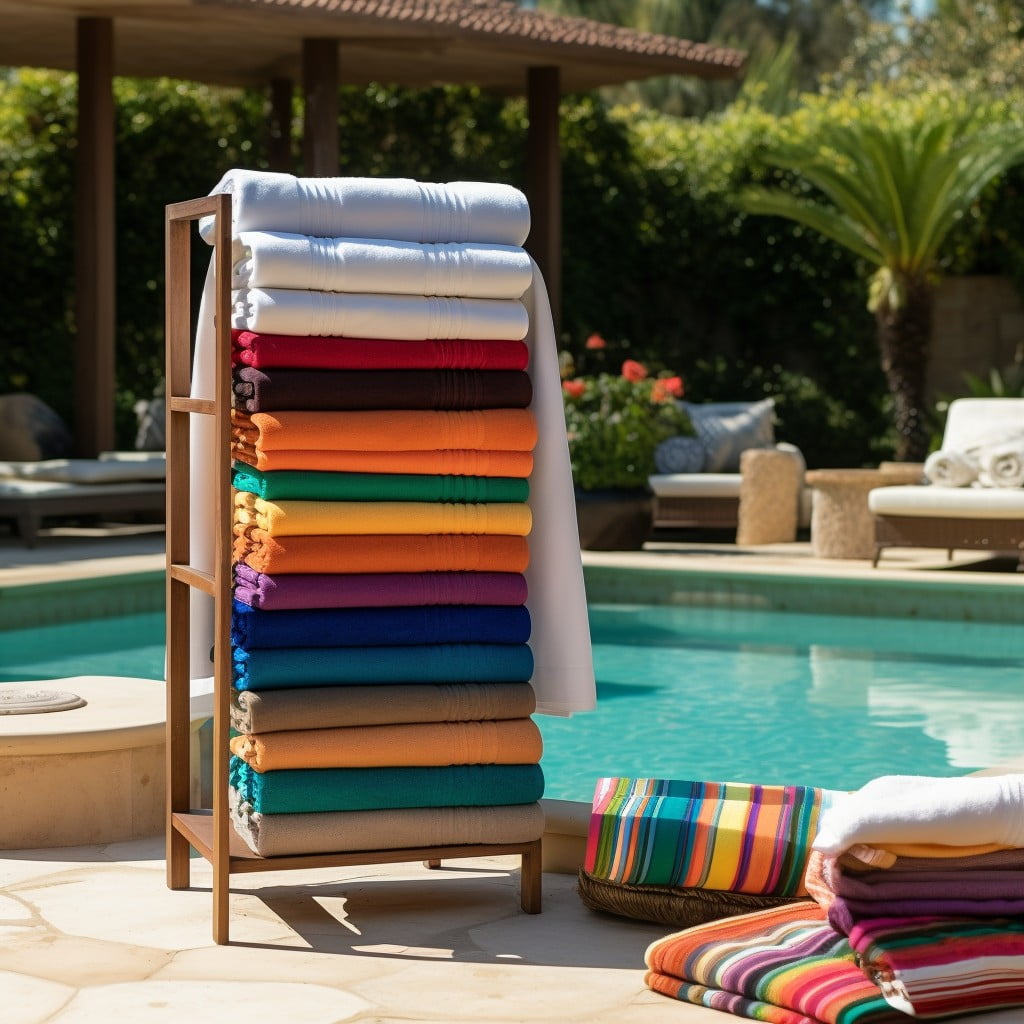 Crafting a convenient and stylish place for towels is a vital part of designing a pool area. Aim for both functionality and elegance. Here are some pointers:
1. Choose durable materials: Opt for teak, or treated metal – materials that can withstand the exposure to water and sun.
2. Incorporate cubbies or shelves: Depending on the number of users, you might need extra storing spots. Cubbies or shelves can provide this while maintaining an organized look.
3. Try a towel rack: An outdoor towel rack holds multiple towels at once and allows them to dry swiftly.
4. Invest in a pool storage box: Pool storage boxes are a great way to store water-resistant items like towels or pool toys conveniently and discretely.
5. Consider a towel stand: Not only can this serve as an artwork but it also keeps your space tidy.
6. Use hampers for used towels: This makes the clean-up process easier after pool parties, they can also come in an array of styles that suit your pool decor.
Remember, your pool area's aesthetic doesn't need to be compromised for functionality. By carefully selecting your towel storage, you accomplish both.
Tiki Torches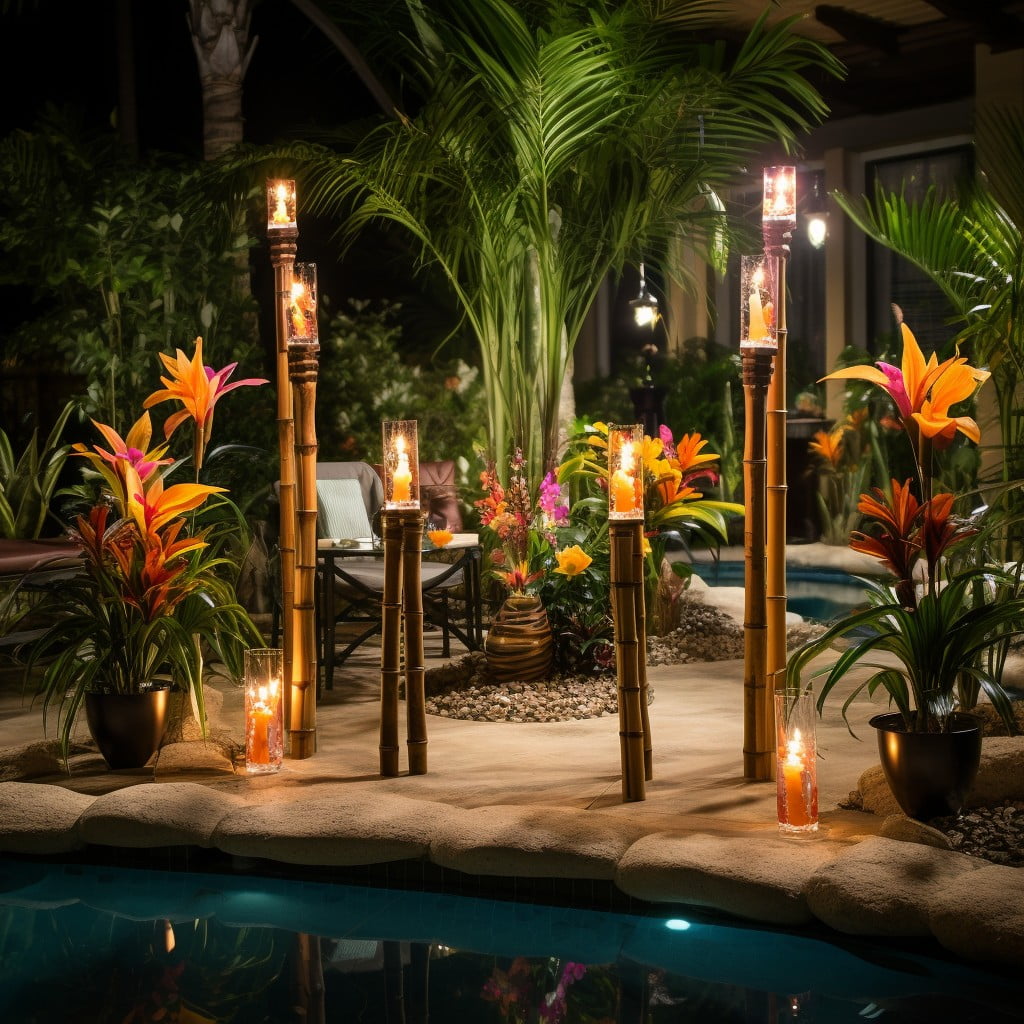 Tiki torches bring an element of exotic charm to your pool area, immediately creating a vacation-like atmosphere without stepping away from your home. They're a practical yet magical feature, serving dual purposes. They brightly light up the area for safer evening swimming while keeping pesky bugs at bay, thanks to their citronella oil.
For a natural, rustic feel, opt for traditional bamboo tiki torches. If you prefer a more modern aesthetic, there are numerous metal and glass options that can perfectly complement your landscape design. Ensure you space them evenly around your pool to balance the lighting. A word of caution, always remember to extinguish all tiki torches at night's end for safety.
Hammock Near the Pool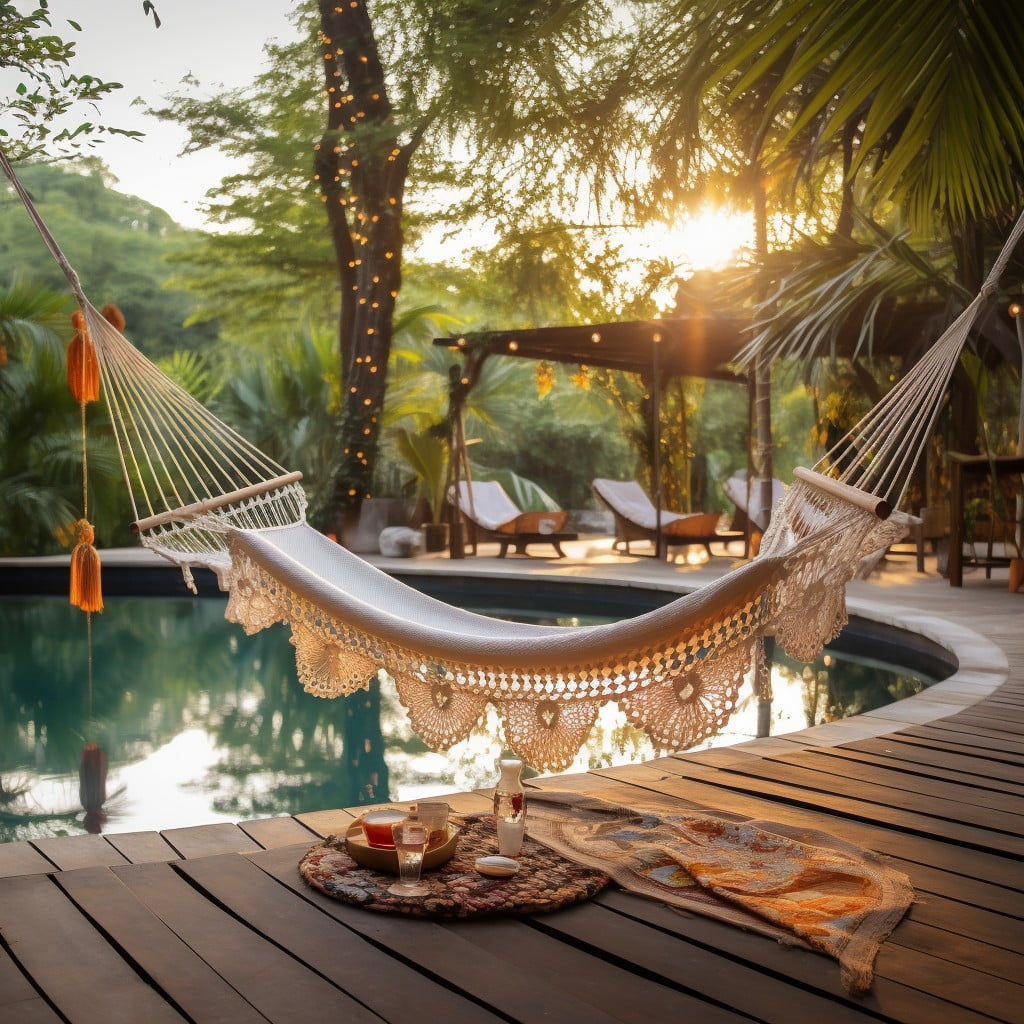 Positioning a hammock near the poolside framework isn't merely aesthetically pleasing, but it also creates a relaxing retreat. Immaterial of whether it's a freestanding model or one secured to trees, your location choice should allow for easy access to the pool while providing shade for those sunny days. This offers a serene escape from pool activities and a cozy spot for poolside reading or napping.
Select a hammock material, such as cotton or polyester, that suits your weather conditions and upkeep preferences. Complete the setup with a small side table to hold beverages, sunscreen, and a good book.
Themed Pool Accessories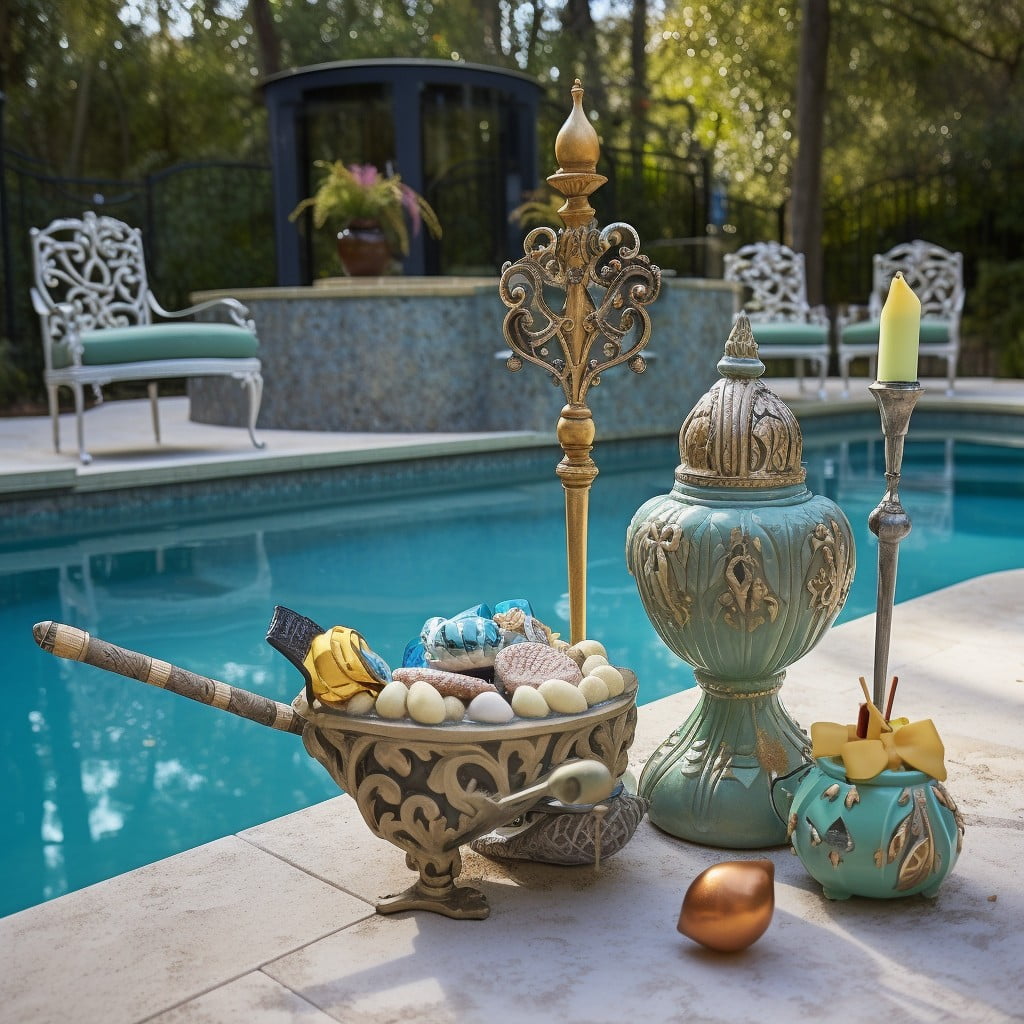 Stepping up the fun in your pool setting, consider varying themes that create an unquestionable immersive experience. For marine-inspired ambiance, incorporate seashell-shaped floats or mermaid tail pool loungers. A sports-enthusiast might appreciate inflatable hoops emulating a court on water. Tropical motifs can be attained with palm tree floats or flamingo drink holders. Let's not forget children's joy with their favorite cartoon character pool toys. For a cohesive look, match these with equivalent beach towels or poolside tablecloth designs. Remember, the key is in picking items that mirror your personal style and blend with the environment harmoniously.
Hot Tub Integration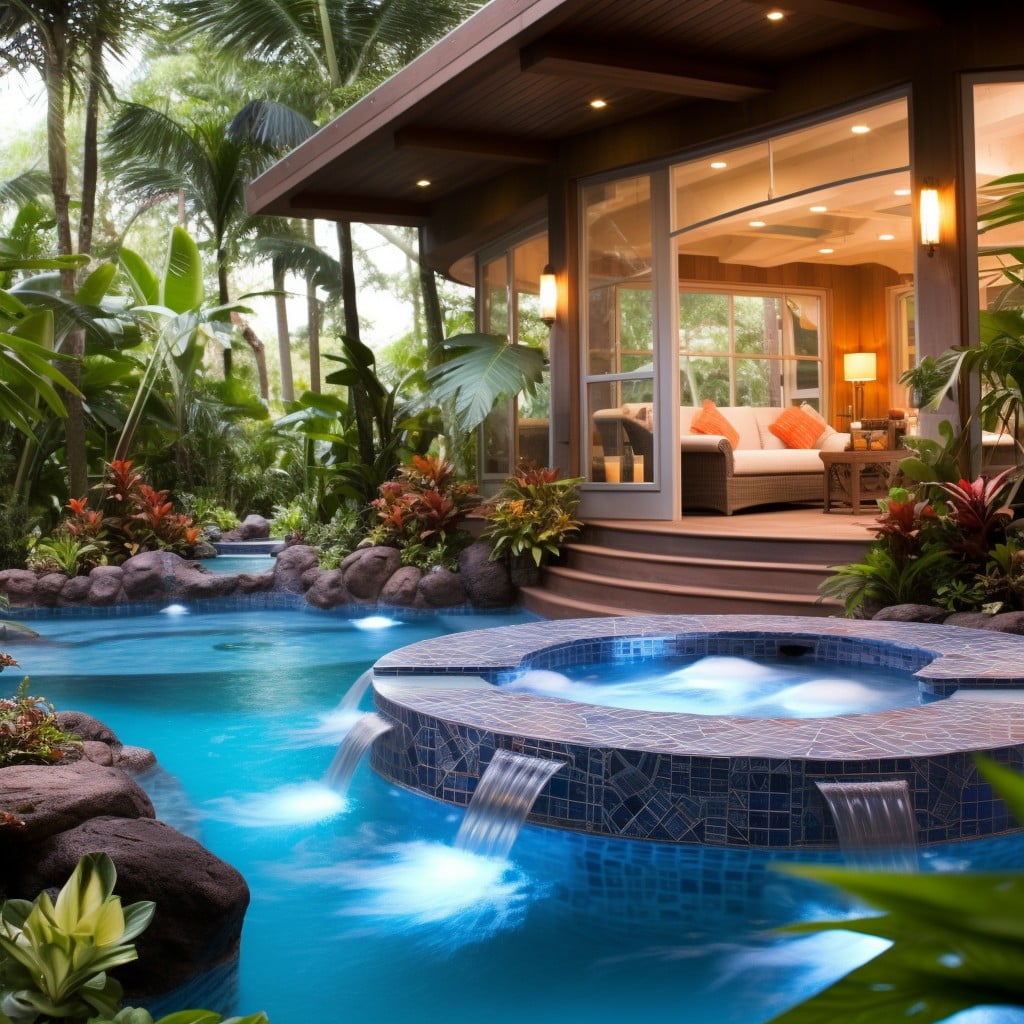 Melding a hot tub into your pool design creates dual functionality for relaxation and rejuvenation. This can be done in a variety of ways.
Firstly, consider an elevated hot tub that overflows into the main pool, creating a stunning waterfall effect. This design element not only visually enhances your pool area but also promotes a serene ambiance through the soothing sounds of flowing water.
Alternatively, position the hot tub to the side of the pool for a more separated yet still connected feel. This allows for a private, secluded spot for leisurely soaking away from the activity of the main pool without completely detaching from the entertainment.
Remember to select materials for your hot tub that complement your main pool's aesthetic. Use similar tiles, stones, or other finishes to maintain a cohesive appearance throughout.
Lastly, think about incorporating strategic lighting to enhance your hot tub area. Underwater LED lights or ambient lights placed around the hot tub can create a warm, inviting glow, making your evening soaks even more appealing.
Poolside Gazebo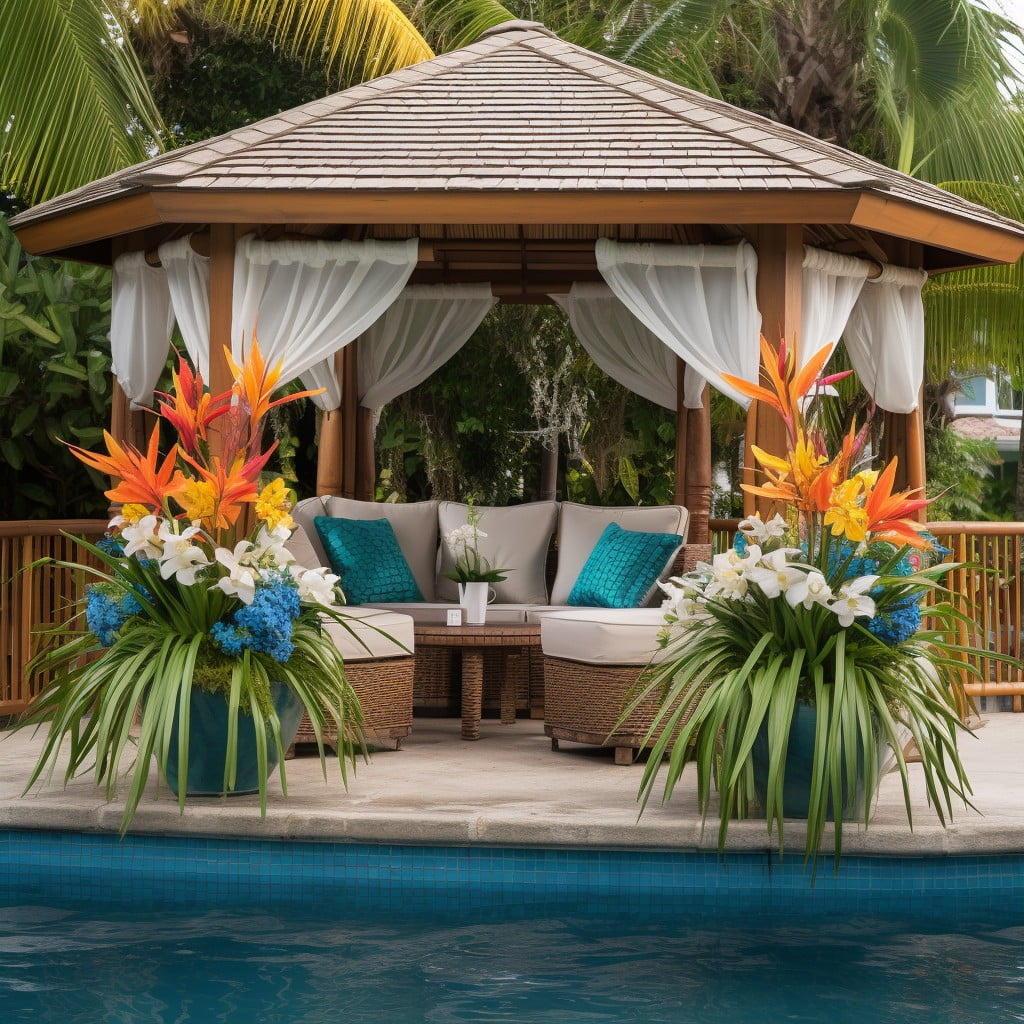 The charm of a poolside gazebo extends well beyond its aesthetic appeal. Serving as a shaded retreat, it offers a comfortable sanctuary from the sweltering summer rays.
When planning, consider the following aspects:
1. Material Choice: Weather-resistant woods or metals are ideal. Choose a design that complements your home's exterior for a seamless blend.
2. Placement: Position the gazebo a slight distance from the pool to avoid chlorinated water splashes. This can also help in separating wet and dry zones.
3. Size: Think about how you'll use this space. If it's for intimate gatherings or relaxation, a smaller structure may suffice. For entertaining larger crowds, a more spacious gazebo may be needed.
4. Furnishings: Include comfortable, water-resistant furniture where guests can recline and dry off.
5. Privacy: Depending on the gazebo's location, consider incorporating curtains or latticework for added privacy.
Remember, the gazebo isn't just for daytime use. Consider incorporating subtle lighting devices for enchanting evenings by the pool.
In-pool Sun Deck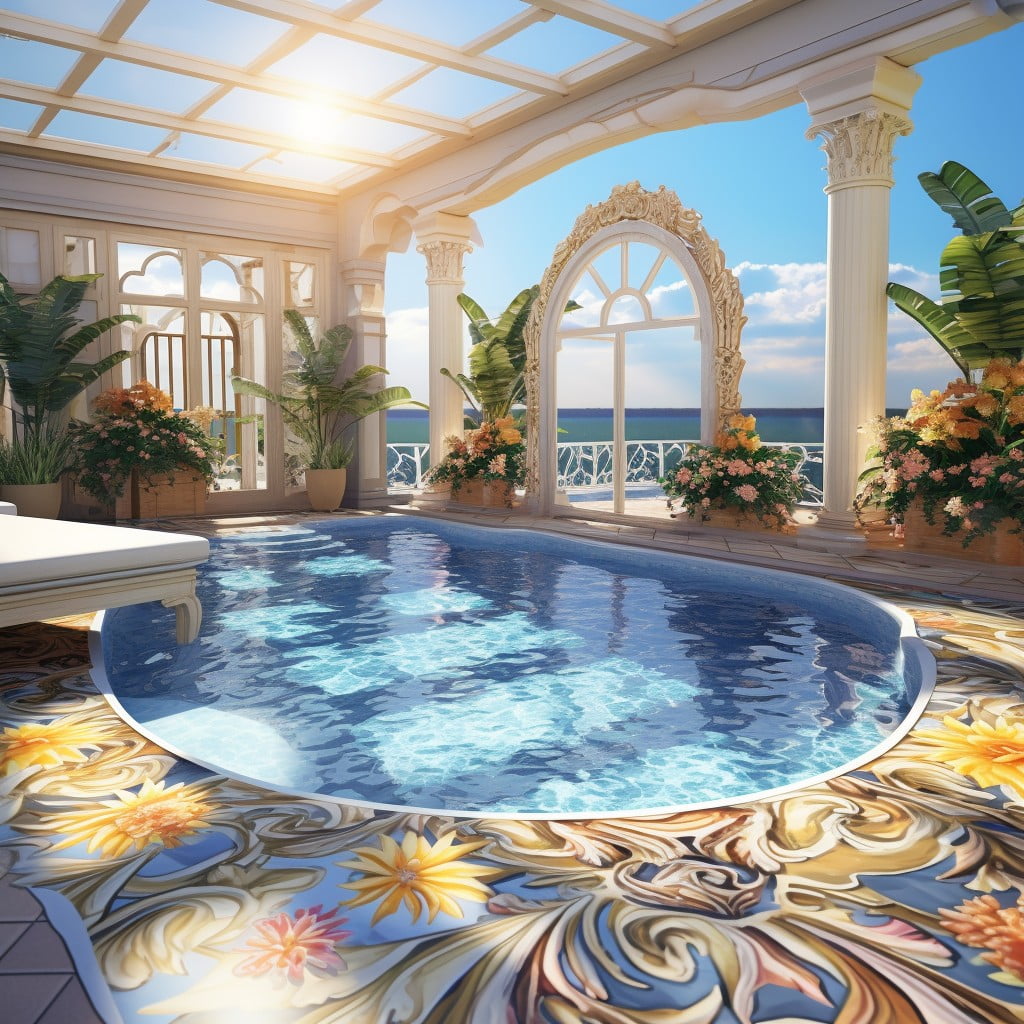 Having an in-pool sun deck offers more than luxurious lounging within the swimming area. This decor idea introduces an island-like piece within your pool, creating a spa-like ambiance right in your backyard.
Here are distinctive points to keep in mind:
Functionality: The in-pool sun deck encourages relaxation, and is often furnished with sun loungers or built-in seating for utmost comfort.
Size and Shape: Compatible with almost any pool size or shape, an in-pool sun deck typically occupies a corner or side of the pool. Its size usually allows for a few individuals to lounge, without compromising swimming space.
Materials: Usually constructed of the same material as the pool for consistency, popular choices include concrete or stone. Keep the material slip-resistant for safety.
Depth: Typically a few inches deep, it offers a shallow area where bathers can sunbathe while still immersed in water.
Planning and design are key. Work with a professional to avoid compromising the structural integrity of your pool, ensuring it seamlessly enhances both the functionality and appeal of your poolside space.
Liked reading this? Here's more:
Recap: