Last updated on November 10, 2023
Dive into this treasure trove of outdoor table decor ideas because these inspiration-packed suggestions are here to transform your alfresco dining into an enriched visual delight.
I am proud to have penned this article on 20 Outdoor Table Decor Ideas and created the unique designs you'll see, hoping it'll inspire and provide as much fun for you as it did for me during its creation.
When it comes to outdoor table decor, the possibilities are endless. Whether you're hosting a casual barbecue, an elegant alfresco dinner, or a festive garden party, the right table decor can set the mood and reflect your personal style.
This article will explore a variety of outdoor table decor ideas, from centerpieces and tablecloths to lighting and place settings. You'll discover how to combine colors, textures, and elements to create a captivating outdoor dining experience.
Stay tuned for detailed tips, creative suggestions, and practical advice to enhance your outdoor table decor.
Mason Jar Flower Arrangements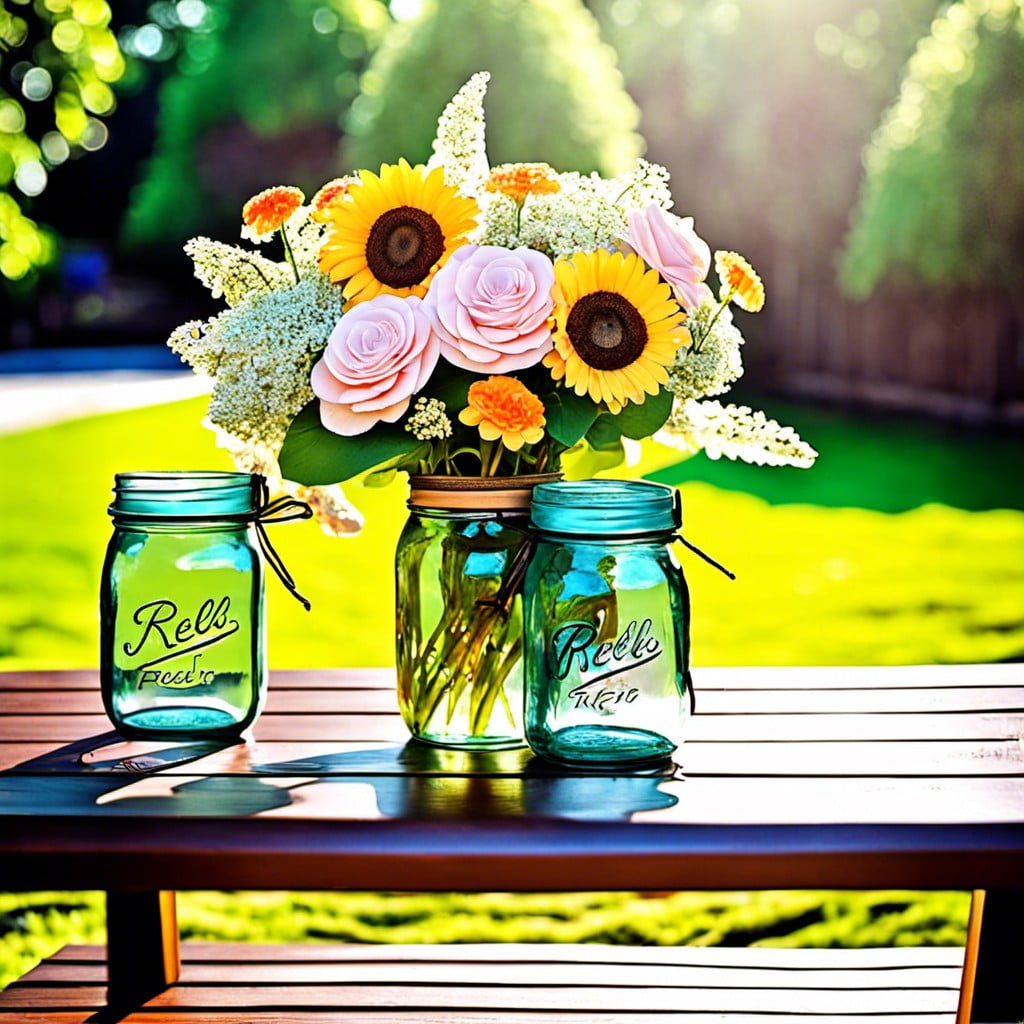 Creating these centerpiece pieces is fun and easy! Here's what you need to get started:
1. Gather a variety of eclectic mason jars. Different shapes, sizes, and colors will give the display depth and dimension.
2. Choose fresh blooms. Seasonal flowers will not only look lovely but also add a festive touch.
3. Trim the stems to the desired length. They should be long enough to easily slip into the mason jar but short enough for the flowers to rest along the rim.
4. Fill the jars with water.
5. Arrange the blooms within each jar. Use complementary colors and textures to make your arrangement visually appealing.
6. Opt for cluster grouping. Placing several smaller jars together creates a striking focal point.
These charming arrangements are cost-effective and delightful to the eyes. Plus, the added bonus of easy-to-replenish flowers makes this an ideal decor piece for any outdoor table setting.
Citronella Candle Centerpieces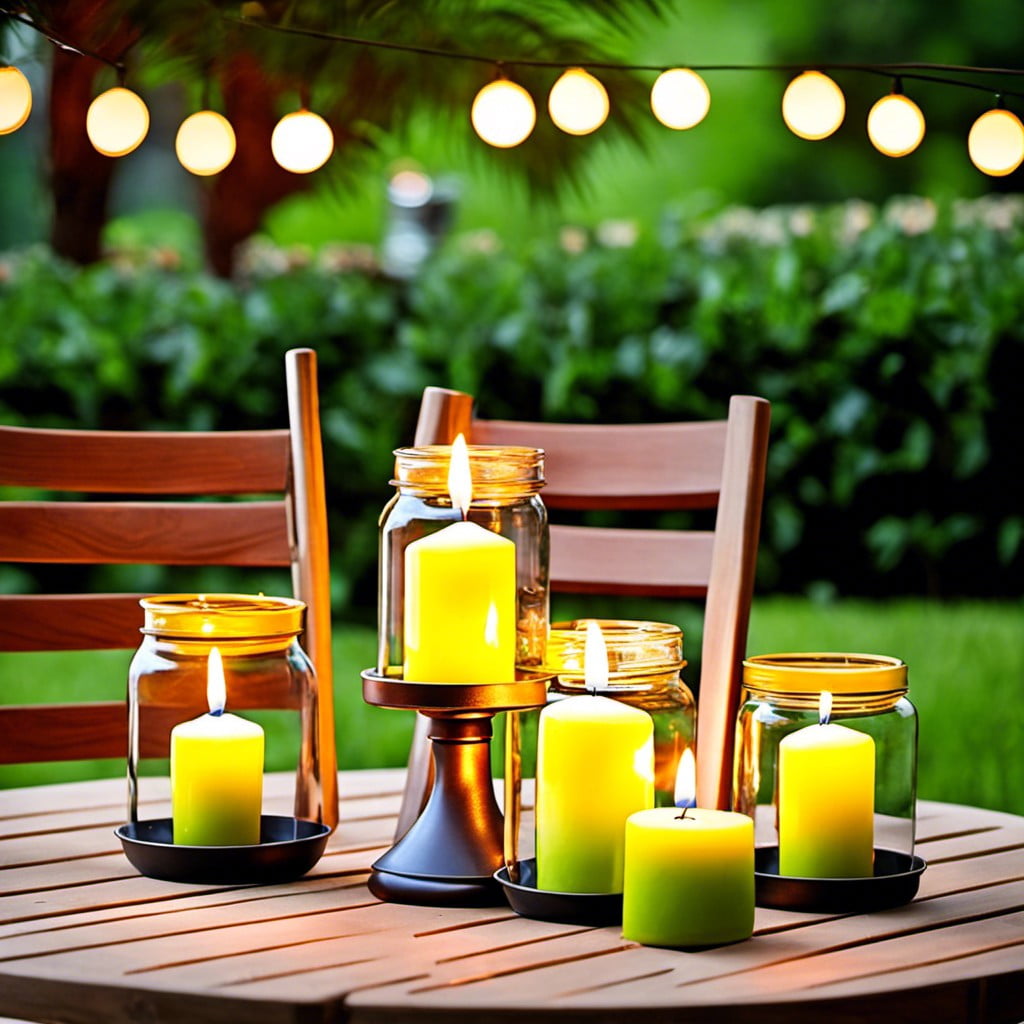 When aiming to create an inviting and comfortable atmosphere for your outdoor gathering while also keeping pesky insects at bay, nothing works quite as well as citronella candles. They provide charm and practicality in equal measures. These candles, often housed in attractive jars or tins, can form an excellent centerpiece in your outdoor table setting.
To maximize their effect:
Spread Them Out: Instead of clustering all your candles in the center, consider spreading them out along the table's length. This creates a more evenly distributed light and also expands the area within which insects are repelled.
Incorporate Greenery: Surrounded by small plants or floral arrangements, your citronella candles can blend seamlessly with your overall decor.
Juxtapose Heights: Juxtapose different candle sizes and heights to add a dynamic and eye-catching flair to your outdoor setup.
Color Coordinate: Choose containers that match or complement your overall color scheme for a more visually harmonious look.
Safety First: Ensure they are out of reach of children and pets, and remember to put them out at the end of the event.
By thoughtfully placing your citronella candles, you can effectively enhance the aesthetic appeal of your outdoor space while ensuring a bug-free and aromatic environment for your guests to enjoy.
Wine Bottle Candle Holders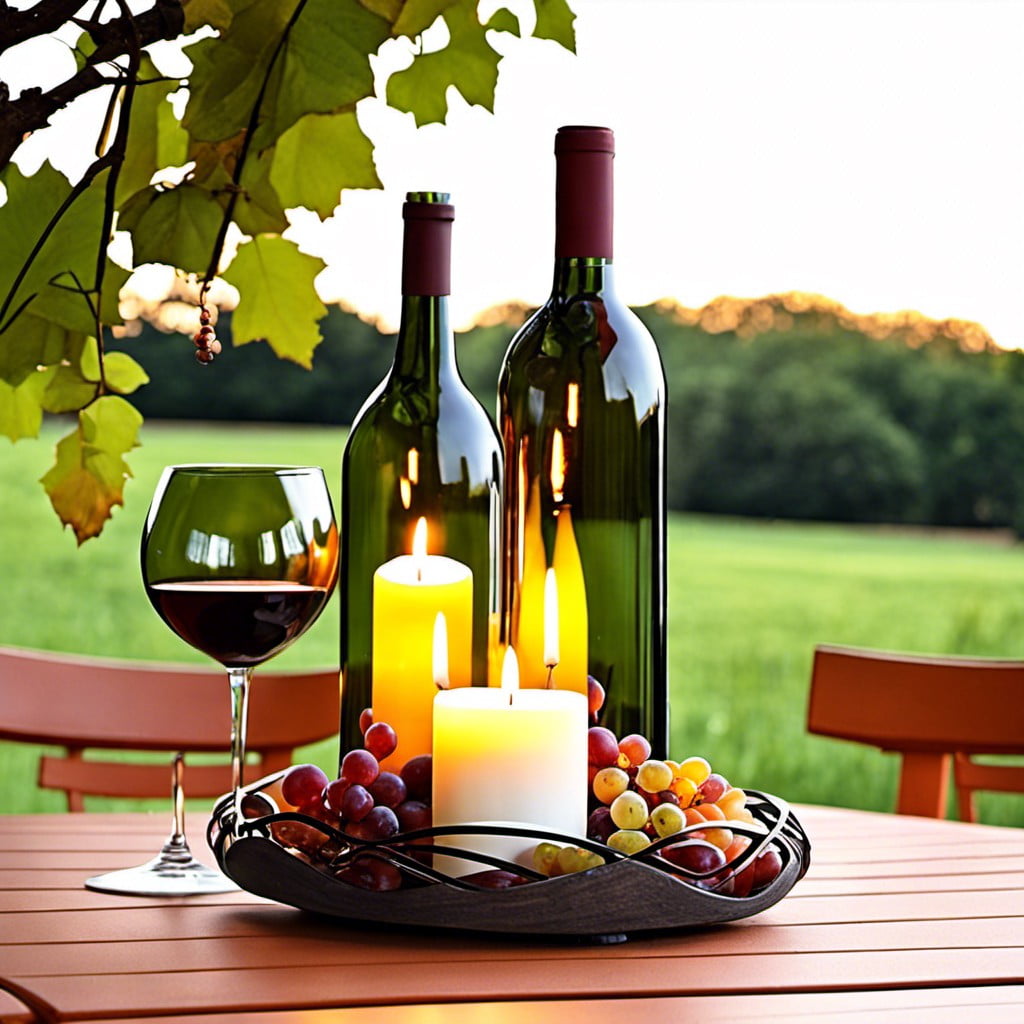 Creating these unique candle holders is a breeze. Start by cleaning your old wine bottles. Then, purchase pre-waxed wicks with attached metal bases for easy installation. Feed the wick through a specialized metal disc known as a "wick holder" that rests on top of the bottle's opening.
Now, choose your preferred wax, which can be soy, paraffin, or beeswax based on your preference. Heat it up and carefully pour it into the bottle, ensuring the wick remains centered. Allow the wax to set. Once hardened, trim the wick down to an appropriate length.
Your DIY wine bottle candle holder is ready to sparkle. Not only will it fill your outdoor table with a warm, mesmerizing glow, it also serves as a great conversation starter. Plus, it's a fabulous way to recycle your empty wine bottles.
Consider the ambiance you want your extra touch to create. For a more vibrant look, find colored glass bottles. Or for an extra touch of elegance, opt for clear bottles. Graduate the height of your bottles for a striking, staggered look.
Tropical Fruit Centerpieces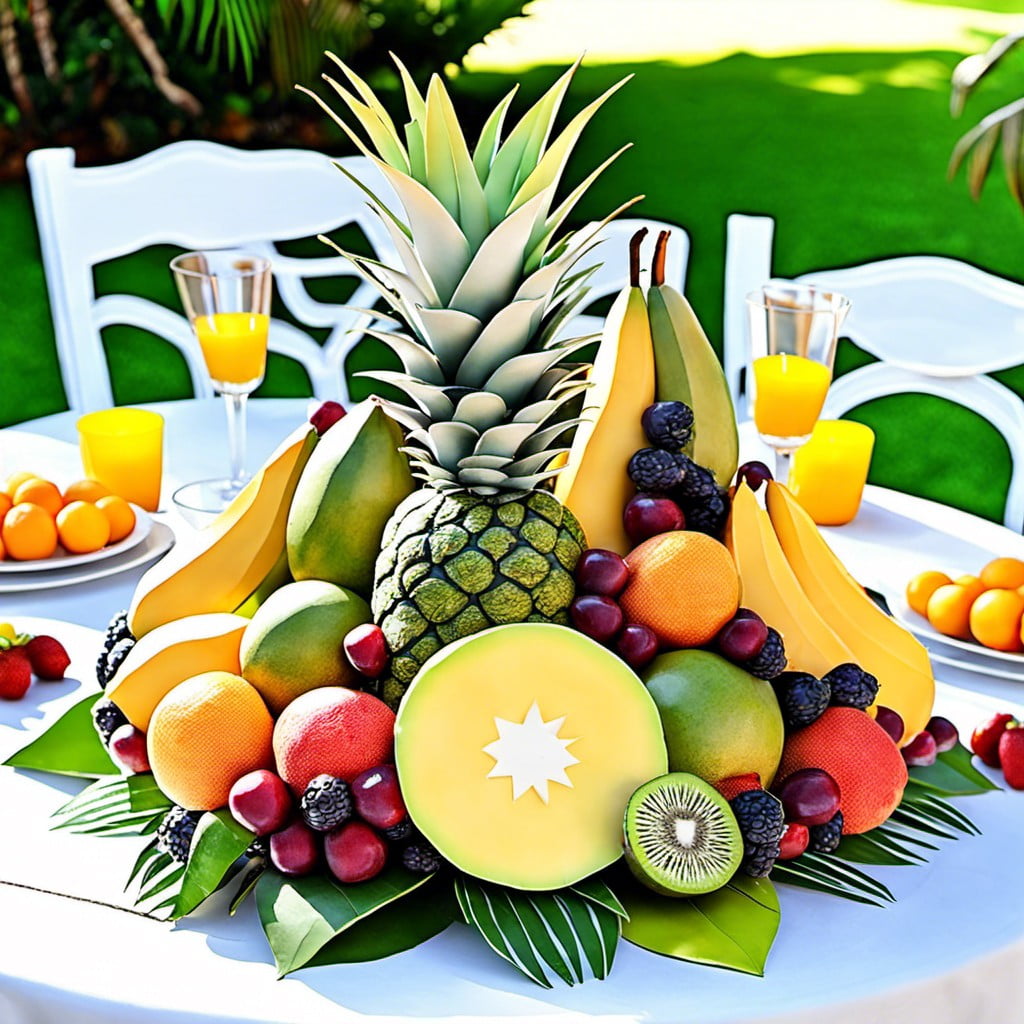 To create an aesthetically engaging yet functional centerpiece, consider harnessing the vibrant colors and unique shapes of tropical fruits. Pineapples, for instance, can double as vases while serving as a delightful feast for the eyes. Cut off the top, hollow out the core, and fill it with a bounty of bright, beautiful flowers. Coconuts, cut in half, could hold tea lights or miniature tropical flowers for a mini-island vibe.
For a simpler approach, arrange a selection of whole fruits like mangoes, bananas, and passion fruits in an elegant bowl for a natural, vibrant presentation. You can further elevate this by adding some leafy greens like ferns or palm fronds beneath or around the bowl. Lastly, don't forget to spray your fruits with a mixture of lemon juice and water to keep them looking fresh and juicy throughout your outdoor event.
Romantic Fairy Lights Garland
Harnessing the soft glow of fairy lights can take any outdoor table from ordinary to extraordinary. They create an intimate, magical atmosphere, ideal for late evening get-togethers.
Here are some quick points to remember:
Opt for warm white lights for a romantic effect.
Use them to highlight key elements on your table, such as a centerpiece or serveware.
They can be wrapped around the table's legs, or drape them loosely over the tabletop.
Mix styles and sizes for a unique effect, perhaps pairing tiny twinkling lights with larger lantern-style bulbs.
Ensure they're weatherproof if your event might encounter an unexpected shower.
Battery-pack fairy lights offer more placement possibilities, as there's no need for a plug socket.
Remember to turn them on just as the sun is setting for maximum impact. Your guests will be captivated by the enchanting environment at your table!
Rustic Burlap Table Runners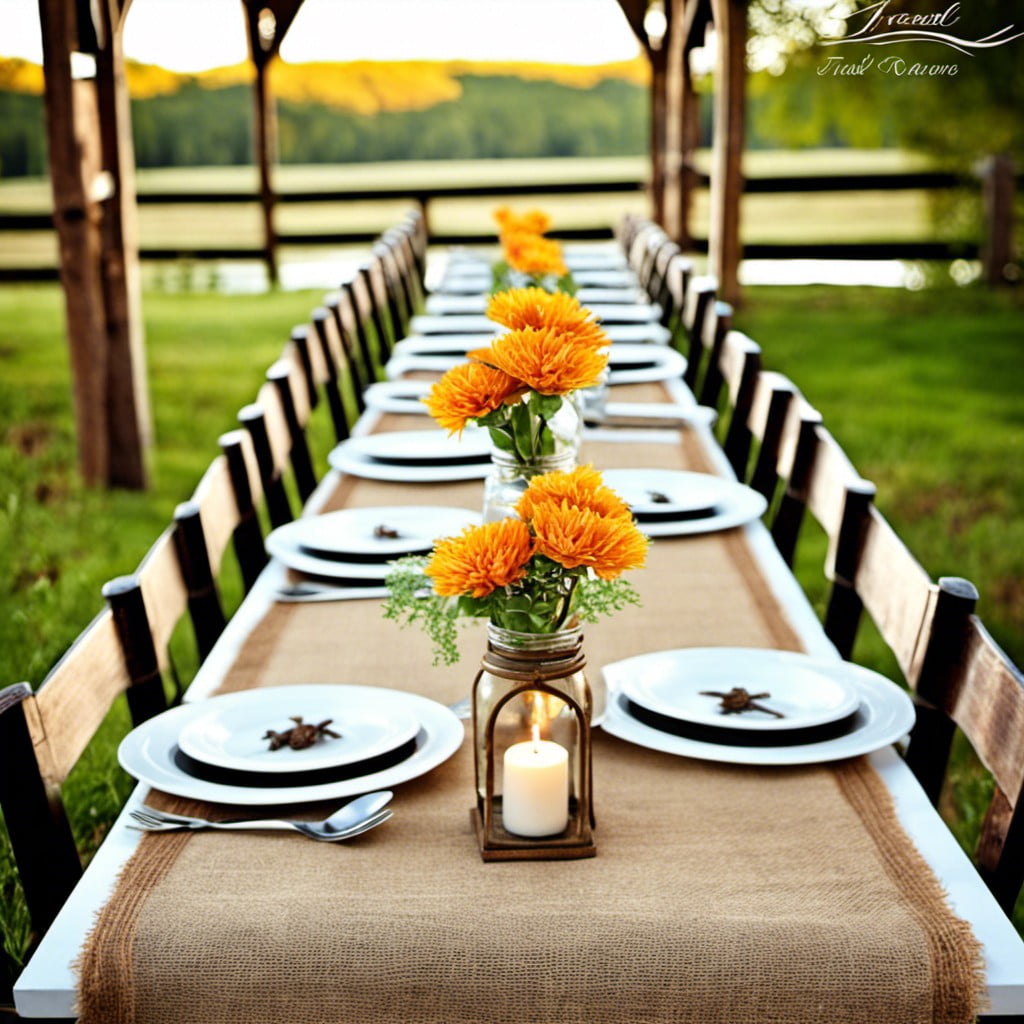 Rustic burlap table runners are an exceptional choice to intensify the outdoor ambiance. They add a country charm to any setting, making it instantly warm and inviting.
The rugged texture of burlap introduces a uniquely coarse feature that contrasts splendidly against sleeker elements like glassware and ceramics. Accentuate them with lace trimmings or twine bows to reinforce the rustic appeal.
They are highly customizable and available in a plethora of colors. Opt for natural shades for a more authentic look or intrigue your guests with dyed variants.
Whether your outdoor setup is on a porch, patio, or under a cozy pergola, these runners are notably versatile, making them a staple in outdoor décor.
Mini Herb Plant Decorations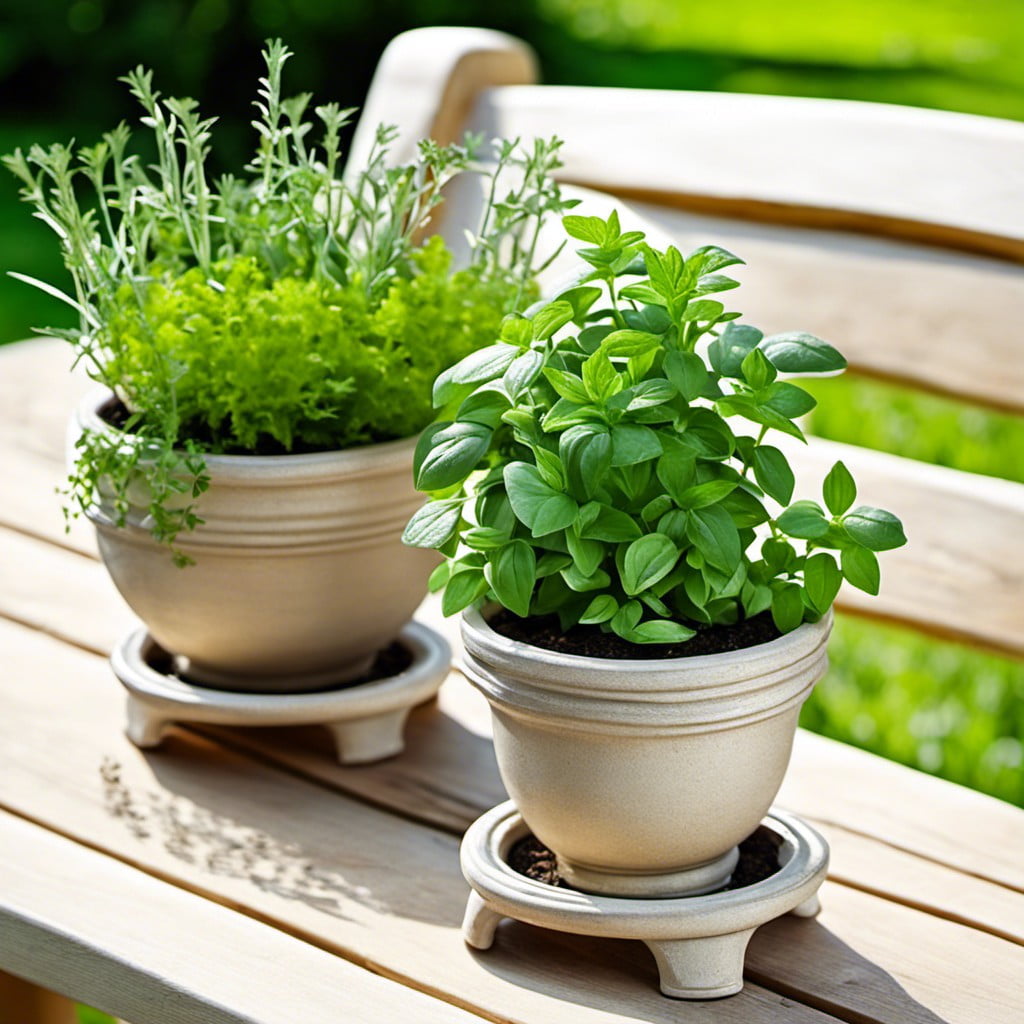 Herbs not only offer refreshing aroma but also bring in a wonderfully green garden aesthetic to the table décor. Opt for small terracotta pots and plant herbs like rosemary, thyme, mint, or basil. Remember to water them regularly to upkeep their fresh appearance.
Variety – Mix and match different herbs for variety in scent and color. Parsley and basil provide vibrant green shades, while lavender gives a hint of purple.
Layout – Arrange the mini herbs pots in the center of the table or as place-markers for a personalized touch.
Pairing – Combine with wildflowers or succulents for a more diverse and captivating table setting.
Functional – Encourage guests to pick herbs from their pot to add into their meal, doubling up décor with function.
This rustic and aromatic approach brings any outdoor table to life while doubling as conversation starters.
Paper Lanterns Hanging Overhead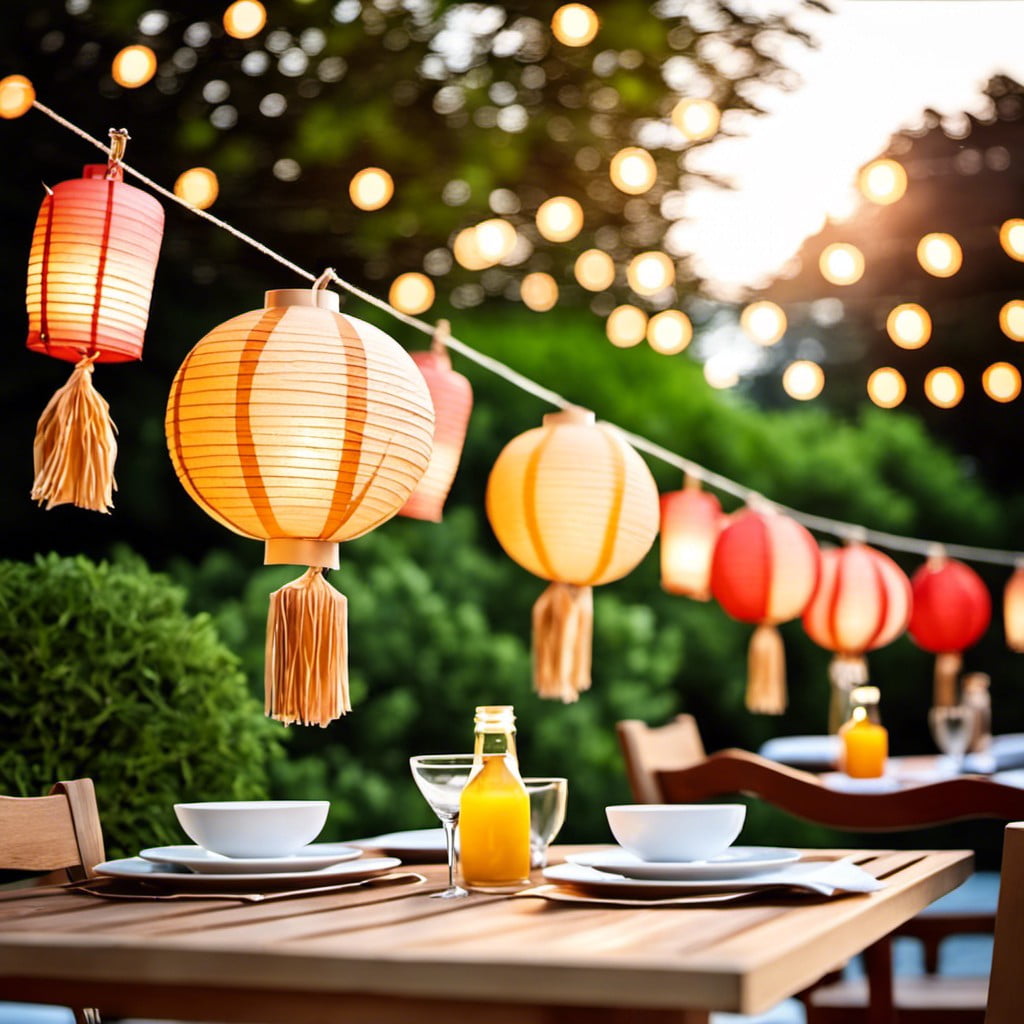 Bright, lively, and incredibly versatile, these fixtures add a splash of color and a whimsical element to your outdoor decor. To kick things up a notch, use an assorted mix of different sized lanterns. Hang them at varying heights to create a captivating light display when the sun goes down. Go for warmer tones like yellows, oranges, and reds to foster a cozy, inviting atmosphere, or cooler blues and greens for a more refreshing, serene effect.
Think about adding LED lights or battery-operated tealights inside to transform these orb-shaped beauties into luminary magic after sunset. Waterproof versions are available for those worried about unexpected showers ruining the illuminating display. The key is to strategize your lighting plan and to ensure there is a balance between light and shadow for a more dramatic effect.
Paper lanterns aren't just for lighting. They also serve as excellent conversation starters due to their unique and charming quality. So, whether you're hosting a casual summer barbecue or an elegant evening soirée, these floating orbs of light would be a delightful addition to your outdoor table decor.
Brightly Colored Tablecloth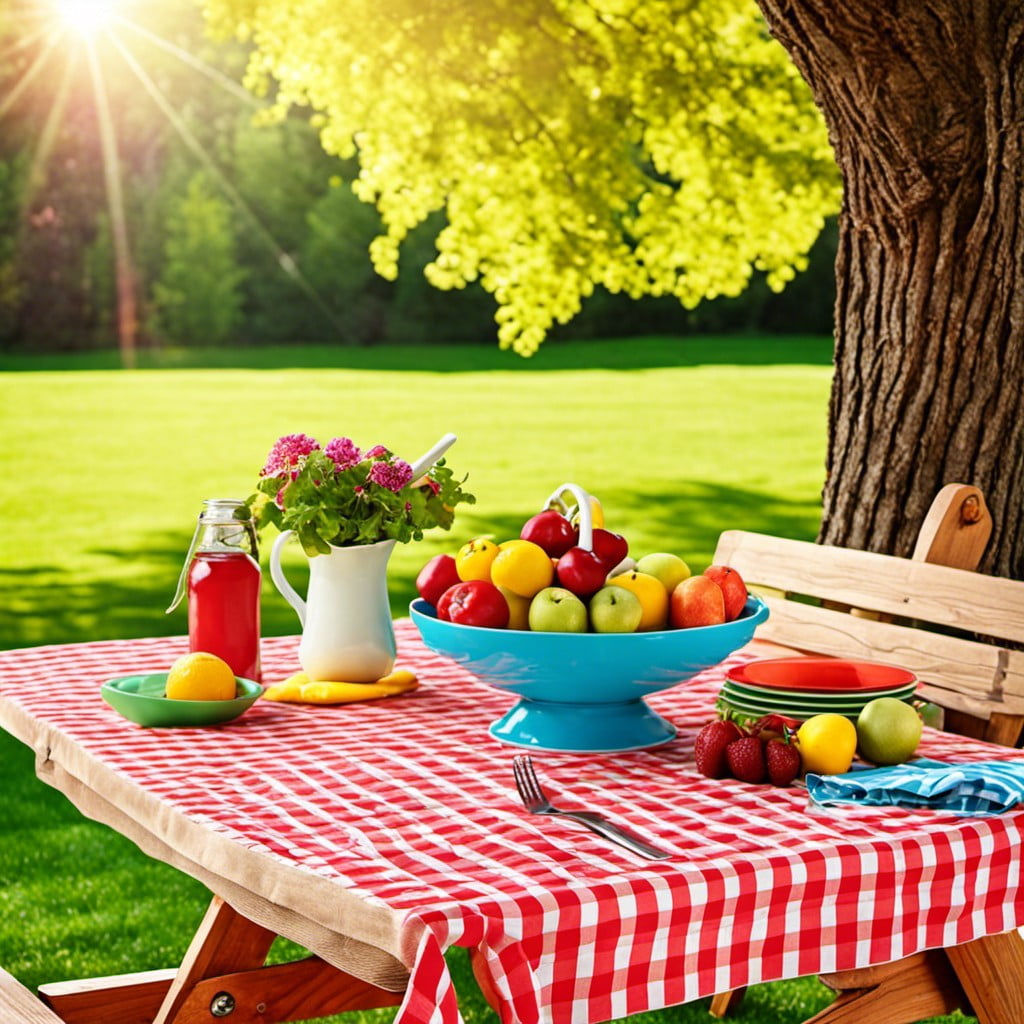 Opting for a vibrant tablecloth can instantly elevate your outdoor setting. Warm hues like reds, yellows, and oranges create an inviting atmosphere, ideal for casual summer BBQs. Cooler shades, such as blues and greens, are excellent for crafting a serene environment for afternoon tea or brunch. You could even consider patterns, like florals or geometrics, to add an extra touch of creativity.
1. Reds, yellows, oranges suggest warmth and are great for barbecues.
2. Blues and greens evoke serenity, suitable for afternoon tea or brunch.
3. Patterned cloths with floral or geometric designs add creativity.
4. Contrast your tablecloth with complementary colored tableware for an eye-catching effect.
5. Checkered patterns create a classic outdoor picnic vibe.
The key is to have fun and experiment with different colors and patterns to find what works best for your entertaining events.
Seashell and Sand Table Centerpiece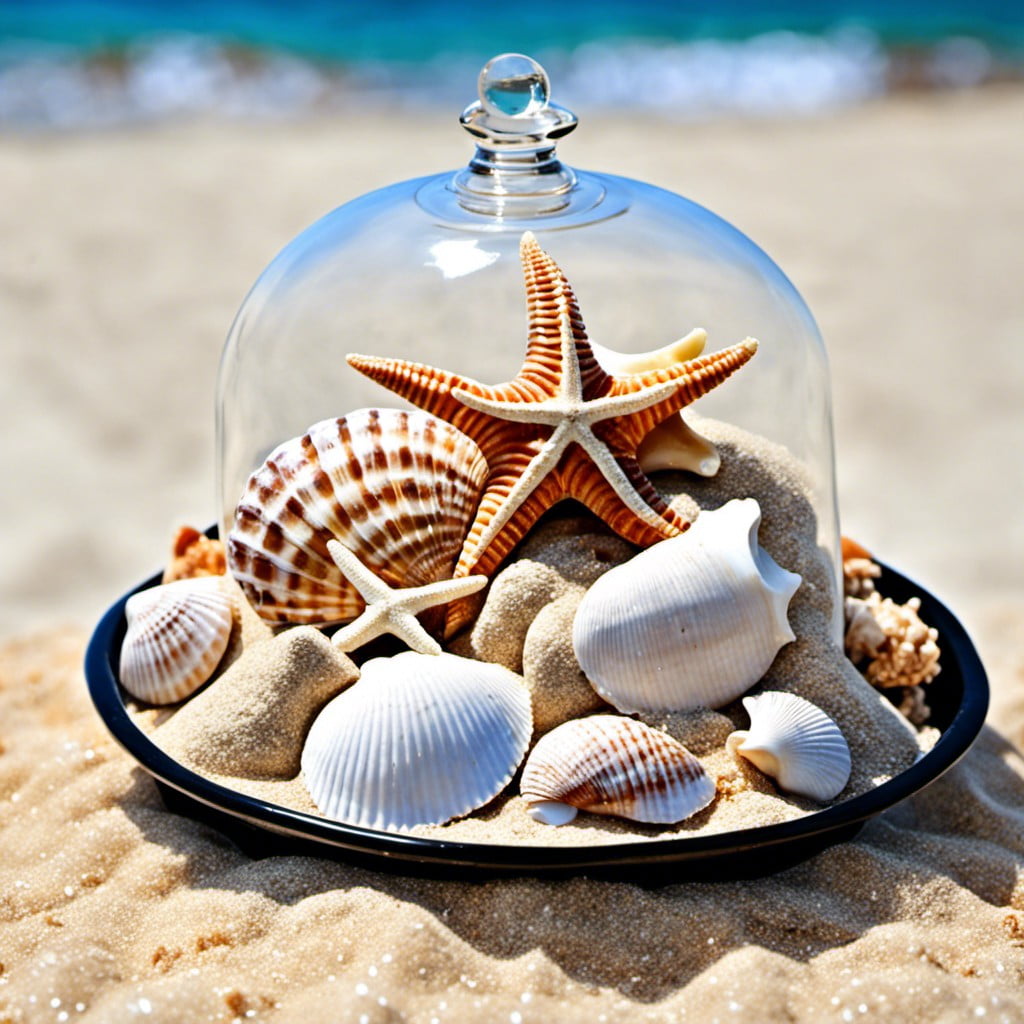 Creating this stunning centerpiece is all about activating your beachcomber instinct. The alluring beauty of seashells, smoothed and shaped by the ocean, when combined with sand, evokes a sense of serene beach escapism. There are multiple ways to bring this idea to life-
Use a clear, shallow dish as your canvas, filling it with sand as your base.
Spread a mix of seashells – varying in shapes, sizes, and colors for visual interest. A hint of sea glass can add an extra sparkle.
For an immersive experience, consider adding larger starfish or pieces of driftwood.
Add candles or tealights to make the arrangement eye-catching in the evening. Rocking it in the middle of your outdoor table not only provides a visual feast but also sparks intriguing conversation.
Remember, simplicity is key here. The natural elements do their work, creating a centerpiece that is both visually appealing and nostalgic of the seaside.
Tin Can Lanterns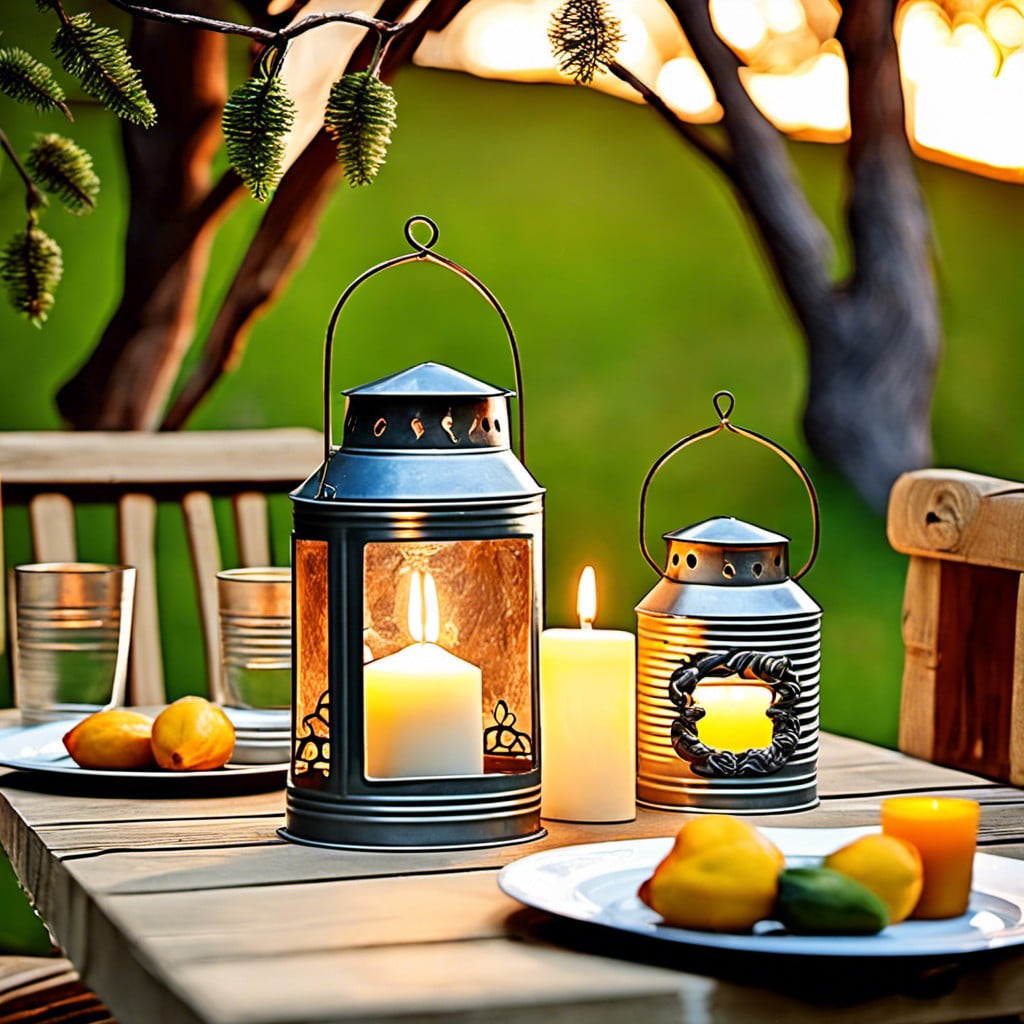 Delving into this quaint and eco-friendly choice, crafting tin can lanterns can be an enjoyable DIY project. These lanterns not only provide subtle light for evening gatherings but also add a rustic charm to any outdoor setting.
1. Gather Used Tin Cans: The size varies depending on the desired ambiance.
2. Create Design and Punch Holes: This can range from a simple dotted pattern to intricate motifs. A nail and a hammer suffice for the task.
3. Paint: Choose weather-resistant paint to spruce up your lanterns, picking colours that complement your outdoor color scheme.
4. Insert Light Source: LED tea light candles are a safe option. They emit a pleasant glow, mirroring the patterns punched onto the can.
While a fun and cost-effective form of light décor, tin can lanterns also promote recycling, embodying beauty in sustainability.
Painted Terracotta Pot Clusters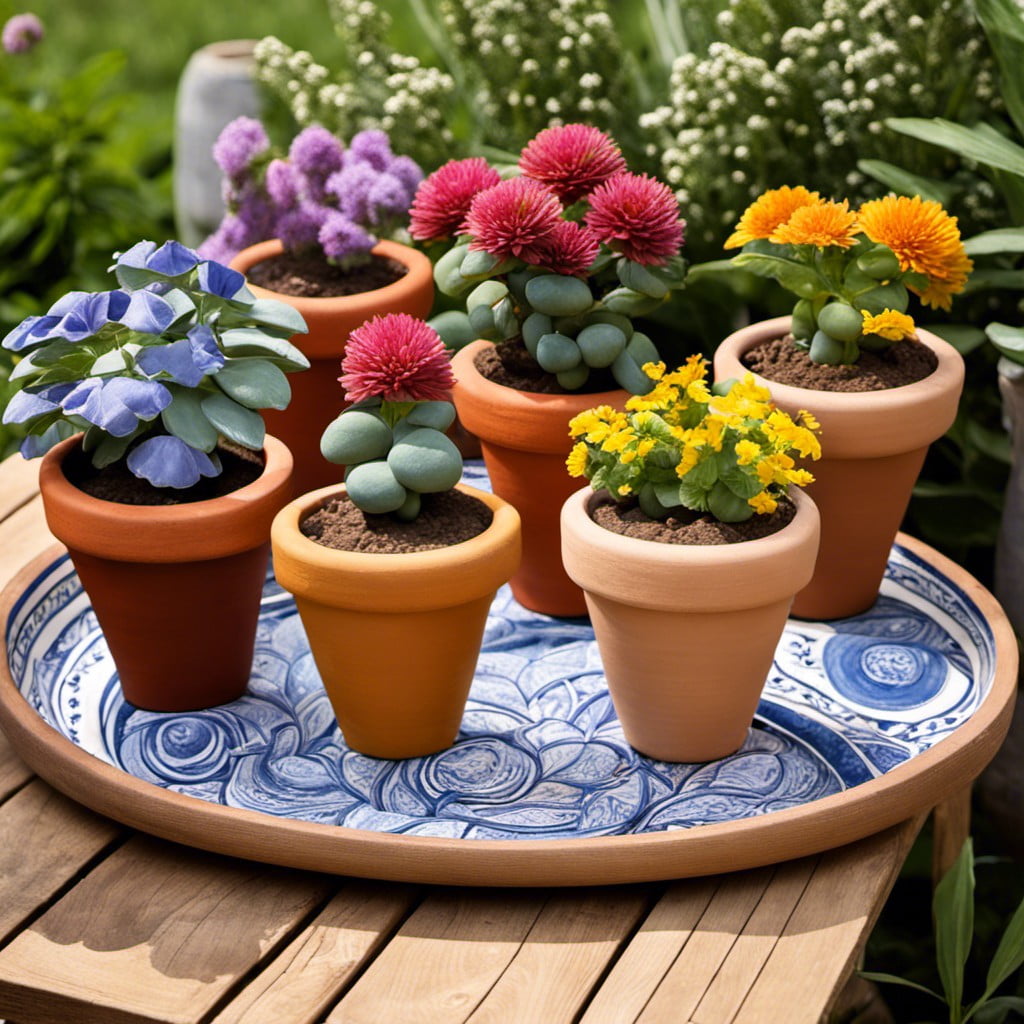 Crafting a unique tablescape is an art form and using painted terracotta pots as clusters can easily give your table a low-cost, charming appeal. Here are some concepts to guide your creativity:
1. Size matters: Diversifying the size of your pots – tiny, small, and medium – can create an interesting visual dynamic. Remember to maintain balance.
2. Coordinate your palette: Decide on your color scheme. While monochromatic palettes lend a classy touch, vibrant multi-colored pots can steep your space in cheer.
3. Consider patterns: Geometric shapes, polka-dots, or stripes can further enhance the playfulness of your pots.
4. Mind the placement: A cluster might be the centerpiece or be split into mini-clusters for a longer table. Reiterate patterns for consistency.
5. Plant selections: From hearty succulents to fresh herbs, what you put in the pots can have a big impact.
6. Add height: To lend vertical interest, consider placing some pots on tiny, sturdy pedestals.
7. Use appropriate paint: Choose an outdoor acrylic paint to ensure the longevity of your artwork.
Keep these tips in mind to seamlessly incorporate painted terracotta pot clusters into your outdoor table decor. Enjoy the process and your guests will, too!
Seasonal Vegetable Place Cards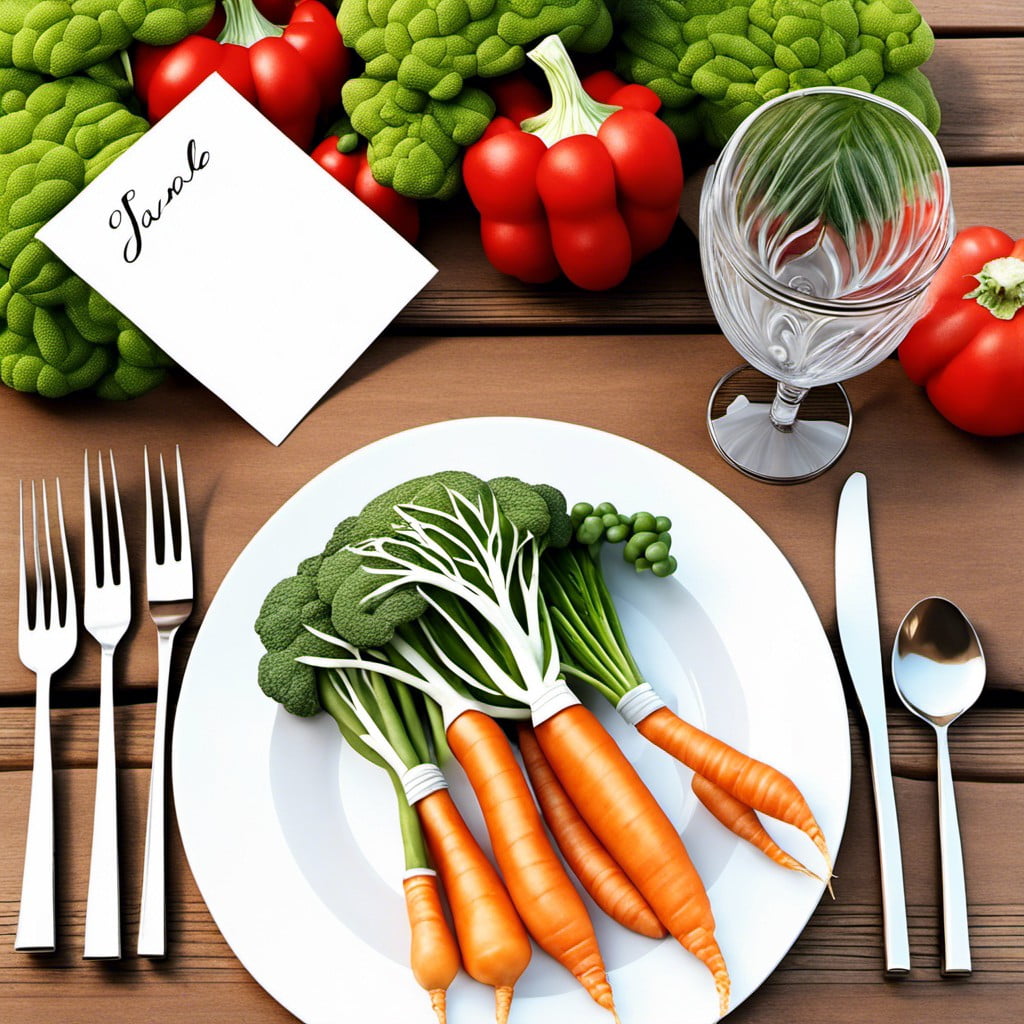 Utilizing seasonal produce for marking seating assignments not only adds a dash of color and interest to your outdoor tablescape, but also creates a charming and affordable conversation starter. Here's how you can incorporate this delightful and nutritious concept into your outdoor décor.
1. Select Vibrant Produce: Choose brightly colored vegetables reflective of the season, considering both aesthetic appeal and size.
2. Opt for Variety: Mix and match different types of vegetables. This lends an air of unpredictability and fun.
3. Attach Tags: Use a thin piece of string or twine to affix the names of your guests. For an even more rustic feel, you could consider writing names directly on the vegetables with a calligraphy pen.
4. Consider Placement: Be creative with placement. If your outdoor seating arrangement involves a buffet-style meal, place these cards next to relevant cutlery.
5. Maintain Freshness: Prepare these on the day of your event to ensure your chosen vegetables maintain their freshness and vibrant color.
Wooden Crates As Serving Stands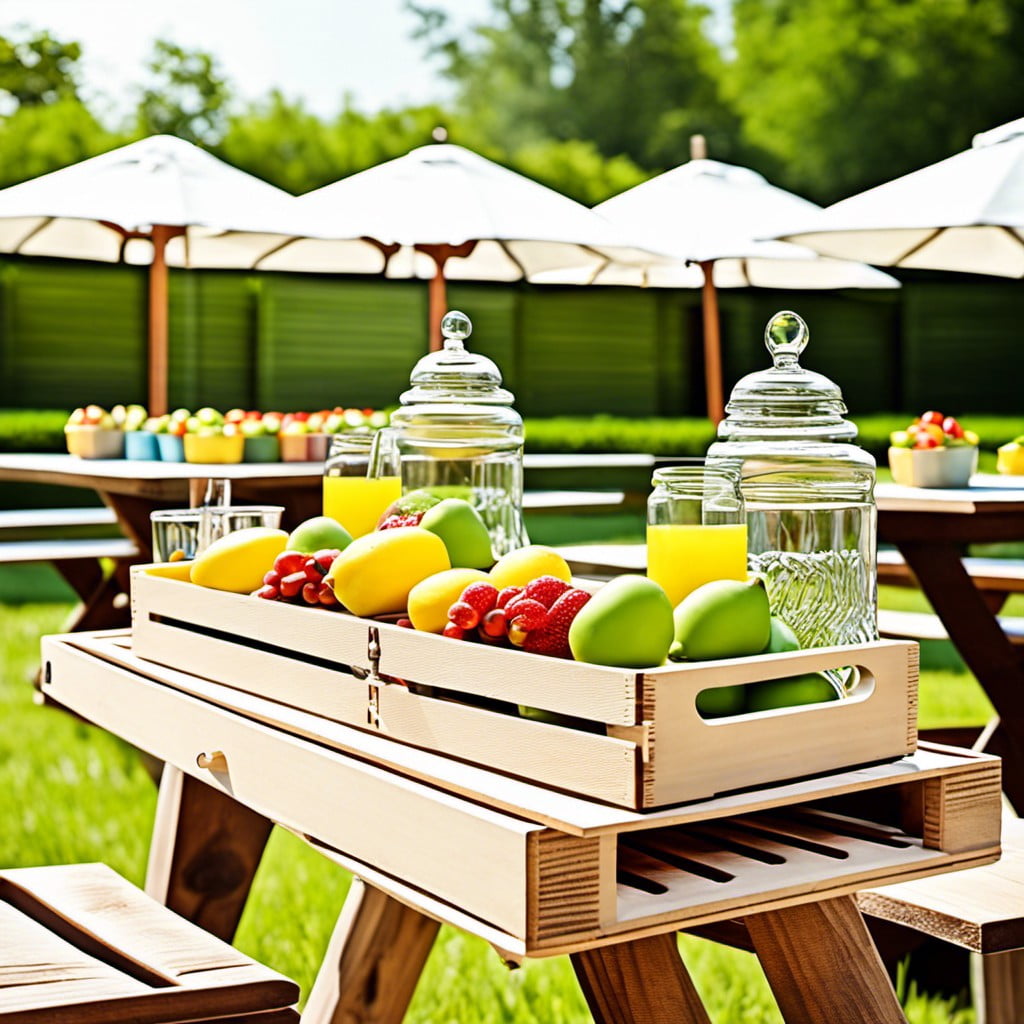 Repurposing and recycling old material is an ardent decor trend. Wooden crates, traditional storage materials have recently found immense popularity in this respect. Here are some pointers to transform these humble crates into artistic serving stands:
1. Durability: Wooden crates, being sturdy and resilient, can easily hold heavy dishware, glassware and assorted food items.
2. Versatility: They can be arranged in different formations – stacked vertically for a dessert stand, or horizontally for buffet-style dining.
3. Personalization: Customize crates with paint or varnish to coordinate with your table setting. Or leave them bare, for a rustic feel.
4. Height Variation: Add visual interest to your tablescape by creating different levels. This can highlight specific dishes or decorative accents.
5. Add-Ons: Incorporate mason jar vases, tealight candles, or small bunches of flowers onto the crates for a layered, eclectic look.
6. Easy Storage: When not in use, crates can be conveniently stacked and stored away, saving space.
Ensure these crates are clean and properly treated to prevent any mishaps. Acquiring crates is fairly easy from local grocery or wine stores, often free or at a low cost. This feasible, eco-friendly option certainly infuses charm and character to any outside setting.
Wicker Basket Flower Pots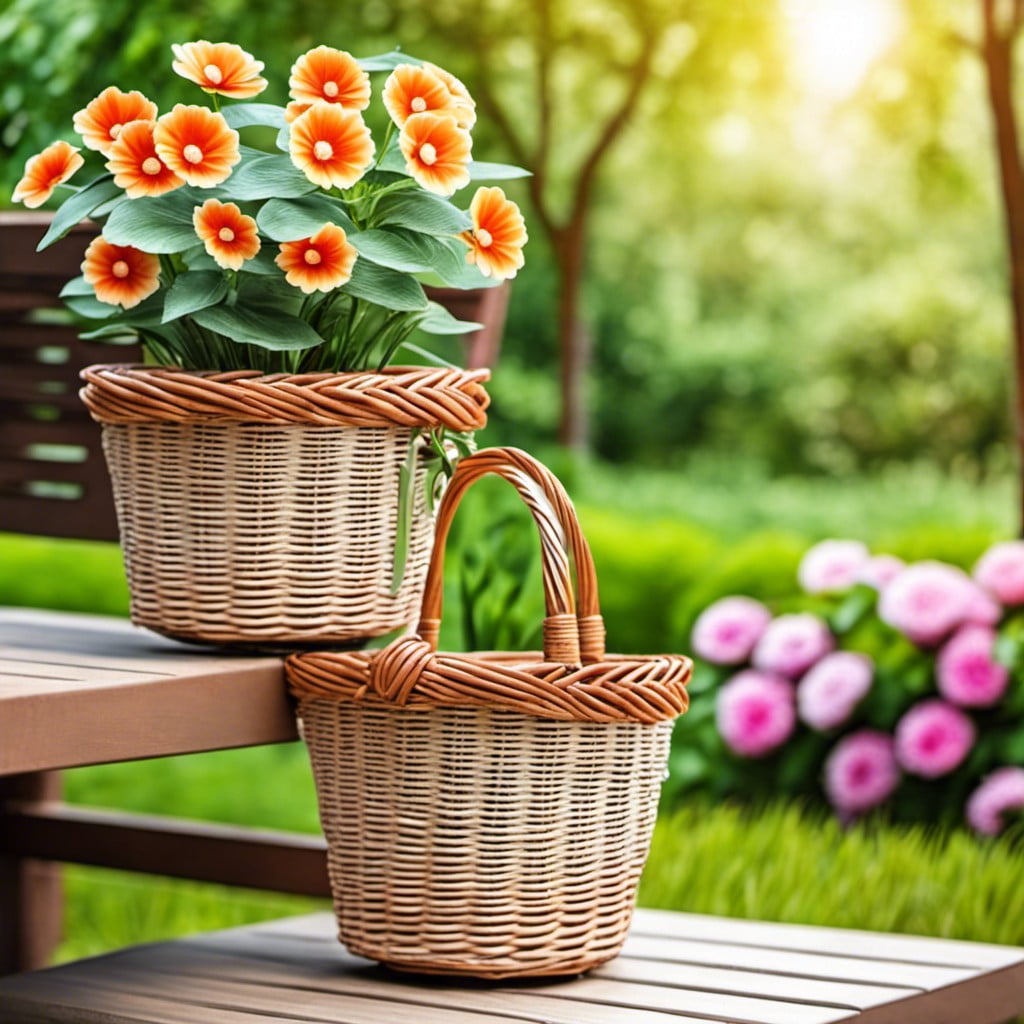 The charm of wicker basket flower pots is in versatility and texture they add to any outdoor space.
Choose varying sizes to create depth and visual interest, and consider adding a liner to protect your baskets from moisture damage.
To maintain a cohesive look, opt for flowers and plants with similar care requirements.
This can range from vibrant geraniums for a pop of color, to aromatic herbs like rosemary and thyme, serving a dual purpose – décor and cooking.
Remember, for a naturally radiant showstopper, position your baskets for optimal sunlight.
This idea allows flexibility in design, convenience in care, and endless possibilities for a lush and thriving centerpiece.
Vintage Trunk Coffee Table
Well-loved for their rustic charm, these timeless pieces can function both as an addition to seating arrangements and a focal point around which other elements revolve. The weathered surface of the trunk adds a layer of character, making each table unique. For practical use, models with flat surfaces are preferable; although, a glass panel can always be added atop irregular trunks.
Decorating around a vintage trunk table can be adventurous. Consider accenting its unique personality with an antique globe, old novels, or a vintage lamp for an added period feel. Meanwhile, softening the industrial element with a lace table runner or flower arrangement is also an effective approach.
And while vintage trunks are often paired with similar "old-world" aesthetics, don't be afraid to juxtapose it against a modern background. This balance can synergize beautifully and lead to a fascinating design sure to captivate guests. Whether used for summer family gatherings or moonlit dinner parties, the vintage trunk coffee table is a versatile choice worth considering for outdoor table décor.
Origami Napkin Designs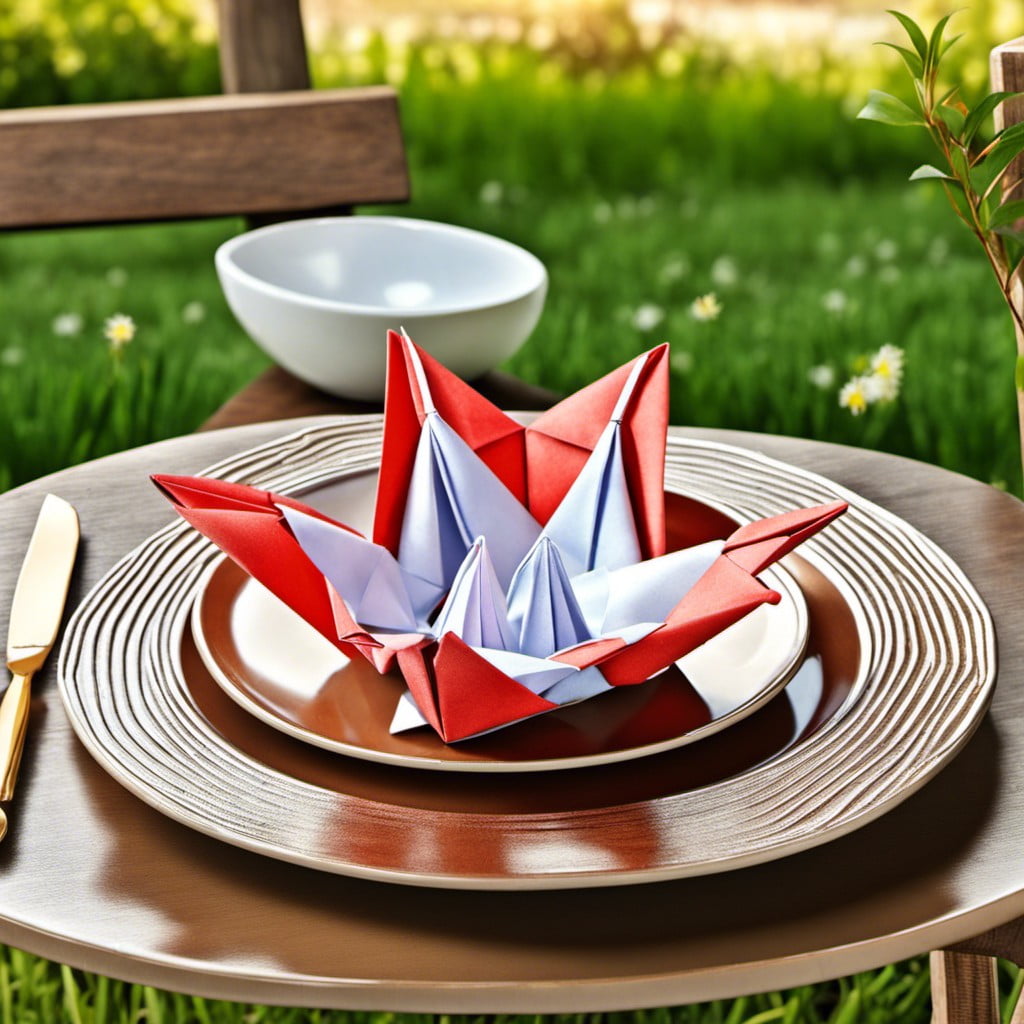 Folding napkins into beautiful shapes can elevate your outdoor table setting, adding a touch of sophistication and fun. It's a simple and cost-effective way to impress your guests.
Here are some tips and designs:
1. Butterfly Napkin: Fold the napkin into a unique butterfly disguise and place it atop the plates. It may take a little practice to perfect, but it's guaranteed to be an instant hit.
2. Pocket Napkin: For a more functional design, create a pocket fold. It's a neat way to hold your cutlery, maximizing table space.
3. Rose Napkin: Impress your guests with a rose-shaped napkin. This design requires patience, but the final outcome looks fancy and appealing.
4. Pyramid Napkin: An elegant and classic design that goes well with any table décor. It stands firmly and adds height to the setting.
Remember, starched napkins hold their form better. Smooth out each fold with your hands to sharpen the creases. With a few folds and tucks, your table setting will look professionally styled!
Do experiment with different colors and fabric textures for greater visual interest. You can always add a personal touch, like a hand-written seat card or small flower, for that extra detail.
Nautical-themed Rope and Anchor Decor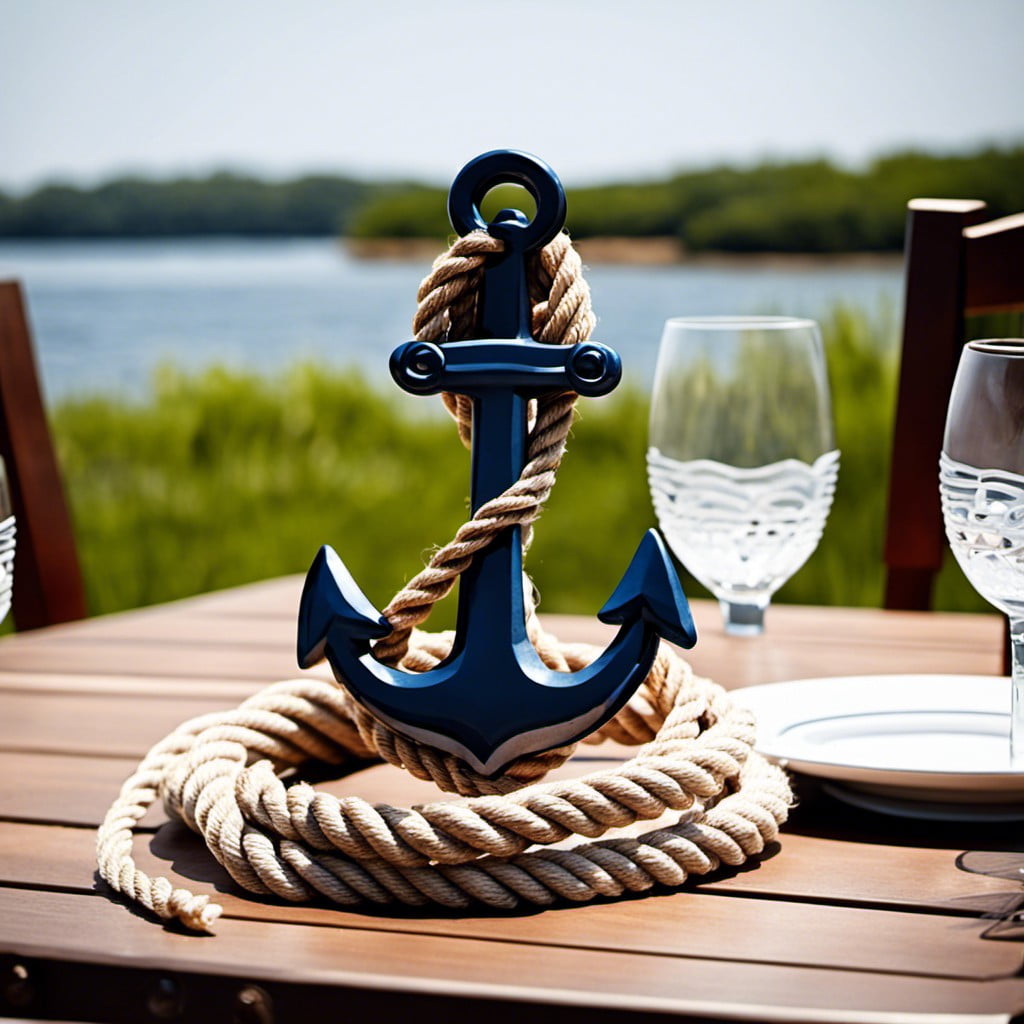 Acting as a reminder of seaside vistas, this theme perfectly augments outdoor charm. For an authentic maritime feeling, choose anchors made from weathered brass or aged iron. Knotting a sizable piece of rope casually around the anchor's curve can create a stunning, pared-back centerpiece.
Alternatively, sling strands of rope across the table like a table runner. Spice it up by weaving in some faux seashells and starfish.
To double these nautical elements as practical items, consider roped anchor bottle openers. They act not only as a conversation starter but also a utility.
Lastly, remember to balance the bold theme with simple tableware. White or cream-colored plates coupled with natural linen napkins will keep the scheme from becoming overwhelming. Just a simple touch here and there can effortlessly bring that relaxed, seafaring atmosphere to your outdoor table.
Bamboo Place Mats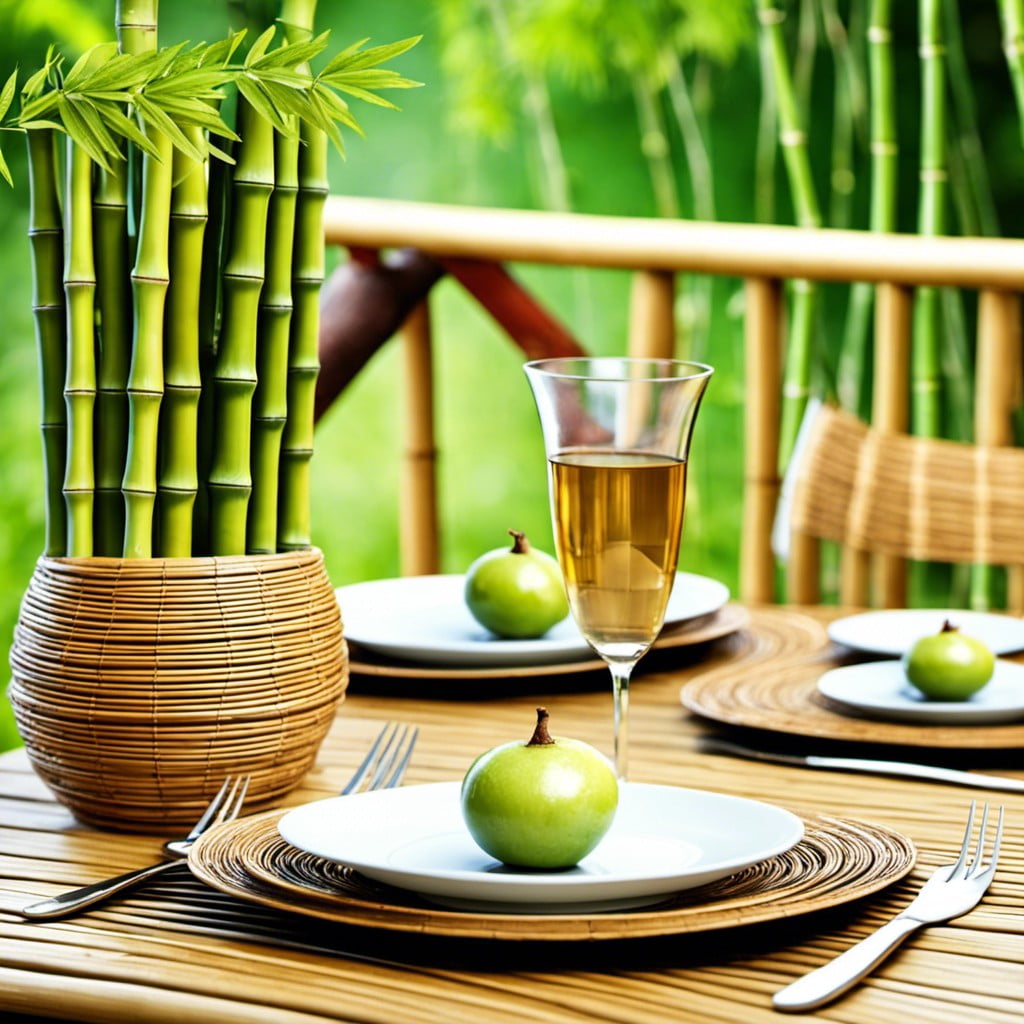 Featuring an organic texture and natural hues, these mats add a unique element to your outdoor table. They are durable, easy to clean, and create a striking contrast against bright-colored tableware. Since bamboo can stand up to the elements, these mats are especially suitable for outdoor use.
1. Contrast: Pair your bamboo placemats with vibrant tableware, such as red or turquoise, to create an eye-catching contrast.
2. Complement: Complementary elements like plant-based centrepieces or wooden serveware enhance the earthy aesthetics brought by bamboo.
3. Durability: Bamboo is robust, making it durable for repeated use and perfect for an outdoor setting.
4. Maintenance: These mats are relatively easy to clean. A simple wipe down post-meal is enough.
Incorporating bamboo placemats allows you to switch between casual, laid-back meals or elevated, formal dinners with ease. Their versatility and humble appeal truly shine in an open-air setting.
Driftwood and Tealight Candles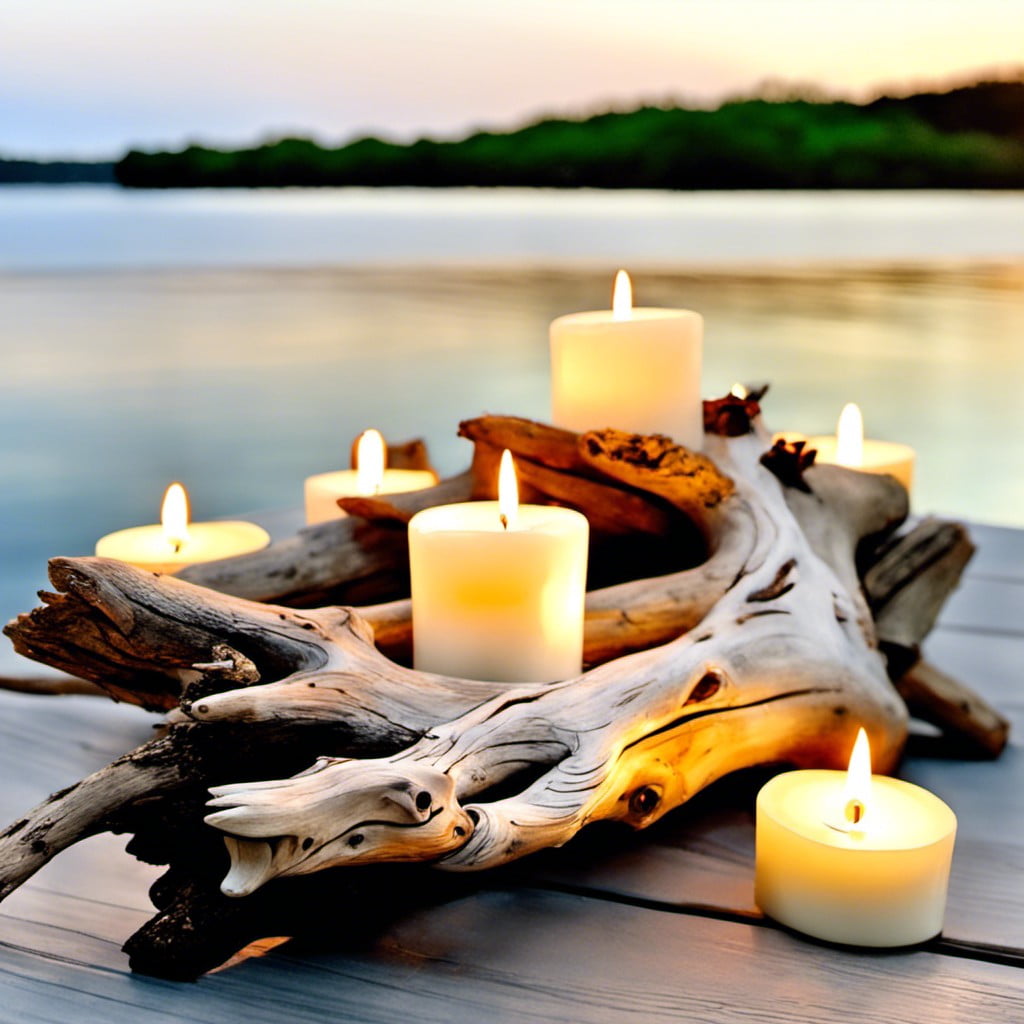 Among the versatile materials, driftwood holds a special place for its unique and natural look. Arrange them on your tables in irregular clusters, and insert simple tealight candles in between.
There is no need for refined shapes or patterns. The unpredictable aesthetic of weathered wood pairs impeccably with the soft flicker of candlelight, creating a delightful contrast. This arrangement can easily blend with any theme and adds an inviting, warm atmosphere.
For safety, ensure the candles are secured in appropriate holders. You can also use battery-powered tealights to avoid any potential fire hazards. Try to place the driftwood in a way that doesn't obstruct views across the table. For larger gatherings, consider using flameless tealights for easy maintenance.
Adding few decorations like seashells, pebbles or moss around the driftwood can further enhance the rustic charm. This is a simple, affordable but impactful decor idea that can transform your table's visual appeal.
Liked reading this? Here's more:
Recap: