Last updated on November 23, 2023
Discover innovative tent decoration ideas because making your basic camping gear look stylish can transform your outdoor experience completely.
I trust on my outstanding designs and hope you'll find inspiration in this article on 20 Tent Decoration Ideas, pinning my own creativity into each concept, as I've enjoyed crafting them for you.
Transforming a simple tent into a magical space for a special event requires a blend of creativity and practicality. Whether you're planning a wedding, a garden party, or a kid's camping-themed birthday, tent decoration can elevate the occasion.
This article will explore a variety of tent decoration ideas, from fairy lights and drapes to themed props and floor layouts. It will provide practical tips on how to effectively use these elements to create a stunning and memorable space.
With a focus on different tent styles, budget considerations, and DIY options, this comprehensive guide has all the details you need to make your tented event a success.
String Light Strands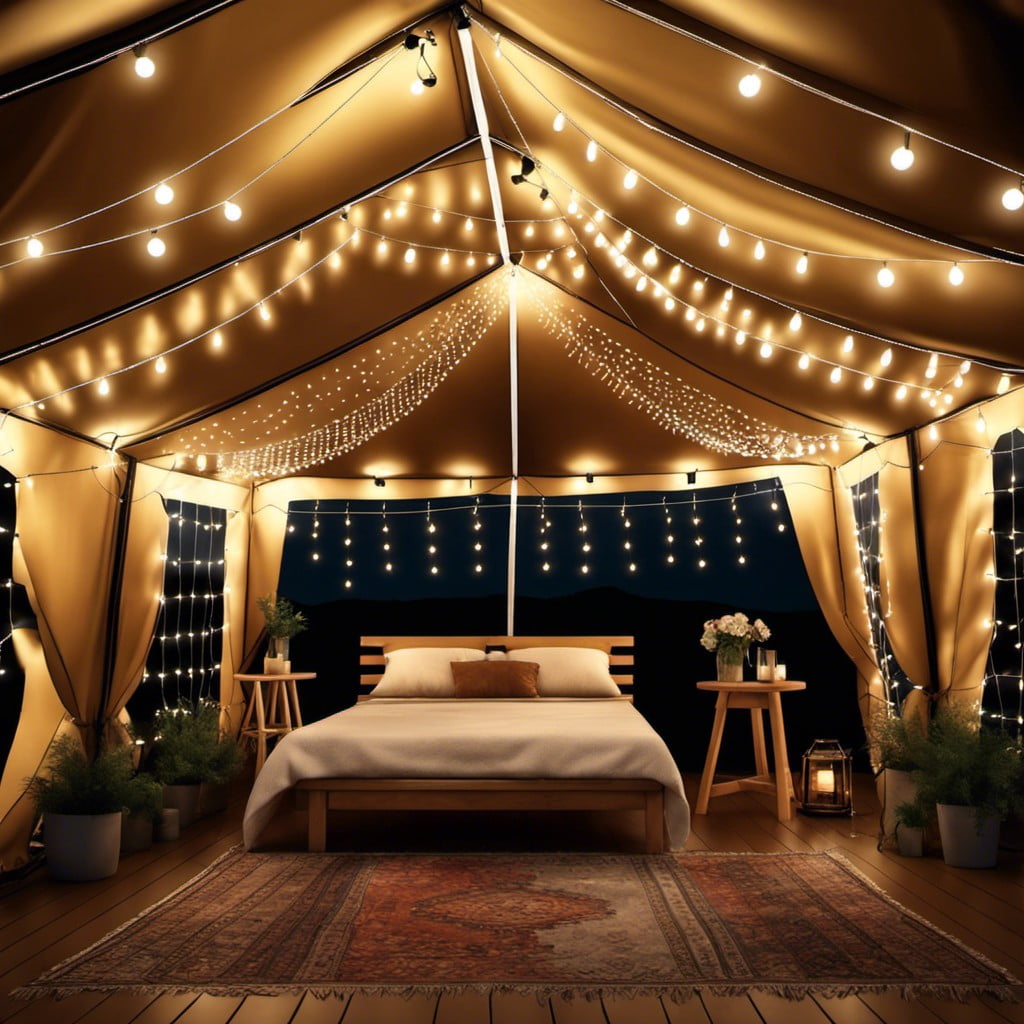 Masterfully arranged in strategic patterns or casually draped along the top, these low-watt glistening jewels transform any tent into an enchanting, whimsical space.
Their soft, ambient glow introduces a dreamy and romantic ambiance without overwhelming the aesthetic.
Ensure to use LED versions for their energy-saving benefits and reduced heat output.
Remember: use a mix of long and short strands for an appealing visual dynamic.
To increase the magic of string light strands, pair them with complementary décor like fabric drapes or floral arrangements.
Want to elevate the décor further? Consider remote-controlled dimmable options to adjust the lights according to the event's mood or time of day.
Hanging Lanterns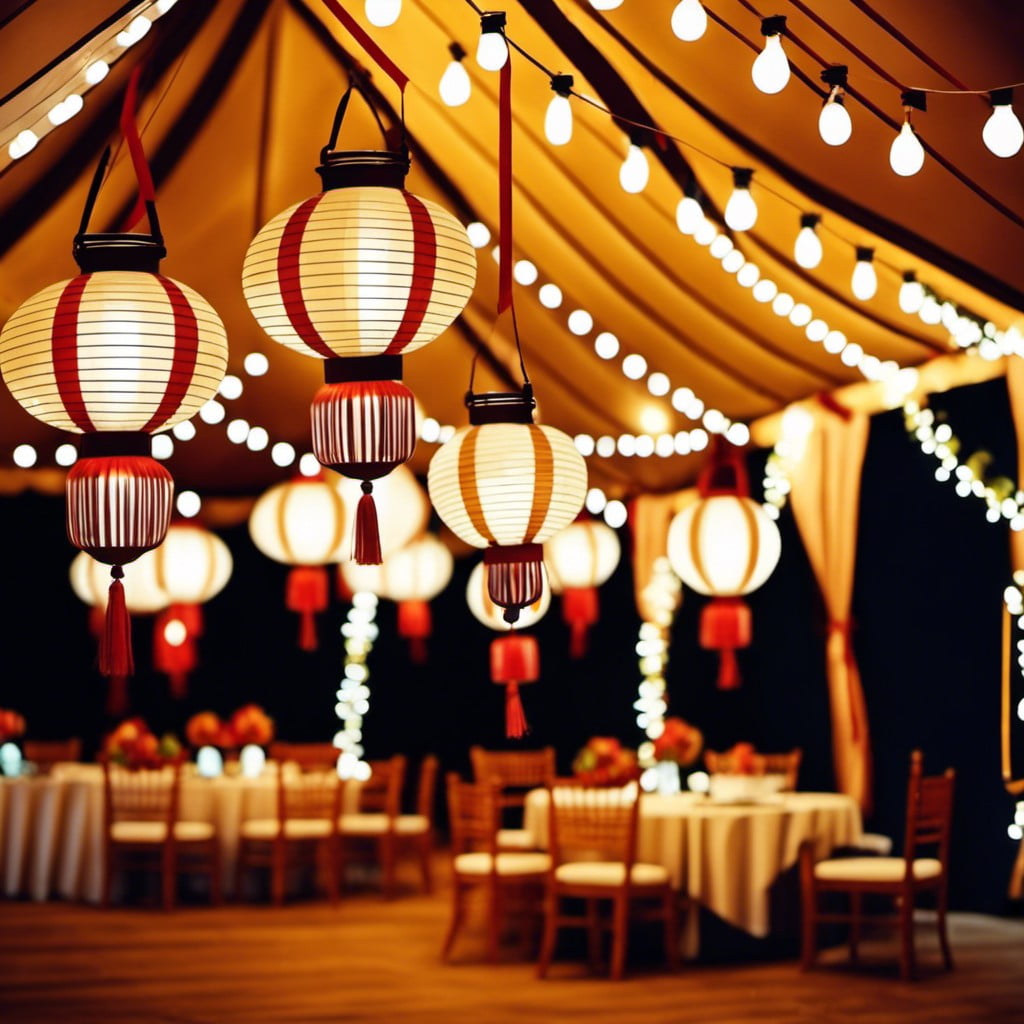 Bringing a splash of brilliance to the tent, an array of lanterns suspended overhead creates an illuminated canopy perfect for night-time soirees. Different styles can be combined for an eclectic mix or match them for an aesthetically pleasing uniform theme.
To hang, rope or twine work well; remember, sturdy fixing points are essential for safety. Cluster lanterns together at varying heights for a beautiful, layered effect. Alternatively, for a glamorous touch, you might opt for antique lanterns filled with fairy lights.
Not just for the night, during daylight hours, colorful or patterned lanterns add a playful dash of visual fun. Just ensure your chosen lanterns are suitable for the weather conditions expected at your event. It's an effortless way to set the mood and add a personal touch.
Fabric Draping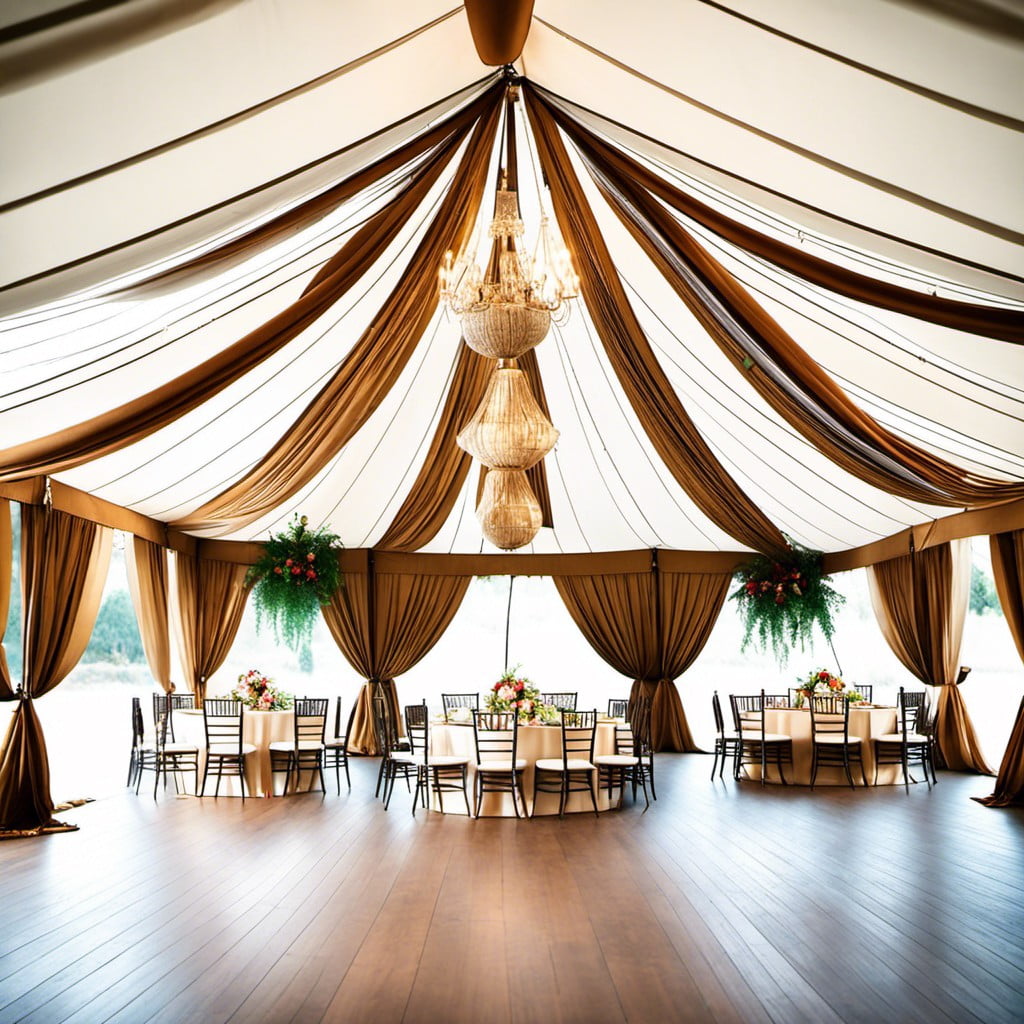 With its versatile potential to transform any space, fabric draping adds a touch of elegance and coziness.
Selecting fabrics that match the overall decor theme is crucial – for a rustic barn atmosphere consider burlap or muslin; for a more traditional or romantic feel, silk or tulle will do the magic.
While draping, experiment with asymmetry, incorporate weaves, twists, or knots for a unique look.
Anchoring points to hold the swags in place should blend with the setting, elegant brooches or natural materials like driftwood can be nice choices.
Don't forget to test the fabric for transparency under the lights you plan to use.
With a little effort, such drapery can establish a picturesque tent outlook that imprints lasting memories.
Colorful Pennant Banners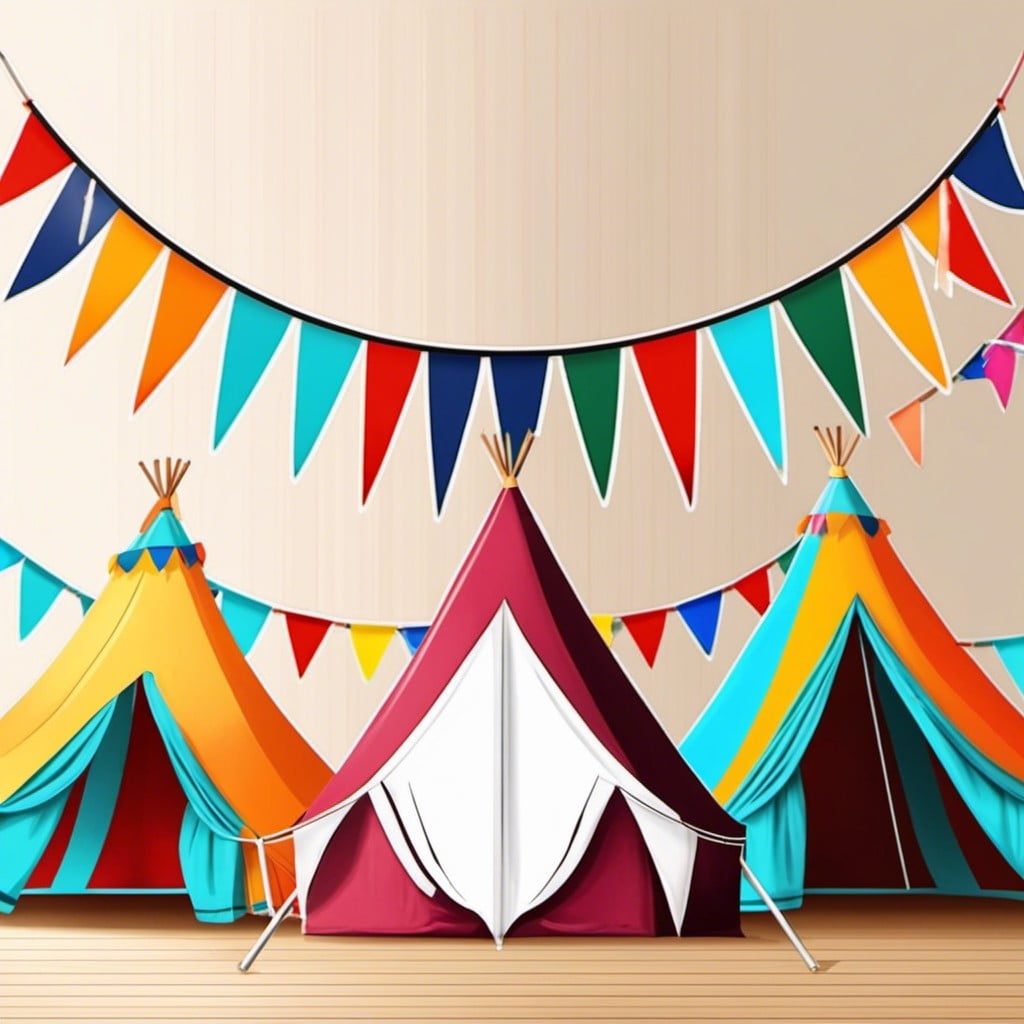 In boosting your tent's appearance, vibrant pennant banners add an element of fun and energy.
A range of shapes, sizes, and materials is available, allowing for versatility in design.
Banners can follow a precise color palette or present a riot of different colors for visual interest.
They can be hung across the tent's interior, giving a lively and festive feel.
Additionally, banners made from water-resistant or durable material can withstand diverse weather conditions, making them an ideal choice for outdoor events.
For a charming touch, create personalized banners with letters, symbols, or patterns.
Handmade banners, in particular, can add a sense of authenticity and personal touch to the environment.
Suppose your event is at night, consider light-up banners or ones that reflect light for a bright and warm atmosphere.
Candle Centrepieces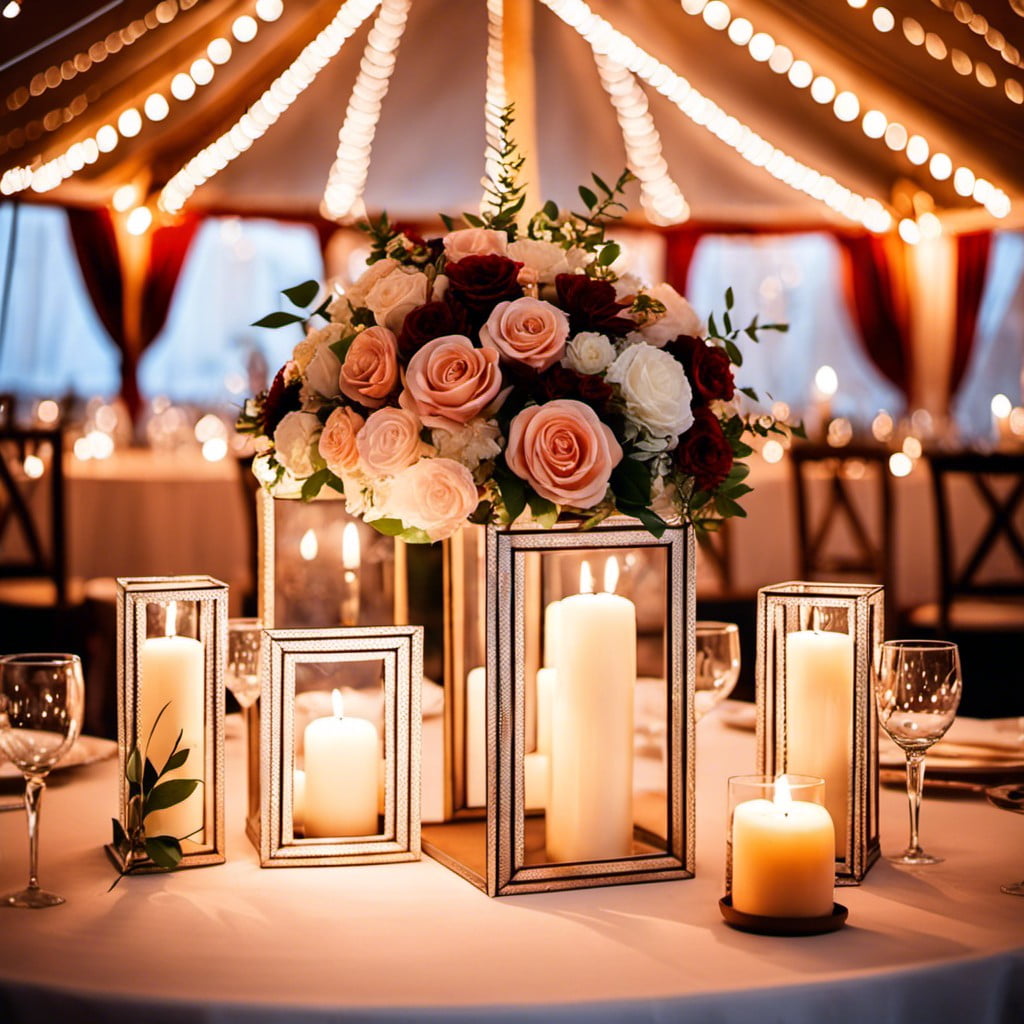 Selecting the right candles for your centrepiece not only enhances the aesthetic appeal, but also contributes to the overall ambiance of the tent. Experiment with different sizes, from tiny tea lights to large pillars, depending upon the size of your table. A collection of candle types in varying heights can create a visually dynamic display. Choose colors that align with your theme or stick to classic white for an elegant touch.
Candle holders offer another layer of decorative opportunity. They range from ornate metal fixtures to simple glass vases. You may even consider DIY holders using mason jars or decorated wine bottles for a personalized touch.
To further amplify the beauty of your candle centrepieces, consider adding natural elements surrounding the candles. Incorporate flowers, pine cones, or greenery for an earthy vibe. For a rustic look, encircle the candle with small pebbles or wood cuttings. These natural accents will help bring outside elements to the indoor setting for a harmonious fusion.
However, safety is paramount. Ensure your candle centrepieces are stable and well-placed away from flammable materials. Always supervise when your candles are lit.
The magic that candle centrepieces can bring to your tent settings is immeasurable, both in terms of beauty and warmth. Though they are simple items, with a bit of creativity and careful placement, they can make a dramatic impact.
Outdoor Rugs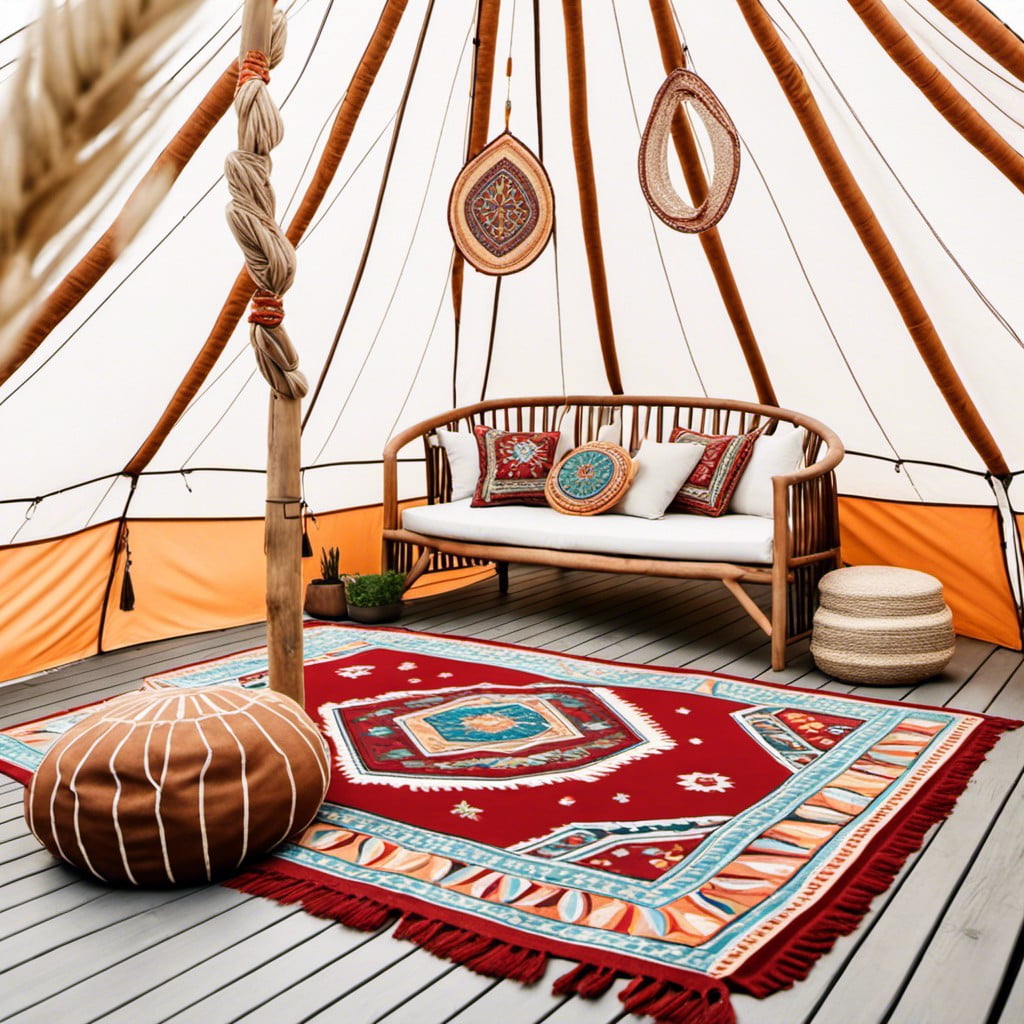 Highly functional and aesthetically pleasing, outdoor rugs contribute to the coziness of your tented event while helping to define spaces.
Go for rugs in vibrant colors or eclectic patterns to infuse character and a bit of your personal style.
If comfort is a priority, opt for thick, plush ones.
In case of outdoor events, ensure you choose rugs that are weather-resistant and easy to clean.
Regardless of the type chosen, ensure they lay flat and secured to prevent tripping hazards.
Mason Jar Lighting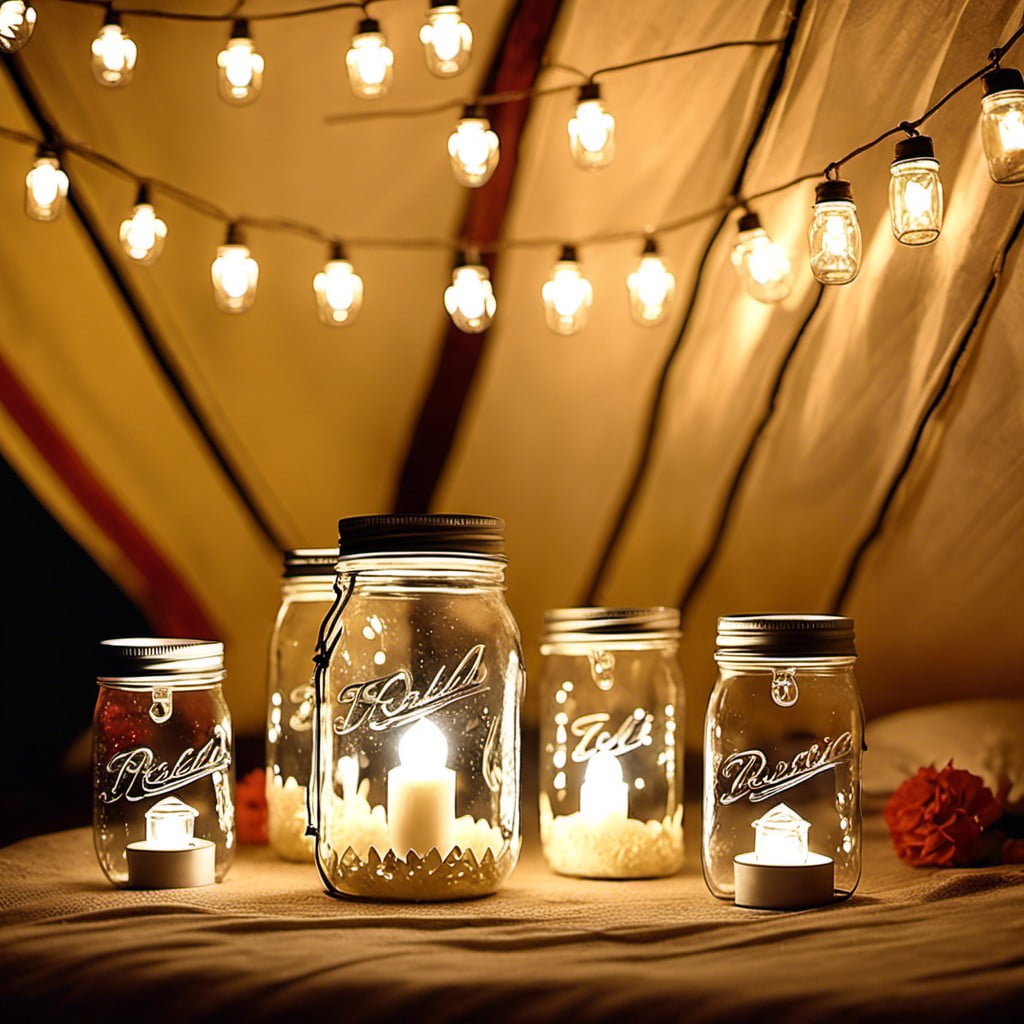 For a rustic and cozy feel, Mason jar lighting is an enchanting option. By filling jars with strings of battery-powered LED lights, each provides a twinkling source of illumination.
The jars can be attached to the tent ceiling with sturdy wires, creating an overhead starscape. Alternatively, they can be clustered together on table surfaces as twinkling centrepieces.
For an added splash of colour, consider using tinted glass jars or colored lights. Be sure to place the jar lids back on to create a diffused glow, for a softer appearance.
Not only does this style of lighting add a warm and magical touch, but it is also an affordable and easy DIY project.
Tent Sidewall Murals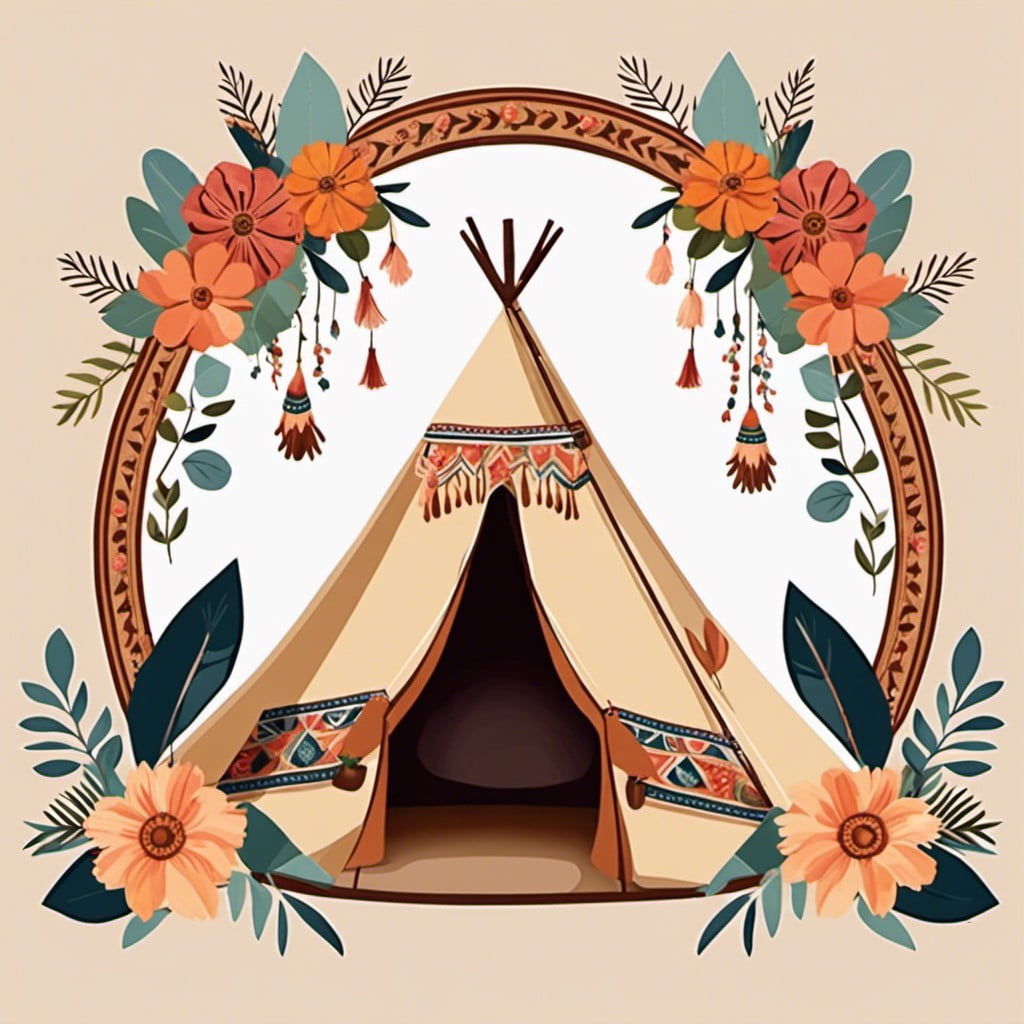 Murals can offer a splendid visual delight, transforming the usual canvas sidewalls into a form of art. There are various types of murals you could consider. From abstract forms to landscape scenes, and from wildlife images to geometric patterns, the options are vast.
It's a creative way to infuse some personality or convey a theme. If you're crafty, you could consider painting your mural. Alternatively, printed sidewalls are a convenient option available in many styles. Remember, choose colors that complement other elements of your tent décor. Also, ensure the artwork doesn't become too overwhelming. Balance is key.
Finally, keep in mind the correct measurements for a perfect fit, and consider professional installation if necessary.
Placed Potted Plants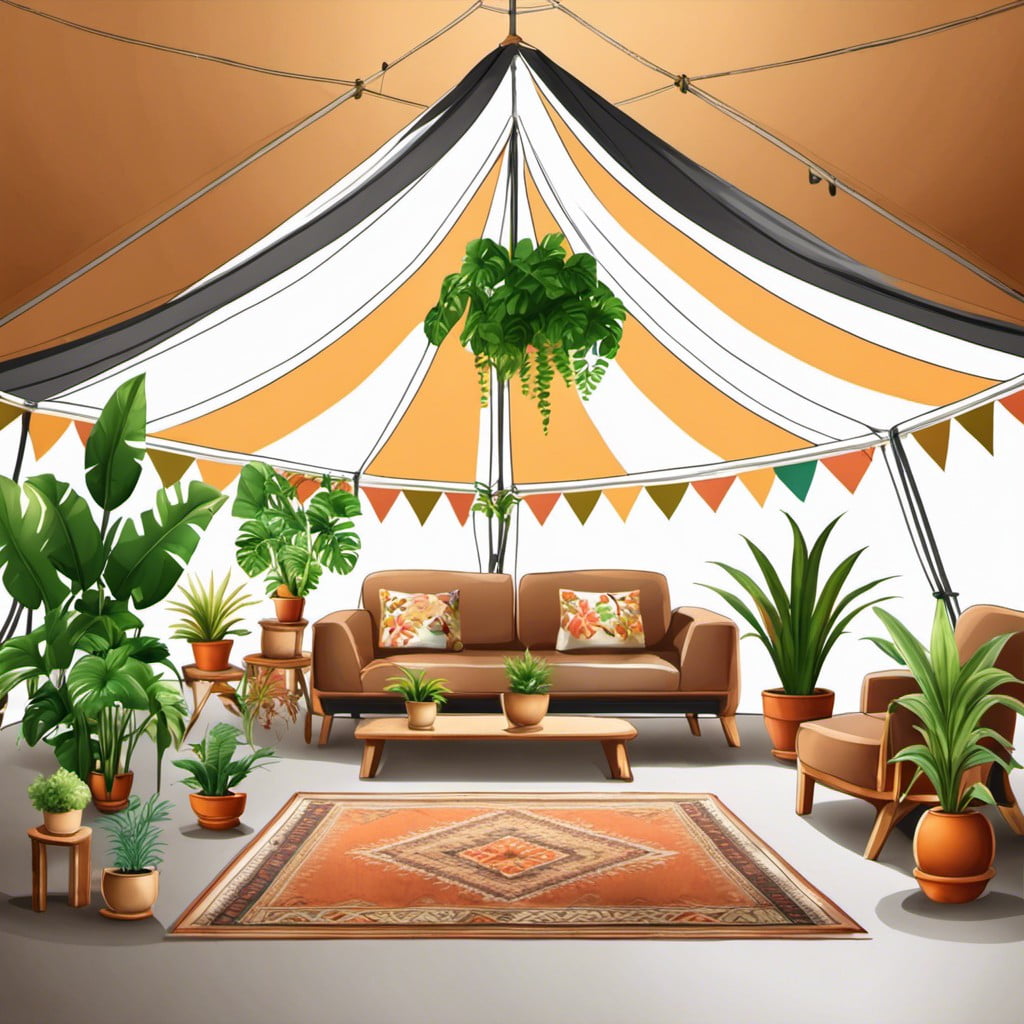 Adding a touch of nature to your tent can enhance both the aesthetics and atmosphere. This is where well-placed potted plants come into play. They have the added benefit of being versatile and suitable for all themes, from rustic to glamourous occasions.
Opt for plants with lush green leaves to create a soothing, natural environment.
They can act as barriers, subtly dividing different areas within the tent.
Decorative pots can add an extra stylistic element.
Ensuring the plants are adequately watered and kept in the required light conditions will maintain their health and appearance during an event.
Mix and match different shapes, sizes, and types of plants to create visual interest and depth.
Incorporating plants native to the event location can provide a unique local touch.
The scent of some potted plants, like lavender or mint, can also improve the ambiance.
Remember, the key is to use plants to augment the decoration, not overwhelm it. With the right placement and choice, potted plants can underline and amplify the theme of your tent event.
Floral Hanging Baskets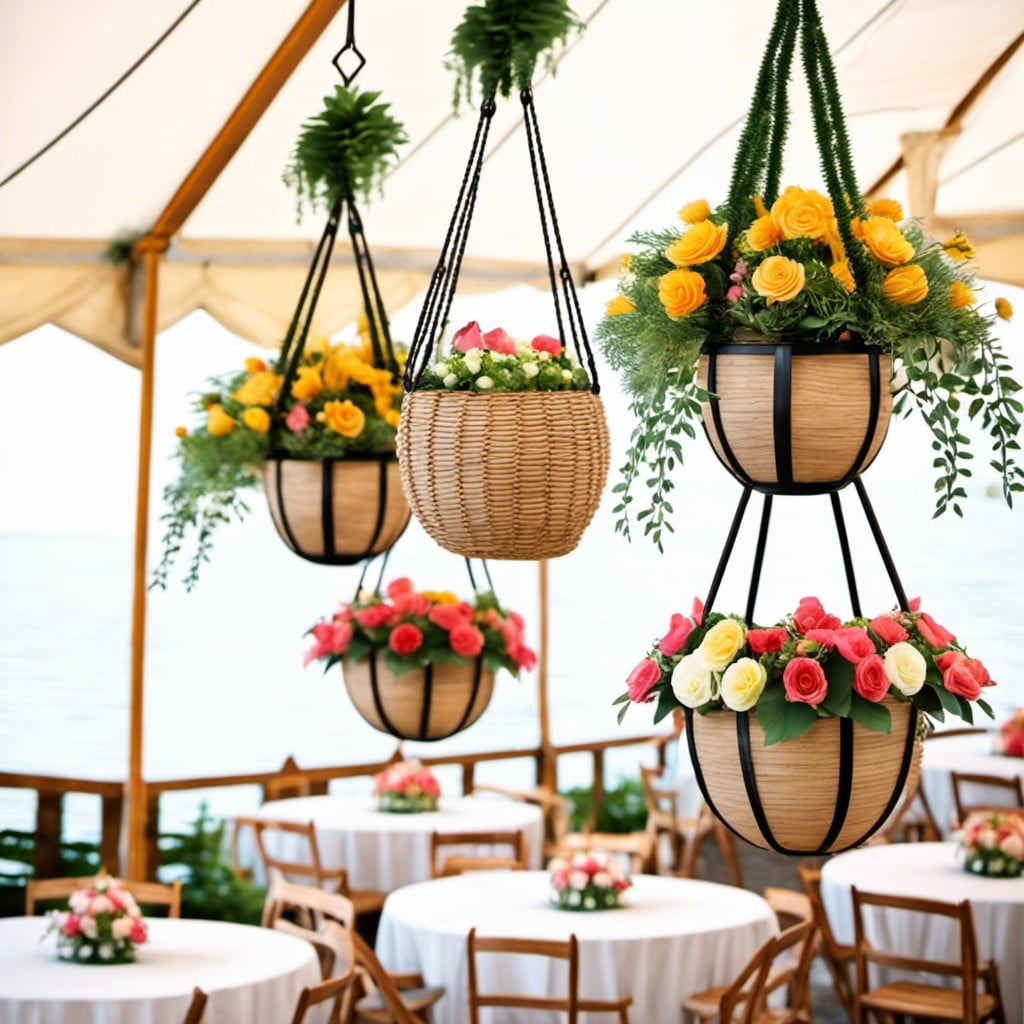 Crafted from an array of vibrant blooms, these baskets emulate a natural charm and elegance that instantly breathes life into any tent décor. They capture the beauty of a cascading garden, adding romance and mystery to the atmosphere.
Here are some intriguing ways to enhance your decoration with them:
Play with variety: Diversify your choice of flowers to create an alluring color palette.
Consider sizes: Depending on the tent size, opt for smaller baskets for a subtle touch or larger ones for a grander expanse.
Location matters: Hang them at varying heights or place them at strategic points for visual interest.
Complement the theme: Match your flowers with your décor theme for a harmonious effect.
Remember, these baskets are not just about flowers; foliage and greenery can be added for an equally enchanting impact.
Themed Backdrops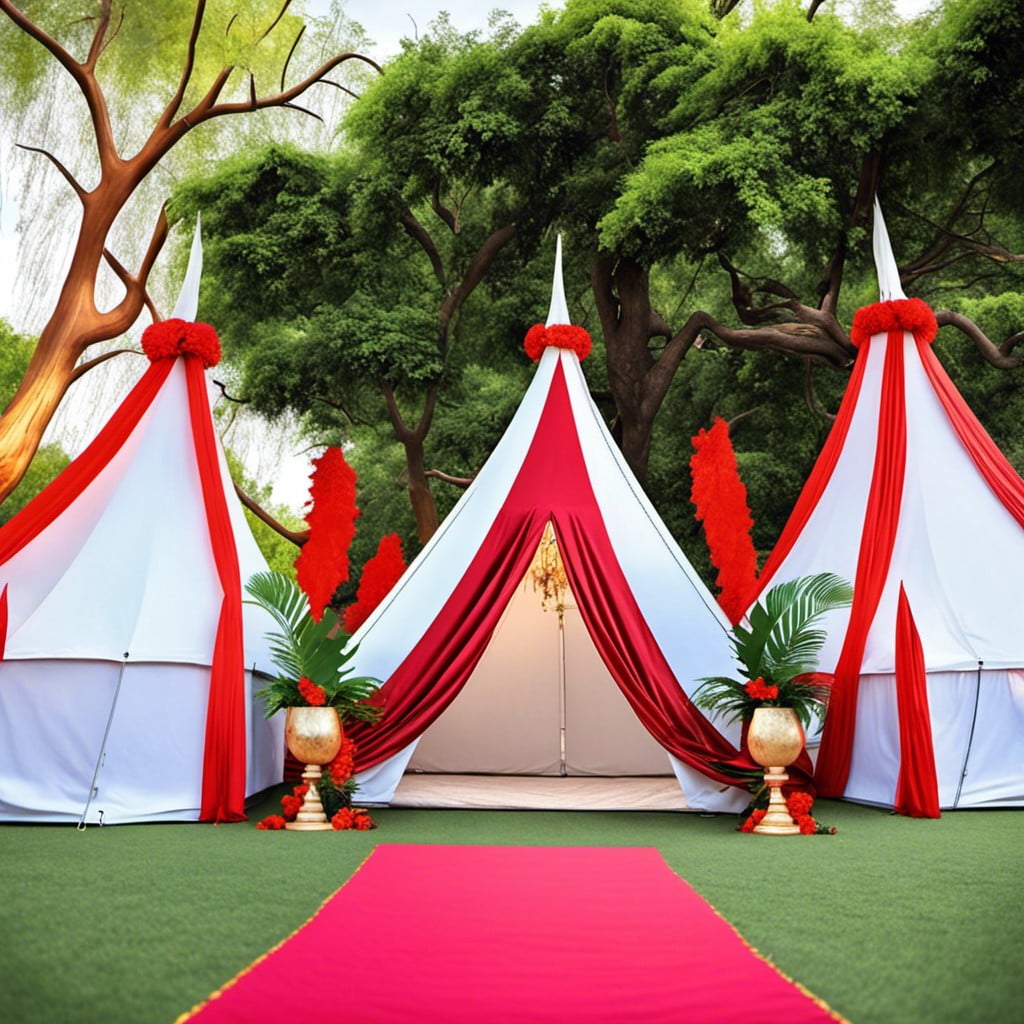 Opting for a motif can effectively anchor your design and create a visually stunning focal point. Transform the backdrop from an ordinary one to an extraordinary Instagram-worthy spot by incorporating your chosen theme. This can be accomplished through a range of methods.
For example, if your theme is a tropical paradise, consider utilizing lush greenery, artificial palm leaves, and vibrant flowers to reflect a tropical vibe. Alternatively, a vintage theme could incorporate weathered wooden boards and antique frames.
Shield your backyard from unwanted views while bolstering the atmosphere with vinyl or fabric panels. Visual elements can also be layered to add depth. For instance, a light net can cast enchanting shadows, while a set of balloons or streamers lends a festive pop.
Moreover, personalized signs with quirky sayings, a menu or a welcome message add extra vitality. Interactive elements can elevate guest experience even further. Think of photo booth props or a wall of fame featuring memorabilia for a personal touch.
Effort into a well-designed backdrop pays off by providing the perfect environment for memorable photographs. Remember, your chosen theme should be a reflection of your taste and style, ensuring a unique, individual touch.
Ceiling Chiffon Draping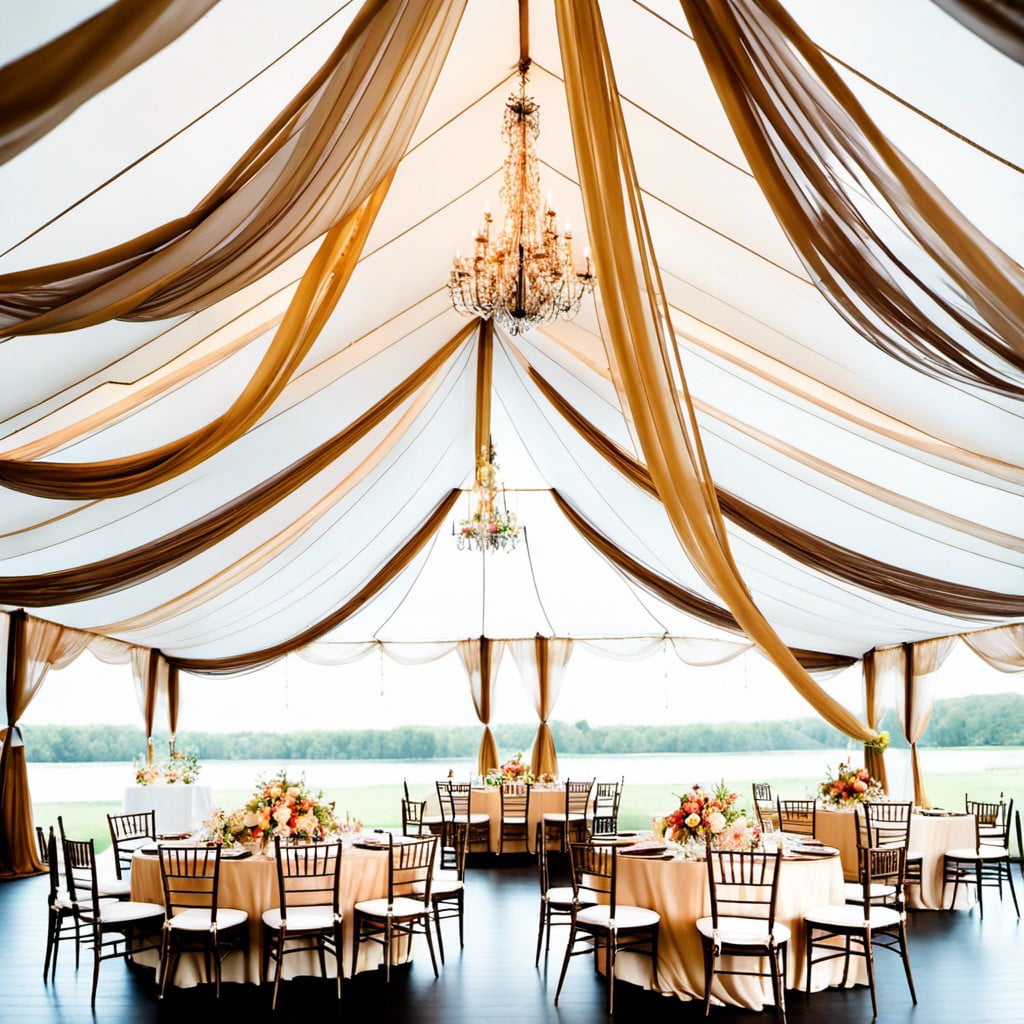 In order to create a soft, romantic ambiance, consider layering lightweight chiffon fabric along the overhead structure of the tent. Fasten the material securely at the central point and let it drape down in gentle curves towards the edges to form a floating ceiling of fabric. This strategy offers a double benefit; firstly, it adds a touch of elegance, and secondly, it helps to mute harsh sunlight during daytime events.
Chiffon comes in a variety of colors providing flexibility to align with event themes. Choose white for a classic, timeless feel, or select shades that match your color scheme for added visual intrigue. Just remember, chiffon is delicate, handle with care to avoid tears.
Fairy Light Curtains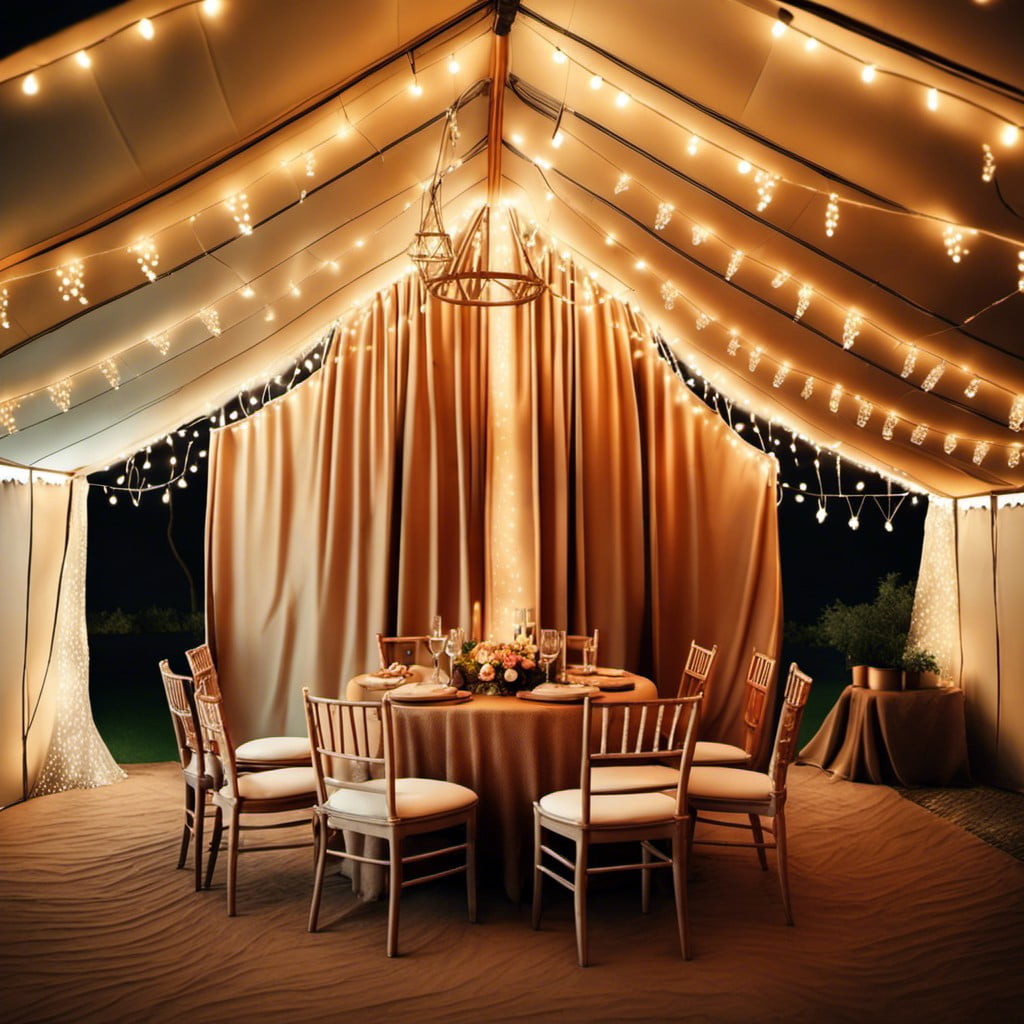 Fairy light curtains infuse an element of magic and enchantment into tent decorations. As simple as they are stunning, they have the power to transform any space into a sparkling wonderland.
To implement this, start by arranging a series of lights vertically, ensuring each strand is equally spaced to generate light uniformly throughout the area. Opt for warm-toned lights for a soft, cozy glow, or cool-toned lights for a modern, chic aesthetic.
If possible, consider adding multiple layers to provide depth and a sense of richness. Remember, using LED lights reduces heat emission, therefore, is the safer choice when constructing your fairy light curtains.
Finally, always choose waterproof fairy lights, especially if the event might be exposed to the elements. With these steps, you're well on your way to creating an enchanting ambiance for your event.
Dream Catchers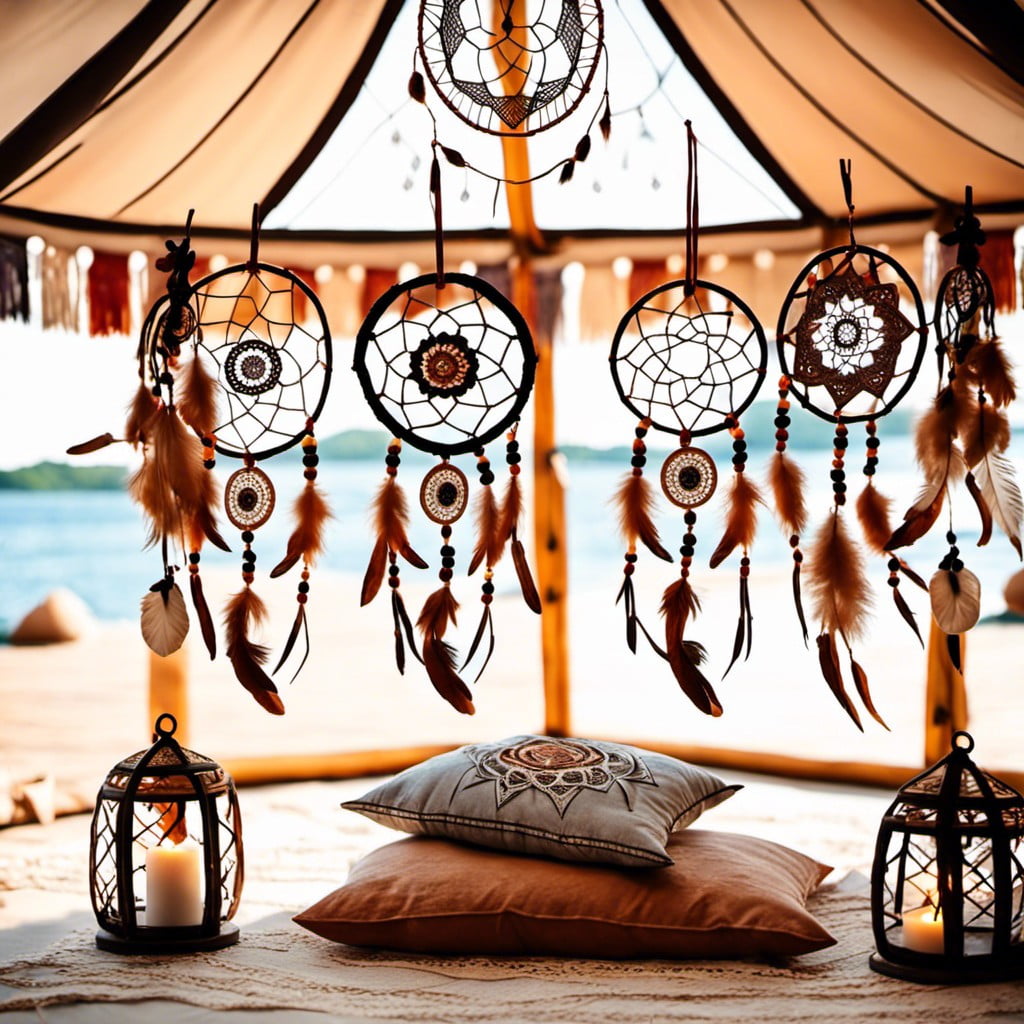 Dream catchers are a unique way to incorporate a touch of mystique into your tent decor. Tying into tradition and Native American culture, these art pieces are known for their potential to filter out negativity and foster positive energy.
Use dream catchers of various sizes to create a focal point. They can be handmade to match the colors of your event or purchased in a style that reflects your personality.
Hanging these off center, near the tent entrance makes for an inviting sight, and instills your space with an element of peace and tranquility. Picture twinkling fairy lights shining off the feathers and beads — it's truly a magical touch!
Vintage Object Displays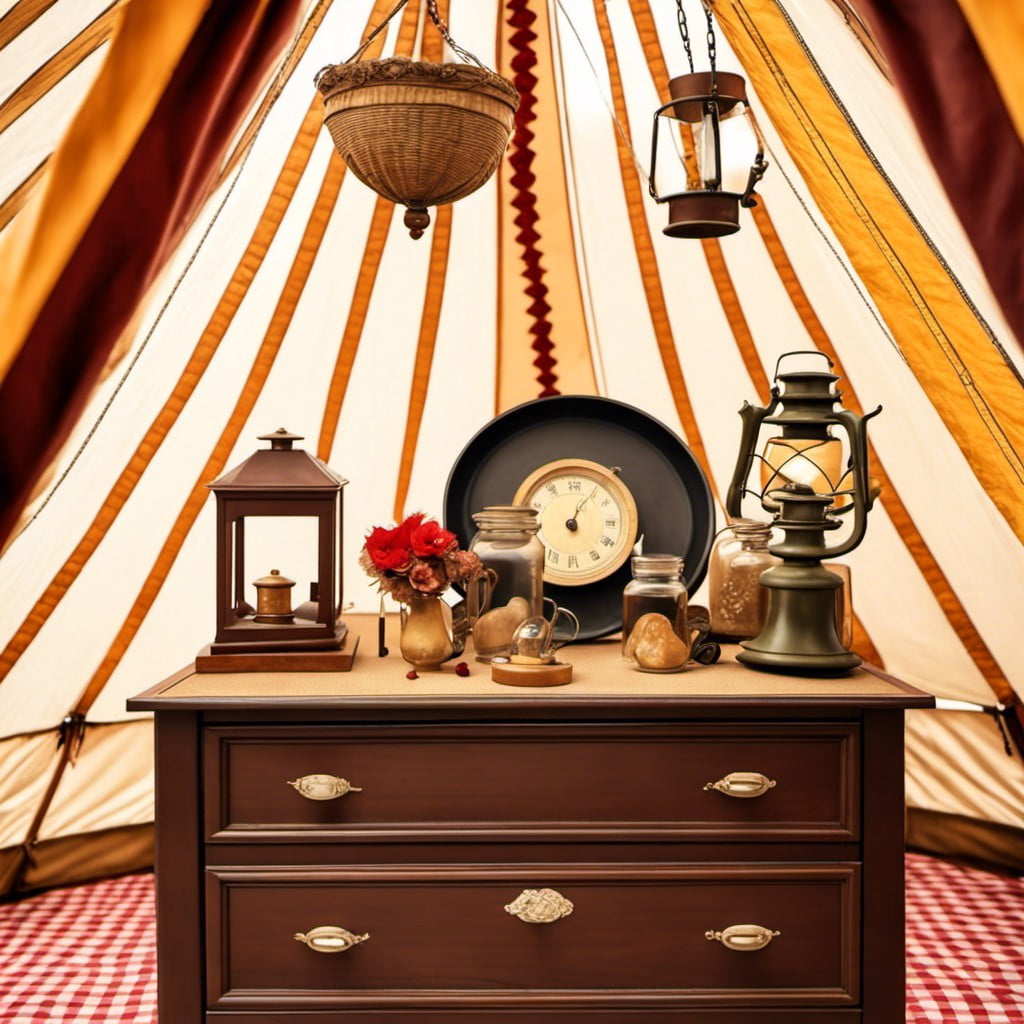 To breathe life into your tent, choose items from the past like weathered ladders for a rustic touch or a gramophone for a dose of nostalgia.
Enrich the theme with antique mirrors, old book stacks, and vintage suitcases to add depth and character.
Drape lace fabrics over old wooden crates or stack vintage trunks to create attractive height variations.
From rusted metal signs to porcelain vases, each piece tells its own story and sparks conversations.
However, moderation is key. You don't want the vintage accent pieces to overwhelm the overall decor.
Maintain a balance to ensure an aesthetically pleasing and cohesive ambiance.
Whimsical Paper Lanterns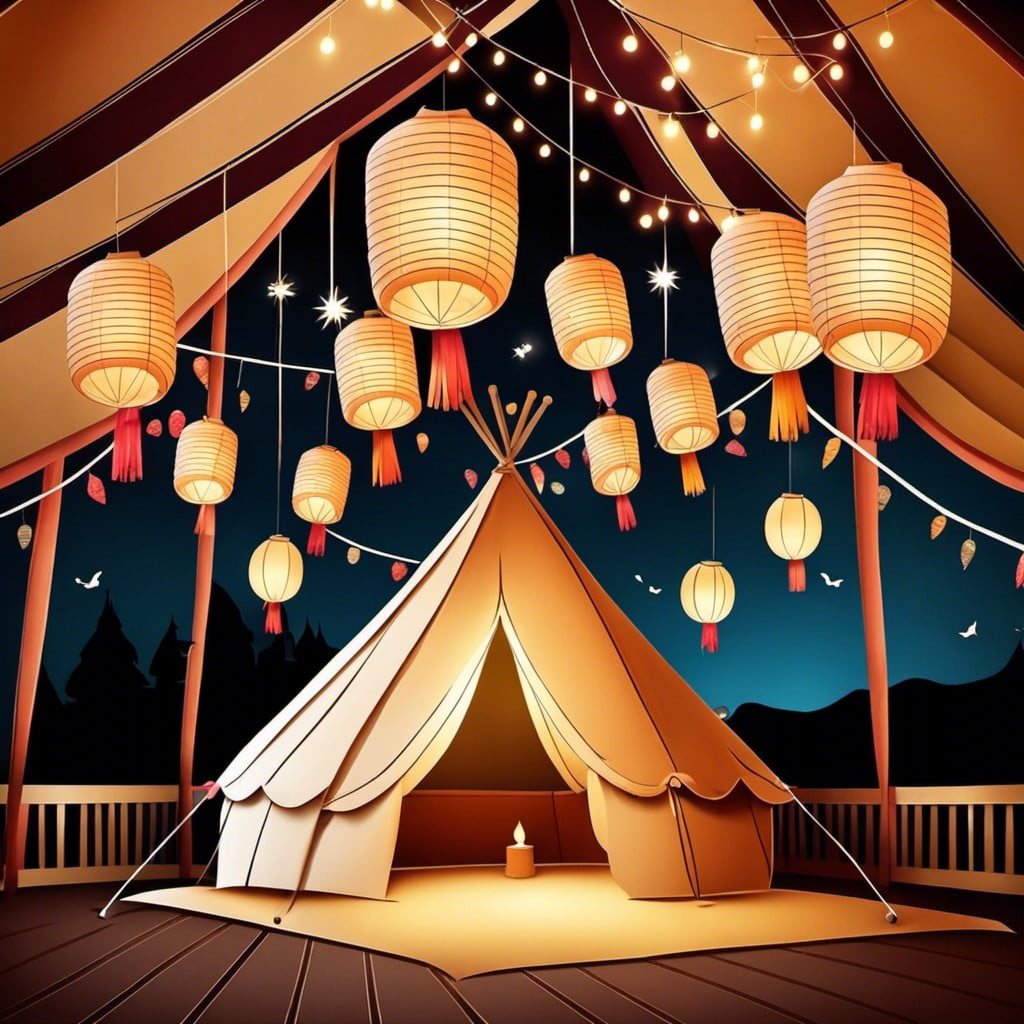 Paper lanterns are a delightful addition to any tent decoration and instantly give it an enchanting, fairy-tale like feel. Easily hung from the tent's ceiling or rods, they are an efficient way of bringing light and color into your space.
Multiple sizes can be used for an added depth effect while the vast array of colors they come in allows you to match them to your specific theme. You could consider whimsical motifs like stars, moons, or animals on your lanterns for a child's party or go with lacework designs for an elegant garden party.
Mix and match different styles and shapes of paper lanterns for a fun, eclectic effect or stick to a palette of two to three hues to keep things cohesive.
Sheer Curtains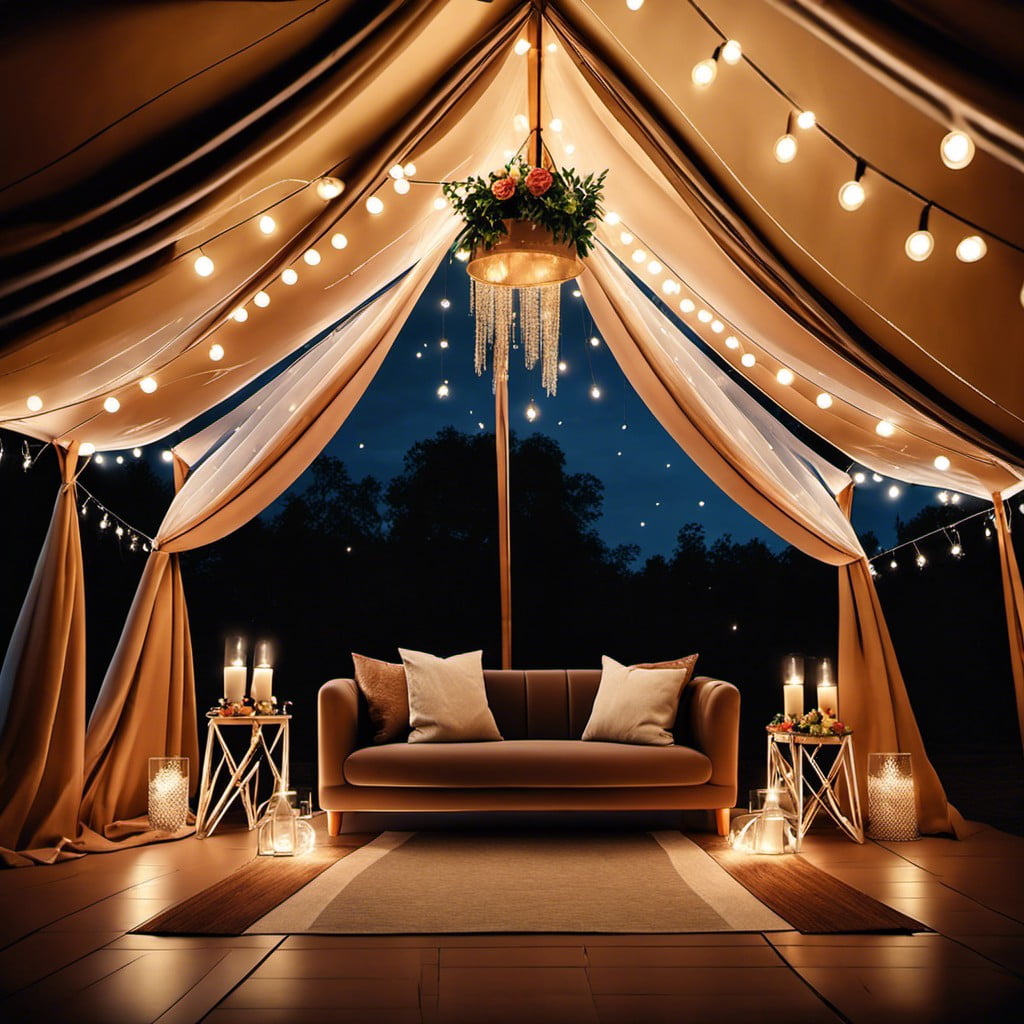 In terms of both practical functionality and sheer beauty, these curtains are a win-win. Not only do they provide some shade, presenting an initial barrier to harsh sunlight, but they also create a soft, whimsical aesthetic, perfect for any kind of event.
In choosing sheer curtains, remember that their transparency is an integral part of the charm. The delicate fabric gently diffuses sunlight, giving the interior of the tent a dreamy, glowing ambience. Experiment with different colors or stick to classic white for a timeless look.
To maximize their impact, drape them elegantly from the tent ceiling down to the sides. This will give the illusion of higher, more expansive ceilings while also adding visual interest. They can also be tied back or left to hang loose for different atmospheres.
Accessorize your sheer curtains with tiebacks such as silk ribbons, floral garlands, or ornamental tassels for a personalized touch. Above all, have fun and use your imagination with this visually stunning decoration.
Plush Seating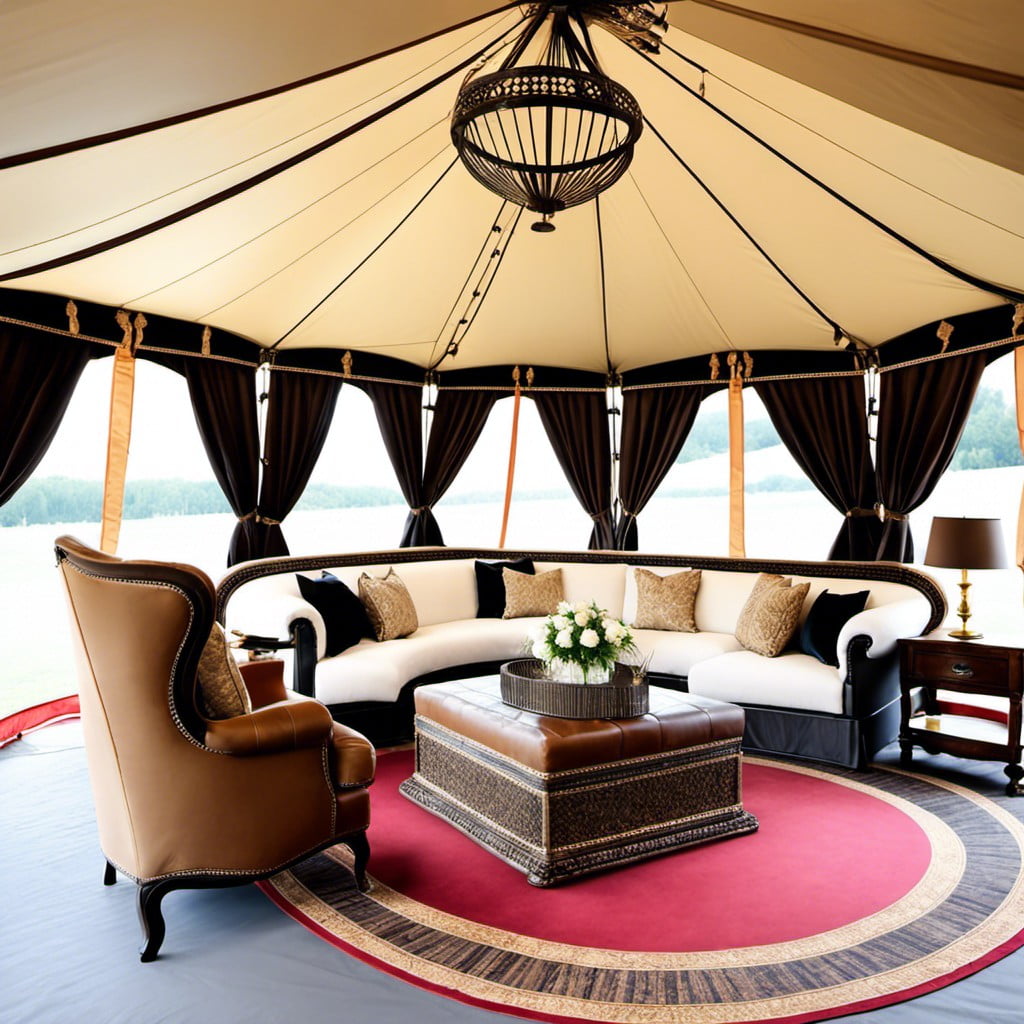 Incorporating comfort into your tent décor enhances the overall ambiance, inviting guests to relax and stay awhile.
Consider adding plush, luxurious seating options for a touch of sophistication and a homely feel.
For instance, chic bean bags, ornate poufs, and cushioned ottomans provide intriguing visual elements while being practical.
Opt for fabrics that complement your color scheme, either as neutrals or accents.
Scatter decorative throw pillows for added comfort or pattern interest.
Beware of material suitability for outdoor use, and ensure enough seating without overcrowding the tent space.
A Chandelier Centerpiece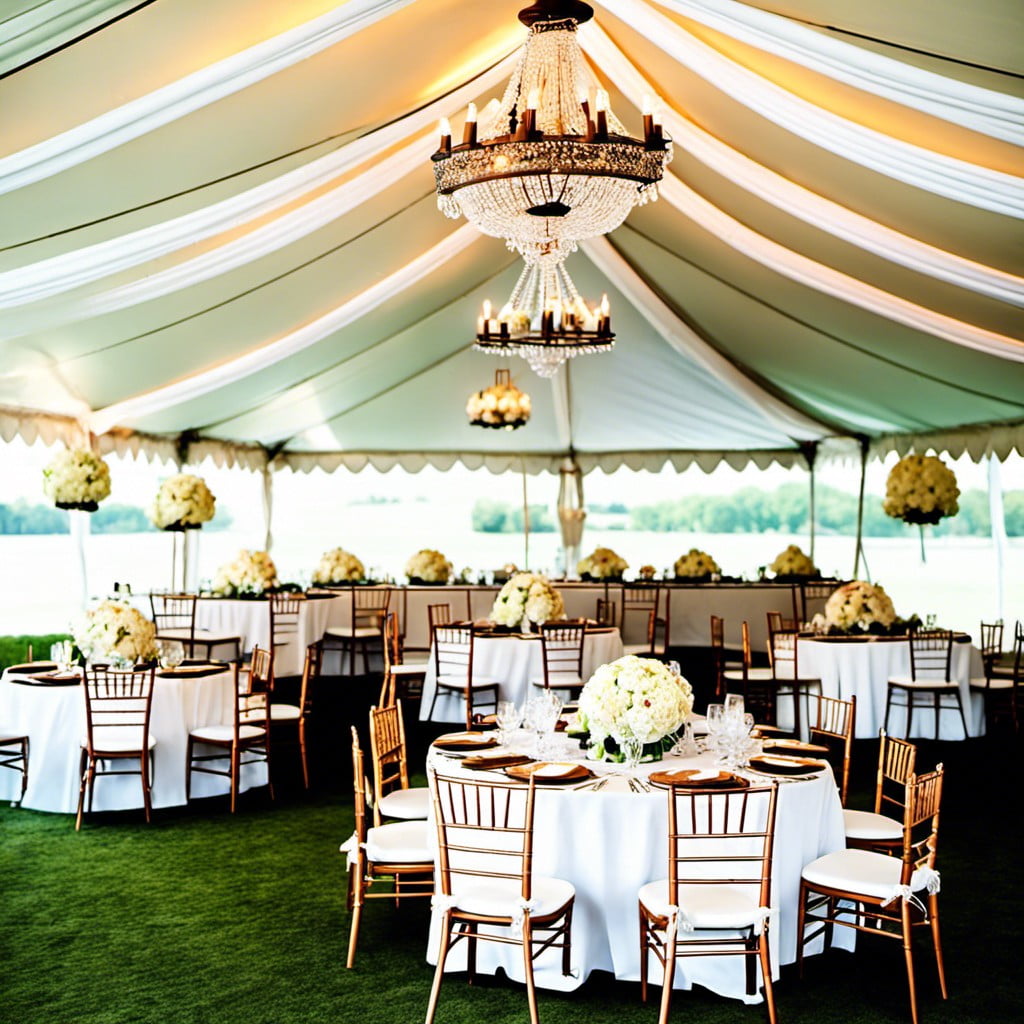 Incorporating a chandelier can infuse elegance and charm into the tent ambience. A vintage piece, for instance, can add a touch of glamour and sophistication. Meanwhile, a rustic iron chandelier may give a countryside feel.
You could also experiment with a candle chandelier for a classic, romantic atmosphere. Make sure the chandelier aligns with the overall theme of the decor, and remember to hang it at an appropriate height – neither too high to make it less visible nor too low to obstruct movement.
One more tip: using dimmer lights in the chandelier will allow adjusting the brightness to set the desired mood.
Hanging Origami Art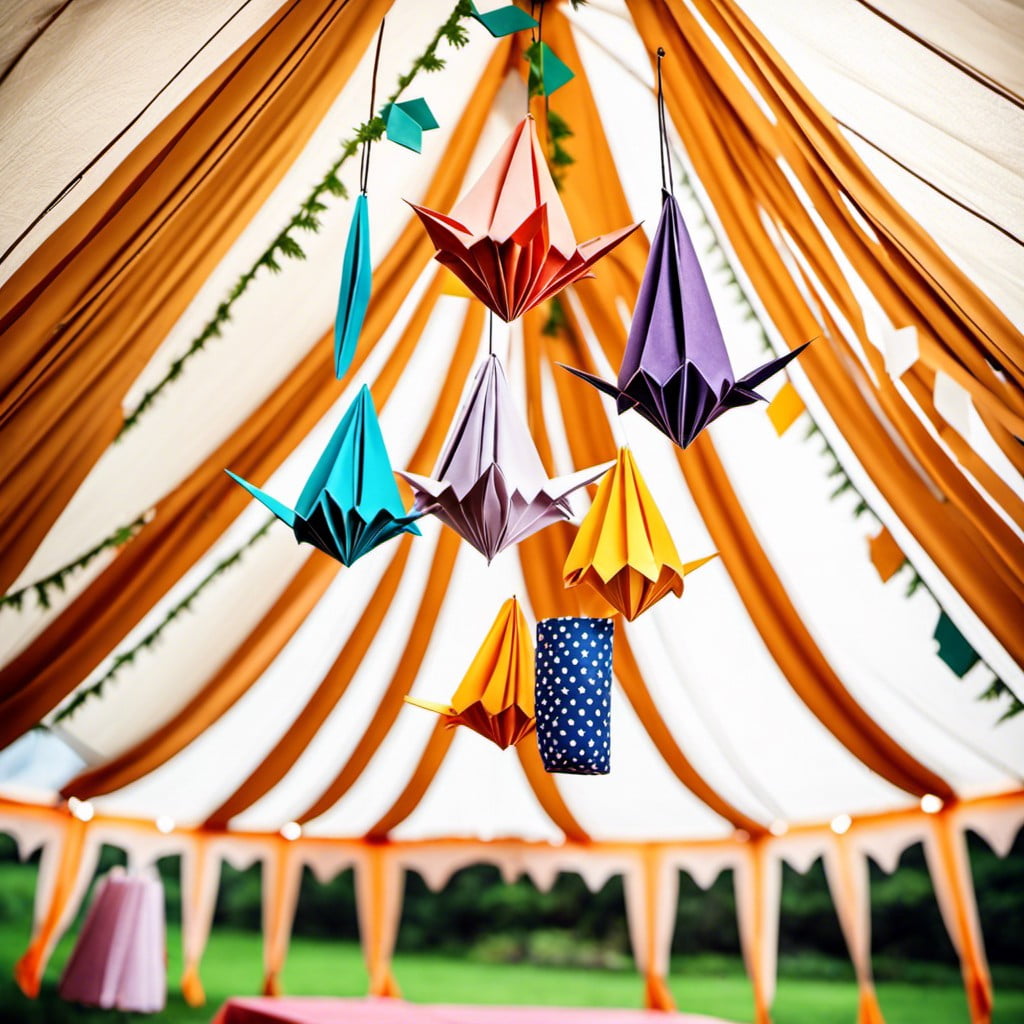 This decoration approach makes use of the delicate and intricate designs of origami, the intricate Japanese folding paper craft. Lightweight and vibrant, origami creations allow you to incorporate a touch of creativity and elegance to your tent decor. They also provide an air of uniqueness as no two pieces will be identical, all the while keeping costs minimal.
For a more exotic ambiance, consider hanging origami birds like cranes or swallows. For a more whimsical theme, traditional origami shapes like stars or moons can transform the tent into a magical atmosphere. Make sure to hang them at varying heights to provide depth. Combine these with delicate fairy lights to illuminate the paper artwork, enhancing their intricate details. Use fishing lines for an invisible support to create a floating illusion.
A good tip: weather-proof the origami by using clear spray lacquer if the event is outdoors, to ensure your handcrafted decor survives any unexpected bouts of rain. Paper choice is crucial here too; opt for thicker, durable paper like construction or cardstock for longer-lasting decorations.
Liked reading this? Here's more:
Recap: