Last updated on November 8, 2023
Bringing a fantastical dimension to your living space is as enchanting as it sounds because these Alice in Wonderland decoration ideas promise a whimsical ambiance unlike any other.
I'm thrilled to share this article and its unique designs, carefully crafted by me, and hope it inspires you with whimsical Alice in Wonderland decoration ideas, bringing as much fun in your party planning as I experienced creating them.
Dive into the whimsical world of Alice in Wonderland with these enchanting decoration ideas. Whether you're planning a themed party or want to add a touch of fantasy to your home décor, these ideas will transport you straight to Wonderland.
From Mad Hatter tea parties to Cheshire Cat smiles, this article will guide you through a variety of creative and imaginative ways to incorporate elements from the beloved tale into your space.
With detailed descriptions and practical tips, you'll have everything you need to bring the magic of Alice in Wonderland to life.
Themed Tableware Including Teacups and Saucers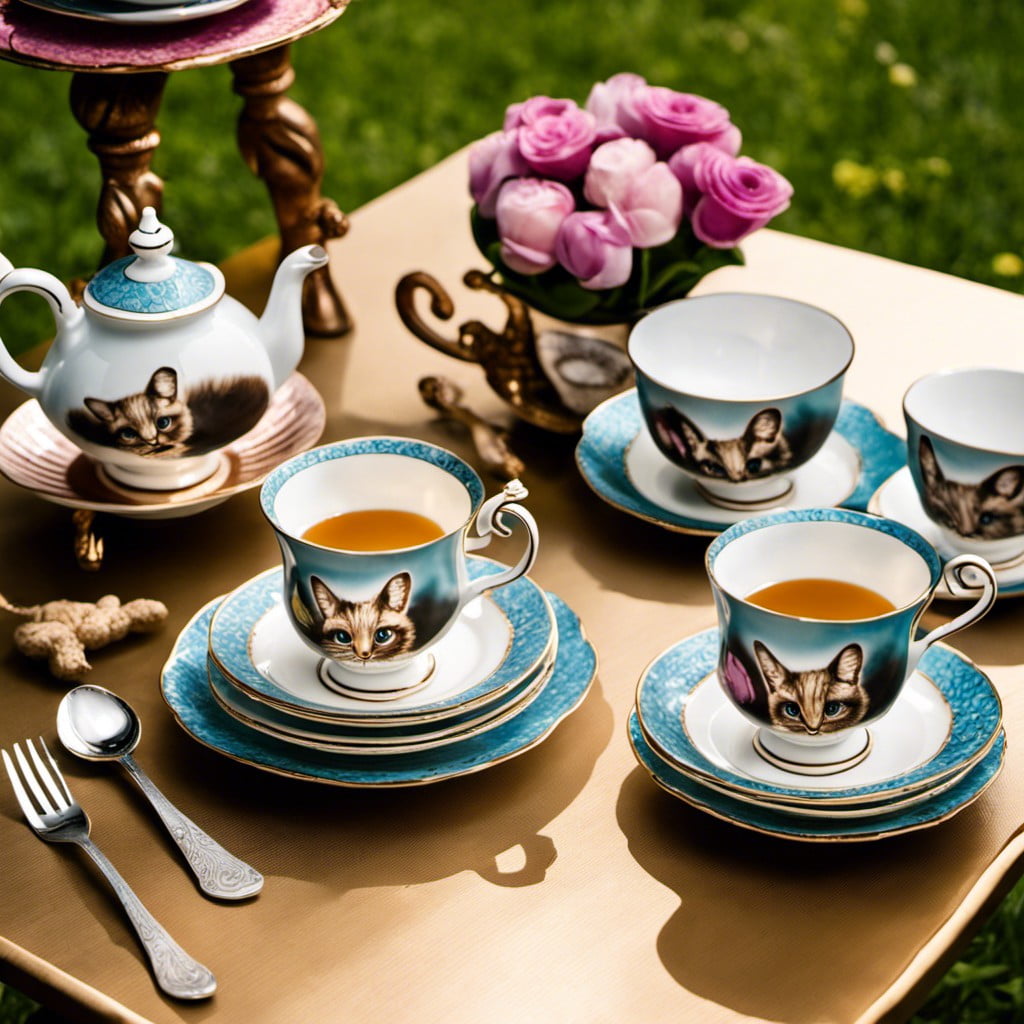 Drawing from the topsy-turvy world of Wonderland, the tableware should capture its whimsy. Antique, mismatched teacups, and saucers can easily be found in thrift shops or even online.
Consider patterns of hearts, diamonds, clubs, and spades. Asymmetrical shapes or mismatched sets lend to the charm.
Mix in some oversized cups for dramatic effect. Complete the look with color-themed linen, such as checks or stripes, for a truly immersive Alice in Wonderland experience.
Don't forget the kettle – the bigger, the better!
Giant Playing Card Wall Decals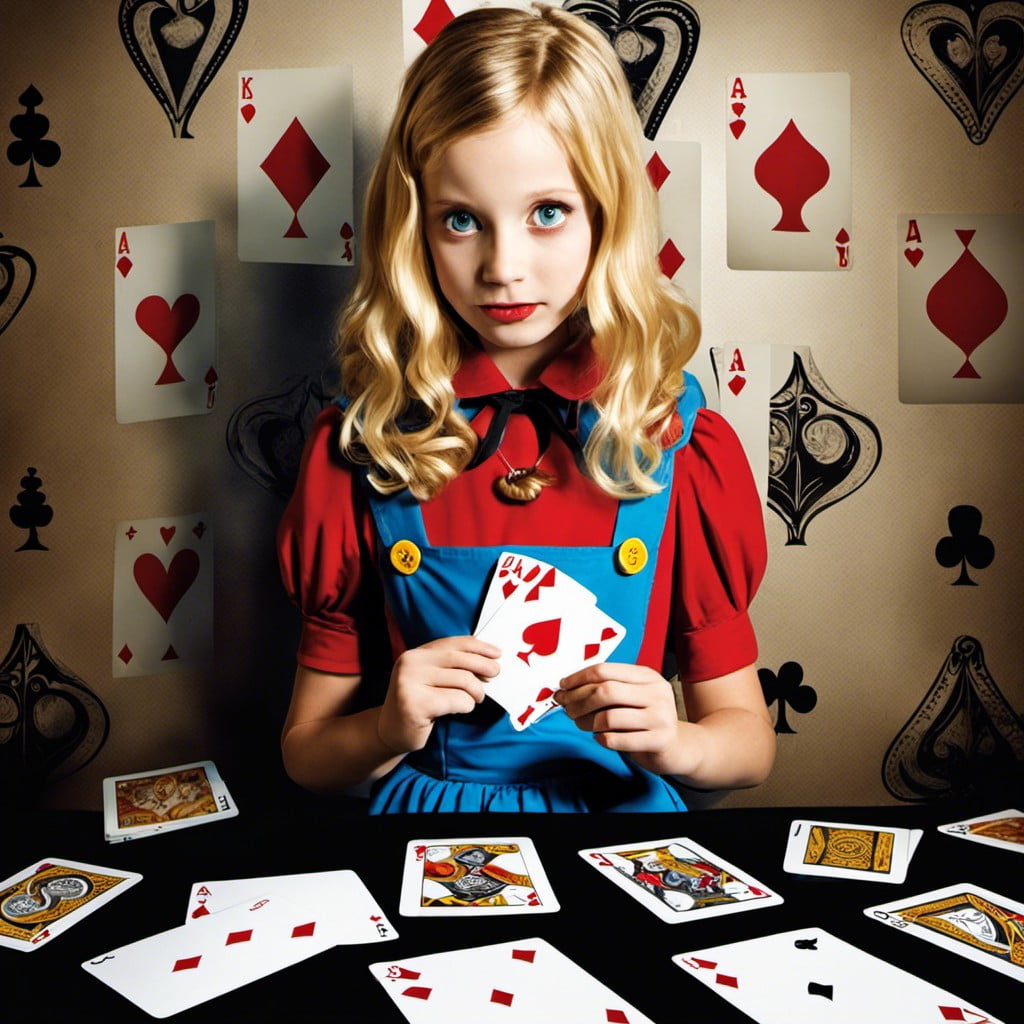 Wall decals can transform a space in mere minutes, allowing you to create a vibrant, Wonderland ambiance with little effort. Choose from a variety of card motif designs, stretch them across the wall to imitate a fallen house of cards or place them sporadically for a playful touch.
They are not only simple to apply but can also be easily removed without damaging the wall. For an authentic feel, opt for oversized decals and make sure to incorporate all suits – hearts, diamonds, clubs, and spades. This decoration element is an ingenious way to bring in the Queen of Hearts' card soldiers into your party.
Remember, the idea is to capture the whimsical and chaotic charm of the Alice in Wonderland theme; these decals are an easy way to accomplish that. With just a little bit of creativity and strategic placement, you can turn a simple room into a scene straight out of Lewis Carroll's novel.
Alice in Wonderland Character Cutouts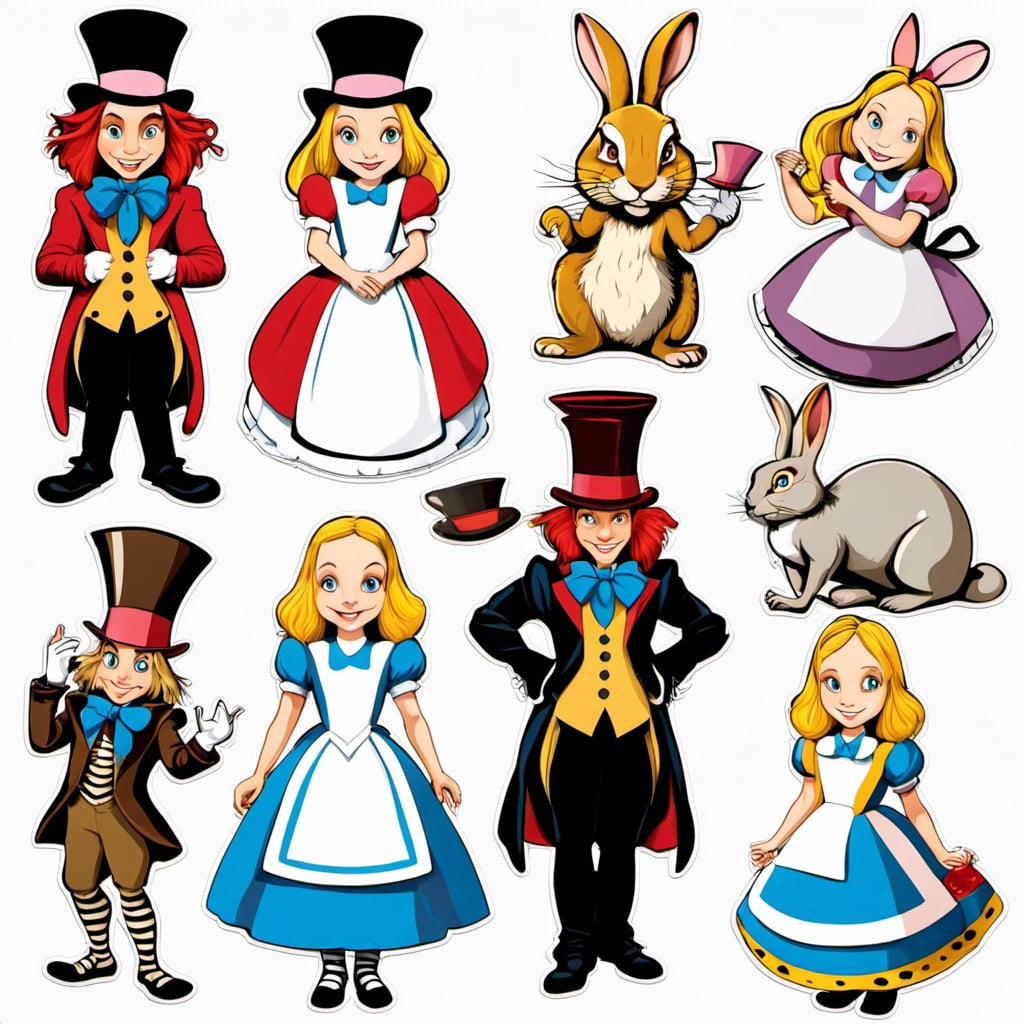 Casting a magical spell to your décor, giant cutouts of popular characters such as Alice, the White Rabbit, the Cheshire Cat, and the Mad Hatter can indeed draw your guests into the delightful world of Wonderland.
These oversized replicas, leaning against walls, or nestled amongst furniture, act as fantastic photo props and pique interest in party-goers.
For an immersive experience, arrange these cutouts strategically around your space.
You might place the White Rabbit near the entrance to mimic his heralding role in the story.
Consider showcasing the cunning Cheshire Cat near an area of mystery or surprise, echoing his enigmatic presence in the tale.
Remember to choose cutouts that are sturdy yet lightweight, for easy set up and removal.
Cheshire Cat Throw Pillows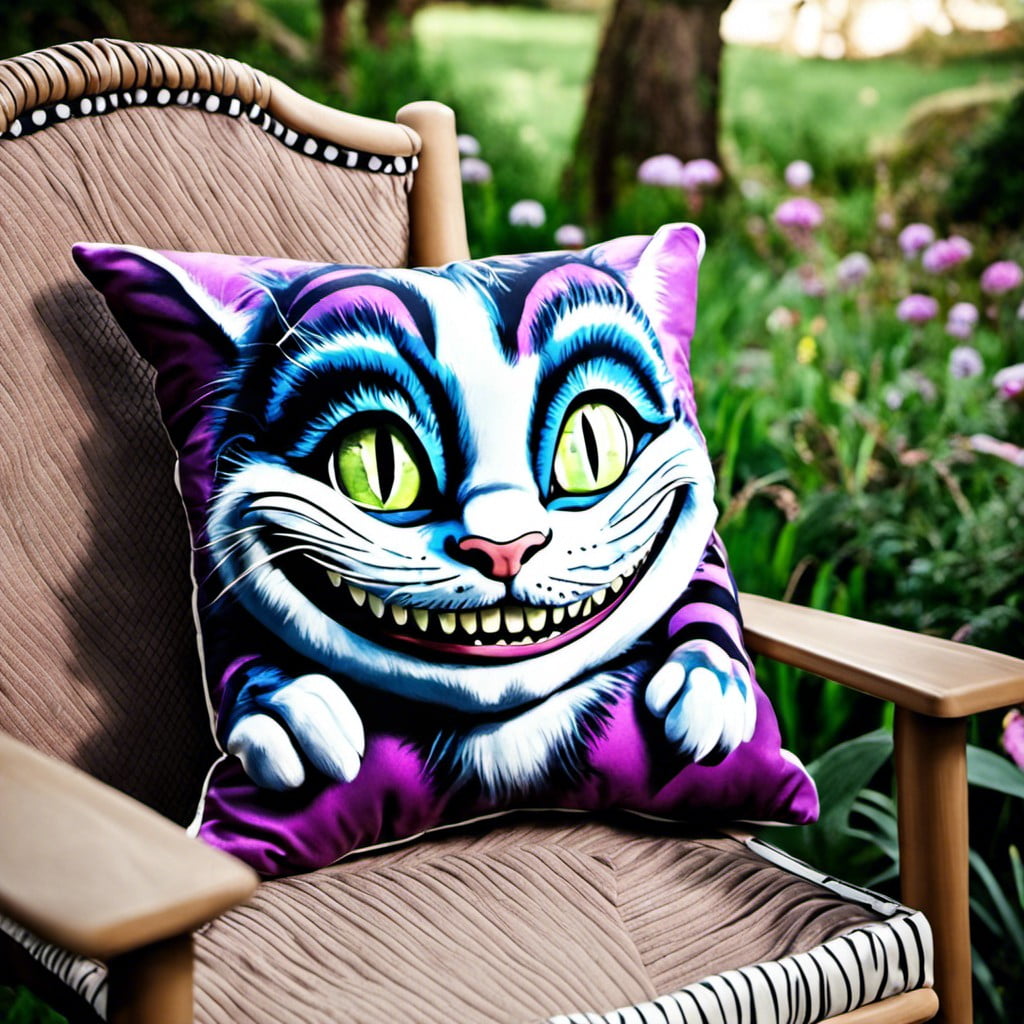 Opting for a variety of cushion shapes and sizes, adorn your sofa or chairs with these whimsical accessories. Select prints showcasing the feline's renown mischievous grin or its pair of distinctive, enchanting eyes.
For a subtler reference, opt for pillows in vibrant, striped patterns, mimicking the Cheshire Cat's infamous coat. Don't shy away from mixing patterns and textures. By blending different designs, you can capture the eclectic and chaotic charm of Wonderland itself.
Remember to opt for durable materials, especially if your decor will be used in high-traffic areas or an outdoor setting. If comfort is key, consider velvet or soft faux fur finishes. They bring a touch of luxury to any seat in the house.
Tea Party With 'Eat Me' and 'Drink Me' Labels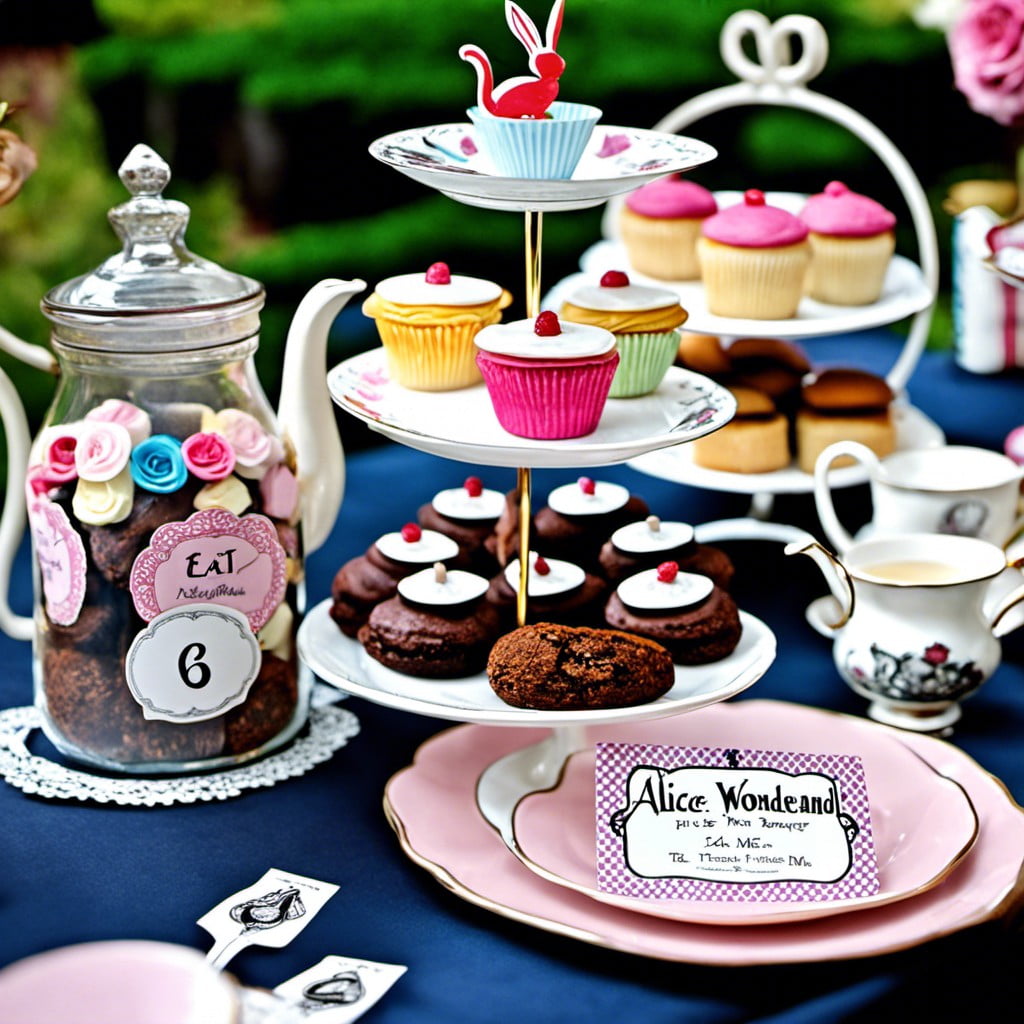 Creating a remarkable experience, mimic the bizarre tea party scene with delicately designed refreshments. Craft miniature cakes and sandwiches, presenting them on quaint, mismatched vintage plates for added authenticity.
Remembering the 'Eat Me' instructions that cause Alice to grow and shrink, affix cute little labels notably marked 'Eat Me' onto the enticing snacks.
In sync with the whimsical theme, prepare a selection of hibiscus tea, milk tea or English breakfast tea served in mismatched teacups. This is where the 'Drink Me' potion comes into play. Attach tags reading 'Drink Me' to the teapots or individual cups.
This element does not only serve as an ice-breaker but also an interactive aspect making guests feel deeply immersed in this unique fantasy world. Just be sure no one gets 'curiouser and curiouser' and starts to feel peculiar!
Door With 'Rabbit Hole' Sign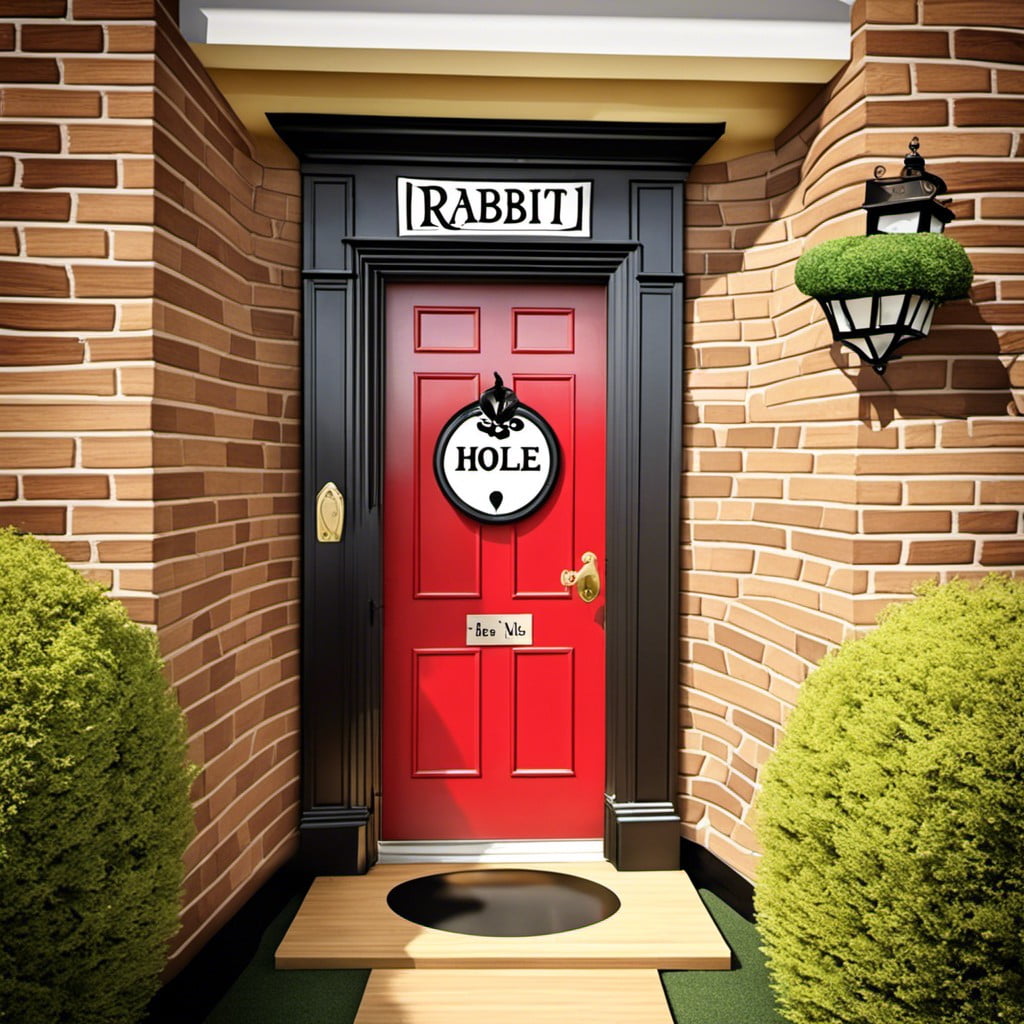 This idea transports guests directly into the fantasy world. First, select an interior door leading to the main party area. Make a wooden or cardboard sign, penned with 'Rabbit Hole' in whimsical, cursive lettering. Attach it above the door, immediately giving party-goers the feeling of venturing into the unknown.
To amplify this effect, consider covering the door with blue or black fabric, replicating the mysteriousness of the Rabbit's burrow. Ensure the transition from the outside world to Wonderland is instantly recognizable.
Queen of Hearts Red Roses Garden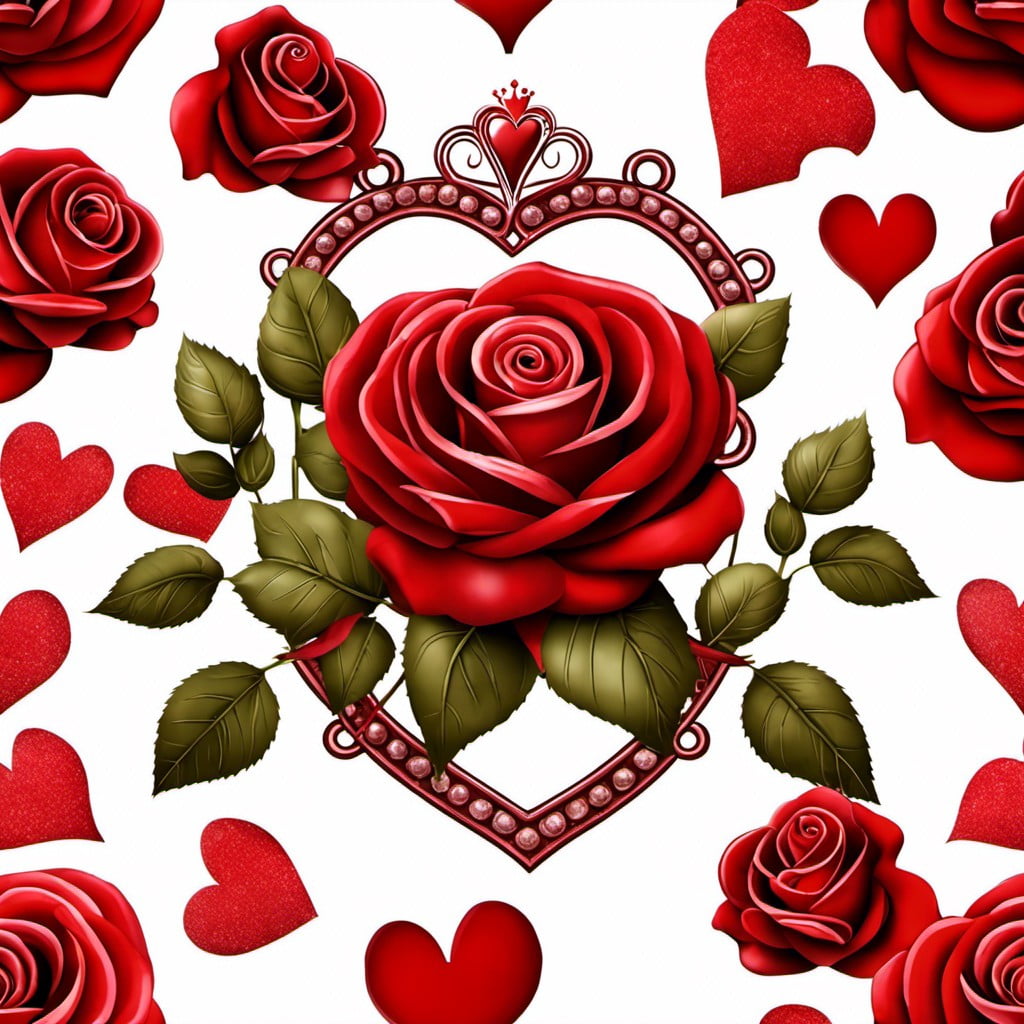 Imagine stepping into a vibrant field of blossoming roses – an essential nod to the fiery Queen of Hearts. Red roses dominate the garden, symbolizing her kingdom. Intersperse these with some white roses, mimicking the scene where her playing card soldiers hastily paint the roses red.
1. Choose different varieties of red roses for a rich, textured effect.
2. Use white roses as "unpainted" counterparts.
3. Place some red paint buckets or brushes near the white roses for a playful touch.
4. Consider adding large playing card soldiers made from plywood as additional decor.
5. For a themed path, use red and black stepping stones shaped like hearts and spades.
6. Charming seating options could include some heart-shaped garden benches.
Implementing these ideas not only brings a delightful aesthetic to your setting but also immerses your guests into the whimsical world of Wonderland.
Mad Hatter's Hat Centerpieces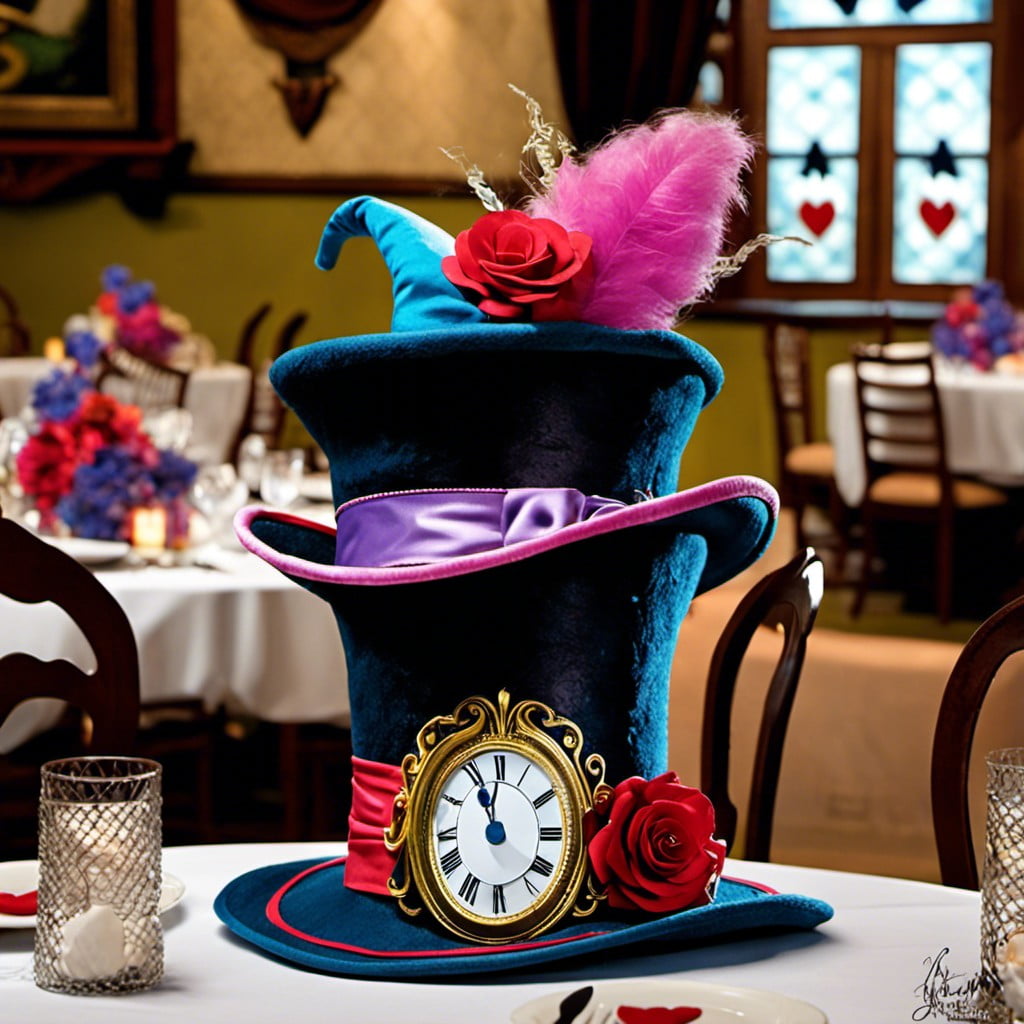 Fashioned from felt or actual vintage hats, these thematic centerpieces are quite effortless to assemble yet add an eccentric touch to your setting.
Channel the Hatter's whimsical nature by incorporating elements like lace, ribbons, peacock feathers, or handwritten paper tags into your design.
Some may opt to tie the aesthetics together by adhering to a specific color scheme.
Alternatively, embrace the chaotic charm of Wonderland by mismatching shapes, colors, and sizes for a truly novel display.
Consider placing them on an elevated stand for added visibility and emphasis.
With this facet, you are only limited by your imagination.
Interweave flickering tea light candles or scattered faux gemstones around them to yield a magical ambience as your soiree transcends into twilight.
Clock and Key Shaped Ornaments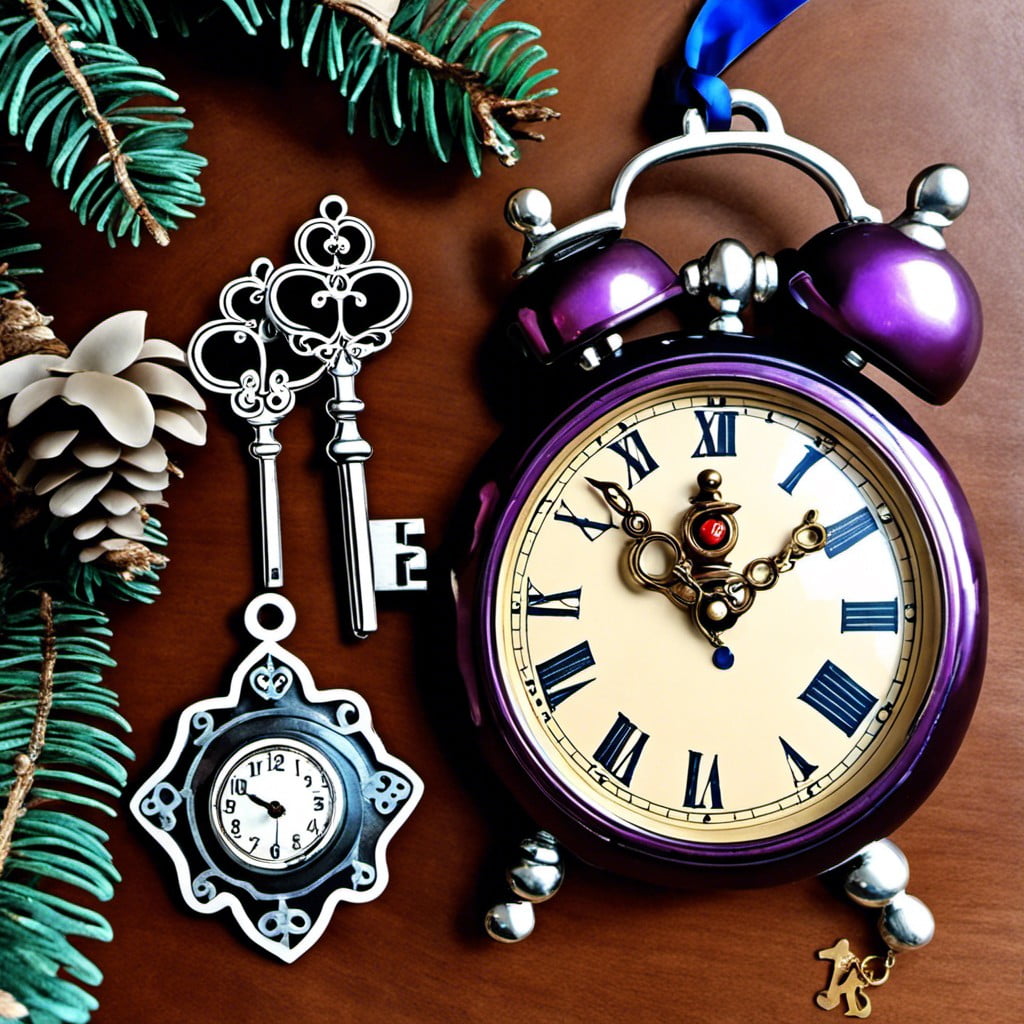 Intricately designed, these antique-esque decorations embrace the magic and mystery of Alice's adventures. Place them strategically around your interior for an added touch of wonder.
They can dangle from ceiling fixtures, adorn fireplace mantels, or even be used as elegant adornments on your party table.
1. Opt for varied designs and sizes to keep the interest piqued.
2. Complement these with other metallic accessories for a consistent theme.
3. Consider hanging them against a lighter backdrop to accentuate their details.
4. Pair them with mini labels bearing famous quotes from the book for a nostalgic touch.
The enchantment lies in the details. With these decor ideas, your guests are sure to be captivated by the charming allure that is quintessentially Alice.
Striped Lawn Flamingos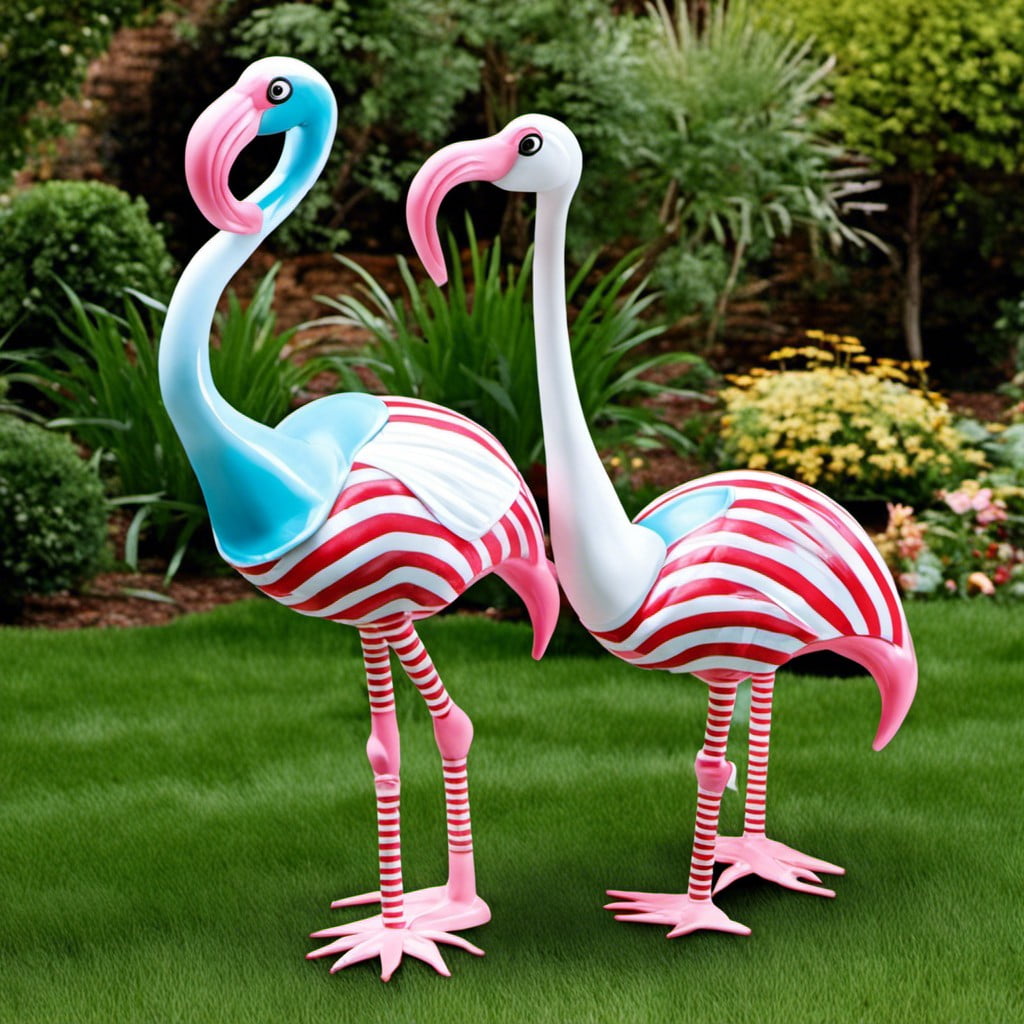 Affectionately known from the whimsical adventures, this bright icons add a hefty dose of fantasy to any lawn or garden setting.
The quintessential pink birds get a twist with quirky stripes, mimicking the Croquet Mallets from the Queen's game.
Secure them into your lawn to set a welcoming and playful scene.
You can easily find these striped versions online or transform regular pink flamingos with some non-toxic paint for a fun DIY project.
An array of them scattered playfully across your yard not only immerses guests into the story but also becomes a delightful talking point.
Character Costumes for the Guests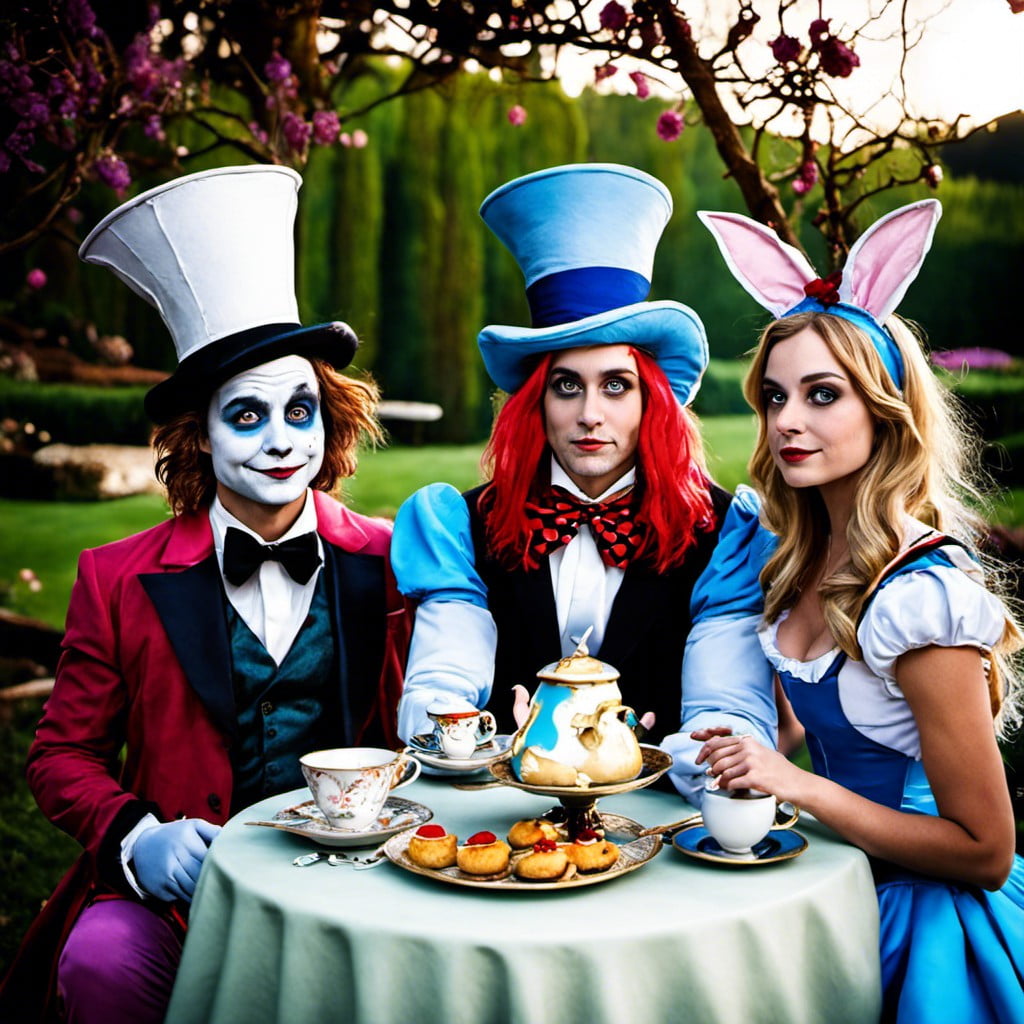 Guests can heighten the atmosphere by dressing as characters from the story. Imagine the thrill as the Cheshire Cat converses with the Mad Hatter, or Alice crosses paths with the Queen of Hearts. Suggest characters to your invitees based on their personalities, adding a touch of humor and intrigue. You could even provide props on arrival, such as rabbit ears, top hats or a deck of cards, to ensure everyone joins in the fun. Offering a prize for the best costume will surely spark competitive spirit and creativity. Rounding out the experience, character costumes make each guest a part of the theme, truly bringing Wonderland to the event.
Mushroom Stools or Chairs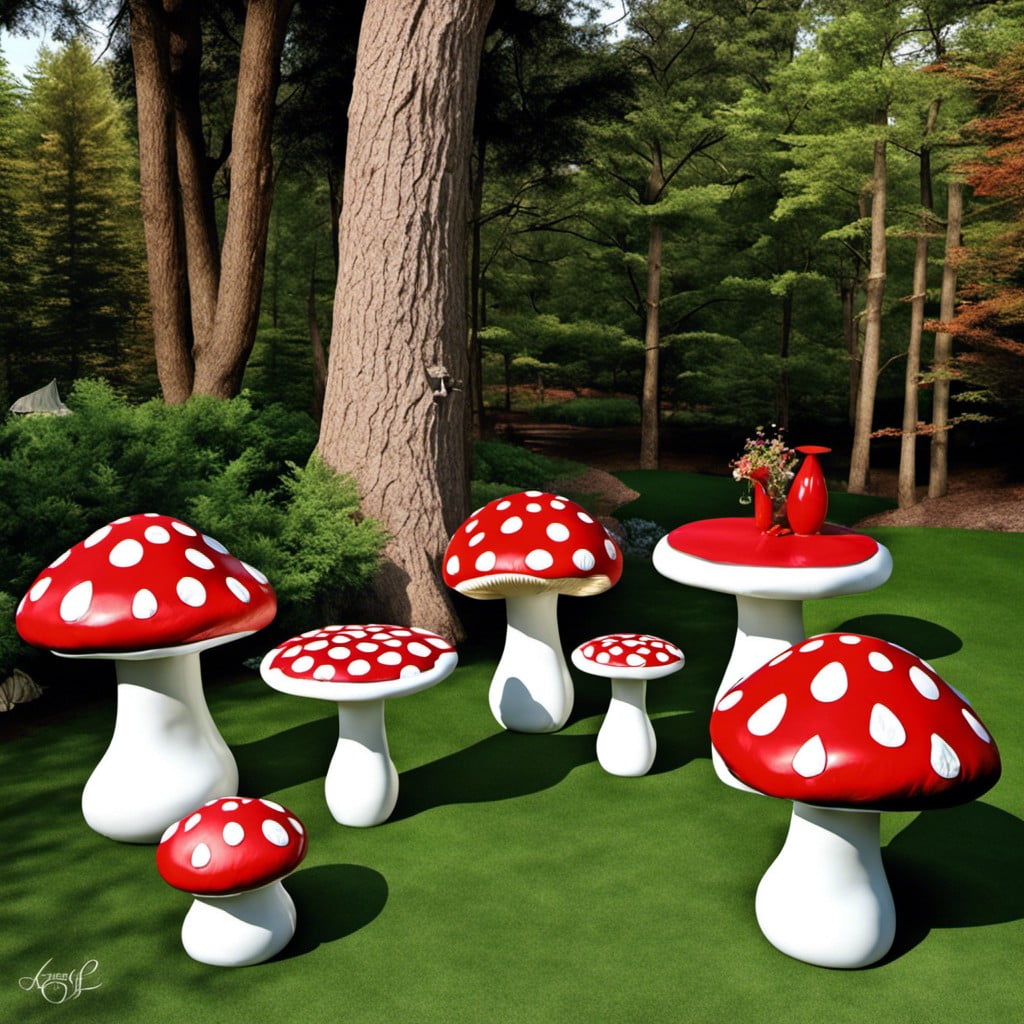 Incorporating seating options that mimic the enchanted forest of Wonderland adds to the immersive experience. Stools or chairs modeled after vibrantly colored mushrooms bring an element of whimsy to your décor. Ideal for both indoor and outdoor setups, these unique items can easily catch the attention of your guests.
You can choose to either buy ready-made mushroom stools, or for the DIY enthusiasts, create your own. Polystyrene, paint, and some artistic flair can easily transform into a magical seating arrangement. Remember, Wonderland is all about stretching the imagination, so opting for a variety of height, size, and colors when assembling your chairs will enhance the fantastical atmosphere.
Consider also where in the venue you'll place these. Sprinkling them randomly across your space, as though they naturally sprouted from the ground, maintains the authenticity of your Wonderland theme. They will not just serve as a seating solution, but also a conversation starter and a perfect photo opportunity.
Whimsical Cupcake Stand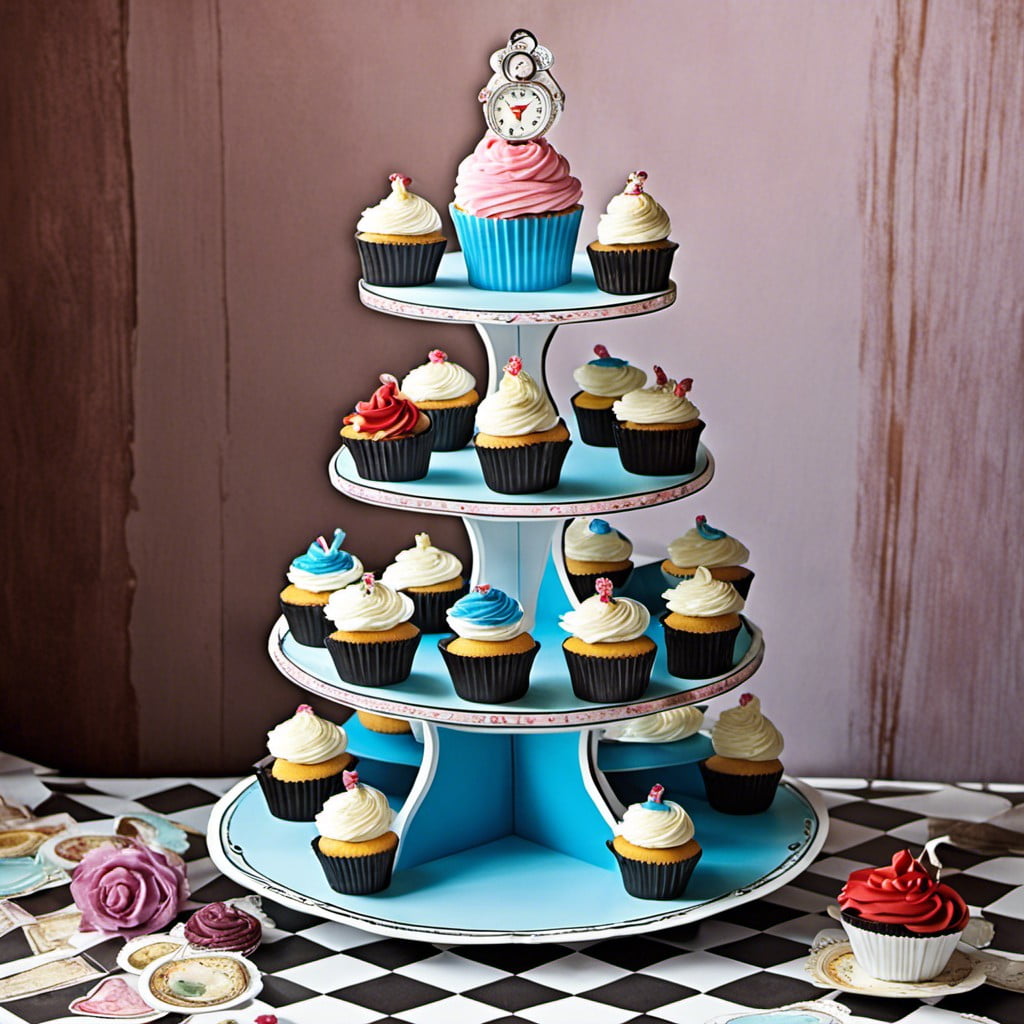 Featuring an array of enchanting cupcakes fashioned after the eccentric characters from the story can add a magical touch. Let your creativity take the helm when decorating these mini treats.
For the Queen of Hearts, red icing with a delicate white heart can work wonders. The Mad Hatter's top hat could be recreated using dark-coloured icing and an almond slice as a brim. Don't forget the White Rabbit, icing a cupcake in pure white and adding a couple of marshmallow 'ears' can bring this character to life.
For the stand, consider a tiered design, reminiscent of the layers of Wonderland itself. Wooden stands painted in pastel colours and decked out with ribbons will give the whimsical feel. Adding a little faux grass or mini toadstools to each tier can give the cupcake stand a real Wonderland twist.
For a final touch, position a sign on top of the stand with the infamous phrase, "Eat Me", inviting your guests to indulge in these whimsical sweet treats.
"Unbirthday" Banners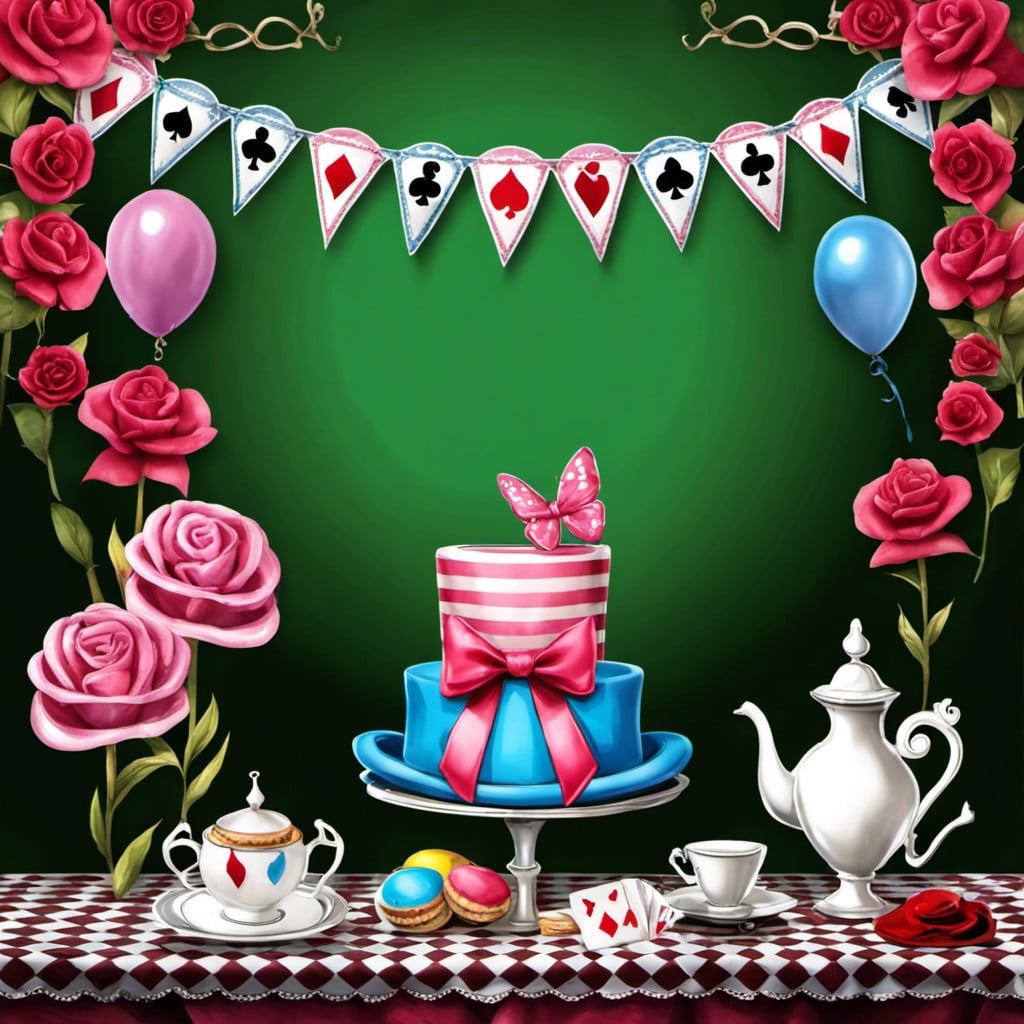 Transforming your celebration into an "Unbirthday" party, made famous by Lewis Carroll's enchanting tale, is a unique touch. Opt for banners in vibrant colors, such as royal blue or rich purple, adorned with golden fonts to infuse an air of the whimsical. Include Or maybe, you'd prefer an array of pastel-hued banners, echoing the story's nonsensical charm.
Use craft paper, ribbons, a touch of glitter, or even calligraphy to make these stand out. Remember, the askew and peculiar are the cornerstones of an Alice in Wonderland theme, allowing ample room for creativity. By introducing this element of surprise, you're set to leave an indelible impression on your guests. By guiding their gaze upwards, these banners can help highlight your high ceiling or exposed beams, making the space feel larger and more inviting.
Another exciting aspect of this ethereal tale is the quotation banners. For example, integrate phrases such as "I can't go back to yesterday because I was a different person then," into your decoration for an immersive experience.
And remember, 'unbirthdays' occur 364 days a year-An Alice-themed decorating opportunity any day you fancy!
Remember, your goal is not to be a perfect replicator; instead, channel the story's essence and make it a memorable experience for your guests.
Croquet Set With Hedgehog Balls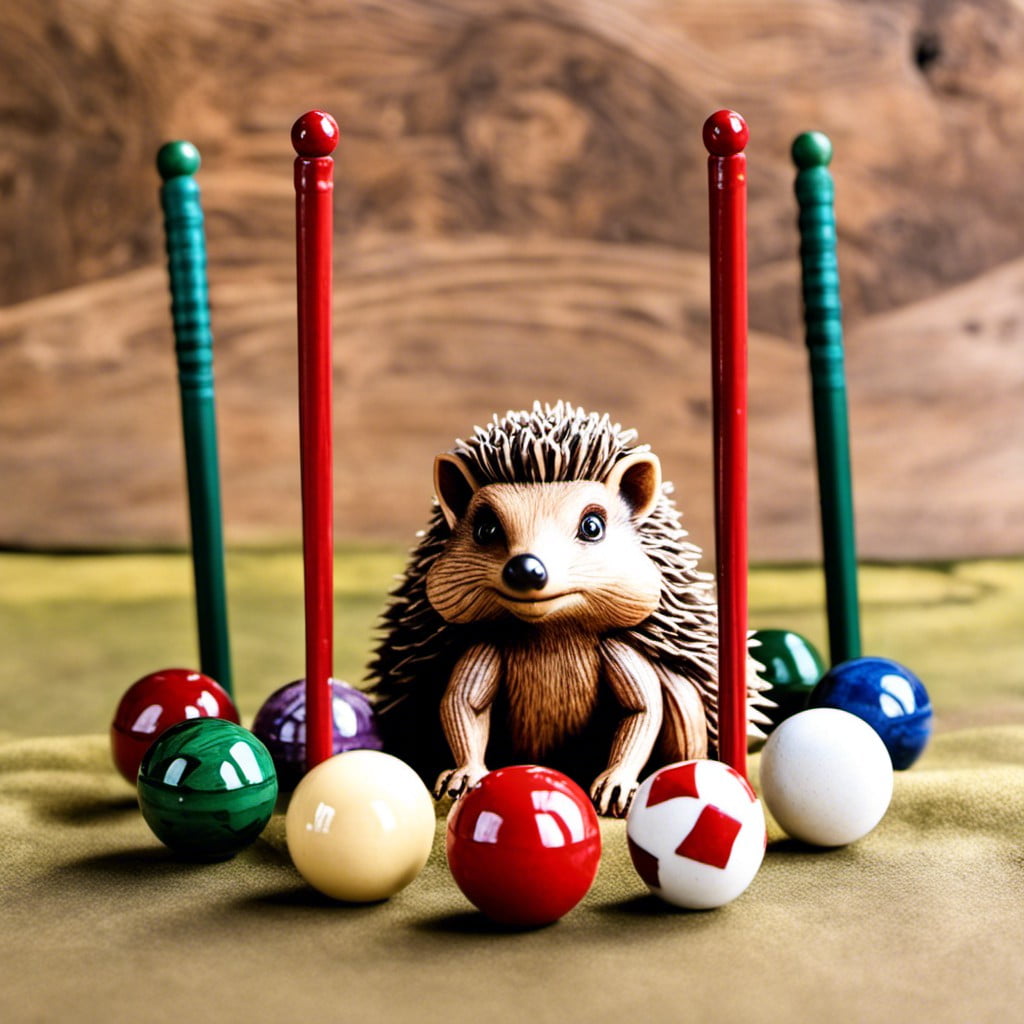 Integrating elements from the story is key. Remember the iconic croquet scene, Queen of Hearts presiding over a wacky game using hedgehogs as balls? This could form a fun interactive addition to your decorations.
Consider these steps:
Purchase a basic croquet set.
Decorate wooden balls to resemble hedgehogs using paint and faux fur or bristles. Ensure safety and practicality, the balls should still roll smoothly.
Set up the game on your lawn and create simple printed instructions for beginners.
Use red stakes and hoops in a nod to the Queen's penchant for the color.
Incorporate signage like "Beware of the Queen's Wrath" to build the theme ambiance.
There you have it – a touch of whimsy and engagement rolled into one.
Hanging Pocket-watch Decorations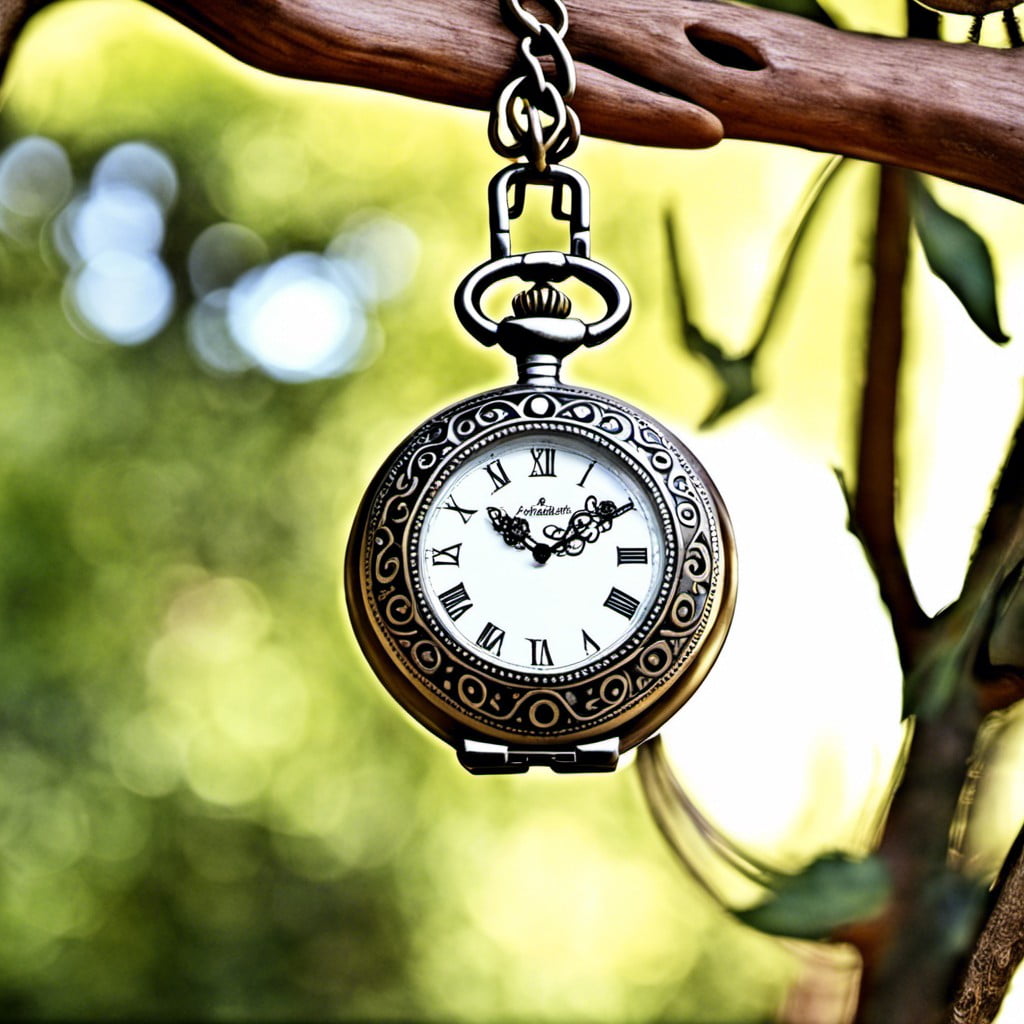 Adding dimension to your space can be achieved with decorative elements that fill the air as well as the walls and tabletops. One such tool is the striking and unique hanging pocket-watch decoration.
They can be placed strategically around the venue, appearing as if they're floating and creating a fantastical atmosphere reminiscent of the White Rabbit's obsession with time. Metallic tones of gold, silver, and brass are classic options that maintain an authentic feel. For a whimsical touch, opt for pocket-watches of varying sizes, and hang them at different heights.
Consider using them outdoors, suspended from trees for a magical garden party ambiance, or indoors, dangling from chandeliers for an exciting indoor feast. These hanging decorations are not only visually arresting but also introduce a sense of movement that keeps the decor dynamic.
For an added layer of creativity, set the times on these pocket watches to significant moments, perhaps alluding to iconic scenes from the story. This attention to detail will surely impress your guests and plunge them deeper into the Wonderland experience.
Caterpillar's Hookah Setup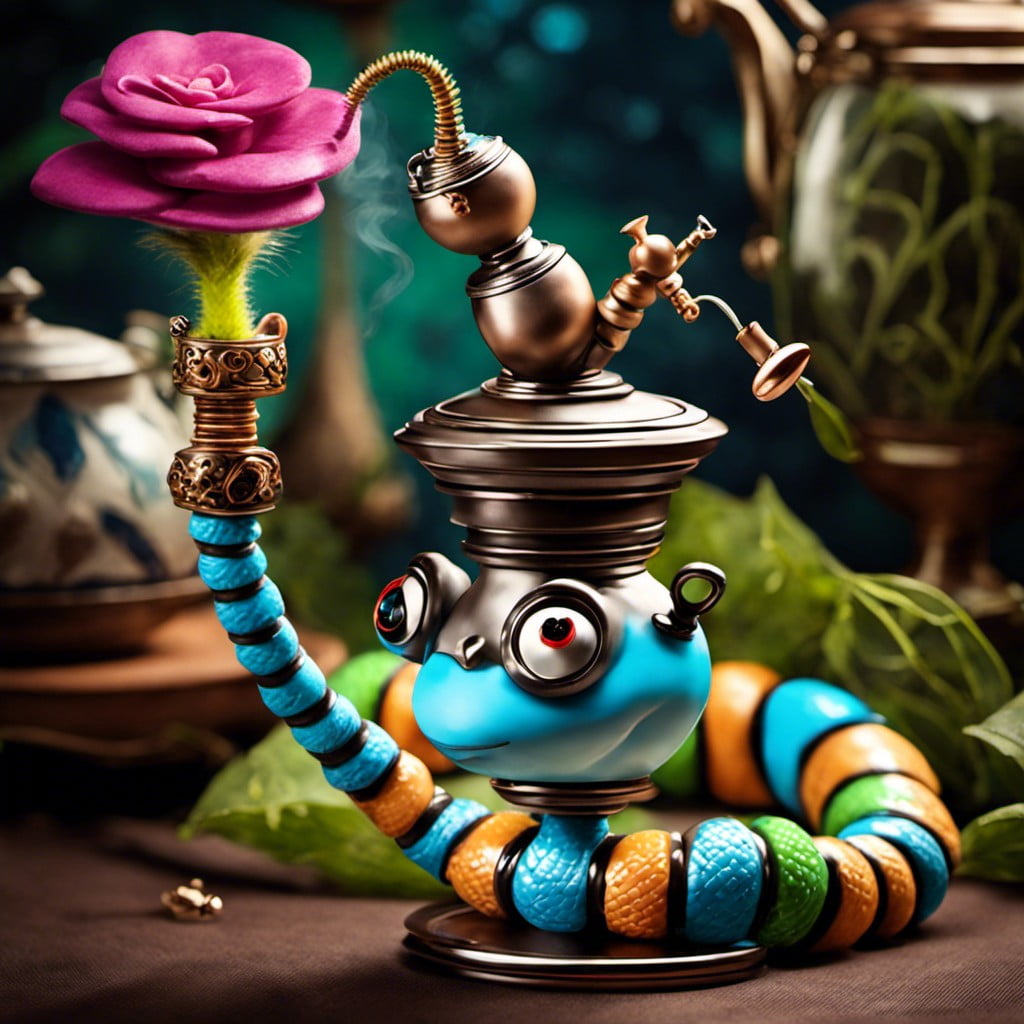 For a truly immersive experience, re-create the iconic lounging area of the blue Caterpillar. As in Louis Carroll's tale, your setup should be both peculiar and inviting.
Ensure you choose a comfortable seating area such as a large ottoman or oversized floor cushions, arranged around a low table. A faux hookah can be placed on the table as a centerpiece.
Achieve the mystic ambiance with the use of blue LED lights and delicate, smoked glass decorations. Remember though, this is not a pro-smoking message but a nod to the story.
Finally, for added authenticity, use a blue garden gnome or even a stuffed toy caterpillar as a figurine. This setup will not only look great in photos but will also serve as a conversation starter for guests.
Giant Pop-up Book Photo Booth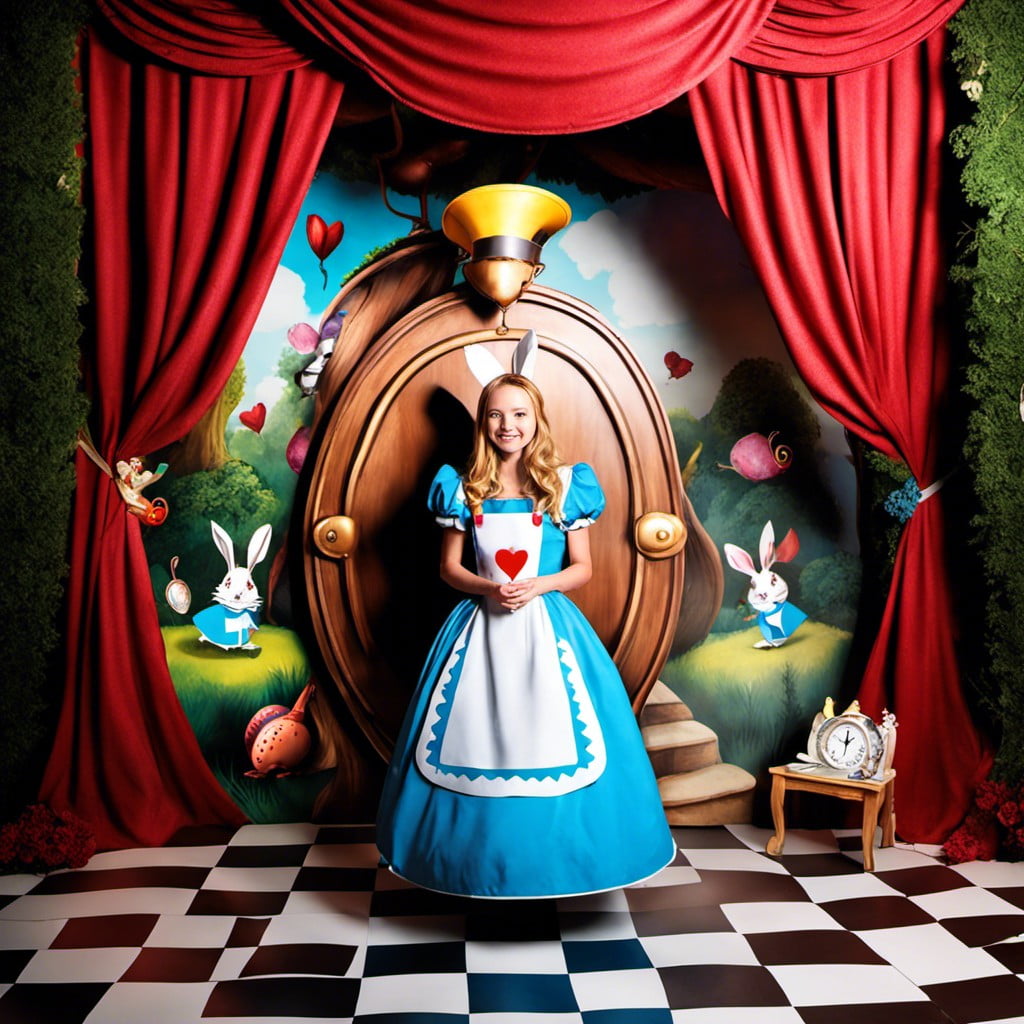 One novel way of diving into Lewis Carroll's world is through a "book portal". Imagine a large, oversized tome, designed to look like a classical storybook. Venturing inside, guests find themselves in a staged backdrop, perfectly capturing the essence of Alice's whimsical adventures.
To achieve this seemingly impossible feat, start by constructing the frame, preferably wooden, to resemble an open book. Use flexible plywood or similar material for the curved spine and pages. Paint it with light-cream or parchment color.
Then, turn to the 'pages'. Commission an artist, or if you're artistically inclined, paint a vibrant scene from Wonderland yourself. The tea party, the flamboyant rose garden, or the court of the petulant Queen, the choice is yours! The painted pages act as the backdrop for the pictures, unforgettably steeped in Carroll's universe.
For an added touch, suspend props like oversized teacups or a giant key against the painted backdrop. Don't forget to equip the booth with fun props. Feathered hats, dainty hand-held fans, crowns—anything that echoes the peculiar charm of Wonderland.
Lastly, ensure a good lighting setup. It can make or break the magical atmosphere of your photo booth. Try a mix of spotlight to highlight the props or costumes and diffused lights for an even coverage.
Chessboard Black and White Dance Floor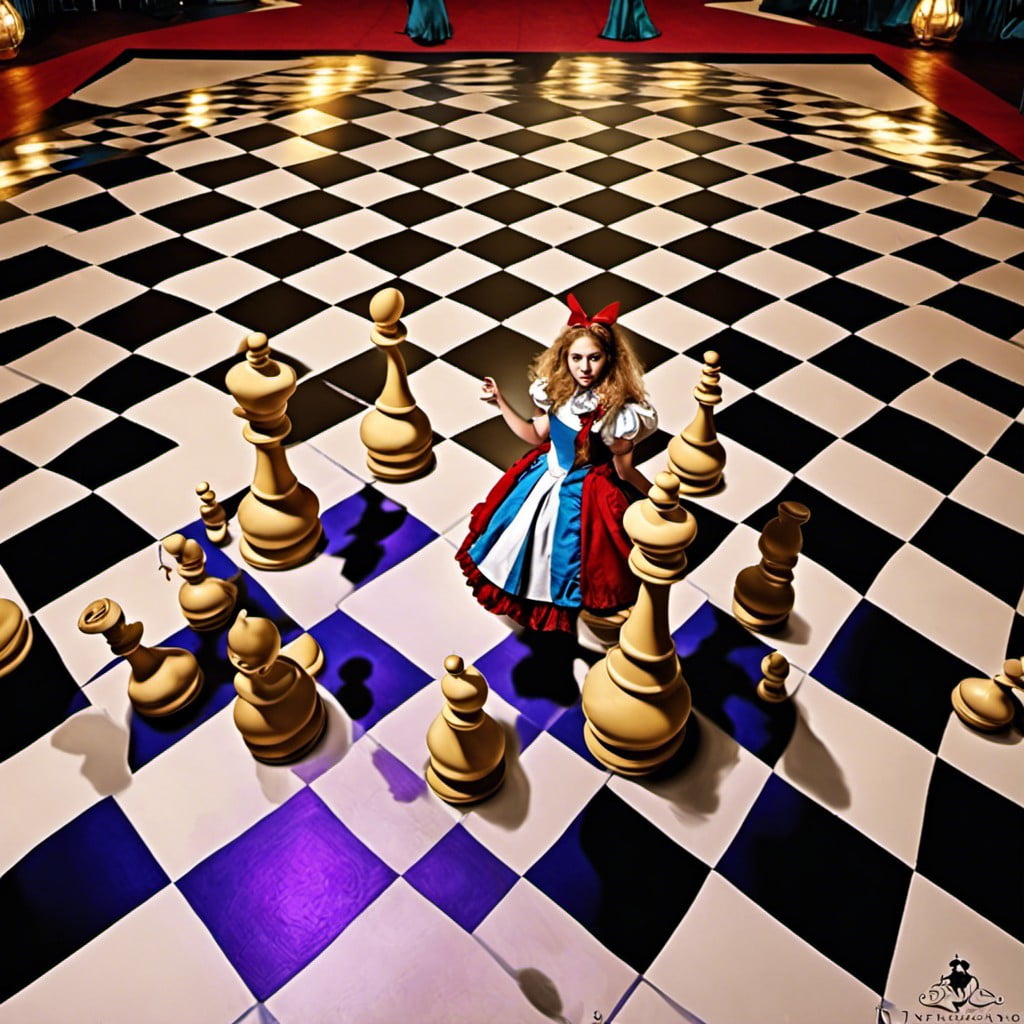 A key element drawn from the Queen's Croquet-Ground chapter, this idea brings fun and whimsy to your decor. Its implementation can be achieved in a variety of ways.
1. Vinyl floor decals can transform any surface to resemble a chessboard, providing an instant visual impact. Preferably, choose removable decals to avoid permanent changes.
2. Ceramic tiles might be a considerable option for a more permanent setup. A mix of black and white squares set up in a checkerboard pattern will do the trick.
3. If the venue is outdoors and you want a more whimsical approach, painted lawn squares offer a fantastic replica of a giant chessboard.
4. Temporary dance floor rentals are available in a wide range of styles, including black and white squares. This option is perfect if the Alice in Wonderland theme is for a single event.
Remember, the goal here isn't just decoration. It's about creating an interactive feature that gets guests moving and involved in your magical Wonderland.
Edible Tea-cup Treats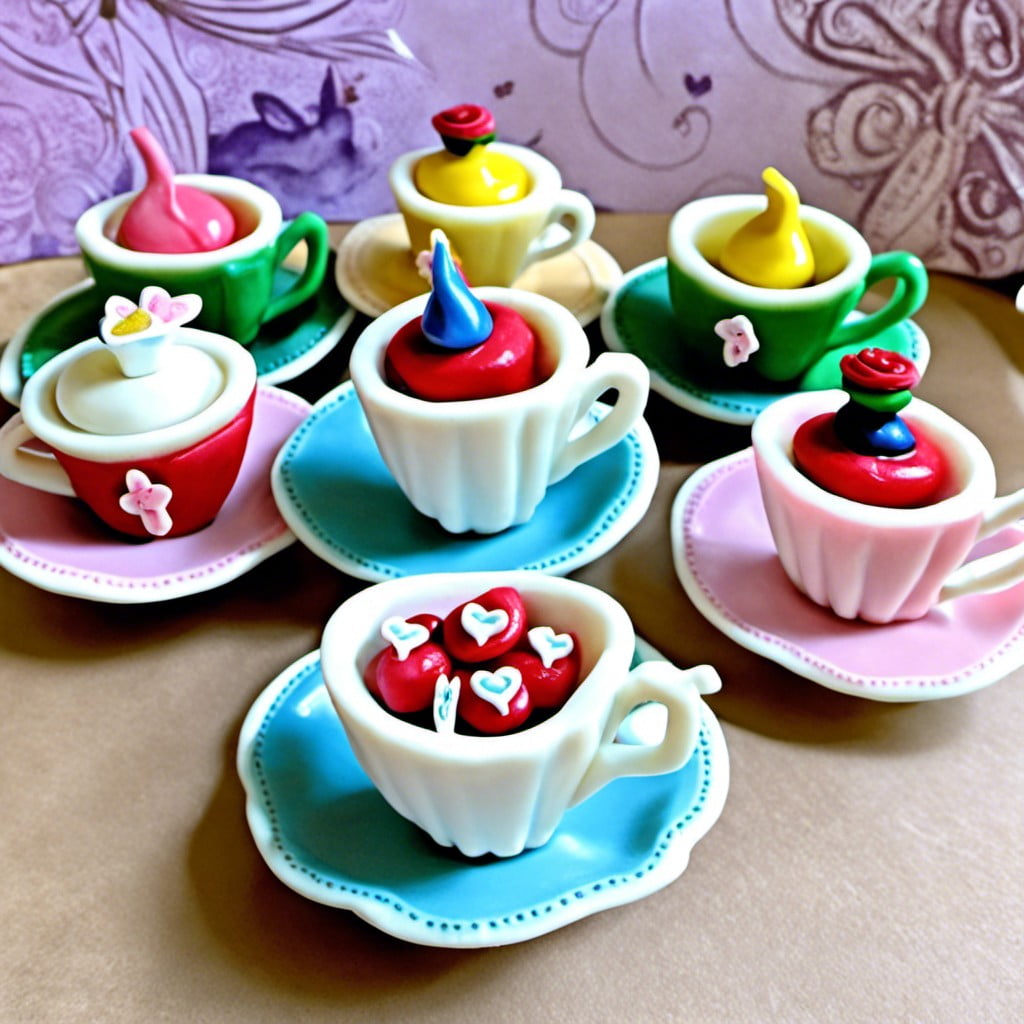 If you're seeking dessert ideas that also double as décor, look no further than creating your own cookie tea cups. Offering a visual delight and a sweet treat, these edibles can be the cherry on top of your Alice in Wonderland-themed gathering.
1. The Cookie Dough: Start off with a sturdy, delicious cookie dough. A vanilla or gingerbread recipe often works best. Shape them into cups while still soft, using a mold or a small bowl, then bake.
2. The Decoration: Once cooled, add icing resembling the intricate designs of vintage tea cups. Think pastels, floral patterns and fine line drawings. An edible marker can make this task easier.
3. The Filling: Finally, consider the filling. You could go for a classic whipped cream or custard. Alternatively, use a flavored gelatin or a rich chocolate ganache for a surprise element.
Now, you're all set to serve these delightful treat-cum-decorations, befitting of the Mad Hatter's tea party itself.
Liked reading this? Here's more:
Recap: