Last updated on November 11, 2023
Because everyone loves a well-decorated party, these birthday brunch decorating ideas can effortlessly transform your space into a chic brunch party haven, boosting the fun and the festivities.
I'm proud to have put together these 20 Birthday Brunch Decorating Ideas and sincerely hope you find them as inspiring and fun as I did while creating them.
Throwing a birthday brunch can be a delightful way to celebrate a loved one's special day. The key to a successful brunch lies in the details: careful selection of a theme, well-coordinated color schemes, thoughtful table settings, and a menu that complements the overall aesthetic.
Whether you're opting for a casual, cozy gathering or a more formal, elegant affair, the right decor can set the mood and make the event memorable.
This article will guide you through a variety of birthday brunch decorating ideas, offering tips on everything from choosing the perfect centerpiece to selecting the right tablecloth.
Let's dive into the world of brunch decor and create a celebration that's as unique as the birthday honoree.
Balloon Archway At Entrance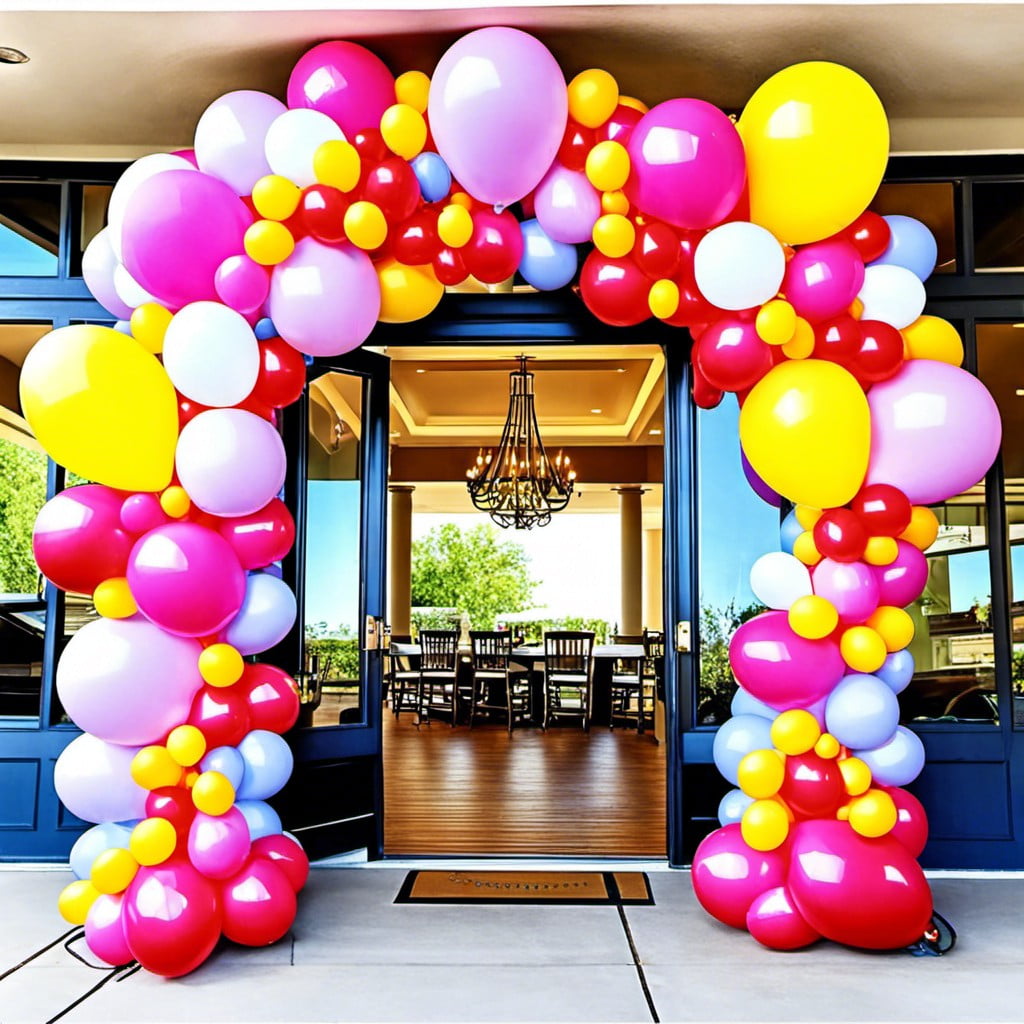 An arch formed of vibrant balloons is the perfect way to welcome guests with a celebratory spectacle. Start by choosing the colors that tie into your overall theme for a unified aesthetic. Combine different sizes – from oversized to miniature balloons for dynamic visual interest. Incorporate patterns or metallics such as polka dots or gold accents to add an extra touch of sophistication.
To construct, use a sturdy wire or plastic base and attach balloons with string or glue dots, filling in gaps with smaller balloons to achieve a full and lavish look. Securing the arch at both ends is crucial to ensure stability. Consider adding some decorative elements like faux flowers, foliage, or ribbon bows to the base for a finished look.
Do remember, it's not just about the entrance, place the arch at an optimal location for photo ops, making it an interactive part of your party's enjoyment. This high-impact decoration doesn't just set the tone but significantly elevates the celebratory atmosphere.
Themed Table Settings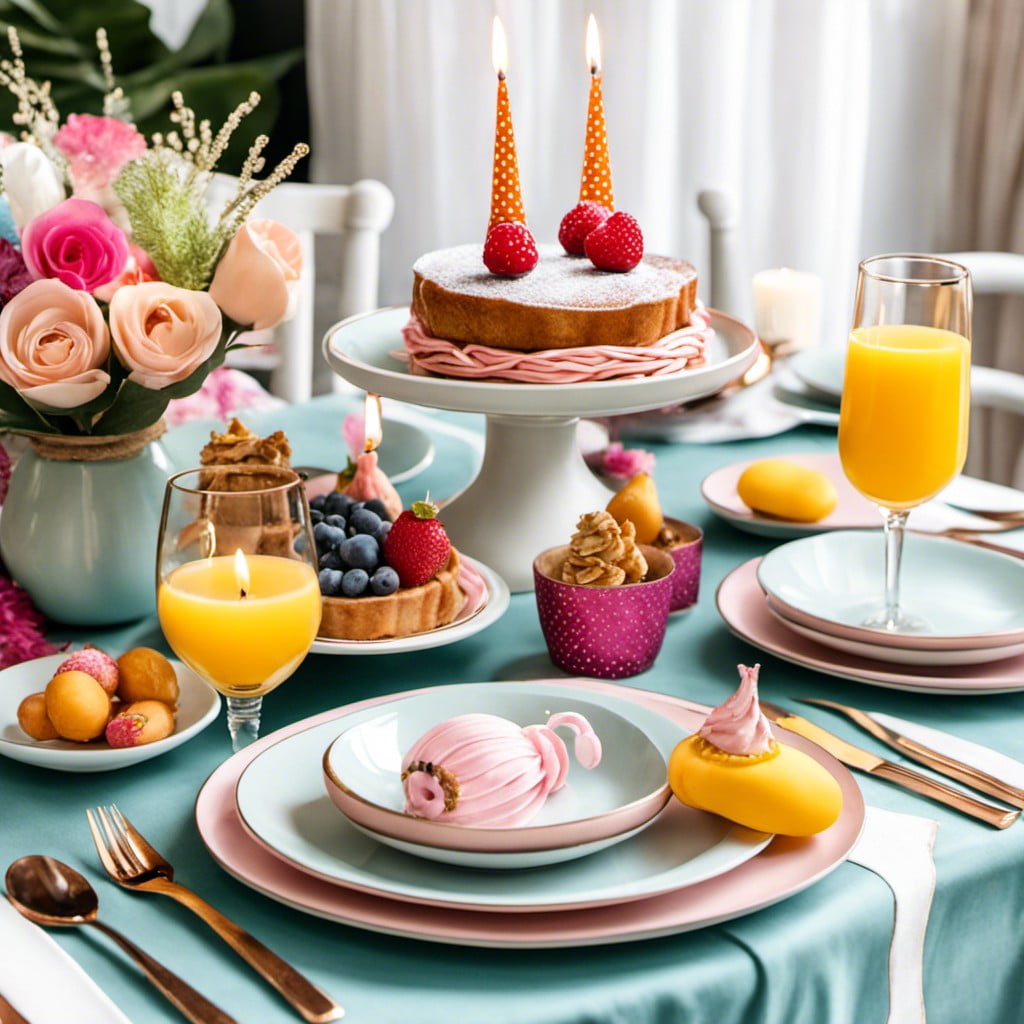 Drawing from the theme of the birthday party, curate each table setting to amplify the festive ambiance. Employ printed or themed tablecloths and opt for plates, silverware, and glassware that collaborates well with the selected theme. If you're going for an elegant vintage brunch theme, consider setting the tables with floral-patterned china and pastel-toned napkins complemented by rustic, shabby-chic table runners.
Conversely, for a lively tropical theme, think about vivid tablecloths adorned with pineapple or flamingo motifs. Use yellow plates, green leaf-shaped placemats, and tropical-themed glassware. Keep in mind that using items effortlessly can transform the brunch from a simple gathering into a cohesive, visually-pleasing celebration. For added sparkle, spritz table decorations with a touch of edible glitter or place a small candle holder at each setting.
To make the celebration more personalized and memorable, consider designing customized place cards for each table setting. From simple, hand-lettered cards to miniature ornamental trinkets bearing the guest's name tied with an elegant ribbon; the options are limitless and add a personal touch to each table.
Floral Centerpieces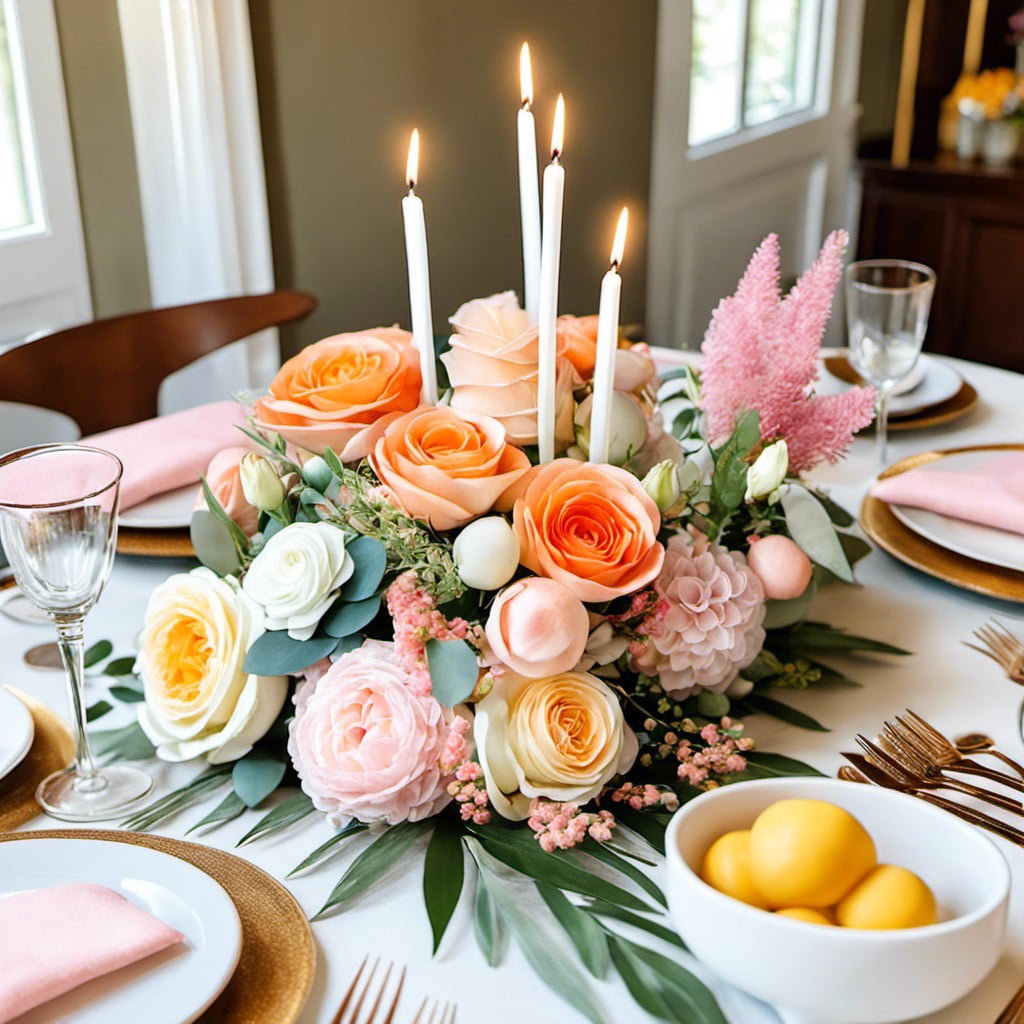 After setting the table comes the striking touch – the centerpiece. A floral centerpiece can be uniquely designed to fit the theme, color scheme, and style of the brunch. This is a versatile decoration as there's such a large variety of flowers to choose from.
1. If you're going for a sophisticated ambiance, consider a low-lying arrangement of roses, peonies, and hydrangeas in a stylish vase. This elegant piece will provide a touch of timeless classic, enhancing the overall aesthetics.
2. Catering to a more boho-chic decor? Opt for a wildflower centerpiece in a mason jar. These arrangements usually feature sunflowers, daisies, and other wild blossoms, offering a free-spirited yet cozy brunch setting.
3. Looking for a modern twist? Succulents and Monstera leaves arranged in geometric vases are the perfect solution. Their unique shapes and textures make a striking statement with a minimalistic feel.
4. For a budget-friendly solution, consider a single bloom in a charming glass bottle. Line them up in the center of the table for a minimal yet artistic allure.
Remember, the centerpiece should not obstruct the view across the table, as brunch is also about engaging conversations and shared laughter. Experiment with different combinations as per your preference and create a floral impact at your birthday brunch!
Color-coordinated Napkins and Tablecloths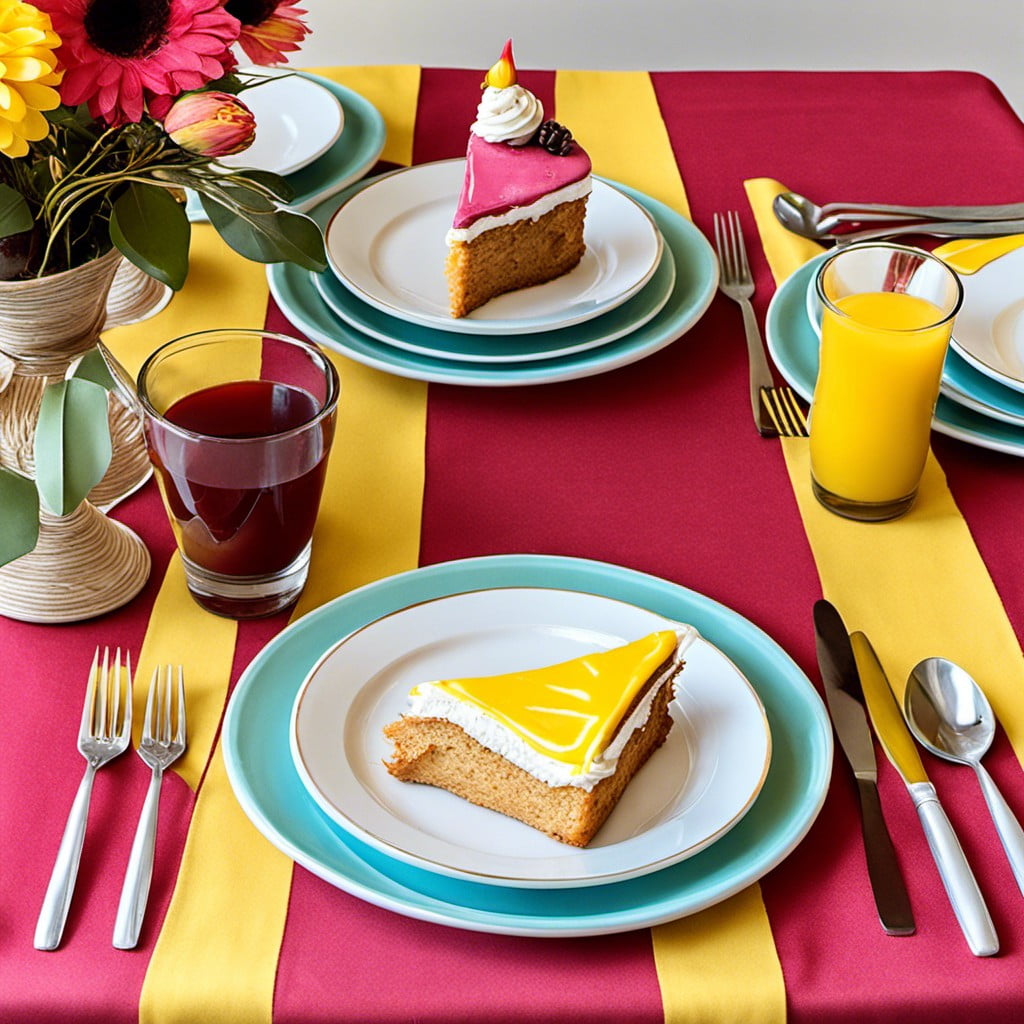 Choosing a unified color palette brings a sense of cohesion and elegance to your brunch setting. If your tablecloth is in a solid shade, consider patterned or textured napkins for a pop of interest.
Conversely, if your tablecloth boasts a bold pattern, opt for napkins in a solid, complementary hue. Additionally, seasonal tones can be embraced – pastels for spring, rich, warm tones for autumn – while metallics can shake things up for a festive twist.
Ensuring the color of your napkins and tablecloths harmonize not only streamlines your decorating process but also adds visual appeal for your guests.
Personalized Place Cards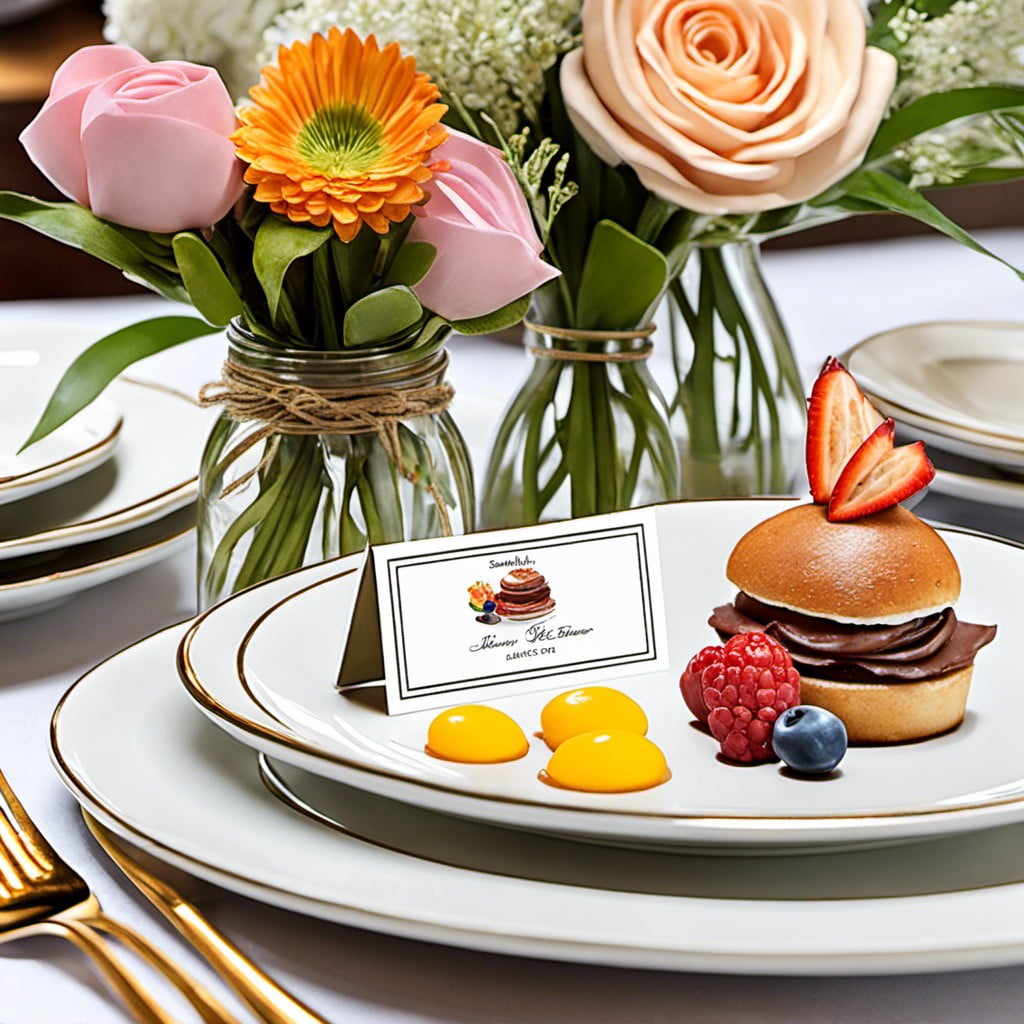 Incorporating an individual touch to your brunch décor is effortless when you introduce personalized place cards. These not only offer a formal structure to your event but also provide a memento for guests to take home.
To start, consider integrating the theme of your brunch into the design. For example, you could use cupcake shapes for a dessert-themed brunch or beachballs for a summer bash.
Secondly, take materials into account. While there's always classic cardstock, other unique options include small chalkboards, leaves, or even seashells.
Finally, remember that the name isn't the only aspect that can be personalized. Add a thoughtful note or a fun fact about each guest for more interactivity and conversation starters.
Thus, personalized place cards serve multiple functions: guiding guests to seats, adding decorative elements, and enhancing the overall theme. Remember to choose a design that aligns with your party's aesthetic and, most importantly, conveys the birthday celebrant's unique style.
Streamer Ceilings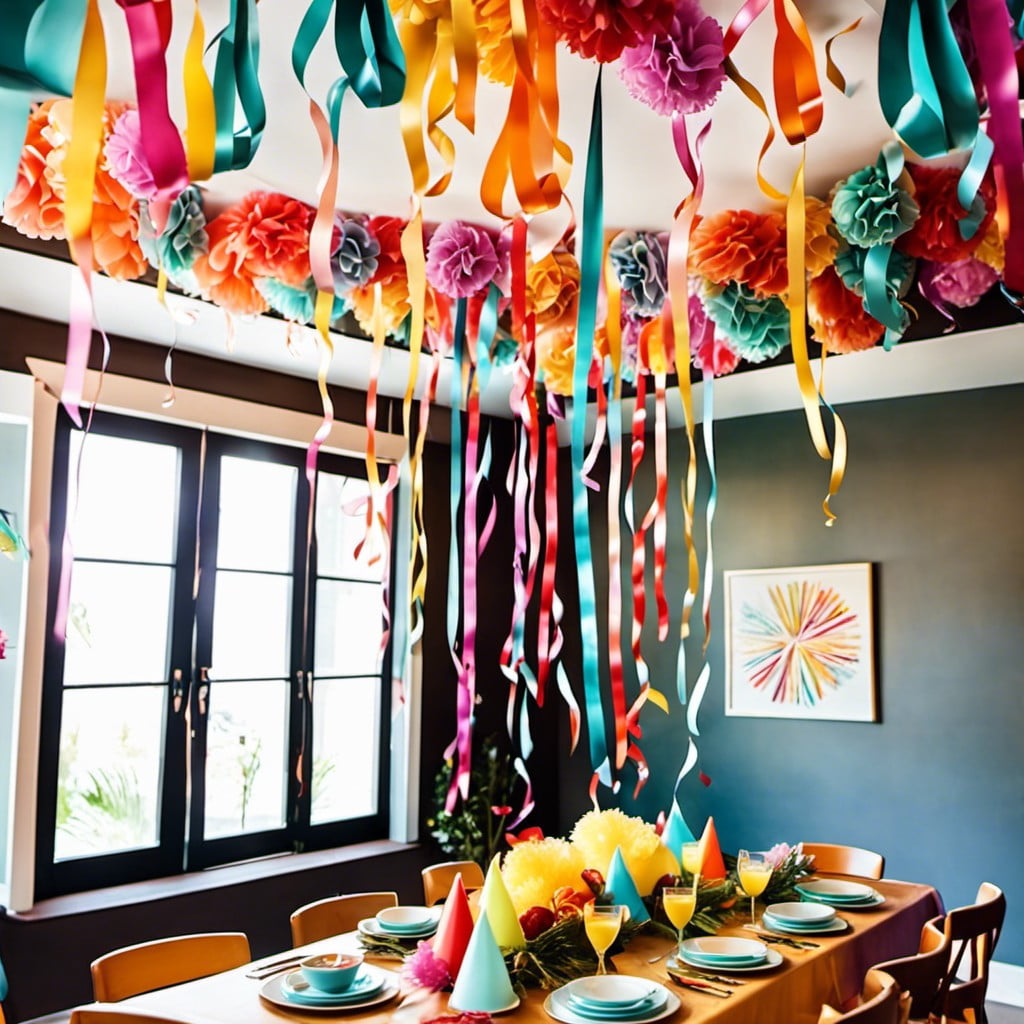 Breathing life into the party atmosphere, a ceiling adorned with streamers offers a whimsical avenue for creativity. There's no limit to the color palette you can venture into, mixing and matching to your heart's content. However, sticking to your theme's hues works wonders.
This approach employs two versatile techniques: draping or hanging. Draping streamers across the ceiling, in a wave-like effect, renders a transformative romantic appeal. Conversely, hanging them vertically offers a vibrant waterfall-like illusion.
Beyond style, texture comes into play. Crepe streamers add a ruffled effect, while reflective metallic streamers enhance light play within the room. Additionally, intertwined with fairylights, streamers achieve a magical glow, infusing both romance and charm into your brunch.
Always keep in mind, placement breathes life into this versatile décor option. Streamers should cascade over dining areas, dance floors, or doorways. Balance out the distribution to prevent overwhelming any particular area. It's a strategy that subtly boosts the visual appeal, without diverting attention from other components of your venue's decor.
A budget-friendly tip: Bulk buy your streamers. Not only cost-effective, it ensures a consistent color scheme.
So, unfurl those streamers, for an undeniably enchanting ambiance. With just a few rolls, a touch of creativity, your brunch birthday will ascend to a new level of festive flair.
Confetti-filled Balloons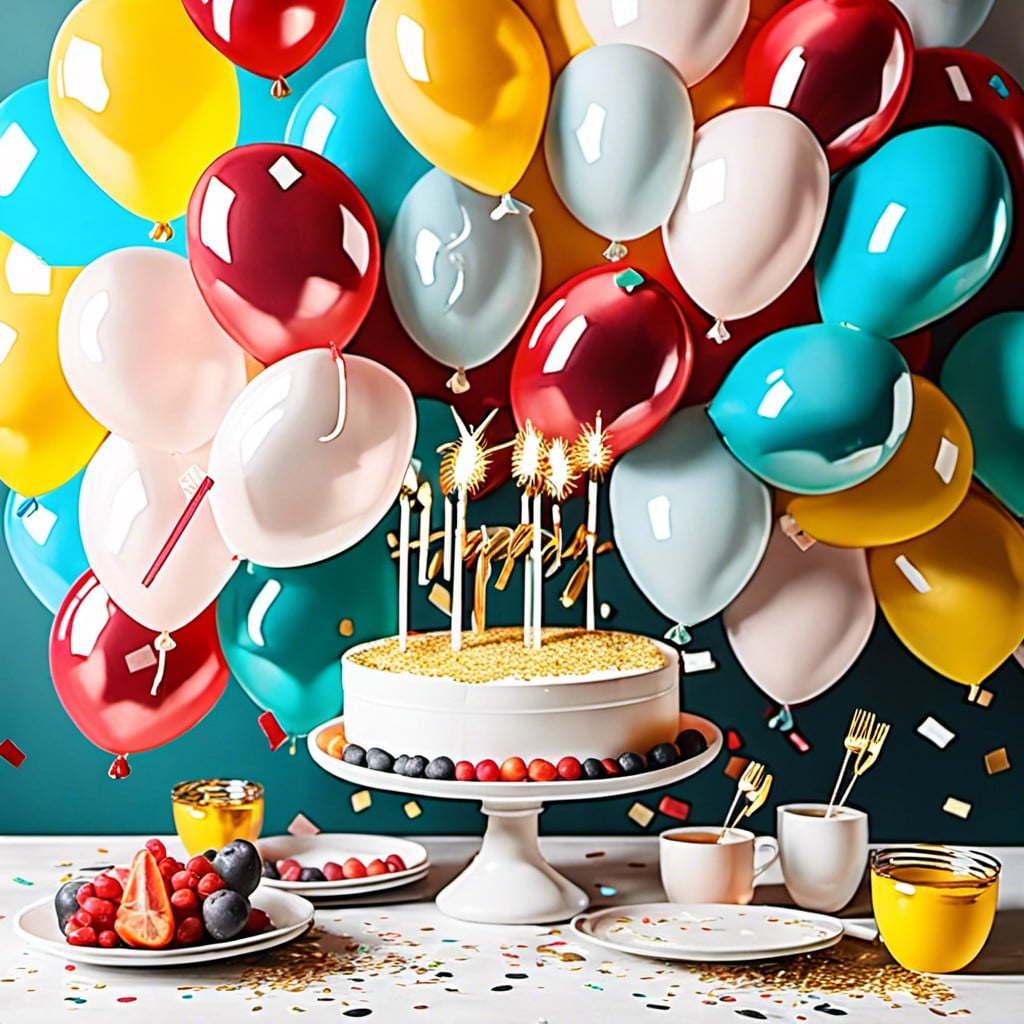 Creating an exciting atmosphere is simple by incorporating these fun elements. Select transparent balloons, then fill them with small, vibrant pieces of confetti before inflating. Choose colors that match your existing decor or ones that stand out for an exciting pop of colors.
For a fun twist, consider metallic confetti that will reflect light and make your room sparkle. Alternatively, try biodegradable confetti to keep your celebration sustainable.
Arrange these balloons in groups around your venue, or tie them to your brunch table's corners. Also, it's a good idea to consider balloon weights to keep them in place. If you want to elevate your decor literally, allow them to float to the ceiling and create a "confetti rain" effect.
For a trendy touch, tie tassels onto the balloon strings. Do remember to give your balloons a light shake before your guests arrive to circulate the confetti evenly. These fabulous features will stimulate your guests' senses and accentuate the celebratory spirit of your birthday brunch.
Birthday Banner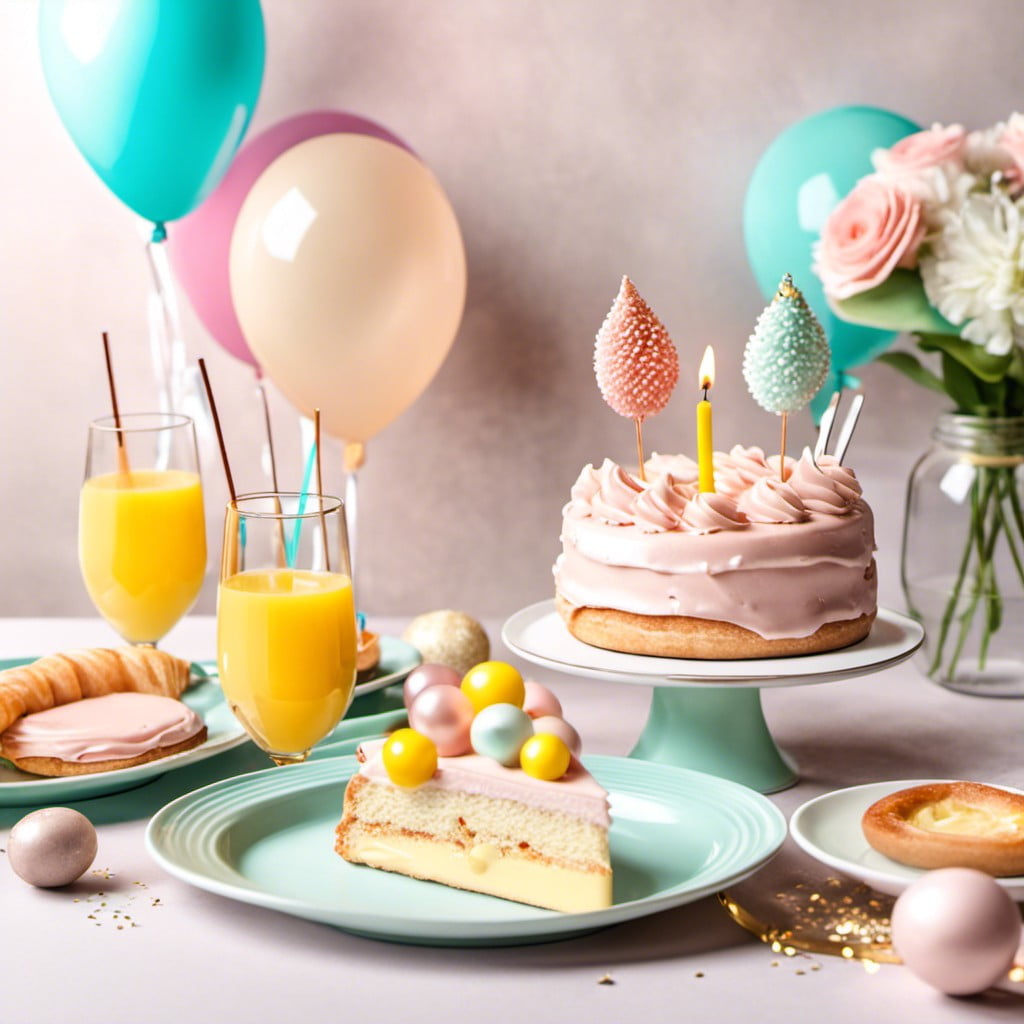 Choosing the right type of banner can create a focal point and add a personalized touch to your birthday brunch decor. Opt for a custom banner that includes the celebrant's name or a phrase symbolic of their personality.
For a chic, modern look, metallic letter balloons spelling out the birthday person's name could be an excellent choice. Alternatively, for a vintage or rustic vibe, bunting banners using patterned fabrics or paper in theme-appropriate colors make a charming choice.
Always hang the banner in a place where it stands out – above the birthday table, across the brunch bar, or in the main gathering place.
Cupcake Tower With Birthday Candles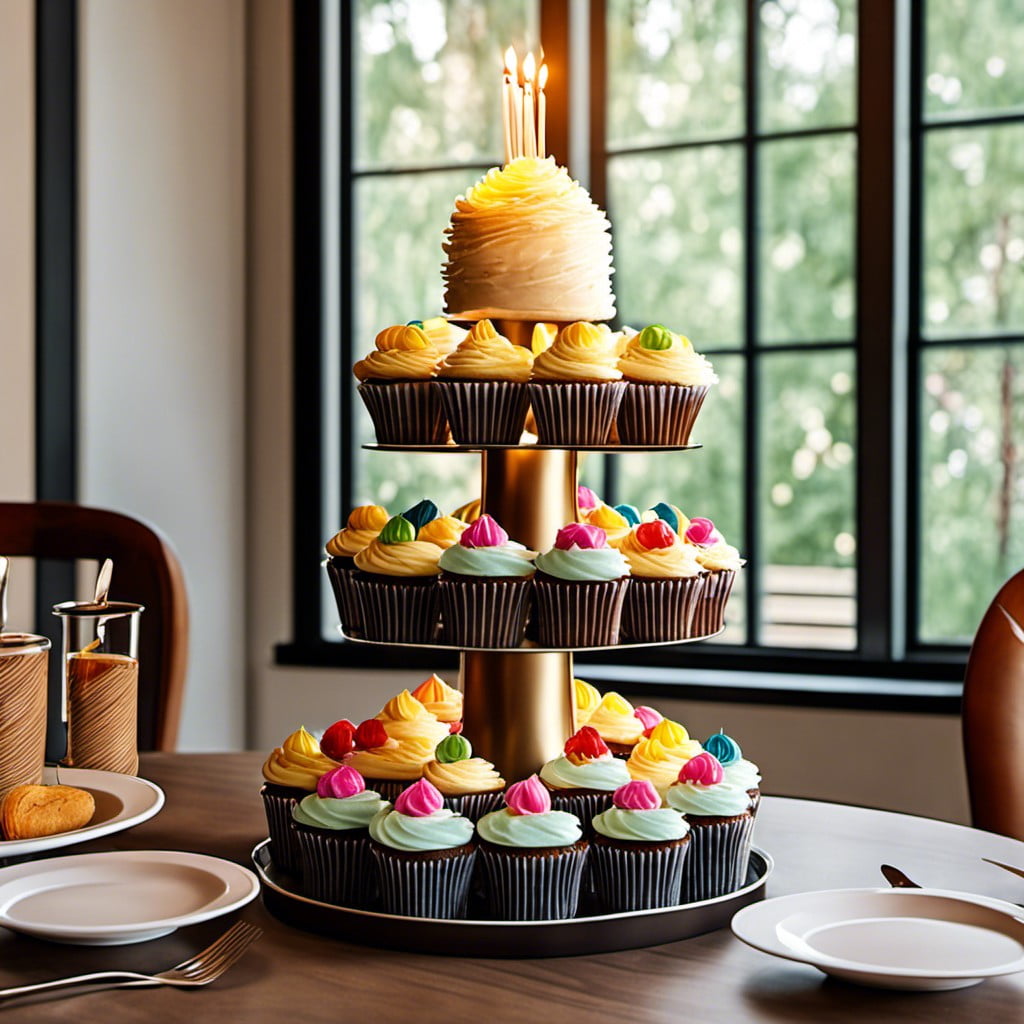 Building an eye-catching cupcake tower adds a unique touch to your birthday brunch decor. Here are some key points to consider:
Variety in cupcake flavors delivers an element of surprise to your guests. Pair simpler flavors like vanilla or chocolate with more adventurous ones such as salted caramel or passionfruit.
Arrange the cupcakes from larger, foundation cupcakes at the bottom to smaller, bite-size pieces at the top.
Choose candles that match your party's color scheme. Look for novelty shapes or numbers to reflect the birthday age.
Consider a rotating stand for an added touch of fun and intrigue.
For a truly cohesive look, decorate your cupcakes to suit the overall theme of your brunch.
Remember, the tower doubles as decor and a dessert, becoming a functional centerpiece.
Champagne Bucket With Decorative Ice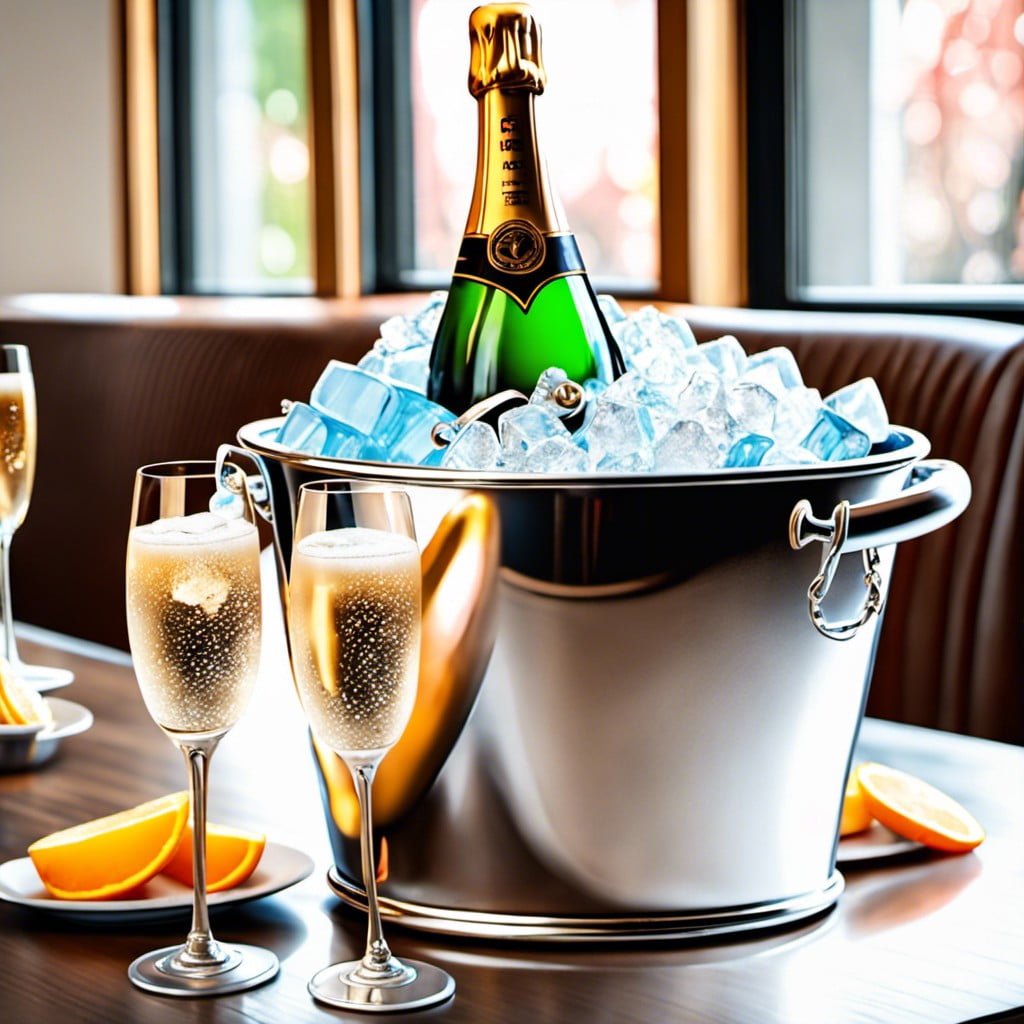 A Champagne bucket sparkling with decorative ice can add an upscale flair to any gathering. But there's more to it than just aesthetics. Firstly, it ensures your Champagne stays perfectly chilled. Secondly, it works as a centrepiece, gracefully attracting attention.
Your choices for decorative ice are extensive. You can freeze in seasonally appropriate flowers, fruits or herbs. Just make sure they're safe for consumption. For a more personal touch, consider utilizing food coloring, creating ice in your party's color scheme.
To further embellish your bucket, opt for string lights wrapped around it. They give a warm glow and add to the celebratory ambiance. Remember to place it in a location easily accessible to all guests but safe from any accidental knocks. Balancing form and function can result in an unforgettable birthday brunch.
Mimosa Bar Decorated With Fresh Fruits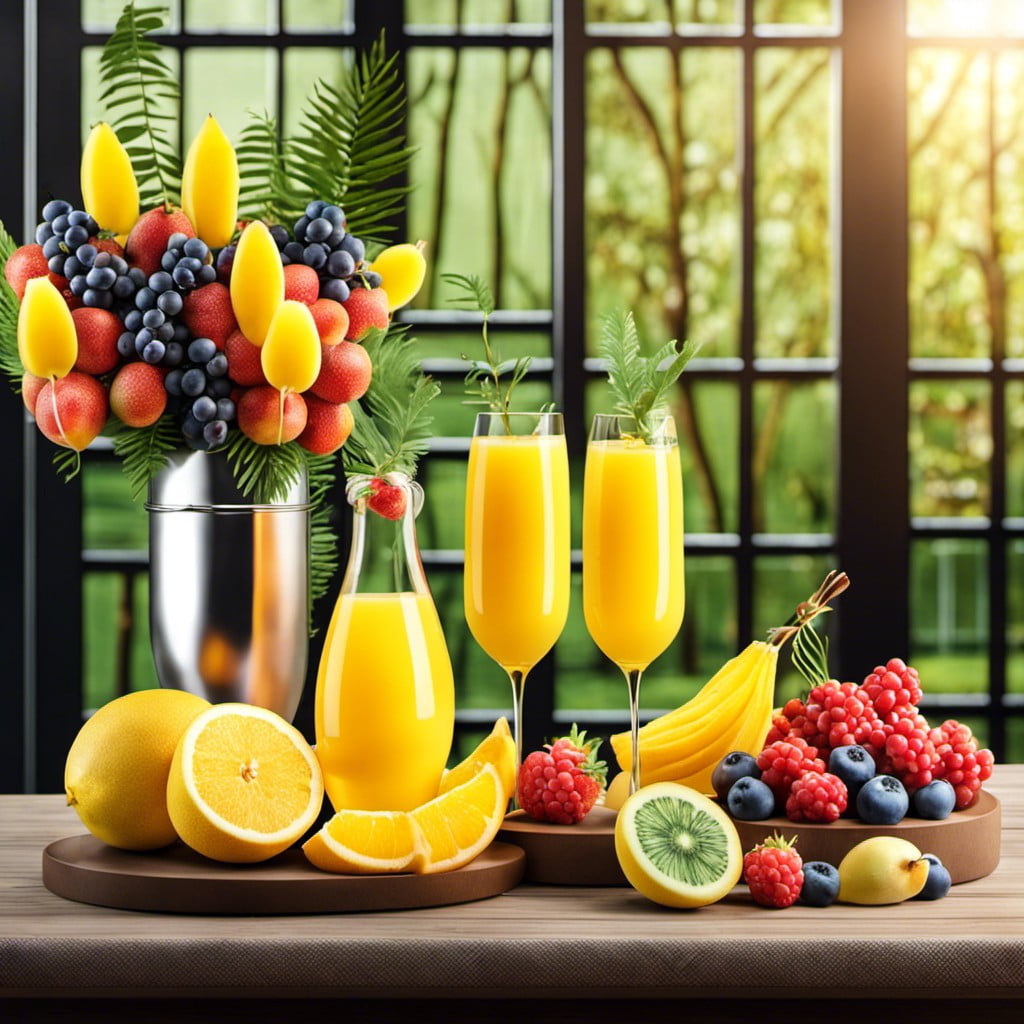 Set up a designated space for your mimosa bar, ensuring it's both inviting and accessible. A clear, sizable table will work best. Stock it with chilled champagne, an assortment of freshly squeezed juices, and soda water for guests who prefer a lighter twist.
Next, add the vibrant hues of various fruits. Arrange sliced citrus fruits such as oranges, limes, lemons, and grapefruits neatly on a plate for guests to embellish their drinks. Additionally, consider other fruits like strawberries, raspberries, and pomegranate seeds for a unique flavor boost.
A couple of clear glass pitchers filled with colorful fruit-infused water are not only refreshing but also elevate the look of your mimosa bar. Remember to add a couple of streamers or festive banners overhead to complete the look.
Don't forget to include several sparkling glass flutes, an ice bucket to keep your champagne cold, and a small spoon for the fruit. Accuracy is key to maintaining the celebratory spirit and having everything at arm's reach will allow guests to create their perfect mimosa without any hassle.
Birthday-themed Table Runner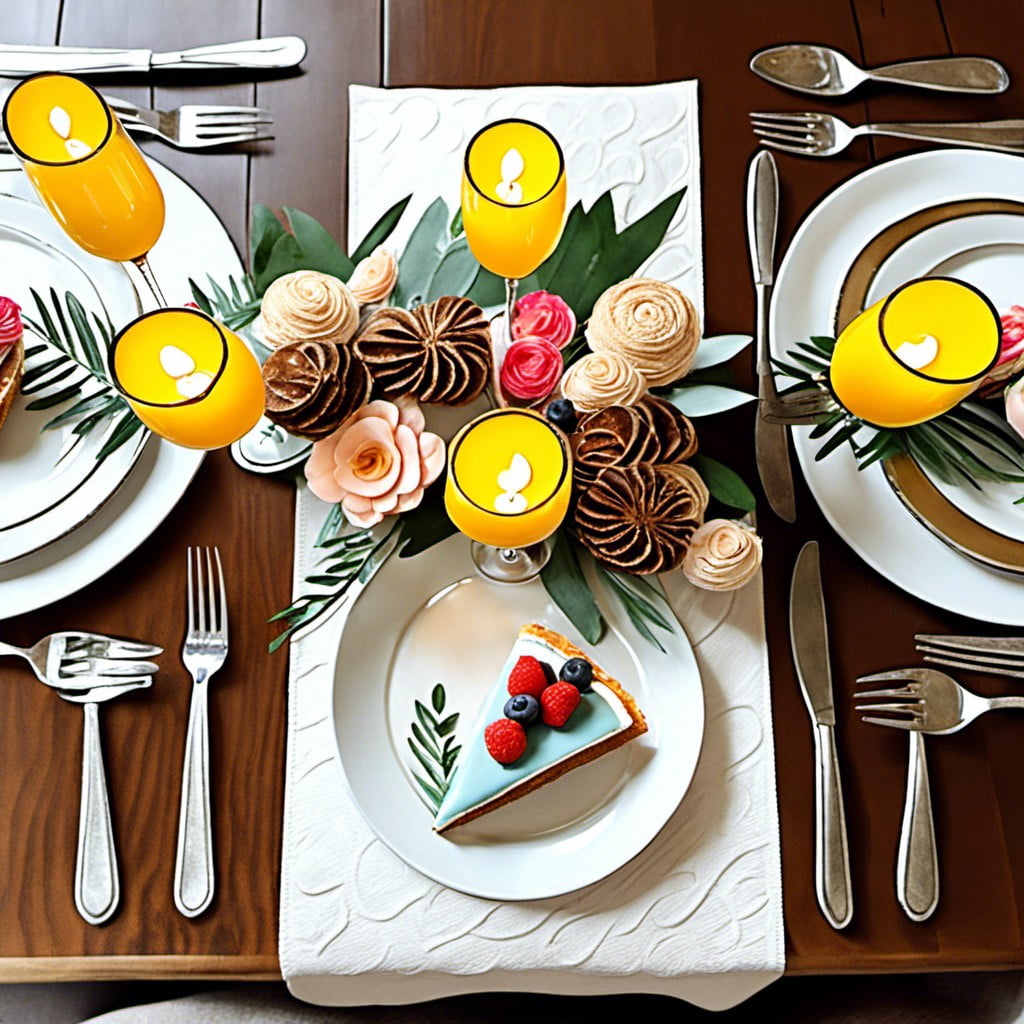 Continuing with our decorations, let's think about adding some fun to the dining area with a unique element that ties everything together. A runner provides a visual path, leading your guests' eyes from one end of the table to the other, capturing an array of items set along its route. It formulates a central theme and brings coherence to your table decor.
Opt for colors that match the existing scheme. If your motif is pastel colors, a soft pink or blue runner can prove to be adorable. For a more elegant theme, consider metallic shades of gold or silver.
Spice it up further with designs. Polka dots, stripes, or unique birthday pattern gives it an additional layer of attention. When using patterned runners, keep your plates and napkins minimalistic to prevent over-complication.
Lastly, incorporate some texture. Lace, sequin, burlap or satin materials can add a beautiful contrast to your table surface and make for a visual treat. The variety of materials available means you can create the perfect ambiance, whether it's fancy or festive.
Remember, less is more. The table runner should accentuate your table settings and not compete with them for attention. Balance is crucial for appealing table decor.
Twinkle Lights Around Room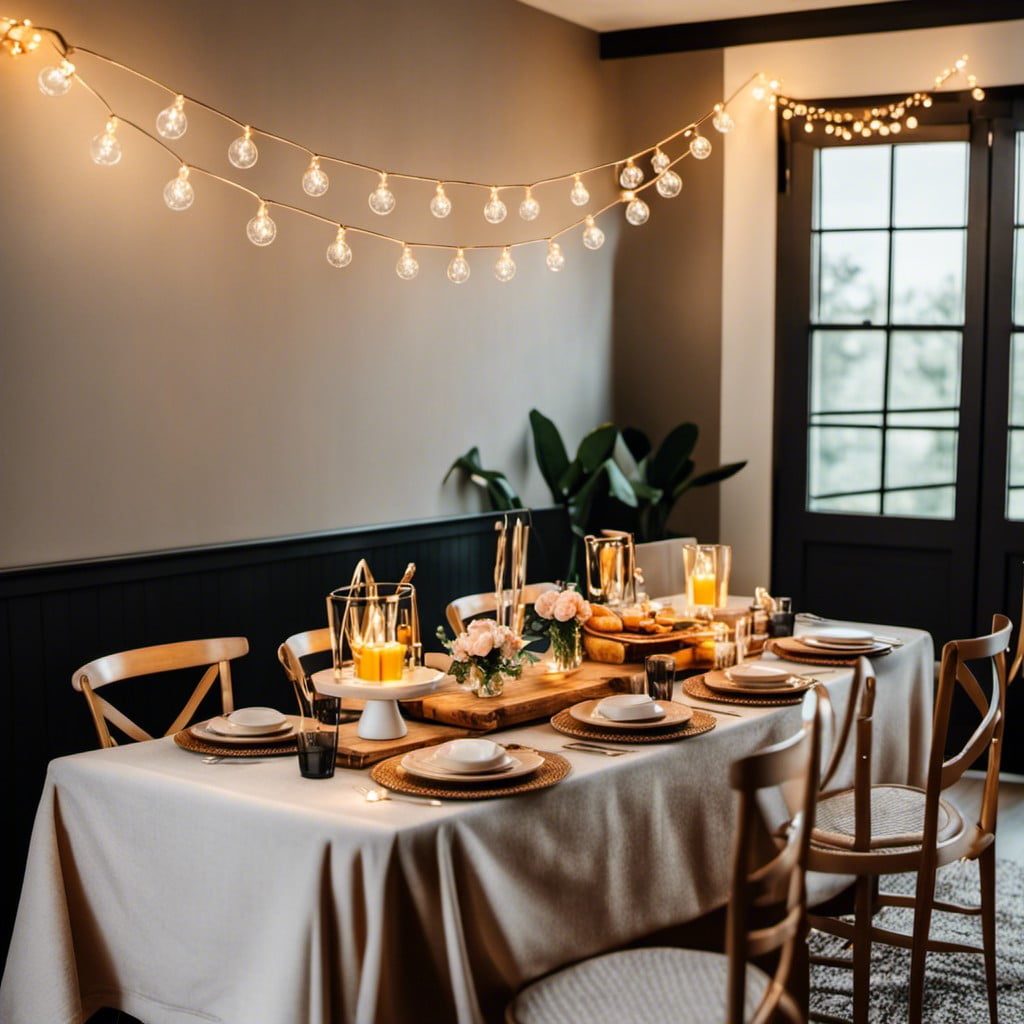 When it comes to enhancing the ambiance of a room, few elements can match the charm of twinkle lights. They not only illuminate the space but also add a dash of whimsy and warmth that can turn the most mundane setting into a mesmerizing spectacle.
1. Drape them loosely around windows or mirrors, creating a warm reflection that intensifies their sparkle.
2. Encase them in glass lanterns or jars for a concentrated glow, perfect for centerpiece arrangements or as accent decorations on side tables.
3. Weaving them into a fabric or tapestry can create a fairy-like feel, further amplifying the brunch's festive atmosphere.
4. If the brunch setting includes an outdoor space, wrapping twinkle lights around trees or railings can help seamlessly blend indoor and outdoor decor.
Remember, soft and warm white lights tend to create a cozier atmosphere, while cool white lights can lend a more modern and polished look to the space. It's essential to factor in your overall birthday brunch theme when choosing the tone of your twinkle lights.
Streamer or Balloon Backdrop for Photos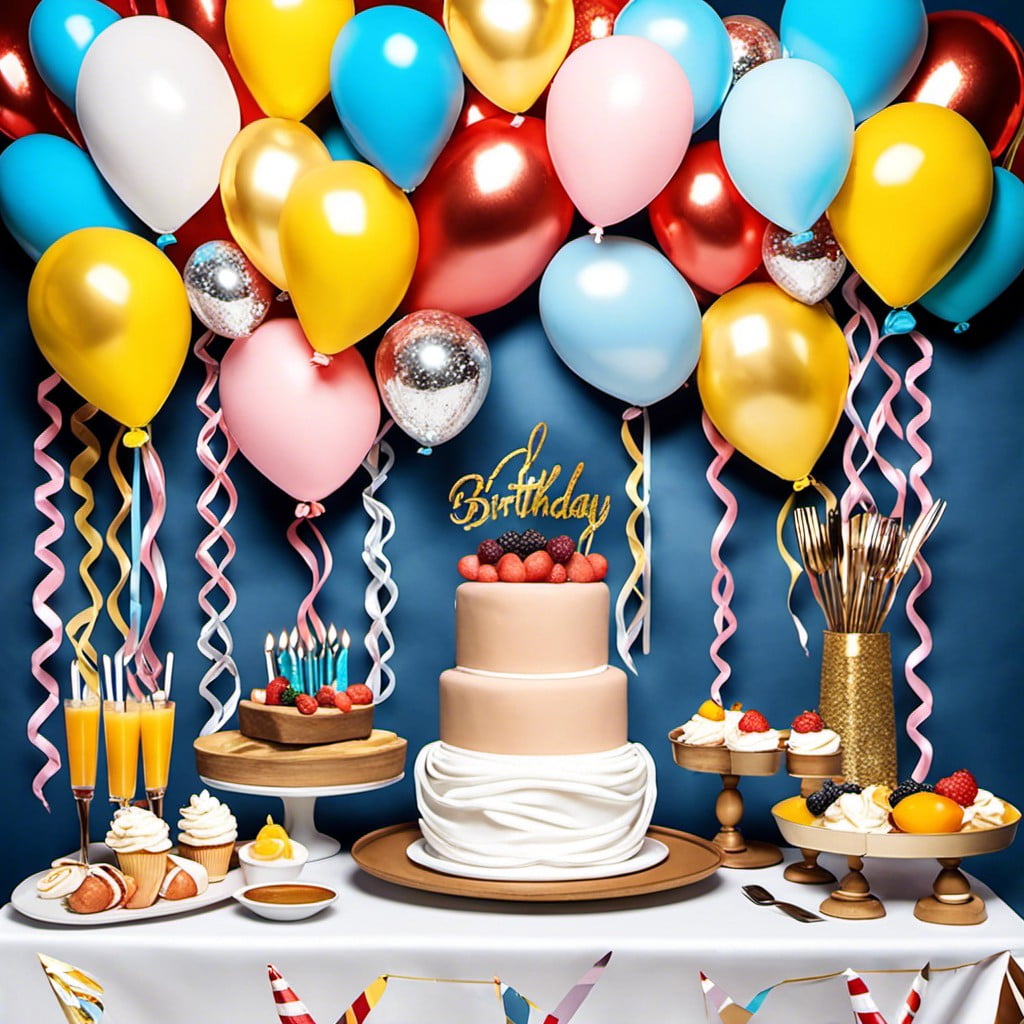 Creating the perfect backdrop for your guests to seize memorable photos can be achieved with a bit of imagination and creativity. Think of your favorite colors or those that match your theme, and use those to enhance the photo area. Use streamers to design a curtain-like background that can shimmer with the movement in the room.
If you prefer a beautiful balloon backdrop, choose different sizes and colors to create an appealing pattern or design. Opt for high-quality helium balloons to ensure they will last throughout the event. You could make a spectacular balloon wall or have them float at varying heights for a magical effect.
Remember to consider adequate lighting for your photo area. Make sure it's well-lit and free from shadows so your guests will be left with breathtaking photos of their enjoyable birthday brunch. This is both a fun addition to the party and a special way to offer guests a personalized souvenir from your event. And above all, ensure the photo spot is located in an area where it won't interfere with the flow of the party.
Tassel Garlands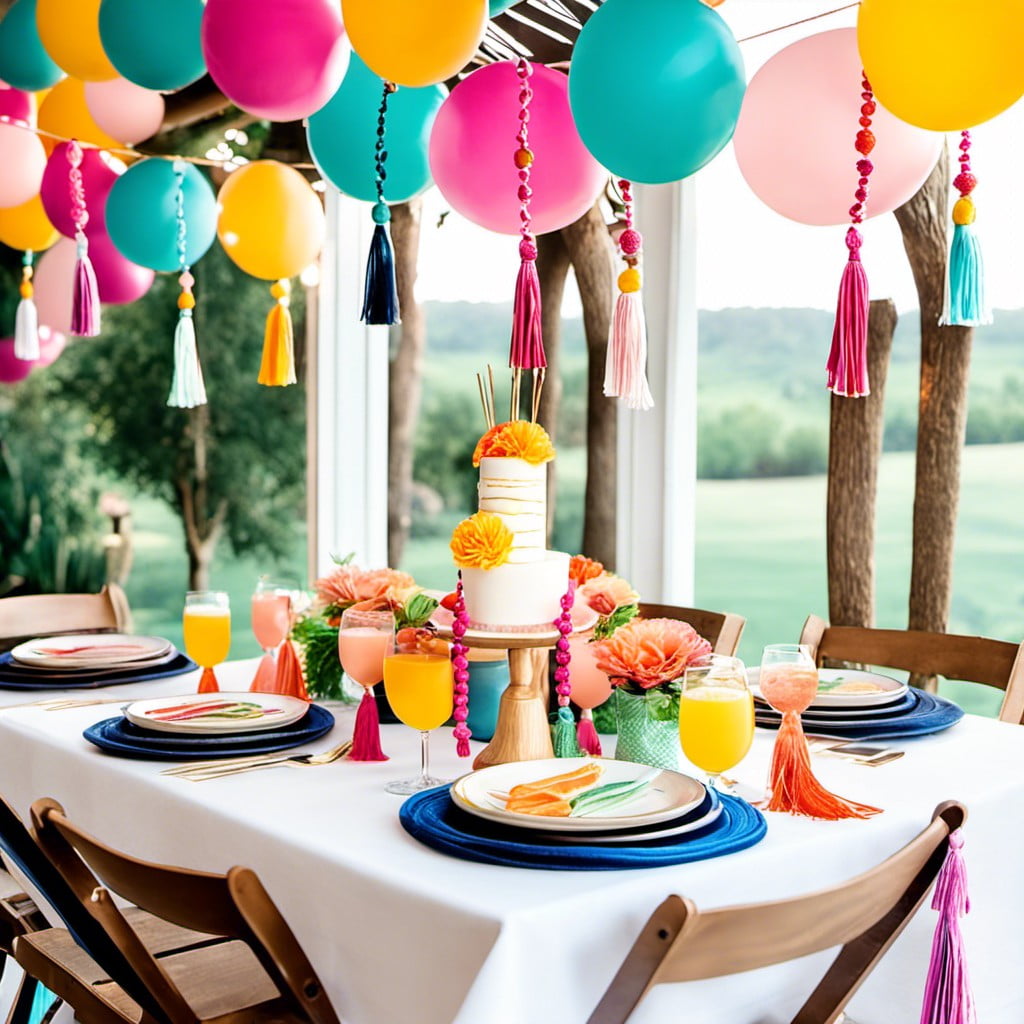 Creating tassel garlands can be an enjoyable DIY project. Choose colors to match your theme for a harmonious look.
These garlands can be made from tissue paper, ribbon, or yarn. Hanging them horizontally along walls or vertically as a unique backdrop adds a vibrant, festive touch to your space.
They can also be tied to balloons for an extra whimsical vibe. Consider different patterns, like alternating colors, for an appealing visual effect.
Glittering Birthday Signs and Banners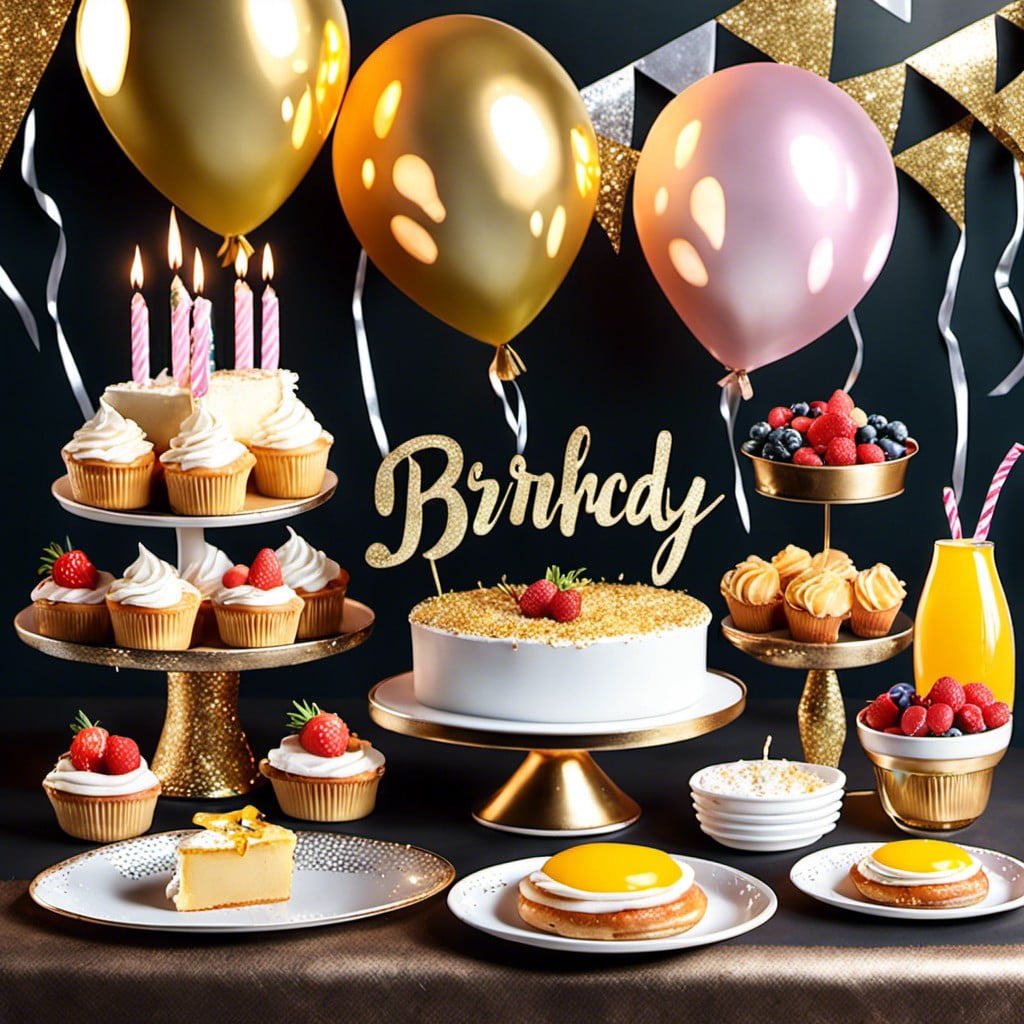 Incorporating the sparkle, both literally and metaphorically, that these eye-catching elements bring, is an engaging way to celebrate your special day. Remember that glitz isn't just for nighttime; a well-placed glittery sign can catch the morning light, adding an unexpected shimmer to your brunch.
Tips for Choosing and Positioning your Signs and Banners:
Select a Design: Match the style and color to your overall birthday brunch theme. Go classic gold for elegance, or vibrant colors for a fun twist.
Placement: High-traffic areas are the best spot. The entrance, buffet table, or even as a photo booth backdrop, it attracts attention wherever placed.
Personalization: Ensure some banners feature the name or initials of the birthday person, heightening the sensation of the day being uniquely theirs.
Sizes and Shapes: Play with a mix. Differentiated signage adds variety and visual interest to your party decor.
Ensure Readability: Make sure the glitter does not overpower, keep lettering bold and clear for everyone's reading ease.
Dessert Table With Themed Decorations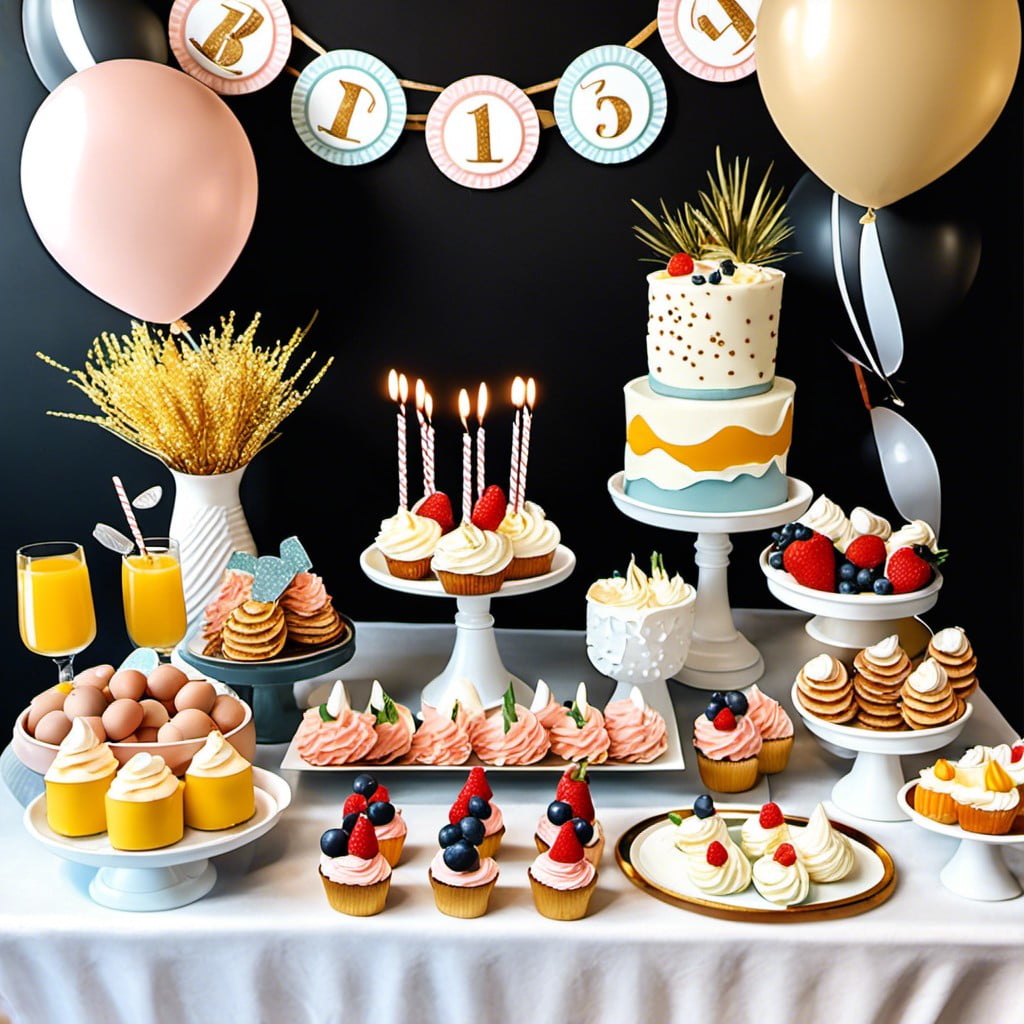 Creating an exquisite setup for tantalizing treats is essential. Align decoration elements with your desired theme. If it's a vintage affair, consider lacy tablecloths and antique cake stands. Floral themes demand a sprinkle of petals and floral-patterned serving plates.
1. Incorporate differing heights: Tiered stands add dynamism, making the table visually compelling.
2. Match the cake: Ensure it marries the party theme, utilizing nuanced details like color-coordinated frosting or themed cake toppers.
3. Themed edibles: Extend the theme to confectioneries; star-shaped cookies for a celestial or Hollywood theme, tropical fruit tarts for a beach theme, etc.
4. Color palette: Coordinate desserts to main decor; a photo-worthy, perfect blend.
5. Displaying desserts: Imagination here is key. Apothecary jars for candy, attractive glass cloches for pastries, or decorative trays for bite-sized petit fours.
6. Personalize it: Add a unique touch like custom-made dessert labels matching the birthday theme.
Remember, the magic lies in the details. A well-curated dessert table can double as a stunning focal point for the brunch.
Decorative Gift Table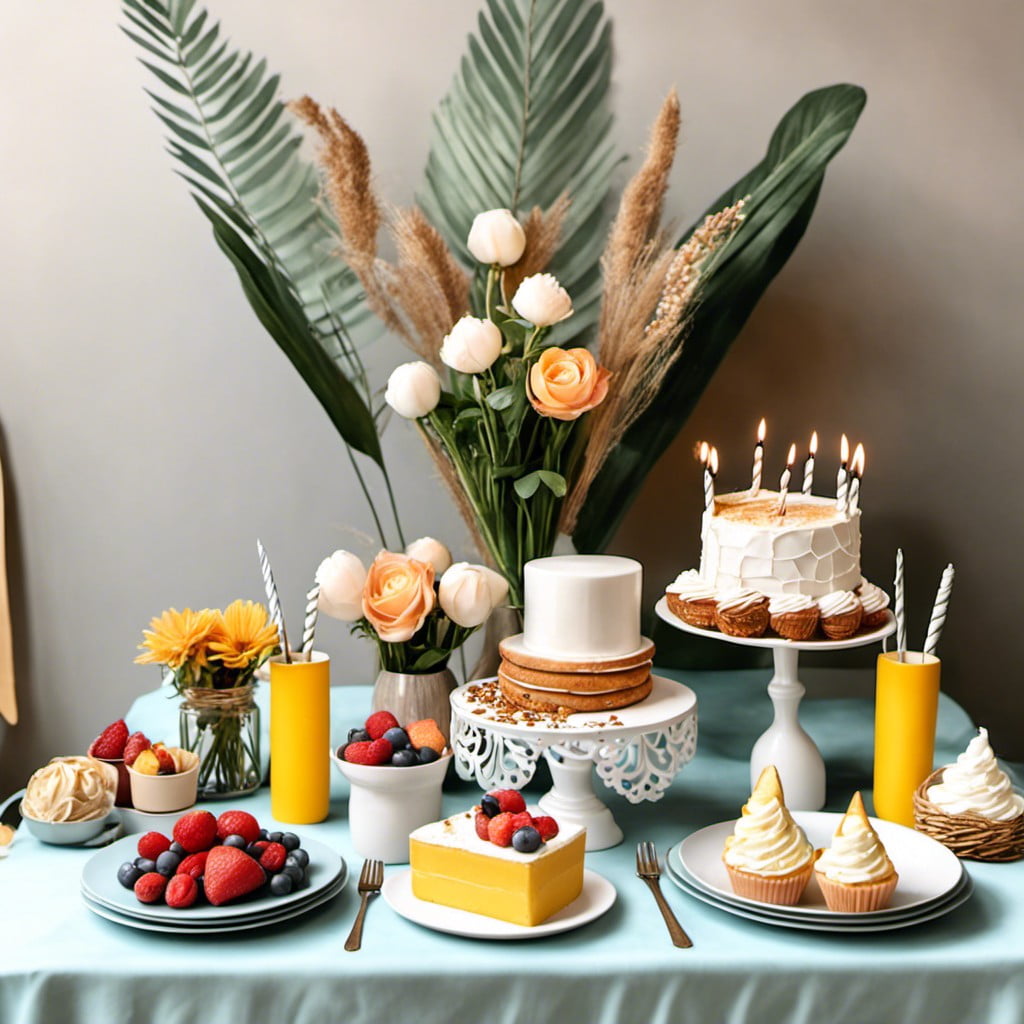 A well-set gift table sets a welcoming tone for your guests just as they arrive. It's also a thoughtful way to acknowledge and showcase the love and affection they've brought with them.
Place the table in an easily accessible spot but avoid making it the centrepiece of your event.
Begin with a tablecloth that matches the theme color palette to tie everything together. Then add height and visual interest, perhaps a small dessert tower or a multi-level stand, allowing gifts to be displayed at varying heights.
Complete the look with tasteful decorations, like a small bouquet of flowers or themed garlands.
To make it easier on your guests, consider a petit signboard instructing them where to place the gifts. A creatively repurposed suitcase or vintage wooden box can also serve as a charming container for smaller gift items.
Lastly, even though it's the gift table, avoid making it look cluttered. Simple elegance goes a long way!
Stylish Brunch Menu Display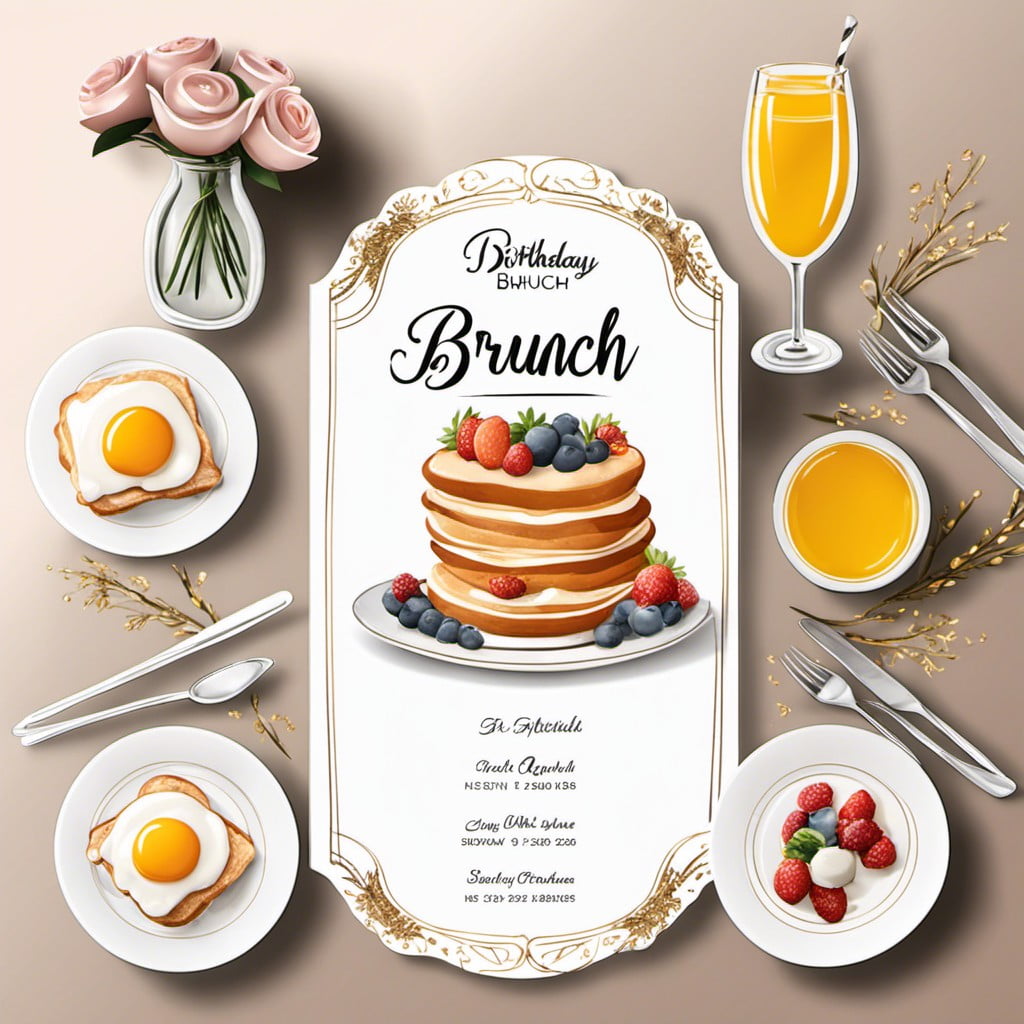 Creating a visually appealing, easily readable brunch menu can be the icing on the cake for your decoration plans. Prioritize clarity over fancy fonts that might be difficult to read, and remember that a larger print can also aid legibility. Opt for stand-up menu cards at each table or consider one large, beautifully framed menu set at a central location.
Next, let's consider the content. Including both traditional brunch options – think scrambled eggs and bacon – and some more adventurous fare to cater for all tastes adds interest and variety. Offering a dedicated 'kids' corner' on the menu can be a fun addition for younger guests.
Why not take it a step further? Pair each menu item with a recommended beverage, such as a specific cocktail for a smoked salmon dish, making the brunch experience more immersive.
Lastly, pay attention to the material and design of the menu. Matte paper can prevent any glares and hold up better outside, luxe fonts combined with a minimalist design can make the menu look sophisticated and elegant, while calligraphy fonts can complement a more traditional, vintage theme. Match colors with the overall color scheme to create harmony.
In all, a well-designed and thoughtfully curated brunch menu display can enhance your decor and set the tone for the entire party. Remember, the devil is in the detail.
Personalized Birthday Napkins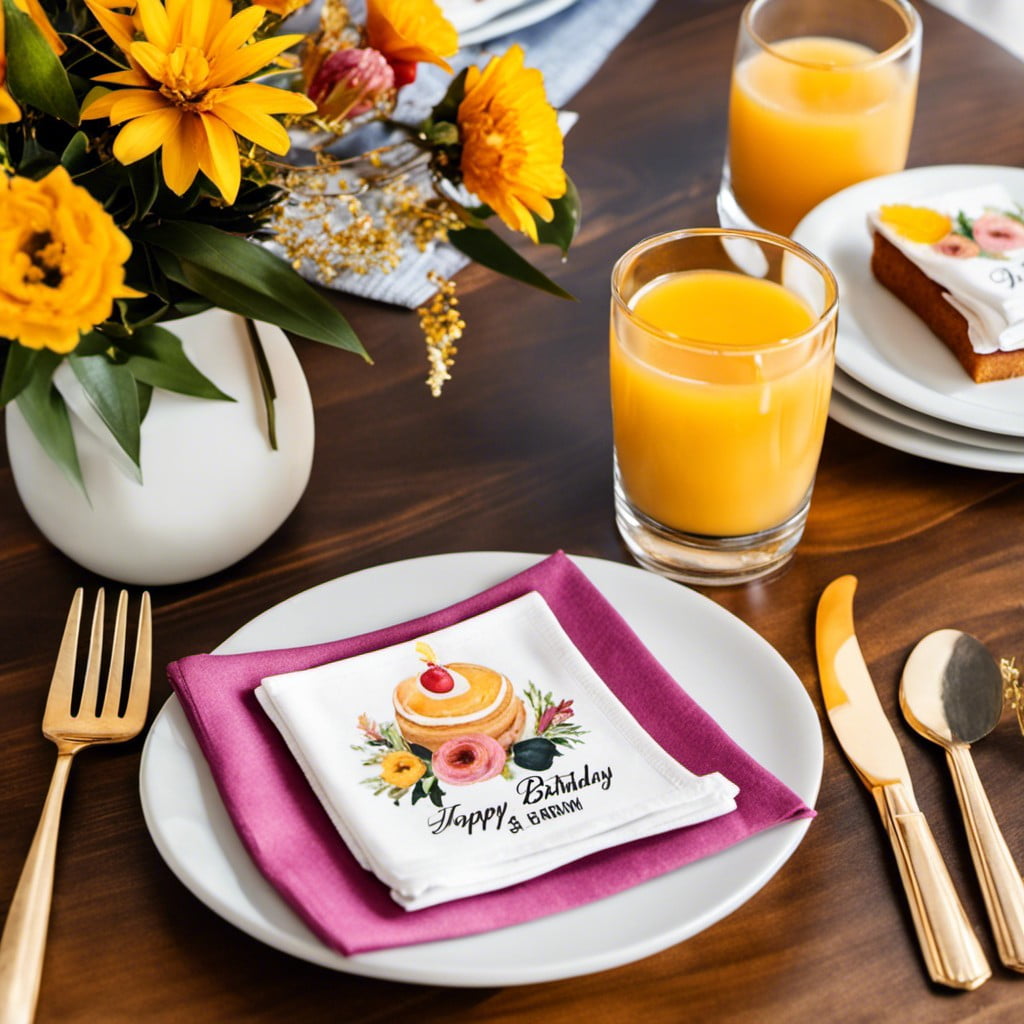 Creating a personal feel becomes even more special when you incorporate custom-made napkins into your birthday brunch décor. There are limitless options to choose from, whether it's your name, a favorite quote, or an inside joke printed on a napkin. This touch is not only visually appealing but adds an element of surprise and personality.
You can play with colors that match other elements of your décor, or use contrasting shades for an eye-catching pop of color. Opt for an elegant font or go bold with a fun and funky typeface. Remember to choose a print size that will be clearly visible.
Order your personalized napkins early enough to ensure they arrive before the event. Explore both local and online suppliers for the best options. Don't shy away from integrating these unique, personal masterpieces into your birthday brunch décor. It's these subtle details that truly make your event memorable.
Liked reading this? Here's more:
Recap: