Last updated on November 24, 2023
Revitalize your Labor Day celebrations with some fresh decoration ideas because your home deserves a festive makeover just as much as you enjoy a well-deserved day off.
I'm sincerely proud of the 26 unique Labor Day decoration ideas I've created for this article and it's my hope that you find them as inspirational and fun to use as I found them to make.
Labor Day, a well-deserved tribute to the American workforce, is an excellent opportunity to spruce up your home with patriotic flair. Whether you're hosting a backyard barbecue or simply enjoying a relaxing day at home, incorporating red, white, and blue decorations can add a festive touch.
From DIY banners and centerpieces to themed table settings and outdoor decor, this article provides a myriad of ideas to help you celebrate Labor Day in style. Stick around to explore a comprehensive guide filled with creative, easy-to-follow decoration ideas that will make your Labor Day celebration truly memorable.
Labor Day-themed Banners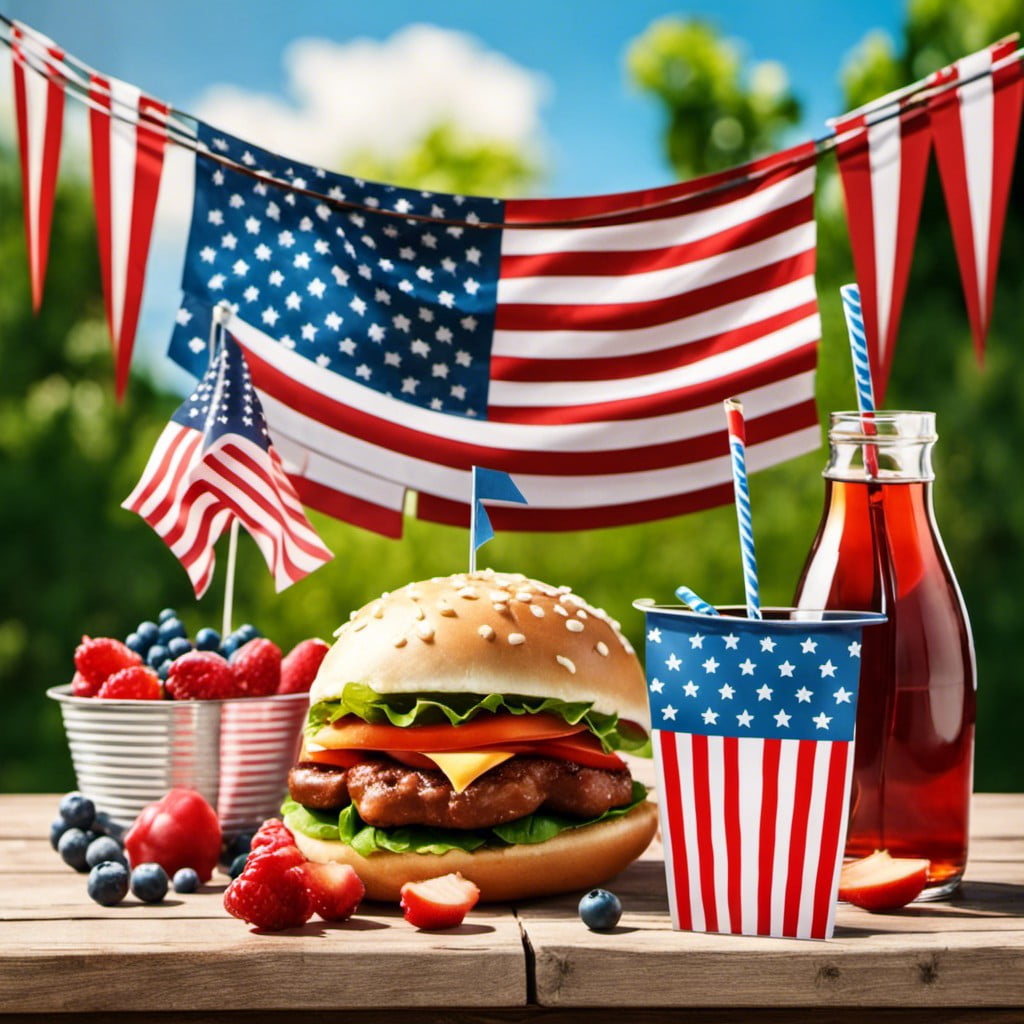 The simplicity and versatility of banners make them a fantastic choice for lifting the atmosphere. For craft lovers, making one at home could be a fun project. You could opt for fabric or paper, depending upon your household's needs and your level of crafting expertise.
When choosing colors, stay within the spirit of the holiday. The traditional red, white, and blue work perfectly. You could even add some gold for extra sparkle. Some creative ideas might include phrases like "Happy Labor Day," or more specific messages to honor the American workforce.
Choose a location that gets plenty of attention, such as above the main door or across the mantel. Pair it with some fairy lights to make it pop even more during the evening festivities. This way, it becomes a centerpiece of the celebration while still remaining a subtle inclusion.
Remember, the idea is to reflect the spirit of Labor Day while adding a touch of your unique style to it. It's not about creating a masterpiece, but about harmonizing your celebration with the theme of honoring workers.
Red, White, and Blue Balloons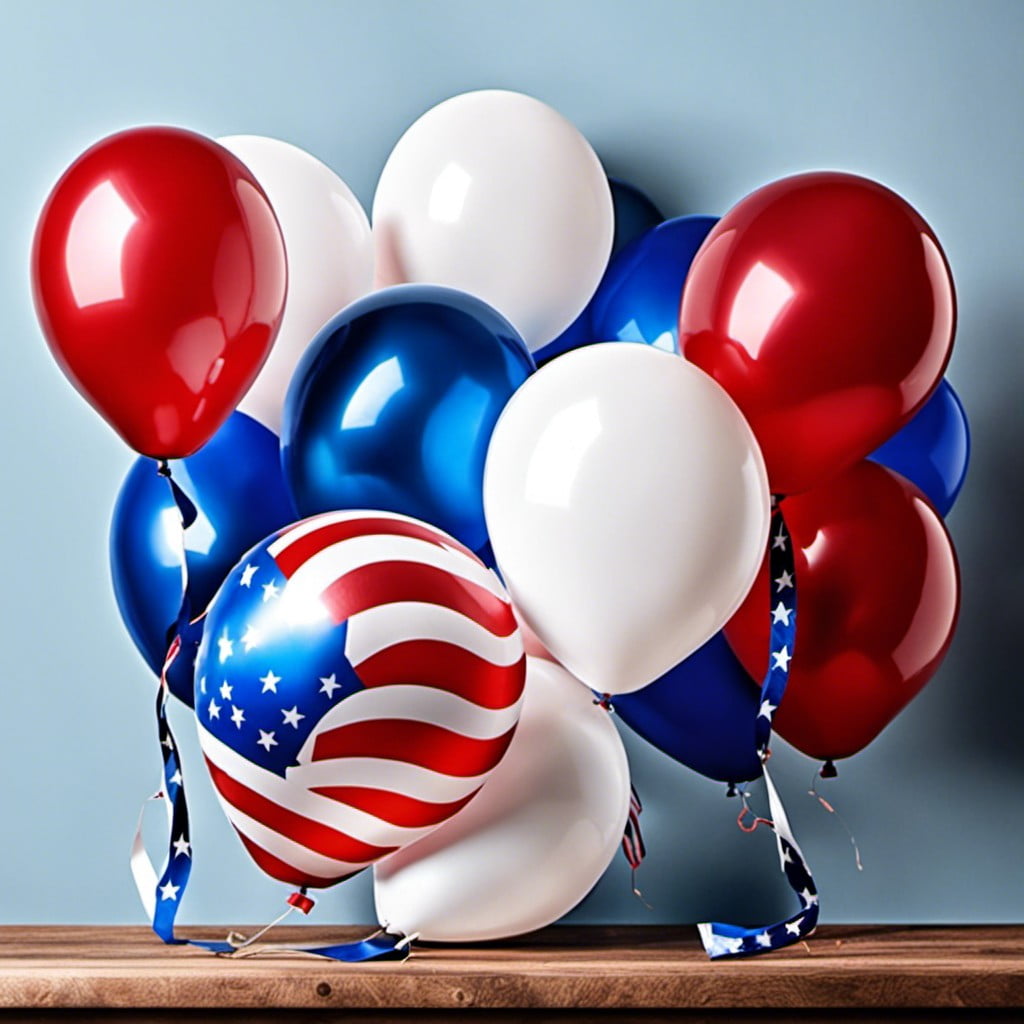 Balloons are a classic decoration, transforming any space into a festive one instantly. For a Labor Day gathering, consider using the hallmark colors of America. Invest in high-quality latex or foil balloons for the best impact.
Here's how to make the most of these buoyant beauties:
1. Color Mix: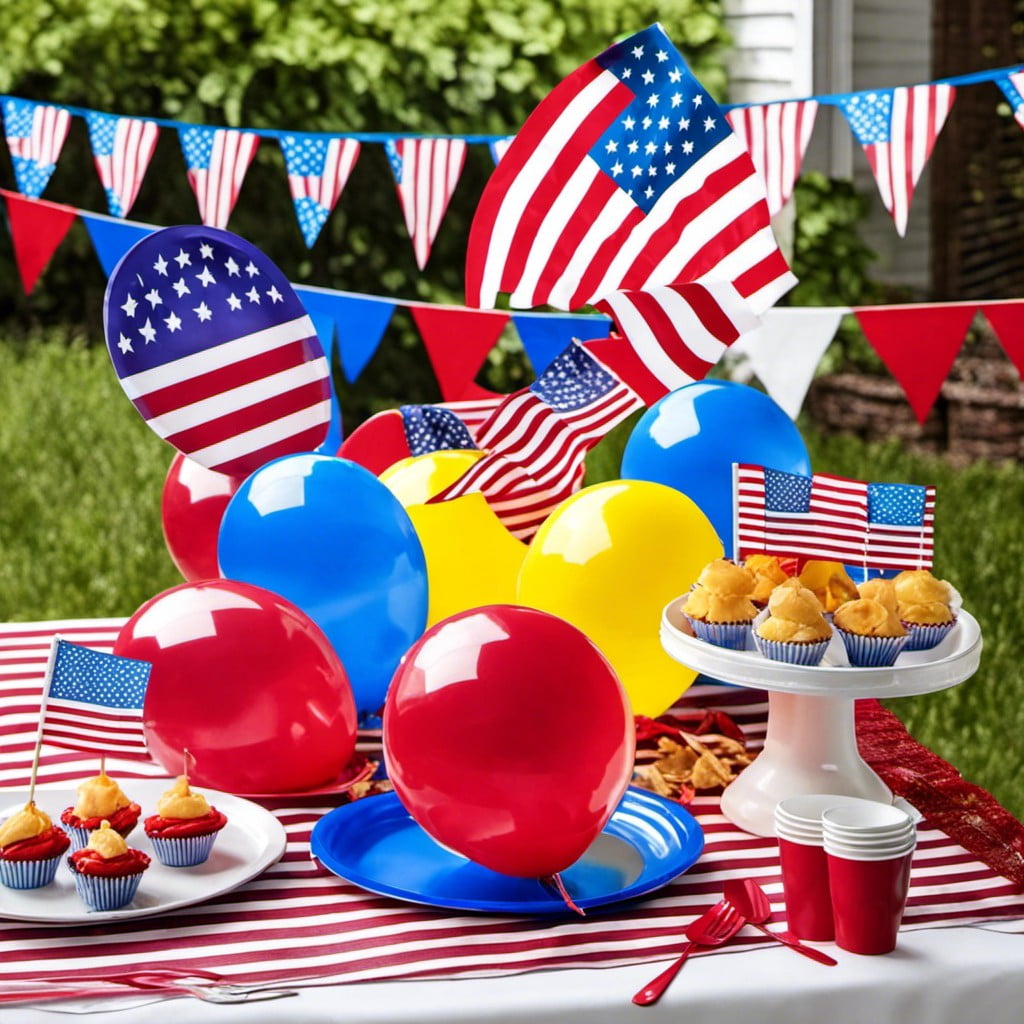 To create an expressive and bright atmosphere, mix red, white, and blue balloons together. Aim for an even distribution to maintain a balanced look. This will set the celebratory ambiance right away.
2. Balloon Arch: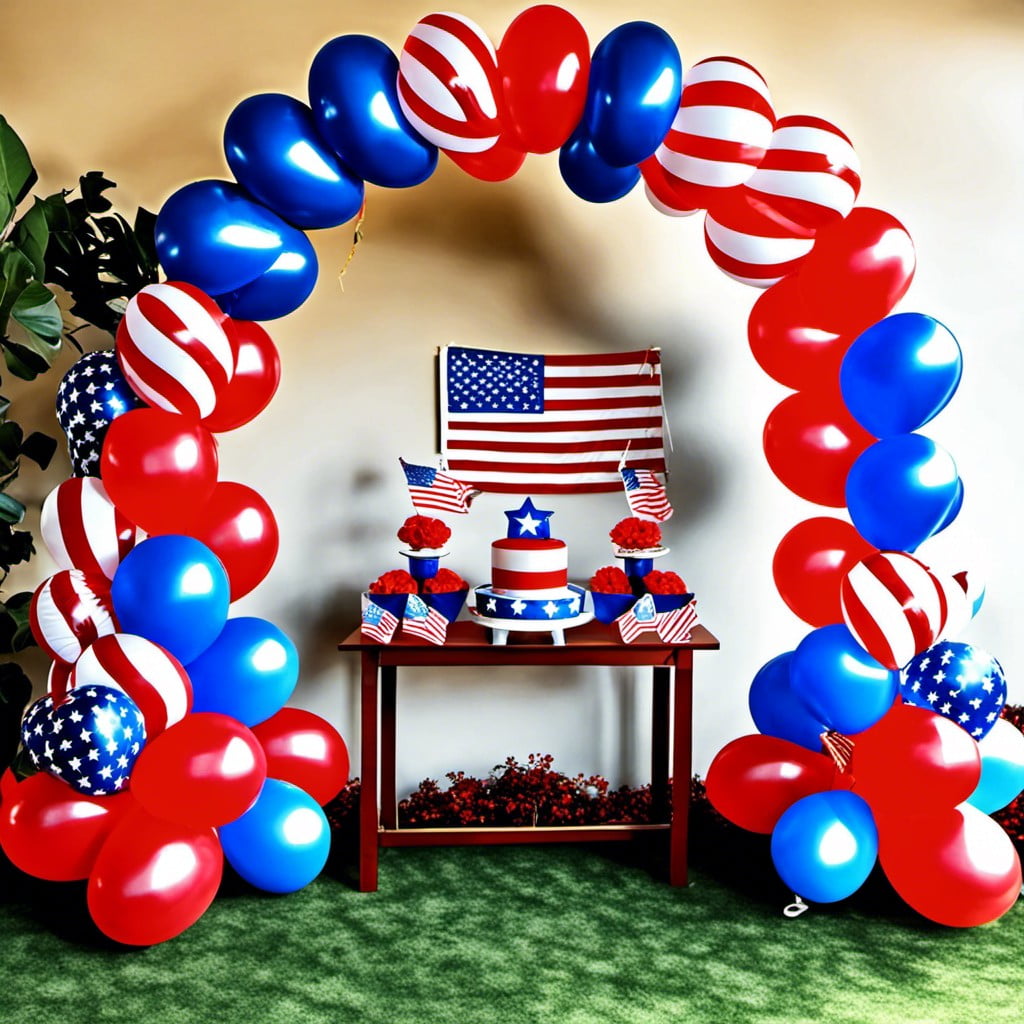 An impressive entrance greets guests with a patriotic spirit. For a dynamic effect, vary the size of the balloons.
3. Centerpieces: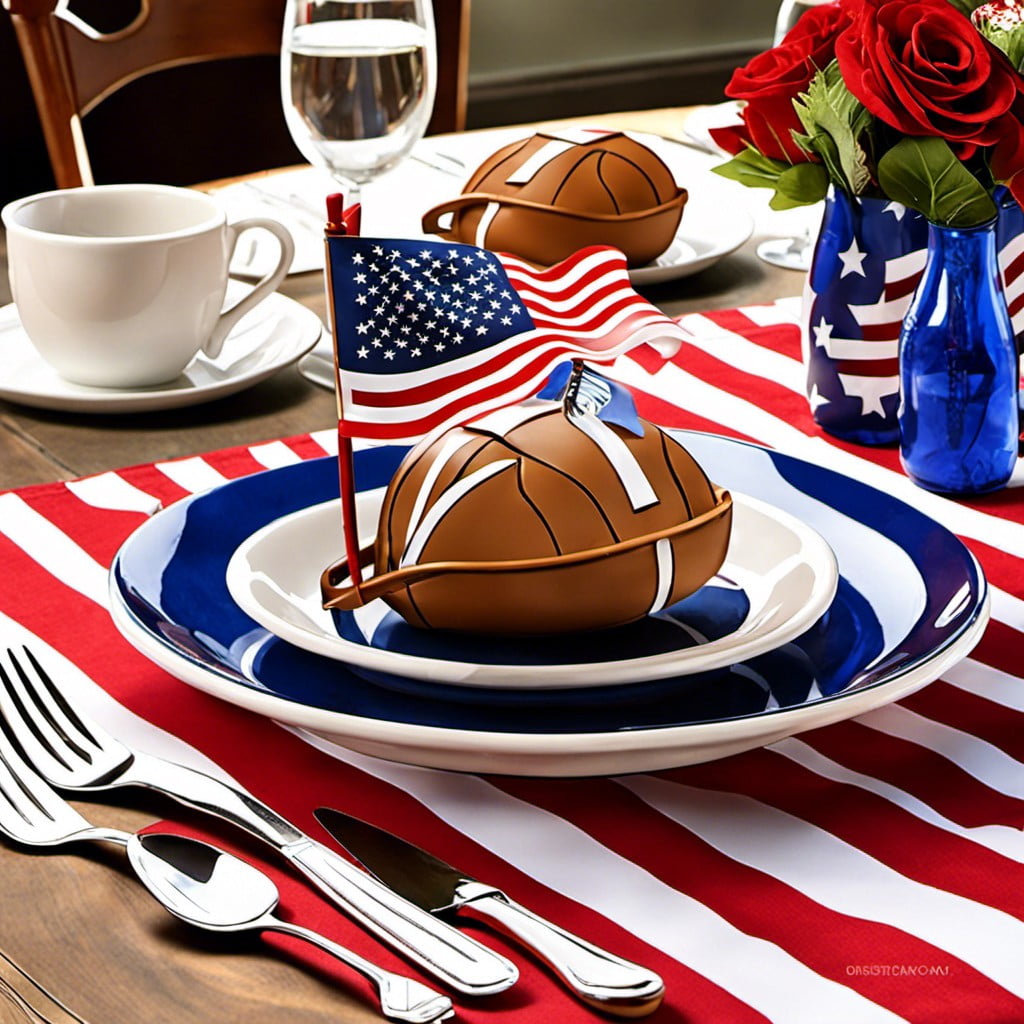 Smaller balloons can serve as vibrant table centerpieces. Combine them with flowers or ribbons to enhance the visual appeal.
4. Floating Ceiling: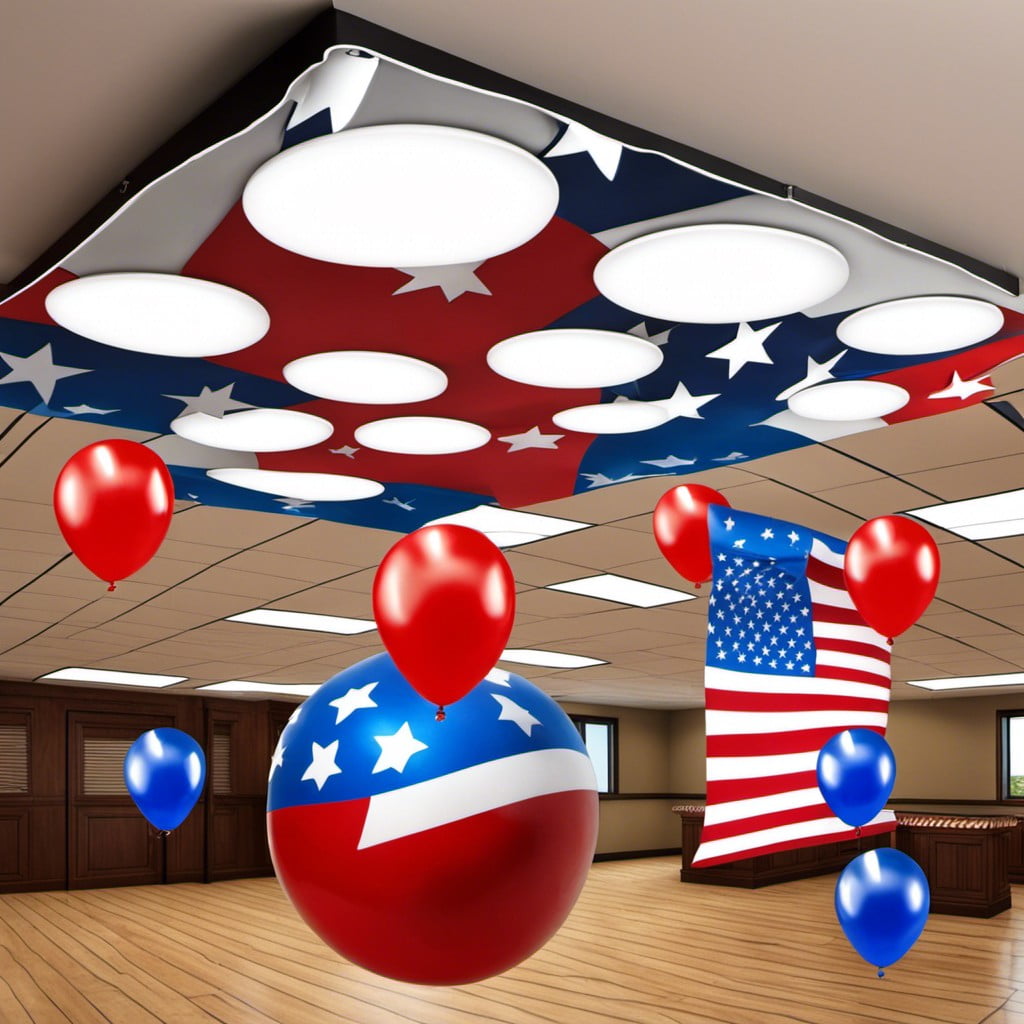 Use helium-filled balloons to create a captivating ceiling display. The spectacle of floating balloons enhances the vertical space and adds a playful touch.
5. Jumbo Balloons: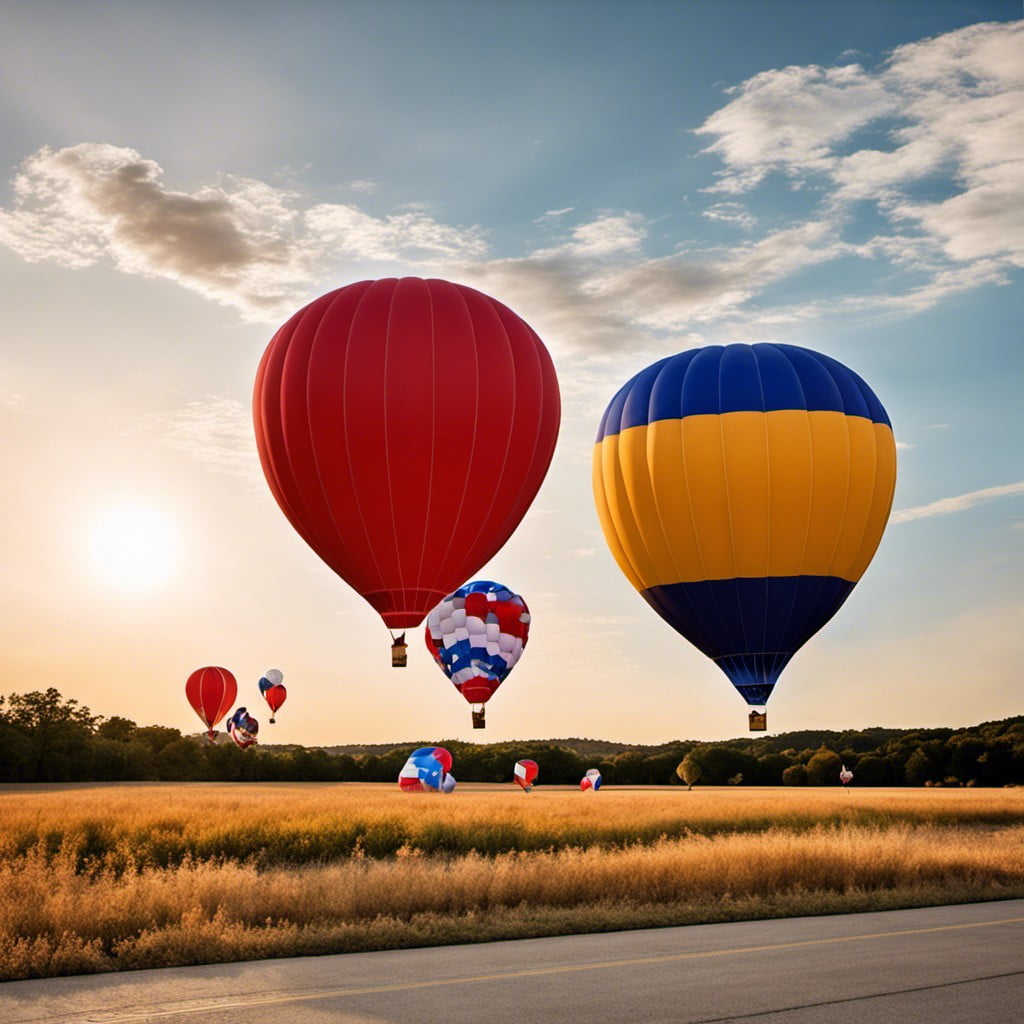 Large, oversized balloons make a noticeable statement. Couple these with smaller ones for depth and interest.
6. Biodegradable Options: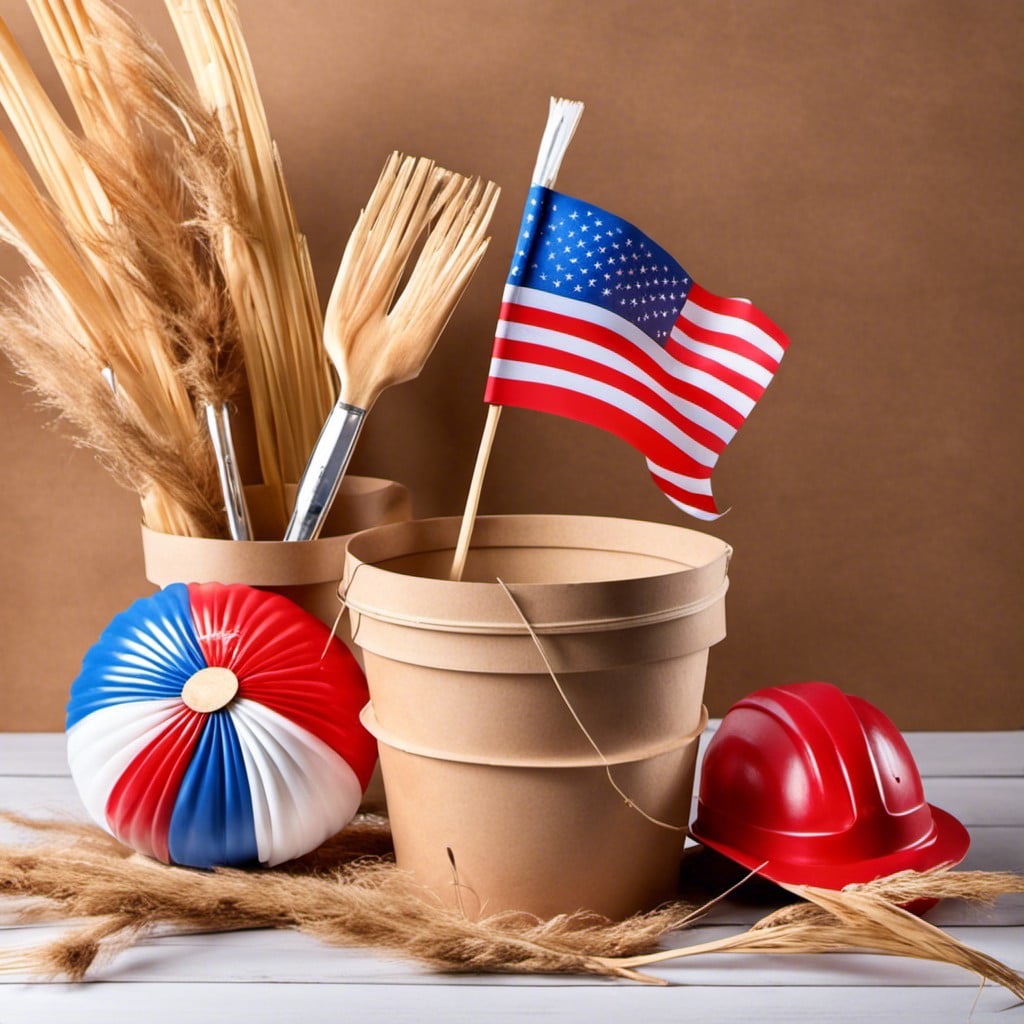 For an eco-friendly celebration, opt for biodegradable balloons. They offer the same festive experience without harming the environment.
Remember, safety first: Be mindful of latex allergies, and keep deflated balloons away from children.
American Flag Centerpieces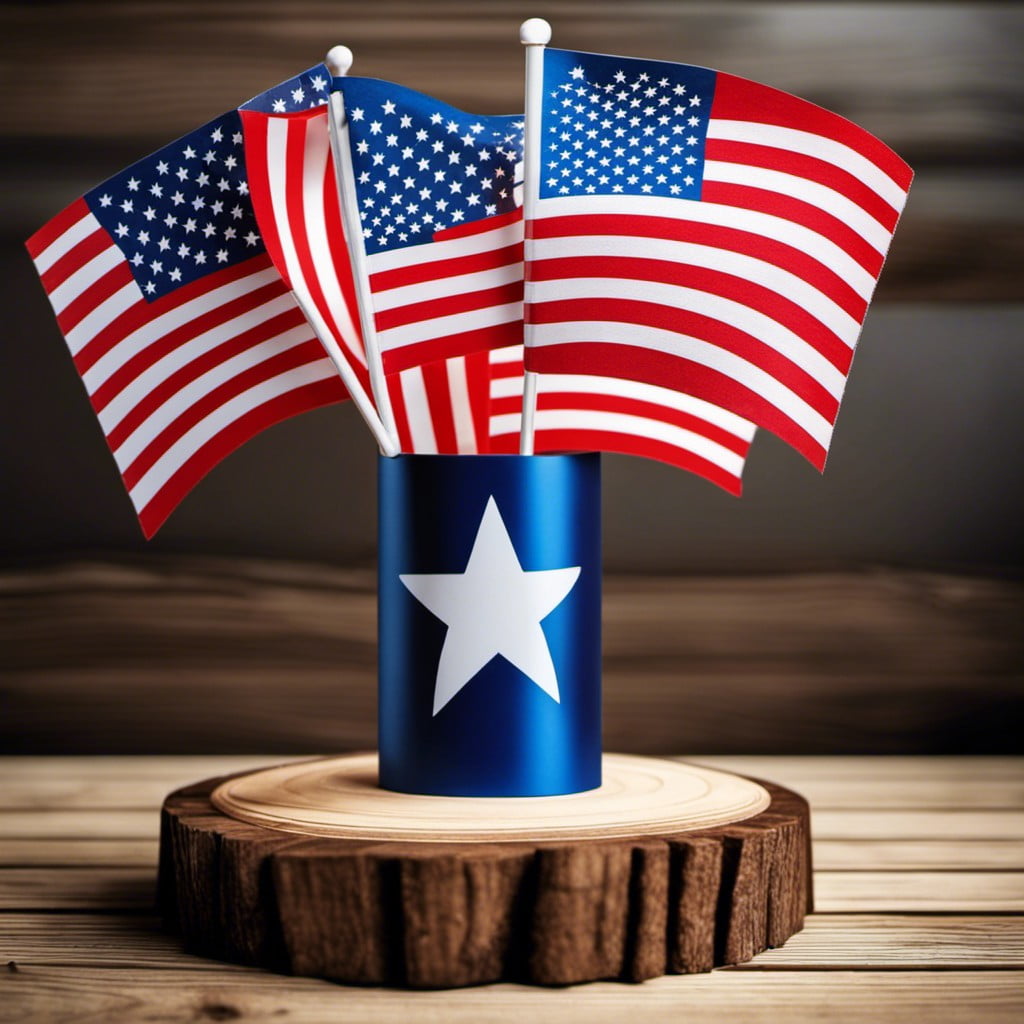 These centerpieces, undeniably a classic, reflect the spirit of Labor Day. Get creative and incorporate flags in a variety of ways.
Place a cluster of miniature flags in a mason jar or intertwine larger flags amongst a floral arrangement. Another innovative idea is crafting a flag out of red, white, and blue bandana napkins, carefully folded atop a rustic wooden crate.
This creates a visually appealing spread without the need for extravagant resources. Utilizing flags within the centerpiece is a simple way to bring patriotic charm to your Labor Day celebrations.
Patriotic Paper Lanterns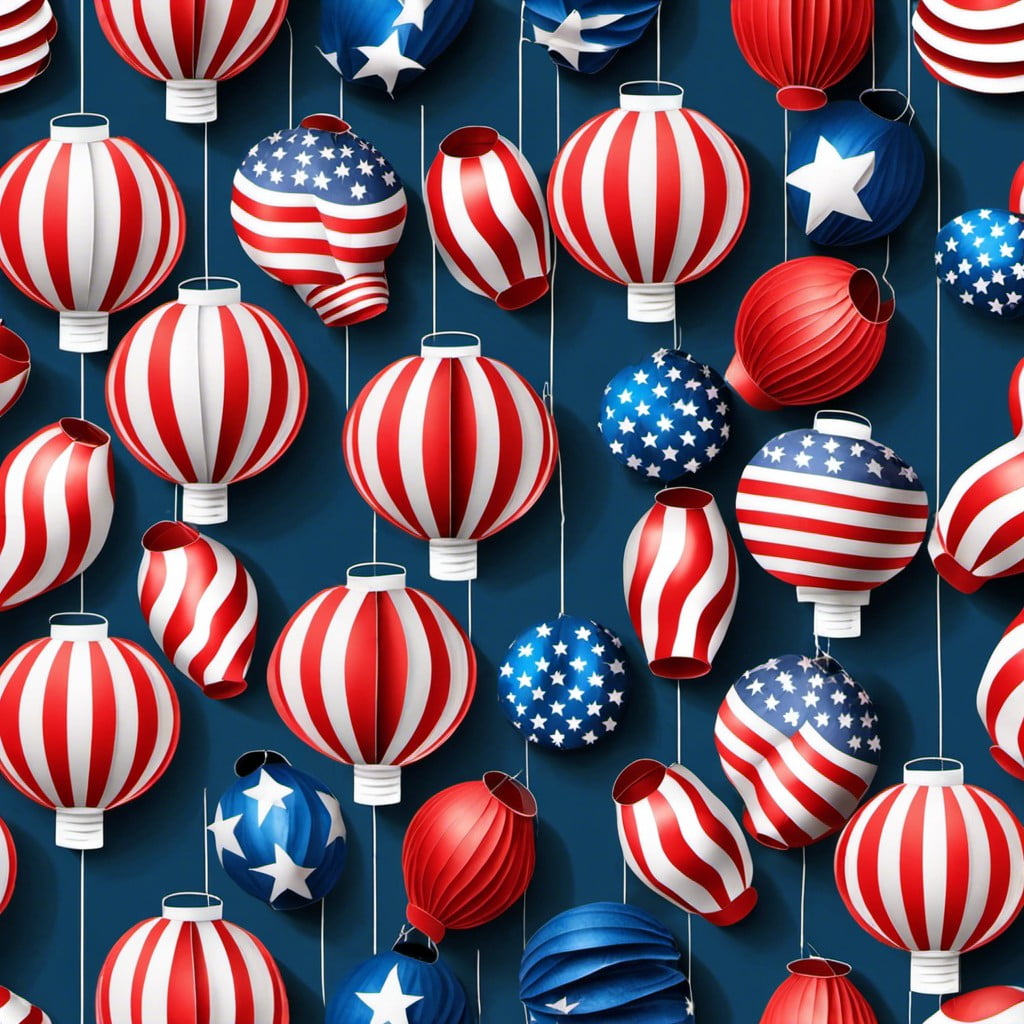 Draping your space with paper lanterns is an enchanting way to add charm and warmth. Catering to the Labor Day theme, infuse the colors of the flag; red, white, and blue. Available in a variety of shapes and sizes, find ones that resonate with your style and setting.
For outdoor celebrations, hang them along fences or from tree branches creating a magical atmosphere as dusk falls. Indoor events can benefit from running them along the mantelpiece, or clustering them above the dining table. Remember, they aren't purely decorative, they offer soft illumination providing a cozy and inviting environment.
For a unique twist, explore options with painted stars or stripes. There's no rule against mixing, a harmonic blend of different yet patriotic styles can really elevate your décor. Just remember to opt for LED-lit lanterns or the ones designed for candle inserts to ensure safety.
Labor Day BBQ Food Labels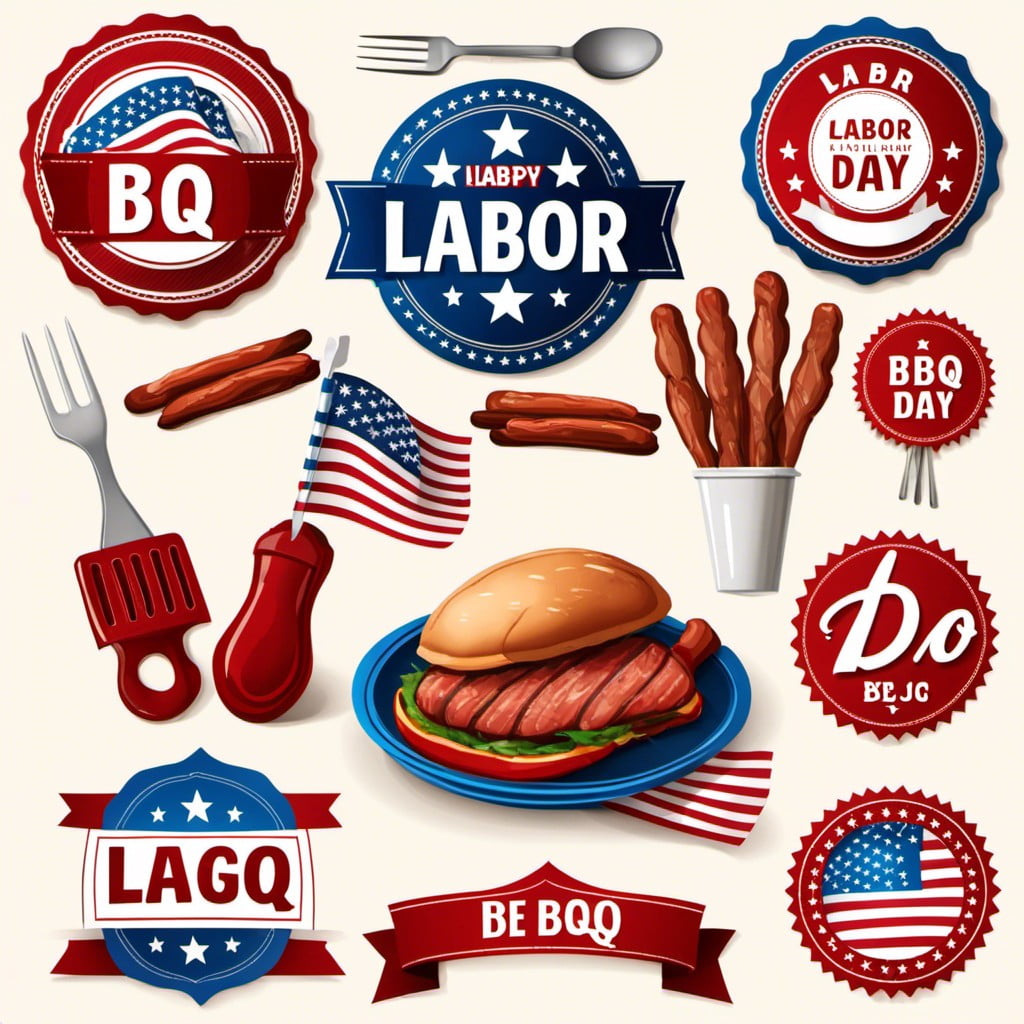 Creating custom labels for your BBQ food not only makes the spread look organized but it also infuses a bit of festive spirit. Here's how to add a flavor of Labor Day to your BBQ spread:
1. Color-Coding: Assign red, white or blue colors to different categories of food. For example, red for meat, white for dairy, and blue for desserts.
2. Tool Design: Try designing the labels to look like mini-tools such as hammers, wrenches, or saws in a nod to the labor industry.
3. Slogans: Incorporate patriotic quotes or phrases like "American Made," "Proudly Served," or "Hard Work Yields Delicious Results."
4. Material: You could use chalkboard tags for a rustic look, or glossy sticker paper for a sleeker finish.
5. Typography: Use bold, clear fonts. It would be a nice touch to use a font that resembles the look of blueprints – another nod to the labor industry.
It's a simple, practical decor element that adds personality to your Labor Day BBQ.
Themed Napkins and Tablecloths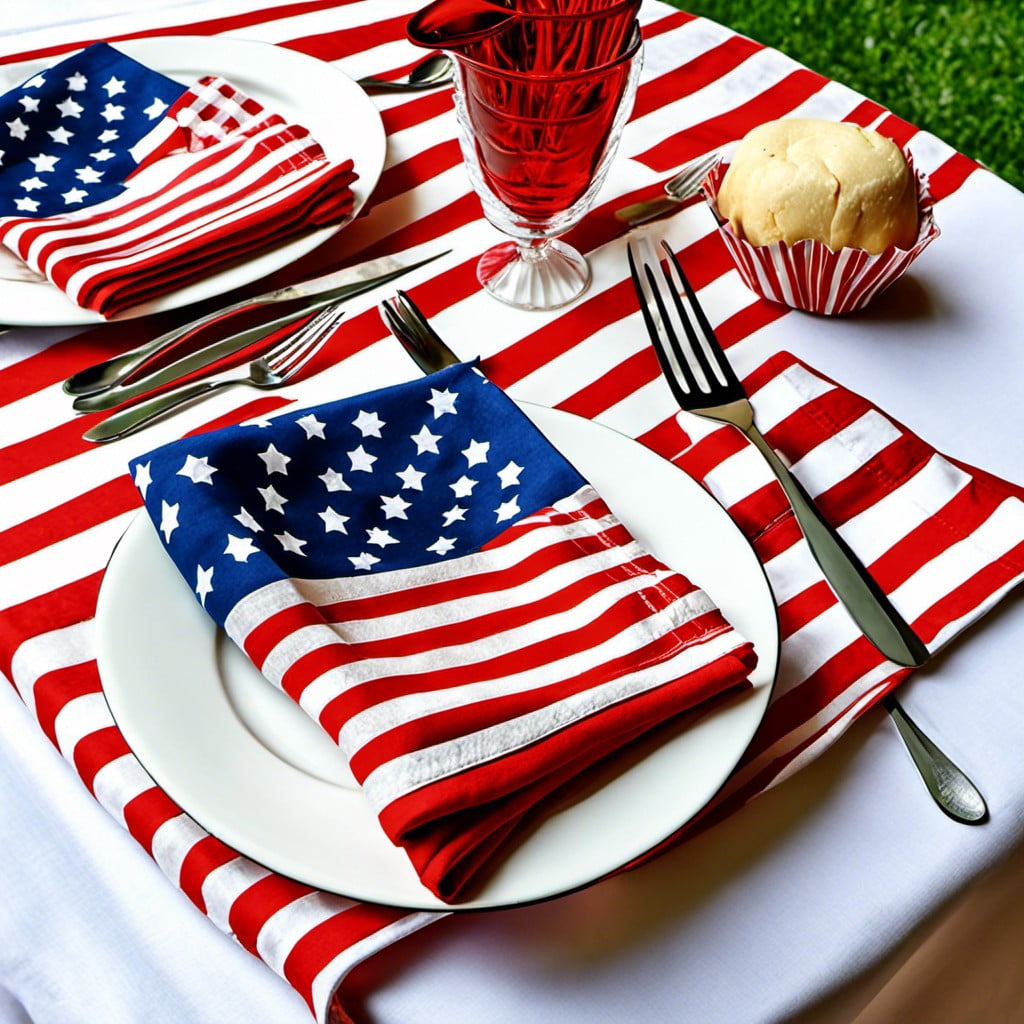 With this element of decor, coordination is key. Opt for designs that complement the overall color scheme: red, white, and blue; alternatively, go for more subtle prints that reference the labor industry. A golden opportunity presents itself here to incorporate your theme in a subtle manner. Workers' tools, hard hats, or nuts and bolts graphics on a white background can evoke the spirit of Labor Day without overwhelming the guests.
Prefer simpler ways? Solid colors with a contrasting band – a blue tablecloth can be given a patriotic touch with red and white striped napkins. Despite their simplicity, these choices hold impressive potential to bring thematic consistency to your Labor Day celebration. Remember, these details, as minor as they may seem, greatly contribute to the overall aesthetic and atmosphere.
And finally, don't be afraid to get creative and let your Labor Day spirit shine through the table setting.
DIY Cardboard Tool Decorations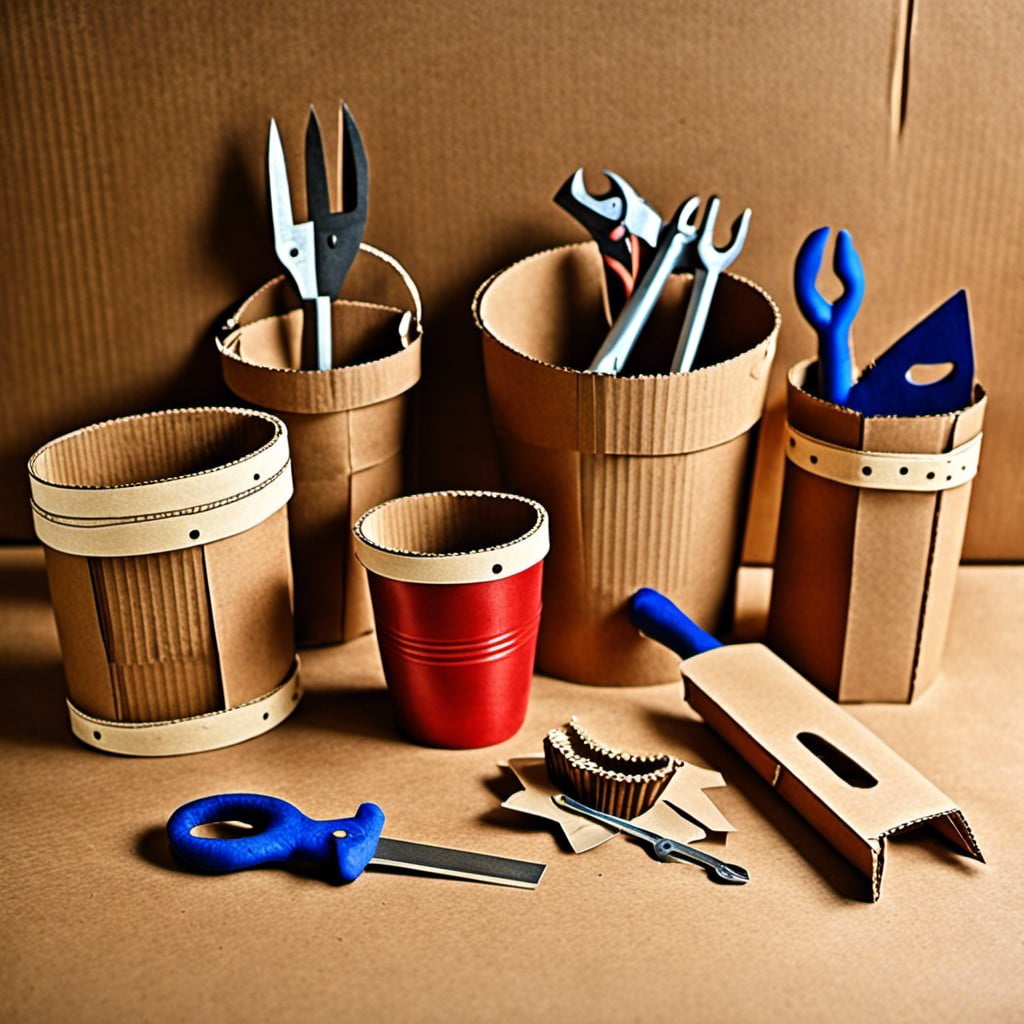 Opting for a DIY project not only adds a unique and personal touch to your Labor Day decorations, but it is also cost-effective. Mimicking tools using cardboard can pay homage to the hardworking individuals Labor Day represents.
Here's how to go about it:
1. Gather materials: Get hold of some cardboard, a good pair of scissors, paint, and a brush.
2. Cut out shapes: Draw and cut out the shapes of common tools – think hammers, wrenches, or saws. Use images for reference if necessary.
3. Paint: Paint your cardboard tools. Metallic paint can provide a more realistic effect, while brighter colors will give a jovial, celebratory feel.
4. Dry and display: Allow the paint to dry thoroughly before displaying your creations. Consider attaching them to a string to create a garland, or placing them strategically around your yard or house.
This activity can also offer a fun pastime for children, giving them a way to contribute to the celebrations.
Patriotic Yard Signs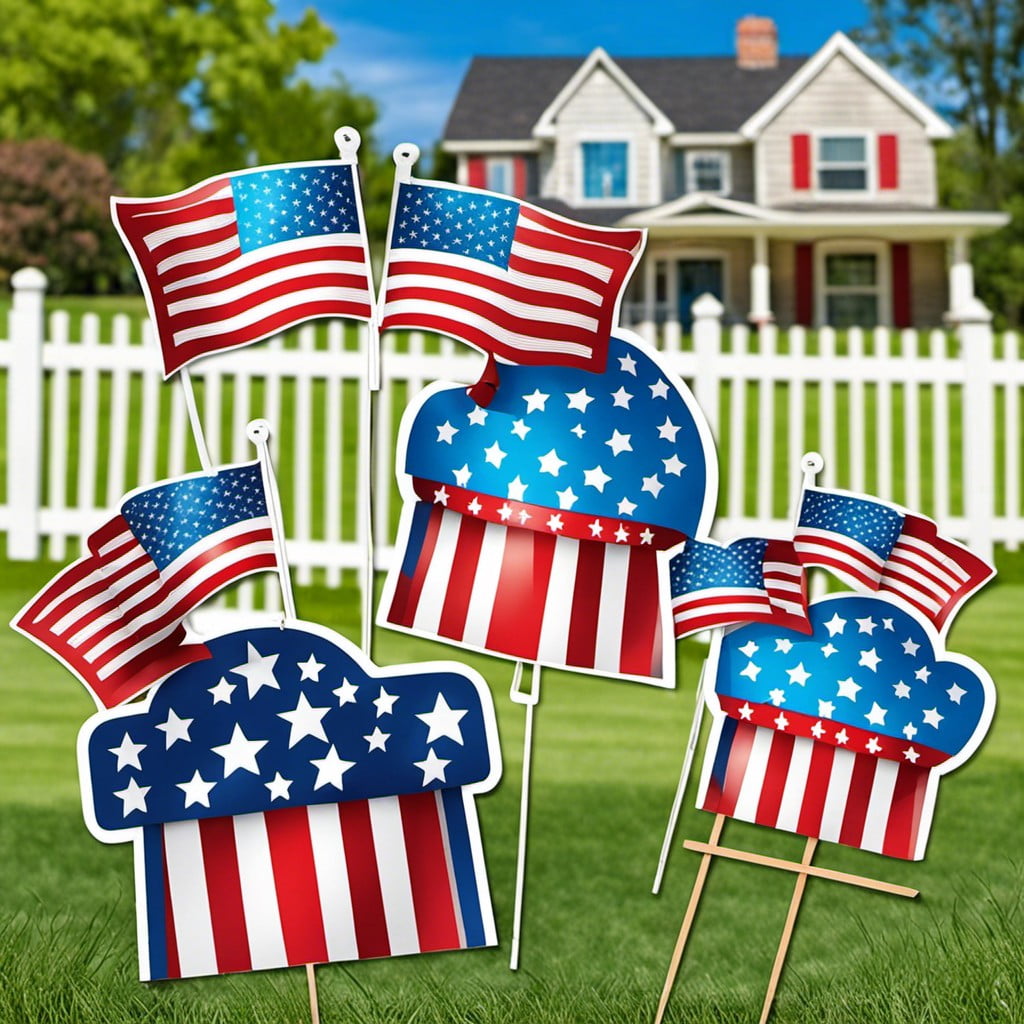 Extending your decorations to your yard has an exponential impact on the celebratory atmosphere. Yard signs are not only eye-catching but also serve as a fun way to unify your neighborhood in celebration.
Opt for designs that interweave the national colors – red, white, and blue. You might consider a selection of signs showcasing important tools symbolizing the labor force like hammers, hard hats, or gears. Not only does this approach engage your neighbors, but it also gives a respectful nod to the hardworking individuals Labor Day commemorates.
For a fun twist, consider custom-made signs with inspiring quotes about workers. Remember to place these signs in visible areas such as along your driveway or near your front door.
Star-shaped Fairy Lights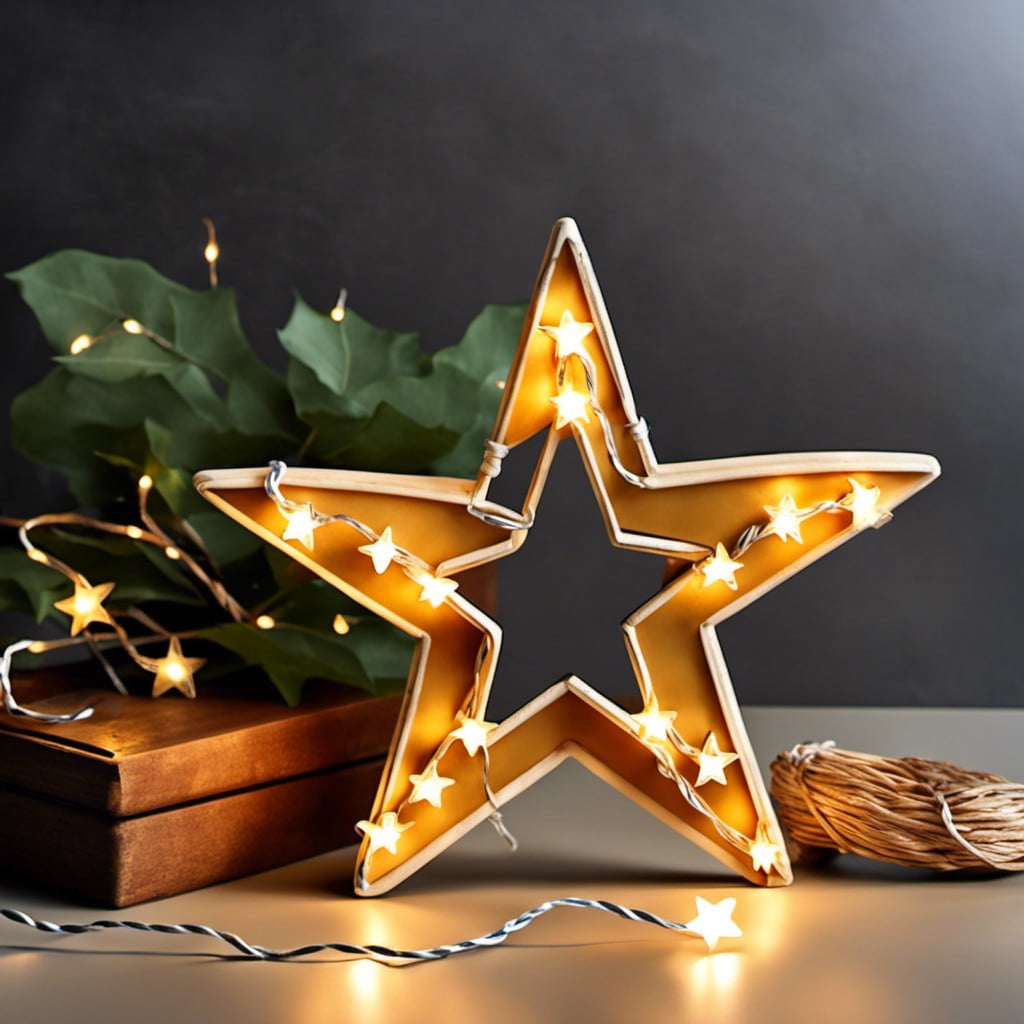 Here's how to add an extra twinkle to your Labor Day celebrations. Star-shaped fairy lights offer a delightful way to inject some patriotic charm into your evening festivities.
Cast a soft, warm glow over your backyard party. Available in various shades, you may opt for traditional red, white, and blue lights to adhere to the Labor Day theme.
Hang them around the patio, drape them over your fence, or place them in transparent jars for a magical touch. These versatile delights can be used indoors and outdoors, offering flexibility in decoration.
Energy-efficient and long-lasting, these lights guarantee a dazzling night filled with merriment. Remember, LED ones are the safest choice as they don't heat up.
Gaze upon the stars as you celebrate the spirit of hard work and unity!
Labor-themed Photo Booth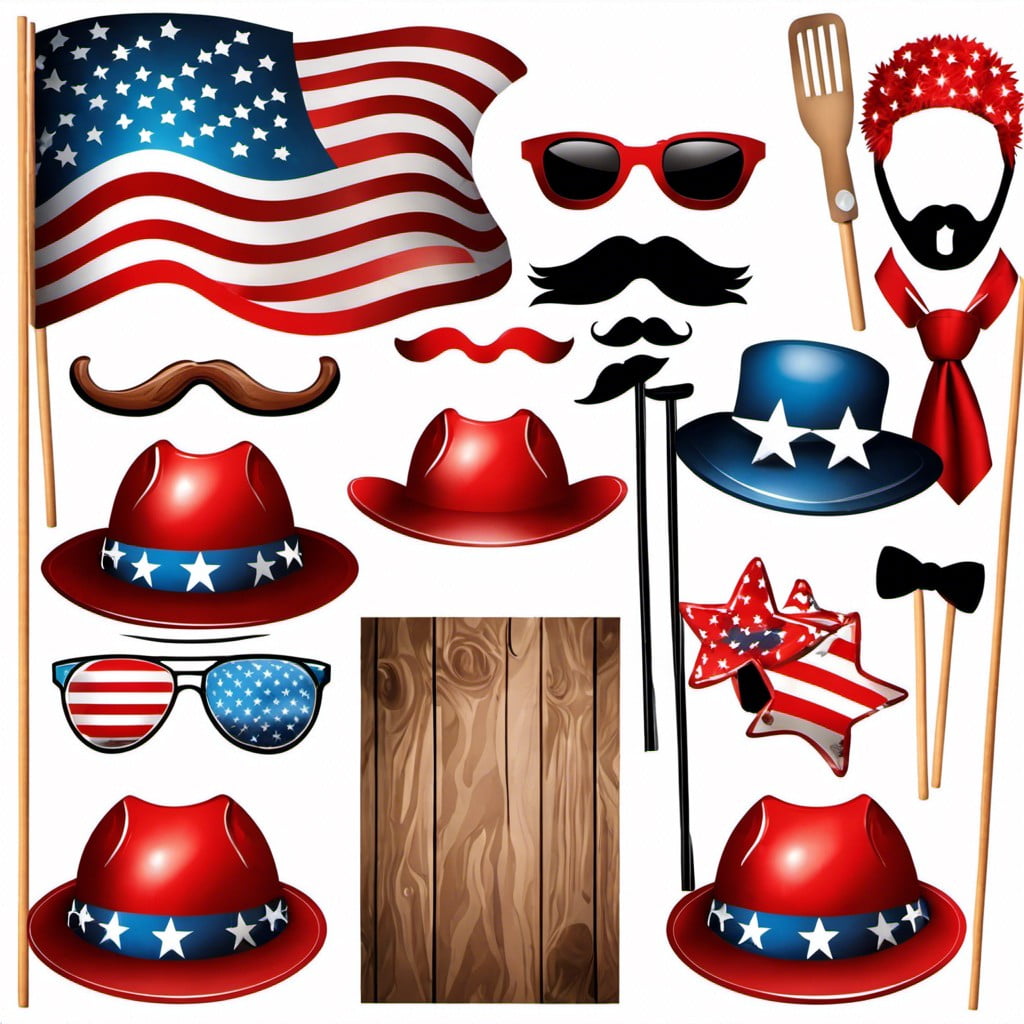 Creating an interactive space encourages fun and engagement among guests. To customize it for Labor Day, aim for patriotic themes and worker-inspired props.
Use a blue or red curtain as backdrop, supplemented by stars, stripes and an array of other decorations such as balloons and banners.
Props can range from flags, hardhats, tools, posters of historical labor figures, to sunglasses in national colors.
Having a digital or Polaroid camera on hand will also let guests capture the moment instantly.
To add a personal touch, consider custom frames or photo strips that encompass the spirit of Labor Day. Remember, the goal is to bring out the patriotic spirit in a playful, memorable way.
Red, White, and Blue Garlands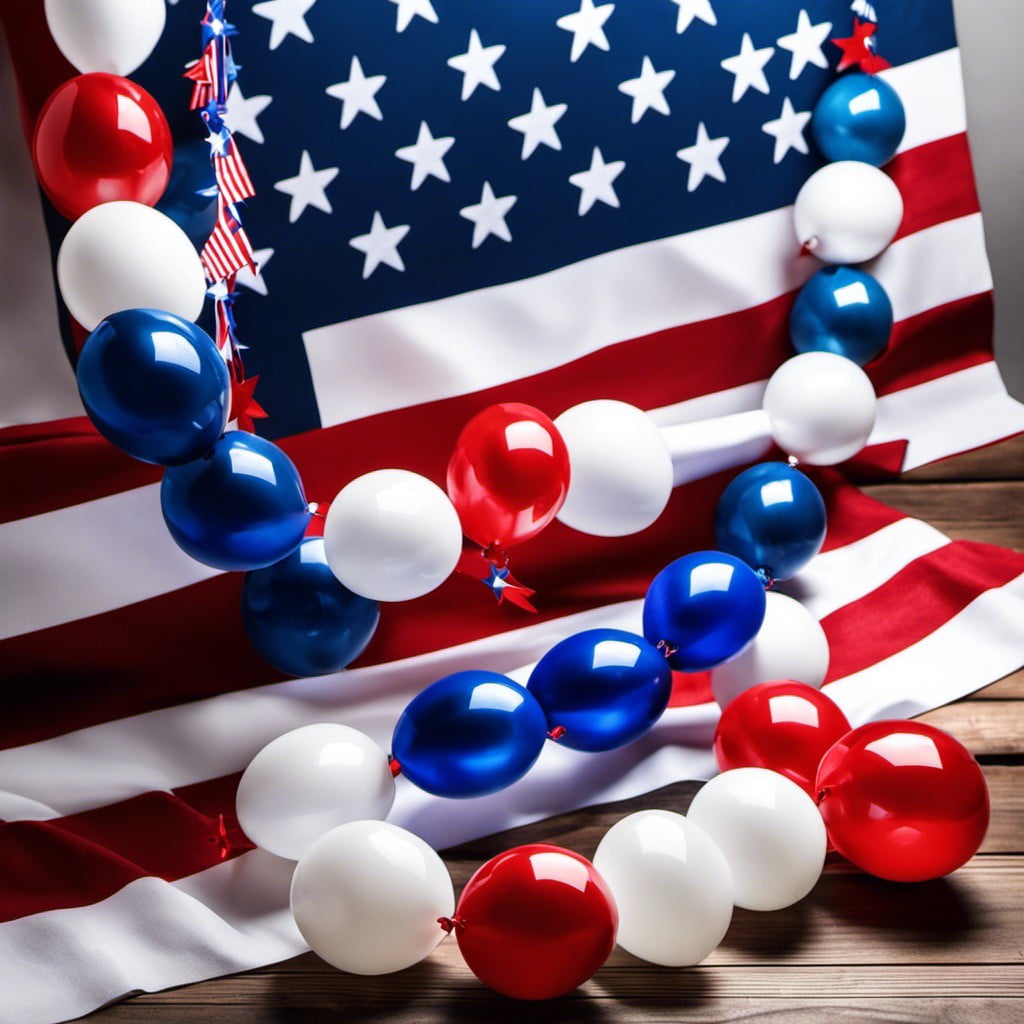 A vibrant choice for any Labor Day gathering is a garland in the classic American colors. Handmade paper garlands can add a personalized touch. Choose a variety of patterns and shapes like stars, stripes, or even map cutouts of the United States. Consider recycling old magazines or newspapers for this eco-friendly décor option. Add string lights for a sparkling effect in the evening.
Alternatively, opt for fabric or felt garlands. Not only do they add texture but they're reusable. Choose a bunting-style design or tassels for a festive feeling. Include varied hues of red, white, and blue for a layered, nuanced appearance. Size and length can be adjusted to fit your space perfectly, making a garland a versatile decoration.
Finally, consider balloon garlands. With an array of sizes and finishes from matte to metallic, they add a joyful touch. Remember, it need not only be horizontal; vertical balloon strands or even winding stair garlands make a unique statement.
Regardless of the type, strategize the placement of your garland well to maximize impact. Be it on a porch, around a table, or spanning a room, these colorful creations effortlessly become the centerpiece of your Labor Day decorations.
Patriotic Flower Arrangements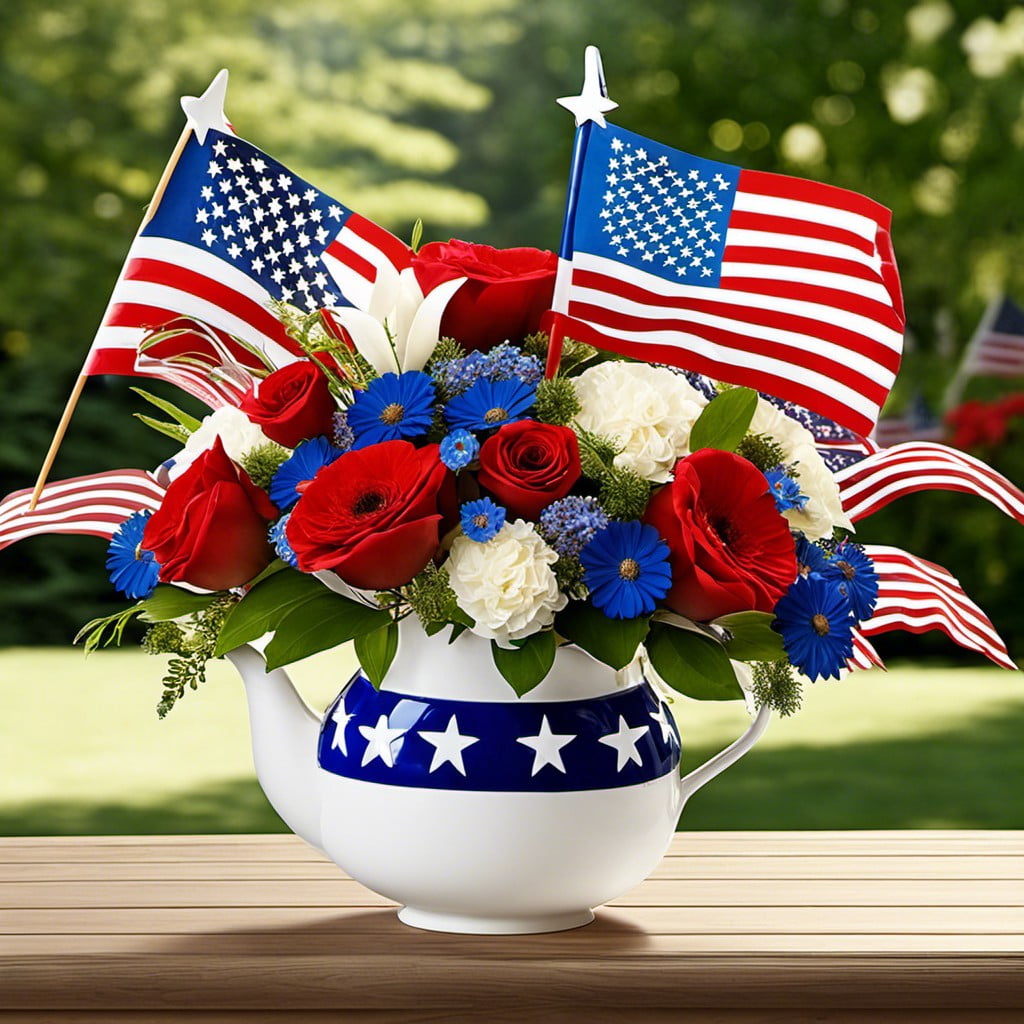 Incorporating floral elements into your décor can lend elegance and charm. Choose blooms in bold red, crisp white, and deep blue for a naturally inspired take on patriotic colors.
Popular options include red geraniums, white roses, and blue hydrangeas. Arranging them in clear glass jars accented with patriotic ribbons adds a special touch. Consider varying the heights and types of flowers for added depth and intrigue.
Small flags or themed skewers inserted delicately amongst the blossoms bring an extra nod to the occasion. Incorporate greenery as a filler to make the colors pop. Remember, the overall effect should be vibrant, fresh, and festive, as befits Labor Day celebrations.
Star-spangled Bunting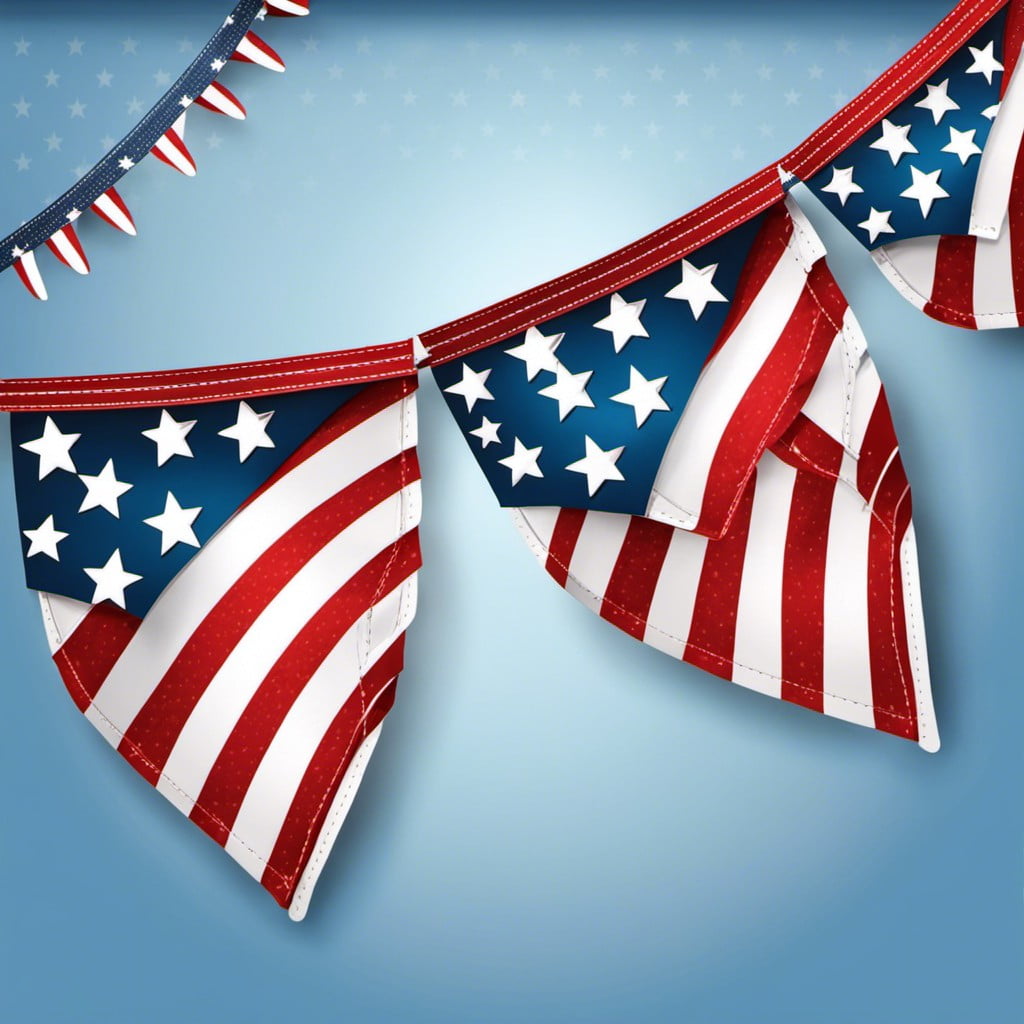 Draping across your home can add timeless elegance. Picture stripes of red, white, and blue, playing off each other in the gentle summer breeze.
Remember, less is more with this feature. Overdoing it might crowd the visual space, taking away from its unique charm. You can hang them on fences, across windows or doors, and even around the party area.
Achieving an appealing spread involves balancing lengths accordingly. Make it too long, and it risks looking overly heavy; too short and it might appear incomplete. Bunting should follow the shape it drapes over; let it swag naturally for the best aesthetic effect.
For an extra layer of immersion, consider incorporating miniature paper flags into your design. Lastly, always ensure its secure mounting to prevent any mishaps throughout your Labor Day celebrations.
Remember, this decoration should complement, not take over, your overall design scheme.
American Flag Paper Plates and Cups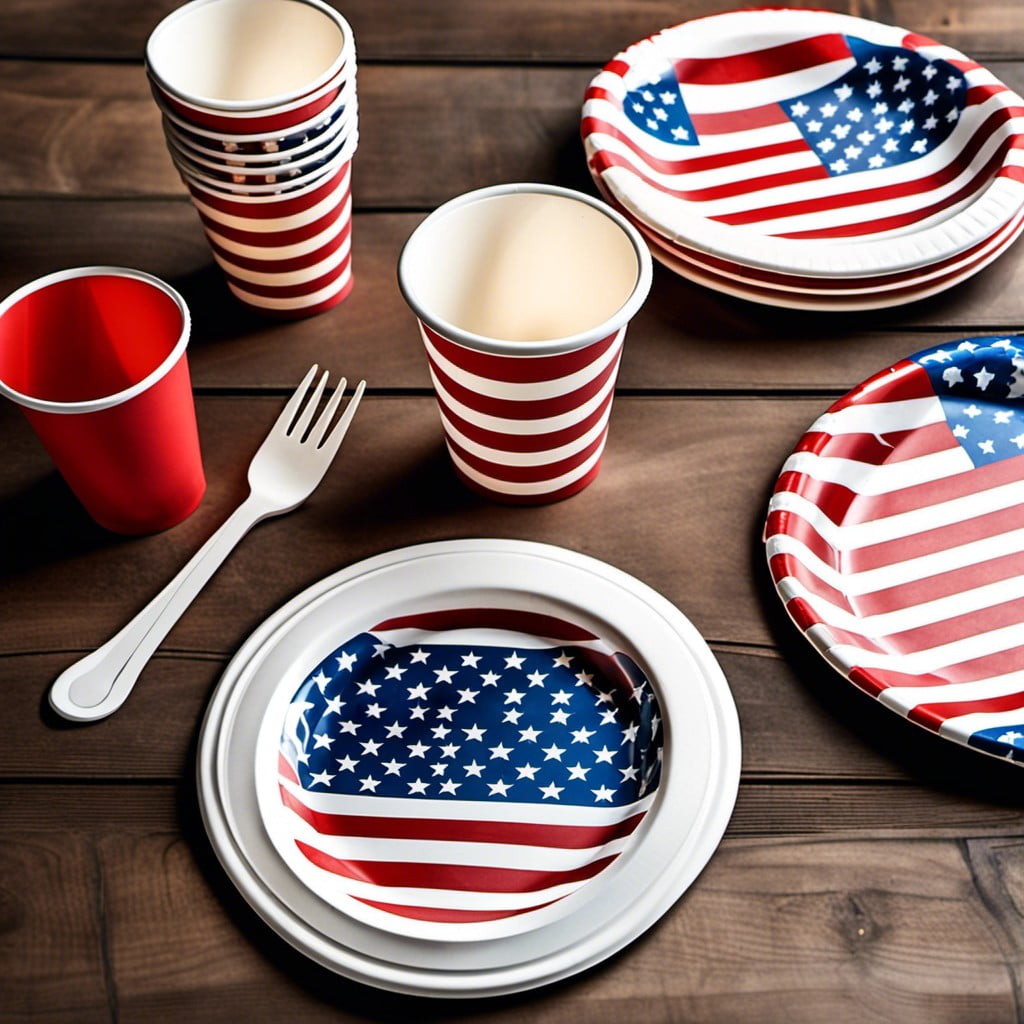 To match your Labor Day theme, consider incorporating these vibrant and festive elements into your table setting. They not only add a patriotic flair, but also make cleanup easier.
1. Accessibility: These patriotic pieces are widely available in many stores, especially during the season, making them easy to find.
2. Easy Cleanup: They take away the hassle of post-party cleanup. Disposable, yet sturdy, these plates and cups offer convenience without sacrificing functionality.
3. Theme Enhancer: Their vibrant red, white, and blue design enriches the overall themed-decor, immersing your guests in a truly patriotic environment.
4. Kid-Friendly: Perfect for children, as they are lightweight and can be safely used without fear of breakages.
In a nutshell, American Flag paper plates and cups are a practical décor choice for your Labor Day celebration. They serve a mixed purpose of theme enhancement and practicality. This makes them ideal for any party that wishes to commemorate the spirit of the holiday while minimizing cleanup.
Labor Day-themed Table Runners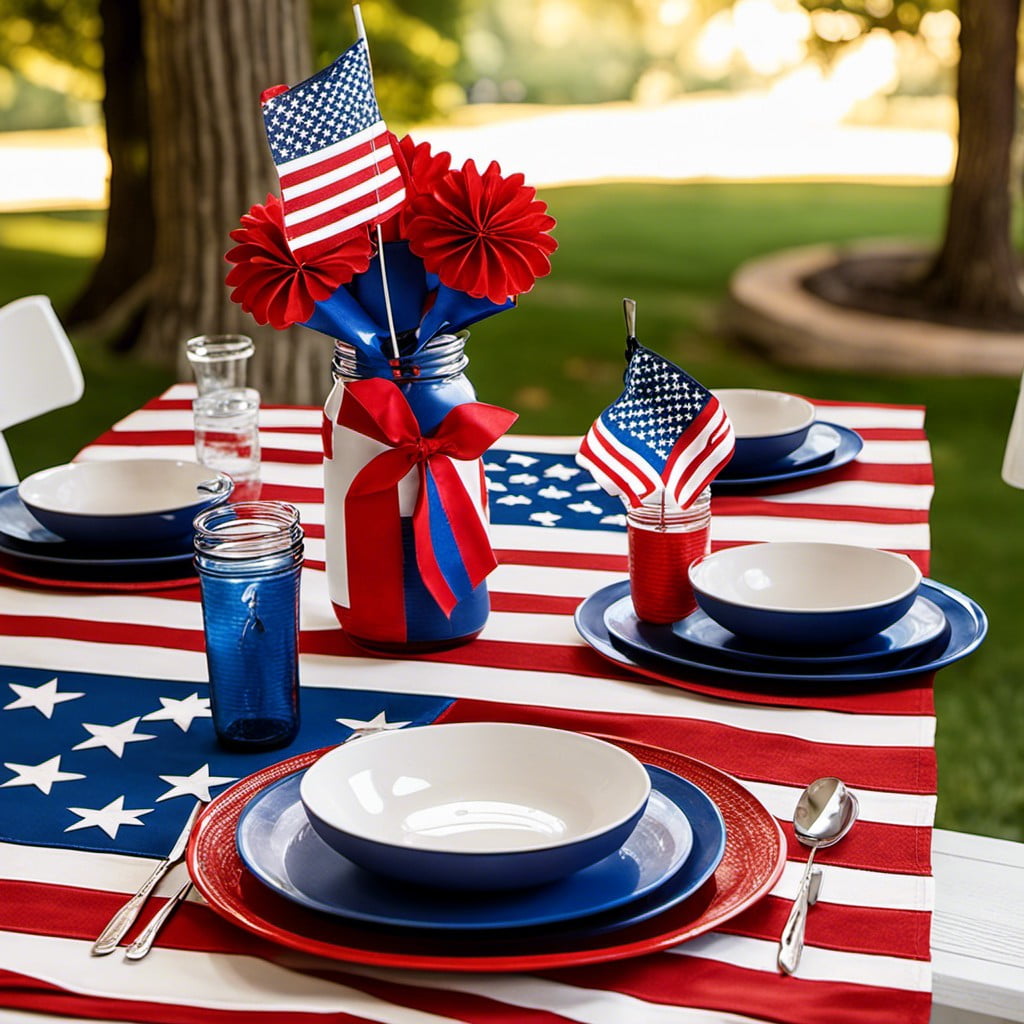 For a dressed-up dining area, consider table runners with patriotic motifs. Choose one with either bold stripes in red, white, and blue, or a subtle theme with stars. Traditional quilt-style runners add a touch of nostalgia while more modern designs offer a clean, fresh look.
For a more personal touch, you could even craft your own runner using fabrics of coordinating patriotic patterns. This decoration allows for a sophisticated Labor Day aesthetic while still being festive. It not only serves as a colorful accent but also protects the table from spills and scratches.
Don't limit runners to just the dining table either; drape them across coffee tables or buffet tables to tie in the theme throughout the house.
Red, White, and Blue Confetti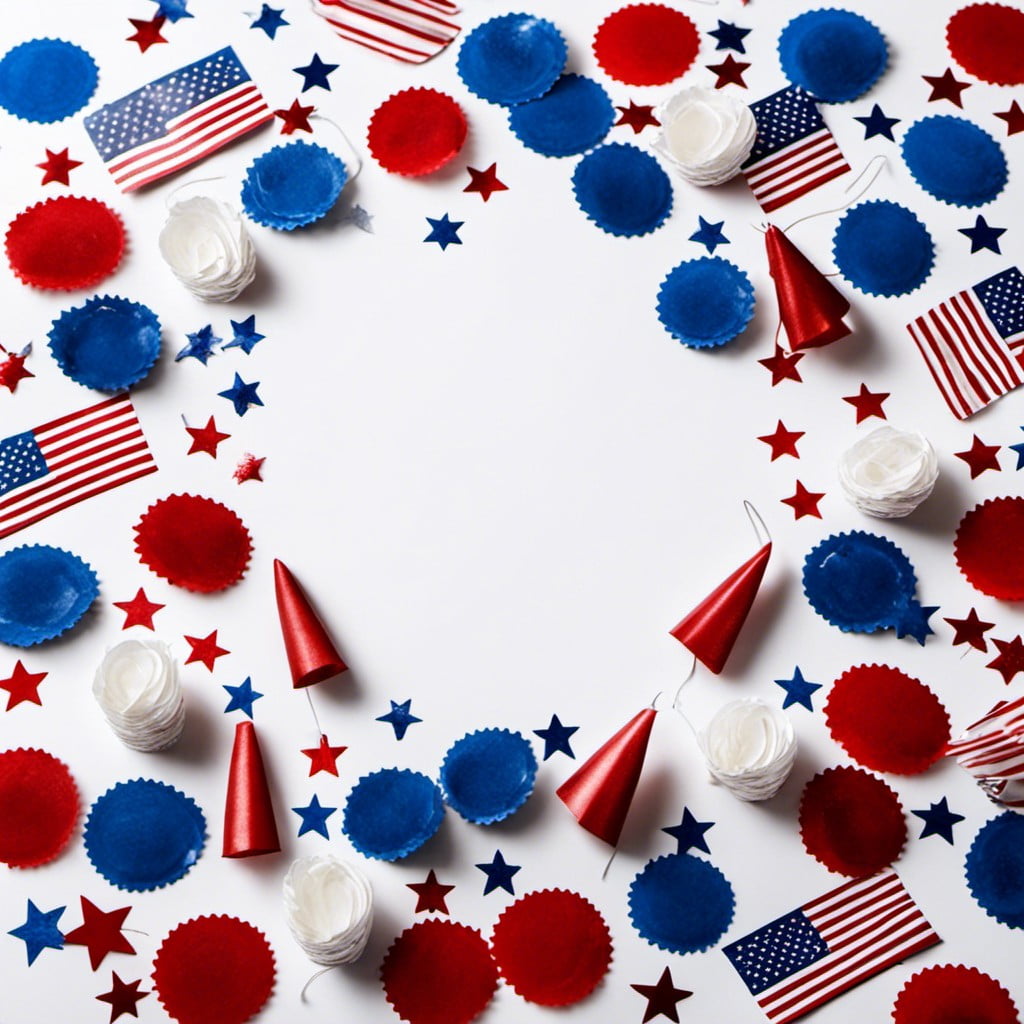 Infusing a sense of merriment and patriotism to your Labor Day celebration is effortless with a sprinkle of confetti. Selecting confetti in the American flag colors adds a festive triumph to the ambiance.
Scatter this around the party space or even toss it in the air at the peak of the celebration for a fun, photo-worthy moment.
In addition to the traditional confetti sprinkle, consider embedding it in clear balloons for a vibrant, floating decoration. Alternatively, incorporate it into table settings by sprinkling it around place settings or in centerpieces.
It's a simple, yet impactful way to add that patriotic flair to your Labor Day event.
A word of caution, confetti can be messy, so ensure you're prepared for an easy cleanup, especially if the celebration is indoors.
Hard Hat Novelty Drink Holders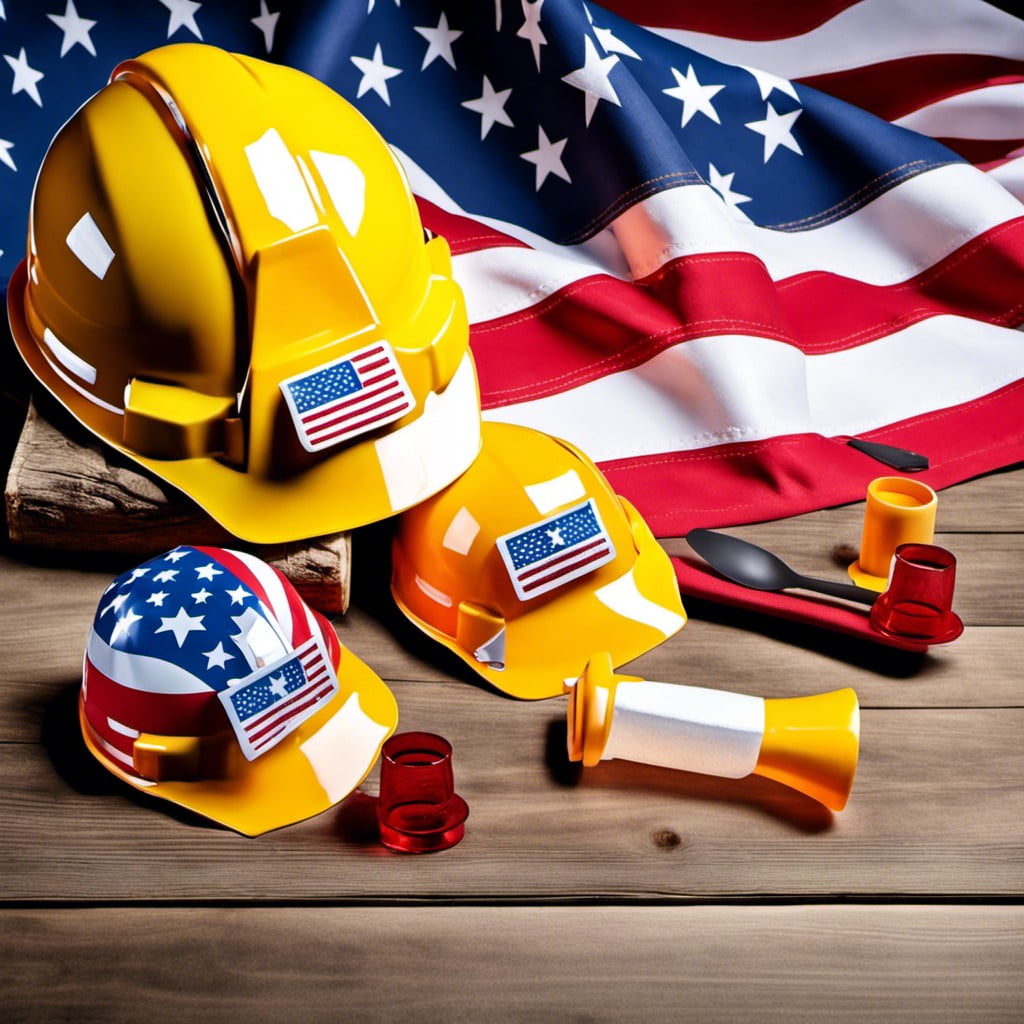 Kick your celebration up a notch and show appreciation for the essence of Labor Day with these inventive containers. They promise to be a fun and functional addition to your party. Not only do these novelty drink holders efficiently keep your beverages cool, but they also make for an instantly eye-catching decoration. Choose a variety of colors or stick to Labor Day hues.
Certain online retailers offer customization, allowing you to personalize your hard hat drink holders with friendly messages, names, or even your party's date. Involving kids in the process can also add an element of fun, let them decorate with stickers or markers. These holders serve more than one purpose: they are a conversation starter, provide a unique keepsake for your guests, and pay homage to the industrious workers we celebrate on this day. Remember, it's the small, unique touches that make your party memorable!
Labor-themed Cupcake Toppers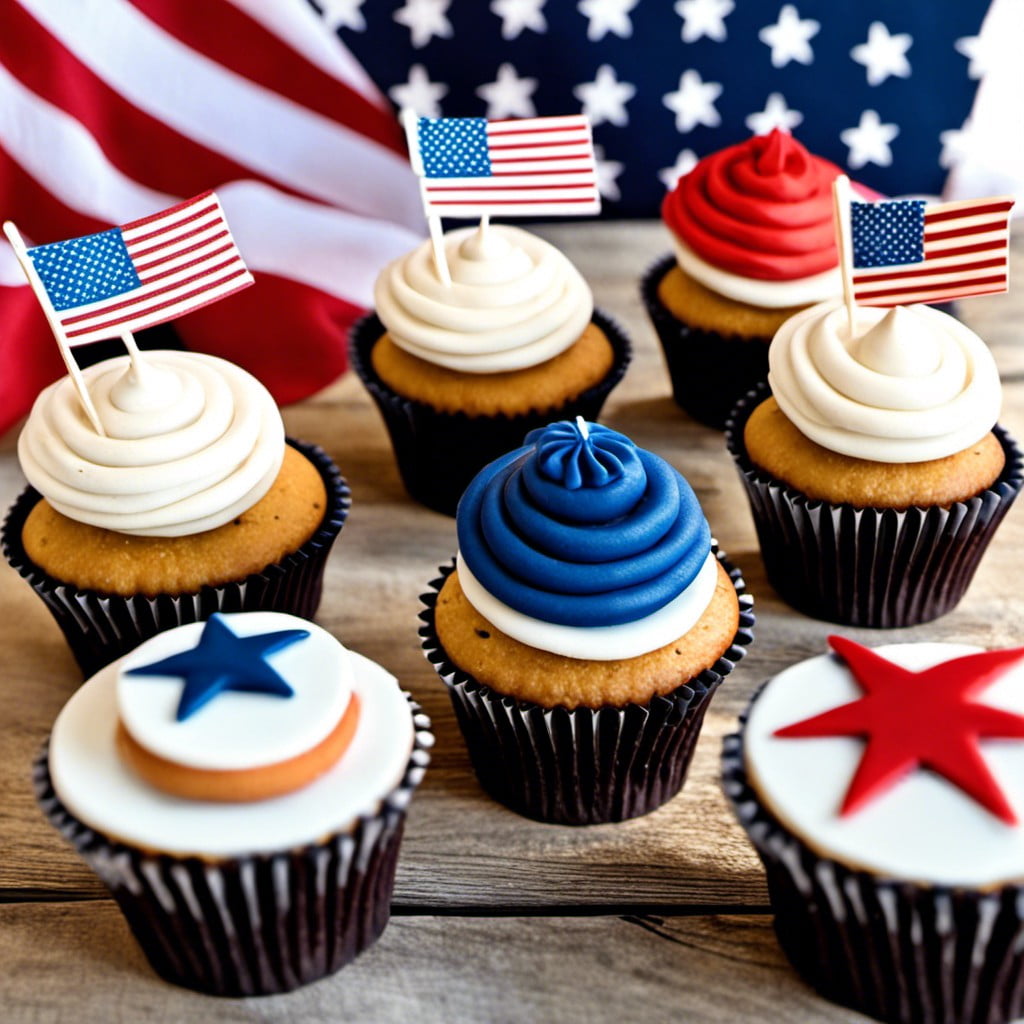 Creating these embellishments enhances your celebration's atmosphere effortlessly. Start by choosing designs that feature elements like tools, hard hats, or other Labor Day icons. You can either purchase pre-made ones or DIY them with food-safe materials. Remember to maintain the patriotic color scheme for added appeal.
By integrating these cupcake toppers, your dessert spread not only becomes more festive, but it also honors the spirit of the occasion. They add a visually pleasing detail that guests of all ages would appreciate.
Finally, consider using them as part of your decor. Display the cupcakes on a stand draped in a flag-themed cloth to create a visual focal point at your party. Whatever your approach may be, these simple yet effectual cupcake toppers elevate your Labor Day event with a sweet tribute to American workers.
Union Posters As Wall Art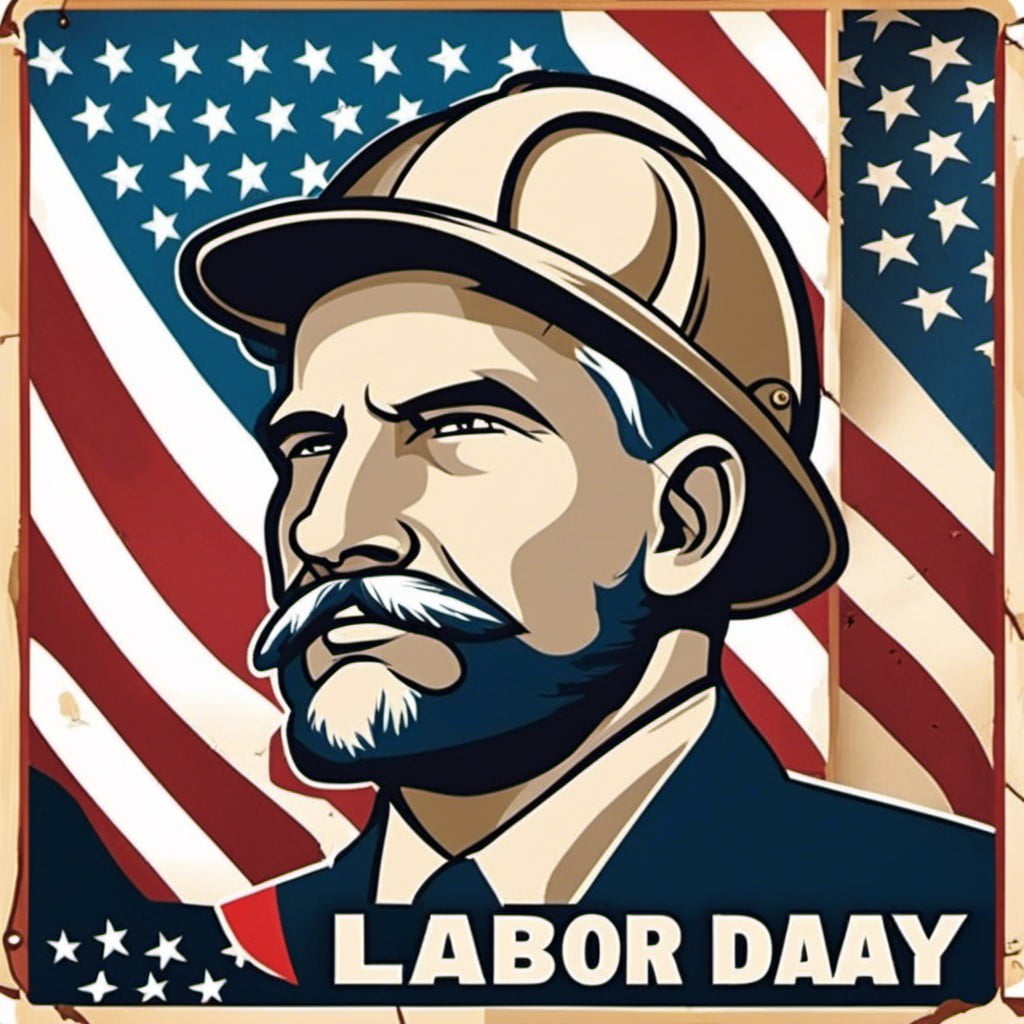 Choosing the perfect union poster can effectively honor the spirit of Labor Day while adding a unique pop of color to your space. When selecting this form of wall art, consider historical designs that symbolize the power and solidarity of labor unions. Quotes from famous labor leaders such as Samuel Gompers or Eugene V. Debs can add an educational aspect as well.
To incorporate this into your decor, simply hang the posters in heavy traffic areas where they can be easily spotted. If you're worried about damaging your walls, consider putting the poster in a lightweight frame or use damage-free adhesive strips instead. You could even arrange multiple posters of similar colors or themes together to create a gallery wall effect. Remember, the idea is to celebrate workers, so choose posters that evoke sentiments of respect and appreciation.
Patriotic Tassel Decorations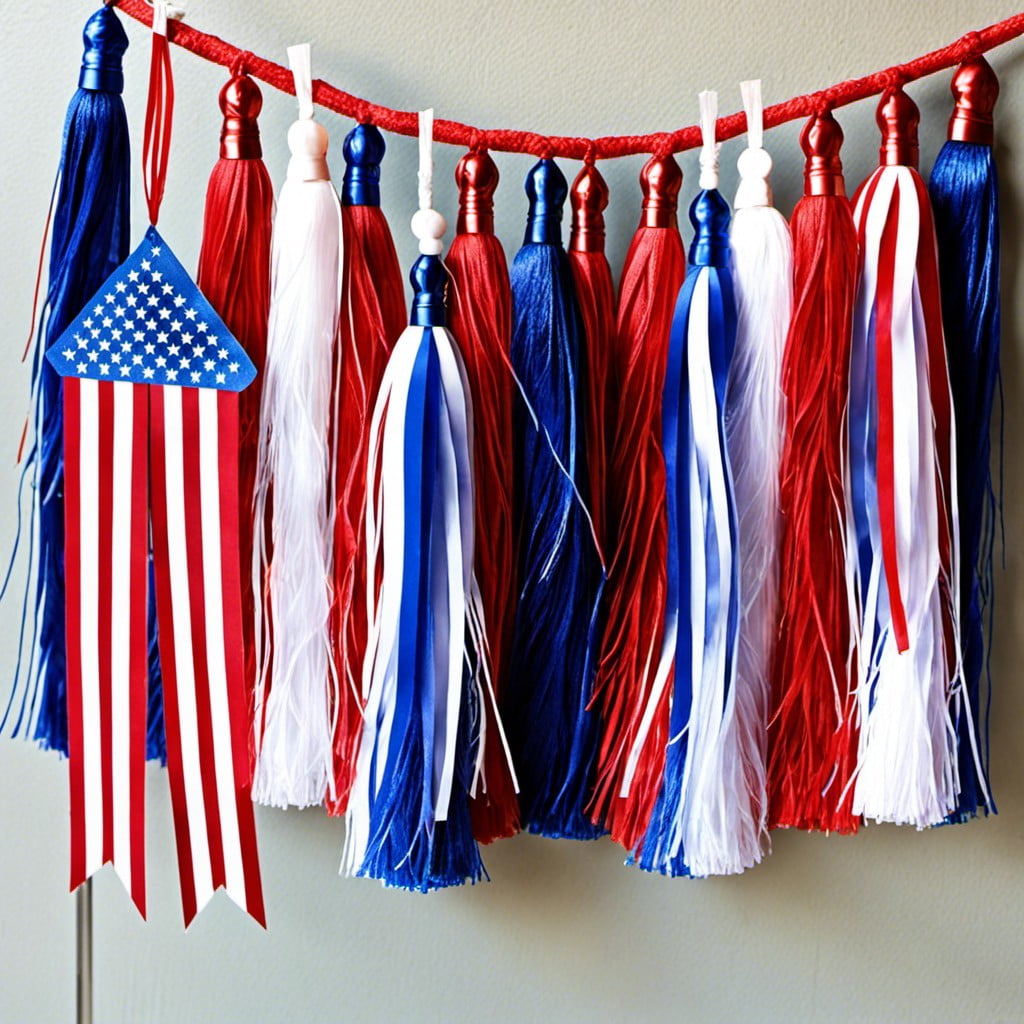 Strategically hung around your celebration area, these tassels can create a festive atmosphere instantly. One good option is mixing red, white, and blue tassels to imbue a sense of patriotism. Create them using tissue paper or streamers, which you can find in any local craft store or online.
Here's a quick guide to assembling these decorations:
1. Cut the tissue paper into long strips, ensuring each strip is of uniform width.
2. Use a ruler or straight edge to fold the strips in half.
3. Tie a knot at the top, leaving a loop for hanging.
4. Fluff out the ends to create the tassel effect.
These tassel decorations can be draped over doorways, hung on walls, or used to dress up the BBQ area. Plus, they are both cost-effective and efficient in encapsulating the Labor Day spirit!
Liked reading this? Here's more:
Recap: