Last updated on November 9, 2023
Elevate your mid-morning fête because these unique and creative brunch decorating ideas will turn your casual meal into an event to remember.
I'm thrilled to share these 20 Brunch Decorating Ideas, all uniquely designed by me, and I sincerely hope you find them as inspiring and fun to recreate as I did creating them.
Brunch is not just a meal, it's an event that calls for a touch of creativity in its presentation. Whether you're planning a casual get-together or an elegant affair, the right decor can set the mood and make your brunch truly memorable.
This article will guide you through a variety of brunch decorating ideas, from table settings to menu displays, that are sure to impress your guests. With the right blend of aesthetics and functionality, you can transform your dining area into a brunch haven.
Stay tuned for all the delightful details.
Floral Centerpieces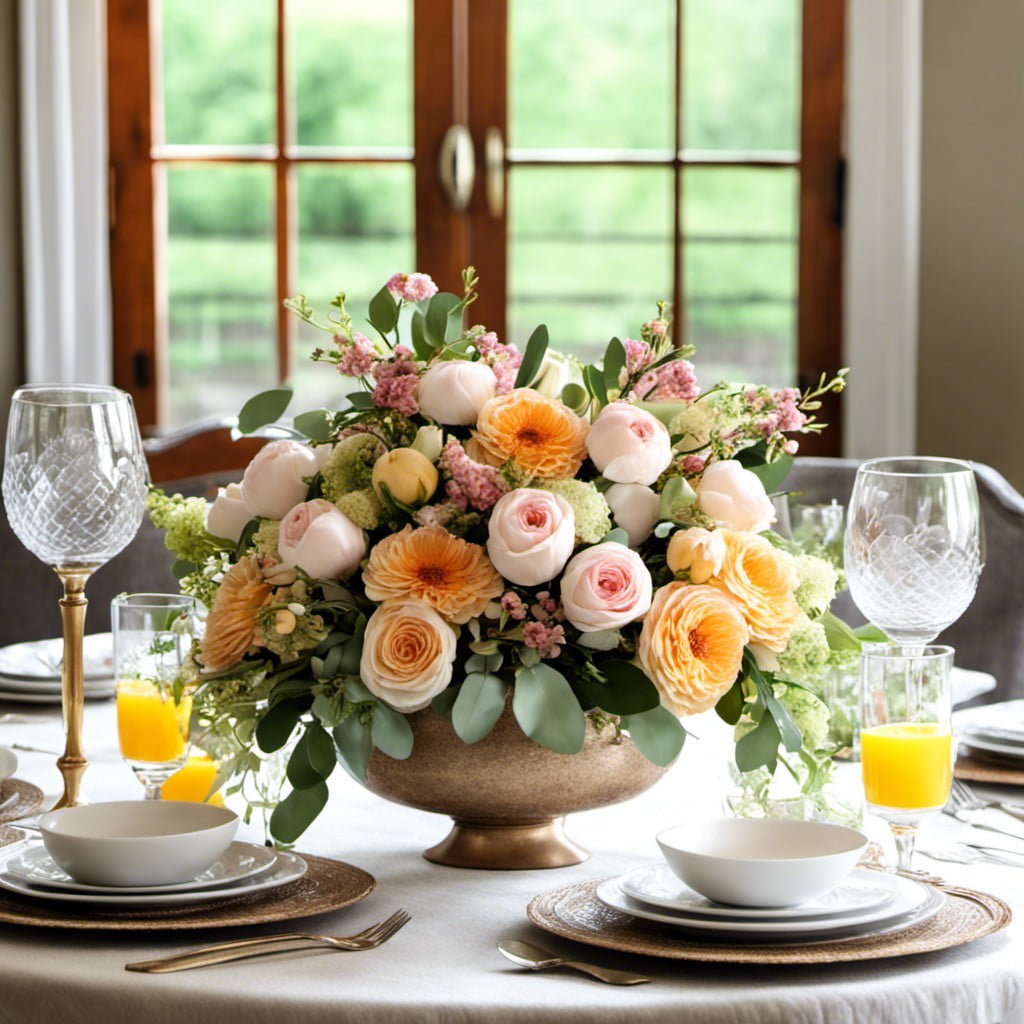 Implementing floral centerpieces brings a breath of fresh air, tying nature to your brunch setting. Opt for seasonal flowers such as tulips in the spring or chrysanthemums in the fall, ensuring that your decor remains fresh and relevant.
Aim for unconventional vases, like a serving pitcher or a vintage teapot, to enhance authenticity. Maintain harmony between the centerpiece and tablecloth: a colorful centerpiece might pair well with a neutral tablecloth. Experiment with varying sizes or types of blooms, fostering a sense of dynamic contrast.
Aim to make the centerpiece engaging without obstructing the view or conversation across the table. Succinct yet strategically positioned, a floral centerpiece can effortlessly elevate the aesthetics of your brunch.
Vintage Tablecloth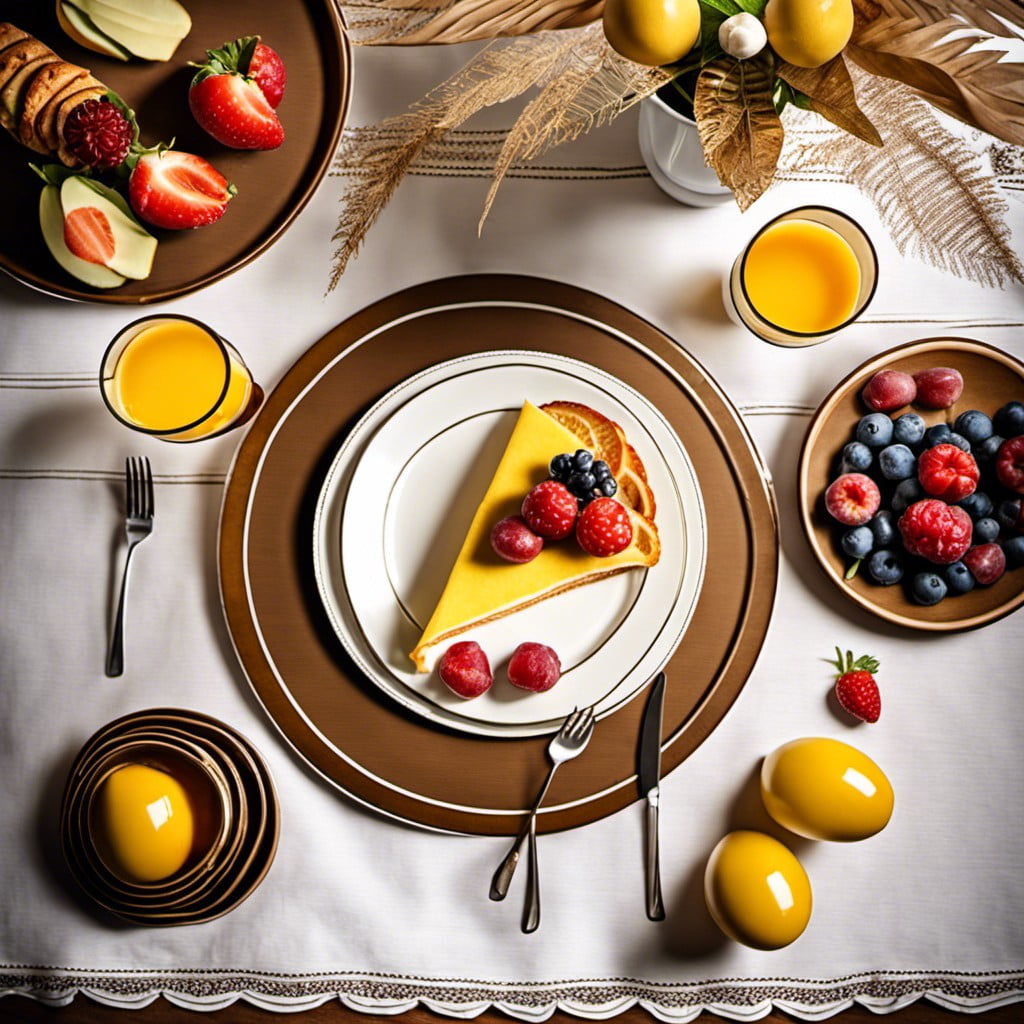 A choice tablecloth with a touch of the old-world grace lends an undeniable charm to your brunch setup. Consider floral prints, lace embellishments or even checked gingham for that cozy, country-style appeal.
But it's important to ensure the cloth color blends seamlessly with the overall brunch theme. For a well-loved, antique look, scour thrift stores or online retailers for authentic vintage cloths. Don't shy away from minor stains or wear, as these can add to the sense of history.
If you opt for a piece that's unpatterned, liven up by scattering some fresh flower petals or confetti in complementary colors. Remember, the tablecloth sets the stage for your brunch, so take time to select the right one.
Pastel Color Scheme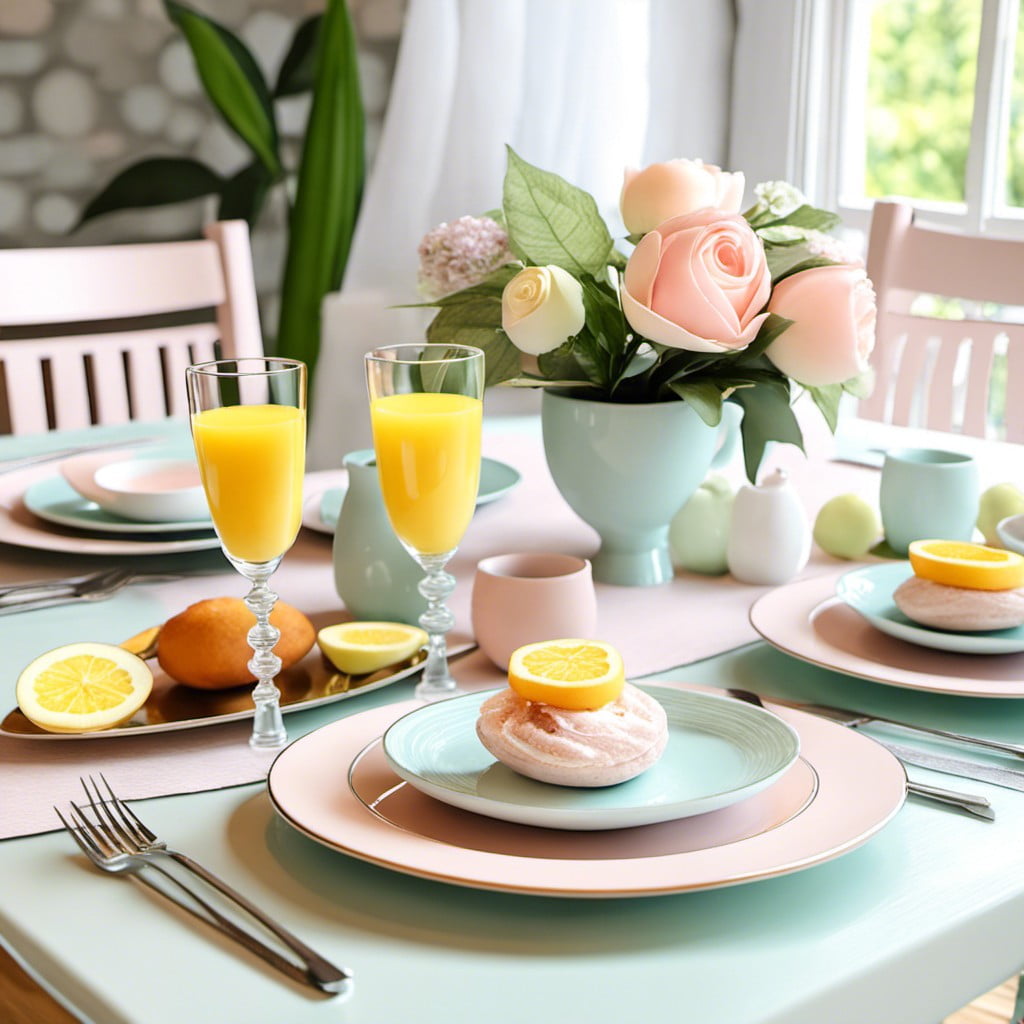 Incorporating a pastel color scheme can add a soft and inviting touch to your brunch setup. This color pattern perfectly complements the morning light and creates a calming and appealing environment.
Here are a few tips to help you execute this palette successfully:
1. Mix and Match: Consider combining different shades of pastels like baby pink, mint green, lilac, or buttery yellow for a multicolored yet harmonious display.
2. Glassware and Crockery: Use pastel tinted glassware or tableware to subtly introduce your chosen hues.
3. Table Linens: Another way to infuse pastels is through table cloths, napkins, or even your chair cushions.
4. Flower Arrangements: Opt for flowers in pastel tones. These not only add color but also bring in a natural element.
5. Balloons or Bunting: Add some pastel colored decorations overhead. This draws the eye upwards and gives an immersive feel to your space.
Remember, the key is to keep it light, airy and reflective of the daytime setting that brunch is all about, and pastels do just that.
Fruit-filled Mason Jars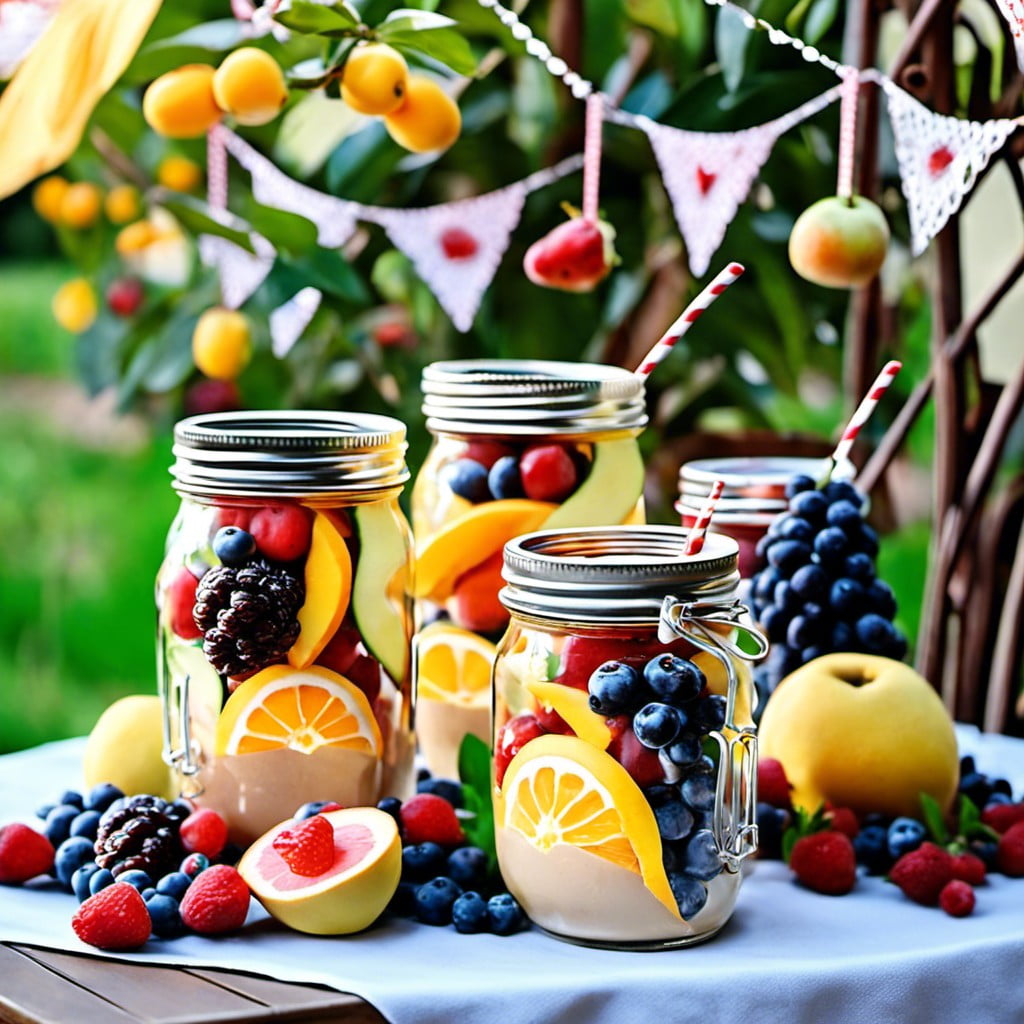 Creating eye-catching decorations with Mason jars filled with colorful fruits can be a delightfully simple and effective way to add vibrancy to your brunch tablescape. Here's how to utilize this brilliant idea:
1. Selection: Choose fruits with varied colors and shapes, like strawberries, blueberries, kiwi, and grapes to provide a captivating display.
2. Arrangement: Layer fruits by color, for a pleasing visual treat. The sequence of the layers can be repeated to fill up the jar.
3. Size: Use jars of differing heights and sizes for an appealing aesthetic variation.
4. Placement: These fruit-filled jars can also double as place markers if you attach tags with guest names.
Remember, these Mason jars not only add a fresh aesthetic to the table, but the fruits can be enjoyed as a healthy part of the meal too!
Breakfast Dishes As Decor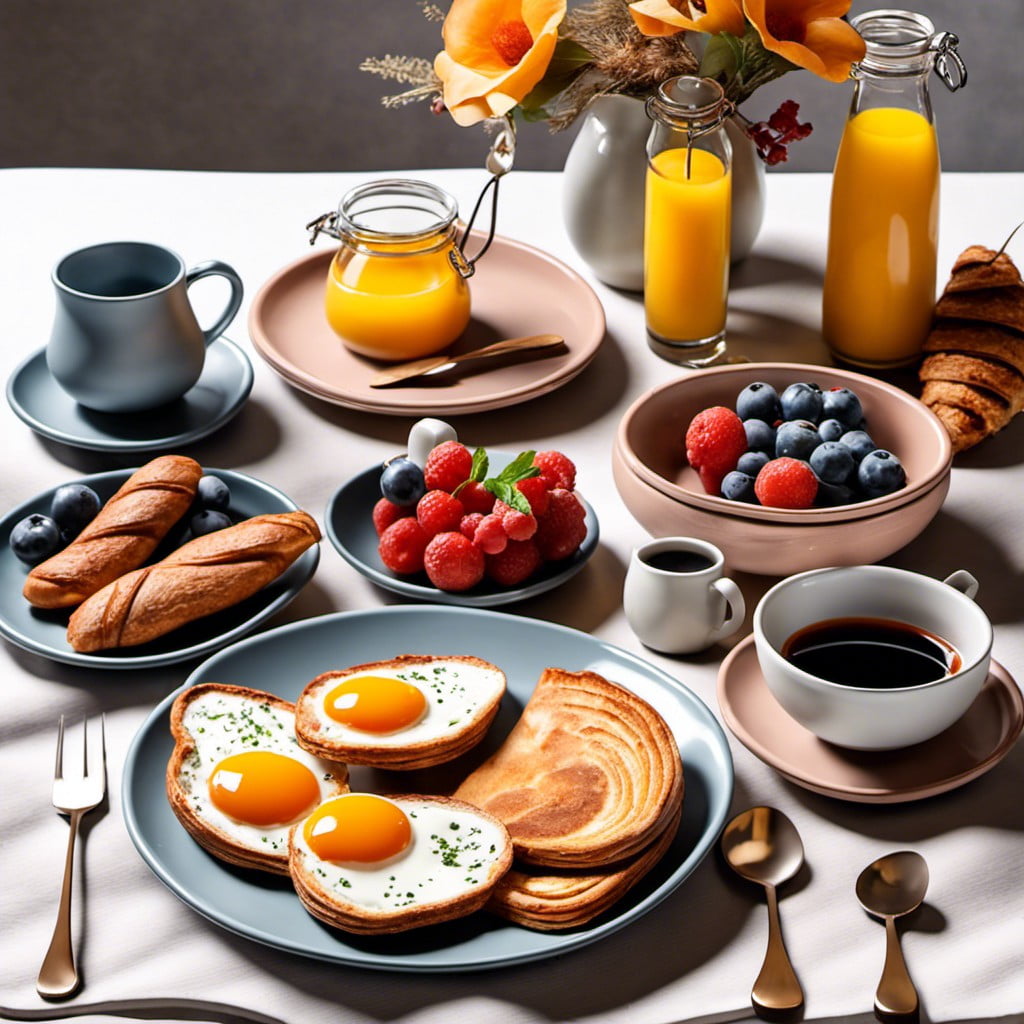 Giving your classic breakfast dishes a creative twist can instantly elevate the appearance of your brunch table. Add a splash of color to a stack of pancakes with fresh, vibrant fruits such as strawberries and blueberries.
Play with the presentation of your eggs; deviled eggs can be a decorative statement, especially with added garnishes like chives or paprika.
A vibrant granola-yogurt parfait presented in a clear glass can also double up as an appealing centerpiece.
Lastly, don't shy away from incorporating themed shapes into dishes using cookie cutters —think toast or pancakes in the shape of flowers or animals.
Let your culinary creativity contribute to your brunch decor.
Candle Decorated Tables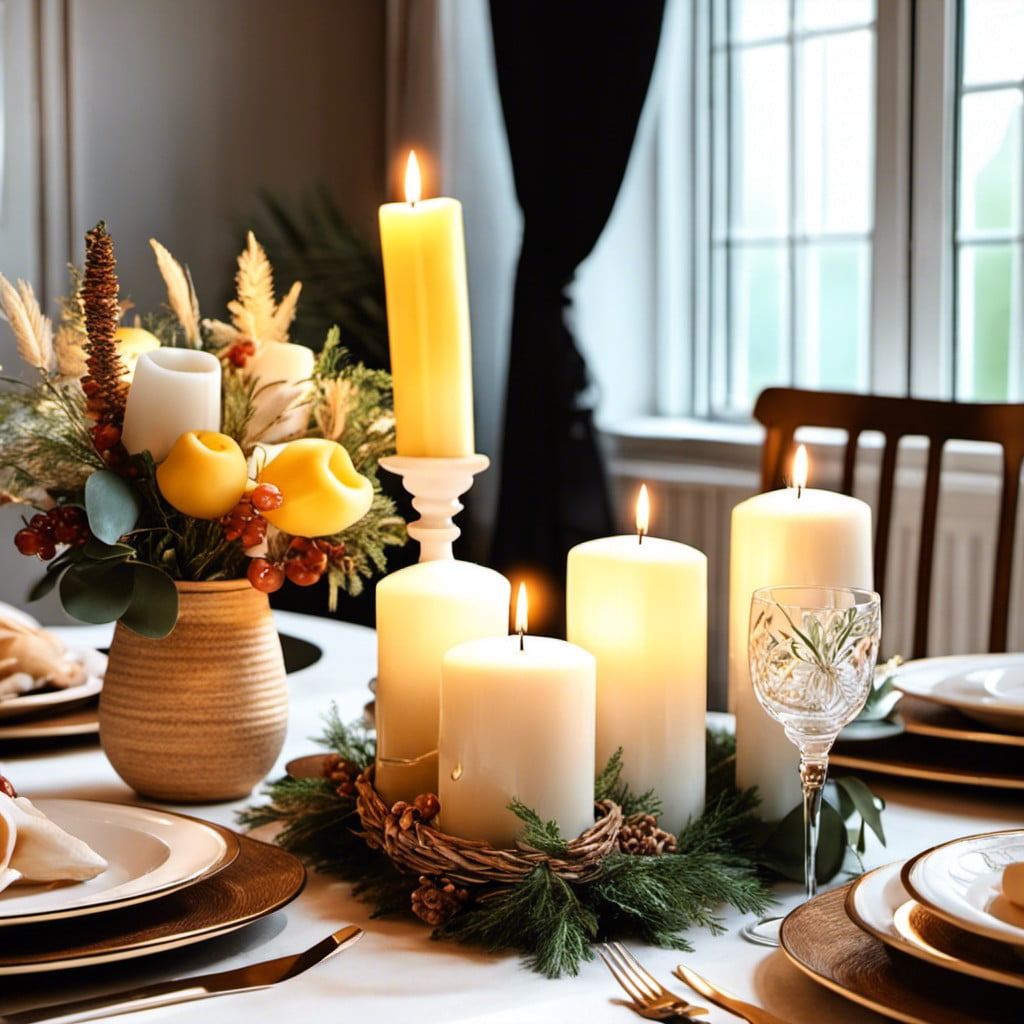 Introducing a flickering glow with candles instantly boosts the ambiance of your brunch table. Various pillar candles of different heights and diameters will add depth and a sense of wonder to your setup. For a more timeless feel, try using taper candles in brass or metallic holders.
Your scented candles shouldn't compete aroma-wise with the food, but if chosen wisely, can complement the overall dining experience. Try fresh, subtle scents like lemon, vanilla or lavender, which blend naturally with the brunch delicacies.
Try incorporating candles into floral arrangements for a spectacular centerpiece. Alternatively, floating candles in water-filled glass bowls provide an elegant touch. Always remember the safety measures while using candles, and keep them away from any flammable elements. Always blow out the candles once the brunch concludes.
Remember, candlelight is soft, warm, and romantic – it invites conversations and lingers on in the memory, making the event feel that much more special. So, go ahead and light up your brunch tabletop.
Elegant Silverware Settings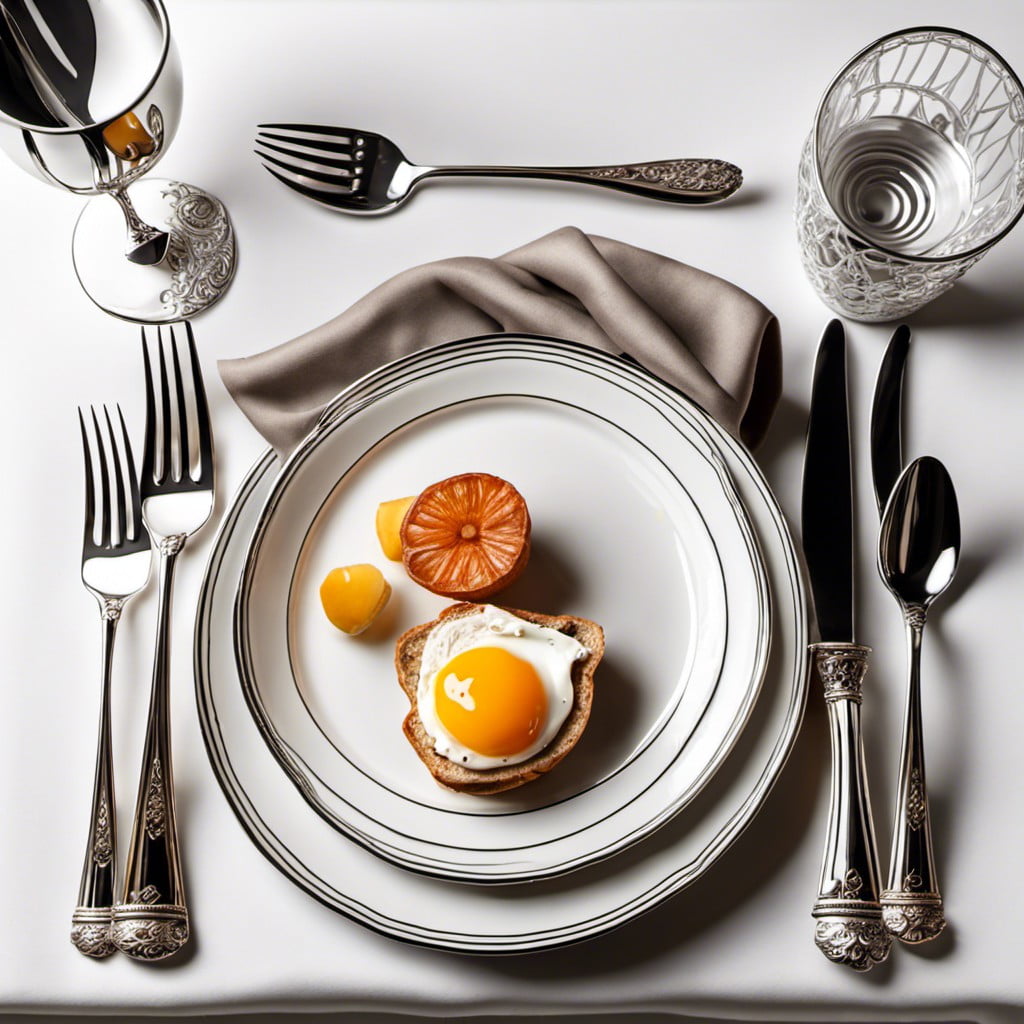 High-quality silverware can enhance any brunch setting, adding an air of sophistication and elegance. Pick utensils that suit your overall design aesthetic. For a timeless appeal, consider classic silver cutlery.
1. Arrange the silverware correctly – fork on the left, knife and spoon on the right of the plate.
2. Adding an extra dessert fork or spoon could make a simple setting look more formal.
3. Complement your silverware with cloth napkins. Not only are they eco-friendly, but they also amplify the elegance.
4. Explore patterns and designs. A touch of intricacy on the handles can significantly uplift basic cutlery.
5. Consider a silverware roll. Wrapped in a chic napkin and tied with a ribbon or rustic twine, it could serve as a charming personal touch.
Remember to polish your silverware before setting. Smudged or stained cutlery could distract from the overall elegance of your brunch tablescape.
Champagne Glass Tower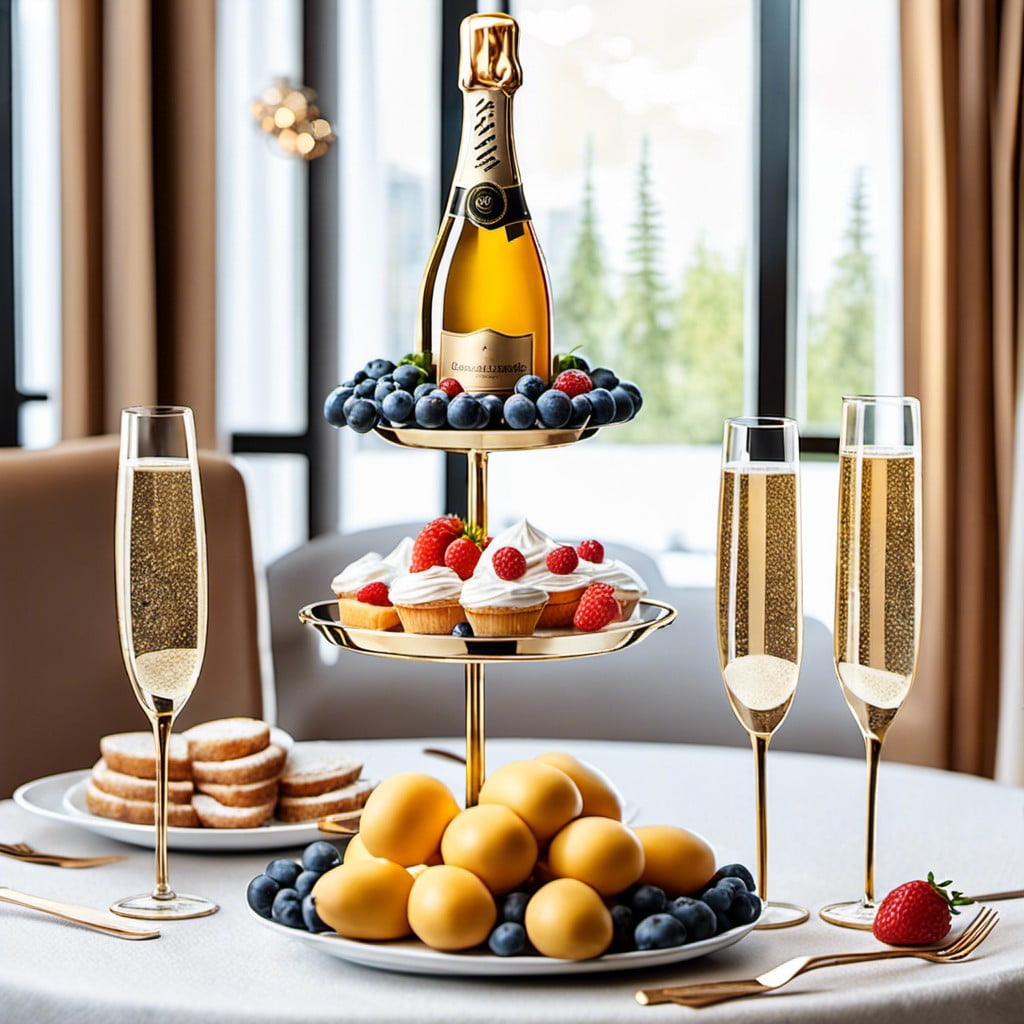 A sparkling culmination of your decorations, the tower creates a dramatic, luxe effect while also being a functional space for guests to grab their glasses. Start with a sturdy base and ensure every layer is secure to avoid any mishaps.
Carefully position the glasses so they form a pyramid shape. Opt for sturdy, high quality glasses which will stand the test of weight and balance.
For an extra touch of elegance, tie ribbons around the stem or add a few flowers on the top. Keep a large bottle or two of champagne at the side and encourage guests to fill their glasses from the tower. This not only creates an interactive feature for guests but also serves as a conversational ice breaker.
Chalkboard Menus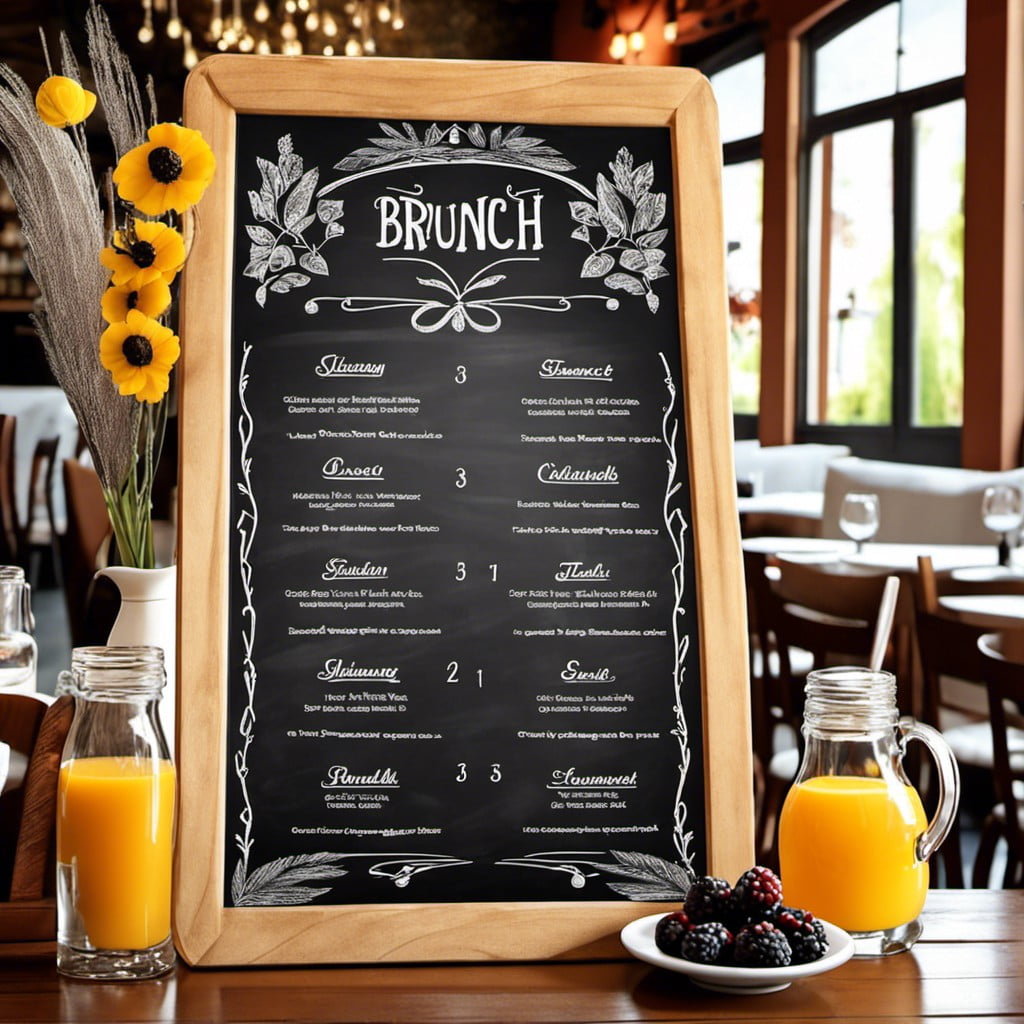 A charming addition to any brunch set-up, chalkboard menus effortlessly guide guests through the spread. Opt for a large, rustic-style board or use smaller individual chalkboards placed strategically among the dishes.
For a creative twist, consider doodles or calligraphic fonts to label different foods or beverages. Additionally, it encourages interaction, as guests have fun identifying the tempting dishes offered.
Remember that using a chalkboard menu is not only practical, it's a piece of the overall ambiance that communicates the care and thought put into the event.
Food Label Tags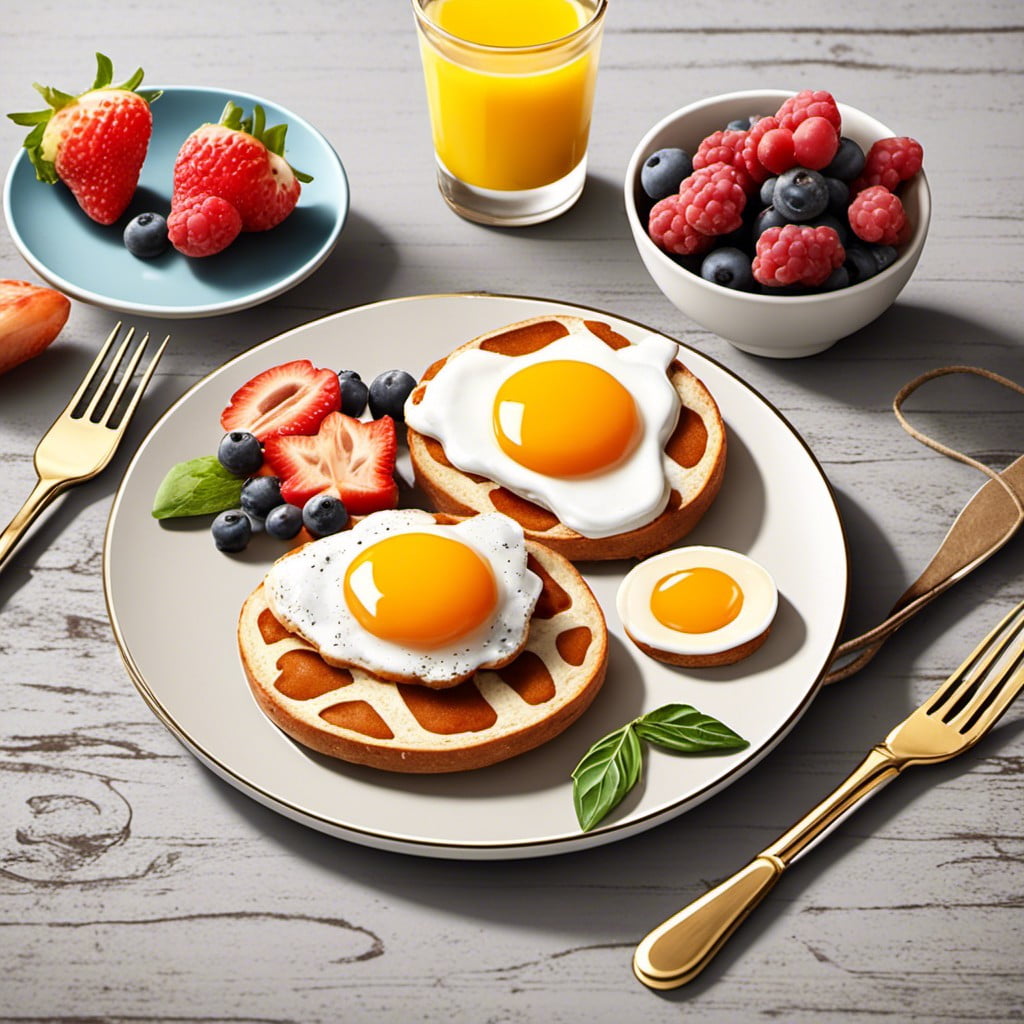 Implementing these personalized touches can transform your brunch gathering into an unforgettable event. Combining functionality with aesthetic appeal, food label tags are more than just indicators of what's on the plate; they also add a professional touch to your spread.
Consider the following:
1. Aesthetic appeal: Choose a design that matches your overall theme. Vintage tags for a rustic setting, or a more sleek and minimalist design for a contemporary atmosphere.
2. Consistency: Keep the font style and color uniform across all tags, ensuring a seamless look.
3. Readability: Keep in mind that while you want your tags to be aesthetically pleasing, their primary purpose is information. Make sure the text is readable and clear.
4. Interactivity: Make your tags multifunctional by doubling them up as conversation starters. Include fun facts or trivia about the dish on the tags.
5. Sustainable options: Consider opting for eco-friendly materials. Many options are stylish, affordable, and kind to our planet.
Quirky Napkin Folds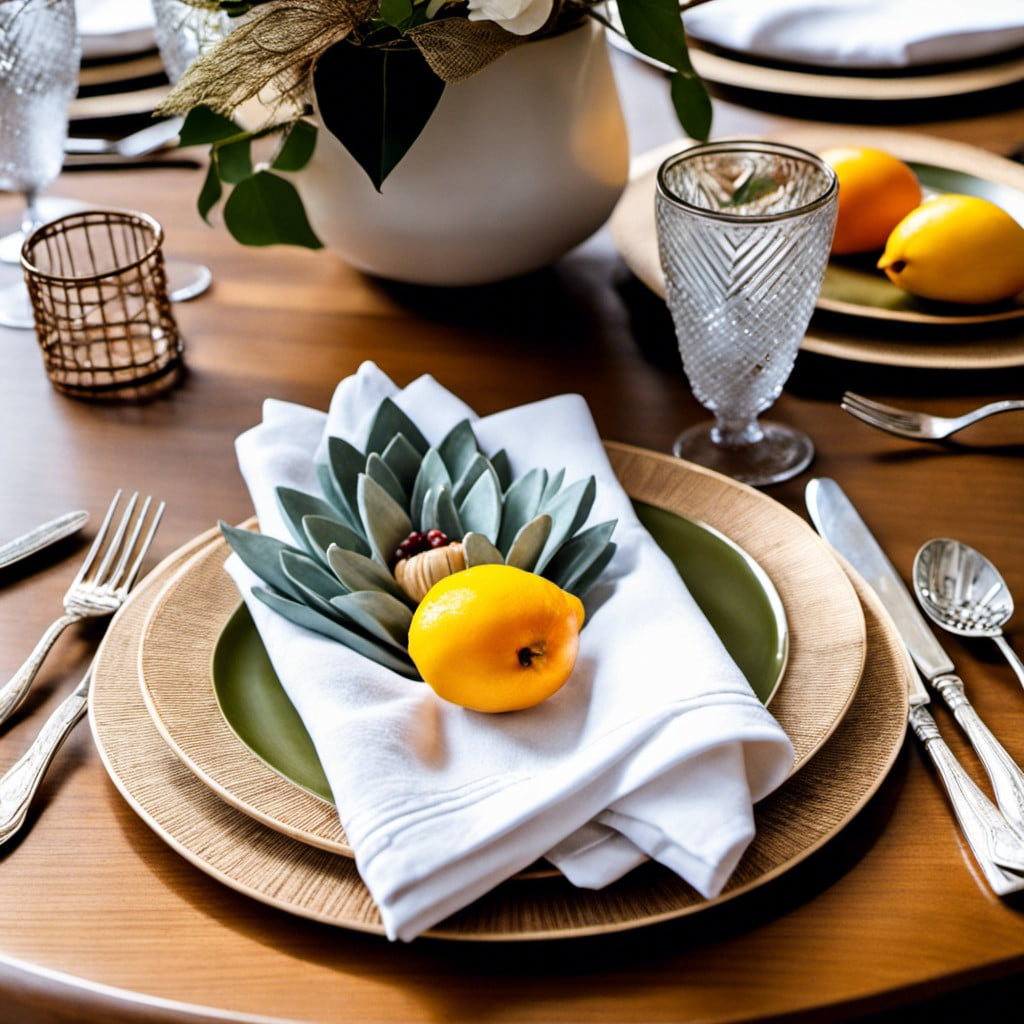 Infusing creativity in folds doesn't require exceptional origami skills. Consider a fun pocket fold to hold cutleries, or, for an unexpected twist, fold your napkins into shapes tailored to your theme, such as Easter bunnies for a Spring brunch. Musical note fold can work wonders for a jazz-themed Sunday filled with pancakes and music. To make the brunch warmer and more inviting, the romantic rose fold is a hit. Tutorial videos are widely available, so mastering these folds won't take much time but will have a significant impact on your table aesthetics.
Themed Placemats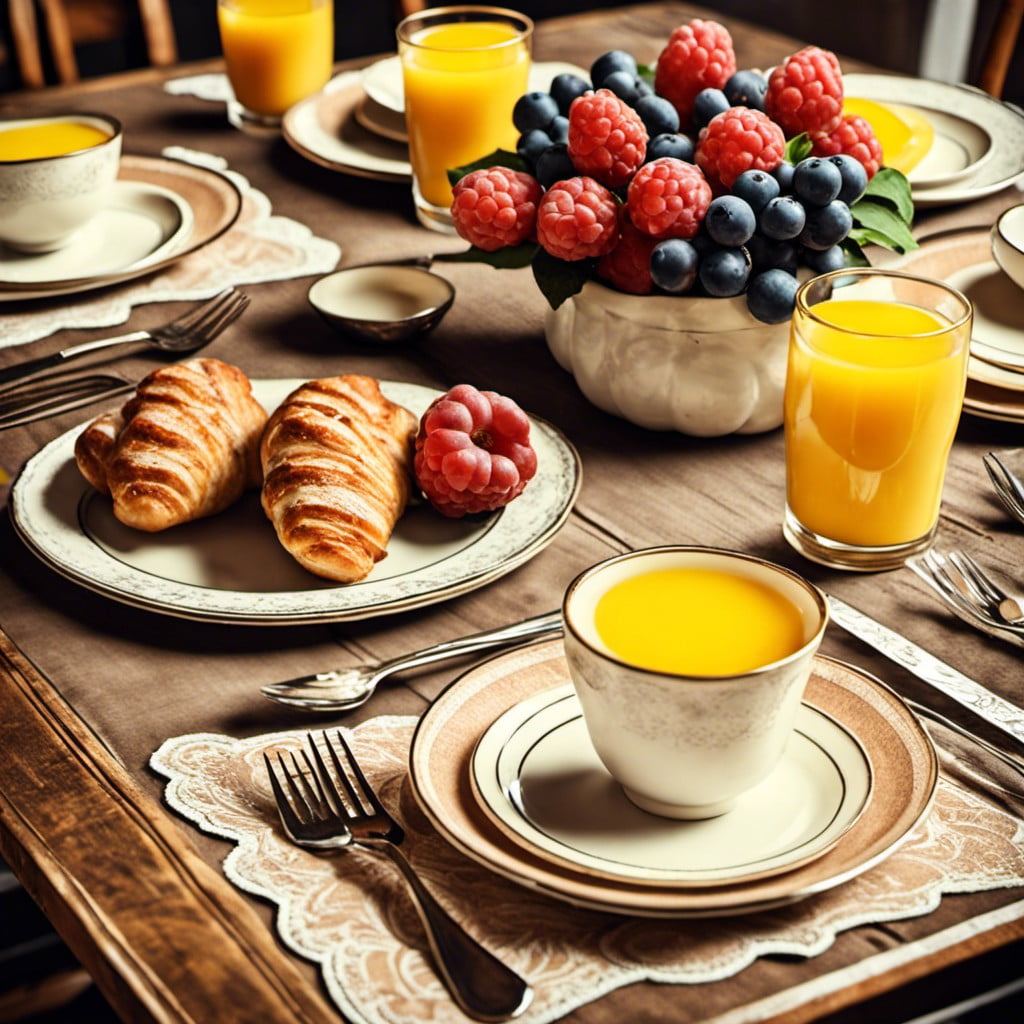 Moving beyond the typical placemat, consider integrating themes into your brunch décor. For a coastal vibe, opt for shell-patterned or nautical-striped designs. For a more rustic feel, consider burlap or wood slice options. Linen placemats in warm tones can create a relaxed, homely atmosphere.
On a more playful note, the food or drinks menu could be printed directly onto paper placemats. Such subtle touches not only elevate the brunch aesthetics but also foster a specific ambiance. It's a small change that makes a big impact. Tailor the selection to your desired theme, and allow creativity to thrive.
Coffee Bar Station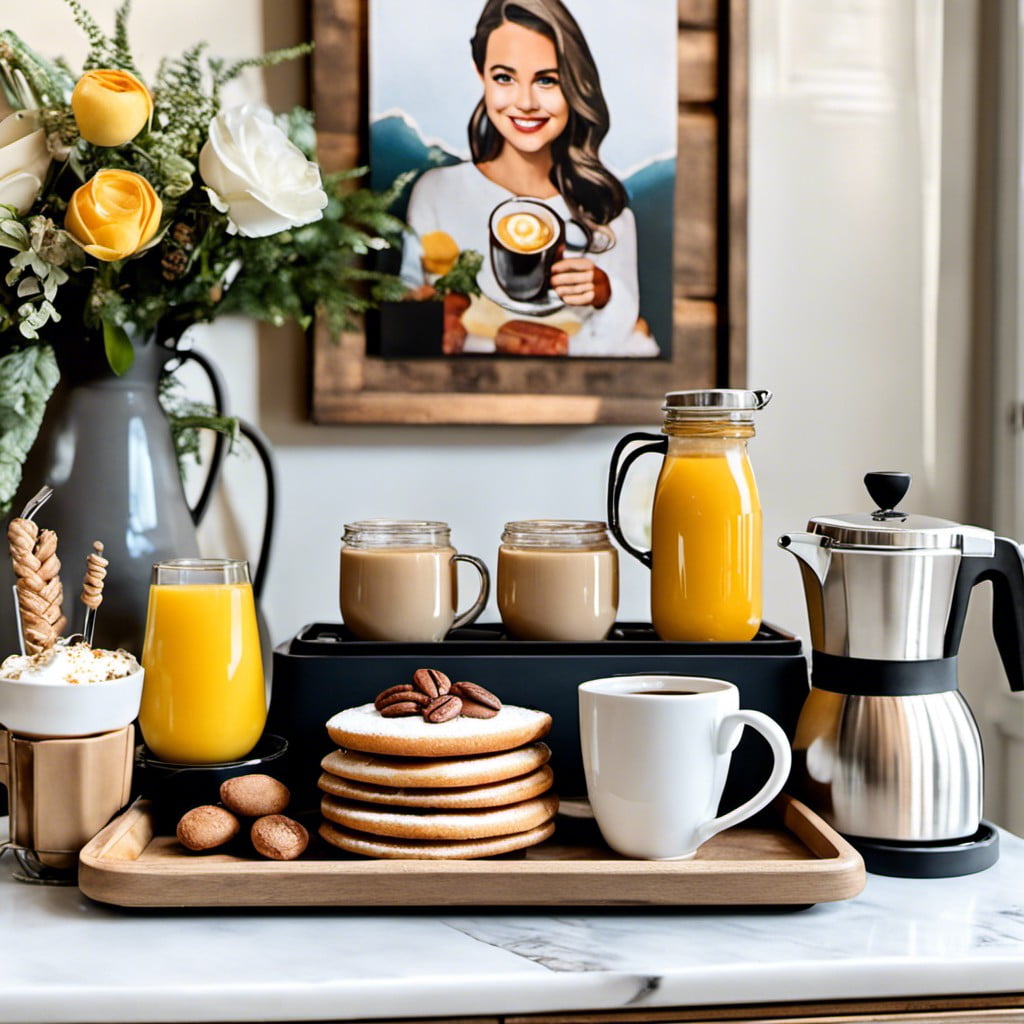 A well-organized coffee station can truly elevate your brunch experience. To create ambiance, find a unique corner or side table. A solid wood container or bamboo box can house sugar, sweeteners, and cream. Offer a selection of coffee ranging from dark roast, medium roast to specialty flavored coffees. You can even have decaf for your guests who prefer it!
Next, capture the senses with freshly grounded coffee – the aroma alone will do most of your work. Don't forget about a unique creamer selection; flavors such as hazelnut, french vanilla, and caramel can impress the guests. Also, consider adding non-dairy options like oat, almond, or cashew milk.
For the final touch, provide mugs or cups that match your brunch theme. Copious amounts of spoons, napkins, stir sticks, and small saucers for the used spoons should be readily available. With these steps, your guests can fully customize and enjoy their cup of joe, adding a memorable coffee shop experience to your brunch.
Seasonal Fresh Fruit Baskets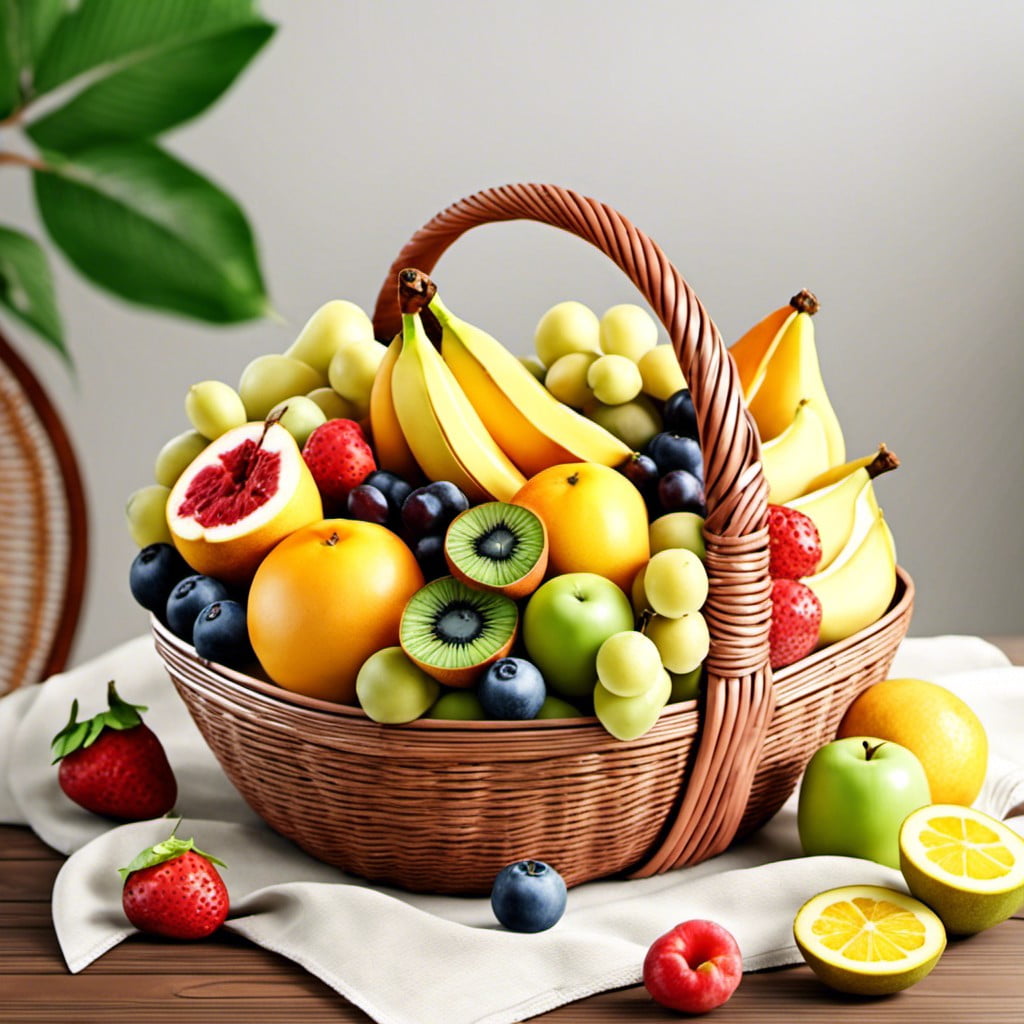 It's an undeniable fact that fruits add a brilliant splash of colors and nutritious appeal to the decor. Choose fruits that are in season to ensure freshness, vibrant colors, and maximum flavor. Arrange them artfully in robust wicker baskets and place them strategically around your brunch venue. They won't only serve as a visual treat, but also an edible one.
Try mixing a variety of fruits for texture and color contrast. Pomegranates, oranges with their leaves, apples come alive during the winter whereas watermelons, pineapples, peaches dominate the summer. Autumn's bounty can be heralded through grapes, figs, pears, and spring could see a lot of berries, cherries, and apricots.
The baskets could be of different sizes and materials to add an interesting design element, sprinkling a little quirkiness to the setup. A quick tip to glam up your baskets could be tying a ribbon or twine that matches your overall color scheme. Lastly, don't forget to keep a fruit knife and some napkins near your fruit basket for hassle-free enjoyment.
Hanging Lanterns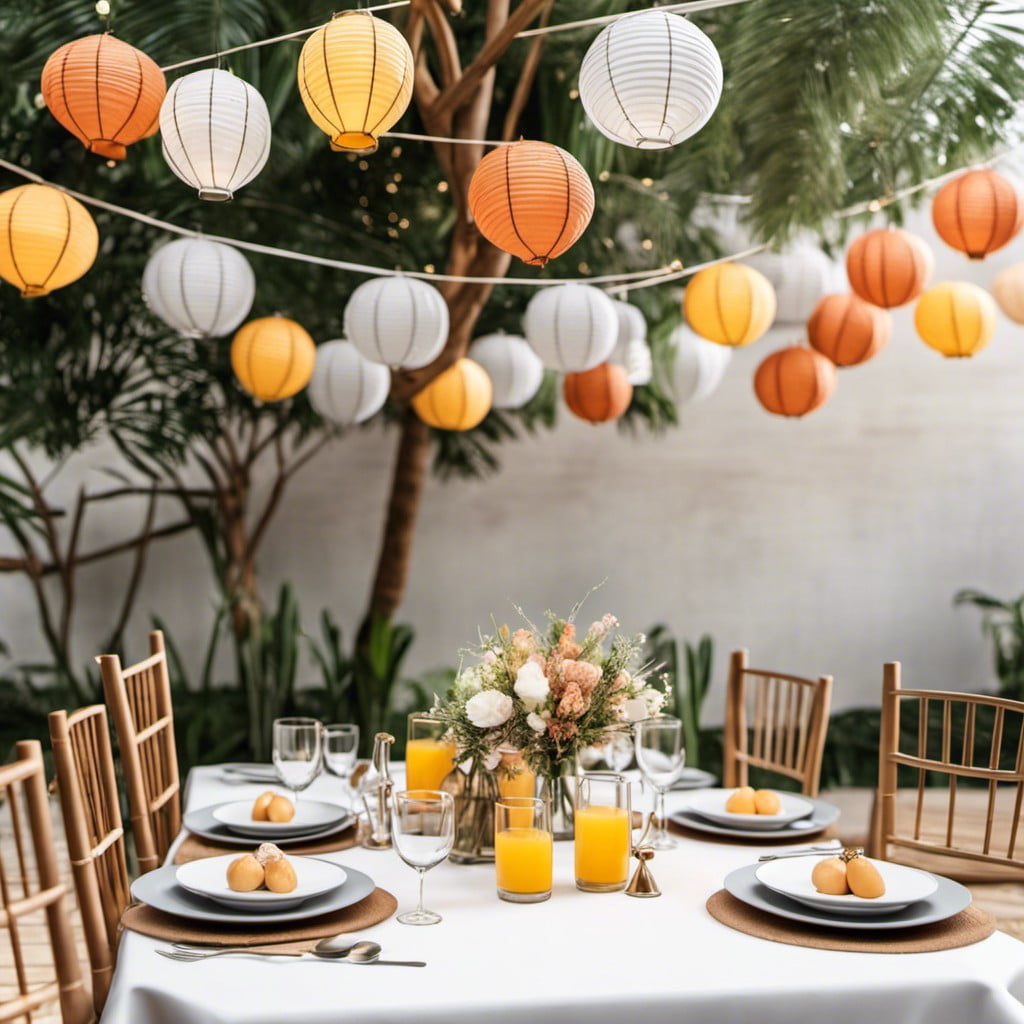 Incorporating these suspended elements into your brunch decor can work wonders in creating an enchanting atmosphere. They come in a range of styles from rustic, antique to more contemporary ones catering to different themes.
1. Use LED candles for a safer alternative to real flames.
2. Play with different sizes and heights for an interesting visual dynamics.
3. Opt for lanterns that complement your chosen color scheme or table setting.
4. For outdoor brunches, adorn trees with hanging lanterns or create a canopy effect.
5. Wicker or bamboo lanterns introduce a cozy, boho vibe.
6. Fairy lights can be added inside for an extra layer of sparkle.
7. Create contrast by pairing metallic lanterns with soft, pastel tablecloths.
8. Place a few on the table as well for a cohesive look.
Remember, correct placement is crucial for achieving a visually balanced setup that doesn't hinder your guests' interaction.
Decorative Serving Trays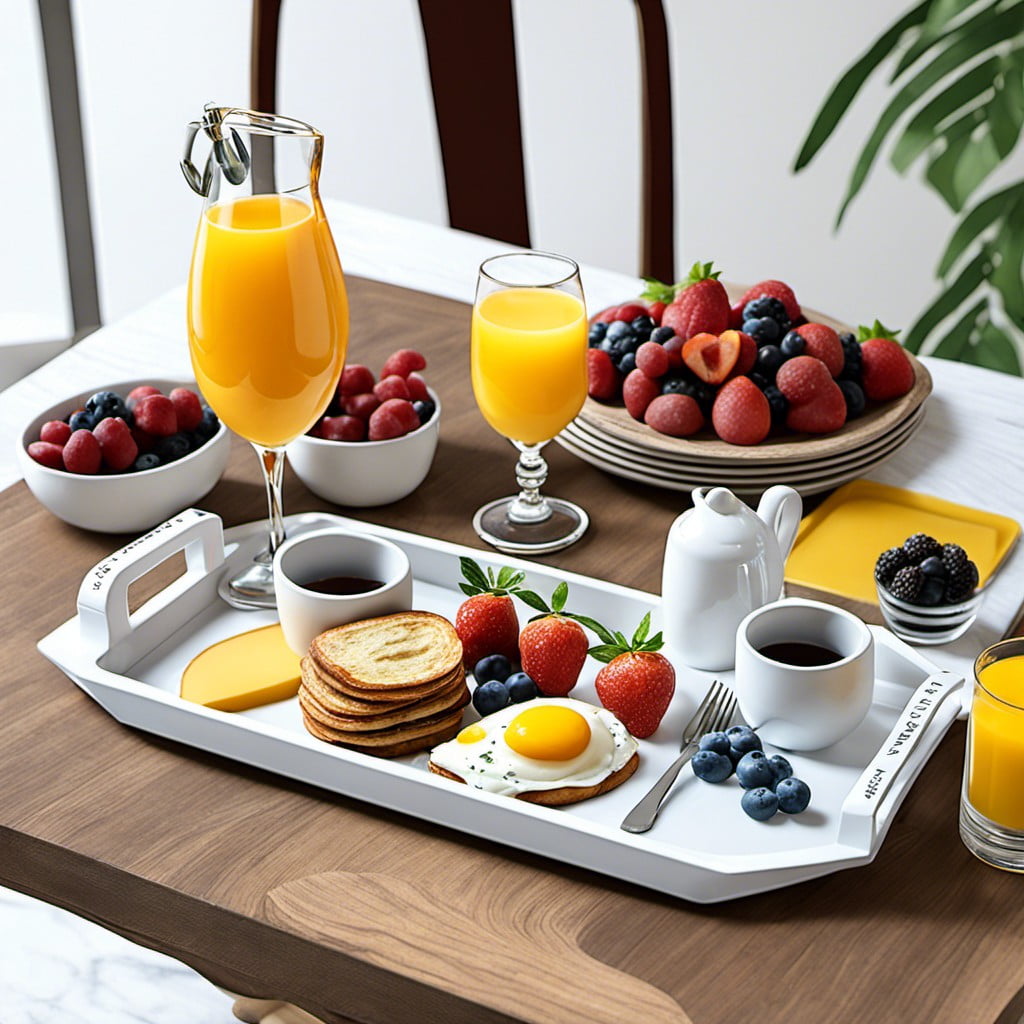 Utilizing decorative serving trays can elevate your brunch décor instantly, combining both function and style. Here's how:
Match the Material: Ensure your trays complement the overall theme. Wooden trays add to a rustic feel while a mirrored tray exudes elegance and sophistication.
Size Matters: Select your tray depending on what it will hold. Slightly bigger trays for multiple items; smaller, ornate trays for feature pieces like cupcakes or unique pastries.
Layer Up: Trays don't always have to lie flat. Create multi-level interest by stacking trays or placing them on stands for depth and variety.
Assorted Displays: Use the trays not only for food items but also to hold decorative elements such as candles or floral arrangements.
Coordination is Key: Stick to a consistent color scheme which ties in with your tablecloth, centerpieces, and overall brunch theme. Patterns are also a creative way to add a dash of fun.
In essence, the tray's purpose extends beyond serving food – it is a versatile decorative tool to enhance the brunch experience while adding to the aesthetic value of your table setting.
Balloon Archway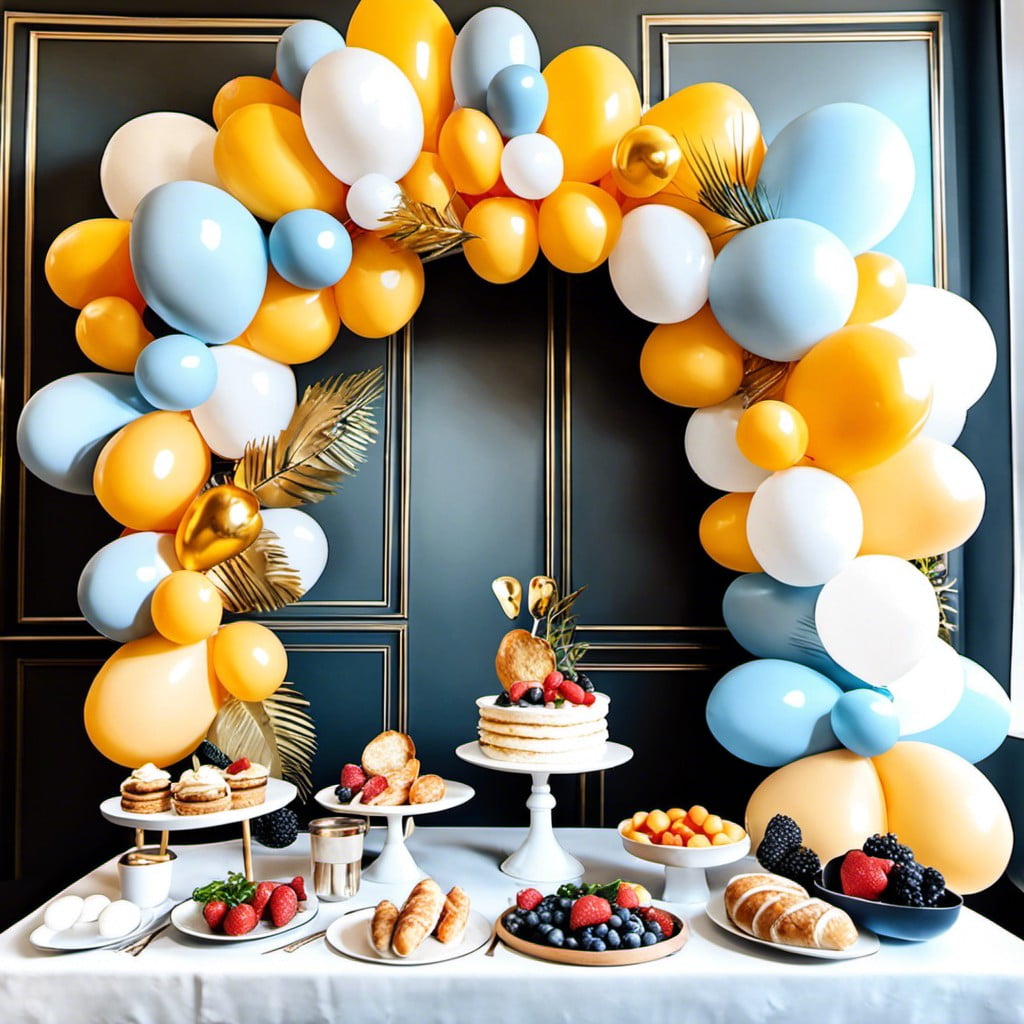 Continuing from our previous sub-topic, we delve deeper into how a balloon archway can uplift the overall look of your brunch party. This decor element can bring life to an otherwise flat space.
First and foremost, decide on a color palette that matches your theme. Typically, pastel colors or ombres make a visually pleasing arch. You can mix various sizes of balloons to add more depth and texture.
Constructing the arch requires tying balloons in a series of clusters and attaching them to a bendable rod. You can either suspend it from the ceiling or stabilize it with weights. It's especially enchanting when placed at an entrance, over the buffet, or as a photo backdrop.
To enhance the balloon archway, incorporating floral arrangements or greenery into it can result in a more intricate, polished presentation. Moreover, a light string draped over it can provide a twinkle, especially for an evening brunch. Just remember to plan and construct your archway ahead of your event to ensure a stress-free day.
Let's move onto our next brunch decor staple – the pancake stack centerpiece.
Pancake Stack Centerpiece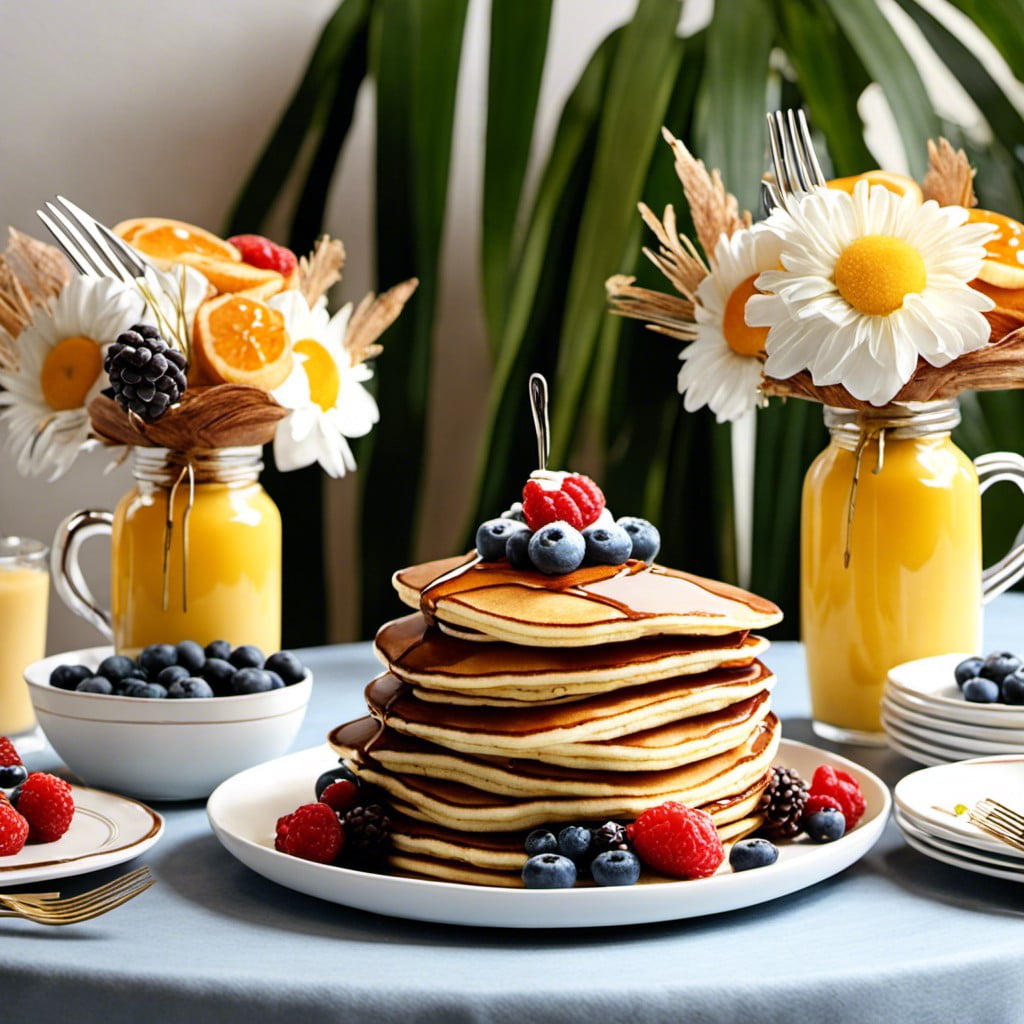 To create a delightful centerpiece, a pancake stack is a whimsical and tasty option!
1. Stack: Begin with simply stacking pancakes in descending size order. Aim for a tall, yet sturdy tower that won't topple.
2. Adornment: Bring color and texture with berries, edible flowers, or a dusting of powdered sugar. Balance is key to make the decorations pop without overshadowing the pancakes themselves.
3. Platter: Use a striking serving plate which complements your table aesthetic. Avoid patterns or colors which may clash.
4. Finishing touches: A small jug of syrup temptingly placed near the stack completes this edible decoration. Keep a few napkins nearby to tackle any syrupy mishaps!
Remember, this centerpiece has a dual purpose: not just eye-catching, but mouth-watering too!
DIY Mimosa Bar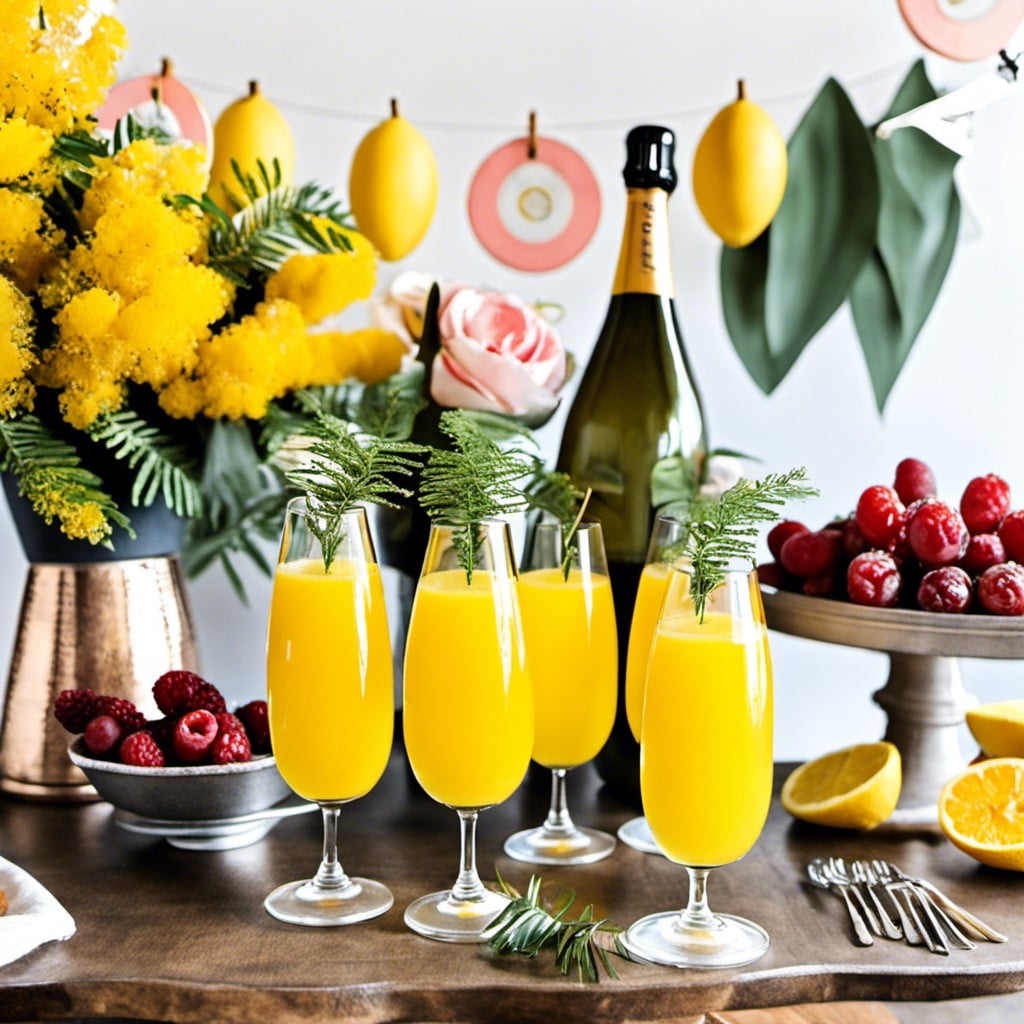 Creating your own mimosa station not only offers guests a fun interactive experience, but also takes some pressure off the host. Here's a streamlined approach:
1. The Basics: Prosecco or champagne should be chilled, accompanied by a selection of fresh juices — traditional orange is a must, but consider also offering grapefruit or pineapple for variety.
2. Glassware: Choose flutes for an elegant look. Having plenty on hand helps, as guests might switch glasses when switching juice flavors.
3. Garnishes: Slices of fruit that echo the juice flavors can add a fresh touch. Consider strawberries, raspberries, or even a sprig of rosemary for an additional pop of color.
4. Ice Bucket: Always keep a bucket of ice nearby. It will ensure the bubbly stays cold throughout brunch.
Remember, signage can also be a fun touch at your DIY mimosa bar. A simple sign highlights the different options and encourages guests to get creative with their mimosas.
Rustic Wooden Signage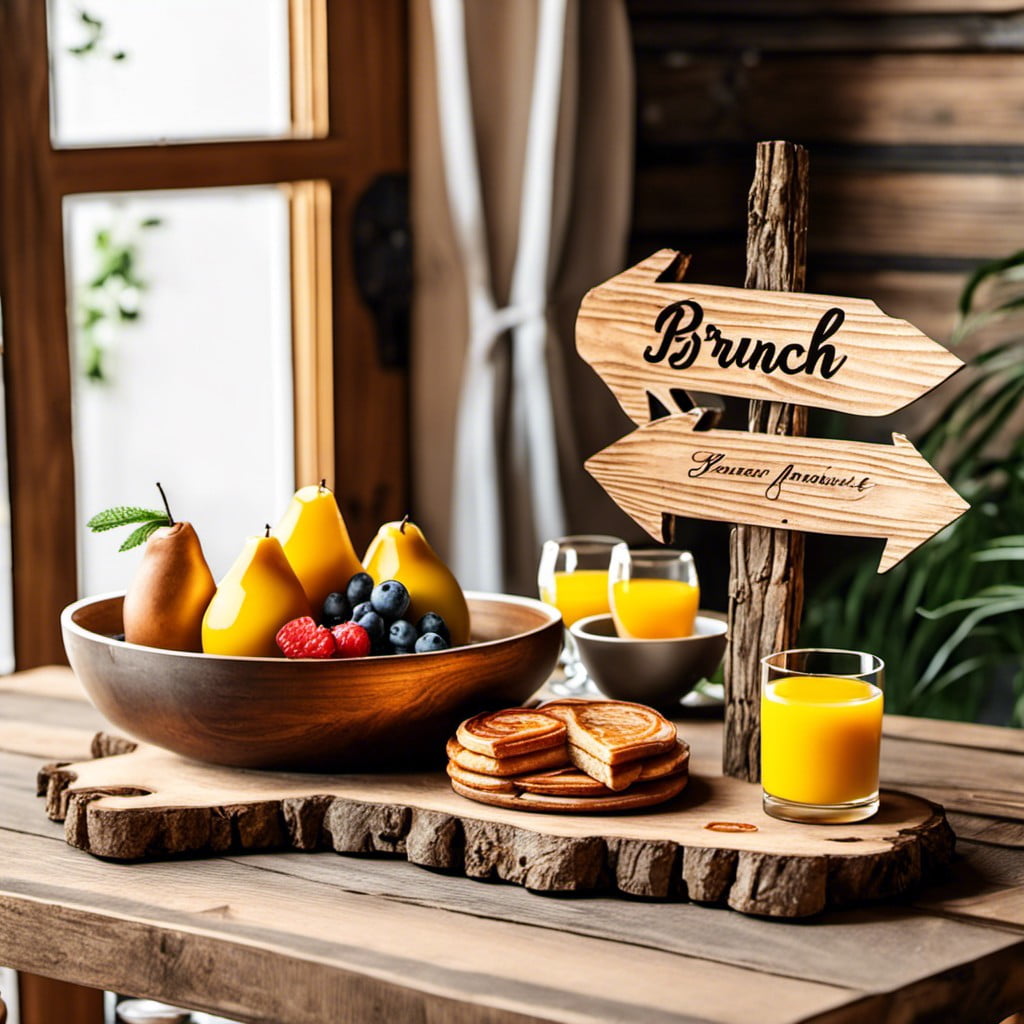 Tapping into the raw beauty of unrefined wood not only elevates your brunch décor aesthetic but also adds a charming countryside feel. To start, select signs in a variety of shapes and sizes to maintain visual interest.
Consider selecting pieces with distinctive woodgrain patterns or knots. These natural details add character and warmth. The signs don't need to be polished or perfect – irregularities contribute to their rustic appeal.
Next, let's talk lettering. White script is a classic choice offering a crisp, easy-to-read contrast against the wood. For a touch of whimsy, consider colour lettering matching your overall color scheme. Use these signs to word out friendly messages, designate seating arrangements, or label food items.
Lastly, don't forget about placement. Scatter them throughout your event space to guide your guest's experience–a welcome sign at the entrance, a menu board near the food, or sweet sayings placed on tables.
In all, rustic wooden signs are an excellent way to incorporate warmth, charm, and functionality into your brunch decor.
Liked reading this? Here's more:
Recap: