Last updated on October 23, 2023
Implementing French country decorating ideas on a budget can transform your living space into a cozy retreat, because even with limited funds, the timeless elegance of this style can be achieved through thoughtful and creative approaches.
"I am genuinely thrilled to share this article and unique designs I've carefully crafted on 20 Affordable French Country Decorating Ideas, and I hope you find as much inspiration and enjoyment in them as I have had in creating them."
Dreaming of transforming your home into a charming French country haven without breaking the bank? You've come to the right place.
This article will guide you through a collection of budget-friendly French country decorating ideas.
From rustic furniture to vintage fabrics, and from soft color palettes to natural elements, everything you need to create an inviting and elegant French country style home is right here.
So, let's embark on this exciting journey to infuse your home with a touch of French countryside charm.
DIY Vintage French Poster Art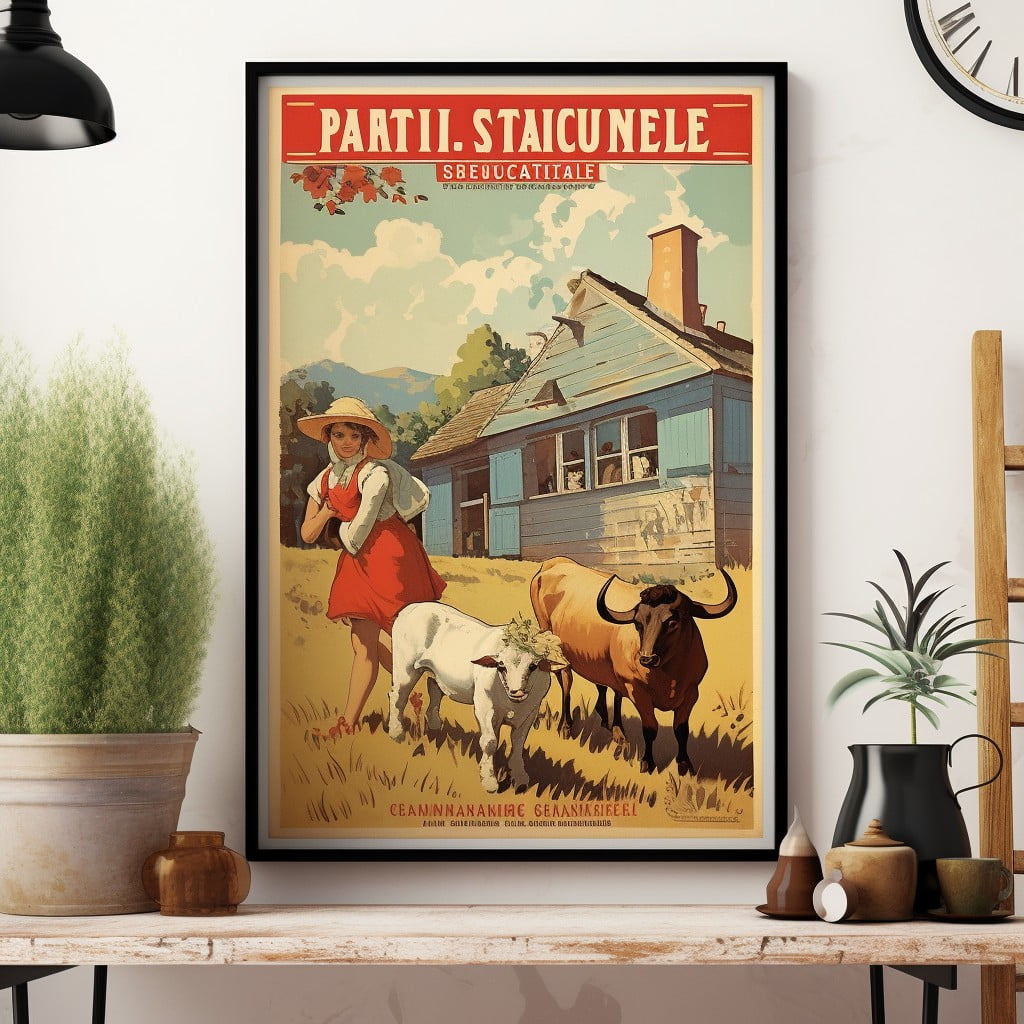 Duplicating the charm of old French poster art doesn't require an expensive investment. Indeed, you can effortlessly recreate this arresting appeal at home, injecting a dose of Gallic charm into your interiors.
First, secure a high-quality facsimile print of a beloved vintage French poster, focusing particularly on subjects like outdated advertisements, renowned artworks, or iconic theatre playbills. Opt for those expressing appealing pastel hues or intricate illustrations for an authentic touch.
Next, embark on an aged frame hunt. Flea markets or second-hand shops are treasure troves of unique, pre-loved frames that add wonderful patinas and character. An alternative route involves staining or painting a new frame to achieve a 'distressed' look, thus offering that timeless allure.
Finally, mount your poster within the frame. If you wish to preserve that timeworn appearance, avoid using glass. Instead, lightly seal the poster's surface with a clear, matte crafting spray to protect it from potential damage.
Remember: it's not necessarily about finding the 'perfect' poster or frame, but rather layering in elements of time, tradition, and classic French aesthetic to evoke a sense of history and charm. The goal is not perfection, but personality.
Reusing Old Furniture With White or Pastel Paint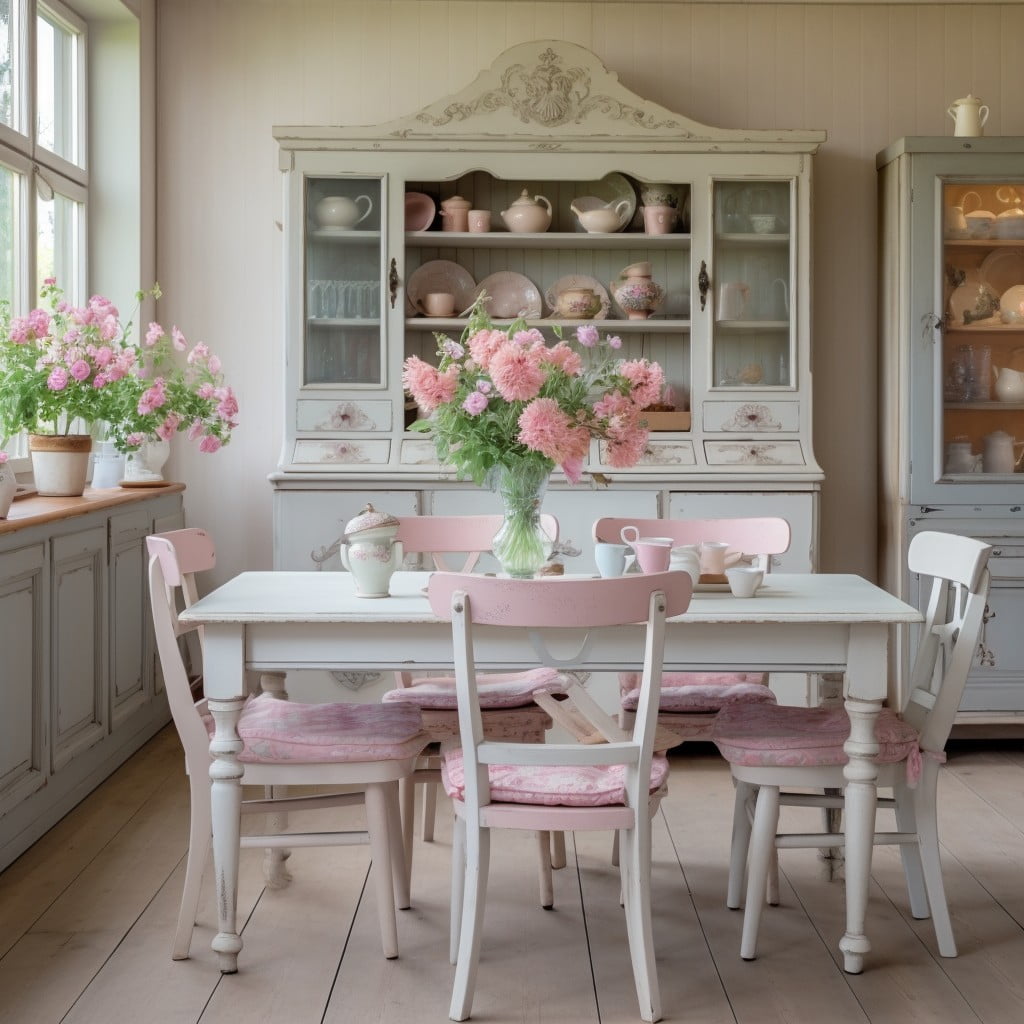 In achieving the French Country look, repurposing often holds the key. Consider that favourite old chair, which ended up in the attic due to its dull appearance. Or, maybe an outdated chest of drawers collecting dust in the basement. They can all play a significant role in your French Country-themed space. Apply a coat of white or pastel paint to breathe in new life.
For a more authentic look, distressing the furniture after painting adds a vintage charm. This can be done by lightly sanding the piece in areas where natural wear would typically occur, like around the edges and handles. What makes this concept interesting is that no two pieces will turn out exactly the same, giving a unique personal touch to your decor.
Remember, it's about preserving the story and character of the piece, not covering it. Hence, choose paint that adds a light veil of colour, but allows the furniture's original features to peek through. A soft and creamy palette is key. Think shades of ivory, eggshell, blush, lilac, or even a subtle mint.
Lastly, consider adding small French motifs or decals as the final touch. They will enhance the overall French flair of the piece and provide a little extra charm. This budget-friendly project not only preserves older furniture, it creates a beautiful French Country aesthetic without breaking the bank.
Hand-painted Ceramic Vases With Rustic Flowers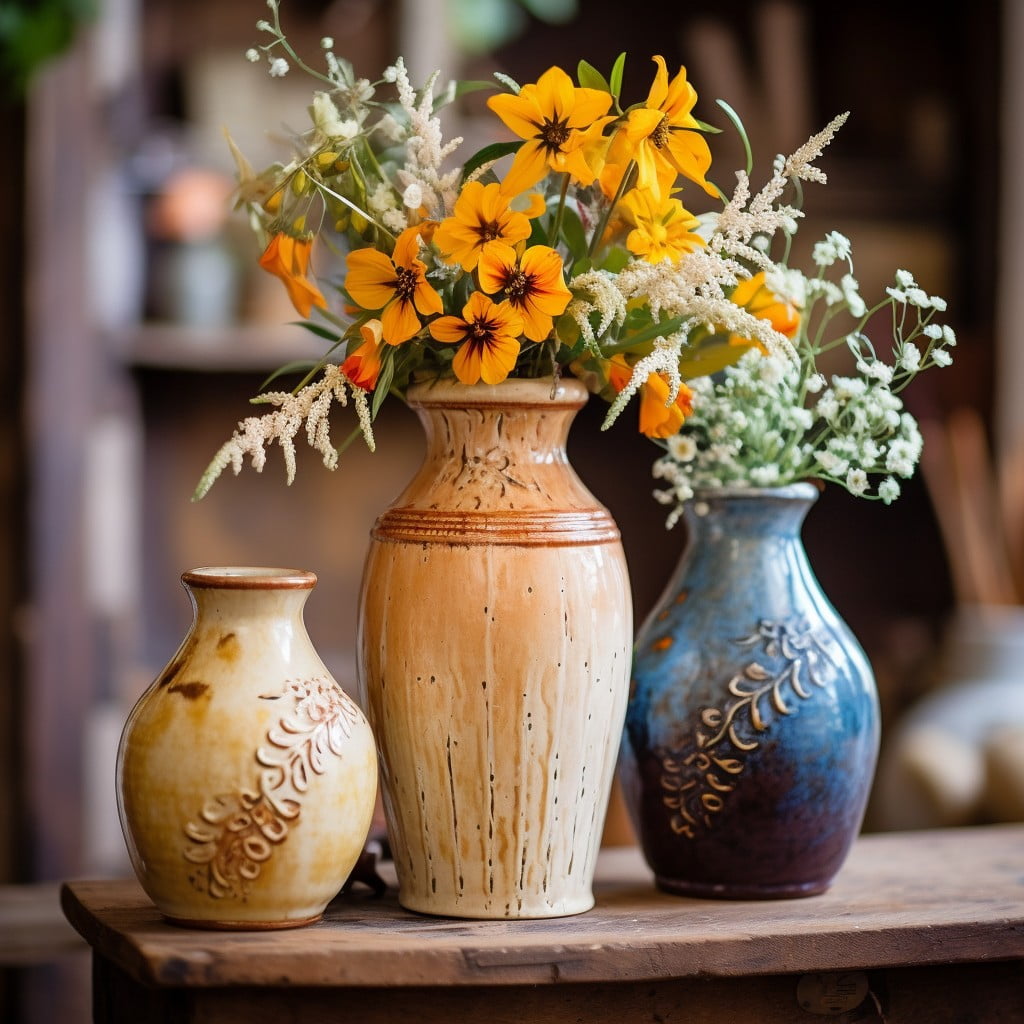 To infuse a distinctive French Country charm, consider incorporating hand-painted ceramic vases in your space. Vases with traditional Provencal patterns, laden with bucolic scenes or simply featuring naturally imperfect brush strokes, can instantly elevate your decor.
Pair this with an array of rustic flowers – think sunflowers, peonies or lavender, to truly capture the authenticity of the countryside ambiance.
Take inspiration from French outdoor markets or local fairs which often sell unique and vintage ceramic pieces. If buying new isn't an option, repurpose an old vase with some acrylic paint and a little bit of creativity right at home.
Remember, perfection is not the goal; subtle variations in design add character and a personal touch. These vases, adorned with rustic flowers, become enchanting centerpieces, manifesting the comfort and timelessness of French Country aesthetics.
Use one as a focal point on a dining table or arrange a few of different heights and shapes on a mantelpiece or a console table. Mixed with other elements, these hand-painted heirlooms will evoke a truly bespoke French atmosphere, pocket-friendly yet priceless in charm.
Using Lace Curtains for a Romantic French Vibe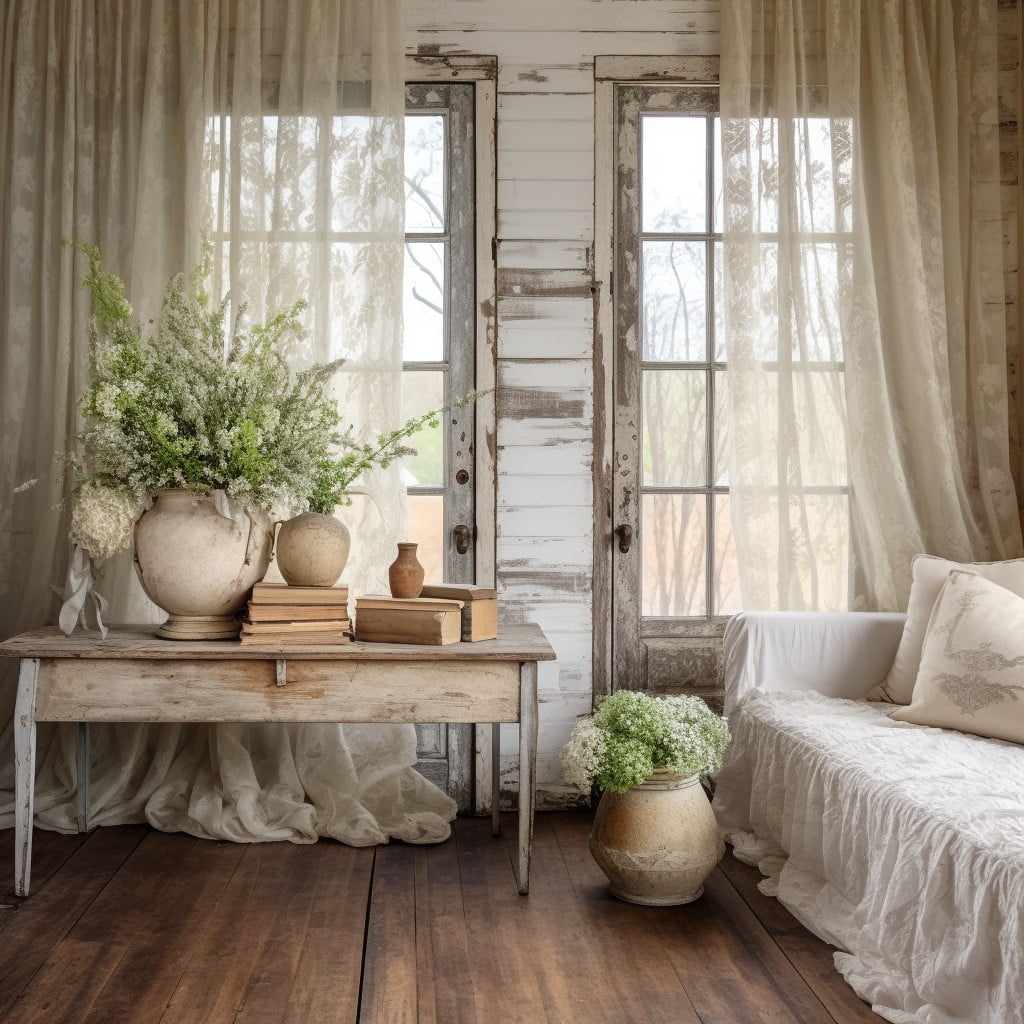 Consider investing in a set of lace curtains. They allow natural light to filter through beautifully, lending your room a soft, ethereal glow reminiscent of a traditional French cottage.
For an added touch of authenticity, opt for curtains with a floral or vintage design. Choose cream or light hues for a subtle but elegant effect, or go for pastel colors to add a pop of color to your decor.
When paired with other vintage or rustic pieces, they truly transform the space, giving it a distinct, romantic French country feeling. Whether in the living rooms, bedrooms or even the kitchen, these curtains can be an inexpensive way to achieve the desired aesthetic.
Hanging them high will create a sense of height and drama, enhancing the overall aesthetic appeal of the room. Paired with the correct furniture, these delicate fabric additions can make a notable impact on your decor.
French-style Open Shelving in the Kitchen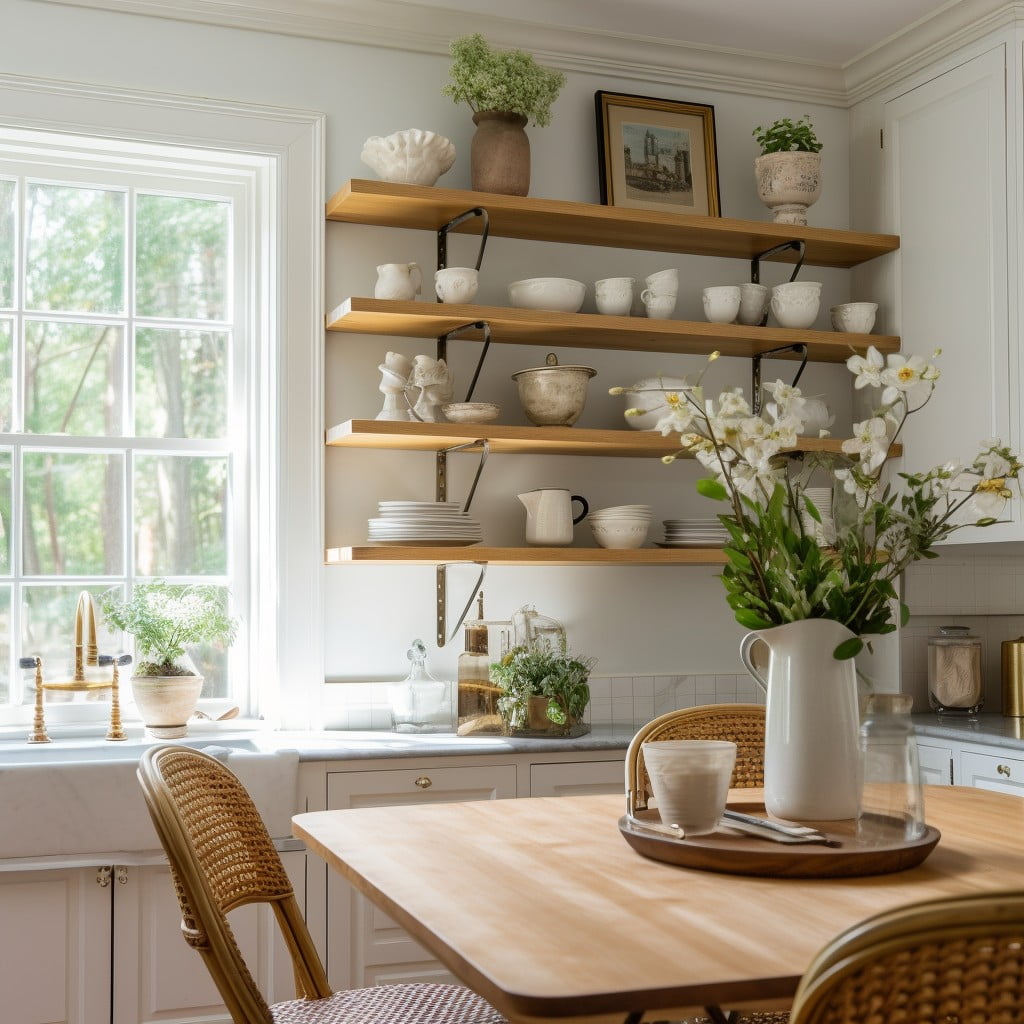 Open shelving in your kitchen creates an airy, inviting atmosphere typically associated with the French country style. It's a feature that can be implemented without breaking the bank while still adding tremendous appeal.
1. Display Aesthetics: Open shelves provide a splendid platform to showcase your dishware, vintage utensils, or vibrant ceramic containers. The kitchenware becomes part of the decor, lending homely, lived-in comfort.
2. Easy Access: Apart from visual appeal, it's about functionality too. Open shelving provides easy access to dishes or condiments, offering a seamless cooking process.
3. Space Illusion: If your kitchen is small, open shelves can make the space feel larger. It visually expands the area, offering a sense of openness.
4. Versatility: Wood, metal, or glass – choose the material that suits your decor best. Remember, the worn, aged look contributes wonderfully to this style.
Ensure the shelves are sturdy, well-installed, and regularly cleaned to maintain the charm and functionality over time. With careful planning and arrangement, this feature can become the highlight of your cozy, French country-style kitchen.
Refurbishing Thrift Store Finds With French Country Flair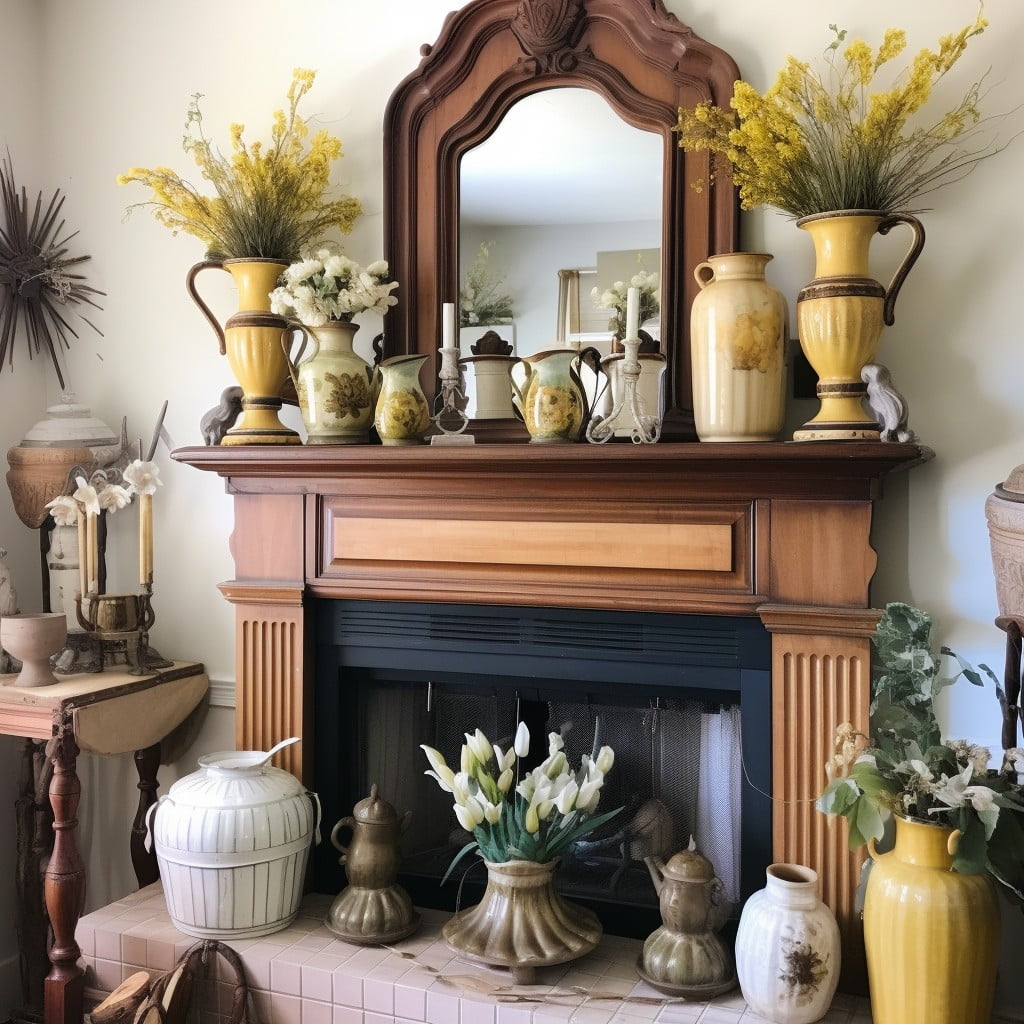 Scouring local thrift stores can uncover unique items that can be transformed to fit your French Country décor theme. Here's how to breathe new life into these treasures:
1. Distressed Furniture: A lightly sanded and whitewashed wooden table can be the perfect rustic addition to your living room.
2. Patina Accents: Look for metallic pieces with natural patina – texture and coloration that develops with age. Brass, copper, or galvanized steel items add the right touch of antiquity.
3. Linen and Lace: Vintage linen or lace materials can be turned into table runners, pillowcases, or chair slipcovers. The textures and patterns typically resonate with French Country style.
4. Ceramic Pieces: While browsing, keep an eye out for ceramic pitchers or bowls. Used as is, or painted with motifs like roosters or lavender, they make attractive vases or fruit bowls.
5. Wicker Baskets: These practical items can serve as storage while enhancing the room's aesthetic. Use them to hold magazines, knitting supplies, fresh produce, or even as planters for indoor greenery.
Remember, the art of refurbishing lies in adding personal touches, so allow room for creativity!
Hanging Dried Lavender Bunches for a Provence Touch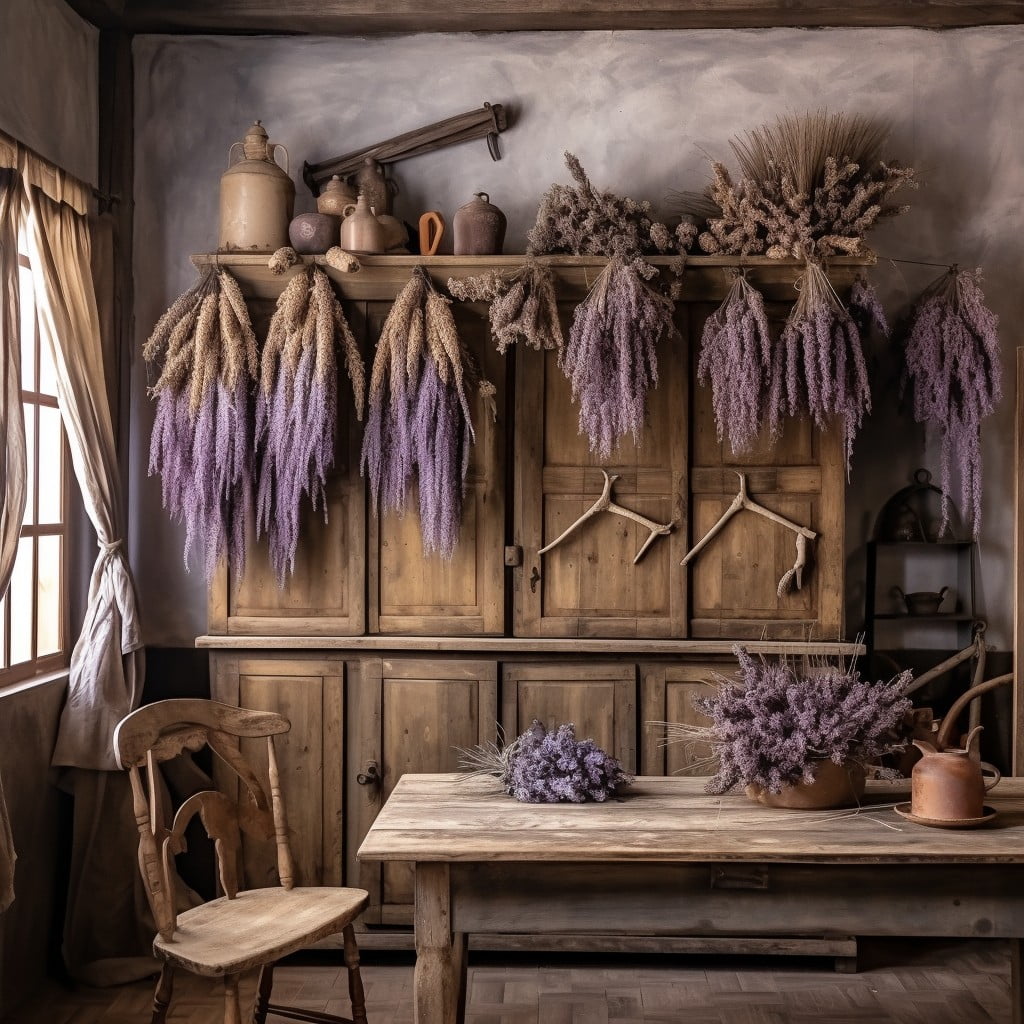 First, you'll need to source some lavender, which should be relatively easy given its popularity in floral shops and garden centers. When purchasing, consider both aesthetics and aroma as dried lavender continues to emit a gentle scent.
To hang it, consider spaces like the kitchen, living room, or bedroom, where the scent can be fully appreciated. Simply bunch together around five to eight stems, tie the ends using a pretty ribbon or rustic twine, and then hang upside down, preferably on a hook or handle. This will allow the lavender to dry naturally and maintain its potent aroma.
Remember that dried lavender also makes a charming feature when inserted in clear glass jars, recycled bottles, or wicker baskets. These can be used as centerpieces on dining tables or side tables.
The beauty of this decoration is its versatility, simplicity, and sensory pleasure – providing not just visual, but also olfactory delight.
Creating Cozy Corners With Wicker Furniture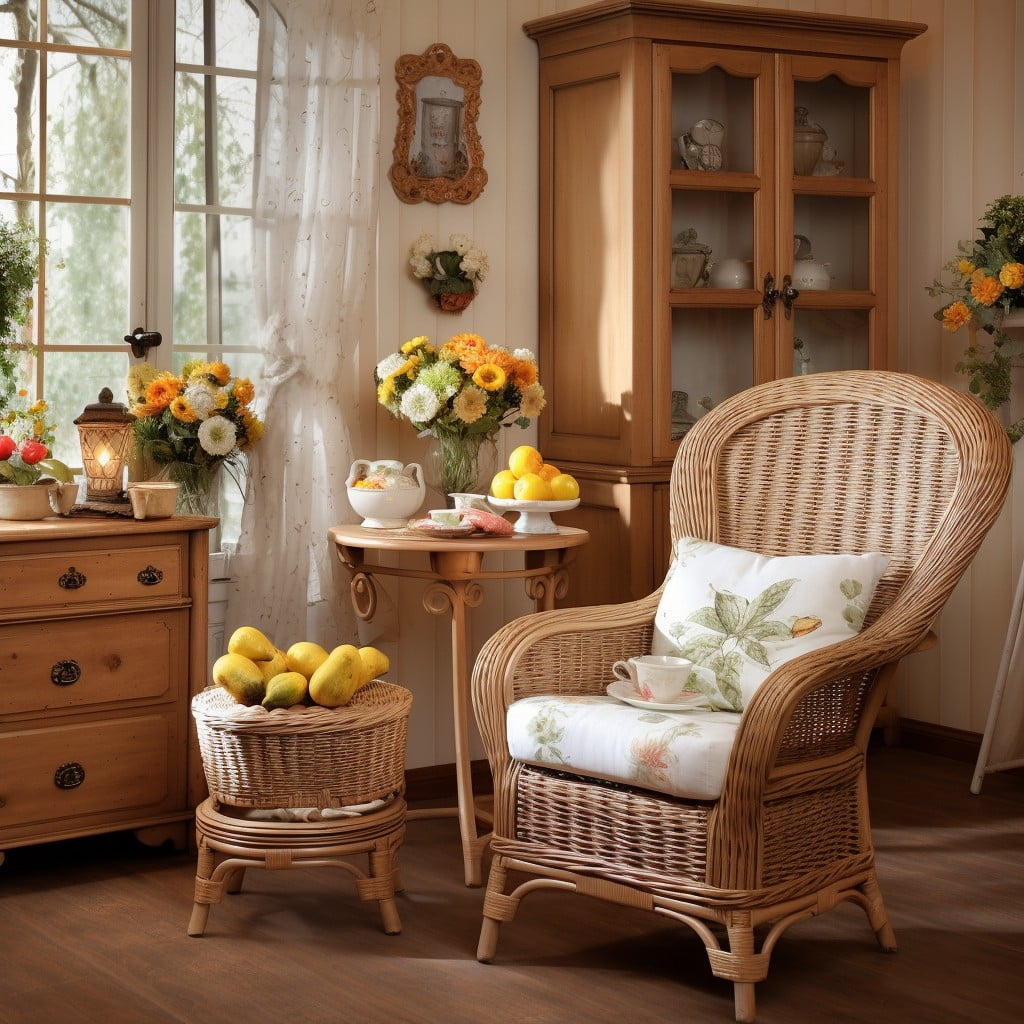 To emanate that quintessential French country charm, consider the use of wicker furniture. This natural material adds a gentle rustic element and is oftentimes budget-friendly.
A chic wicker armchair, for instance, can easily transform an unused corner into your new favorite reading nook or draw attention in your living area. To enhance the comfort, throw on a few hand-crafted pillows covered in French linen; this subtle addition refines the look with tangible elegance.
For a personal touch, adorn the space around with sentimental objects, like thrifted ceramic vases or vintage books.
For a nice outdoor touch, a wicker bistro set on the patio or balcony can unfold as a tranquil spot for savoring your morning café au lait. Enhance the beauty with pot plants around; not only do they breathe life into the scenery but they also provide a pleasing contrast against the organic wicker tones.
With these simple implementations, chic, and cozy corners are just a wicker piece away!
Using Antique Mirrors to Reflect Light and Add Space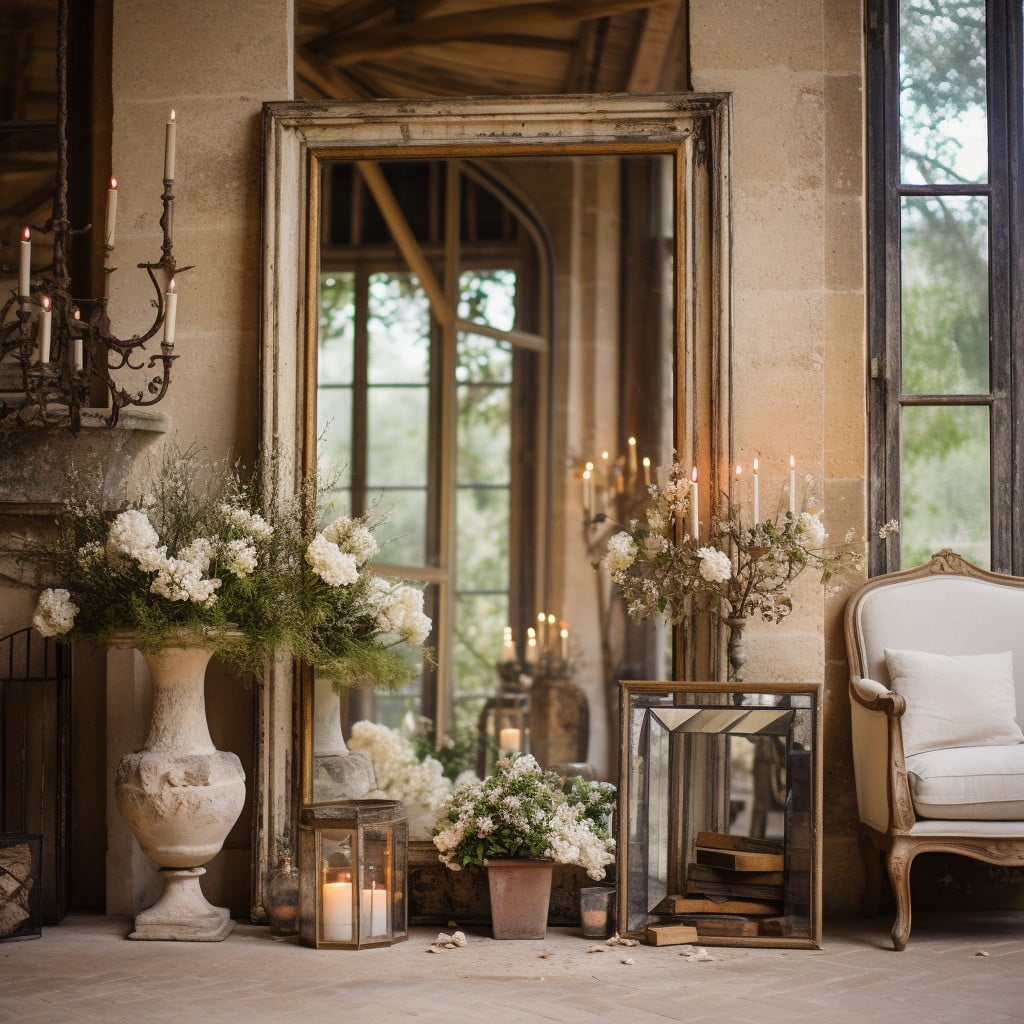 Antique mirrors can be a worthy investment for your French country style home. Not only do they add historical value and a sense of grandeur, but their strategic placement can amplify natural light sources and give the illusion of a more spacious interior.
Consider hanging an antique mirror across from a window; the mirror will reflect the outside view and make the room appear brighter and larger. Alternatively, use a mirror behind a light source, such as a candle or lamp, to create a soft, ambient glow. A grouping of small, eclectic mirrors could also serve as an attractive gallery wall that adds both depth and character.
In searching for and choosing antique mirrors, look for details that evoke French country appeal: gilded, ornate frames, distressed finishes, and shapes that draw inspiration from the past. From baroque to provincial designs, each mirror can introduce French charm in a significant way.
Don't forget, though, that the mirrors are not just ornamental. They should serve functional roles too, like making sure you look dapper before heading out or helping brighten your reading nook.
It's important to keep in mind that antique mirrors have already journeyed through time. Each scratch and stain adds a story, personality, and authenticity. So appreciate them, quirks and all.
Utilizing Vintage Tin Containers for Storage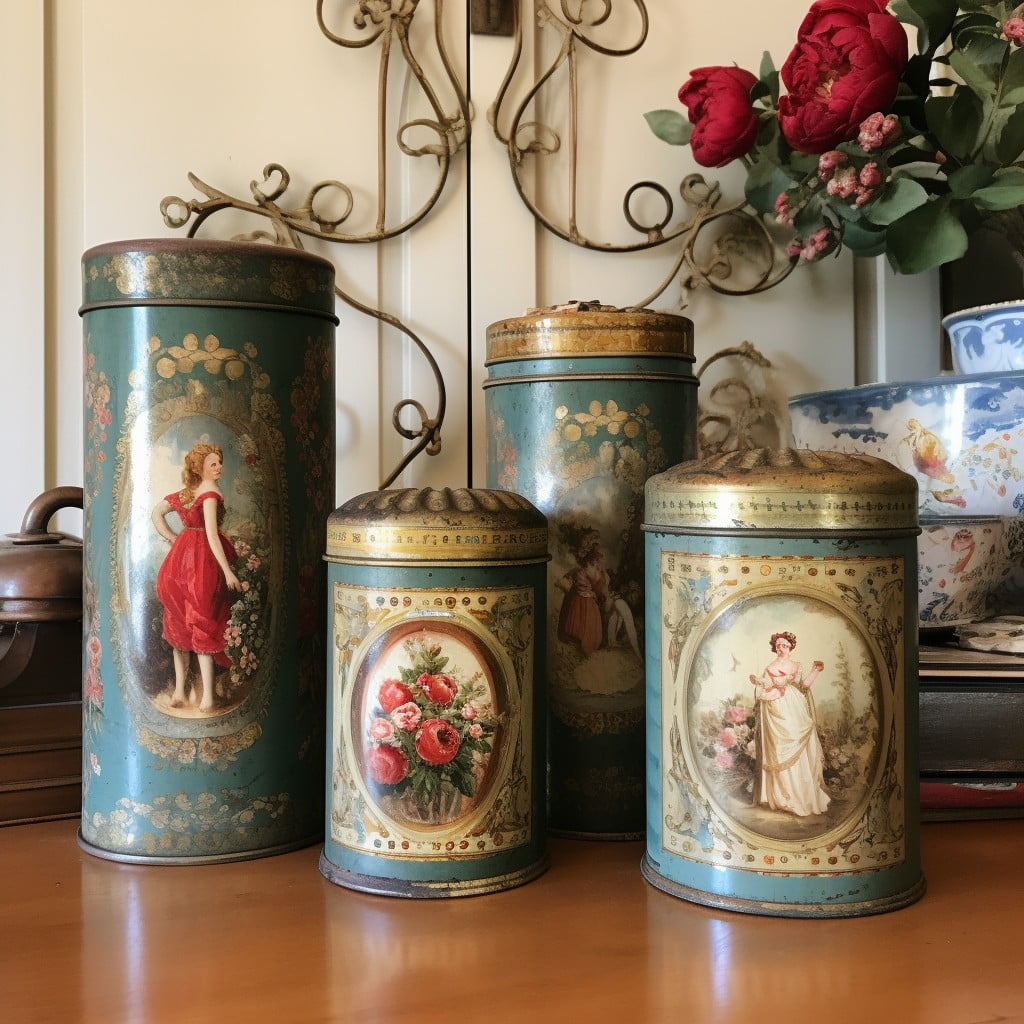 To capitalize on the charm of vintage tin containers, consider these quick and easy steps:
1. Collect Various Sizes: From holding kitchen utensils to stashing craft supplies, size diversity is key. Larger tins can store baking supplies, while smaller tins can hold buttons or colored pencils.
2. Choose Purposeful Place: Choose central locations where they're easily accessible, useful, and add to the overall aesthetics, such as the kitchen countertop, study table or bathroom vanity.
3. Customize: Add a personal touch either by embossing labels or creating decorative lids. This serves a dual purpose, beautifying the containers while making the contents easily identifiable.
4. Display Artfully: Arrange these tins attractively on open shelves, not stuffed away in cabinets, to enhance the French Country vibe.
By following these simple steps, you'll bring an affordable and beautifully rustic storage solution into your home.
Arranging a Rustic Wooden Dining Table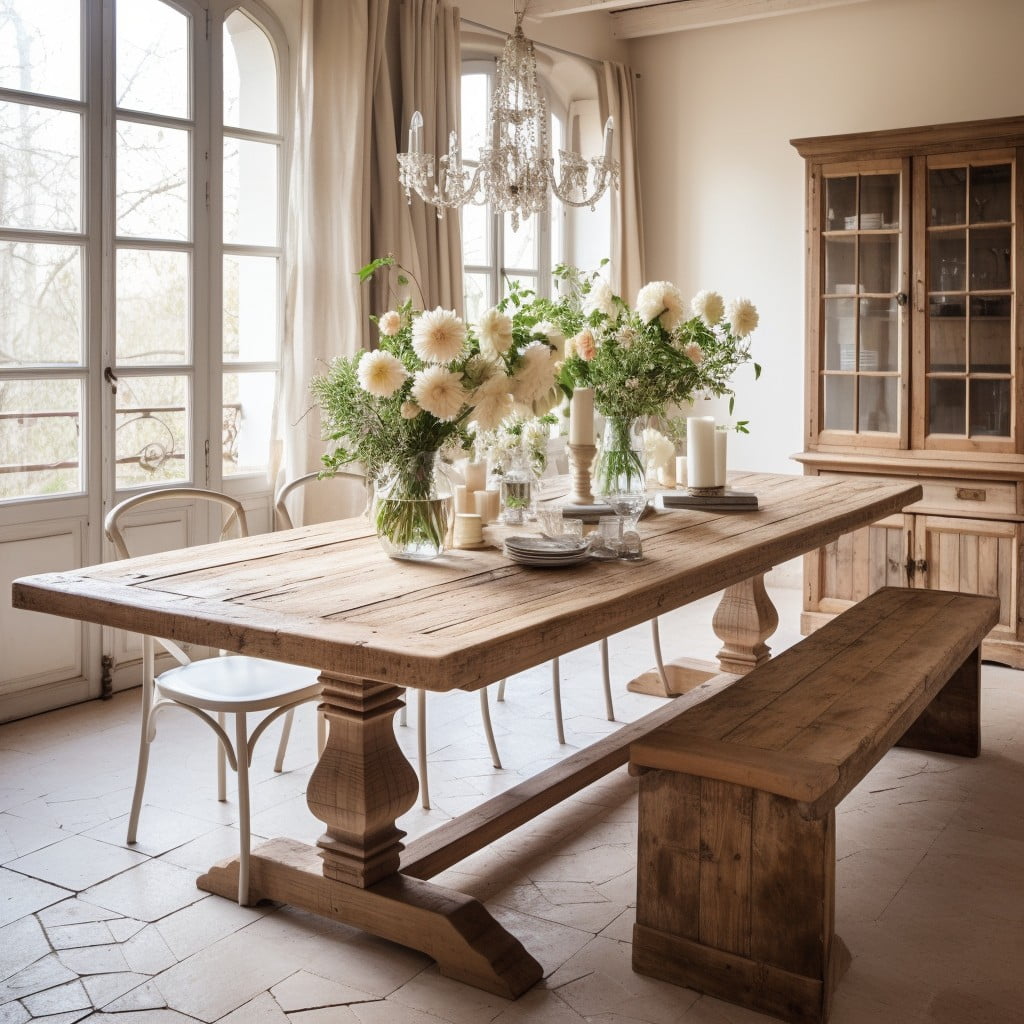 To emanate a true French country feel, consider the wood type, grain texture and color carefully. Solid woods such as pine or oak are preferred for their warm tones and rich grains. Maintain a rough edge to add a sense of rustic appeal while keeping it functional.
A centerpiece such as a French-style old metal vase filled with lavender or a bowl of farm fresh items like eggs or lemons can really set the tone. Layering the table with a linen runner or a lace tablecloth contributes an extra touch to the overall aesthetic.
Since French country style embraces a mix of elegant and rustic elements, the chairs need not match. Inherited hand-me-downs or mismatched thrifted chairs can be painted in a uniform color to help them blend in. Remember to keep an eye out for chairs with upholstered or wicker backings, as they fit perfectly into the country aesthetic.
Last, but not least, consider practical elements such as rustic-style cutlery and crockery, and perhaps a candle stick or two for those romantic evening meals.
DIY Stenciled French Sign Art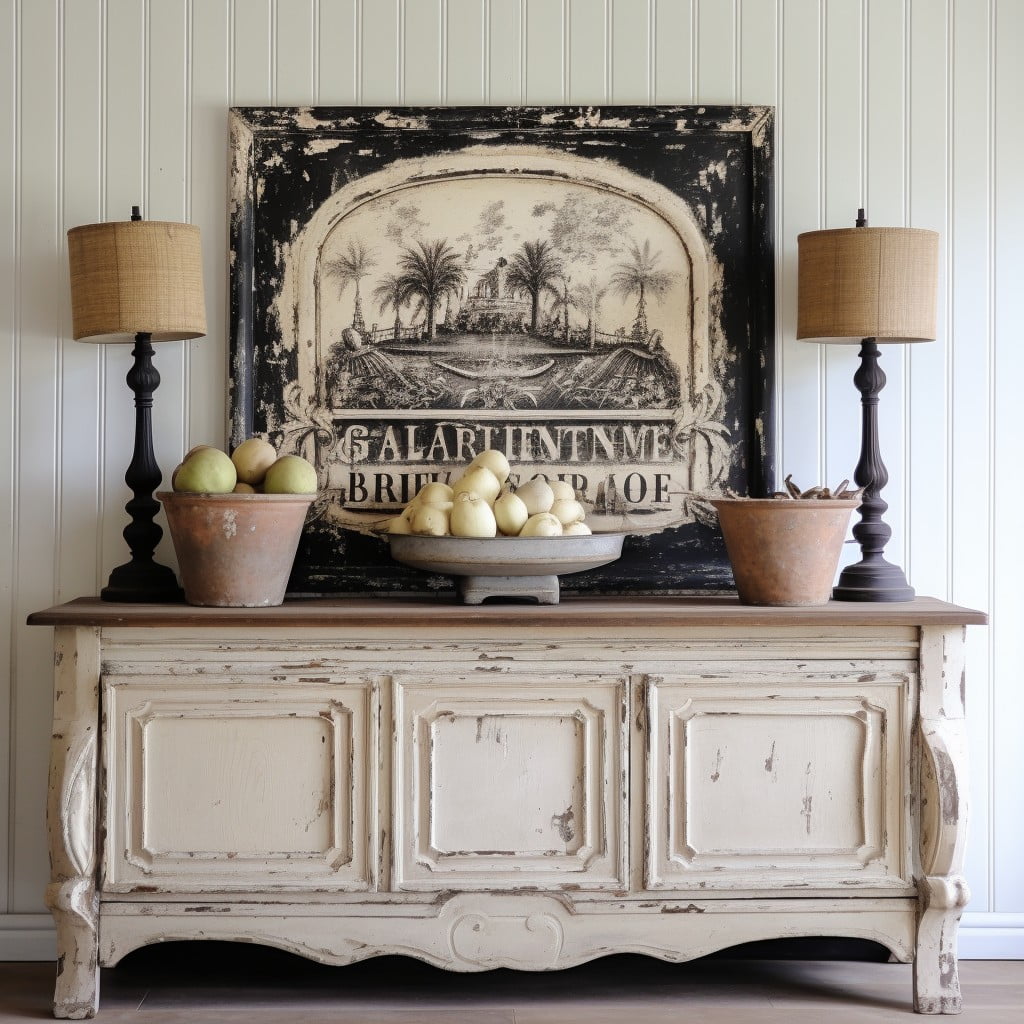 The charm of stencil art never fades away, especially when it reflects the French spirit. Opt for phrases that strike a chord with the French lifestyle, such as 'Cafe Au Lait' or 'Marché Aux Puces'. Don't fret if your artistic skills aren't up to snuff. Pre-made stencils are easily accessible at craft stores or online.
A few art supplies are all you need: a stencil of your choice, acrylic paint in a color matching your decor, and a board or canvas.
Start by securing your stencil on the board. Dab a stencil brush or sponge into paint, remove the excess, and apply onto your stencil. Once done, gently lift your stencil to avoid experiencing any smudges.
To add an aged look, distress the paint job lightly with sandpaper once it's dry. Voila, you have DIY sign art effortlessly aligning with French aesthetics, perfect to adorn your kitchen, hallway, or close spaces.
Don't limit yourself to one piece – the more, the merrier, as they can form an impressive gallery wall.
Crafting Handmade French Linen Pillows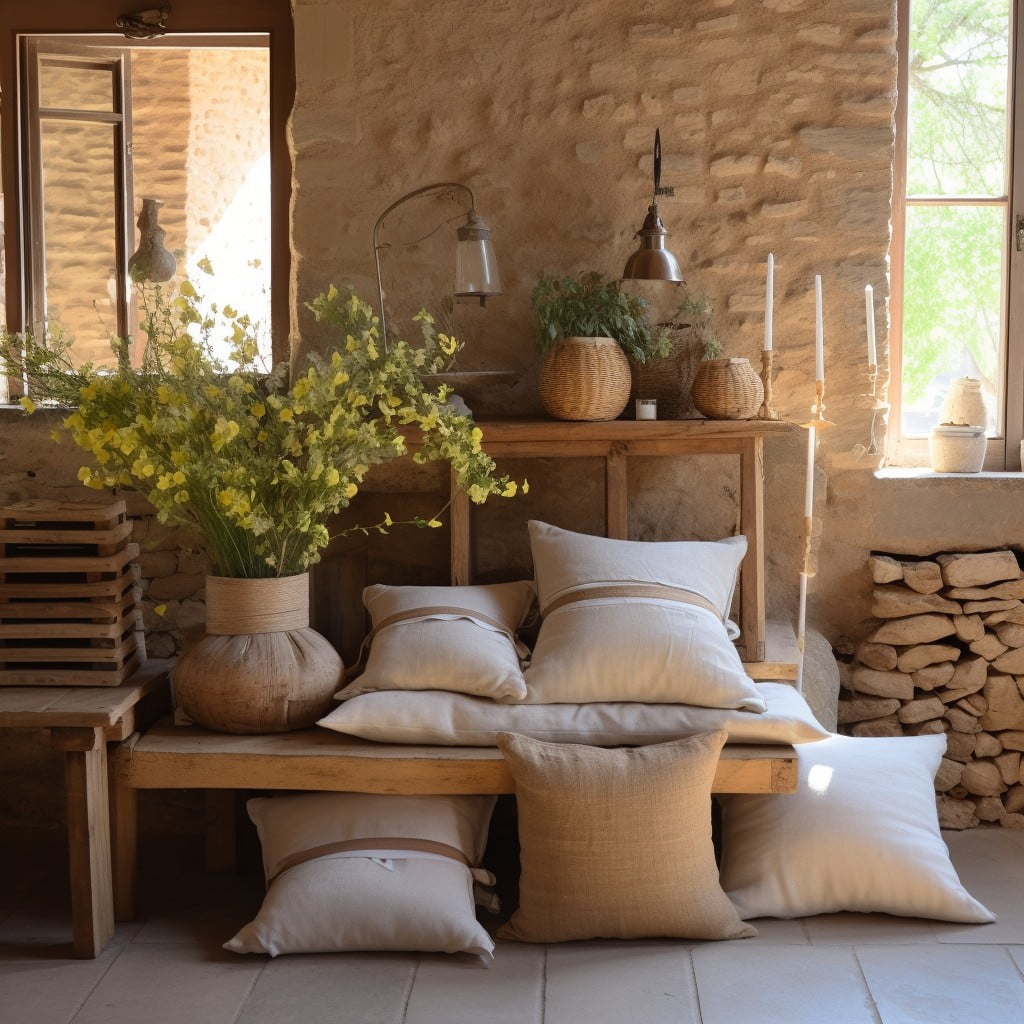 Delving into the artisanal craft of making your own French linen pillows can be a gratifying and cost-effective venture, adding an undeniably Provencal touch to your living spaces.
1. Choose Natural Linen: This authentic French fabric emanates a timeless rustic elegance. Opt for a neutral palette to amplify the country charm.
2. Select Classic Patterns: Toile, a classic French pattern, or simple stripes impart a quaint yet stylish aesthetic.
3. Sew or No-Sew: If you're handy with a sewing machine, creating the pillow cover will take no time. Otherwise, use fabric glue or iron-on hem tape for a no-sew solution.
4. Add Embellishments: Decorative buttons, vintage ribbons, or hand-stitched designs can give your pillow a unique twist and a personal touch.
5. Choose Suitable Fillings: Duck feathers are a luxurious choice. Alternatively, hypoallergenic polyfill will keep the pillows plump and inviting.
6. Layer Effectively: Mix and match different sizes and patterns to add depth to your sofa or bed.
Remember, this craft-project doesn't need to be perfect; imperfections will only add to the authentic French country charm.
Arranging a Dried Flower Bouquet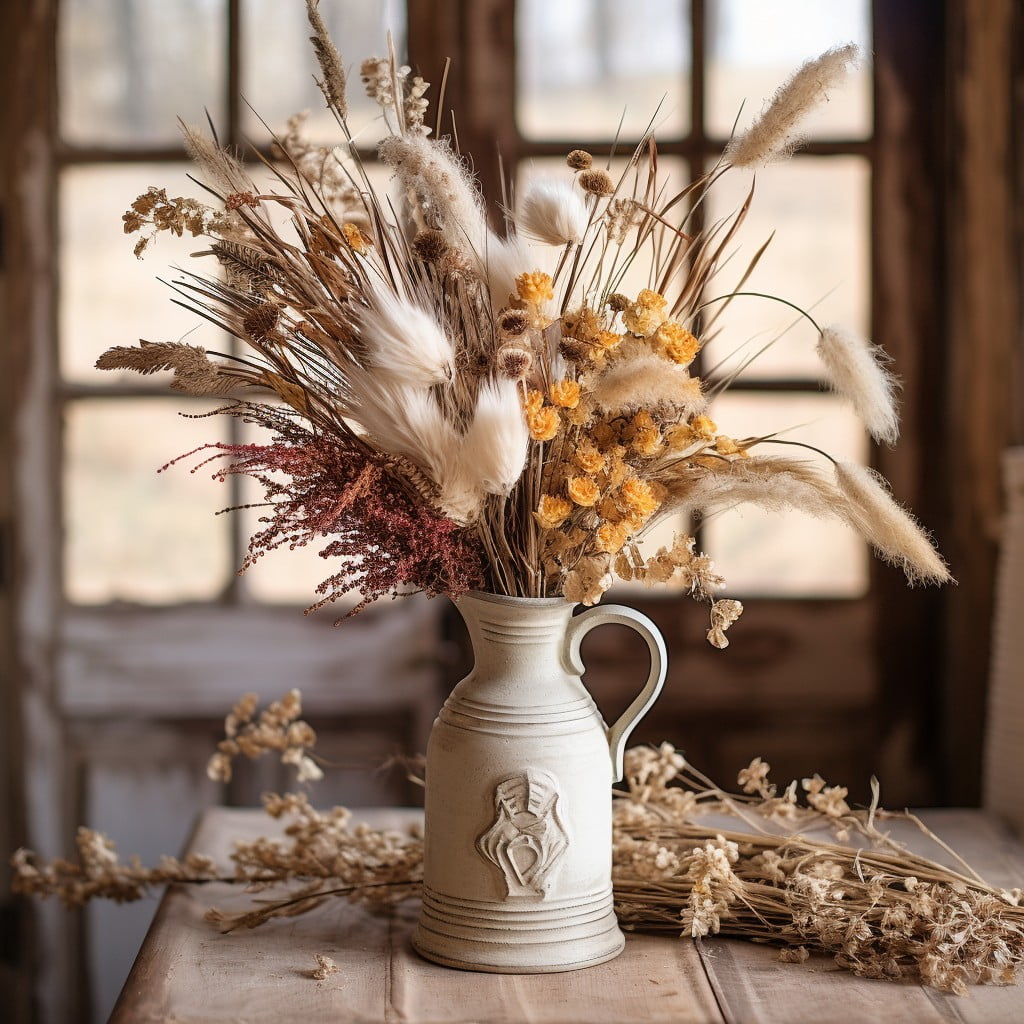 To achieve this classic Provincial look, select flowers like lavender, sunflowers, or wild roses, that are indigenous to this region of France. Remove the leaves, group your blooms, and tie them securely with a twine. Hang upside down in a dry, dark place for 2-3 weeks until fully dried out.
Do remember to consider the color palette significant to this style: soft pastels like lavender, ochre, and sage mixed with vibrant hues like sunflower yellow or deep red for a pleasing contrast. Dried bouquets can be placed in clear, vintage glass bottles or woven baskets to add a rustic touch.
When arranging, maintain a balance between tall, short, and mid-sized stems. Mix different flower shapes and textures for depth and interest. By following these guidelines, you can create an aesthetically pleasing dried flower bouquet that is typically French Country and an elegant testament to the beauty of this style.
Implementing Edison Bulb Lighting for a Rustic Charm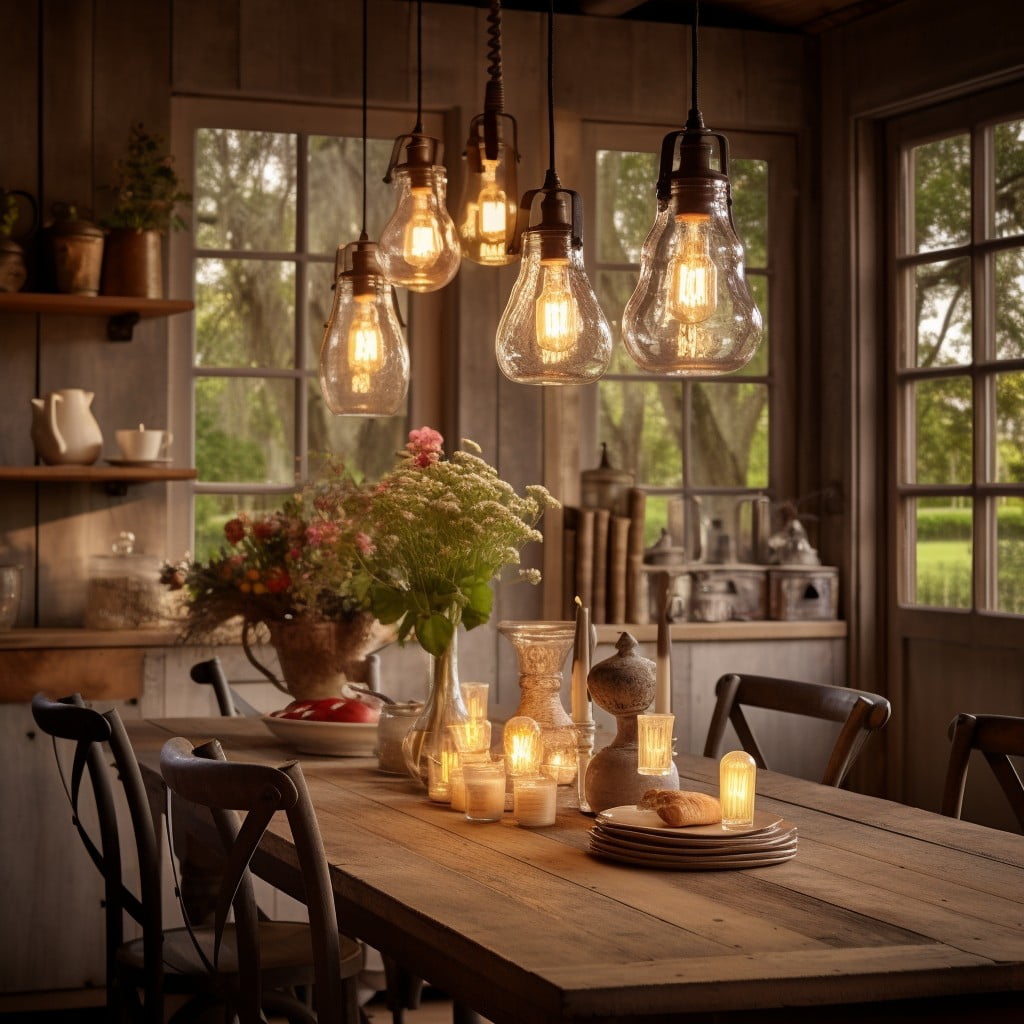 Elevating the charm of your French country style can be as simple as changing your lighting fixtures. A rustic, inviting glow can be achieved by incorporating Edison bulbs into your decor.
Here's how:
Swap out traditional bulbs: In living rooms or bedrooms, switch your regular bulbs with Edison ones in lamps or overhead fixtures for immediate vintage appeal.
Decorate with string lights: Edison bulb string lights draped around a porch or along a mantelpiece convey a romantic yet chic atmosphere.
Highlight with pendant lighting: Hang Edison bulb pendant lights over your dining table or kitchen counter to combine form and function while adding a touch of French rustic charm.
Create a lamp cluster: Group several Edison bulbs at various heights to create a visually captivating lighting focal point.
Remember, the warm, welcoming glow of Edison bulbs can transform your space, reflecting the warmth inherent in the French country aesthetic on a budget.
Using Cast Iron Pans and Pots for a Farmhouse Kitchen Look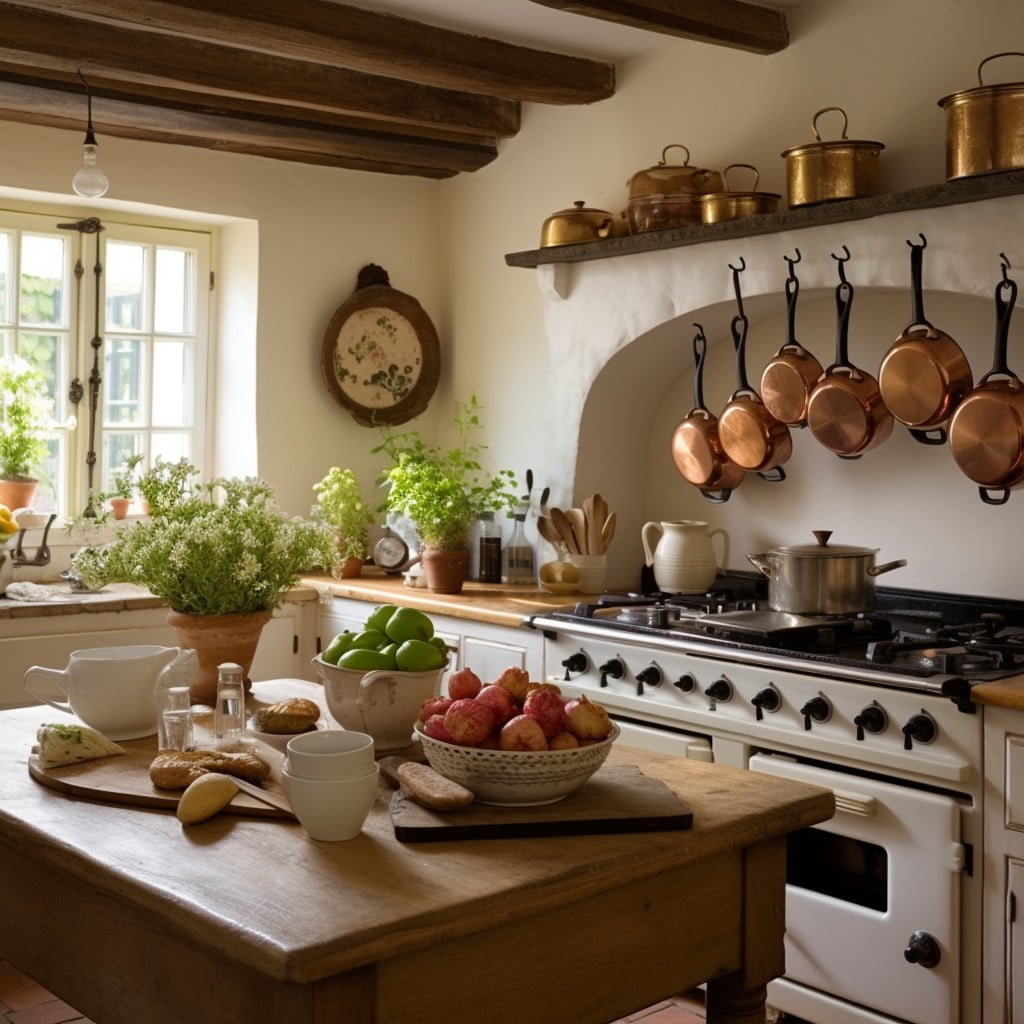 To enhance the farmhouse feel, strategically place a selection of cast iron cookware around the kitchen. Renowned for their durability and quality, these rustic pots and pans function as both practical tools and aesthetic pieces.
Display them on an open shelf or hang them from a peg rack to fully showcase their charm. Opt for vintage or antique pieces with a patina of age and use for an authentic feel. Remember, a beautifully seasoned cast iron skillet contributes to the lived-in, warm atmosphere that is at the heart of French country style.
For budget-friendly options, check out garage sales or local thrift shops – they often have a treasure trove of these time-tested pieces. A quick cleaning and re-seasoning can easily restore these finds back to their original glory.
Incorporating Elements Such As Chicken Wire Into Decor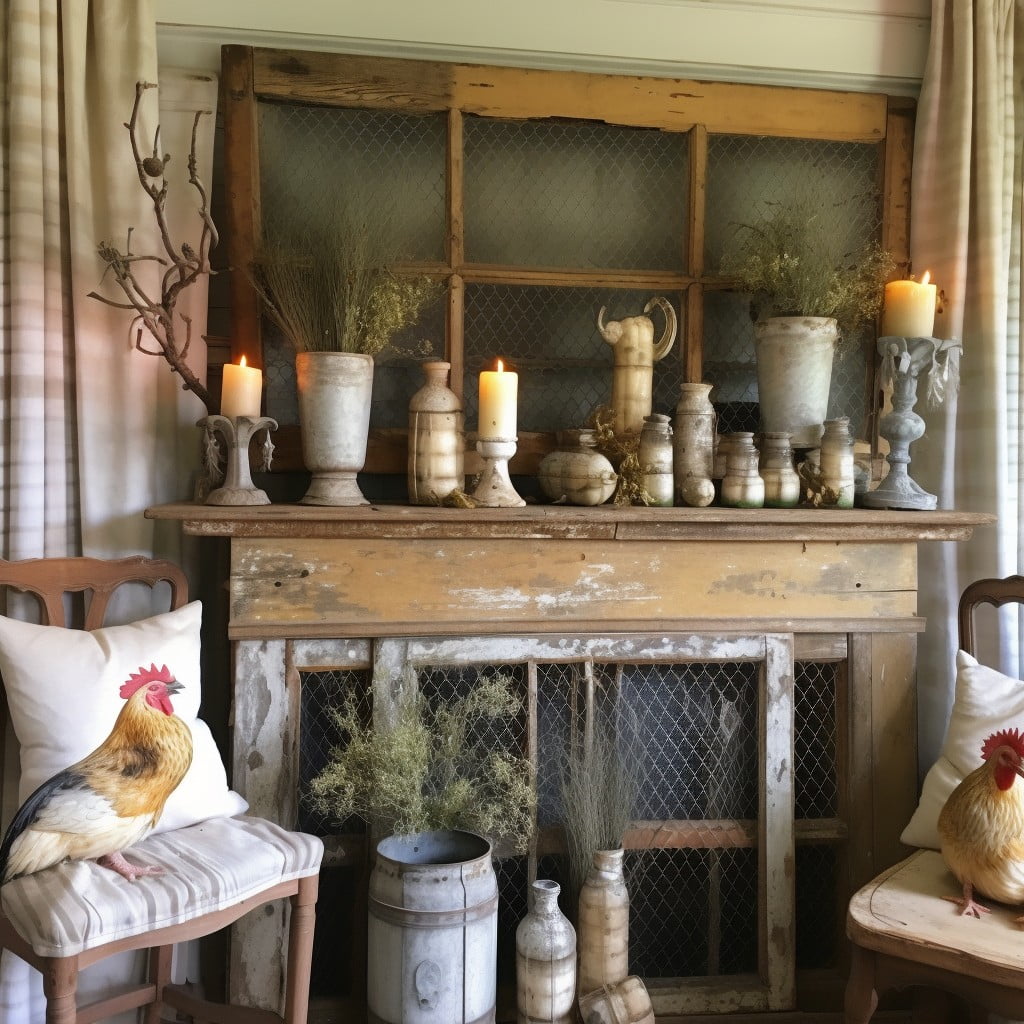 Chicken wire, readily available and cost-effective, adds a rustic charm to the kitchen. Fixed to cabinet doors, it provides a farmhouse aesthetic while allowing a glimpse of the dinnerware within. Use it as a picture holder by adding some wooden clothespins, it's a creative way to display memories.
Try forming it into a simple cylindrical lampshade for pendant lights, offering an industrial edge. Lastly, small lengths of chicken wire can become useful organizers, perfect for sorting mail or magazines.
Each of these ideas incorporates an attractive countryside vibe without depleting your budget. Remember, a touch of creativity goes a long way!
Displaying Fresh Baguettes in a Vintage Metal Basket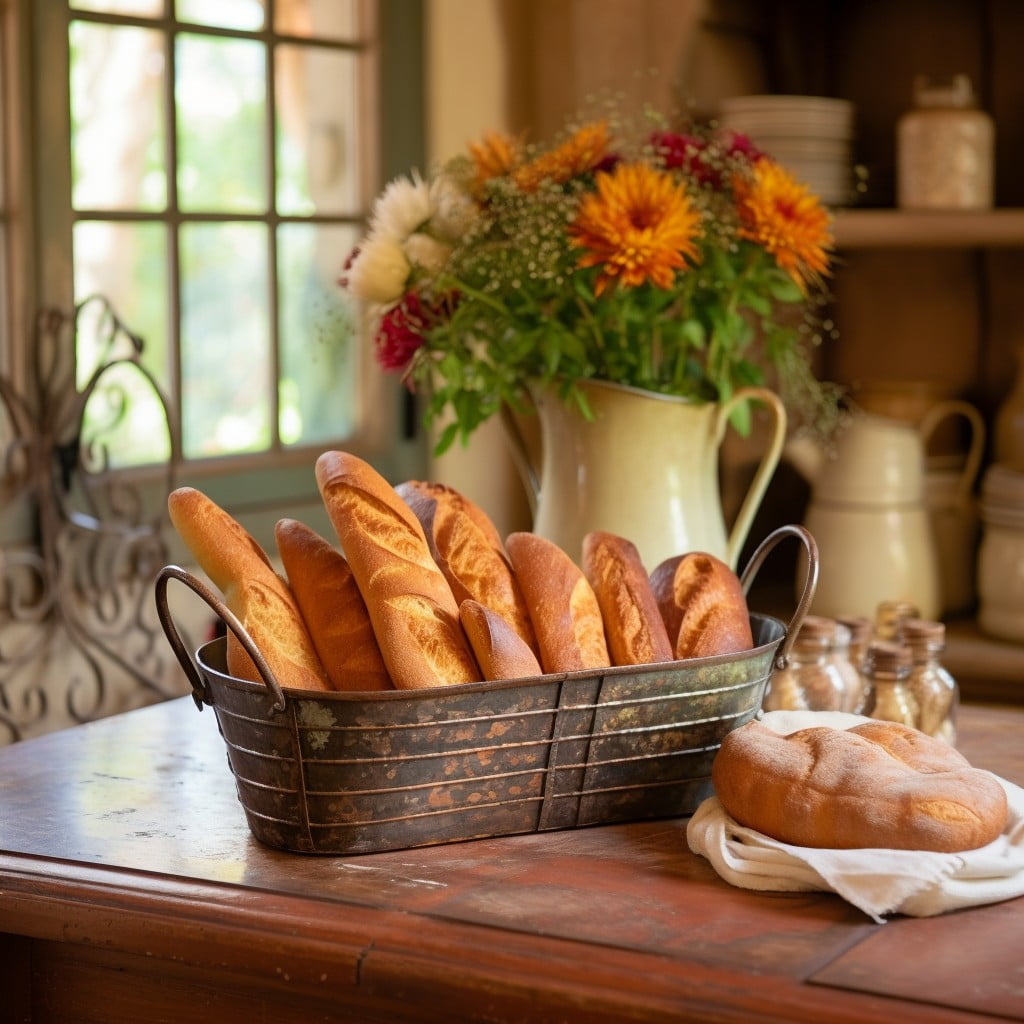 Breathing life into your kitchen decor lies in the details. An effective way to create a French Country ambience is through the everyday display and storage of food items. A simple and cost-effective tactic involves fresh baguettes.
1. Choose a high-quality metal basket with a vintage look. This could be a basket you already own or a lucky thrift store find. Rust or patina on a metal basket can add to the authenticity of the look.
2. Arrange fresh baguettes in the basket. They should be placed with the crust facing up, to give a tantalizing view of their textures. If you can't procure fresh baguettes daily, consider using faux bread; these can be surprisingly realistic.
3. Find a location to display your basket. This could be your kitchen counter, a shelf, or a table. It should be a spot that catches the eye and is easily accessible.
4. Lastly, make sure to rotate the baguettes occasionally and check for mould if using fresh ones. Even your decor needs freshening up to stay appealing!
This simple decorating idea, along with other techniques, creates an effortlessly chic French Country atmosphere at home while respecting your tight budget.
Utilising Stone and Brick Elements in the Kitchen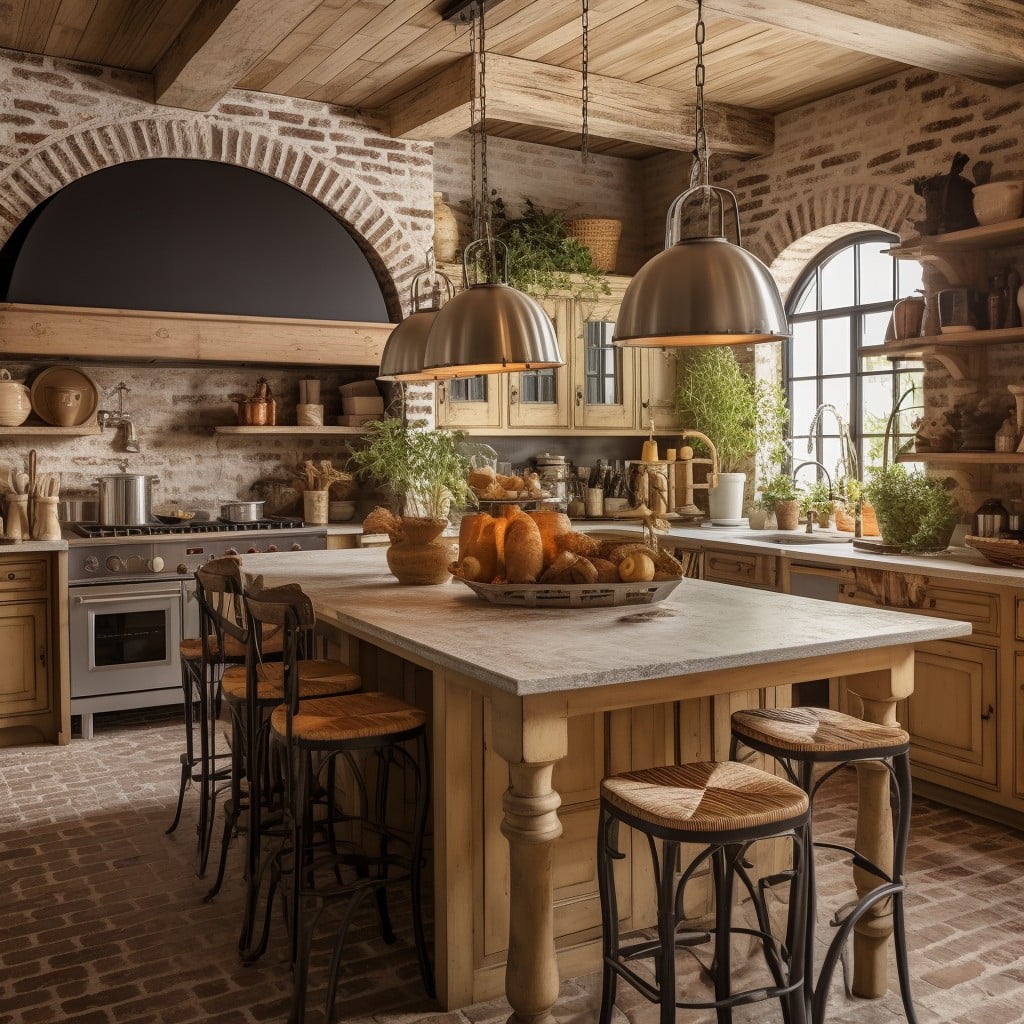 In many French country homes, the raw beauty of natural materials is prized. Bringing these elements in is simpler and less costly than you might think. For a classic touch, consider a faux stone backsplash; it brings in texture and visual interest without the hefty price tag.
If a complete faux stone wall isn't in your budget, fear not. You can opt for a stone veneer around the cooking area for a centerpiece effect. It's durable and heat-resistant, making it ideal for this space.
Alternatively, expose brick on one wall to harness that raw rustic feel. Even if your home doesn't have actual brick walls, brick veneers are an affordable option. They are easy to install and instantly warm up the space.
Remember, these elements should blend with the rest of your decor. Soften the overall look by pairing these textures with other French country elements, such as white painted cabinets, antique furniture, or floral fabrics. Use color balancing to prevent the stone or brick from overwhelming the room; neutral tones hit just the right note in French country decorating.
Using Vintage French Wine Bottles for Candles or Flowers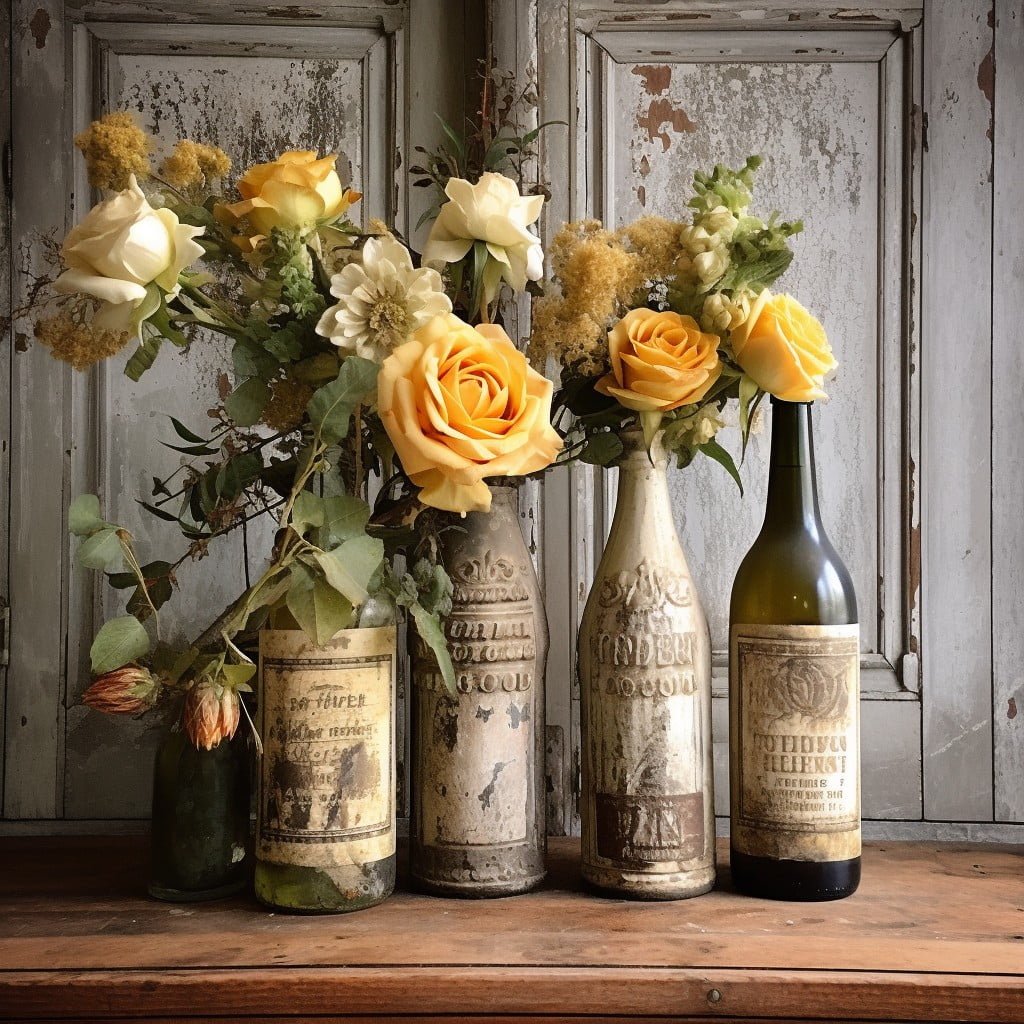 Begin by selecting bottles with a variety of shapes and colors to create an interesting visual assortment that echoes the diversity and charm of a traditional French wine cellar. Clean the interior of each bottle thoroughly and let them dry upside down to prevent moisture buildup.
Next, for a romantic and soft ambiance, invest in long, tapered candles that fit snugly into the top of the bottle. Opt for off-white or muted tones to emanate a vintage feel. This alluring display can grace a dining table to create a Parisian-inspired evening.
Alternatively, convert these bottles into innovative flower vases. Choose freshly cut flowers or preserved ones, arranging them artfully in each bottle. This creates a touch of French elegance, especially when featuring flowers reminiscent of the French country, such as lavender, poppies, or sunflowers.
Remember carefully arranging these bottles along window sills, shelves, or mantles can effortlessly enhance the french country aesthetic on a budget. The more strategically you place these adorned bottles, the more they can beautify and highlight otherwise overlooked corners of your space.
Liked reading this? Here's more:
Recap: