Last updated on October 29, 2023
Harness the power of delightful sunflower decorations because they instantly breathe life into any space with their vibrant colors and realistic texture.
I'm proud to share my 20 unique sunflower decoration ideas, complete with designs that I've personally created, in hopes that they inspire you as much as they've inspired me, and that you relish the fun-filled process of creation as much as I did.
Sunflowers, with their vibrant yellow petals and dark centers, can add a touch of cheerfulness to any space. Whether you're aiming for a rustic country feel or a modern minimalist look, incorporating sunflowers into your decor can create a warm and inviting atmosphere.
This article provides a plethora of sunflower decoration ideas, from simple DIY crafts to sophisticated design elements. Explore various ways to use sunflowers in your living room, kitchen, bedroom, and even outdoor spaces. Dive into the details of color combinations, contrasting elements, and placement strategies to make the most out of these sunny blooms.
Stay tuned to discover how to brighten up your home with sunflowers!
Sunflower Wreaths for Doors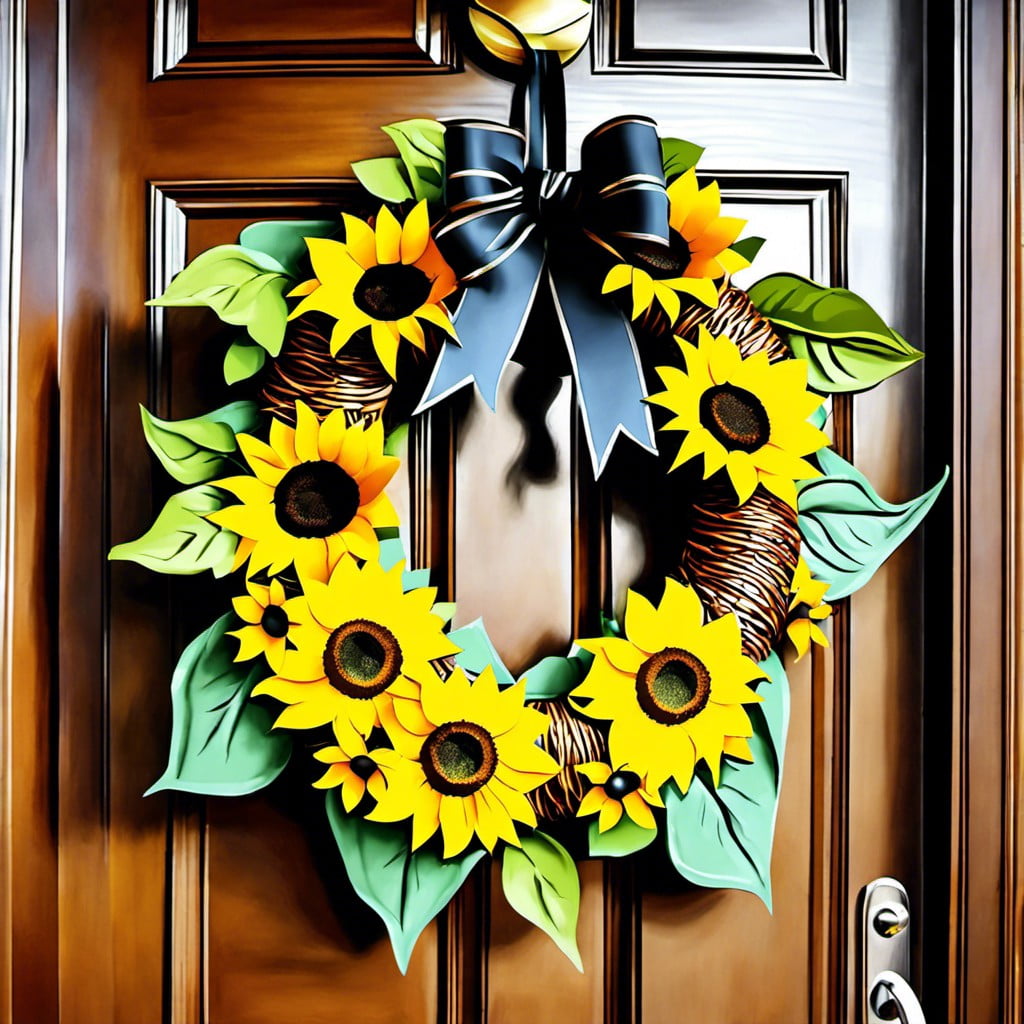 Adding a sunflower wreath brings a pop of color and natural appeal to your door. The vibrant yellow petals can instantly cheer up any space.
For a summer wreath, fix full-bodied faux sunflowers around a grapevine base. In an autumn setting, pair sunflowers with warm-toned fall foliage for a stunning contrast.
Consider integrating elements such as burlap bows, miniature pumpkins, or twine-wrapped initial letters for a personalized touch.
Always remember to use a weatherproof material if your door is exposed to outdoor elements to preserve the integrity of your wreath.
Lastly, carefully choose the size of the wreath in proportion to the door. A large door requires a substantial-size wreath to avoid it looking lost. Conversely, smaller doors are better suited to petite greenery.
Remember that the wreath is an extension of your home, reflecting your style and personality to the world.
Sunflower Centerpiece for Dining Tables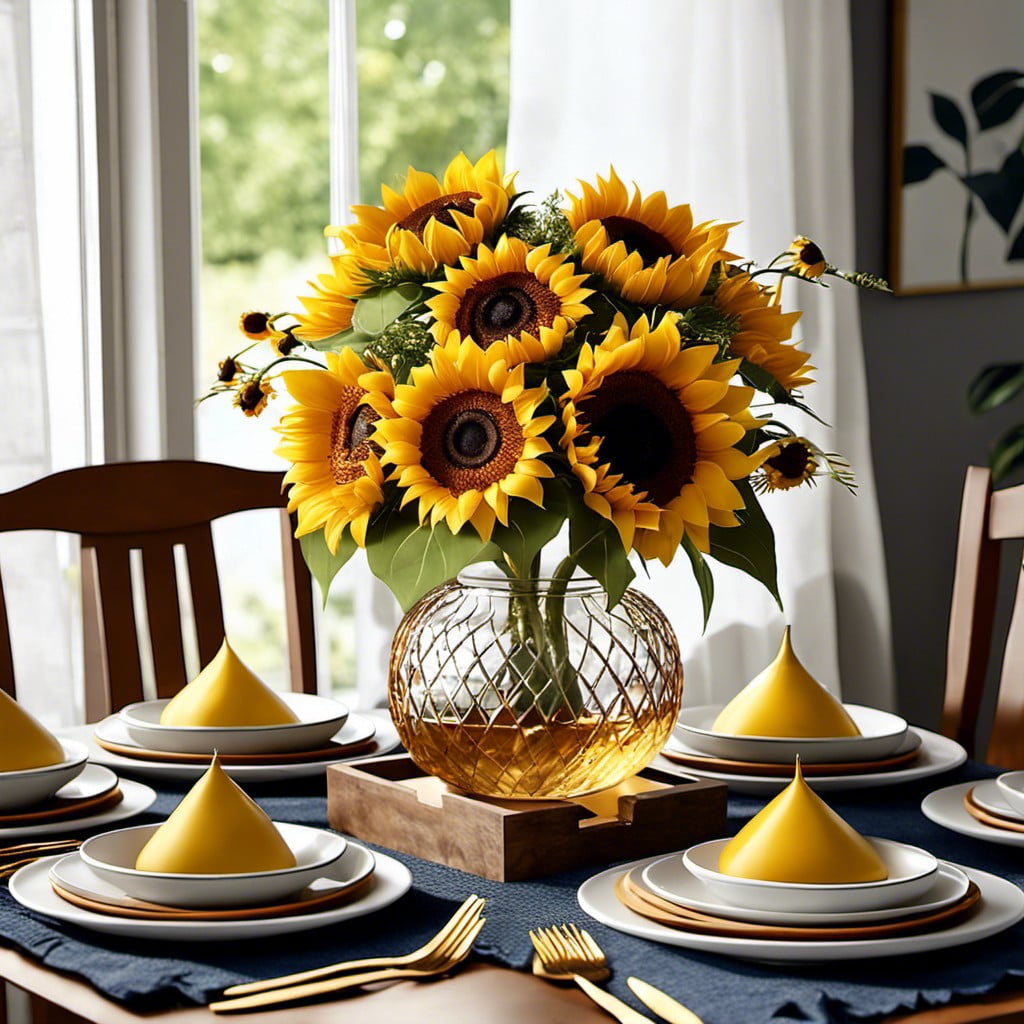 Incorporating sunflower centerpieces can be a game-changer. Opt for real or faux sunflowers depending on personal preference and availability. If you're looking for a more rustic feel, consider pairing the sunflowers with wooden elements.
Alternatively, a glass vase filled with sunflowers can contribute towards a more elegant, contemporary look. Balancing sunflowers with greeneries like eucalyptus leaves can bring in a refreshing vibe.
Mix and match sunflowers with other blooms like roses or lavender to add some variety. For special occasions, adding yellow candles around the centerpiece can provide a warm, inviting glow. Remember, these centerpieces would be eye-catching, so keep the surrounding table decor simple and understated.
Regardless of design, sunflower centerpieces can surely make your dining table a joyous focal point!
Sunflower Patterned Wall Decals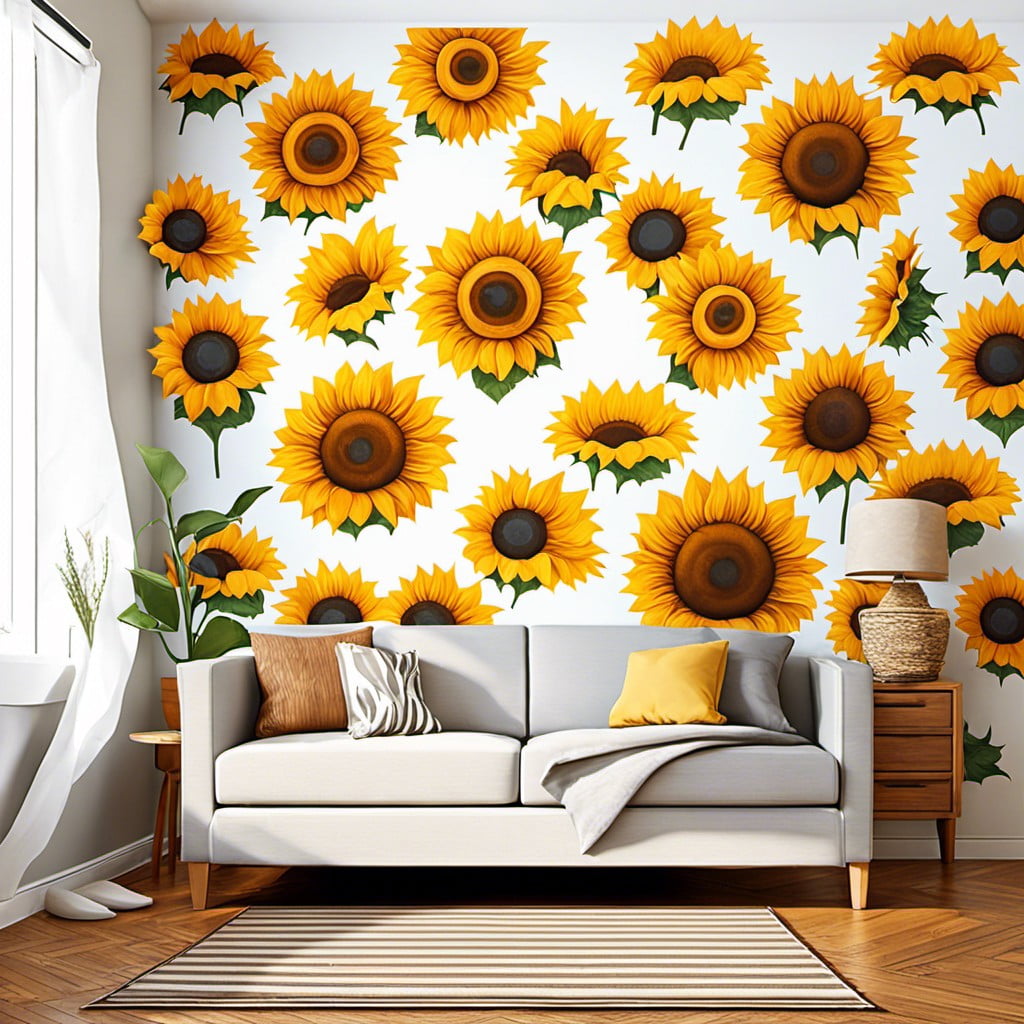 Patterned wall decals, specifically those adorned with sunflowers, have a unique charm. They're a dynamic decor element that can instantly uplift any room's ambience with their vibrant colors and lively design.
1. Versatility: They can be applied to any smooth surface – walls, glass, furniture, appliances, enabling endless creativity.
2. Removable and Reusable: Most are non-permanent and can be repositioned or replaced without damaging the surface.
3. DIY Friendly: Installation doesn't require professional help. Peel off the back and stick where desired.
4. Affordable: It's a cost-effective way to transform a room rapidly.
5. Customizable: Available in diverse sizes, styles and color schemes to match your decor.
6. Mood-Enhancing: Sunflowers, symbol of happiness, can lift spirits instantly.
Remember, when applying, ensure the surface is clean, smooth and dry. Also, smooth out any bubbles for a perfect finish.
Sunflower Painted Mason Jars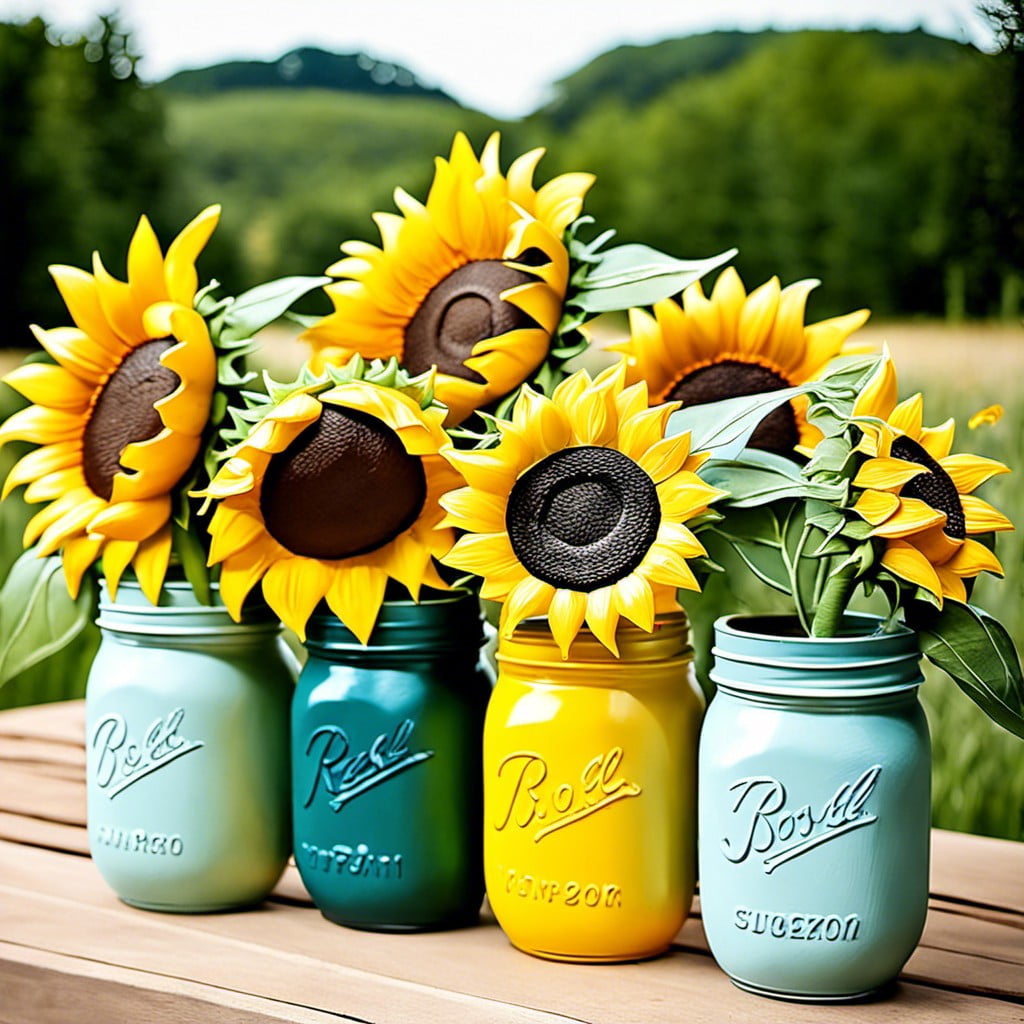 Embrace a DIY approach and transform old mason jars into captivating decoration pieces. With acrylic paints, recreate the bright yellow and brown shades of sunflowers on the exterior of the jars.
Follow these steps for a successful outcome:
Use white as your base coat to ensure the colors pop.
Sketch a simple sunflower design or use a stencil for precision.
Apply bright yellow for petals and rich brown for the sunflower center.
Use green paint for the stems, and maybe even add a leaf or two.
Let it dry completely before adding a second layer, if needed.
Preserve your art by applying a clear coat sealant.
Whether you use these newly decorated jars as vases, utensil holders, or candleholders, they'll inevitably add a charming summer feel to your space. Try grouping together mason jars of different sizes to create a dynamic display. Remember, crafting is more about creativity and enjoyment rather than perfection, so have fun throughout the process.
Sunflower Picture Frames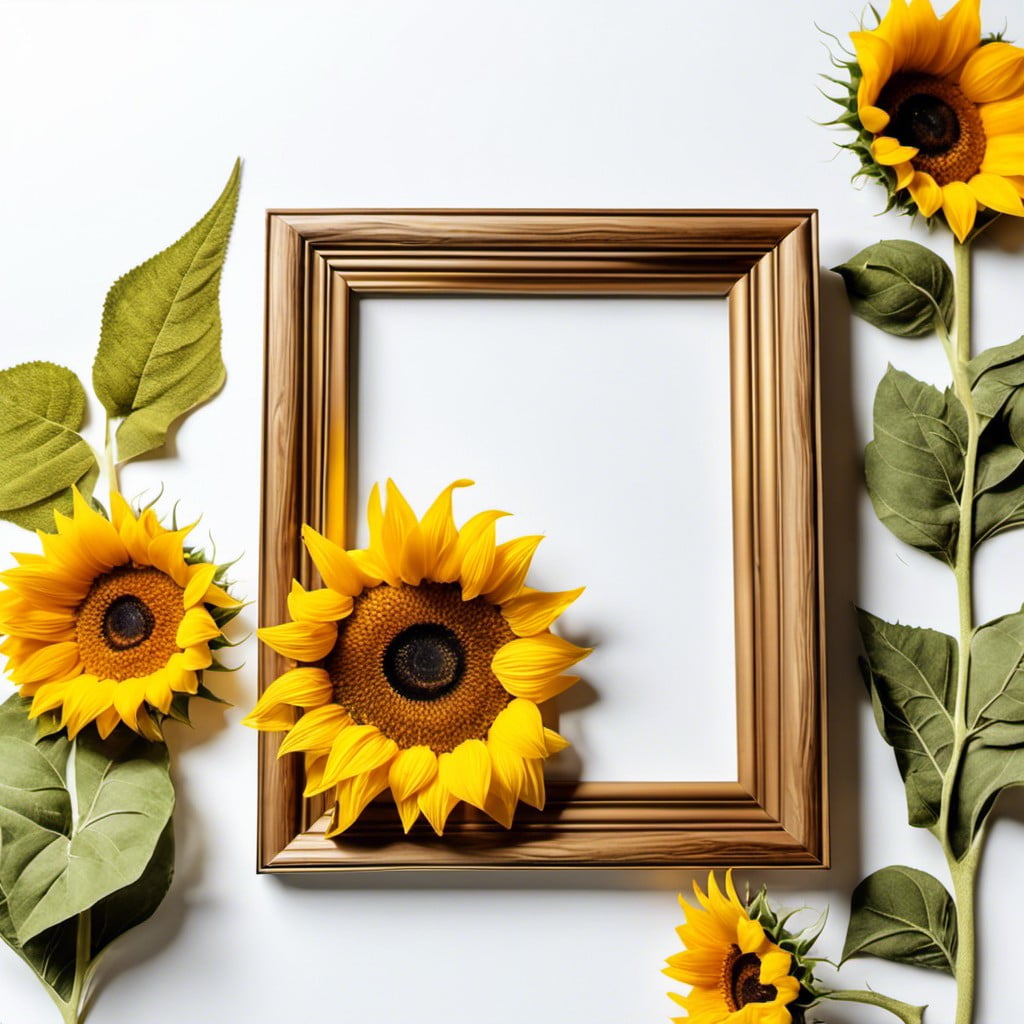 Starting with a simple, yet vibrant choice, these frames add warmth to space. They are ideal for encasing cherished photos or even artwork. Opt for those featuring actual sunflower blooms for a realistic feel, or those with artistic, abstract interpretations for a modern look.
When paired with black and white photos, sunflower picture frames create a visually striking contrast that draws the eye. For a harmonious look, these frames work wonders with photos of warm, sunny landscapes or adorable family snaps.
You can arrange them in clusters on wall space, stand them on a mantle or use them to add character to bookshelves. For extra flair, mix and match sunflower frames with plain frames to create a unique display.
Sunflower picture frames are a wonderful way to echo the overall sunflower theme of your room without making it overwhelming. A piece of subtle art, it surely enhances your décor while maintaining a balanced aesthetic.
In term of material, you can find options in wood, metal, or even glass, each providing a distinct look to complement your interior style. Whether you opt for rustic wooden frames painted with sunflowers or modern metallic ones with sunflower motifs, your choice will make a pleasing impact.
Remember, the charm lies in the details. Light, lovely, and full of life, sunflower picture frames can uplift any corner of your home.
Sunflower-themed Garden Flags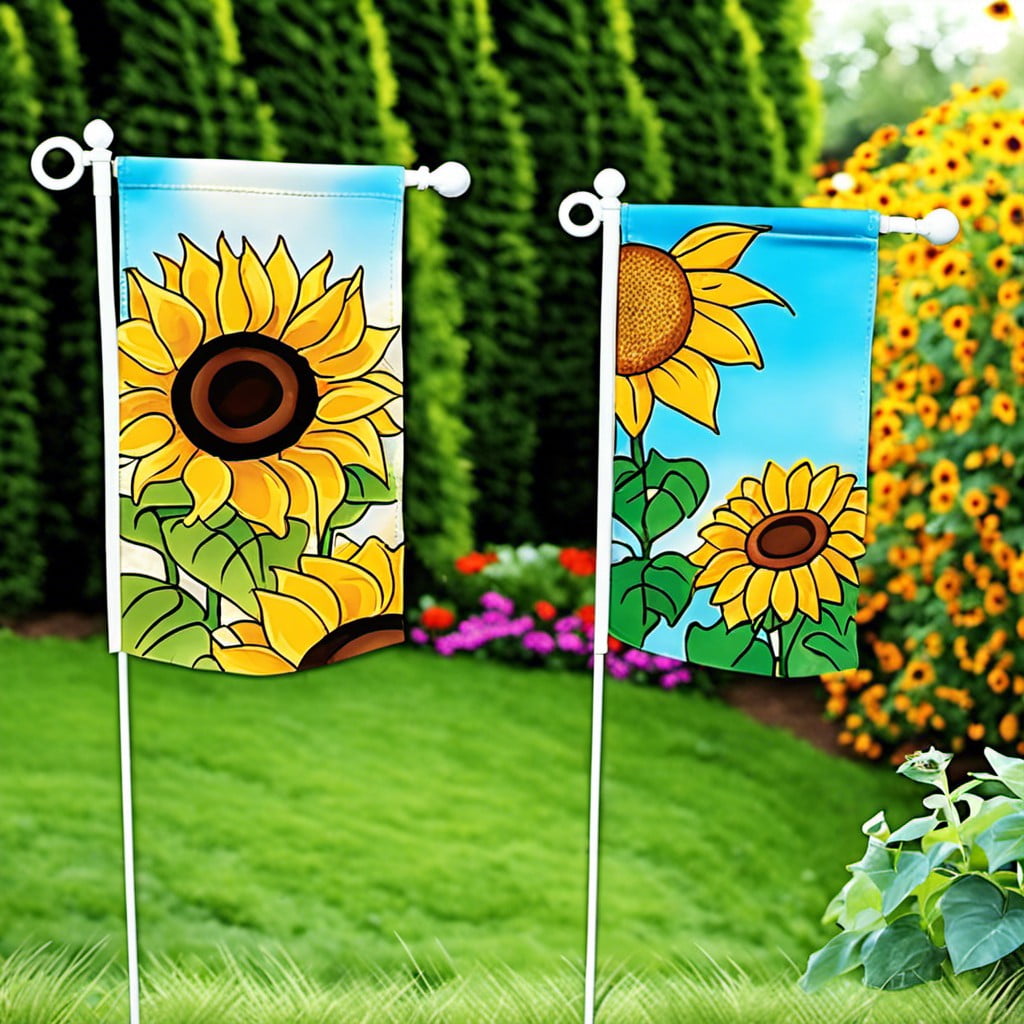 Lending a cheerful touch to any garden, these vibrant flags can be your starting point in embracing the sunflower theme. With their bold colors and striking design, they effortlessly draw in attention, making your garden even more inviting.
You can hang them near your decking or your secluded garden bench. Ideally, you should go for waterproof and UV resistant material for long-lasting appeal. Select from smiley sunflower designs, rustic sunflower flags or even personalized sunflower garden flags to make your space truly unique. Just remember, placement is key to optimizing visibility!
Sunflower Throw Pillows for Sofas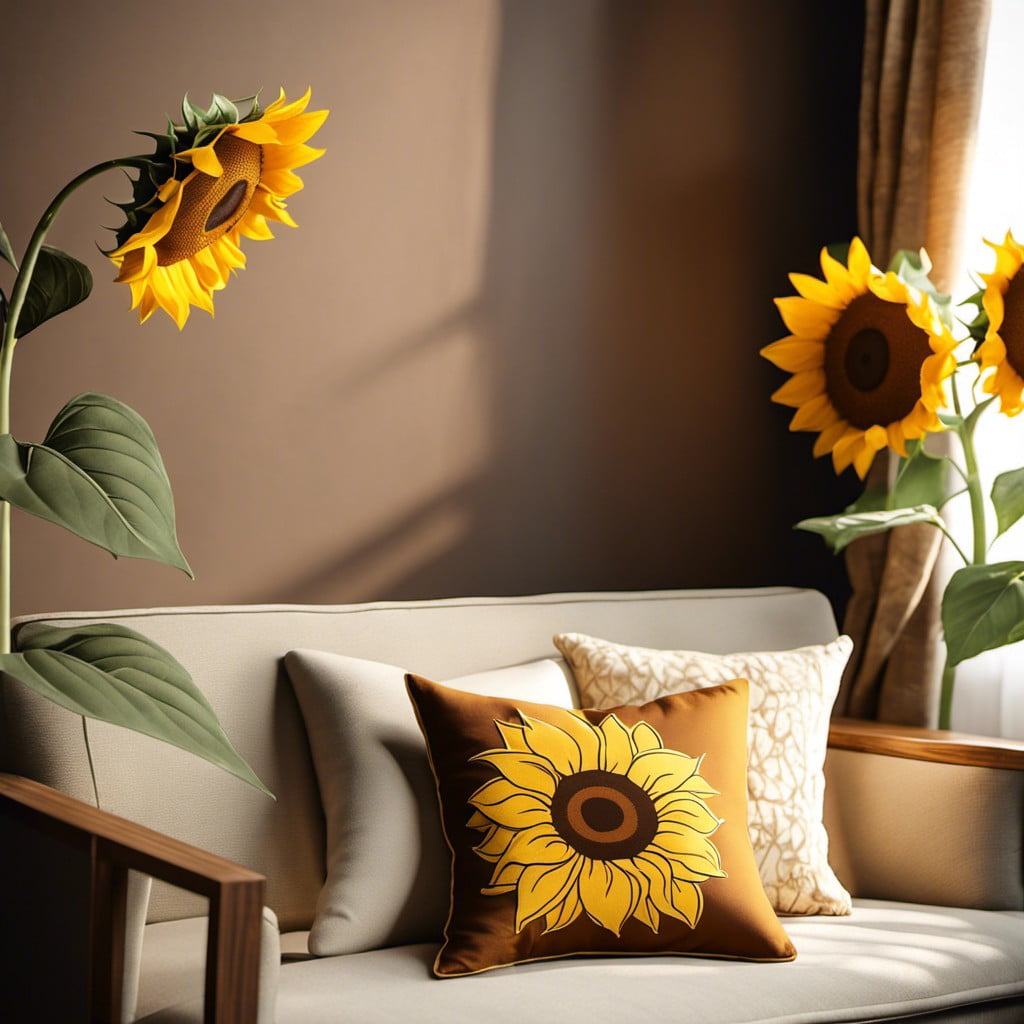 Throw pillows adorned with sunflowers can serve as vibrant accents to a living space. They're not just comfy companions for your couch; their cheerful patterns contribute to the room's overall aesthetic.
Look for a variety of designs, from realistic prints that showcase sunflower's signature yellow petals to more abstract or artistic renditions for a unique touch.
Craft stores may have DIY kits for a more custom approach to this project. Consider going for watercolor or oil painting print; these styles can complement both contemporary and classical décor.
Opt for outdoor fabric for pillows in your patio or backyard. Remember, the choice of fabric can greatly influence the look and feel of these accents.
Mixing different sizes of pillows can break the monotony and create a dynamic effect. Smaller ones can be matched with larger pattern-free counterparts in corresponding colors.
The placement of these pillows can also make a significant difference. Highlight them by reserving a special spot; perhaps a monochrome couch could serve as your canvas?
Caring for these pillows extends beyond aesthetics. Regularly fluffing them will keep their shape, while following the specified cleaning instructions ensures they'll retain their vibrant colors.
In essence, sunflower throw pillows can serve as the ideal blend of function and style, provided one pays due attention to their selection and maintenance.
Sunflower Framed Wall Arts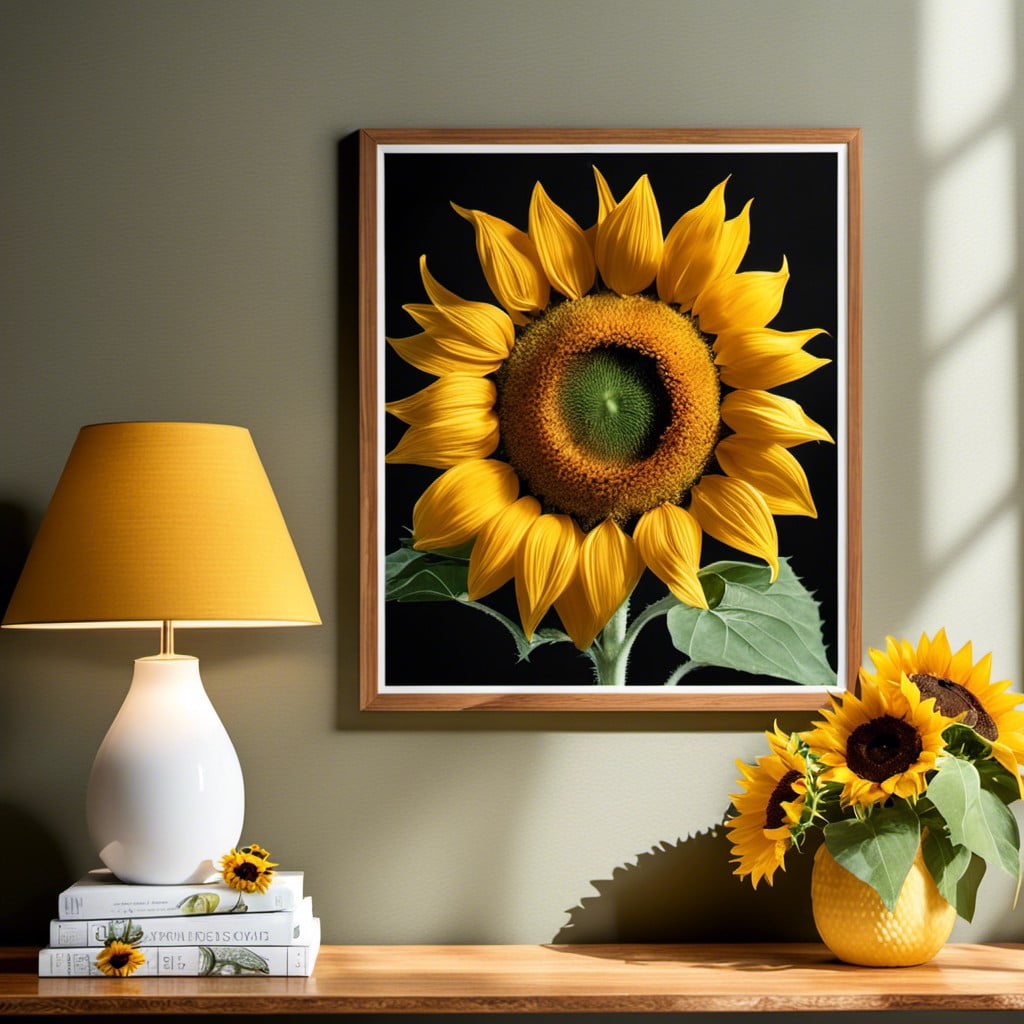 Choosing the right piece of artwork can infuse any room with personality and style. Consider incorporating sunflower wall arts, they add a vibrant and sunny touch to your walls, serving as instant mood boosters.
When picking the right frame, opt for rustic wooden ones for a farmhouse vibe or sleek metallic ones for a modern touch. The positions are endless – above the sofa, over a console table or even in the hallway.
For impact, a large sunflower wall art can stand alone while smaller pieces look great in a themed gallery wall. Remember, the environment it creates is what matters the most.
Sunflower Fabric for Curtains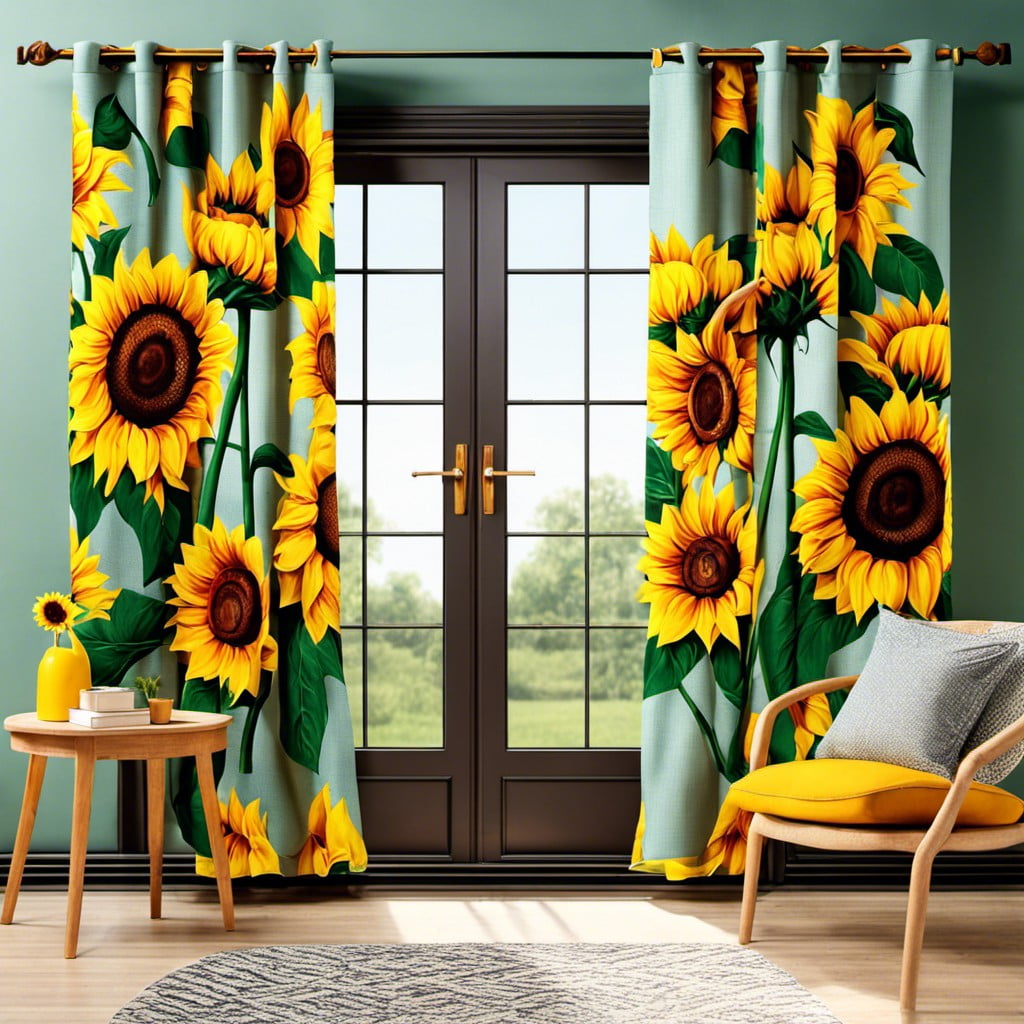 To bring a refreshing vibe into rooms, choosing the right fabric is crucial. Among the numerous options available, a sunflower pattern can be a game-changer. The vibrant hues of sunflowers infuse cheerfulness and a warm appeal perfect for uplifting any interior.
Here's what makes such fabric an exceptional pick:
Versatility: Sunflower fabric for curtains aptly suits different interior styles, from rustic to modern.
Vibrancy: Its bright yellow and green tones can add a pop of color to an otherwise neutral room.
Mood Booster: Sunflower patterns symbolize happiness and optimism, enhancing the overall feel of the room.
Easy Maintenance: These fabrics are usually fade-resistant and machine-washable, ensuring they remain bright and fresh as a daisy.
Mix-Matching Possibilities: Pairing them with solid-colored curtains or blinds can create a layered effect.
Remember, light or sheer sunflower fabric can offer a delicate glow to the room, while heavier fabrics provide more privacy. However, both ensure a sunny disposition throughout.
Sunflower Themed Bedding Sets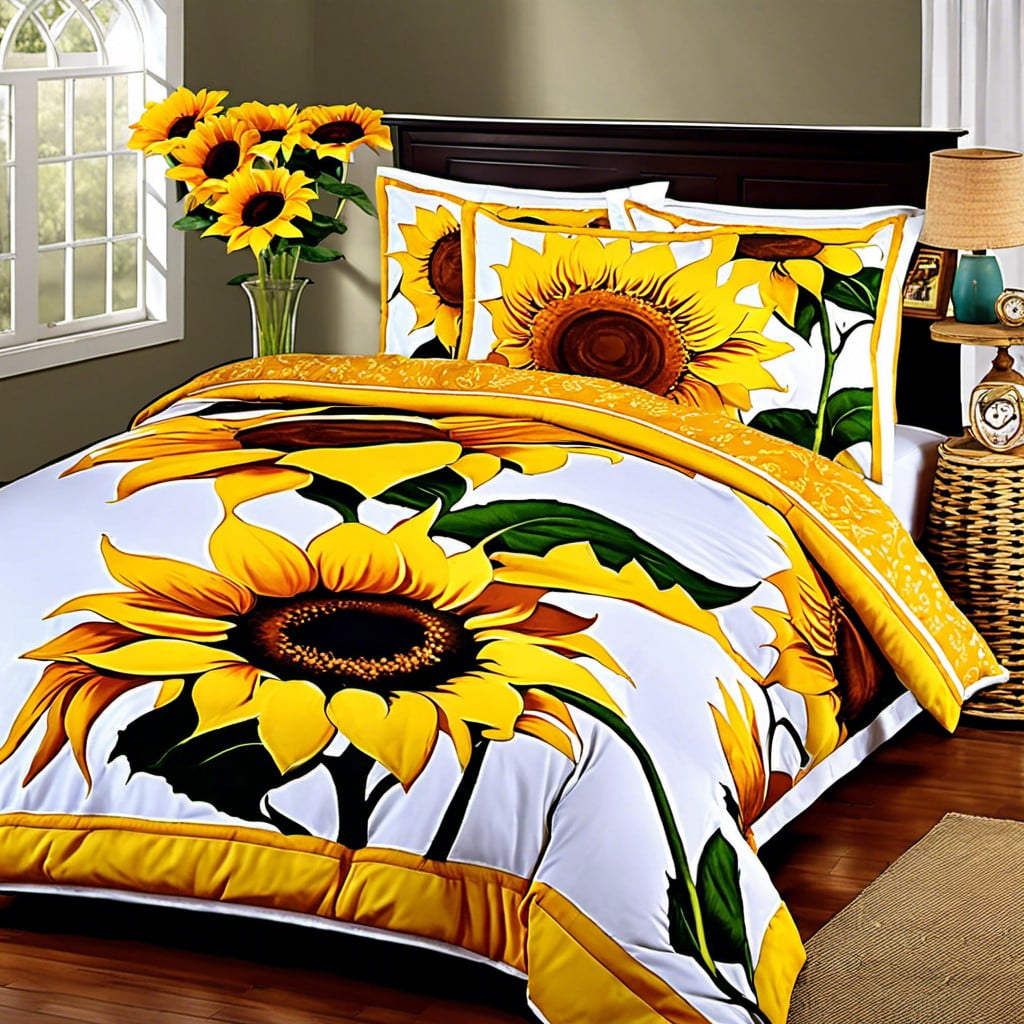 Splashes of yellow in your sleeping oasis can facilitate a cheerful, energetic rise with the day's sun. Consider an eye-catching duvet cover with large sunflower prints anchoring the bedroom décor. Alternatively, smaller, repeated sunflower patterns on sheets or pillowcases offer subtler nods to this vibrant theme.
When choosing sets, 100% cotton or a cotton blend can ensure comfort and also capture the detailed depiction of sunflowers beautifully. Don't shy away from mixing patterns either; sunflower prints pair wonderfully with stripes or checks, adding depth to your design.
Remember, balance is key to prevent overwhelming the space. A suffused yellow room may benefit from solid, neutral bedding, adorned with a simple sunflower-themed throw blanket or cushions, indicating the theme without overpowering the room.
Maintaining consistent theme, quality, texture, and color scheme aid in symbolizing sunflower's brightness, uplifting any bedroom's atmosphere immediately.
Sunflower Pots for Indoor Plants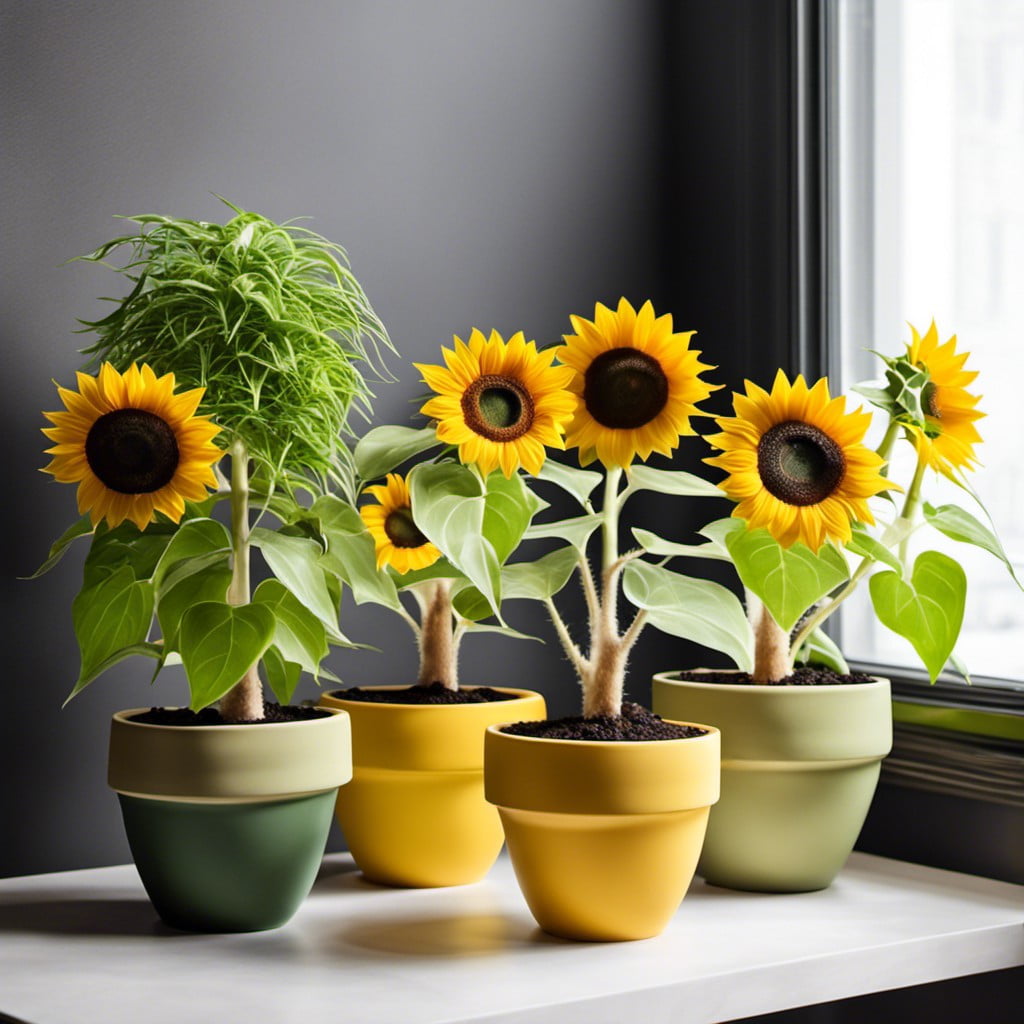 Embracing the vibrant charm of sunflowers indoors is easily achieved with pots featuring sunflower patterns. These make a perfect setting for succulents, herbs, or small flowers.
Choose from a variety of materials, including ceramic, clay, and plastic. Patterns also vary, ranging from single sunflower designs to a burst of sunflowers.
Combining these pots with vibrant green houseplants elevates the aesthetic ambiance, seamlessly blending nature's bounty with cheerful sunflower artistry.
For a dramatic effect, consider placing these pots in areas with high visibility, such as windowsills or bookshelves.
With proper care for your plants, these pots will offer years of visual enjoyment.
Sunflower Table Runners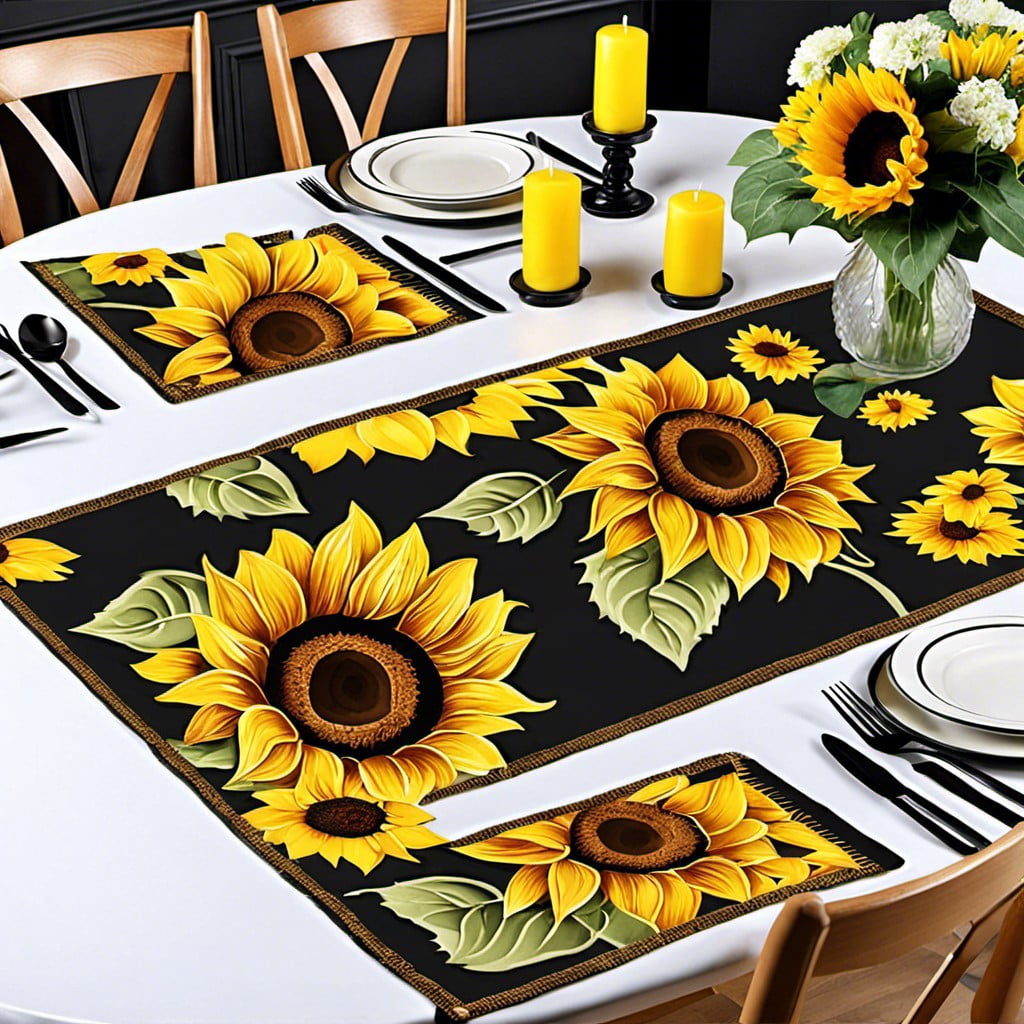 Capturing the joyous essence of summer, table runners imbued with sunflower motifs offer a bright, cheerful dining experience. Here's how to make the most of these charming additions to your decor:
1. Select table runners that showcase real sunflower colors. Vibrant yellows play off against earthy browns, elevating your table setting enormously.
2. Consider the scale of pattern according to your table size. Larger prints work well on lengthy dining tables, while smaller patterns could be optimal for round or smaller tables.
3. Mix and match with complimentary table settings. For instance, white porcelain dishware acts as the perfect canvas for your sunflower table runner to shine.
Remember, it's all about balance. A sunflower table runner alone can imbue your dining area with a sunny, warm charm. Use it wisely to make your meals an immersive, delightful experience.
Sunflower Decorative Candles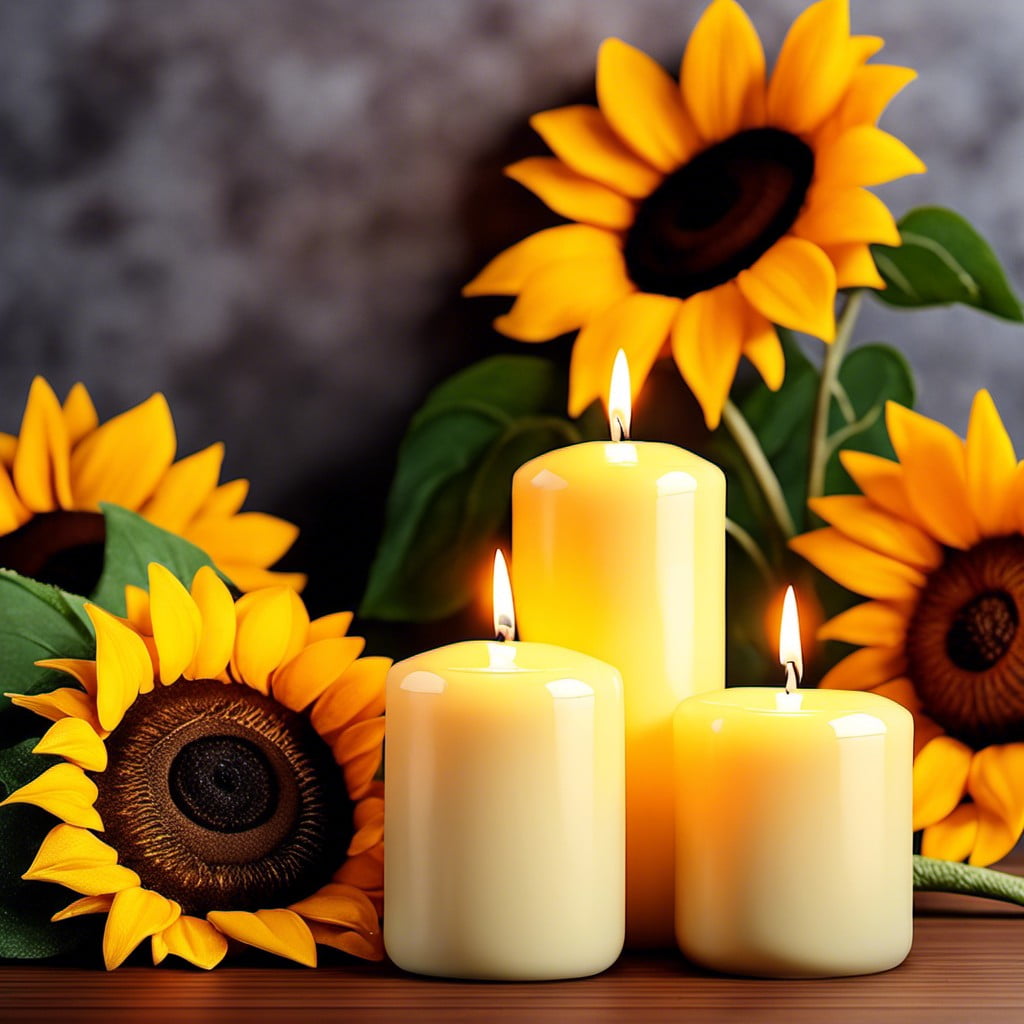 These vibrant decorative pieces create a warm and inviting atmosphere. Whether scented or unscented, their intricate design could bring a splash of color to any room. One may opt for a well-crafted candle in a sunflower shape, embodying the essence of this delightful flower. Alternatively, candles adorned with sunflower motifs are readily available and make lovely additions to your decor.
You can position them on your coffee table, by the fireplace, or on a side table. During an evening get-together, their delicate flickering light will cast enchanting sunflower silhouettes on surroundings, creating a memorable aesthetic.
For a personal touch, craft your own by embedding miniature sunflower charms to a simple pillar candle. It's an easy DIY project and allows flexibility to match your existing color palette.
Remember, safety should never be compromised. Ensure the candles are placed on sturdy bases away from flammable materials and never left unattended.
Bright, cheering, and aromatic – sunflower candles are indeed a fantastic element in the decor ensemble.
Sunflower Wind Chimes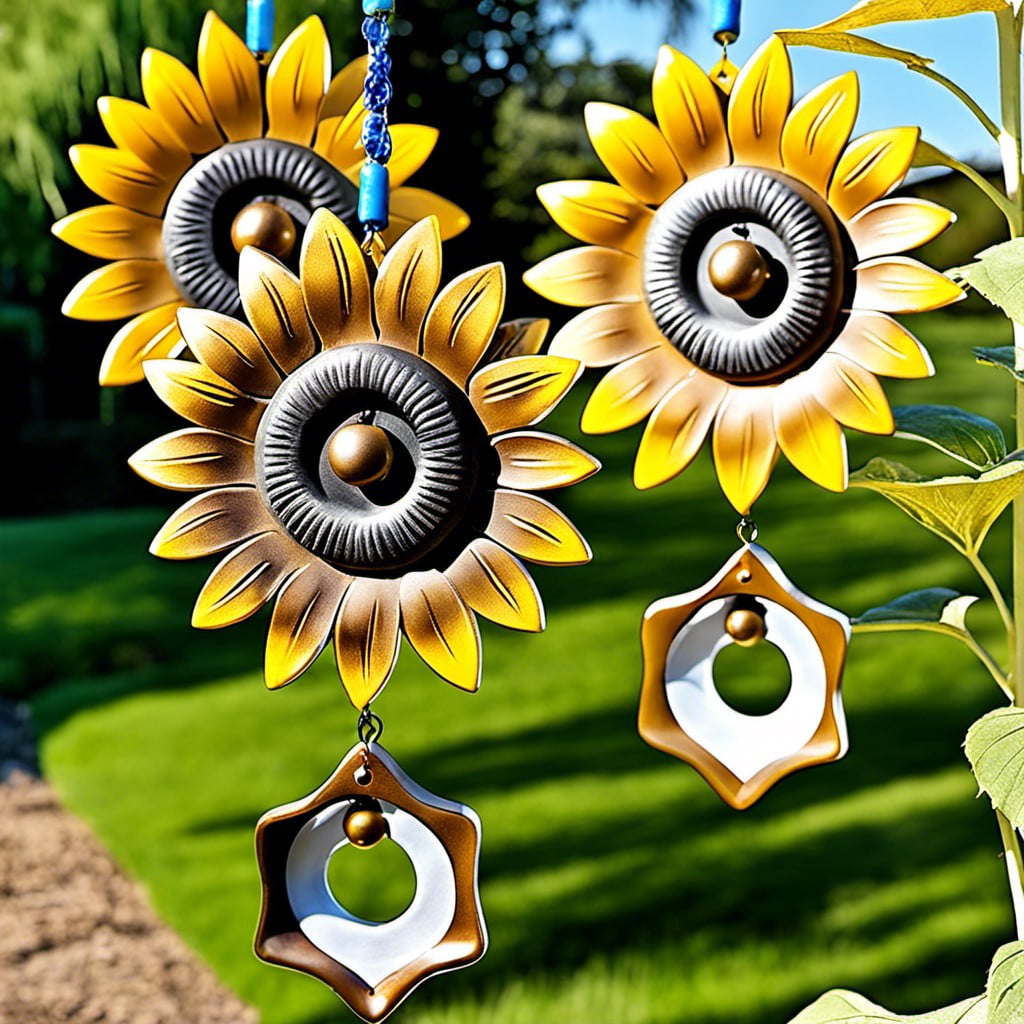 Adding a touch of nature's melody to your abode, wind chimes embody both beauty and harmony. The charming and cheerful hues of sunflowers on wind chimes serve not just as a visual delight but also enliven the space with soothing sounds.
Here are a few points to consider when decorating with sunflower wind chimes:
Opt for chimes with finely-crafted sunflower designs that match the aesthetics of your home.
Wind chime materials can vary, from resilient metal to soft, painted ceramics. Choosing the right one depends on the desired longevity and distinct sound you prefer.
Depending on the area of placement, size can be a determining factor. For ample spaces like patios or decks, larger chimes can make a grand statement. Smaller spaces such as balconies or window sills may benefit from petite versions.
Installation height should be considered, as wind chimes perform best when hung at an optimal height to catch the breeze.
Pairing sunflower wind chimes with other sunflower accessories can draw together a unified and captivating decor scheme.
Wind chimes hold the delightful power to transform a foggy day into a sunny one, even if just in spirit. Using sunflower-designed ones offers a unique charisma rarely found in standard designs. So, indulge in these cheerful floral renditions and fill your house with their enchanting symphony.
Sunflower Embossed Dinnerware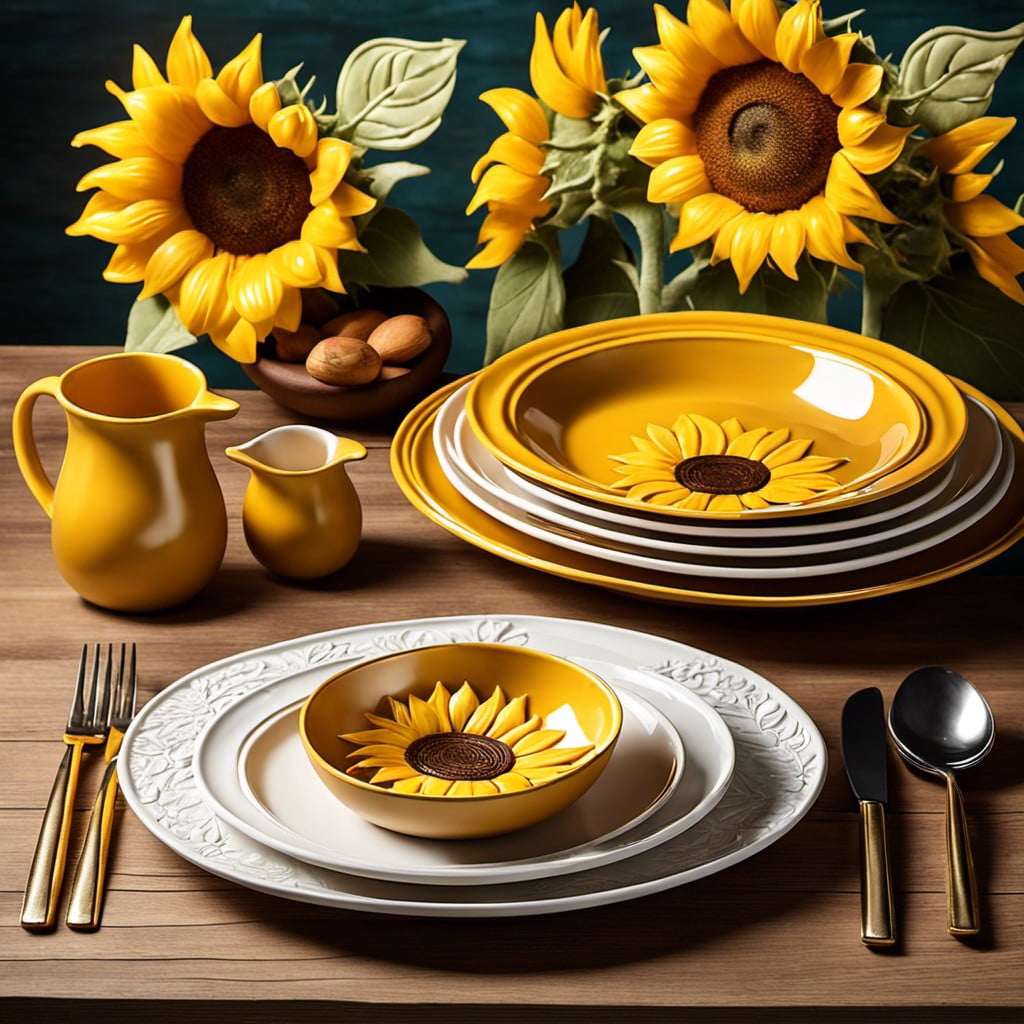 Embossed dinnerware provides an exciting avenue for introducing this vibrant flower design into your décor. It's all about texture and dimension with this approach.
Consider plates with sunflowers blooming from their face, bowls serenely showcasing the sunflower's stunning details, or mugs adorned with our cheerful flora. These will undoubtedly become conversation pieces, catching eyes with their subtle yet captivating artistry.
With a variety of color choices to match your existing décor, from the typical yellow and brown to muted whites and golds, there's no shortage of options.
Invest in a set for regular use or just for special occasions to delight your guests. If a whole set seems too much, even a single sunflower embossed serving platter can make a bold statement.
Remember, it's not just about utility, but also the aesthetic appeal––a beautiful blend of function and form that will enhance mealtime experiences.
So why not invite some of nature's joy indoors, right onto your dinner table?
Sunflower Themed Bath Towels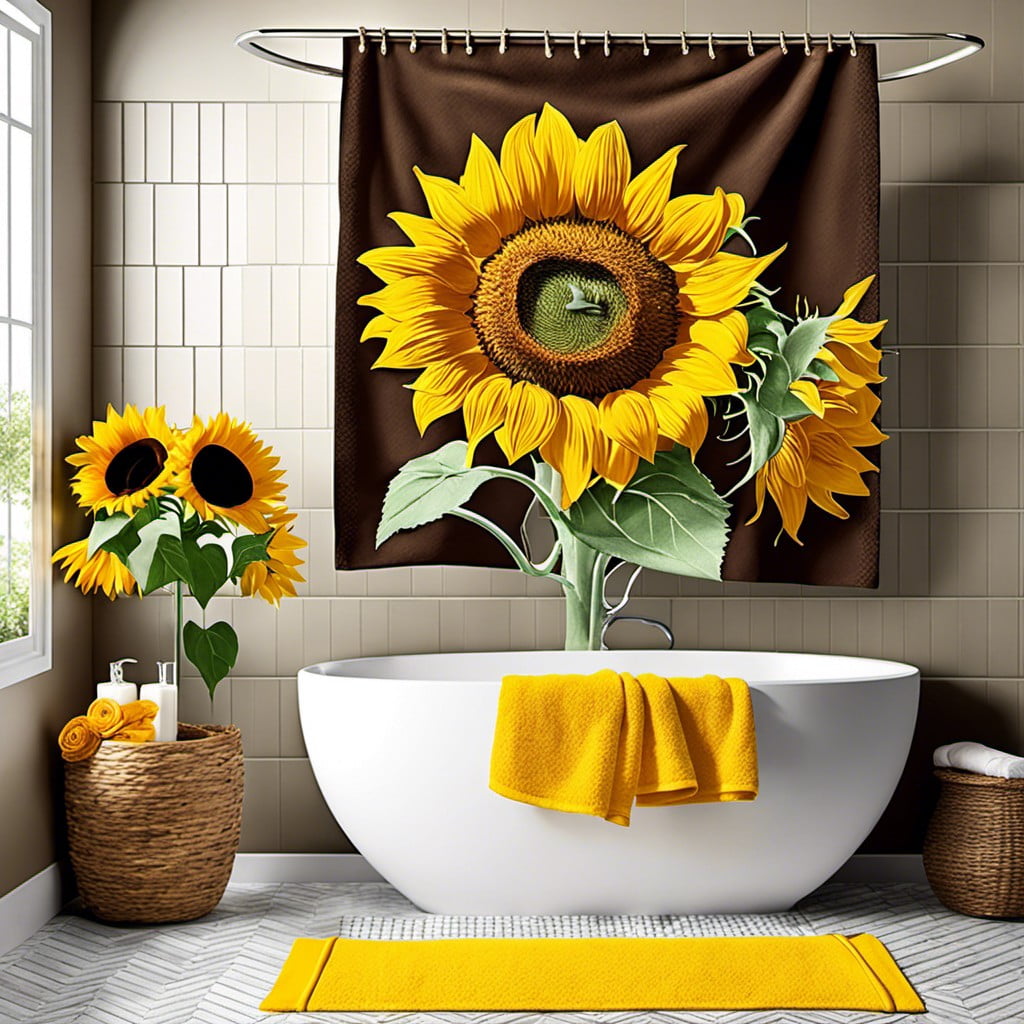 Imagine stepping out of the shower and wrapping yourself in the soft embrace of a vibrant, sunflower-themed towel, the perfect choice for infusing your bathroom with a splash of nature-inspired beauty. Here's why the idea works:
1. Their joyous design engages the eye and lifts the spirit, making your daily routine a cheerful experience.
2. They act as a statement piece, instantly adding a pop of color and vibrancy to your otherwise plain bathroom setup.
3. As they are available in various sizes and designs, these towels can cater to everyone's aesthetic preferences and functional needs.
4. Their color scheme, featuring warm yellows and deep greens, can complement a variety of bathroom decor styles, whether modern, country, or classic.
5. Quality variants are typically made from absorbent, long-lasting materials like Egyptian cotton or bamboo fiber, pairing functionality with design.
6. Many options are hypoallergenic, making them an excellent choice for those with sensitive skin.
Remember to ensure that any towels you choose align well with your existing decor to create a cohesive aesthetic.
Sunflower Welcome Mats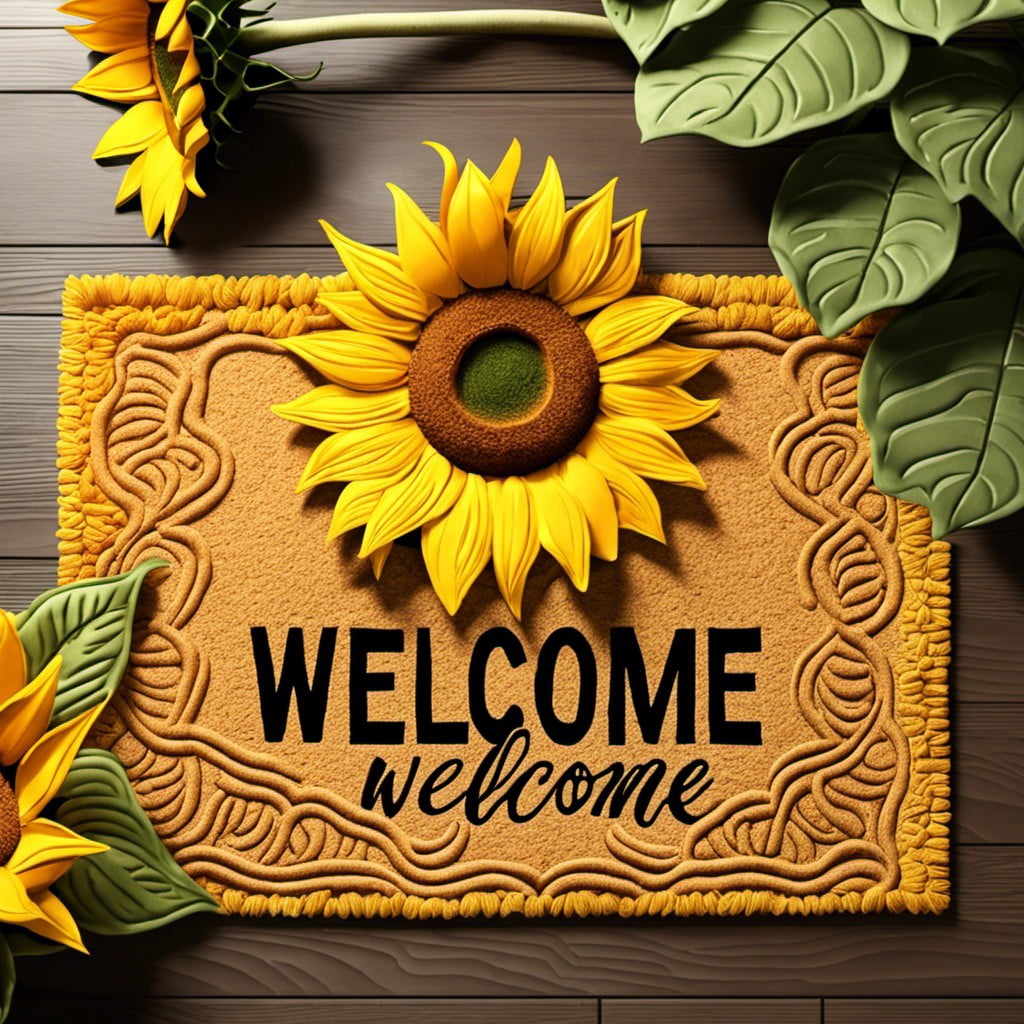 Welcome mats are not just for catching dirt; they can also serve as a cheery preview of your home's decor. Imagine stepping onto a vibrant, sunflower-themed mat before entering a house; it certainly uplifts the mood!
1. Aesthetic Value: These mats lend a burst of yellow and green, instantly brightening up your entrance area. The distinct petals set against a dark center are pleasing to the eye.
2. Versatility: Mats are available in various sizes and designs, from simple graphics to intricate representations. Some even include inspirational quotes encircled by sunflower designs.
3. Season Appropriateness: Particularly apt for spring and summer, they can also bring warmth during the fall or winter.
4. Functionality: Besides being decorative, these mats are utilitarian. They help in scraping off dirt from shoes, keeping your floors clean.
5. Easy Maintenance: Such mats are usually made from durable materials like coir or rubber, making them simple to clean and long-lasting.
6. Affordability: With a broad price range, you can easily find one within your budget, making it a cost-effective yet stylish decor option.
Sunflower Patterned Carpets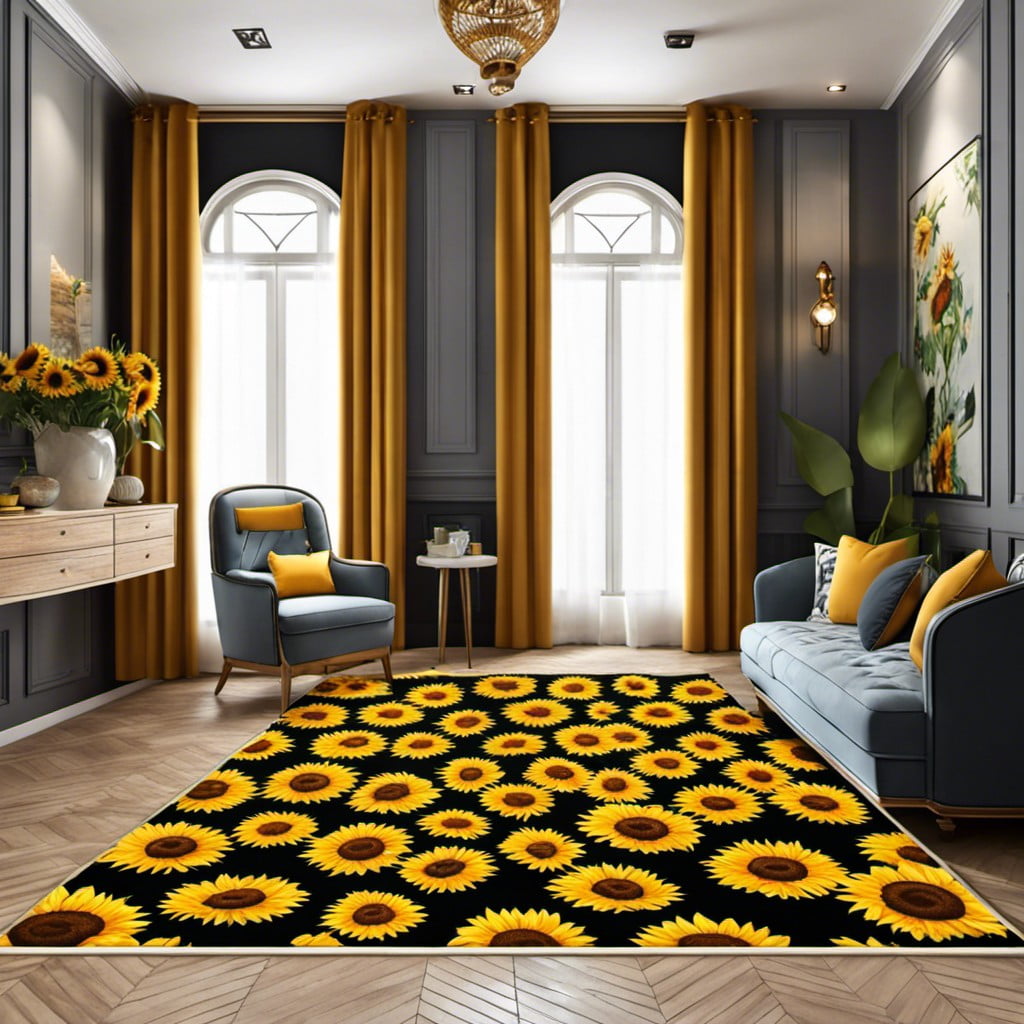 Adding a picturesque touch to any living space, these radiant floor furnishings bring nature indoors. They lend comfort underfoot while offering vibrant aesthetics. Opt for large blooms in high-traffic areas as they give a bold statement and can hide dirt or stains effectively. On the other hand, small, dense patterns are ideal for more intimate or quieter rooms, creating a warm, inviting ambiance.
Choose colors that either complement or contrast your current décor. For a harmonious look, stick with hues in the same family as your furniture. Alternatively, opt for a contrasting shade to create an exciting pop of color. Regardless of your choice, ensure the color doesn't overpower the rest of your interior, maintaining balance is important.
Consider other elements such as pile height and carpet materials too. A high pile carpet with sunflower patterns can add visual interest and a cosier feel, while a low pile version is easier to keep clean and may suit busier areas of your home. As for materials, wool is durable and naturally stain-resistant, perfect for rooms that see a lot of activity, while nylon, polypropylene, or polyester could be more affordable alternatives.
Lastly, pay attention to carpet size. A larger carpet can make a room appear more expansive, while a smaller one can help define a space within a larger room. Either way, these sunflower patterned carpets are a fresh and stylish way to bring nature's cheer into any room.
Sunflower Themed Napkins and Table Cloths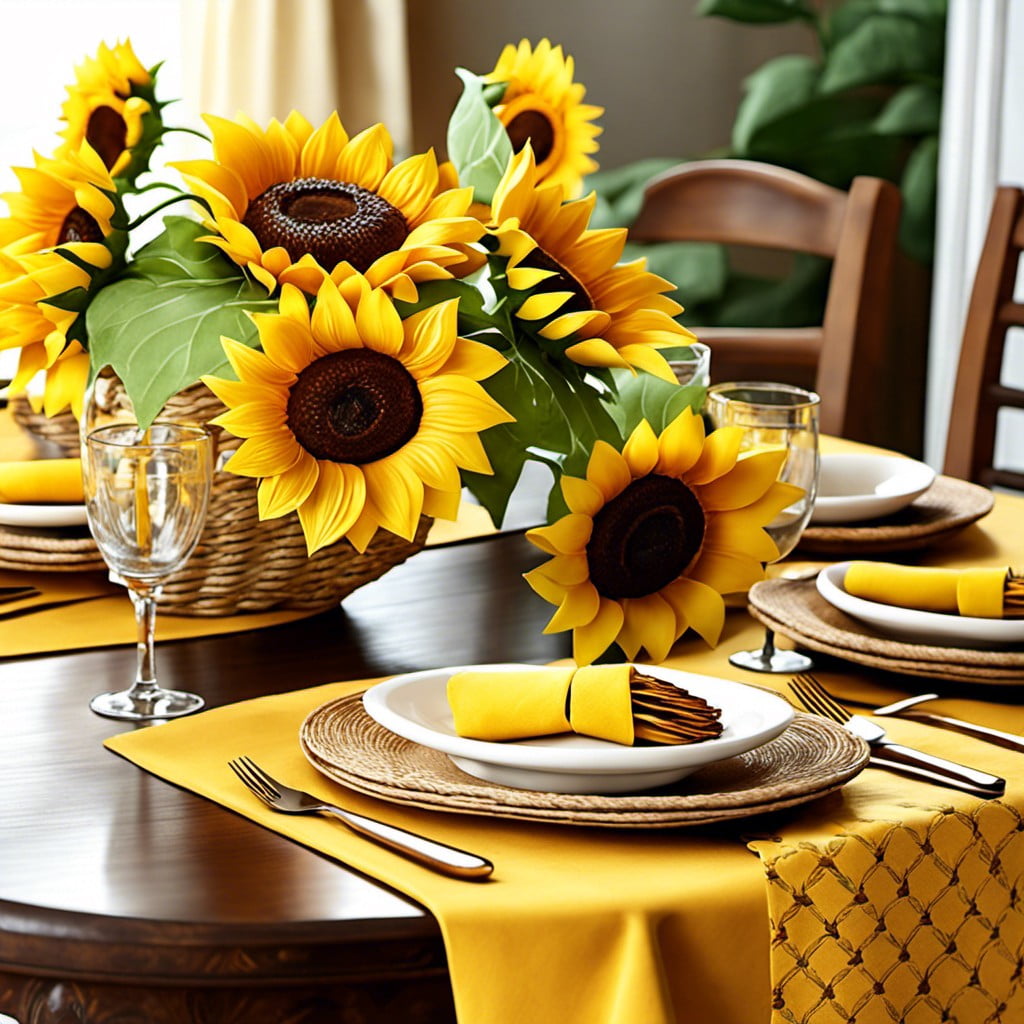 To bring a burst of vibrancy to your table setting, consider selecting napkins and table cloths enhanced with sunflower designs. These accents infuse an undeniably fresh and welcoming vibe that's ideally suited for a summer brunch or indeed, any laid-back meal with friends and family.
1. Variety: These elements come in a myriad of styles. From subtle prints to bold, dimensional designs, there's a choice for every aesthetic.
2. Versatility: As an addition to your regular dining décor or a distinctive touch for special occasions, they perform seamlessly, injecting depth and color to your setup.
3. DIY Option: For a personalized touch, one could create homemade patterns using fabric paint on solid-color textiles. This also opens avenues for customizing sizes depending on the table dimensions.
4. Mix and Match: Amplify the impact by coordinating these sunflower-themed accessories with solid colored dinnerware. Golden yellows, earthy browns, and crisp whites make perfect companions.
5. Maintenance: Generally, items made from fabric are machine washable, a practical aspect for effortless upkeep.
Remember to check care instructions to ensure longevity. With these points in mind, elevate your tablescape with the sunny charm of sunflower napkins and table cloths.
Sunflower Arrangement for Fireplace Mantel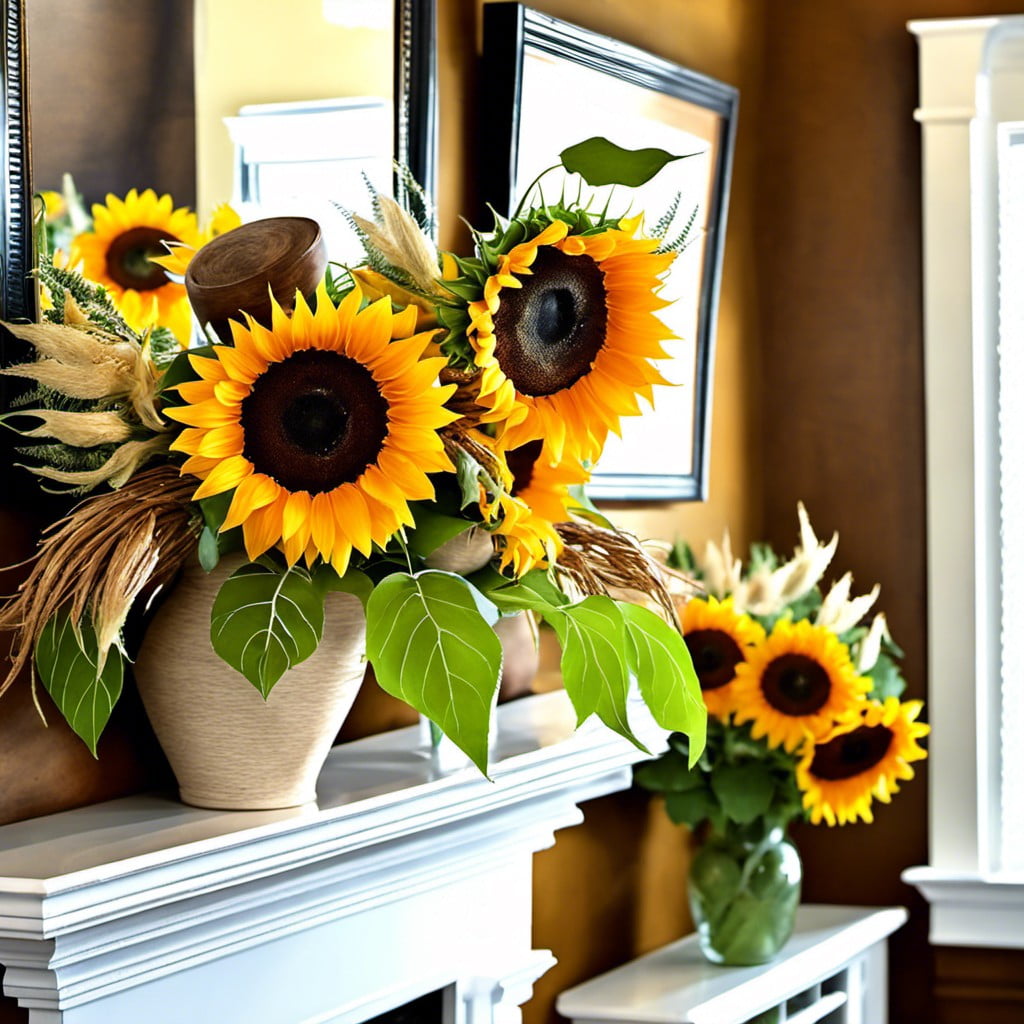 A fireplace mantel, with its prominent location, makes a great base for sunflower arrangements. Start with a selection of sunflowers in multiple sizes and colors to add depth. Complement the vivid yellows of the sunflowers with green foliage, ensuring a popping visual contrast. Baby's breath or eucalyptus can work wonders here.
Vary the heights and orientation of the blooms to create a dynamic, organic feel. Nestle some sunflowers deeper into the arrangement, and let others stand tall. Remember to include shorter elements at the front to draw the eye in.
Delicate fairy lights woven through can add another delightful dimension come evening. Keep in mind the fireplace use. In non-active seasons, feel free to drape sunflowers down the front. But in chillier months when the fireplace will be used, ensure the flowers remain safely on the mantel's surface.
Balance is crucial. If you've styled one end with a tall sunflower, mimic this height at the other end to bring harmony to the display. However, don't be afraid to play around and have fun, the sunflower's cheery nature allows for some exciting and eccentric placements.
Decide whether your look is minimalist or more lush before you start to avoid confusion. Fewer, larger items will create a crisp look, while more elements can coordinate a fuller, luxurious feel. But avoid clutter. Every piece should feel intentional, contributing to the overall theme without overwhelming the space or looking too chaotic.
Finally, sunflower arrangements are not set in stone, feel free to continually play around and adjust your display, letting your creativity shine brighter than the sunflowers themselves.
Liked reading this? Here's more:
Recap: