Last updated on November 9, 2023
Revamp your home's aesthetic with mushroom decor because it's an enchanting way to bring a hint of nature's charm right into your living space.
I am delighted to present my original article and designs on "20 Unique Mushroom Decor Ideas for Inspired Home Styling," and I sincerely hope you will find them as inspiring and fun to explore as I did creating them.
Mushroom decor, with its whimsical and nature-inspired charm, is making a big splash in the home decorating scene. Whether you're a fan of the enchanting forest aesthetic or just love the unique shape and texture of these fungi, there are countless ways to incorporate mushroom decor into your home.
From subtle accents like mushroom-shaped knobs for your cabinets, to statement pieces like a mushroom-shaped lamp or a mushroom print wallpaper, this trend can be adapted to suit any style.
In this article, we'll explore a variety of mushroom decor ideas to help you transform your space into a magical, mushroom-themed haven.
Mushroom-shaped Fairy Lights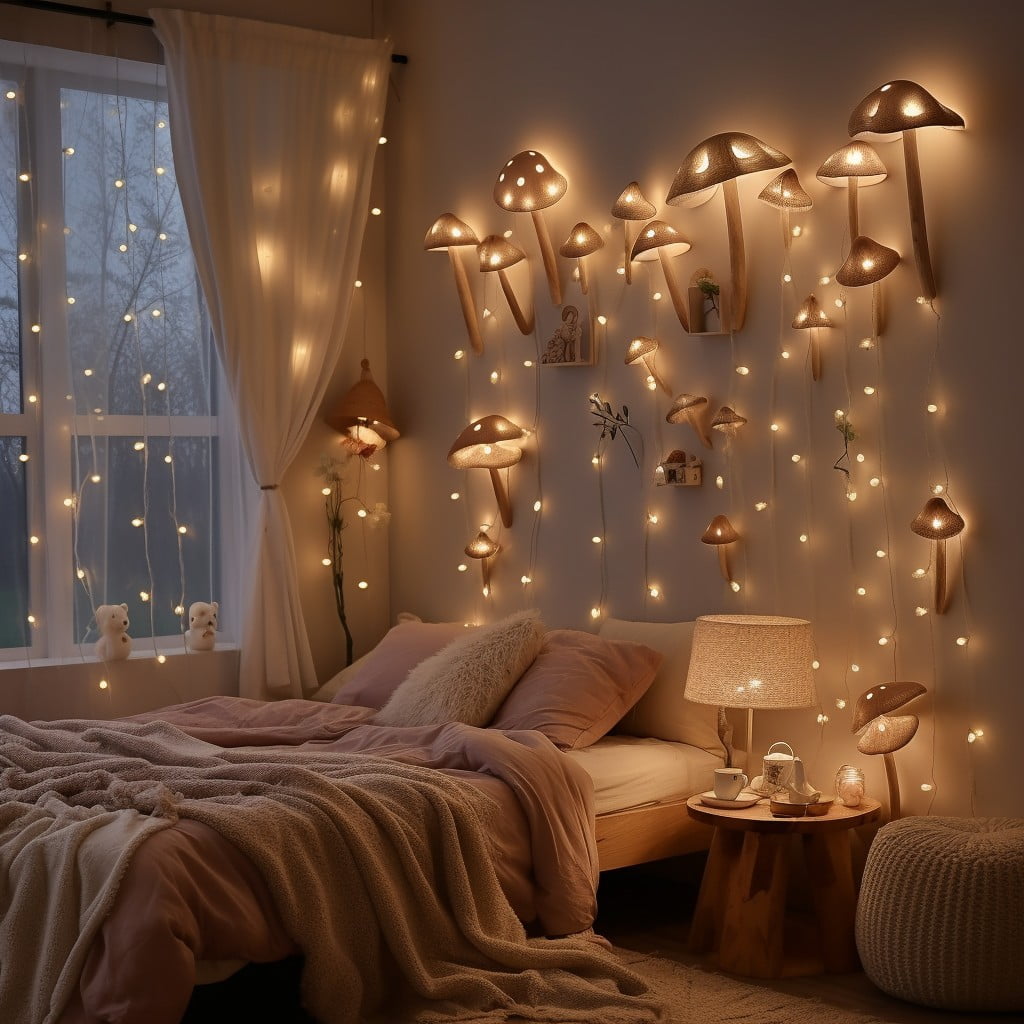 Available primarily in soft yellow and warm white variants, these twinkling beauties can brilliantly illuminate any space while adding elements of charm.
Ideal for a kid's bedroom or a whimsical outdoor soirée, they offer a fascinating blend between a cozy ambiance and fantasy vibes.
The lights typically come with a set of options ranging from dimmable features to flash settings, allowing users the flexibility of controlling the luminous effect according to their mood or event.
Look for string versions or individual LED models that allow arranging in clusters or evenly spreading around the space.
It's worth noting, always check for safety standards and energy efficiency ratings before making a purchase.
Mushroom-shaped Ceramic Planters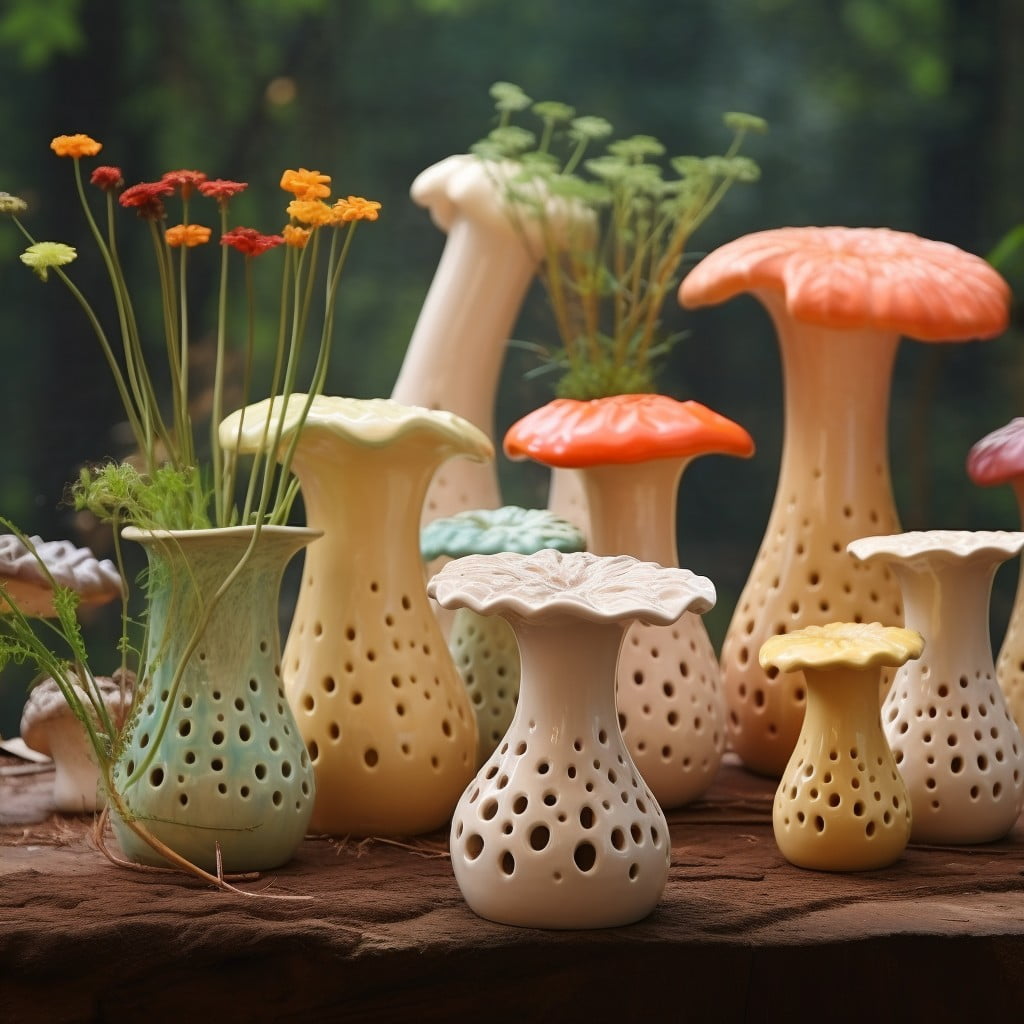 Ideal for any plant lover, these captivating planters bring the charm of the woodland indoors. Crafted meticulously with ceramic, their unique design fits into various interior aesthetics, from contemporary to rustic. They come in a variety of sizes, serving as an abode for your succulents, ferns, or vibrant flowers. Their quirky aesthetic doubles as an enchanting decorative piece.
Moreover, their glazed finish ensures durability while preserving the artistic character. Place them on windowsills, shelves, or desks, and watch them breathe life into any space. Not to forget, they make perfect gifts for gardening enthusiasts or anyone with a flair for whimsical home accessories. Throw in a pack of organic seeds, and you have a delightful gift set, ready to spark joy!
Their use is not exclusive to plants. Smaller sizes can house everyday items such as stationery or makeup brushes, while larger versions may serve as lovely fruit bowls — truly a versatile addition to your home decor repertoire.
To care for them, just remember to gently wash with warm water and mild soap from time to time. Be careful though, do not use abrasive cleaners or scouring pads as they can scratch and damage the surface. Regular dusting can also maintain their pristine look.
Overall, these are unique, practical, and highly adaptable decor pieces that bring a whimsical touch to any area they occupy, without compromising plant health.
Mushroom Wall Decals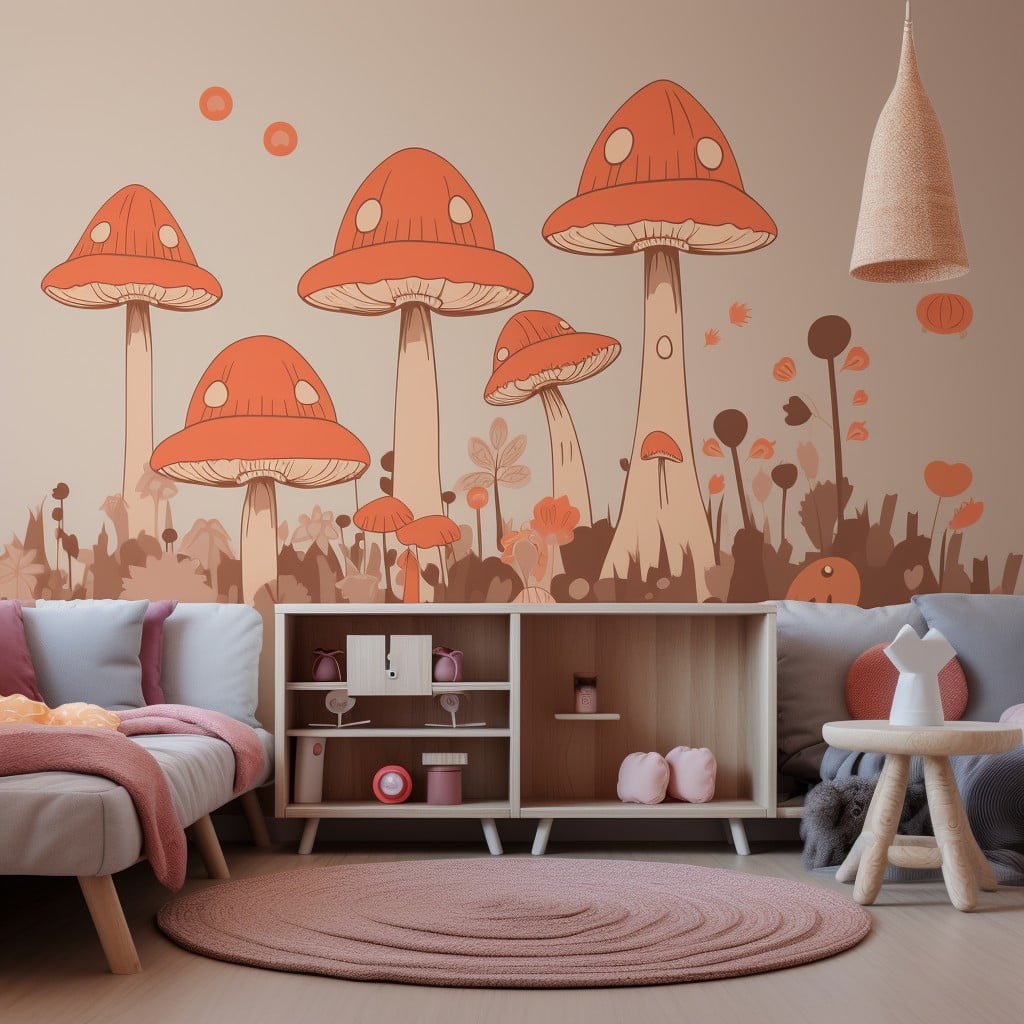 An instant way to add charm to any room, these decals enrich walls with a whimsical touch. They are the easiest to install, simply peel and stick to any smooth surface. Especially popular in children's rooms, they can complete a fairy-tale themed space or serve as an intriguing conversation piece in a much-traveled hallway.
Available in a variety of styles, sizes, and colors, they can cater to any taste. For a minimalist look, opt for monochrome silhouettes. For a more natural aesthetic, choose full-color decals mimicking actual mushrooms. You'll find versions suitable for every season, from bright summer hues to muted autumn tones.
The beauty of these decals also lies in their temporary nature. When it's time for a change, gently peel them off, leaving no marks or damage on your walls. With these attributes, mushroom wall decals provide an effortless and cost-effective method to freshen a room's look.
Regarding upkeep, most decals are wipeable using a damp cloth, alleviating worries of them being a dust magnet. Remember, though, that they should not be placed near heat sources such as radiators or in direct sunlight as this might affect their durability.
Mushroom-inspired Kitchenware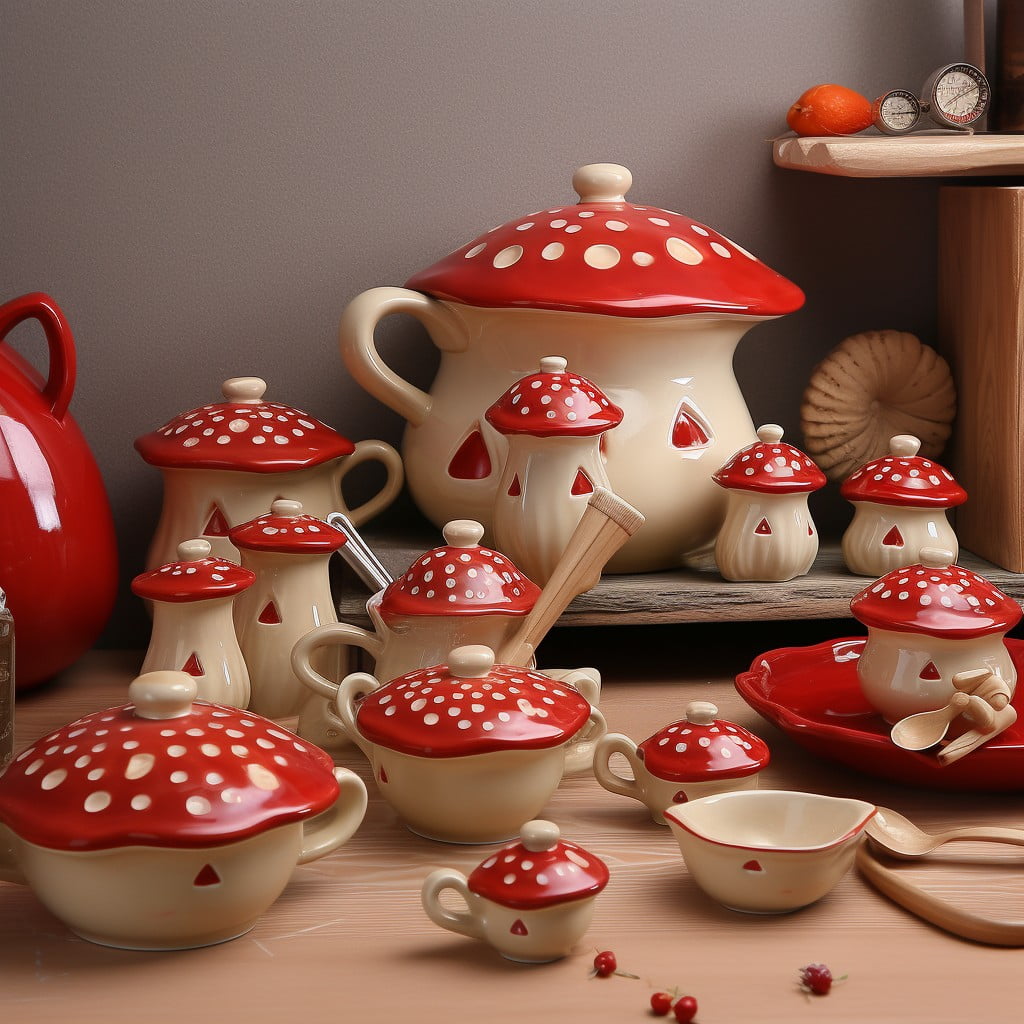 Bring a touch of whimsy to your cooking space with delightful pieces inspired by the organic, earthy beauty of fungi. Consider a ceramic coffee mug set painted with delicate toadstools, perfect for lazy Sunday mornings.
Spice containers featuring mushroom motifs can turn a humdrum rack into a visual feast. Kitchen utensils with mushroom-shaped handles can instantly brighten up your cooking experience.
Don't overlook trivets and pot holders; with mushroom prints, they are multi-fold functionals – providing a convenience for hot dishes and contributing a scenic view. Silicone baking molds in the shape of various mushroom breeds let you infuse your baked goodies with this theme.
Moreover, your kitchen textiles (like aprons and tea towels) too can carry enchanting toadstool prints to complete the look.
Woollen Mushroom-shaped Footstools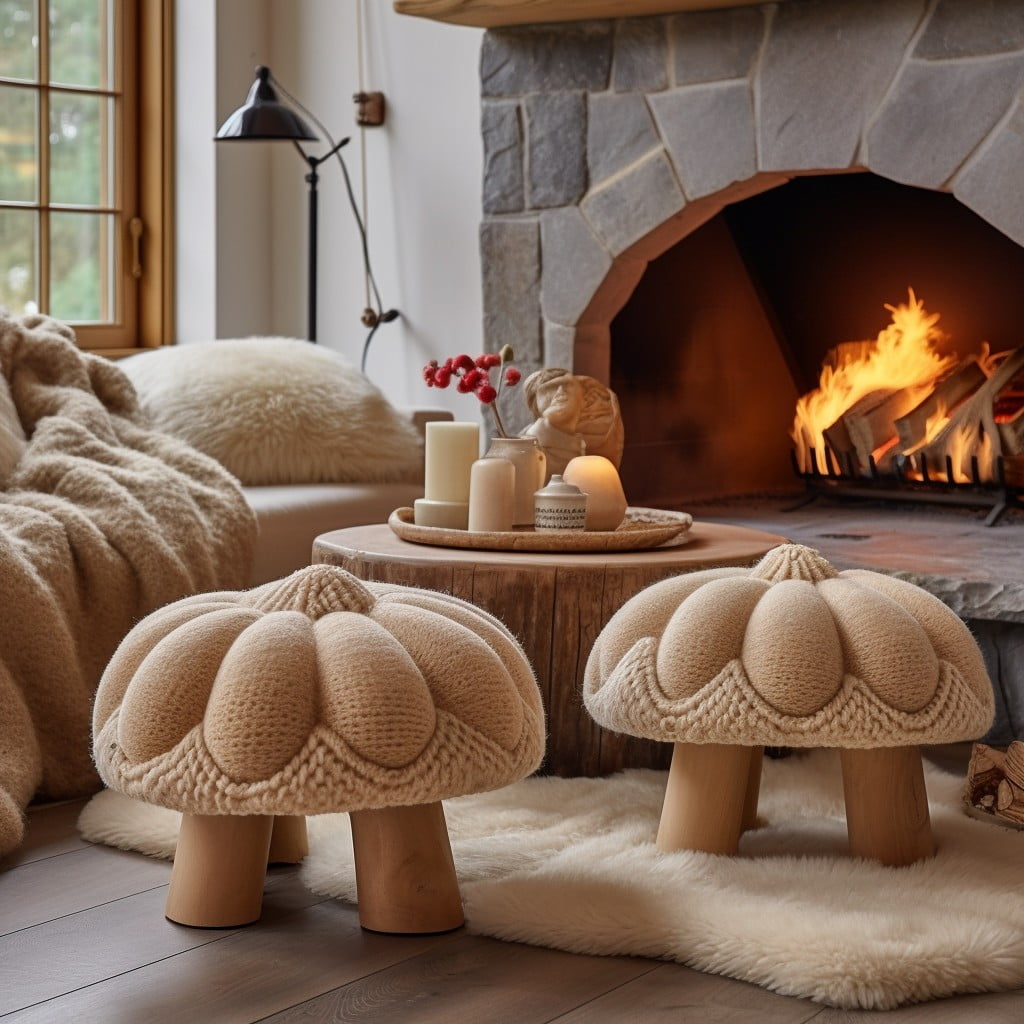 For a cozy and whimsical addition to your living room or bedroom, consider these novel pieces of furniture. The soft, plush wool material gives a warm, inviting appeal and the unique mushroom shape adds a touch of fairytale charm into any space.
1. Functionality and Comfort: Besides their captivating design, these footstools are highly functional, providing a comfortable place to rest your feet after a long day.
2. Variety of Sizes: They come in a variety of sizes, making them perfect for both children and adults. Larger footstools can double as extra seating when guests arrive.
3. Optimal for Space-Saving: Their compact size makes these a great choice for smaller rooms or apartments, adding personality without overpowering the space.
4. Broad Spectrum of Colors: Whether you prefer a classic brown mushroom or something more vibrant, there's a color scheme to match any decor style.
5. Easy Maintenance: Wool is naturally stain and dust mite resistant, making these footstools an easy-care option for busy households.
6. Conversation Starter: Due to their unique nature, these footstools can serve as great conversation starters when you have guests over.
With these points in mind, you'll see that woollen mushroom-shaped footstools are a delightful blend of charm, comfort, and functionality—ideal to complement your home decor.
Mushroom-patterned Curtains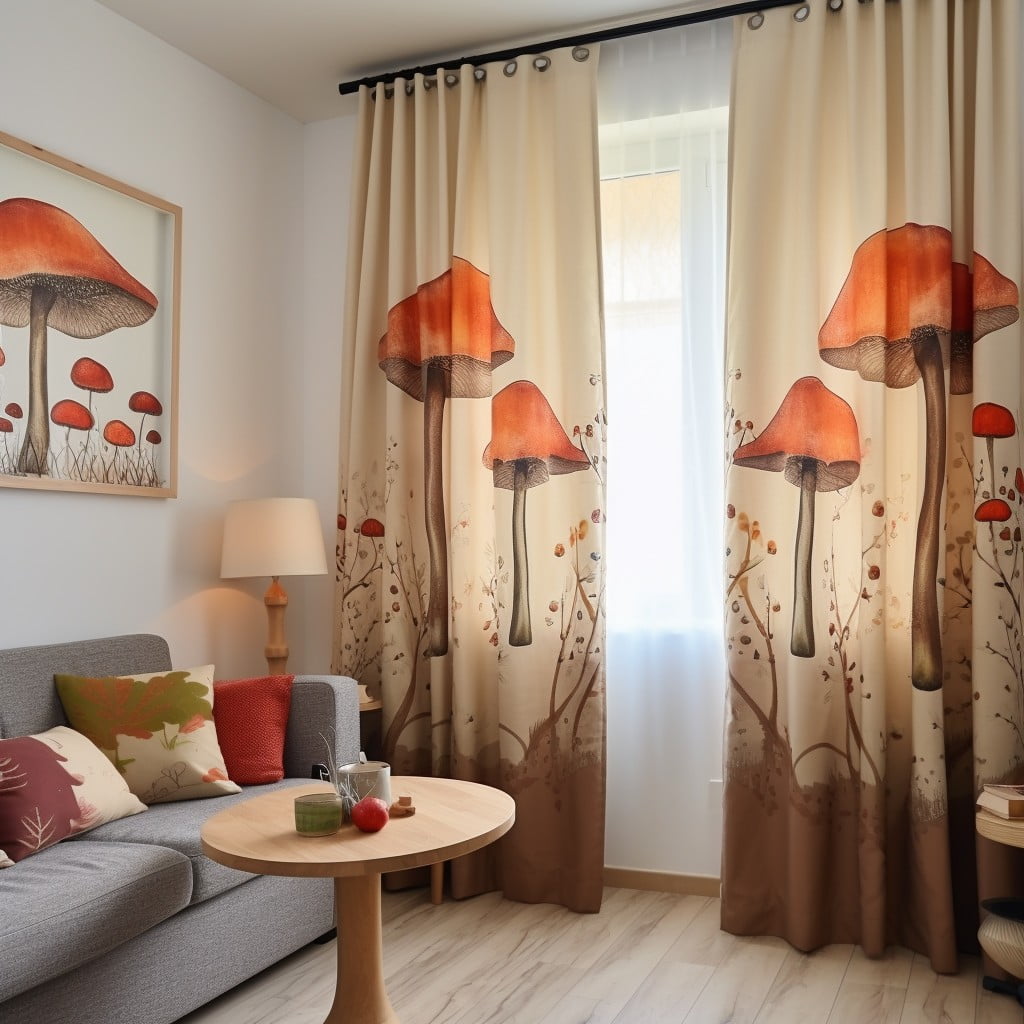 For a soft touch of whimsy in your interior design, consider installing patterned curtains. Their beauty lies in their versatility, fitting into a range of settings from a children's room to the kitchen. Opt for monochrome designs for a subtle touch, or choose vibrant colours to make a bold statement.
When selecting designs, you can vary between adorable toadstool patterns or more abstract motifs.
Choosing the right fabric is crucial too. Light, airy fabrics like linen or cotton can impart a casual, laid-back vibe, while luxe materials like velvet add warmth and sophistication. Always consider the amount of natural light in the room, too. Light fabrics let more sunshine in, while heavier materials provide privacy and light control.
Pair these curtains with complementary pieces in the room like rugs or throw pillows. This continuity helps tie the room together and brings out the mushroom pattern even more. With careful choice and placement, these delightful patterns can add a dash of charm and personify your space.
Resin Mushroom Ornaments for Garden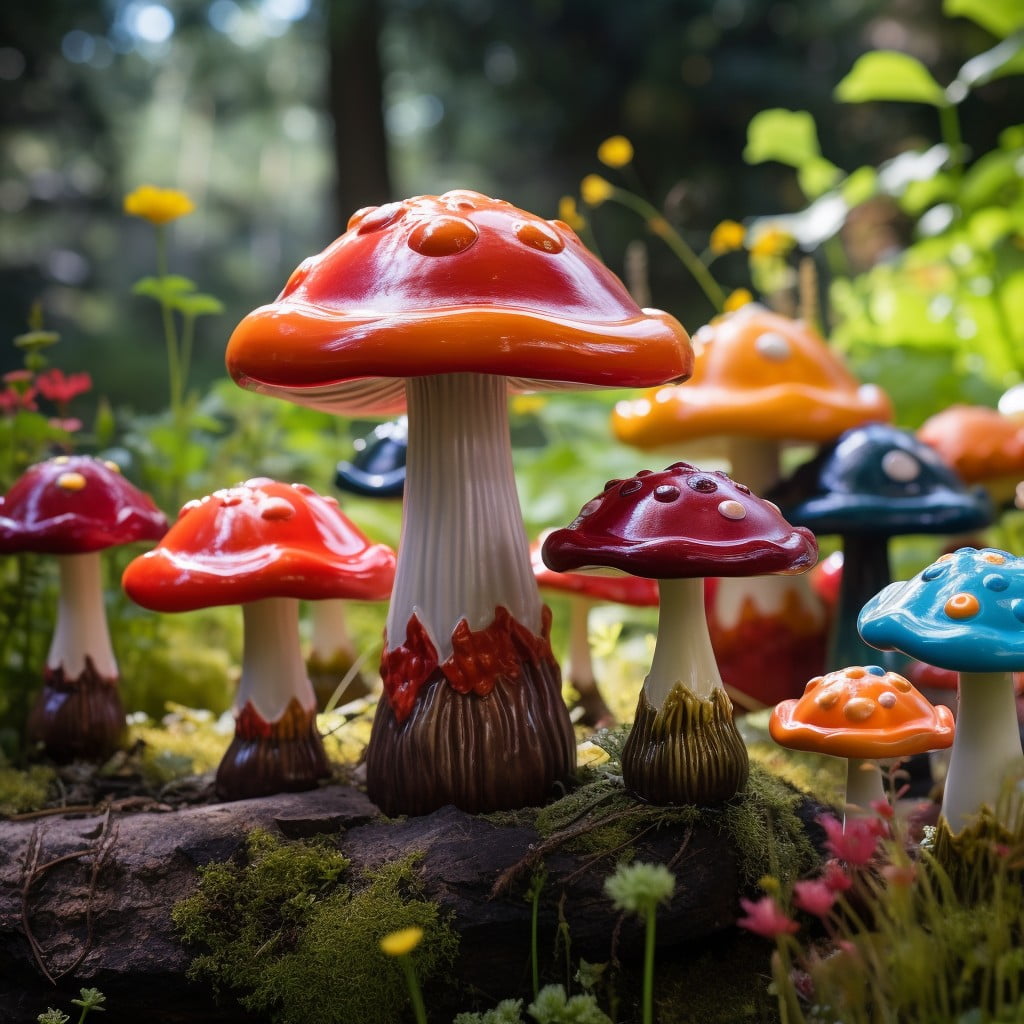 Adorning your garden with resin mushroom ornaments can be an enchanting way to add whimsy to your outdoor space. These durable ornaments are ideal for withstanding varying weather conditions, making them a long-lasting addition to your garden backdrop.
1. Variety of Sizes: Resin mushrooms come in many forms, from miniature figurines perfect for fairy gardens to larger scale models acting as statement features amidst your flora.
2. Vivid Colors: With a vibrant array of colors available, these ornaments can complement or contrast your garden's palette, providing visual interest.
3. Easy Installation: These ornaments are typically equipped with stakes or similar features allowing them to be easily anchored into soil or grass. Thereby, positioning and repositioning becomes hassle-free.
4. Multiple Themes: Resin mushrooms can fit into diverse themes; consider a fantasy-themed garden with fairy figurines, or a woodland setting accompanied by animal statuettes.
5. Garden Highlight: At night, consider pairing these mushrooms with solar-powered lights to imbue your garden with a mystical, twilight glow.
Mushroom-shaped Candles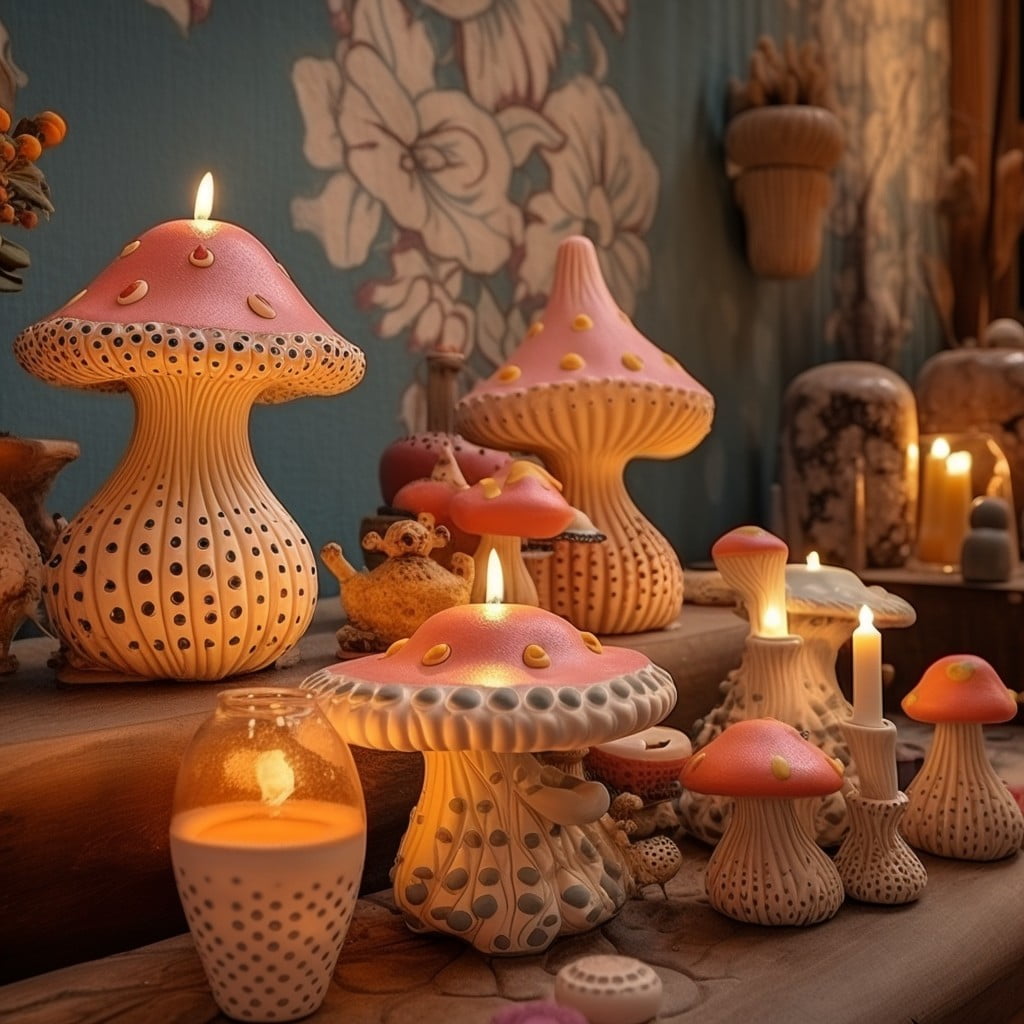 For a warm and whimsical touch, consider adding these unique lighting solutions to your spaces. Their soft, ambient glow creates an inviting atmosphere that's perfect for quiet evenings or intimate gatherings.
Supremely versatile, they can be nestled among books on a shelf, serve as conversation starters on a coffee table, or become a charming centerpiece during dinner parties.
Opt for hand-poured soy candles for an eco-friendly choice. They are available in a variety of sizes, colors, and scents.
Personalize your choices to create the ideal ambiance and to subtly infuse your rooms with your favorite aromas. Coupled with their interesting designs, such candles balance both form and function, instantly upgrading your decor while providing a practical lighting solution.
Mushroom Artwork for Living Room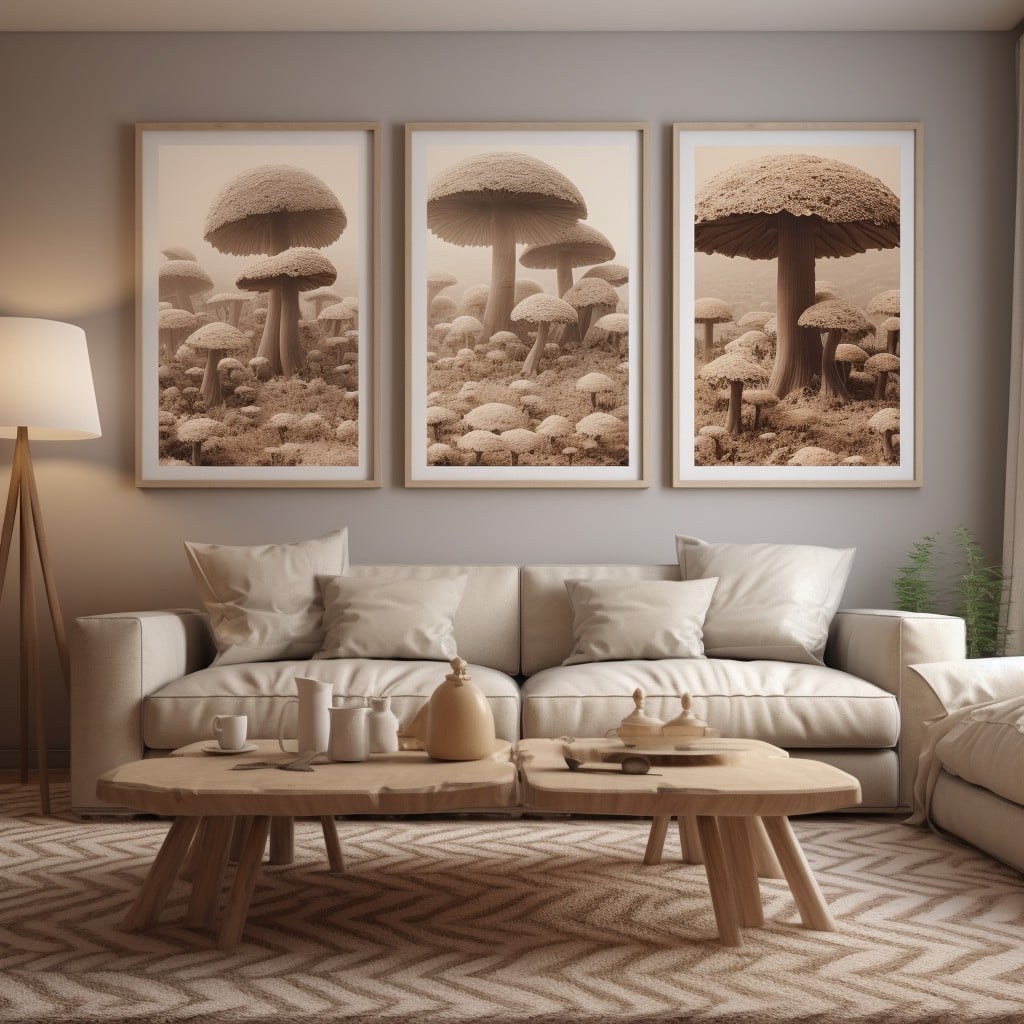 Lending an enchanting touch to your living space, mushroom artwork serves as an interesting focal point. These items, whether abstract or realistic, range from hand-painted canvases to printed illustrations, allowing the perfect fit for various aesthetic choices.
Opt for colourful, whimsical prints that capture the playful side of fungi, suitable for a relaxed ambient decor. Soft watercolor depictions of mushrooms can imbue a sense of serenity, ideal for a tranquil, nature-inspired setting.
Consider scale carefully. Larger pieces or a gallery wall of smaller artworks can dramatize the theme, while a few scatterings won't overwhelm space.
Embrace variety in form — tapestries, metal sculptures, photographic prints and even murals. But remember, cohesion is key. Coordinate colors and styles with existing decor elements for a seamless blend.
Lastly, position your artwork judiciously. Whether you want it to command attention above the fireplace or subtly blend in the corner, assess its impact from various points in the room.
A mushroom-themed artwork, in essence, could transform your living space into a fairytale forest, instilling an otherworldly charm.
Mushroom Shaped Pillows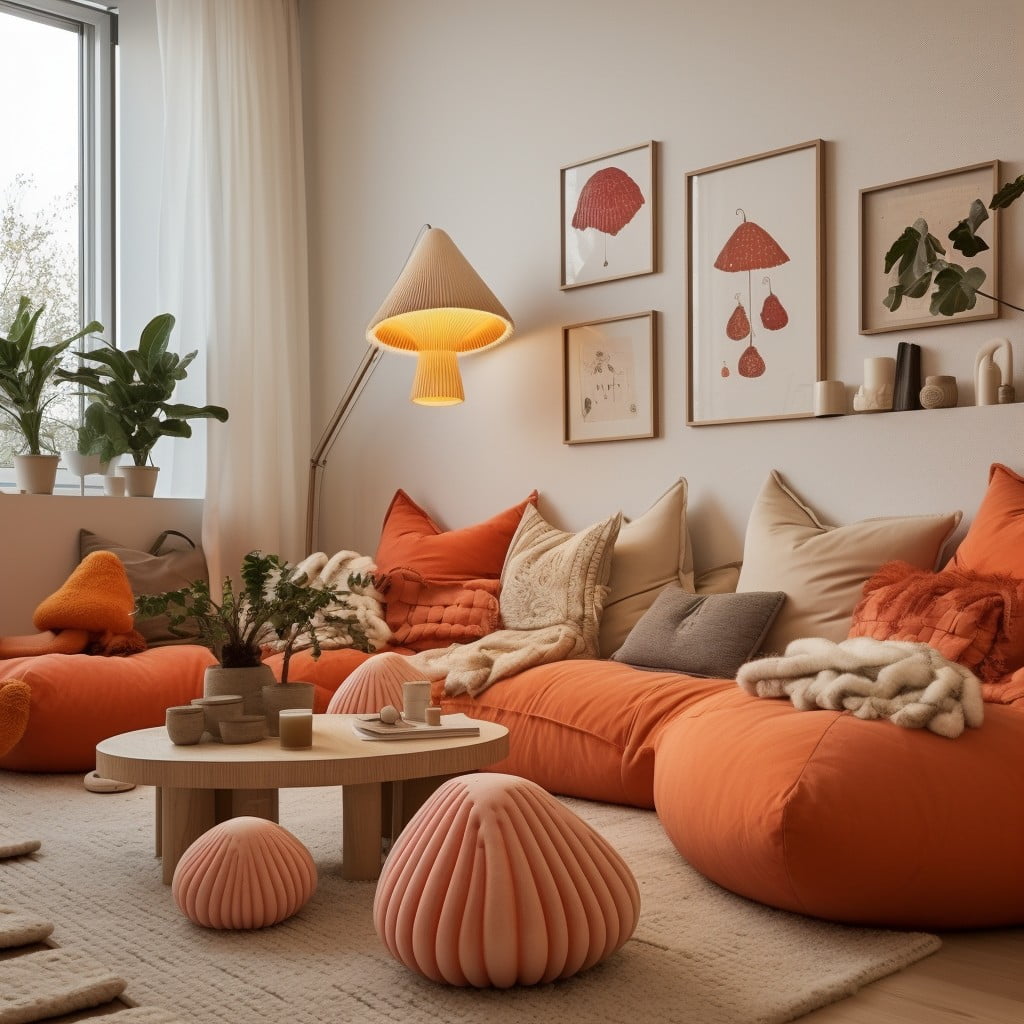 For a unique and playful touch to your sofa or bed, these whimsical accessories are perfect. Opt for varied sizes and colors to create a visual feast.
Choose materials like velvet or faux fur for a plush, cozy feel. For children's rooms, consider more hard-wearing fabrics or washable covers. Some options even come with realistic 3D prints that could double as an educational tool.
Consider pairing these with more subtle, earthy-toned accents to keep balance in your decor. A busy day can be easily softened by resting your head on these fun, comfy pieces.
Mushroom-themed Bedding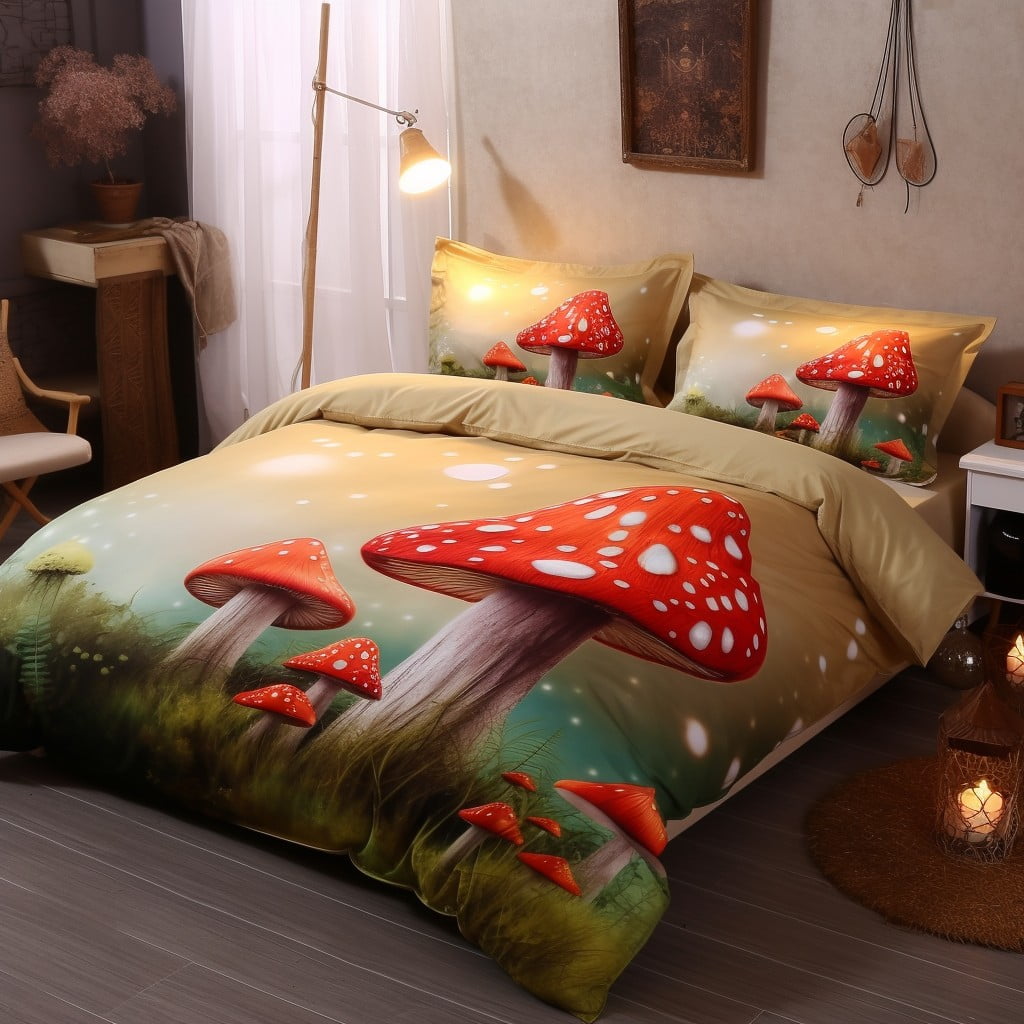 Transforming a bedroom into a cozy woodland glade is possible with themed bedding. Choose from a range of patterns – vibrant to demure. The array includes duvet covers, quilts, pillowcases, and blankets embellished with a distinctive mushroom print.
Consider materials like cotton, linen, or satin for comfort and durability. For a chic look, pair it with contrasting solid-colored furnishings. Enhance the theme with mushroom-shaped plush toys or accent pillows.
Such bedding enlivens the space, adding a whimsical touch to the environment, while ensuring peaceful nights amidst a serene forest-esque ambiance.
Mushroom Terrarium for the Study Table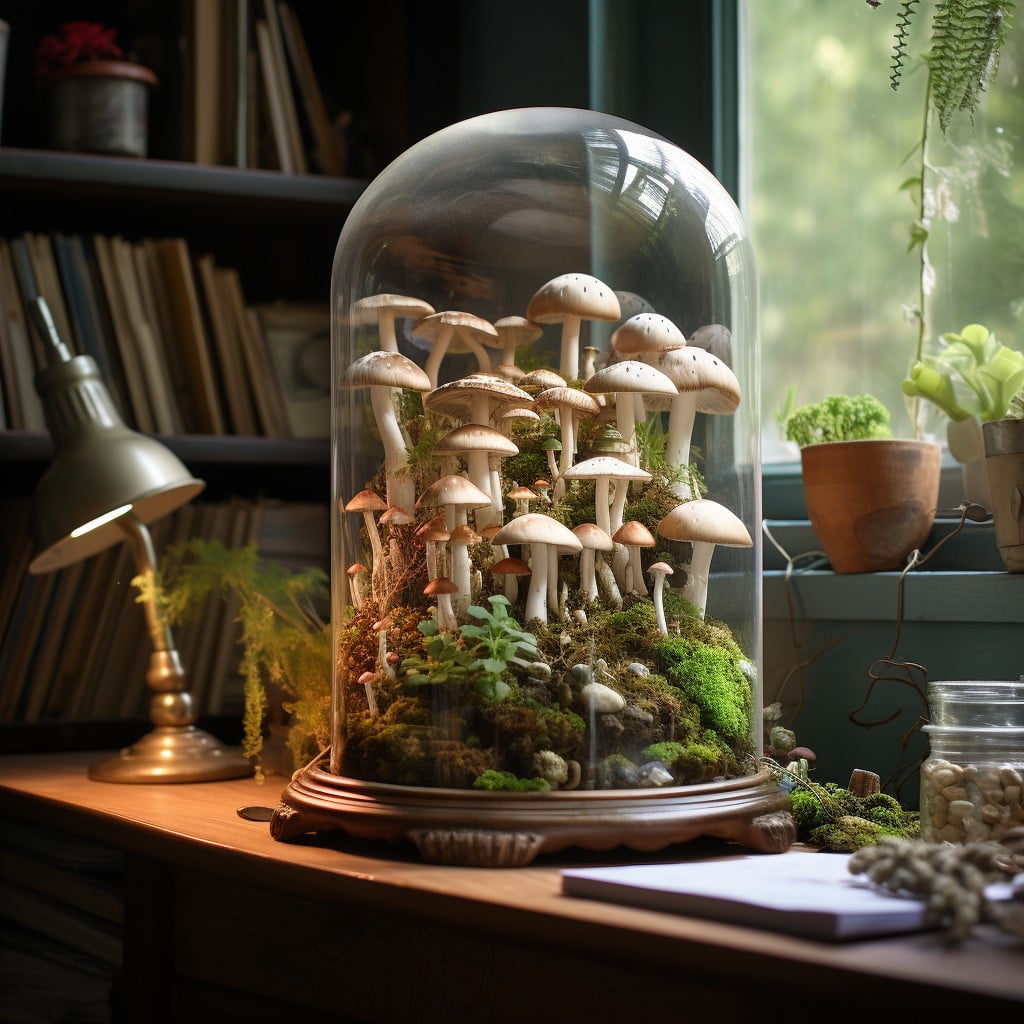 Creating your own petite, woodland scene with a mushroom terrarium is a wonderful way to bring a pinch of nature indoors, especially at your workspace. Choose a clear glass terrarium with removable lid for an optimal microclimate. Begin by layering pebbles at the bottom for drainage, then a layer of activated charcoal to keep things fresh, followed by moss, soil, and decorative stones or crystals.
Add miniature mushroom figures, preferably ceramic or resin, as they withstand moisture better. Select them based on your preferred size, colour, and the level of detail that suits your design sensibility. Respect the scale ratio to keep the scene believable.
For real foliage, select small, terrarium-friendly plants. Consider tiny ferns, moss, or baby tears. For a low-maintenance alternative, air plants or succulents can work well. Regular misting with water helps maintain the right level of humidity, mimicking a woodland environment.
Remember, light is vital. Place the terrarium where it can receive plenty of indirect sunlight. Direct sunlight can cause overheating and harm your miniature ecosystem.
The real joy comes in watching your tiny ecosystem thrive over time, adding a dynamic point of focus to your workspace. Experiment with different setups, rotate seasonal elements, and you'll always have a touch of woodland magic right at your fingertips.
Wall Mounted Mushroom Art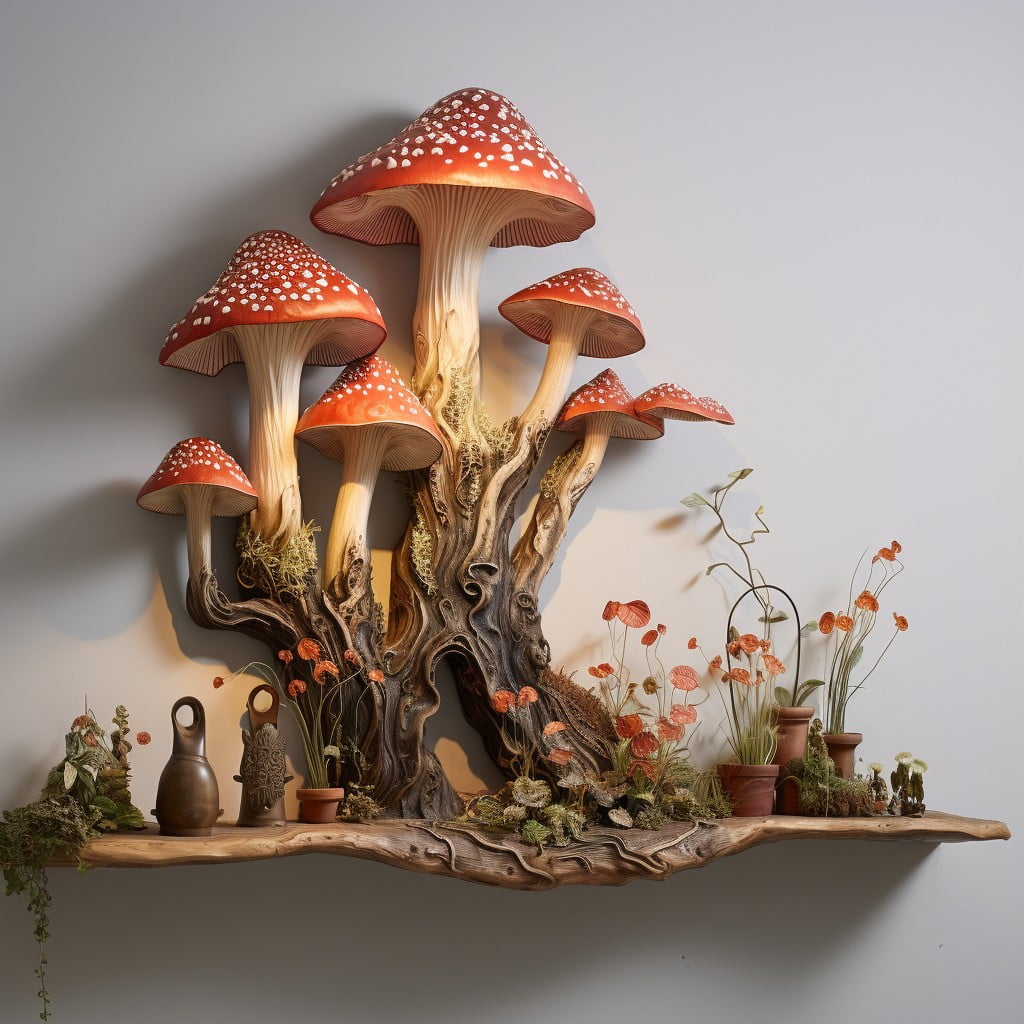 Incorporating these artistic elements into your decor adds an extraordinary touch to your walls. It's an opportunity to showcase your unique aesthetic preferences.
There are numerous creative options to explore. Consider acrylic paintings of various mushroom species, masterfully rendered in rich, earthy tones for a traditional approach.
Canvas prints featuring photographic images of mushrooms can offer a more contemporary feel. Additionally, illustrated, whimsical-themed, or even psychedelic designs cater to a broader range of tastes.
Another popular choice is metal wall art, where the mushroom motif is intricately carved into metal, excellent for those preferring a more rustic or industrial vibe.
Remember to match the style and colors with those present in the room to maintain harmony. Also, measure your wall space before purchasing to ensure the fitting piece finds its place in your home.
Hand-painted Mushroom Dinner Plates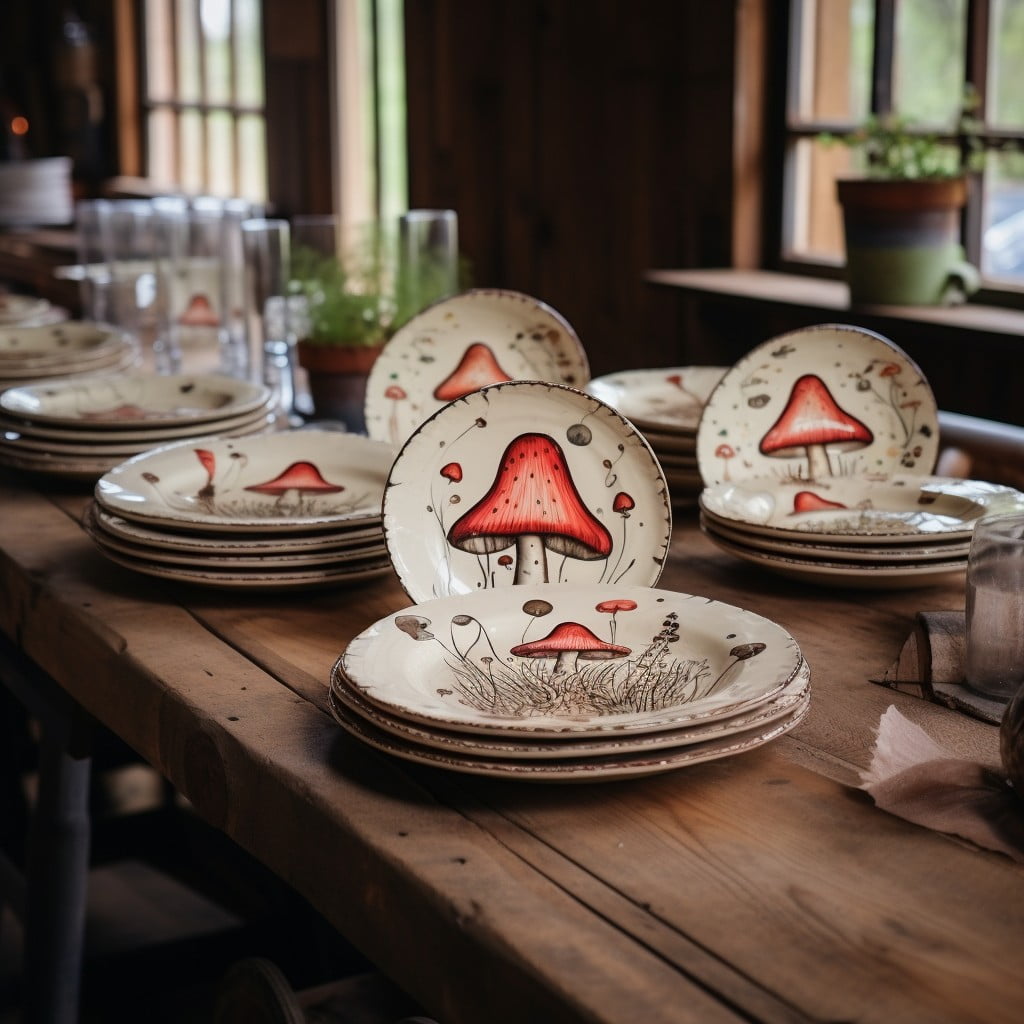 To turn your dining experience into an enchanting woodland feast, consider investing in these whimsical kitchen accessories. Each plate, adorned with intricate, botanic features, brings a slice of the forest to your dinner table. Go for a set with a variety of mushroom designs to pique the interest of your dinner guests.
Both functional and decorative, these plates can boost the aesthetics of your open kitchen shelves or cabinets when not in use. They are also perfect for themed dinner parties and can serve as conversation starters. Choose from a range of materials, from ceramics to glass, depending on your preference. Hand-painted plates, although slightly pricier, bring an artisanal charm which makes your table setting unique and appealing. Dishwasher-safe options ensure that these quirky additions to your kitchen are practical as well.
Last but not least, supporting local artisans who create these gems makes this choice of decor even more meaningful. So, let your dinner plates tell a story – one of whimsy, nature, and a touch of magic.
Mushroom Bath Mat & Towels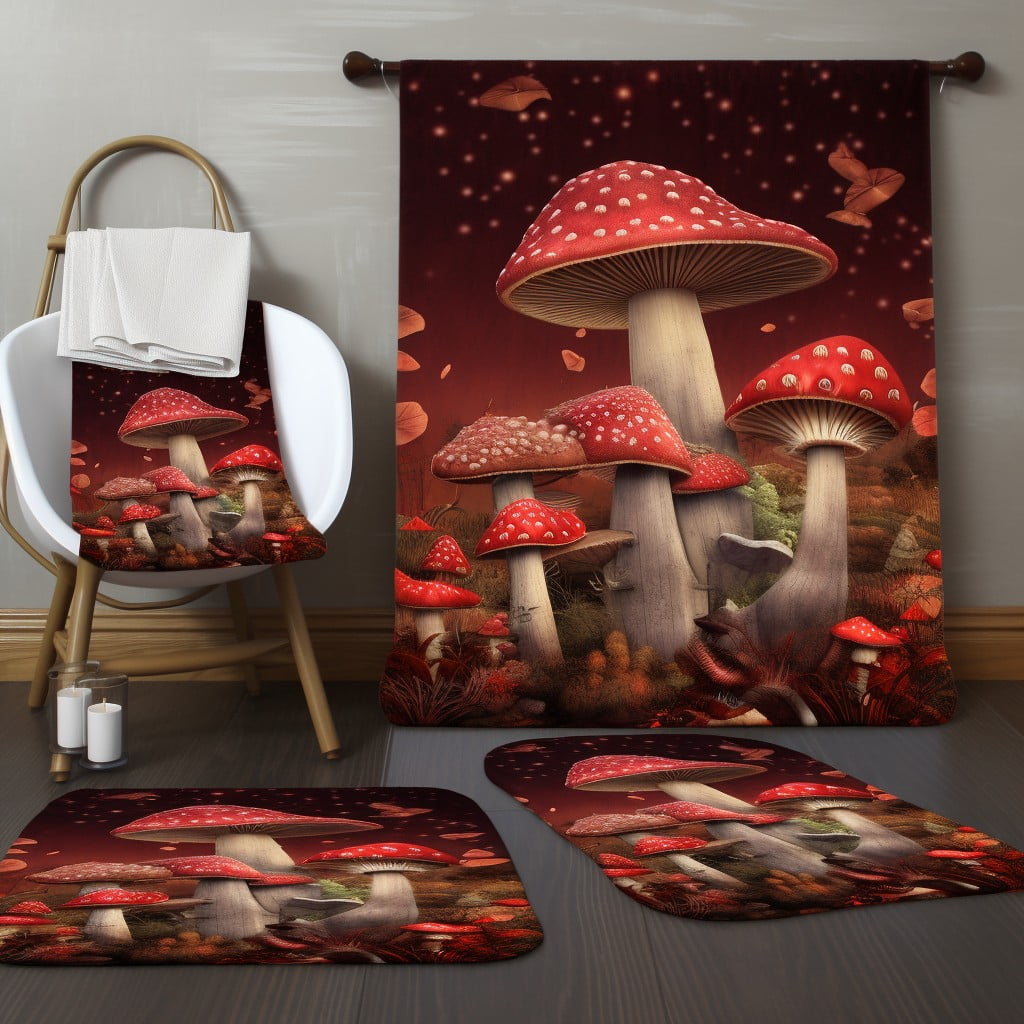 Transitioning into the bathroom, the beauty of a tastefully selected bath mat and towel set can't be overstated.
1. Opt for those with artistically depicted mushrooms that bring a touch of Mother Nature to the room.
2. High-absorbent towels embroidered with mushrooms will add an exquisite touch to your bathroom décor.
3. Choose mats and towels in shades of beige, olive, or maroon to resonate with traditional mushroom colors, still maintaining the aesthetic appeal.
4. Think of playful designs for a kids' bathroom switch—opt for mushroom patterns with vibrant tones and cartoon-like designs.
5. An organic bath mat crafted with mushroom imagery can evoke a spa-like feel, turning a regular bathroom into a tranquil retreat.
6. For a modern twist, consider geometric mushroom designs. This approach provides a contemporary take on the mushroom theme while preserving its earthy charm.
7. Look for high-quality materials such as plush cotton or bamboo fiber; these luxurious feeling textiles will not only display your favorite theme but also provide a comfortable and soft feeling beneath your feet and against your skin.
8. Sustainable options are also available; mushroom printed mats and towels made of environmentally friendly materials, offering you a chance to decorate responsibly.
Mushroom Themed Children's Room Decor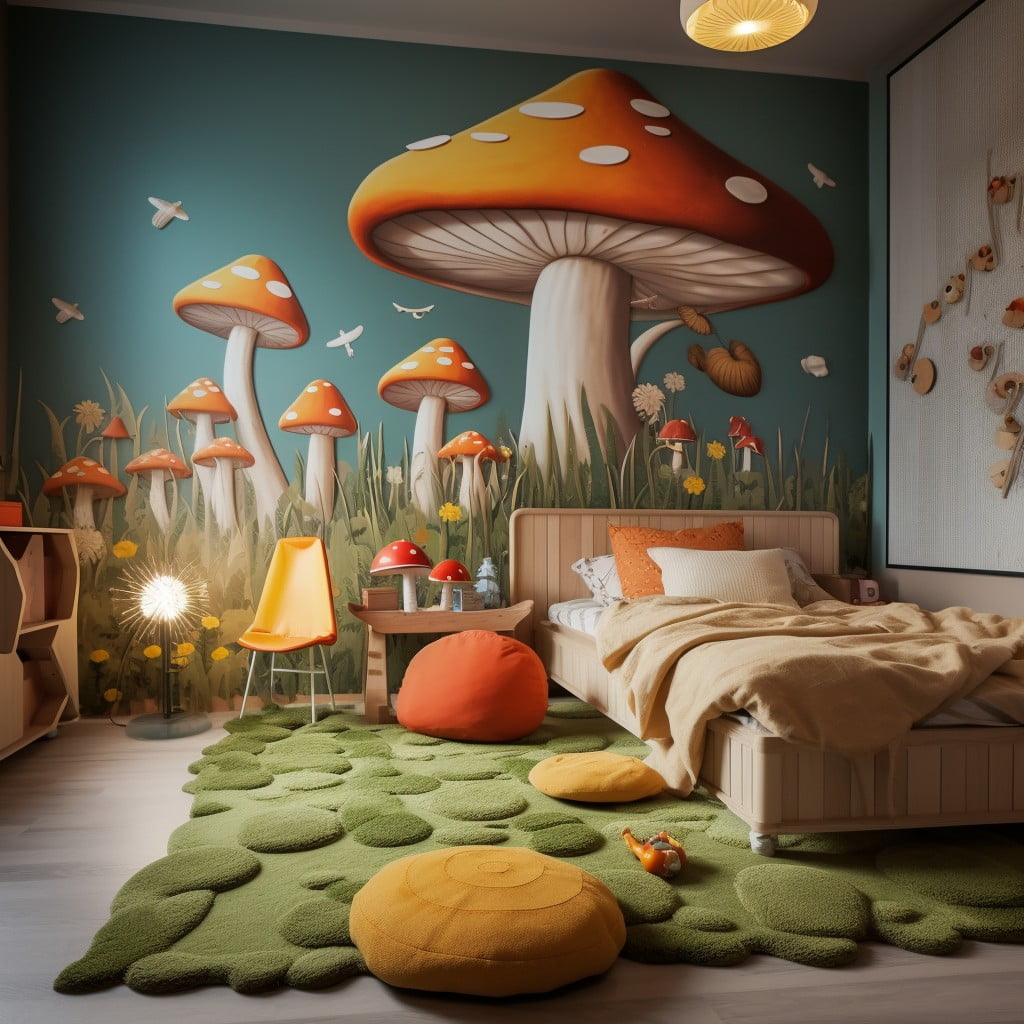 Bringing magic to a child's room isn't as challenging as you may think. Start by incorporating a whimsical ceiling light shaped like a cluster of glowing mushrooms, casting a warm and calming light.
For the walls, consider a playful mural or stickers of mushrooms and woodland creatures, bringing the charm of a forest indoors.
Cozy mushroom-shaped pillows could enhance the bed or smaller seating corners.
Add an educational touch with a mushroom-themed alphabet poster or growth chart on the wall.
And, to hold favorite books or toys, try shelves styled like tree stumps adorned with little mushroom blooms.
Remember, a successful themed room strikes a balance between on-theme decor and function.
Mushroom-shaped Soap Dispenser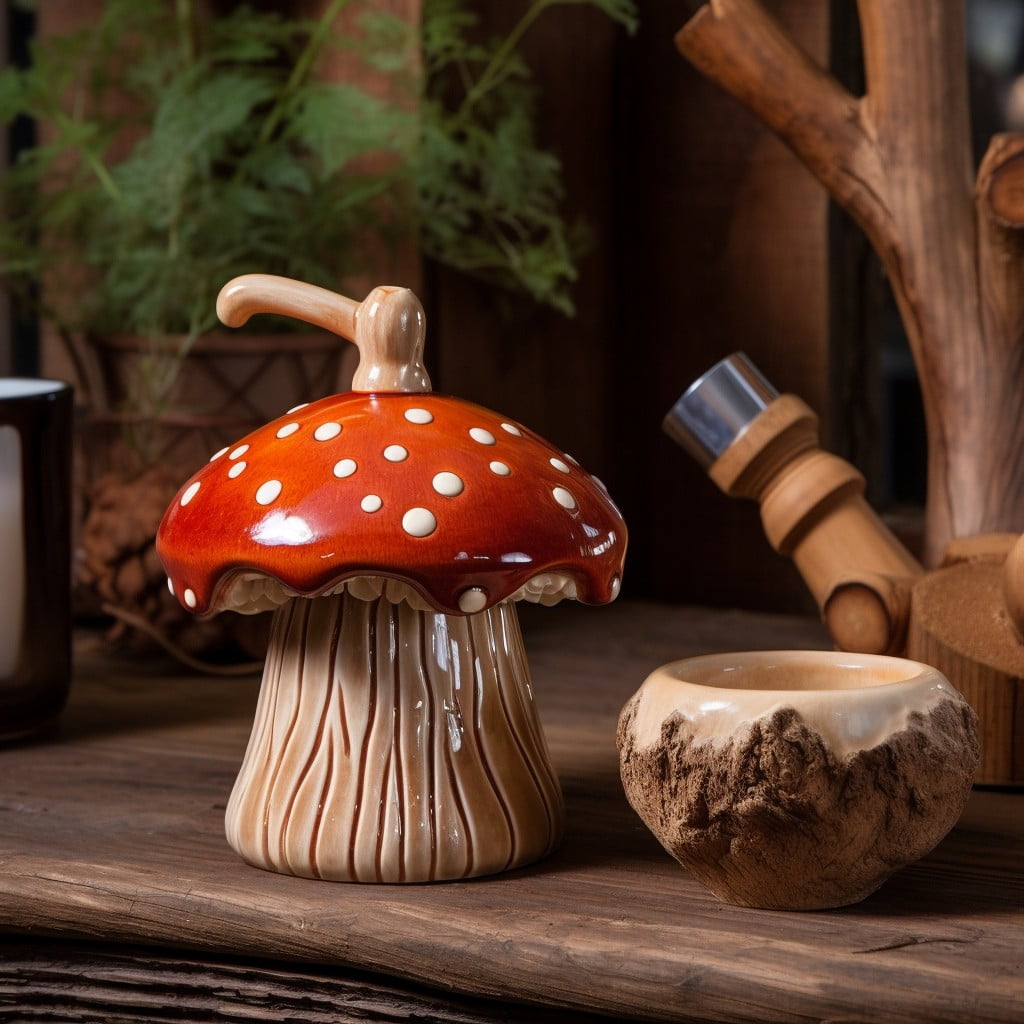 An interesting phenomenon in home styling is the incorporation of fungi in functional objects. Take, for example, soap dispensers. They can add just the right touch of whimsy to your bathroom or kitchen. Their robust silhouettes, defined by a flared cap on a slender stem, can easily be translated into ceramics.
These dispensers usually feature earthy colors like tans, light greens, and golds, which can complement various color schemes. They're generally made from durable materials like glass or ceramic, ensuring longevity. This choice not only makes for a great conversational piece but also serves practical purposes, being easy to refill and clean.
Some points to consider when choosing a mushroom-shaped soap dispenser:
Size: Ensure it fits comfortably in the desired space.
Material: Glass is more durable than plastic and more eco-friendly. Ceramics can add a rustic touch.
Design: Find one that complements your existing decor. A minimalist black-and-white pattern, a playful polka dot motif, or a vintage-inspired floral design.
Function: Check how smoothly the pump works. Nothing is worse than a soap dispenser that splatters everywhere.
Price: This can vary greatly, so set a budget before browsing to avoid over-spending.
Maintenance: Consider how easy it is to clean. Narrow openings can be tough to scrub clean.
DIY Mushroom Hanging Mobile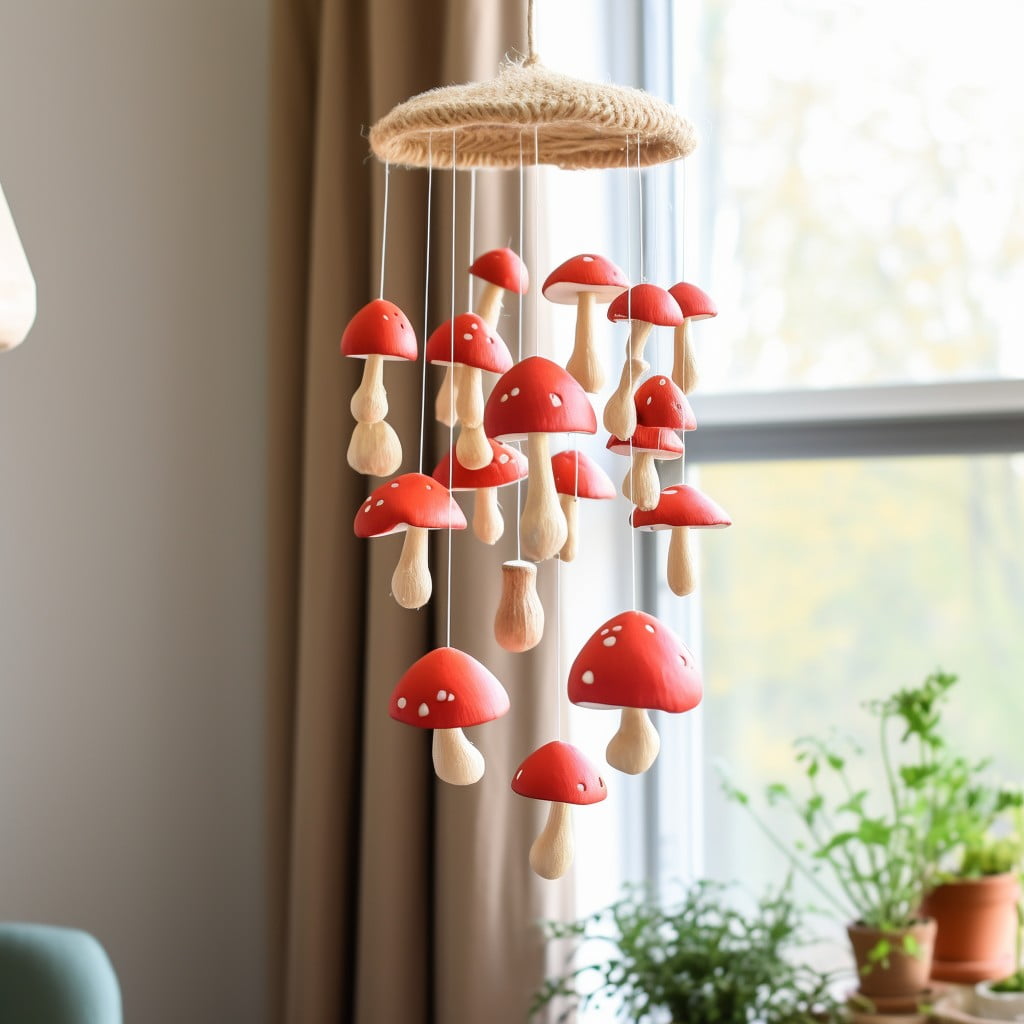 To create this whimsical feature, gather materials like colored cardstock, fishing line, embroidery hoop, hot glue, and scissors.
Start by cutting out different sized mushroom shapes from the cardstock.
Attach each mushroom to lengths of fishing line using hot glue and let dry completely.
Once you've attached your mushrooms, tie the other end of each fishing line to the embroidery hoop, spacing out mushrooms to avoid clashing.
As a tip, try alternating between large and small mushrooms along each length of line for added visual interest.
Remember to pay attention to the balance of the mobile, place it in a position where it can spin freely.
A soft breeze from an open window or air vent will keep your mobile lightly twirling, bringing a touch of magic to your space.
Bonus points if you use glow-in-the-dark paint to make the mushroom caps – it makes for a fantastic nightlight!
Mushroom Fabric Prints for Upholstery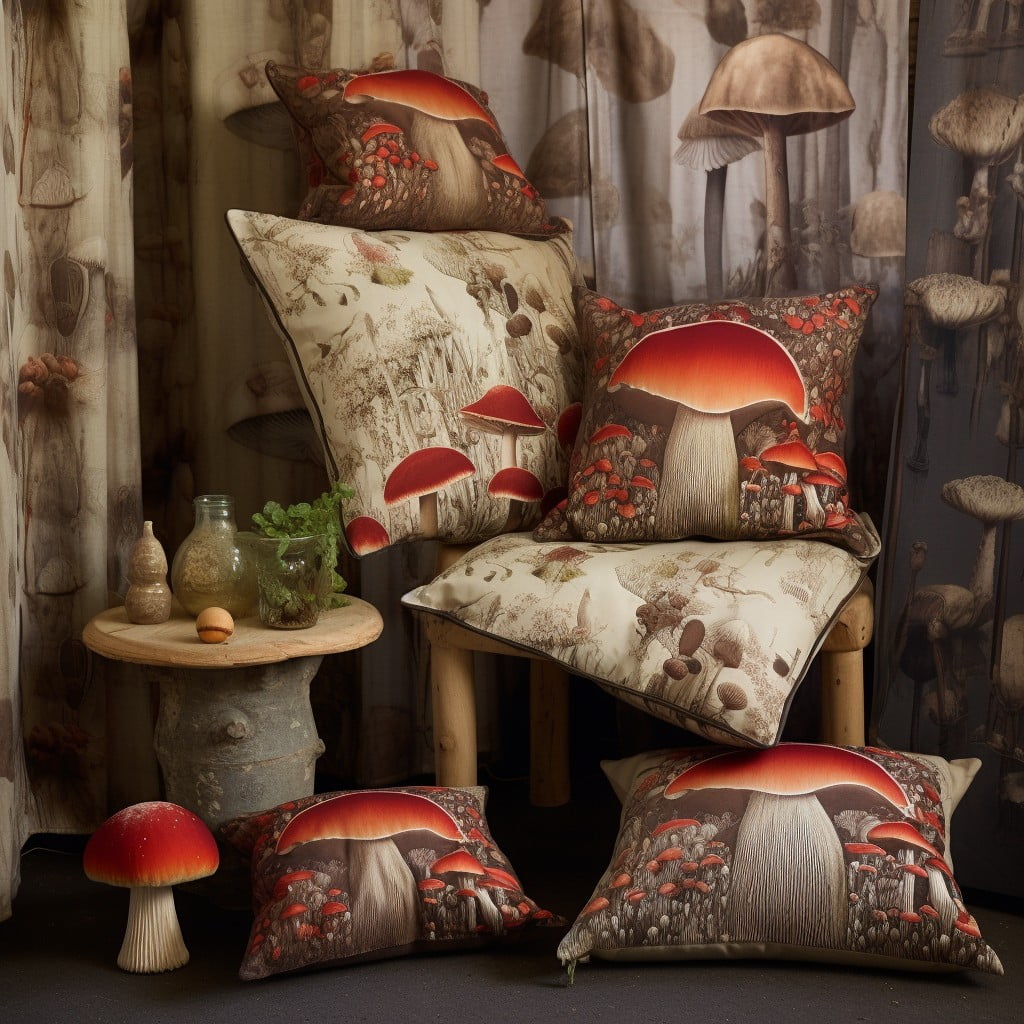 In selecting the ideal print, consider size. Larger, more spacious rooms can benefit from big, bold patterns that make a statement. For compact spaces, a delicate motif may be more suitable.
Check for color coordination with existing decor—earthy tones, reds, and browns are characteristic for these kinds of fabrics, ensuring versatility across diverse color schemes.
Durability is critical for upholstery fabrics. Heavier materials, like cotton, linen, or a blend, are ideal. See if the fabric is stain-resistant, an important factor if it's for furniture in high-traffic areas or in a home with children or pets.
Consider professional upholstery services for a neat fit, ensuring that the mushroom motifs align seamlessly across the furniture piece. This investment will guarantee a premium finish, transforming your space with a charming, naturalistic vibe.
Finally, remember to complement the upholstery with solid-colored throw pillows or blankets to break up the pattern and incorporate visual appeal. Transparent or light wooden side tables will also accentuate the mushroom-themed fabric, amplifying the woodland aesthetic in your abode.
Mushroom Inspired Outdoor Seating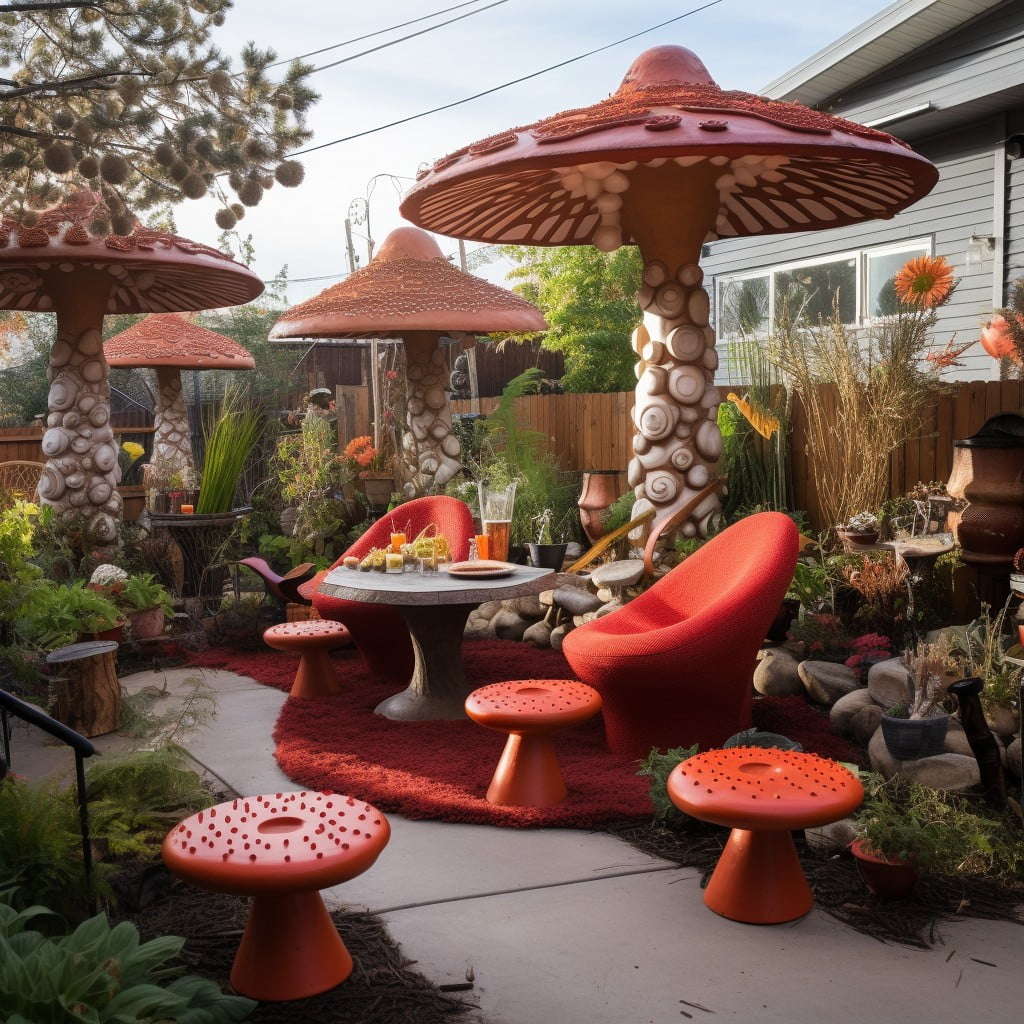 Adding a playful yet intriguing element to your outdoor setup can be easily achieved with a mushroom-inspired seating arrangement. These pieces, often made of durable, weather-resistant materials like stone, metal, or fabricated wood, embody the cap and stem structure of a mushroom, adding a whimsical touch. They are available in a variety of sizes, designs, and colors to appeal to all aesthetics.
An interesting look is further achieved by mixing and matching small and large mushroom stools or benches. In a garden, they blend seamlessly, especially next to a lush green backdrop, mimicking a natural woodland scene for children and adults to enjoy. If you desire more practicality, look for convertible designs that open up as storage units.
Moreover, for DIY enthusiasts, one might consider creating their own using tree stumps and cushions. Just install a circular cushion, made from durable outdoor fabric, atop tree stumps for a comfortable and attractive seating space.
Finally, it's essential to position these seats thoughtfully in your outdoor area. They look best when paired with other earthly elements like plants and rocks. A soft outdoor light fixture can also enhance their appeal during nights. Like most garden furniture, upkeep in terms of cleaning and weather-proofing will extend their lifespan and retain the aesthetic appeal. Remember to choose pieces that reflect your personal style and harmonize with the existing decor.
Liked reading this? Here's more:
Recap: