Last updated on November 7, 2023
In this exploration of bathroom towel rack decorating ideas, freshness and creativity are key because a well-appointed towel rack can transform an utilitarian space into a spa-like sanctuary.
I am truly proud to have authored this article and designed these unique concepts on bathroom towel rack decorations, and I sincerely hope you'll find inspiration and joy in them just as much as I had crafting them.
Transforming a bathroom into a stylish sanctuary doesn't need to be complicated or expensive. One simple yet impactful way to do so is by creatively decorating your towel rack. Whether it's a freestanding rack, a wall-mounted one, or a heated towel rail, there are numerous ways to add a touch of elegance or a splash of color.
From utilizing decorative baskets and unique hangers to incorporating plants and other bathroom accessories, this article provides a variety of innovative ideas to elevate your bathroom towel rack. By the end, you will have a wealth of inspiration to create a towel display that not only serves its practical purpose but also contributes to your bathroom's overall aesthetic.
Let's dive into the world of towel rack decorating ideas.
Nature-themed With Pebbles and Air Plants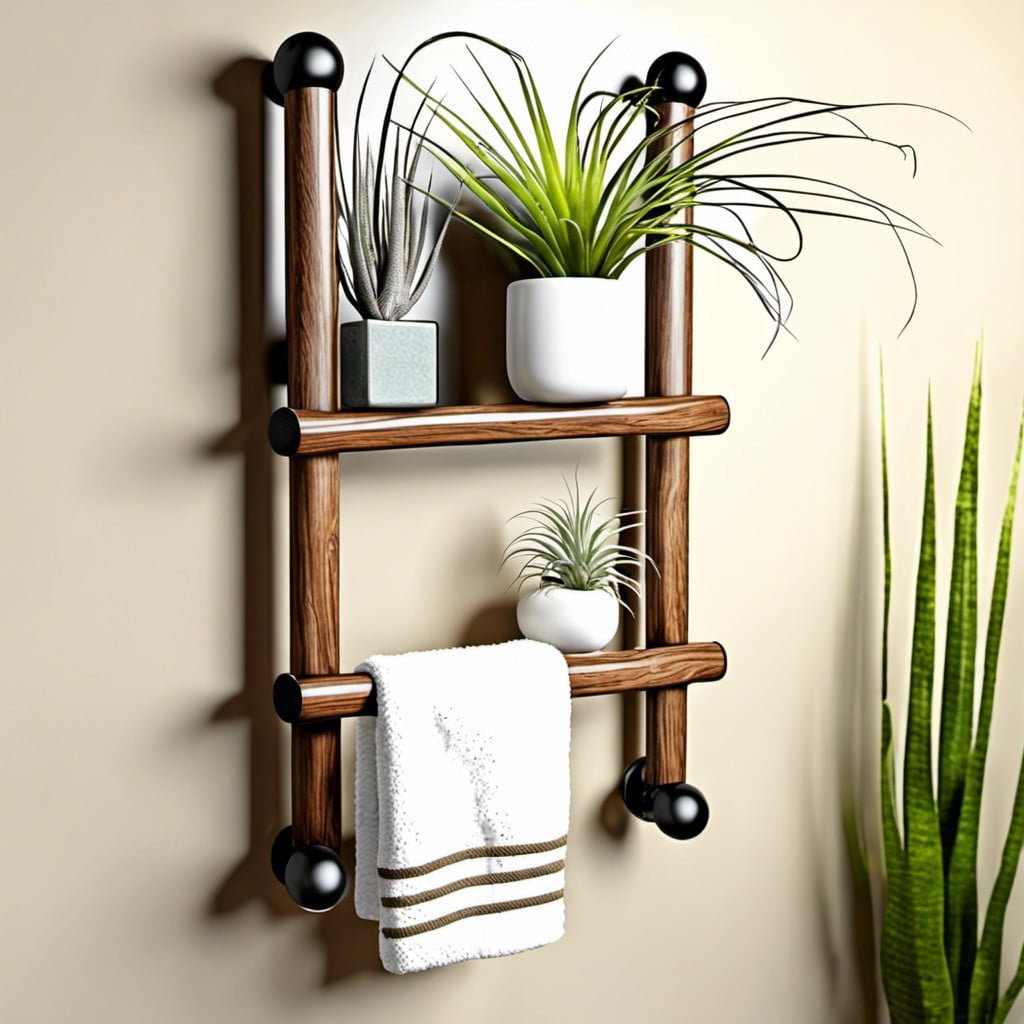 While embarking on this design adventure, opt for a unique, stone-made rack that adds an earthy feel to your bathroom space. Complement this with delicate air plants perched around the rack – a solution that requires minimal maintenance but offers a lush green aesthetic.
Get creative with different species and types of air plants, each having distinct leaf shapes and sizes. For pebbles, aim for a neutral blend of black, white, and grey. Add these pebbles to a glass vase or scatter them on a wooden tray near your towel rack.
The subtlety of the rack combined with the vividness of the greenery will create a serene, nature-based ambiance. It's a design tip that not only brings in a touch of uniqueness but also augments your space with calming visual elements.
Vintage Rustic With Antique Knick-knacks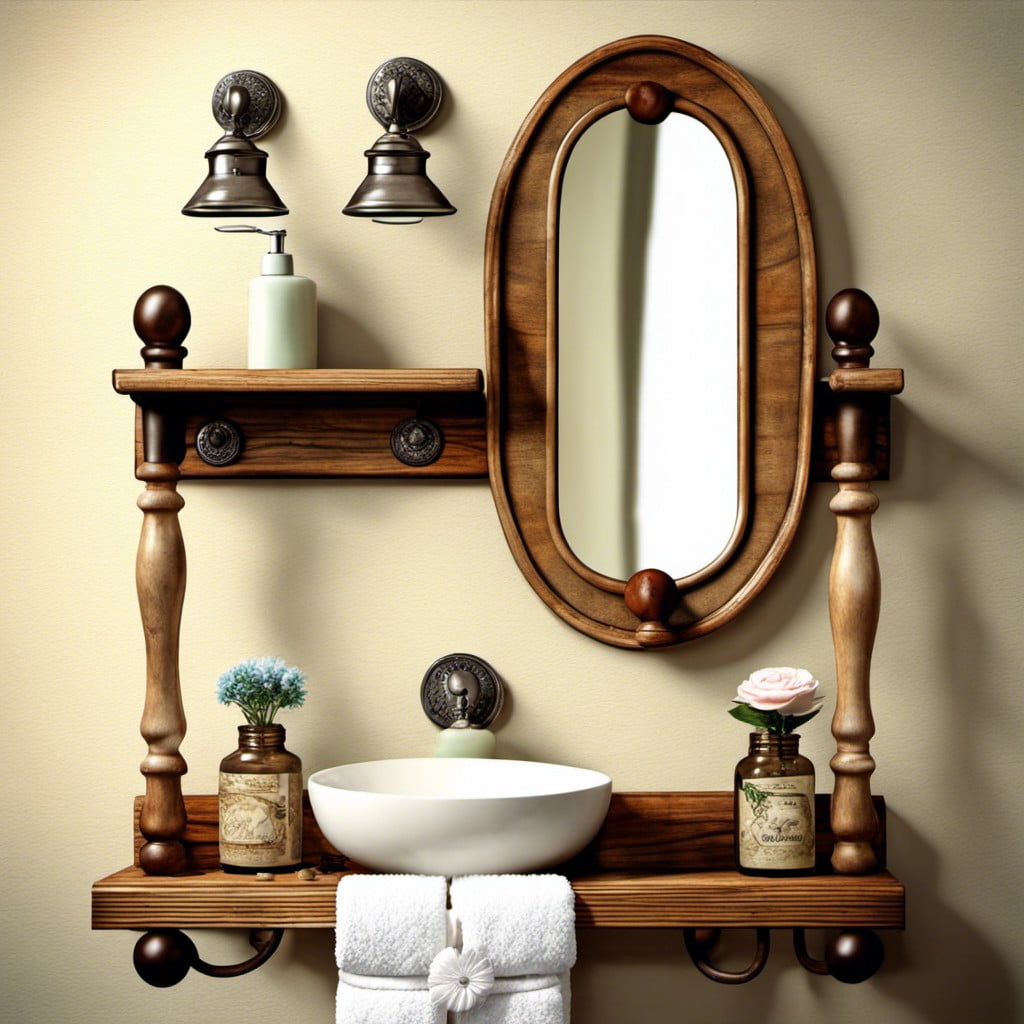 For this style, repurposed items shine, invoking a sense of nostalgia and comfort. An aged wooden ladder could serve as your towel rack, maintaining an uncomplicated, clean look while being functionally sound.
Complement this with some curated antique knick-knacks, such as an old lantern or a rusted birdcage, placed carefully on nearby shelves or countertops. Remember, the charm of the vintage rustic look lies in its imperfect, lived-in appeal, so don't shy away from items with a bit of wear and tear.
Finally, opt for towels in warm, neutral hues such as timeless whites or creamy beige to go with the rugged elegance of your vintage-themed towel rack – a perfect completion to any bathroom seeking a cozy, old-world charm.
Nautical Style With Ropes and Wooden Planks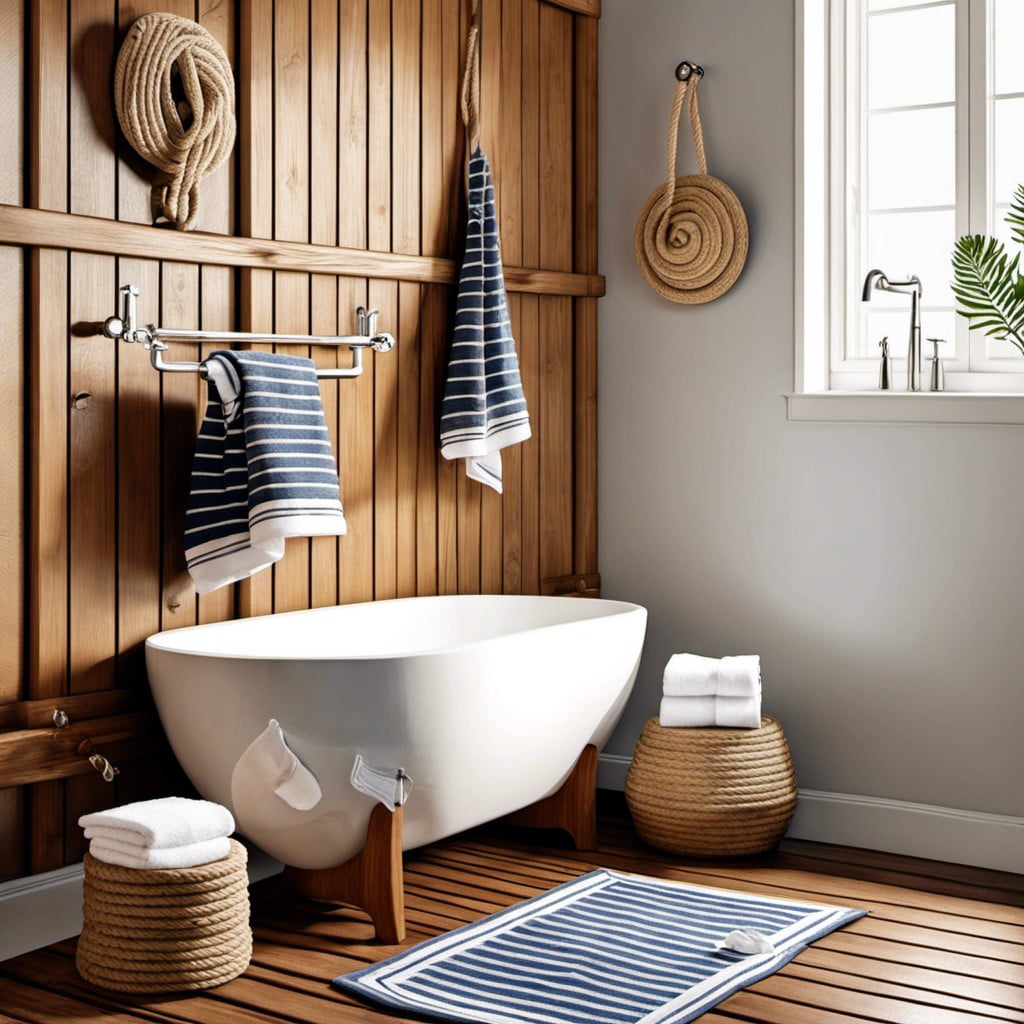 Reflecting the charm of the seaside, this style offers a unique, maritime feel. Use wooden planks, reminiscent of ship decks, as a backdrop for your towel rack. Combine with ropes in lieu of traditional metal or wooden bars. The flexibility of ropes allows them to be hung at different levels, giving an unconventional twist to your rack design.
To enhance authenticity, opt for weathered woods and thick, coarse ropes like those found on ships. Consider adding additional nautical elements such as anchor-shaped hooks or sea-inspired ornaments, linking the design with the overall theme and contributing to the cohesive marine atmosphere.
Farmhouse Style With Barn Wood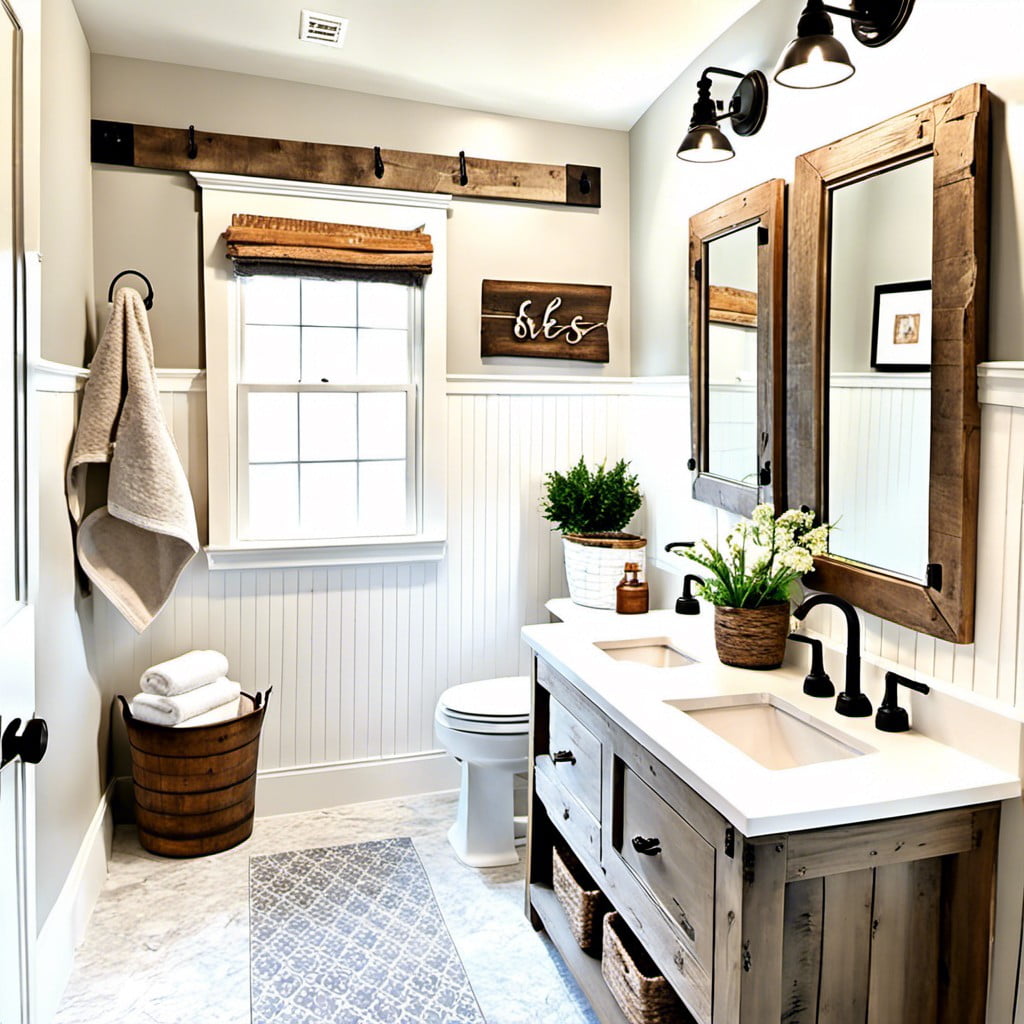 Speaking of rustic appeal and charm, barn wood indeed makes a standout feature for adding a farmhouse twist to your bathroom towel rack.
Start with untreated, unvarnished barn wood in its natural form. This not only brings in a fresh, outdoorsy feel but also serves as a neutral backdrop compatible with any color palette.
Next, consider peg-style hooks. With their simplicity, they amplify that rustic aesthetic, and their functionality is indisputable. Balance this raw appeal with soft, plush towels in cream or soft pastel hues.
For a more personal touch, you can grace the barn wood with stencil designs. This could be anything, from floral patterns to personalized monograms. Especially effective in muted, pastel tones, this detail adds a touch of elegance without sacrificing the farmhouse vibe.
Remember – imperfections are a bonus. Natural wears and tears, knots, and nail holes enhance the authenticity of your rustic farmhouse towel rack, making it not only a practical fixture but a noteworthy piece of decor.
Finally, accessorizing with woven baskets or dried lavender can perfectly round off your farmhouse style towel rack. It's all about creating a homely, welcoming ambiance throughout, connecting your style elements in a harmonious ensemble.
Industrial With Iron Pipes and Wooden Shelf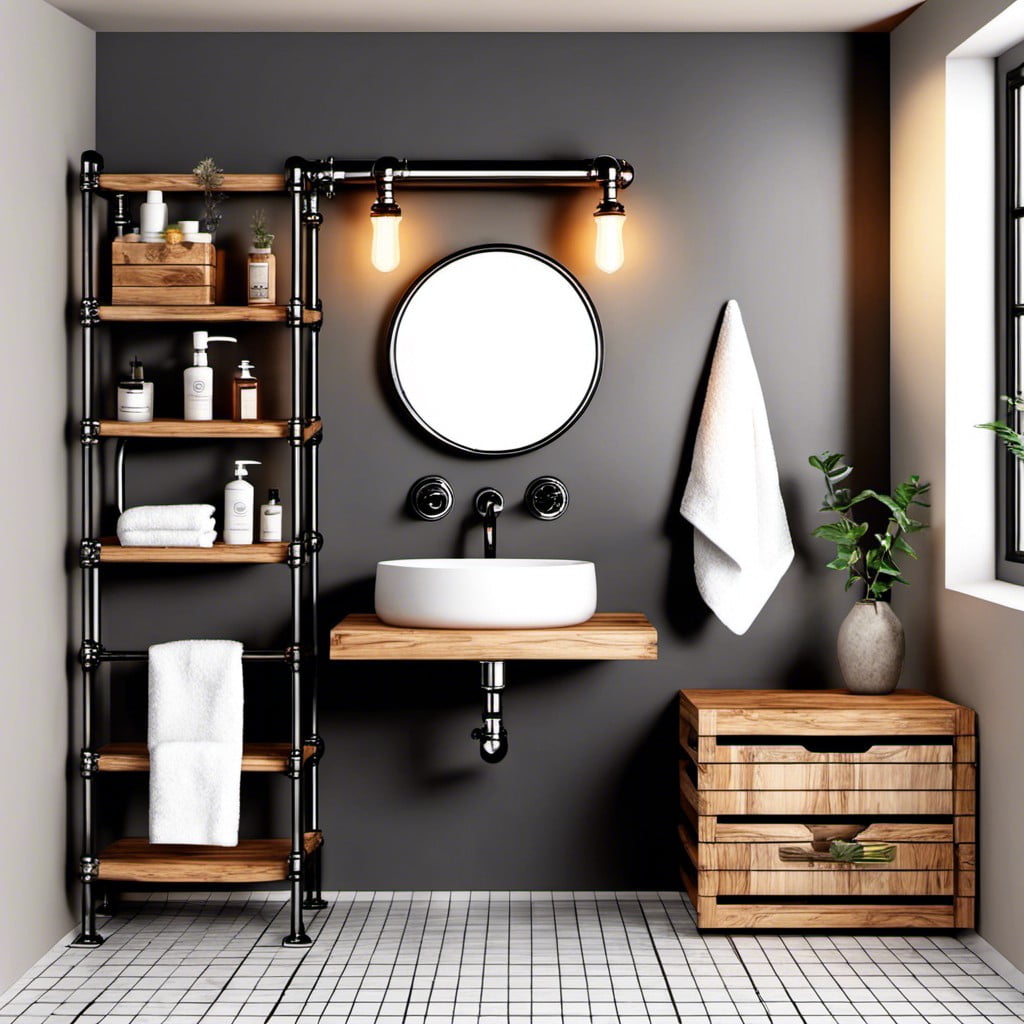 Embracing the raw, unfinished look, this style propels the utilitarian features to become the ultimate design element. Seen in loft apartments, coffee houses, and hip restaurants, it suits modern bathrooms aiming for an edgy yet sophisticated look.
Here's what you need to create this vibe:
1. Iron pipes: These act as the towel rack, bringing in durability and a unique visual interest. The exposed hardware embodies industrial charm.
2. Wooden shelf: Positioned above the iron pipe, it infuses a warm, organic touch, softening the overall look.
3. Other accessories: Consider concrete, brick, and metal accents in the bathroom décor to amplify the industrial aesthetic.
4. Light fixtures: Use Edison bulb fixtures to add warmth and achieve an authentic industrial atmosphere.
5. Colors: Keep the palette earthy and neutral, sticking with shades of gray, brown, black, and white.
With this style, functionality meets aesthetics, presenting a beautiful display of industrial artistry while serving an essential purpose in any bathroom.
Minimalistic With Simple, Geometric Designs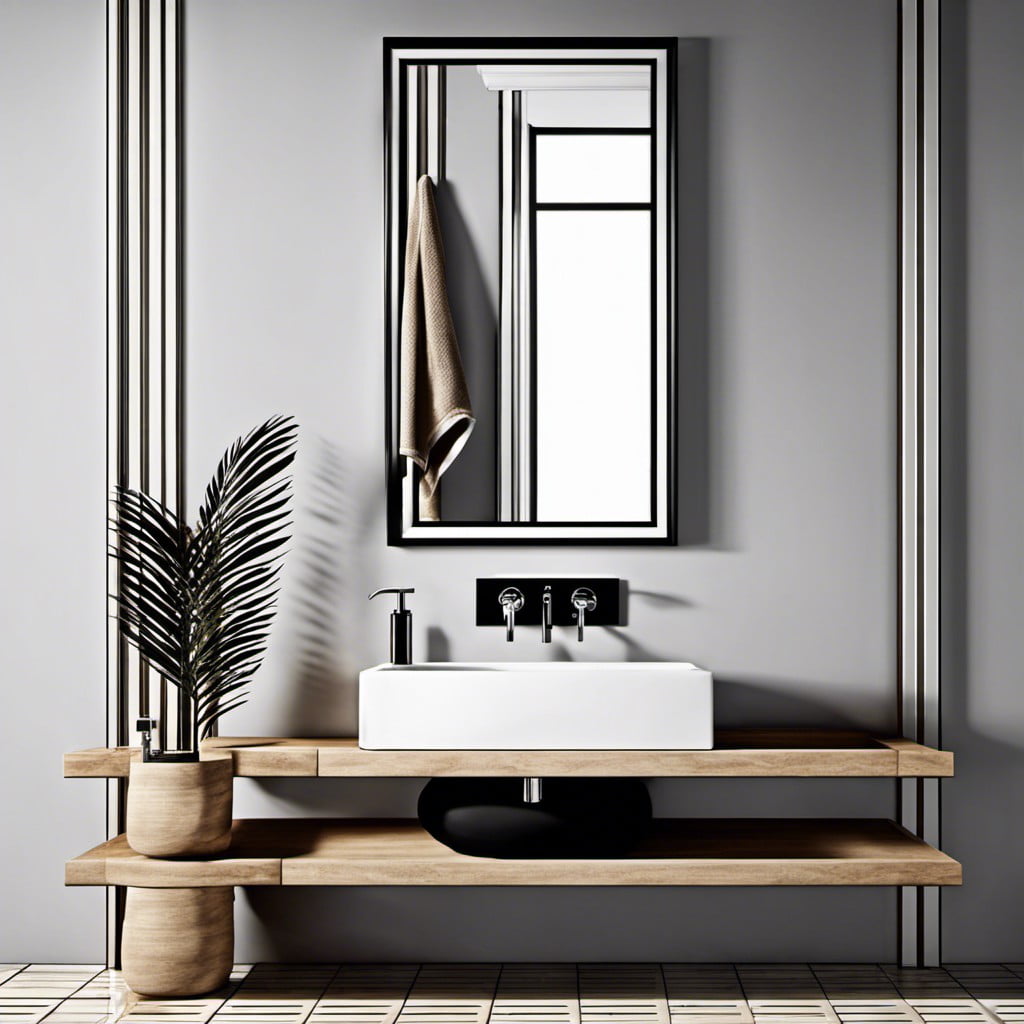 Embracing a minimalistic approach not only de-clutters your space but also brings a sense of calm and order. Focus on key elements like clean lines and functional shapes that offer both style and utility.
Here are a few ideas to get you started:
1. Rectangular steel racks – Resilient and available in numerous finishes, they embody simplicity while being practical additions.
2. Standing triangular towel holders – Innovative in form, they identify strongly with the geometric vibe besides minimizing wall alterations.
3. Circular ring holders – Ideal for hand towels or washcloths, these make a soft yet modern statement.
Remember, less is more. Opt for neutral colors like blacks, whites, or metallic hues to enhance the aesthetic feel. It's about creating a serene space where design complements functionality. The goal is to keep your bathroom tidy while capturing a modern visual allure.
DIY With Repurposed Ladders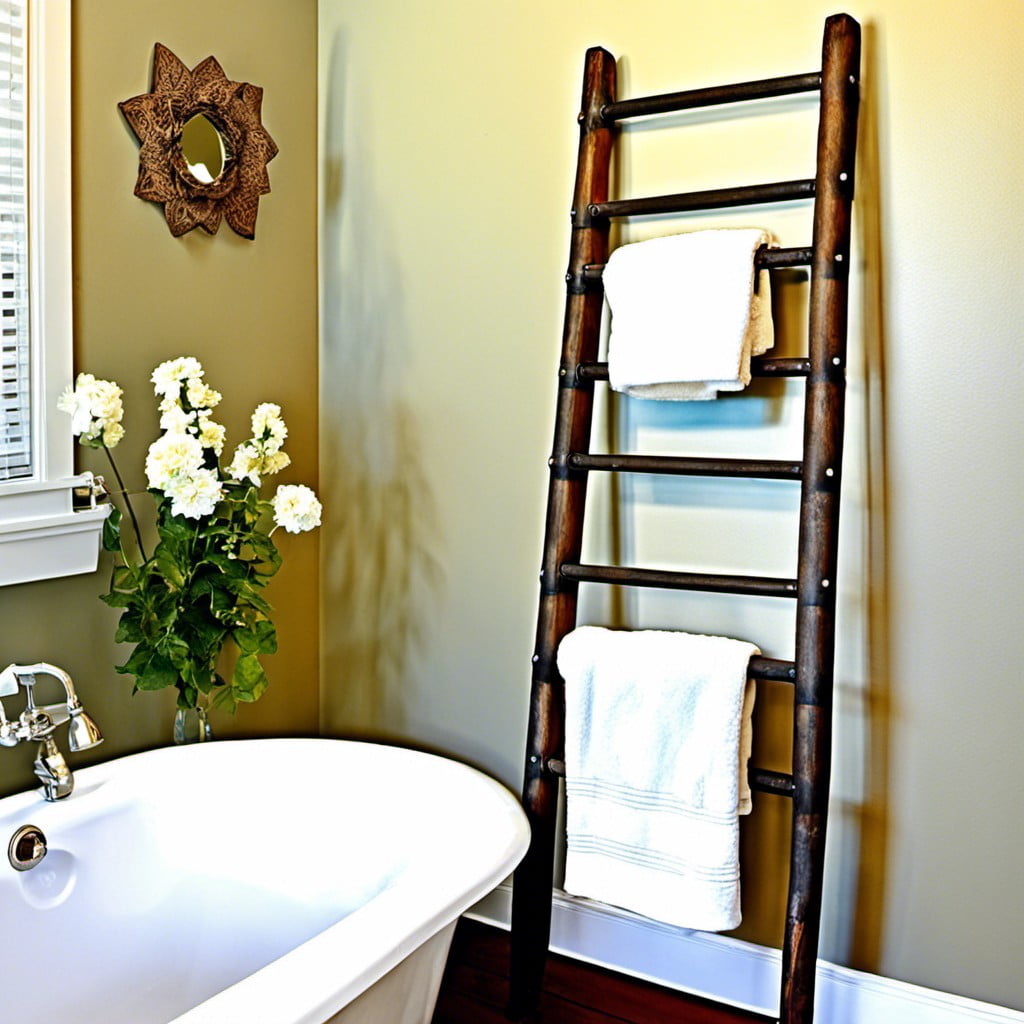 To prepare your unique DIY towel rack, select an old wooden step ladder that fits your bathroom size. Next, clean it thoroughly and if necessary, sand down any rough edges. Consider a coat of paint or varnish for a finished look, or leave it rustic for that authentic charm.
On ladder rungs, drape towels, small baskets of washcloths, or even decorative items for a personalized touch. You can also replace a rung with a wooden dowel rod for a wider towel bar. For wall-mounted ladders, secure the ladder to the wall with sturdy brackets for safety.
Lastly, ensure to position the ladder-rack within reach of the sink or bathtub, enhancing functionality while adding an eye-catching design element.
Holiday-themed With Seasonal Decorations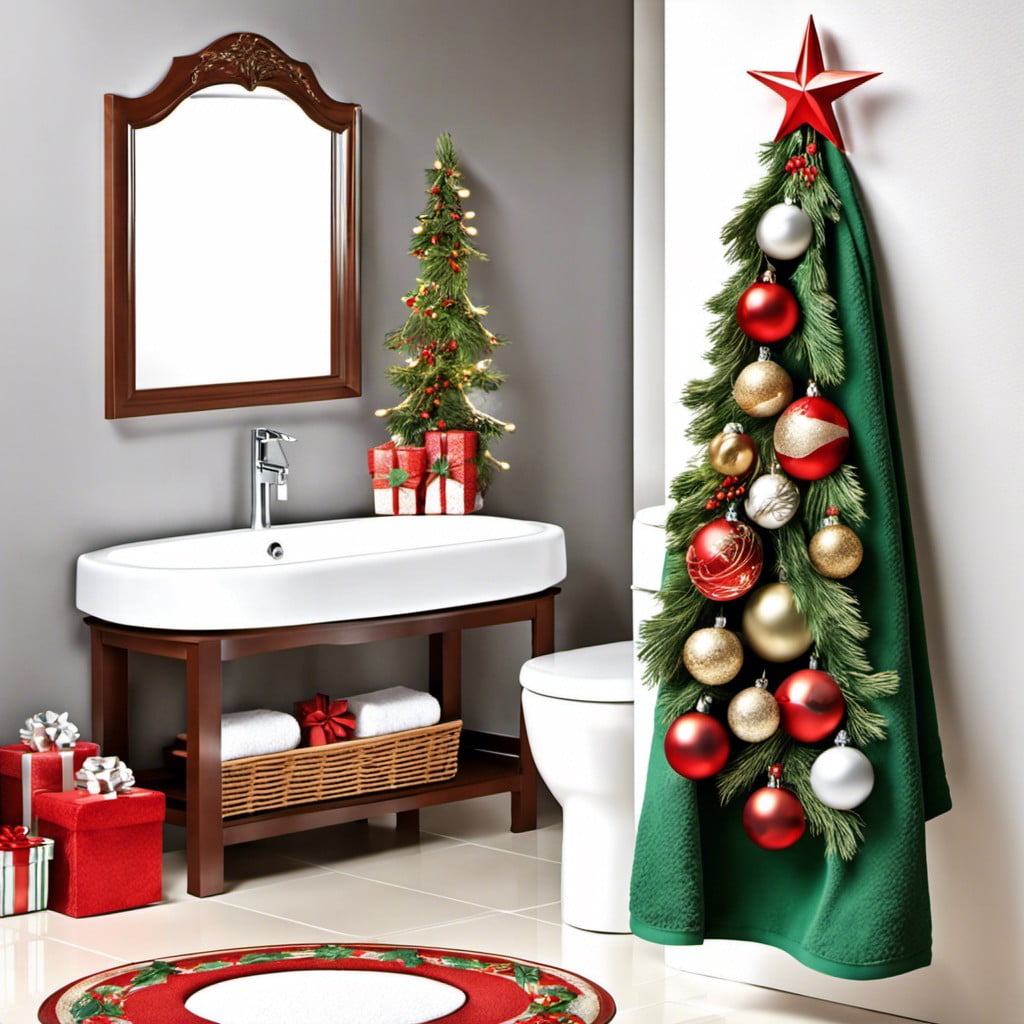 Incorporating the spirit of the season into the bathroom décor can bring a cozy and festive atmosphere. Consider draping green garlands around the towel rack, intertwined with twinkling fairy lights for a magical winter transformation.
For an autumnal touch, wrap the rack with artificially colored leaves and small pumpkins. Springtime can be represented with pastel-hued ribbons tied in bows on the towels, coupled with ceramic bunny or egg ornaments.
For a summer vibe, opt for miniature beach-themed charms or bright tropical flower garlands. Always remember, a holiday-themed towel rack doesn't need to be extravagant; it's about creating a warm, festive environment that reflects the current season.
Romantic Style With Heart-shaped Rack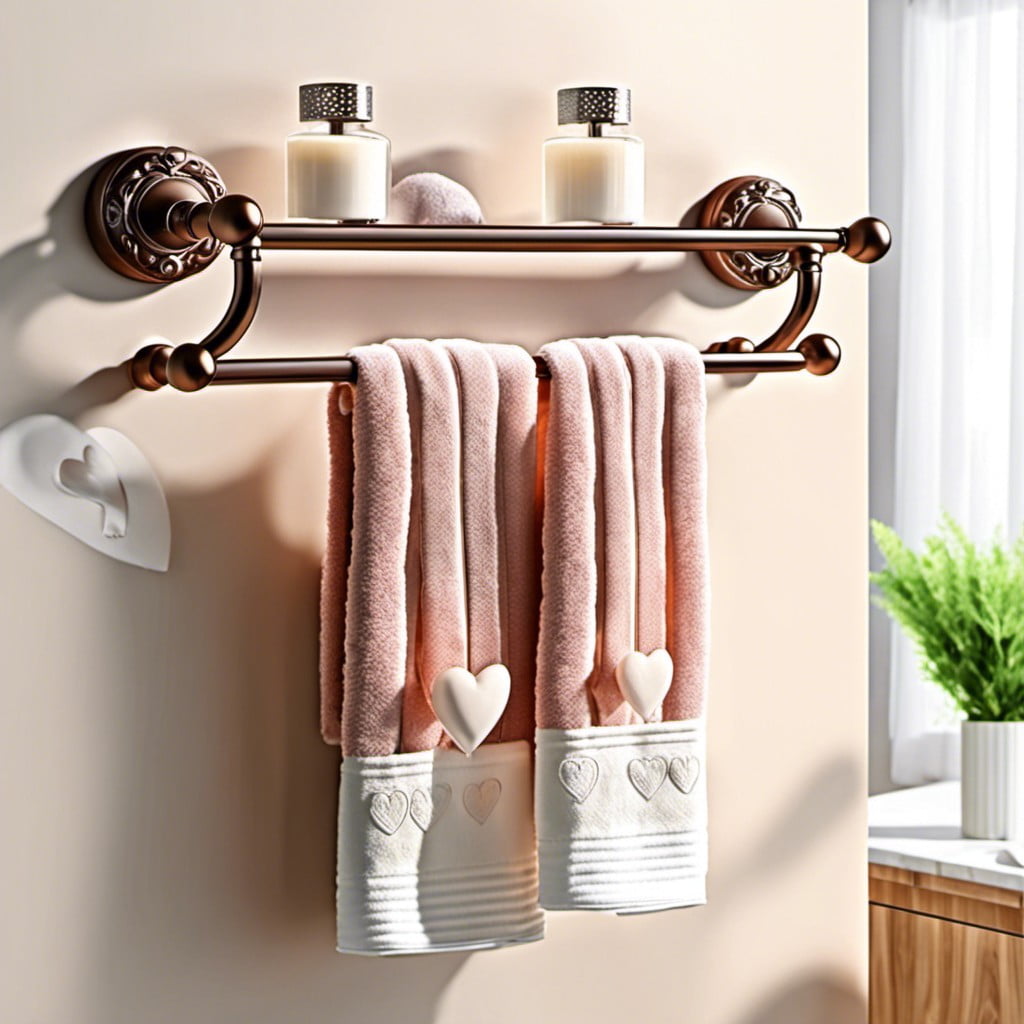 In order to achieve this whimsical look, start by installing a rack in a heart shape, reminiscent of timeless love symbols. The market offers various designs, from simple to ornate. Iron racks with scroll work provide an old-world charm, while sleek wooden ones can offer a contemporary feel. When combined with plush red or pink towels, the effect becomes instantly charming.
Couple this with accessories – think rose-shaped soap dispensers or red tinted glass jars. A lovely addition could be a small vase with fresh roses right on the rack. For a more personal touch, consider adding a frame with a cherished photo or a sentimental quote on love. Remember, every element should contribute to a cozy, affectionate atmosphere.
Artistic With Mosaic Tiles or Wall Murals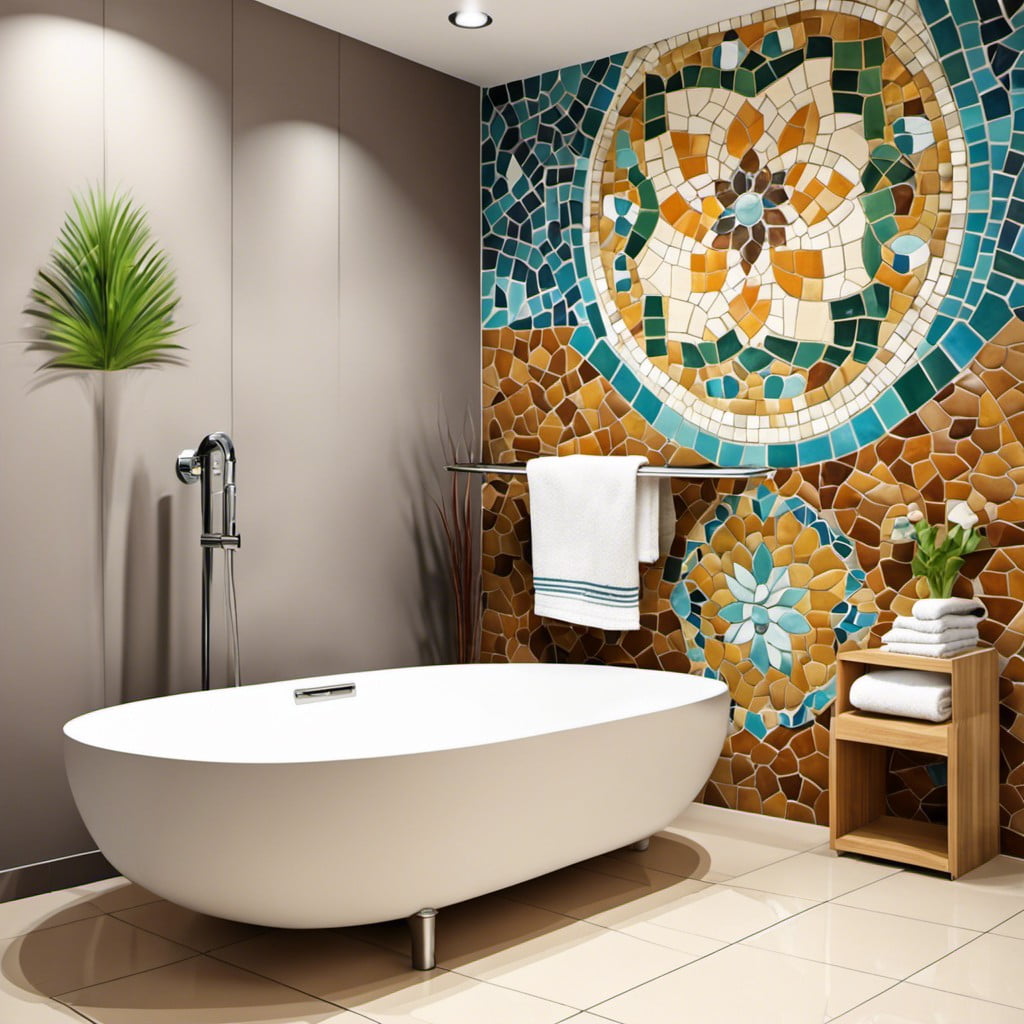 To truly make a statement, consider incorporating interactive elements such as handcrafted mosaic tiles or unique wall murals behind your towel rack. These elements add a splash of creativity and offer a unique look that beautifully stands out.
1. Mosaic tiles: Choose from a range of colors, sizes, and styles. Create patterns or pictures to elevate the towel rack area. Opt for glass tiles for a shiny, reflective surface, or ceramic ones for a more classic appeal.
2. Wall Murals: These transcend beyond typical wall decor. Hand-painted scenes, abstract designs, or realistic landscapes can compliment the bathroom's overall decor while also spotlighting the towel rack.
3. Complementary Accessories: Think about smaller details such as hooks or hangers matching the art theme, or the towel's color enhancing the mural or mosaic.
4. Contrasting yet Harmonious Elements: Strike a balance between the striking art and the rack. If the art is bold, go for a simple rack style, and vice versa.
Remember, it's all in the details when it comes to achieving that artistic flair in your bathroom decor. The perfect blend of creativity, color, and texture can make the towel rack area a captivating focal point.
Traditional With Fine Porcelain Elements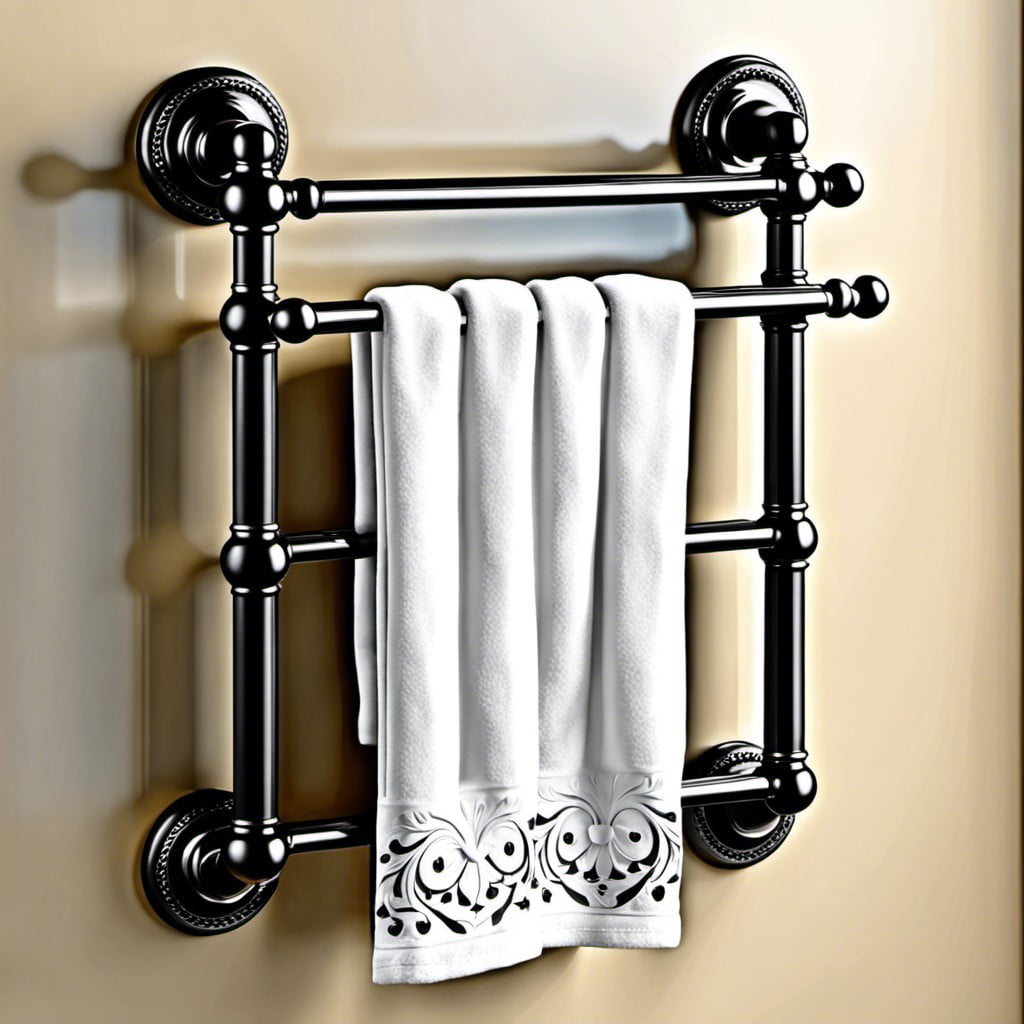 Porcelain is known for its class and timeless nature. Incorporate its subtle, fine texture with the towel rack to enhance the traditional touch.
1. Porcelain-Finish Rack: It's easy to find racks with porcelain accents or a wholly porcelain-made piece. Either works great to evoke a soft, classic feel.
2. Complementary Accessories: Coordinate with porcelain soap dispensers, toothbrush holders, and pots for fresh flowers, thus establishing a consistent theme.
3. Contrast with Towels: Use colored or patterned towels that help the porcelain elements pop.
4. Antique Finds: Thrifted porcelain pieces with hand-painted details can serve as stand-out elements, creating an authentic vintage ambiance.
5. Soft Lighting: A well-placed sconce with porcelain details can enhance the overall allure, gracefully illuminating the area.
6. Porcelain Trays: Useful for displaying guest towels, adding a touch of sophistication.
Remember, the theme revolves around subtly and class; do not go overboard with overbearing elements. Aim for harmony in your porcelain adornments.
Modern Sleek With Stainless Steel and Glass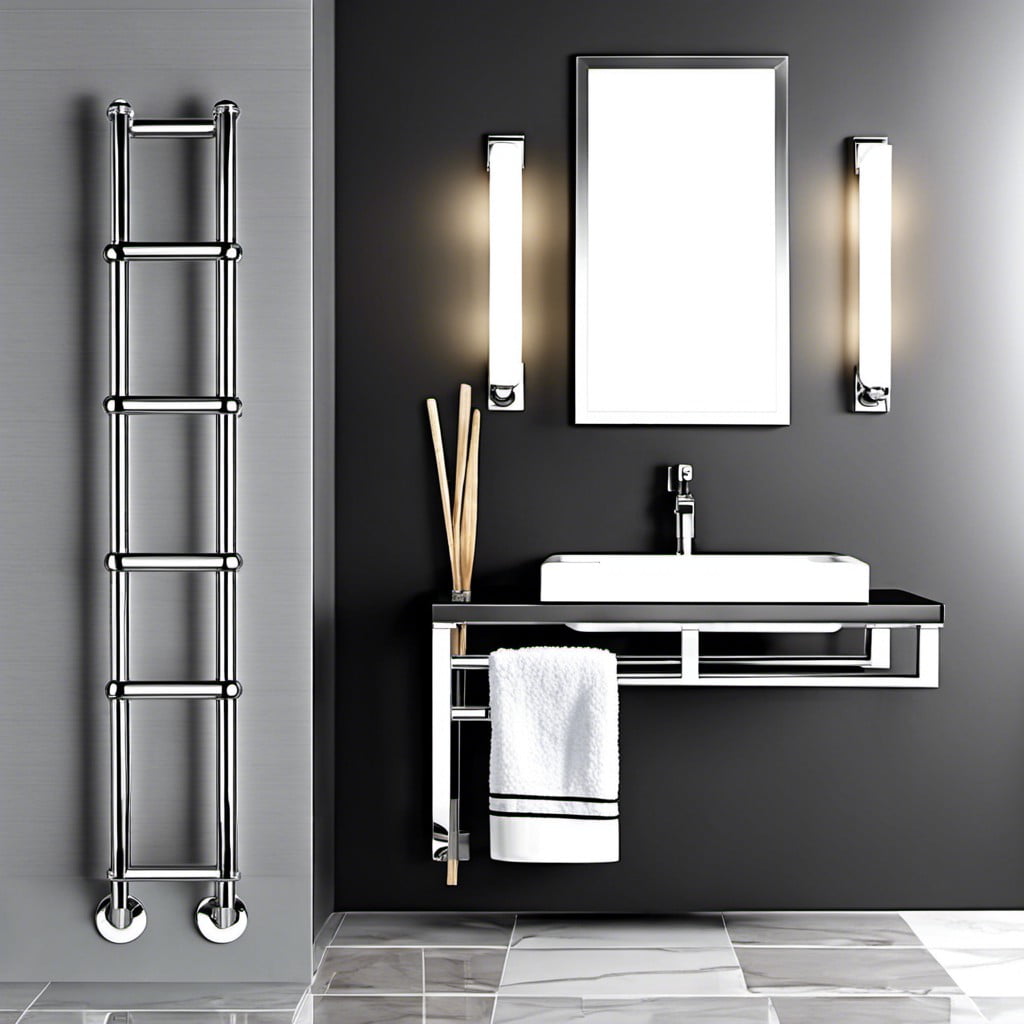 In this style, clean lines and glossy finishes reign supreme. The materials – stainless steel and glass, offer both durability and aesthetic appeal. Their sleek nature transforms even the smallest spaces, giving them a spacious and uncluttered look.
1. Choose a rack with a shiny metal finish for a futuristic touch.
2. Incorporate a glass shelf under the rack for extra storage.
3. Opt for frameless glass elements to add a minimalist appeal.
4. Consider steel hooks for additional hanging options that'll keep towels in place.
5. Utilize glass containers for storing toiletries for an added sparkle.
6. Aim to maintain a coordinated look. Match the rack with other bathroom fixtures such as faucets or showerheads.
Remember, it's all about precision and symmetry when aiming for that impeccable modern sleek look.
Eclectic With Diverse Decorative Items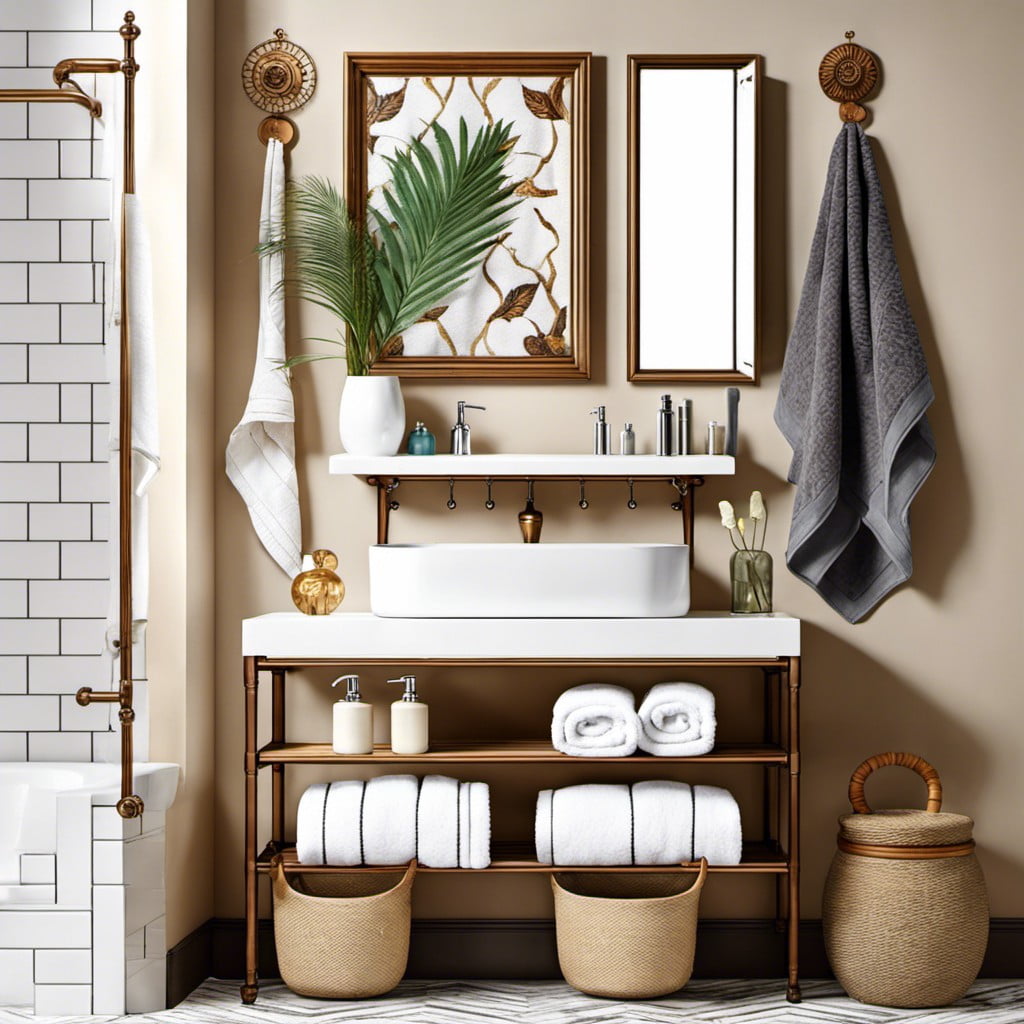 Creating an eclectic style essentially relies on the principle of harmonious discord. It's about blending aesthetics that may seemingly be at odds but works together perfectly. Try integrating pieces from various periods and styles, this adds a delightfully surprising element to your bathroom aesthetic.
1. A brass towel rack paired with a vibrant boho rug can work magically.
2. An abstract painting hung near the rack, transforming the area from mundane to magnificent.
3. Use of mismatched hooks instead of a conventional rack can add an unconventional twist.
4. Incorporate bold colors or patterns. A geometric towel juxtaposed with a floral print curtain could work wonderfully.
5. Consider adding globally-sourced pieces – a Turkish towel perhaps or an African wooden stool, for that extra exotic touch.
6. Alternatively, quirky elements like vintage mirrors or a funky light fixture can give the space a unique personality.
Remember, the beauty of the eclectic style lies in its vibrancy and playfulness. It allows the freedom to mix, match, and create a space that truly reflects your personality.
Tropical Style Using Bamboo Rack and Plant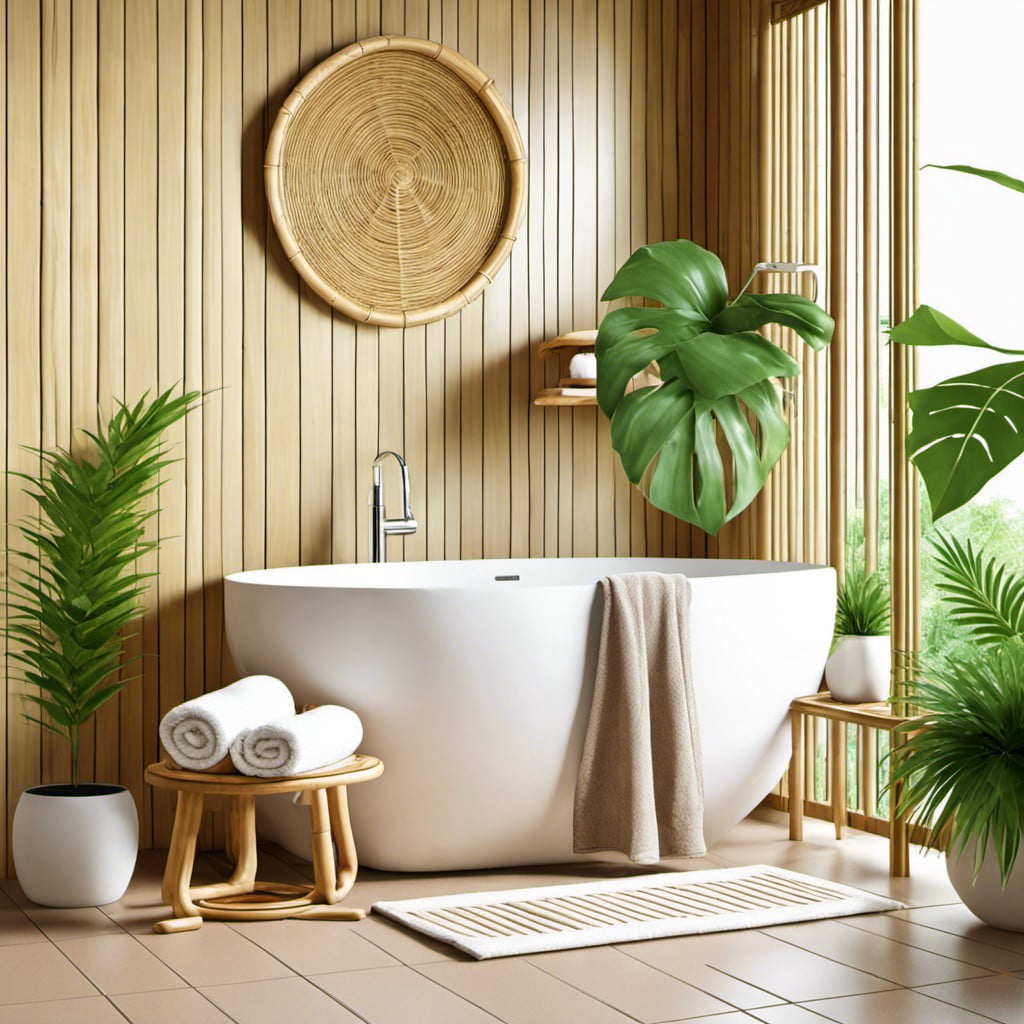 In creating this appeal, choose a bamboo towel rack to bring in an authentic tropical vibe. Bamboo, known for its strength and sustainability, is perfect for the damp bathroom environment. Complement the rack with thick, plush white towels, reminiscing those used in luxury resorts.
You can incorporate leafy, moisture-loving plants such as ferns or monstera. These plants will thrive in your bathroom due to the high humidity and they also bring an outdoor, lush appeal to your indoor space.
Small touches like a coconut or vanilla scented candle can enhance the tropical theme. Lastly, consider light colored floor mats or rugs made from natural materials like jute or sea grass to complete the look. Implementing these details strikes a balance between style and functionality while keeping with the tropical theme.
Spa-themed Using White Towels and Candles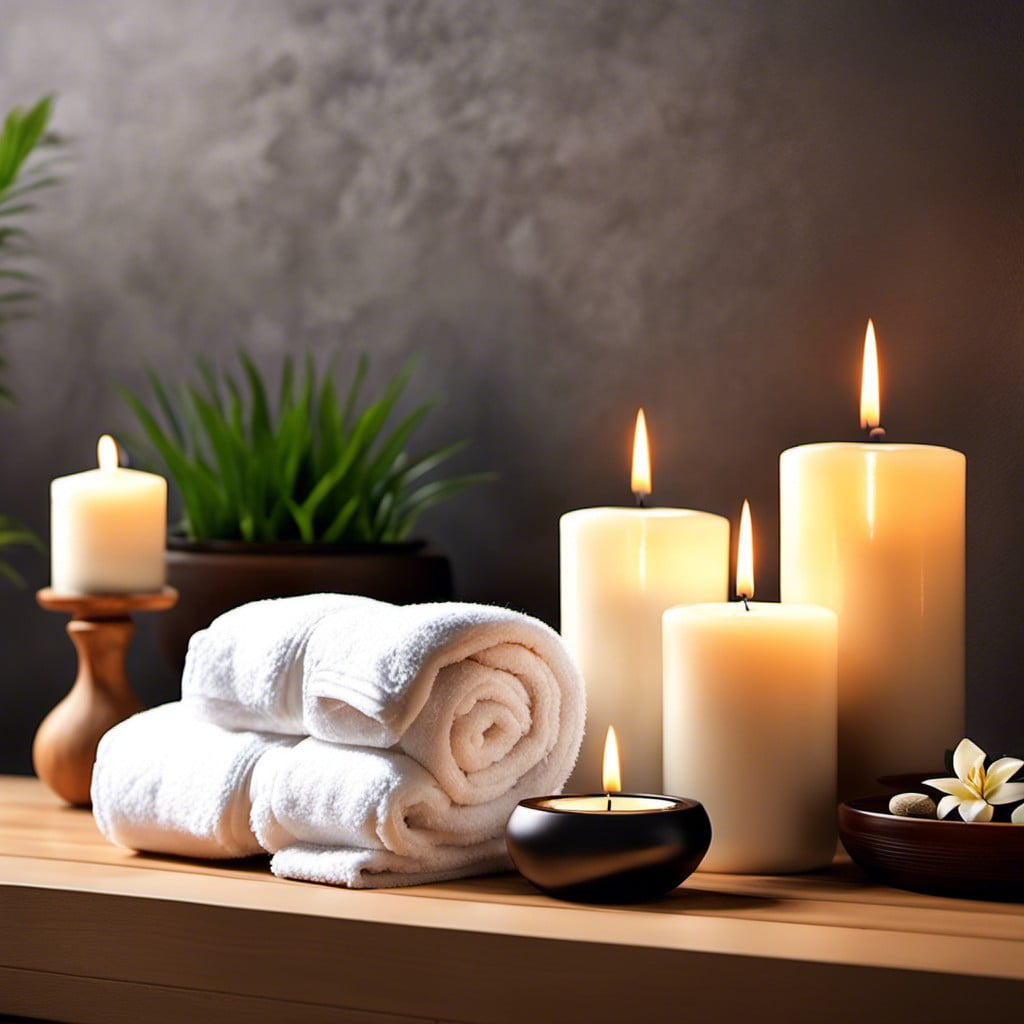 Blending simplicity and tranquility, this style requires fluffy white towels, neatly folded or rolled for a tidy appearance.
Choose your towel rack in bamboo or teak, materials often seen in spas.
For a pop of color and hint of nature, consider adding small indoor plants like succulents or air plants.
Breathe life into this theme by incorporating candles.
They add warmth and create a serene, inviting atmosphere.
Select fragrant candles like lavender or eucalyptus for a multisensory spa-at-home feel.
Glass containers or votives for the candles enhance the elegant ambiance.
Remember, less is more in this style – keep surfaces clutter-free, focusing on the essentials.
Substitute commonly used toiletries with luxe spa products.
The beauty of the spa-themed towel rack lies in its peaceful and simple allure.
It's all about recreating the relaxing, rejuvenating atmosphere of a spa in your own bathroom.
Shabby Chic Using Distressed or Chalk Paint Finish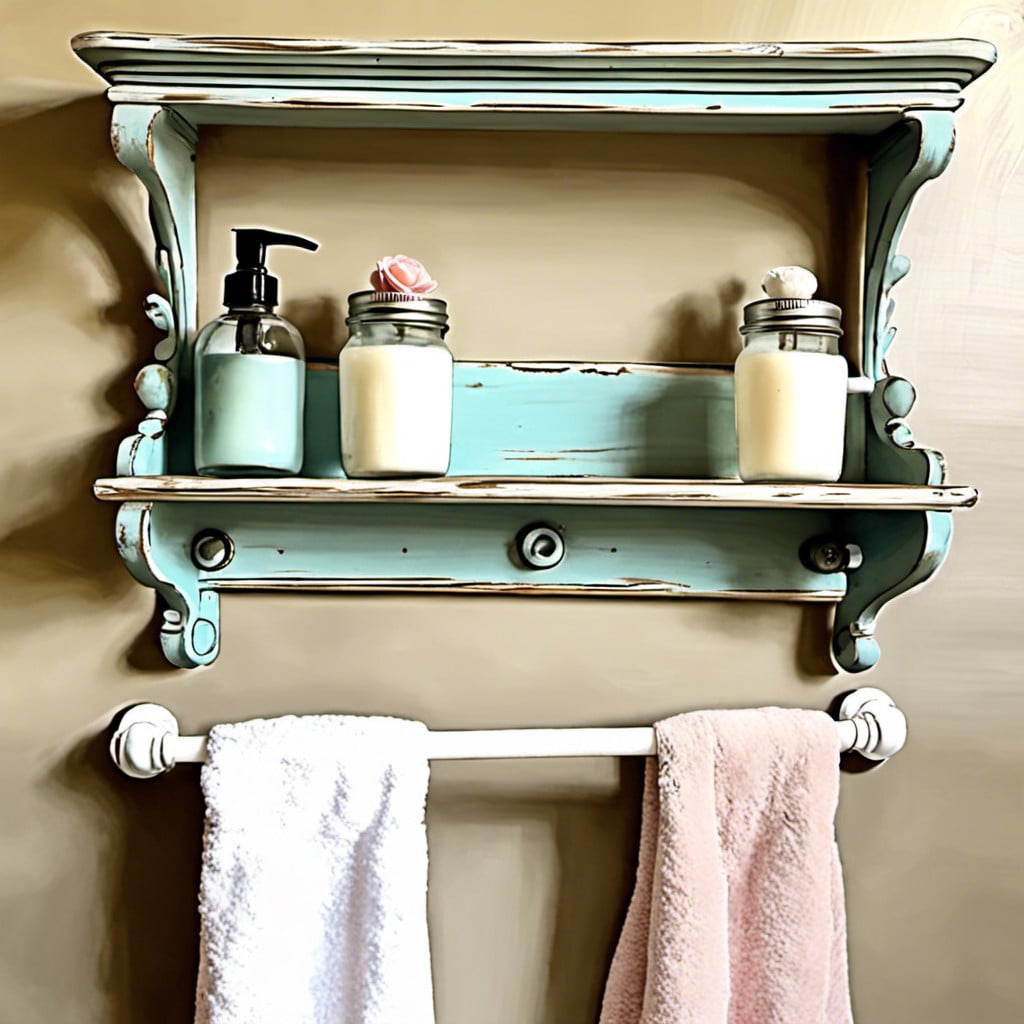 Achieving a shabby chic style is as much about the selection of your towel rack as it is about the finish. Opt for a rack with ornate detailing or curving designs, usually associated with vintage or antique pieces.
For your ideal distressed look, start by applying a coat of chalk paint evenly over the rack. Once it's dried, use sandpaper to carefully rub off portions of the paint, focusing on areas that would naturally wear down over time, such as edges, corners, and detailed areas.
Applying a layer of light stain over the distressed areas can add a touch of antiquity. To finish off, consider a coat of clear wax for protection and a subtle sheen, giving your rack an authentic worn-out look.
As part of the decor, opt for fluffy light-colored towels, perhaps indulge in a ruffled or lace-edged towel for that extra flair. This shabby chic towel rack extenuates a comfortable, cozy, and nostalgic environment in the bathroom.
Country Style With Gingham Ribbons On Towels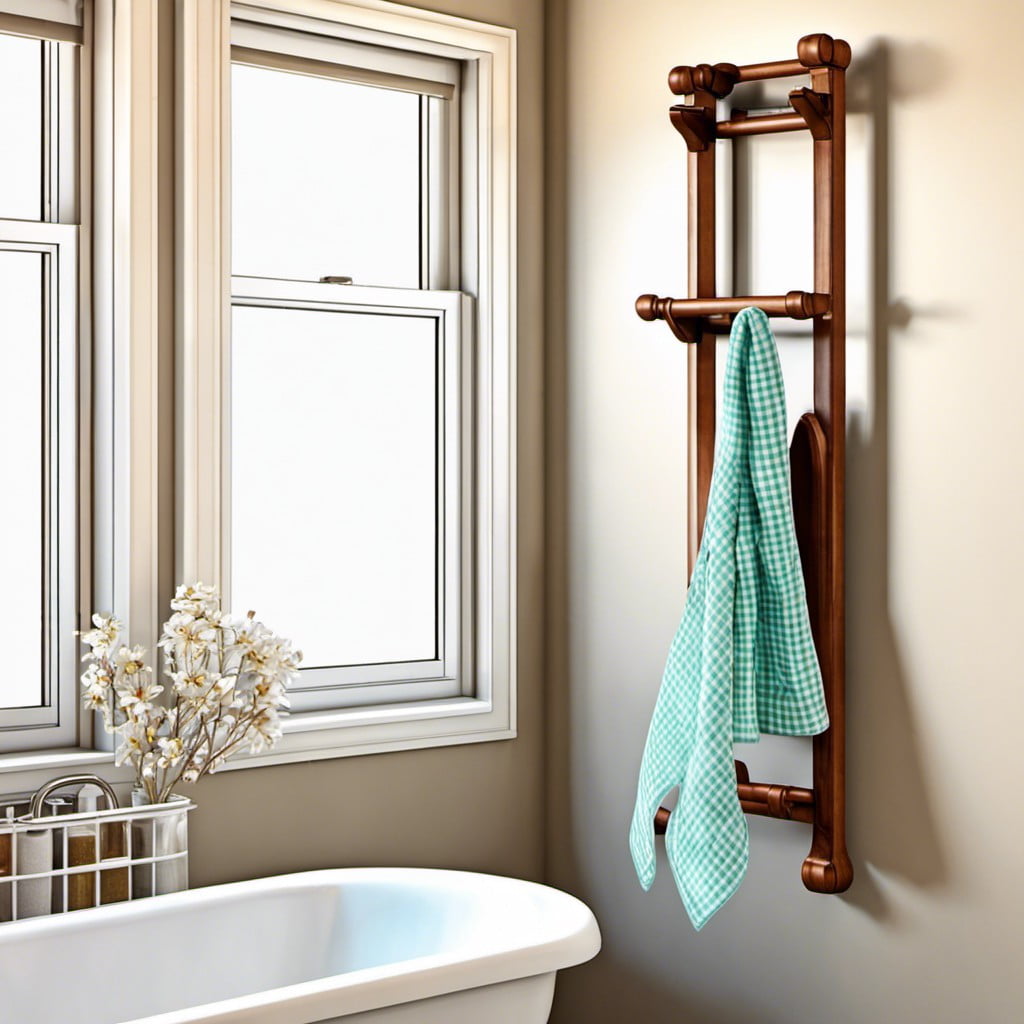 Dive into the idyllic charm of picturesque fields with this uniquely charming idea. Country decor often involves natural elements and a hearty welcoming feel. Use textured, course-grained wooden racks that provide an organic, rural base.
To achieve the quintessential country look, source 100-percent pure cotton towels in soft pastel hues. Cream, sage, or buttercup-yellow are perfect choices for capturing the soothing aura of the countryside.
Double-fold gingham ribbons, especially in cherry-red or marine-blue, and tie them around the midsection of each towel. This adds a muted pop of color, blending in cohesively while subtly standing out.
Don't hesitate to layer your towels – a hand towel on top of a full-sized towel adds visual interest. For added authenticity, consider using hand-sewn ribbon or incorporating rustic accessories like tin miniature pails or milk jugs, enhancing the overall country style.
Monochrome With Black and White Accents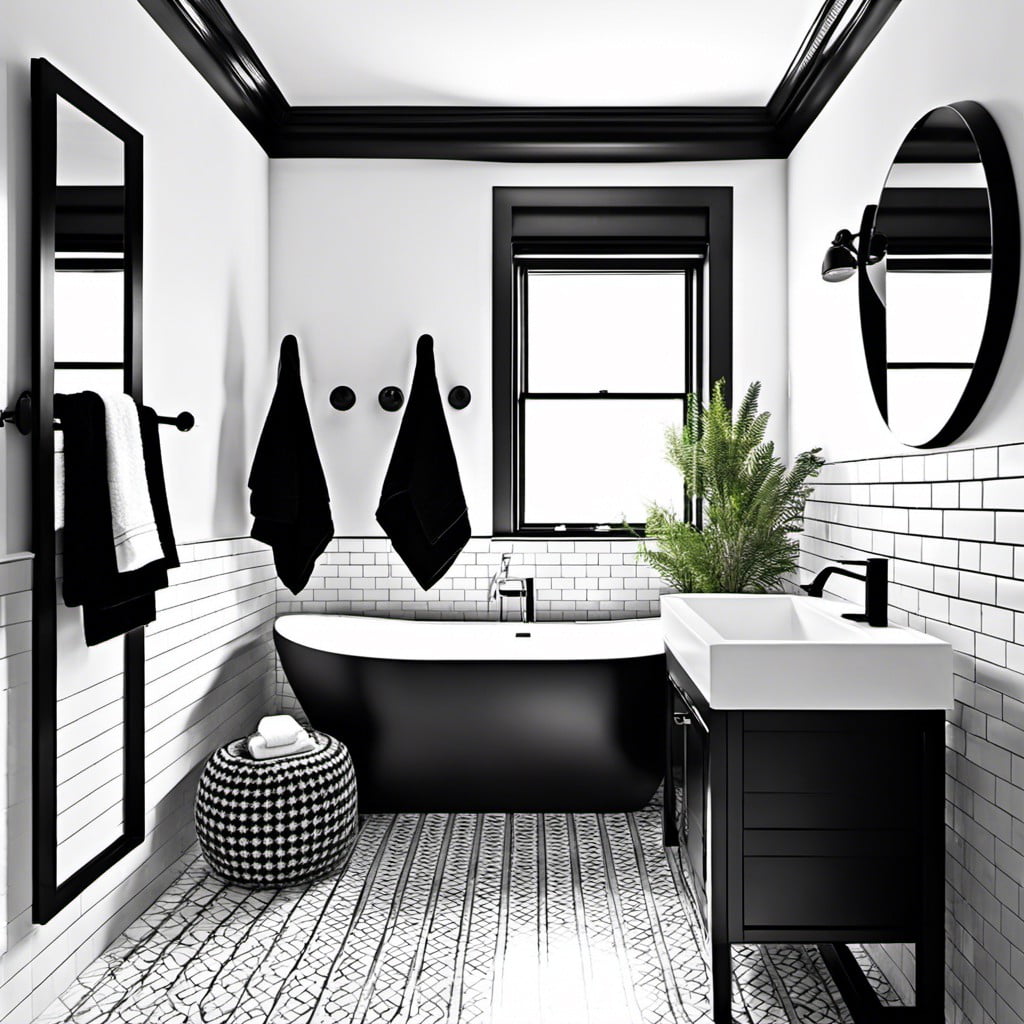 Striking balance through contrast is key. Light-colored walls provide a perfect backdrop for a bold black towel rack. Metallic accessories such as a silver trash can or mirror frame add a modern twist. Quality white towels give a cloud-like softness, contrasting the robust black rack.
Prints, such as stripes or houndstooth, can infuse personality. Remember, less is more with this style – a few high-impact pieces make a stronger statement than clutter. Small items, like a black soap dispenser or white light fixtures, further amplify the monochrome vibe. Experiment with textures, matte black or glossy white help create depth and interest.
Mediterranean Style With Colorful Ceramic Tiles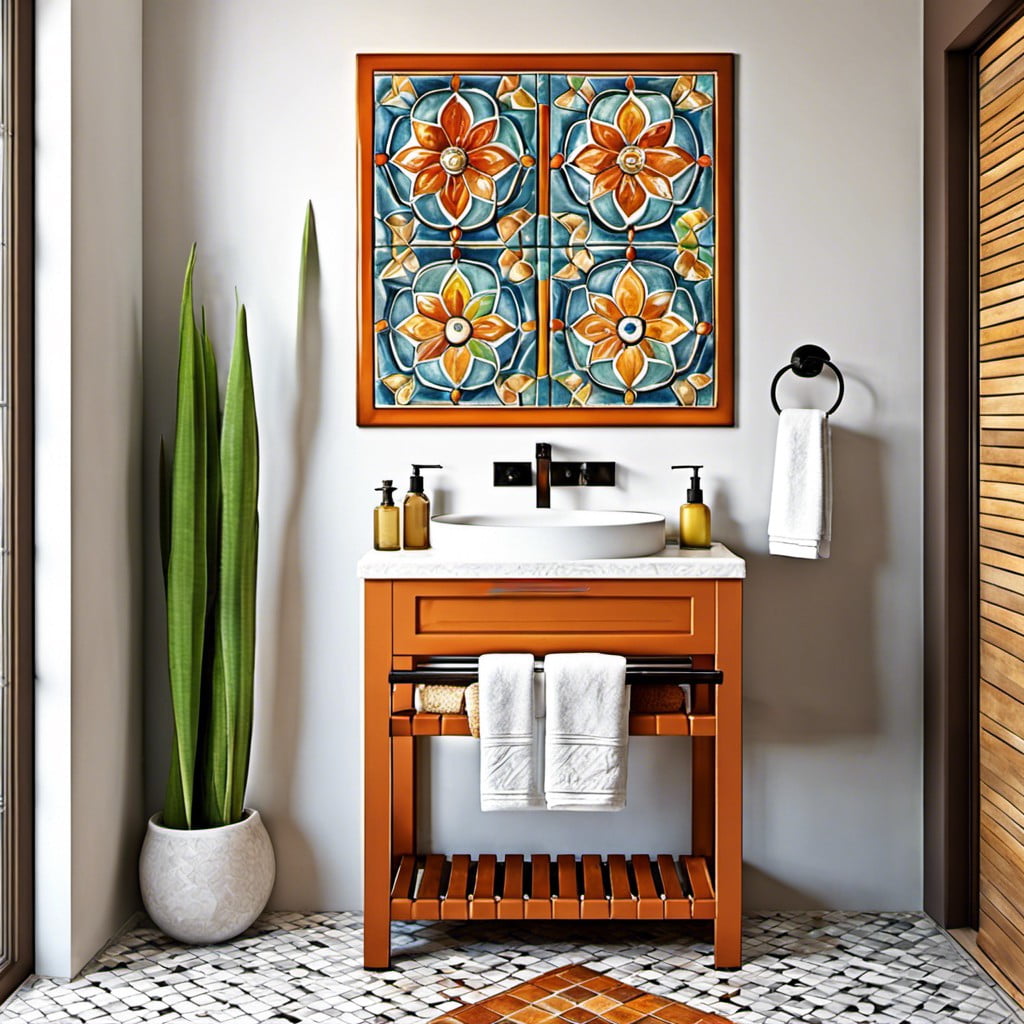 Enliven your bathroom with the vibrant hues of southern Europe. Use a rack made of wrought iron, mimicking the designs found in Spanish architecture, perfect for hanging plush towels.
On the wall behind the rack, consider installing a backdrop of colorful ceramic tiles. Go for a mix of blues, yellows, and greens to echo the Mediterranean coastlines.
A few quick tips:
The rack should be a simple design to focus on the tile artwork.
Choose hand-painted ceramic tiles for authenticity.
These vivid tiles can be glossy or matte, depending on personal preference.
While you may use tiles with intricate patterns, a color block approach can be equally striking.
Do not shy away from using a variety of tile sizes to create a more dynamic visual expression.
This approach transforms your towel rack into a captivating statement piece, a testament to the charisma and warmth of Mediterranean style.
Luxury Touch With Gold Accented Rack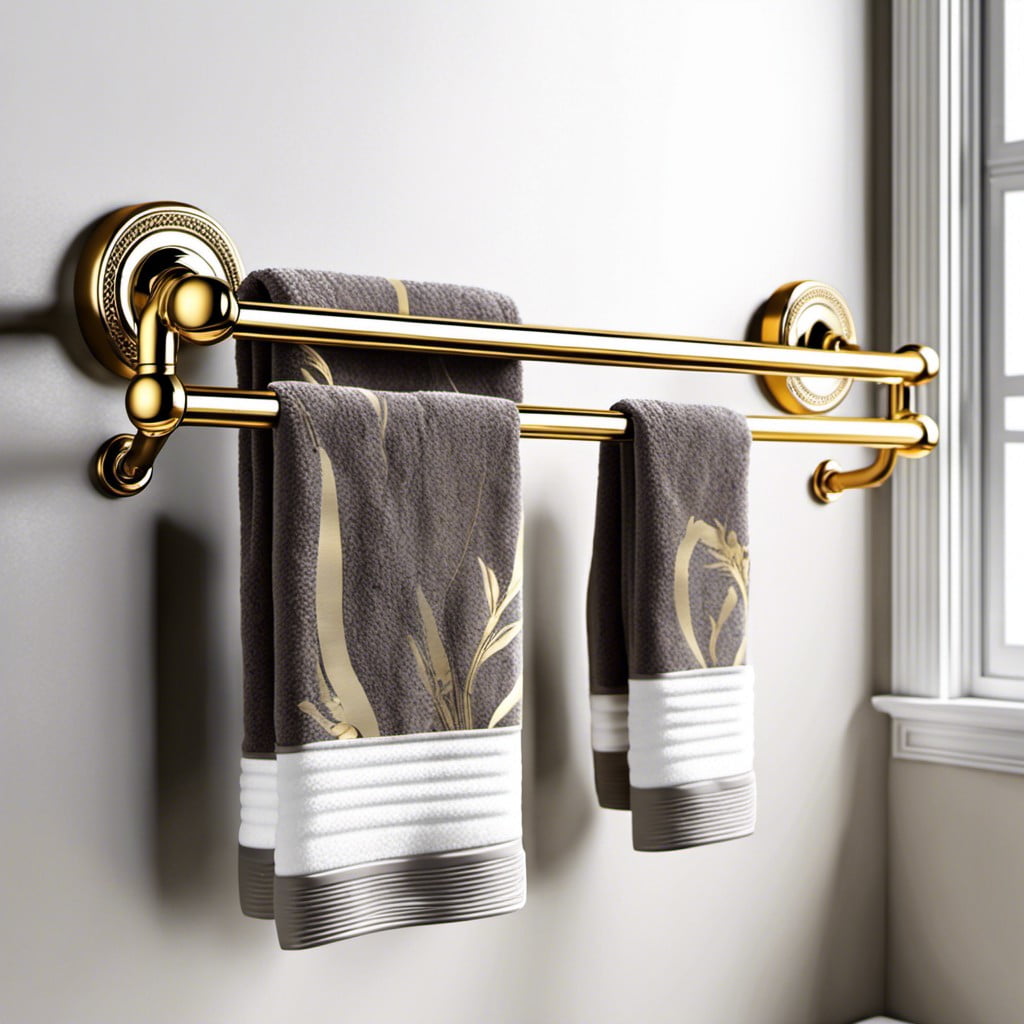 Conveying opulence and elegance, a gold-accented rack adds a luxurious touch to your bathroom. It can effortlessly enhance the room's aesthetic, complementing both modern and classic styles.
1. Complementary Colors: Pair it with neutral tones, such as crisp black or pristine white, to make the gold pop.
2. Aesthetic Balance: Avoid overwhelming the space with too many gold elements. Remember, less is more when it comes to gold.
3. Material Match: Opt for brass or metal for a seamless look, although glass towels add an interesting contrast.
4. Light Considerations: Proper lighting can enhance the golden glow. Play with various light sources to create a warm, welcoming vibe.
Remember, the goal is to create a chic and sophisticated space that feels lavish yet inviting.
Liked reading this? Here's more:
Recap: