Last updated on November 7, 2023
Dive into the charm of autumn with rustic pumpkin decor ideas, because these unique designs can instantly transform your space into a cozy haven.
I've designed unique illustrations for these ideas. I hope you get inspired!
Fall is upon us, and what better way to celebrate the season than with beautiful rustic pumpkin decorations. In an ocean of ideas already out there, where will the inspiration for that unique touch come from? This question has probably crossed your mind.
Fear not, while we'll be providing resources to some of the best renowned rustic pumpkin decor ideas at the end of this article for your convenience, the main bulk of this piece is dedicated to creating fresh, unique slants on pumpkin decor to ensure you find something new and exciting.
Let's jump right in to explore all things rustic and pumpkin!
Vintage Lace Pumpkin Covers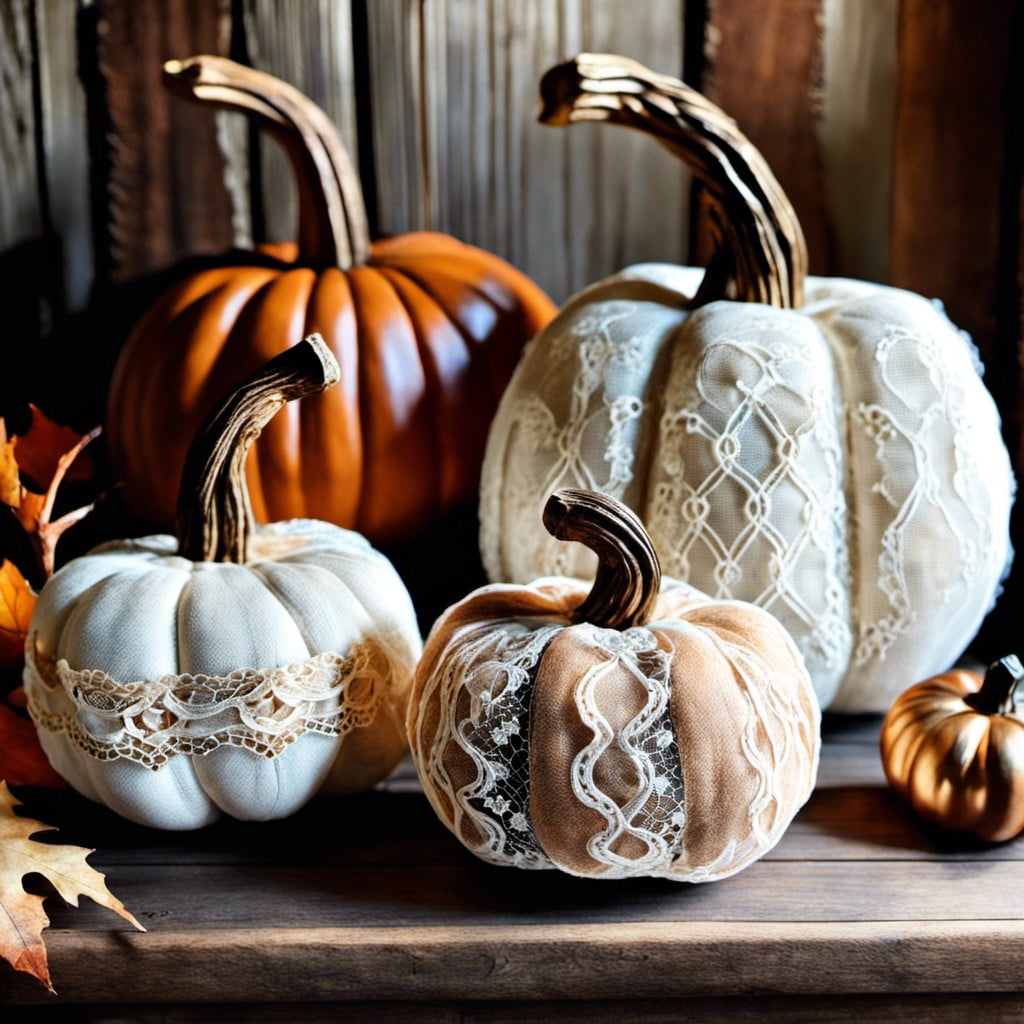 Delicate and stylish, these covers add a vintage charm to any autumn decor. A simple project, all you need is lace fabric, scissors, and white craft pumpkins.
Start by cutting the lace fabric to fit around the pumpkin. The key is to cut the fabric large enough to cover the pumpkin completely, but small enough for the pretty lace pattern to show through.
Next, apply a thin layer of fabric glue to the pumpkin. Carefully wrap the lace around the pumpkin, making sure to smooth out any wrinkles. Let it dry completely.
Finally, trim any excess fabric around the stem. If desired, add a small bow or other decorative element to the stem. These vintage lace pumpkins can be displayed on their own or arranged in a beautiful centerpiece. They're perfect for Halloween, fall dinners, or simply for adding a touch of elegance to your autumn decorations.
Country Style Haystack Pumpkins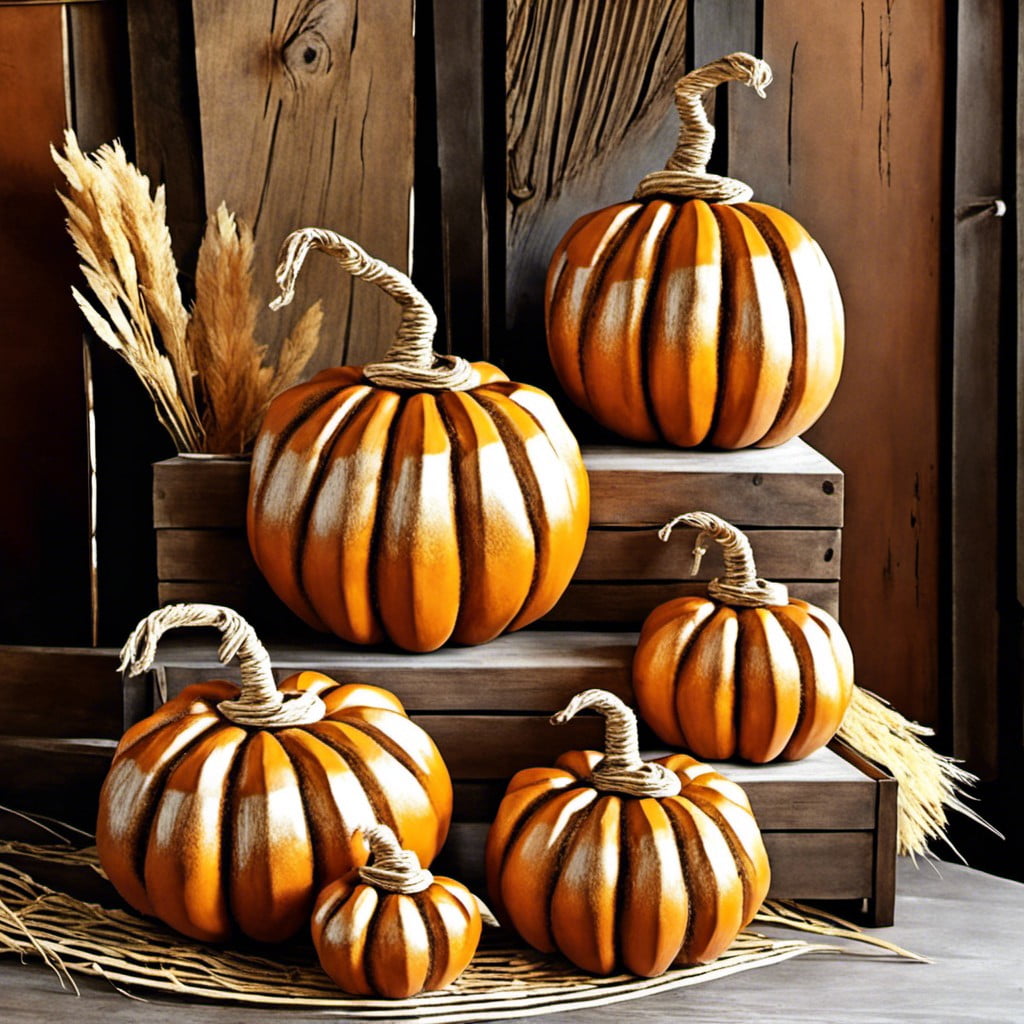 These unique decor pieces seamlessly blend the autumn ambiance of pumpkins with the rugged allure of haystacks. Creating them requires medium to large-sized pumpkins, hay bales, and your choice of autumn-inspired ribbons, leaves, flowers, or other accessories.
Here's an easy guide to get you started:
First, select a medium to large-sized pumpkin, ensuring it has a smooth surface.
Place the pumpkin on top of a mini hay bale. It creates a charming country setup, mimicking a little haystack with a pumpkin atop it.
Use natural elements like autumn flowers, twigs, or pinecones to enhance the rustic look. Securely fix these elements on the hay or around the pumpkin.
Add a lush bow with an autumn-themed ribbon atop the pumpkin for an elegant finish. The contrast between the ribbon and the rough texture of the haystack makes this piece a spectacular highlight.
Remember the key to achieving the best country style haystack pumpkins lies in the contrasting elements. Whether used as a centerpiece or arranged around the entrance, they prove their versatility in offering your home that welcoming, rustic fall charm.
Mason Jar Lid Pumpkin Craft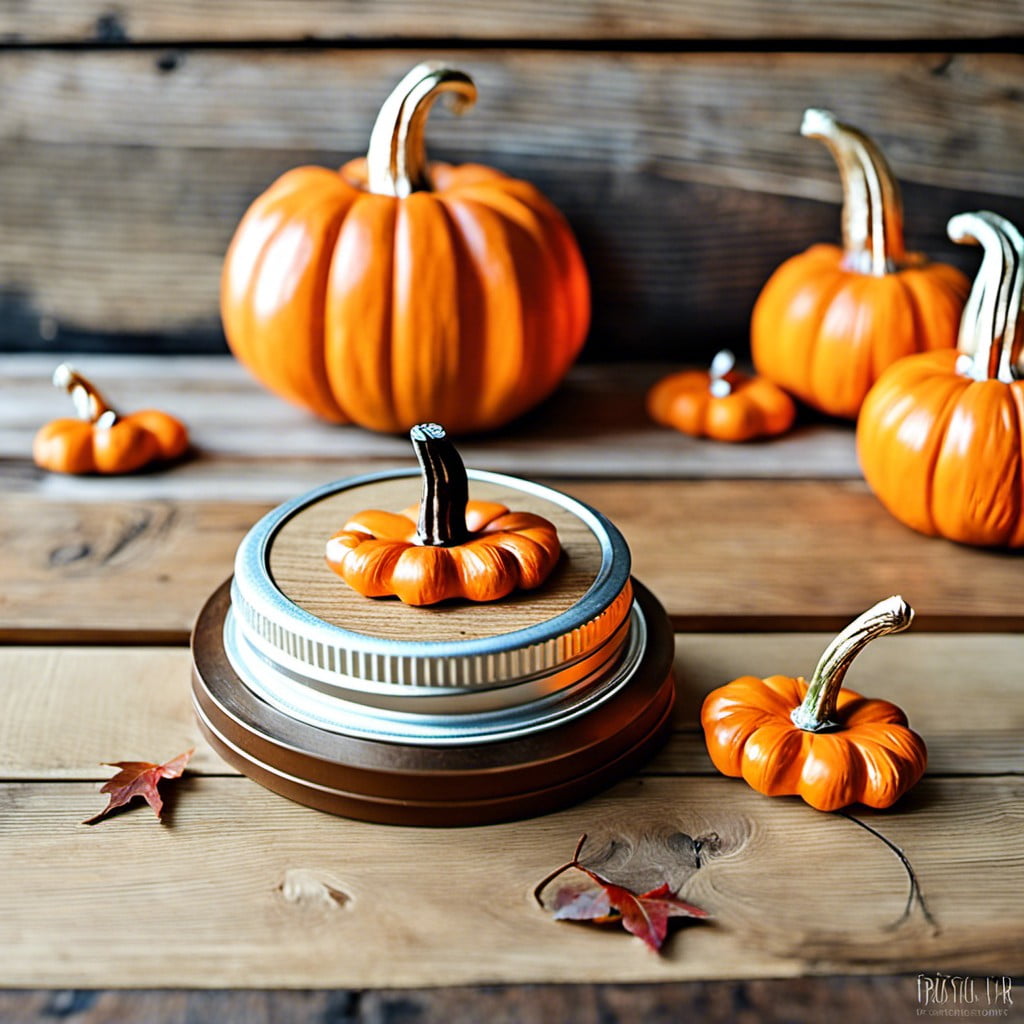 Expanding your decor repertoire with a simple yet charming Mason jar lid pumpkin craft is surprisingly easy.
Gather sufficient Mason jar lids – about 24 should suffice for one pumpkin – for the body of your creation. Use orange spray paint to bring that distinct pumpkin color to life.
Connecting the lids, a piece of twine works perfectly, just string them together keeping the tops flat and uniform. For that realistic pumpkin-esque look, make sure to bend the twine into a circle creating a naturally rounded shape.
Give your crafty pumpkin its stem and leaf using a stick from your yard and a cloth cut-out. Use a hot glue gun for a secure and durable attachment.
Now, you have a cute, cost-effective rustic centerpiece or mantel decoration, made entirely in the comfort of your own home. Happy crafting!
Rustic Pumpkin Fairy Lights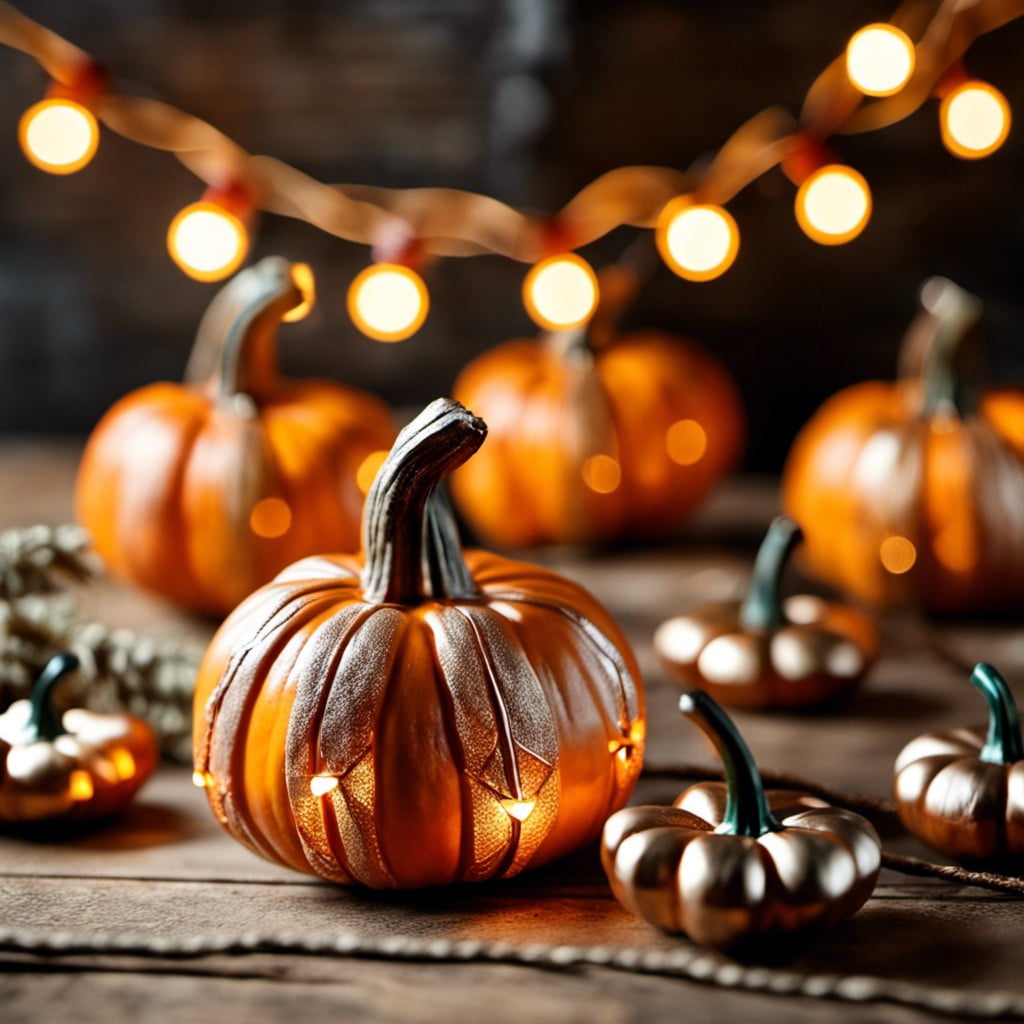 One of the key elements you'll need for this design is a string of fairy lights. These tiny star-like glimmers create a wonderful, magical ambiance when entwined around your rustic pumpkins. The soft glow will also highlight the pumpkin's imperfections, enhancing its rustic charm.
Next, select a pumpkin of your choice, preferably one with a rough texture. Its natural, imperfect skin will add an additional layer of authenticity to your decor.
Once you've gathered your key elements, wrap the fairy lights around the pumpkin. Make sure they are distributed evenly to achieve a refined yet enchanting look. You can secure the lights with a clear, adhesive tape if necessary.
Lastly, do remember to keep an eye on the bulbs. Too much heat from the lights could lead to unexpected complications. It is suggested to use LED lights which emit less heat. This design element is as simple as it sounds, adding just the right amount of 'glow and show' to an everyday autumn decor item.
Wine Cork Pumpkins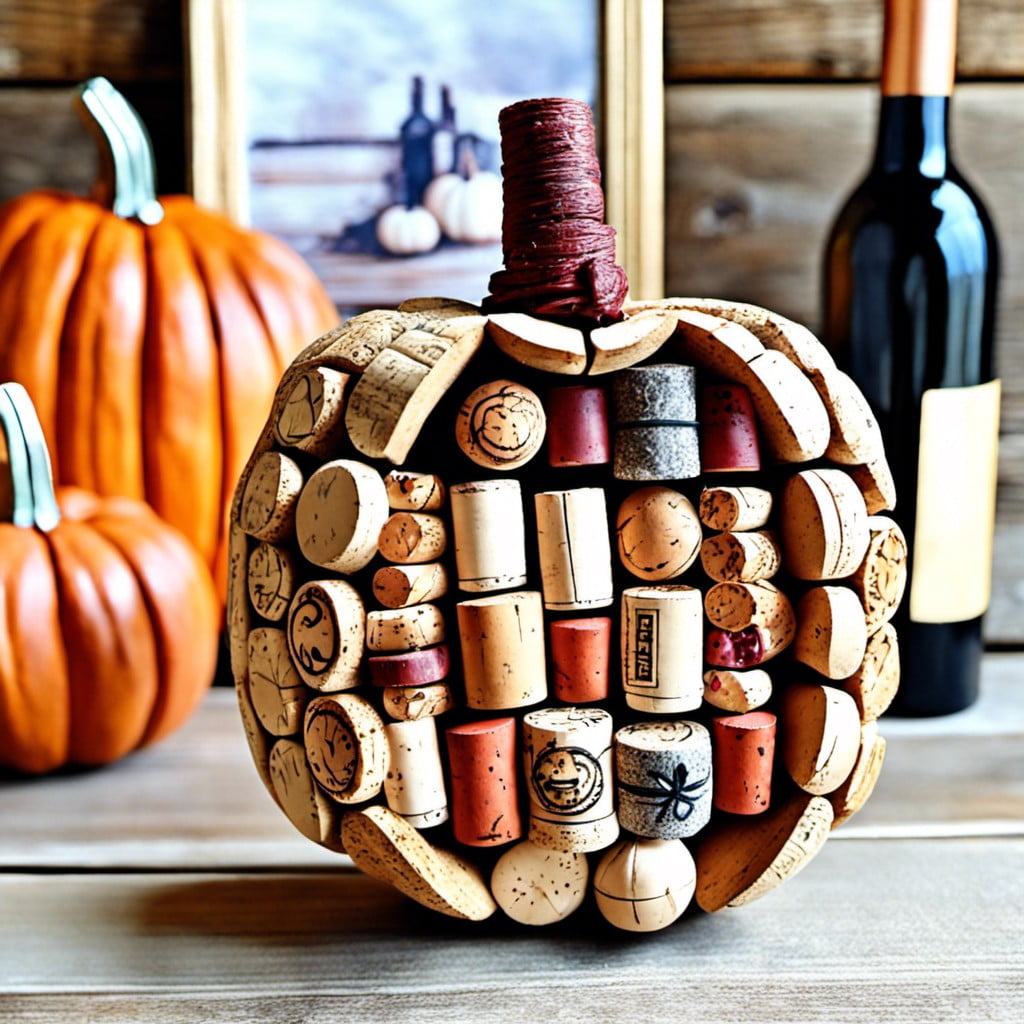 Creating this decor item is as easy as collecting wine corks after your evening glass of relaxation. Your primary materials include wine corks, a hot glue gun, acrylic paint, and a small cut of felt for the stem.
Arrange the corks into a pumpkin shape and glue them together one by one. For an added rustic charm, consider painting the corks a soft pumpkin orange color before adhering them together.
Finally, adhere your felt stem to the top of your pumpkin arrangement. This unique decor piece adds a touch of rustic charm and sustainability to your autumn atmosphere.
The key here is upcycling, as you get to transform used and often discarded items—wine corks—into a charming, artistic representation of a pumpkin.
Monogrammed Pumpkin Wreath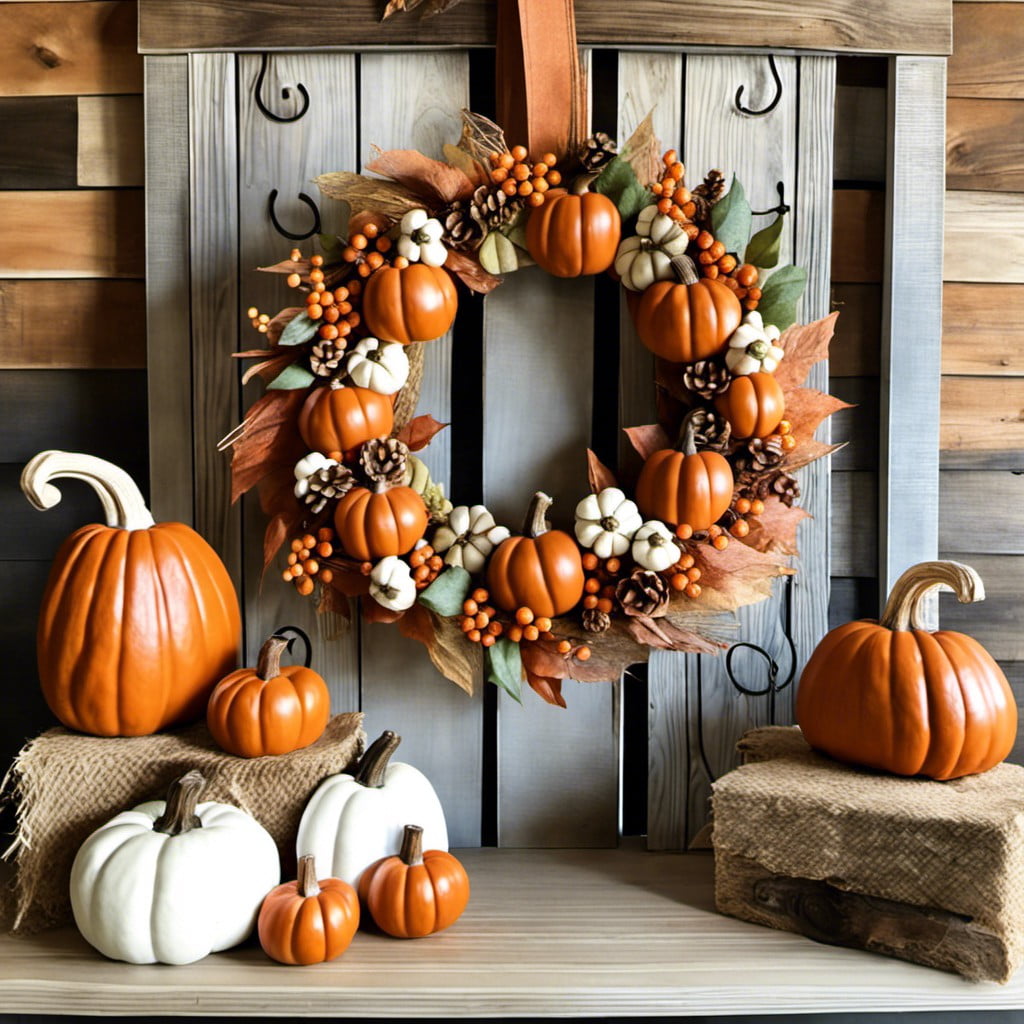 Featuring an initial of your choice, this custom element elevates a simple rustic wreath into a personalized display. Start by selecting an artificial pumpkin that suits your preferred size for the wreath. Next, carve or paint your initial onto the pumpkin. Add a solid layer of clear sealant to preserve your design.
Create a sturdy base using a grapevine wreath. Attach your pumpkin securely onto the wreath using floral wire, ensuring it's well-centered. For an added rustic charm, intertwine some vines and autumnal foliage around the base.
Lastly, tie a bow with a burlap ribbon at the top of your wreath and hang it on the front door, above the mantle, or any focal points in your home. This monogrammed design adds a unique and personal touch to the rustic pumpkin decor.
Remember, working with artificial pumpkins allows for longevity in your decorations, meaning you can enjoy your creation for several autumns to come.
Pumpkin and Pinecone Garland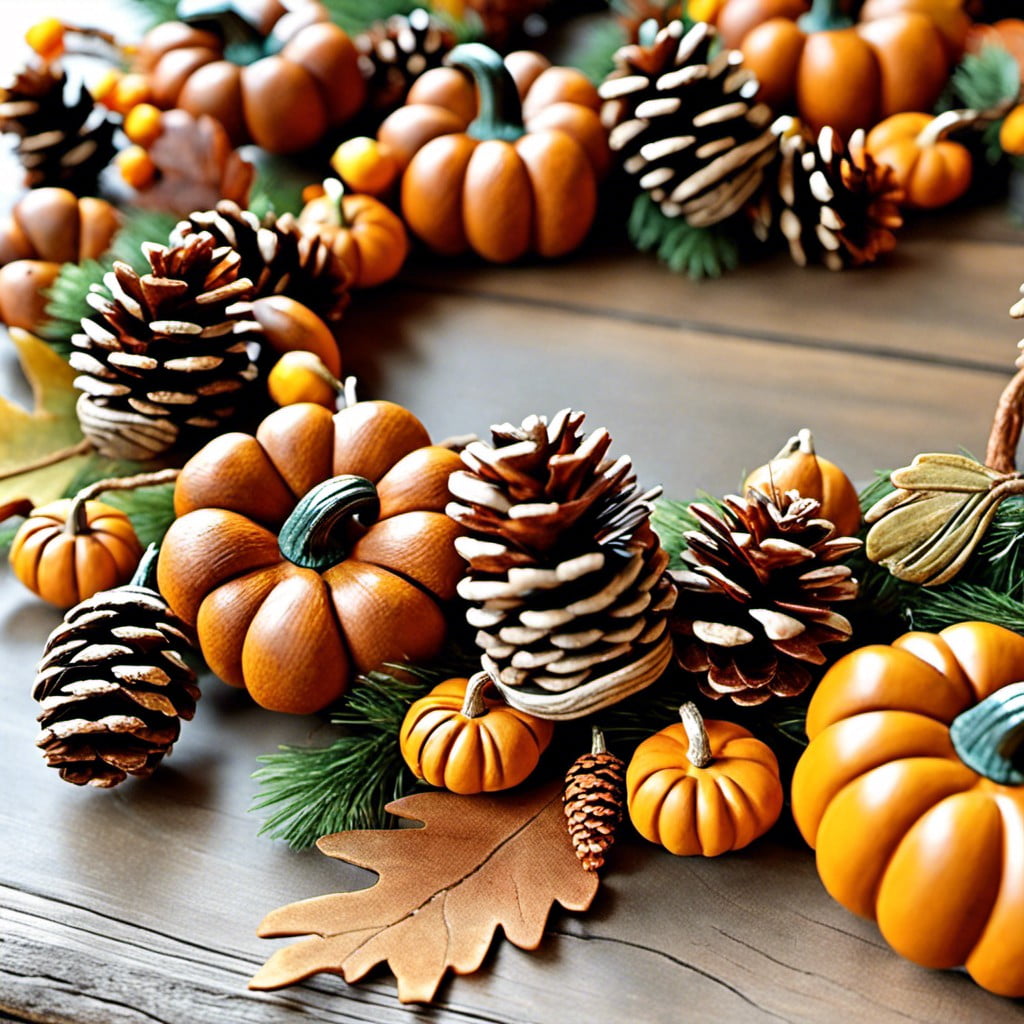 A delightful blend of autumnal elements, the garland brings together the rustic charm of pinecones and simple elegance of pumpkins.
Here's how you can craft your own:
1. Materials you'll need: Gather some pinecones, miniature faux pumpkins, twine, hot glue, pair of gloves for handling pinecones, and paint (optional).
2. Prepare Your Pinecones: If preferred, paint your pinecones for added color. Let them dry thoroughly.
3. Assemble: Now take your twine and decide the length of your garland. Cut accordingly.
4. Add Pinecones and Pumpkins: Tie your pinecones by their tops with the twine and secure any loose ends with hot glue. Stick the faux pumpkins in intervals.
Remember, a beautiful rustic garland doesn't follow rules too strictly. So, don't worry about precision or alignment. The goal is a naturally arrayed element showcasing a harmonious touch of fall splendor. jazzing up your fireplace mantel, doors, or tables, it's a versatile decoration that radiates warmth and rustic charm.
Felt Rustic Pumpkin Pillow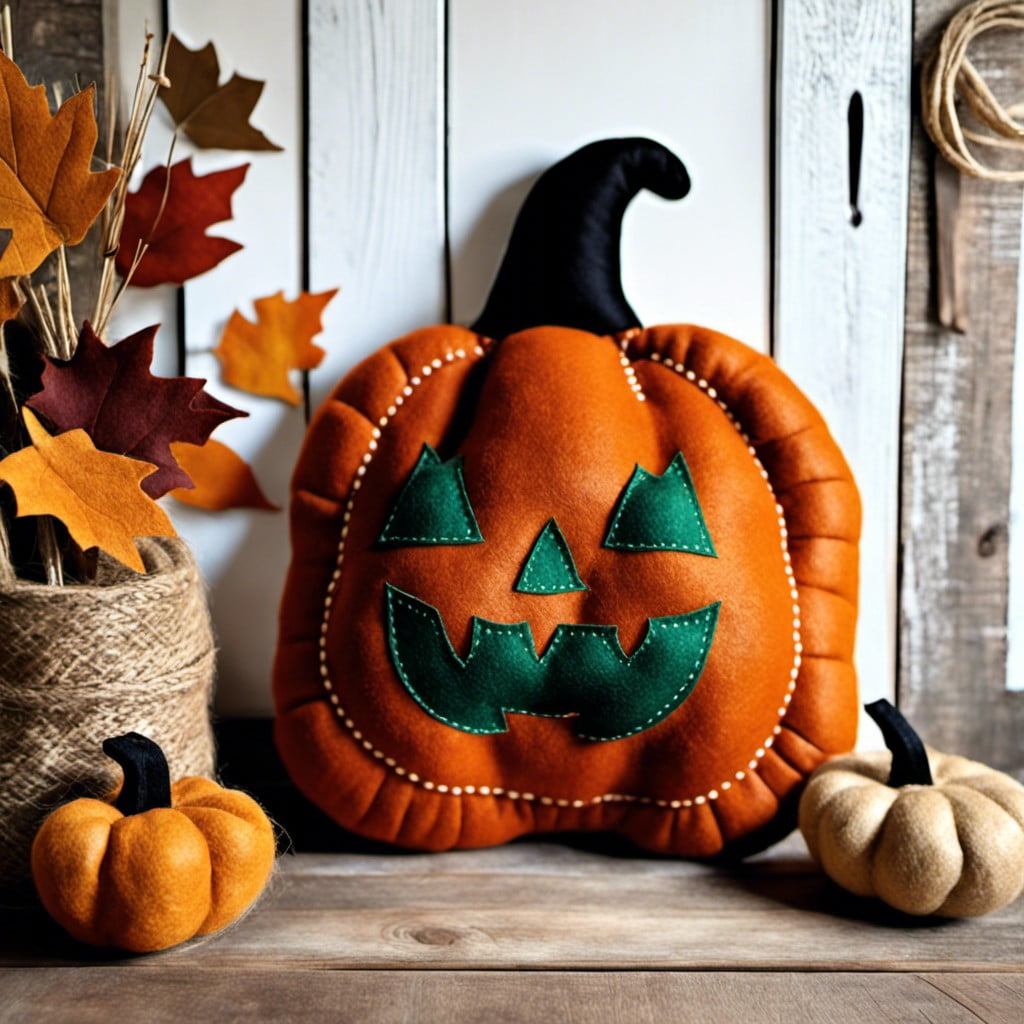 Incorporating this distinctive piece into your home decor brings a dash of autumn's charm indoors. Made from soft, high-quality felt, these pillows don't just add visual interest, they're incredibly cozy as well.
Select colors that compliment your existing decor – traditional orange for a classic feel, or perhaps deep burgundy for a more unique approach.
For the best results, choose a simple pumpkin shape as a pattern. Cut two of these out from your chosen felt color. For the stem, use a contrasting color – brown or cream typically work well.
An interesting feature to consider is the inclusion of details, such as adding felt "veins" to your pumpkin. This can add a layer of texture and really boost the appeal of your pillow.
Once your felt pieces are cut and ready, it's all about sewing them together and stuffing them to the desired thickness. Remember, the quality of the stuffing material will largely determine the level of comfort your pillow provides.
Scarecrow Pumpkin Stand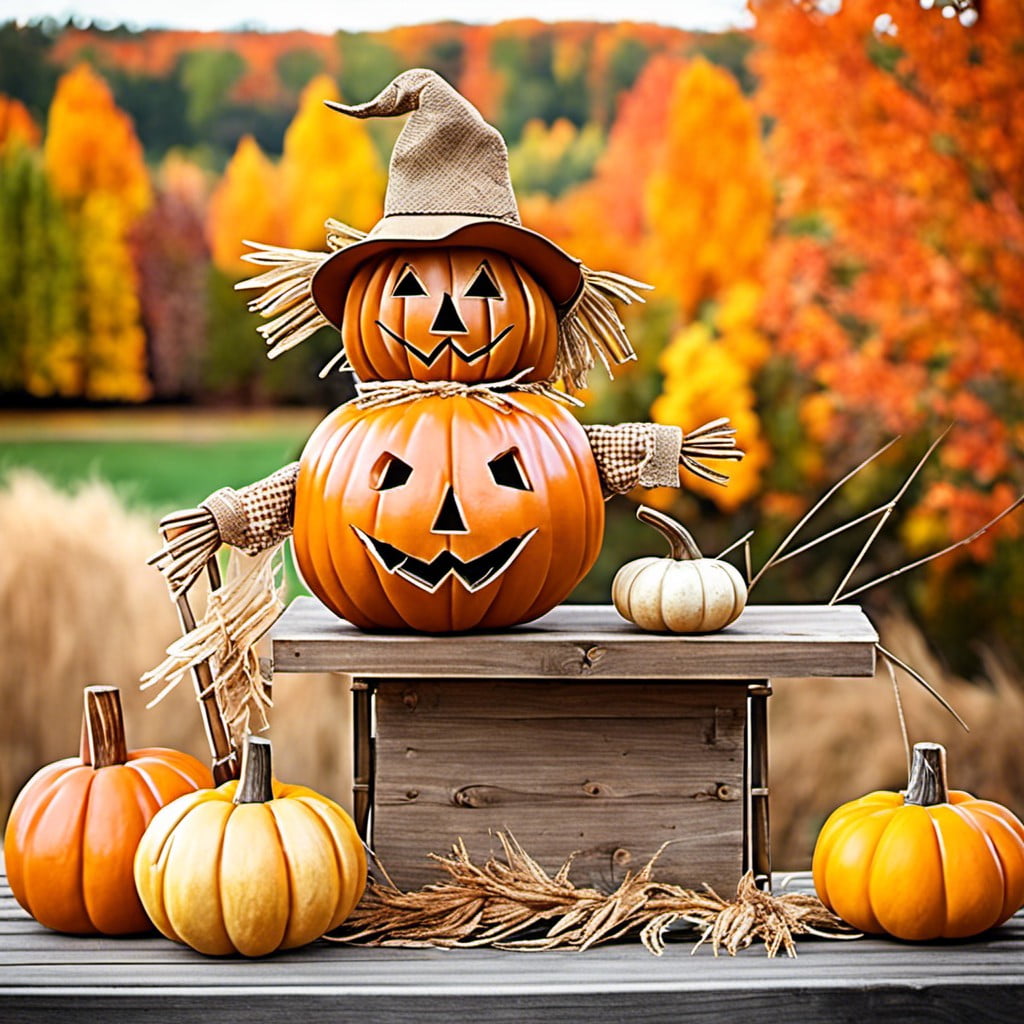 For a nifty and eye-catching display, consider a scarecrow-themed pumpkin stand. Perfect for both indoor and outdoor use, it is sure to add a playful twist to your rustic pumpkin decoration.
Here are some points to consider when creating this decor:
Size: The size of the stand should be proportional to the pumpkins you'll display.
Materials: Using natural items like straw, burlap, or corn stalks can accentuate the rustic look.
Structure: The stand can have multiple tiers for showcasing a variety of pumpkins, or be a single-tiered stand for a more minimalist design.
Stability: Ensure the stand is sturdy, especially if placing outdoors. Strong winds shouldn't topple it over, and pumpkins should sit stably on the surface.
This unique setup can surely make an attractive visual statement in your autumn celebration.
Birch Bark Pumpkin Decoration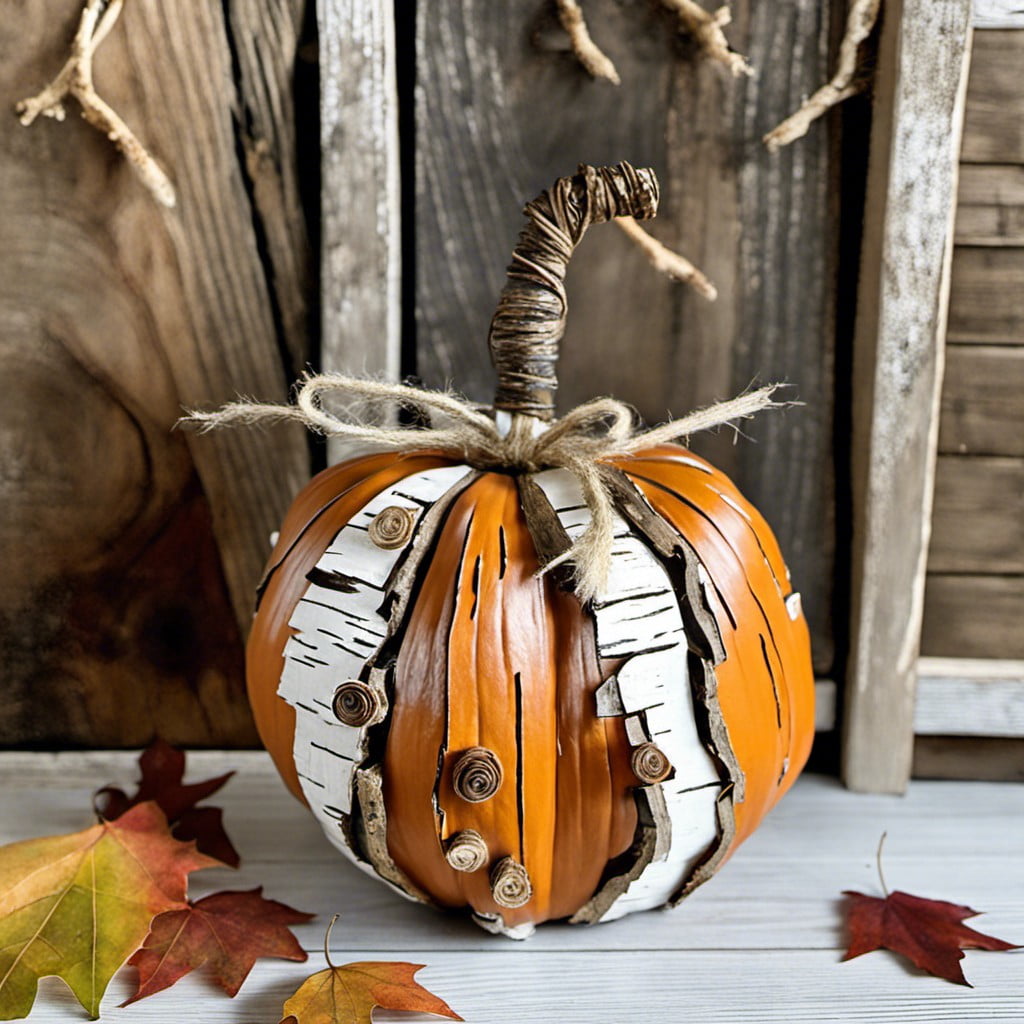 Utilizing birch bark can add a unique, natural twist to pumpkin decor. Harvesting the displaced bark from fallen or cut sections of birch trees can be an eco-friendly approach. Covering a faux pumpkin in pieces of carefully cut and affixed bark, creates a distinct centerpiece combining the organic textures of the bark with the seasonal relevance of pumpkins.
1. Gather bark: Look for fallen or cut birch trees – never harm a living tree for decor.
2. Size correctly: Measure the height and circumference of your pumpkin to ensure the bark covers it completely.
3. Adhere the bark: Use a strong adhesive suitable for porous surfaces like wood and allow drying time as directed.
4. Trim excess: Use a crafting knife to remove any excess bark and create a neat finish.
This design concept brings the outdoors inside, adding a unique and rustic touch to your Fall decoration scheme. Plus, it is entirely customizable – you can opt for a more rugged, uneven look, or cut the bark to uniform pieces for a neat, mosaic pattern.
Rustic Pumpkin Bird Feeder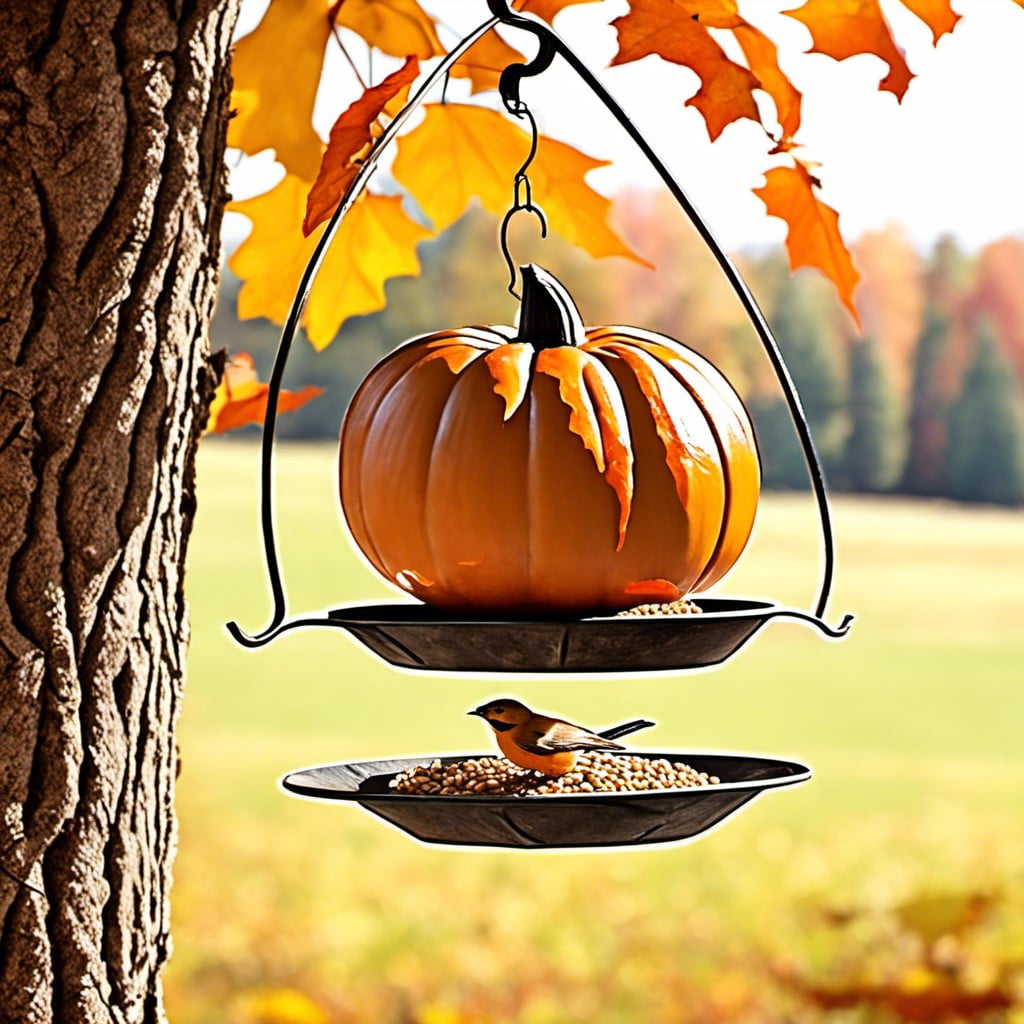 Creating your own bird feeder is a fun and simple project that merges two beautiful aspects of fall—pumpkins and birdwatching.
Acquire a medium-sized pumpkin and cut off its top.
Remove the interior, but don't discard the seeds—they make great bird food!
Carve small holes around the pumpkin and attach strings for birds to perch on.
You can even embellish the exterior with patterns or bird-friendly edibles such as dried fruit or corn.
Once completed, hang it in your garden or balcony area.
Benefits of this project include attracting a variety of bird species to your home environment and providing them food during the colder seasons.
Additionally, it embodies a rustic charm, seamlessly merging with your fall decor while simultaneously serving a purpose.
It's an exquisite project that derives beauty from nature and functionality.
Tin Punch Pumpkin Lantern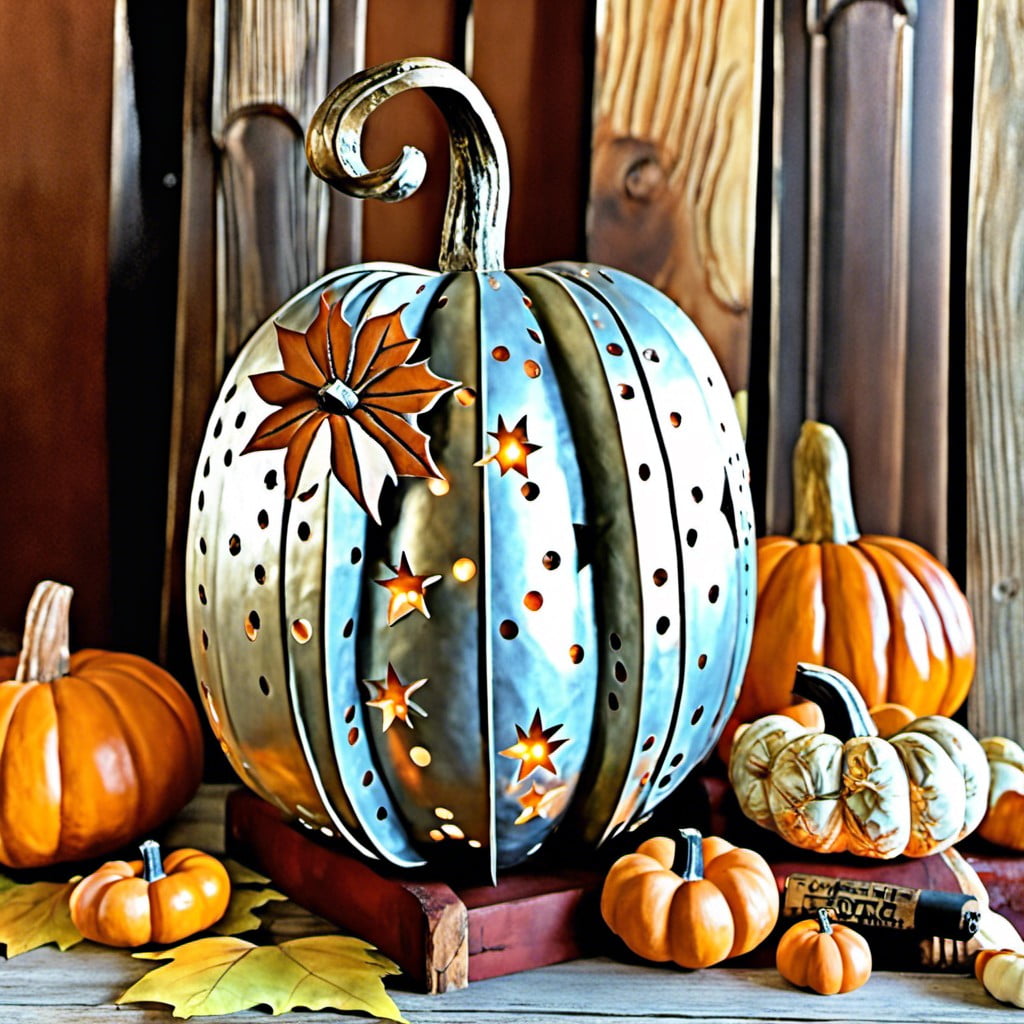 To create a captivating glow with an old-timey charm, consider crafting a lantern right into your pumpkin. By using an open flame or LED candle, you can achieve a soft, warm light that brings life to your Autumn evenings.
For this project, you'll need your choice of pumpkin, tin punch templates, and a small hammer.
1. Choose a pumpkin that is fairly flat on one side.
2. Use ready-made tin punch templates, or create your own if you're feeling adventurous.
3. Gently hammer the template into the pumpkin, creating a beautiful, intricate design.
4. Consider adding details such as outer adornments, like twine or rustic ribbon.
Remember, if you opt for a real flame, ensure your pumpkin is well ventilated and never leave it unattended. For a safer, worry-free option, consider using an LED light. This decoration is perfect for both indoors and outdoors. It's a unique twist on the typical carved pumpkin and a guaranteed conversation starter. (Note: punch out a hole to use as a handle if you want to hang your lantern.)
Safety comes first, then spoooky sparks fly with this tin punch pumpkin lantern!
Pumpkin Spice Candle Holder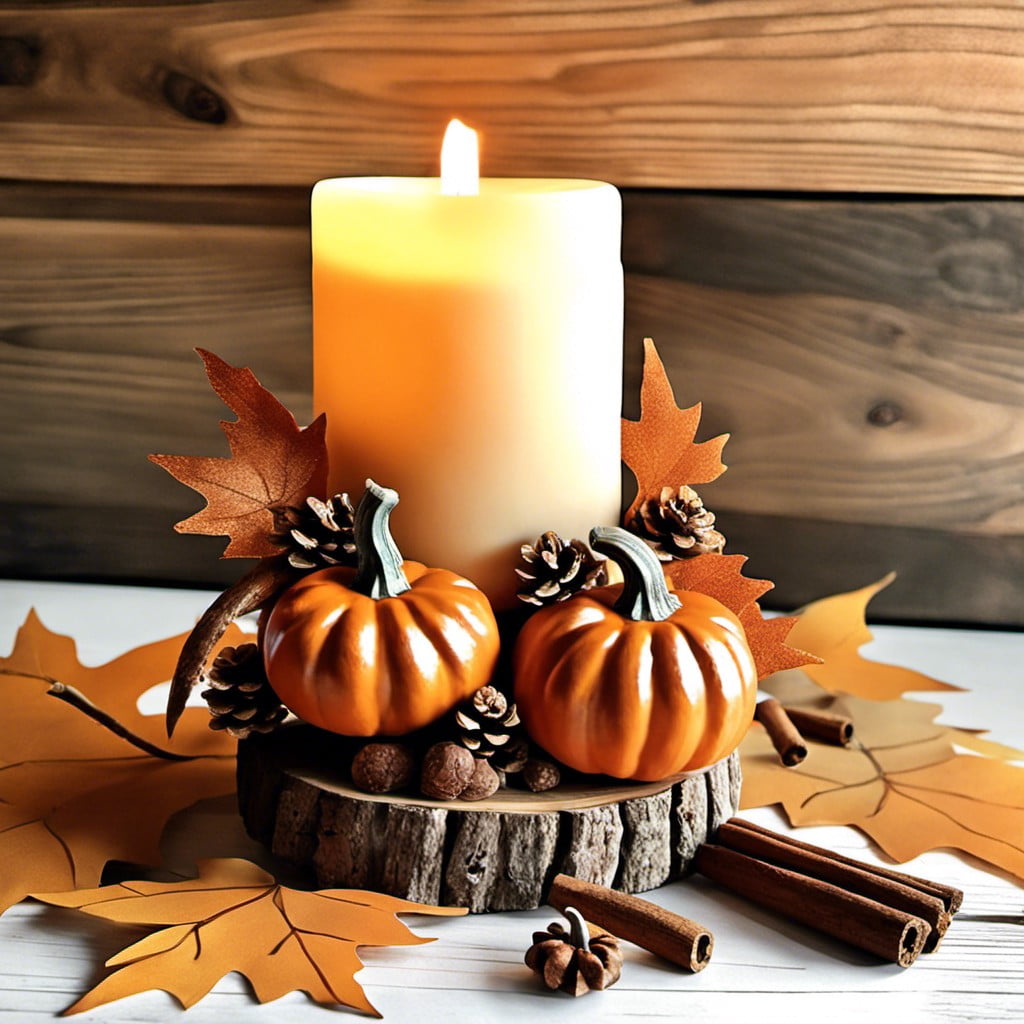 To craft this delightful seasonal addition, start with acquiring a clear glass container. Make sure it's sturdy, preferably with thick walls, to hold the heat from the burning candle. A jar, a glass, or a hurricane lamp will do perfectly.
The second step involves getting the spices. The choice of which and how many lies solely with the end-user. Cinnamon sticks, whole cloves, star anise, and nutmeg seeds are popular for their pleasant aromas. The more variety, the richer the scent. Arrange these spices around a flat candle at the base of the container.
For an earthy rustic touch, wrap twine around the outside. It provides a tactile and pleasant contrast to the smooth glass. To secure this, a hot glue gun would be handy.
Lastly, for a neat finishing touch, affix a small wreath made of dried orange slices and tiny pine cones around the top. Remember, the goal is to create an aesthetically pleasing sight when the candle is lit and casts a warm glow through the glass, highlighting the spices within.
This simple project does not only create a fantastic aroma but also serves up an appealing rustic centerpiece for any fall gatherings.
Bundt Pan Pumpkin Basket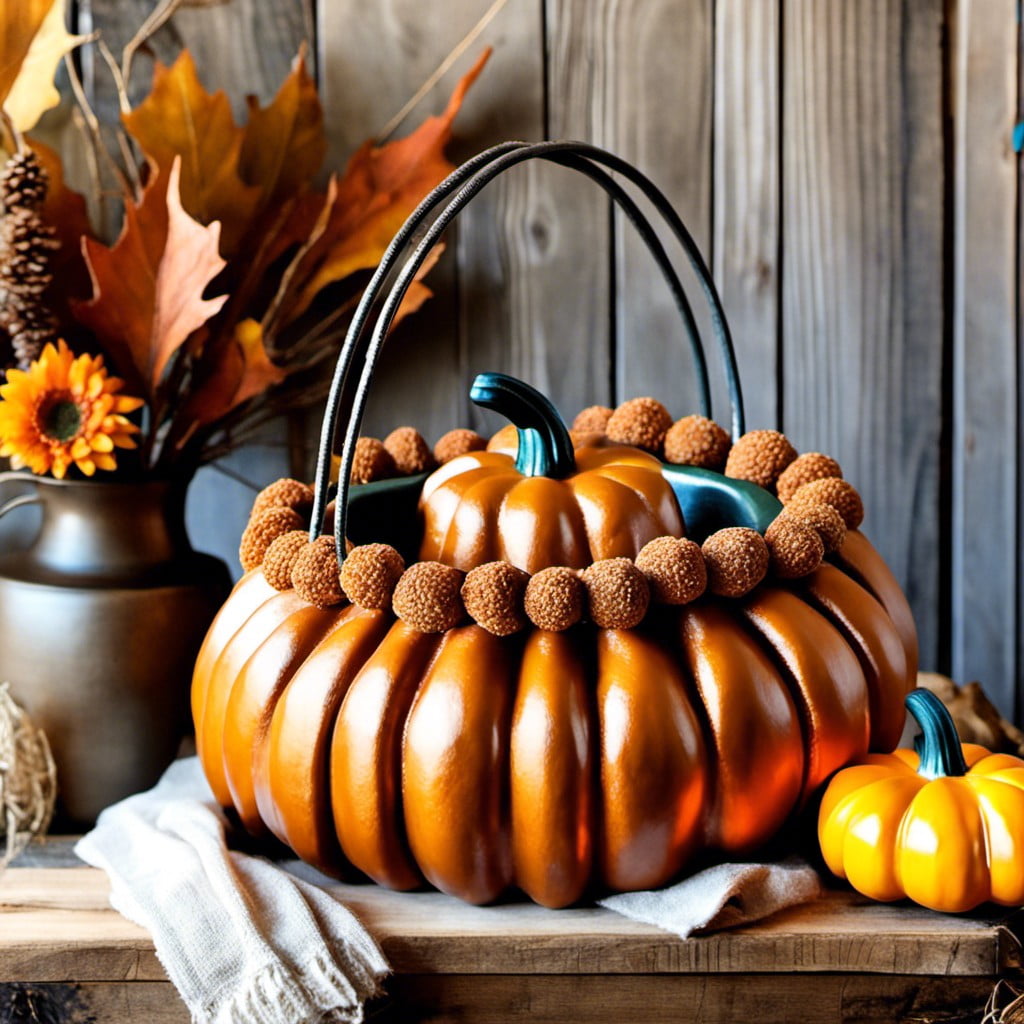 Creating this playful festive basket is a breeze. First, choose two Bundt pans of varying sizes; these will form the body of your pumpkin. Paint them in a shade of orange or leave them in their natural metallic color for a more industrial aesthetic.
Once the paint dries, stack them atop each other and secure with hot glue or heavy-duty adhesive to form a pumpkin shape. The hollow center makes these small yet sturdy pumpkins perfect for storing autumn knick-knacks — think pinecones, artificial leaves, or small gourds.
For the finishing touch, attach a cinnamon stick or small branch at the top to act as the stem, and your pumpkin basket is ready to beautify your autumnal setting. Sprinkle it with craft glitter for an added sparkle or tie a burlap bow around the stem for a cozy, country feel.
Remember, creativity is key. Mix and match colors, sizes, and decoration ideas to make the piece truly unique. It is a fun and rustic way to celebrate the season, plus, it's a conversation starter!
Fabric Patchwork Pumpkin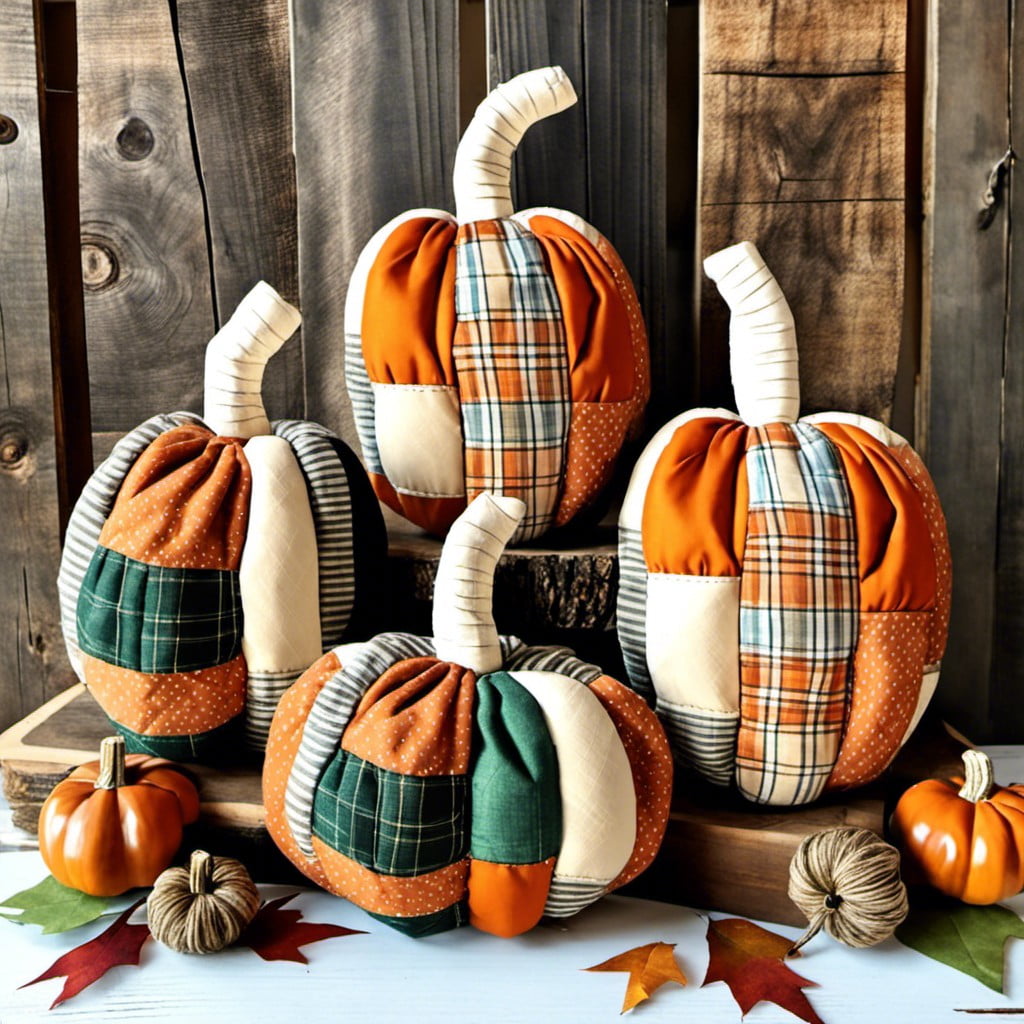 To bring this comforting fall decor to life, start with a foam or plastic pumpkin as a base. A variety of fabric patterns, preferably in autumn hues, will be needed. Cut the fabric into small squares (about 3×3 inches or to your preference).
The next step involves some patchwork. Glue these fabric squares onto the base overlapping them slightly, until the entire pumpkin is covered. If you have a preference, stick to a specific pattern, or go wild and random to add a touch of country charm.
Using a small twig, a cinnamon stick or fabric stem, and perhaps a piece of burlap for the leaf, complete the look by attaching them at the top-center of your pumpkin. This rustic decor piece elevates the fall atmosphere, mixing old-world charm with cheerful fall festivity. It's perfect for entryways, table centerpieces, or even as a thoughtful do-it-yourself gift.
Pumpkin Inspired Burlap Table Runner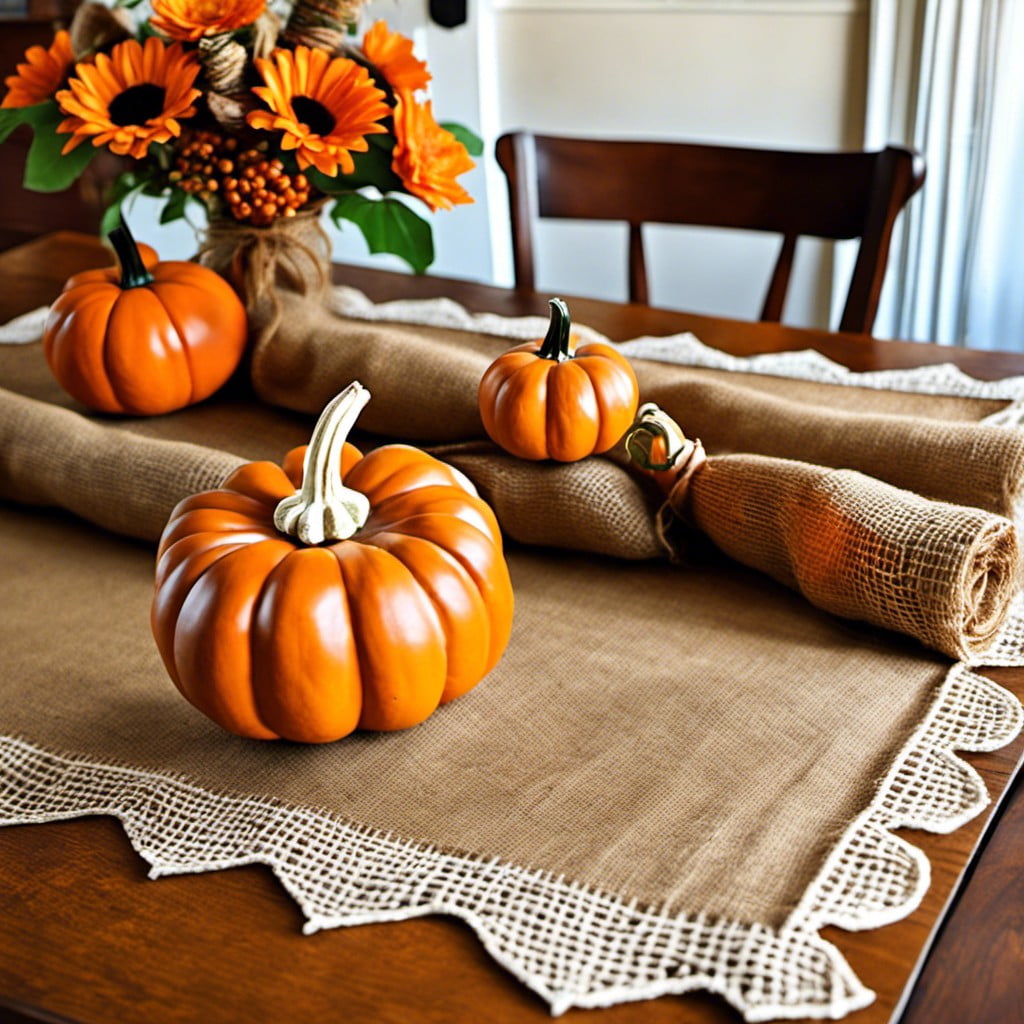 Delivering a unique blend of texture and style, this table runner brings a whiff of autumn inside your home. Made from rustic burlap, it showcases hand-painted pumpkins to spice up your regular table setup.
Here's your brief guide to nail this decor:
1. Choose a piece of burlap that fits the length of your table.
2. For durable, fray-resistant edges, opt for machine-stitched seams.
3. Opt for acrylic paint in classic fall shades such as oranges, browns, and golds.
4. Sketch your pumpkin using a pencil before filling it in with vibrant colors. This gives you a rough reference and minimizes painting mistakes.
5. For more dimension, add green leaves and vines around the pumpkins.
6. Once dry, place it down the center of your dining table for a splash of autumn spirits.
There you have it – with these steps, this charming table runner becomes a delightful homage to seasonal enchantment.
DIY Copper Leaf Pumpkins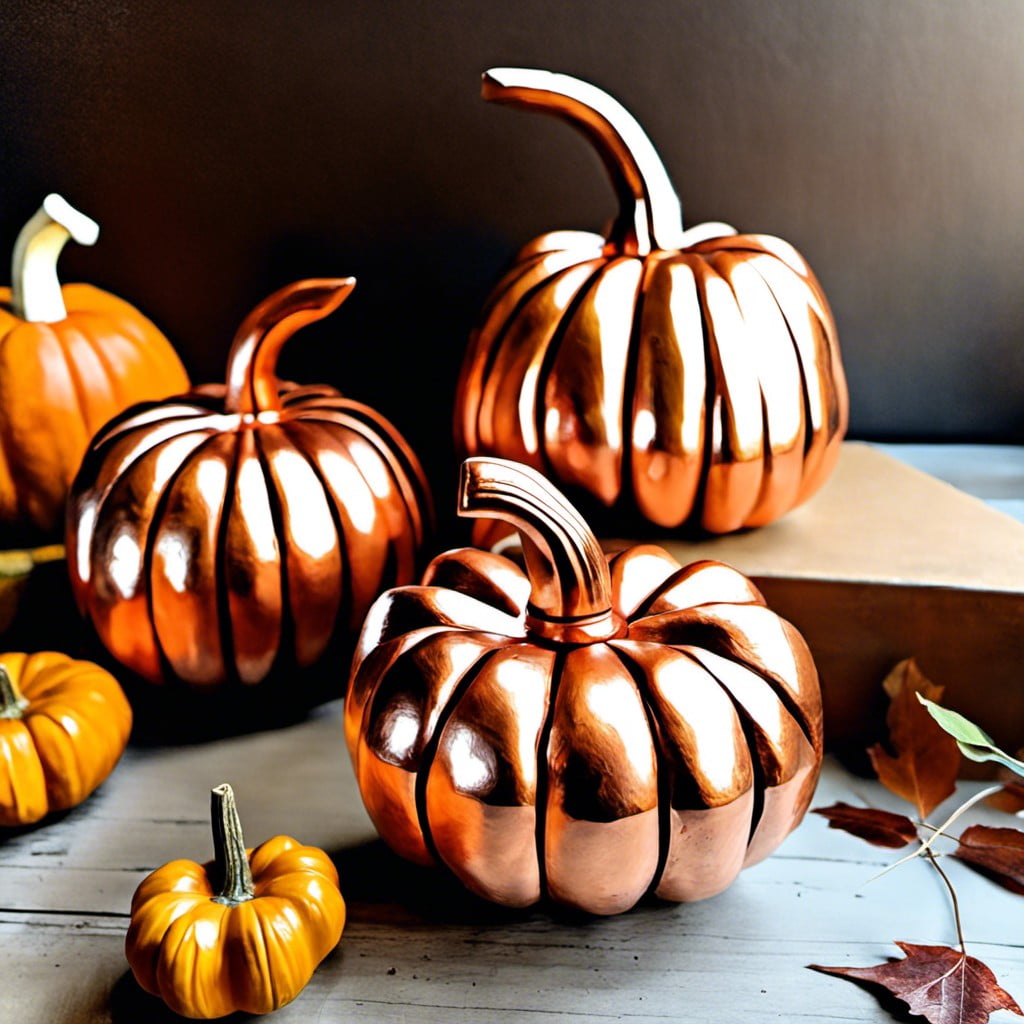 These striking accents harness the rustic charm of pumpkins while introducing a delicate shimmer to your space. Let's get you started on creating these copper-toned delights.
1. Materials Needed: Large, medium, or miniature faux pumpkins, adhesive size, copper leaf sheets, soft paintbrush, and sealer.
2. Application of Adhesive: Paint a thin layer of adhesive size on your pumpkin. Remember to leave it until it reaches a clear, tacky state before moving on to the next step.
3. Copper Leaf Attachment: Carefully apply copper leaf sheets to the surface, smoothing down with the paintbrush. This task requires a delicate touch to tap down the copper leaf onto the sticky surface effectively.
4. Sealing: After the entire pumpkin is covered, lightly apply a coat of sealer. It imparts a smooth finish and ensures the copper leaf adheres properly.
Now, there you have it – a piece of reflective nature-inspired décor that radiates a warm, inviting glow in your rustic setting. You can use a group of these in diverse sizes as a centerpiece table decoration or integrate them within your front porch display.
Antique Silver Pumpkin Planters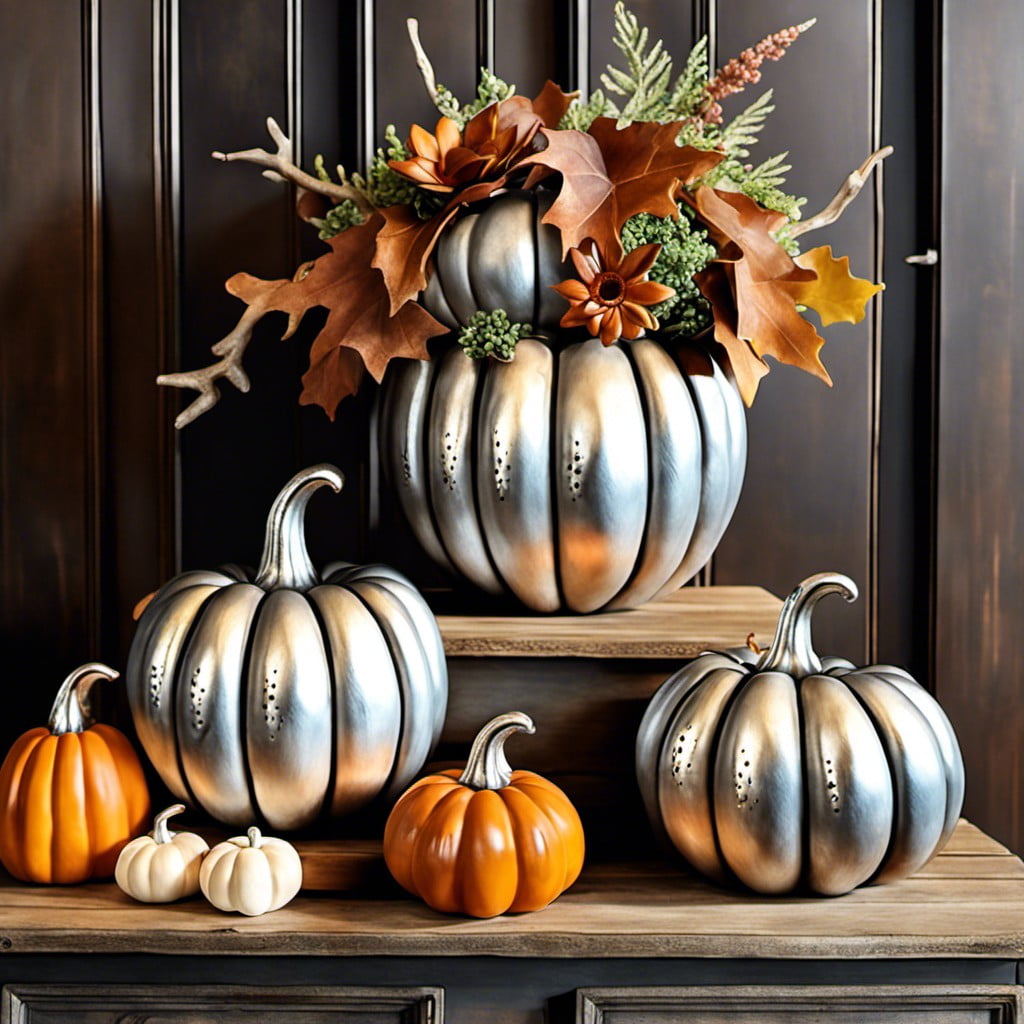 One way to add a touch of elegance to the rustic theme is by turning antique silver items into chic pumpkin planters. Ideally, these planters should be lined with moss or similar material to promote proper drainage.
After preparing the planter, simply choose your preferred succulent or fall blooming plant to nestle inside the hollow of the pumpkin. Ensure the plant and pumpkin fit snugly within the container.
The contrast of the metallic shine and vibrant plant colors create a unique, rustic aesthetic. Besides being an eye-catching decor, this project is also a fantastic way to upcycle unused items.
Lattice Pumpkin Pie Home Decor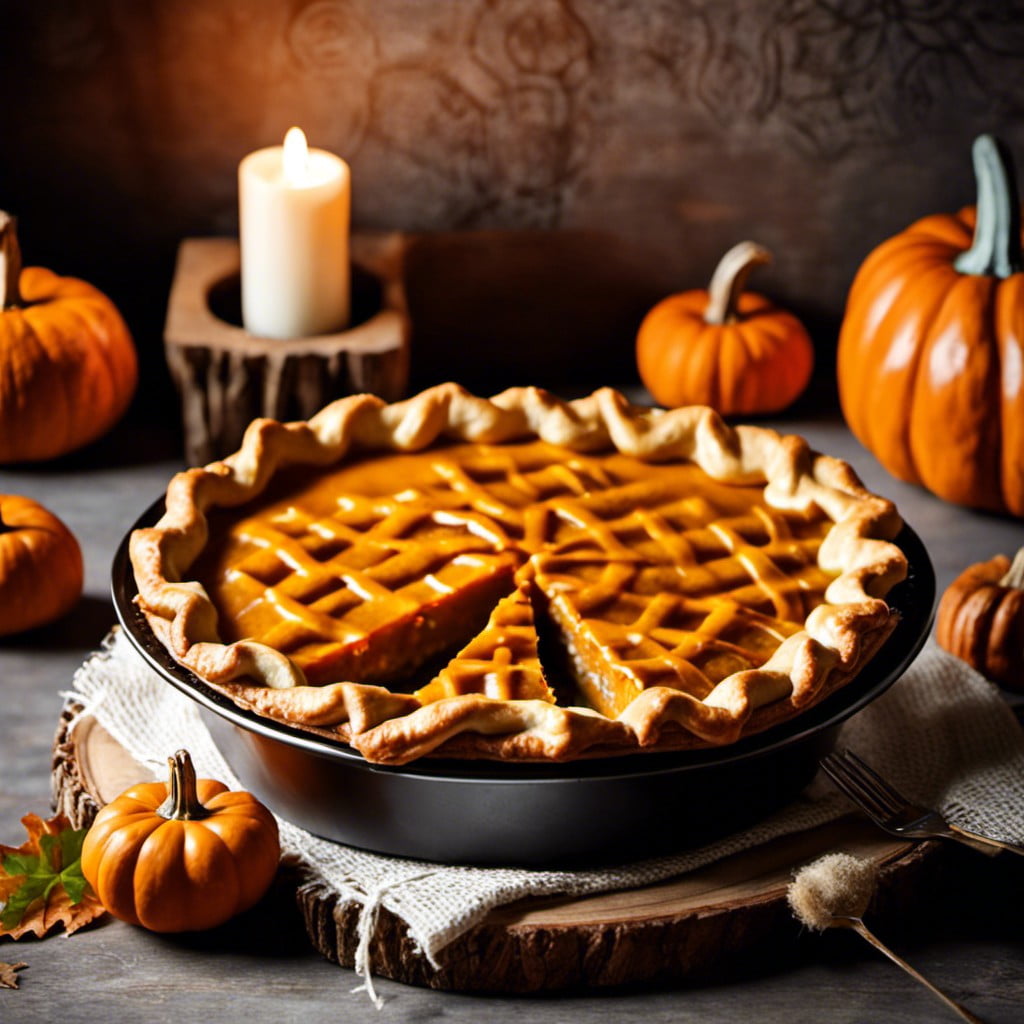 Here's a novel way to underscore your home's rustic character – designing lattice pumpkin pie home decor! Drawing inspiration from the visual delight of a classic pumpkin pie, this decor subtly weaves in fall elements in your space.
Follow these simple steps:
1. Start by acquiring faux pumpkins of varying sizes.
2. Next, use beige craft paint for the base, representing the pie's crust. For creating the illusion of the lattice, use cream colored paint.
3. Once your base is dry, create a lattice design by crossing long lines over the pumpkin. A good tip here, use painter's tape for sharp, clean lines.
4. Finally, add a dab of cinnamon brown at the crossing points of the lattice. This mimics the baked spots of a real pumpkin pie.
In no time, you're left with engaging autumn decor that's sure to spark conversation. Plus, it's an affordable way to switch out your usual centerpieces or side table ornaments for something uniquely season-oriented!
Rustic Pumpkin Stacking Storage Boxes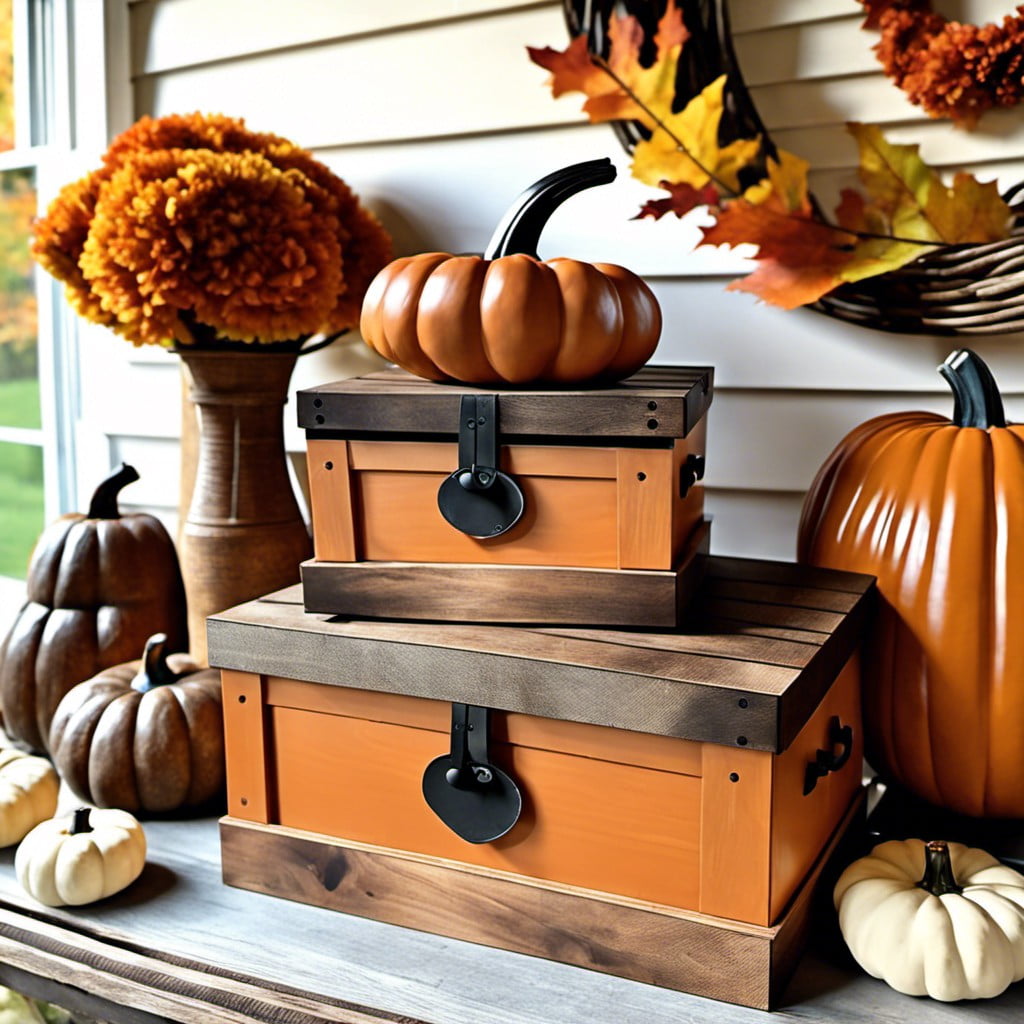 Creating these charming storage boxes involves simple crafts supplies like wooden crates, orange paint, and stencils for letters.
First, start by painting the crates an autumn orange color.
Once dry, use the stencils to spell out autumn-related words or phrases – this could be an individual letter on each crate to spell out "fall" or even festive expressions like "give thanks".
What makes these boxes exceptionally useful is not only their everyday storage utility but also the festive aesthetic they add when stacked.
You can fill them with decorative items like faux autumn leaves, pine cones, or extra blankets for cool fall evenings.
Arrange them in the entryway or living room for a touch of rustic charm that offers practicality.
Ideas Elsewhere
Liked reading this? Here's more:
Recap: