Last updated on December 7, 2023
Give your workspace a touch of spooky delight because you'll discover how incorporating Halloween decor can transform your office into a thrilling environment in this article.
As the creative mind behind this unique collection of 20 Essential Halloween Office Decor Ideas, I sincerely hope you'll find as much inspiration and enjoyment in these designs as I had in crafting them.
Transforming an ordinary office space into a spooky Halloween haven is an exciting way to celebrate the season. Whether you're looking to create a haunted cubicle, a creepy conference room, or a frightful foyer, there's a range of imaginative and fun Halloween decoration ideas to choose from.
This article offers a wealth of details on how to achieve the perfect balance of festive and professional, ensuring that your office becomes the talk of the company. From simple desk decorations to elaborate themes, you'll find all the inspiration you need right here.
Spider Web Office Chair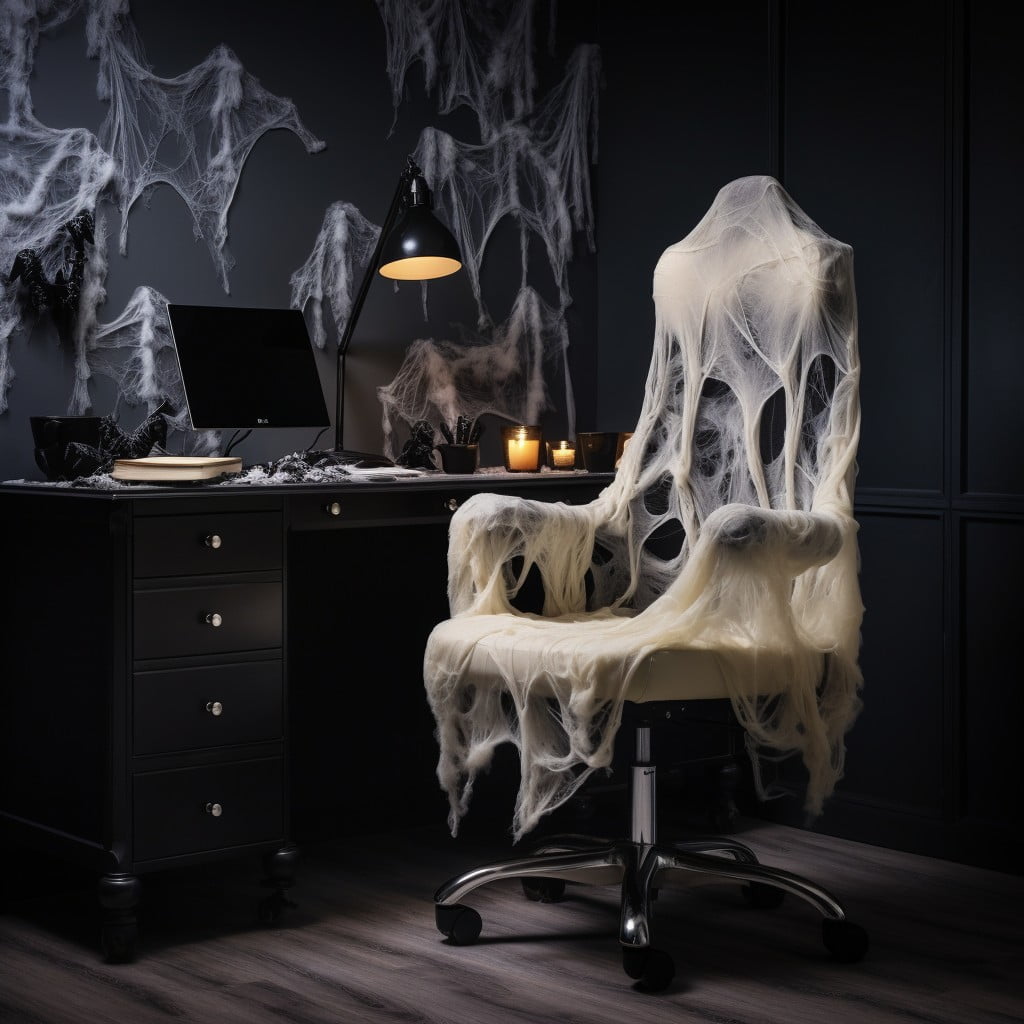 Transforming your everyday office chair into a spooky Halloween centrepiece doesn't require much effort. Use faux spider webs, which are easily available at any party supply or craft store.
Simply stretch the webbing material all over your chair until it's fully covered. To enhance the effect, you can add plastic spiders to the webs. This method gets even better if the chair is black or dark-colored, making the white webs stand out.
Just ensure the webbing doesn't interfere with the chair's functionality. It's a simple yet effective Halloween decoration that adds a frightful touch to your regular work setup.
Desk Ghost Lanterns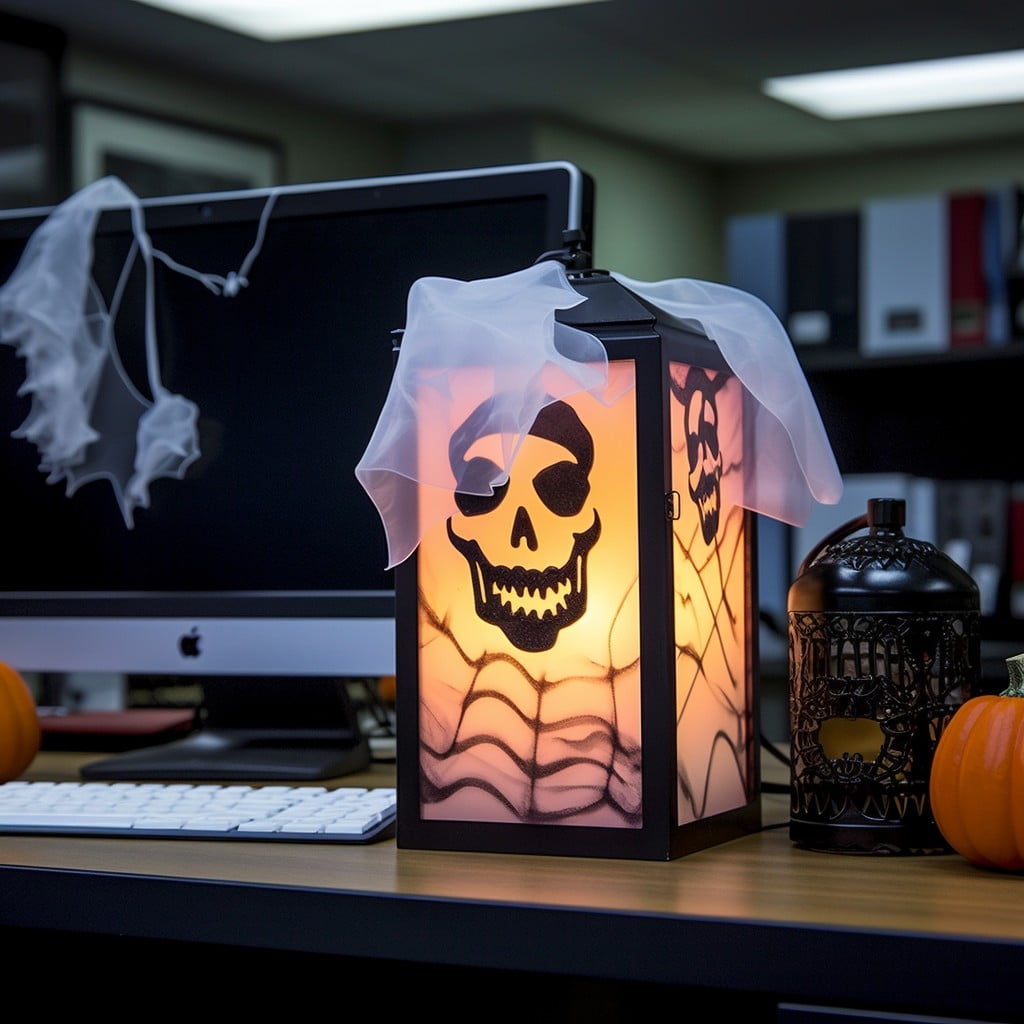 To commence the transformation, source some clear, empty jars – ideally of varying sizes. LED candles offer the safest bet for lighting, eliminating any risk of actual flames.
Draw, or even stick on, eerie faces akin to Jack O'Lanterns – only this time, the specters are your office lamp. Cluster a few together for a more pronounced eerie effect or strategically place them singly to cast expectant and spooky shadows.
Add a touch of creepy elegance with a touch of glow in the dark paint on the outer surface. Be mindful not to obscure the facial features; the illumination is key.
The result is a playful, flickering ghostly glow that's spooky enough to honor the Halloween spirit without tipping into full-on fright territory.
Pumpkin Paperweights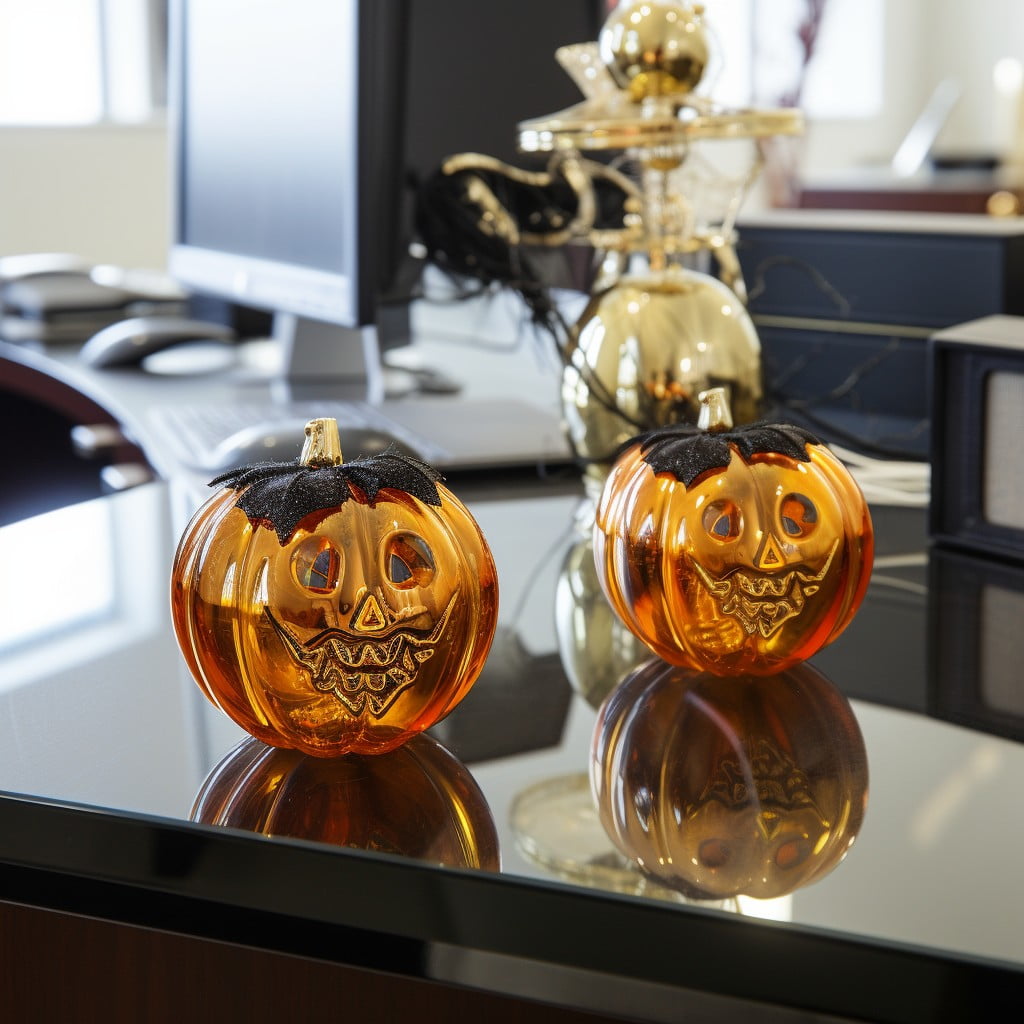 Utilize the festive charm of tiny pumpkins to keep your papers in line. With a wide range of mini artificial pumpkins available in the market, they're extremely durable and perfect for weighty duties. Opt for a traditional orange or mix in white and green for a more visually appealing look.
For a bit more holiday spirit, consider decorating them. Glitter, paint, or even attaching miniature Halloween-themed stickers can create lively additions to your workspace. Transform them into something amusing or sinister, according to your preference.
For a uniquely spooky touch, consider exploring ideas like carving tiny faces or turning them into mini Jack-o'-lanterns. Remember to incorporate your creativity but respect your workspace's visual harmony. A pumpkin paperweight is a small but effective option to step up your office Halloween game.
Spooky Window Decals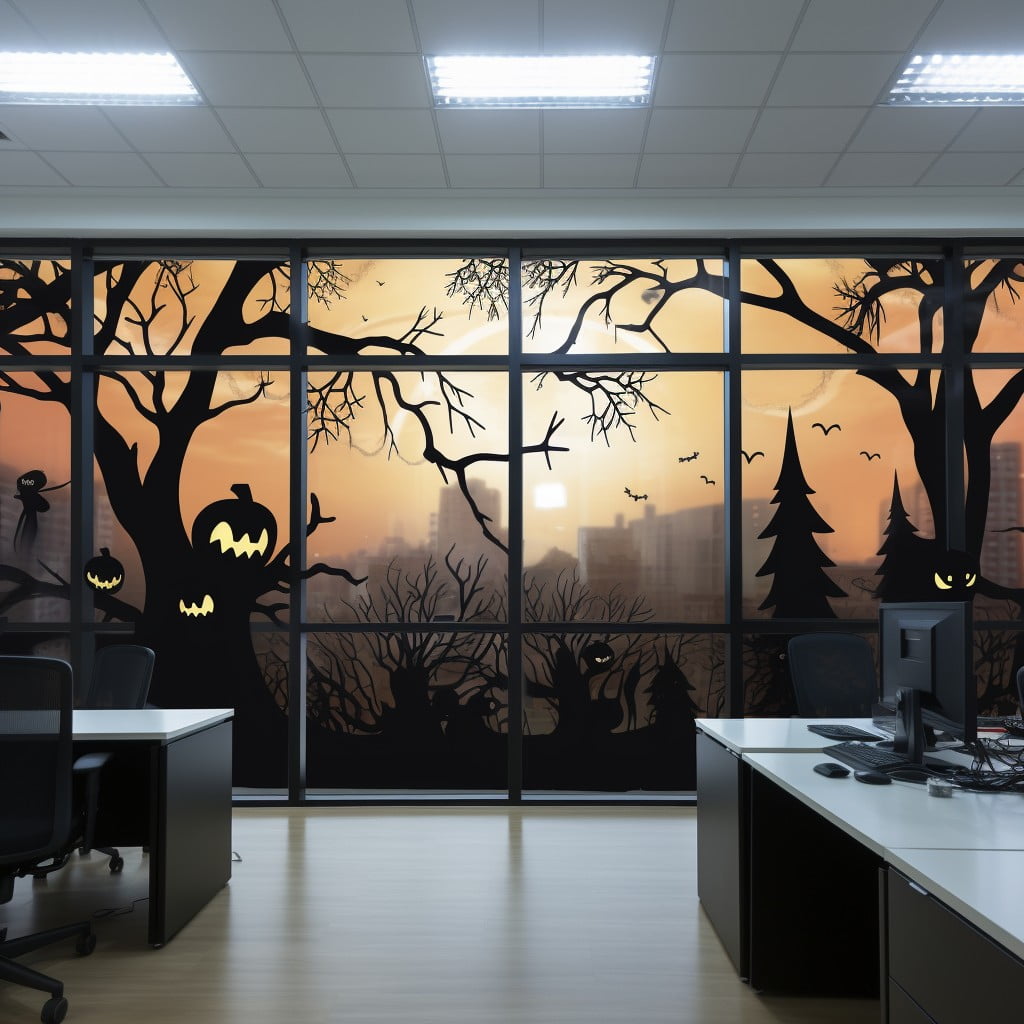 Adorning your windows can drastically transform your office environment and inject a dose of Halloween spirit. Opt for decals with traditional Halloween motifs like black cats, witches on broomsticks, or eerie moonlit landscapes.
Choosing a mix of sizes can create a more visually compelling display. Small, medium, and large decals placed thoughtfully on panes will create depth and dimension. Don't overlook corners and window frames; these can be ideal spots for smaller decals like spider webs or swirling ghostly figures.
Ease of application and removal is a useful feature to consider when selecting window decals. It's important that application is bubble-free and the removal does not leave residue or damage your windows.
Lastly, remember that decals will be visible from outside the office as well. Select designs that not only match your office décor but also offer an appealing glimpse into the Halloween fun awaiting inside for those viewing your office from exterior.
Haunted House Partition Screens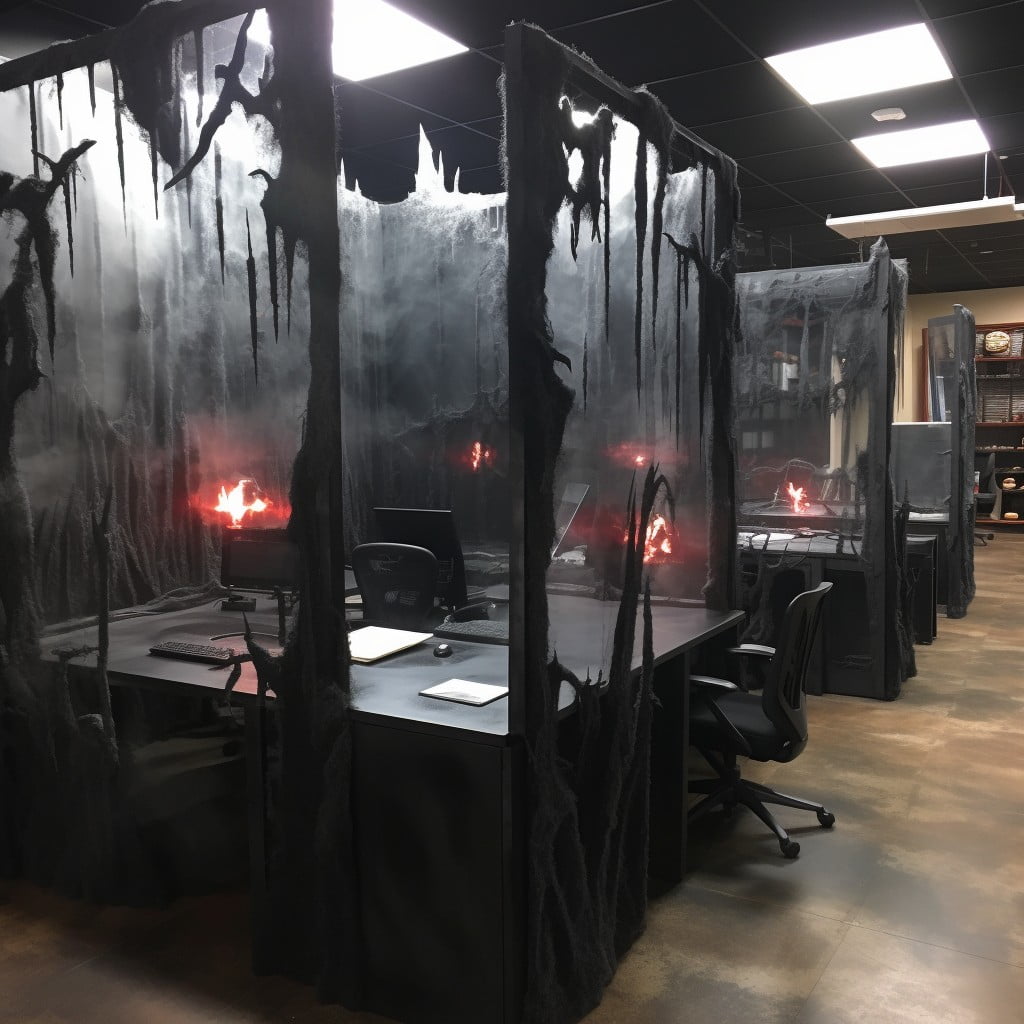 Dissolving the routine office atmosphere with partition screens transformed into haunted houses dramatically amps up the Halloween spirit. Choose a design that strikes a balance between eerie and festive, keeping the office mood serious enough for work and cheerful enough for celebration.
Invest in reusable vinyl stickers with creepy characters like ghosts, witches, and zombies to create a haunted house environment on the partitions. Ensure to stick them in a way that does not damage the screen or leave any residue.
For a 3D effect, consider the use of mini cut-outs of haunted house elements like a Gothic window or a shaky wooden door. They bring depth to an otherwise flat depiction and make the screens more engaging.
LED string lights with different colored bulbs can add an extra layer to the theme. Finally, complement the screens with matching spooky desk accessories. Remember to keep the screens functional and avoid clutter for maximum effect.
Cartoon Witch Wall Stickers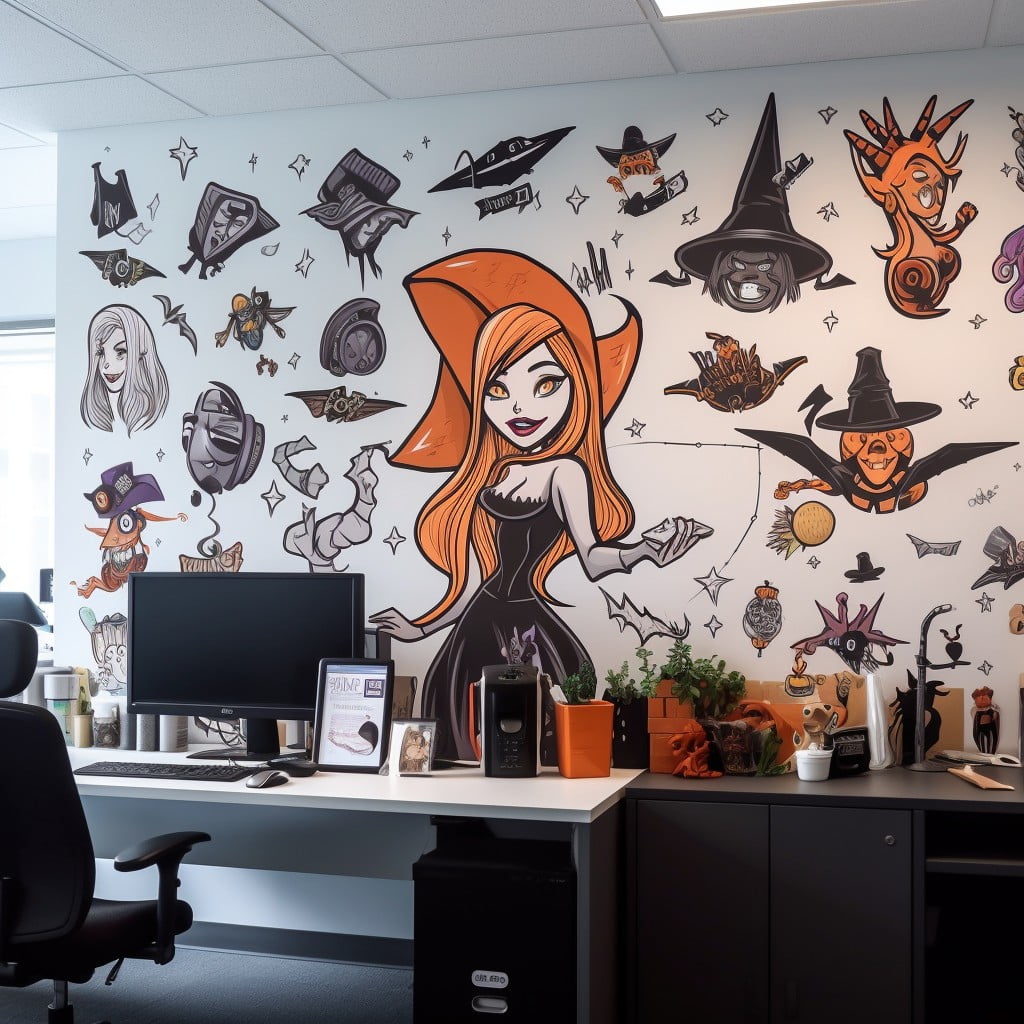 Bright hues and recognizable figures can bring an element of fun to your Halloween office décor. Think about adhering a selection of playful cartoon witch stickers to walls or filing cabinets. Look for designs that depict witches in a variety of action poses, such as riding brooms, mixing potions, or flying across a full moon.
To maintain a professional ambiance, opt for stickers made of vinyl, which are easy to install and remove, leaving no residue. If possible, choose reusable stickers you can store for future festivities. Though a minor addition, these stickers can serve as conversation starters and subtly infuse the office with Halloween spirit.
Ensure they aren't displayed too high or too low, but at eye level for optimal visibility. Pair them with other complementary decorations like mini pumpkins or ghost-shaped lights for a cohesive look. Remember, your goal is to evoke a sense of fun and holiday spirit without impeding the day-to-day operation or visual professionalism of your office.
Candy Corn-filled Jars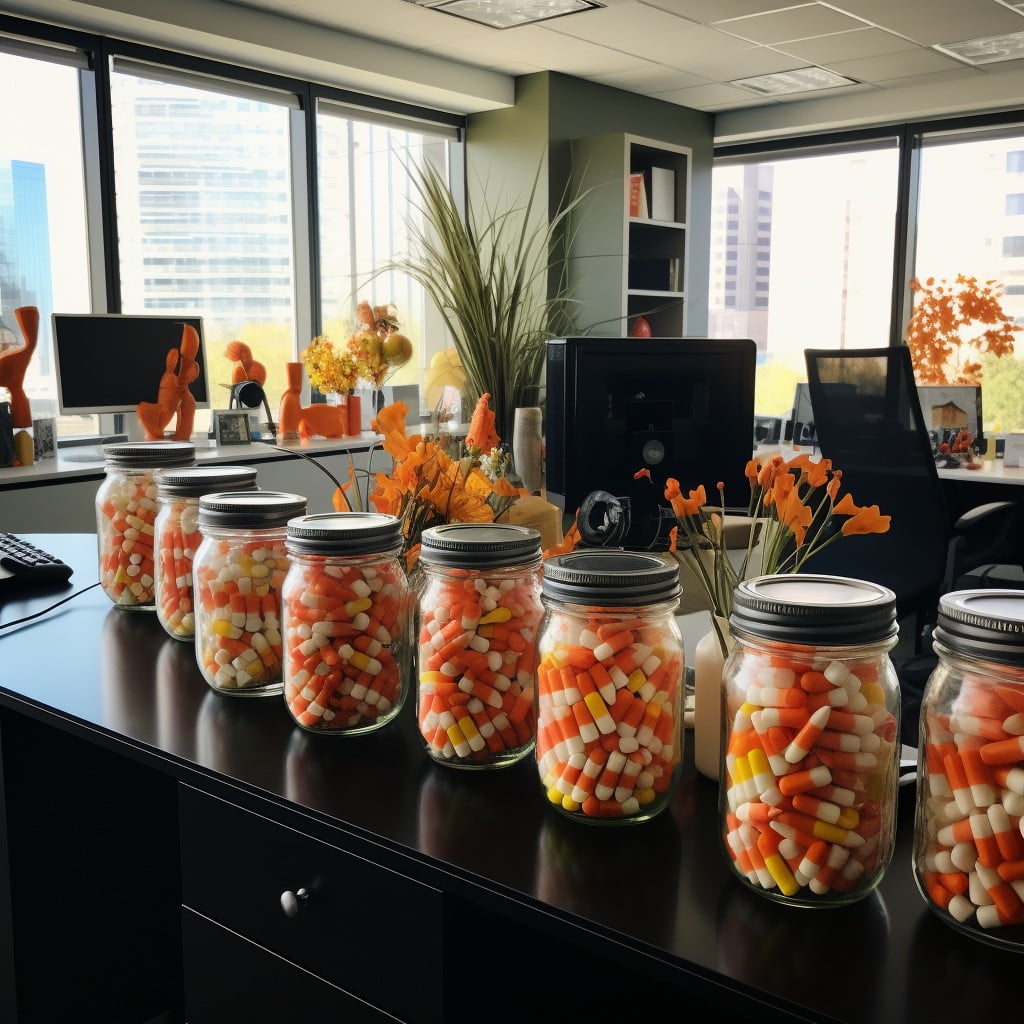 To pull off this decor, first, get some clear, empty jars: these could be coffee jars, mason jars, etc. Next, purchase candy corn; the amount would depend on the number of jars you have. Begin to fill the jars with the candy corn, leaving a bit of space at the top.
For an added spark, insert small, battery-operated tea lights or fairy lights into the jars to cast a warm, appealing glow around your workspace. These jars serve as a dual purpose decor – not only do they add a festive touch, they also provide a sweet treat you can grab when the day grows long.
With your jars filled, display them around your office: at the front desk, coffee tables, or on your workstation. Whichever way you choose, these candy corn-filled jars will surely spread the Halloween spirit.
Miniature Graveyard On Office Table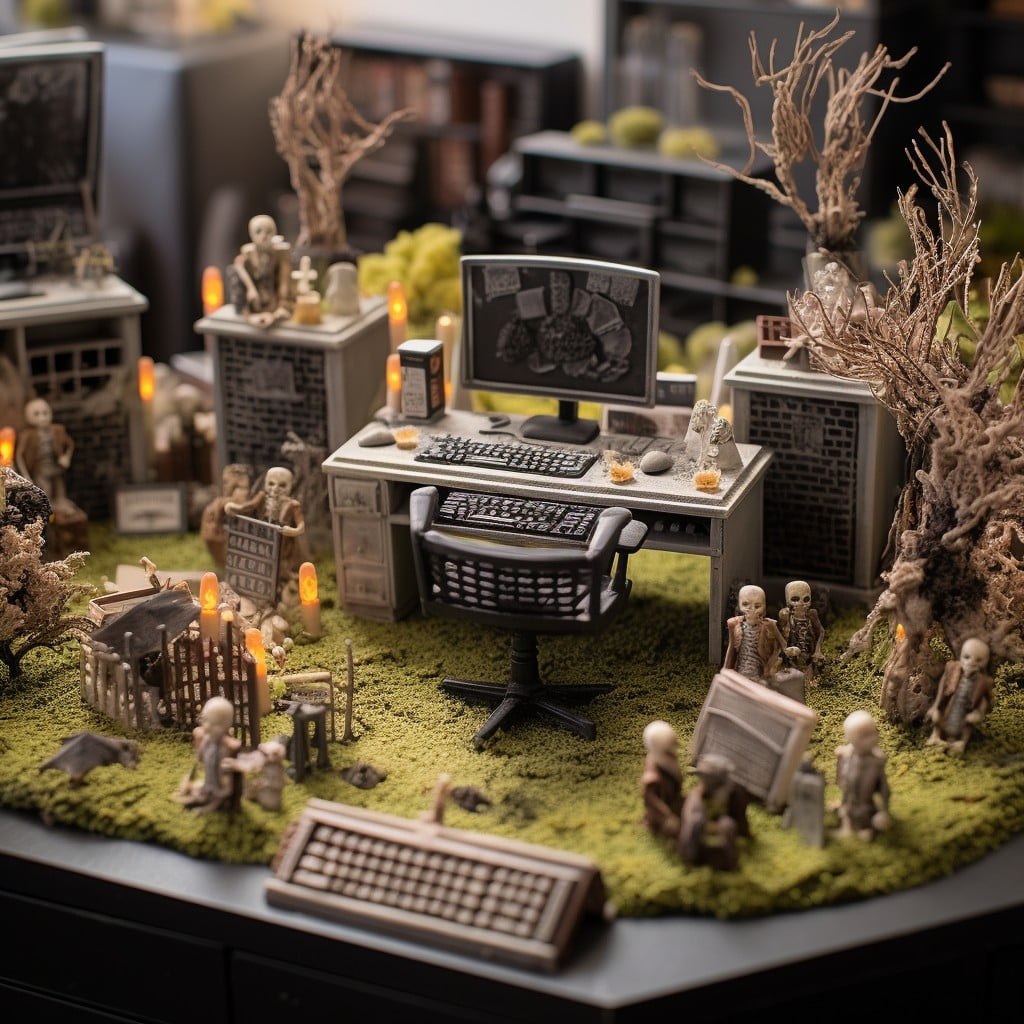 Creating a miniature graveyard gives your workspace a unique Halloween touch. Consider using small pieces of foam or cardboard to craft tombstones. Stick these onto a patch of moss or green fabric to simulate grass and arrange the tombstones to mimic a graveyard.
Add tiny plastic or paper skeletons for a bone-chilling effect. As a finishing touch, use a fog-simulating air freshener or a diffuser with ghostly mint scent. This idea not only adds a fun element, but it fosters a creative environment and might prove to be an interesting conversation starter with colleagues.
Cobwebbed Entrance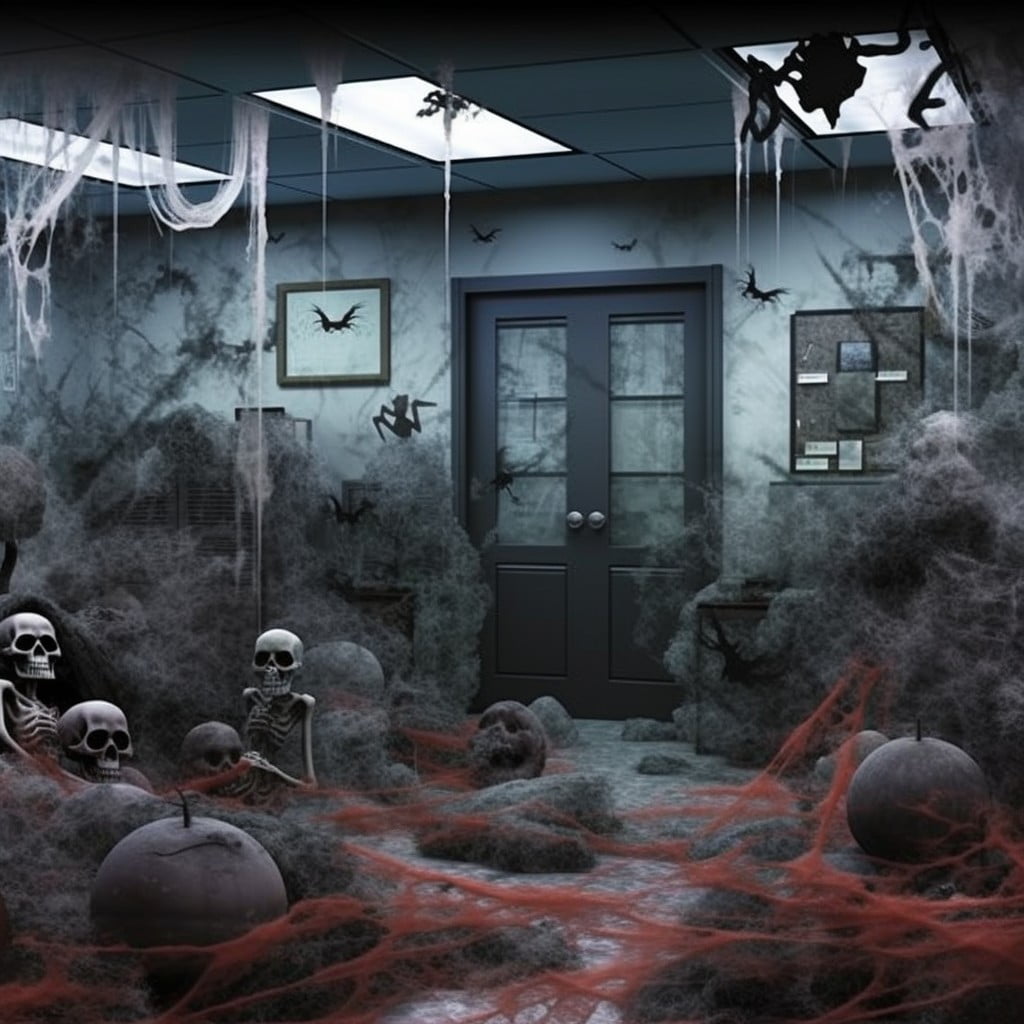 Creating a cobwebbed entrance at your office requires attention to detail. You want it to look spooky but it needs to be practical too.
Synthetic webbing on door handles and frames is the most obvious choice. It can stretch across the entrance without obstructing the way. You can also drape it over the reception desk or envelop the ceiling of the lobby to create an immersive haunted effect.
Be sure to use a lightweight, non-sticky material that won't disturb the door's operation. Avoid placing the cobwebs near lights or electrical outlets to ensure safety.
To amplify the eerie effect, add plastic spiders on the cobwebs. Don't forget to ensure it isn't too terrifying to avoid distressing more sensitive colleagues or visitors.
Mummy-wrapped Front Desk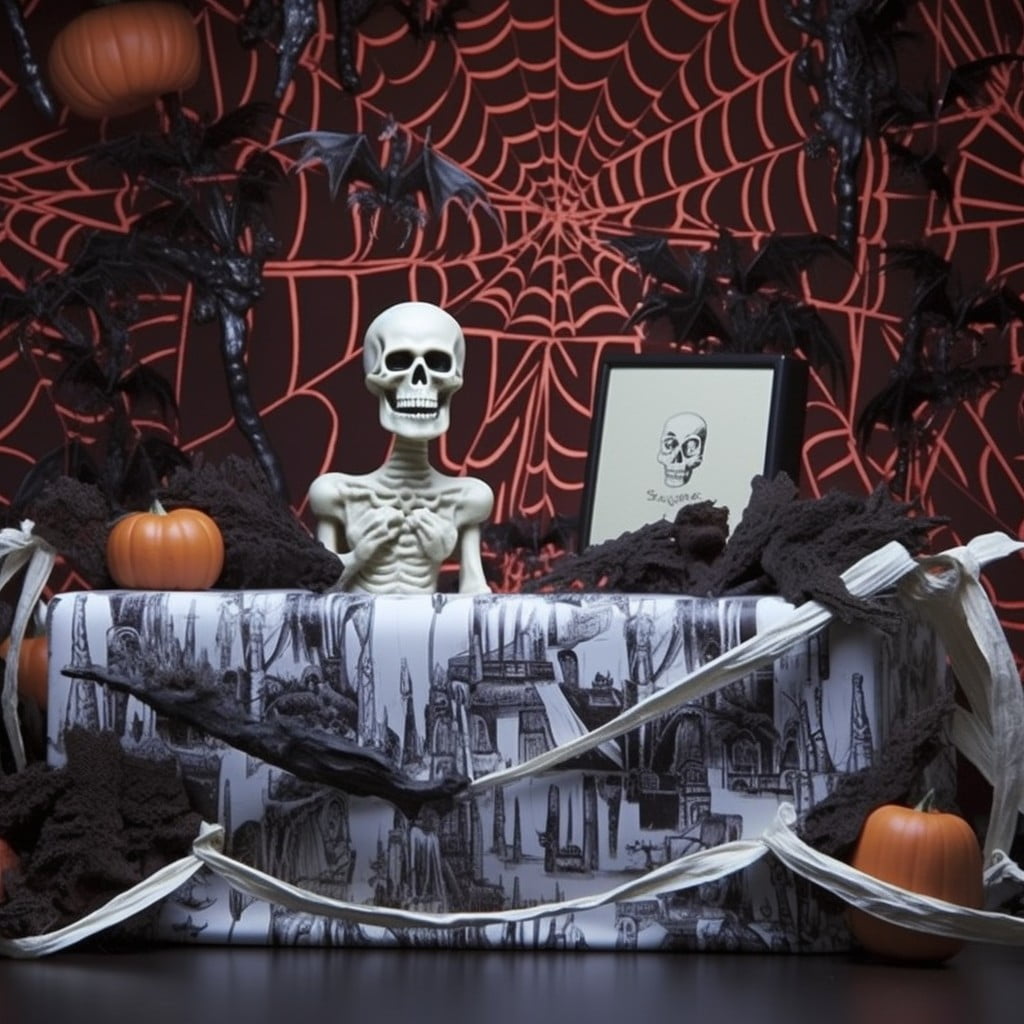 Stepping right out of an Egyptian curse, mummification takes a fun twist for Halloween decor!
1. Begin with some plain white bandages or even toilet paper. A roll or two should suffice for an average-sized front desk.
2. Start at one end, securely taping the end of the bandages or paper onto the side of the desk.
3. Wrap the desk completely, making sure to overlap the layers for a better mummified effect.
4. Be sure to leave room for essential areas, like where the receptionist sits or any storage areas.
5. Add some googly eyes or opt for cut-out eyes from black and white chart paper, stick these onto the bandages making for a whimsical touch.
6. It's optional, but draping cobwebs over the mummified desk lends an added layer of spookiness.
Taking inspiration from ancient Egypt, this idea can turn any reception area into a captivating Halloween scene!
Vampire Fanged Sticky Notes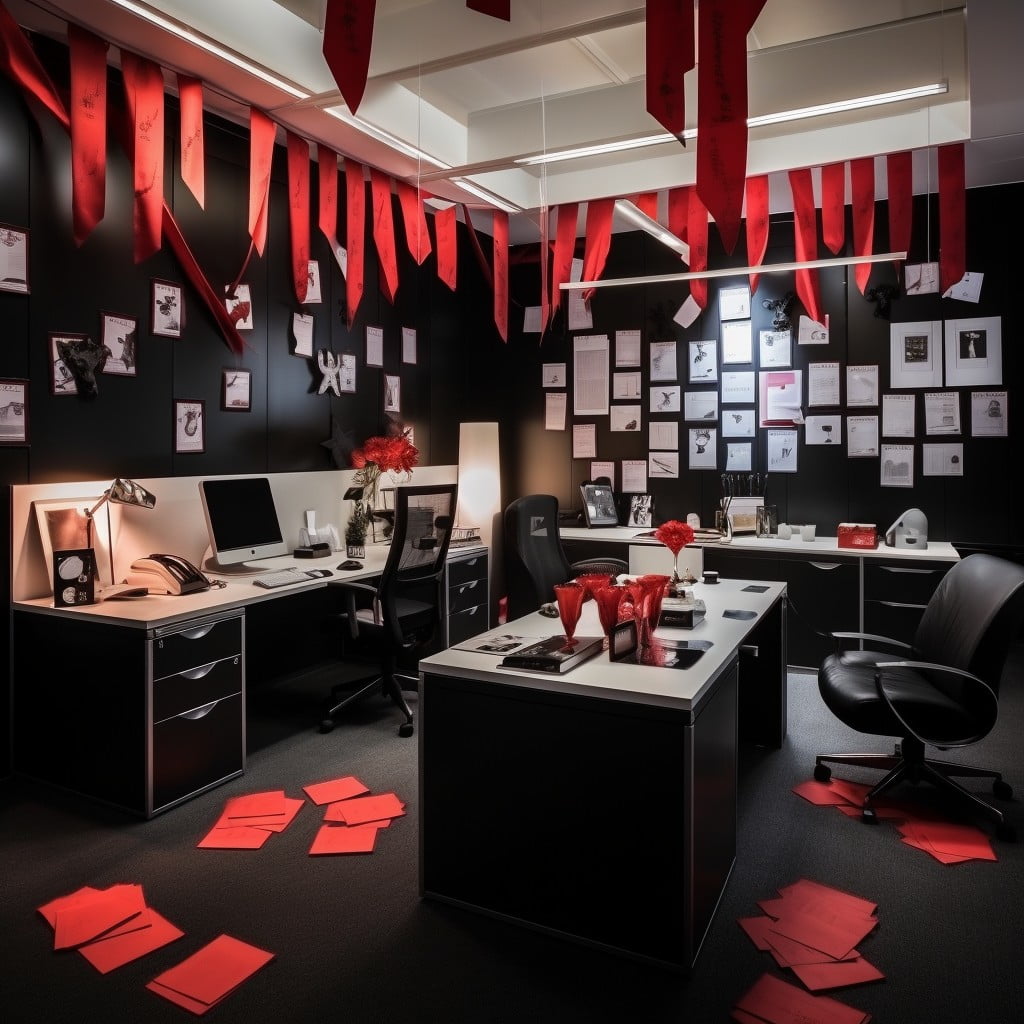 These quirky notes truly add a bite to your day-to-day office reminders. They are surprisingly easy to create.
To begin with, gather some regular sticky notes, ideally red or pink, to depict the tongue of our vampire.
Next, procure white adhesive paper and cut out two triangle-shaped teeth. Attach these to the bottom edge of your sticky note and, voila, you have vampire fanged sticky notes.
You can write your usual notes or reminders on them and stick them over your desk or office partitions.
Not only do they make mundane tasks exciting, but they also add a fun Halloween buzz to the entire office.
Be prepared for your colleagues to sink their teeth into this idea.
Witch's Broomstick Pen Holder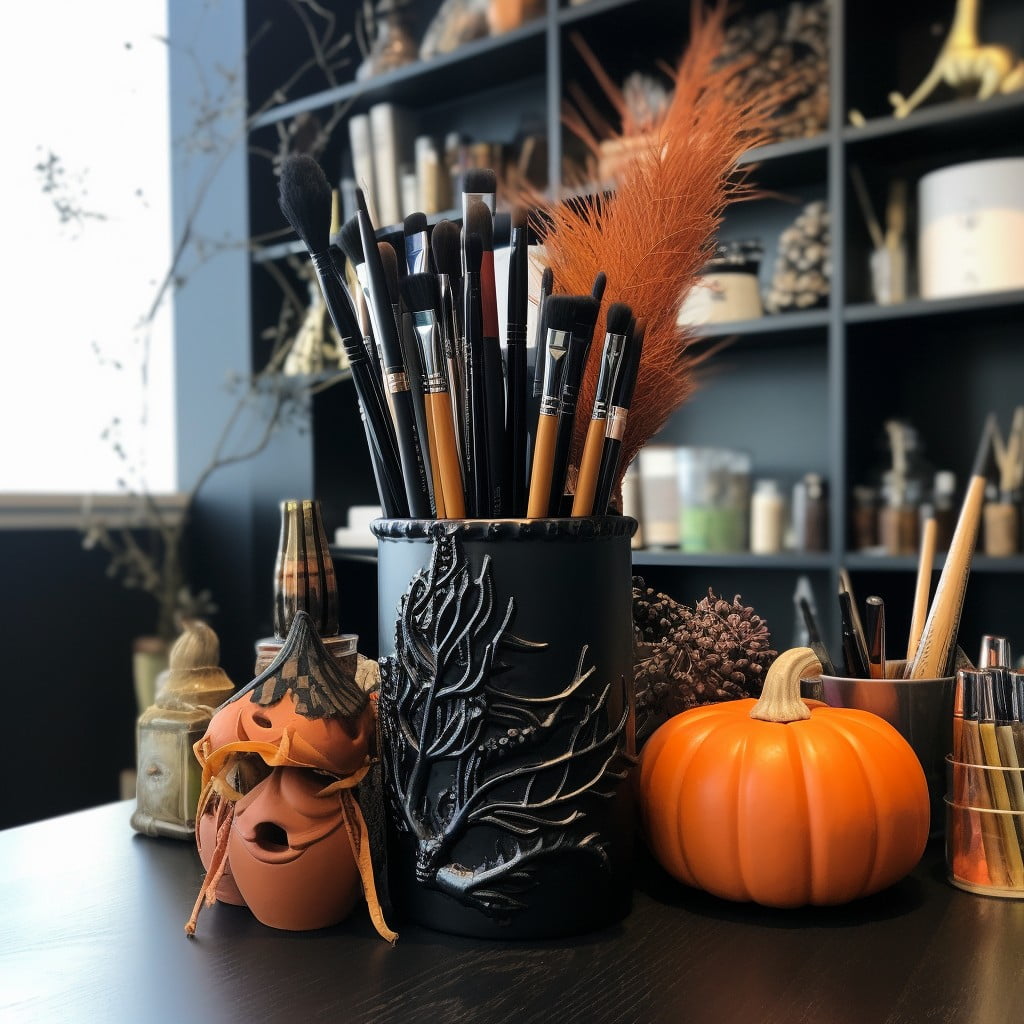 A clever twist to an ordinary stationery holder can add a whimsical touch to your office desk. Making your own broomstick pen holder is a fun and easy DIY task you can perform using a few materials.
1. Gather Supplies: All you need is a small twig from any tree, a handful of raffia or thin straw, a rubber band, and a bit of string or twine to beautify.
2. Prepare the Broom: Take raffia strands and tie them around one end of the twig using the rubber band. It will form the base of your broomstick. The other end of the twig will serve as the handle.
3. Secure and Beautify: For a cleaner look, wrap the section around the rubber band with string or twine until the band is no longer visible.
At last, your broomstick pen holder is ready. Place it on your office desk and tuck your pens and pencils into the 'broom' end. It's guaranteed to draw admiring comments while bringing a dose of Halloween spirit to your workspace.
Bat Balloon Ceiling Hangings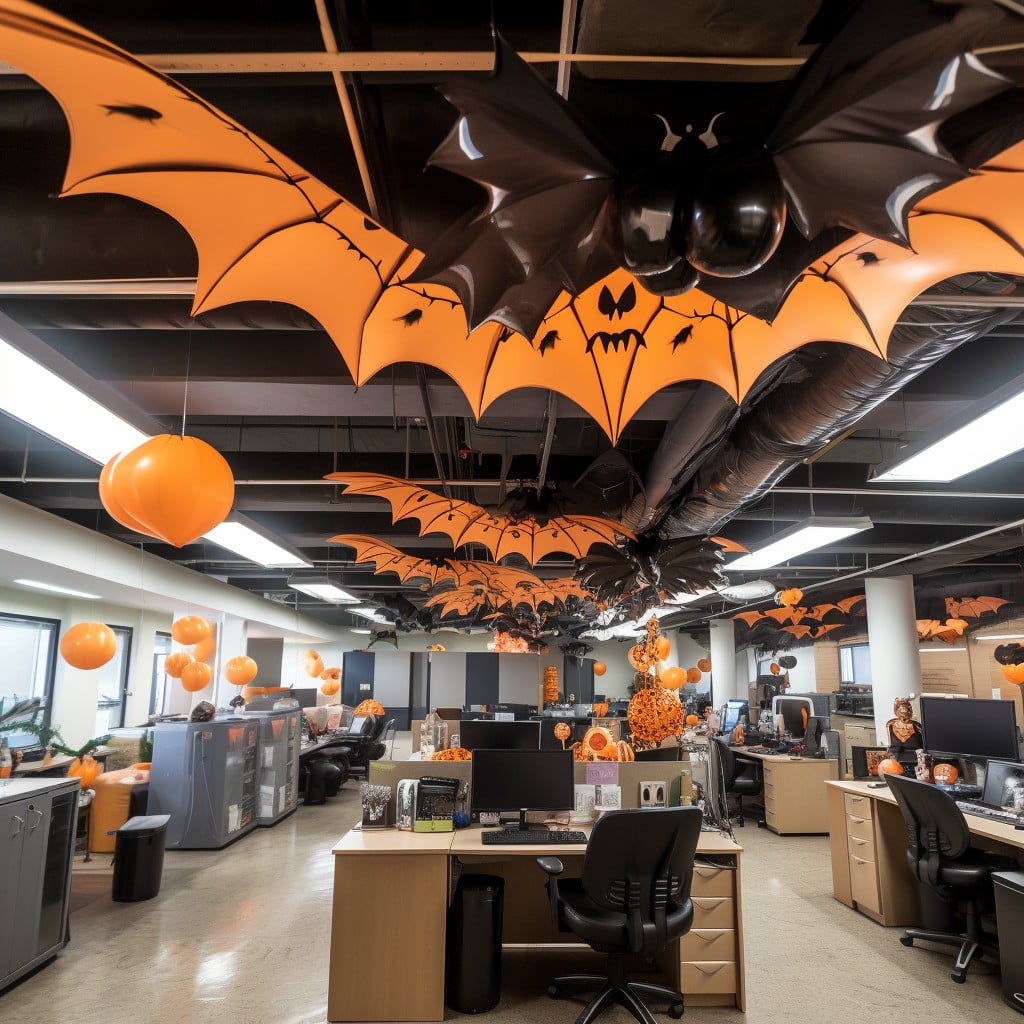 Balloon bats are simple to make and offer a playful, spooky atmosphere. Buy black balloons and craft paper – the balloons will serve as the body and the paper for the bat wings.
Inflate the balloons and cut out wing shapes, attaching them to either side. To make them pop from the ceiling, use fishing line or thin, clear thread. Scatter them across various heights to give the impression of a bat invasion.
Shredded black crepe paper on the floor can create a cave-like environment. As a precaution, don't overdo it; ensure the balloons don't obstruct your colleagues' vision or movement throughout the office.
Creepy Family Photo Replacements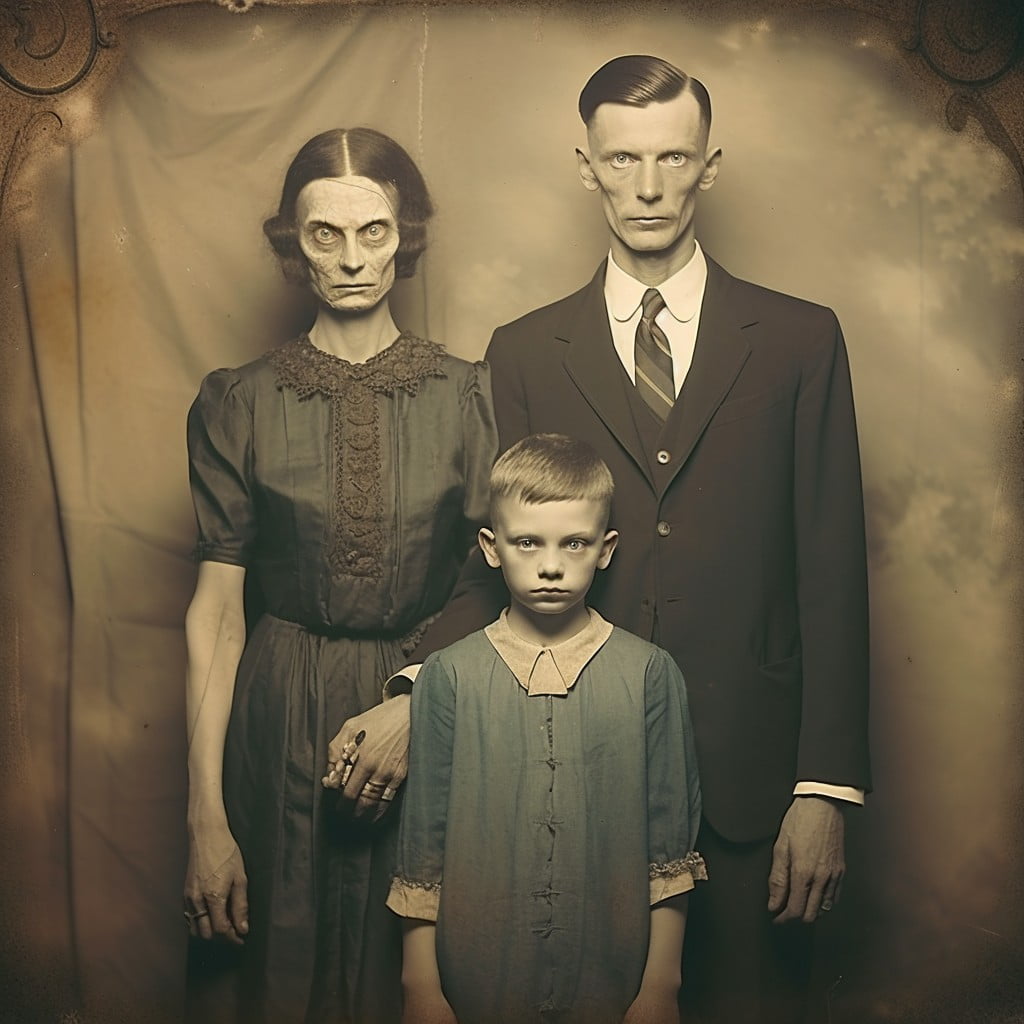 Imagine the startled faces when coworkers catch sight of a spectral or zombie-like image where a warm, familiar face used to be. This trick can be performed simply by scanning and altering photos using an image editing tool, aiming for the right balance of uncanny and fun.
If editing isn't your forte, numerous online resources offer customizable templates that may be used for this purpose. Then, print and place them in existing frames around your workstation.
Remember, it's all fun and games, so avoid images that might be genuinely disturbing or offensive. Keep the spirit of Halloween in mind: spooky, surprising, but always safe.
Skull-themed Desk Accessories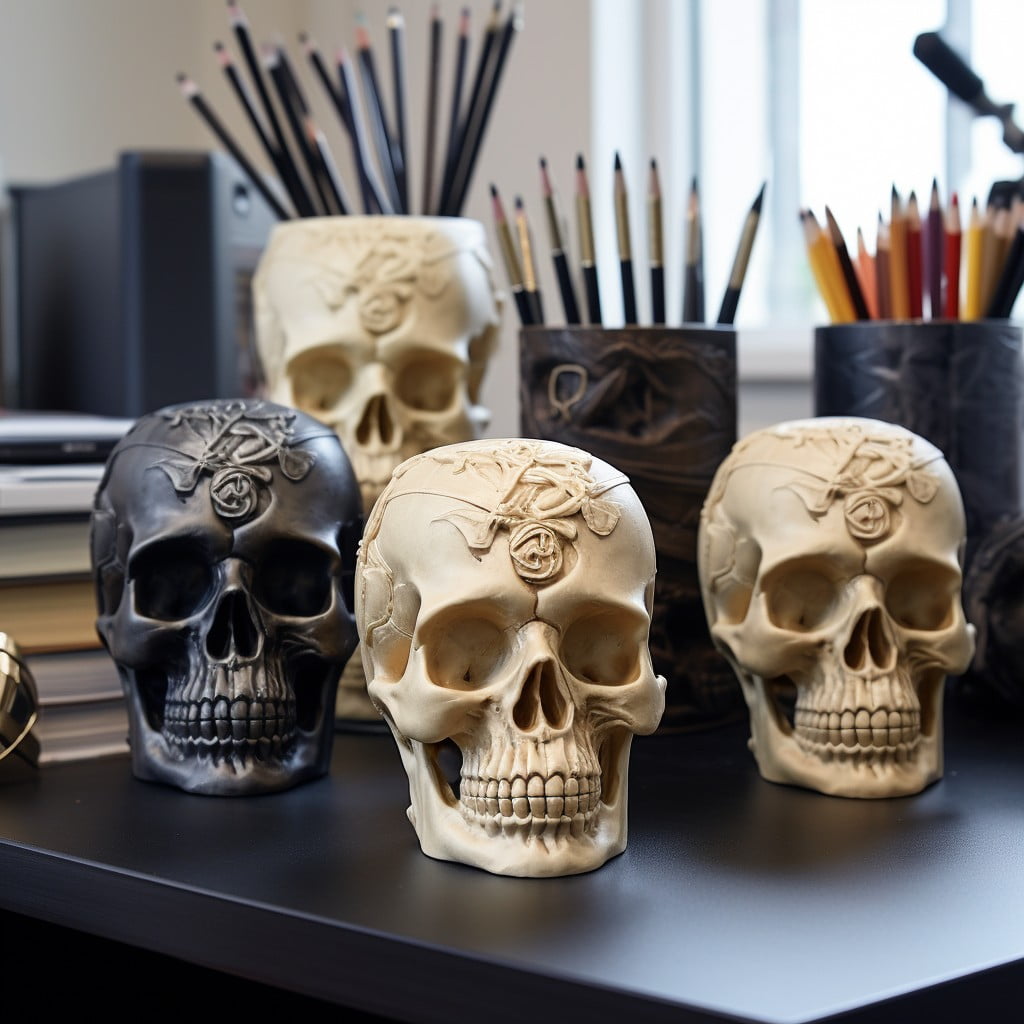 Adding these peculiar objects to your desk will undoubtedly give your workspace the ominous Halloween vibe you desire.
Consider miniature skulls, which can function as unique paperweights or eerie decorations when placed in unexpected nooks.
A gothic skull pen holder not only keeps your writing utensils handy but also serves a dual purpose, giving bystanders a fright.
Switch out your usual tape dispenser with a skull-themed one, adding an element of surprise while you're working.
And don't overlook smaller additions like ghostly staplers, haunted mouse pads, or necromantic coasters to instantly change your desk's ambiance.
Don't feel the need to go overboard with these enhancements.
A few carefully selected items can have a dramatic effect, transforming your workspace into a bone-chilling bureau.
Jack-o'-lantern Desk Lamps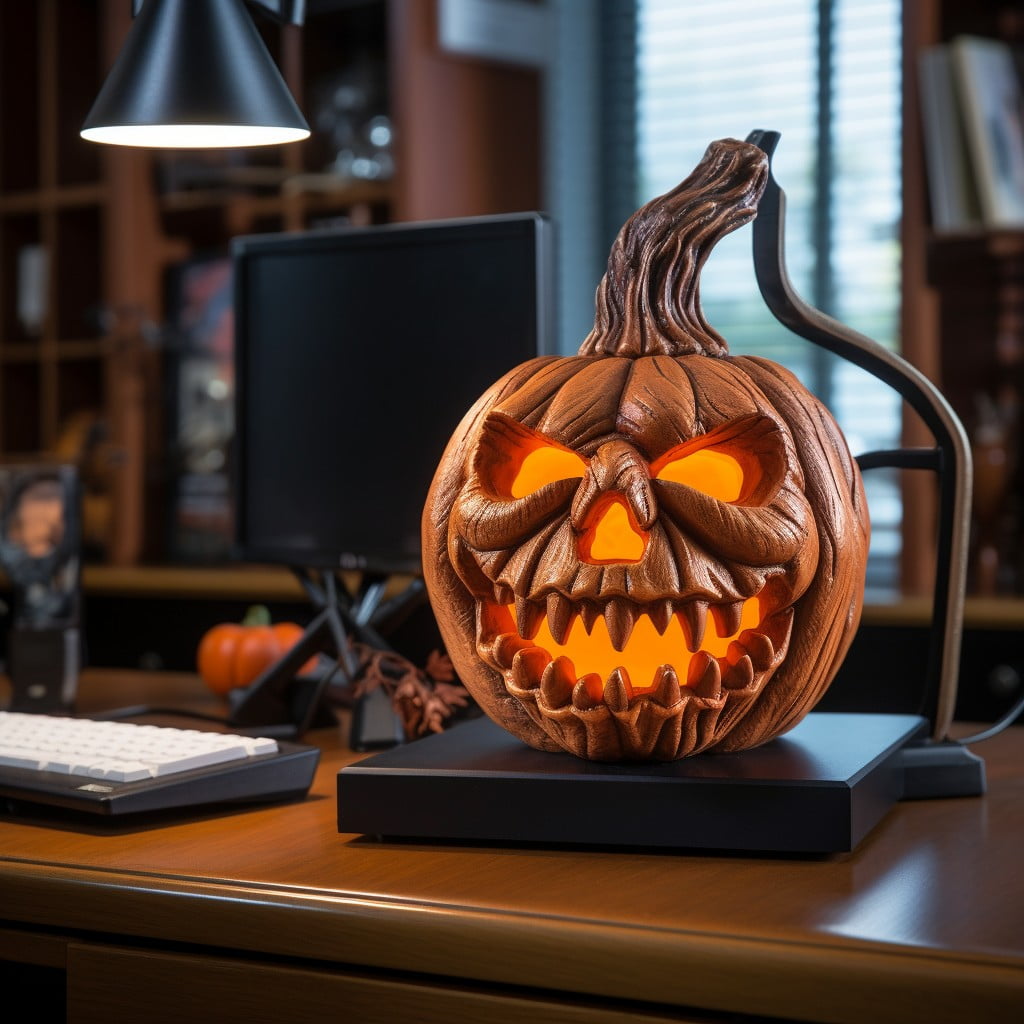 Opting for a Jack-o'-lantern lamp can add an instant Halloween effervescence to your work desk. There are numerous options to select from:
1. Pre-Made: Find a range of ready-made, battery-operated Jack-o'-lantern lamps online or in stores. Some even flicker, mimicking candlelight for a spooky aesthetic.
2. DIY: Get crafty with a simple DIY project. Hollow out a mini pumpkin, carve a face, and insert a battery-powered tea light. Don't forget to adjust for size and weight to avoid crowding your desk.
3. Eco-friendly: Consider purchasing a plastic-free, biodegradable, or reusable Jack-o'-lantern lamp to reduce your environmental impact.
4. Various Designs: From scary to silly faces, there's a design sure to match your Halloween mood.
Remember, safety comes first; ensure the lamp doesn't obstruct your work or pose a potential fire hazard.
Blood-splattered Office Supplies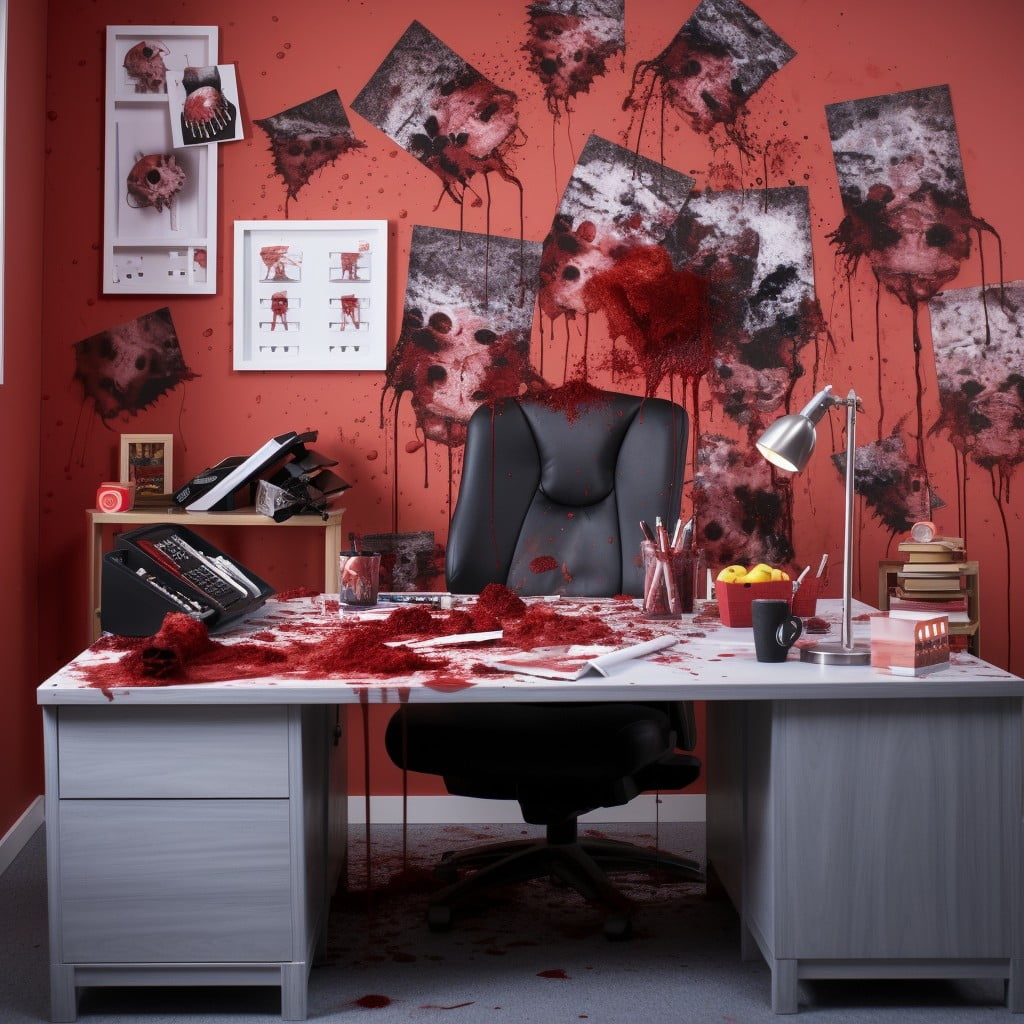 Incorporating this spook-tacular decor idea is quite simple and requires minimal materials. Think of staplers, pencil holders, or even the keyboard – these everyday items can easily transition into Halloween props.
Start by acquiring red acrylic paint, this will serve as your 'blood'. Ensure your office supplies are clean and dry before you begin. Using a thin paintbrush, simulate blood drippings on the edges of your subjects. For a more authentic look, let some 'blood' pool at the base. If that seems too macabre, you can opt for random splatter patterns instead.
Remember, subtlety is key. Apply the 'blood' sparingly to avoid a gruesome aftermath. Also, allow sufficient drying time to prevent accidental smears. The goal is to induce light-hearted frights, not real scares. This chilling transformation is guaranteed to inject some Halloween spirit into the workspace.
Black Cat Cardboard Cutouts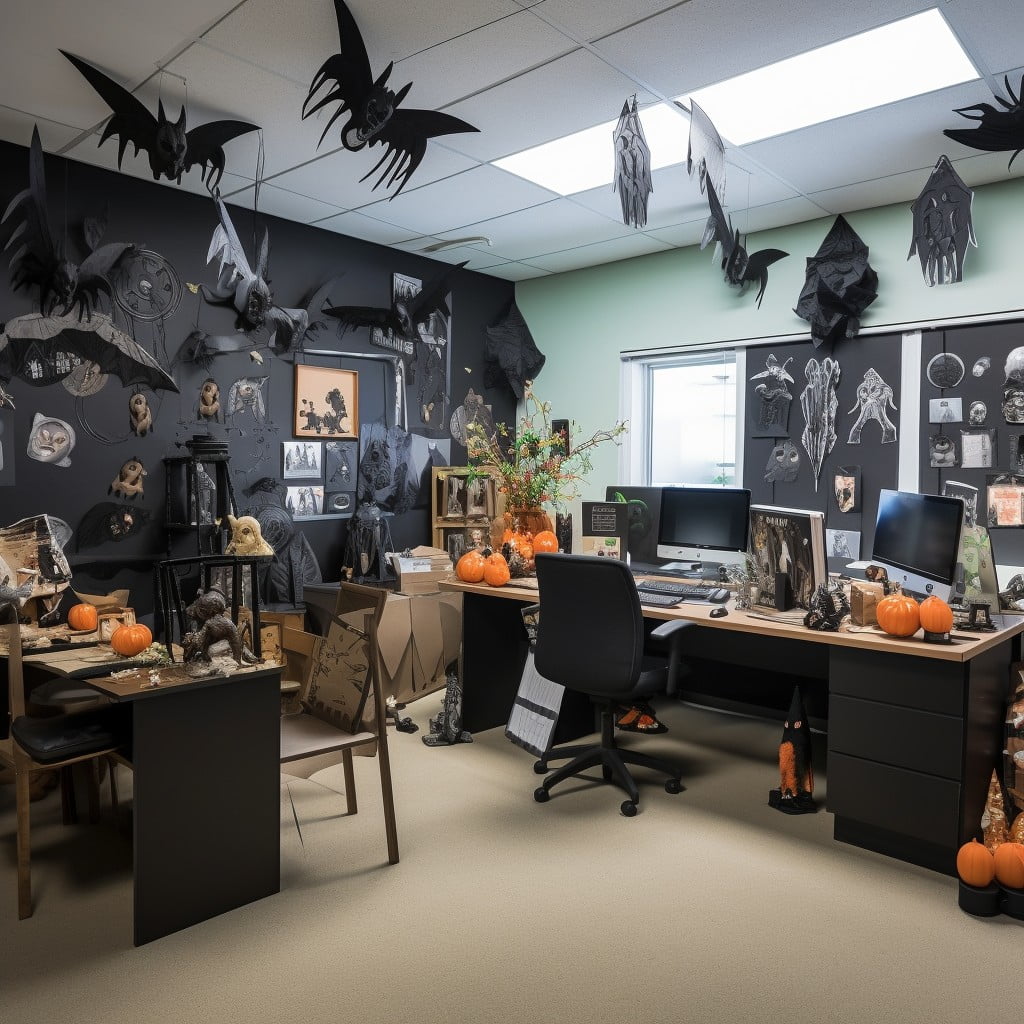 Cardboard cutouts, particularly of classic Halloween symbols like black cats, can add an eerily fun vibe. They're a simple, cost-effective way to transform workspaces. With just some black cardboard, a pair of scissors, and a stencil, you can create these feline silhouettes.
1. Multiple Sizes: From miniature cutouts for your office table to larger-than-life sizes that sit by your cubicle entrance, variety adds visual interest.
2. Window Decor: Stick smaller cutouts on windows to display your Halloween spirit both inside and outside.
3. Freestanding cutouts: Strategically place some 3D versions around the office, maybe even peeking out from behind a plant or partition.
4. Team activity: Involve your team by organizing a quick crafting session to make these cutouts. It's a fun stress-buster that also fosters team bonding.
5. Be creative: Modify shapes, add some sparkling neon eyes, or make multiple cats to signify a 'black cat crosspath'. The possibilities are endless!
So, why not infuse some creepy charm with DIY black cat cardboard cutouts?
Haunted Cubicle Competition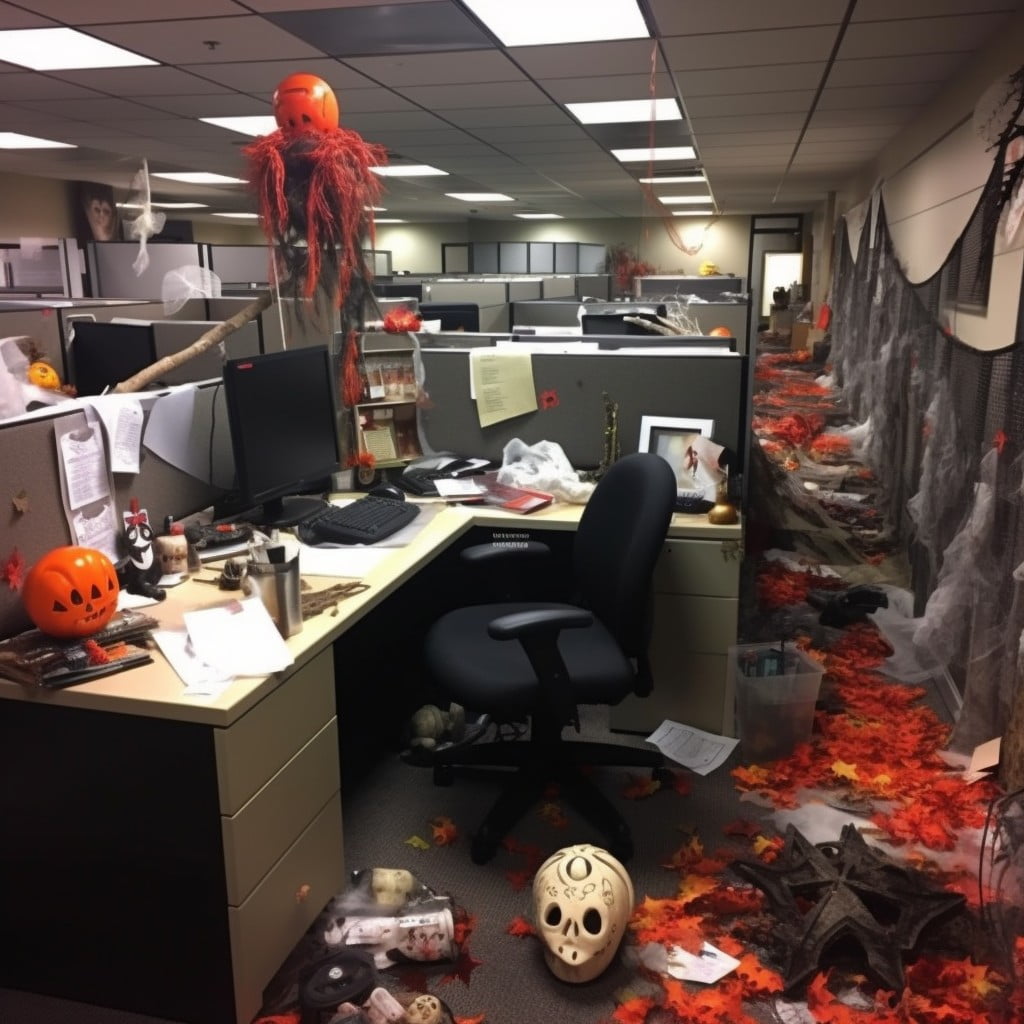 Offering a unique twist to regular cubicle decoration, a competition serves to engage all employees in office Halloween festivities. It paves the way for creative expression and fosters teamwork amongst colleagues.
1. Formulating Rules: With broad guidelines defined, ensure the decor remains work-appropriate and safe. Limit sizes to avoid obstruction of workspaces.
2. Individual or Team Effort: Decide whether participation will be individual or by teams. Team participation may strengthen bonds and incorporate diverse ideas.
3. Theme Determination: Assigning specific themes can level the playing field and stimulate creativity, for example – famous horror movies or supernatural creatures.
4. Prizes: Establish enticing prizes to rouse competition. These could range from lunch vouchers, a trophy, or a recognized title like 'the most spooky cubicle'.
5. Judging: Judging can be organized internally by management or by bringing in impartial judges.
6. Clean-up Responsibility: After the competition, either assign clean-up duties or set a clean-up deadline for participants.
Halloween-themed Digital Wallpapers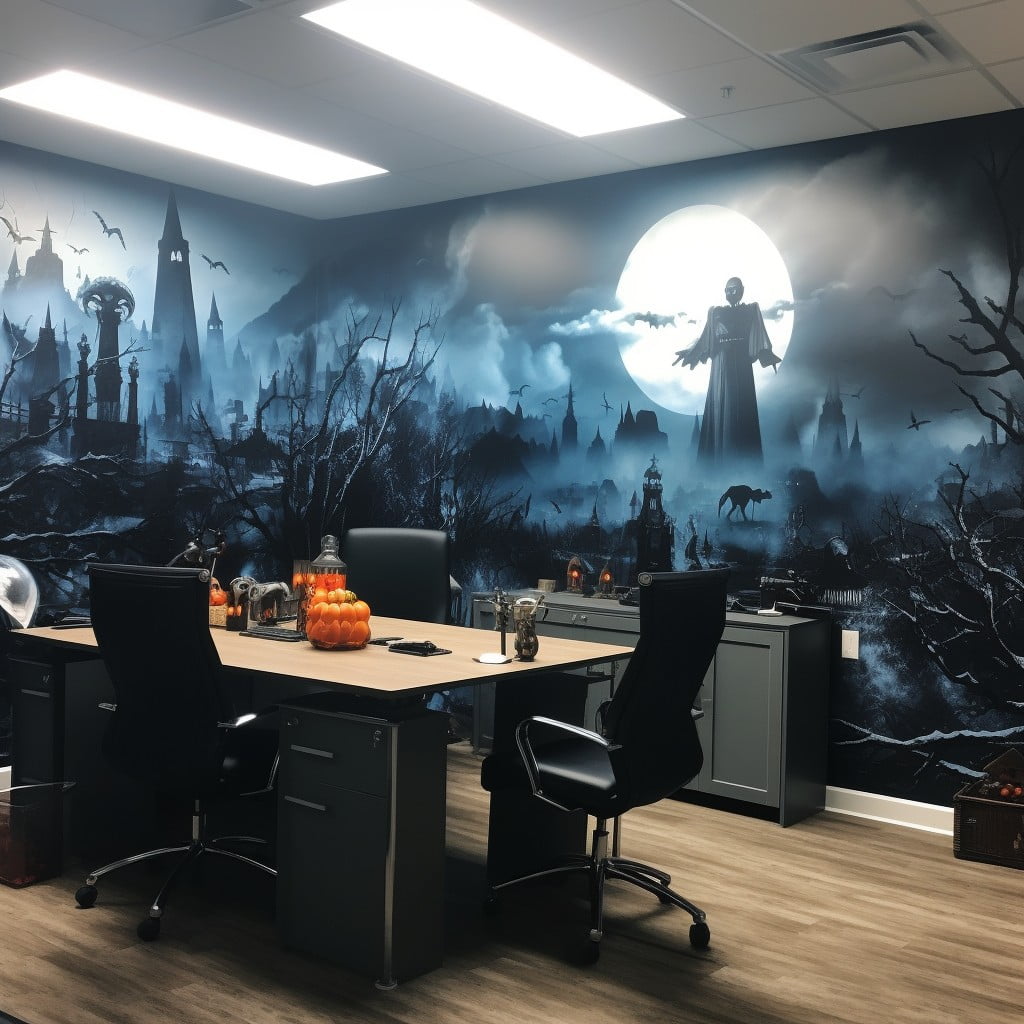 What better way to get into the sinister spirit than to revamp your digital workspace? Opting for eerie backgrounds can instill a spooky ambiance every time your computer screen lights up. Here's how to spruce things up.
Firstly, you can go classic with images of carved Jack-o'-lanterns illuminated in the dark or a haunted mansion underneath a stormy sky. For fans of the supernatural, there is an array of wallpapers from well-known horror movies such as 'Psycho,' or 'The Shining.'
If you prefer a lighter approach, cartoonish witches, friendly ghosts, and comical zombies can also grace your screen. There's something to match everyone's Halloween taste.
Remember, these can be downloaded for free from various online platforms. Be sure to choose high-resolution images for the best display on your screen. Lastly, ensure there's no copyright issue for office use, to avoid unnecessary hiccups with your frighteningly fantastic decor venture.
Liked reading this? Here's more:
Recap: