Last updated on October 30, 2023
Creating delightful spaces with balloons enhances your events because it effortlessly brings joy, color, and playful sophistication to any setting.
I am proud to present this article, filled with 20 exclusive balloon decorating ideas that I crafted, and I sincerely hope you draw ample inspiration and enjoy exploring these concepts as much as I rejoiced in bringing them to life.
Balloon decorations can transform any space into a festive atmosphere, whether it's for a birthday party, wedding, or just a fun gathering.
This article will delve into various creative and innovative balloon decorating ideas that are easy to implement and sure to impress.
From arches and garlands to centerpieces and balloon walls, you'll find comprehensive details on how to create these eye-catching decorations.
So, get ready to elevate your next event with the magic of balloon decor!
Balloon Arches At Entrances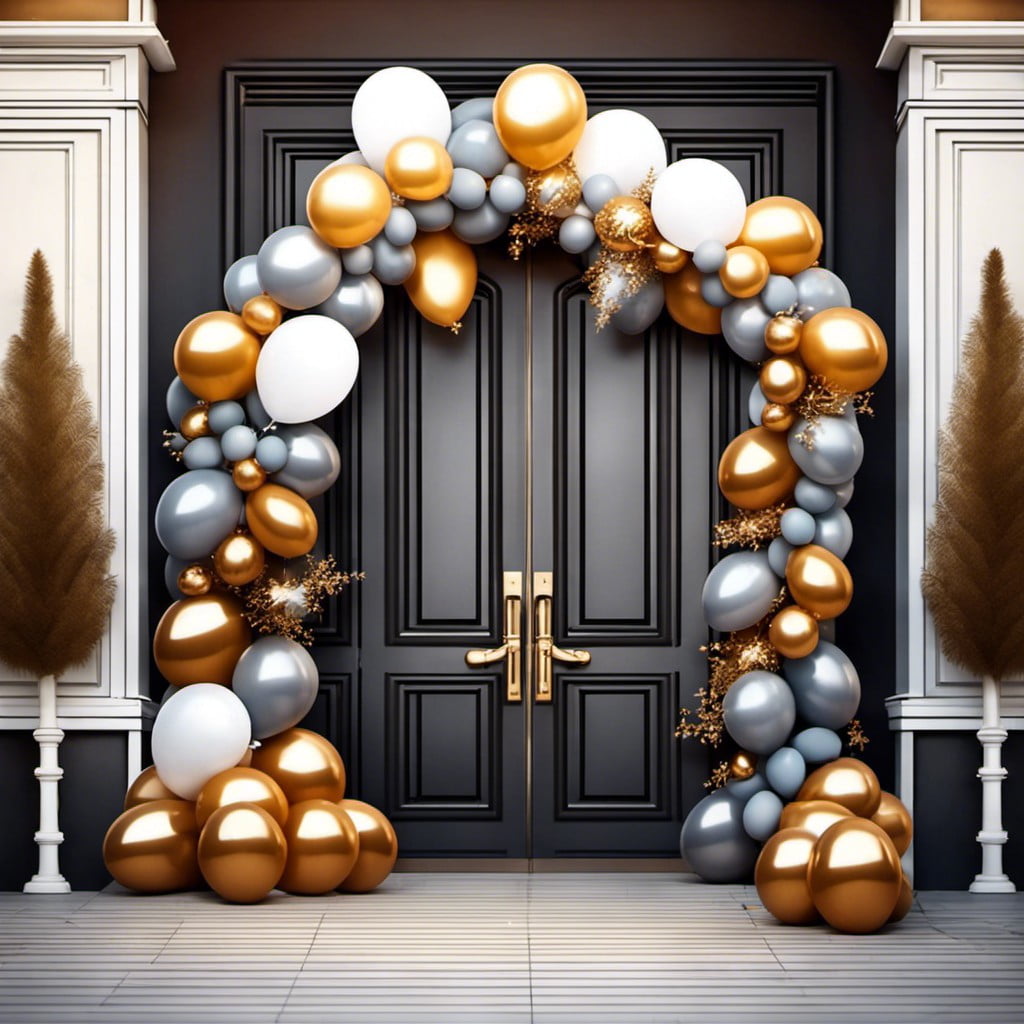 Creating this eye-catching centerpiece is simpler than it seems. The first step involves measuring the entryway to determine the size of the arch. A combination of different balloon sizes, from large to small, ensures visual appeal.
Ensure the arch is firmly secured to avoid collapse. A balloon pump is mandatory, not optional – blowing up numerous balloons manually can become tiring. A plain arch is a classic choice, but optionally adding flowers or tassel garland lends an extra touch of sophistication.
Consider color scheme – an all-white arch creates a minimalist aesthetic, while varying shades of a single color add depth. The arch doesn't always have to be symmetrical – a swooping arrangement breaks away from tradition and adds a modern twist.
Balloon Bouquets in Varying Sizes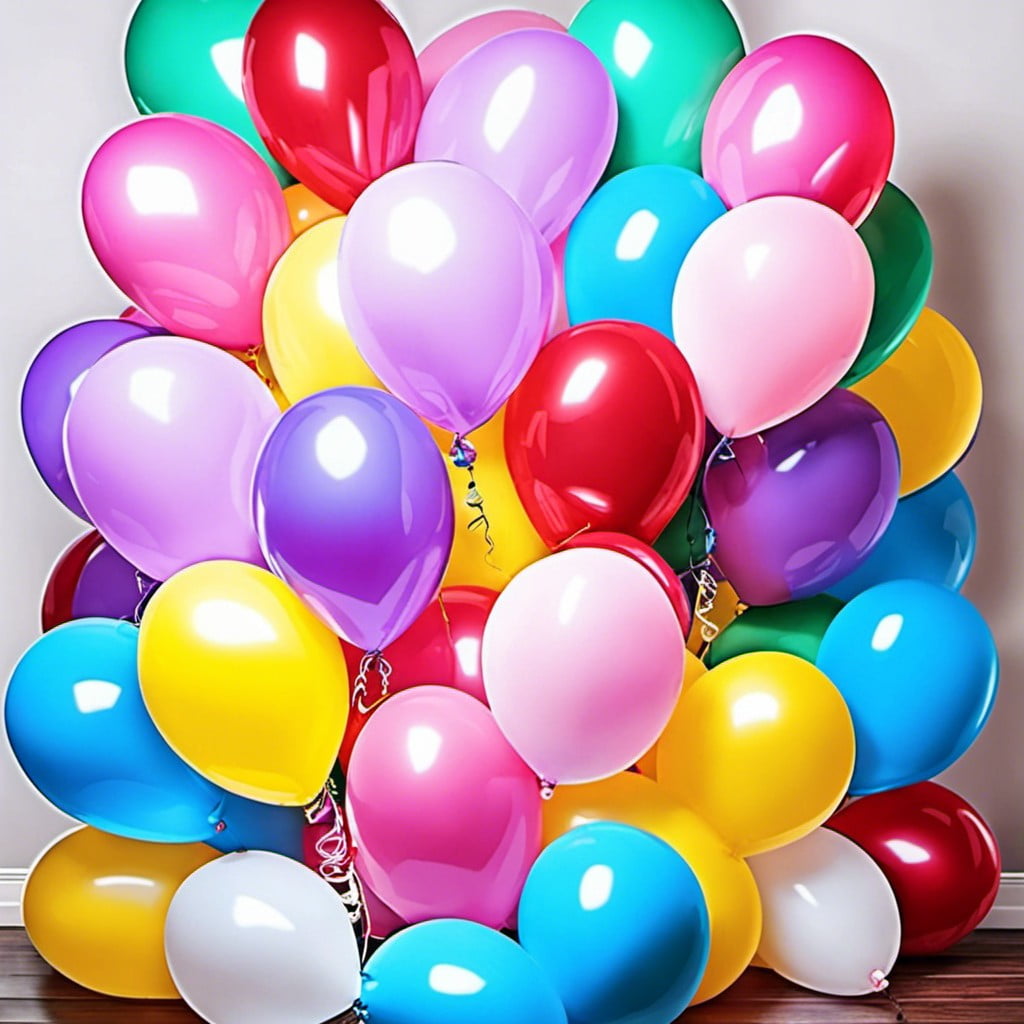 Ranging from small to gigantic, balloon bouquets never fail to impress. They can be utilized to make great party decorations and centrepieces in order to catch guests' attention immediately. Moreover, they are flexible with size variations, offering a dynamic element to your décor.
For a balanced display, pair larger balloons with a cluster of smaller ones within your bouquet. Using different-sized balloons creates depth, drawing the eye and breaking up the monotony. Keep in mind that maintaining a balance in sizes keeps the display from looking cluttered.
Consider the placement of different-sized balloons within the bouquet. Smaller ones can fill gaps and create a more complete and fuller look, while larger ones can serve as stand-out pieces. They can be placed in the centre or on sides, depending on the rest of the decor and the desired effect.
Lastly, ensure to keep the colour palette cohesive. Bouquets of balanced, different-sized balloons are visually engaging, demanding attention without becoming overbearing. With these points in mind, make your event dazzle with a creative touch provided by varied-sized balloon bouquets.
Glitter-filled Balloons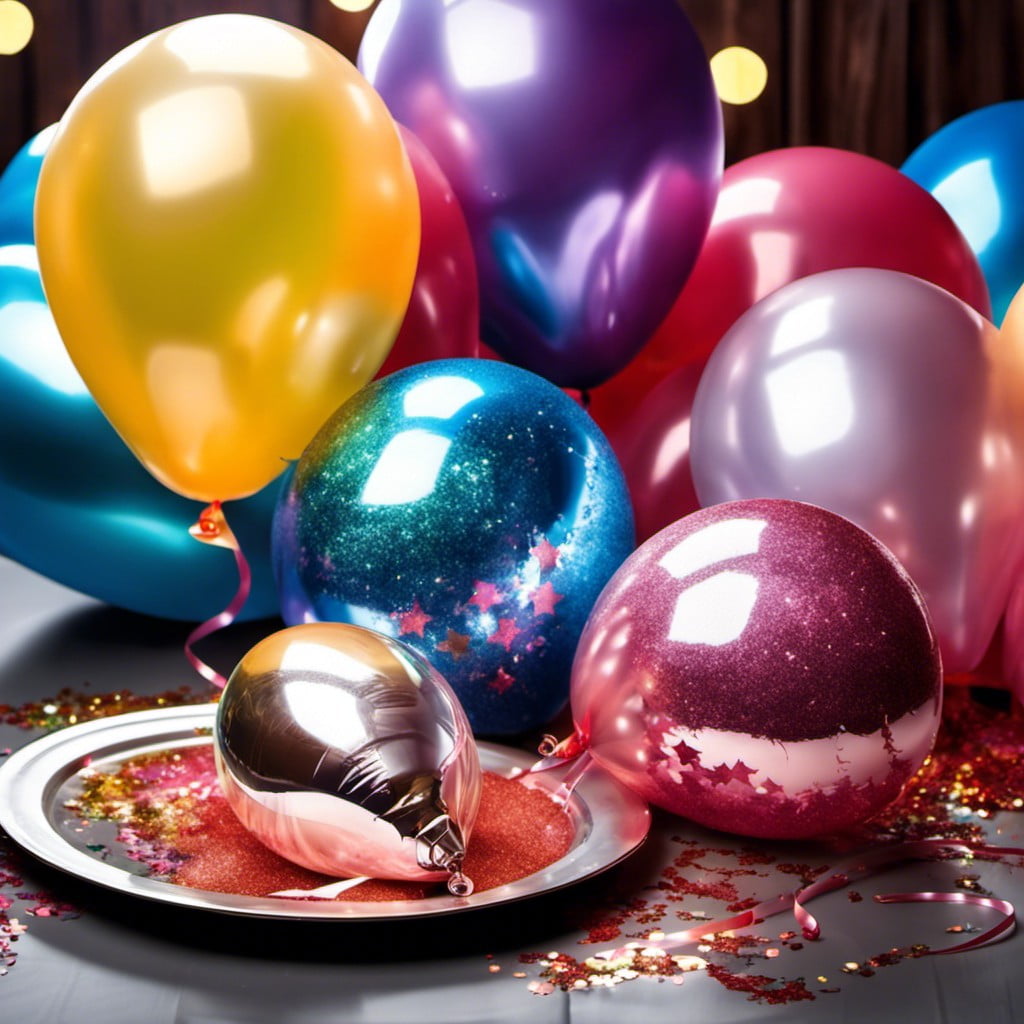 Having captured your attention with their dreamy appearance, here's how you go about making glitter-filled balloons.
All you need are transparent balloons and your choice of glitter.
Fill the uninflated balloon with a pinch or two of glitter – not too much, or the balloon may struggle to inflate.
Once the balloon is filled with helium, tie a knot and give it a little shake to disperse the glitter beautifully inside.
Use these for a nighttime event to catch the light and add an extra sparkle, or even during the daytime to attract attention with the sun's rays bouncing off the glitter.
Be sure to not overdo it – a few glitter-filled balloons interspersed among plain ones can create a striking contrast.
LED Light Balloons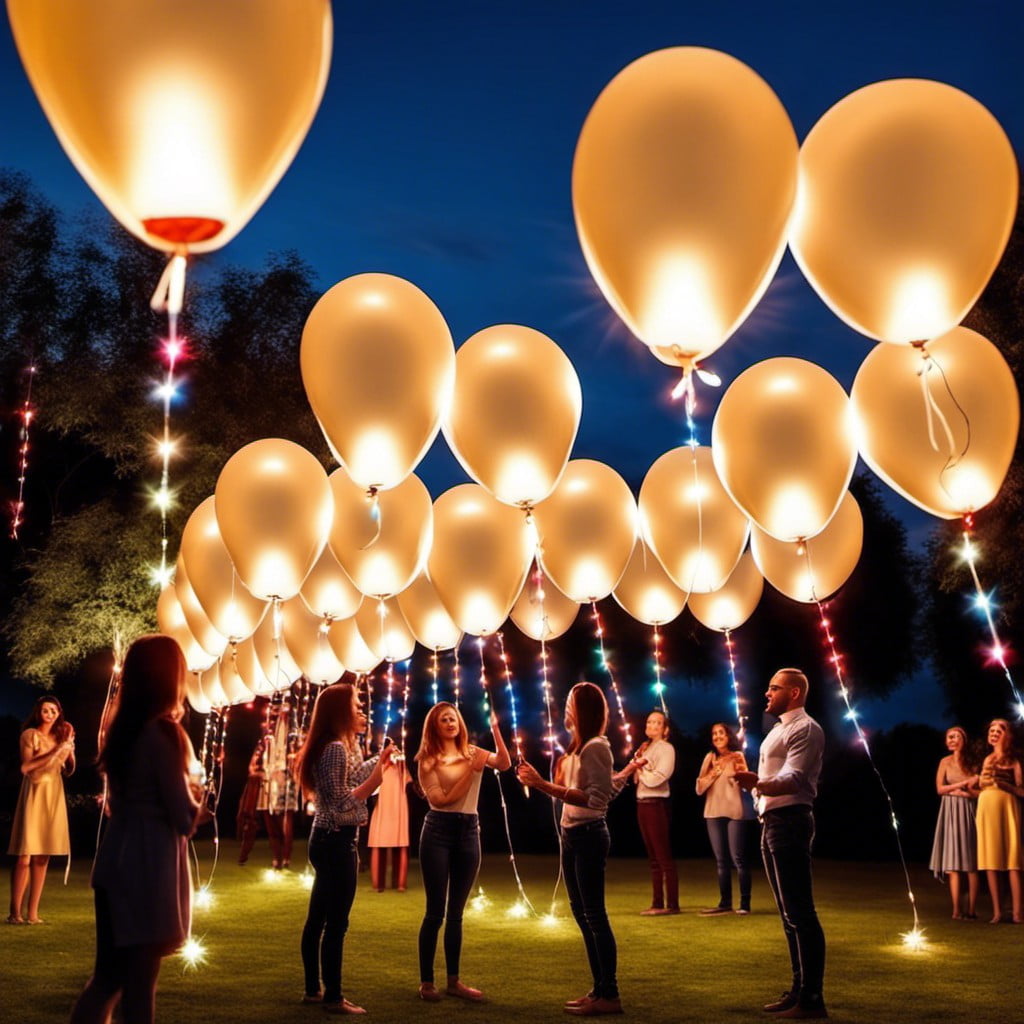 Incorporating these illuminating wonders into your decor elevates any event from ordinary to extraordinary. Perfect for twilight fêtes, LED light balloons exude an enchanting glow that complements the dim atmosphere.
They often come in various colors allowing for a magical, color-coordinated scheme to match any theme. Even though they are generally made to last longer, it's always a good rule of thumb to inflate them just a few hours before the event to ensure they stay luminous throughout the festivities.
Some designs are remote-controlled which makes adjusting the balloon's brightness or flashing speed a breeze. Regardless of where you place them, whether floating from the ceiling, scattered on the floor, or even along walkways, these balloons create unforgettable ambience adding a bit of magic to every occasion.
Hot Air Balloon Centerpieces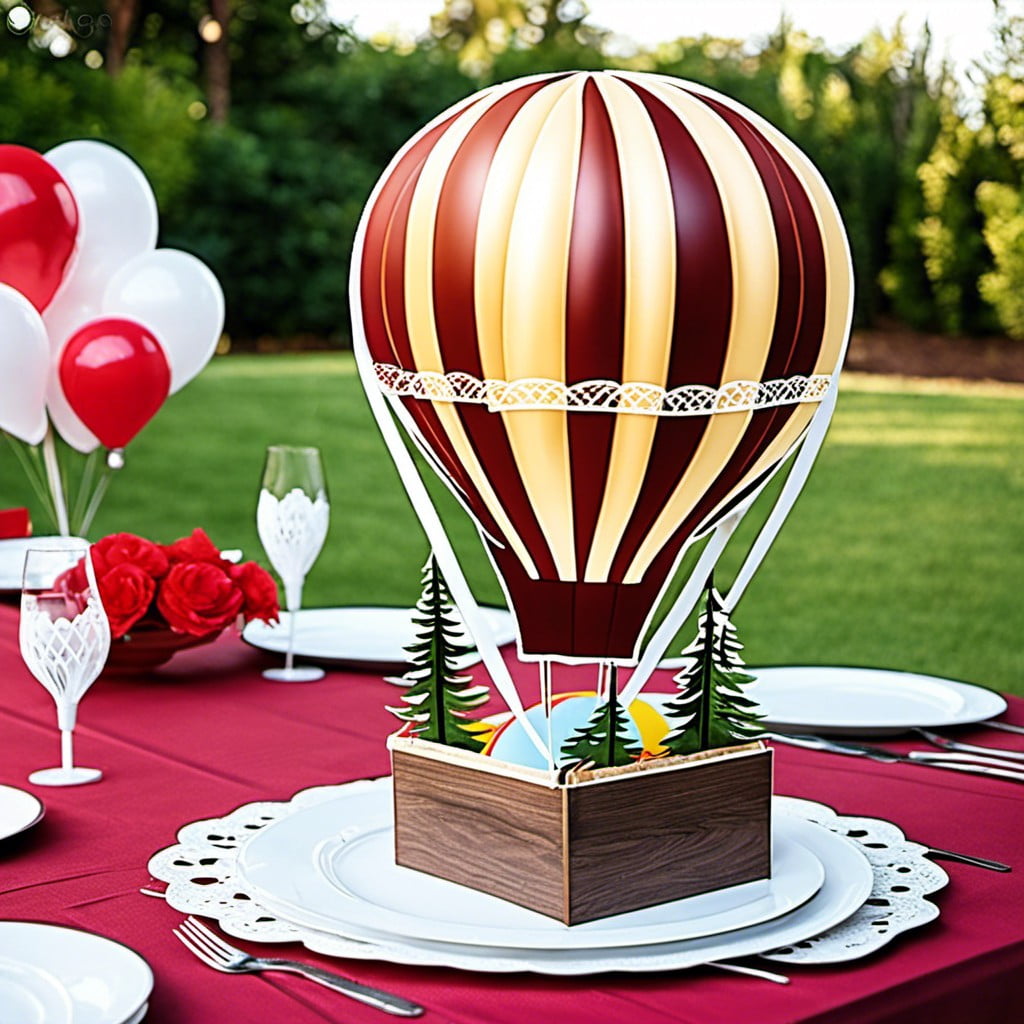 Crafting a hot air balloon centerpiece is a creative way to add whimsy to your decorating scheme. This endeavor involves fundamental supplies like balloons, miniature baskets, and crafting net or tulle.
First, inflate the round balloons and attach them to a crafting net or tulle. Next, fasten the net or tulle to a small basket. To increase appeal, you can fill the baskets with fluffy paper shreds, candies, small flowers, or mini toys, aesthetically fitting with the theme of the event.
Remember: the larger the balloon, the bigger the basket should be. Also, colorful or patterned balloons can add visual interest. Such centerpieces are not only engaging but also serve as a fantastic conversation starter. No doubt, guests will admire this bright sky-high spectacle right on the table!
Helium Balloon Ceiling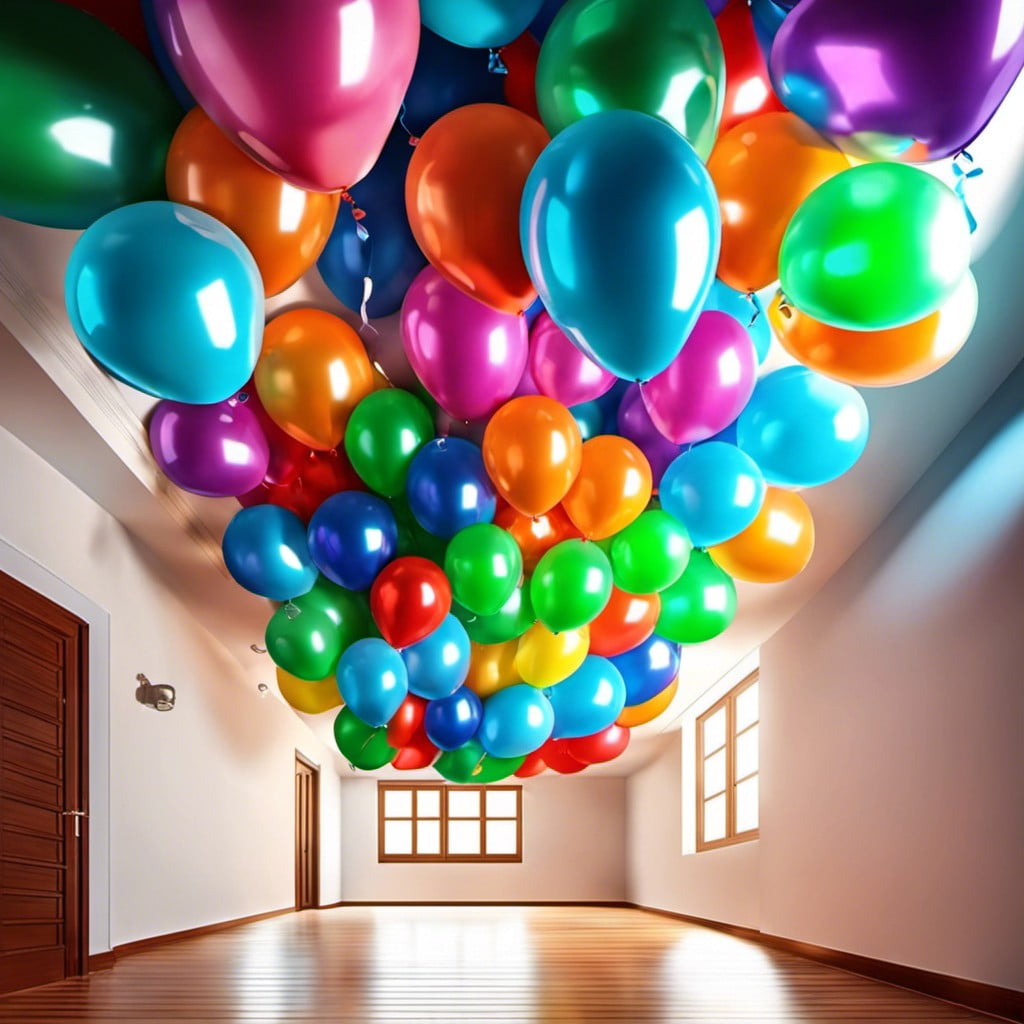 A helium balloon ceiling transforms any event into a dreamy spectacle, offering a unique and visually pleasing perspective. Here's how to achieve this effect and some pointers to ensure its success:
1. Select robust, high-quality balloons – they'll need to float all event long.
2. Coordinate colors – match balloons with the event's color scheme for a cohesive look.
3. Pay attention to height – balloons should be floating at various levels to create depth and interest.
4. Size matters – Mix different balloon sizes for a more dynamic effect.
5. Include tied strings – long pieces of ribbon or string attached to each balloon can create a magical cascade.
Remember, safety should take precedence – avoid open flames and white-hot lights and ensure all guests, especially children, can enjoy the floating spectacle without concern.
Balloon Garlands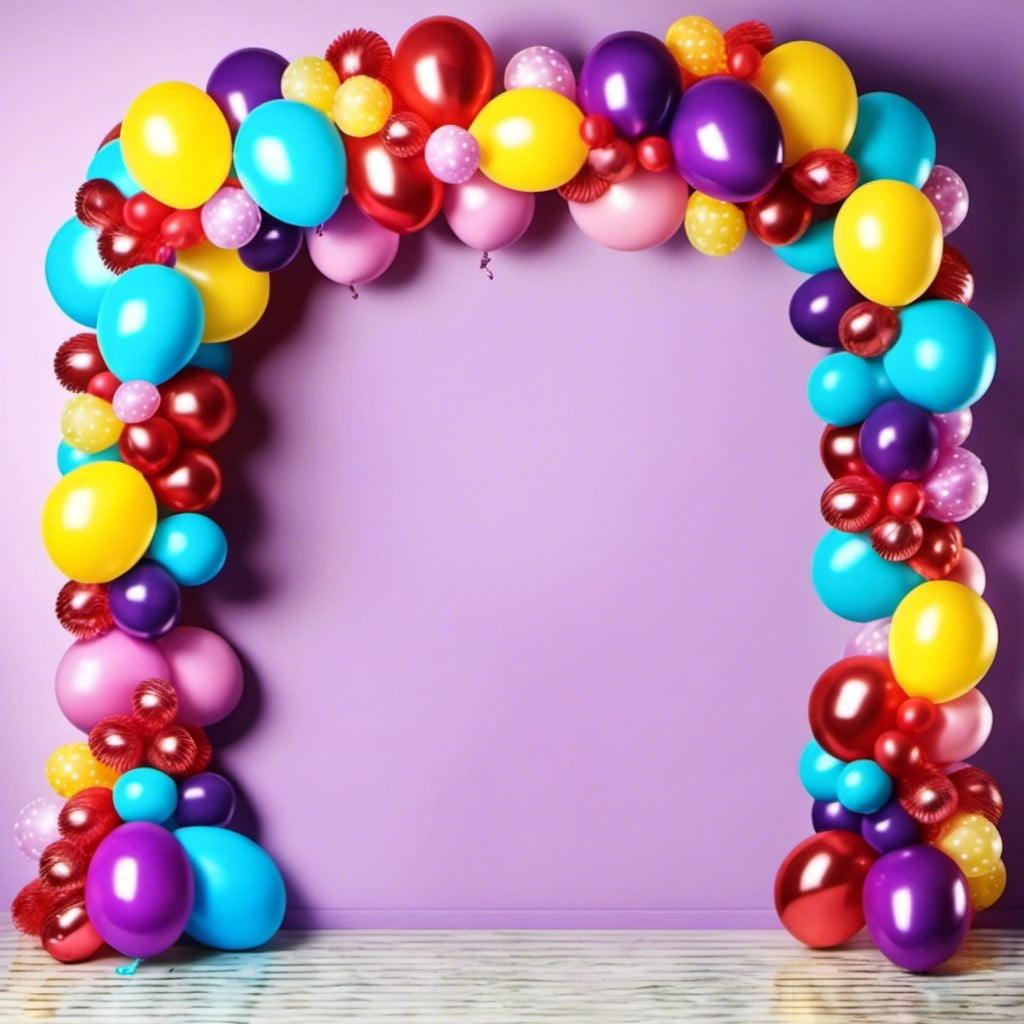 Creating a captivating display can be achieved by linking balloons of various sizes, lengths, and colors. Here are a few points to keep in mind when creating your garland.
1. First, plan your color palette. Choose colors that complement the overall theme of your event. You may want to use shades of a single color or a vibrant mix for more visual impact.
2. Balloon dimensions are key. Intersperse standard-sized balloons with some smaller and larger ones to give your garland an organic, undulating appearance.
3. Link the balloons by threading a fishing line through the tied ends. This can be time-consuming but will hold your garland together securely.
4. Consider adding elements such as foliage, flowers or ribbons to the garland for added aesthetic appeal.
Remember, your garland can be as simple or elaborate as you prefer. The beauty lies in its flexibility and the opportunity for personalization.
Balloon Clusters As Wall Décor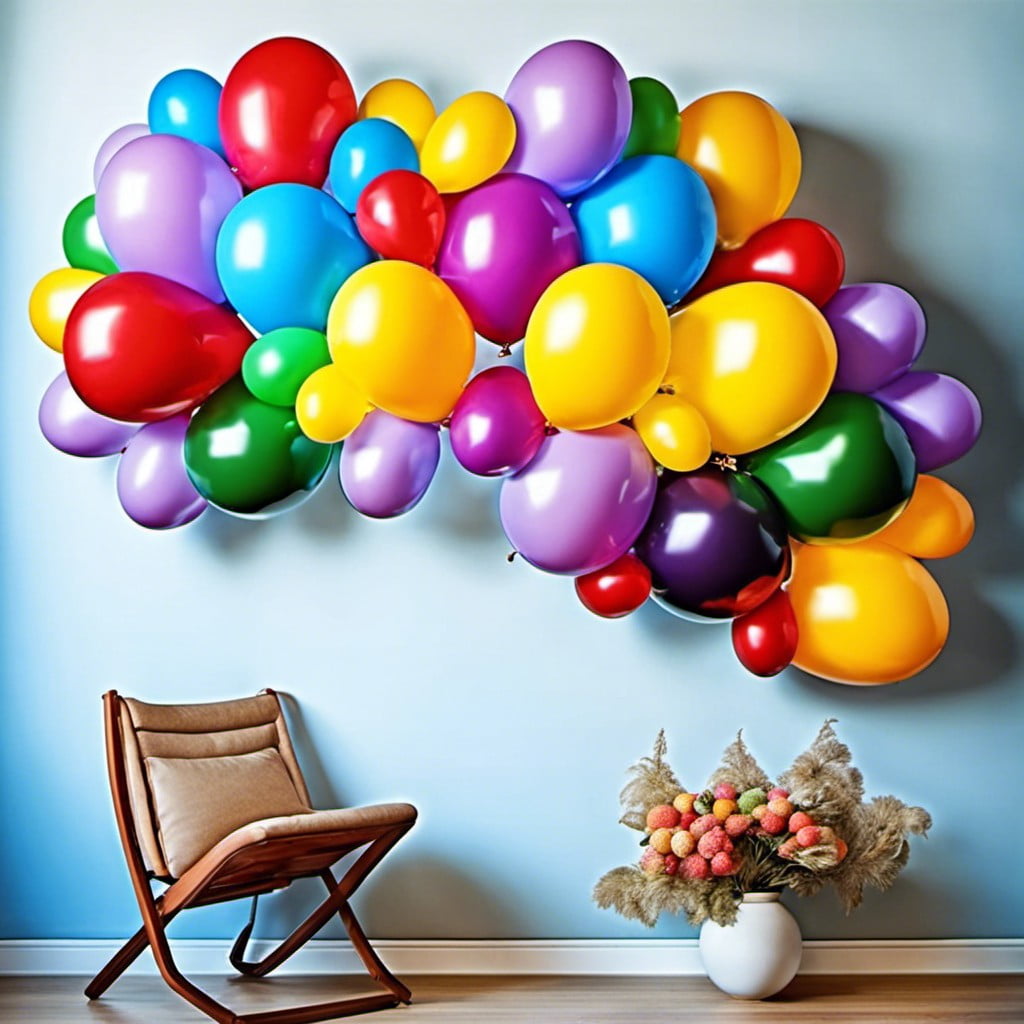 As a relatively simple yet striking decor option, clustering balloons on walls can create a dramatic effect. Choose colors that coordinate with the overall theme of your event to ensure a unified aesthetic. Opt for varying sizes to add visual interest and depth.
Here's how to polish this idea to perfection:
1. Select Balloon Colors: Choose a mix of complementary or contrasting colors. Consider metallic or translucent balloons for a festive look.
2. Mix and Match Sizes: Varying balloon sizes add dimension. Try mixing standard-sized, mini, and giant balloons.
3. Design Your Pattern: You could opt for a uniform arrangement or an organic, scattered effect. Try a balloon 'waterfall' from the ceiling or a 'river' running up the wall.
4. Secure Balloons: Use adhesive dots or mounting putty to stick balloons to the wall. Ensure it won't damage the wall's surface.
5. Fill Empty Spaces: Fill gaps with smaller balloons or other decor like artificial flowers or greenery.
6. Time Your Setup: Keep in mind that balloons can deflate, so do your setup as close to the event time as possible.
Personalized Message Balloons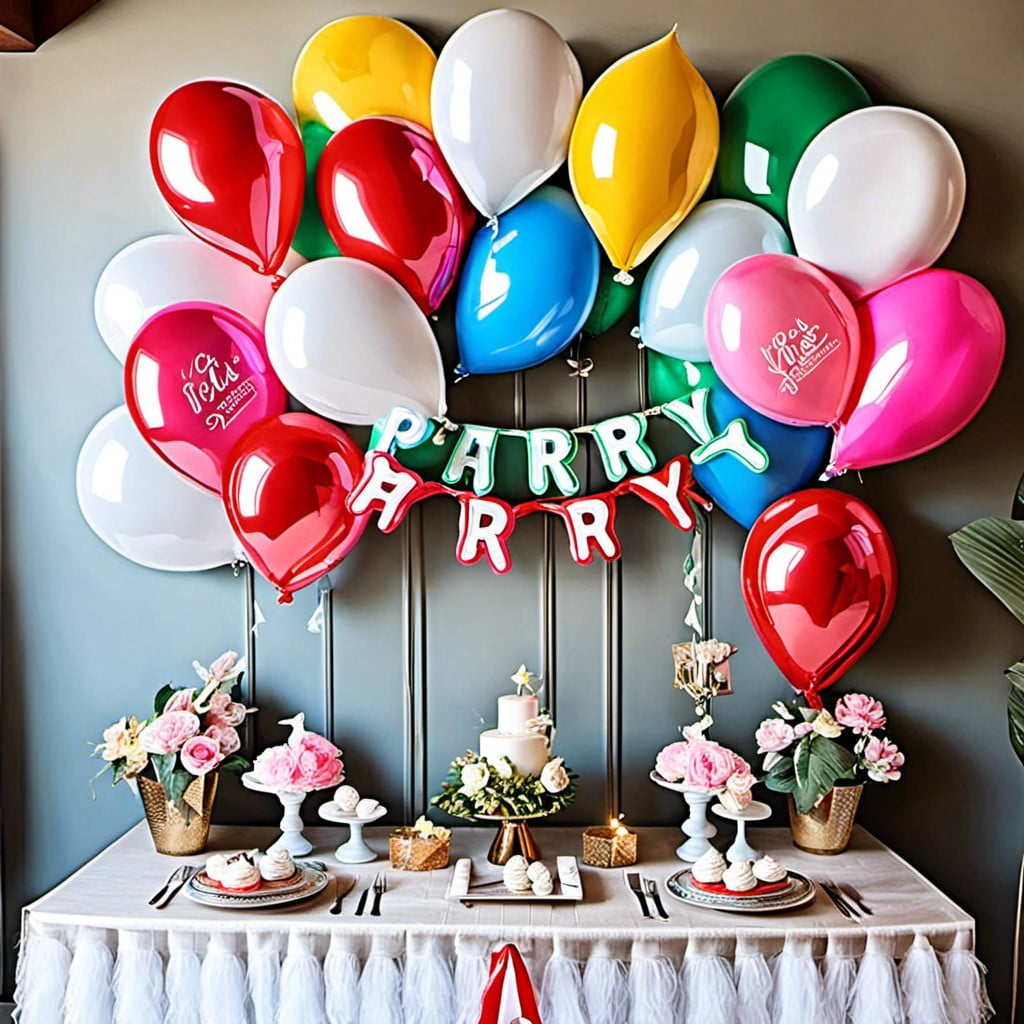 Adding a personalized touch to your decorations instantly uplifts the look and feel of the entire event. It's an innovative way to communicate a special message or celebrate the guest of honor. Your words may be funny, sentimental, uplifting, or simply stating the event's core purpose.
This customization is usually done by professionals using special equipment, for a seamless and attractive design.
Imagine welcoming a new baby with balloons that spell out her name, or celebrating a milestone birthday with an inspiring quote. It's also an ideal choice for corporate events, by incorporating company logos or slogans.
Just keep in mind that clarity is key since this decoration is also serving an informative purpose. Bold, contrasting colors between the balloon and the text can ensure your message pops out.
Walk-in parties and surprise events can particularly benefit from these as they provide an instant context and an element of delight. Use these balloons strategically around your venue for maximum impact.
Animal-shaped Balloons for Children's Parties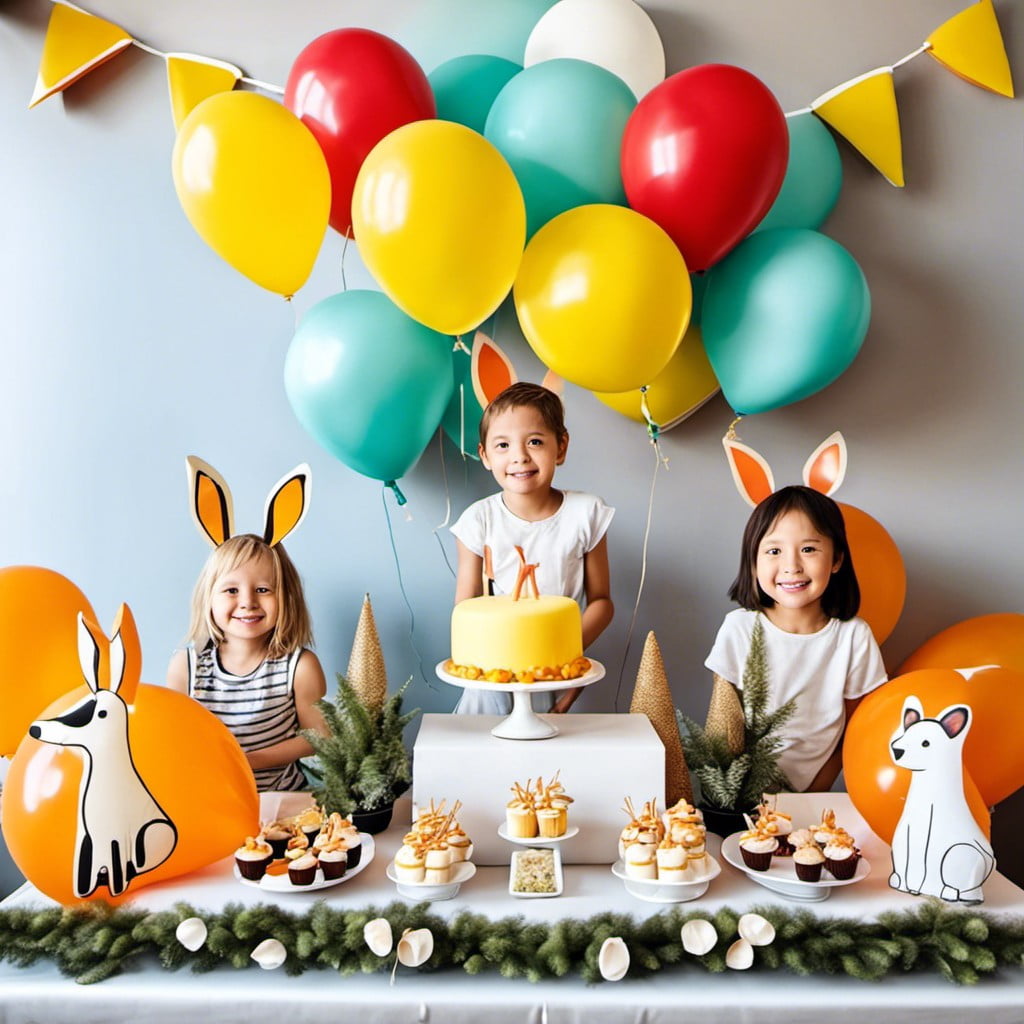 Bringing a fun and whimsical touch to any children's party, these creative inflatables come in a variety of forms. From adorable puppies, elegant unicorns, colorful butterflies, to ferocious dinosaurs, they add an element of surprise and delight for the young party-goers.
Here are a few considerations when incorporating animal-shaped balloons:
Match the Balloon to the Party Theme: If the party is jungle-themed, opt for lions, monkeys, or giraffes. For a princess party, a unicorn might be the perfect choice.
Choose the Right Size: They come in different sizes, from life-size that can make a fantastic background for pictures, to smaller versions that could be used as table centerpieces or takeaway gifts.
Color Coordination: Choose animals in colors that complement the overall color scheme to create a balanced look.
Get Creative: Combine traditional balloons with animal shapes to create a more visually appealing décor.
Remember, providing children with a memorable experience should always be the main goal. The joy on their faces upon seeing their favorite animal inflated is a reward in itself.
Balloon Backdrop for Photo Booth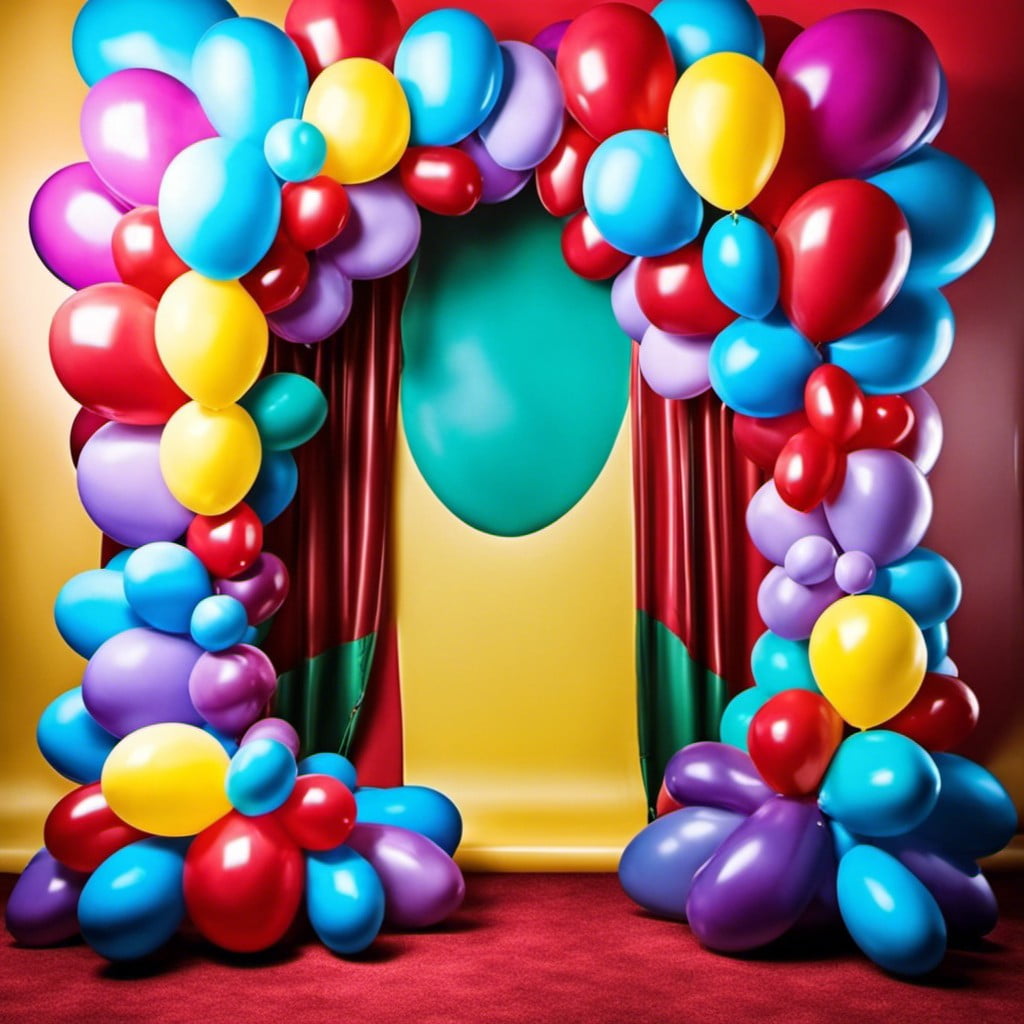 Creating a dynamic backdrop is all about visual impact and personalization. Start by choosing balloons in varying sizes and colors that match the event's theme. Arrange them closely, either in a random pattern to create an abstract look, or in a specific design. A wall is the most suitable place for the backdrop, but a large frame can also be used.
Ensure to have three key components in place for a stellar backdrop – a strong base to secure the balloons, adequate lighting to highlight the arrangement, and a clear space for guests to pose. It's also a great idea to incorporate add-ons like foliage or faux flowers, thematic props, or even a few fairy lights for an extra festive feel. Remember, asymmetry often works better in achieving a chic, organic look.
A professional-grade camera is ideal, but if unavailable, ensure your phone camera is set to high-resolution. Make sure the backdrop fills the entire viewfinder for a truly immersive photographic experience for your guests.
This decor idea can be made in advance, preferably a day before the event, ensuring it's ready for action when the fun begins!
Balloon Wreaths for Decorations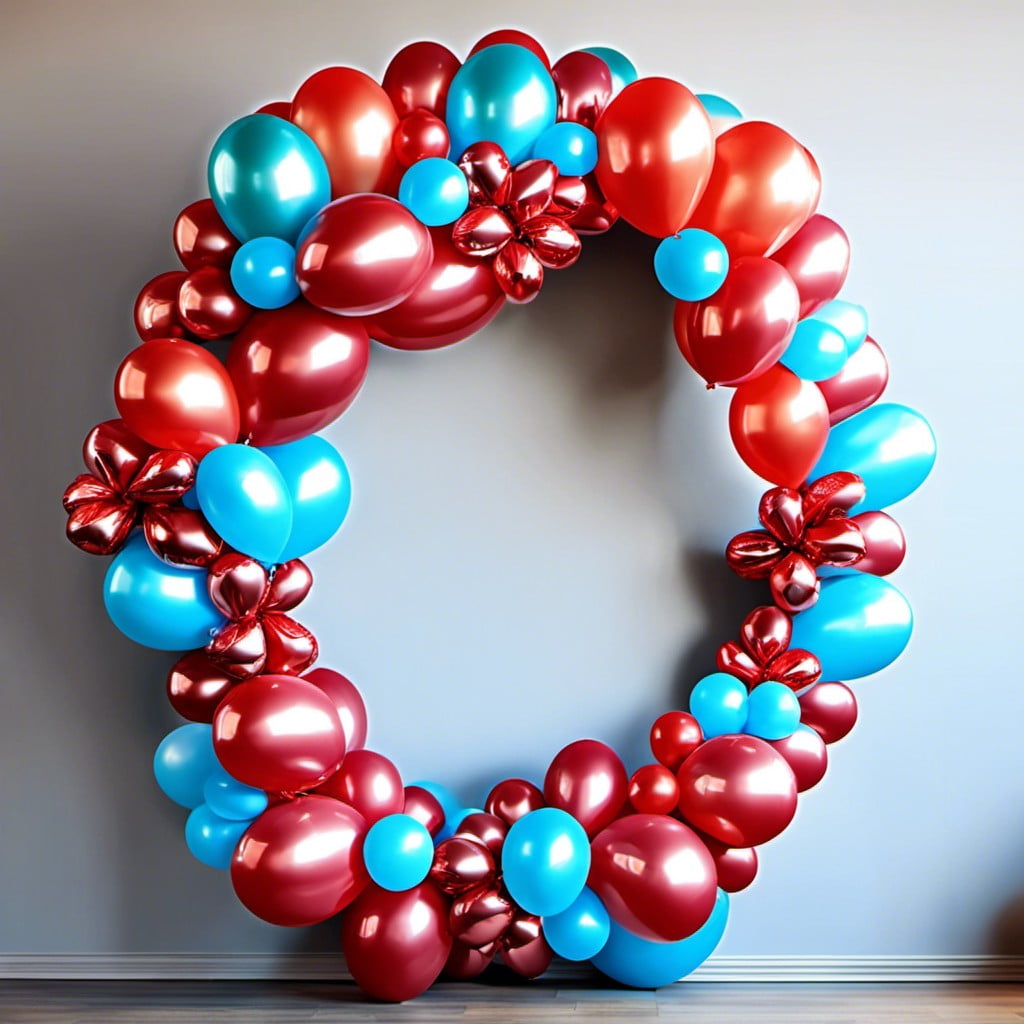 Building on the visual impact, balloon wreaths can elevate the exuberance of any event. Maintaining a color scheme that aligns with the event's theme, be it a birthday party or a bridal shower, provides a cohesive look. For a standout effect, consider mixing matte and metallic balloons, or combining varied sizes within the wreath.
Creating this decorative masterpiece is surprisingly simple. Start by securing an assortment of inflated balloons to a wire hoop until it's completely covered. Be sure to scatter the different colors and sizes evenly for a balanced appearance.
As an added surprise element, consider incorporating greenery, artificial flowers, or ribbons into your design. Not only does this break the monotony of balloons but also infuses a rustic charm.
Remember, balloon wreaths aren't confined to wall decorations; they can also serve as photo booth frames or main table backdrops, adding a dynamic, photogenic touch to your event.
Color-coordinated Balloons to Match Theme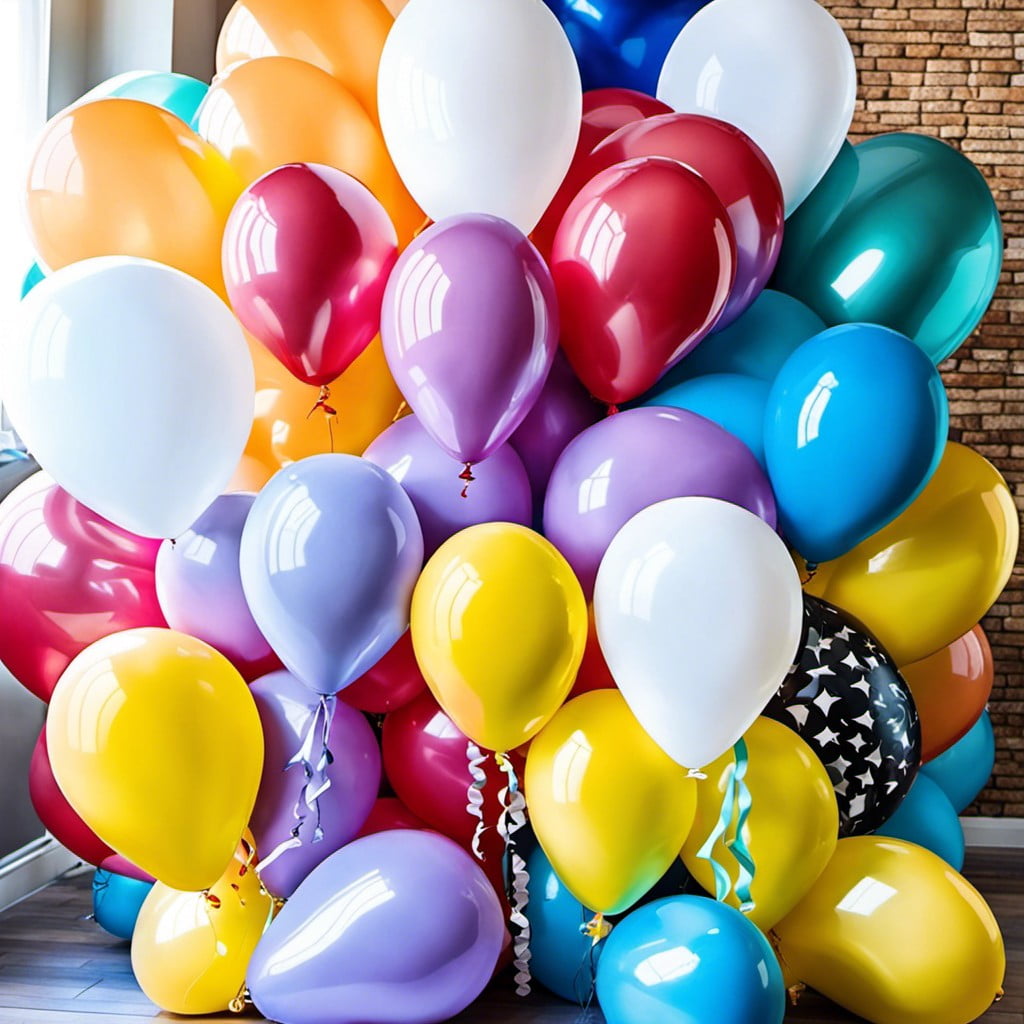 A celebration isn't complete without a color scheme that creates harmony and the right atmosphere. Balloons are quite adaptable to any theme, effortlessly enhancing the aesthetic appeal. For a carnival mood, go for bright, bold hues like red, orange, and bright blue. Pastels, on the other hand, would work perfectly for a serene baby shower or a garden party. For more elegant affairs such as weddings or milestone anniversaries, try an assortment of whites, golds, and silver balloons.
It's not just about choosing colors that match the event though. The combination should also blend with the environment. If the party is set outdoors, natural tones will complement the surrounding greenery. When facing a less vibrant venue, brightly-colored balloons can fill the scene with energy and life. Don't forget that varying shades of the same color can also be strikingly beautiful, offering depth and visual interest.
Consider multi-colored designs as well. Polka dots or striped balloons offer patterns that can spice up any décor. Have fun experimenting with the limitless possibilities offered by balloons. After all, these inflatables are meant to bring joy and add a festive touch to every occasion.
Number or Alphabet Shaped Balloons for Birthdays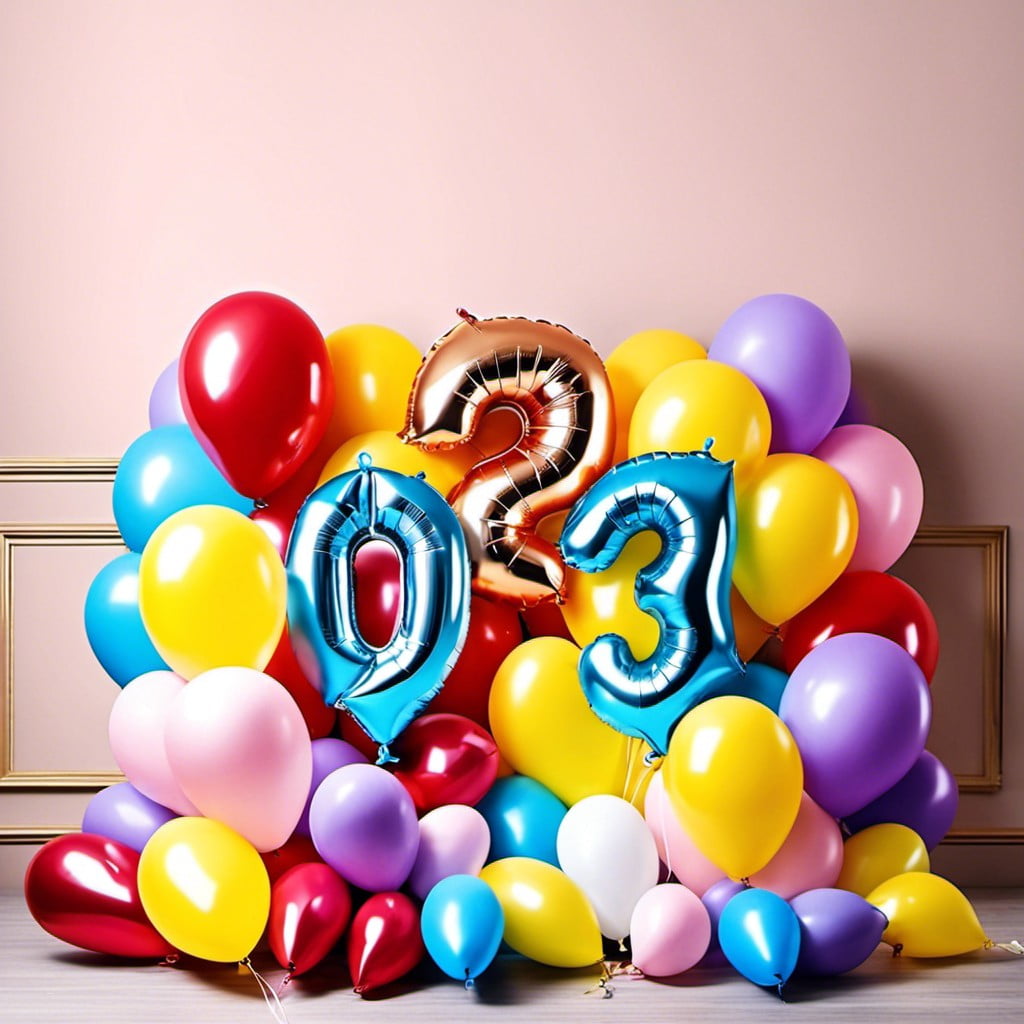 Shaping balloons into numbers or alphabets is a popular trend in birthday celebrations. These large, often helium-filled, balloons can display the age of the birthday boy or girl, make up part of a birthday phrase, or showcase the initial of the celebrant. They appear vibrant, playful and add a personalized touch to your décor.
To kickstart the birthday planning, choose either foil or latex balloons as they're more durable and can be inflated to form the true numbers or letters shape. Pair contrasting colors or match with the party theme to have a cohesive look.
Remember to strategically place these balloons where they can be easily spotted. The entrance is a great spot for first impressions or a photo booth backdrop for those memorable keepsake photos. Make it a more amusing visual treat by spinning them gently with threads or assembling them with other balloons to create balloon bouquets. Remember to ensure the safe disposal of these balloons post-party to prevent them from posing a risk to wildlife.
Floating Balloon Table Centerpieces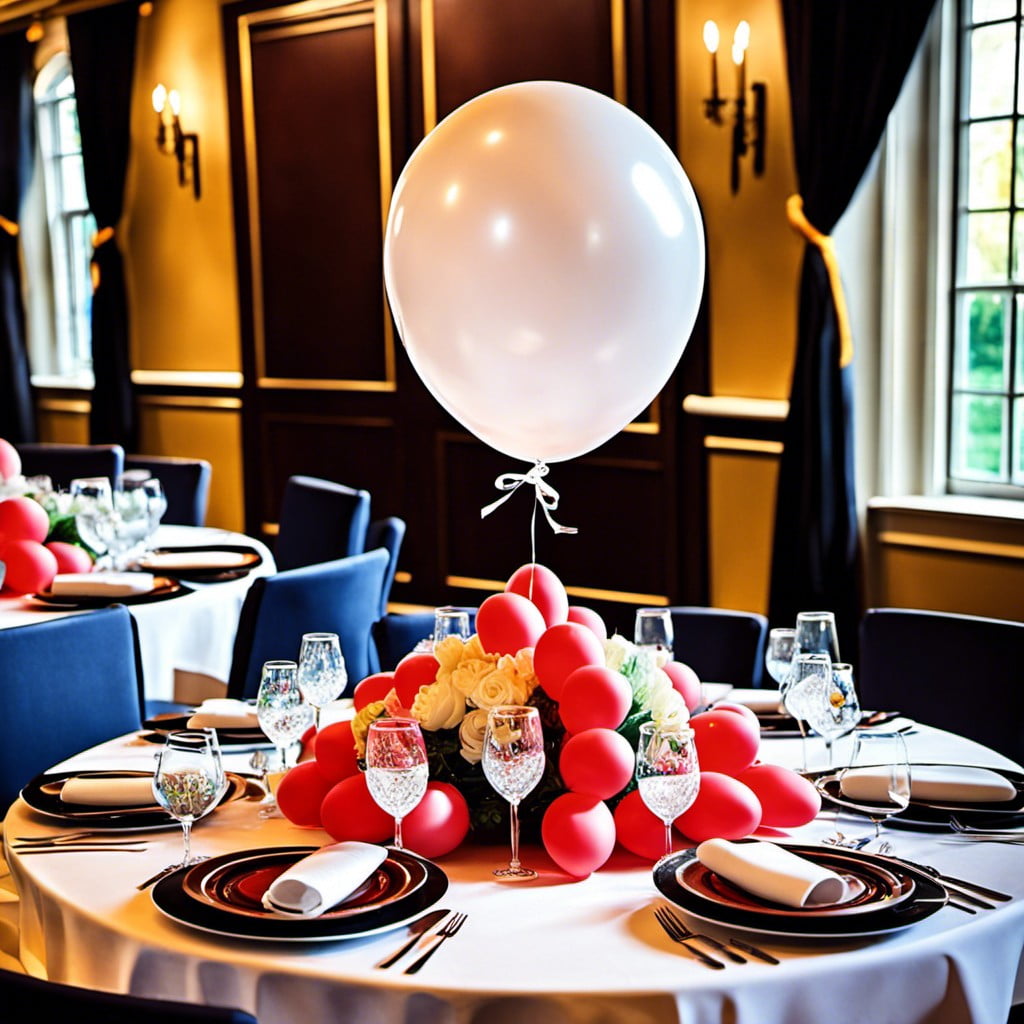 Creating eye-catching floating balloon centerpieces starts with choosing the right balloon, helium, and weight. Opt for transparent or light-colored balloons for an ethereal effect.
Pour a small amount of helium into each balloon to make it float. It is crucial to leave sufficient room for the balloon to expand. Connect a thin, barely visible thread, such as a nylon fishing line, at the base of the balloon, which will serve as its anchor.
Fasten the other end to a small weight that can be hidden under table decor or secured invisibly to the table. Remember, the weight must be heavy enough to hold the balloon in place yet light enough that the balloon seems to float effortlessly. Add coordinating ribbons or tassels for an extra touch of elegance.
If desired, miniature LED lights can be inserted into the balloons, emitting a soft glow, ideal for evening events.
Variations on this decorating idea can include filling clear balloons with soft pastel confetti for a celebratory touch, or incorporating miniature balloon clusters to create a cascading effect.
These floating centerpieces can create a significant impact while requiring minimal setup, leading to maximum visual payoff with minimal effort. These intriguing centerpieces can establish a captivating ambiance, adding a dash of whimsy to any event, be it a birthday party, wedding, or corporate gathering.
Giant Balloons With Tassels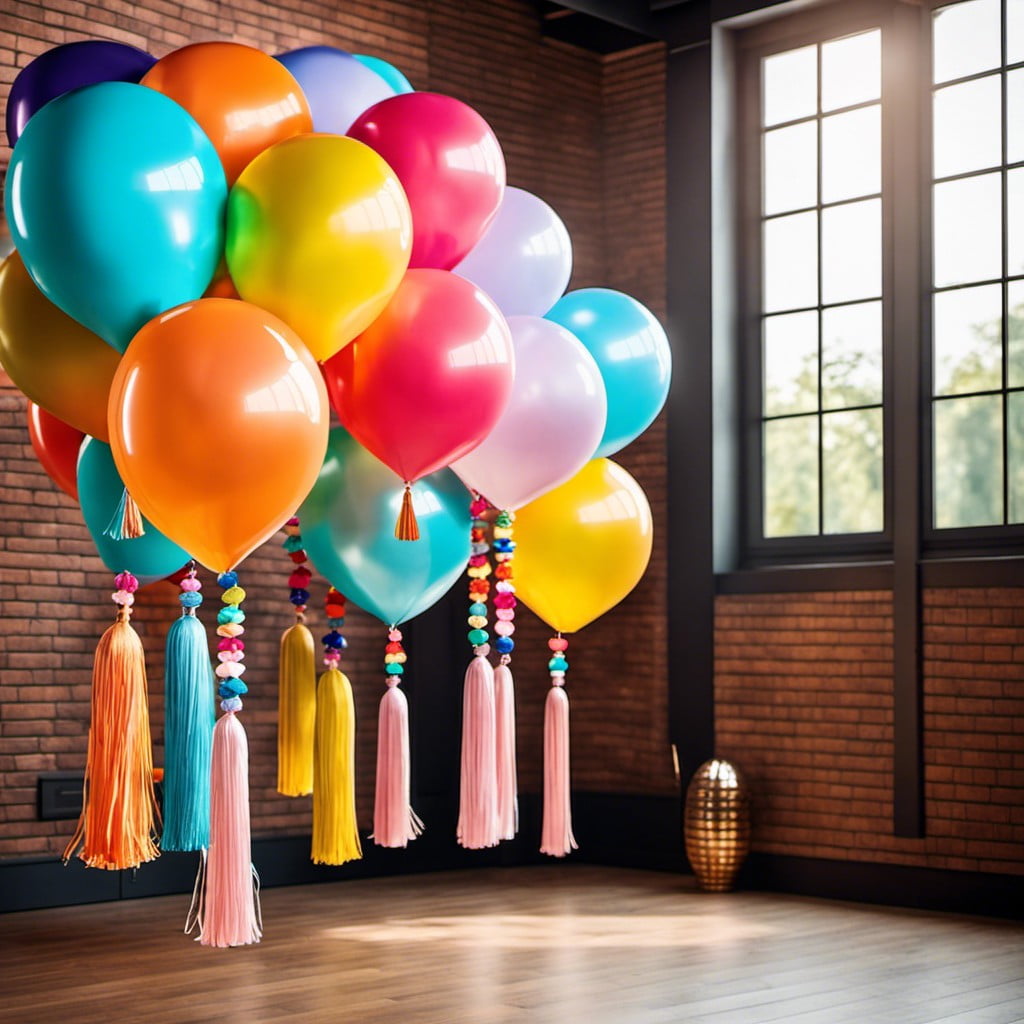 Injecting a festive and playful touch to celebrations, giant balloons with tassels are simply irresistible. Available in numerous hues, the balloons provide a whimsical charm while the tassels add a dash of color and texture, creating a captivating visual effect.
Start by choosing the right-size balloon, aiming for sizes as big as 36 inches. They make a great impact! Next comes color selection. While choosing matching shades for the balloon and tassels can be appealing, contrasting colors create a dramatic effect. The best thing about tassels? They can be crafted from different materials – tissue, mylar, or even raffia for a rustic touch.
Remember, assembly is key here. Fasten your tassels to the balloon string, maintaining consistent spacing for a neat appearance. And there you have it, a striking decoration for any occasion, be it a wedding reception, anniversary celebrations, birthday parties or baby showers. The enormous balloons, coupled with tassels, highlight any party space effortlessly. It's simple yet significant, casting an enchanting spell on your guests.
Floral-filled Transparent Balloons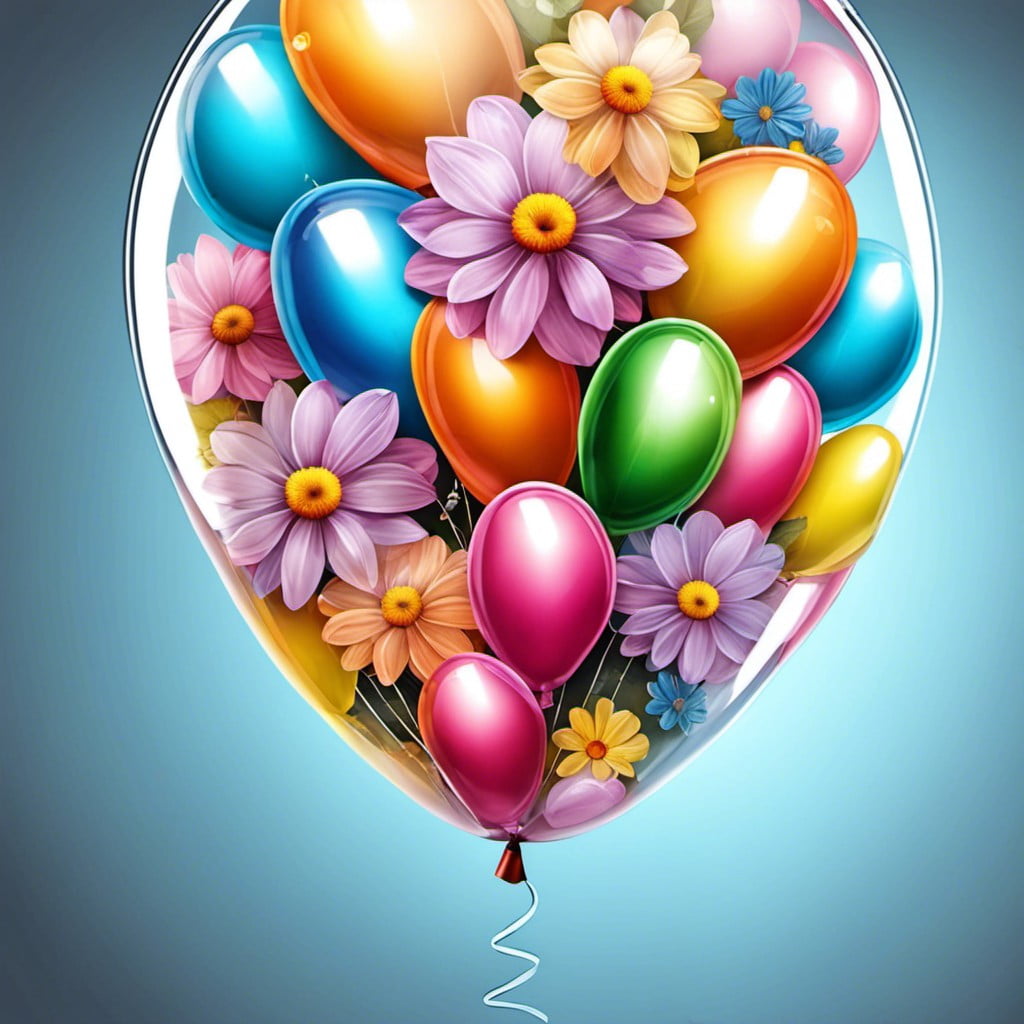 To create these stunning decorations, pick up some clear balloons and a selection of small, lightweight blooms. Start by stretching the balloon's opening wide enough to insert the flowers. Once it's filled to your liking, inflate the balloon with helium and secure the end.
These balloons work marvelously in a variety of settings. With versatile appeal, they prove exceptional as table centerpieces, entryway markers, or even for sprucing up a sparse corner. For enhanced effect, consider matching the flowers in the balloon to other floral arrangements at your event. They make a delicate, beautiful statement that guests are sure to remember.
Take note; it's ideal to use lightweight, durable flowers to prevent popping. Importantly, these balloons are best prepared just hours ahead of the event due to the perishable nature of the flowers. While this requires a bit of planning, the breathtaking end results are well worth the effort.
Balloon Sculpturing Into Different Shapes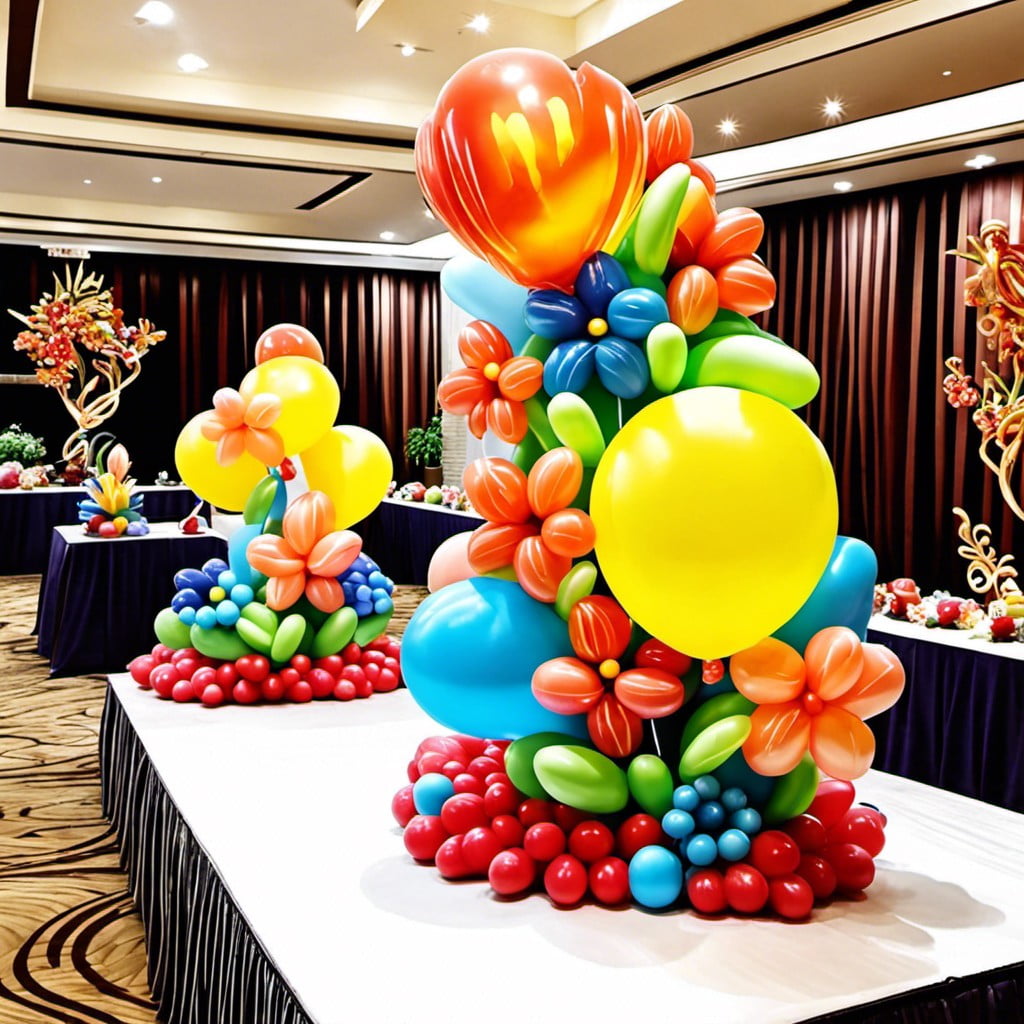 Delving into the artistic side of decorations, sculpturing balloons presents limitless opportunities to showcase creativity. From simple hearts and dogs for kids' parties to complex designs like palm trees or archways for larger events, the only limit here is imagination.
This process uses long, thin balloons – often referred to as "modeling balloons." With a little practice, one can twist and turn these into a plethora of shapes and designs. Myriad tutorials are available online for aspiring balloon artists.
Always remember to keep a pump handy to prevent breathlessness and use a black marker for details like eyes or patterns. It's a fascinating technique that adds a unique touch to festivities, beloved by both children and adults.
Confetti Balloons for Sparkly Effect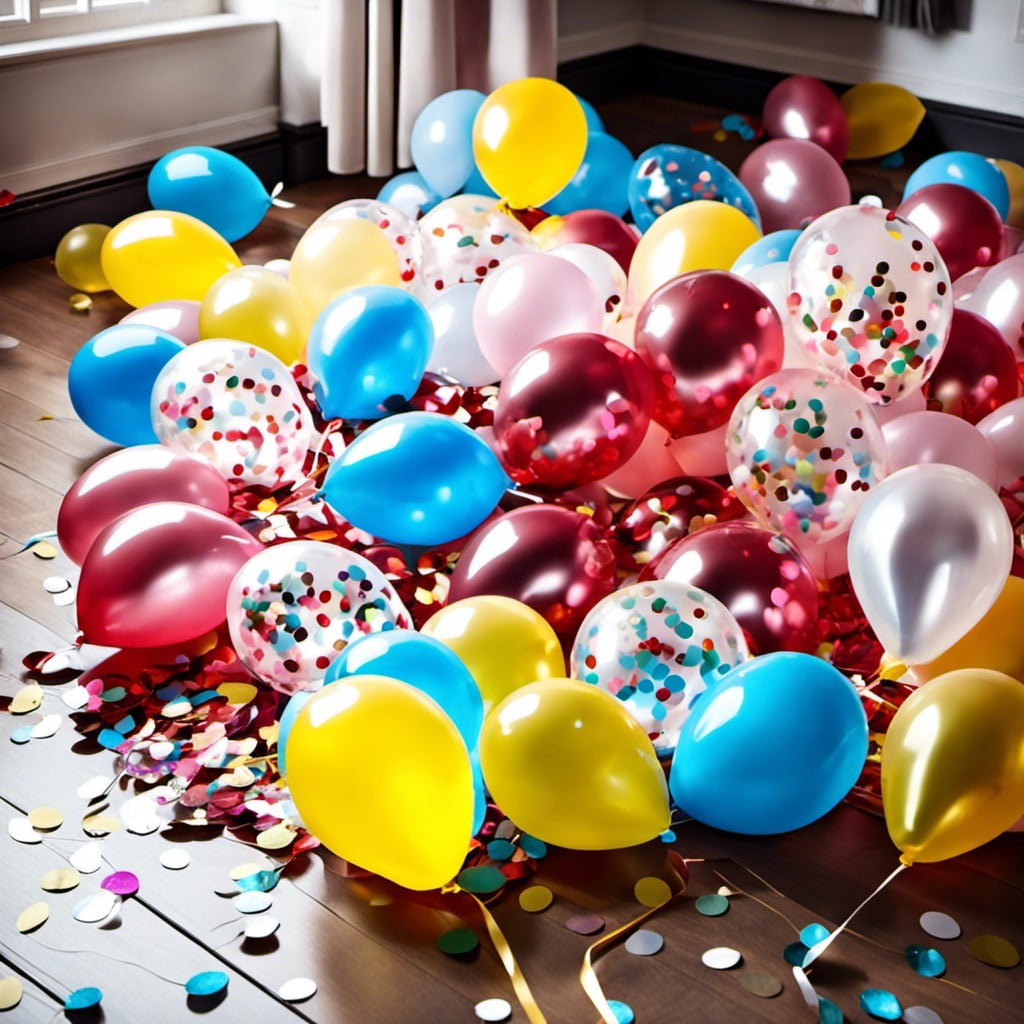 To create captivating visual interest at your event, consider utilizing confetti balloons. They serve as a marvelous surprise element in any celebration upon popping, releasing a cascade of glittering confetti. Alternatively, they also look stunning as-is, with confetti glittering inside transparent balloons, adding an air of sophisticated glitz to the decor.
To create these captivating additions to your decor, follow a few simple steps:
Opt for clear balloons for the best visibility of confetti.
Choose confetti that matches or complements your color scheme.
Funnel a portion of confetti into the balloon before inflating.
Post inflation, static electricity can be generated by gentle friction, which will keep your confetti stuck to the balloon sides for a delightful visual display.
They work exceptionally well for evening events or parties where the sparkles can reflect the light making the room feel magical. Building upon this concept, use different types of confetti, like metallic, paper, or even luminescent, to fit your specific party theme or ambiance requirements.
Mini Balloon Columns for Table Setting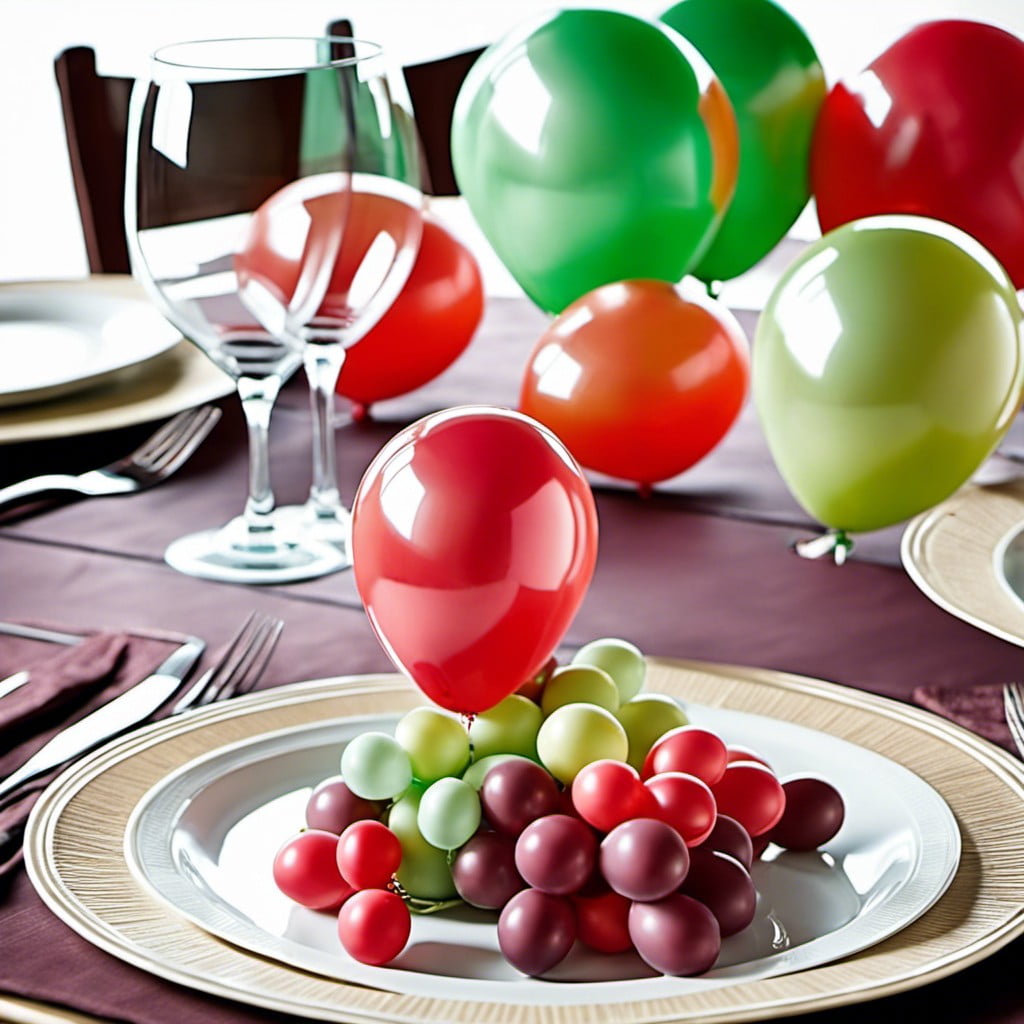 This incredibly effective decorating idea invigorates any table setting. For a stunning and eye-catching spectacle, match the balloons with the overall color scheme of your party.
Differing heights add depth and dimension. So, use sticks of varied lengths. Attach them to the base which can be disguised with a decorative vase or other creative options like faux flowers, ribbons, or themed ornaments.
Remember to balance the sizes and colors of the balloons to create a harmonious and captivating aesthetic. They are not only striking but also allocate a personal space, making guests feel cherished.
A simple, yet unique approach that's bound to leave your guests in awe.
Liked reading this? Here's more:
Recap: