Last updated on November 7, 2023
Make your anniversary unforgettable because choosing the right decorations can create an atmosphere of love and celebration like never before.
I take immense pleasure in sharing with you these 20 unique anniversary decoration ideas, all rigorously designed and crafted by myself, with the hope of inspiring you and offering as much joy crafting them as I did.
Celebrating an anniversary is a momentous occasion and deserves unique and beautiful decorations to match. Whether you're marking a significant milestone or a quiet year of love, the right decor can set the tone for your celebration.
From romantic candlelit dinners to grand parties, or intimate garden picnics, this article provides a plethora of ideas to inspire your anniversary decorations. Delve into the details of color schemes, themes, and DIY projects that can transform any space into a celebration of love and commitment.
So, whether you're an experienced party planner or a novice decorator, these ideas will guide you to create an unforgettable anniversary celebration.
Romantic Candle Setup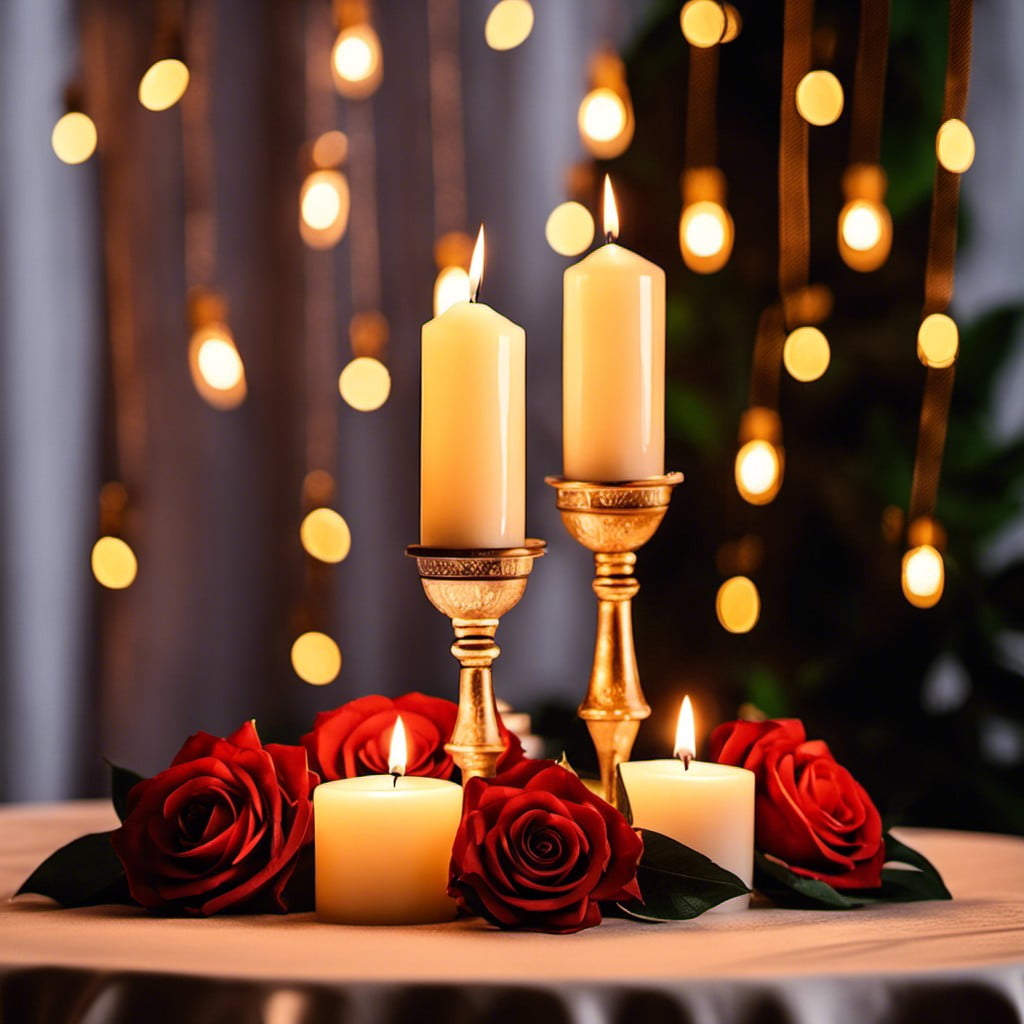 Utilizing candles as part of your decoration strategy not only adds an elegant ambiance but also infuses warmth into the environment. Opt for varied sizes, placing larger candles to be focal points and smaller ones for subtle glow around the space.
Fragrance is an added bonus; delicately scented candles will enhance the overall atmosphere and engage the senses.
Safety should be a primary consideration, so ensure they are positioned well away from any flammable items. Arrangements should be done considering aesthetic positions on tables, windowsills, or safely on the floor, potentially inside lantern holders for added protection and visual appeal.
Though traditional white or ivory candles create a sophisticated look, don't shy away from experimenting with color. Perhaps coordinate them with your overall color theme, or use bold contrasting colors to make a statement.
Try incorporating other elements such as rose petals or decorative stones around the base of the candle arrangements for extra sparkle. Personal touches like wrapping a twine or ribbon matching your theme colors around candle jars can make a world of difference.
Creating pathways with candles leading to the main event area or lining them along the borders of the space are also effective ways of utilizing candles in decorations. These ideas will help acheive a romantic, intimate, and inviting anniversary celebration.
Flower Centerpieces
To create stunning floral centerpieces, consider using a couple's favorite flowers or those that hold sentimental value. For more variety, seasonal flowers also make a great choice.
Provide balance by using blooms of different sizes and shapes, and add greenery for additional color and texture.
Keep in mind the overall color scheme of the event when selecting flowers. Soft pastel shades create a dreamy, romantic atmosphere, while bolder colors exude vibrancy and energy.
For a more personalized touch, add elements like seashells for beach lovers or vintage trinkets for antique enthusiasts.
Don't overlook the vases – these can significantly impact the final look. Clear glass vases give a clean, contemporary feel, while rustic wooden boxes evoke a more casual, whimsical vibe.
Remember, the beauty of floral centerpieces lies in their ability to pull together the decoration harmoniously while symbolizing the blooming love between two individuals.
Photo Collage Wall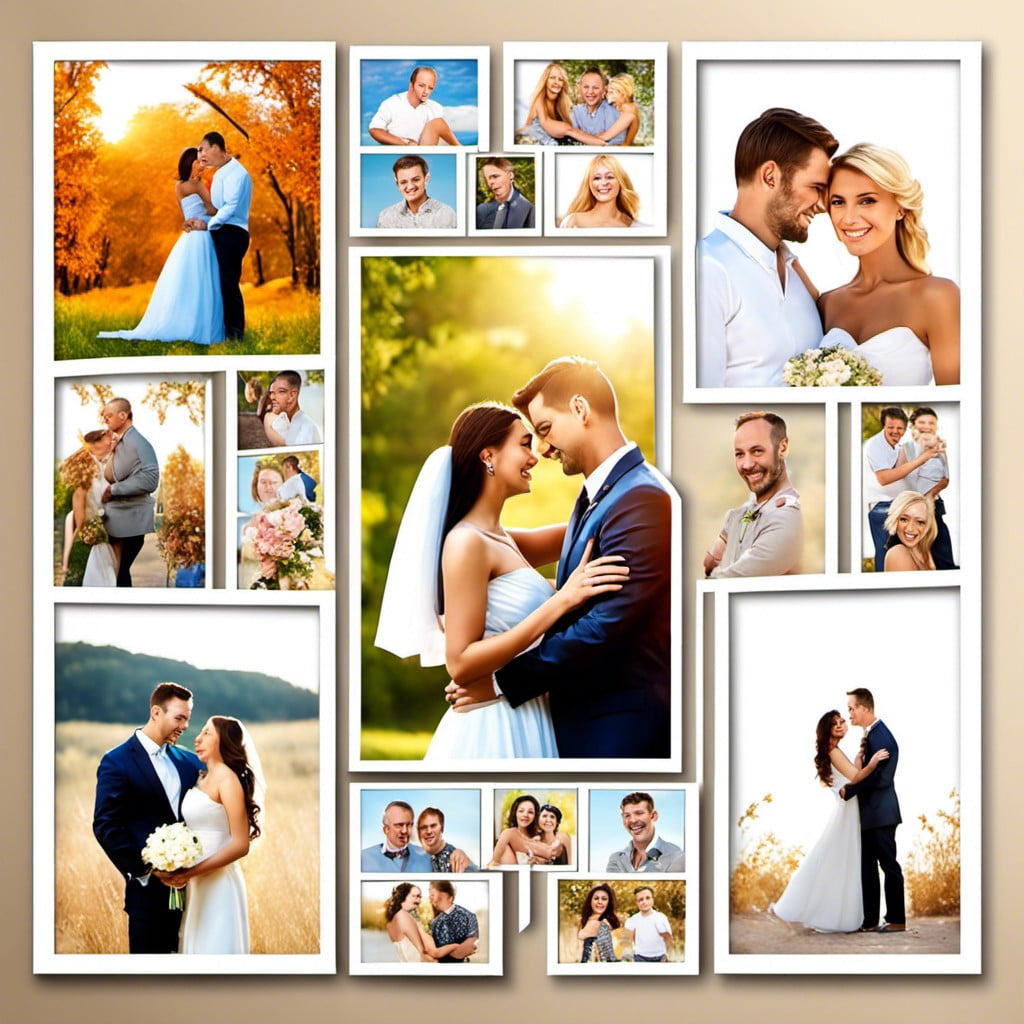 A spectacular way to capture your love story, the collage wall brings together flashes of memories. Be it your first date, excursion or just an everyday picture, each photo portrays your journey together.
Use different sized photos and frames to create an interesting visual dynamic on the wall. Add a black and white filter to keep it timeless and aesthetically pleasing. Mix in memorable trinkets or mementos for personal touch.
Alongside personal photos, incorporate candid shots or snaps of favourite destinations. With an artful arrangement, your unique love story comes alive for everyone to appreciate.
Thematic Balloon Arch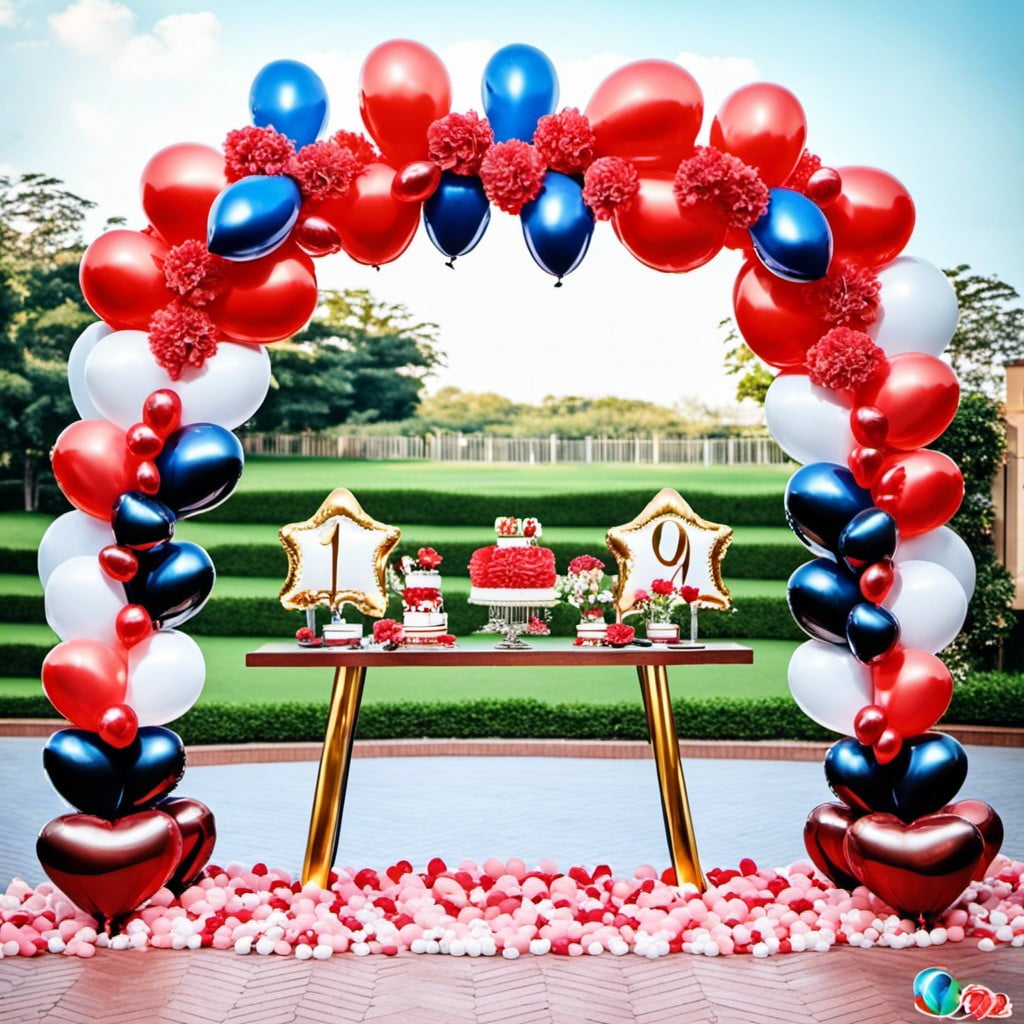 Beginning with a variety of balloon colors that align with your theme, you'll want to layer them accordingly. The whimsical look of balloons isn't limited to children's parties, they can truly enhance the wow factor of your anniversary. From tropical themes with vibrant greens and pinks, to icy winter themes with frosty blues and whites, the options are endless.
For a dynamic look, incorporate different sizes of balloons. Adding some giant ones amidst regular-sized counterparts creates depth. Further accentuate your arch with foliage or flowers, twining them around the balloon strings for a floral feel, or tinsels for a hint of glamour.
Don't overlook the importance of the arrangement—whether it's an arch by the doorway or a full canopy overhead, the placement can dramatically transform the space. Last but not least, balloon arches are ideal backdrops for memorable photo-ops. Do remember to use an air pump to avoid being short of breath on your special day! Professional help can also be handy if you're pressed for time or want a more elaborated design.
Custom Banner With Anniversary Year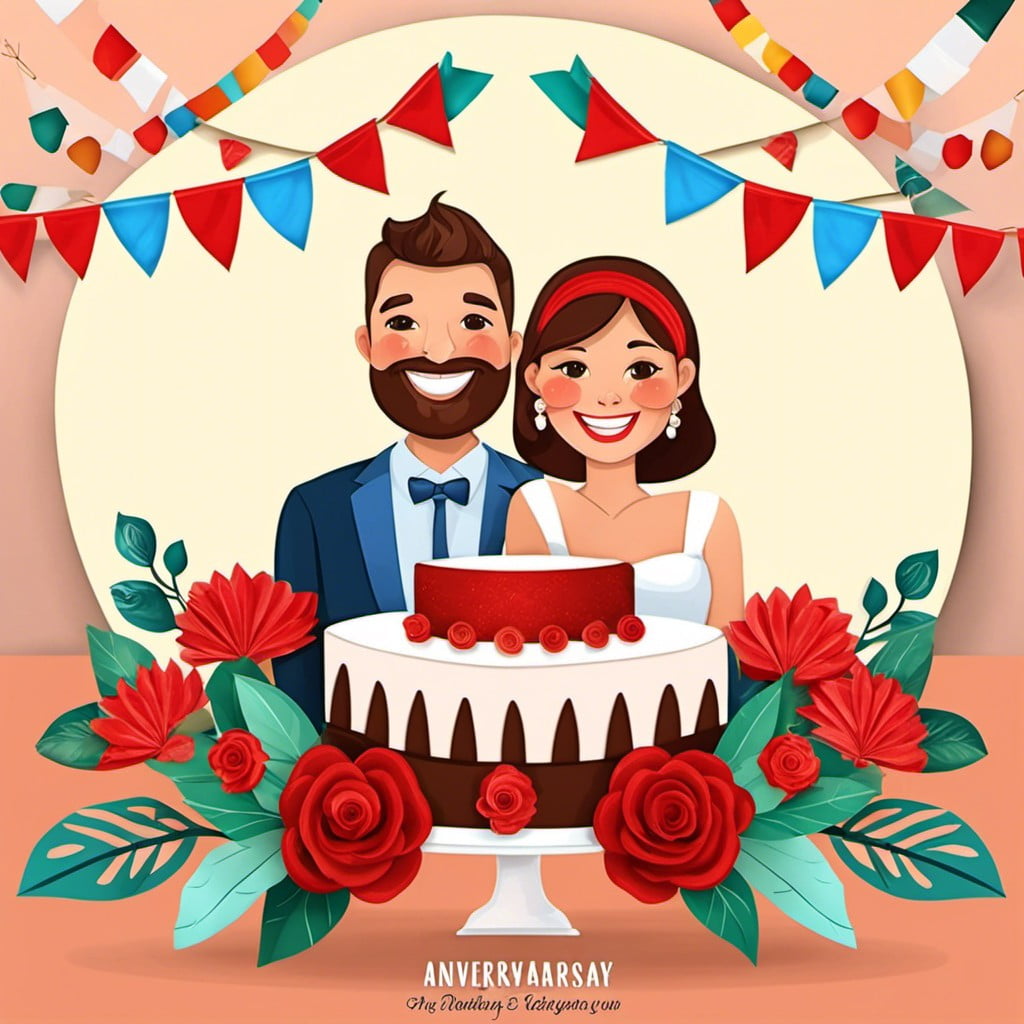 Creating a banner that showcases the milestone you're celebrating is a fantastic way to customize your event. This decoration is versatile and can be tailored to your interior, whether you are having an intimate dinner or a grand party.
Here are some key points to consider:
1. Material Choice: Options range from sturdy cardstock to lightweight paper or even fabric, allowing for indoor or outdoor use.
2. Styling: A variety of styling options are available from rustic looking burlap pieces to classy gold glitter letters.
3. Placement: Consider prominent areas in your space like the entrance, above the main table or across the living room wall for maximum visibility.
4. Adding Personal Touch: Incorporating elements specific to your relationship, such as small printed pictures or love symbols, can make it further special.
5. Professional Service: If you're not keen on DIY, many professional services provide custom banners, ensuring quality and time savings.
Remember, your banner should be clear, readable, and eye-catching to spark conversations and add to the ambiance. If you're celebrating a significant milestone like silver or golden jubilee, you might consider using those colors in the banner. Mastering this custom banner decoration will bring a unique personal touch to your celebrations.
Heart-shaped Lights Display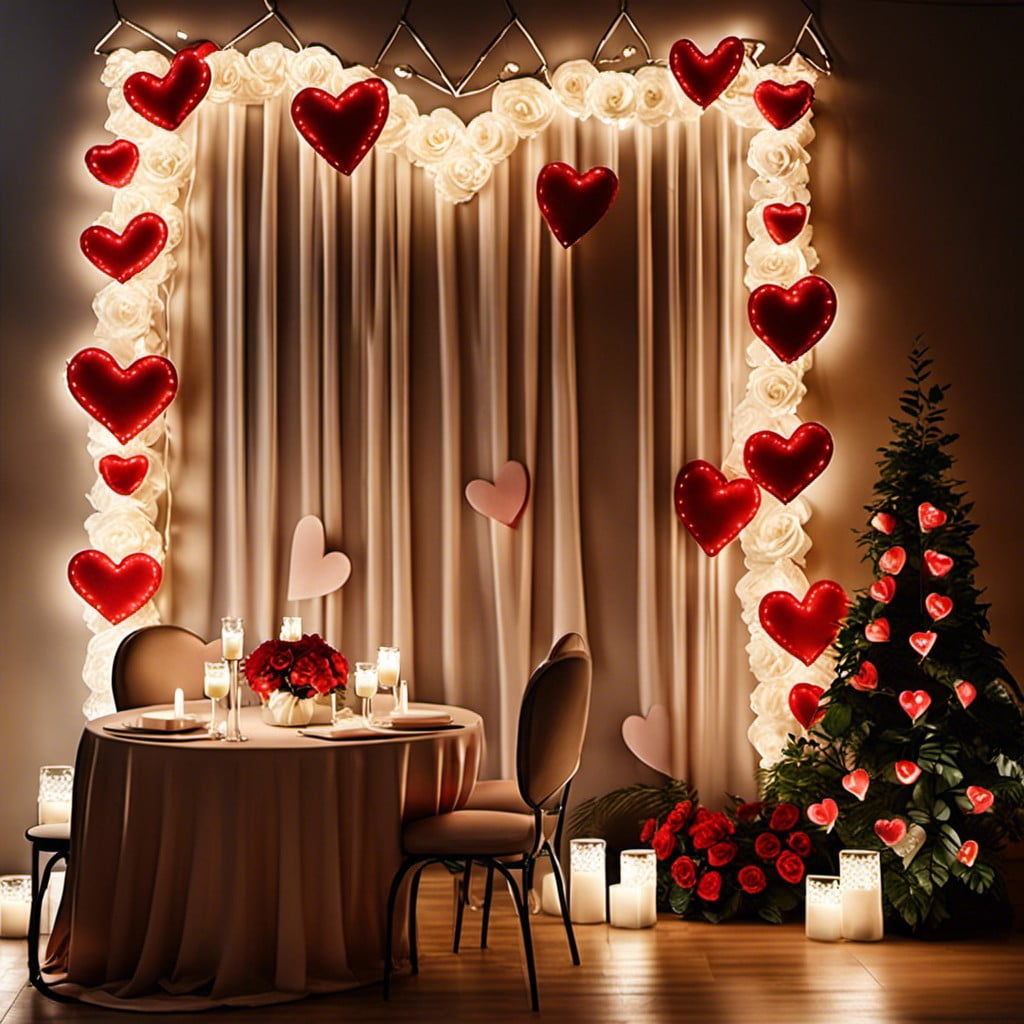 Incorporating this ornamental piece into your anniversary decor can elevate the romance and create a magical ambiance. Not only does it lend a soft, warm glow to the environment, but it also symbolizes the heartwarming connection between you and your partner.
1. Strategically placing these around the main celebration area will accentuate the overall aesthetic.
2. Opt for LED lights for longevity, energy efficiency, and ample brightness.
3. Experiment with different colors. Red or pink lights can infuse a dash of passion, while warm white can bring out an elegant, classic vibe.
4. Use them in combination with other decorations, such as draping them over a backdrop or intertwining with floral arrangements.
5. Size of the lights matters too. Smaller ones can provide a delicate glow, while larger ones can become a striking focal point.
Remember, the goal of the lights display isn't about showing off but mainly about enhancing the existing decor and creating a lovely atmosphere to honor the love you share.
Wine Bottle Decorations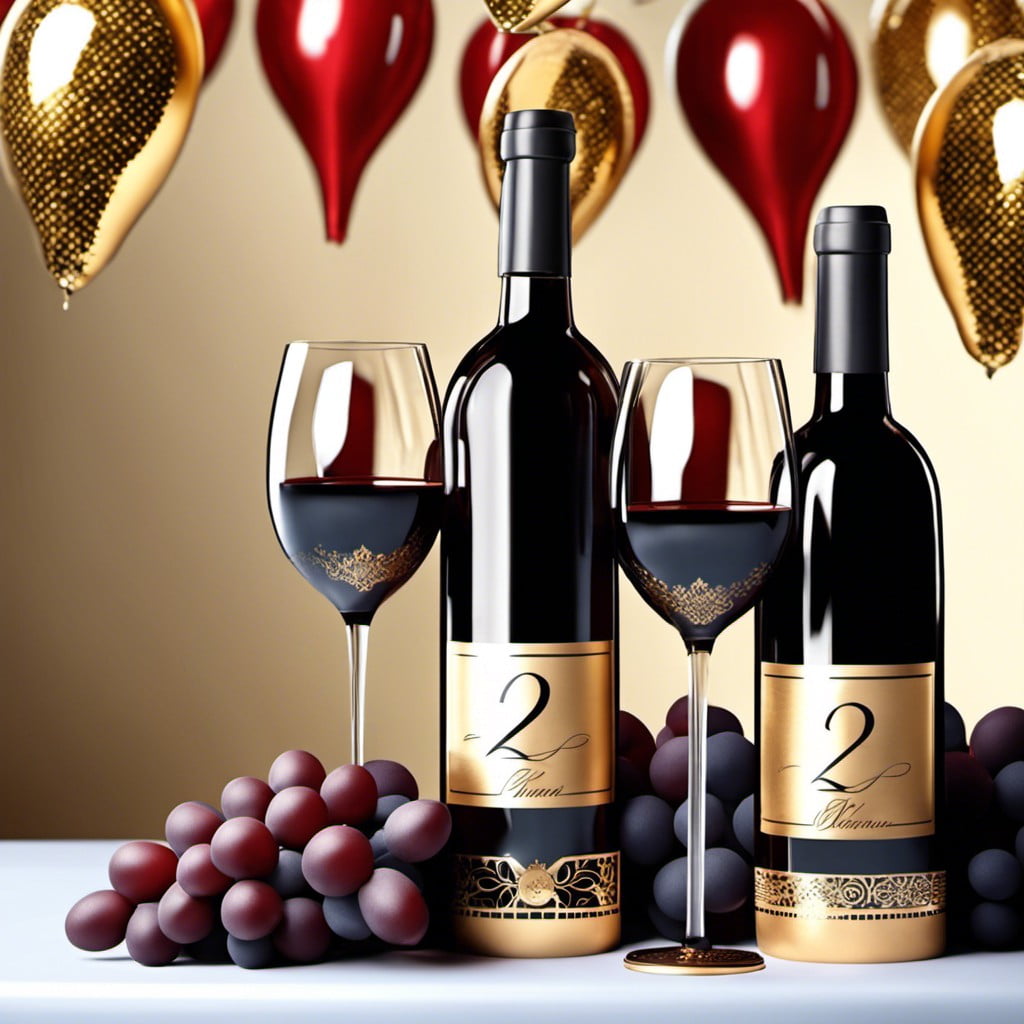 Turning empty wine bottles into decorative pieces can add a personal touch to your anniversary celebration. Here are some unique ideas:
1. Sprinkle bottles with glitter: A sparkling accent, this works especially well with bottles of varying heights. A splash of PVA glue, coupled with your choice of glitter, can go a long way.
2. Wrap bottles with fairy lights: Gently wind LED lights around the bottle to create an enchanting feel. Opt for battery-operated lights to avoid unsightly cords ruining the aesthetic.
3. Use as flower vases: Paint the bottles in a color that matches the theme of your celebration, then fill them with fresh or silk flowers.
4. Twine-wrapped bottles: Wrapping twine or yarn around a wine bottle can create a rustic vibe. Adding embellishments like lace or a miniature charm can further enhance the look.
5. Memory bottles: Stick photos or love notes on the bottles. This will not only make them charming but will also serve as conversation starters.
Remember, the goal is to breathe new life into these containers, making them an integral component of your anniversary ambiance. Craft them with love, showcasing your creativity and personal style.
Personalized Cake Topper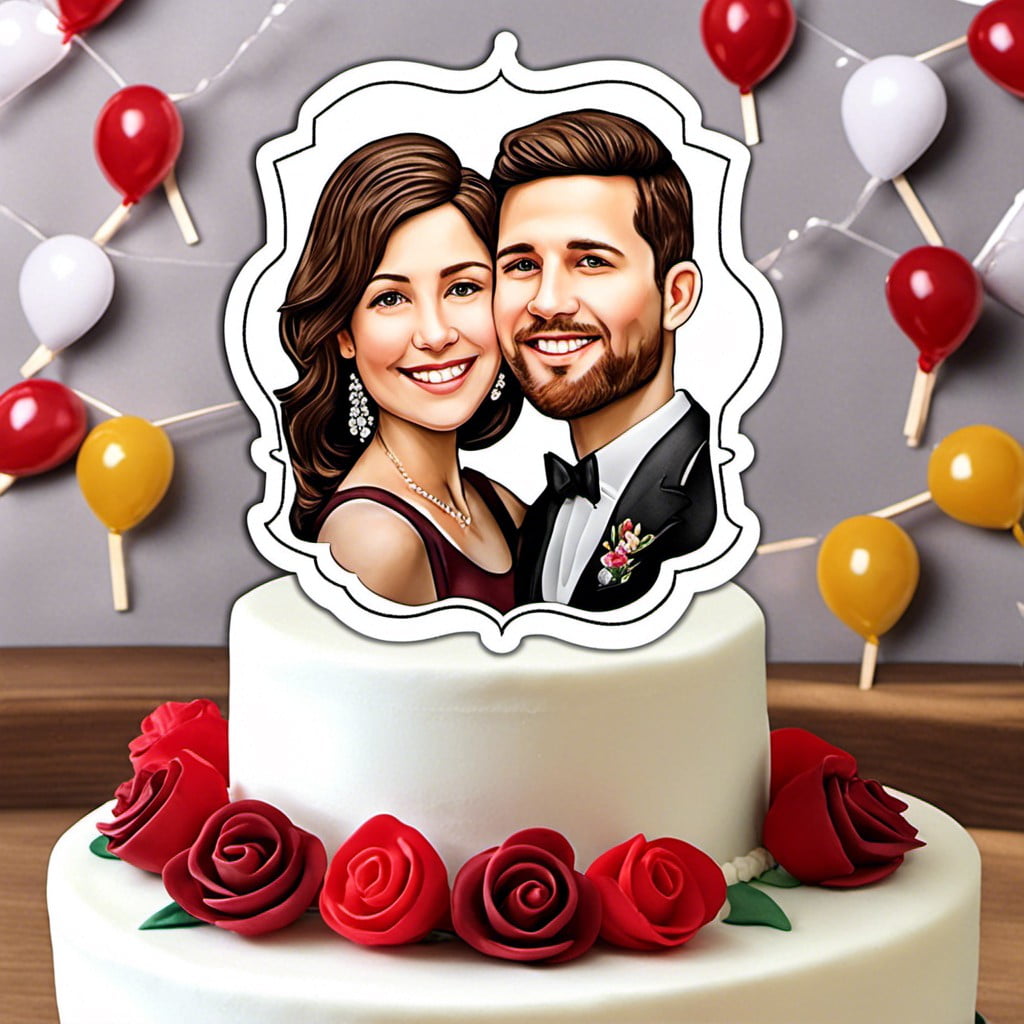 Delving right into the apt charm of personalized cake toppers, these ornamental items are perfect to add an intimate touch to your anniversary cake. They can be as simple or as elaborate as your heart desires, tailored perfectly to your taste.
1. Opt for nostalgic symbols, representing key moments from your journey, to tell your love story in a unique aesthetic fashion.
2. Add a modern flair with minimalist designs, perhaps showcasing your initials or a significant date in your relationship.
3. If whimsical is your style, consider custom-made figurines of you and your partner for a fun and playful effect.
4. Lastly, for extra glam, embellish your topper with pearls, glitter, or crystals. Remember, it should reflect the celebration's overall theme and your personality as a couple.
Well-chosen, a cake topper is more than just an accessory – it's a memorable keepsake from this special occasion.
Love Quote Wall Decals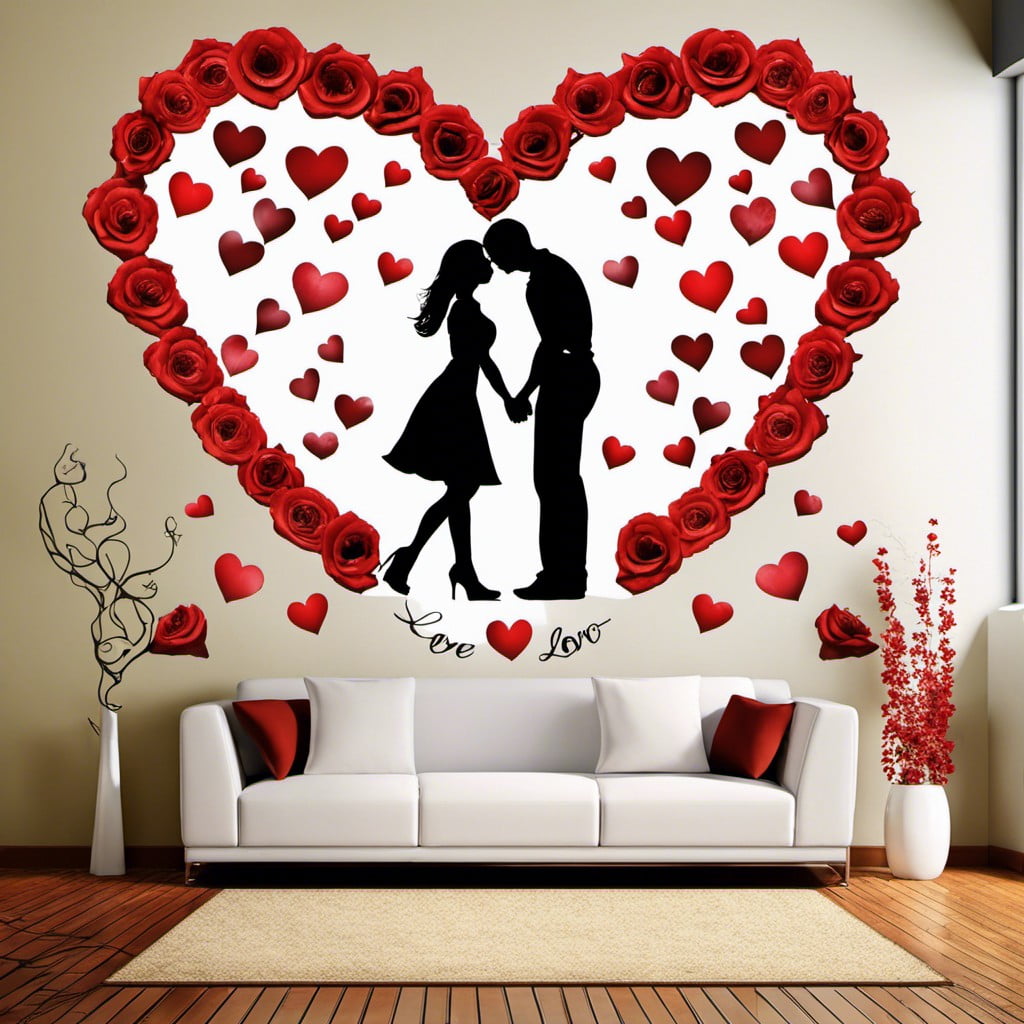 To infuse your anniversary decorations with a touch of sentimentality and warmth, consider adorning your walls with carefully chosen quotes that celebrate love. This does not only create a visually appealing backdrop, but it also adds a deeply personal touch to your celebration.
Here are some key points on effectively incorporating this decoration idea:
Selection of Quotes: Choose phrases that resonate with your relationship journey. They may be love quotes from your favorite films, books, or songs, or even personal sayings that hold a significant meaning to both of you.
Styles & Fonts: Opt for a font style that matches your overall theme for consistency. A cursive script font for a romantic vibe, or bold typography for a modern and chic look.
Placement: Position these decals in easily visible spots. Above the main table or across a prominent wall can work quite well.
Color Scheme: Align the color of decals with your party decor. Consider contrasting shades for a vibrant feel, or match them to the existing palette for a coordinated look.
Size Matters: Keep the scale in mind. A large, eye-catching quote can serve as a striking focal point, whereas smaller quotes can be scattered across the venue for guests to discover.
Remember, the goal is to create a heartwarming ambience that reflects your enduring love story.
Anniversary Timeline Display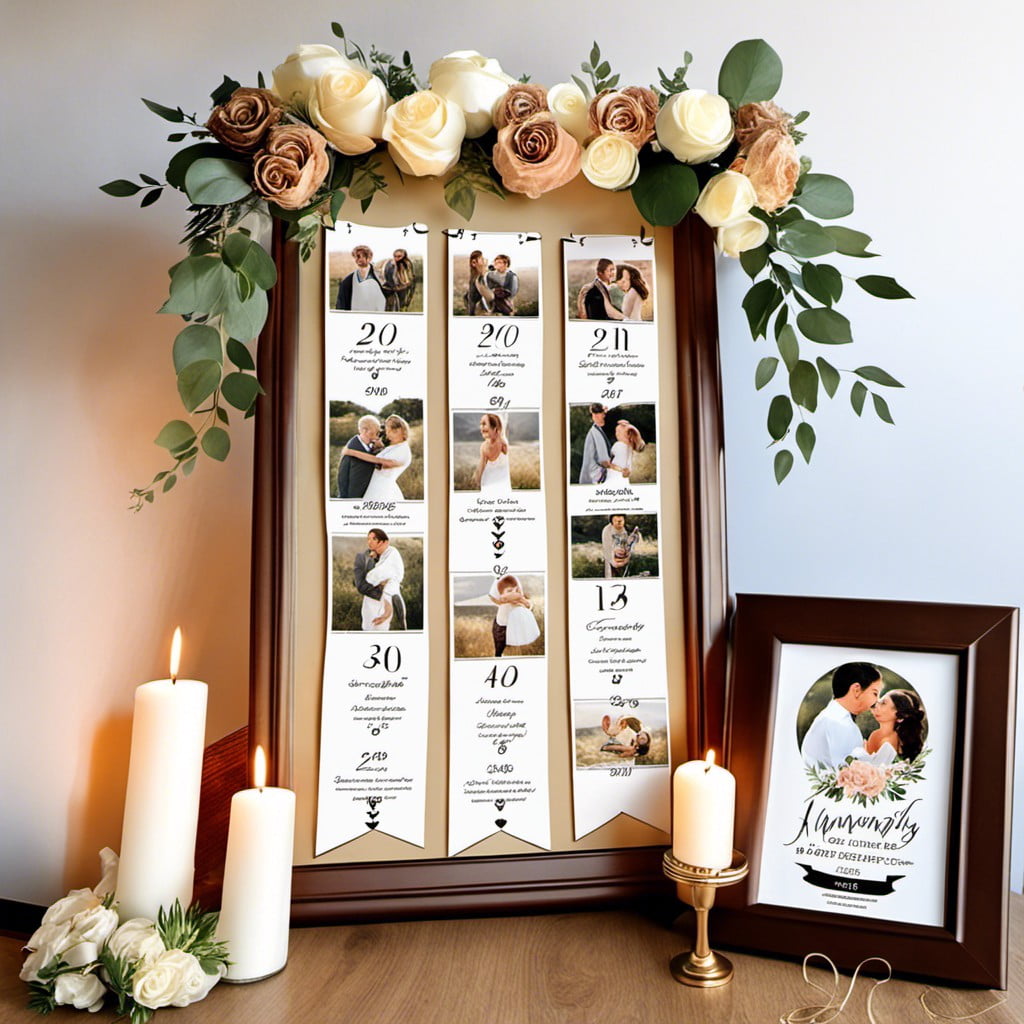 An impressive way to celebrate your shared journey is by creating a timeline display of significant moments from your married life. Here's how you can do it:
Choose the Highlights: Reflect on your life together and pick out key milestones. These can range from owning your first home, the birth of your children to vacations and simple, cherished everyday moments.
Gather Visuals: Find pictures corresponding to your chosen memories. If there's no photo for a particular milestone, feel free to get creative with mementos or homemade drawings.
Arrange Chronologically: Once you have all your moments, arrange them in chronological order. This creates a visual journey and eases the flow of recollections for your guests.
Choose Display Medium: You can create standalone boards, a clothesline-style photo display, or even a digital slideshow. The medium that suits best depends on your space and your aesthetic.
Consider Setting: Keep in mind where it will be placed. Ideally, it should be in a high-footfall area so your guests get a chance to marvel at your journey together.
Remember: It is your story. The timeline should resonate with your experiences and is an opportunity for guests to connect deeper with your journey.
Letter-shaped Balloons Spelling the Couple's Initials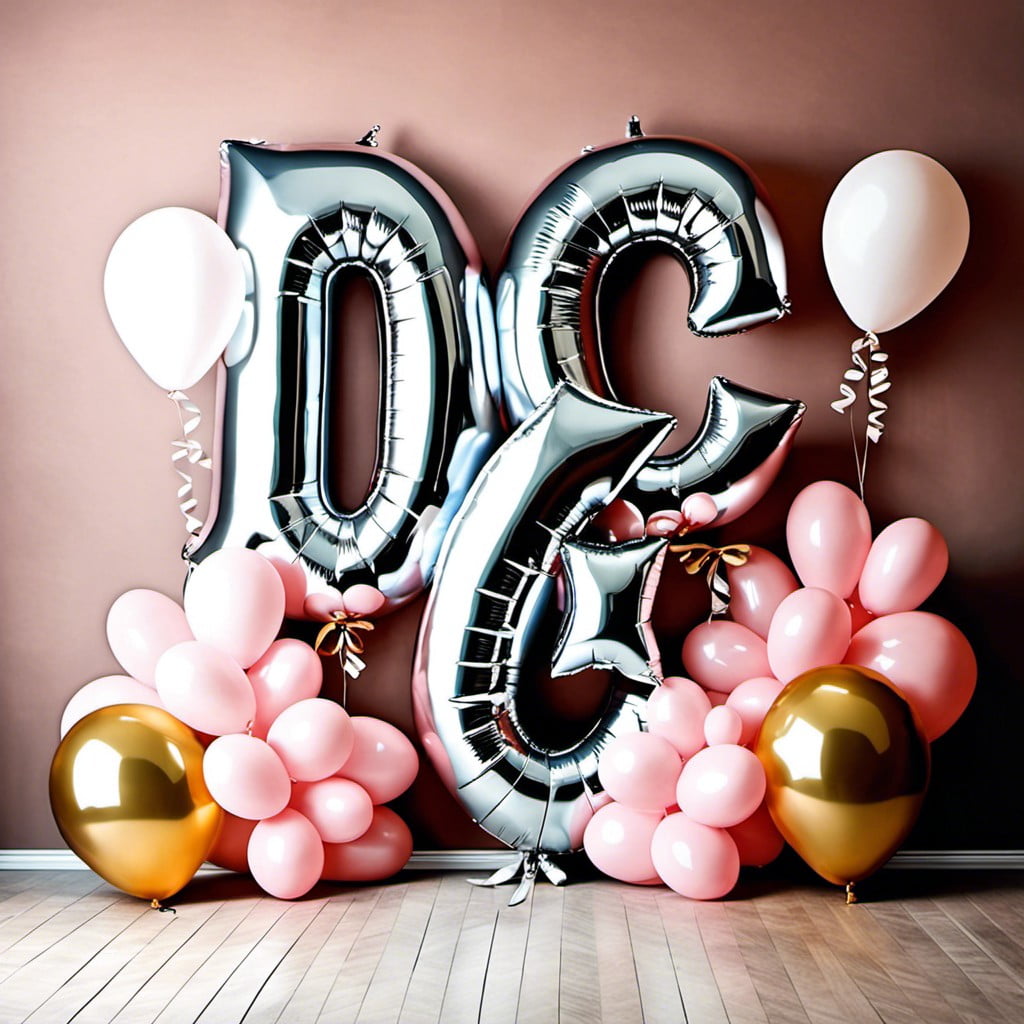 To create a visually interesting and personalized centrepiece, letters shaped from balloons offer a unique touch. Choose from a plethora of colors and sizes to match your theme.
To further enhance the display, consider integrating these balloons into a larger structure, perhaps surrounded by sparkling LED lights or soft drapes for a dreamy effect.
Additionally, these balloons can also serve as perfect photo props for guests, thus adding a fun activity that encourages engagement. Economical and high on impact, such a decoration guarantees to be an instant hit with its stylish appeal and customization.
Don't miss out on the opportunity to use them in multiple ways, perhaps to delineate the dance floor or to denote the buffet area. Remember, using them in moderation will maintain their unique appeal and prevent the setup from looking too overwhelming.
Experiment with positioning and placements of these balloons, for there's no hard-fast rule to it. Whatever feels intimate, personalized and celebratory, go for it!
Exotic Lanterns With LED Lights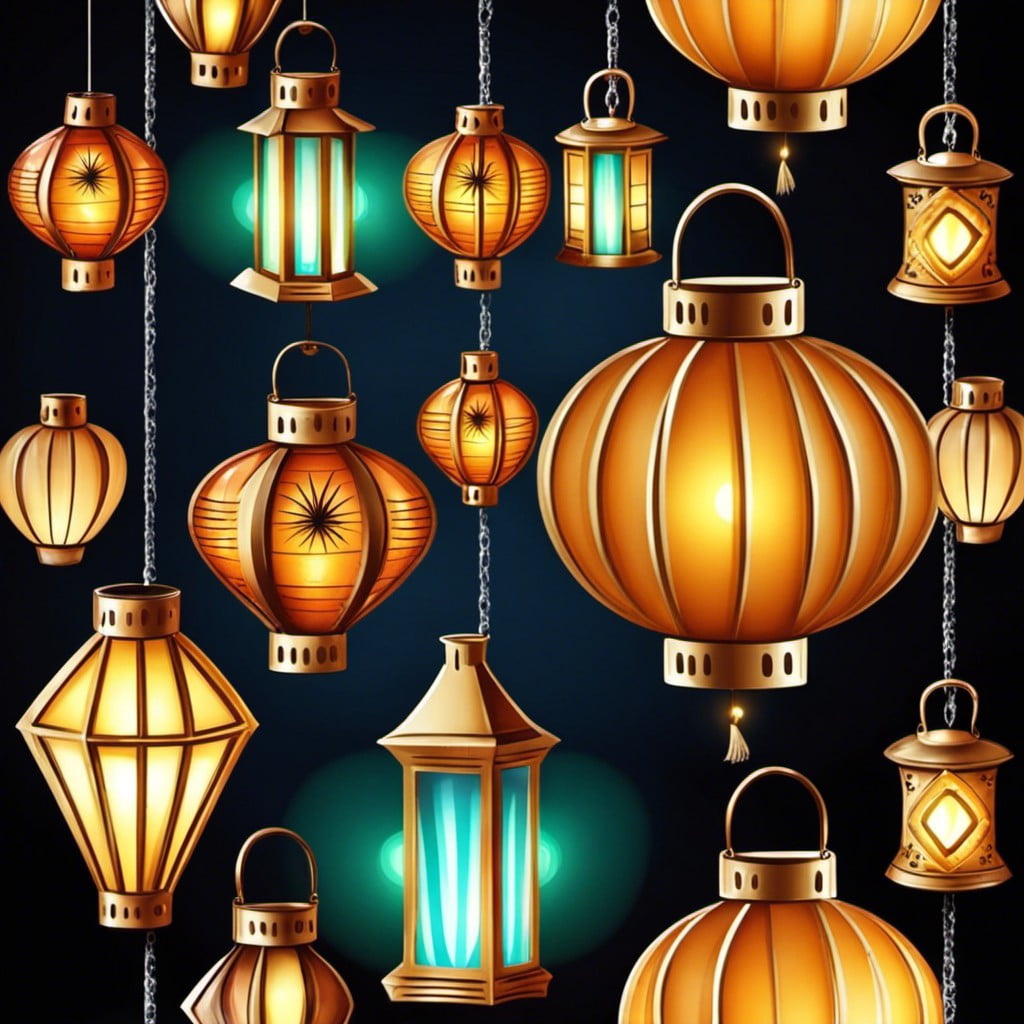 Embracing LED lights within exotic lanterns can turn a regular venue into a dreamy, mystic wonderland. Their dim, warm illumination sets a captivating ambiance that is both cozy and spectacular. Select diverse designs of lanterns like Moroccan, rustic, or paper ones to add a distinctive personality. These eco-friendly, hassle-free lights are not just visually appealing but also safe, as they remain cool to touch even post extended usage.
Placement of these lanterns also proves to be a game changer. For an intimate vibe, consider hanging them around the dining area or clustering few at different heights. For a grand affair, line your driveway or walkways. To top it off, link the lanterns to a remote control to tailor their brightness according to each phase of the celebration.
Custom Anniversary Hashtag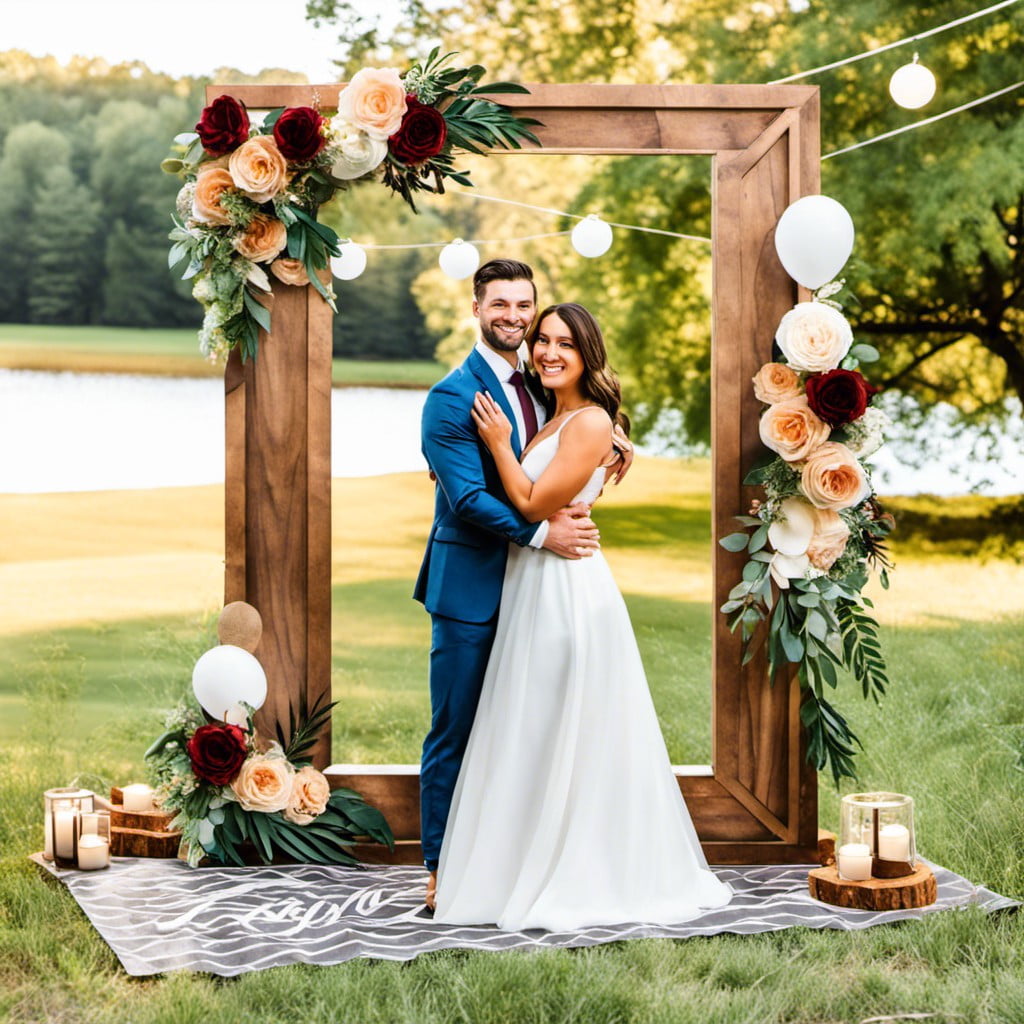 A truly modern touch to your celebration, follow these tips to create a unique anniversary hashtag.
Firstly, incorporate both of your names or initials. Next, decide if you want to include a significant number, such as the anniversary year. But remember, keep the hashtag short and easy to remember.
Lastlly, promote your hashtag before the event. Share it on social media and even include it on your decor. This not only creates a unified look across all your photos but also allows guests to participate by tagging their own shots. A custom hashtag amplifies the fun and engagement in your anniversary celebration.
Fairy Lights in Mason Jars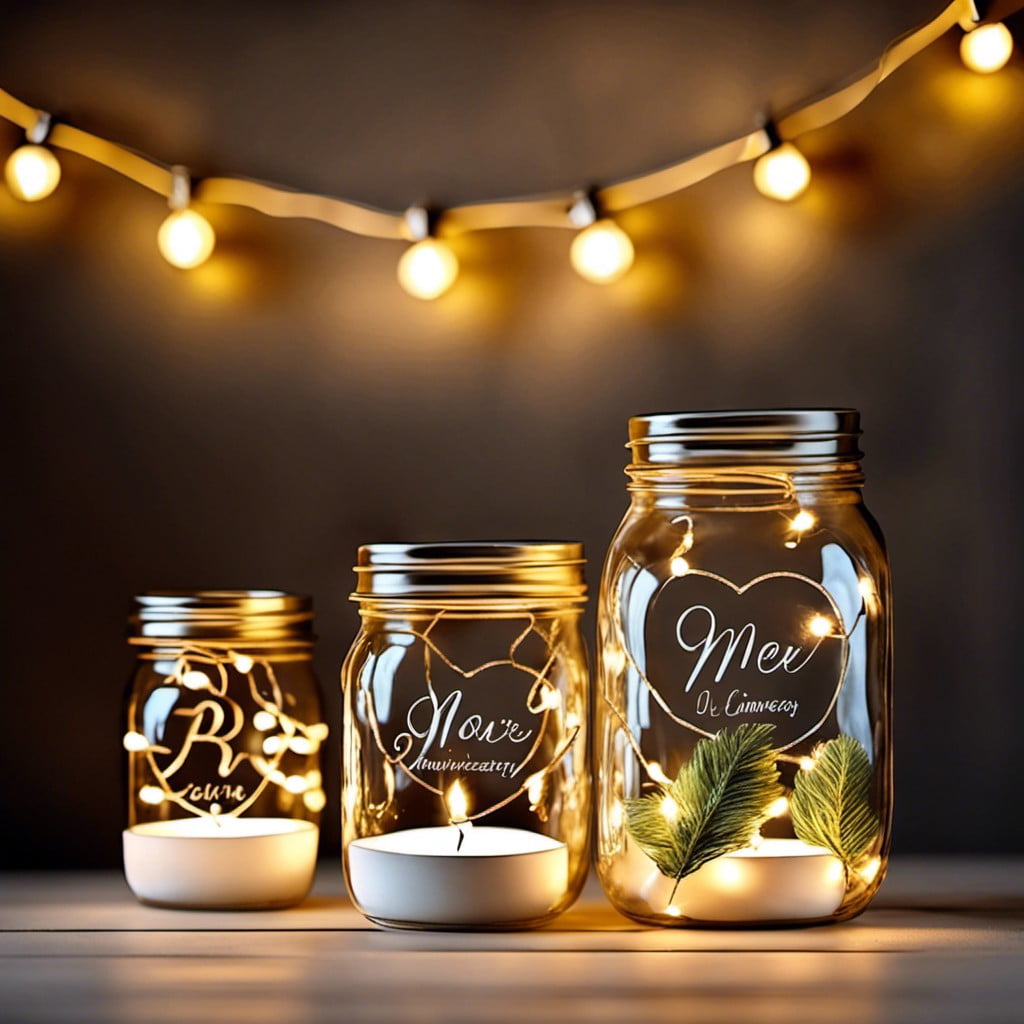 These pint-sized radiant wonders can inspire an atmosphere of dreaminess and warmth. Here's how to effectively incorporate them into your celebration:
Using varying sizes of mason jars, fill them with a strand or two of fairy lights. Be sure to opt for battery-operated ones. This preserves the look of the jar without any unwelcome cords hanging out.
Position these glowing beauties strategically throughout the party space. They are effective on reception tables, near the guestbook, or as a part of the centerpiece arrangement. Mason jars serve a dual purpose of solidifying the theme and providing romantic, dim light.
Perhaps you'd fancy a touch of enchantment? Opt for fairy lights with a twinkle effect. This dazzling feature is perfect to captivate the attention of your guests and imparts an ethereal feel.
They can be customized to match the party color scheme with fabric bows or paint. Use minimal and tasteful customizations to avoid undermining their inherent charm.
Remember, less is more. Let the whimsical charm of the softly lit mason jars bolster the romantic aura of your anniversary event.
Vintage Tablecloth and Napkins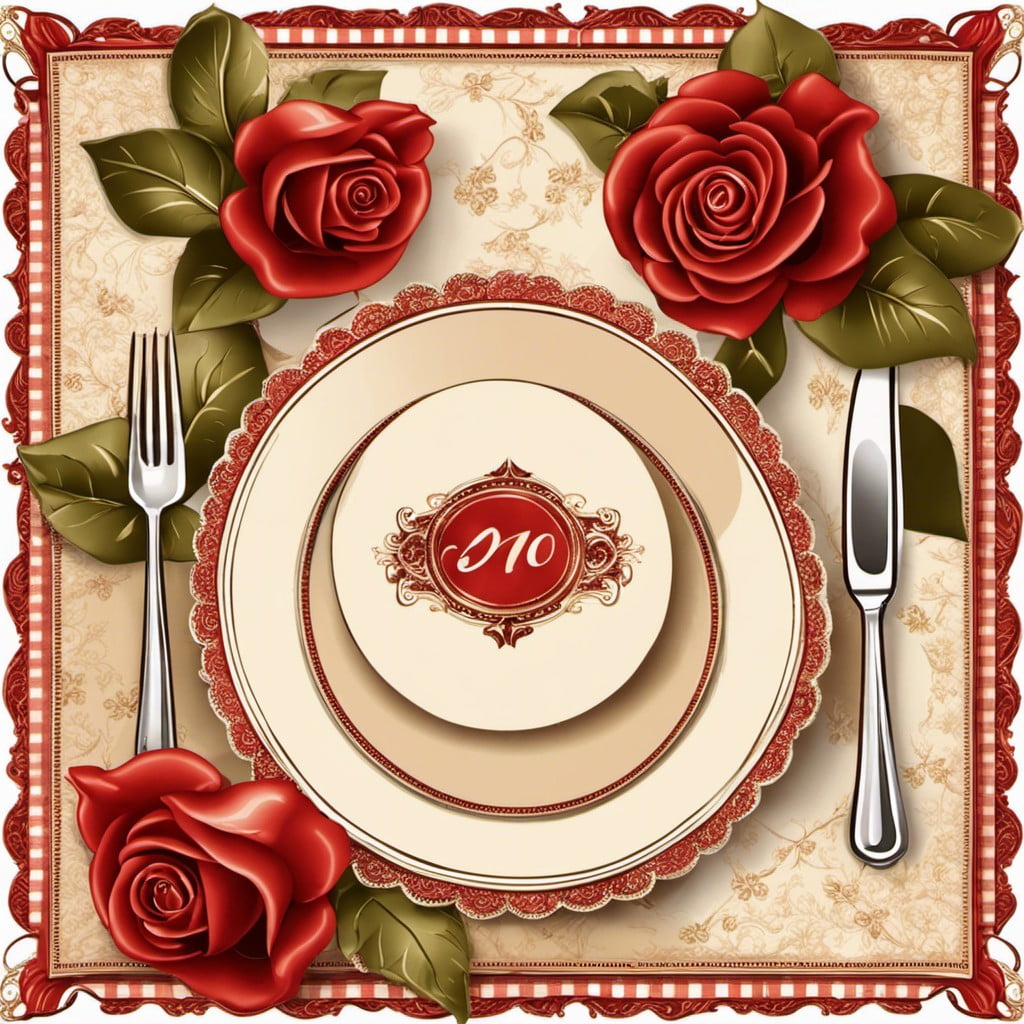 For a touch of nostalgia, ornate floral patterns or delicate brocade designs can be utilized for the tablecloth. Linen, cotton, or lace would be excellent fabric choices to epitomize the vintage vibe. As for napkins, they should ideally complement the tablecloth. Try a pastel shade or a more rustic design to introduce a bit of contrast while keeping it cohesive.
To add more depth, consider lace-trimmed napkins, embroidered initials, or an old-style napkin ring. These little details significantly contribute to creating an authentic vintage ambiance. For the best presentation, practice your napkin-folding skills. A well-folded napkin can serve as a mini artwork on the plate setting.
Combining vintage elegance with modern sensibilities, this décor choice captures the essence of the years gone by while celebrating the continuing love story. This setup could be particularly appreciated if the anniversary couple cherishes a profound fondness for antiques, history, or classical elegance.
Keep in mind to carefully coordinate this vintage setup with the rest of the décor to ensure a harmonious overall look.
Timeless Monochrome Theme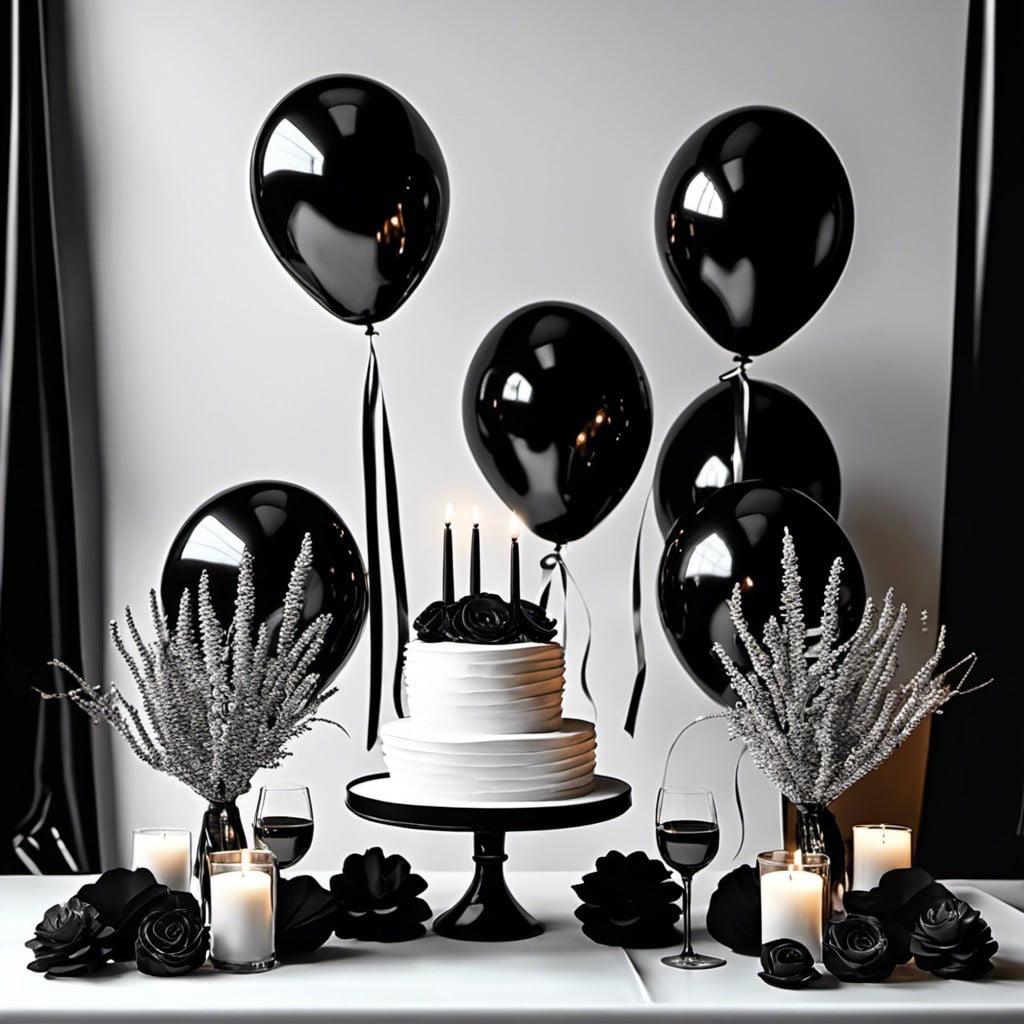 A monochrome theme can bring a hint of sophistication and timelessness to the special celebration. The beauty of this design lies in the simplicity and neatness of a single color palette.
When opting for monochrome:
1. Choose a color that holds significance to the couple. It could be a shade from their wedding day or simply a favorite color.
2. From tablecloths and balloons to icing on the cake, ensure consistency in the chosen hue.
3. Different textures can add depth to your monochrome design. Feel free to experiment with silk, lace, paper, wood, and more.
4. Lighting plays a key role. Aim for a warm glow to prevent the monochrome decor from appearing flat.
5. Subtle metallic accents can break the monotony and give the decor a polished finish.
Remember, a monochrome theme is all about elegance and uniformity, celebrating unity and harmony just like a long-lasting marriage.
Elegant Gold and Silver Accents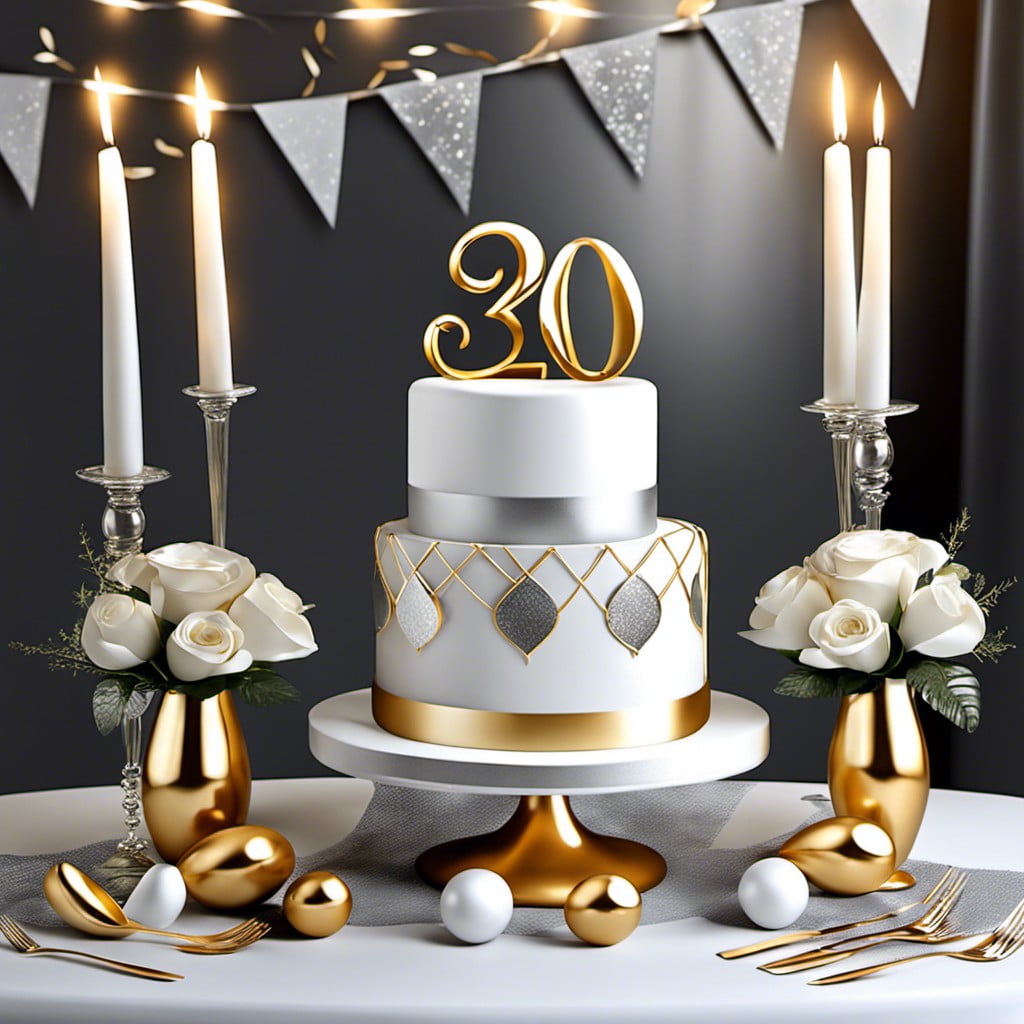 Incorporating metallic hues can bestow an added touch of elegance and sparkle to the celebration. Gold and silver accents, when chosen wisely, can infuse class into the overall décor. Consider these aspects when incorporating these royal shades:
1. Silverware: Opt for gold or silver cutlery, dishes or centerpieces. The reflection of candlelight on these surfaces creates a warm, intimate environment.
2. Accents on Fabric: Gold or silver embroidery or sequin on table runners, chair sashes, or pillars elevates the venue's look.
3. Balloon Bouquets: Metallic-colored balloons offer a modern twist. Cluster them at focal points for a dazzling effect.
4. Napkin Rings: Gold or silver napkin rings are small but impactful details.
5. Candle Holders: Hued votives or candlesticks can add a dramatic effect at dusk.
Just remember, the key to creating a sophisticated atmosphere with these hues lies in their subtle application. Too much can overpower the space, while the right amount will leave a lasting impression.
Memory Lane With Before and After Pictures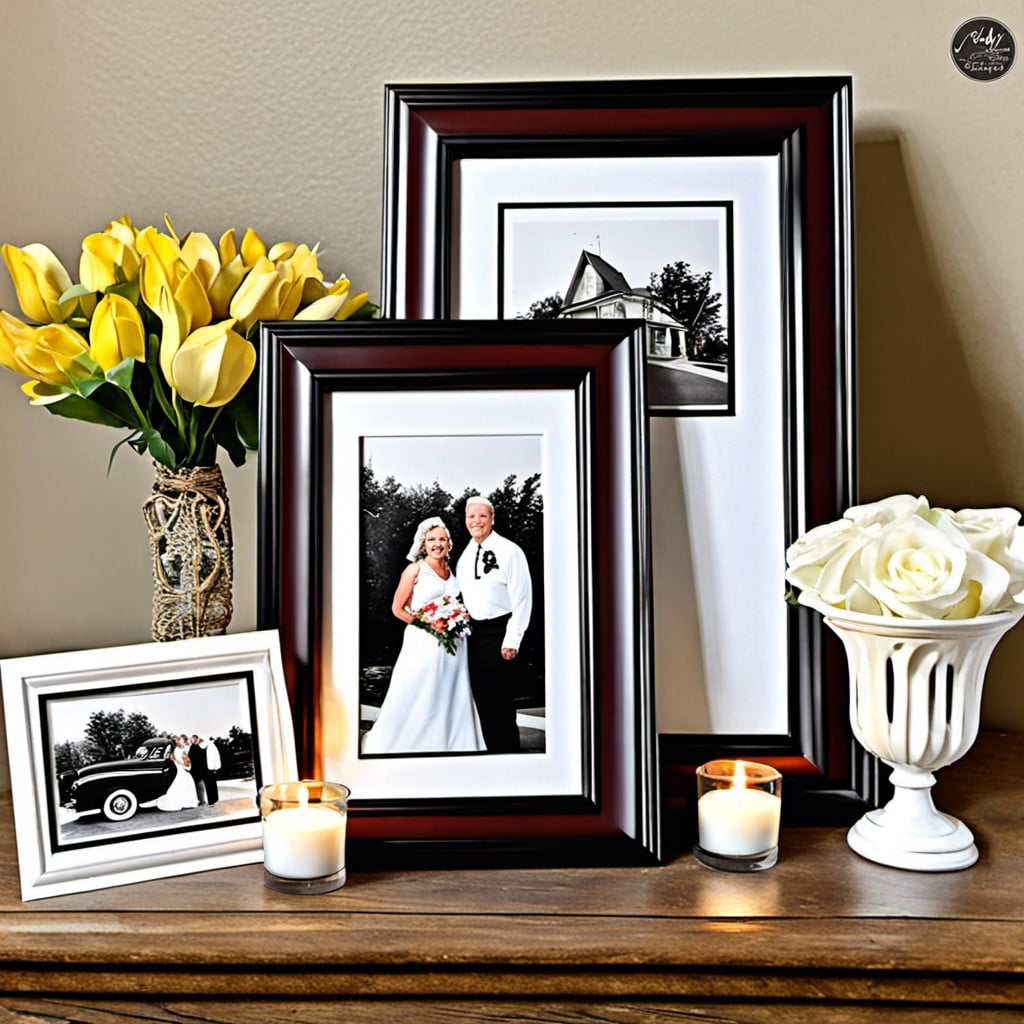 Creating a display that depicts the journey of the celebrants can offer a beautiful and sentimental touch to the event. It's essential to cast a broad net when gathering pictures—baby and childhood photos, snaps from school and college years, right up to the present day. These images can be arranged chronologically to narrate a visual story of their lives and mark the milestones they've shared as a couple.
Select variety: Include pictures that represent different milestones and facets of life.
Chronological order: It adds a narrative element and revisits the stages of growth.
Add brief captions: They can provide context to the pictures and make it more engaging.
Showcase transformation: Arrange images in a way which shows the evolution over the years.
This setup offers not only an aesthetic element to your decor but also prompts nostalgic conversations and shared memories.
Anniversary Countdown Clock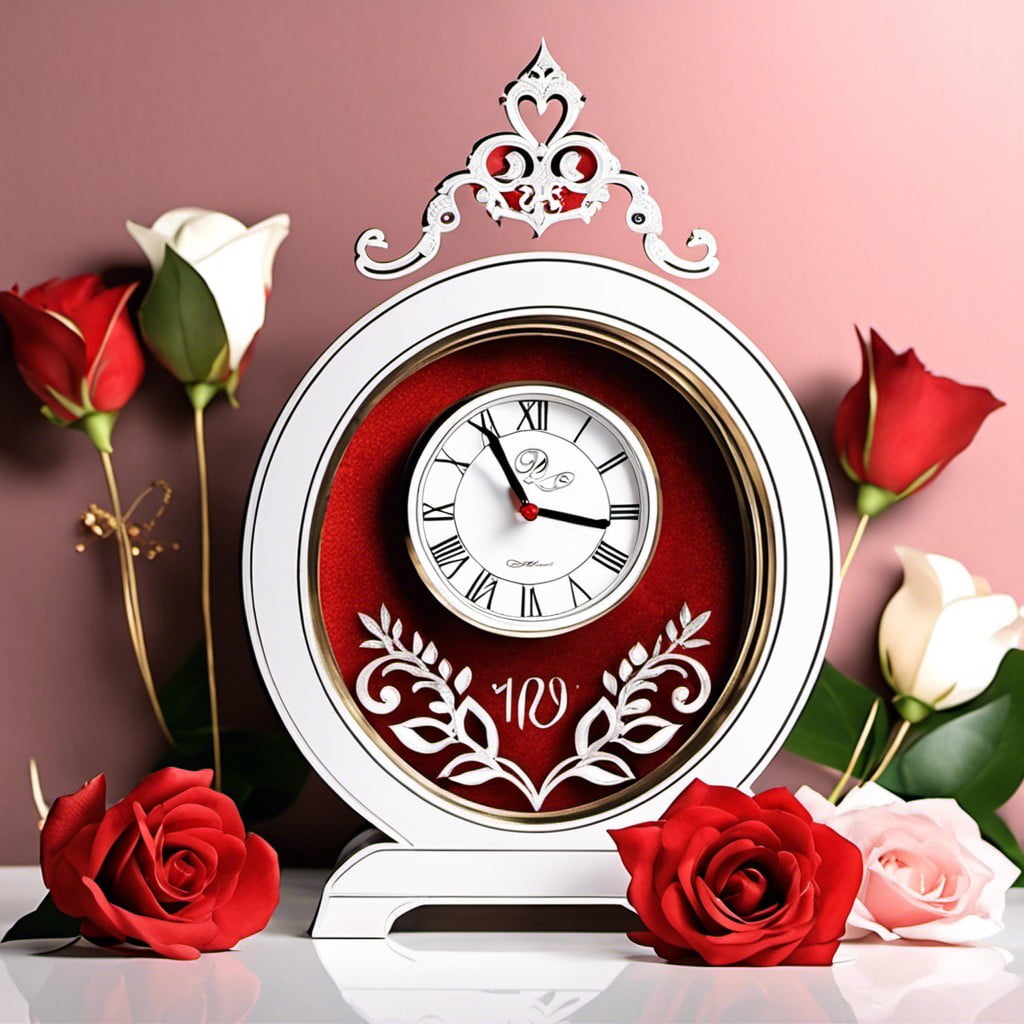 Creating a sense of anticipation and excitement, an anniversary countdown clock is a unique decorative element. Utilize a physical clock or choose a digital version; both can heighten the anticipation.
Be sure to prominently design and position this clock, potentially on an entry table or main living area wall. This serves not only as a reminder of the event but also sparks conversation among guests.
Engage visitors by encouraging them to share their favorite memories of the couple as they count down to the big moment. If opting for digital, explore online platforms and design it in sync with your overall theme for a cohesive touch to your decor.
Keep in mind that the clock should be easy to read and frills should not interfere with the visibility of the countdown.
Themed Confetti Related to Couple's Interests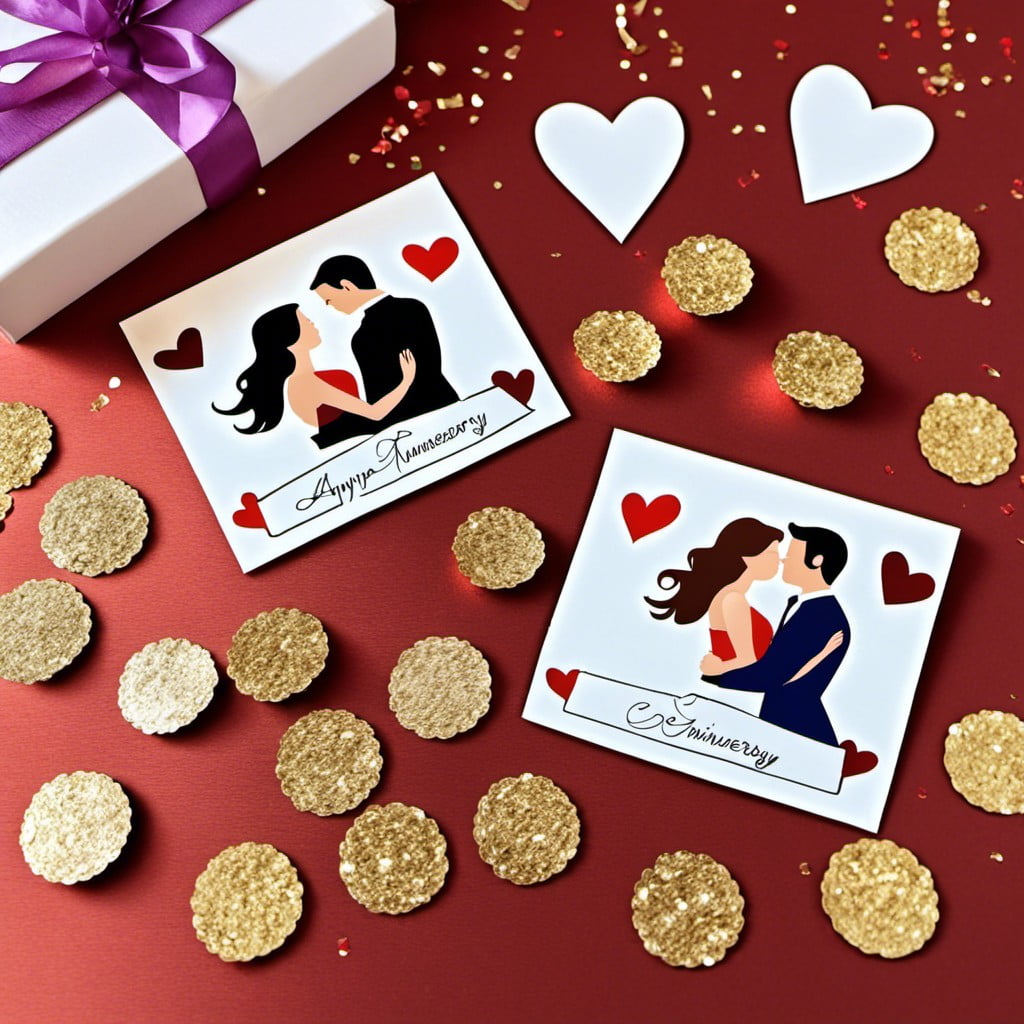 Imagine your guests walking in and being greeted by a shower of confetti reflecting the couple's shared passion – A delight to the eyes, and a fun ice breaker!
Here's how:
1. For art lovers, confetti in the shape of mini-easels, paint palettes, or brushes adds a playful yet personalized touch to your venue.
2. Sports enthusiasts? Miniature footballs, tennis rackets, or golf balls scattered across tables won't fail to score charm points.
3. Music aficionados can opt for notes, treble clefs, or even tiny instrument-shaped pieces.
4. Those with a wanderlust can pick globes, sailboats, palm trees, or iconic monument-shaped alternatives.
Consider biodegradable or recyclable options to keep the celebration environment-friendly. It's these thoughtful details that add the 'you' to your anniversary venue!
Liked reading this? Here's more:
Recap: