Last updated on October 28, 2023
Immerse your home in the captivating spirit of Mardi Gras, because these unique decoration ideas promise to transform even the most ordinary spaces into vibrant abodes teeming with color and ebullience.
I've crafted this article and original designs on 20 unique Mardi Gras decorating ideas with great love and creativity, and I sincerely hope you find as much inspiration and joy in them as I did while creating.
Mardi Gras, also known as Fat Tuesday, is a vibrant, colorful festival celebrated with great enthusiasm worldwide. The event is synonymous with flamboyant parades, intricate costumes, and elaborate decorations.
Whether you're hosting a Mardi Gras party or simply want to bring a dash of New Orleans charm into your home, this article will guide you. We'll explore a variety of decorating ideas, from traditional purple, green, and gold color schemes to DIY mask and bead crafts, and even lavish table settings.
The goal is to help you create an authentic Mardi Gras ambiance that will have your guests feeling the festive spirit. So, let's dive into the world of Mardi Gras and start decorating!
Colorful Balloon Arch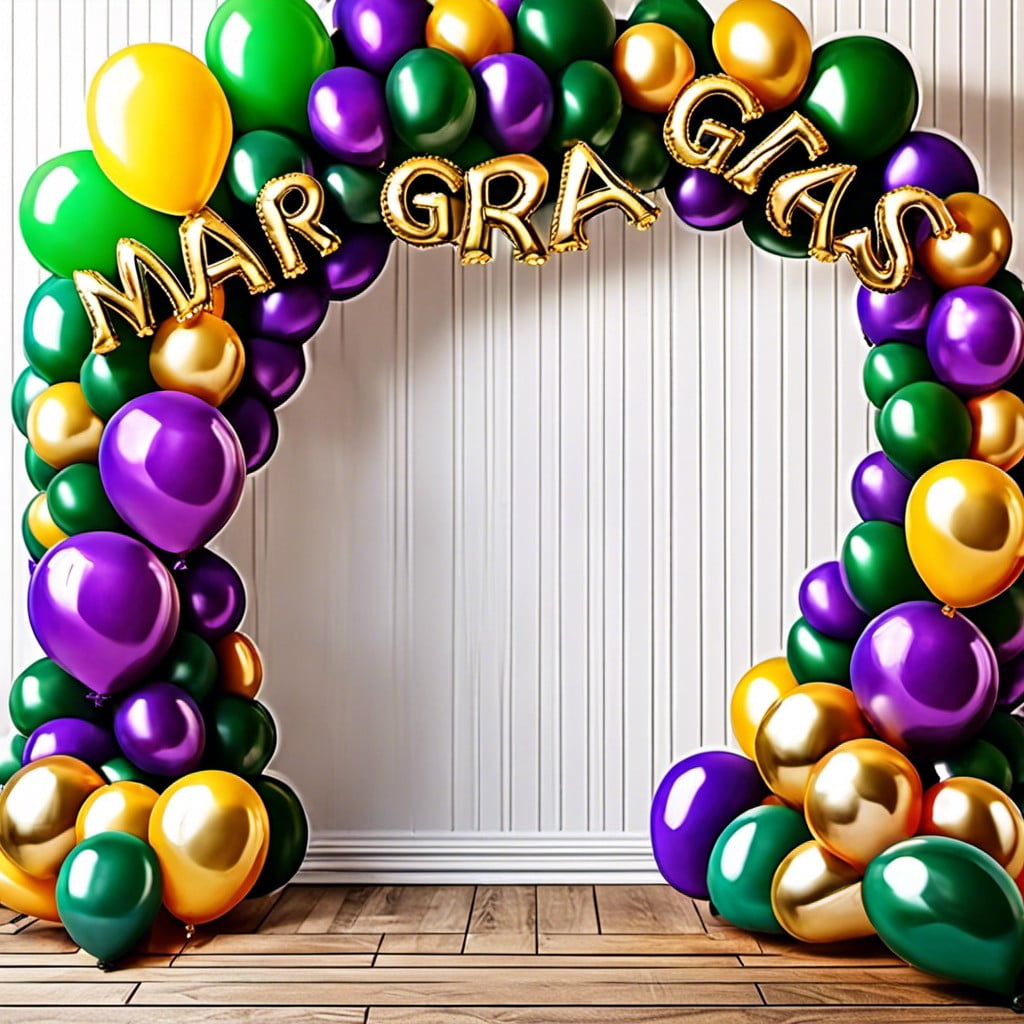 Incorporating a range of vibrant hues is at the heart of Mardi Gras celebrations. An easy and visually pleasing way to achieve this is through a festive balloon arch. Here's a simple process to make one:
1. Gather balloons in traditional Mardi Gras colors: purple, green, and gold. Include varying sizes for a dynamic feel.
2. Inflate the balloons and start building your arch, securing them together with fishing wire or string.
3. Use a balloon pump if possible for easier inflation and to save time.
4. Consider using a balloon arch kit, which typically includes a base and poles to maintain a sturdy structure.
5. Position your arch at your home's entrance or around a party table to create an inviting space.
Remember, creativity is key. Feel free to add other elements like masks or flowers tied into the arch to give it that extra Mardi Gras flair!
Feathered Masquerade Masks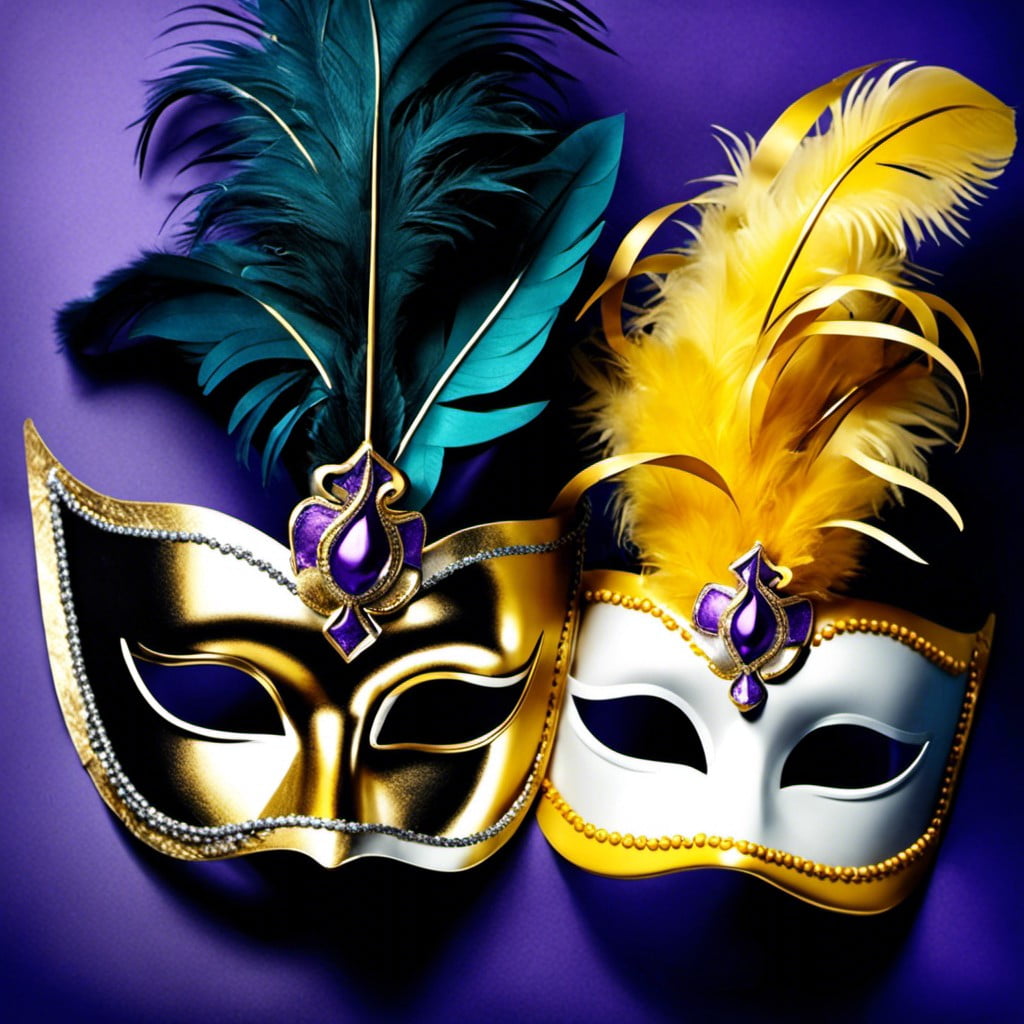 Swathed in mystery and elegance, these ornamental pieces effortlessly enliven the celebration ambiance. Opt for those drenched in the traditional Mardi Gras colors of purple, green, and gold, adorned with glittery details and sequins.
Hang them on walls, from chandeliers, or even on door knobs to create an evocative festive setting. For a clever twist, use them as placeholders or tabletop decorations. Remember that these masks are not just for decoration; encourage guests to adorn one and plunge into the carnival fervor!
Just a quick tip – when you're shopping for feathered masks online or at your local party store, opt for diverse shapes and sizes to add a dynamic flair to your space. It's time to unmask the party spirit!
Purple, Green, and Gold Streamers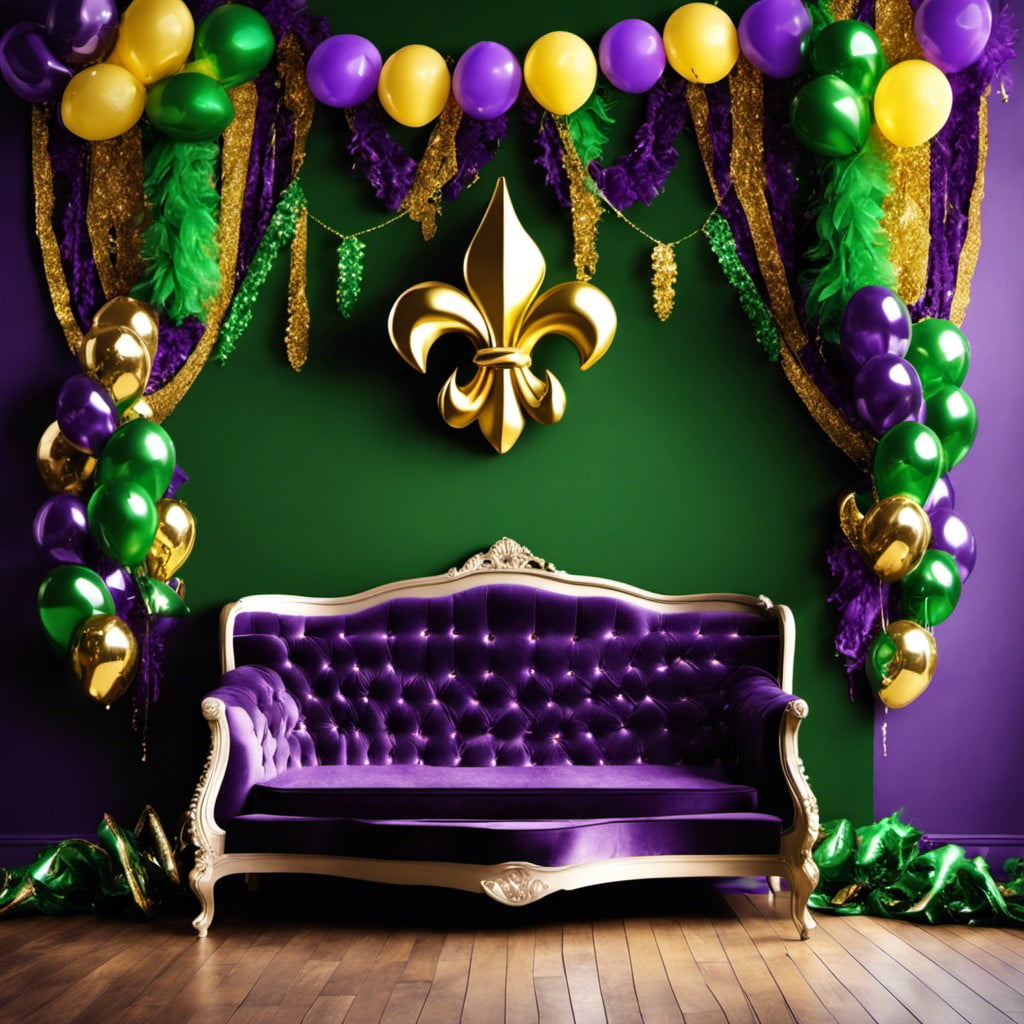 Seizing the essence of Mardi Gras, these streamers magically transform any venue to make you feel as though you're celebrating on the streets of New Orleans. Their iconic trio of colors – purple symbolizing justice, green for faith, and gold for power – capture the heart of the festival.
There's no shortage of way to use these streamers, but here are a few to start:
Drape them across walls for a spectacular room-wide display
Wrap them around stair banisters, balcony railings, or porch columns
Draft them from light fixtures or ceiling fans to create a festive waterfall effect
Use them as table runners for easy cleanup – they're as attractive as they are functional!
Remember, it's Mardi Gras, so don't hold back. The more streamers, the merrier. After all, excess is the essence of the festival.
Mardi Gras Garland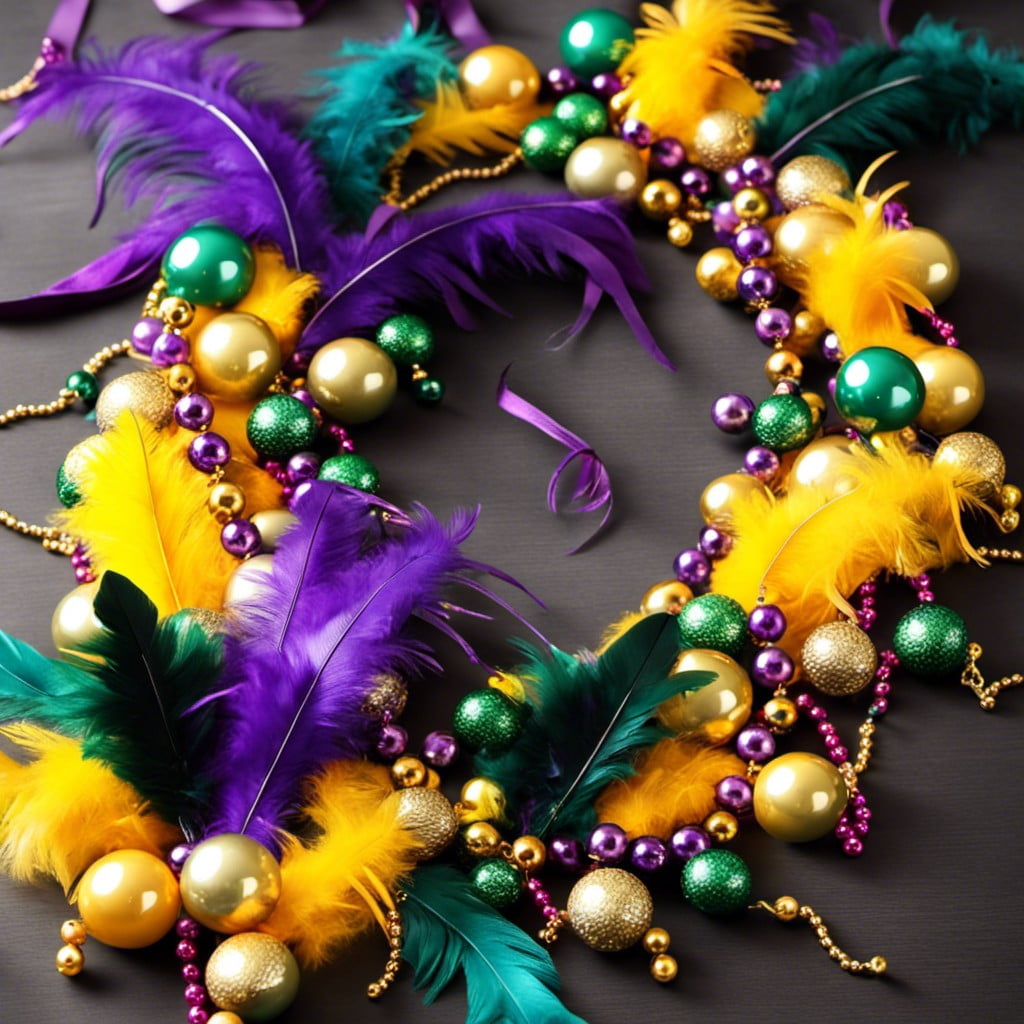 Commonly composed of purple, gold and green foil, Mardi Gras garland is an essential addition to your party decor.
Drape it across walls, mantels, or banisters for an easy injection of festive flair.
For a more creative approach, consider shaping the garland into letters or numbers signifying a special message or the current year.
To add an extra layer of vibrancy, intertwine the garland with strings of Mardi Gras beads.
This versatile decoration can also be used to adorn tabletops or wrap around pillars to celebrate in true New Orleans style.
Just remember, the brighter and shinier, the better – Mardi Gras is a festival that's all about unabashed indulgence in color and joy.
Bead Necklace Centerpieces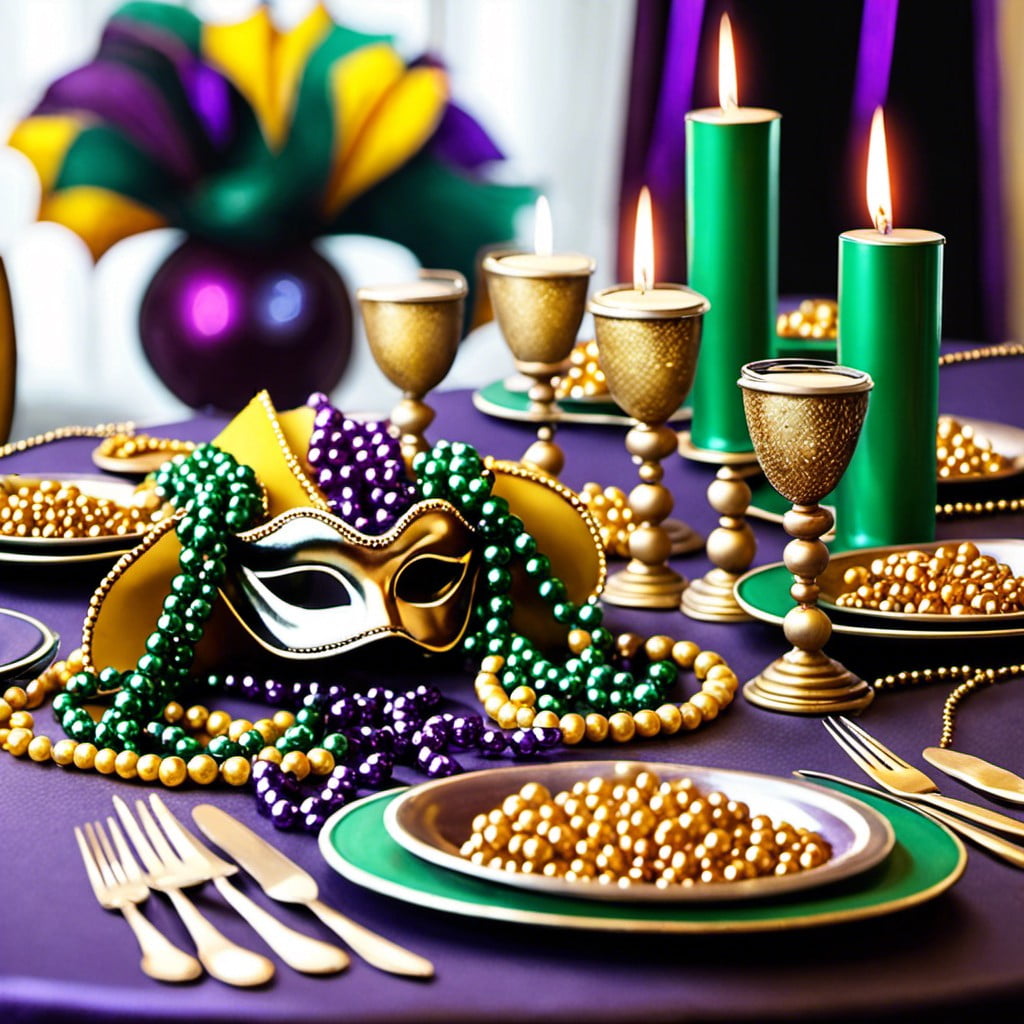 Show off your creativity with a vibrant centerpiece that incorporates traditional Mardi Gras beads. They are the easiest and most cost-effective way to add color to any table.
Simply fill large glass vases or clear bowls with beads in purple, green, and gold hues. You could layer them, mix them, or use single color per container depending on the overall décor theme.
For added flair, nestle LED tea lights amidst the beads to create a captivating glow after sunset. This not only revamps your table but also sets a fabulous festive atmosphere.
To keep beads from tangling, slowly rotate the container while adding them. Remember, the beads don't need to be expensive or high-quality; even the simplest plastic varieties can create a stunning effect.
Gold Glitter Tablecloths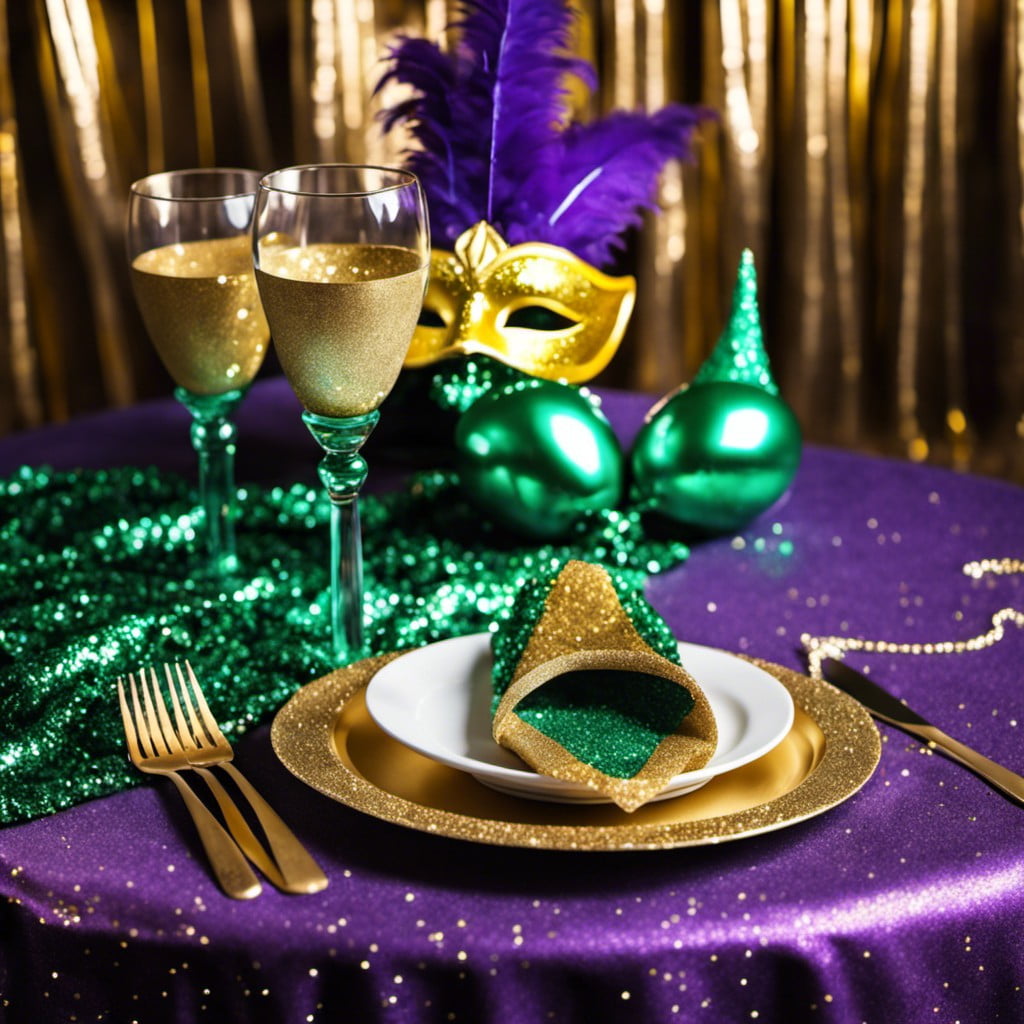 Elevating your Mardi Gras décor, striking tablecloths embellished in gold glitter add a festive shimmer to your party ambiance.
There's a dual purpose tied to these sparkly beauties, they're not only visually alluring but also practical. Spills from Creole canapés or Mardi Gras cocktails become less of a worry as these can be easily wiped clean. Additionally, they reflect light enhancing the room's brightness and creating a party-ready feel.
While sourcing, opt for durability as well as aesthetics. Look for machine-washable options to ensure multiple uses. For a DIY approach, use a plain gold tablecloth and sprinkle edible glitter for a polka-dotted effect.
Centerpieces like candle arrangements, bead necklaces, or feathered masks pop vibrantly against the gold backdrops. Experiment with varying shade densities of gold to add depth and range to your parties forevermore.
Bead Curtain Door Decor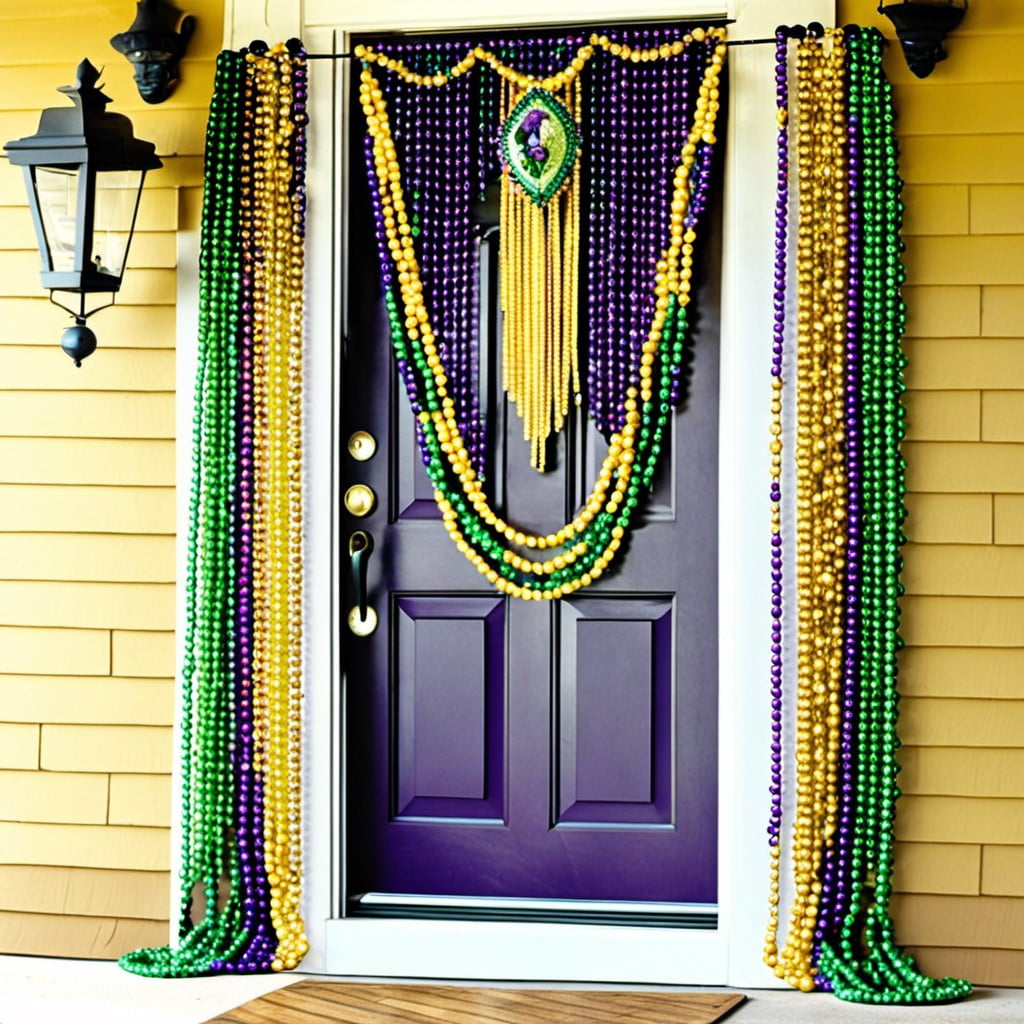 To create this fun and festive entryway, select strands of vibrant plastic beads in the traditional Mardi Gras colors of purple, green, and gold. Opt for a range of sizes and shades to provide visual variety and interest.
Then, string them together securely, ensuring the lengths vary to create a dynamic, cascading effect. The bead curtain should be hung from the top of your doorway. An adhesive hook-strip should do the trick without damaging the door.
The bead curtain not only adds color and sparkle to your decor, it serves a practical purpose, too. It can be a whimsical way to divide spaces. Between your living room and dining area, perhaps? And think about the joyful noise it will produce every time someone passes through!
Maintaining the bead curtain is easier than you might think. Simply dust occasionally with a feather duster or a hair-dryer set to cool. A wet cloth can also work, but avoid harsh cleaning chemicals that may damage the beads. Lastly, storage couldn't be simpler – roll it up and it's ready for next year's festivities!
King Cake Inspired Cupcakes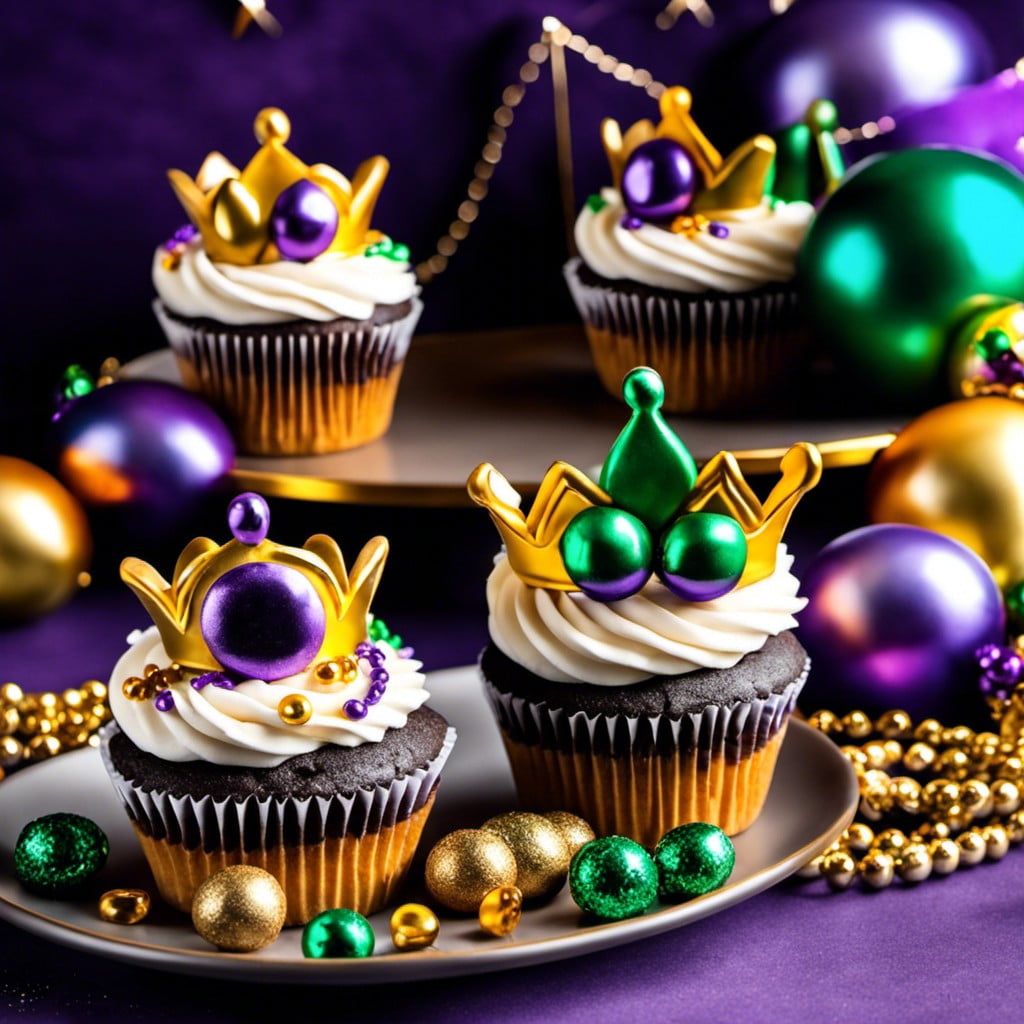 Taking inspiration from the traditional King Cake, these cupcakes elevate any Mardi Gras party. Use a basic vanilla cupcake recipe as this will allow the vibrant Mardi Gras icing to pop.
Divide your icing into three parts to match the traditional King Cake colors – purple, signifying justice; green representing faith; and gold for power.
To create a playful surprise, hide a small plastic baby figurine, or even a bean for a less hazardous option, in one of the cupcakes after they are baked. In keeping with tradition, award a special privilege or assign light-hearted tasks to the lucky guests who find it. Remember to inform your guests about the hidden surprise to avoid any choking hazards.
For an added flourish, sprinkle colored edible glitter matching the icing, which makes these cupcakes a delightful mimic of Mardi Gras' vibrant nature. Not only will they be a tasty treat, but they will also enhance your party's décor, attracting attention as a centerpiece on your dessert table.
Fleur De Lis Cutouts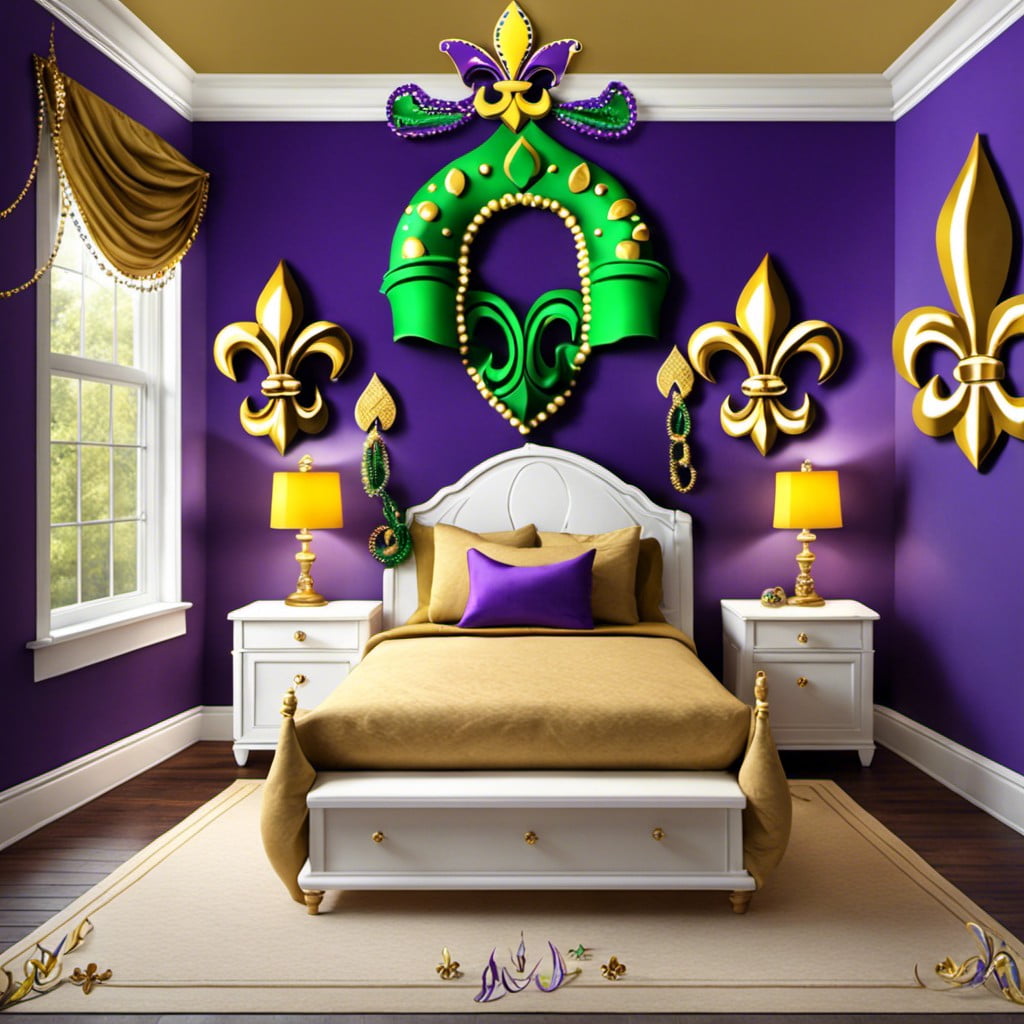 Crafted from a variety of materials, from paper to metal, these symbolic decorations embody the spirit of Mardi Gras. They can be hung on the walls or used as centerpieces depending on the size and material.
Consider using gold or glittery silver cutouts for a festive touch. To add depth, layer larger cutouts behind smaller ones. Alternatively, string them together for a unique garland. You may also use light strings to illuminate cutouts for a magical ambiance.
For an interactive and fun activity, a DIY Fleur de Lis Cutouts corner can be set up. Let guests stencil and cut out their own designs before adding them onto a community wall. Remember to have plenty of crafting supplies in the Mardi Gras color palette – green, gold, and purple – on hand.
Carnival Style Lightings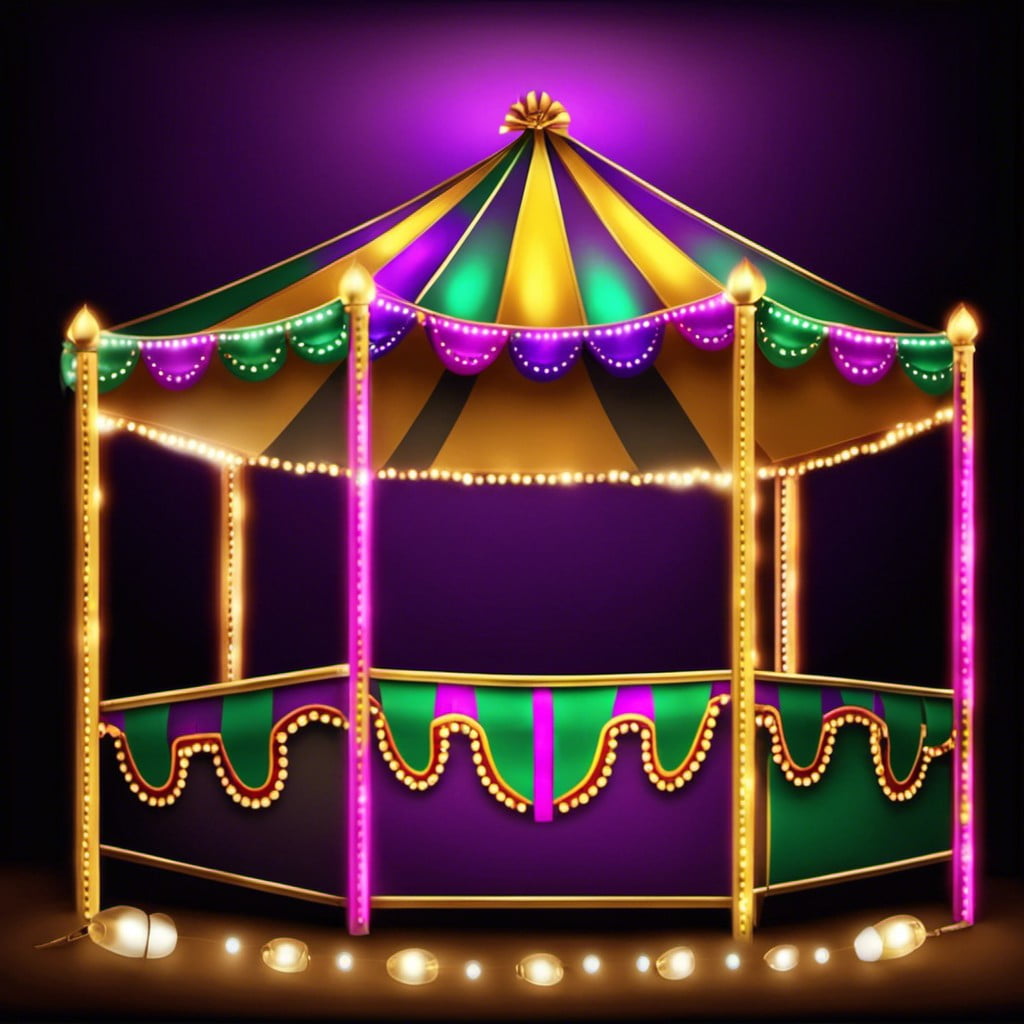 Creativity is key in this part. Using lights in an innovative way can set the perfect mood for your Mardi Gras party.
A variety of lighting options can add to the festive feel, from LED string lights featuring Mardi Gras colors to vintage-style lanterns for an old jazz club feel.
You could also use purple, green, or gold fairy lights around windows or draped around a table centerpiece.
Bold, colorful lampshades in sync with the carnival theme make an interesting addition to the overall ambience.
For a dramatic effect, consider outdoor spotlights shining up into trees or along the side of your house.
Mardi Gras Themed Photo Booth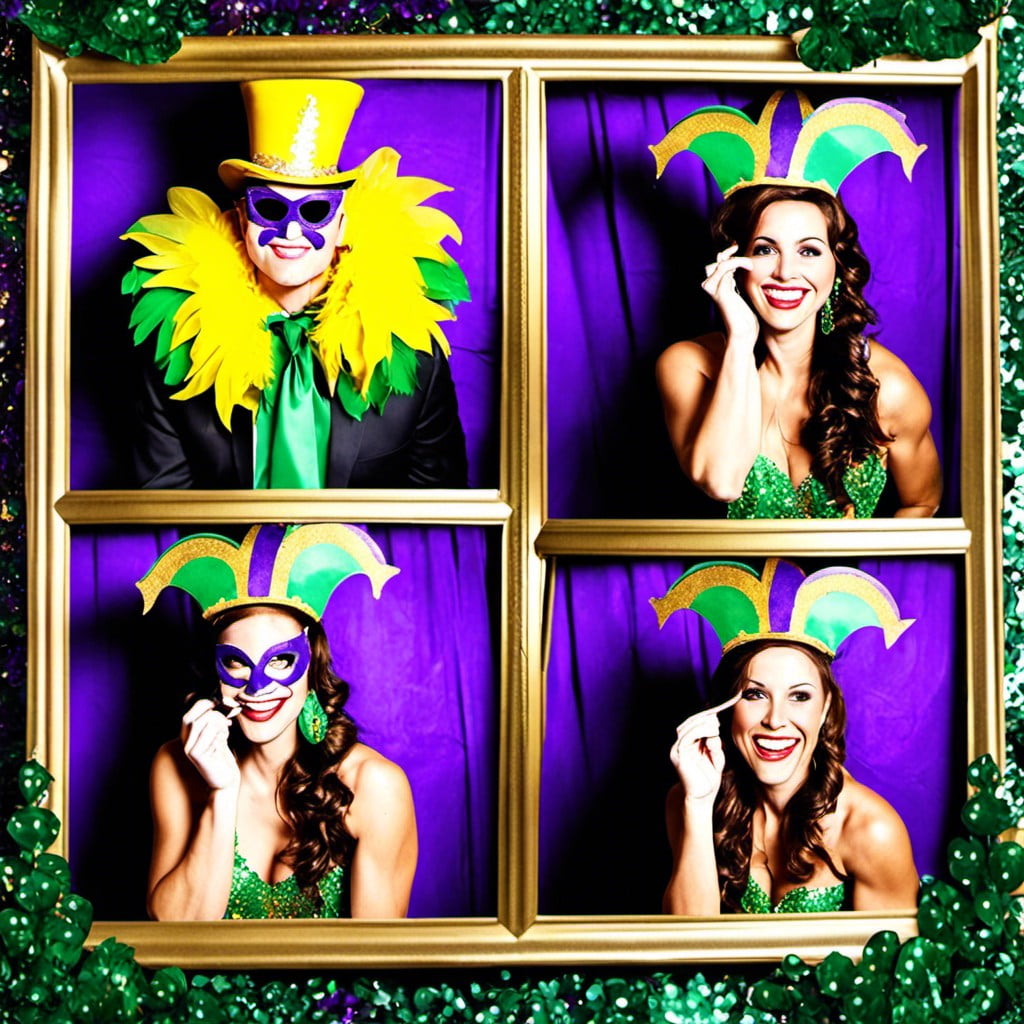 Creating a fun and engaging space for guests to capture memories is essential in any party setup. A Mardi Gras-inspired photo booth is a perfect element to achieve that. Start by establishing a vivid backdrop using traditional carnivalesque colors— purple symbolizing justice, green for faith, and gold for power. Incorporate patterns or Mardi Gras symbols such as fleur de lis, beads, masks, or feathers.
Providing props like oversized sunglasses, extravagant hats, and of course, the iconic masquerade masks enhance the fun. Mix in some feather boas and bead necklaces for color and authentic New Orleans feel.
In designing the booth, remember to keep it spacious and well-lit, which helps produce high- quality photos. Ambient lights or fairy lights can add a festive glow. For a truly unique touch, set up a Polaroid station so guests can instantly take home memories of the Mardi Gras celebration.
Purple, Gold, and Green Confetti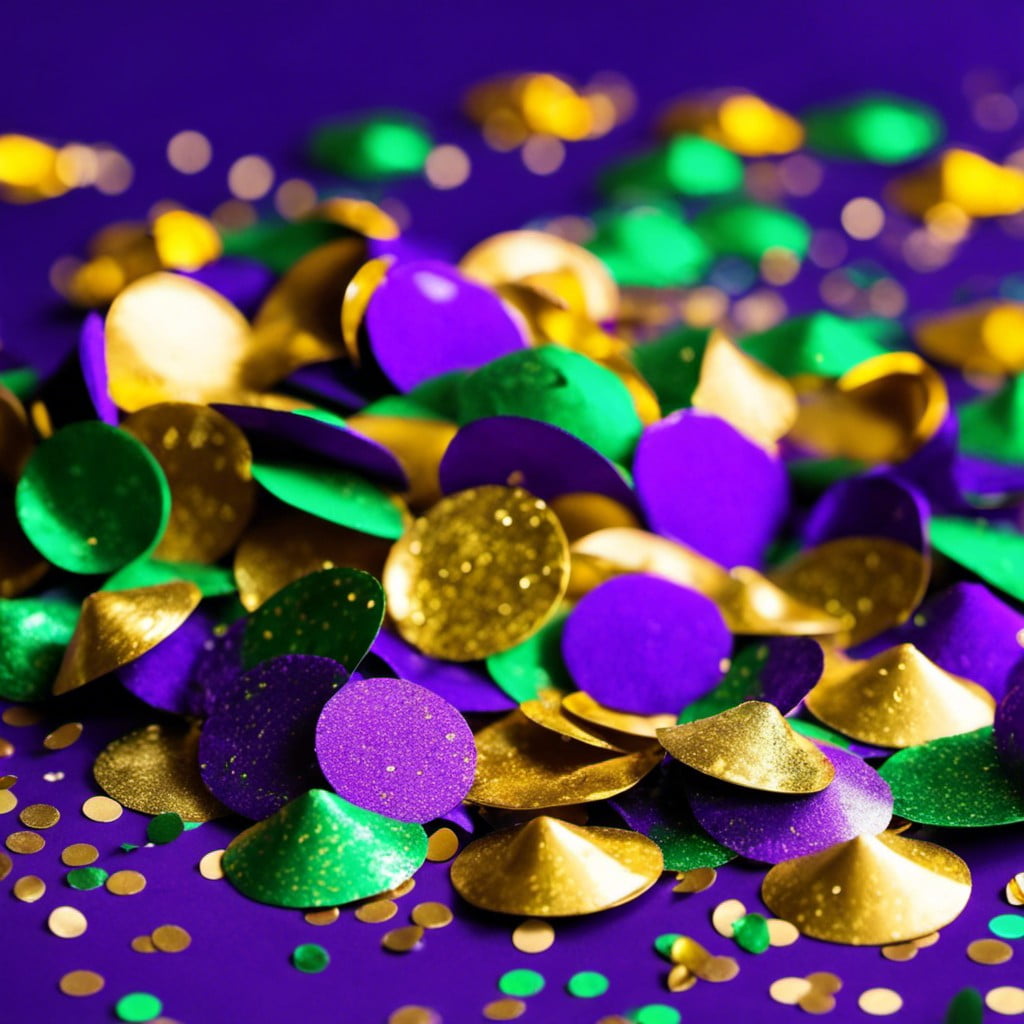 These iconic Mardi Gras colors aren't just for beads. Making your event truly immersive includes small details.
Dip into a party supply store for biodegradable confetti in these traditional hues. Alternatively, create your own by shredding colored paper.
Thumbtack-filled balloons hanging above party-goers offer a thrilling pop-and-shower experience, an unique way to use confetti.
Sprinkling confetti over tables also enriches the festive ambiance and is a nod to old carnival traditions.
Remember, using confetti indoors might need extra cleaning. However, this little festive detail adds so much flair, the after-party cleanup is worth the effort.
Jazz Musicians Cutouts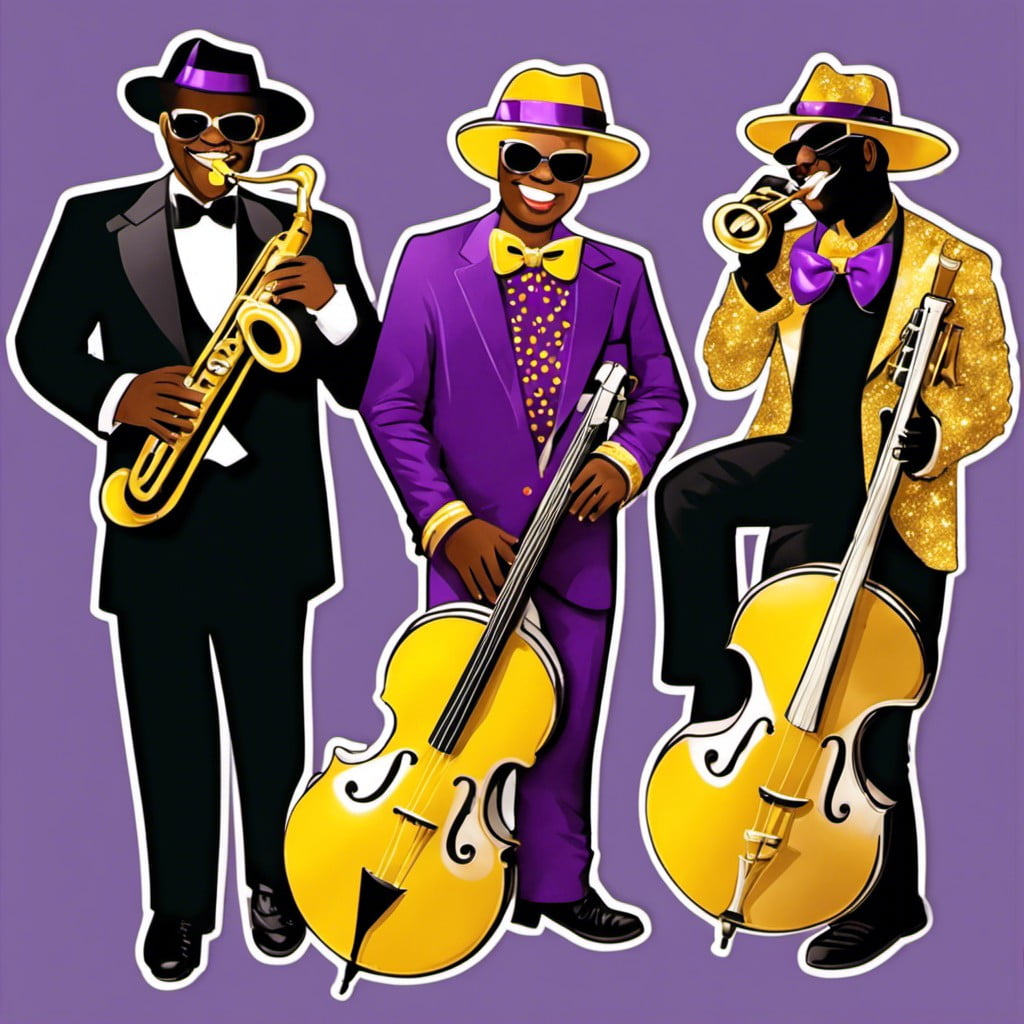 Following the vibrant atmosphere of a carnival, placing Jazz Musicians Cutouts around your space can truly animate a Mardi Gras party. These life-sized renditions of iconic jazz figures add an element of historic realism and musical spirit.
Here's how they contribute:
Infuse a retro vibe: Jazz music is intertwined with Mardi Gras' history. These cutouts synchronize this rhythm into your decor.
Versatility: Suitable for walls, corners, or stage backdrops, cutouts create visual interest throughout your space.
Engage guests: Encourage guests to take pictures with these cutouts capturing fun memorable moments.
Easy installation: Most cutouts are lightweight and portable, they're a fuss-free add-on to your decor.
Remember, choosing characters beloved by your guests could spark conversations, enhancing the party's engaging atmosphere.
Creole Cuisine Inspired Tablescape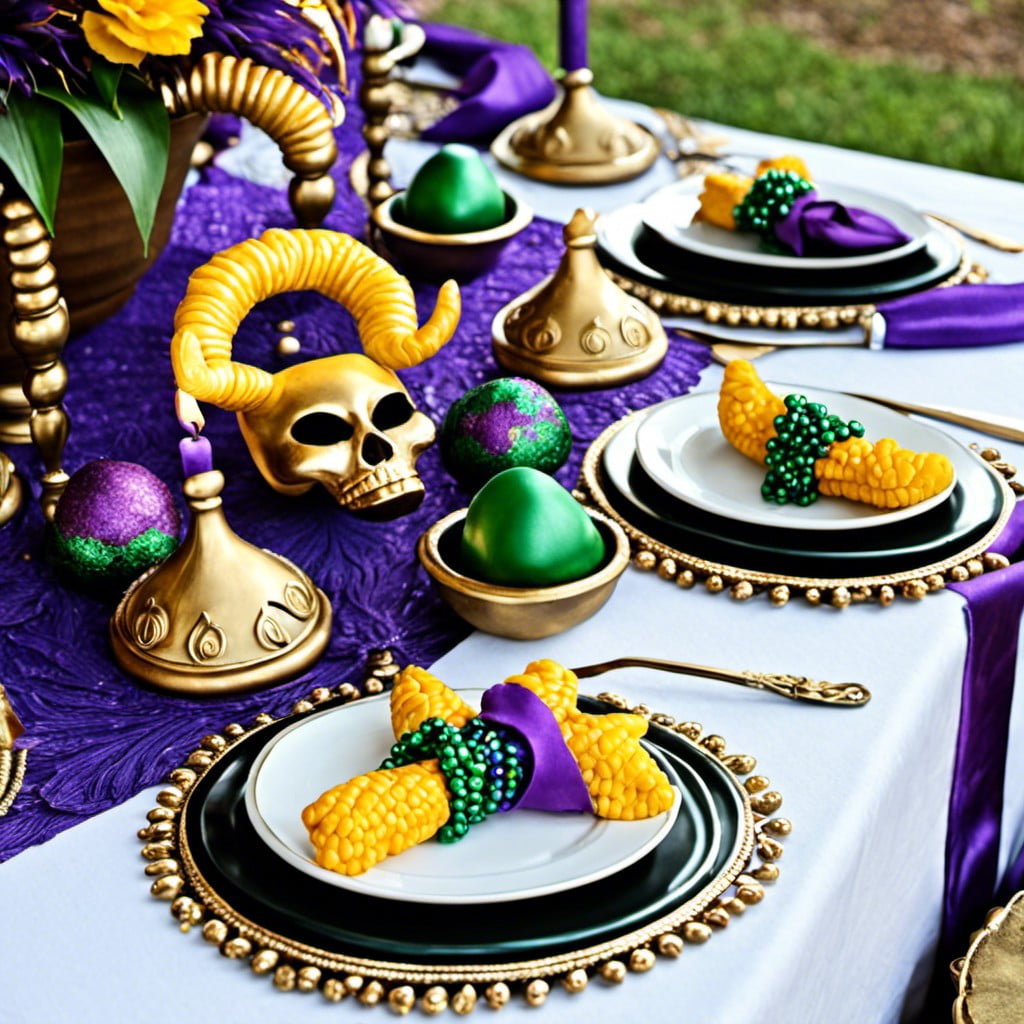 Drawing upon Louisiana's rich culinary heritage, this tablescape concept not only beautifully pays homage to Mardi Gras but also stimulates the taste buds. A few touches can incorporate the essence of Creole cuisine into your decoration:
1. Use crawfish print tablecloth to represent a classic Crawfish Boil.
2. Arrange ceramic or brass pots reminiscent of traditional gumbo pots as centerpiece.
3. Incorporate spices such as paprika and cayenne, perhaps in vials or as part of tiny display baskets, presenting the key ingredients in Creole cooking.
4. Include tiny cornbread muffins or beignet replicas, maybe as placeholders or card holders.
5. Evoke the plantation origins of Creole cuisine by using antique silverware and French-style glassware.
6. Mismatched antique chairs will enhance the authentic feel.
Remember, your aim isn't to create a catering table but to incorporate cues that evoke the spirit and flavors of Creole cuisine.
Mardi Gras Jester Wall Decor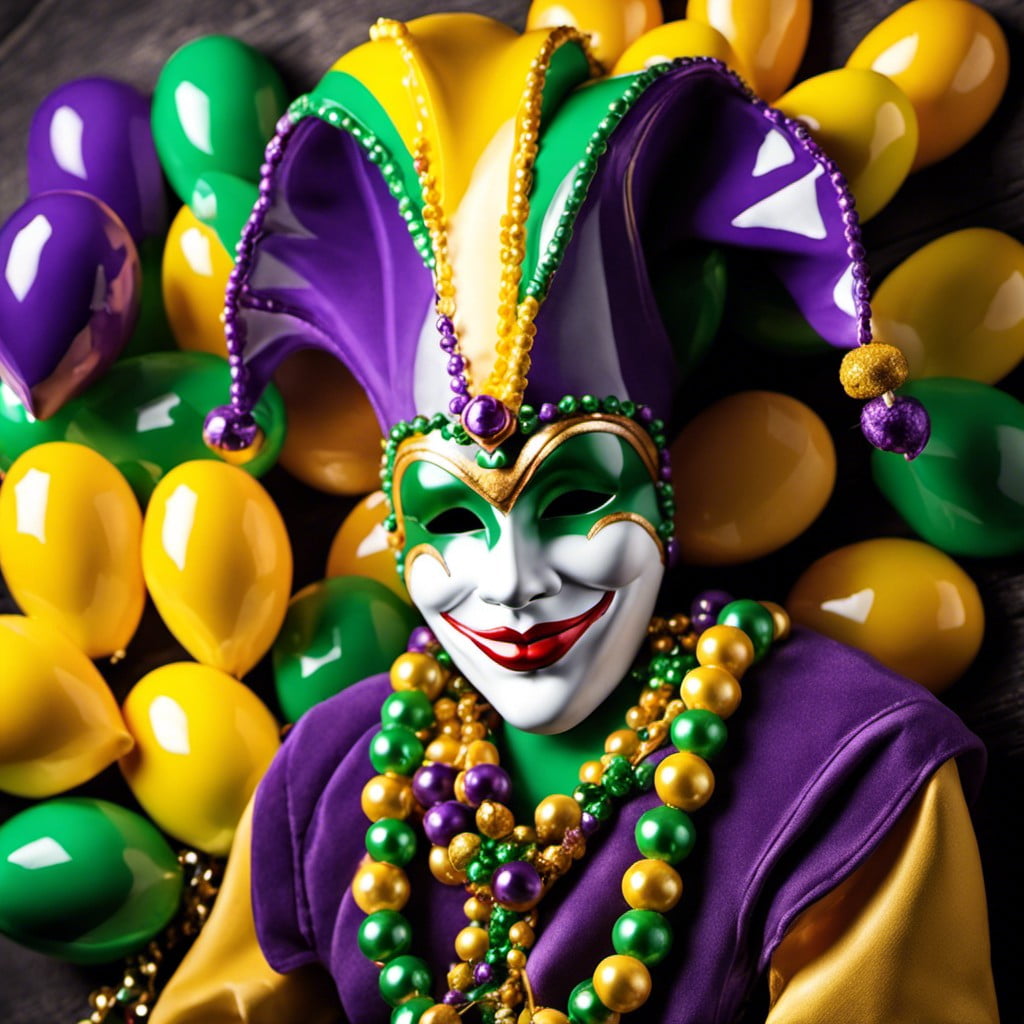 Creating a whimsical atmosphere is a breeze with jester-inspired adornments. These laughing faces characterized by their iconic three-horned hats become truly eye-catching elements. Opt for multi-colored or sequined jester decors to reflect the playful Mardi Gras spirit.
You can place these visual treats strategically to generate an aesthetic impact. Above the mantel, in corners, or even greeting guests at entryways work perfectly. Some aficionados prefer life-sized cutouts for a bolder statement, while others go for smaller, subtler pieces blended among your other Mardi Gras decorations. Incorporate vivid LED lights to accentuate their vibrant colors, especially at night.
Remember, consistency is key – replicate the jesters' classic purple, green, and gold in candles, cushions, or other room accents, for the ultimate Mardi Gras ensemble.
So, despite their mischievous grin, these jesters are here to party. Give them a place on your walls and let the fun begin as the Carnival unravels in your home.
Sequined Pillows and Throws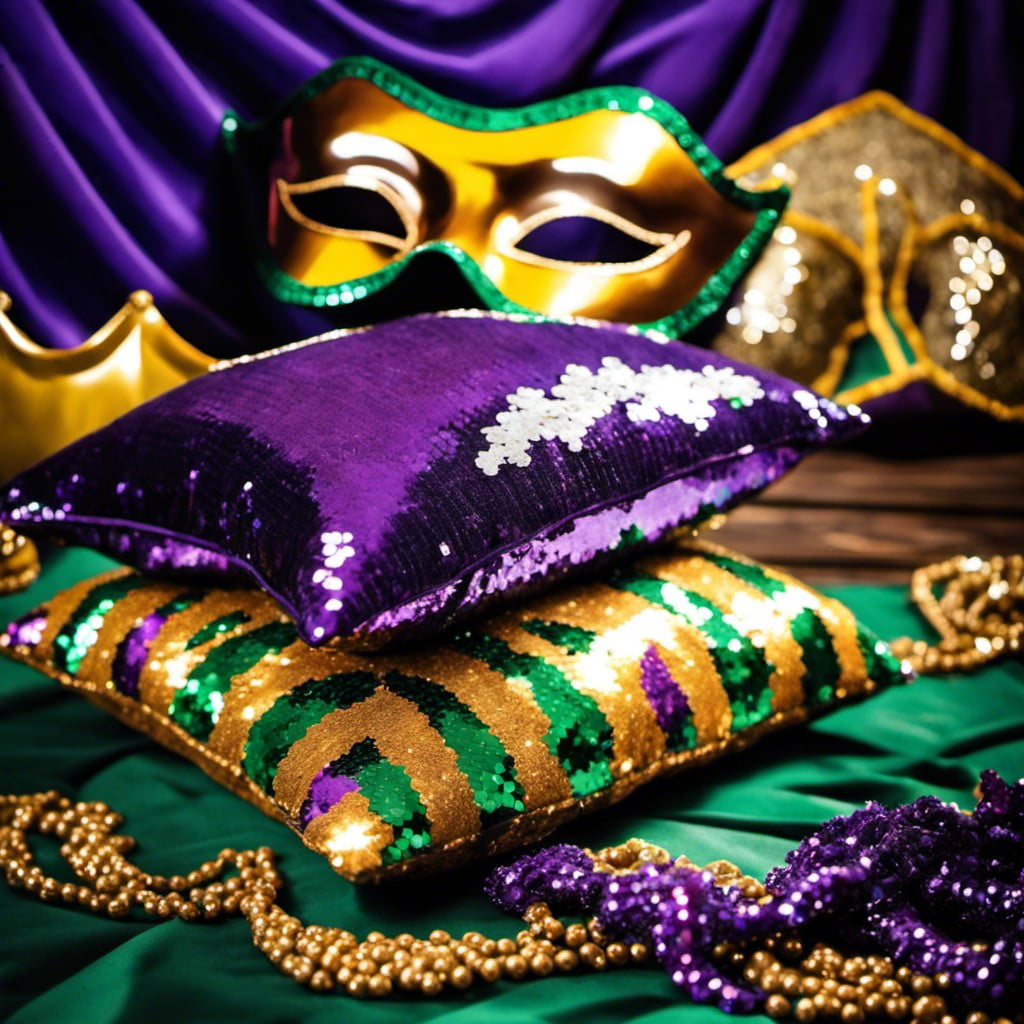 Adding a bit of shimmer and shine into your interior decor instantly elevates the festive atmosphere. Sequined pillows come in an array of vibrant colors to choose from; Mardi Gras signature shades — purple for justice, green for faith, and gold for power — are especially recommended. They provide an easy way to add sparkle to your living spaces while also enhancing comfort.
Similarly, don't overlook the spell a sequined throw can cast over your couch or lounge chair. It not only creates a cozy spot for guests to retreat but also serves as a dazzling highlight, catching and reflecting light from every angle.
Tip:
Choose reversible sequined pillows or throws for more variety and tactile pleasure.
Pair them with plain, solid-colored fabrics to make the sequins truly pop.
Have a careful blend of all three colors or stick to just one color per item to suit your preference.
Irregular placing of these sequined décor items can create visual interest and avoid a monotonous look.
For a balanced look, don't oversaturate your space with too much sparkle. Remember, less is often more.
Glittery Masks Hanging Decor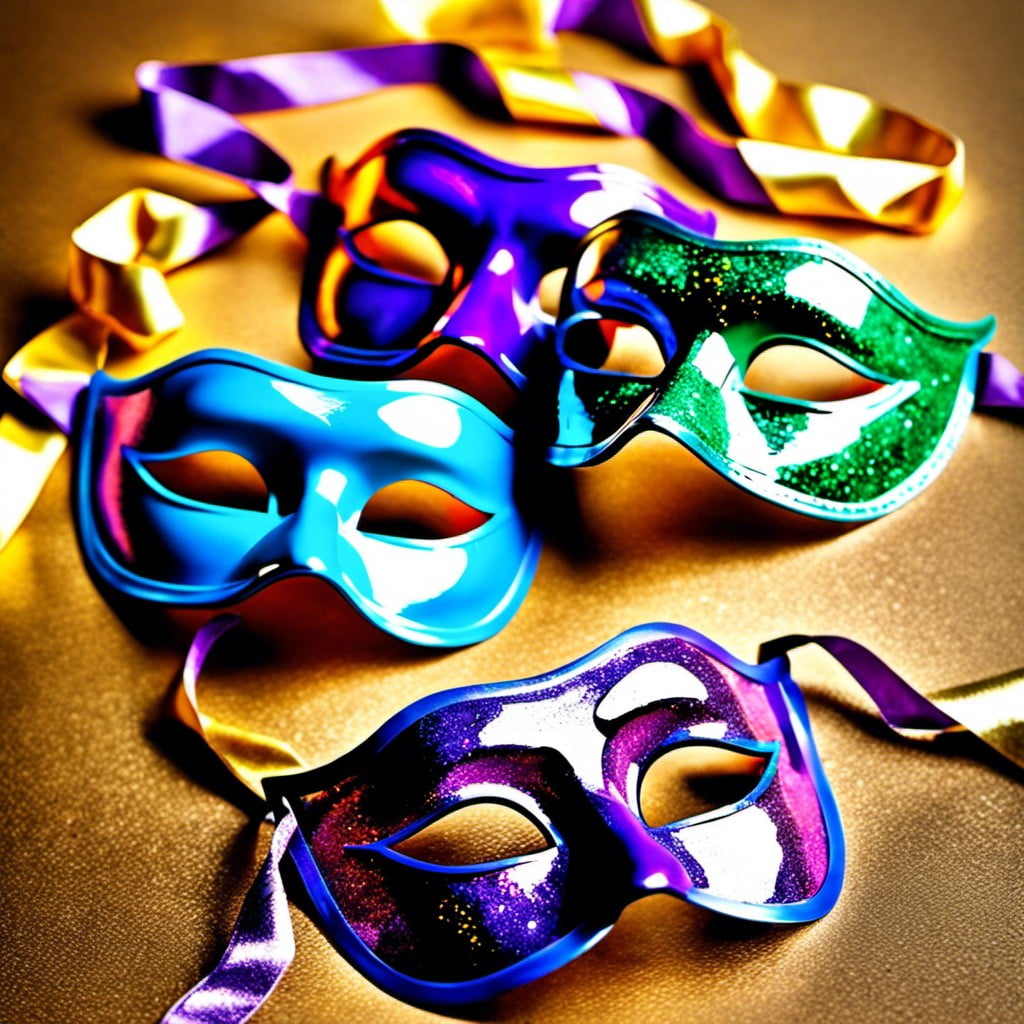 Few decorations scream 'Mardi Gras' louder than glittery masks. Drawing attention and twinkle to your setting, they're a must-have addition. Take your pick from an array of designs, colors, and glitter finishes to best match your party theme.
1. Selection: Opt for intricate designs or keep it simple with classic styles. Regardless, ensure the colors harmonize with your event's theme.
2. Placement: These can be hung on walls, from ceilings, or even laid as fancy table decors. Play with different heights to add an buoyant touch.
3. Pairing: Combine with other elements like sequined throws or feathered centerpieces to create an authentic Mardi Gras feel.
4. DIY Option: If in a creative mood, get a plain mask and adorn it with glitter, sequins, or gemstones, yourself. Not only it adds a personal touch but also serves as a unique party activity.
Remember, the goal is to create an atmosphere of magic and mystery, encapsulating the fun spirit of Mardi Gras.
Bead-inspired Table Runner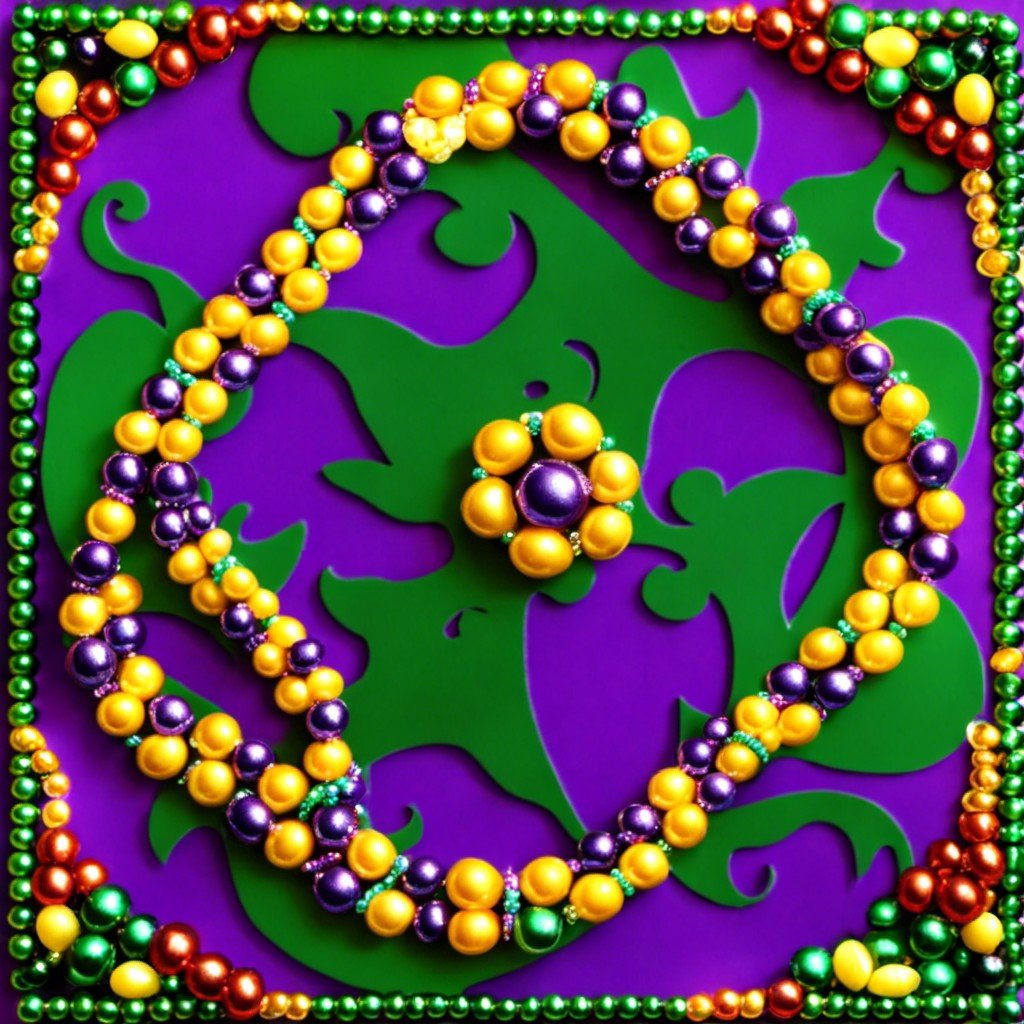 Delving into the unique aspect of Mardi Gras, the bead-inspired table runner can bring a vibrant touch to your dining table.
Start by choosing beads in traditional colors – purple, green, and gold.
Make sure to mix different shapes and sizes for a more visually appealing effect.
You have two options for creating this decor: strategic scattering or bead-stringing.
For a more casual, spontaneous look, scatter the beads along the center of the table.
If you prefer a cleaner, more organized design, string the beads together and arrange them neatly.
Adding votive candles or small lanterns along the bead runner will amplify the glimmer of the beads, giving your table a festive and eye-catching appeal.
Finally, a centerpiece with Mardi Gras masks or a petite king cake would complete the effect, blending tradition and creativity for an unforgettable Mardi Gras table.
Jazz Poster Decor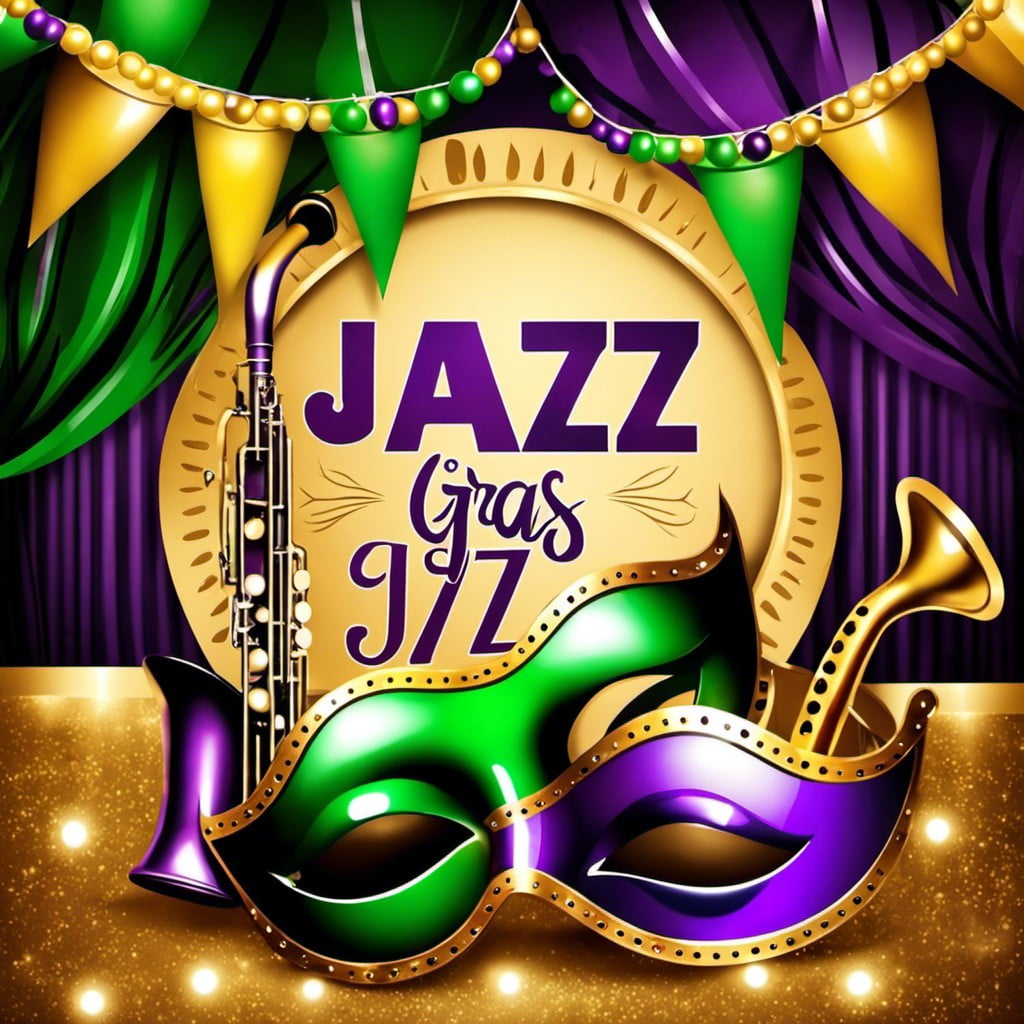 Incorporating Jazz Poster Decor is truly a nod to New Orleans, the birthplace of jazz, thereby forming a sizable essence of Mardi Gras. Here's how to make the best of this theme:
1. Choose posters from vintage to modern styles, ensuring they reflect the jazz vibe. Diverse artwork featuring musicians, instruments or music notes significantly enhances this theme.
2. Opt for vibrant color schemes in line with the traditional Mardi Gras palette – purples, greens, and golds.
3. Prioritize spacing and placement. Ideal locations include a prominent wall in the gathering space or perhaps a hallway leading to the party area.
4. Frame the posters in gold or black to elevate their visual appeal and capture Mardi Gras's renowned glamour.
Remember, these visuals are not only decorative accents but also conversation starters, bringing that authentic festive spirit to your Mardi Gras party.
Feather Boas for Chair Wraps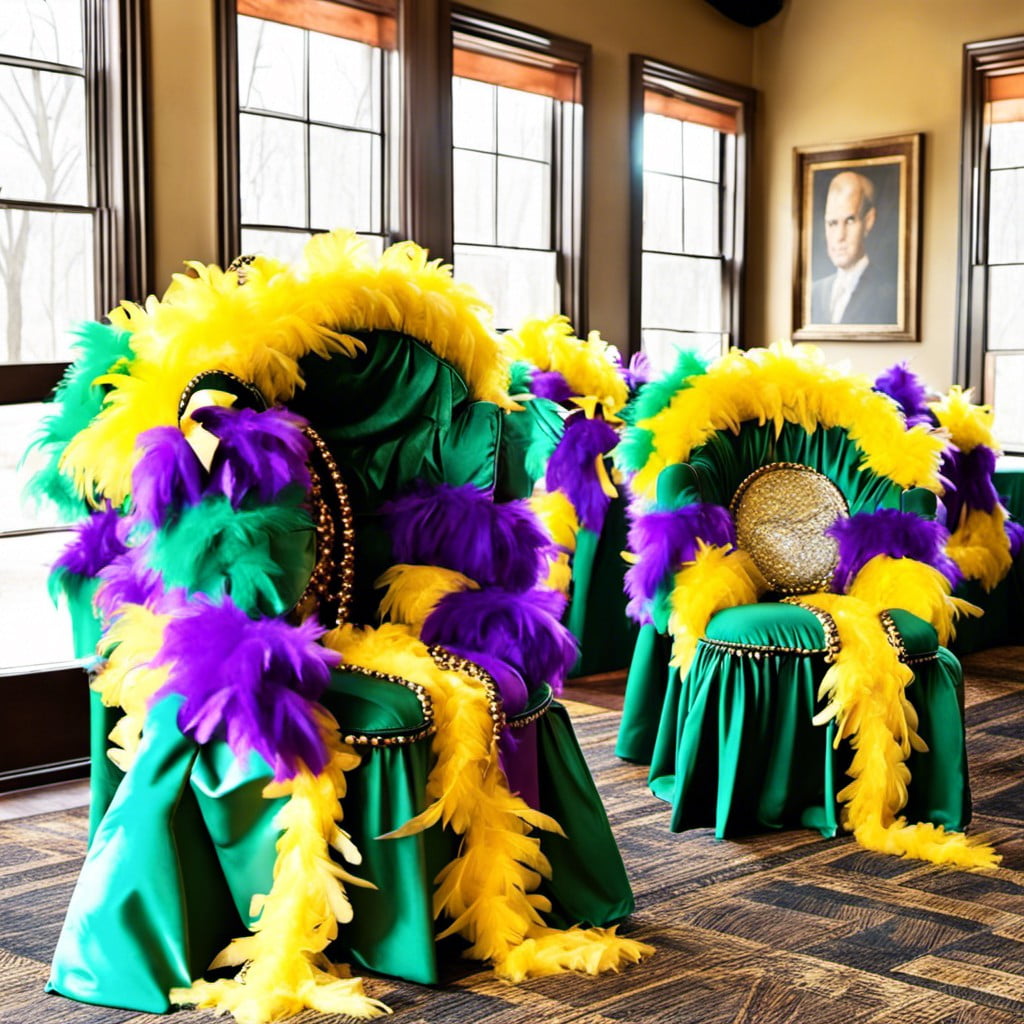 Bright and vibrant feather boas make a stylish statement when used as chair wraps. They immediately elevate the festive vibe in the room and are sure to attention.
Here's how to incorporate them seamlessly:
Choose boas that match the traditional Mardi Gras colors – purple, gold and green.
Wrap them around the back of the chairs. Tie or pin them if needed. Remember, safety is important so ensure they stay intact when anyone takes a seat.
For an added flair, you can intertwine two or more color boas together.
When using wooden chairs, try to retain the rustic look by just dressing the top half of the chair with the boa.
Remember, the goal is to create an exciting burst of color and fun. Staying within Mardi Gras tradition will turn your home into a New Orleans style celebration!
Liked reading this? Here's more:
Recap: