Last updated on December 8, 2023
Brighten your workplace this festive season because this article is brimming with innovative office Christmas decorating contest ideas that will transform your office into a winter wonderland.
I am proud to present this article with 20 unique office Christmas decorating ideas that I've personally crafted; it's my sincere hope that you find them as inspiring and enjoyable as I did creating them.
Participating in an office Christmas decorating contest is an excellent way to bring holiday cheer to your workspace. Whether you're aiming for a traditional, modern, or completely out-of-the-box theme, it's all about creativity and team spirit.
From transforming your cubicle into a cozy Christmas cabin, decking the office halls with unique DIY ornaments, to creating a winter wonderland in the break room, you can find a plethora of ideas here that will help you clinch the winning title.
This article will guide you through a variety of innovative and festive ideas, detailed steps, and helpful tips to ensure your office space stands out in the competition.
Winter Wonderland Themed Cubicles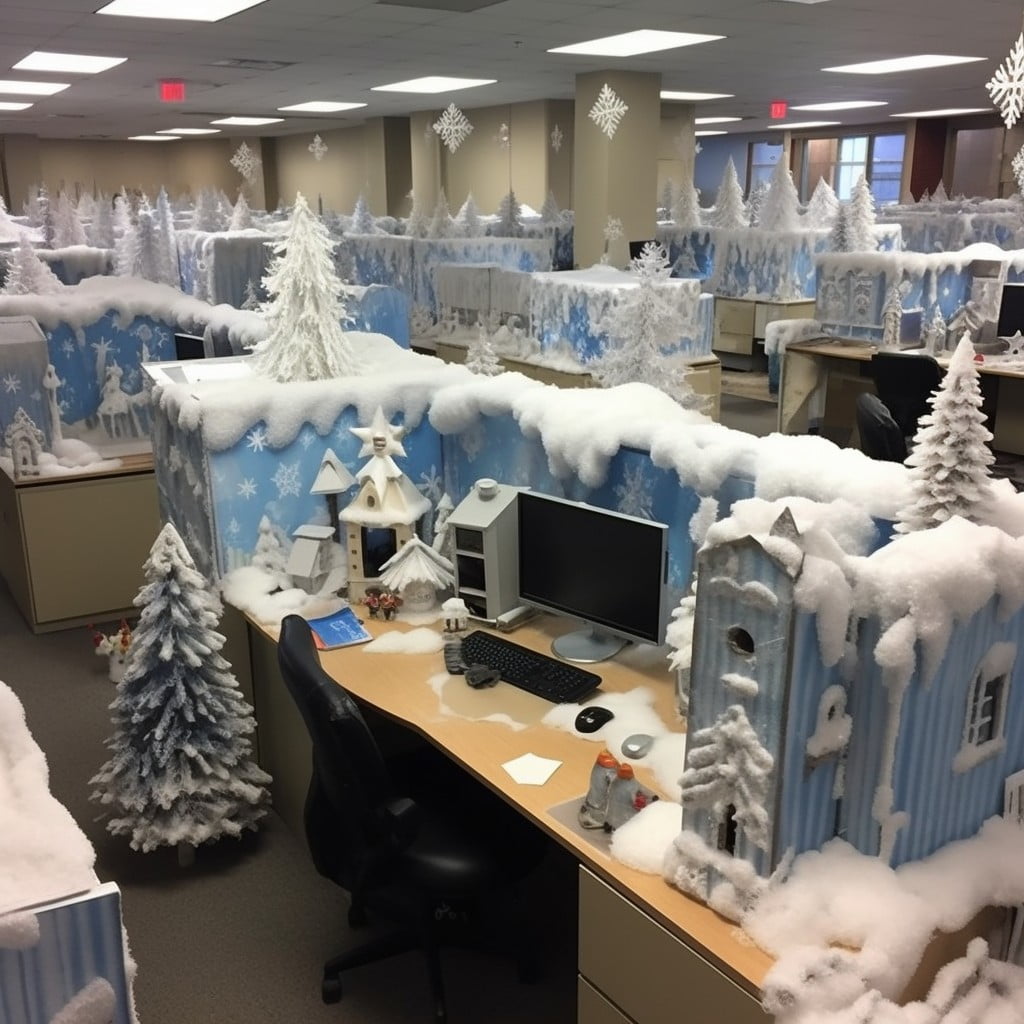 Creating a haven of chilly charm directly at your workspace can certainly infuse the office with holiday spirit. Start by introducing faux snow or white cotton fluff to resemble a fresh blanket of snow.
Don't forget to encrust everyday office items like monitors, chairs, and stationery with plenty of glittering icicles and stray snowflakes.
String up twinkling white lights around the cubicle for that magical wintry glow. Silver and white ornaments can be added to sparkle up the ambiance.
Make sure to include frosty elements like pine cones and snow-dusted trees for a rustic touch. Finally, consider incorporating penguins, polar bears, or other arctic characters for an enchanting, whimsical finish.
Remember, it's all about the details if you aim to be the frostiest of competitors in the decoration contest.
Santa's Workshop Office Area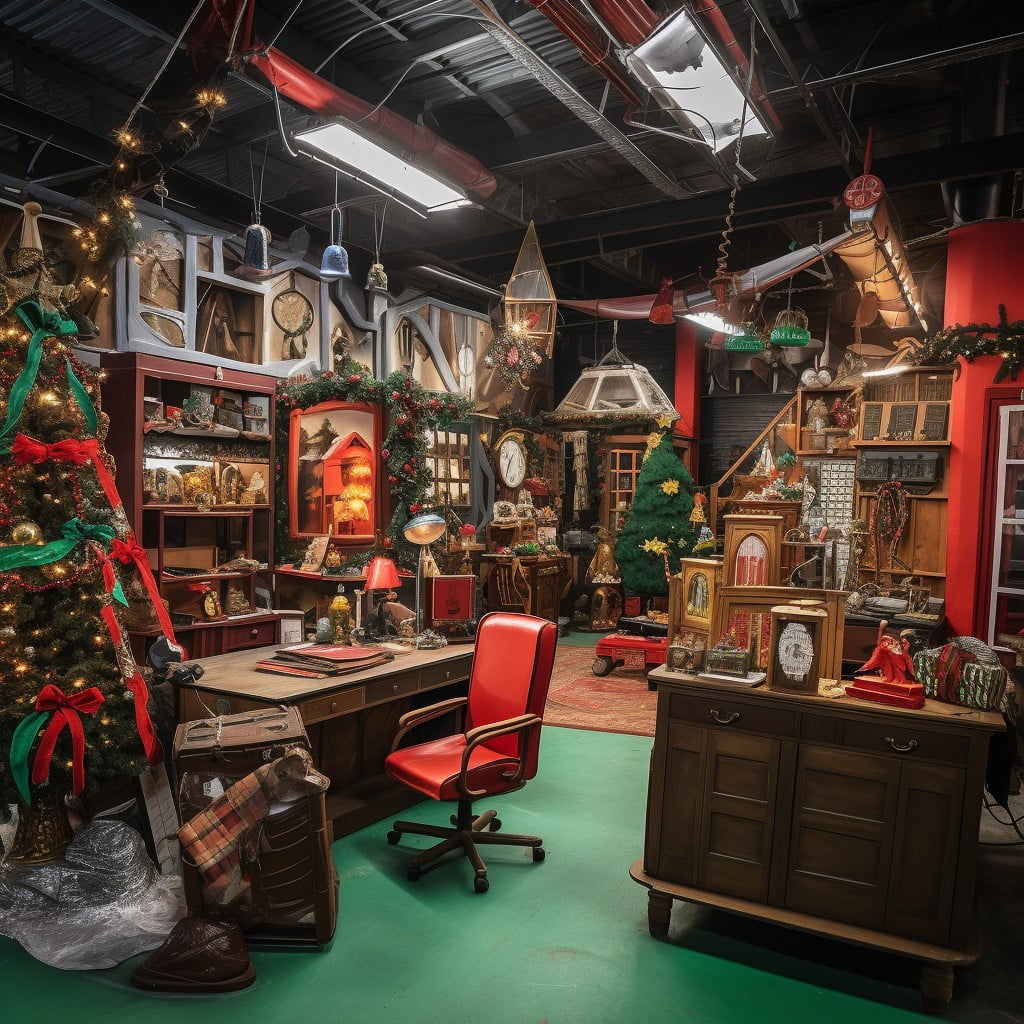 For a fantastic transformation, infuse your workspace with the magic of the North Pole. Begin with plenty of red and green decorations, paired with twinkling fairy lights. Employ objects like toy hammers, wooden blocks and stuffed elves to mimic the bustling environment of Santa's little helpers at work.
Don't forget about Santa's chair, a cozy corner decked out with a red-and-white throws and a faux fur rug, perfect for impersonating the big man himself. Add final touches with wrapped packages and a golden sleigh for an authenticate feel.
Next, focus on details, like personalized "elf" name cards for each team member's desk. Hang oversized stockings, filled with candy canes or small treats as a sweet surprise. A large bulletin board can be transformed into a 'Naughty or Nice' list.
Yet, what's a workshop without some fun? Incorporate interactive elements. You can set up a small 'toy-making' station with craft supplies, inviting team members to create their own elfish toys during breaks. This not only deepens the theme decoration but also invites everyone into the spirit, making the office space a place of joy, creativity, and holiday cheer.
Remember, the goal of the Santa's Workshop theme is to transport everyone into a festive, fun-filled, and magical scene right from their office desks.
Exciting, isn't it? Wait until you see the reaction of your coworkers. And yes, Santa hats are, of course, recommended.
Christmas Light Extravaganza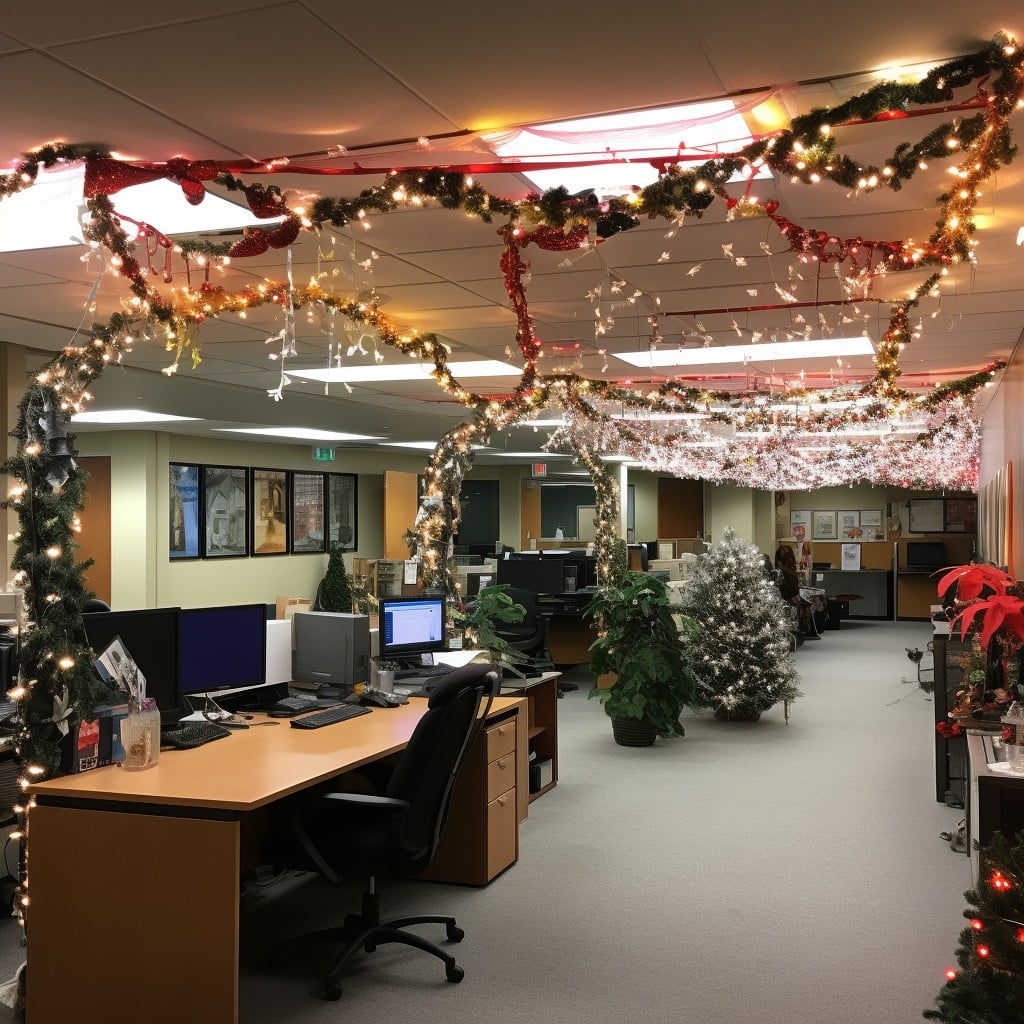 To really make the office shine, the addition of colorful and sparkling lights can be transformative. Consider ways to integrate this aspect into your decoration contest. Encourage participants to create intricate light displays within their workspace or cubicle. Use lights of varying sizes, colors, and types – from string lights to LED strips, to create unique and eye-catching designs.
Remember, safety comes first. Ensure all decorations, especially those with electrical components, comply with company safety guidelines. That might include limiting the number of lights per cubicle, avoiding blocking exits or pathways and ensuring all lights are switched off at the end of the day.
To involve everyone, consider a group project of creating a big light installation in a common area. This can be in the form of a giant Christmas tree or abstract design. This shared activity could also foster team spirit during the festive period. Moreover, it's an amazing background for all those holiday selfies!
Finally, make use of existing office features. Twist fairy lights around pillars or drape them over bookcases to add a touch of magic to the workspace. Interactive options, like light display responding to music, can also add a fun spin. With a creative approach, the office can quickly turn into a Christmas light extravaganza!
Sustainable Christmas Tree Decoration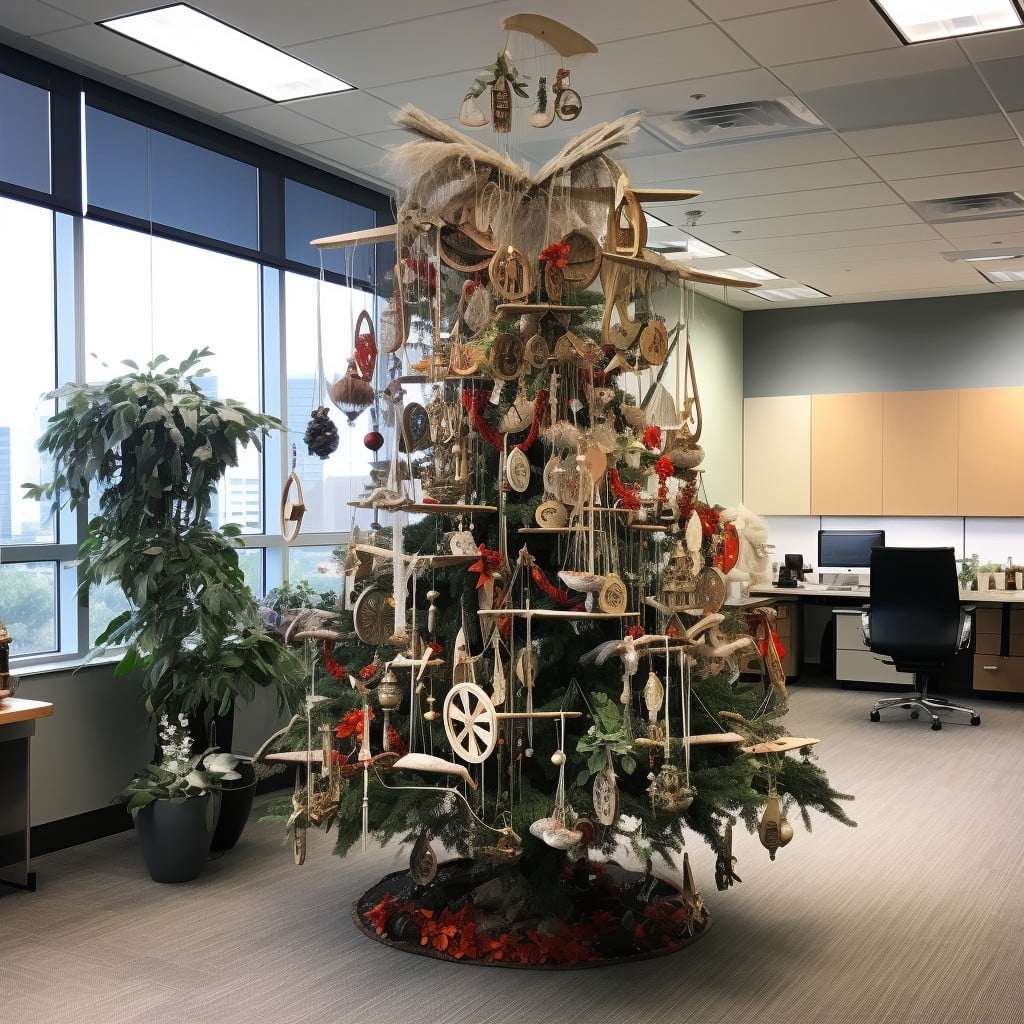 For the green enthusiasts, using sustainable resources can add a unique, eco-friendly charm to the office decorations. Opt for a tree crafted from recycled materials or buy a potted tree which can be re-planted post-festivities.
1. Ornaments: Create handmade baubles from recycled materials or use natural elements like pinecones, dried oranges, or cinnamon sticks.
2. Tree Toppers: Feather toppers or paper stars can replace traditional plastic ones. Add sparkle using biodegradable glitter.
3. Lighting: Utilize energy-saving LED lights instead of traditional incandescent lights.
4. Wrapping: Reuse old newspaper, magazine pages, or fabric scraps as wrapping paper under the tree.
5. Potted tree: After Christmas, re-plant the tree in a garden, or donate it to a local park or school.
This concept not only reduces waste but gives a gratifying touch of creativity and care to the festive atmosphere.
Elf On the Shelf Office Hunt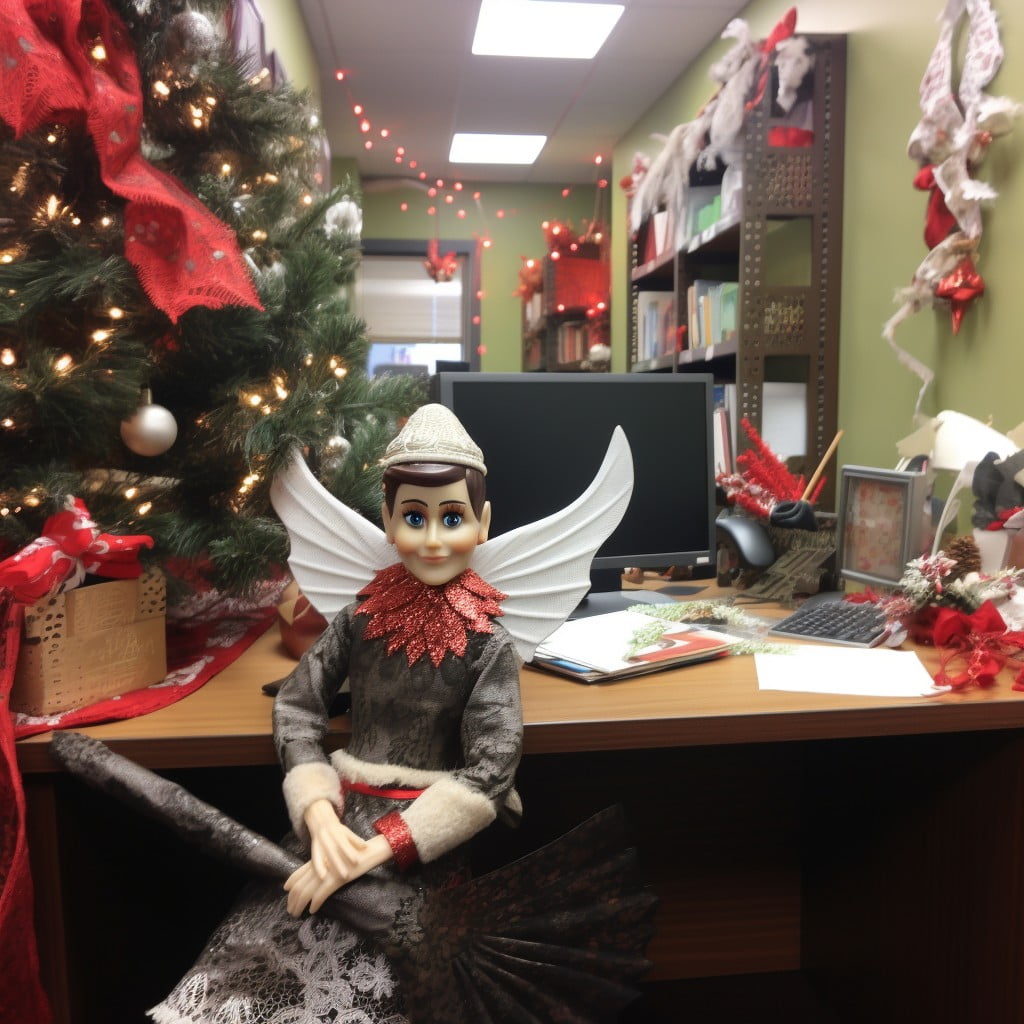 Adding an element of mystery and entertainment to your office decor can be accomplished in a unique way with a playful office hunt. Place the popular holiday doll, the Elf on the Shelf, in different spots throughout the office every day. Colleagues can join in on the fun and keep an eye out for the mischievous elf's daily relocation.
To spice things up a notch, consider introducing daily clues or riddles about the elf's new location. This interactive game not only contributes to the holiday decor but also encourages a fun, engaging, and lighthearted environment among coworkers. Challenge teams to find the elf first for a small daily prize, creating an activity as ambitious as your holiday decor. Remember, the ultimate goal is to foster team spirit and bring holiday cheer.
Ensure that everyone involved understands the Elf on the Shelf tradition. For those who aren't familiar, explain the mischievous nature of the elf and its role as Santa's scout. Some offices even welcome the creativity of their team by allowing employees to suggest new hiding spots, making it more enticing and interactive for everyone involved.
Gingerbread House Building Station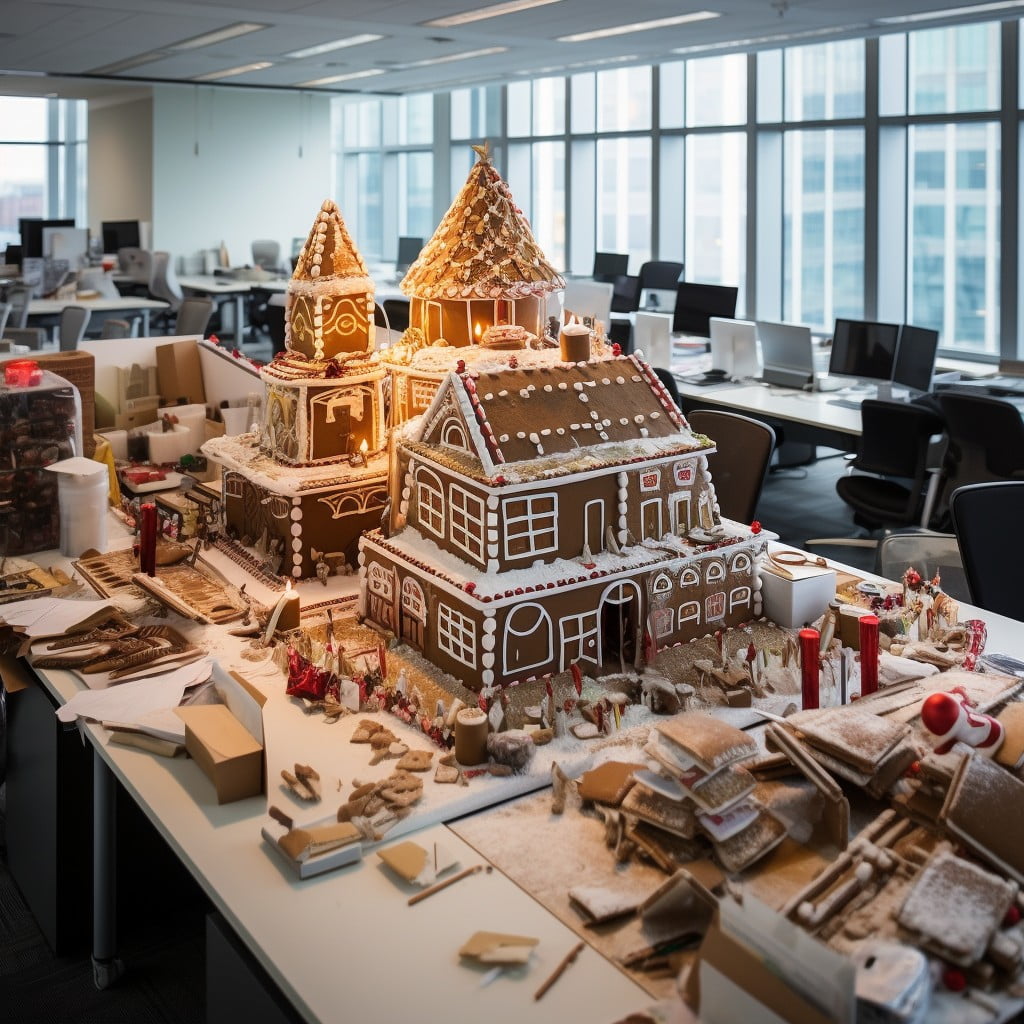 To set up this festive activity, select a common area in the office that is easily accessible. Purchase ready-to-assemble gingerbread house kits or, for those with a bit more baking skill, provide gingerbread pieces and icing for self-assembly.
Display an array of decorating options such as gumdrops, candy canes, marshmallows, and licorice for employees to use creatively. Not only does this allow coworkers to interact and show off their artistic side, it serves as a jovial decoration once completed.
For an added level of engagement, you might consider holding a contest for the best decorated gingerbread house. Remember, this activity is about more than just decorating; it's about team-building, invoking the holiday spirit, and most importantly, having fun in the workplace.
LED Message Board for Holiday Wishes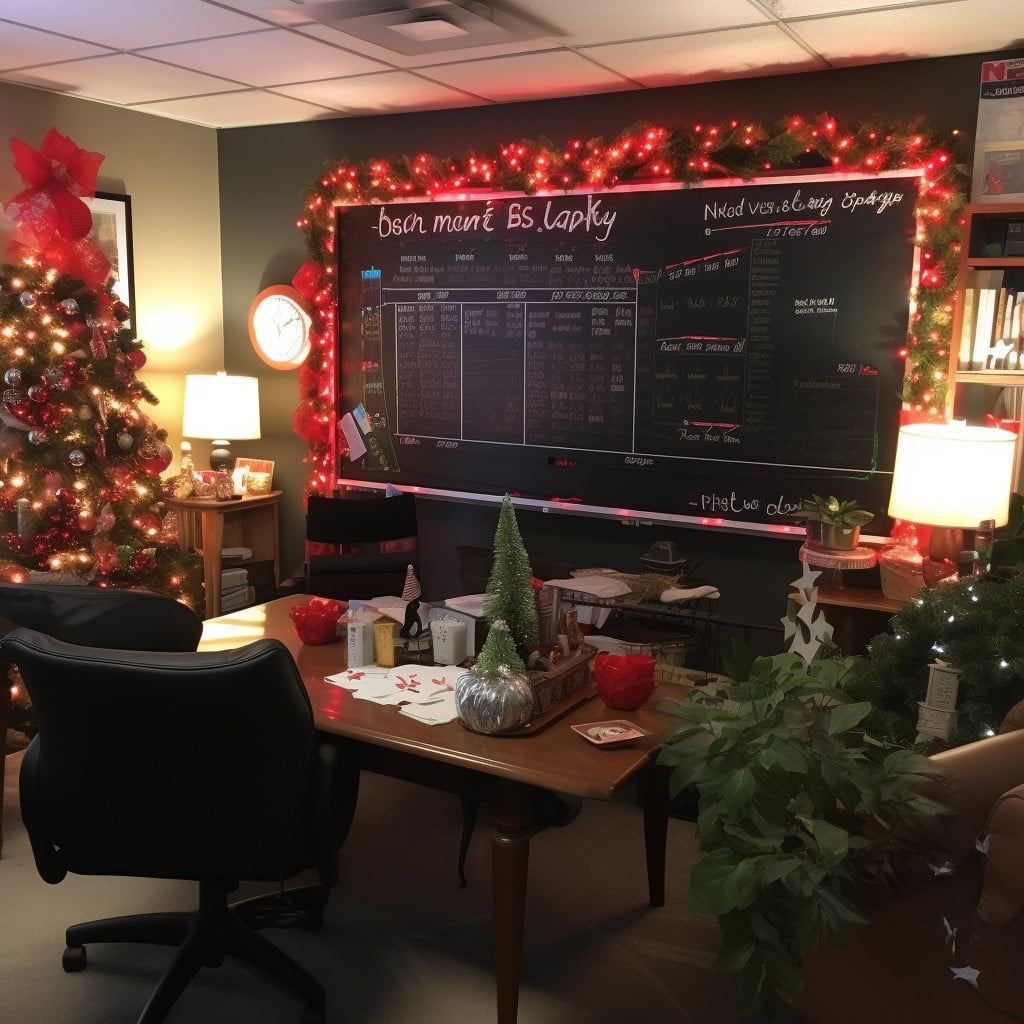 Harnessing the power of technology, this fresh idea can create a bright and welcoming atmosphere in any office space. An LED message board can be utilized to display holiday wishes, countdowns until the big day, or even festive jokes to lighten the mood.
To add a personal touch, encourage each staff member to program a personalized message, perhaps a favorite holiday quote or wish. This not only boosts employee participation but also ensures a diverse and unique array of messages.
Ensure the message board is placed in a common area for maximum visibility. It could be in the reception area, the lunchroom, or a large hallway – wherever it will catch the most eyes.
Remember, the goal is to create an engaging, interactive holiday experience with an added touch of modern technology. The LED board is not just a decoration, it's a merry conversation starter that will be the hotspot of the office.
Door Decorating Competition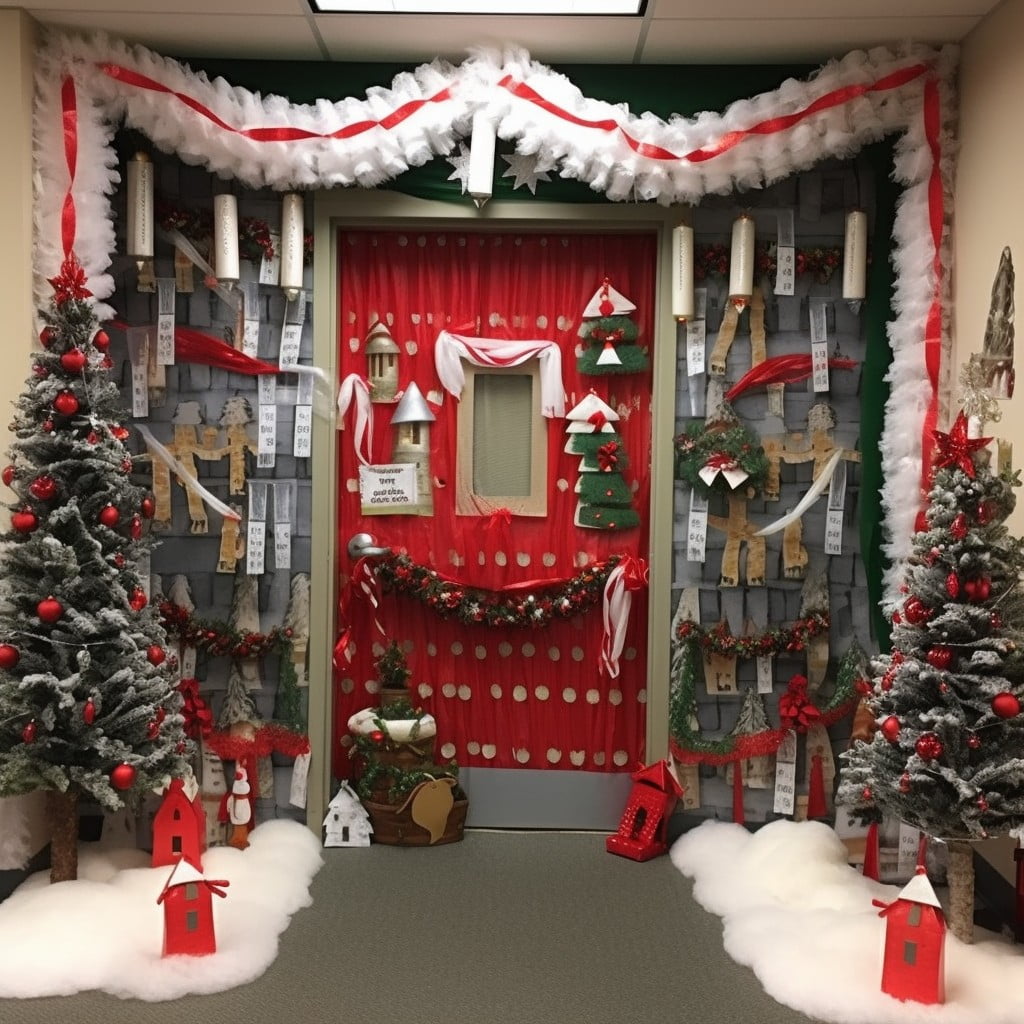 To kickstart the competition, establish some basic rules such as the scale and specific parts of the door that may be decorated. Encourage creativity and use of various materials like tinsels, fairy lights, bows, wrapping paper, or homemade paper snowflakes.
Choose a theme or leave it open for more variety – nostalgic holiday memories, Christmas carols, or recreations of classic holiday movie scenes are some engaging themes to consider.
To keep things fair, set a timescale for the decoration process and decide on judging criteria, for example, originality, craftsmanship, and adherence to theme. Finally, to add an exciting climax, organize a grand door parade where participants can present their work and winners can be announced.
Christmas Sweater Wall Display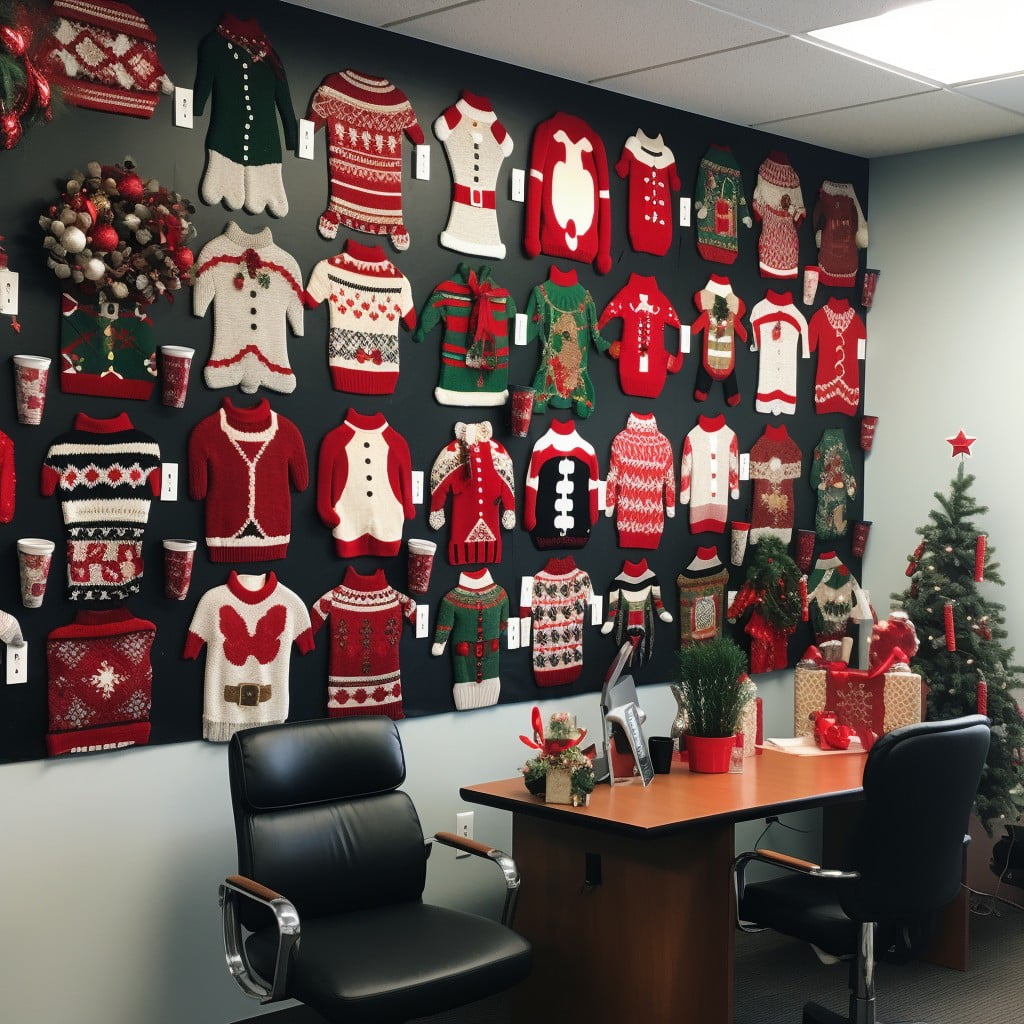 Incorporate a relaxed and personalized holiday touch with an office-wide display of Christmas sweaters. Gather bright, festive, and even humorously ugly sweaters and use them to create a wall display which serves as a colorful and memorable backdrop for holiday photos or just adding cheer to the office space.
Here's how to make it happen:
Request each team member to provide a Christmas sweater. The more varied, the better!
Designate a prominent wall for the display. Make sure it's easily visible to anyone entering the office.
Use clothespins or decorative hooks to hang the sweaters. Ensure they're spread out evenly to create a visually pleasing layout.
Opt for reusable or adhesive hooks that won't damage the wall.
Use tags to denote who each sweater belongs to – this adds a fun personal touch.
Remember, the goal here isn't just to provide decoration, but to create a shared experience and foster camaraderie amongst employees. Engage everyone in creating this festive display, and watch the holiday spirit soar.
Desk Rudolph Antler and Nose Decorations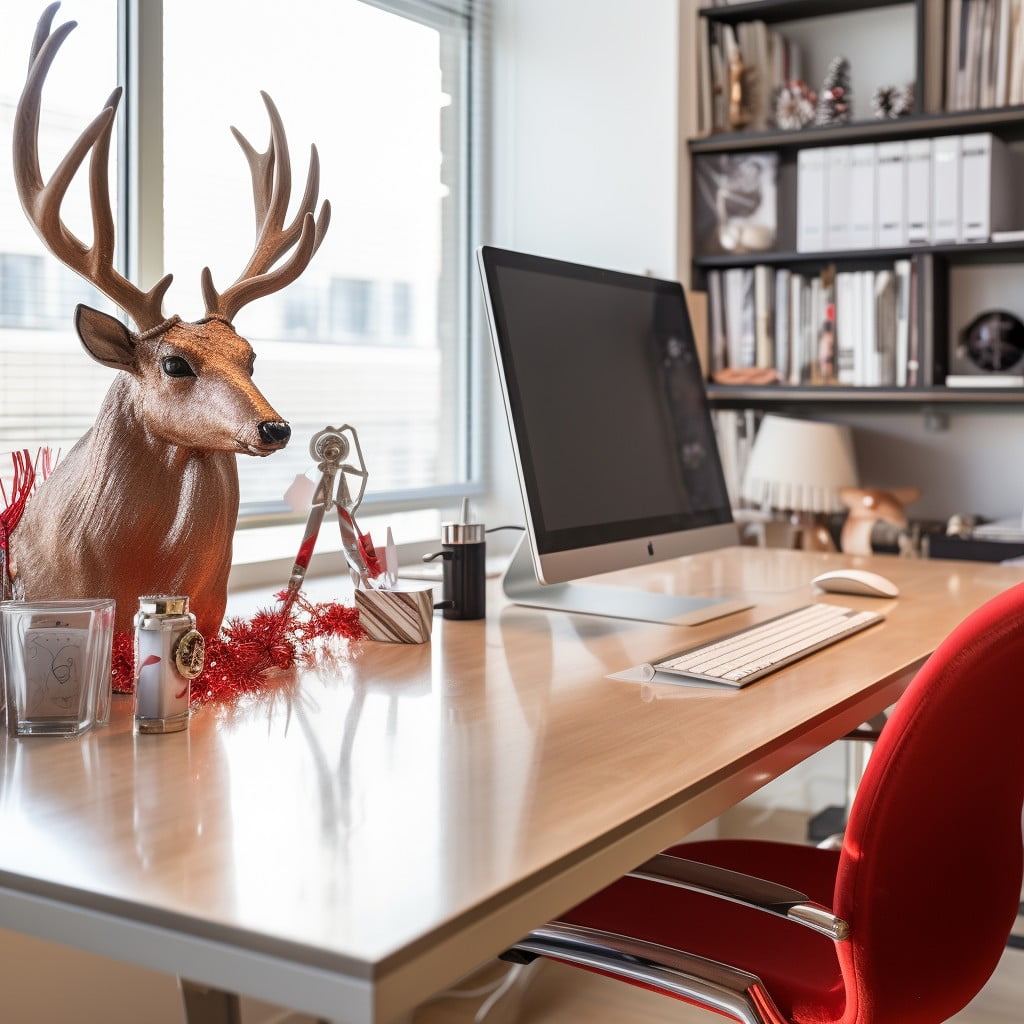 Kickstarting your festive creativity, transforming desks into Rudolph is a fabulous and fun-filled idea. Here are some points to help you out:
1. Antlers: A pair of cardstock or felt antlers attached to monitors or desk corners promises a unique aesthetic. For an elevated appearance, consider adding a touch of glitter to your antlers.
2. Red Nose: A small, red bauble can be attached to the most prominent part of the desk, symbolizing Rudolph's iconic red nose. Stick it to your computer, pen holder, or even a desk lamp for a playful twist.
3. Accessories: Draping a faux fur blanket over a chair can mimic Rudolph's coat, while a pair of googly eyes affixed to a desk lamp gives life to your creation.
Remember, it's all about sparking a sense of fun and invoking the holiday spirit in your workspace. So let your imagination fly and spread some reindeer magic around the office.
Holiday Balloon Art Display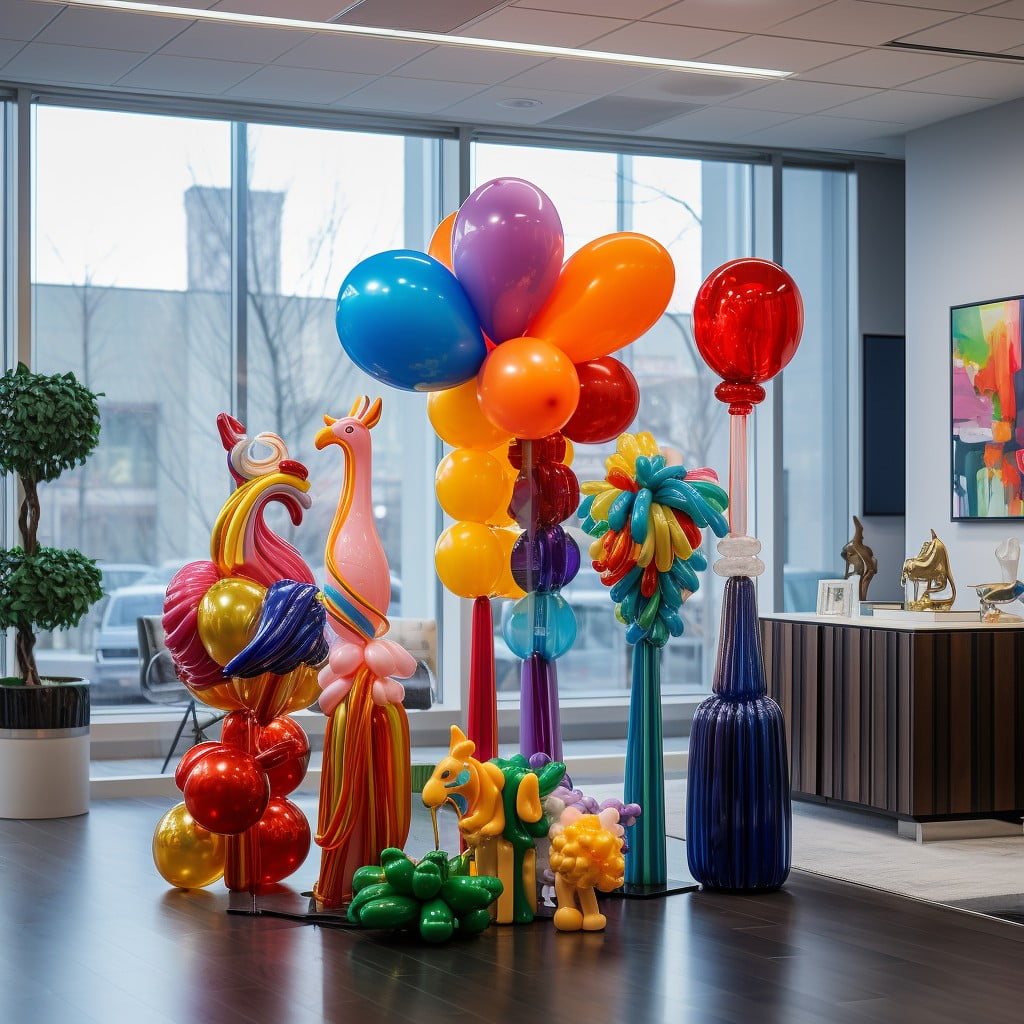 Creating a visually appealing holiday balloon art display can be an exciting way to engage your coworkers and instill a sense of festivity and creativity. Consider the types of balloons best suited for this. Foil or Mylar balloons in holiday shapes, such as stars, Christmas trees, or snowflakes, can be used effectively to create a striking, 3D mural. Through arranging these on a central wall or periodically throughout the office, it can result in creating an engaging and interactive environment.
For the actual design, opt for favorite festive scenes. These can range from a Santa's sleigh soaring across the night sky to a peaceful, snow-covered village, or even a playful snowball fight! Encourage team members to participate by contributing their own balloon art pieces to the display.
Another creative idea can involve crafting individual holiday symbols with twist balloons. This engages the imaginative power and skill in the team. Balloon candy canes, reindeer, or globes are examples that can serve dual purpose adding to the overall visual appeal.
To keep the thrill ongoing, hosting a small contest where the best balloon art piece is awarded can be considered. This friendly competition can spur more interest and involvement.
Always ensure to maintain safe practices while using balloons: make sure sharp objects are avoided, and remember that latex balloons present a choking hazard, so keep them away from young children who may be visiting the office.
Paper Snowflake Window Decorations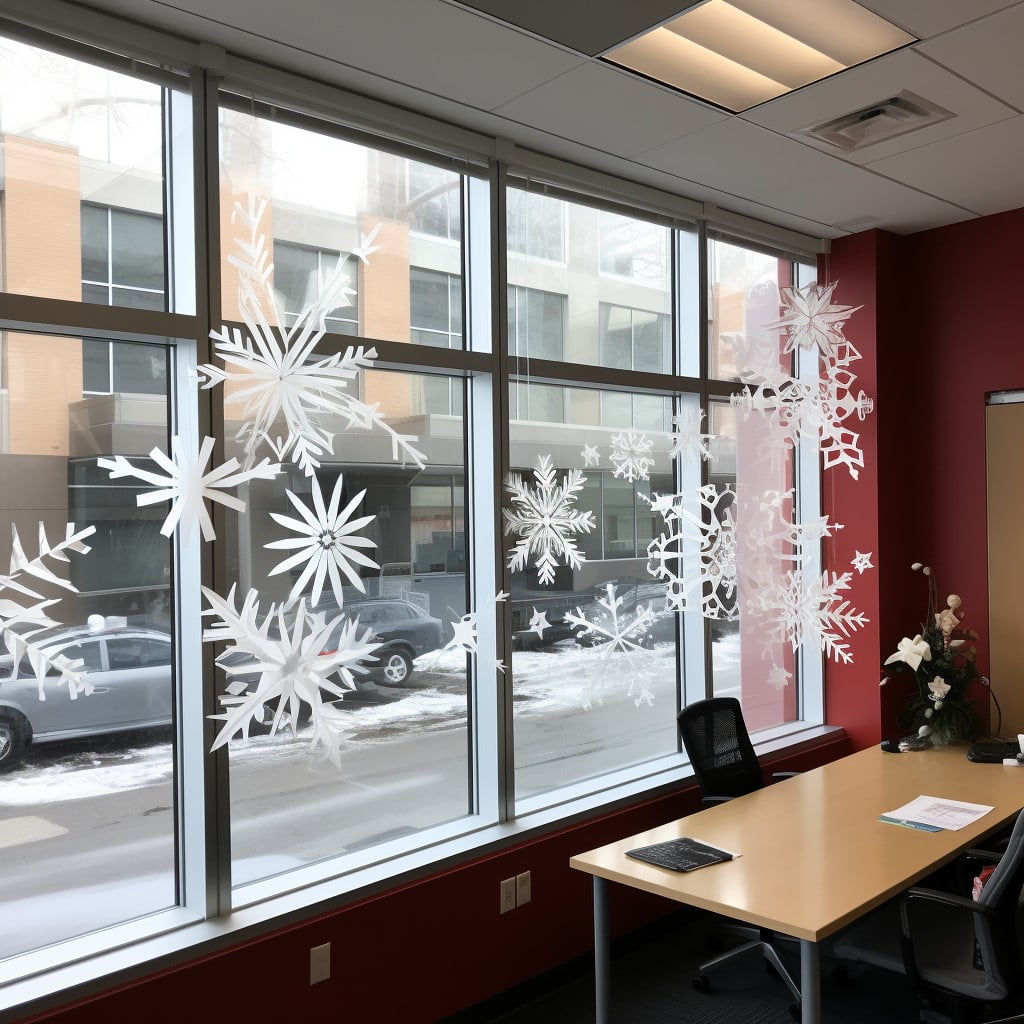 Crafting paper snowflakes provides a fun, cost-effective way to add a festive touch to office windows. A variety of patterns can yield intricate, sophisticated designs or simple, equally charming visuals. Involving everyone in the fun lends a team-building opportunity while enhancing the office's holiday spirit.
1. Choose different types of paper: Thick white paper gives the snowflakes a crystalline structure, while vellum paper offers transparency ideal for window decor.
2. Use various sizes: Mix small, medium, and large snowflakes for more visual interest.
3. Experiment with patterns: Search online for printable templates or make original designs. The more intricate, the more captivating the end result.
4. Arrange creatively: Rather than sticking them randomly, plan an engaging design on windows like snow flurry or a snowflake garland.
5. Add sparkle: Dab the edges with glue, sprinkle with some glitter, and watch your snowflakes shimmer!
Remember, each snowflake is unique in nature, and yours can be too!
Decorate Office With Homemade Ornaments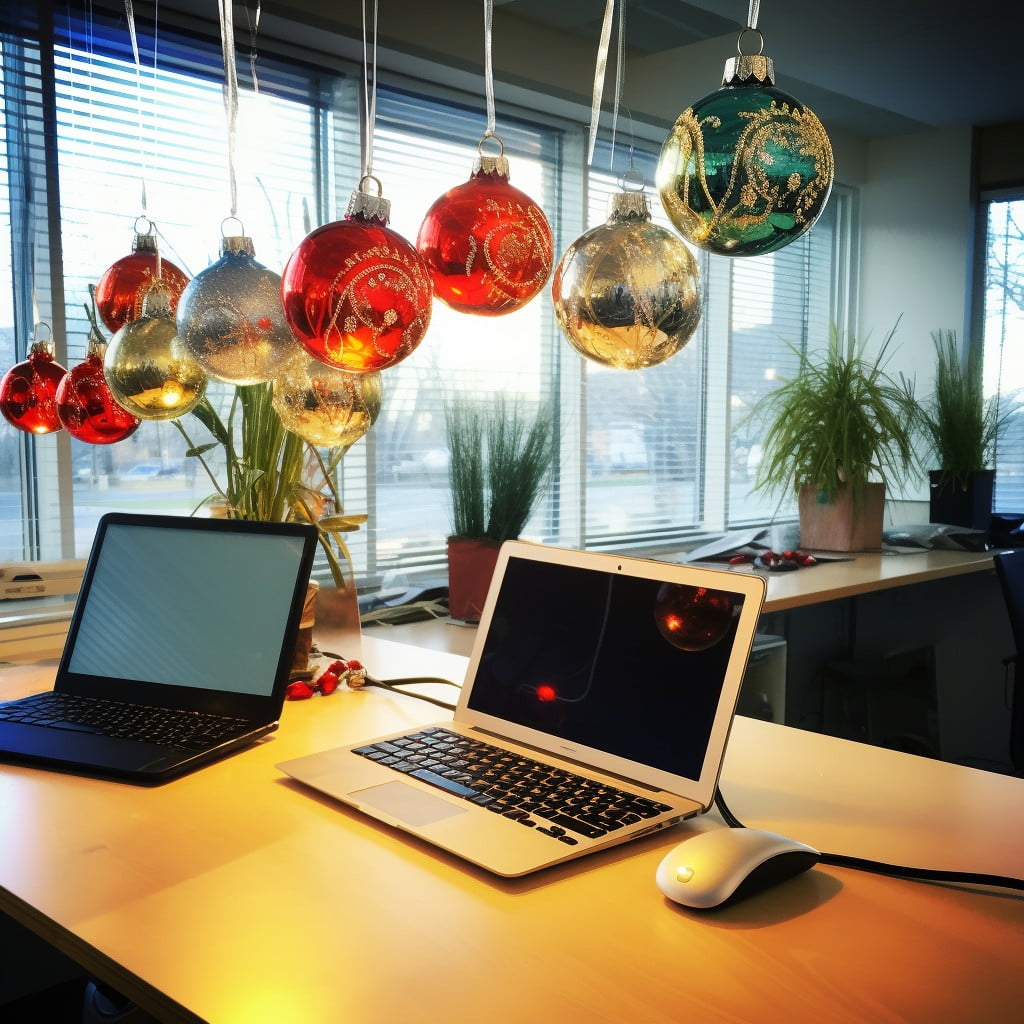 Adding a personal touch to your office space can make the holiday season even more meaningful. Homemade ornaments are an excellent way to engage employees creatively.
Here are a few points to consider:
Organize a crafting session: This not only allows the creation of unique ornaments, but also fosters bonding among colleagues.
Supplies: Gather simple materials such as colored paper, glitter, ribbons, and glue. You could also provide materials like old CDs, buttons, and fabric scraps for an eco-friendly option.
Encourage individuality: Each team member's unique ornament contributes to a true reflection of organizational diversity.
Showcase your work: Hanging these handmade embellishments on a central Christmas tree or stringing them across the office space can create a beautiful display.
Keep it optional: While many may relish this artistic break, others might prefer to focus on their work. Respect everyone's choice.
Limit the mess: Ensure crafting areas have easy clean-up methods to avoid wholesale disruption.
Remember, the goal isn't perfection. It's about fostering holiday spirit and camaraderie through creativity.
Interactive Advent Calendar Wall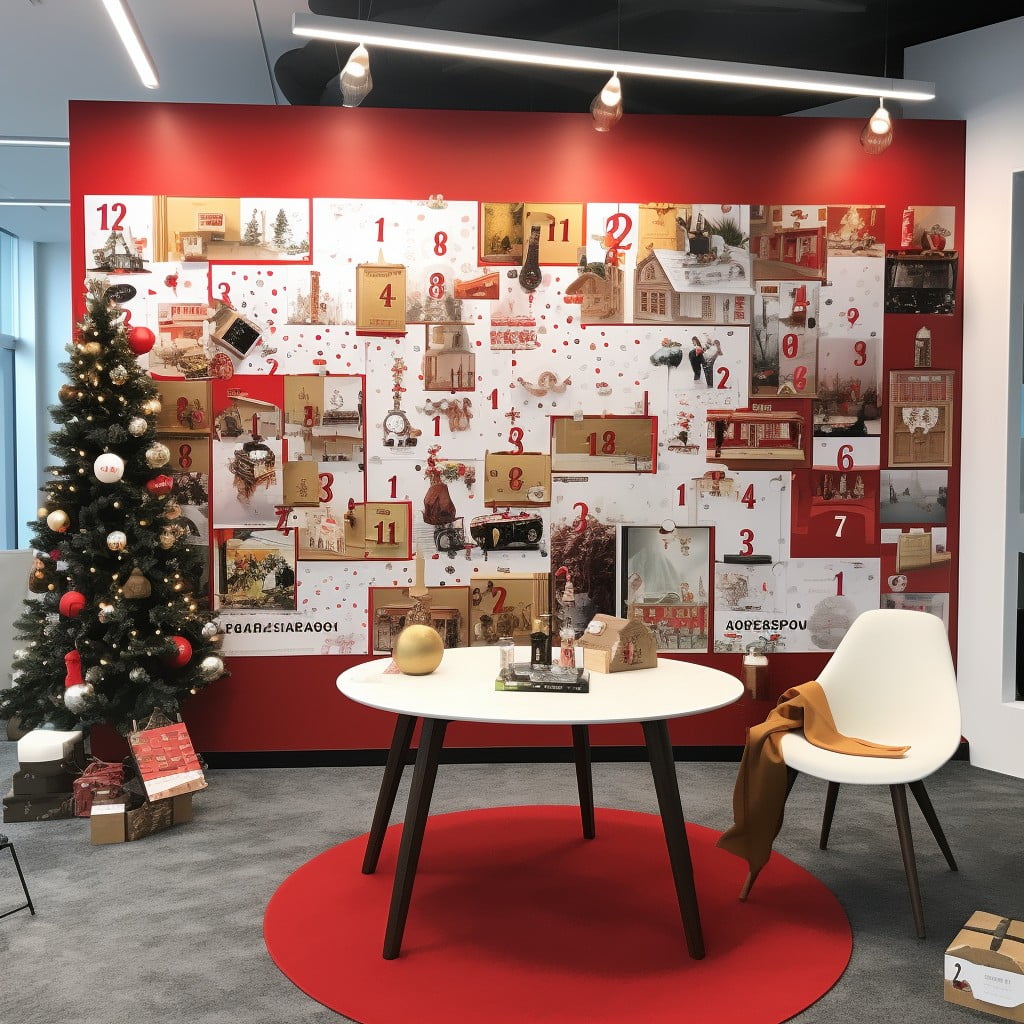 Adding a dash of seasonal allure, an interactive advent calendar wall makes December in the office both enticing and fun. It prompts every employee to mark the days leading up to Christmas through little tasks or rewards hidden behind each calendar date.
For starters, select a spacious wall within a common area that can serve as your advent calendar backdrop. The calendar can either be purchased or handcrafted using sturdy cardboard and traditional holiday hues.
Each 'day' of the calendar should conceal a small festive surprise. This could range from minced pies, holiday-themed puzzles, or a task designed to uplift the holiday spirit like decorating a personal workspace.
The key is to keep it interactive. Charging a colleague with the responsibility of revealing the day's surprise makes the experience more exciting and engaging. This strategy encourages daily office participation, keeping the Christmas spirit alive throughout the month.
Miniature Christmas Village Setup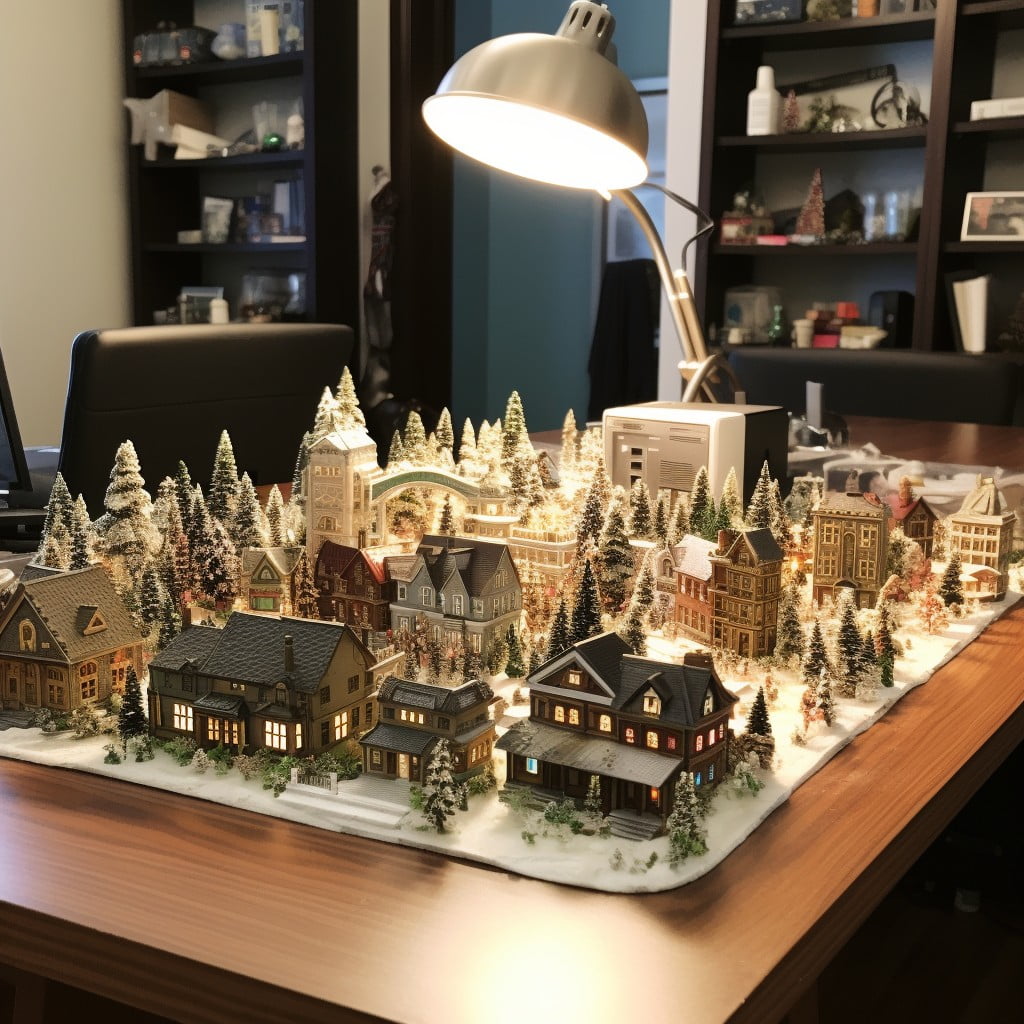 Creating a minuscule holiday hamlet within your office space can be an enchanting feat! Opt for different sized cardboard boxes, portray them as quaint little houses, and festoon them with tiny wreaths or Christmas lights.
Make sure to include signature village elements – a petite town square, a mini Christmas tree, and a diminutive train set circling around the township. Give it a snowy touch with white cotton or faux snow sprays for a more realistic appeal.
If possible, allot some time each day for employees to indulge in the village creation. Not only it adds to the holiday cheer, but also fosters a sense of community. Engage everyone by adding a fun touch – think of creating storied scenes or amusing tableaus with miniature figurines.
Hang fairy lights overhead to cast a soft glow over the village, making it look absolutely magical as the night falls. Standing a safe distance away, it's just like watching a real village celebrating Christmas in a winter wonderland!
Keep in mind, while the elaborate creation of a miniature Christmas village takes a bit of effort, it is definitely worth it as office or business place holiday décor. This helps to fructify the notion of collective festivity and goodwill among all involved.
Candy Cane Lane Themed Aisle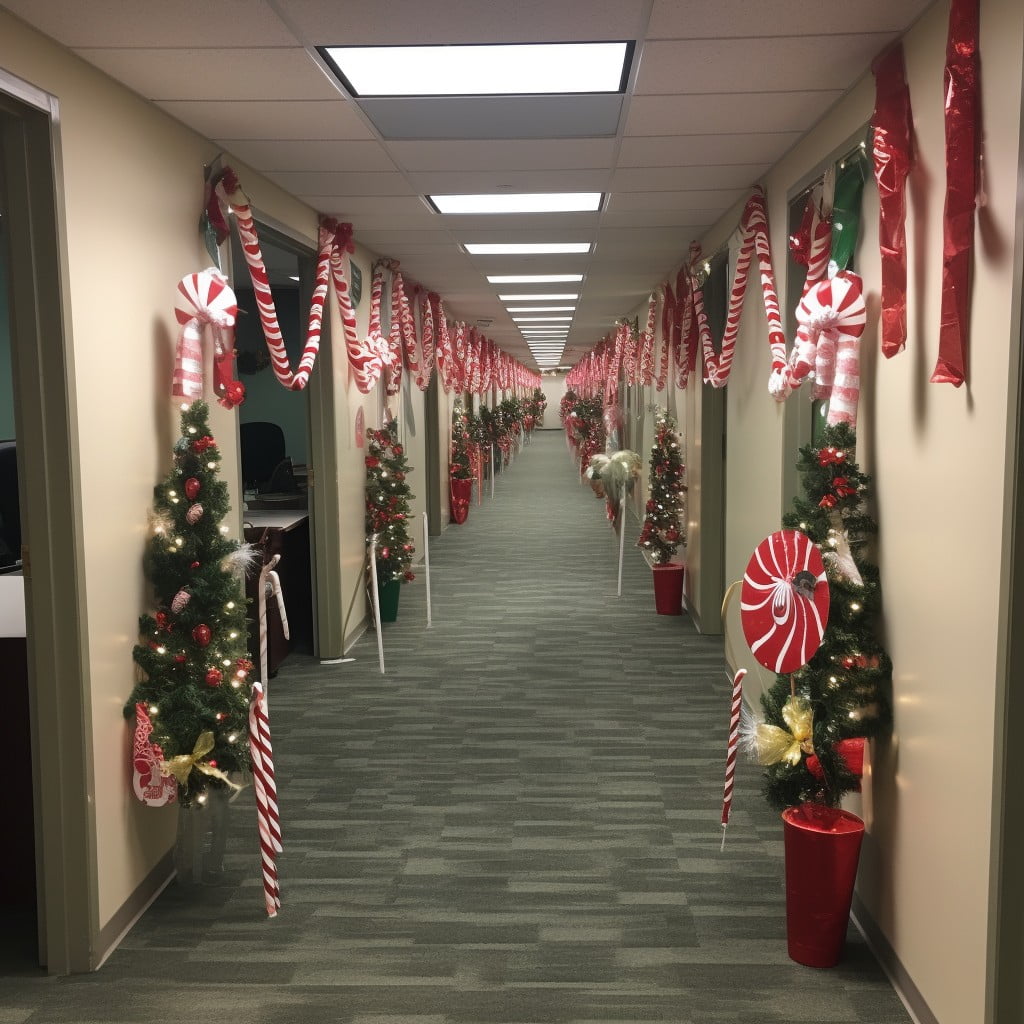 To transform your office aisle into a festive spectacle, consider decking it out to resemble a classic Candy Cane Lane. First and foremost, create a palette of striking red and white striping, mirroring the iconic candy. Utilize color coordinated materials such as ribbons, balloons, and paper streamers for an easy setup.
Red and white bows or colored fairy lights strung along the aisle can further enhance the candy cane illusion. Life-sized foam or inflatable candy canes, if budget allows, can line the aisle, giving the office a whimsy touch. Make sure to balance the dramatic elements in a tasteful manner not to overwhelm the working environment.
For a more interactive element, fill jars with actual candy canes or peppermint candies. Place them strategically for staff and visitors to enjoy. The simple act of handing out real candy canes can bring an authentic touch, allowing the office space to fully embrace the theme.
Finally, to personalize the theme, team members could be encouraged to bring wrapped gifts in coordinating colors. They can place them along the aisle under senior leadership's discretion. This not only fosters a sense of teamwork, but adds a unique touch to your Candy Cane Lane themed aisle – a visual treat to all.
Office Fireplace Stocking Display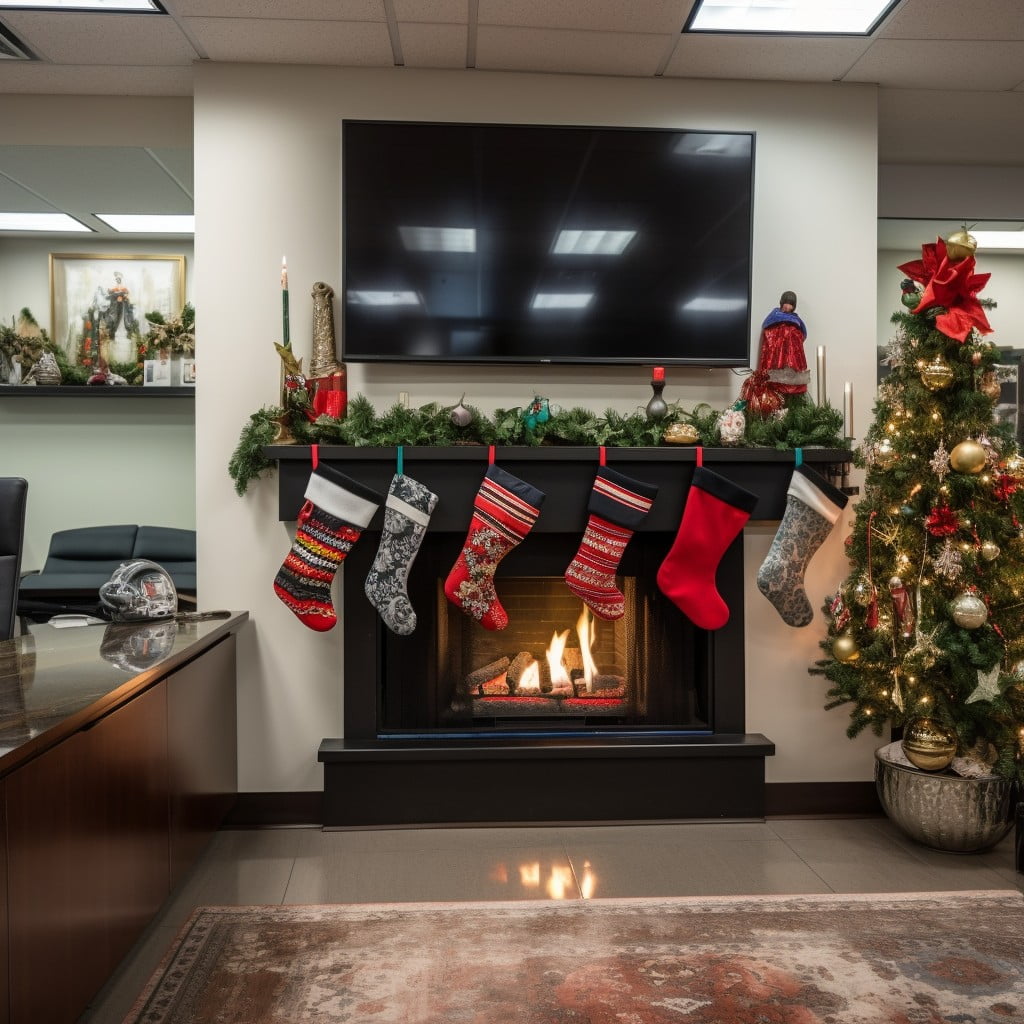 Creating a charming hearth-like ambience with stockings is a festive idea that instantly uplifts the office environment. Craft faux fireplaces from large cardboard boxes and paint them to perfection. This not only enhances the office's décor but also provides a cozier atmosphere during the chilly season.
Add hooks or clips on the mantle created for employees to hang personalized stockings. Encourage individuals to design their stockings using craft supplies for extra fun and creativity. This also initiates a friendly competition for the most beautifully decorated stocking.
Introducing small, office-appropriate gifts or handwritten notes in the stockings will infuse a sense of camaraderie and holiday cheer amongst the squad. If permitted, a small electric fireplace can elevate the ambiance significantly.
Remember to not obstruct any walkways or fire exits while placing the fireplace structure. Safety should always be the first priority amidst all the holiday fun.
Christmas Movie Scene Recreation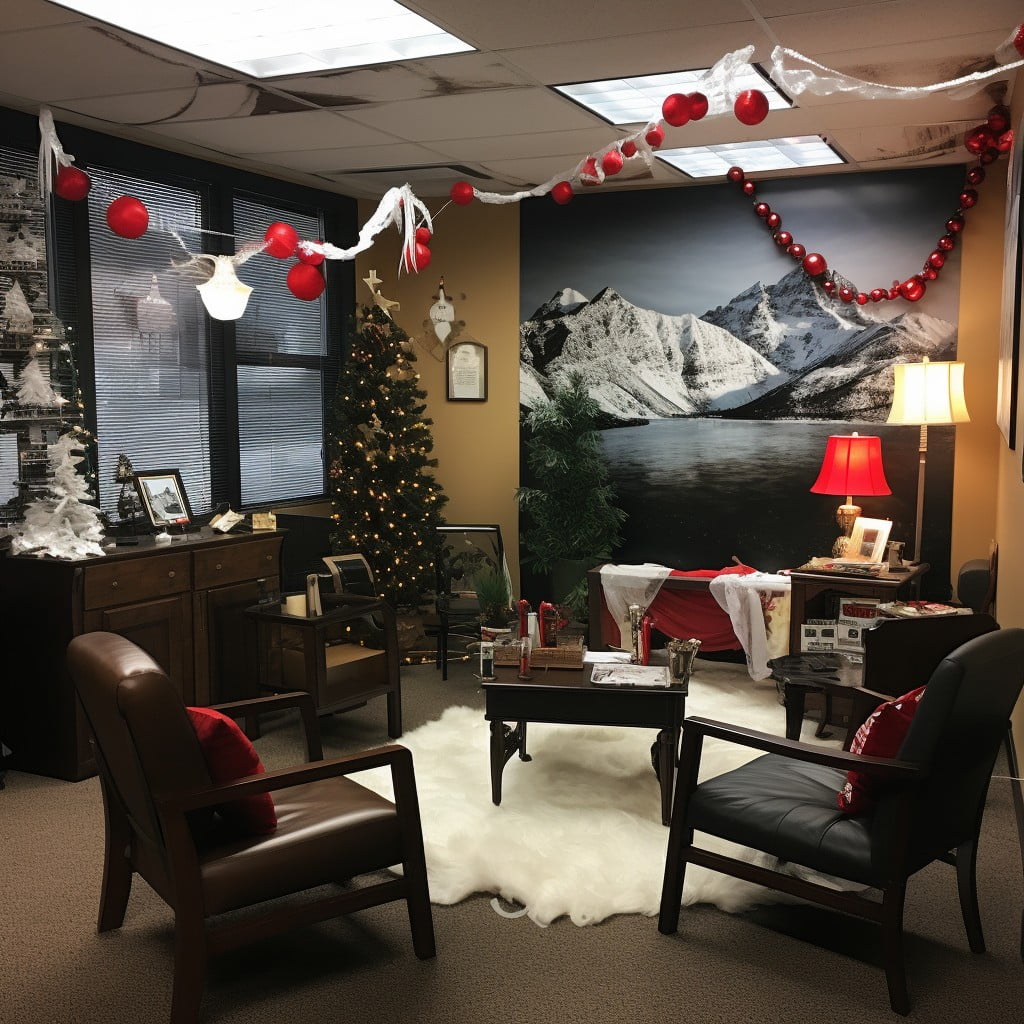 Drawing inspiration from your favorite holiday blockbusters can add an element of nostalgia and fun to the office setting. Choose a scene or feature from a classic movie that the whole team can relate to and will bring a smile to everyone's faces.
1. Plan collectively with your team to decide which movie scene to recreate. Engaging everyone ensures unity and a rainbow of ideas.
2. It isn't necessary to replicate the scene precisely. You can also just borrow some elements and creatively incorporate them into your office space.
3. Employ cardboard cutouts, posters, and props, for larger visual elements.
4. Don't forget the finer details. Small touches, like a famous quote from the movie written on a whiteboard or the reception desk, can help bring your cinematic theme to life.
5. Encourage coworkers to participate by dressing like the characters or acting out parts of the scene for added fun and interaction!
Keep in mind the idea is to make your office space more festive while inviting teamwork and boosting morale. It's an exercise in creativity, so think outside the box and aim to make the season merrier!
Holiday Window Paintings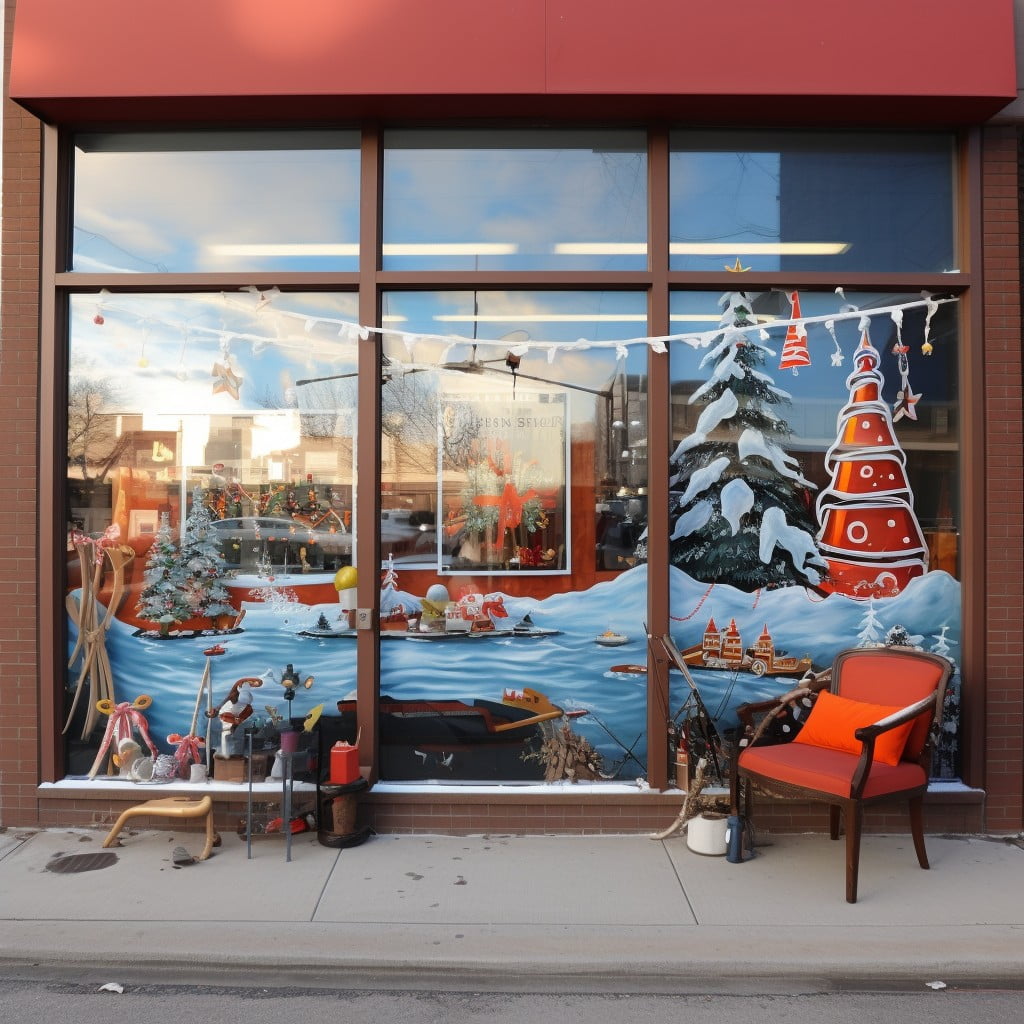 Lending a festive spirit to the office exterior is simple with a dash of creativity and a few strokes of paint. Begin by sourcing non-permanent, window-safe paint – typically, acrylic or tempera works well. Make sure to include shimmering shades of silver, gold and of course, traditional reds and greens for that instant holiday feel.
Next, gather a team to brainstorm designs. These might range from simple, such as snowflakes and wreaths, or more intricate – a festive cityscape, holiday greeting or reindeer motifs are solid choices.
Once your draft is complete, it's time to bring your window art to life. Map out the design lightly with a chalk or a washable marker before filling in with paint. Smaller details can be added with paintbrushes while larger areas can be tackled with sponges for a dynamic texture. Remember to paint in daylight hours to ensure that each detail is clear and visible.
Onlookers and employees alike will appreciate the transformation, thus making this an excellent team-building exercise. In case of several windows, consider making it a competition among different departments or teams, with a small award for the best design. The result – a vibrant, unique holiday celebration right at the workplace.
Recycled Material Christmas Art Contest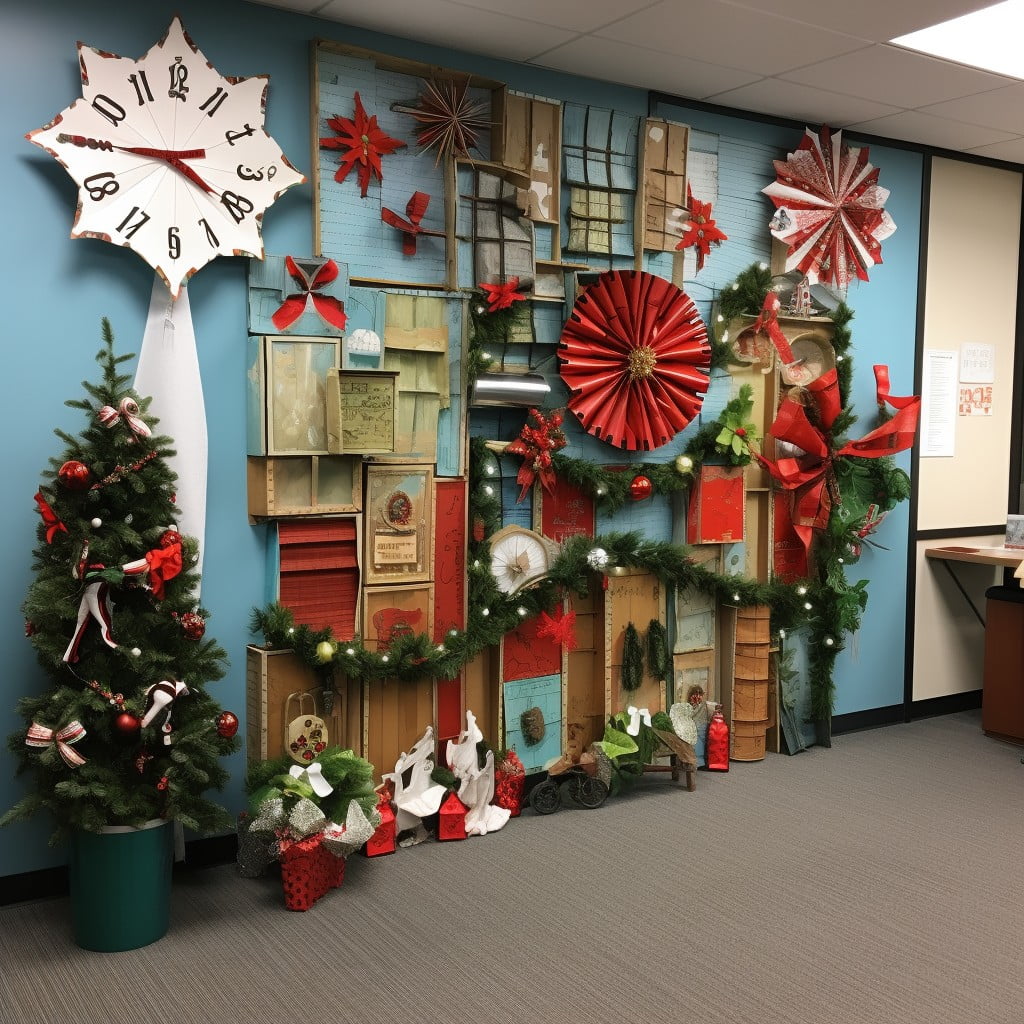 Creating a piece of art using recycled materials is an innovative and environmentally friendly twist on traditional decorating. This contest might encourage team creativity and sustainability.
Here are a few starting points to take into consideration:
Encourage employees to collect and bring in materials such as old newspapers, cardboard boxes, plastic bottles, and more.
Prioritize use of green or red material to align with the holiday theme.
Decide whether you'll allow paints and other coloring tools to embellish the recycled pieces.
Set up a display area to showcase all finished artworks.
Have a voting system in place where everyone in the office gets to cast a vote for their favorite piece.
Incentivize participation with a prize or recognition for the winner.
Remember, the key here isn't just about crafting outstanding decorative pieces, it's also about indulging in a fun, creative process while promoting environmental awareness.
Liked reading this? Here's more:
Recap: