Last updated on November 23, 2023
Transform your home into a winter wonderland this season because these unique decoration ideas, outlined in the text below, showcase how to effortlessly incorporate the splendor of snowy landscapes indoors.
I am proud to share with you these 20 Winter Wonderland Decoration Ideas — all uniquely designed by me — and hope they inspire you as much as they did me during their creation.
Transform your home into a magical winter wonderland with the right decorations. This article will guide you through a myriad of ideas, from sparkling lights and frosted ornaments to cozy throws and rustic accents.
Whether you're decorating for the holiday season or simply love the serene beauty of a winter landscape, these tips and tricks will help you create an enchanting space.
Stick around to uncover all the details needed to bring your winter wonderland to life.
Snowflake-shaped String Lights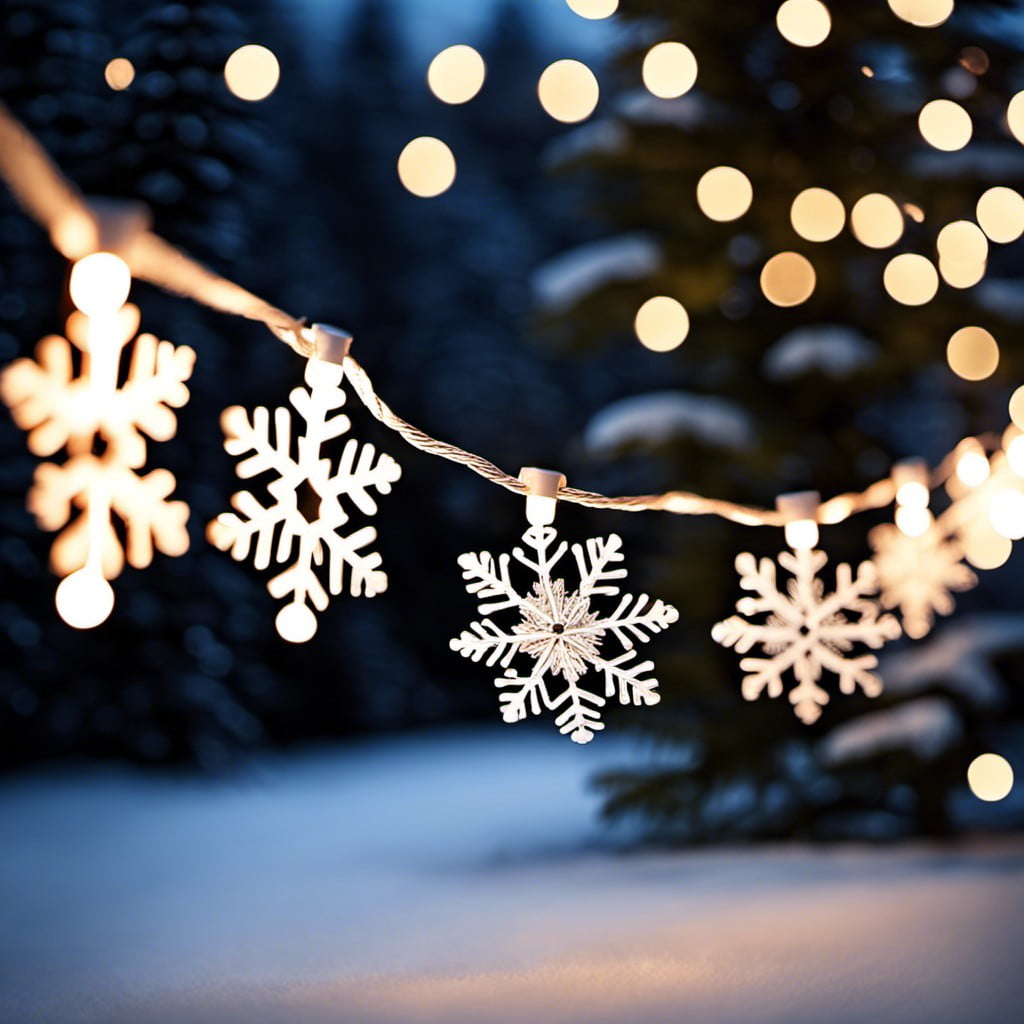 These enchanting decorations radiate a soft, undulating light that serves to enhance the winter atmosphere. When draped over windows, mantels, or even doorways, they instantly add a delightful touch of winter serenity.
They are affordable, readily available in various designs and sizes, and offer the option of twinkling or steady light settings. Pair them with translucent white curtains to achieve an illusion of falling snow indoors.
The spell-binding effect they create, especially during the night, beautifully sets the stage for a cozy wintertime gathering or a relaxing evening by the fireside. Furthermore, the setup requires minimal effort, thus allowing you to achieve a magical ambiance with ease.
White and Silver Wreath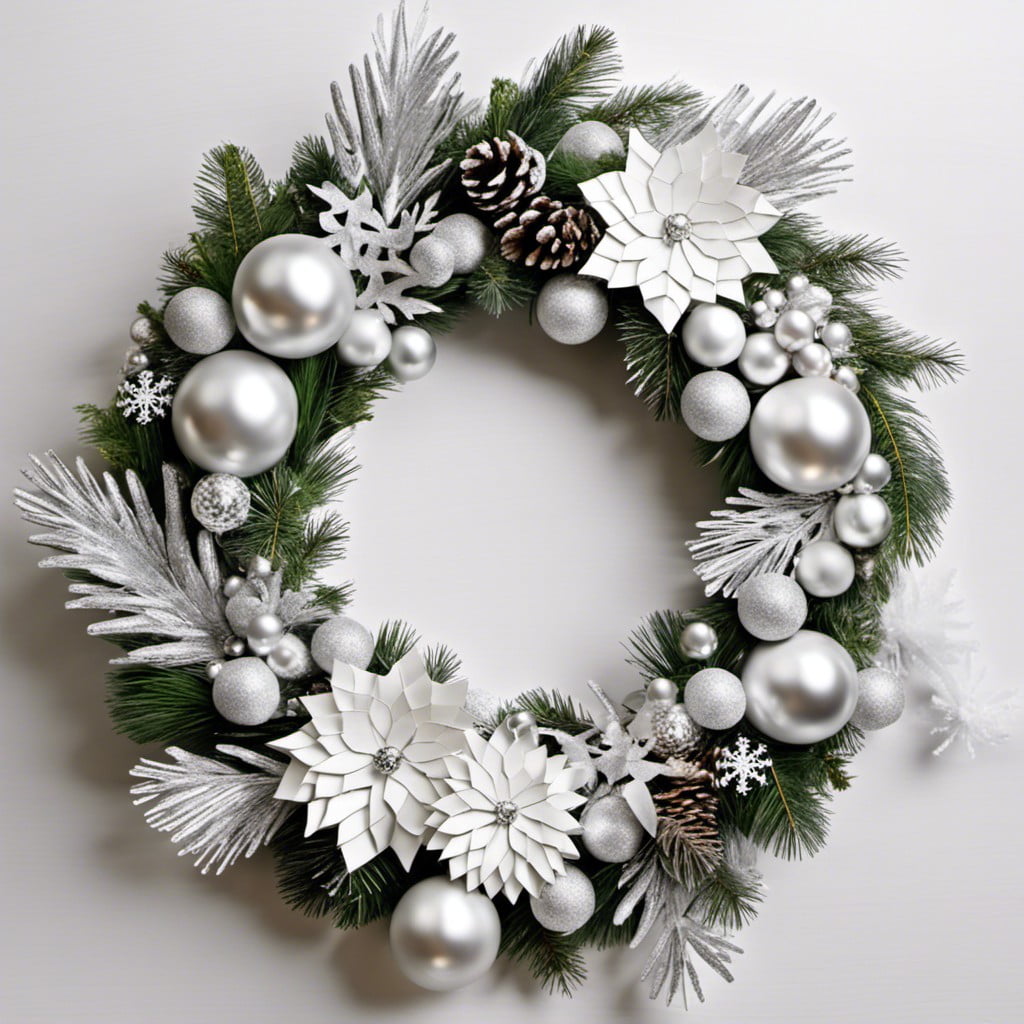 To nail this winter décor staple, mix silver baubles, stars, faux snow-covered pinecones, and white winterberries in a delicate balance on a frosted circular base.
Hang it on the front door or inside above the fireplace to create a focal point.
Remember, this wreath embodies the icy beauty of nature during winter, so maintain an ethereal simplicity by avoiding overly vibrant or busy designs.
The result should be a wreath that gracefully blends sophistication with frosty charm.
Maintain the color code as it plays a big part in sticking with the winter wonderland theme.
Frosted Pine Cone Display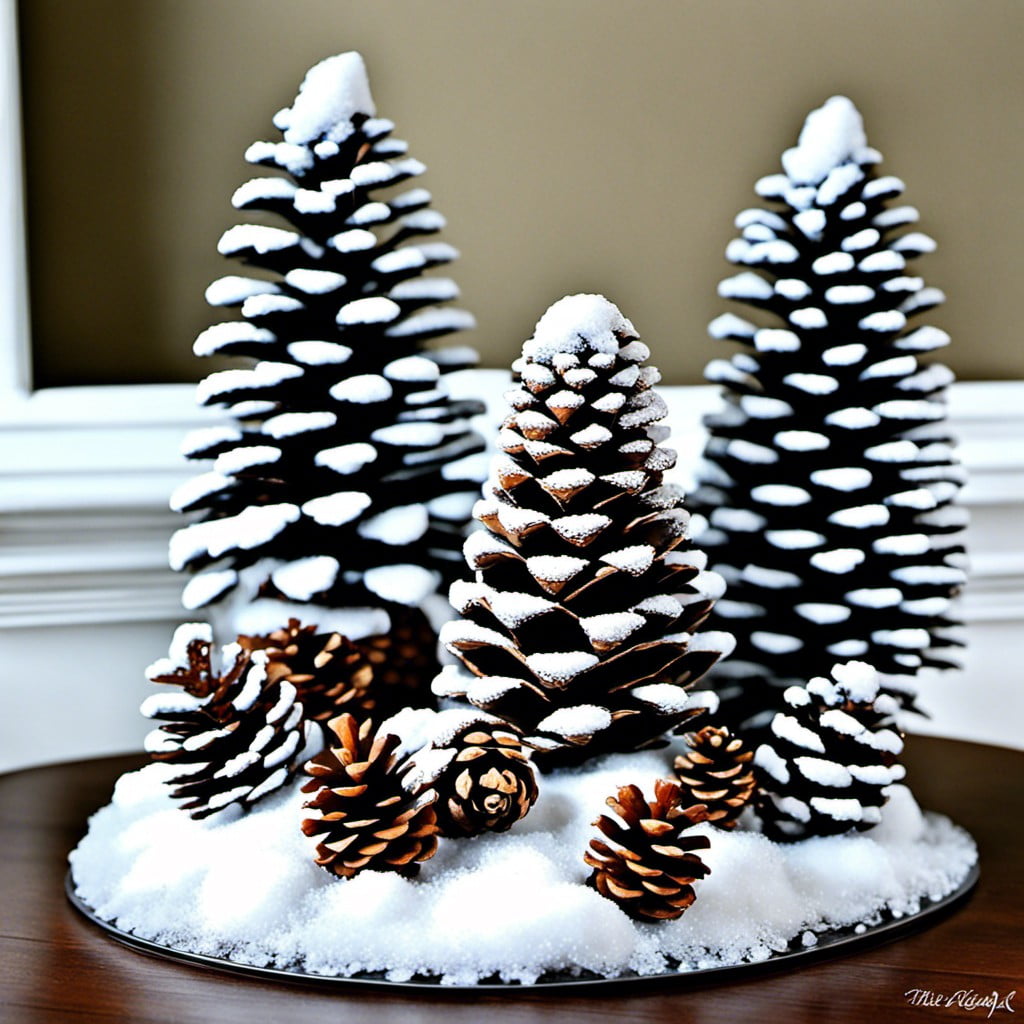 Creating this decorative element involves simply obtaining a few pine cones, which you could either pick up from your own yard or purchase from a craft store. Once you have them, apply a coat of clear craft glue and dust them with a layer of silver, gold or iridescent glitter. Give them a couple of hours to dry thoroughly.
Choosing a chic glass bowl or crystal tray as a display platform enhances the frosty, winter feel. Laying them out on a bed of faux snow or alongside white candles brings a serene, snowy landscape right into your home.
For an elevated look, pair these glistening pine cones with elements like white hydrangeas or snow-tipped pine branches! Adding fairy lights could lend a warm, softer glow to the display too. Easy to construct and full of festive cheer, these frosted pine cones can be a focal point of your winter decor.
Sparkling Icicle Garlands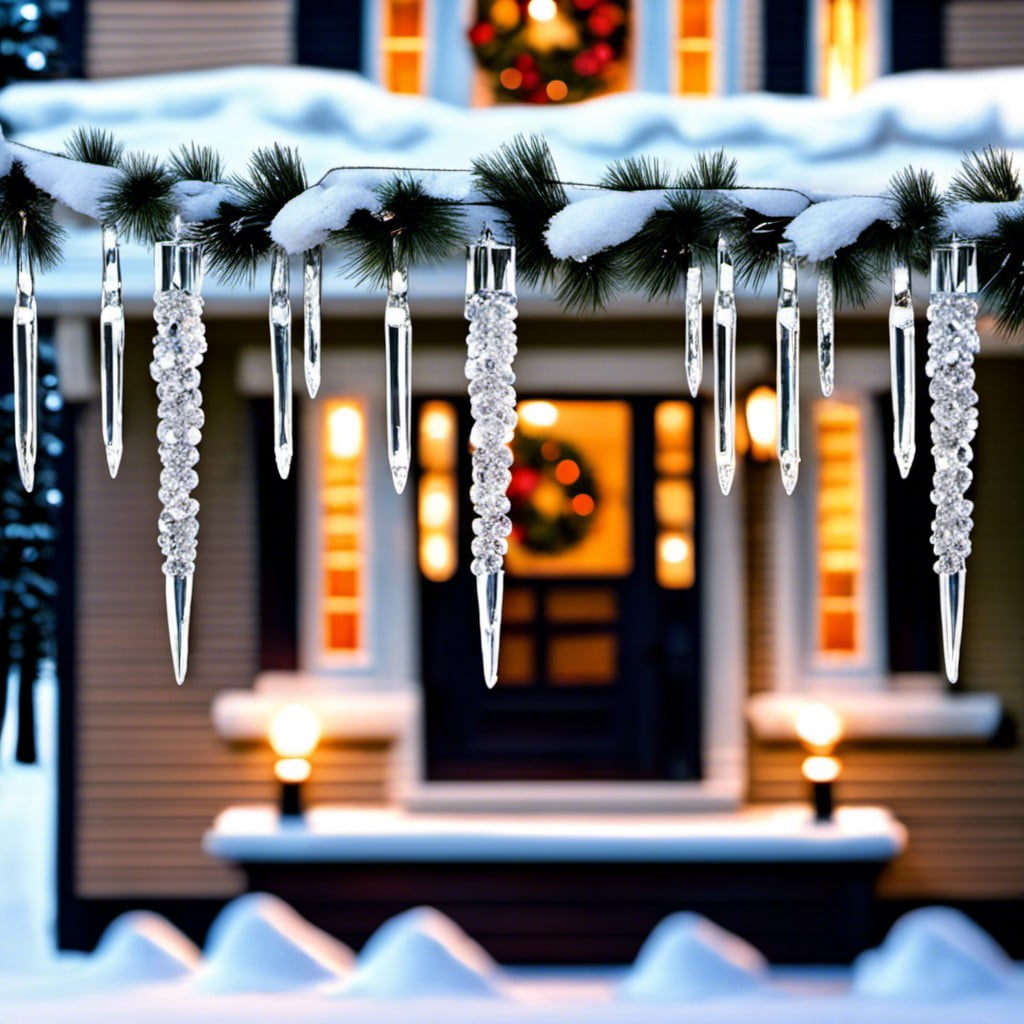 Featuring intricate shapes and an authentic icy look, these decorative pieces instantly bring the charm of a wintry forest into your home. Known for their versatile nature, icicle garlands can be incorporated into various aspects of your winter decoration:
1. On the Mantle: Utilize the length of the mantle to display the garland, allowing the "icicles" to shimmer in the fire's glow.
2. Across Window Sills: Adding the garland to the corners of a window or along the sill can create a beautiful frosty window effect.
3. Around the Christmas Tree: Twist the garland around the tree, mirroring the standard tinsel decoration approach, but with a wintery twist.
4. As Table Décor: Running the icicle garland down the center of a dining table adds an elegant and festive touch to holiday meals.
5. Over Door Frames: Framing doorways with this sparkling decoration enhances the home's overall wintery feel.
Ensuring careful placement of such garlands will capture the light, enhancing their shimmer, and ultimately adding to the overall "Winter Wonderland" effect.
Snow Globe Centerpieces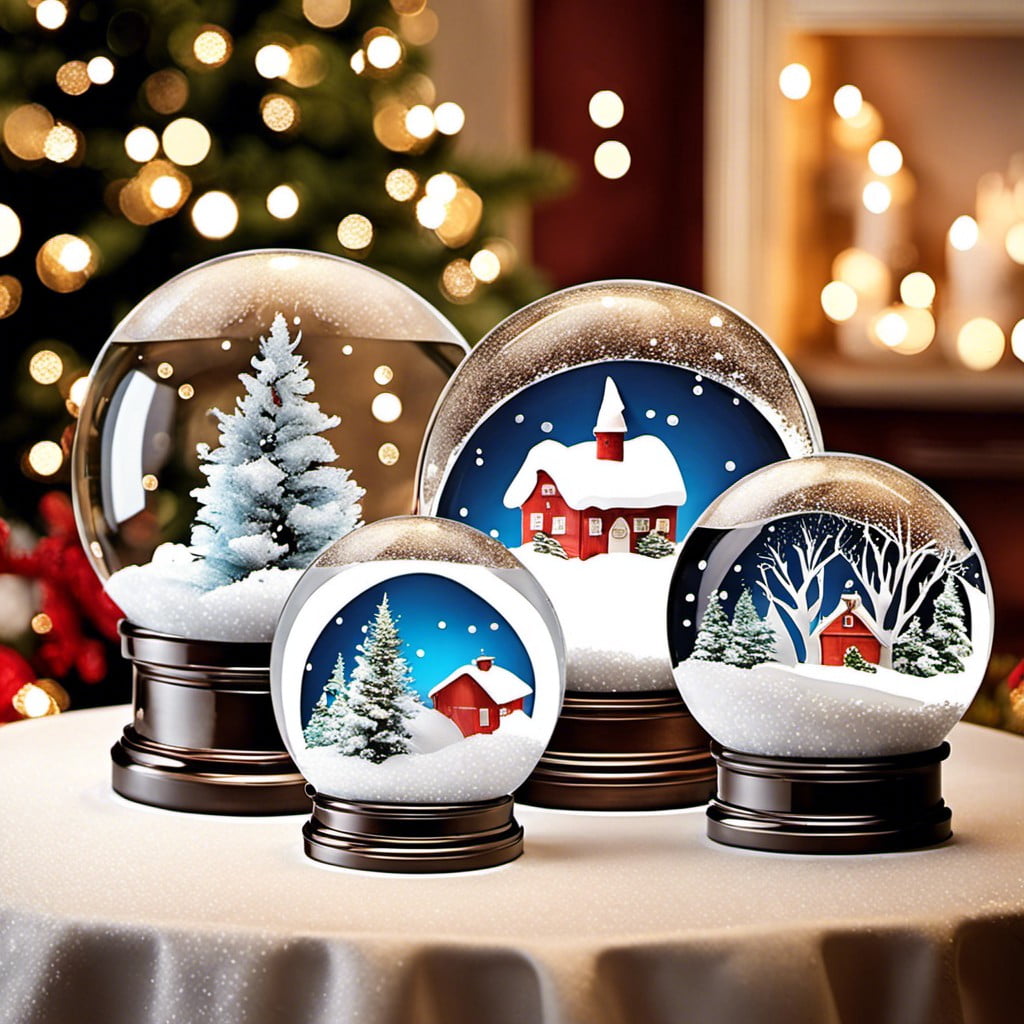 Creating a magical winter scene inside a globe has always been a delightful task. You can either opt for ready-made ones or go for a DIY approach.
1. Pick a jar: Mason jars make a great choice due to their wide opening and clear glass.
2. Choose a scene: Miniature trees, homes, or figurines can help create a picturesque snowy landscape.
3. Add 'snow': Craft glitter or artificial snowflakes embody a frosty atmosphere beautifully.
4. Attach with care: Secure your miniatures to the inside of the lid with epoxy glue for stability.
5. Assemble: Fill your jar, screw the lid on, and flip it over. Voila! A personalized centerpiece that captures the joy of a quiet winter's night.
Remember to handle carefully – these creations may be fragile. For a cohesive look, place several globes together to form a captivating centerpiece display on any table. Different jar sizes add visual appeal. Plus, they also make thoughtful homemade gifts for loved ones.
Snowman Figurines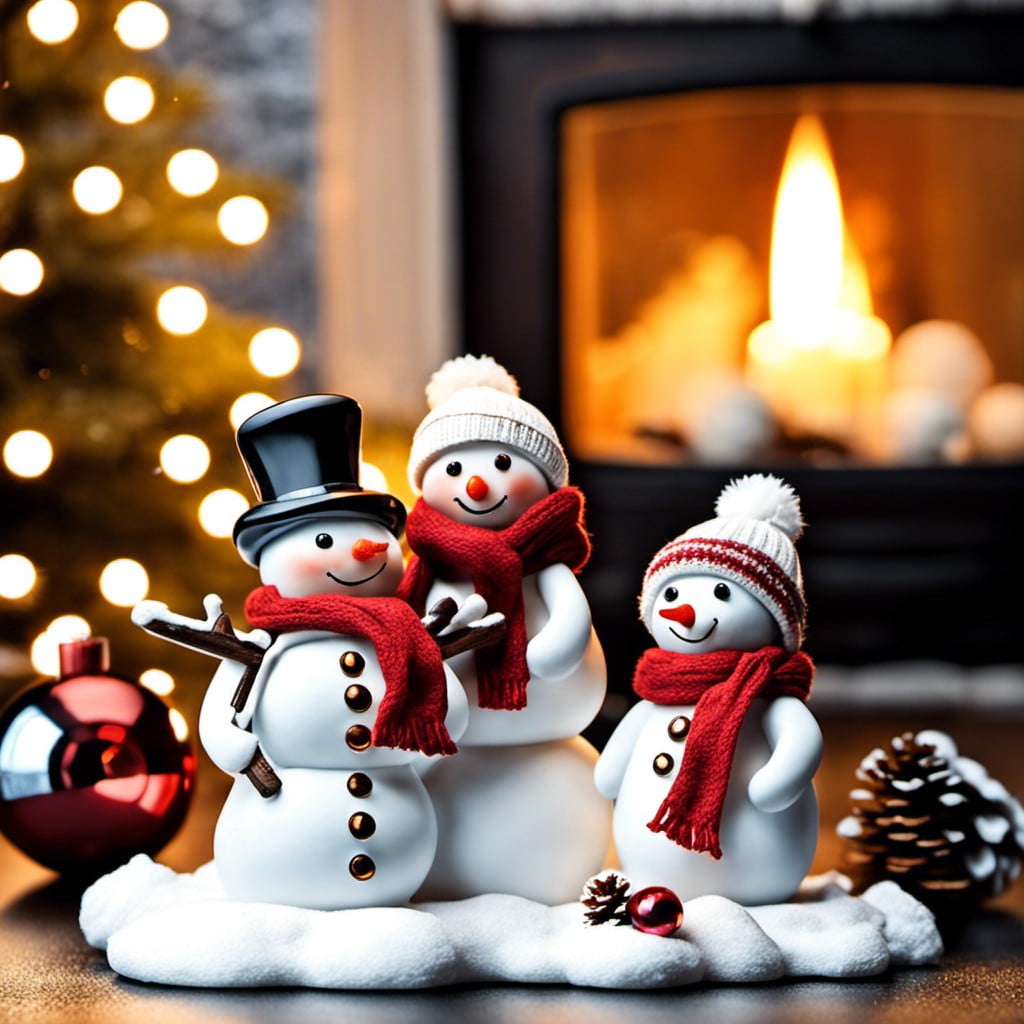 Smiling and whimsical, snowman figurines never fail to enthrall. They come in a wide range of variations – from tiny table pieces to larger-than-life size. In your winter wonderland, they can easily stand alone as a focal point or be incorporated into a more complex design scene.
For outdoor displays, opt for the larger sizes for maximum visibility. For indoor settings, a series of smaller figurines arranged thoughtfully can create a visually captivating display.
Remember, they don't have to be perfectly white. Distressed or vintage style snowmen add a unique charm. You can also select different materials like wood or porcelain to match your home's style and texture.
Don't forget about adding some LED snowman figurines to maximize impact during the night. Pendant or hanger figurines can also be a great addition to your holiday tree.
To add a personal touch, consider DIY snowman figurines – a fun and creative family activity during the holiday season. An array of snowmen adds a dose of cheer, truly embodying the spirit of a winter wonderland.
Faux Snow Table Runner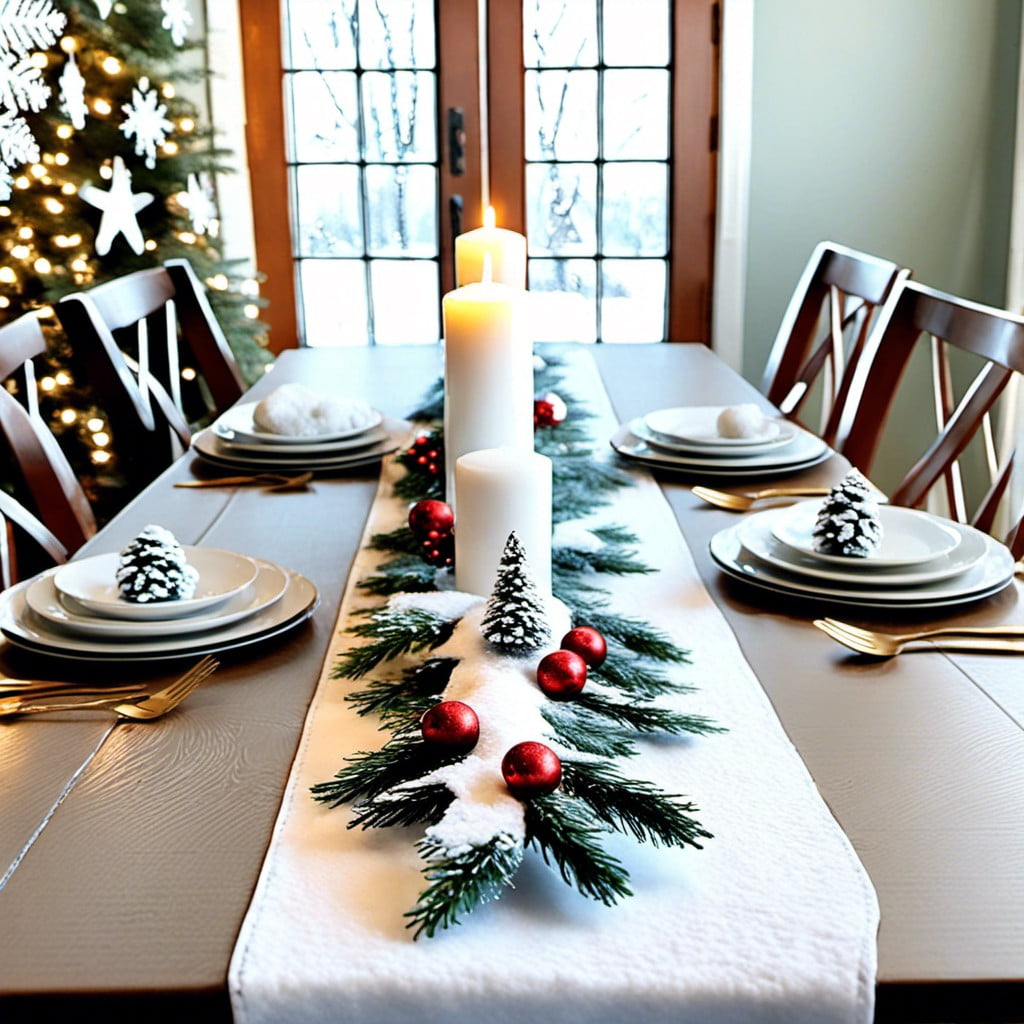 A faux snow table runner truly transforms your dining area into a winter wonderland. Made of soft, fluffy material resembling fresh, untouched snow, it forms an enchanting centerpiece running along your dining table.
Sprinkle some iridescent glitter on it to catch and reflect light, resembling the shimmer that real snow has under the sun. Combine it with winter-themed tableware, such as white plates and silver cutlery, and a few strategically placed sprigs of holly for a burst of Christmas color.
It's easy to care for – just a quick shake to remove food or spills, and it's ready for the next winter feast. Lastly, stored carefully, it can last for multiple seasons, making it a cost-effective choice for a high impact decoration.
Glittery Silver Candlesticks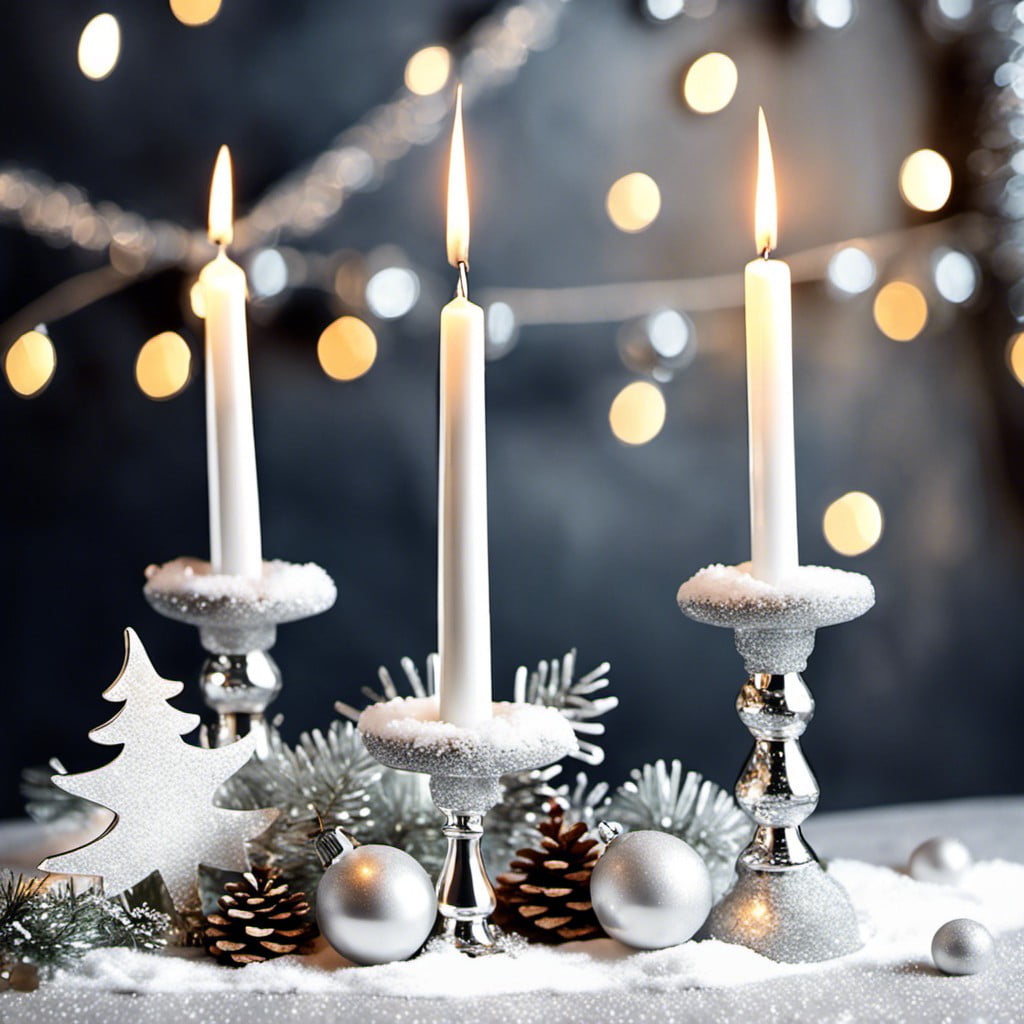 Amp up the charm of your winter home with these beautiful light sources. Elegant, festive, and effortlessly chic, glittery silver candlesticks are a must-have for your winter decoration. Place them on countertops, mantles, and dining tables to create a warm and cozy winter ambiance.
Here are some ways to incorporate them into your decor:
Pair up different sizes: Add variety to your decor by mixing and matching candlesticks of varying heights.
Use silver candles: Complete the look by using silver or white candles for that winter sparkle.
Group them together: Arranging a group of candlesticks together can create a dramatic and striking centerpiece.
Mix and match the styles: Blend classic and modern candlestick designs for an eclectic look.
Include in table setting: They're ideal for a festive dinner setting, exuding charm and elegance.
Keep safety in mind always. Extinguish candles before leaving the room or going to bed and keep them out of reach of children and pets. Included them in your winter wonderland decor to swiftly lift the aesthetics of any room.
White Fairy Light Curtains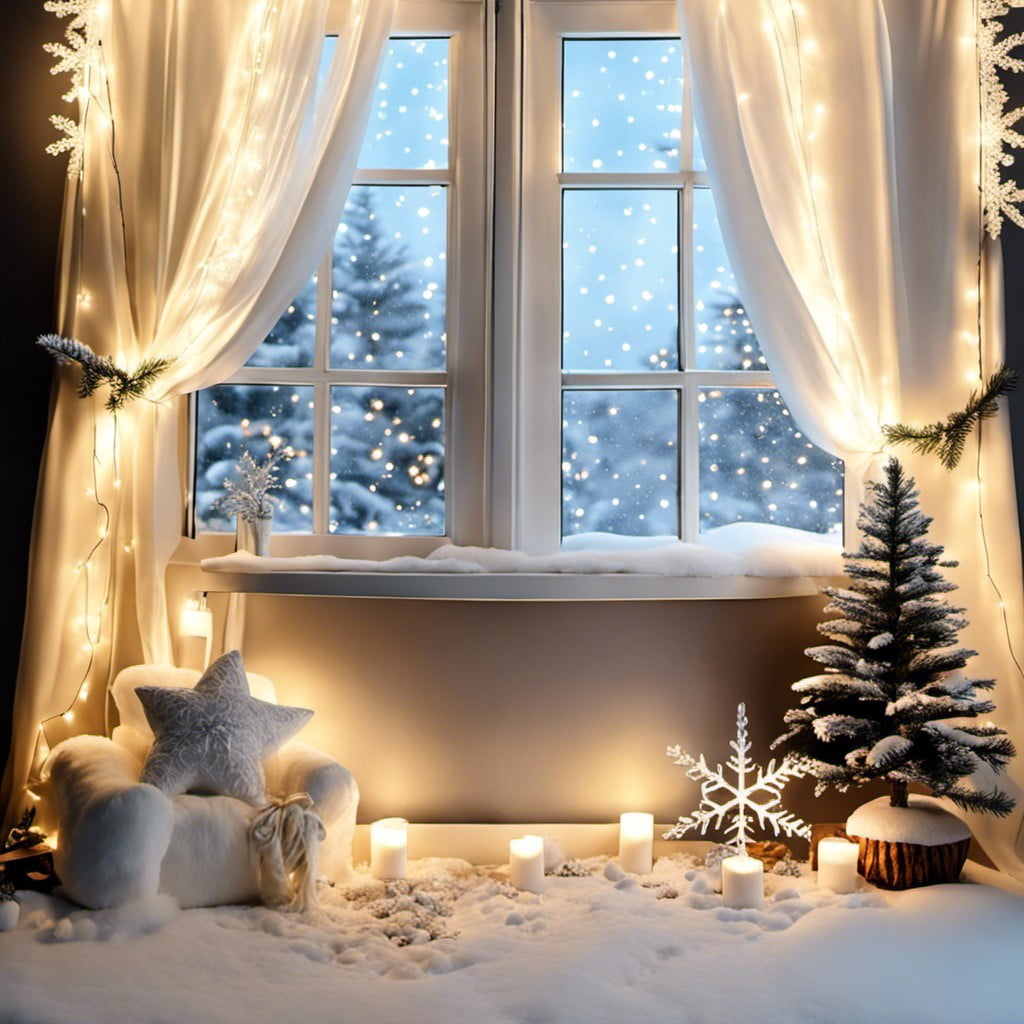 In weaving a winter wonderland, the addition of fairy lights takes center stage. Opt for those that drape like curtains, transforming an ordinary wall into a mesmerizing backdrop of tiny white stars.
Playing with the number of strands, their spacing, and drape can create anything from a soft glow to a busy twinkle. These lights offer an unmatched visual appeal, especially when dusk falls.
For an added level of warmth, consider pairing them with sheer white curtains. This not only diffuses the light to emit a heavenly radiance but also adds texture to the space.
Remember, safety first; always opt for LED lights, which not only use less power but are cooler to touch, thus reducing the risk of fire.
Winter-themed Throw Pillows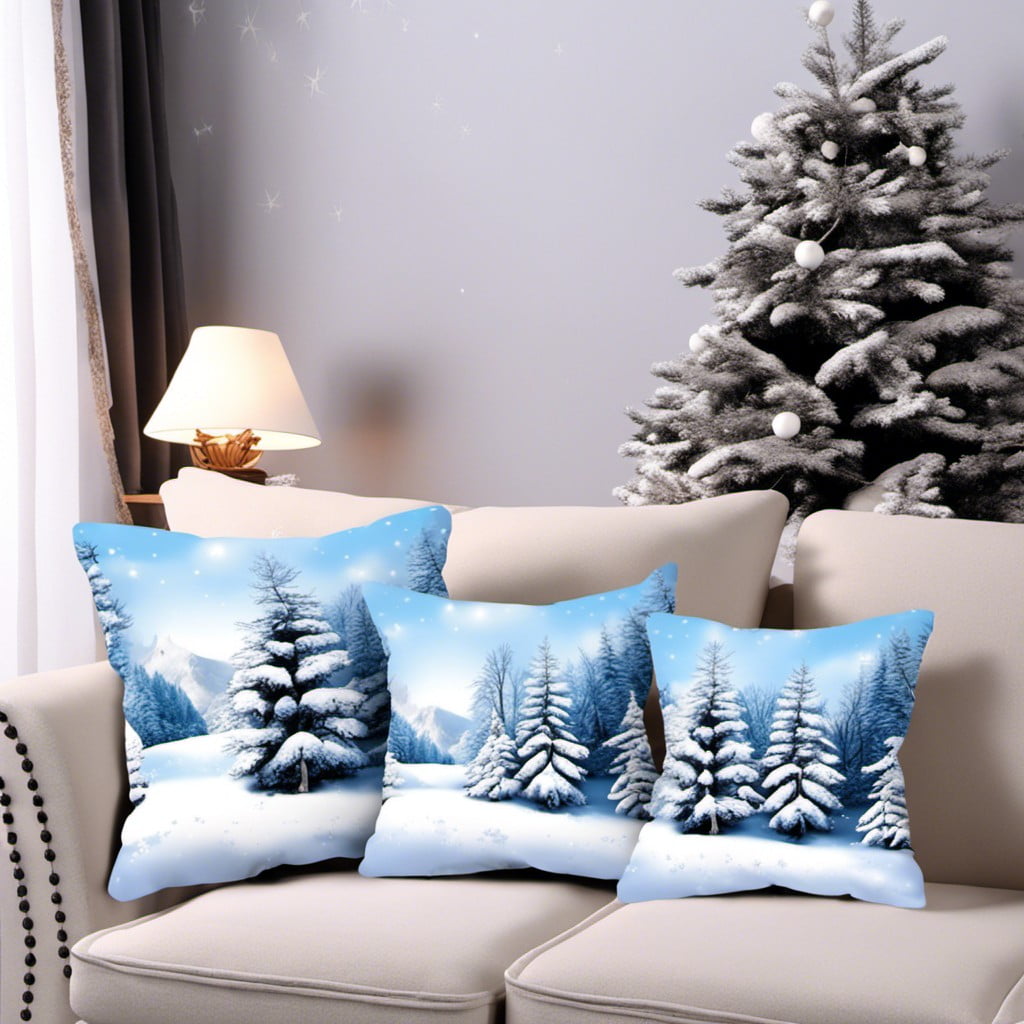 Enhance the cozy factor with a selection of wintry throw pillows. Go for ones in winter hues – icy blues, snowy whites, deep greens, and silvers. Consider designs like snowflakes, icicles, pine trees, or even your favorite winter animals like reindeer and polar bears.
Textured pillows, such as those made from faux fur or velvet, can also elevate the winter appeal effectively. Made for snuggling, these soft accessories will not only amplify comfort but also effortlessly infuse your space with seasonal charm.
Remember, a pillow doesn't always have to be a square — explore different shapes for a dynamic touch. Pick a variety that can be mixed and matched for visual interest. Add these to your sofa, armchairs, and even your bed, to create a cozy seasonal haven.
Icy Blue Ornaments for Christmas Tree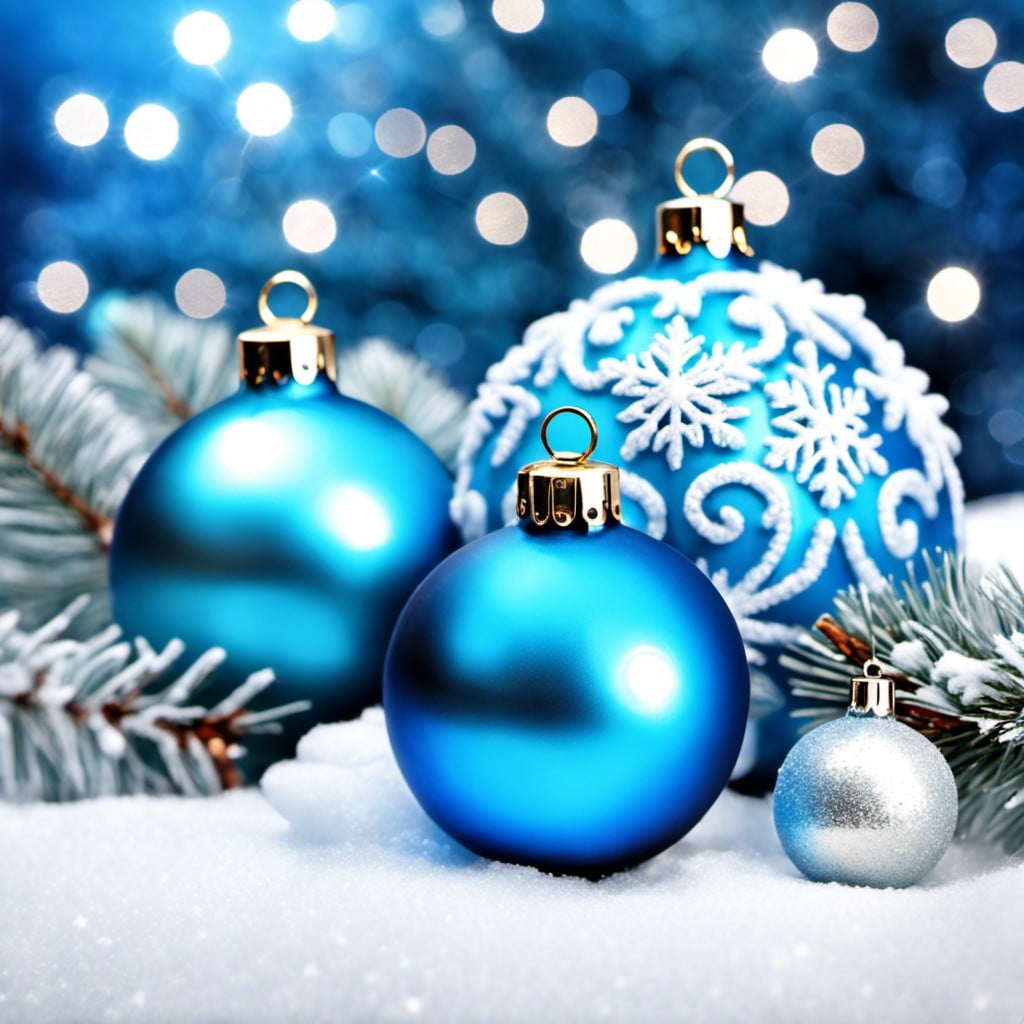 One cannot deny the magnetic allure of icy blue ornaments, especially when adorned on a lush Christmas tree. They effortlessly encapsulate the ethereal beauty of winter, providing a soothing and cool visual effect.
Here are a few points that explain the charm and utility of these ornaments:
1. Color Palette: The icy blue hue is a phenomenal choice for capturing the chilled essence of winter. Pair it with white, silver, or even a hint of gold to evoke a serene, frosty landscape.
2. Versatility: Contrary to popular belief, these ornaments aren't just for the holiday season. Their universal appeal allows them to double as winter decor long after the Christmas tree is taken down.
3. Variety: Icy blue ornaments come in different forms – baubles, ribbons, snowflake-shaped trinkets, and icicle drops, to name a few. From matte to glittery, there's a range to suit every preference.
4. Display Ideas: Consider gradating the icy blue ornaments from dark to light, creating an exciting visual narrative. Alternatively, combine them with clear crystal or glass ornaments to emulate the look of melting ice.
5. DIY Options: If you're feeling crafty, DIY options abound! Watercolor paint on clear glass balls, glitter glue on plastic snowflakes, or even hand-knit mini mittens dyed icy blue are great for a personalized touch.
Remember, the success of decor lies in its aesthetic balance. So ensure equal distribution of these icy blue ornaments around the tree, and complement them with other decor pieces to achieve a harmonious winter wonderland feel.
Birch Tree Branch Decor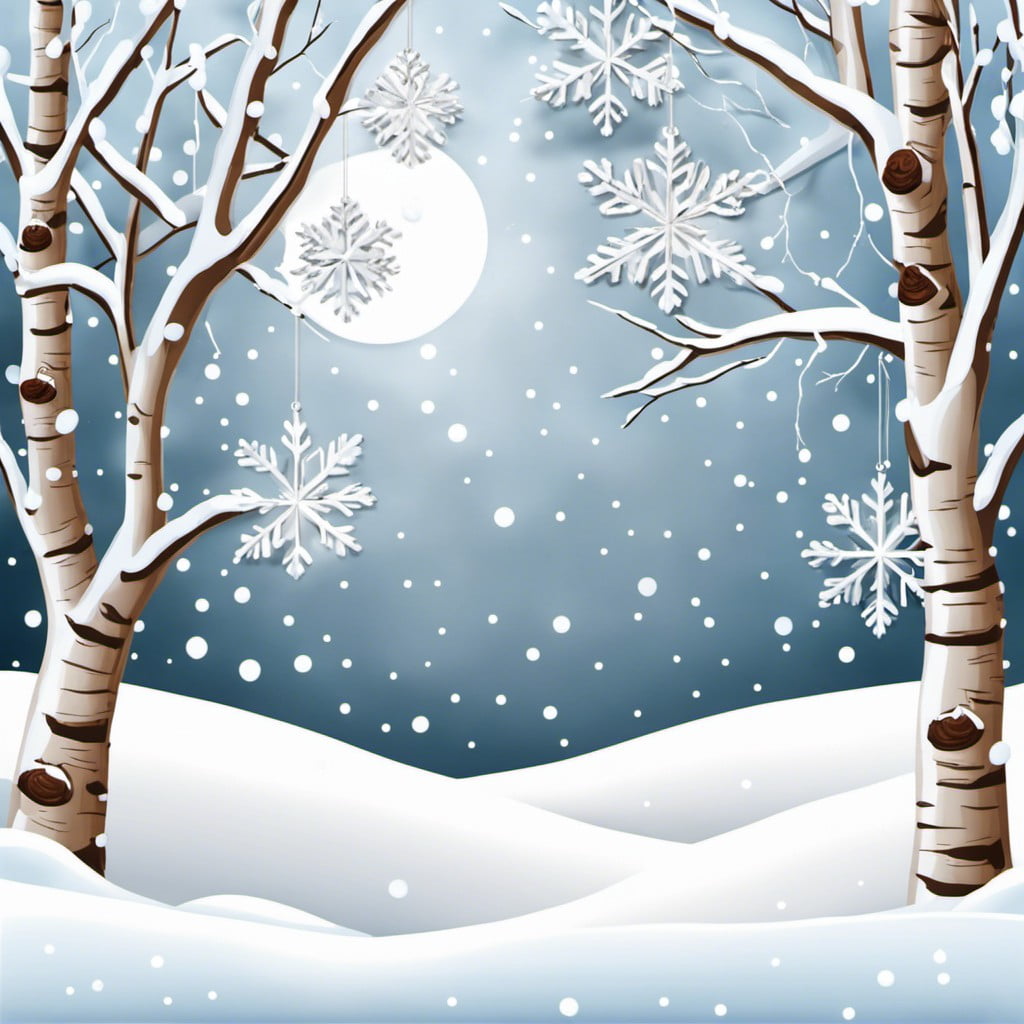 Sourcing branches is relatively simple: Visit a local park or your own backyard. In choosing, opt for a variety of lengths while ensuring they are thick enough to support light decorations such as mini LED lights or small hanging ornaments. Arrange your collection in a tall glass vase, positioning longer sticks in the center for an authentic, fan-like aesthetic.
For a more frosted appearance, consider applying a light dusting of adhesive spray, followed by a sprinkle of silver glitter. This instantly transforms your birch branches into a sparkling winter specter. Additionally, don't shy away from attaching faux snowbirds or icicles for added charm. A setup like this not only functions as a stunning centerpiece but also as a conversation starter.
Twinkling White Lanterns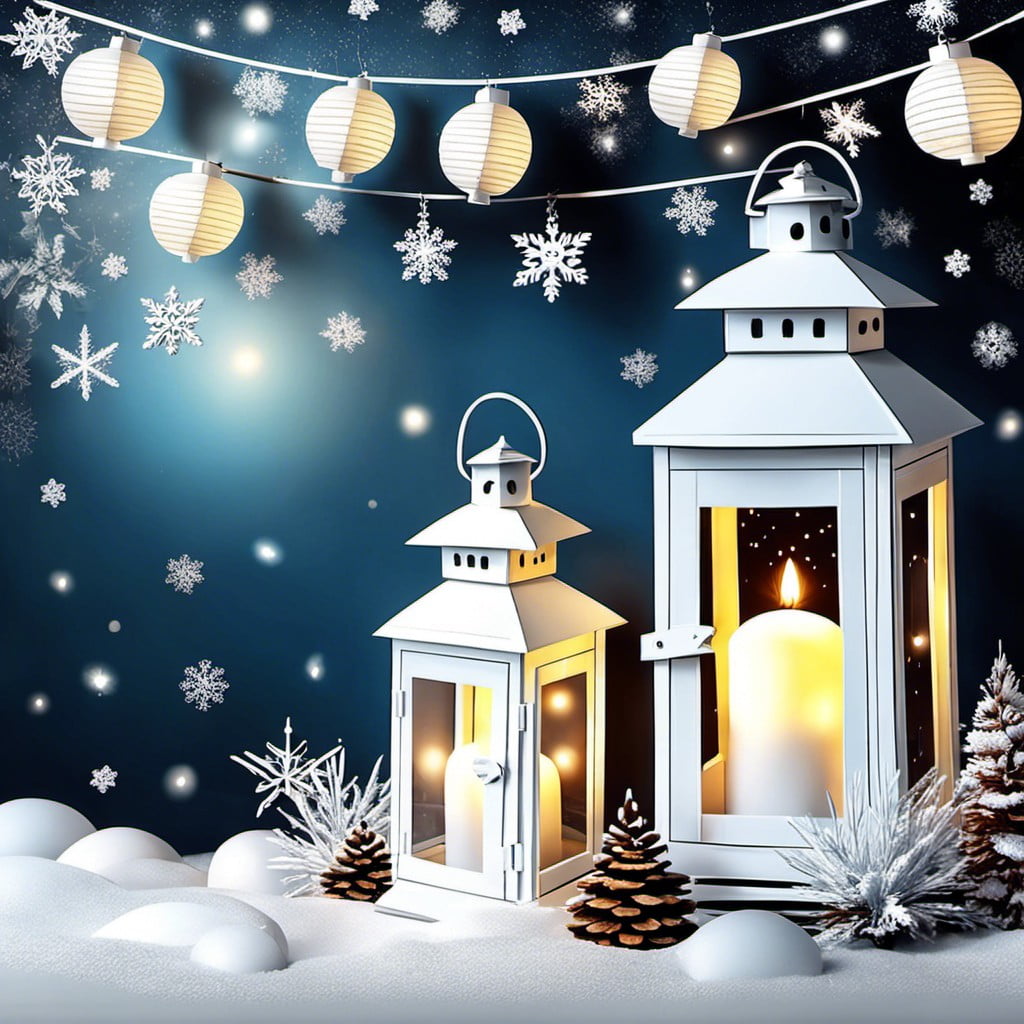 Light up your space with mesmerizing charm by strategically placing these enchanting elements. They come in various shapes, sizes, and designs, offering a myriad of creative opportunities.
Here are a fewuring suggestions:
Position them along your walkway to cast a magical glow for evening gatherings.
Hang them from the branches of a large indoor plant to mimic stars in the wintertime sky.
Lining the windowsills in your living space with these lanterns can add an unexpected but delightful touch.
Small clusters of lanterns on your dining table, paired with a simple tablecloth, can instantly elevate the setting making it ready for any winter feast.
Remember, consider choosing LED options to ensure safety and longevity. They give off less heat and are more energy-efficient, making them an eco-friendly choice. Also, consider using timers that automatically switch them on at dusk and off at dawn, adding convenience to beauty.
Ice Crystal Window Clings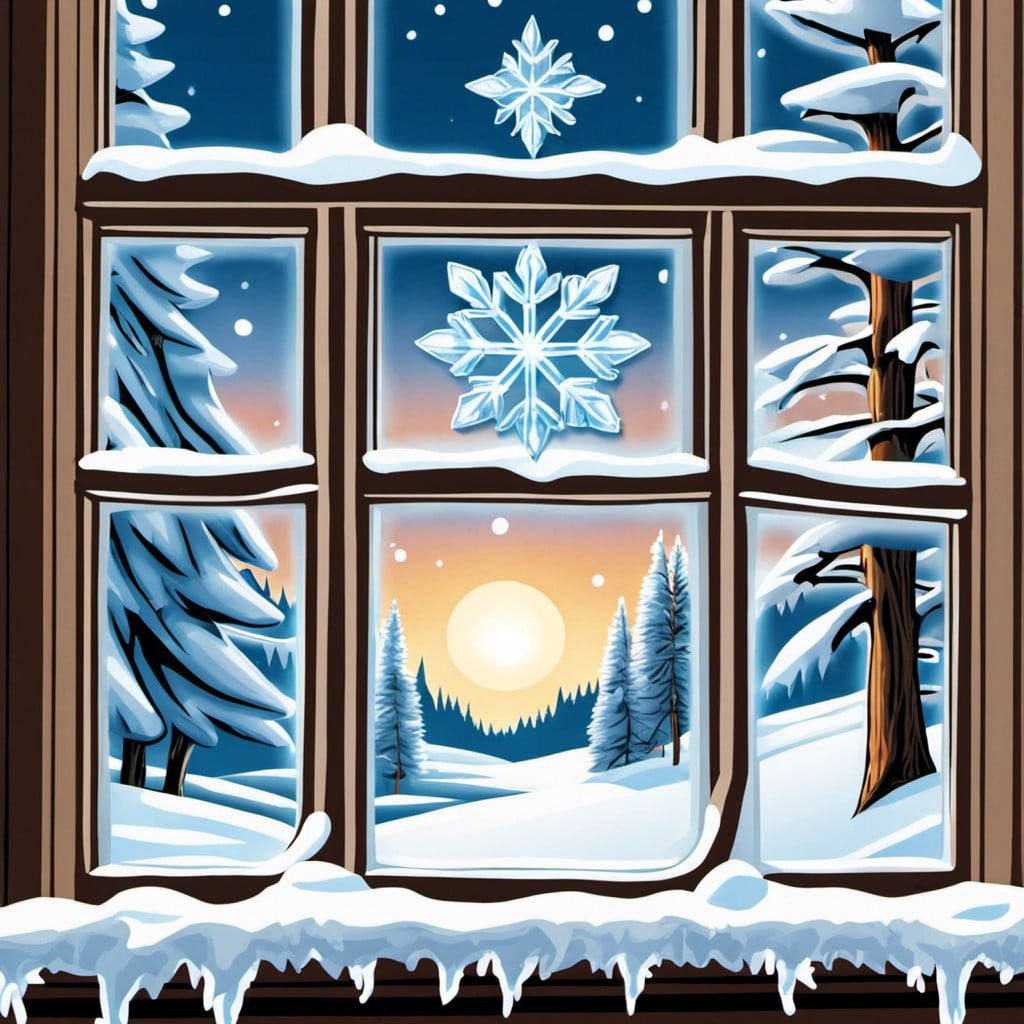 Ice crystal window clings bring instant magic, emulating the frosty appeal of a snowy day right on your windows. Easy to apply and reusable, these clings are perfect for creating your home's winter wonderland.
A. Appeal: They provide an impressive visual treat, resembling a captivating frost pattern view. It gives a chilly winter feel even while cozy inside.
B. Variety: Available in several designs and sizes, they are perfect for all window shapes and sizes. Opt for delicate snowflakes or more intricate crystals patterns.
C. Easy Installation: Simply peel and stick on your windows. No need for additional adhesive or tools.
D. Temporary: If you worry about long-term decor, these are a great option. They can be removed after the season without damaging your windows.
E. DIY Option: For the more craft-oriented, homemade ice crystal clings using craft glue are a fun project.
F. Eco-Friendly: Most store-bought clings are made from PVC, but eco-friendly options are surfacing in the market, keeping the environment in mind.
Hanging White Pom-pom Garlands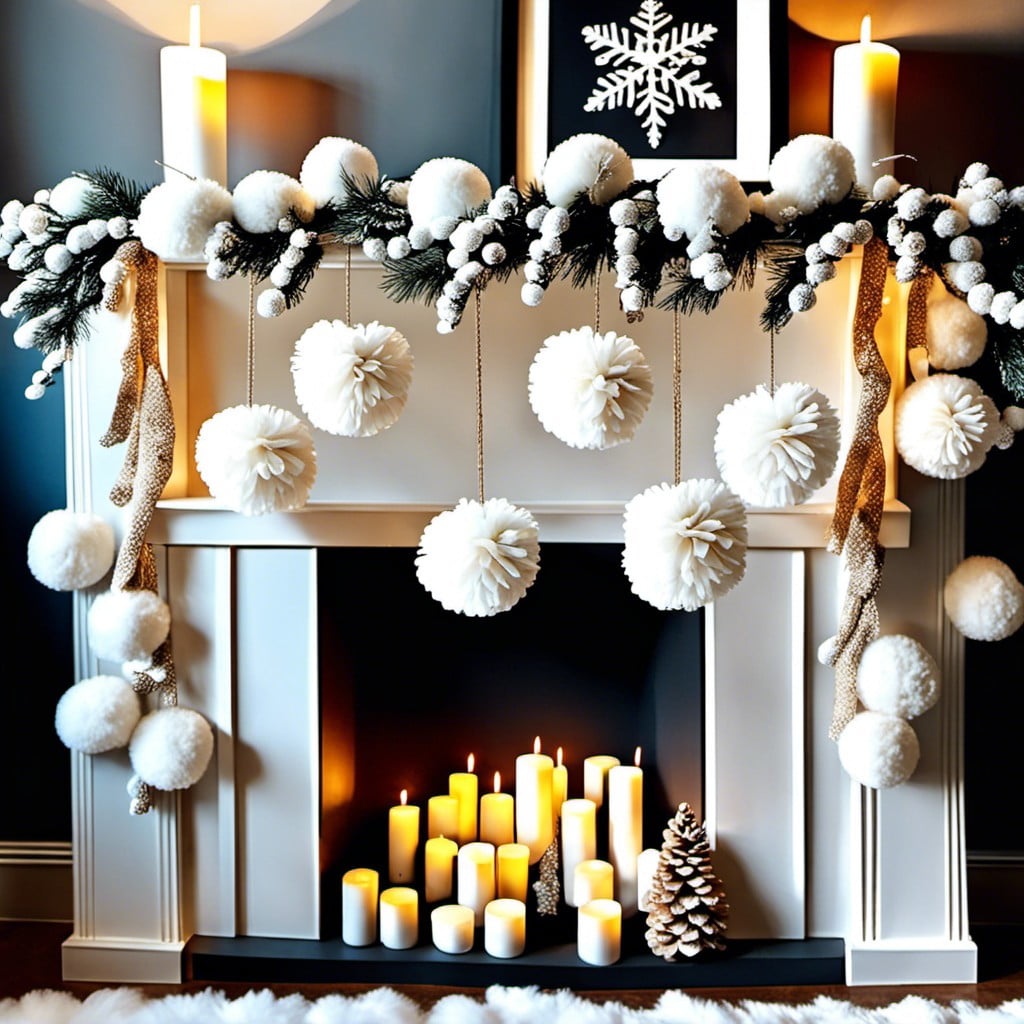 Adding these fluffy decorations to your home can conjure the imagery of peacefully floating snowflakes. Simple to make, they're a perfect project for DIY enthusiasts.
Use varying sizes of pom-poms to add visual interest and adhere to a fishing line for a transparent effect. Place them in areas such as doorways, above the fireplace, or along banisters to add a whimsical touch.
For added sparkle, consider interspersing your pom-pom garlands with fairy lights.
Faux Fur White Rugs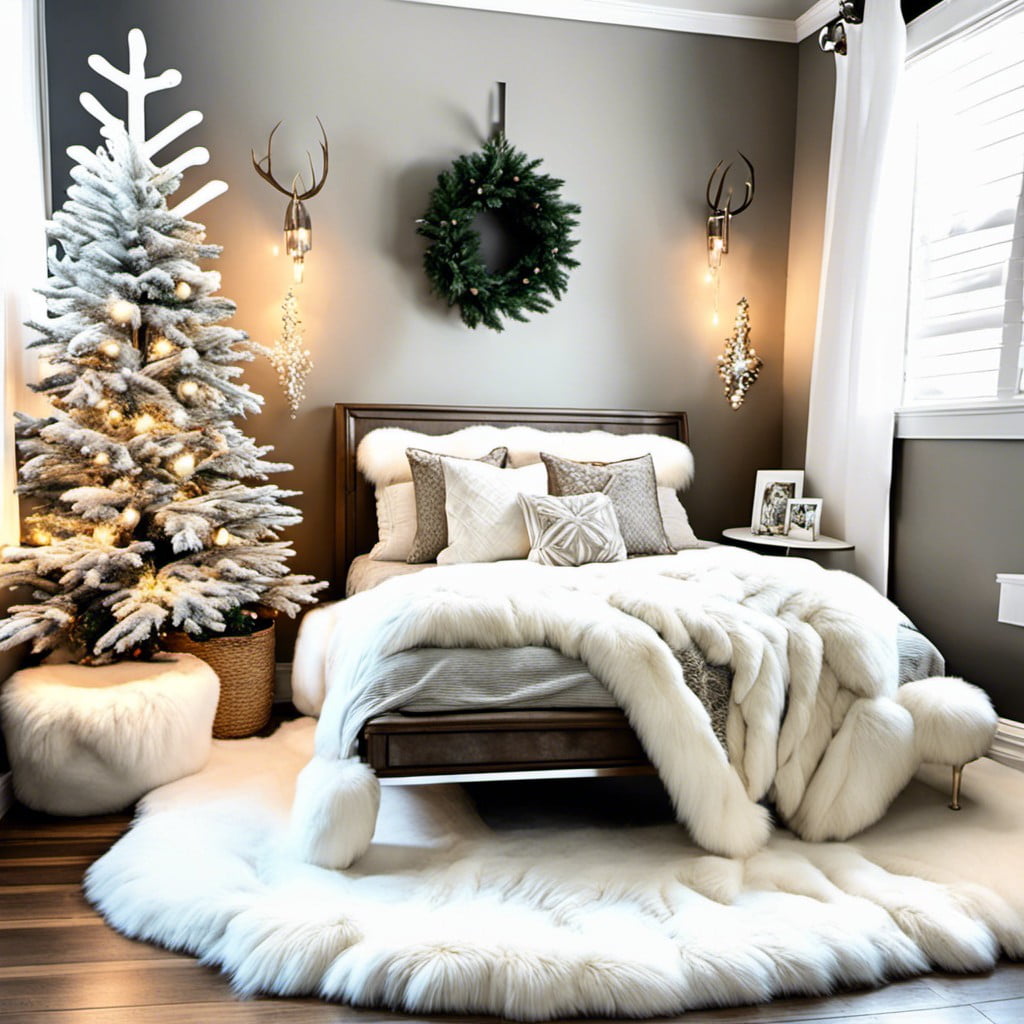 Adding such rugs to your home decor instantly elevates any room's cozy factor, mimicking the softness and warmth of a fresh coat of winter snow – without the cold. Here are some tips to showcase them:
1. Accent Placement: Consider their placement as accent pieces in the living room or bedroom for an inviting and comfy appeal.
2. Layering: Layer them over your everyday rugs, adding depth and texture to the overall design scheme.
3. Size Selection: Depending on the space available, choose from throw-sized, area-sized, or runner-sized options to fit the dimensions of your room quite perfectly.
4. Maintenance: Though white, faux fur is surprisingly low maintenance. Regularly shake off the dirt, and machine wash on the gentle cycle to keep them looking their best.
Remember, despite being a 'winter wonderland' essential, these rugs can add a plush, stylish touch to your home decor throughout the year.
Crystal Beaded Party Curtains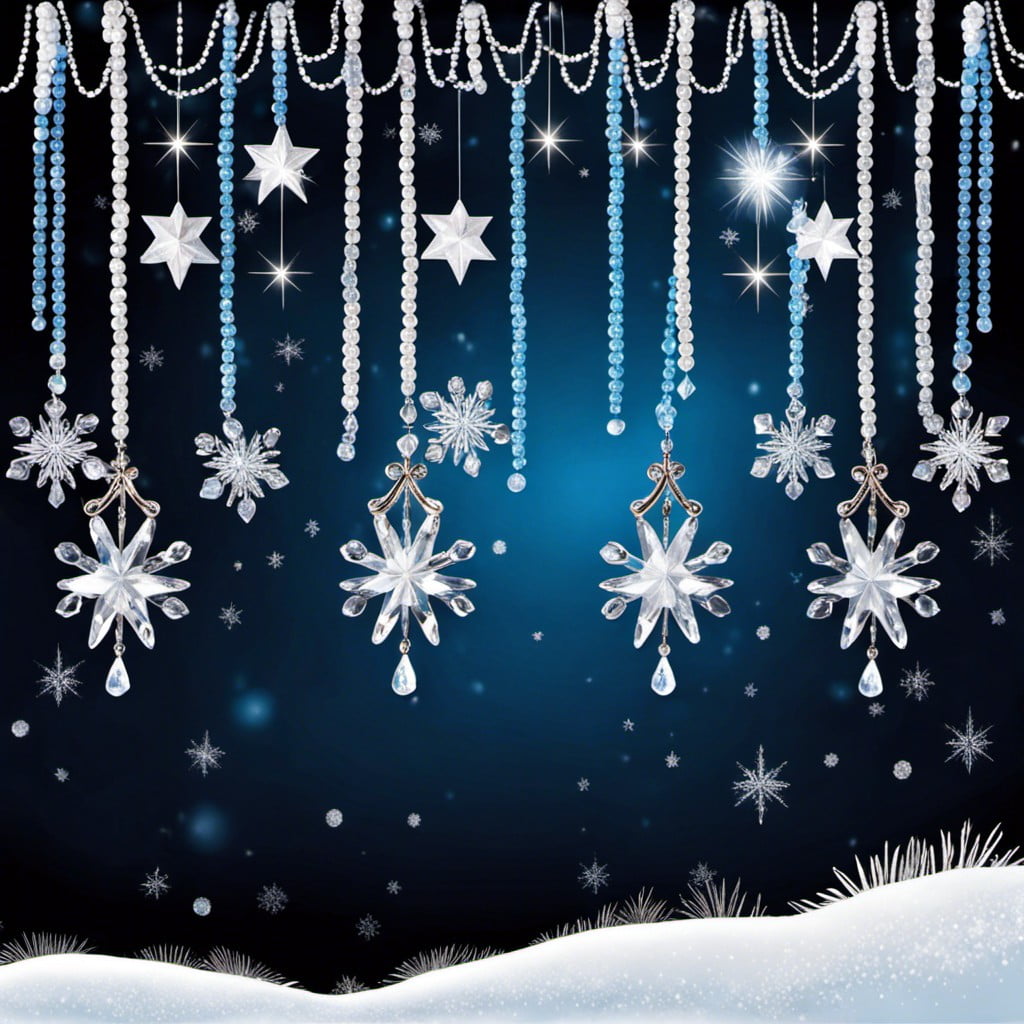 Spruce up the living room or dining area with these dazzling additions. Crystal beaded curtains evoke the subtle beauty of a frosty winter landscape while adding a touch of elegance to any space.
Here are some points to consider:
1. Make certain that the curtains match the area's overall look. Clear or frosty white beads are best for a cohesive winter wonderland theme.
2. Positioning is important. Hang them over windows to catch the sunlight, or around door frames for a whimsical entrance.
3. Keep the length in mind. Too long may pose a tripping hazard while too short may not provide the desired ambiance.
4. Pair these curtains with soft, warm lighting to create a sparkling icicle effect.
5. Consider the curtain setup; some may require additional hardware or specific installation methods.
Every detail matters when creating your winter wonderland. So, get creative but keep these guidelines in mind to create a beautifully festive space this winter.
Snowy Scene Backdrops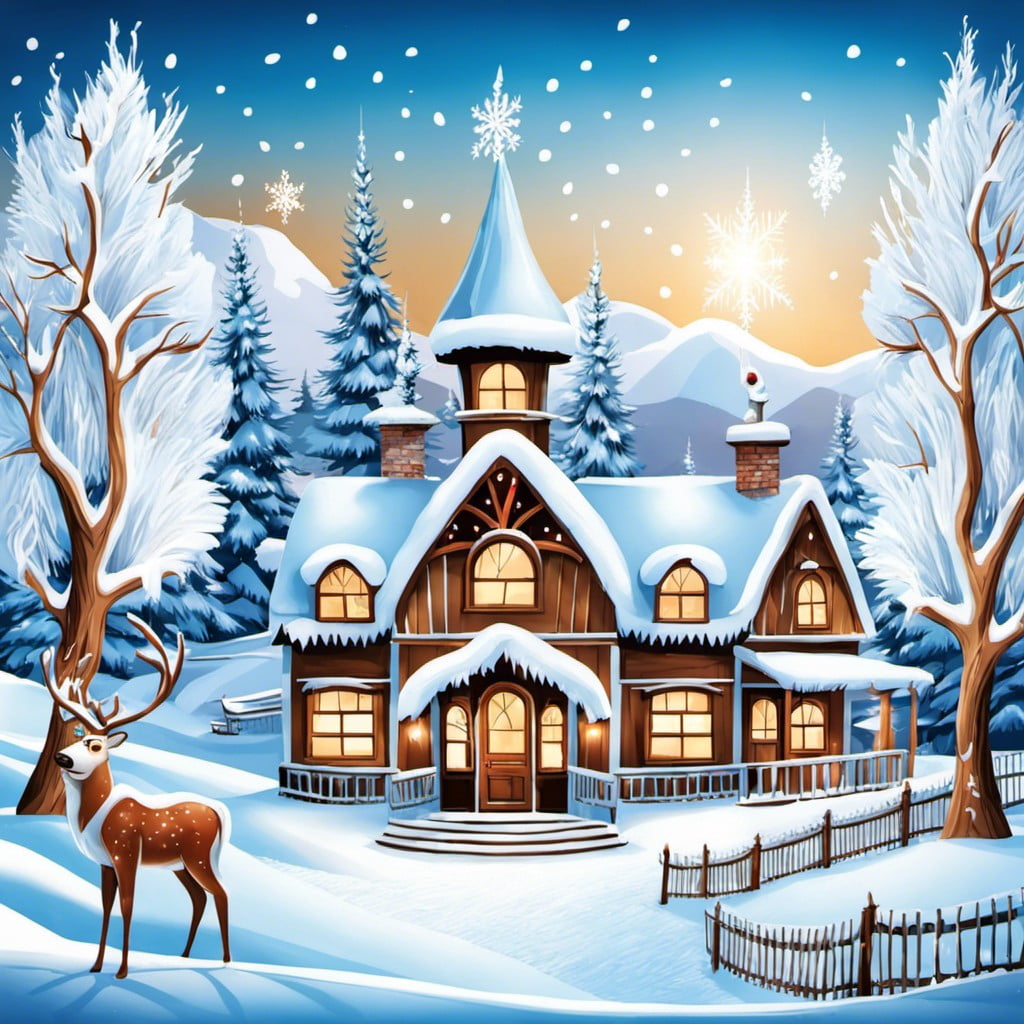 Stepping into your own personal winter wonderland begins with a striking snowy scene backdrop. Bringing this outdoor magic indoors is as simple as acquiring a high-resolution printed backdrop. If space permits, use this as the main focal point in your living room, perhaps behind the Christmas tree or your primary seating area.
Another method is to create smaller versions for distinctive spaces, such as the dining or entryway. You are not restricted to walls — the kitchen backsplash is a fantastic location that often gets overlooked.
Avoid interrupting the scene with obtrusive furniture or ornaments. Less is more here, keeping the emphasis on the beautiful, snow-covered landscapes. A small hint of clever lighting, perhaps some carefully placed fairy lights, can add a twinkle to your snowy scene, enhancing the overall effect.
For a rich, plush feel, opt for fabric backdrops rather than paper ones. They often hold colors and details better, and the texture lends to the wintry, cozy ambiance. No matter which image you choose, ensure it complements the existing decor and theme. Happy decorating!
DIY Paper Snowflakes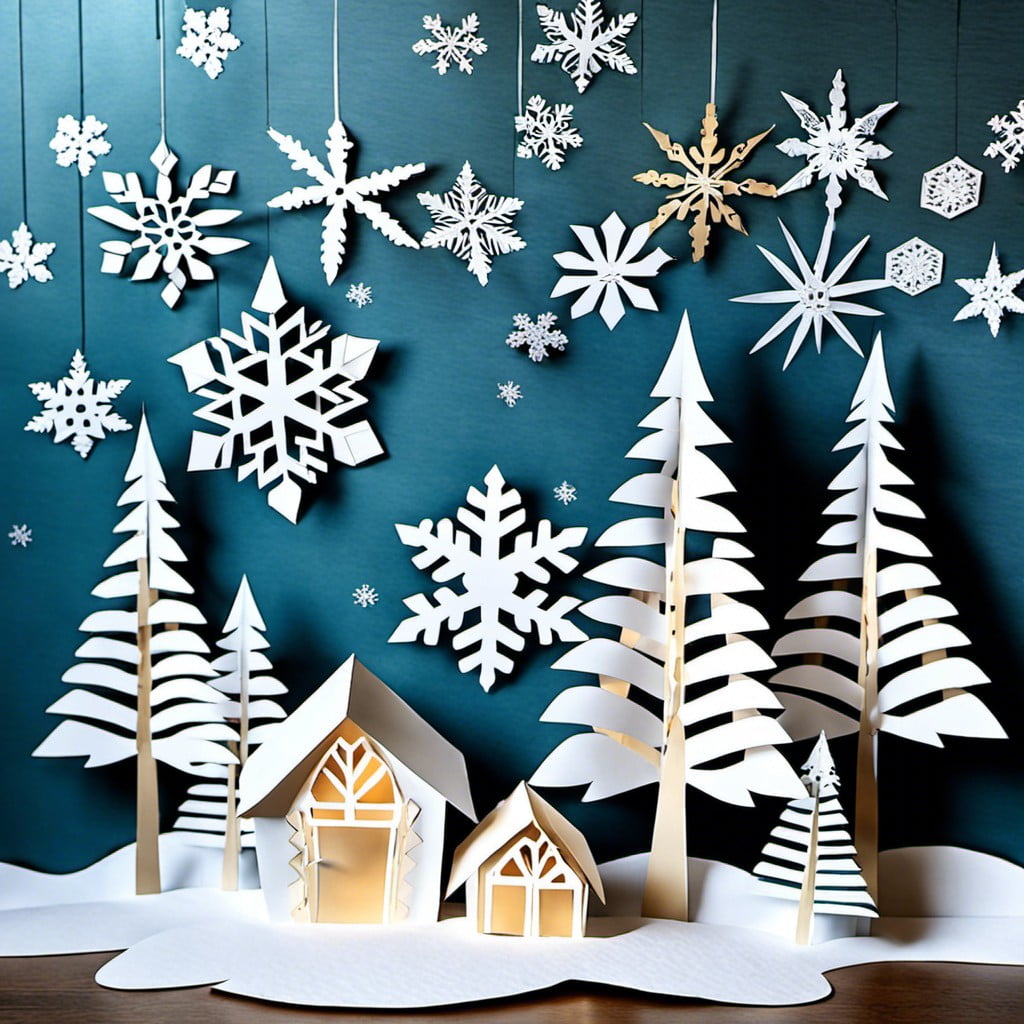 First and foremost, gather the essentials: a piece of square paper, scissors, and a sharp pencil. If you wish, an optional add-on could be glitter glue to add that extra sparkle.
Beginning with the square piece of paper, fold it diagonally to form a triangle, and then fold it diagonally once more. For smaller, intricate snowflake designs, consider folding it an additional one or two times.
Holding the narrow point of your folded triangle towards you, sketch your design on the top layer. The design could range from straight lines to circles; it's the ideal canvas to unleash your creativity. Always remember, the chunkier the design, the more robust your snowflake will be.
Next, with careful precision, cut out your sketched design with the scissors. If you've decided to add some glittery sparkle, now is the time to unfurl your glitter glue.
Allow your masterpiece to dry thoroughly before hanging. These paper snowflakes can be strung together to create a garland, or individually to be hung in windows and across ceilings, amplifying the winter wonderland ambiance in your home. Remember, no two snowflakes are alike, so each one brings its unique charm to your winter decorations.
Glitter Pine Tree Decorations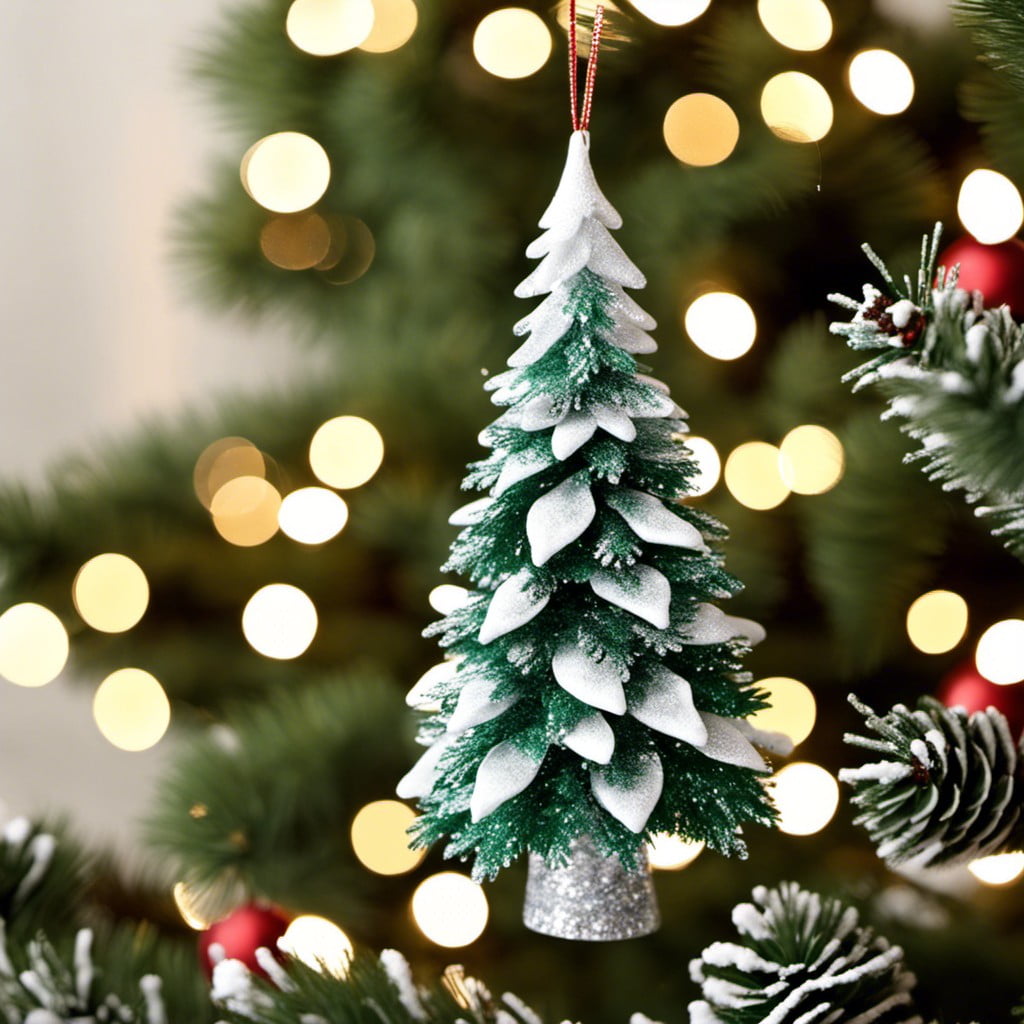 These visual wonders effortlessly elevate a room's festive aura. Plus, they're pretty easy to prepare yourself, resulting in a rewarding DIY project.
1. Picking the Right Pine Cones: In your local forests, parks, or even your backyard, you should be able to find a plethora of cones. Ensure they are fully opened and undamaged.
2. Clean: Wash them to remove dirt, small bugs, and sticky sap. Dry them completely before proceeding to the next step.
3. Glitter: Using a brush, apply school glue on the edges, then sprinkle your desired color of glitter. Silver or white imitates a frost-kissed look, while red, green or gold adds a jolly holiday touch.
4. Dry and Display: Let them dry thoroughly. Once dried, these glittery adornments can be displayed in decorative bowls or glass vases, or nestled into the Christmas tree branches as unique ornaments.
Remember, microwave cones for 30 seconds before washing to kill any hidden bugs. This simple, yet creative decoration infuses nature into your holiday decor while giving your home a dash of sparkle.
Liked reading this? Here's more:
Recap: