Last updated on December 2, 2023
Revitalizing your bathroom's aesthetic is crucial because a Baker's rack can offer an elegant, organized, and functional solution for your personal care items.
I've designed unique illustrations for these ideas. I hope you get inspired!
The bathroom is the sanctuary of the home – a private space for relaxation and rejuvenation. While it's often overlooked in favor of more 'social' spaces, it's just as deserving of your decor attention and investment, especially when it comes to storage solutions.
Enter, the baker's rack: traditionally kitchen-bound, but now ready to make a splash in your bathroom. Often, popular bakers rack ideas proliferate the internet, but it's time to delve deeper. Although this article will provide a helpful list of resources for those winning ideas already out there, it aims to do more than simply regurgitate the well-known.
Let's spark creativity with fresh, unique perspectives – entirely new ways to use and style a baker's rack in your bathroom. Let's reinvent the notion of bathroom storage and transform it into something remarkable. Here's to exploring the less trodden path and finding the beautiful, tantalizing possibilities that await.
Shabby Chic Bathroom Baker's Rack Ideas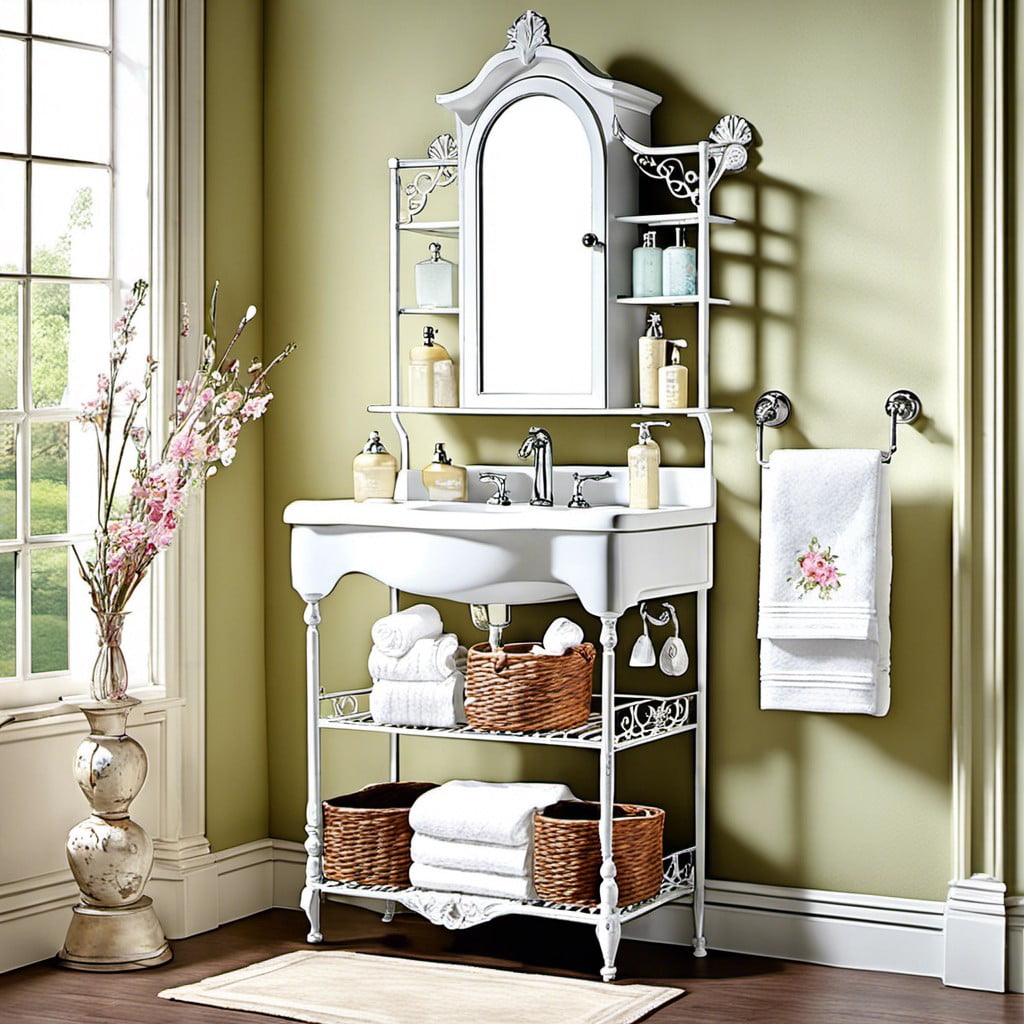 Venturing into the realm of Shabby Chic, a baker's rack could seamlessly blend into your bathroom ambiance. This design philosophy pays homage to vintage styles, soft pastel colors, and distressed finishes.
Here's how to translate this on to a baker's rack:
1. Vintage Appeal: Give your rack a weathered look by painting it with pastel shades like baby blue, apricot, or rose, followed by deliberate distressing.
2. Texture Mix: Pair wood and metal for a unique aesthetic. A metal frame with wooden shelves works well.
3. Accent Items: Adorn the rack with patterned ceramics and porcelain for a delicate touch. Add some lace or crochet for an added layer of sophistication.
4. Nature Love: Place potted plants to imbue a hint of greenery. This makes the bathroom feel more open and refreshing.
5. Soft Lighting: Drape some fairy lights around your rack for a soft glow that complements the aesthetics of Shabby Chic.
Incorporating Shabby Chic elements into your bathroom can evoke a soothing, nostalgic atmosphere. Let your baker's rack tell a story of style and elegance, beautifully uniting function and form.
Metallic Elegance: Bathroom Baker's Rack Designs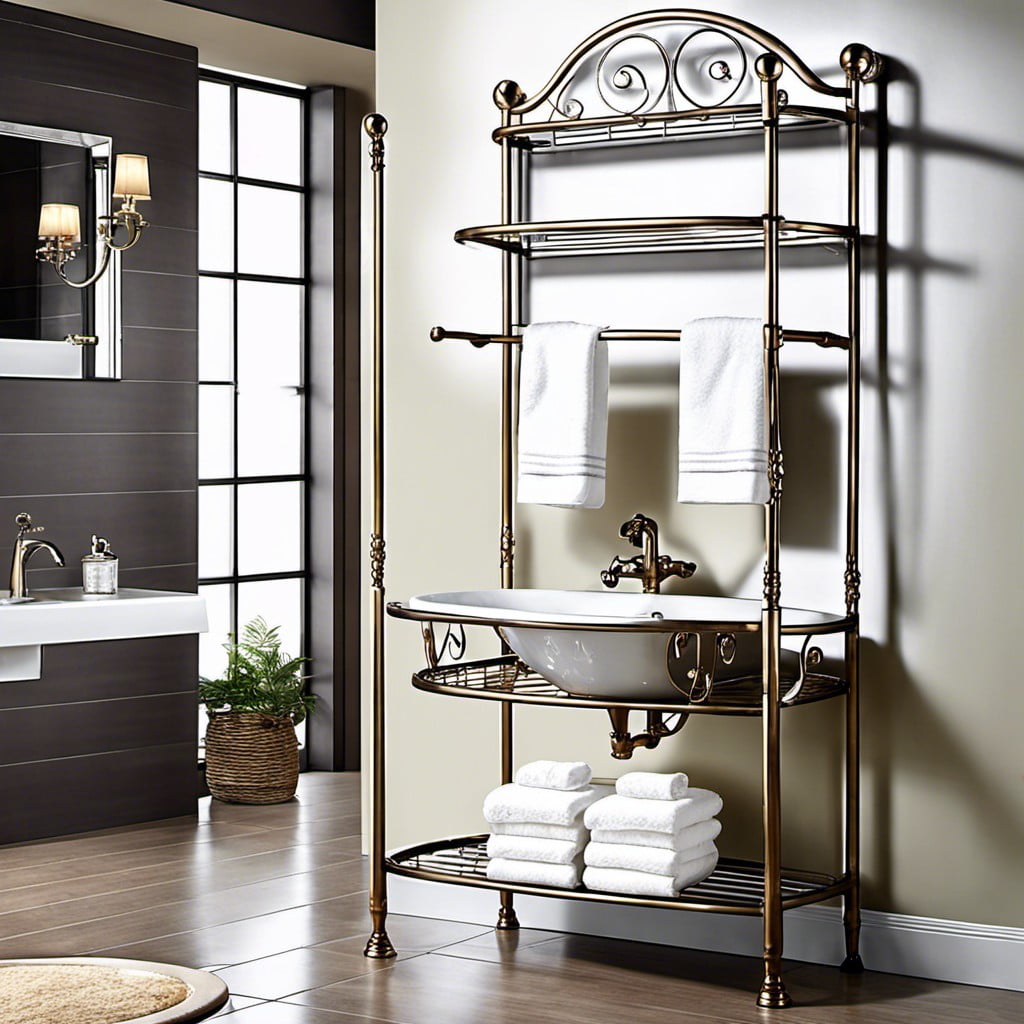 Incorporating a metallic baker's rack in the bathroom blends functionality with high-end style. Here are some ideas:
1. Stainless Steel Appeal: Resistant to rust and easy to clean, a stainless steel baker's rack offers glossy, modern charm.
2. Iron Elegance: Wrought iron racks fit perfectly into both classic and contemporary bathrooms, inherently expressing sophistication.
3. Gold or Copper Accents: If you're looking for hints of luxury, a gold or copper baker's rack provides a soft shine that elevates the ambiance.
4. Black Nickel Finish: A black nickel baker's rack adds an unexpected yet refined element to the bathroom decor.
Remember to balance the metallic tone with soft materials such as towels or bath mats for contrast. Also, integrating plants or decorative objects can add a personal touch while preventing a cold, industrial feel.
Industrial Style in Bathroom Storage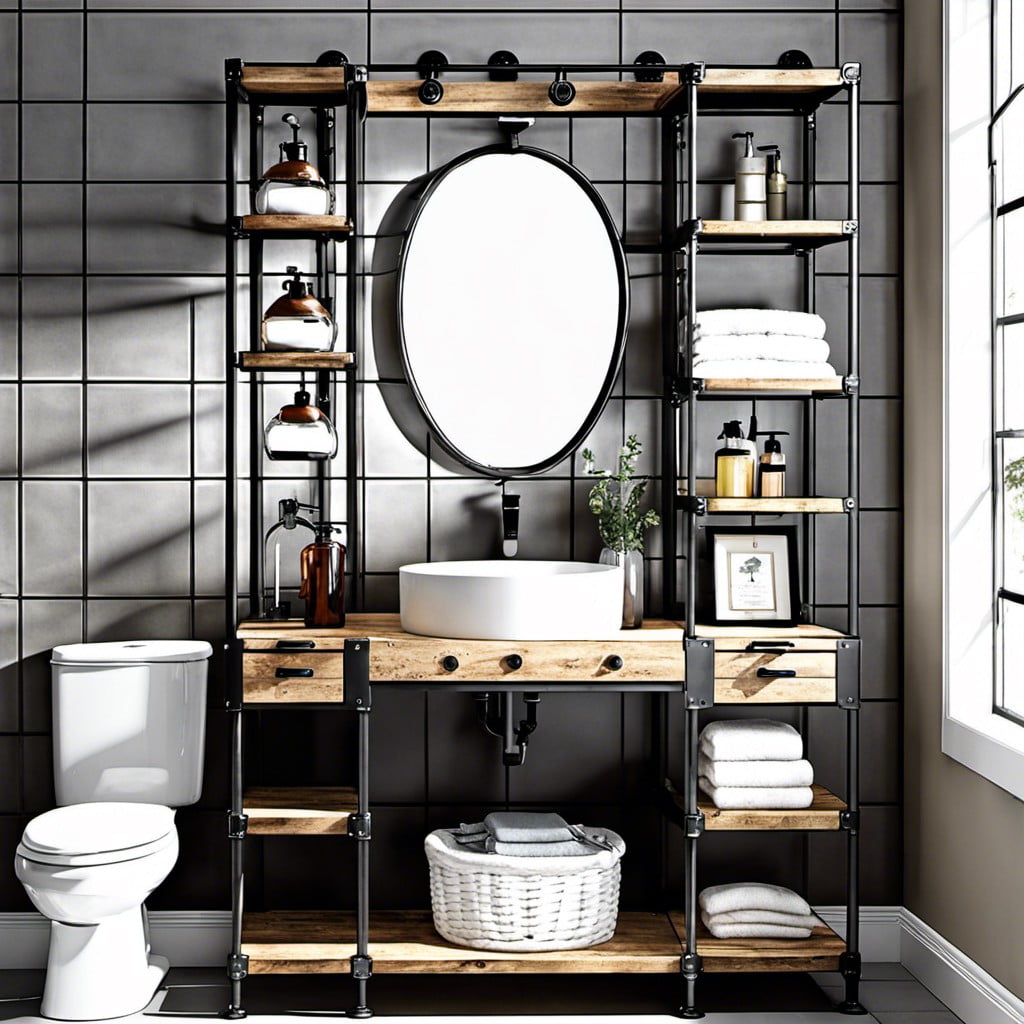 Leveraging industrial elements for bathroom storage is a relatively new trend, visually characterized by the usage of darker metals, rustic woods and minimalist design. It imparts a loft-inspired, modern, and clean aesthetic.
1. Metal Pipes: Using metal pipe racks offers a robust and simplistic style. They're durable and versatile enough to hold not only towels but also other bathroom essentials.
2. Bleached Wood: Incorporate bleached, reclaimed wood staves for a raw yet elegant feel. This addition is perfect for those seeking warmth within the industrial style.
3. Wire Baskets: Wire baskets attached to the frame provide an excellent solution for storing smaller items. They pair well with the simplistic design of an industrial-style baker's rack.
4. Wheels: Many industrial-style pieces incorporate wheels as a design element. This not only looks unique but also adds mobile convenience.
5. Dark Tones: Stick to darker or distressed finishes for rack frames. These shades will complement the style while adding gravity to the design.
6. Floating Shelves: In smaller bathrooms or for a more simplistic appearance, floating shelves serve as a terrific alternative. Manufactured from metals or reclaimed woods, these maintain the industrial aesthetic.
Remember, less is more in industrial design. The plainness should not be viewed as a lack of imagination but as a brave embrace of minimalist beauty.
Space Savers: Baker's Racks for Small Bathrooms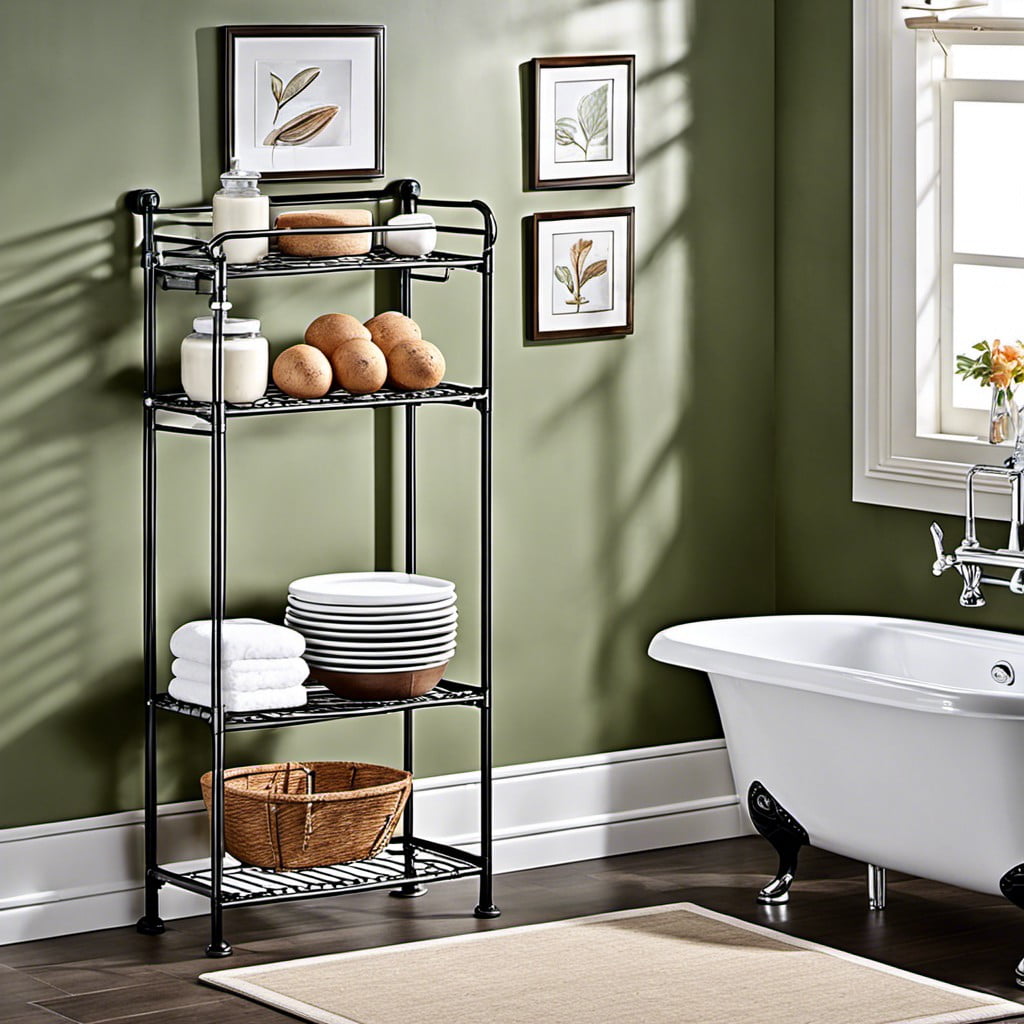 To maximize the utility of a baker's rack in a small bathroom, follow these solid tips:
1. Choose a Rack with Multiple Shelves: Maximizing vertical space can help keep items organized without causing clutter.
2. Consider a Slim Design: Select baker's racks with narrow framework to minimize the amount of floor space used.
3. Look for Foldable Racks: Once not in use, you can fold them up securing more room.
4. Check Out Corner Racks: These are specifically designed to fit into corners, making excellent use of often overlooked space.
5. Invest in Baskets: Woven or wire baskets slot neatly onto shelves, keeping smaller items together and providing an easy solution for moving objects around.
Remember, employing a baker's rack in a space-restricted bathroom can considerably enhance storage, preventing overcrowding while maintaining an organized appearance.
Multi-Functional Bathroom Baker's Racks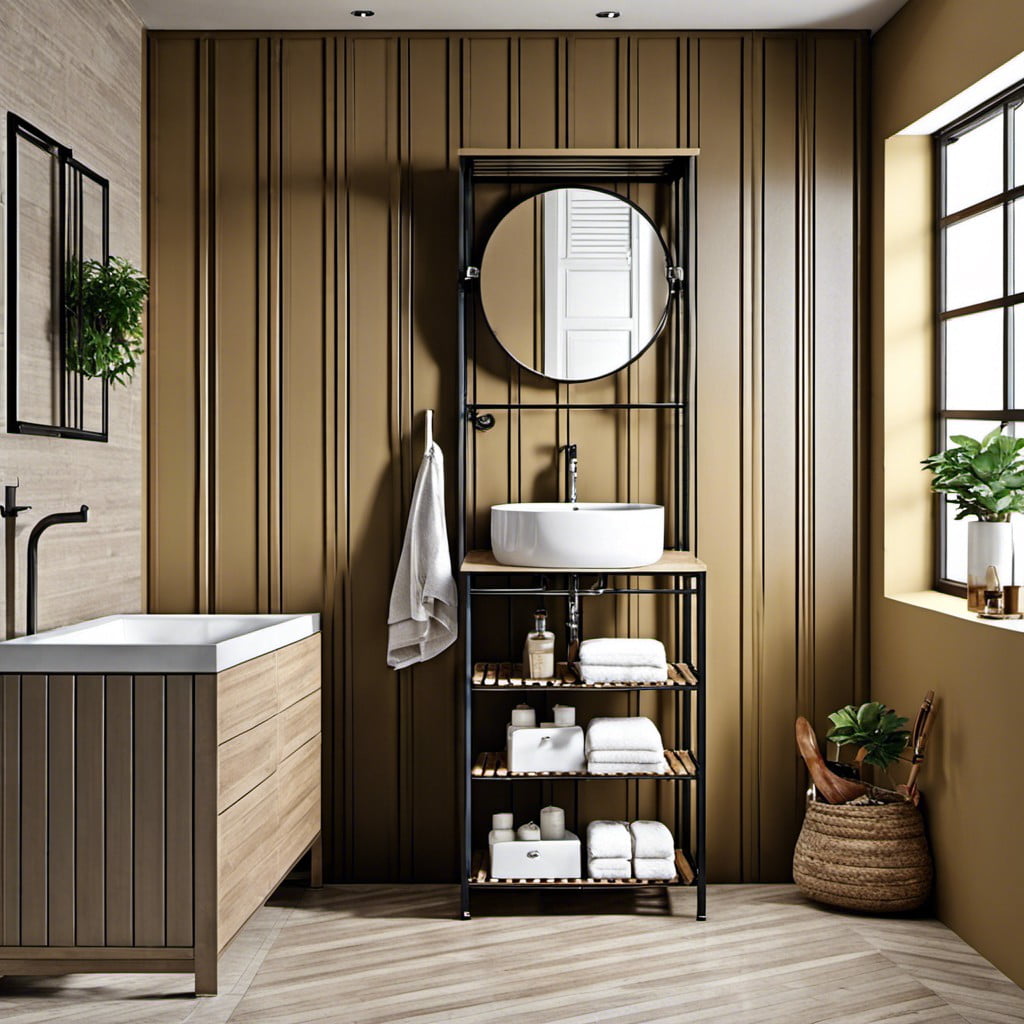 With its tiered design, a baker's rack provides more than just storage solutions. It's all about optimizing function in various ways. Here are some key tips towards achieving this:
1. Easily Accessible Essentials: Place everyday products at eye level for easy retrieval. Top shelves are perfect for spare toiletries or less frequently used items.
2. Vertical Storage: Don't entirely focus on horizontal space. Consider hanging items like towels or bathrobes off hooks attached to the rack.
3. Display Area: A well-prepared shelf can double as a display. Fragrant soaps, candles, and even small indoor plants can bring a touch of elegance to an otherwise utilitarian space.
4. Stackable Storage: Baskets and boxes on lower shelves can keep items neatly sorted and accessible.
5. Mobile Station: Attach wheels to the rack for an easily moveable storage solution. Perfect for larger bathrooms or shared spaces.
Remember, when it comes to multi-functional storage, every little detail counts. Even the smallest racks can pack a punch when well-planned and organized.
Bathroom Baker's Rack: A Solution for Beauty Products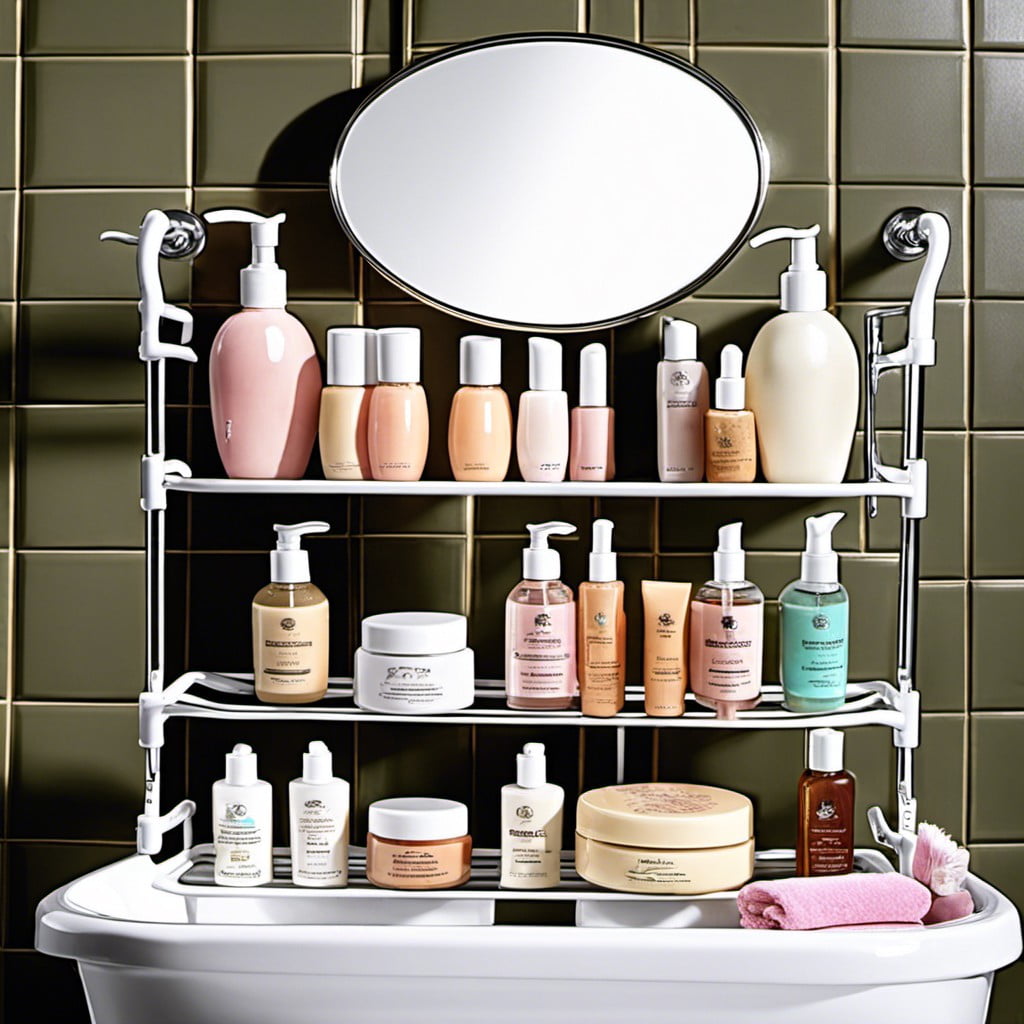 Venturing into this innovative storage solution, let's explore its potential for housing the often unwieldy assortment of beauty products.
1. Easy Access: A well-organized baker's rack ensures your daily beauty essentials are within reach. No more rummaging through drawers in the early morning.
2. Showcase Favorite Items: Those high-end perfumes or beautifully packaged lotions deserve to be on display just as much as they deserve to be used.
3. Product Visibility: Clear visibility helps prevent duplicate purchases and inspires regular usage, hence leading to less wastage.
4. Design Flexibility: Whether you prefer mesh, glass, or wooden shelves, there's a design to match your bathroom aesthetics. The customization potential with a baker's rack is endless.
5. Vertical Storage: Perfect for smaller spaces. The upward design of a baker's rack lets you exploit the height of your bathroom rather than relying solely on counter space.
6. Organization: With the help of additional baskets or containers, segregate products by type or frequency of use, creating practical, as well as visually appealing, arrangement.
Ensure careful product placement to keep potentially dangerous items out of reach for children. Secure loose items, and use strategic positioning to prevent inadvertent knocking-off of products.
Nature-Inspired Bathroom Baker's Rack Ideas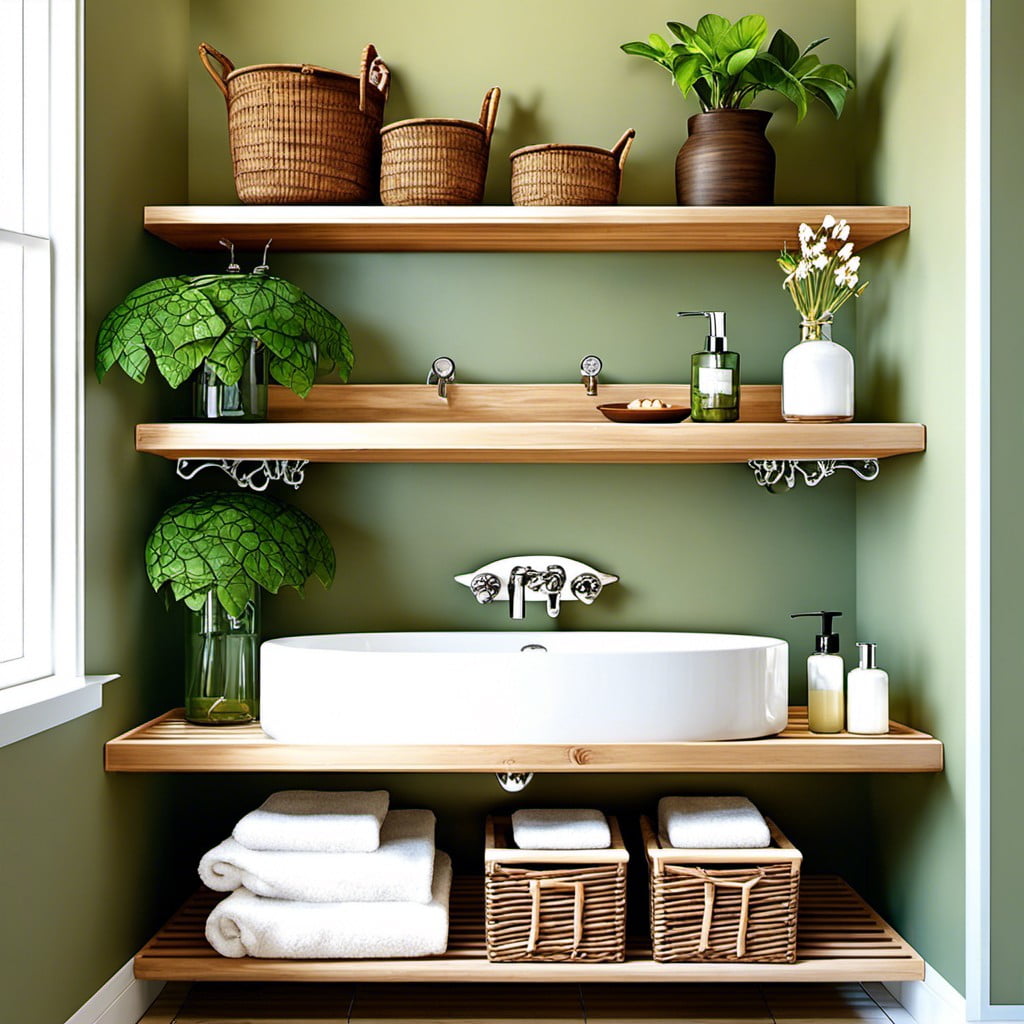 Embracing the tranquility of the great outdoors can transform bathroom spaces into calming sanctuaries with nature-inspired baker's rack designs.
Adding plants like ferns, ivies, or succulents to shelving imparts greenery and liveliness.
Consider materials distinctly associated with the outdoors such as bamboo or teak for the rack itself.
Stone or woven seagrass baskets on lower shelves can hold bathroom essentials while maintaining the earthy theme.
Bird or animal-shaped decorations add a sweet, whimsical touch, and a color palette drawn from nature's hues – think browns, greens or neutral tones – tie the whole look together.
Additionally, a vine-like motif on metal racks or carved into wood increases the natural aesthetic.
The Functionality of Baker's Racks in Modern Bathrooms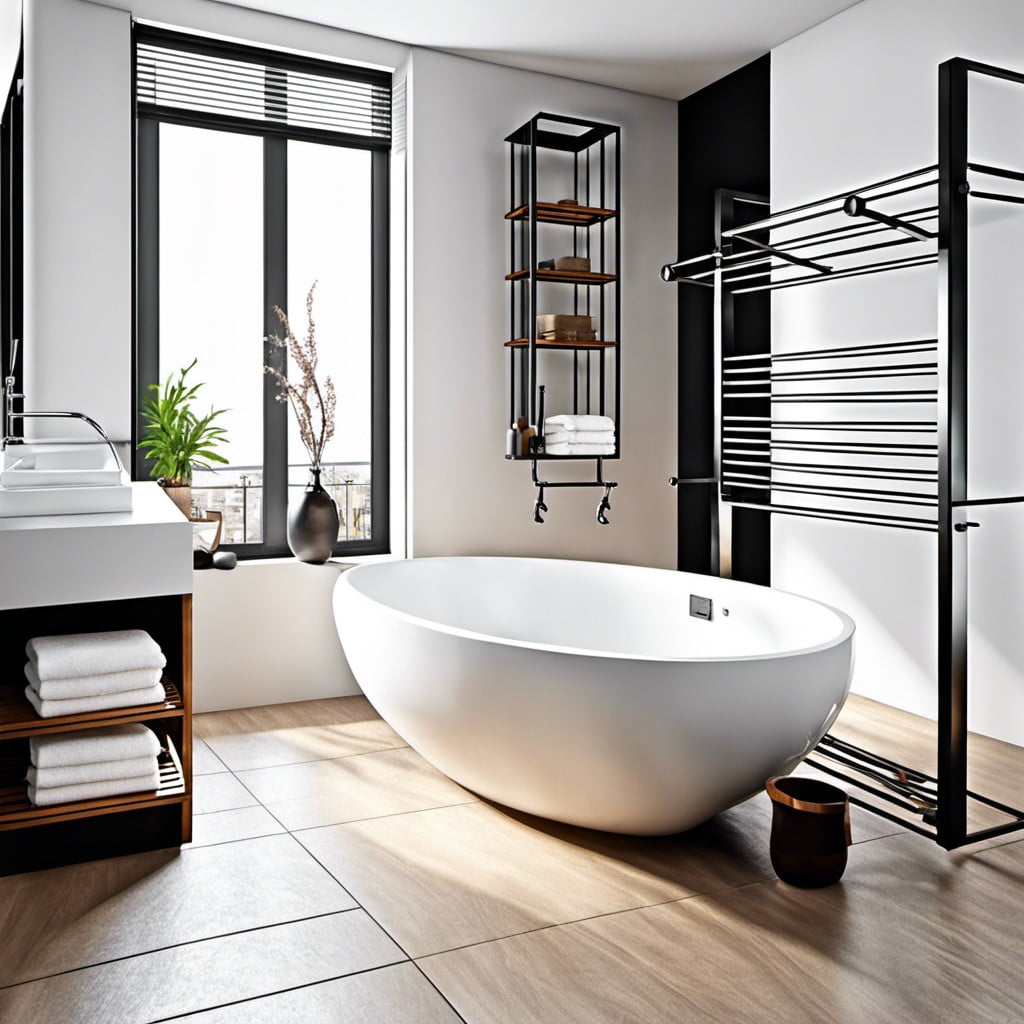 Maximizing space in the modern bathroom becomes effortless with baker's racks, offering myriad benefits:
1. Versatility: They adapt easily, fitting into various bathroom layouts with different widths and heights available.
2. Storage: Through open shelving, drawer units, or hanging rails, these pieces provide excellent storage options for toiletries, towels, or decorative pieces.
3. Accessible: Ease of access makes daily routine smoother – every item is just within reach, no rummaging required.
4. Durability: With materials ranging from iron, wood to wicker, these racks ensure long-lasting strength in humid bathroom environment.
5. Enhancing aesthetic: Available in various designs and finishes, they bring a stylish touch beside their functional role.
Remember, a well-chosen baker's rack not only declutters but contributes to the atmosphere in your modern bathroom space.
Artistic Approach to Bathroom Storage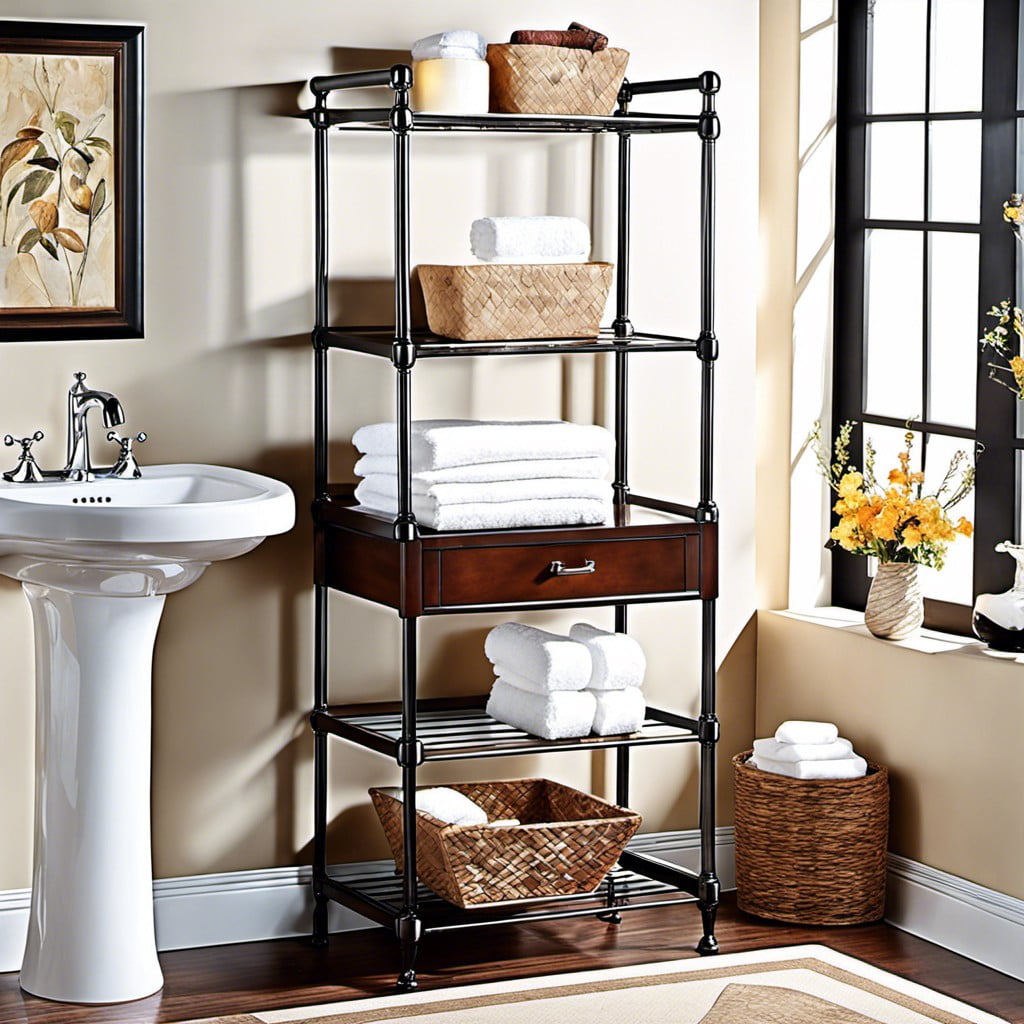 Diving into an artistic approach to bathroom storage, creativity is key. An artistically designed baker's rack can turn a mundane bathroom into a visually appealing space. Unleash your creative flair by personalizing your baker's rack with unique pieces.
1. Customizable Displays: Utilize the shelves to showcase unique items, such as antique perfume bottles or colorful bath soaps.
2. Personalized Touches: Incorporate personalized decorative items on the rack, like framed photos or petite artworks for a personal touch.
3. Balancing Aesthetics and Functionality: Consider a mixture of both closed and open storage on the rack. This allows a beautiful display of decorative items while keeping personal toiletries private.
4. Paint Works: Consider adding a splash of color or patterns on your baker's rack to complement the bathroom's color scheme.
5. Lighting Effects: Integrate subtle lighting fixtures into your baker's rack to highlight your art pieces and create a calming ambiance.
Remember, the final result should not only be practical for storage, but also serve as an aesthetic centerpiece in your bathroom.
Rustic Bathroom Baker's Rack Ideas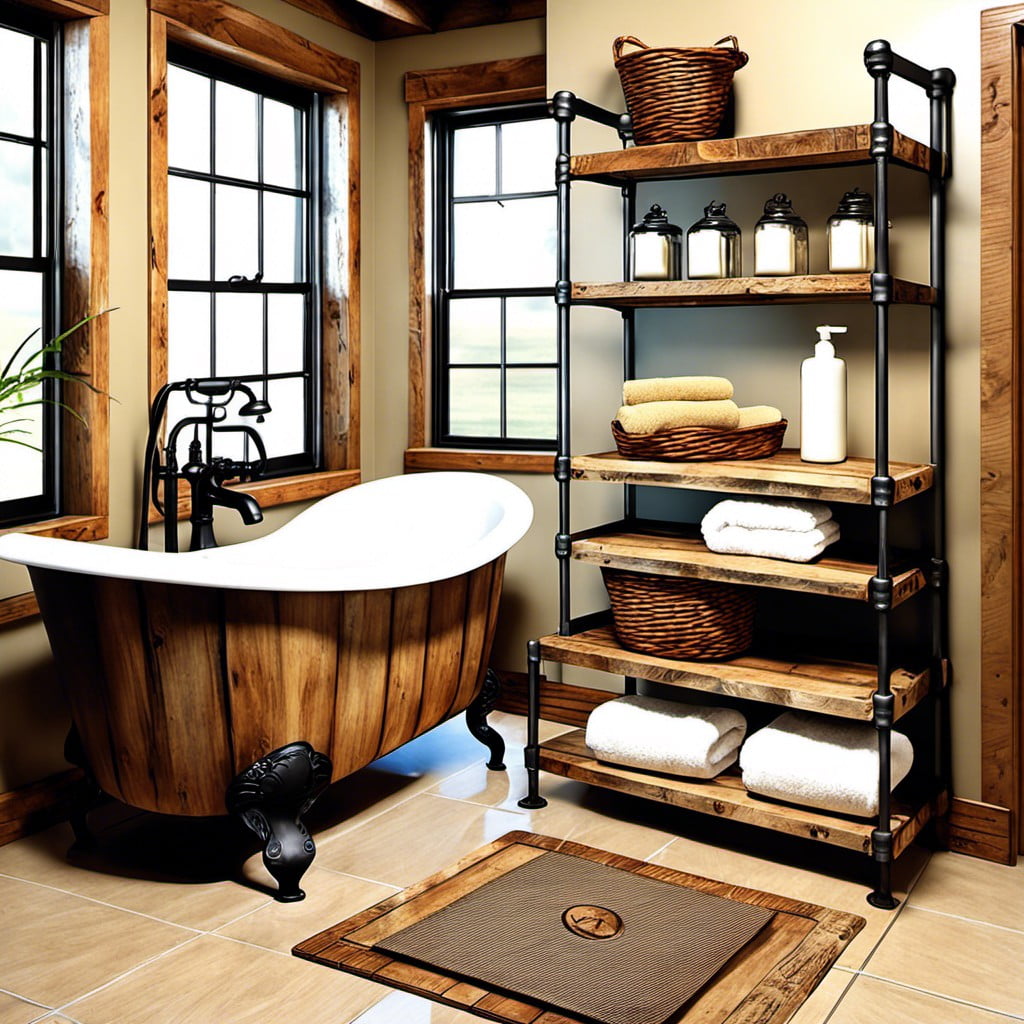 Ensconcing a rustic baker's rack in your bathroom can impart an authentic, country-style aesthetic while ensuring optimal organization. Here are some captivating ideas to help you harness the charm of a rustic bathroom baker's rack:
1. Weathered Wood: Consider utilizing a rack with a weathered-wood finish. Its natural, aged appearance offers a true rustic feel.
2. Wrought-Iron Accents: Complementing the wooden frame with wrought-iron accents, such as hooks or towel bars, adds a hint of timeless appeal.
3. Baskets and Wooden Crates: Rather than conventional shelves, affix woven baskets or small wooden crates to the rack for a unique, farm-inspired look.
4. Vintage Hardware: Implement vintage-style knobs and handles to emphasize the rustic character of your bathroom storage.
5. Earthenware Display: Use the rack's shelves to display earthenware such as ceramic soap dispensers or terracotta plant pots.
6. Use of Colors: Opt for muted, earth tones like beige, brown, and green to seamlessly blend with rustic design elements.
By implementing these ideas, you can effortlessly transform your bathroom into a stylish, rustically inspired space, brimming with character and functionality.
Baker's Rack: Solution for Bathroom Linen Storage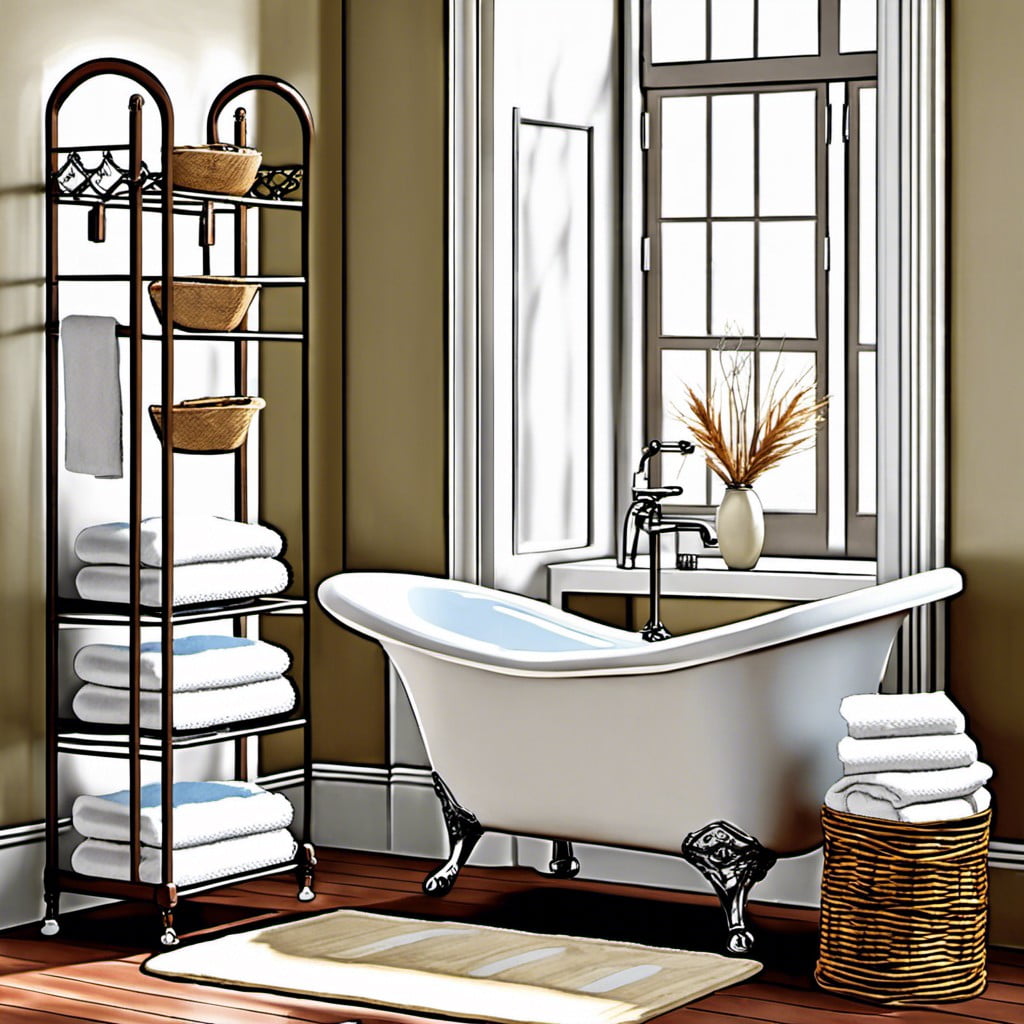 With open shelving and ornate design, a baker's rack offers an innovative approach to bathroom linen storage:
1. Accessibility: Due to its typically open design, a baker's rack allows easy access to your linens, instantly eliminating the hassle of rummaging through closed cupboards.
2. Visual Appeal: Storing towels and linens on a baker's rack makes an eye-catching display. Choose towels in stylish, coordinated colors that match your bathroom's decor.
3. Space Utilization: Unlike bulky cabinets, a baker's rack has a light, airy design that doesn't crowd your bathroom, leaving more space for other essentials.
4. Cost-Effective: On average, investing in a solid, high-quality baker's rack is less expensive than installing built-in cabinetry.
5. Flexibility: Depending on size needs, baker's racks can provide storage for small hand towels to large bath sheets, making the most of the vertical space.
Remember, the key is to maintain an organized look, keeping the linens neatly folded or rolled. This way, the baker's rack serves its functional purpose while adding a decorative touch to your bathroom.
Antique Baker's Racks As Bathroom Décor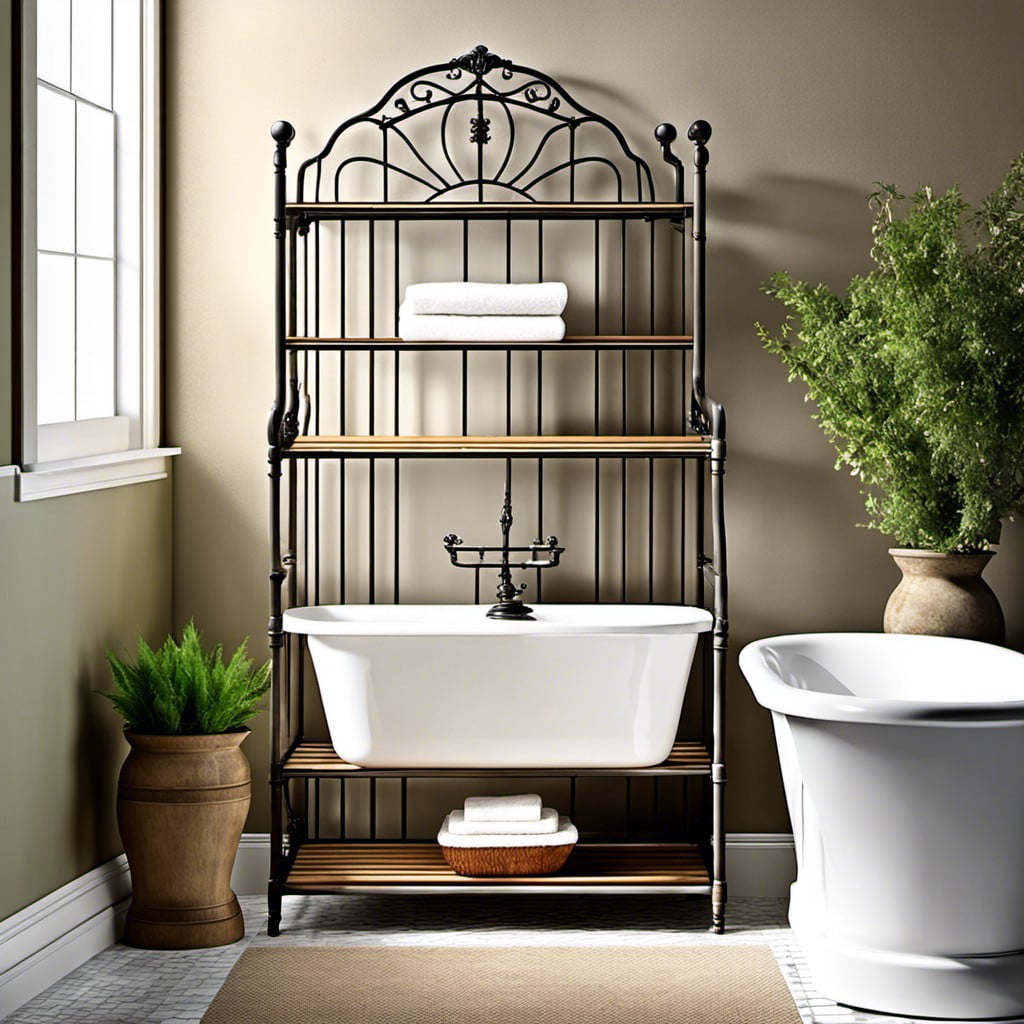 Classic yet functional, antique baker's racks serve as an ideal addition to the décor, offering a dash of vintage charm to bathrooms. Sporting delicate details and old-world craftsmanship, they can efficiently blend with a wide array of styles, from rustic to modern minimalist.
1. Aesthetic Appeal: Antique pieces, with their unique designs and detailing, provide an instant aesthetic upgrade to any space. A distressed white finish or wrought iron design can extend a timeless appeal.
2. Ample Storage: Despite their vintage look, these racks offer substantial storage space. From fluffy towels to soap dispensers, organize your bathroom essentials artfully on various shelving levels.
3. Versatility: These racks are not bound to a specific style, their unique structure and finish allows them to complement diverse bathroom themes.
4. Durability: Antique furniture is often robust, having withstood the test of time. Solid wood or iron baker's racks bring associated durability into the bathroom setting.
5. Uniqueness: With an antique rack, you would always own a one-of-a-kind piece. Its historical allure adds character to your bathroom.
6. Green Choice: Opting for antique pieces aligns with sustainable living principles, promoting recycling and reducing consumer waste.
Remember, the aim is to seamlessly incorporate the rack into your bathroom décor so it not only serves as storage, but also enhances the overall design.
DIY Baker's Rack Bathroom Projects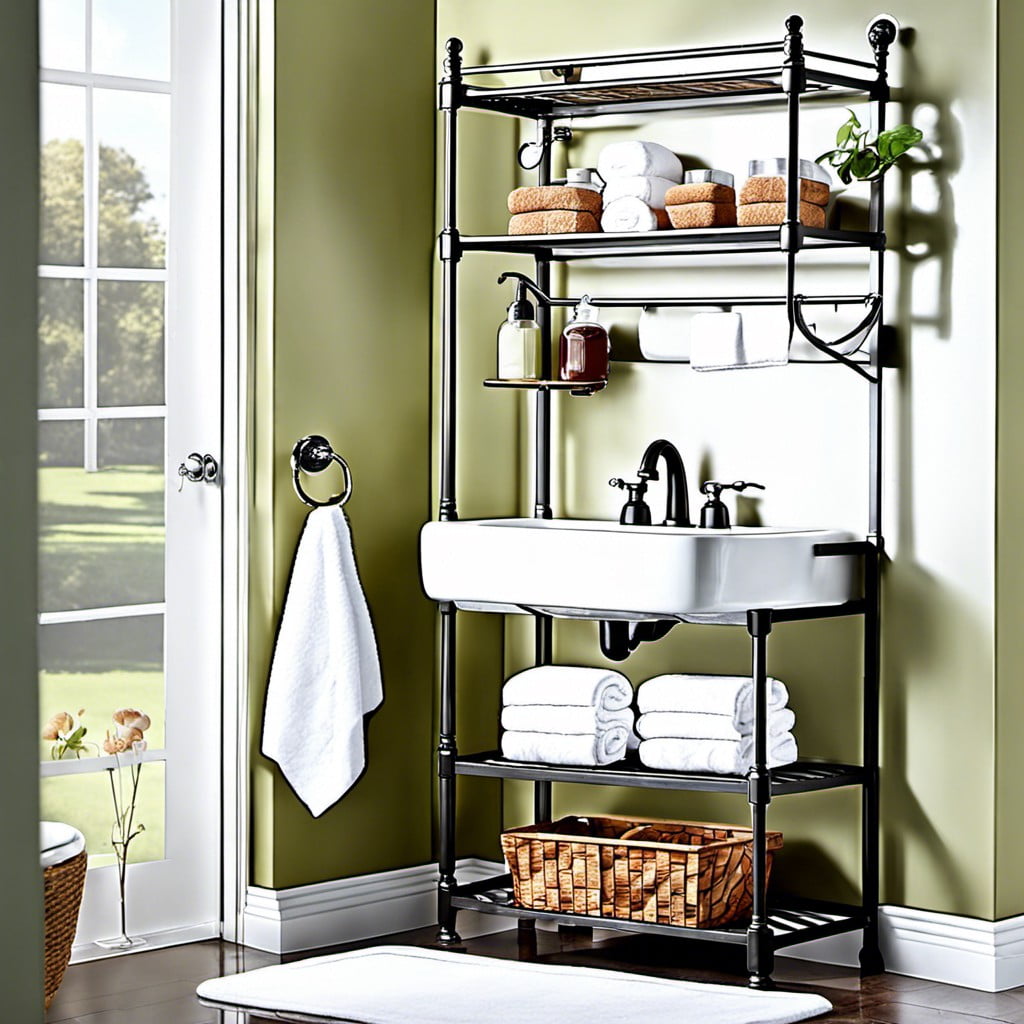 Diving into do-it-yourself (DIY) projects can be both gratifying and cost-effective. Happiness is crafting an appealing piece using your creativity and your own hands. For your DIY Bathroom Baker's Rack, here are a few easy steps to follow:
1. Choose your Material: Depending upon the design style you have in mind, pick the right material. It could be iron for an industrial look, or wood for a rustic appeal.
2. Design and Measurements: Sketch your design with precise measurements. This will be your guide throughout your crafting process. Consider the bathroom space you have and what you want to store on the rack.
3. Build: Start constructing your rack. Use basic tools like a hammer, nails or screws, a saw for wood or welding equipment for iron. Ensure it's sturdy.
4. Paint or Polish: Give it a protective layer to avoid dampness damage. You can paint it to match your bathroom color scheme or just polish it for a more natural look.
5. Decorate and Install: Once done, add your personal touch. Use seashells, faux flowers, or even vintage artifacts. Finally, ascend your handmade masterpiece in the desired bathroom area.
Remember, safety always comes first. If you're inexperienced in handling tools or building units, ask for help. You don't want your DIY project turning into a DIY disaster!
Beach-Themed Bathroom Baker's Rack Ideas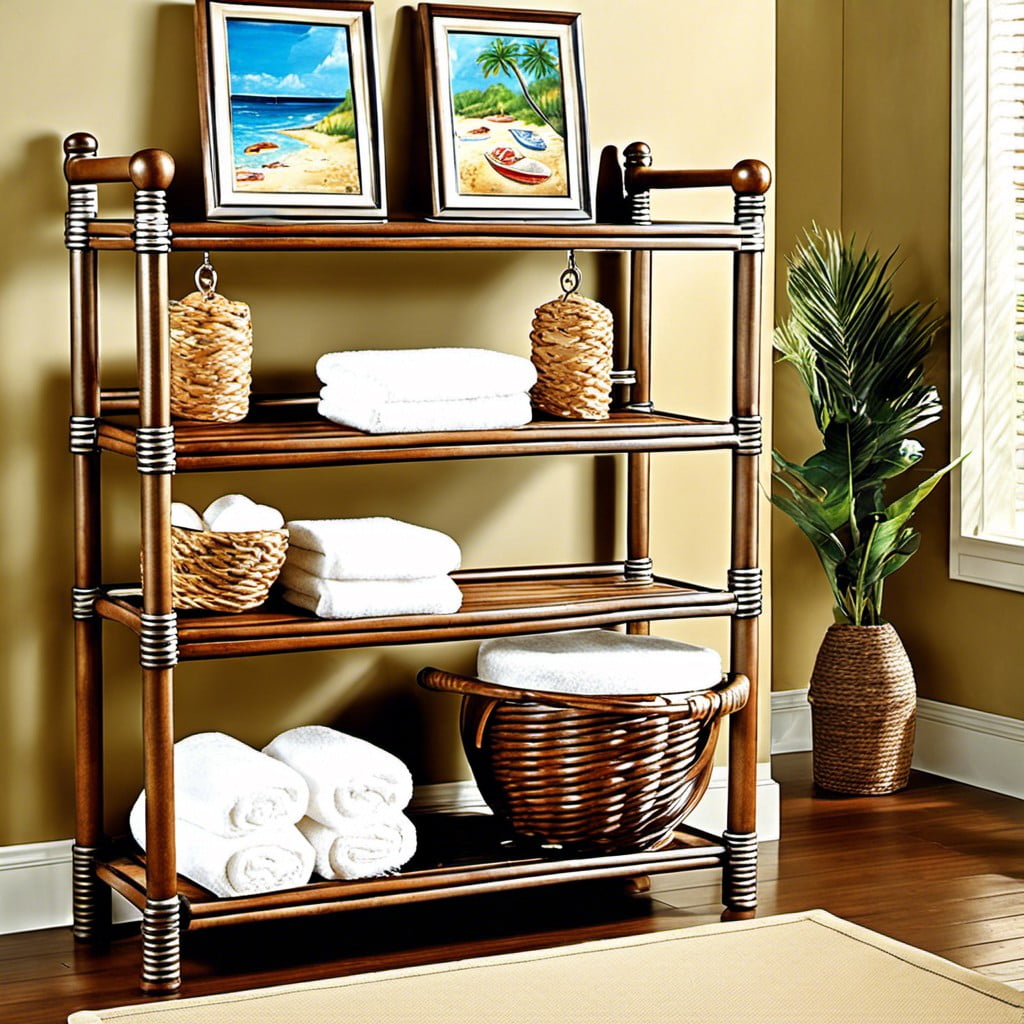 Incorporating nautical elements within your beach-themed rack can truly elevate the ambience of your bathroom. Opt for a white or turquoise distressed rack to mimic the oceanic palette.
The shelves could be adorned with seashell-encrusted containers, jars of beach sand, and even a miniature boat wheel.
Rattan baskets can be an excellent addition to this theme, providing additional storage while retaining the coastal vibe.
For a unique spin, try adding fishing nets or synthetic corals as decorative touches.
Finally, don't overlook the eye-catching appeal of sea glass knobs or handles on the rack, reflecting the shimmering ocean water in more ways than one.
These beach-themed elements are not just visually pleasing but also help create a cohesive story around your bathroom decor.
Utilizing Baker's Racks for Bathroom Corner Spaces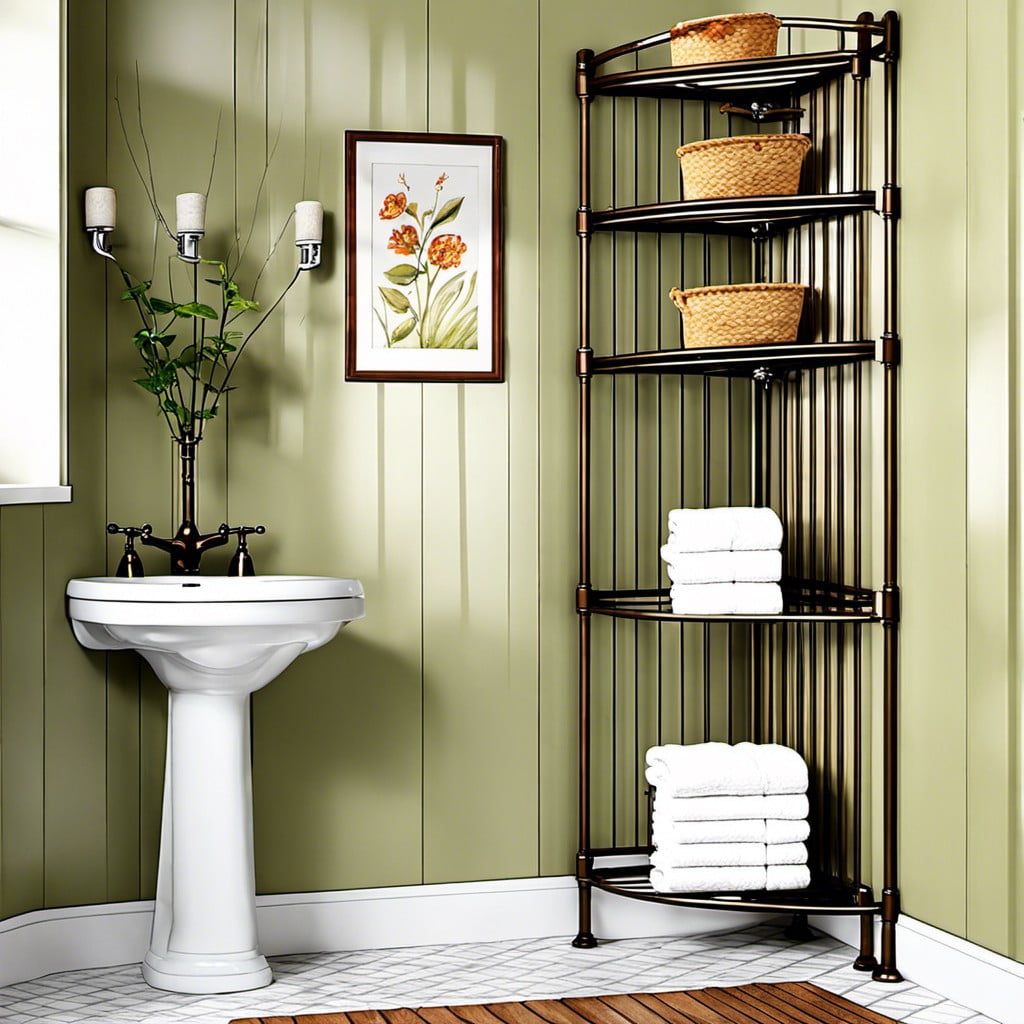 Maximizing corner spaces with baker's racks is a clever solution. It adds both form and function. They fit perfectly into tight areas, transforming unused dead space into efficient and eye-catching storage.
Consider the following:
1. Layered Effect: These racks often feature multiple shelves at varying levels. The arrangement provides a layered effect, ideal for organizing items of various sizes.
2. Vertical Emphasis: Corner baker's racks enhance the room's vertical dimension. It draws the eye upward. This visual trick can make even the smallest bathroom appear larger.
3. Flexibility: Users can adjust the configuration based on their storage needs. Perfect for placing extra towels, bath essentials, succulents, or decorative items.
4. Material Choice: Materials matter. Wrought iron ones can withstand moisture better, while wooden models bring a warm, rustic appeal.
Remember, when installing, assess potential obstructions such as doors or shower curtains. Properly executed, corner baker's racks become functional sculptures, enhancing both the aesthetics and storage capabilities of your bathroom.
Refurbishing Old Baker's Rack for Your Bathroom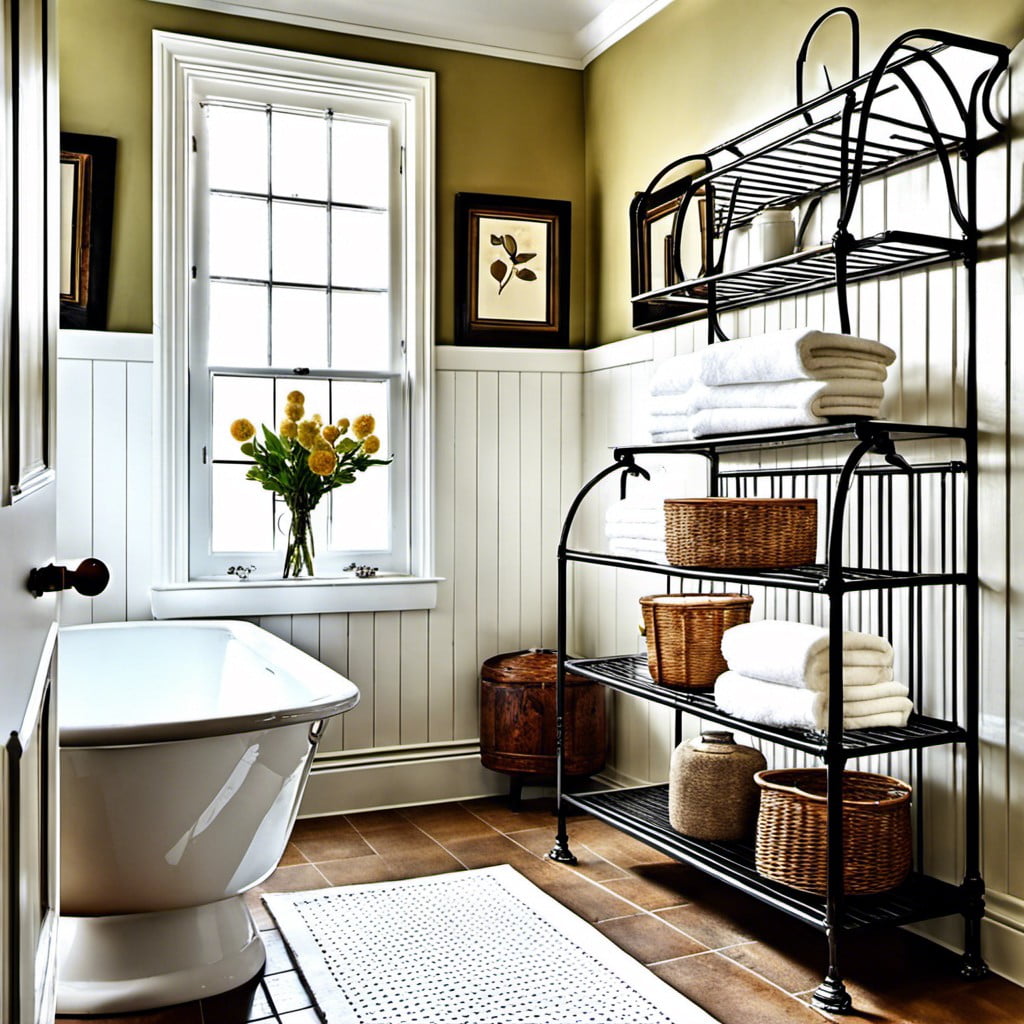 To breathe new life into an old baker's rack, start with cleaning and assessing the rack's quality. A thorough cleaning will remove the dust accumulated over time. Assess if there's any part of the rack needing repair, such as tightened screws, replacement of missing parts, or introduction of braces for added stability.
Next, decide on the style that will suit the bathroom. A simple paint job can significantly change how a baker's rack looks. The choice of color? Well, that's entirely up to individual preference. A white finish often produces a clean, traditional look, while shades like black or metallic gray can give it a contemporary feel. A bold hue, such as navy blue or emerald green, can act as a standout element in the bathroom.
For those with a flair for the rustic, sanding the rack and applying a coating to enhance the wood's natural appearance can create a remarkable effect. Alternatively, a distressed finish with spots of worn-out painting can give the rack a vintage feel.
Remember, those with glass or wire shelves can have an additional aesthetic highlight. A roll of contact paper or adhesive film can transform the look of a clear glass shelf, while a spray paint can change the entire vibe of a wire rack.
Consider to add on-trend accessories such as baskets, bins, or small crates, which can serve both as aesthetic elements and additional storage. Incorporating plants can also help to bring the bathroom to life while creating a calming space. So, roll up the sleeves and create a bespoke piece that not only functions well but also becomes a conversation starter.
Decorative Bathroom Baker's Rack Designs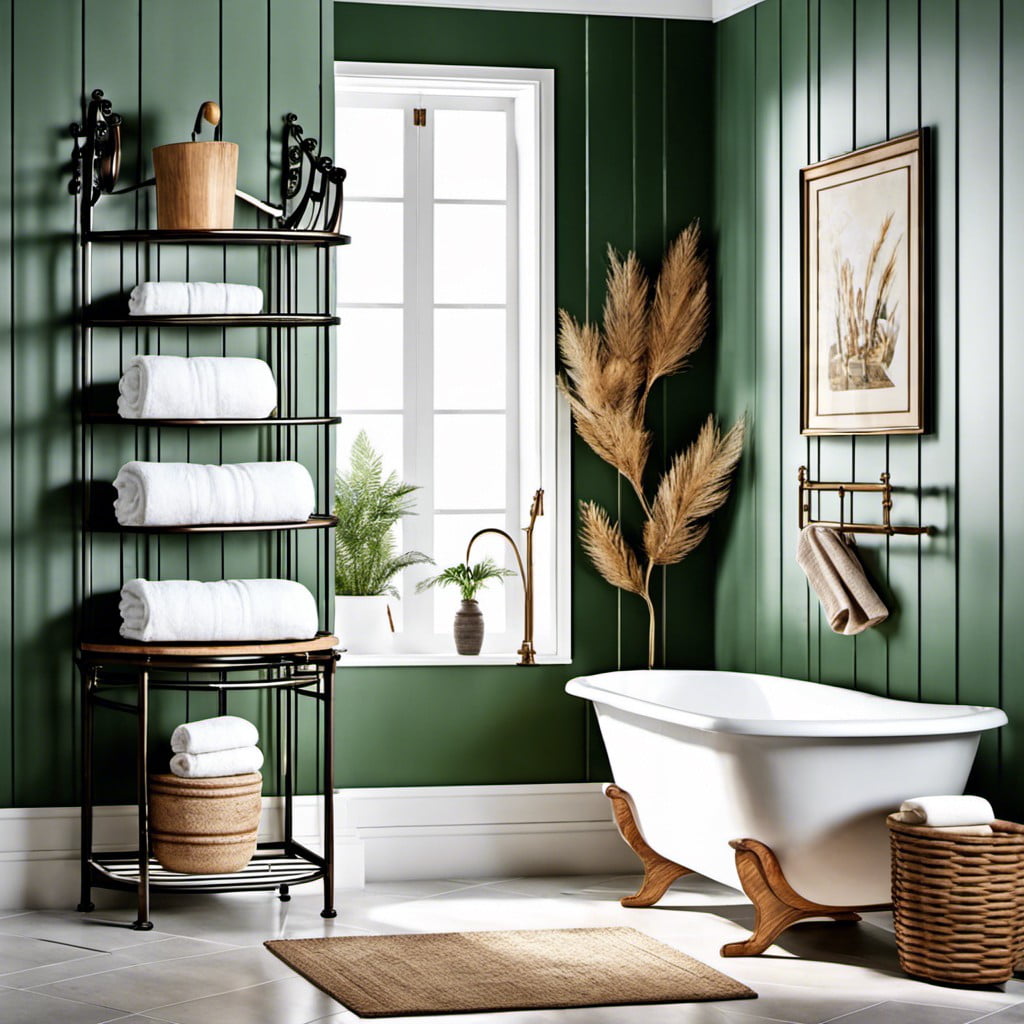 Decorative designs are an incredible way of merging style with utility. Consider intricately crafted wrought iron racks with floral or leafy patterns, they immediately lend a chic aesthetic and can match any bathroom décor. For a more minimalist appeal, opt for racks with sleek lines and geometric shapes, a visible trend within Scandinavian or Japanese themes.
Glass shelves combined with metal frames offer a stunning contrast, creating an illusion of expanded space – an ideal choice for smaller bathrooms. Utilize colorful ceramic tiles or insert mirror panels on the back of the rack for an additional decorative aspect.
Opt for racks that incorporate designs from other elements in the bathroom, thereby fostering a harmonious décor. For example, if the bathroom displays a nautical theme, a rack featuring anchor or shell details would perfectly suffice.
Remember, the right rack design is one that strikes a balance between form and function, and seamlessly fits in with the overall décor of your bathroom.
Creative Bathroom Towel Storage On Baker's Racks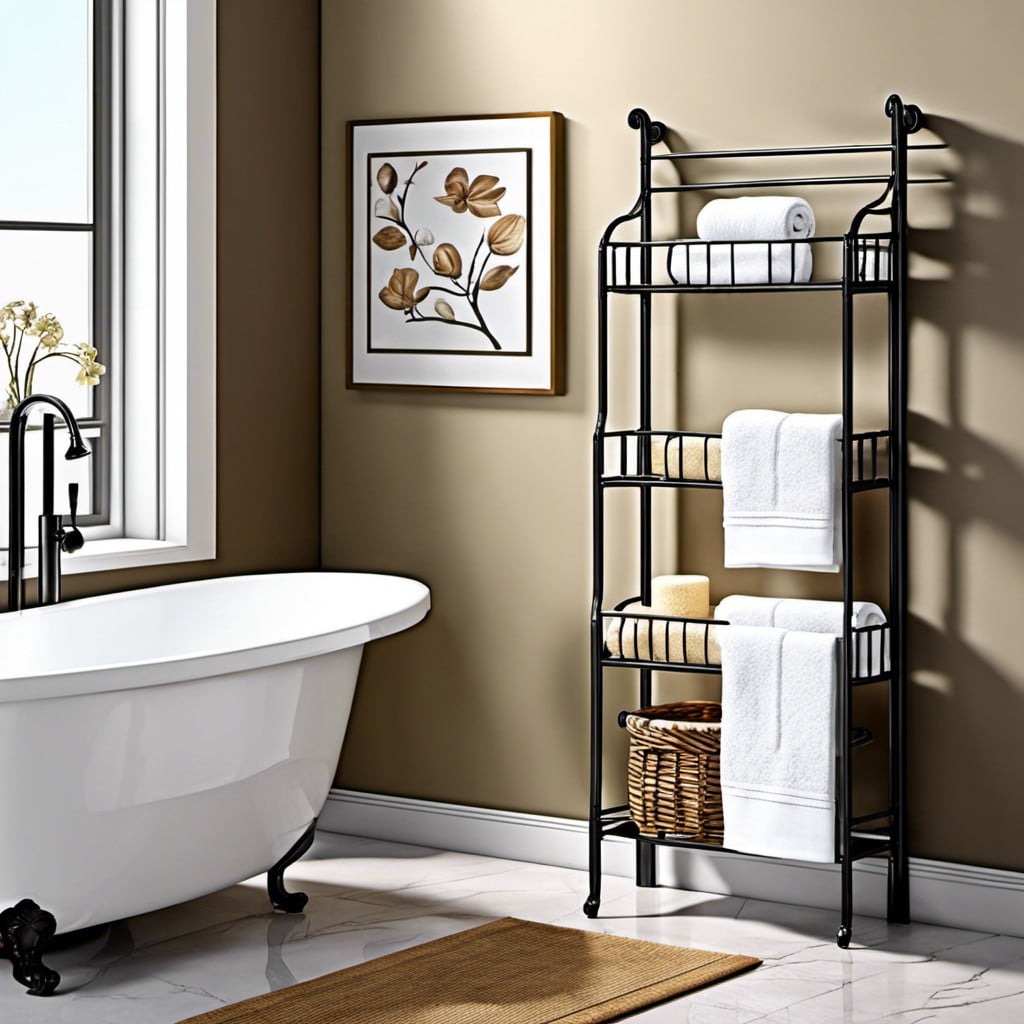 On to inventive ways of adorning baker's racks with towels. Firstly, selecting towels in colors complementing your bathroom's color scheme harmonizes the overall look. Neatly folding them and placing them on the shelves not only increases functionality but adds an aesthetic appeal.
You can also introduce the 'rolling' technique. Roll your towels and stack them in beautiful baskets or wire crates on the rack. It saves space and reinforces an organized, luxe spa feel.
Consider using the hooks. Hand-towel rings or hooks attached to the sides of the rack provide quick, convenient accessibility. Lastly, tiered racks allow a 'waterfall' display of towels, from the largest on top to the smallest on the bottom, providing a visually delightful cascade.
Remember to maintain balance. Overloading the baker's rack might give a cluttered look, negating the charm it brings to your bathroom décor.
Baker's Rack: A Novel Idea for Bathroom Spa Feel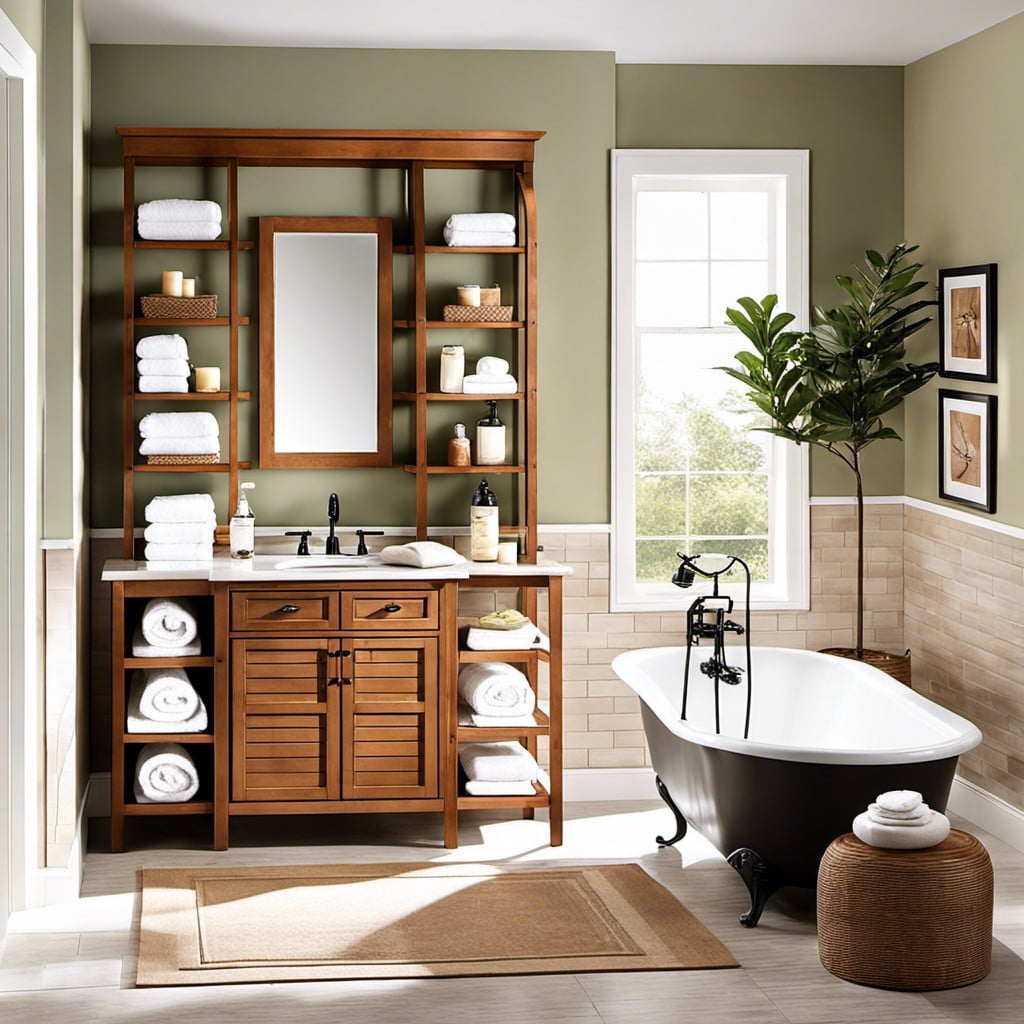 Transforming your bathroom into an oasis of relaxation can be achieved by incorporating a baker's rack. With their multi-layered shelving, these racks can comfortably hold your spa essentials.
1. Ideal for storing spa items: When adorned with plush rolled towels, jars of bath salts, scented candles, and an array of essential oils, a baker's rack becomes a visual and functional centerpiece.
2. Space for a mini indoor garden: The topmost shelves can house low-light, bathroom-friendly plants like bamboo or aloe vera, adding a splash of green.
3. Accessibility and organization: Keep bathrobes and slippers within reach on the lower shelves for ease and convenience.
4. Amplify ambiance: Arrange microfiber towels and use the rack's levels to layer intimate ambient lighting.
5. Display art: Use one shelf to express personal taste, be it a piece of framed artwork or an antique ceramic dish.
By integrating these elements into your baker's rack placement and design, you are a step closer to that immersive, spa-like environment in your very own bathroom.
Baker's Racks: Adding Elegance to Bathroom Organization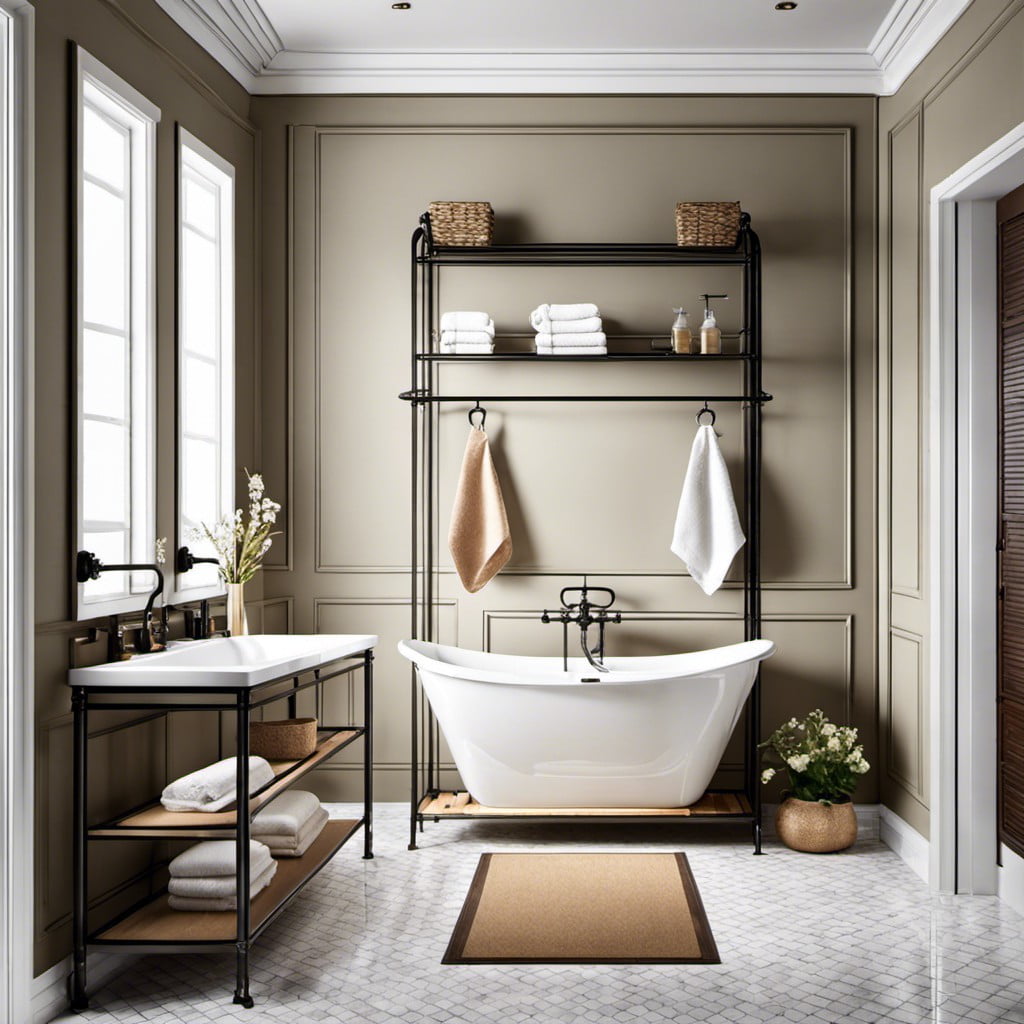 The presence of a baker's rack in your bathroom can effortlessly elevate the aesthetic appeal while managing clutter effectively. It serves as a versatile organizer that can hold everything from towels, cosmetics, toiletries to an aromatic diffuser or your favorite decorative items.
Here are some points to understand the concept better:
Diverse Designs: From sleek metallic designs to warm wooden finishes, these racks are available in various styles, each adding a touch of elegance to your bathroom.
Strategic Placement: Whether it's a corner space or next to the sink, installing your rack in a strategic location can significantly enhance both organization and aesthetics.
Layered Storage: The tiered design effectively utilizes vertical space, accommodating items of different heights and sizes.
Beauty in Openness: Unlike closed cabinets, the open design of baker's racks allows for easy access while showcasing your neatly organized items, adding to the visual appeal.
Easy Maintenance: These racks are typically easy to clean and maintain, adding to their practical benefits besides aesthetics.
Investing in a charming baker's rack can thus turn your mundane bathroom storage into a stylish display, making the space appear organized and elegant.
Ideas Elsewhere
Liked reading this? Here's more:
Recap: