Last updated on October 26, 2023
Choosing black Christmas decorations can transform your traditional festive decor into a modern, sophisticated aesthetic because it harmonizes contrast and depth in a unique way.
I'm proud to have crafted this article and its unique designs on 20 Black Christmas Decorations Ideas, and I hope you find as much inspiration and enjoyment in them as I did in creating them.
Embracing the elegance of black Christmas decorations can transform your home into a sophisticated holiday haven. From black Christmas trees to noir ornaments, and dark-hued wreaths to chic table settings, this article will guide you through a myriad of inspiring black Christmas decoration ideas.
Whether you're seeking a minimalist approach or a luxurious aesthetic, you'll discover how to incorporate black into your festive décor in a way that's both stylish and festive.
Read on to uncover all the details and let the magic of a black-themed Christmas unfold.
Black Christmas Tree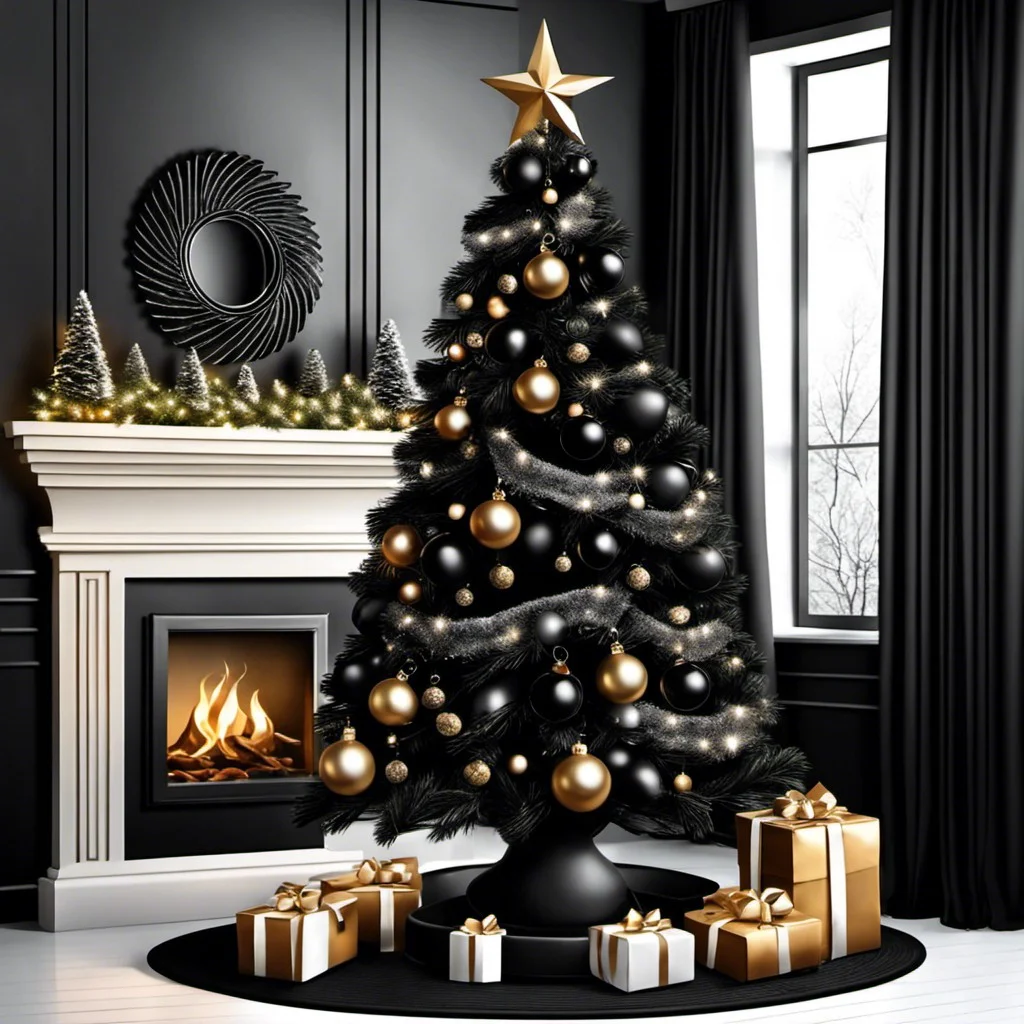 Straying from the traditional green, a shadowy, standalone silhouette can make a striking statement. A dramatic appeal is achieved with this unique take, whether the tree is fully black or just has black elements.
Embellish it with shimmering silver, gold, or white ornaments to enhance the visual contrast. For a playful touch, bright neon colors or red and green baubles can work wonders.
Try out a black tree this season to give your decor a stylish, contemporary twist.
Black and Gold Baubles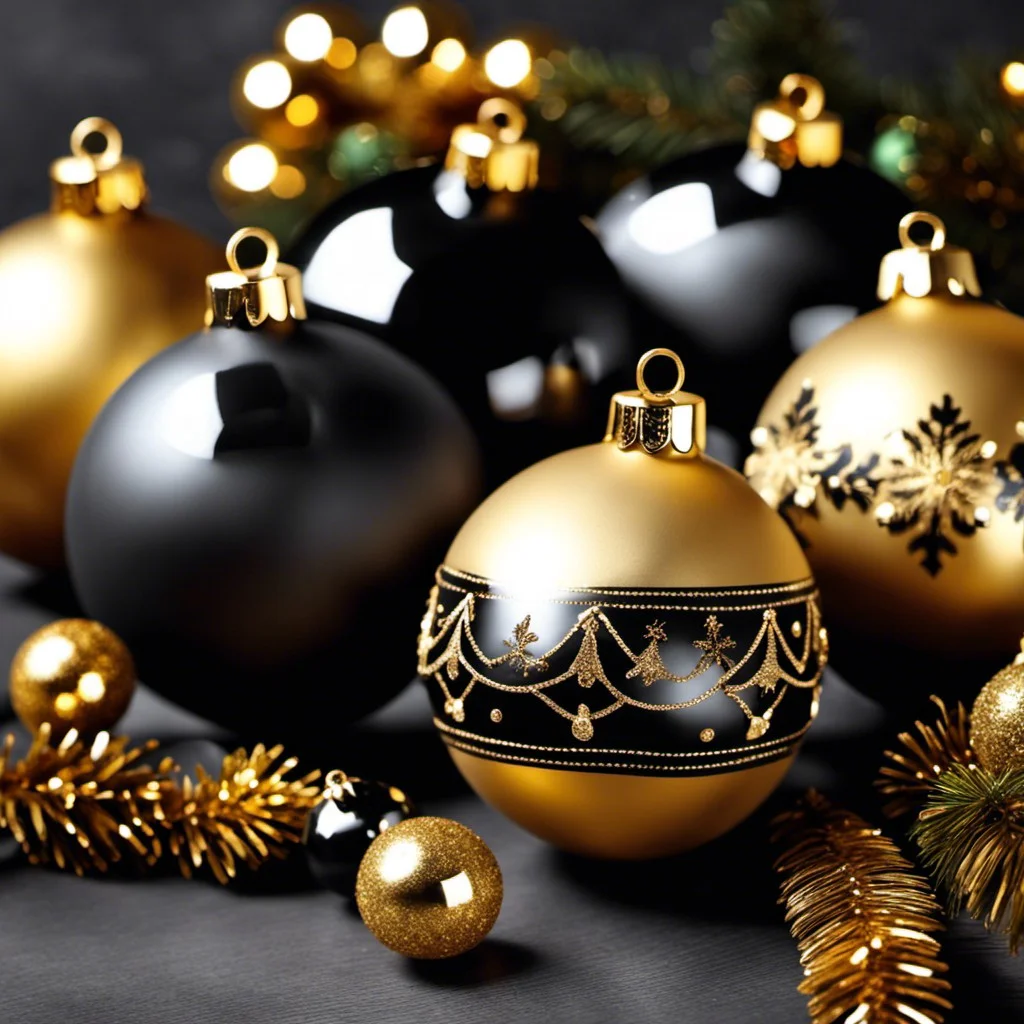 A classic yet modern approach can be achieved using a combination of monochromatic black and sparkling gold baubles. Start by mixing a variety of matte black, shiny black and gold ornaments of various sizes for visual interest. Remember, you're going for an elegant, luxury look. The glittering gold not only illuminates the tree but also breaks up the dark tones, providing an alluring contrast.
There's no hard rule that baubles should only hang on the Christmas tree. Think of your fireplace mantle, staircase railings, or even as part of your table centrepiece.
Lastly, a small, pro-tip: when placing your ornaments, start from the inside of your tree and work outward. This creates depth and allows each piece to stand out. Maintenance is key as well. To keep your baubles shiny throughout the holiday season, remember to dust them regularly with a smooth cloth.
Black Velvet Stockings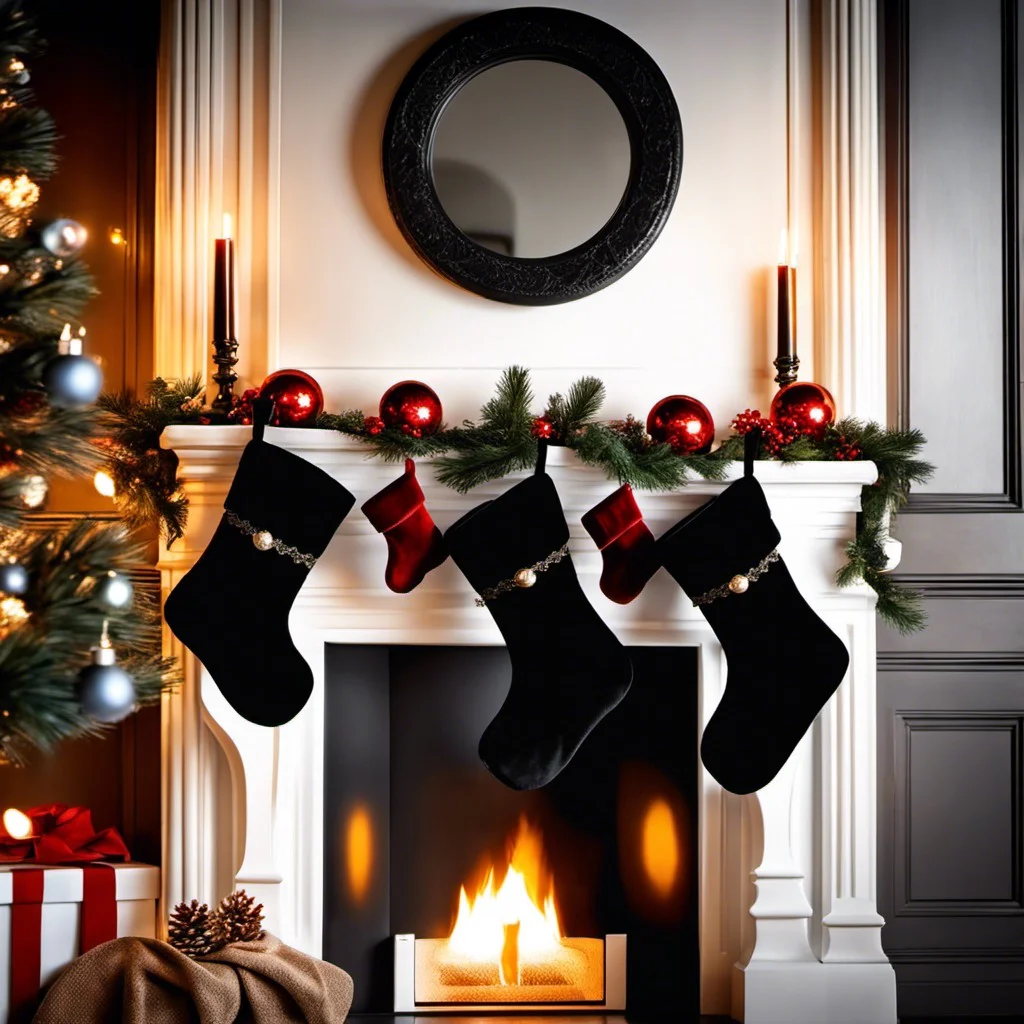 Velvet's luxurious texture brings a sophisticated touch to the festive decor.
Opting for black transforms the conventional Christmas stocking into an elegant piece that is hard to look away from.
Hanging these from your mantelpiece or staircase instantly elevates the room's aesthetic, radiating a chic, modern vibe.
You could further enhance their charm by adding monogrammed initials using silver or gold thread.
For a more festive look, consider small, embellished brooches or bells.
Remember, stockings aren't just for show; they're traditionally filled with small gifts, adding another layer of excitement to Christmas morning.
Hence, durability in addition to style is key when choosing your ideal black velvet stockings.
Black Tree Skirt With Silver Trim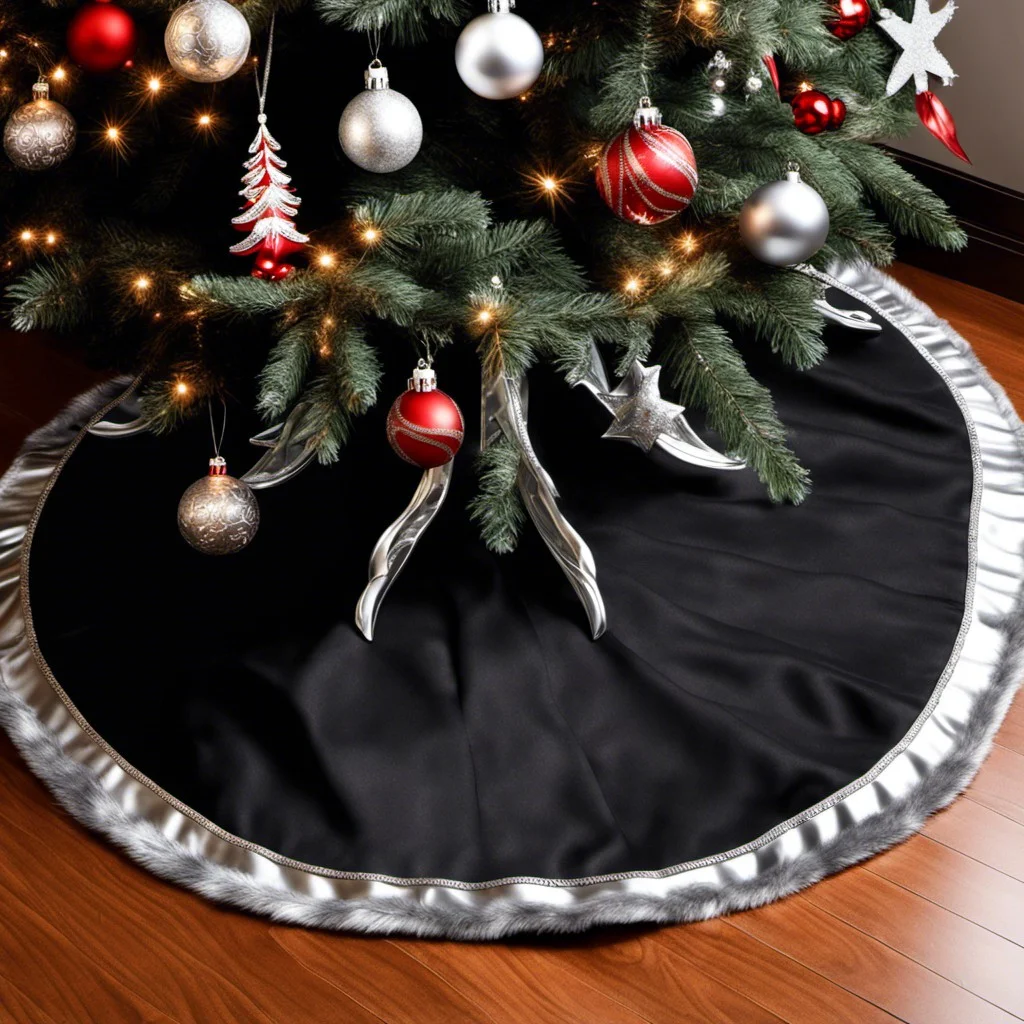 Having a beautiful black tree skirt with a silver trim at the base of your Christmas tree instantly enhances the overall look. The dark hue creates a striking contrast with the usually green tree. It's a modern but timeless choice that can pull all your decor together nicely.
Giving your tree a polished and complete look, it serves as a trendy canvas for your Christmas presents. Its lush material gives it a warm and cozy look, while the silver trim adds just the discrete hint of sparkle, it's a subtle nod to the holiday spirit without being overtly theatrical.
Experiment with metallic silver trim, glittery silver or even a matte finish depending on the rest of your decorations, all ensuring a sophisticated edge. Bear in mind, it's not only eye-catching but also practical, catching any fallen needles or accidental spills.
Finally, whether you choose a quilted, faux fur, sequined or a simple fabric skirt, it's the perfect way to add that unexpected, yet intriguing pop of black to your decor.
Black String Lights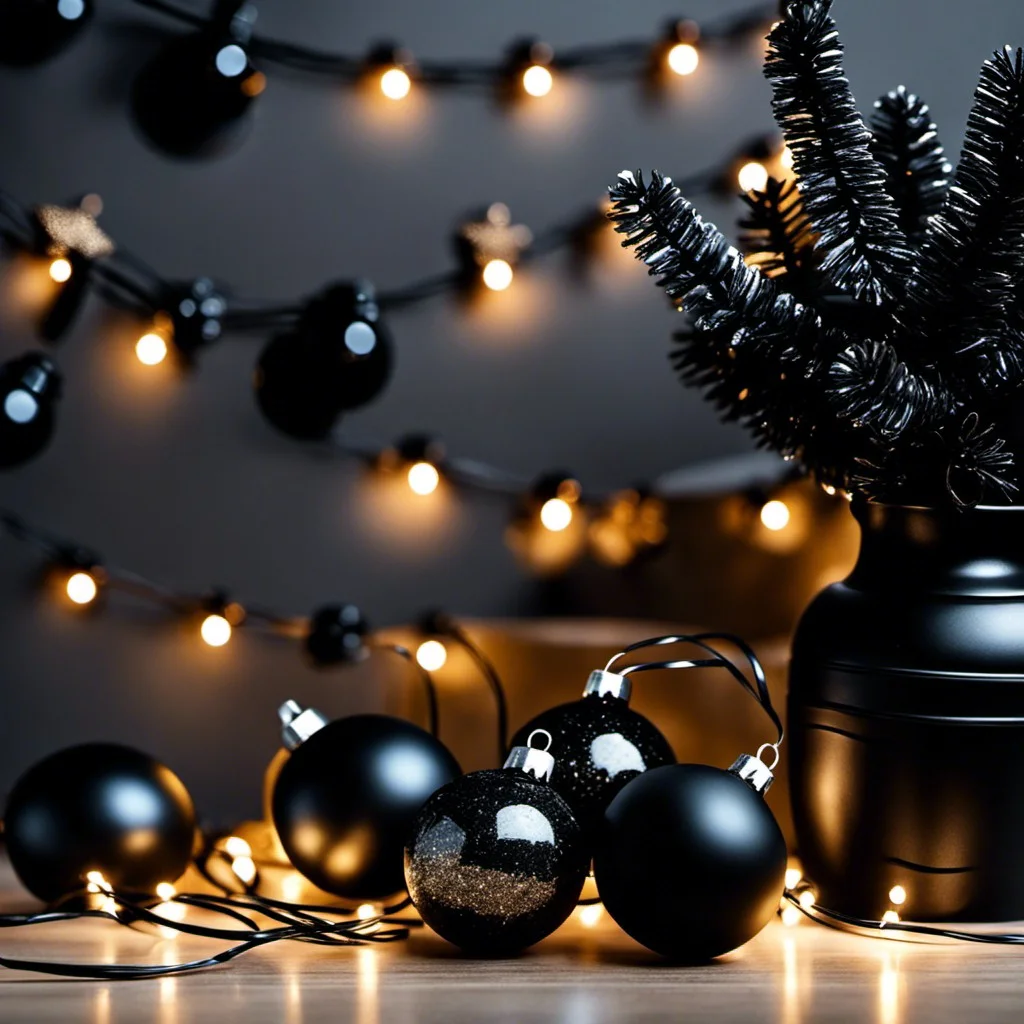 Adding a touch of sophistication and drama, string lights in onyx hues infuse distinct class into any festive decoration. They create a minimalist aesthetic while setting a warm and inviting atmosphere.
Here's how they can be incorporated:
1. Cascading Effect: Drape them down a wall or a window for a mesmerizing waterfall effect. It's an easy yet impactful visual treat.
2. Mantel Display: Arrange these lights along fireplace mantels. They'll perfectly frame the fireplace, creating a cozy focal point.
3. Tree Decor: Unlike typical bright white or multicolored lights, black string lights present the Christmas tree in a unique and modern light.
4. Centerpiece: Place them inside glass vases or jars for a centerpiece that subtly illuminates the dining room with a soft glow.
5. Outdoor Use: They define open spaces beautifully. Anchor them in a gazebo or patio for a starlit effect under the night sky.
Remember, when it comes to black string lights, less is more. The goal is enhancing elegance without overpowering the festive feel.
Black Tinsel Garland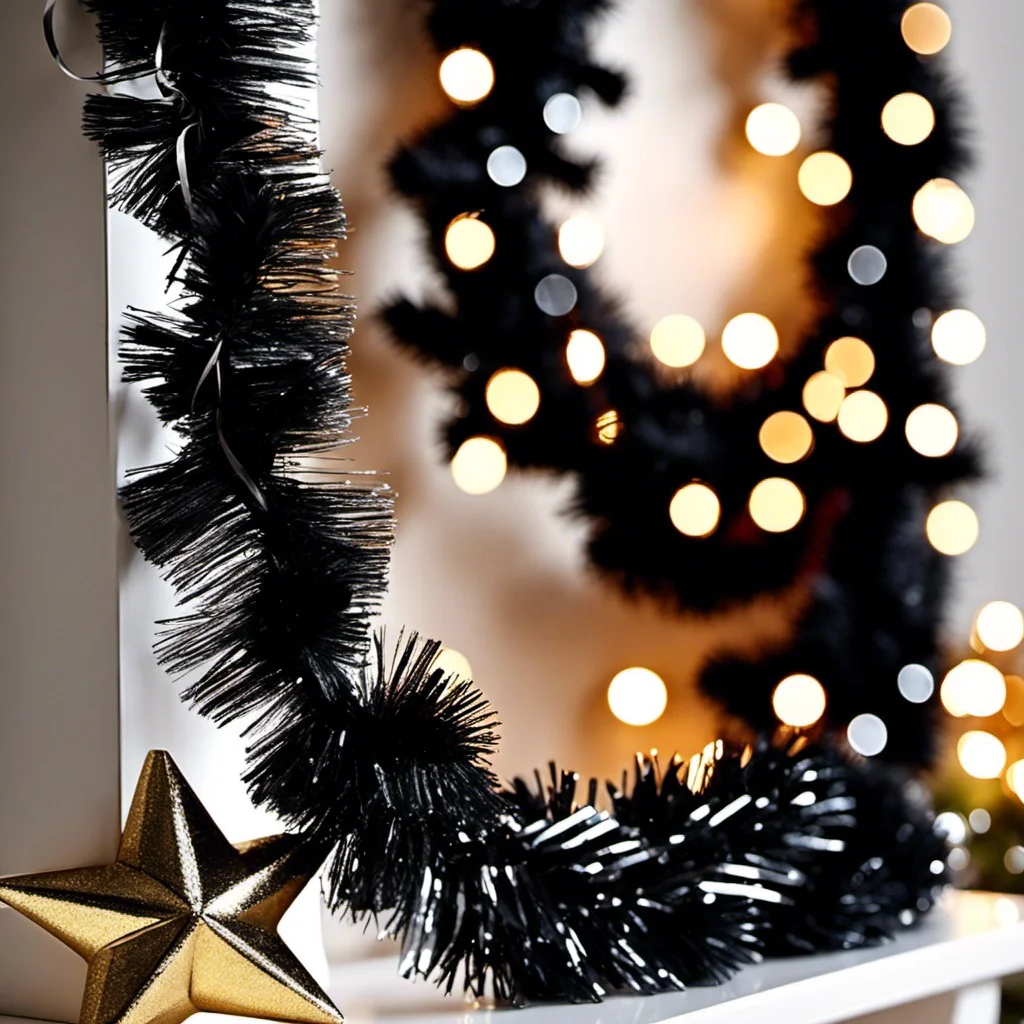 Decorating with black tinsel garland offers a striking contrast against traditional holiday hues. Its shimmering strands add a sophisticated touch to winter aesthetics.
This versatile element can be draped over mantels, wrapped around railings, and strewn across Christmas trees with relative ease. Use it to enhance the chic factor of your décor, or layer it with other colours for a more dynamic setup.
When styled with lights, the black garland reflects the glow, creating a dazzling visual effect. It offers an unconventional twist to typical holiday decorations, promising to catch the eyes of your guests.
Black Star Tree Topper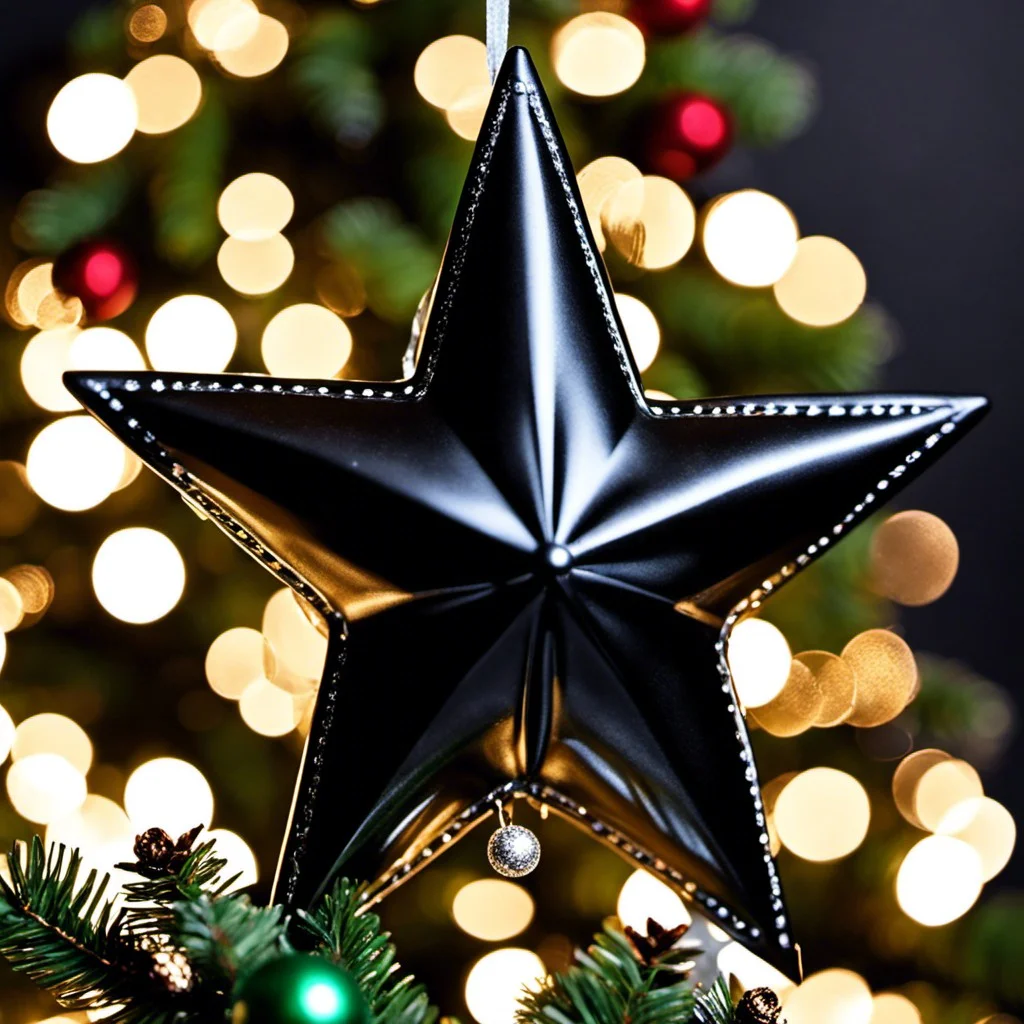 A striking feature of the Christmas tree is inevitably its glamorous topper. Opting for a star shaped topper that is painted black can give a chic touch to match the overall theme.
Moreover, a glossy or matte finish brings out a sophisticated charm. For an added touch, you can use a star with elements of glitter or metallic embellishments to reflect the twinkling lights on your tree.
Besides traditional star designs, contemporary and geometric styles are interesting options to consider. Remember, the topper, being poetry in silence, has the power to tie your whole scheme together.
Black Glitter Candles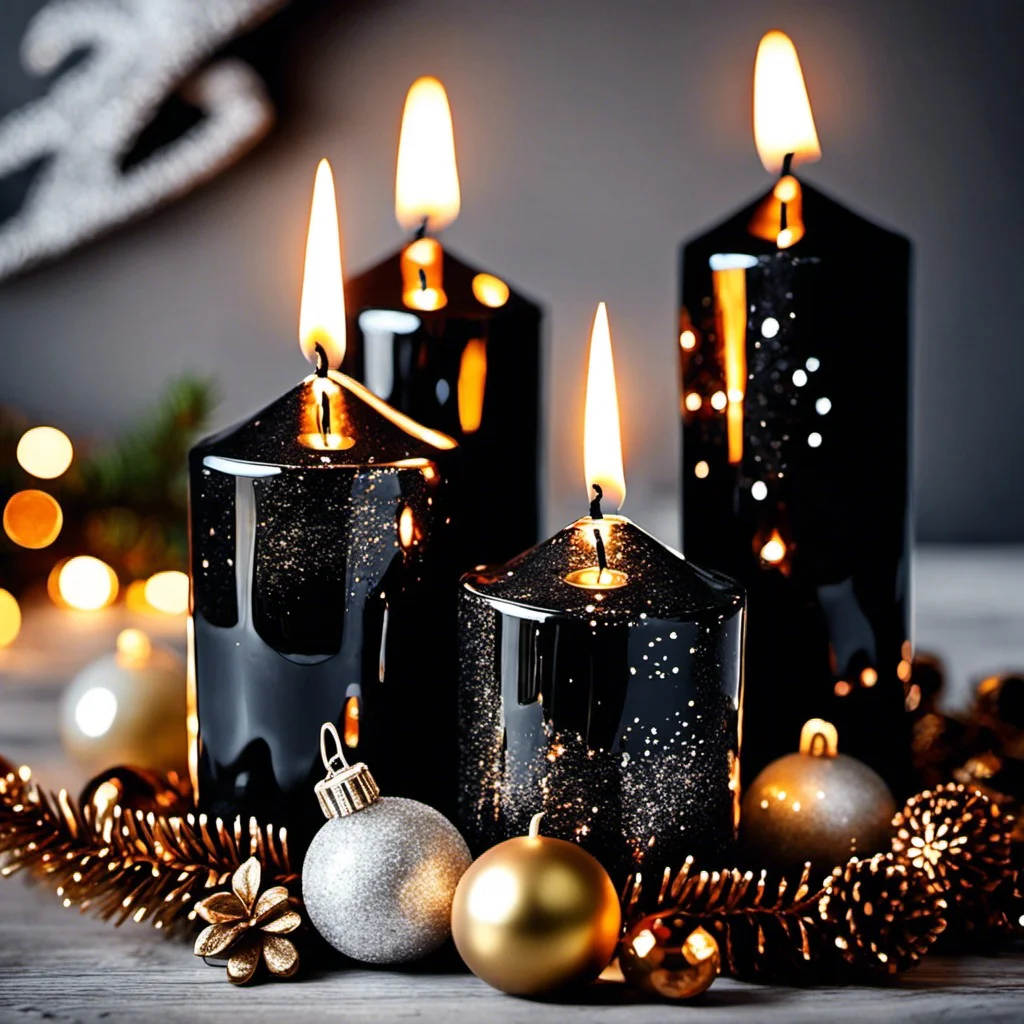 Adding a sparkling touch, these candles can illuminate your space with an interesting twist. Instead of traditional colors, opt for these unique, mesmerizing pieces. Their dark hue and glittery finish make them quite unlike your average holiday lights.
1. Choose Different Sizes: Variety in candle height and girth can create a dynamic visual. Group them together on a mantel or a centerpiece for a dramatic look.
2. Use in Candle Holders: For enhanced effect, place them inside elaborate or minimalist candle holders depending on the overall decor theme.
3. Pair with Other Colors: Complement these black glitter candles with silver, gold, or red accents for a festive touch.
4. Safe Placement: Ensure they're positioned safely away from flammable substances.
5. Long Burn Time: Select those with longer burn times for lasting enjoyment throughout the season.
Remember, these candles aren't just for Christmas – they can be used for other festive occasions or throughout the winter months.
Black and Silver Wreath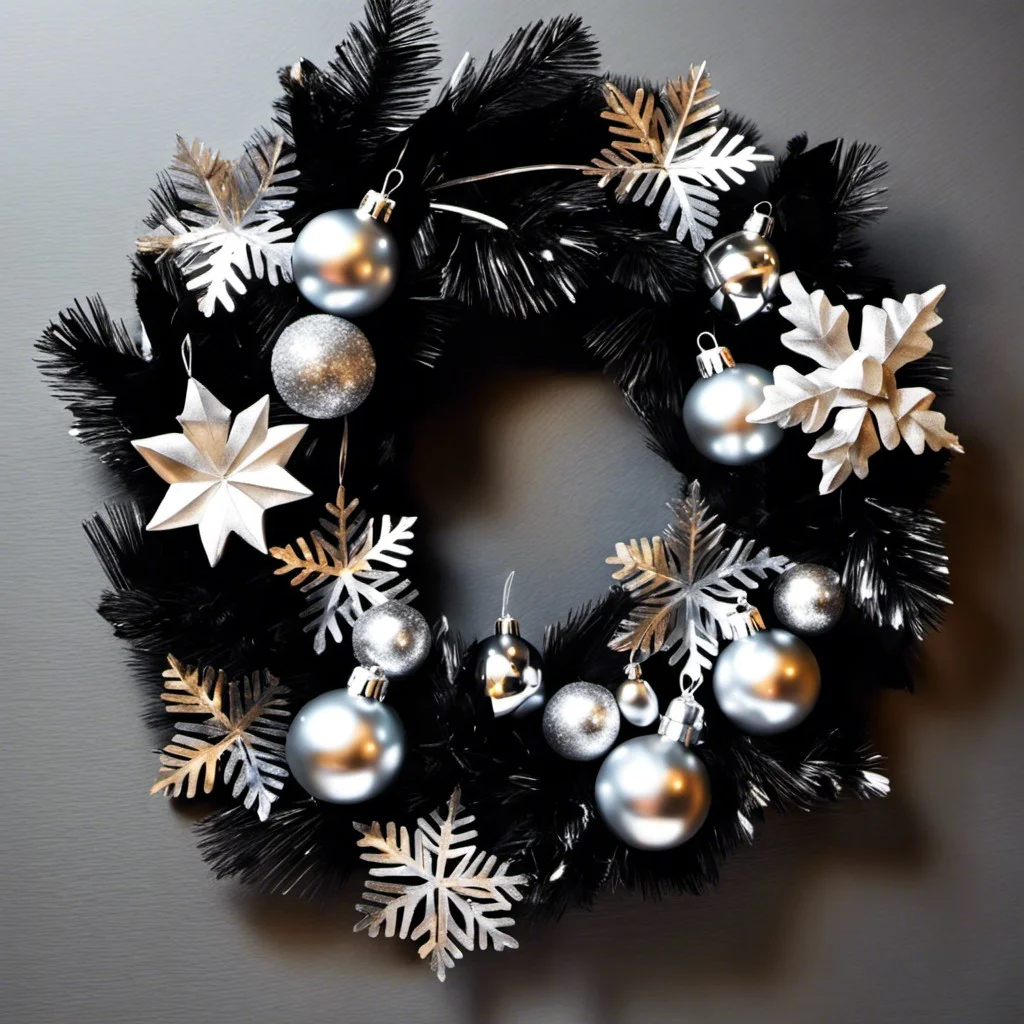 Incorporating silver accents into your black wreath offers a contemporary and elegant twist on traditional decor.
The contrast between silver and black provides a striking visual that stands out against a bright or dark-colored door.
For an effortless look, intertwine silver tinsel or incorporate silver star ornaments throughout the black wreath's branches.
For a more natural aesthetic, silver-sprayed pinecones or eucalyptus leaves can be scattered around the circumference.
Regardless of the individual elements used, ensure to maintain balance and symmetry to achieve a cohesive design.
Black Poinsettias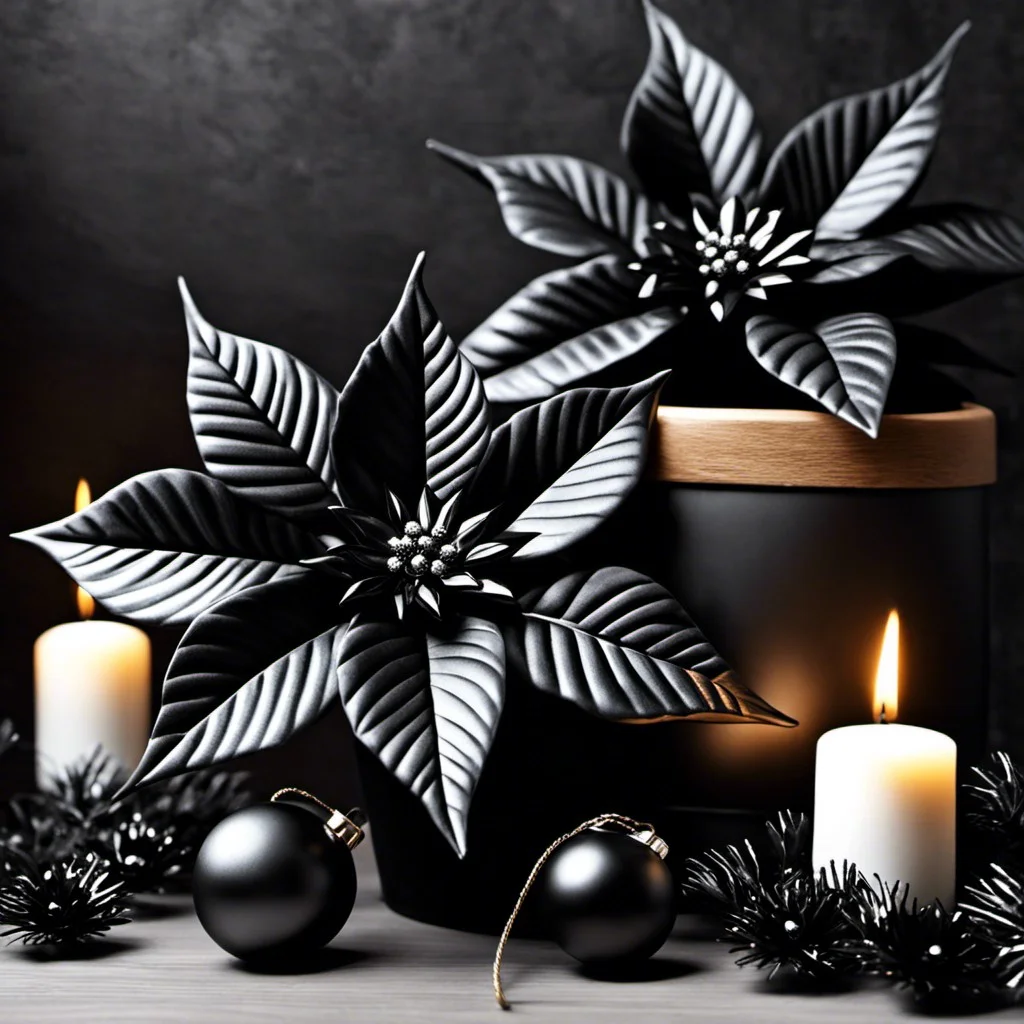 Transforming traditional holiday flora into a dramatic display, poinsettias with black leaves pop against the backdrop of the typical holiday red and green color scheme.
A few tips to master this look:
1. For an authentic feel, try painting real, red poinsettias with a non-toxic, black floral spray. Aim to evenly coat each leaf for a uniform appearance.
2. If time or skill is a concern, faux black poinsettias are a beautiful, hassle-free alternative. They can be found in craft stores or online and used year after year.
3. Amp up the visual interest by placing them in a silver or white vase, or alongside a cluster of white pillar candles. The contrast will create a striking focal point.
4. Integrating smaller, black poinsettias into garlands or wreaths can tie your entire decor scheme together.
Remember, a little can go a long way! These bold blooms should compliment your decor, not overshadow it.
Black Ribbon Bows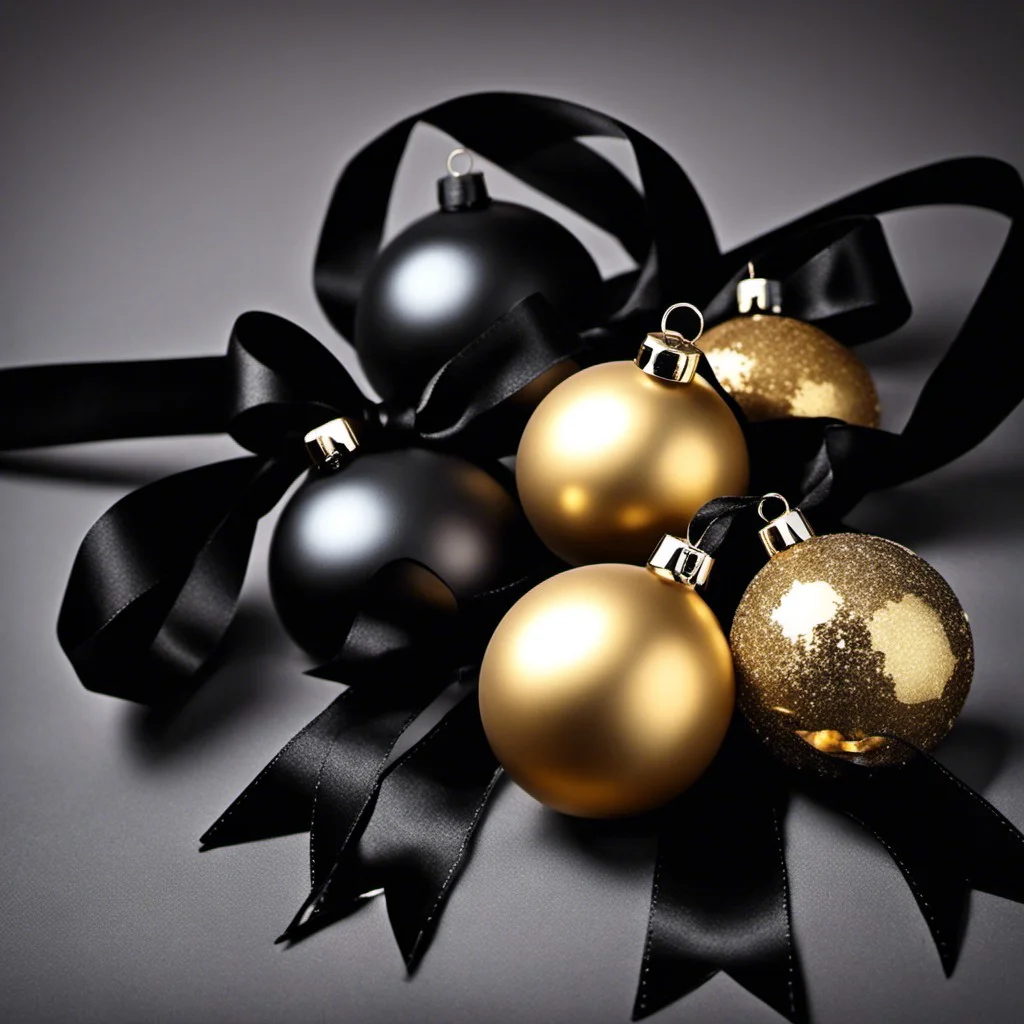 Accentuating the Christmas tree, gifts and even door handles with black ribbon bows is an elegant and modern take on the festive decor. This color is not often associated with jovial occasions such as Christmas, but surprisingly, it can add depth and sophistication.
When made in luxurious satin or velvet texture, the black bows lift any decoration from plain to chic. Showcase them on white or mirrored ornaments for a striking color contrast. Additionally, weaving them through a garland on a staircase railing, or even tying them on the dining chair backs, brings a novel and dramatic touch to the holiday décor.
Do note, a beautifully tied bow can create a visual focal point. So, explore various tying techniques such as the classic shoelace bow or the more complex florist bow. Remember, these bows are more than just adornments, they are a statement. They say that you dare to be different but still hold on to the holiday's enchanting spirit.
Black Lace Tablecloth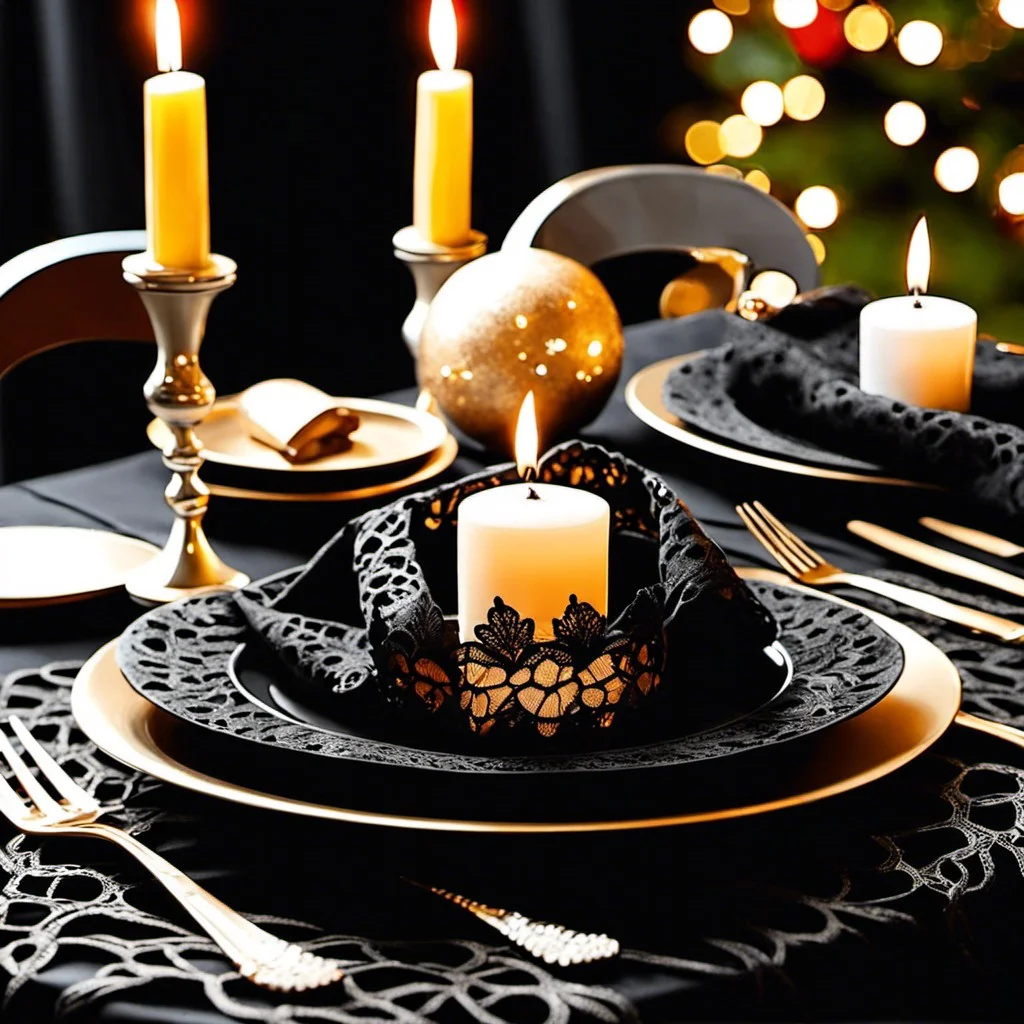 Dramatically enhancing the look of your dining area, a black lace tablecloth provides an elegant backdrop for any Christmas feast. Its intricate patterns mirror the delicate beauty of snowflakes, adding an unexpected touch of class to holiday decor.
To complement the black lace, consider these three points:
Pair it with silver or crystal tableware – the reflection of these pieces against the dark cloth creates a striking balance.
Accentuate the lace design with small white or red floral arrangements as centerpieces, adding Christmas colors subtly.
Use a white or light-colored undercloth – this will illuminate the lace's pattern, drawing the eye and creating depth on the table.
Black Feather Ornaments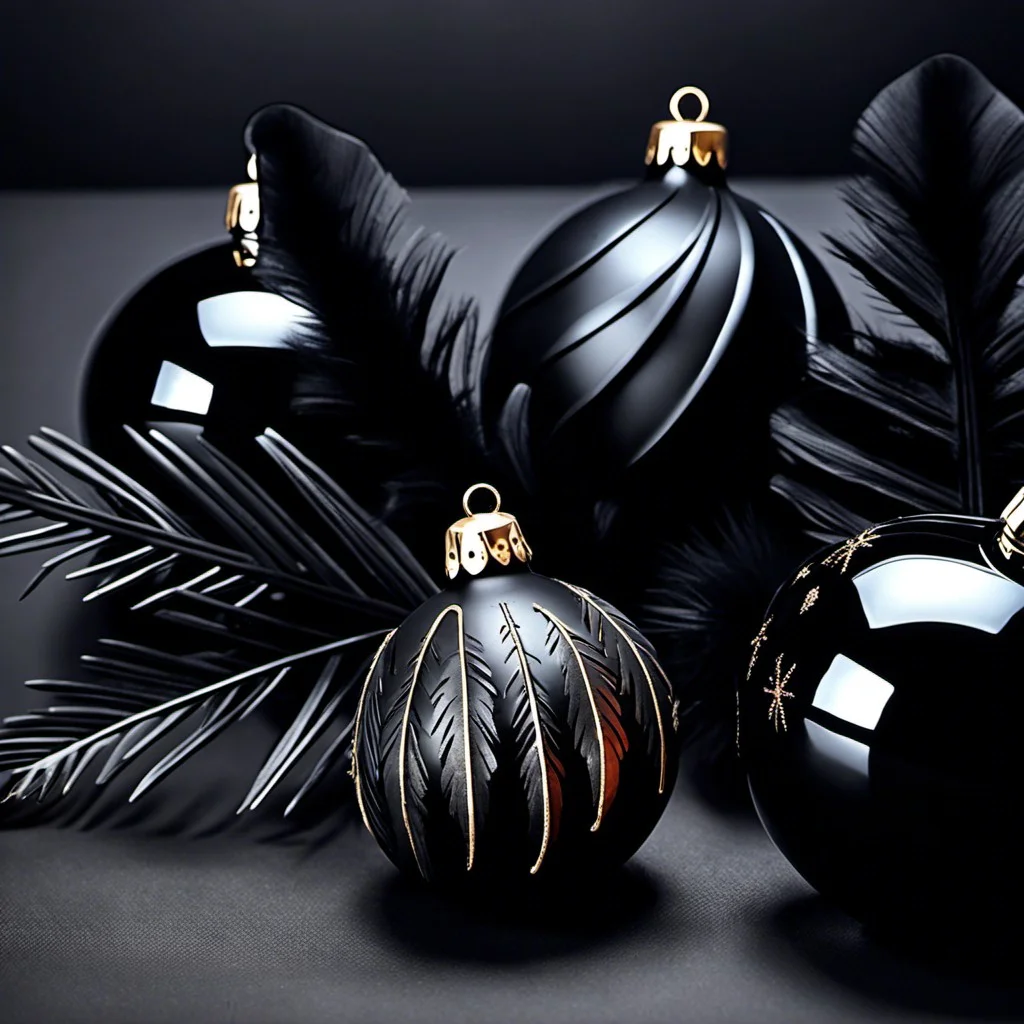 Feathers make for fantastic ornaments, especially when they're dyed a lustrous black. Their soft texture adds a different, often much-needed contrast to the typical glitter of other decorations. Opt for assortments of feathers or even complete feathered birds, choosing pieces with extra sparkle or sequins for added elegance and shine. Some may even prefer feathers arranged in a glamorously vintage Victorian style, complete with delicate beadwork.
For an organic, rustic touch, mix in your black feather ornaments with others made of wood or jute. This way, the striking black of the feathers stands out against more neutral tones and brings an air of mystery and sophistication to your holiday decor.
Alternatively, combine the black feather ornaments with white, silver or gold ones for a monochromatic or metallic colour palette. This kind of contrast can brighten up the dark tones, while still maintaining the modern and chic vibe that black decorations provide.
Bear in mind that placement is vital. The tree branches, wreaths or garlands are ideal spots, allowing the feathers to drape beautifully. Just ensure they are secured well enough not to fall amidst all the holiday cheer. A properly placed black feather ornament can become the unexpected focal point that elevates your Christmas decor from festive to unforgettable.
Black and Red Candy Canes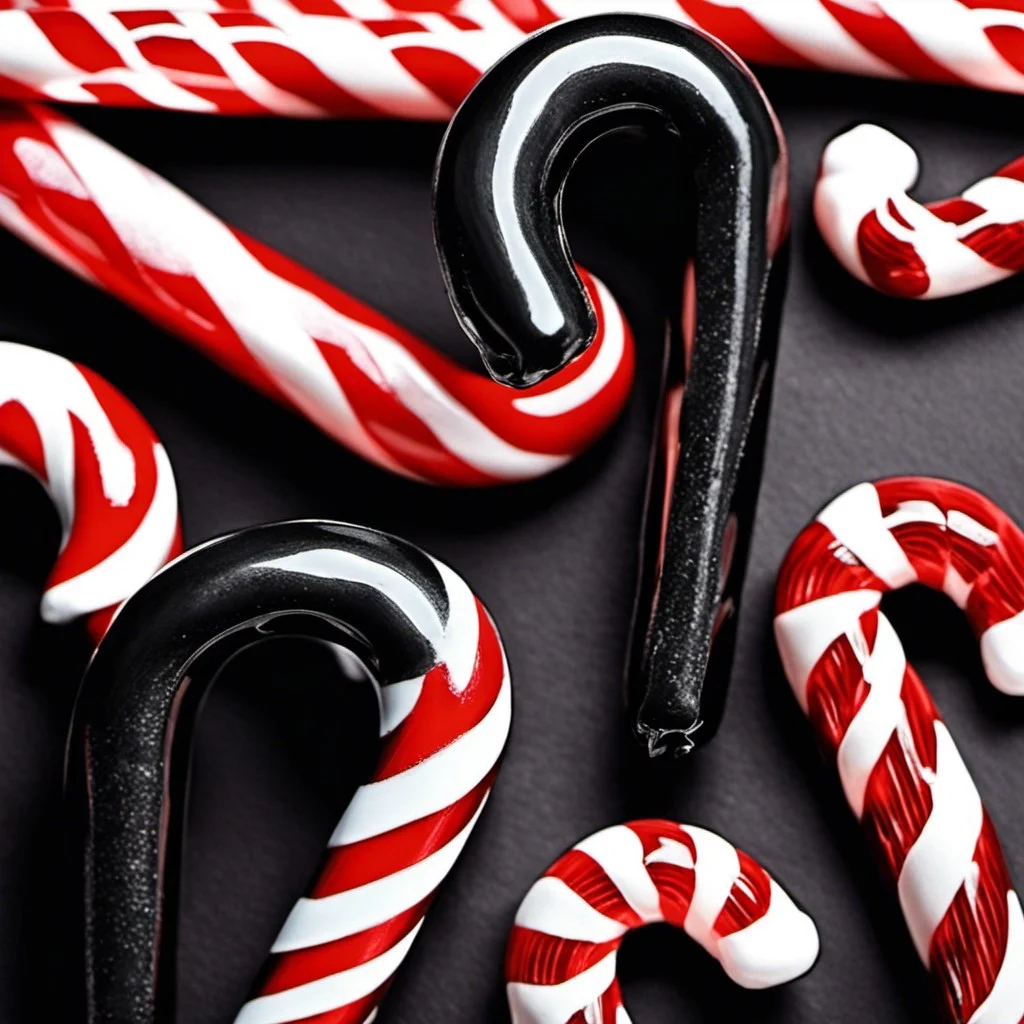 Incorporating a classic holiday symbol, these canes bring a modern twist to the traditional peppermint sticks. The deep red stripes offer a vibrant contrast to the black, capturing the eye and adding a pop of color to your holiday decor.
Whether hanging from the tree, placed in a clear container as a centerpiece, or tucked in stockings, they introduce a playful yet elegant touch. They work well with other black decorations or can serve as a statement piece against a lighter backdrop.
Remember, pairing them with lots of greenery can intensify their dramatic effect, making them an interesting alternative to the customary red and white.
Black Christmas Banners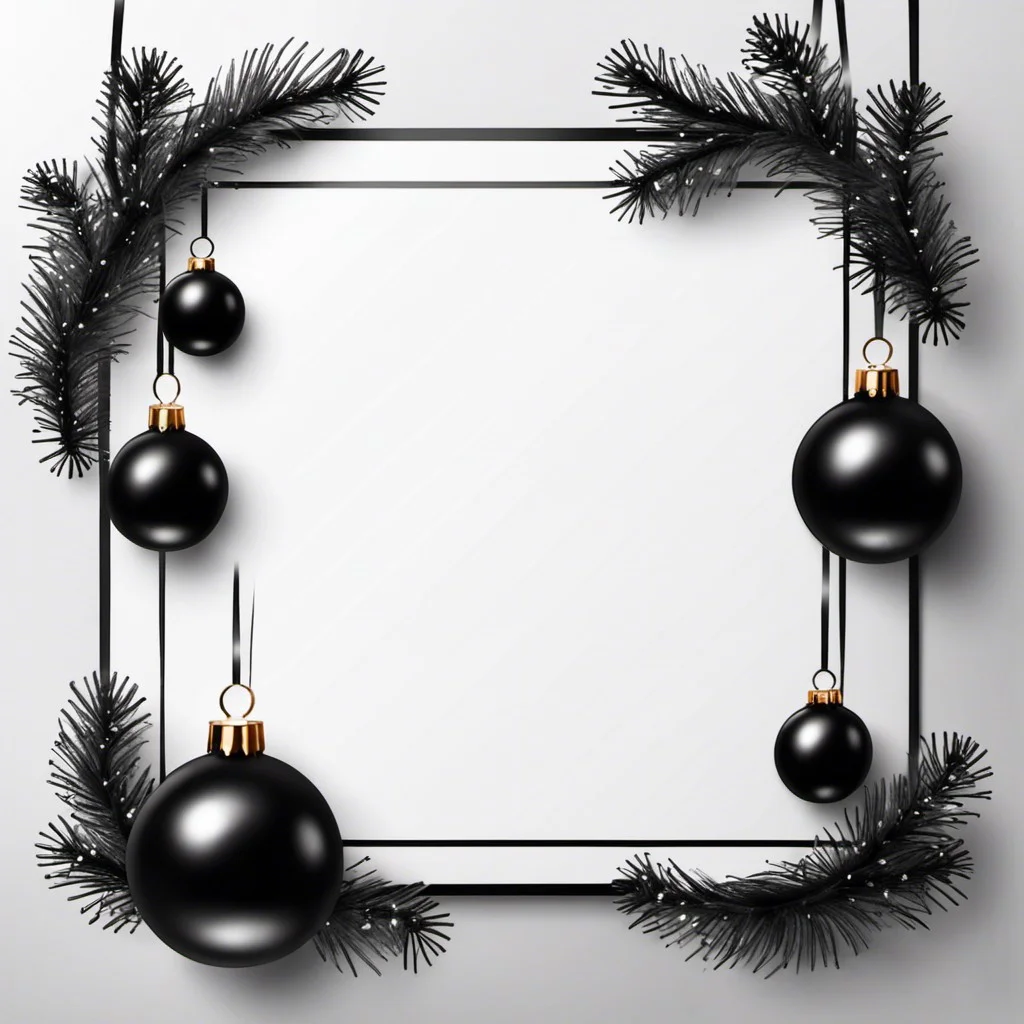 Taking the conventional Christmas banner up a notch, the bold choice of black delivers an unconventional yet elegant twist.
These can be adorned with silver or gold letters spelling out festive greetings such as "Peace", "Joy", or "Noel".
Try different textures such as black velvet, satin, or sparkly sequins to add depth and dimension to the design.
For a personal touch, custom messages or family names could also be added.
Outdoor versions made of durable materials can withstand the winter weather, adding a touch of chic to your curb appeal.
Remember, regardless of design, ensure the banner harmonizes with your other black decorations for a cohesive look.
Black Mistletoe Hanging Decor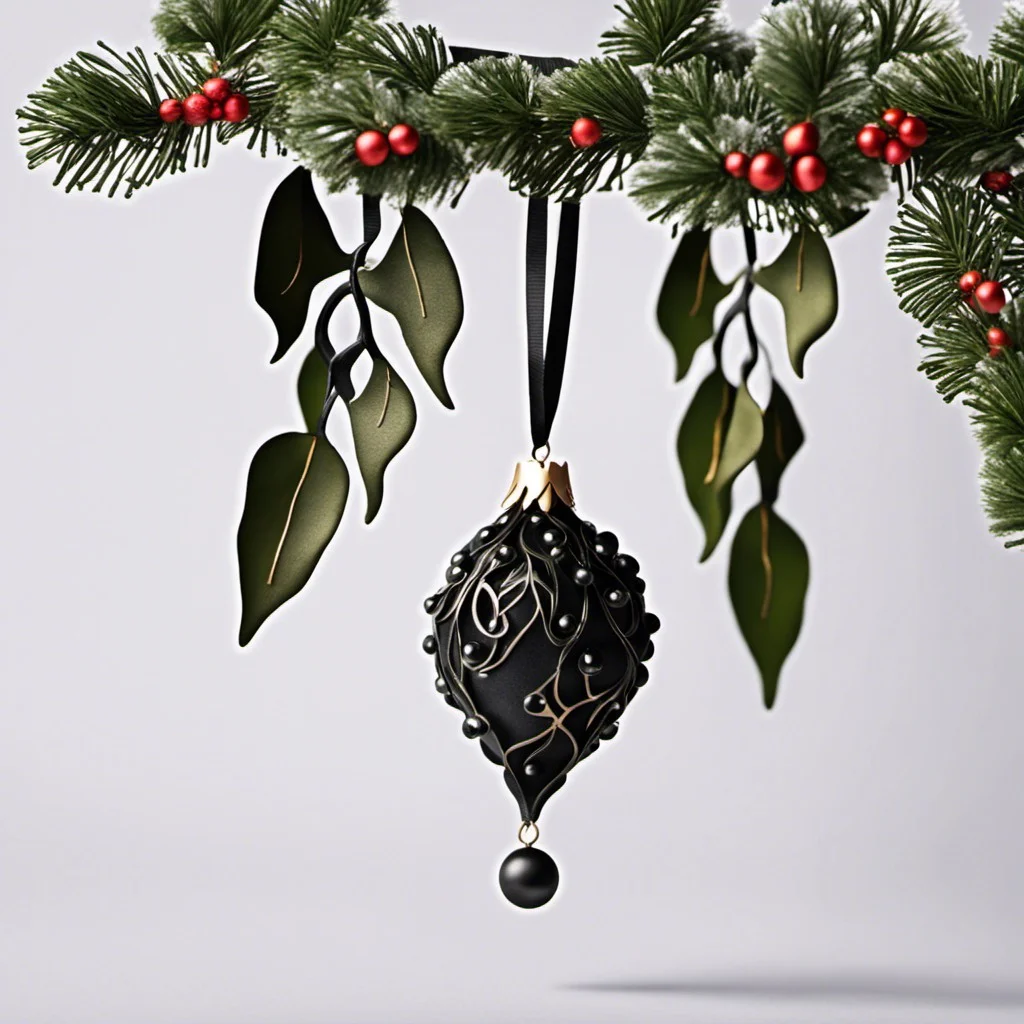 When it comes to adding an unexpected twist to the holiday decor, suspending black mistletoe decorations can be an excellent choice. First off, black mistletoe's unique color brings a chic, modern touch to the overall set-up.
This decoration also carries a lovely tradition, hinting at the possibility of a surprise kiss underneath its branches, adding a romantic note to your home decor.
Next, consider its placement. It can be hung from the ceiling, door frames, or above the dining table. An ornate black ribbon can be a great add-on, enhancing the cheeky charm and the contrast against a lighter backdrop.
Materials matter when choosing your black mistletoe. Opt for silk versions for a sleek look, or glitter varieties to add a dazzling sparkle against your holiday lights. No matter your choice, this edgy take on the classic mistletoe can surely bring a bold holiday assertion into your festive decor.
Black Pine Cone Centerpieces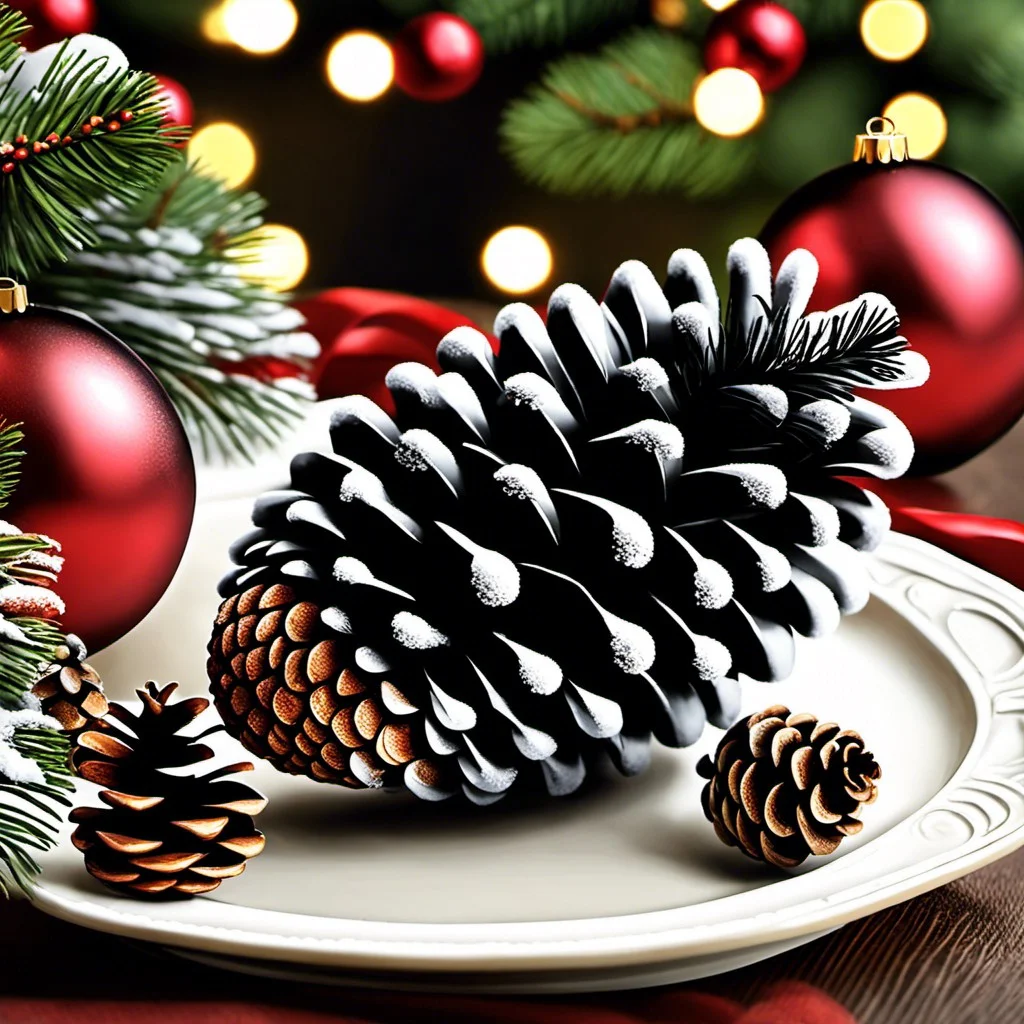 Pine cones are a versatile and natural element to incorporate into your holiday decorations. A wonderful option is to spray paint them a glossy black for a stylish and contemporary appeal.
Arrange these painted treasures in a clear glass bowl or scattered on a mantel, they add an earthy yet sophisticated touch to your decor. Elevating your centerpiece, you can also place them on a mirror tray and sprinkle some silver glitter for a sparkling contrast.
For a more festive approach, consider intertwining some red or silver ribbon among the pine cones or add a few holly berries for pops of color. Such centerpieces work well on dining tables, coffee tables, and even fireplace mantels.
They are easy to craft, inexpensive and add a unique touch to your black Christmas theme.
Black Crystal Snowflakes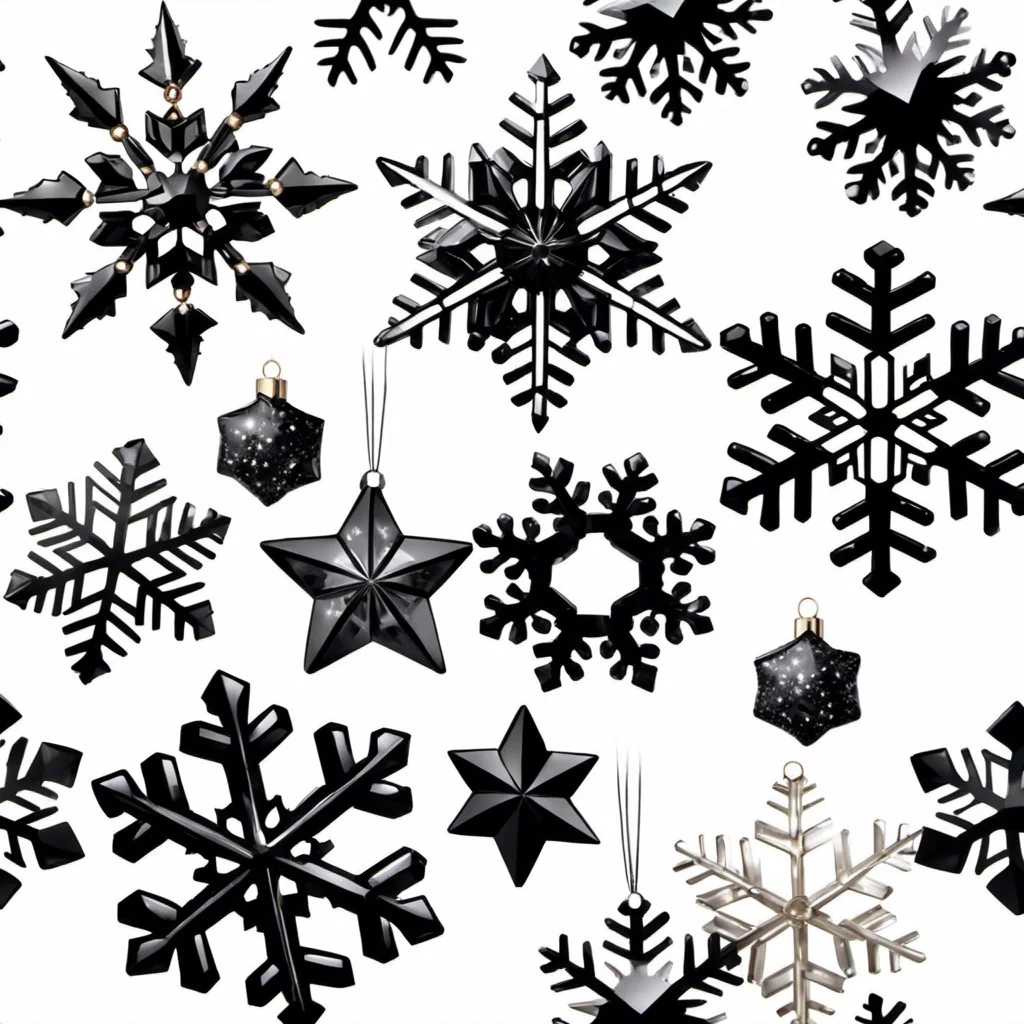 For an added touch of sophistication, consider incorporating these dazzling accessories into your décor. The tone and shine of crystal contrast beautifully against a black backdrop, giving your space a feel of understated elegance.
Snowflakes made of black crystal add a unique twist to traditional Christmas decoration, each one glistening uniquely as it catches the light.
To use them effectively:
Hang them up on your Christmas tree, making sure they are dispersed evenly.
Consider placing them against a source of light, like near a lamp or window, to maximize the shimmer.
Pair them with lighter decorations on a tabletop or mantle for visual contrast.
If possible, use varying sizes for a layered, dynamic feel.
Use them as part of your table set-up, by laying one at each place setting for a surprise sparkle.
Remember, less can sometimes be more. Spread these pieces throughout your space for a chic, opulent look.
Black Candle Holders With Christmas Motifs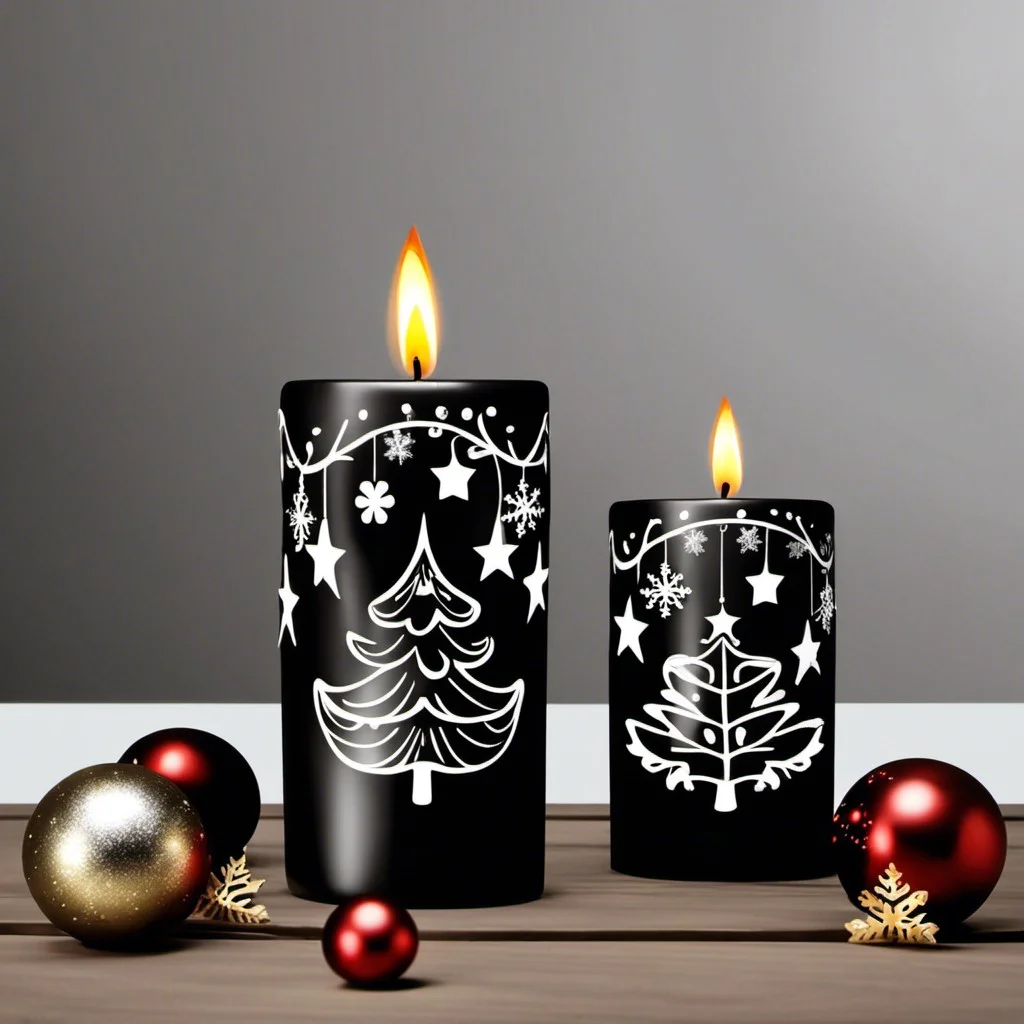 Elevating the festive atmosphere, the allure of candlelight is undeniably classic. Especially so, when housed in holders that beautifully reflect Christmas themes. Choose pieces that showcase holiday motifs such as snowflakes, reindeer, or holly in striking relief against a sleek black background.
Consider materials with a smooth, glossy finish—like ceramic or enamel—for a high-contrast look that highlights these details.
Alternatively, opt for matte black metal holders featuring cut-out designs. When lit, they cast a warm, inviting glow and project captivating patterns onto nearby surfaces. While primarily functional, such pieces cater to our visual senses, becoming dynamic parts of the decor.
Pair these holders with traditional white or red candles. Alternatively, for an extra dose of sophistication, try metallic gold or silver candles. Remember, balance is key. You don't want to outshine the tranquil ambiance candlelight naturally provides.
Whichever style you choose, place them mindfully around your space. Set larger holders on a mantle or dining table as a prominent focal point. Use smaller ones to accent the scenes on your side tables or add an unexpected touch to your bathroom counter.
Incorporating black Christmas-themed candle holders into your decor initiates a festive aura with a modern, elegant twist. Their bold aesthetic not only blends seamlessly with other black accents you may be using, but also offers a surprisingly versatile base for mixing and matching with other colors and materials.
Black Nutcracker Figurines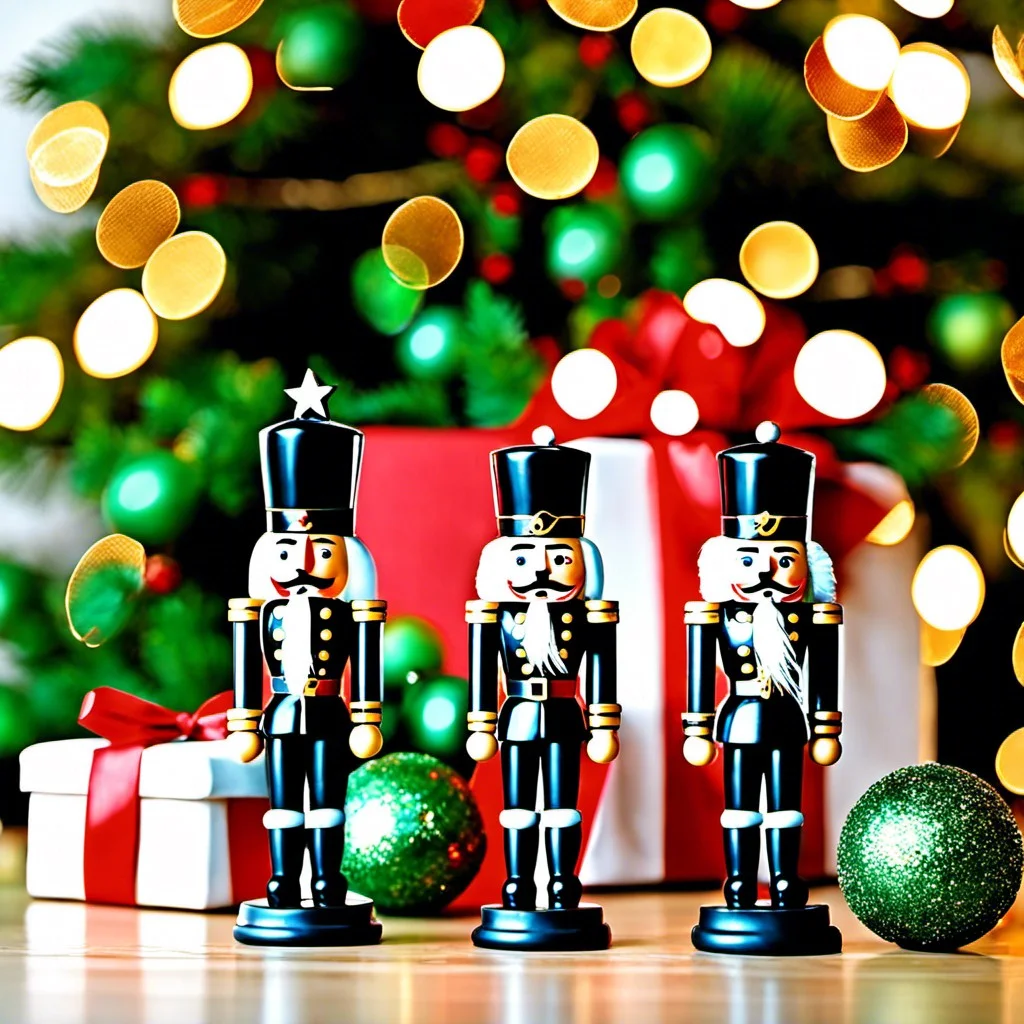 Collecting these figurines can add a unique twist to traditional decking. Renowned for their regal appearance and intricate detail, they look striking in their jet-black attire. Choose from various sizes and designs to suit your space, whether as a centerpiece or additions to your mantle.
1. They instill a sense of elegance and sophistication to your decor.
2. Their monochrome coloring ensures they stand out, creating a focal point.
3. They successfully reinterpret a classic Christmas symbol with a modern edge.
4. Pair them with an array of black ornaments for a cohesive look.
5. They also double as thoughtful and distinctive holiday gifts.
Remember to shop early, as these novel items can sell out quickly during the holiday season. With the right arrangement, these Black Nutcracker figurines will certainly turn heads and spur overall holiday cheer.
Liked reading this? Here's more:
Recap: