Last updated on October 21, 2023
Dive into the world of flocked Christmas tree decorations because these aesthetically pleasing ideas will transform your holiday season into a winter wonderland.
I proudly crafted this insightful article and unique designs on decorating flocked Christmas trees, hoping that you will find them as inspiring and enjoyable as I did making them.
Flocked Christmas trees, with their snow-kissed branches, bring a magical winter wonderland right into your living room. The key to decorating these beauties lies in maintaining their pristine, snowy charm while adding personal touches that reflect your holiday spirit.
Be it vibrant baubles, twinkling lights, or handmade ornaments, each detail contributes to a captivating holiday centerpiece. This article will guide you through a plethora of flocked Christmas tree decorating ideas, providing detailed instructions on achieving the perfect balance between winter elegance and festive cheer.
With these tips and tricks, your flocked tree will not only match your holiday décor but also become a stunning focal point that enchants every onlooker.
Red and White Bauble Ornaments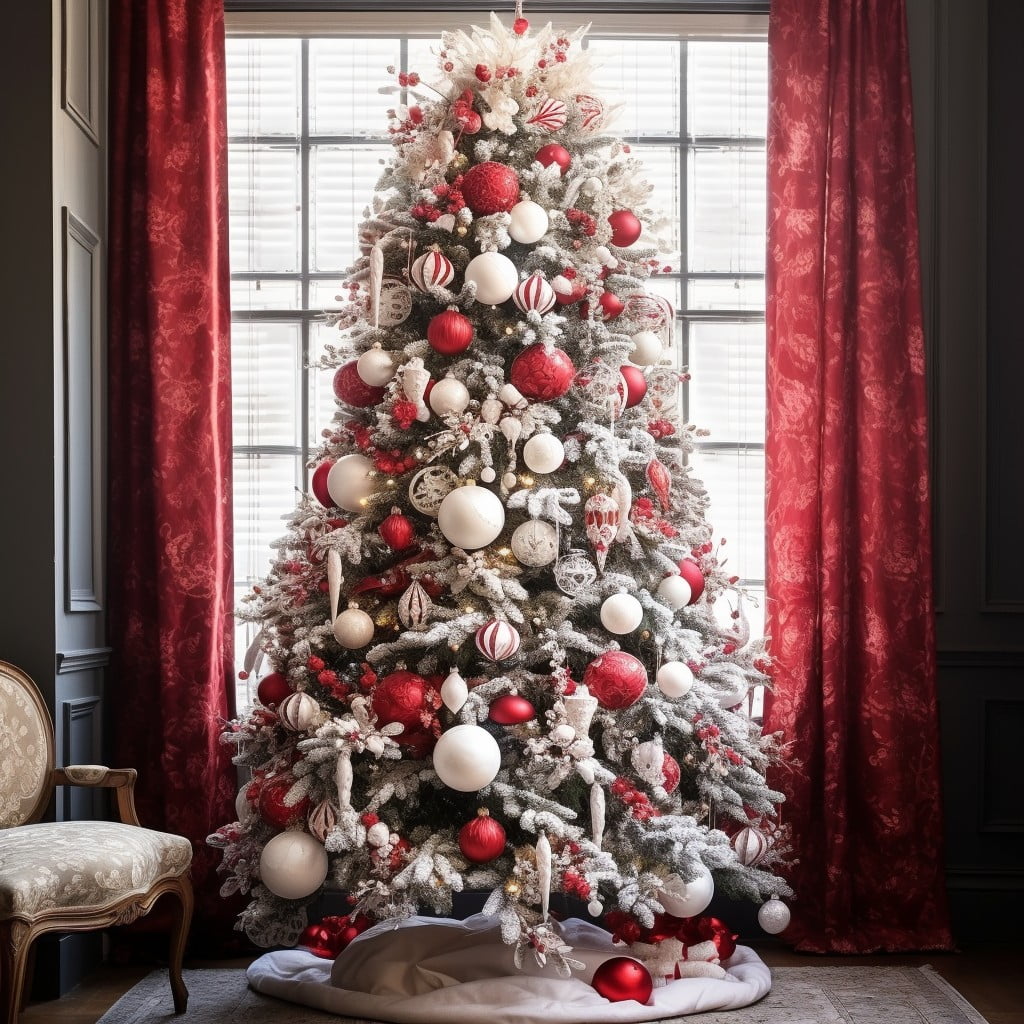 Combining red and white bauble ornaments on a flocked tree can elevate the Christmas atmosphere.
Red, the traditional color of Christmas, symbolizes love and joy, and white, like the snow, evokes the holiday season's peace and tranquility.
A mix of glossy, matte, and sparkling baubles can add textural richness and visual interest.
Consider varying the sizes to create depth while clustering them to produce a visually impactful scene.
Nestle some baubles closer to the tree trunk to add dimension and shed light on the tree's inner depths.
Select baubles with special meaning or those that carry family history to infuse sentimentality onto the tree.
Gold and Silver Tinsel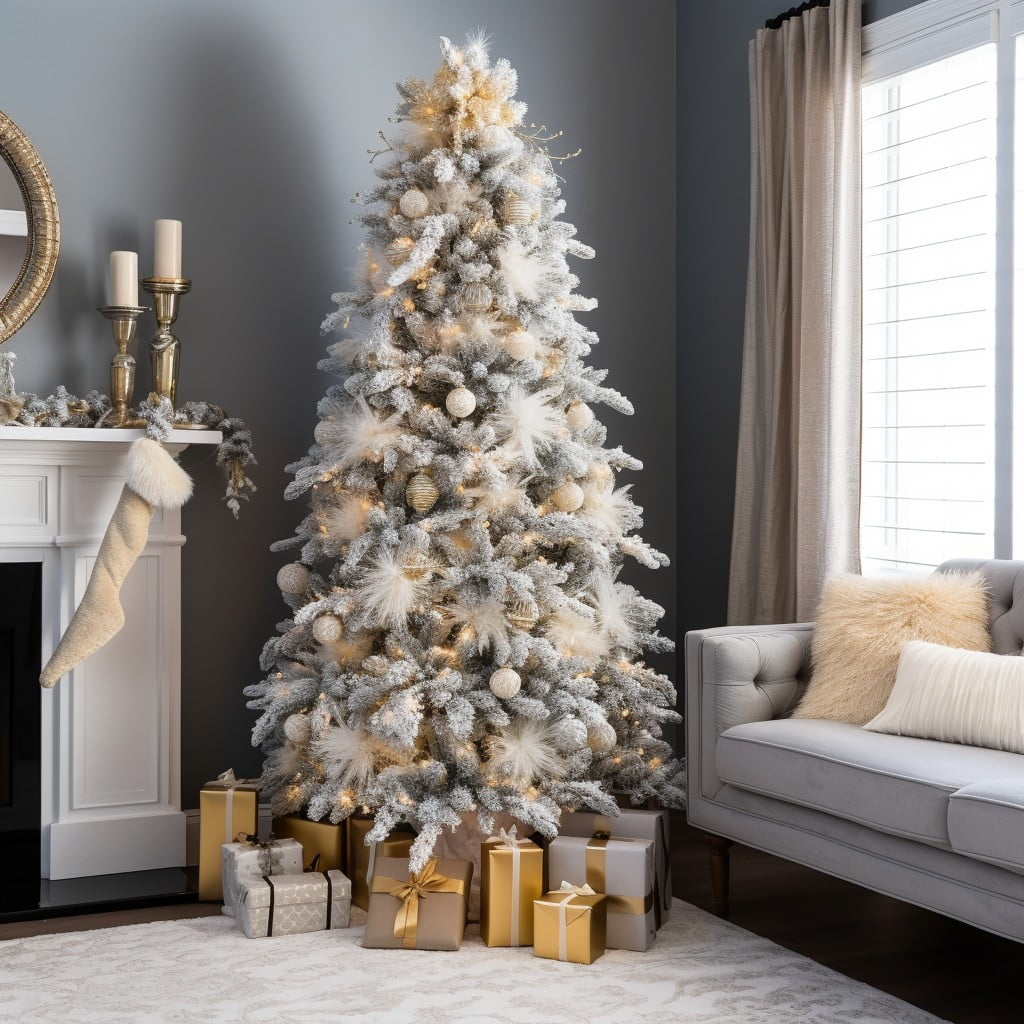 Maintaining a classic and elegant look, these metallic decorations signify opulence during the holiday season.
Start by draping the tinsel from the top of the tree towards the bottom – ensure it falls evenly around the branches.
Gold tinsel adds warmth and glitters beautifully under tree lights, evoking a sense of luxury, while silver provides a cool, sophisticated finish, shining brilliantly against the flocked backdrop of the tree.
You can opt to use either solely or creatively intertwine both for added visual interest.
Remember not to overload the tree with tinsel; maintain a balanced look for the best results.
Pair this decor with complementary ornaments in similar hues for a cohesive look.
Natural Pinecones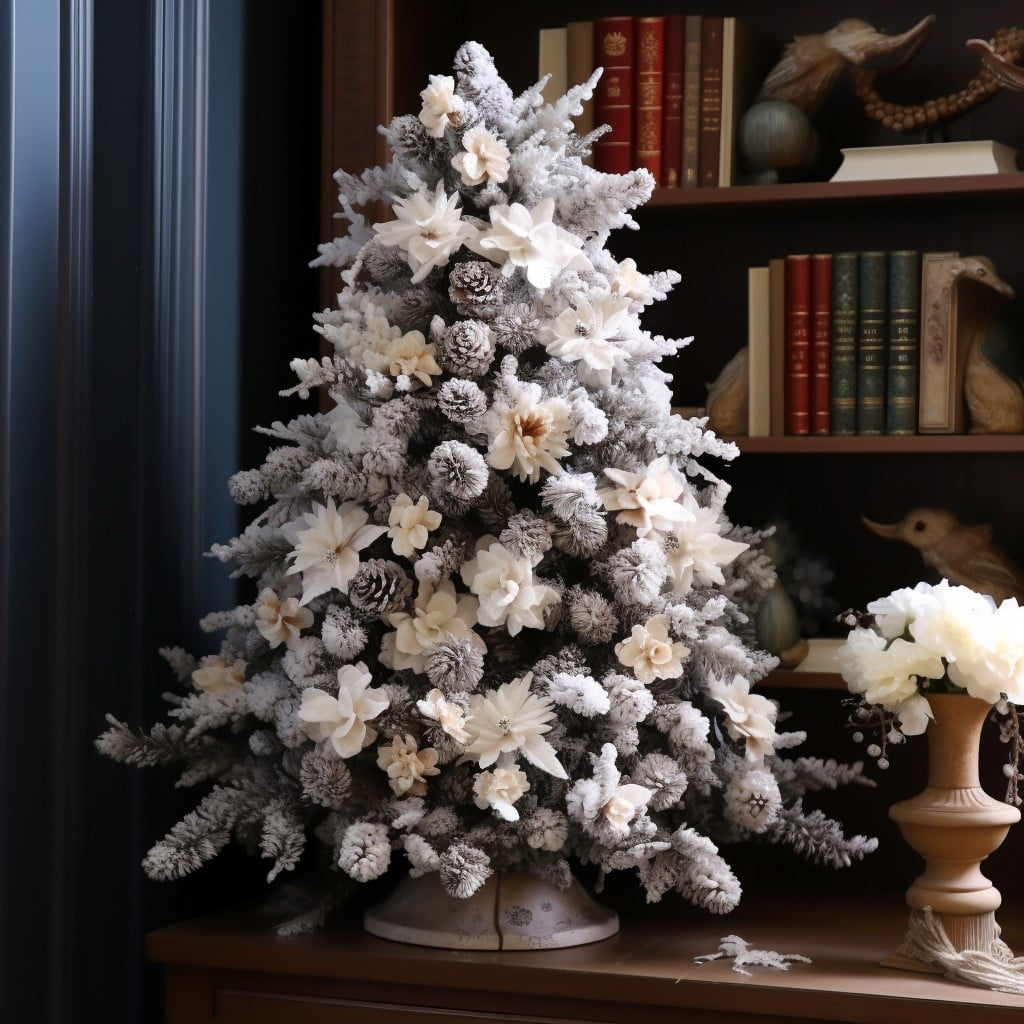 Incorporating elements of nature into a flocked Christmas tree brings a rustic, organic feel that resonates beautifully with the holiday season.
Pinecones, for instance, are perfect for this. Harvest them yourself for an authentic touch, or buy crafted versions from the store. Consider painting them in festive colors, dusting with glitter for a frosted look, or leaving them as they are for a more traditional look.
Utilize various sizes to create a layered, textured effect. Larger ones can anchor the tree's design, while smaller ones fill gaps and add detail.
Try threading a piece of string or thin wire through the top, and hang them as unique ornaments. Alternatively, they can be nestled directly into the branches, especially towards the center of the tree, to provide a sense of depth.
Remember to space them out evenly- distributing visuals around the tree prevents them from clustering in one area and maintains balance in the overall design.
Intertwined with twinkling lights and other decorations, these natural accents can help create a stunning, cozy, winter wonderland theme with your flocked Christmas tree.
Red Velvet Ribbon Garland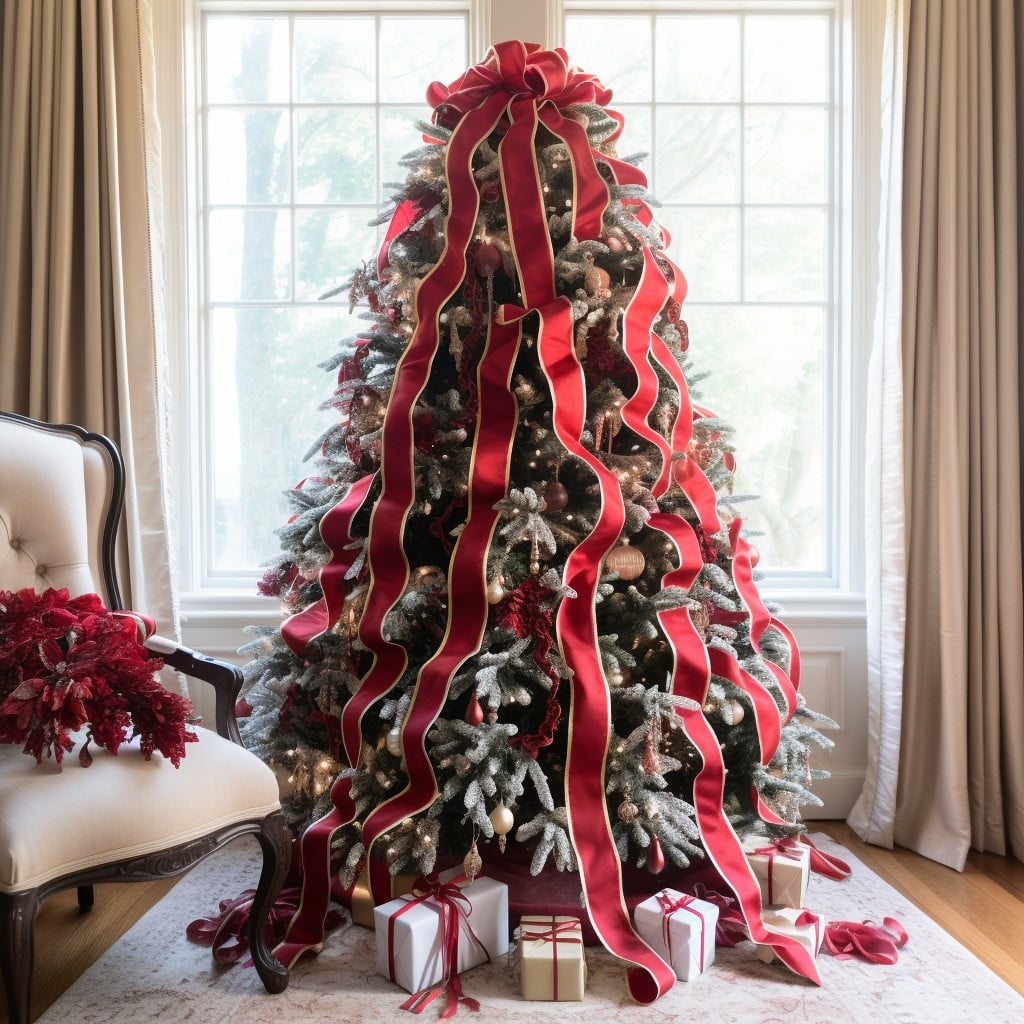 Incorporating a timeless elegance, this decor invokes the feeling of an old-world Christmas when draped around a flocked tree. A mixture of rich, deep red contrasts flawlessly with the white snow-like texture. It's an easy yet impactful way to add a festive color pop.
1. Variety: Choose from matte or shiny finishes, different widths, and even options with wired edges for easy shaping.
2. Flexibility: This versatile piece can be twisted around branches, hung like swags, or made into bows.
3. Textural element: The soft, plush fabric brings an added feel of luxe coziness.
4. Pairing: Complement this garland with matching red ornaments or contrast it with stark white or gold baubles.
5. Cost-effective: One of the more cost-effective decor options for a high-end look.
Remember, the goal is to create a striking visual balance. So start from the top and loosely wind the ribbon down in a spiral motion, tucking the ends into the tree to maintain a polished look. Trial and error works best here, don't be afraid to experiment with your decorative appeal!
Blue and Silver Color Scheme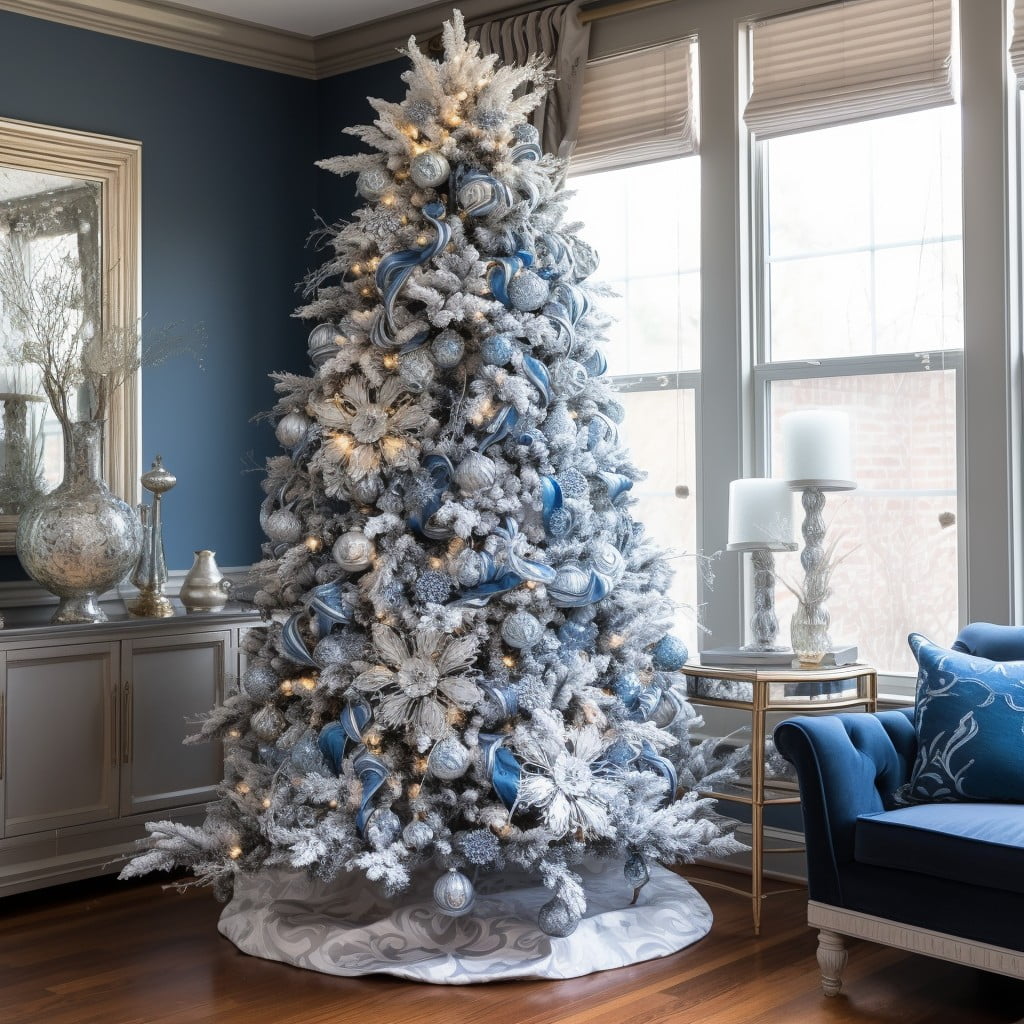 Opting for a blue and silver scheme instantly elevates the elegance of your flocked Christmas tree. Symbolizing tranquility and sophistication, this combination blends seamlessly with the white backdrop.
1. Silver Ornaments: They bestow a shimmery snow-like effect. Choose different shapes and textures for visual interest.
2. Blue Baubles: Ranging from light icy blues to deep navy shades, these create depth and add a pop of color.
3. Metallic Ribbons: Silver ribbons enliven the tree without drawing attention away from the color scheme.
4. Blue LED Lights: Cool blue lights enhance the winter chill effect and create a captivating night time display.
5. Silver Tinsel: Drape it around your tree for a glorious sparkly accent that mimics icy winter days.
6. Blue and Silver Tree Topper: Maintain the color scheme with a topper in the same hues for a refined finish.
Remember, the magic lies in balancing your blues and silvers to create that perfect winter wonderland effect.
Vintage Glass Ornaments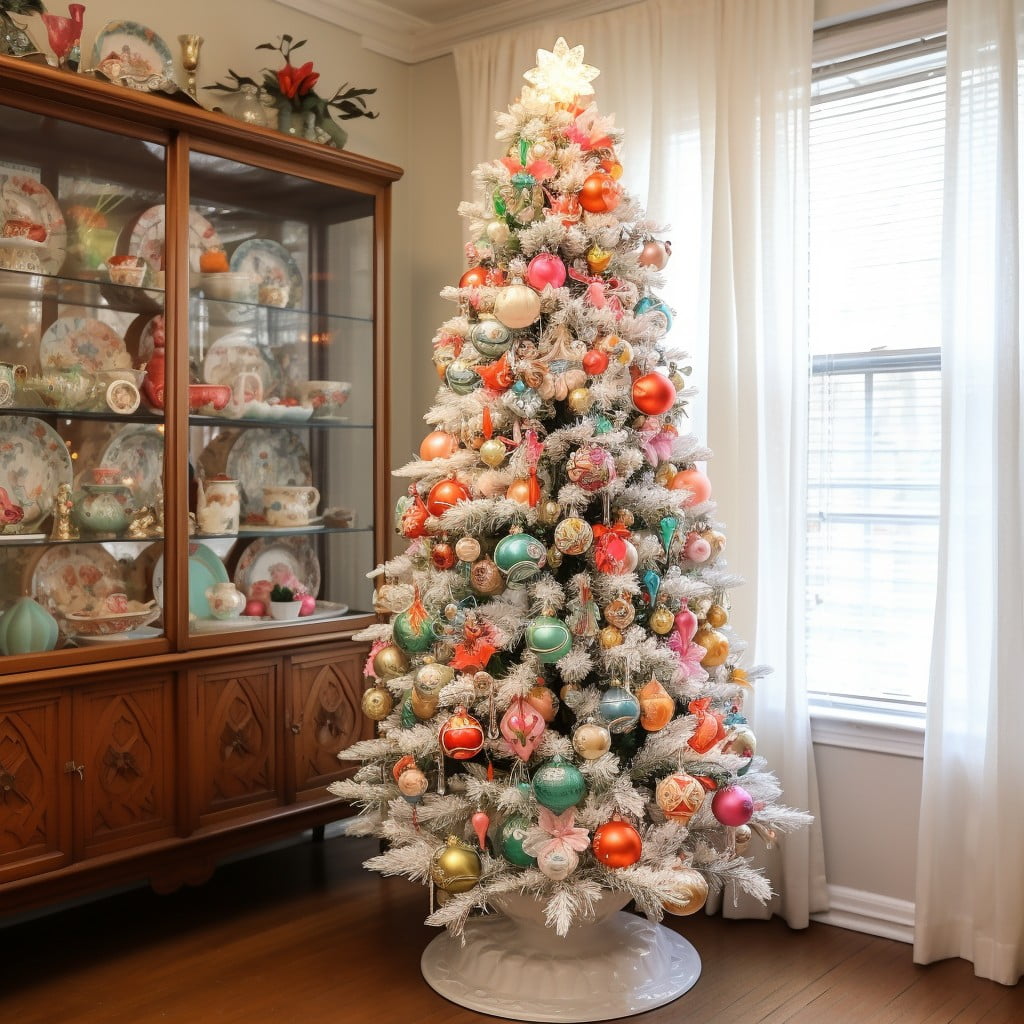 Vintage glass ornaments are a perennial favorite that lend a touch of elegance and nostalgia to any flock Christmas tree. Many of these ornaments draw inspiration from designs dating back a century, providing that old-world charm that seamlessly blends with the icy allure of a flocked tree.
1. Characteristic Details: Ornate detailing, intricate patterns or depictions of nostalgic scenes.
2. Color Palette: Antique hues such as soft pinks, icy blues, deep reds, and frosted whites are predominantly used.
3. Variety: Includes different shapes like round balls, hearts, stars, and uncommon motifs like fruit and birds, each offering a unique look.
4. Quality: Handmade and hand-painted with the meticulous attention to detail, testifying their quality and value.
5. Combination: Pair these vintage ornaments with simple, white string lights to enhance their luminescence, without overshadowing their authenticity.
Remember, no two vintage ornaments are alike, providing an opportunity to create a tree as individual as you are.
Scandinavian Style Decor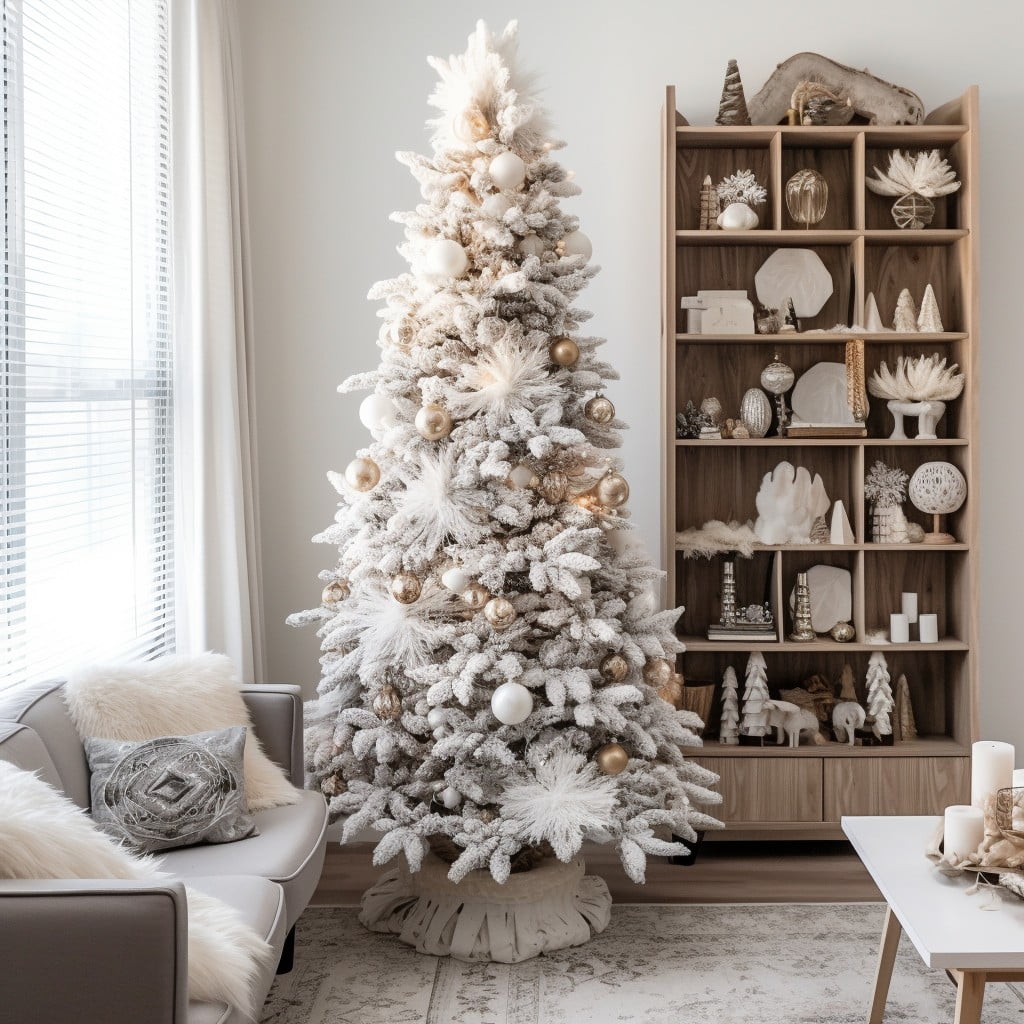 Embracing the minimalistic approach, Scandinavian style leans towards a neutral color palette with white, gray, and beige as base colors. An application of this aesthetic will see the flocked tree adorned primarily with wooden ornaments, appreciating natural simplicity.
Here are some key guidelines:
Use Wooden Ornaments: Give preference to decor like wooden stars, hearts, or animal figures. This emphasizes simplicity and nature, both key in the Scandinavian style.
Choose muted hues: Opt for decorations in soft, muted colors. Think pale blues, cool grays, and snowy whites. Remember, simplicity is the key.
Embrace Natural Elements: Try adding real or faux pinecones, berries, or dried flowers to your tree. This further accentuates the connection with nature.
Opt for String lights: Lighting should be soft and warm. Strings of fairy lights interspersed between the branches will give a soft glow.
By following these steps, the effect will be a harmonious fusion of traditional charm and contemporary chic: ideal for an understated, stylish holiday season.
Miniature Santa Claus Figures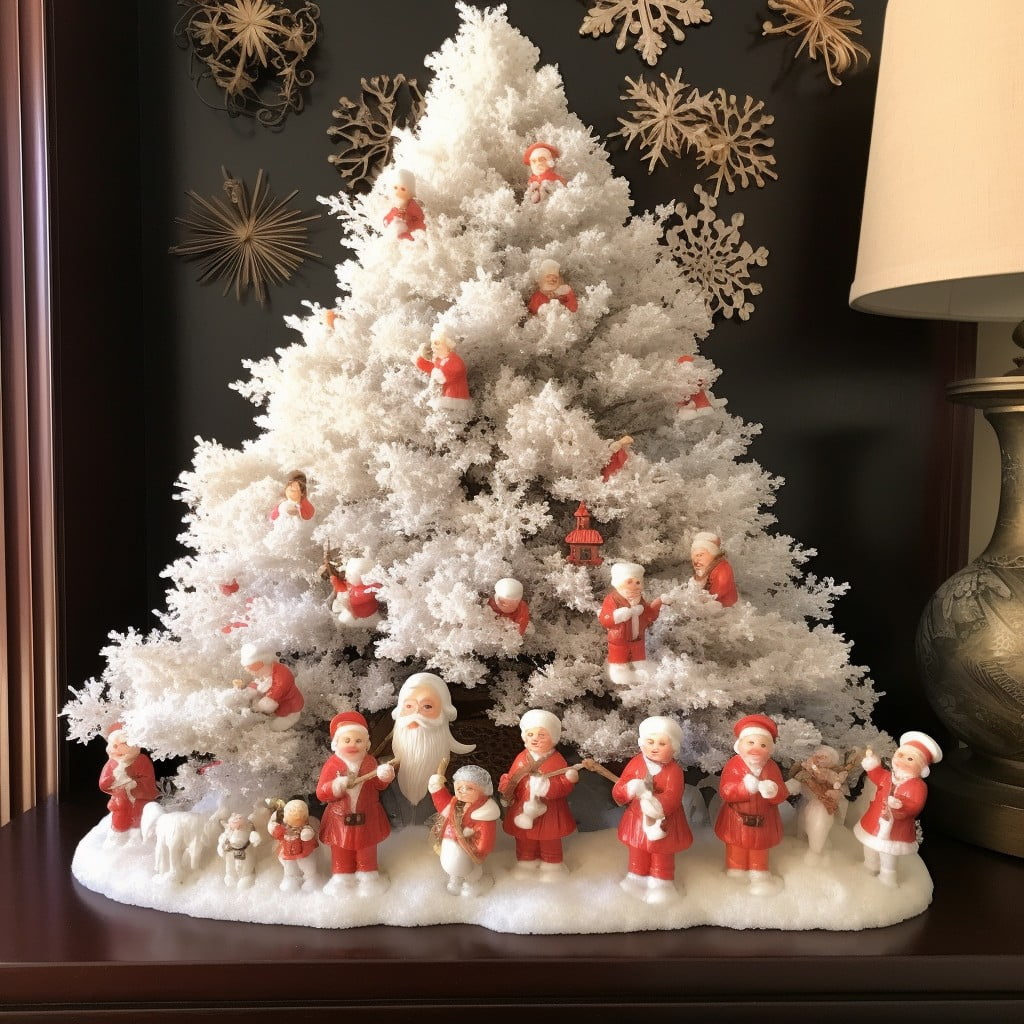 Distinct in their appeal and synonymous with the holiday spirit, these tiny figures infuse a lively element into the tree decor. Choose varying sizes to create a playful visual effect, sprinkling them through the branches evenly.
Contrasting color palettes also enhance effect – traditional red suits against a white flocked backdrop. Opt for figures engaged in holiday activities for a dose of whimsy, such as Santa wrapping gifts or driving his sleigh.
Whether shiny ceramic or soft plush, these characters delight all ages while preserving the essence of Christmas. Remember, the charm of these figures lies in their nostalgia, making them an obvious choice for any festive decor.
Icicle Ornaments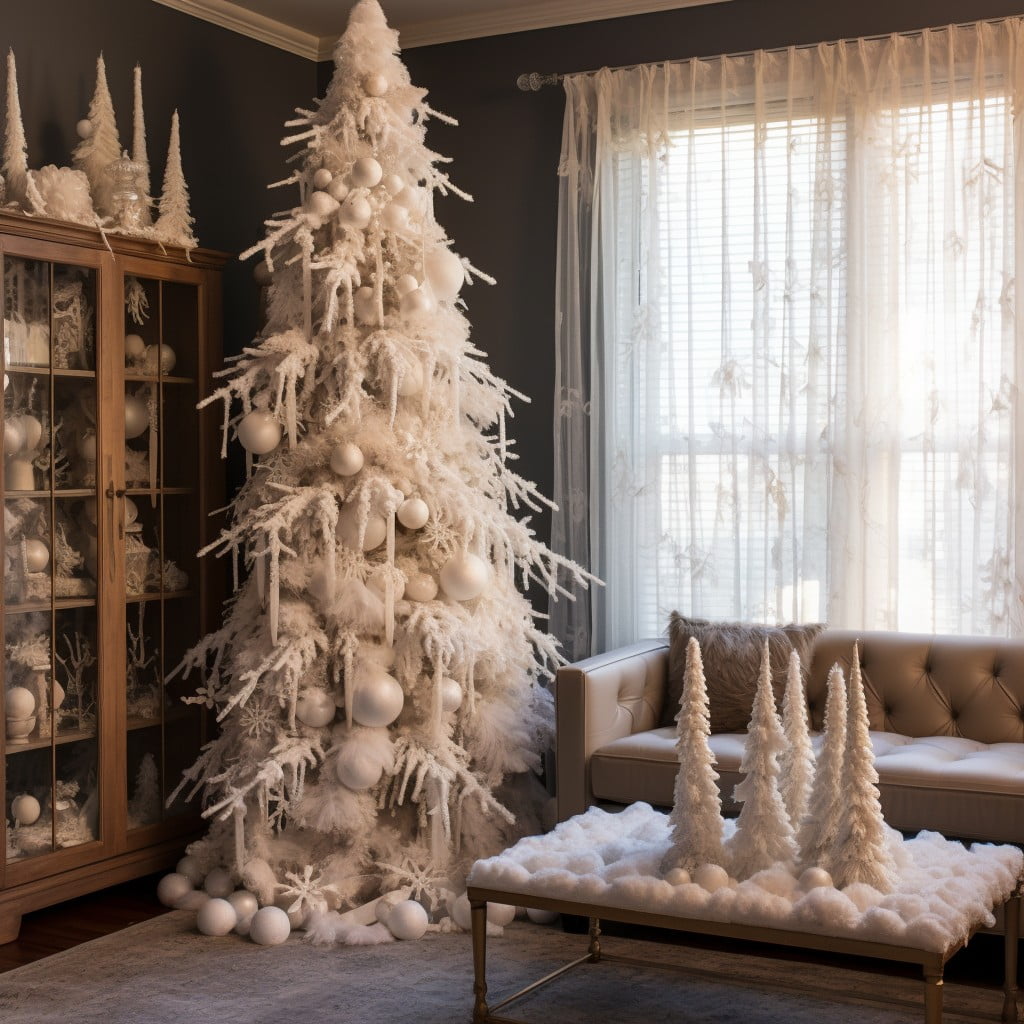 Adding an icy touch to your flocked Christmas tree is deceptively easy with icicle ornaments. Their sleek, tapered design seductively glimmers among the snowy branches, embodying the wintry charm of the season.
1. Placement – Aim to evenly distribute the ornaments throughout the tree to visually balance the lustre and depth.
2. Variety – Mix different lengths and designs of icicles for a more natural, effortless look.
3. Illumination – Amplify the sparkle by positioning them near your tree's lights. The transparency of the icicles will astutely capture and disperse glimmers of brightness.
4. Quantity – Less is oftentimes more. An overabundance may overpower the tree's overall aesthetic. You want to aim for a natural, icy effect rather than a frozen-over look.
Remember, the goal here is a tantalizing, frost-kissed presentation that whispers of winter's magic. This icicle-centric approach can deliver just that, effectively transforming your holiday tree into an awe-inspiring spectacle.
Multi-colored LED Lights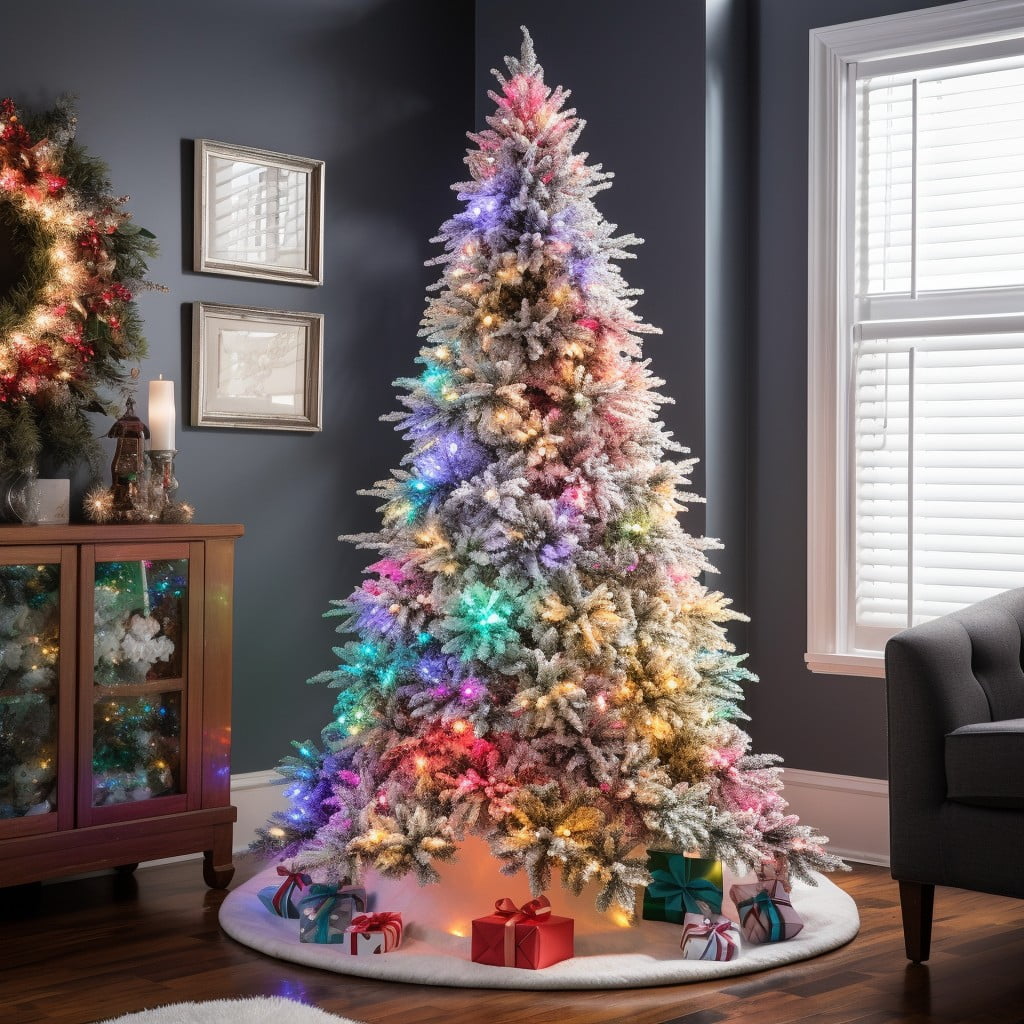 Illuminating your flocked Christmas tree with multi-colored LED lights provides a vibrant and festive flair. These energy-efficient options are long lasting and emit less heat than traditional Christmas lights, enhancing the longevity and safety of your holiday decor.
1. Layering: Start from the top and spiral downwards, ensuring even distribution.
2. Depth: Weave them both on the periphery and deeper inside for a 3D glow effect.
3. Modes: Utilize the different light patterns and modes for a dynamic display.
4. Wire color: Choose a wire that matches your tree to make it less noticeable during the day.
5. Brightness: Opt for adjustable brightness to modify the ambiance as desired.
These tips will help you make the most out of your multi-colored LED lights. Plus, it's an eco-friendly decision. An absolute win-win!
White Feathered Birds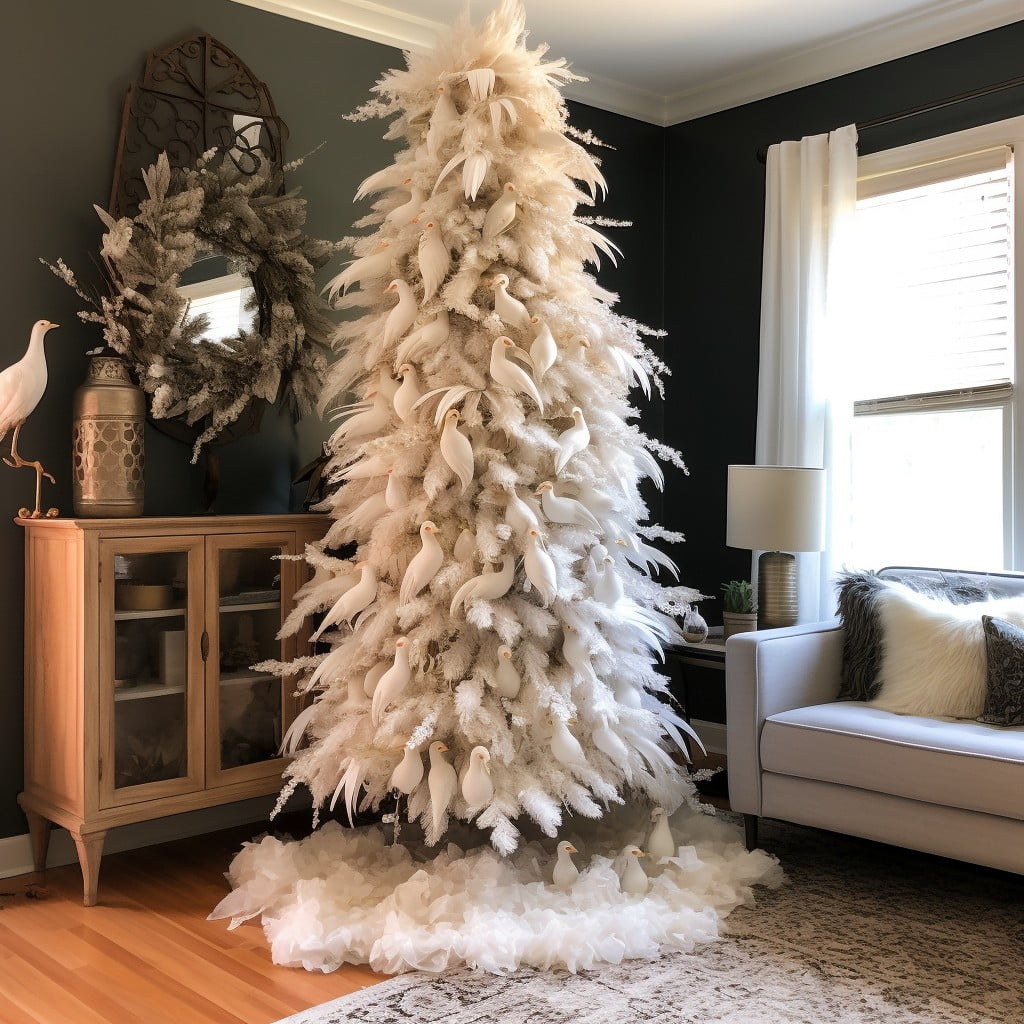 Placing delicate white feathered birds on a flocked tree beautifully enhances its snowy look, offering a slight hint of nature indoors.
Feathered decorations, portraying a sense of elegance and tranquility, are often lightweight and easy to situate anywhere on the tree.
You can arrange these avian ornaments symmetrically for a refined look, or sporadically for a more natural profile.
Remember, it's essential to place these birds strategically to balance out ornaments and keep the overall design visually appealing.
Pair these feathered friends with shiny silver baubles and twinkling lights to make them stand out even more against the frosted branches.
Family Photo Ornaments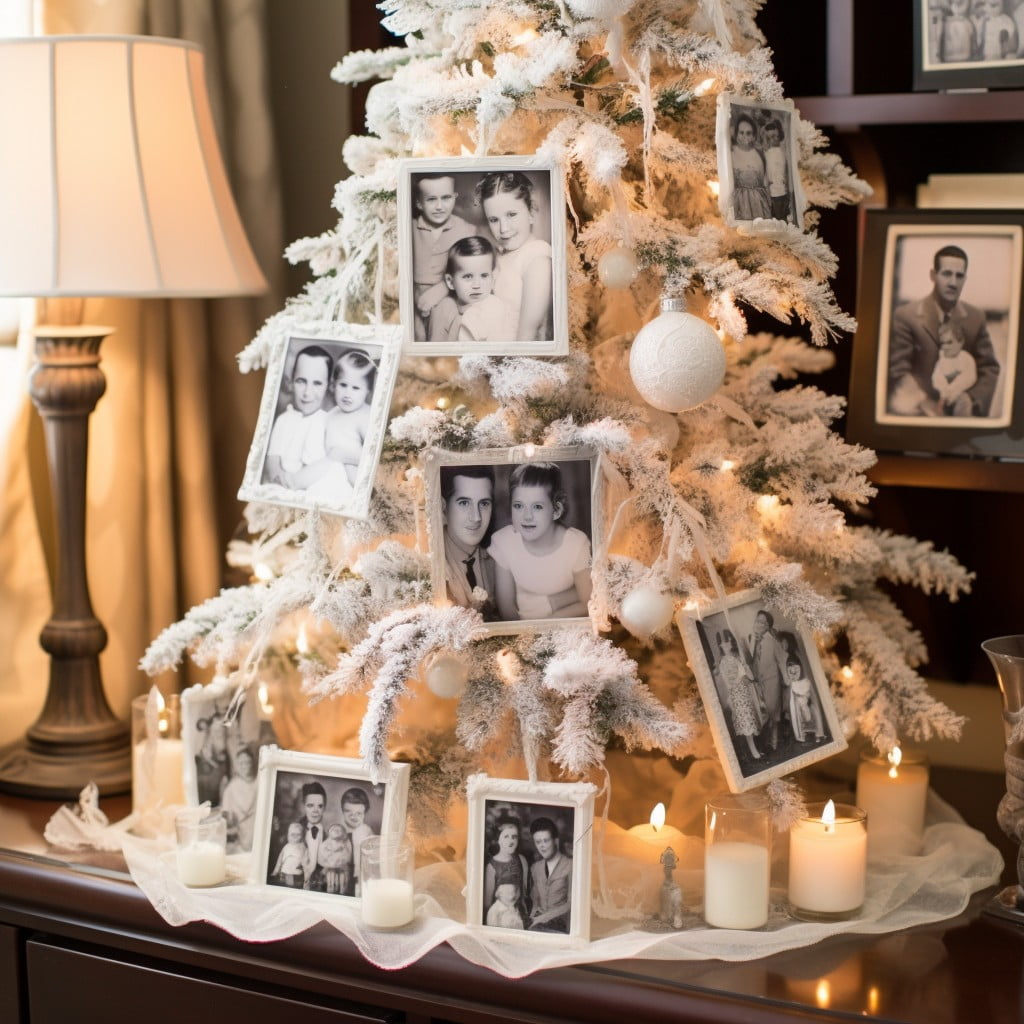 Taking sentimentality to the branches, these unique adornments carry personal warmth to the holiday aesthetics.
Select a collection of cherished family snapshots, of memorable moments or of loved ones, and transform them into special keepsakes.
Custom ornament frames or DIY decoupage styles can help achieve this effect.
Whether sepia-toned for a vintage look or brightly colored for a contemporary feel, these visual fragments of familial love bring emotional depth to the overall theme.
Not only do they visually engage, but they also stir nostalgic holiday reminiscences each year the festive season dawns.
Snowflake Ornaments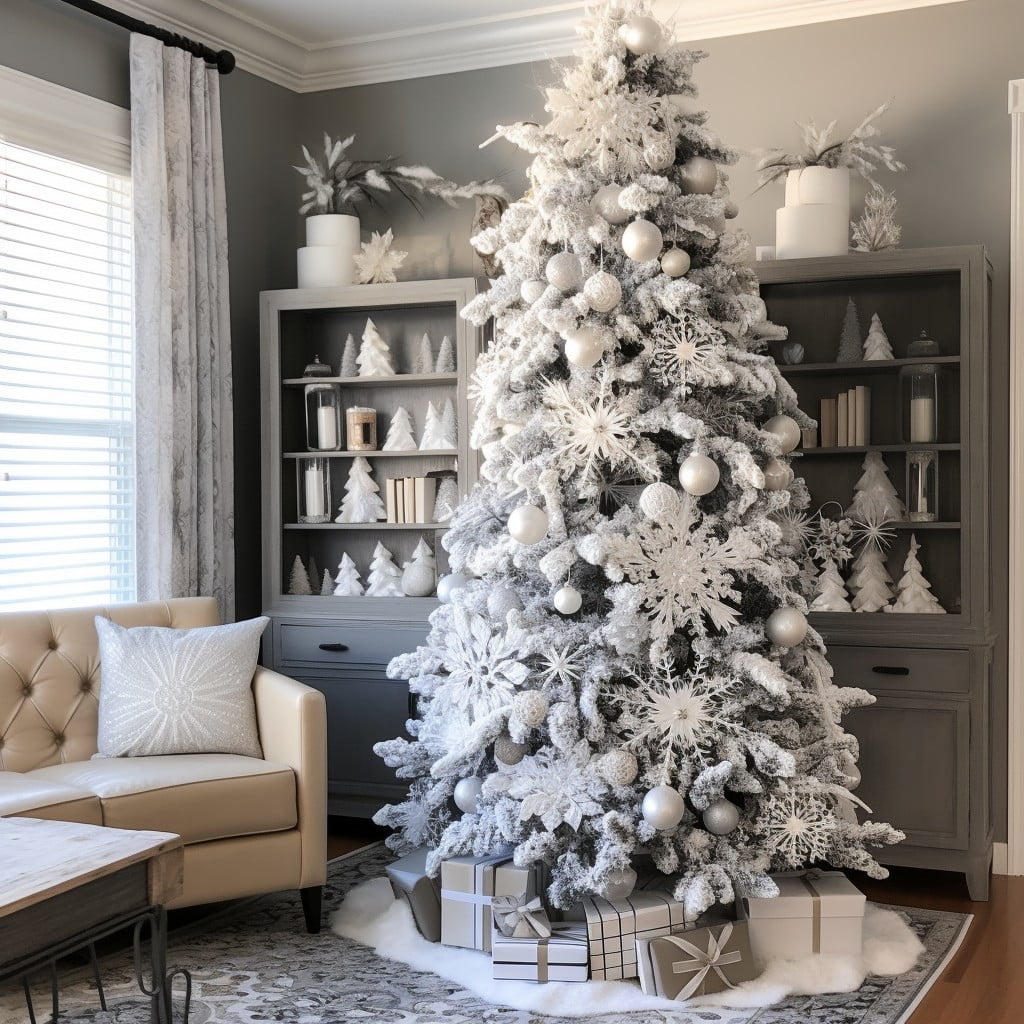 As delicate as the real thing, these beautiful decorations add an enchanting touch to any flocked tree. They evoke the feeling of a winter wonderland, capturing the sparkle of true snowflakes on a frosty Christmas night.
Choose from a variety of materials, from intricate laser-cut metal to iridescent glass, adding a different level of texture and elegance to your tree. Consider hanging them at different lengths from the branches, which mimics the random fashion in which real snowflakes fall.
You might even try DIY options – creating paper snowflake ornaments can be a charming family activity.
Candy Cane Decorations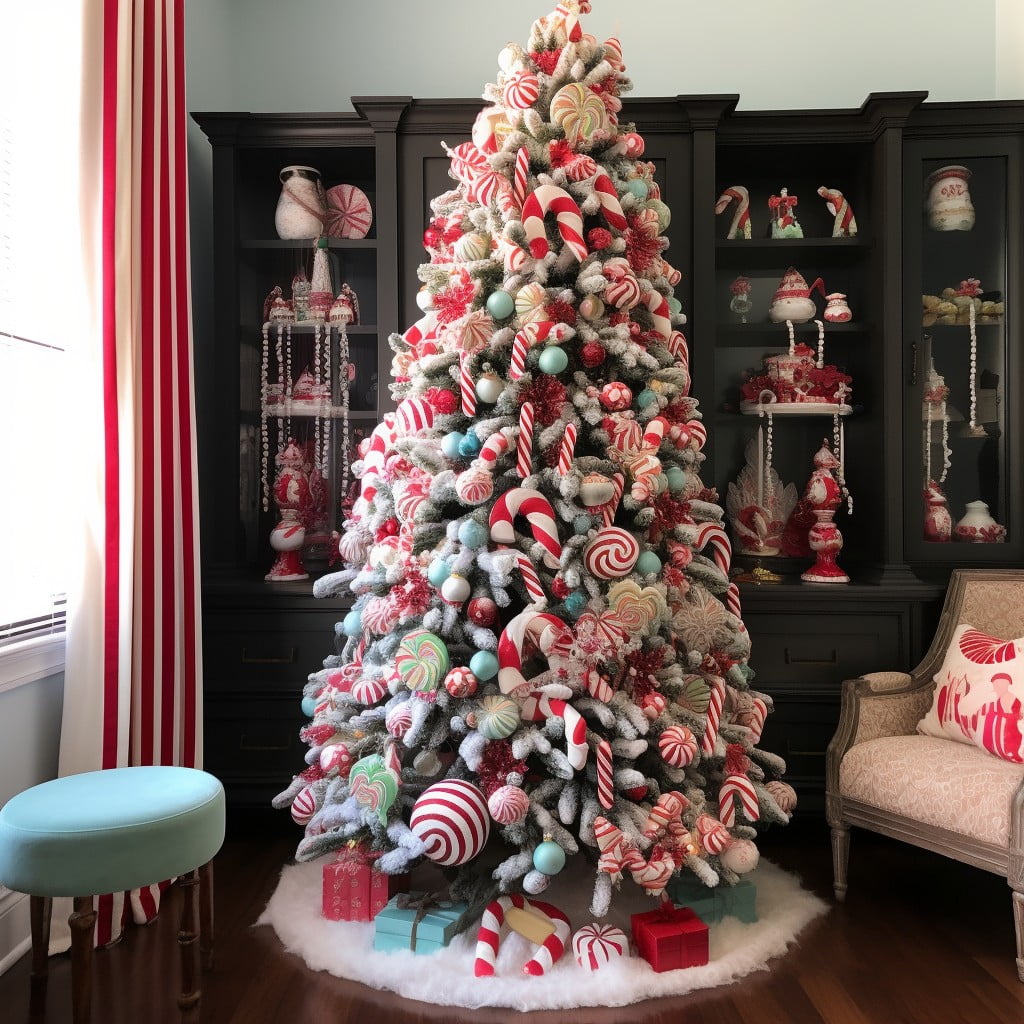 Candy cane decorations, with their iconic red and white swirls, can effectively highlight a flocked Christmas tree's snowy appearance. These familiar holiday sweets offer many flexible ways to decorate.
1. Cluster Display: Group multiple candy canes together at various points on the tree to form eye-catching clusters.
2. Border Ornaments: Hang candy canes around other ornaments to create a festive bordering effect.
3. Tree Garland: String candy canes together on a sturdy thread or ribbon and wrap it around the tree.
4. Mix Sizes: Use both regular-sized and miniature candy canes to add depth and interest.
Remember, candy cane decorations don't always have to be edible. There are plenty of non-edible, reusable candy cane ornaments available that can add a whimsical touch to your flocked tree year after year.
Star or Angel Tree Topper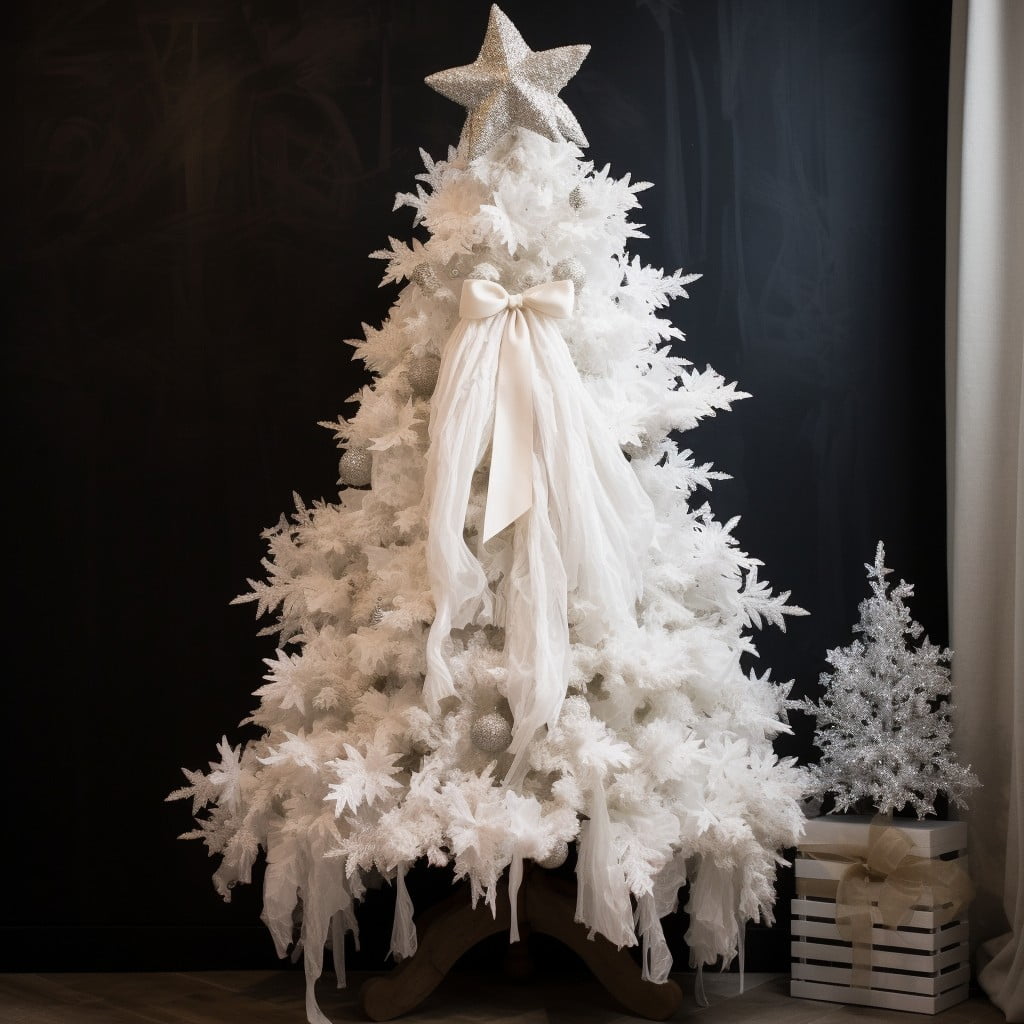 A tree topper is the final flourish that crowns your flocked Christmas tree. Traditional choices include stars and angels, each carrying significance.
Star toppers, often designed with sparkling silver or gold, symbolize the Star of Bethlehem from Christian tradition. Angels, on the other hand, represent the divine messengers from the Christmas story.
When selecting a topper, consider your overall décor theme. An intricately detailed angel might suit a tree adorned with ribbon and delicate ornaments. A simple but shining star might perfectly complement bold, colorful decorations. Whichever you choose, ensure it is proportionate to your tree and securely fastened to avoid toppling. Remember, the topper should be a shining embodiment of your holiday spirit, standing tall and proud.
Consider also, illuminated toppers for extra twinkle. LED lights in the design can make your topper the tree's crowning glory once the sun sets. Remember to manage the power cord discreetly among the branches, so it doesn't detract from the overall aesthetic.
Finally, involve the entire family in the topper's placement. This tradition could become one of your cherished holiday rituals, bringing everyone together for that special moment of adding the finishing touch.
Handmade Paper Snowflakes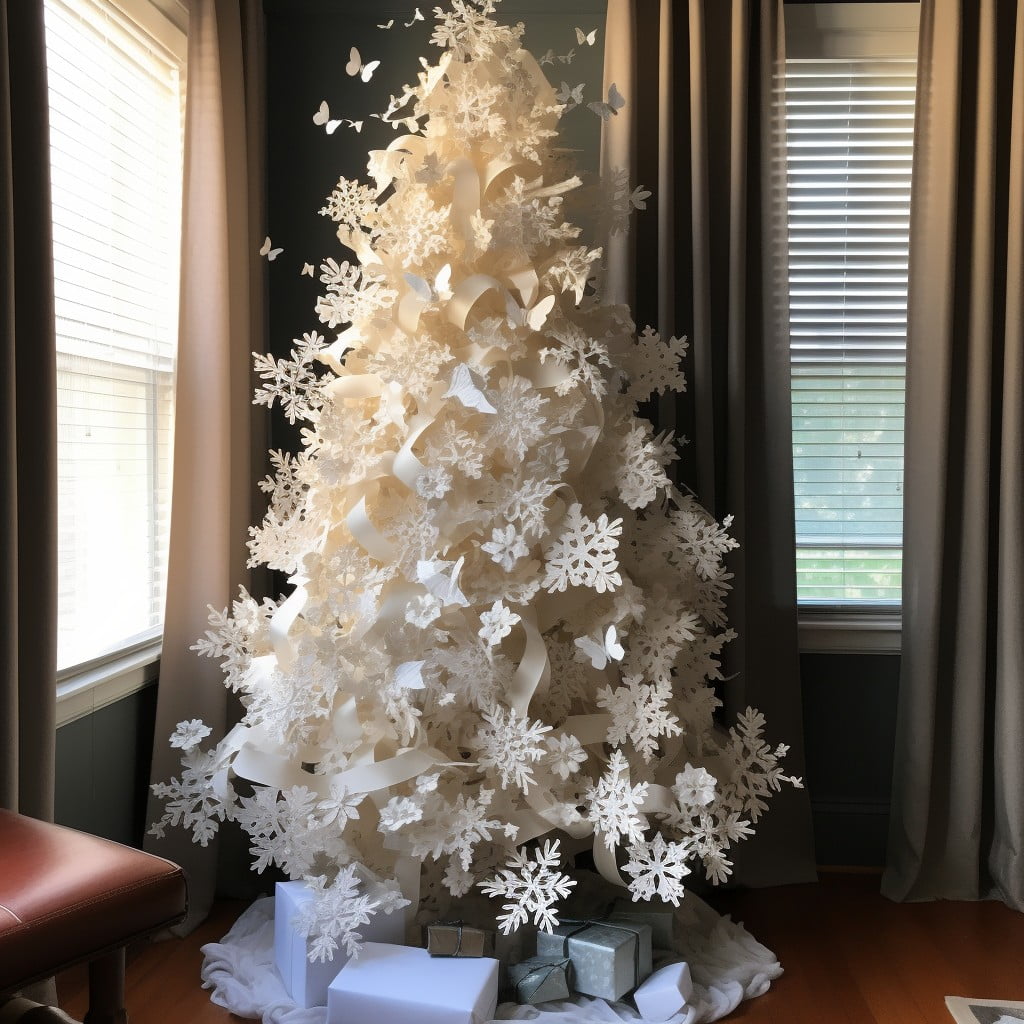 Creating these delicate decorations is a fun and festive activity that can involve the whole family. Besides being a cost-effective decoration, each snowflake boasts unique patterns much like their real-life counterparts.
Starting your project requires simple tools: white paper, a pair of scissors, and a bit of creativity. Cut the paper into a square, fold it into a triangle multiple times, and then cut out small shapes along the edges. Unfold the paper carefully to reveal your handmade paper snowflake. Attach a string and they're ready to embellish your flocked Christmas tree.
If you want more intricate designs, numerous templates are available online. These can help you take your creations to the next level. And don't forget, combining different sizes and complexity of designs can give a more dynamic look to your tree.
Crystal Ornament Collection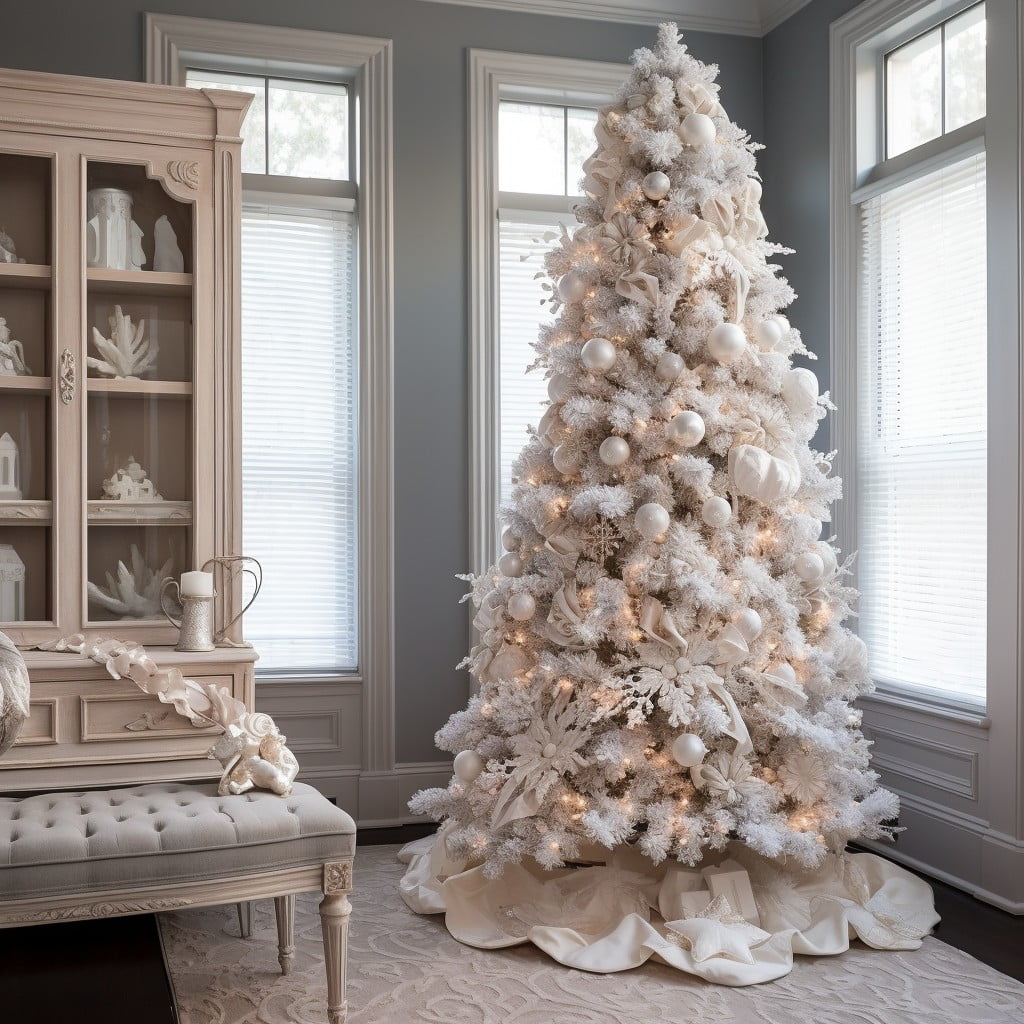 Elegant and timeless, crystal ornaments provide a stunning effect against the snowy backdrop of a flocked Christmas tree. Try these engaging pointers with your collection:
1. Vary Shapes: To keep the look interesting, mix spheres, stars, and teardrops.
2. Use Light: Position your pieces near the LED lights. The illumination refracting through the crystal will cast a magical glow.
3. Mix Sizes: Larger pieces add drama, while smaller ones provide a sprinkling of sparkle throughout.
4. Keep It Balanced: Try to distribute the ornaments evenly, balancing heavier pieces with lighter ones.
5. Use Color: While clear crystal is classic and opulent, don't shy away from colored pieces. A hint of color can add charm and interest.
Employing these strategies will ensure your tree exudes a dazzling showpiece quality with crystal decorations.
Plaid Ribbon Bows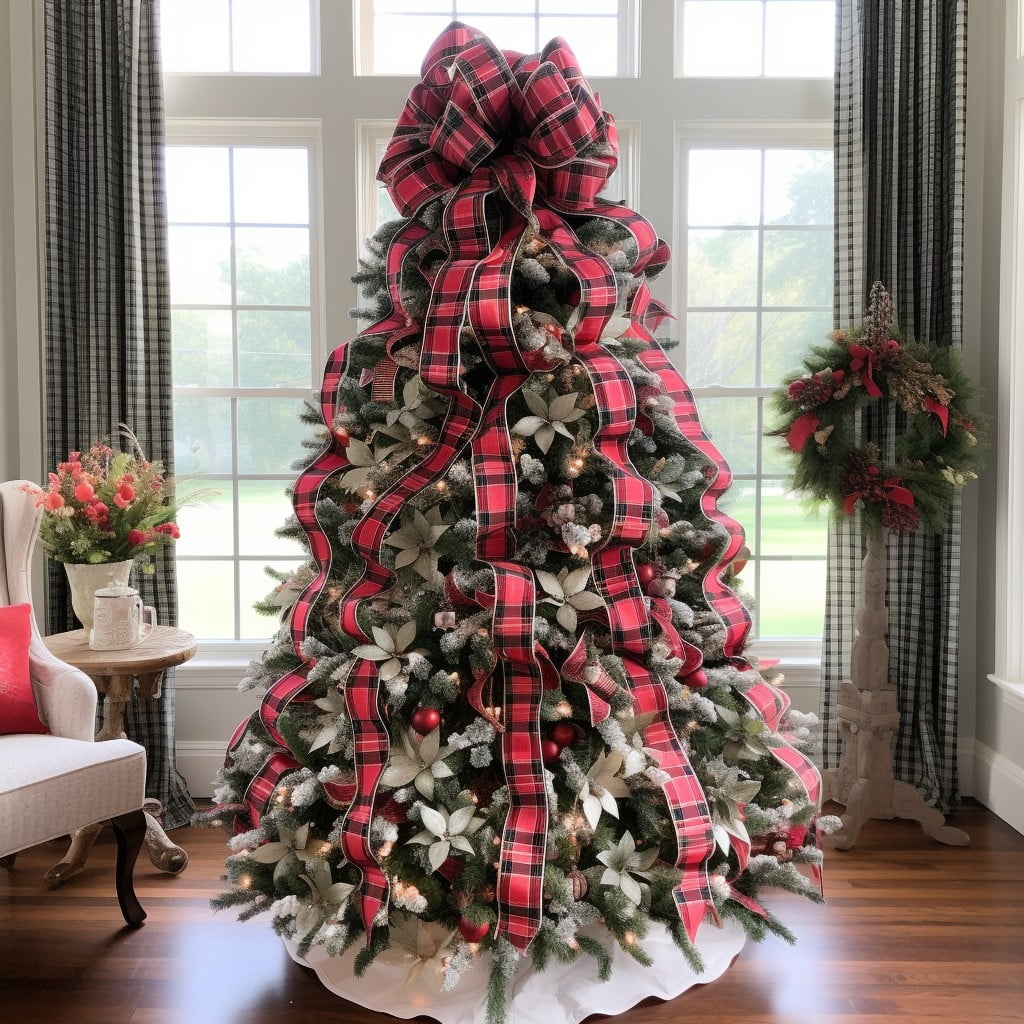 Plaid ribbon bows add a warm, captivating appeal to your Christmas tree. With their rich texture and classic print, they generate festive vibes almost instantly.
Here are a few concepts to consider:
Choosing your Colors: Classic red and green plaid ribbon bows are staples for a traditional Christmas look. Alternatively, choose blue and silver for a frosty, wintry vibe or black and white for a modern, chic setup.
Quality Matters: Opt for high-quality, thick ribbon that maintains its shape when tied into bows. This ensures your tree looks plush and cozy.
Spaces to Adorn: Spread the ribbon bows evenly around your tree for uniformity. Remember, both small and large bows can deliver an enticing visual interest.
DIY or Ready-Made: If you're feeling creative, DIYing plaid ribbon bows can be an exciting activity. But if you're short on time, ready-made bows are a practical choice.
Incorporating plaid ribbon bows is guaranteed to lend a cozy, classic touch to your flocked Christmas tree. Consider these points while decorating and witness the magic these simple ornaments bring!
Frosted Glass Baubles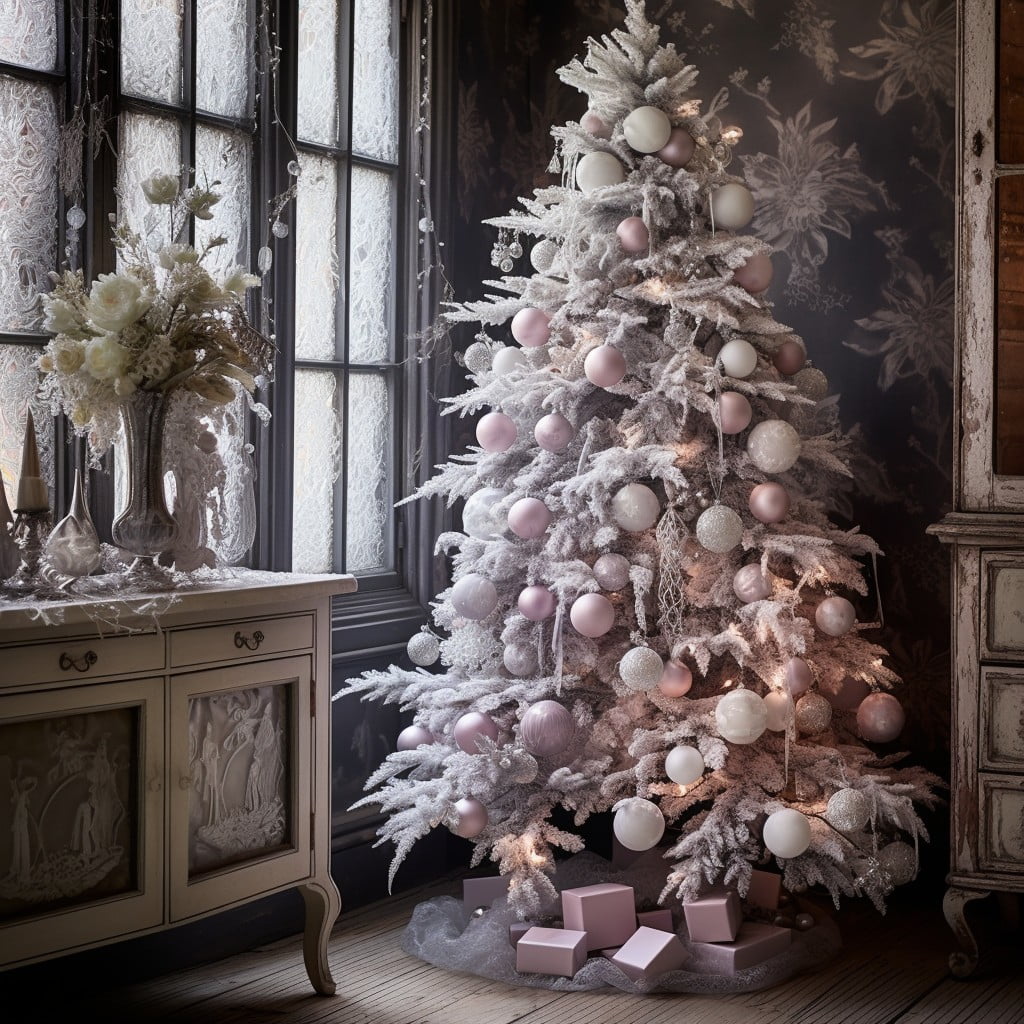 While frosted glass baubles may seem standard, their beauty is undeniably timeless. When nestled among the branches of a flocked Christmas tree, they create an icy, wintery aesthetic.
For a higher impact, mix different sizes and shapes to add depth and variety. Beware of overloading your tree; remember, less is more.
The semi-transparent nature of these ornaments allows LED lights to shine through, providing a unique festive glow that adds to the holiday atmosphere.
Don't limit yourself to classic spherical baubles; consider other shapes like star-shaped baubles for that extra touch.
Lastly, hang them at varying heights – not just the outer tips of the branches. This gives the tree a fuller, more layered look that's brimming with holiday spirit.
Woodland Animal Ornaments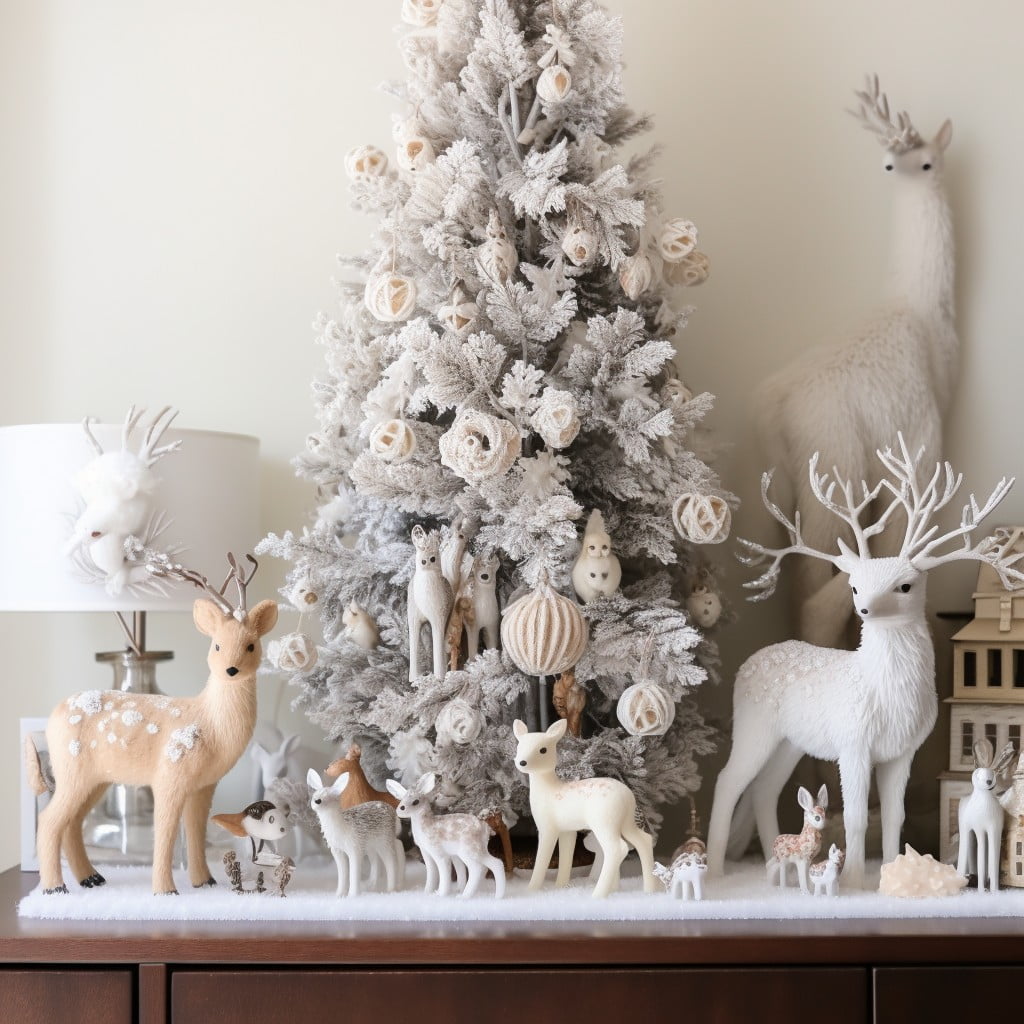 Embrace the charm of the forest with adorable woodland critters. These ornaments can range from intricate, hand-painted glass figurines to simple, wooden cutouts.
Popular options include foxes, deer, owls, and squirrels.
Consider choosing a color scheme that complements these, such as rich browns, earthy greens, and snowy whites, to create a sense of a winter woodland right in your living room.
The rustic aesthetic of these ornaments can provide a welcoming, cozy feel to your tree, especially when combined with other natural elements like pinecones or burlap ribbon.
Remember, the fun is in the details: Small sprigs of evergreen branches attached to a squirrel or fig acorn in the mouth of a deer can add a distinctive touch.
It's these small details that can truly bring your tree to life.
Liked reading this? Here's more:
Recap: