Last updated on November 9, 2023
Revamp your holiday decor because this article brims with eye-catching and unconventional Grinch-themed decorating ideas sure to bring whimsical delight to your celebration.
I'm proud to have curated these 20 whimsical Grinch decorating ideas for a joyful holiday home, and my hope is that you find as much joy and inspiration in them as I did creating them.
Dive into the whimsical world of Grinch-themed decorations to celebrate the holiday season in a unique and fun way.
From Grinch Christmas trees to DIY Grinch ornaments, there's a plethora of ideas that can transform your home into a scene straight out of Whoville.
Whether you aim to add a playful twist to your traditional decor or want to go all out with a complete Grinch-themed makeover, this guide provides all the inspiration and practical tips you need.
Stay tuned for a detailed exploration of creative Grinch decorating ideas that promise to make your holiday setup the talk of the town.
Grinch Themed Christmas Tree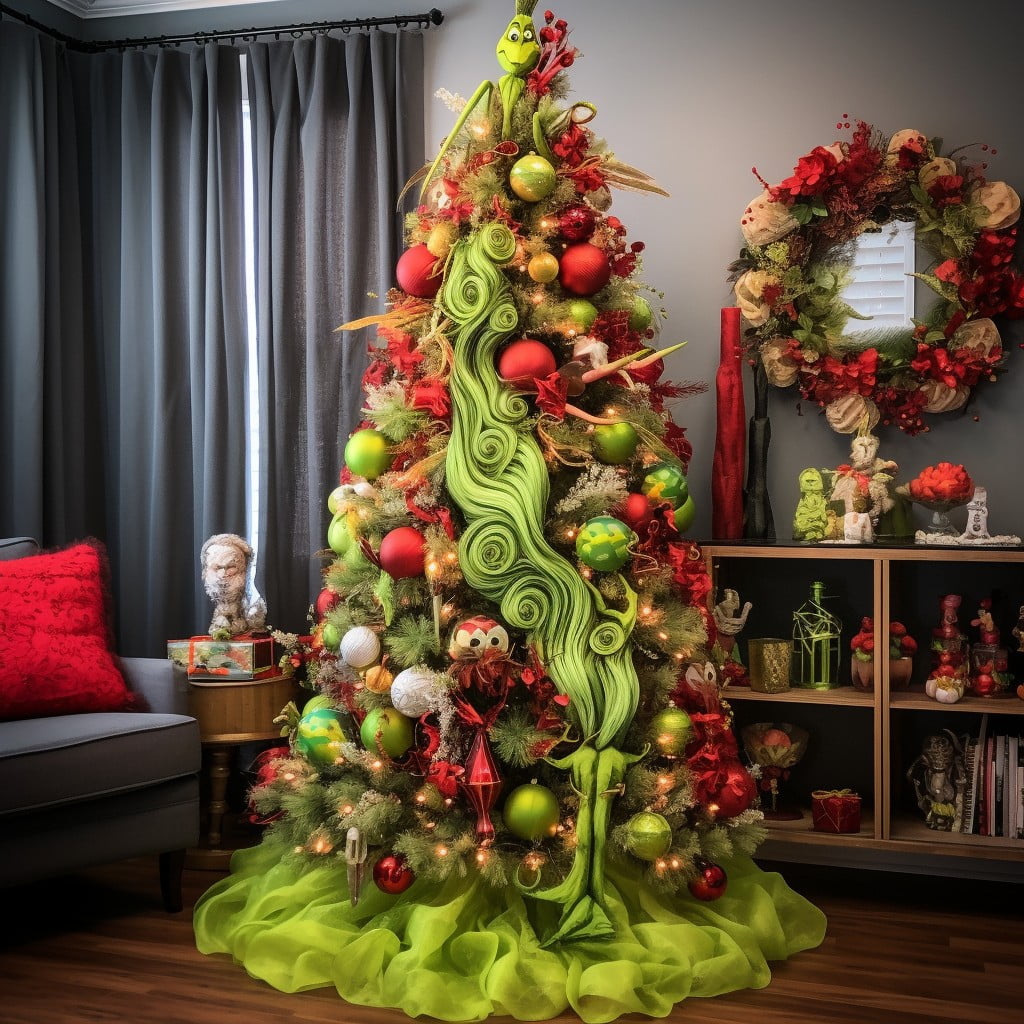 The main focal point of your Grinch decoration should primarily be the Christmas tree. Firstly, opt for a green Christmas tree, symbolizing the grinch's green fur. Combine various shades of green, from lime to emerald, to capture the essence of his character.
For the ornaments, there are numerous options. Consider heart-shaped baubles about two sizes smaller than your typical decorations to recreate Grinch's tiny heart. Complement these with red and white ornaments subtly referencing his Santa disguise.
Another fun idea is to top the tree with a Santa hat instead of the traditional star or angel. Additionally, you can add a singular red ornament representing Grinch's heart at the end of the show.
Lastly, use a unique tree skirt. A yellow one could pay homage to the grinch's yellow eyes or a red and white one to represent the iconic Santa outfit. Remember to mix and match according to your taste, keeping the spirit of Grinch alive through the decoration.
Grinch Inspired Wall Decals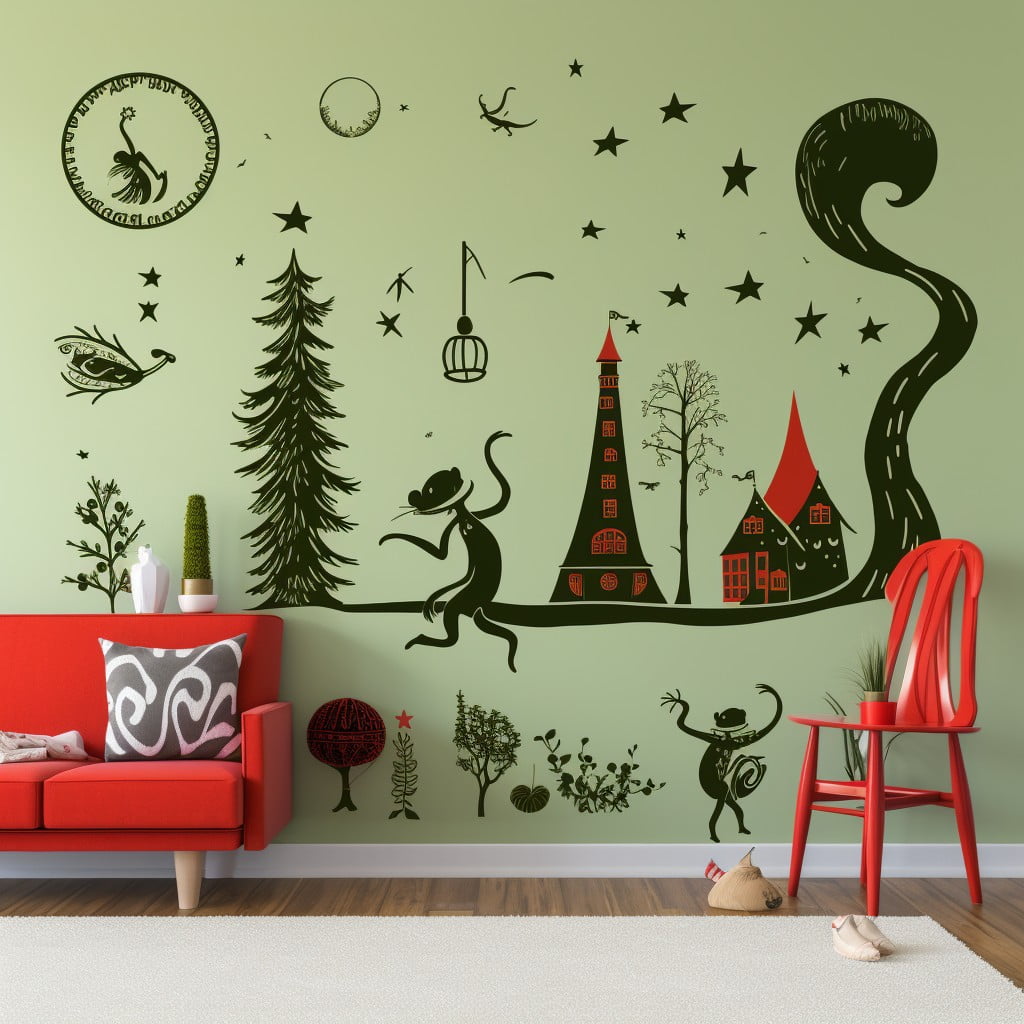 Wall decals, with their easy application and removal, offer a fantastic way to temporarily transform your interior space. Opt for decals illustrating the grumpy yet lovable Grinch to keep your holiday decor fresh and fun.
Aim to scale it right: When selecting your Grinch decal, keep in mind the wall space you plan to decorate. A tiny decal might become lost on a large wall, while an oversized one could overwhelm a small space.
Focus on color scheme: The Grinch is known for his unique green tone. Pick decals that match this shade for consistency with your Grinch theme. Adding a dash of red, the Grinch's complementary color, can also result in striking contrast.
Select unique designs: While there are countless Grinch decals available on the market, look for designs that stand out. A full-body Grinch decal, for instance, is sure to make a strong impression.
Combine with other elements: You can team up your Grinch decal with Dr. Seuss quote decals or Whoville characters decals for a more comprehensive Grinch-themed decor.
Remember, the main idea is to create a festive atmosphere that channels the whimsical world of Dr. Seuss while simultaneously celebrating the unique charm of the Grinch.
Grinch Hand Wreath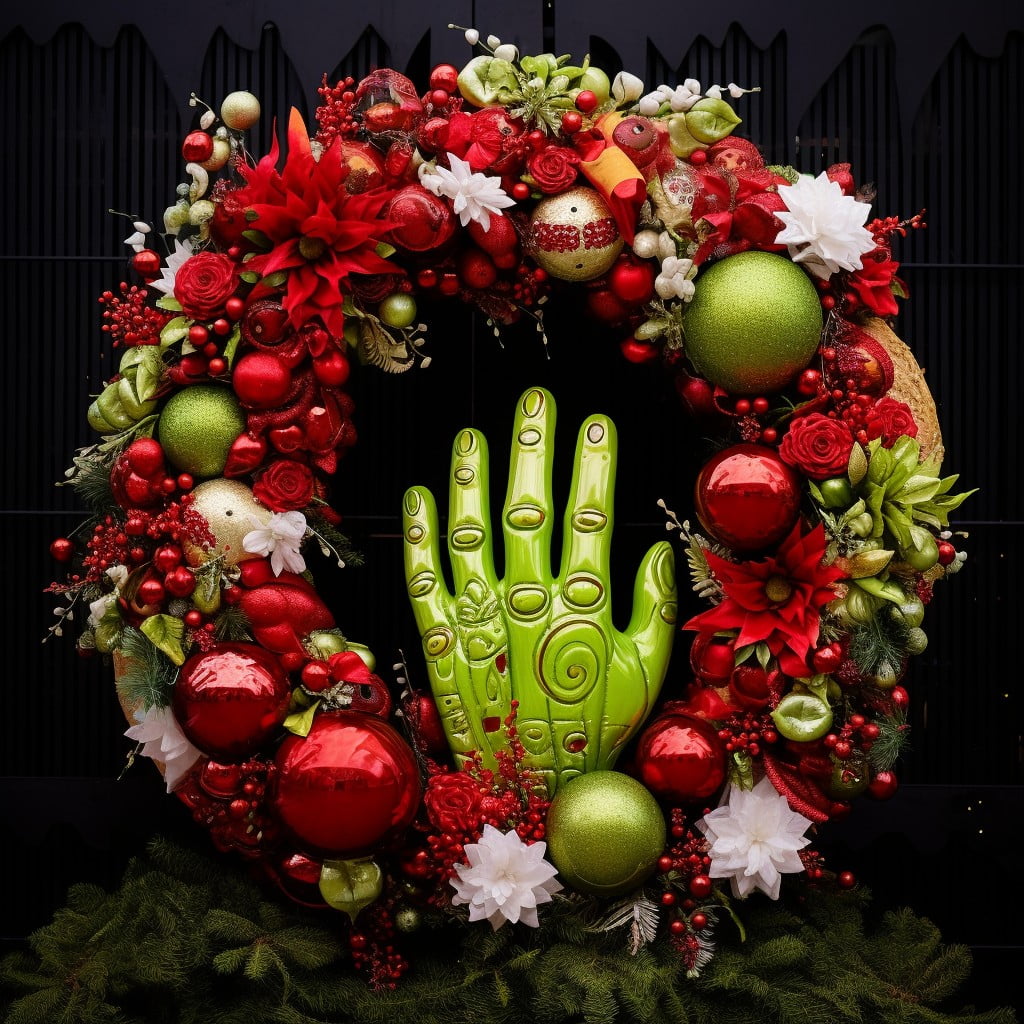 A unique wreath idea is sure to make a holiday statement: a hand-shaped cushion fabric formed into the Grinch's famously long, mischievous fingers. Start by drawing and cutting out a hand shape on green fabric and sew together, leaving a small opening to add filling. Cotton or bean bag fillings help to maintain the shape. After filling, sew the hand completely closed.
To add character, attach a red bauble or other ornament to represent the Grinch's stolen Christmas ornament. For an additional Grinch-y touch, consider adding striped fabric around the wrists to depict his scarf, or add small sewing details to mimic Grinch's fur. Finally, attach your Grinch hand to a traditional red or green wreath to blend classic Christmas with this fun Grinch twist.
This craft appeals to both children and adults, sparking their creativity, and providing a fun holiday project. Remember, the end result doesn't need to look perfect – it's the Grinch, after all!
Grinch Green Fur Rugs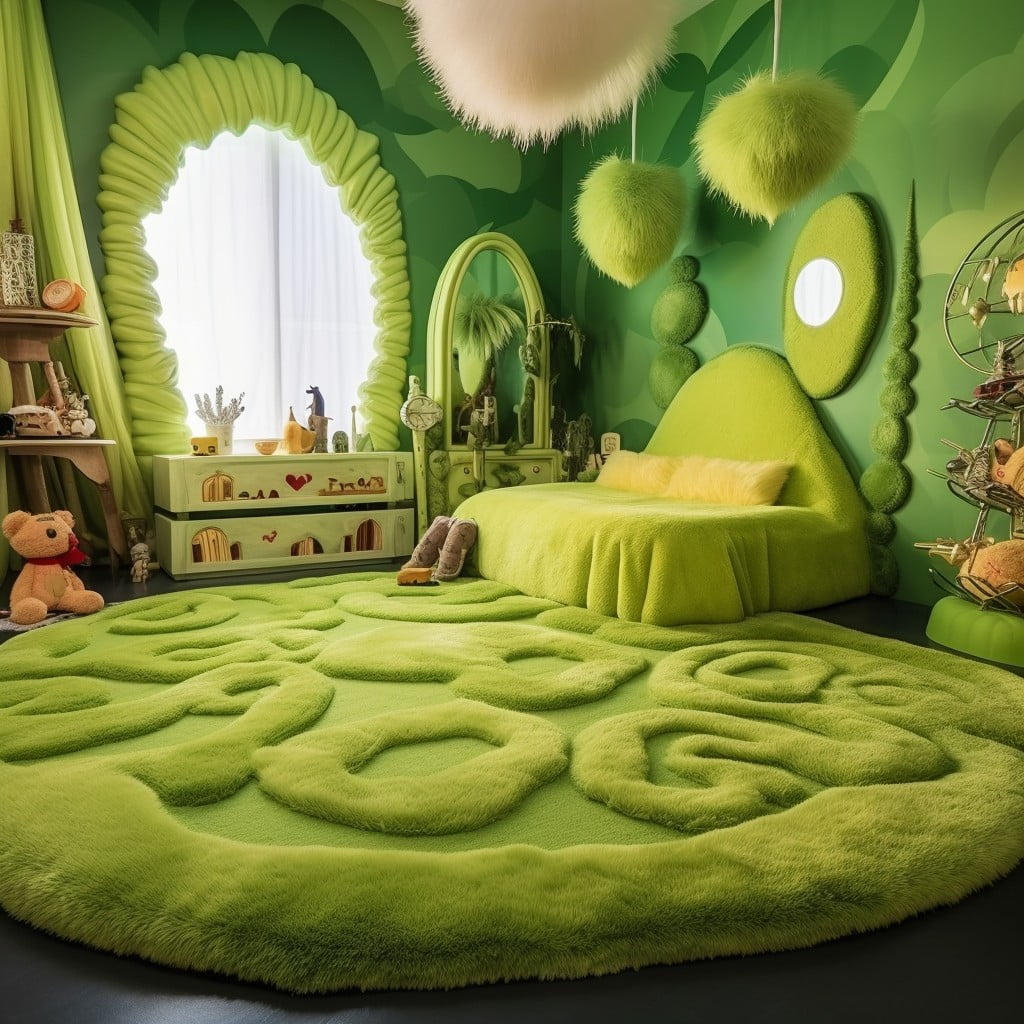 Remember, the Grinch's unique fur provides the iconic green touch to these rugs. Opt for plush, vibrant green fur rugs, instantly transforming any space into the heart of Who-ville.
When it comes to size, your choices range from doormat dimensions to large lounge rugs, allowing you to embrace the whimsy of the Grinch as boldly or subtly as you wish.
Easy to clean options contribute to practicality, creating a low-maintenance conversation piece. Some homeowners even enjoy placing the rug near the fireplace or under the Christmas tree, where gifts could rest upon it, perfectly intertwining function with holiday spirit.
However, avoid placing your rug in high traffic areas to ensure its longevity. One final tip – accessorize your rug with Grinch-themed pillows or blankets on nearby furniture for a seamless, whimsical holiday theme.
Grinch Themed Table Centerpieces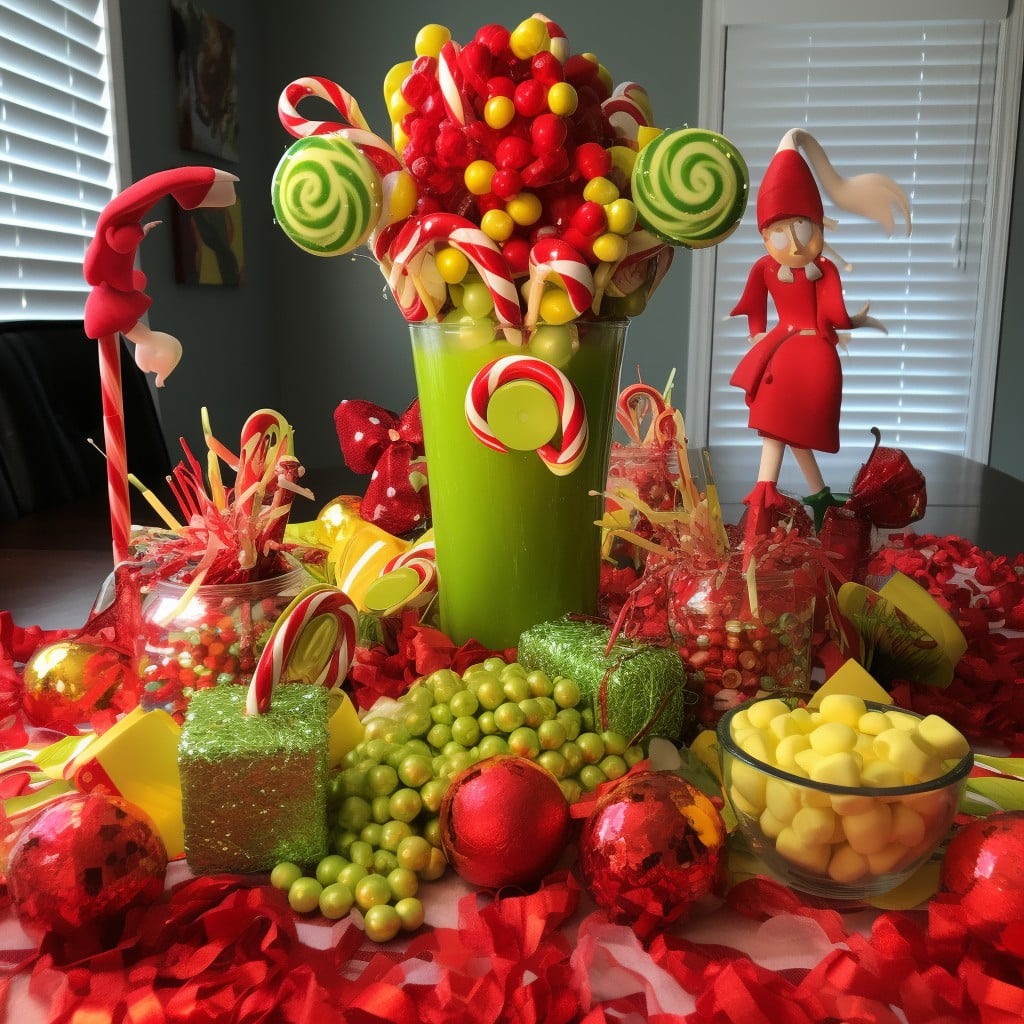 Injecting a dose of 'Whoville' charm into your festive dining spread can easily be achieved with some creative centerpieces. How about a cute, small Grinch-styled Christmas tree in the center? Adorn it with ornaments that are fitting for the theme. Think, miniature "stolen" wrapped gifts, heart-shaped decorations symbolising the Grinch's heart that grew three sizes, or even a tiny replica of the Grinch himself.
A glass cloche encapsulating a festive Grinch scene could also make an impressive table centerpiece. Opt for miniature Grinch figures, faux snow and tiny pine trees to set the scene.
For a simpler option, fill a glass vase with green baubles of varying textures, add a red ribbon for contrast, and you have encapsulated the Grinch color scheme perfectly.
Remember, think mischievously playful, capturing Grinch's reputation for being both naughty and nice.
Grinch Colored Lighting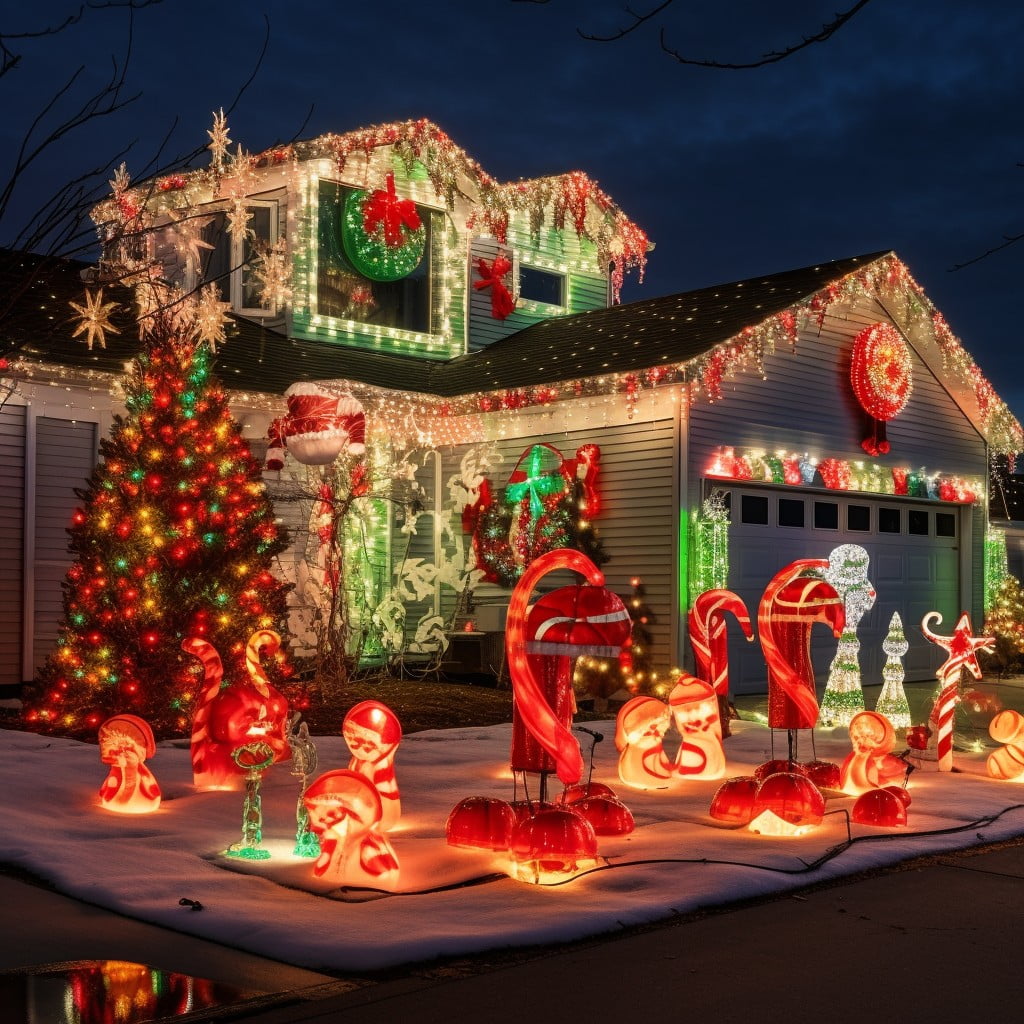 Creating an immersive and spirited atmosphere depends heavily on playing with light and color. Steer clear from traditional red and green, and instead opt for the unique hue of the Grinch himself. For this, green string lights or green LED lights are an ideal choice. These lights are not only energy-efficient but also emit a brighter glow.
They can be draped over trees, wrapped around banisters, or even made to create a beautiful canopy above the dining room for a truly Grinchy sparkle.
For a whimsical touch, consider light-up Grinch lawn decorations or projections to cast green silhouettes on the walls. Don't forget, the idea is to evoke a sense of fun, whimsy, and the heartwarming story of the Grinch at every corner.
DIY Grinch Ornaments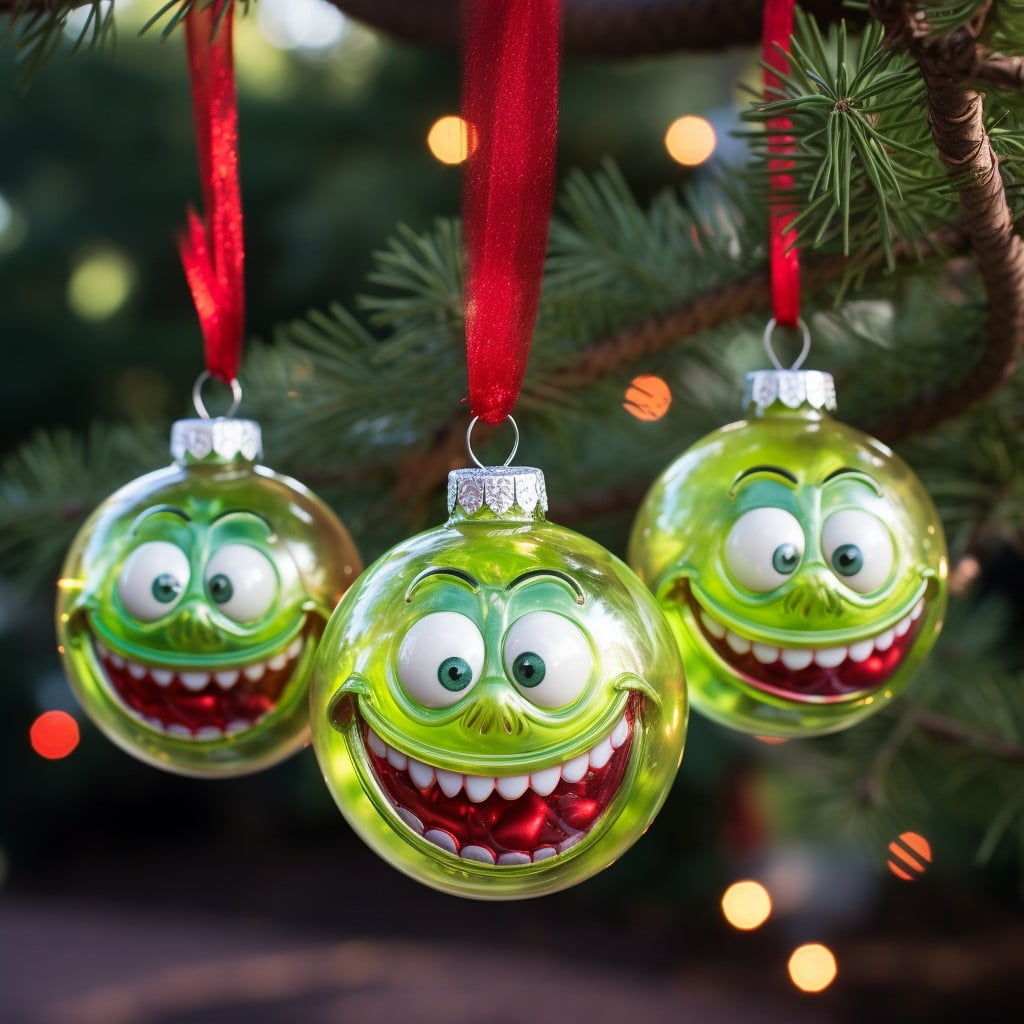 Creating homemade ornaments can be a fun and fulfilling project. Sketching out classic Grinch expressions on clear glass balls, filling them with green glitter, and fitting them with red caps provides an easy, yet authentic touch of Whoville to your Christmas tree.
Materials such as green felt, red sequins, and yellow googly eyes can be used to make mini Grinch figurines to hang on the branches.
Recycling old light bulbs by painting them green and adding Grinchy facial features is also an economical and eco-friendly approach.
Up the creative ante by crafting ornaments from clay, showcasing a three-dimensional Grinch in his Santa suit. Paired with colorful ribbons for hanging, they add a quirky charm to your holiday decor.
For a simpler undertaking, consider using green pom-poms and adding googly eyes and a drawn-on frown to represent Grinch's sour disposition.
Regardless of what materials you have at your disposal, remember that adding a personal touch is what truly brings the spirit of Grinchmas to life.
Grinch Stocking Hangers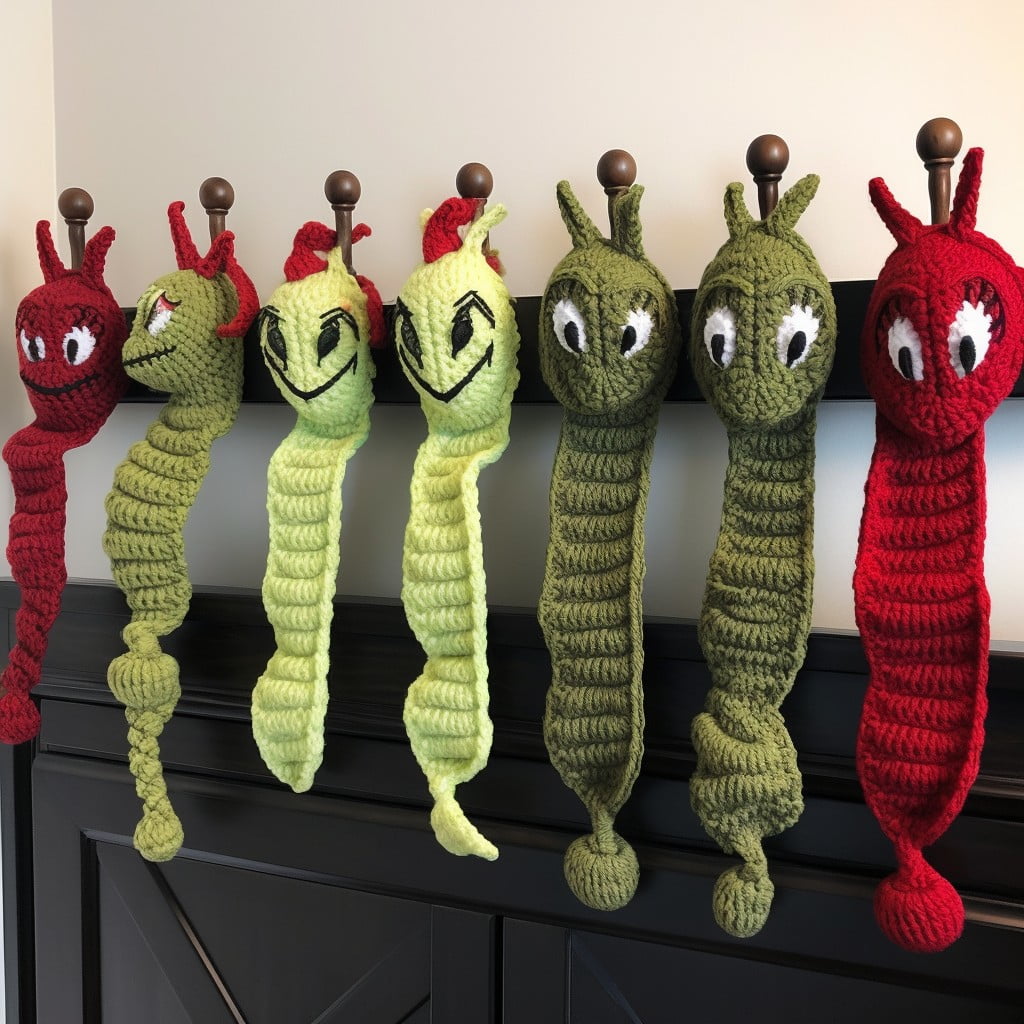 Considering they are a crucial part of more traditional yuletide décor, steer clear of standard stocking hangers. Choose hangers molded into Grinch-inspired figures or designs that are distinct and playful.
Find hangers that resemble the Grinch in his Santa disguise. These designs commonly incorporate his hand holding a green and red stocking. It provides a fun yet festive touch to the mantle.
For a simpler approach, select hangers that spell out 'Grinch' in cheerful holiday colors or Green metal stocking hangers with Grinch's face cut out of them. Minimalist, they still invoke the spirit of the Grinch.
Add a touch of whimsy by choosing hangers that feature scenes from Dr. Seuss' beloved book. Max the dog, Cindy Lou Who, and even Mt. Crumpit itself are great additions.
Personalized Grinch stocking hangers are a great way to make the decor more special. Customize with family members' names or a favorite short quote from the story.
Opting for hangers with jingle bells attached not only brings the Grinch theme alive but also brings along the merry sound of Christmas.
Remember to consider the weight and size of your stockings when choosing hangers, to ensure they are sturdy enough to hold everything.
Grinch Painted Gift Boxes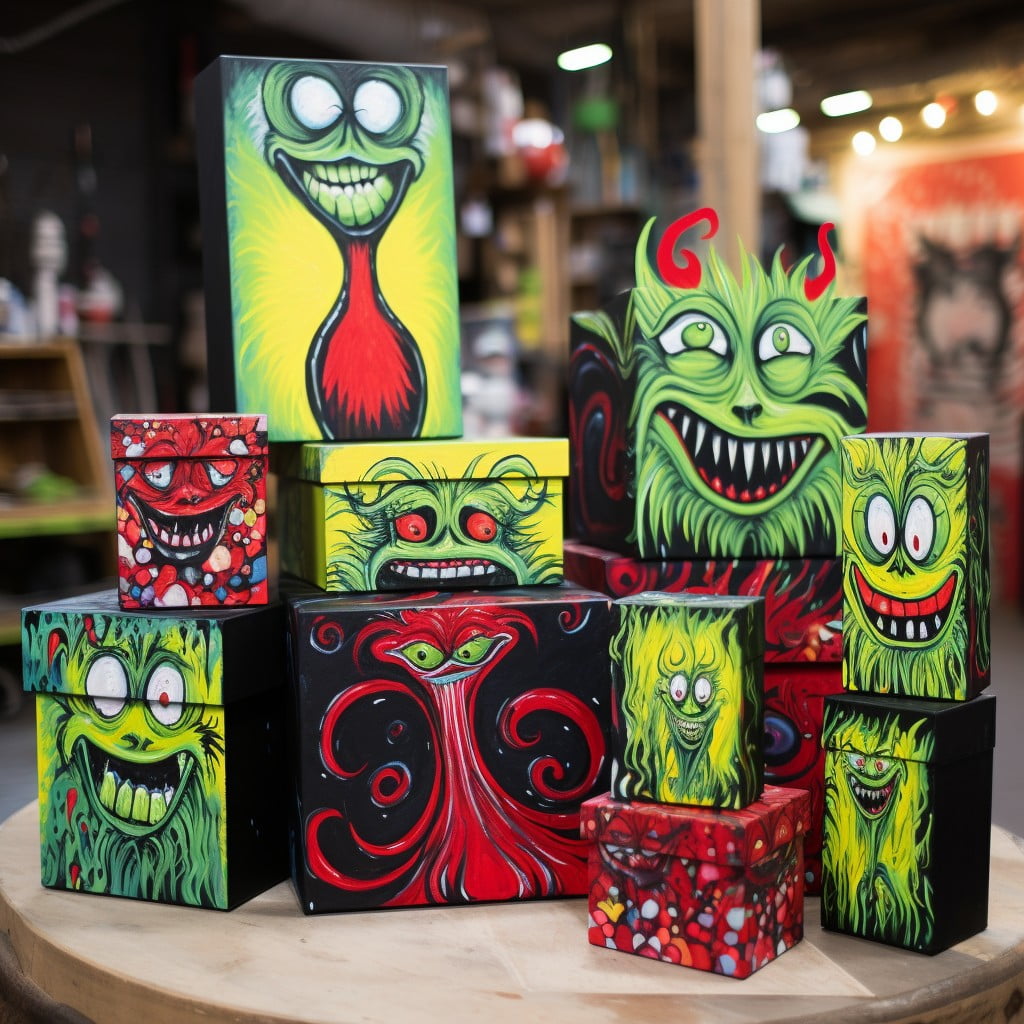 Customizing your present's packaging this holiday season will not only be a fun activity but also add a personal touch to your gifts.
Select a few different sized boxes, coat them with varied shades of green. Allow each box to dry properly before moving on to the next step.
Cut out Grinch faces from craft paper. If you're artistically inclined, feel free to draw and cut out the faces yourself. If not, printable templates can be found online.
Apply a layer of mod podge to the back of each face, setting them carefully onto the dried green boxes.
Use white craft paint to add fluffy Grinch-like fur along the top of your boxes, giving the impression of his iconic Santa outfit.
To add an extra dash of festivity, tie a big red satin bow around each parcel.
And voila! You're left with an array of charmingly mischievous gift boxes, sure to bring a smile to anyone's face. Happy crafting!
Grinch Face Pillows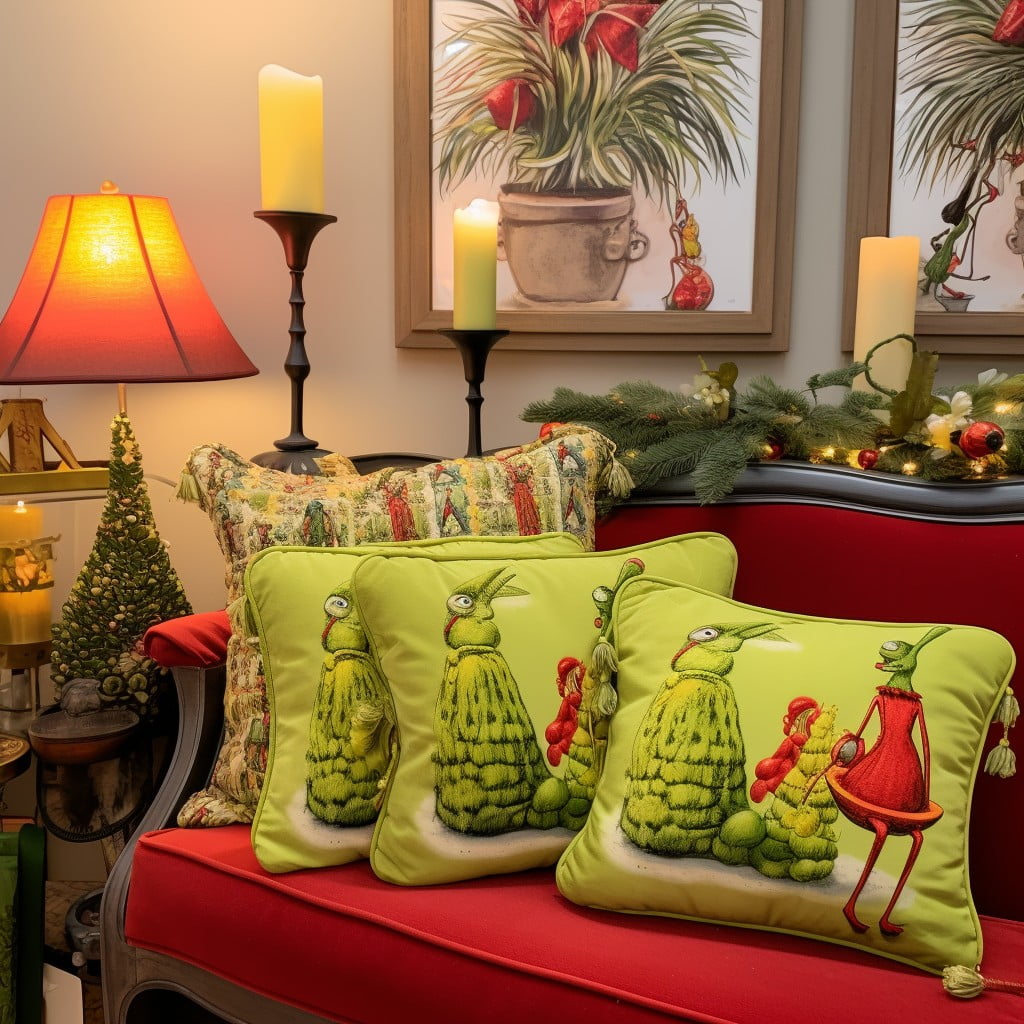 Brighten up any space with an adorable Grinch face pillow. It's as simple as finding a white or green pillowcase and using fabric markers or paints to create the Grinch's unmistakable grimace. This whimsical decor addition is not only comfortable but also serves as a conversation starter.
There are several ways you can design your pillow:
One option is the full-face design, where the entire face of the Grinch is depicted on the pillow.
Another approach is the minimalist style, where only key Grinch features are highlighted such as his curvy smirk and yellow eyes.
A light-hearted choice would be to display a Grinch quote across the pillow, such as "Feeling Grinchy".
Remember, it's all about the character's unique features, which are all easy to replicate even for those new to crafting. Pair these pillows with other Grinch-themed decorations to create a cohesive and inviting whimsical Christmas setting.
Grinch Themed Nativity Set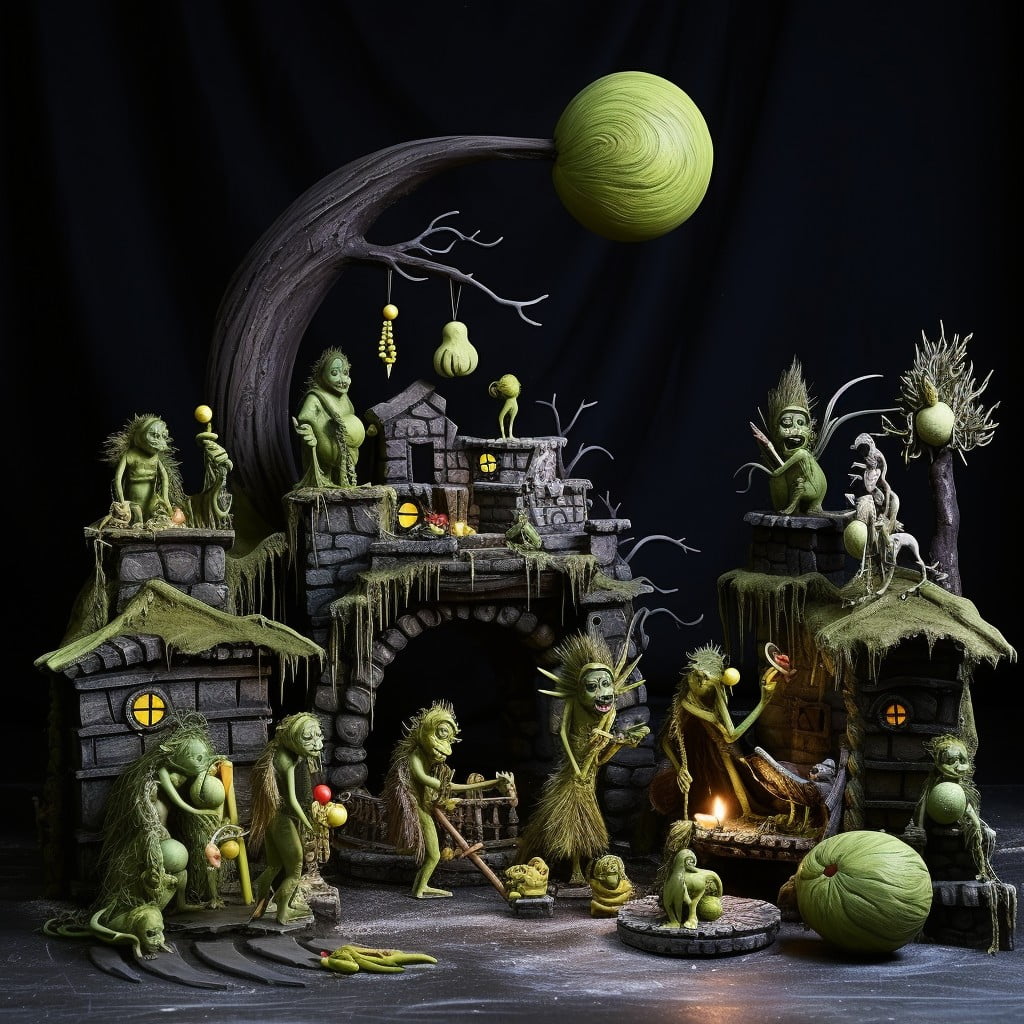 Incorporate a whimsical twist this holiday season with an unconventional take on the traditional nativity scene. With the principal characters of the nativity being replaced by Grinch-themed figures, the ensemble surely gives an enchanting homage to Dr. Seuss.
1. Select Grinch-inspired figures: Look for high-quality, detailed figures that accurately represent each character from the Grinch's story.
2. Arrange strategically: Carefully position the Grinch-themed characters to represent the traditional nativity scene, making sure to keep the details coherent.
3. Add Lighting: Integrate subtle lighting, using LED lights to highlight the figures and capture the magical atmosphere of the season.
4. Choose Suitable backdrop: Opt for backdrop creations, highlighting the Grinch's solitary dwelling at Mount Crumpit which can add depth to your display.
5. Incorporate Finishing touches: Complete the scene with small details like the Grinch's dog Max, mini candy canes, or a faux snow base to bring Whoville to life.
Grinch Inspired Door Decor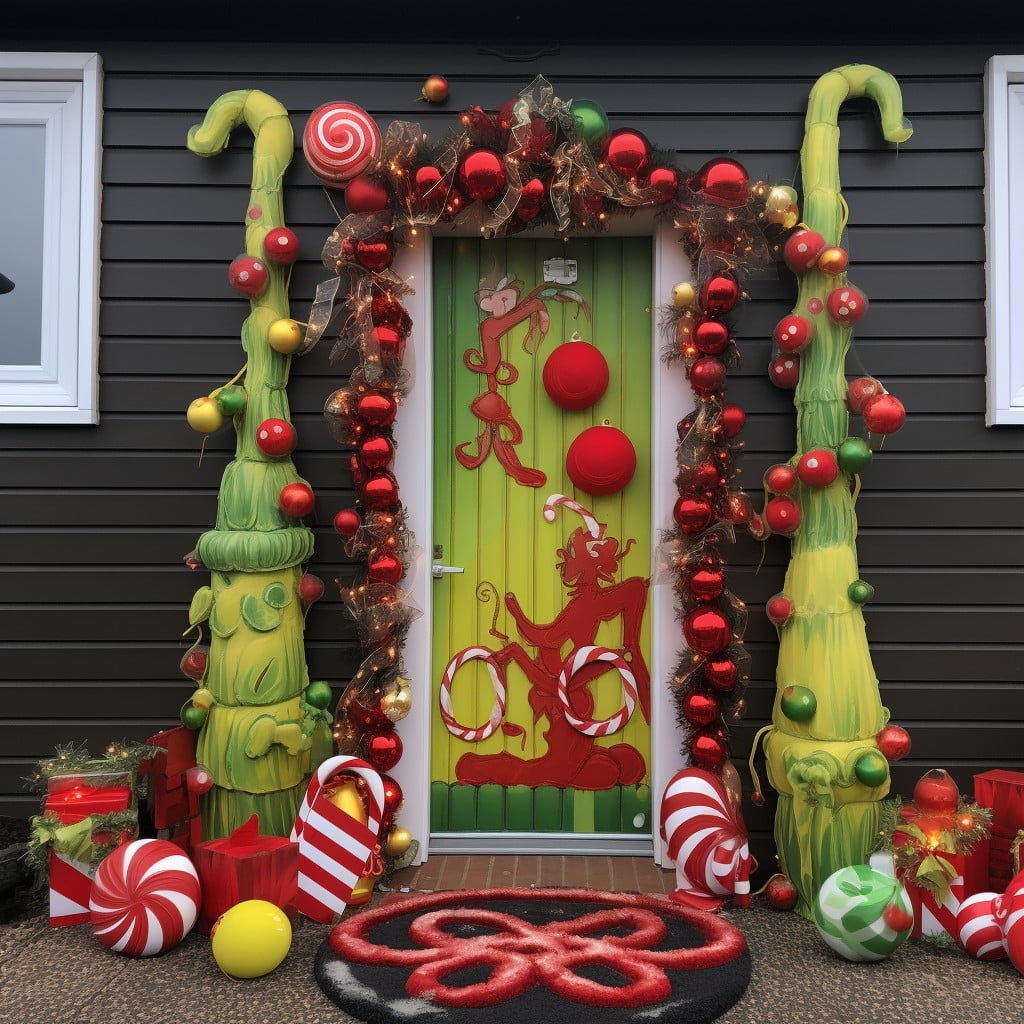 For starters, a bold Grinch-themed door hanger can certainly set the holiday ambiance right off the bat. These can be bought ready-made or even handcrafted, depending upon your preference and artistic skills. Door hangers can often be made using resources such as felt, ribbon, cardboard, and festive bells.
Next up, consider the use of Grinch door mats. Not only functional but also they will add a playful touch to your doorstep. There are a variety of mats boasting iconic Grinch quotes or images.
A Grinch-themed wreath is another popular choice. These can be made using green tulle or cloth strips gathered around a wire hoop, with a cut-out of the Grinch's hand holding an ornament, to mimic the well-known Christmas-stealing scene.
Lastly, remember door-frame decorations. String lights, garlands, or icicle lights in vibrant Grinch-like coloring, can serve as an excellent perimeter to your Grinch-themed door.
Keep in mind, door decor is the first festive hint offered to guests, so don't hesitate to be bold and creative! Be it hangers, mats, wreaths or frame decorations, let The Grinch greet your guests and set the festive mood right at your doorstep.
Grinch Themed Candle Holders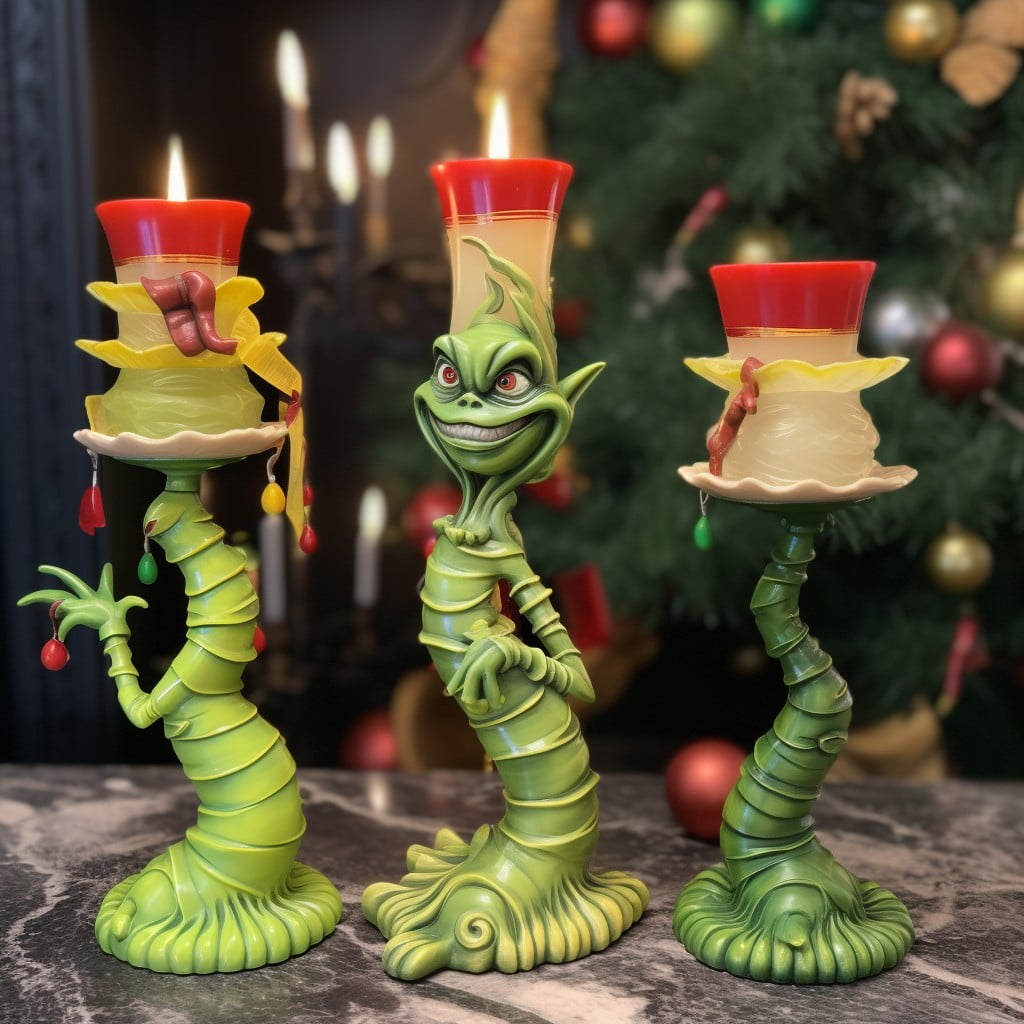 Unleash another layer of Who-ville charm with these charming, yet whimsical additions. The first step is choosing a suitable candle holder. Seek out those in vibrant shades of green or perhaps opt for clear glass styled with green candles instead. Whichever route you take, the color green is non-negotiable in capturing the Grinch's distinctive hue.
Adding custom-made Grinch faces or quotes to the holders can produce an extra layer of enchantment. This can be achieved with paint or, for a less permanent and reusable option, transparent static cling decals. Consider taper or pillar candles to truly highlight those expressions.
Likewise, don't leave smells to Whovian roast beast and Who-pudding alone. Infuse your space with holiday spirit through scented candles. Pinewood, spiced orange, or cinnamon are just perfect.
Ground these enchanting candle holders in your space by placing them strategically around your living room, on window sills, or as a table centerpiece. With these striking elements, you're sure to touch your interior with the Grinch's quirky charm!
Grinch Quote Wall Arts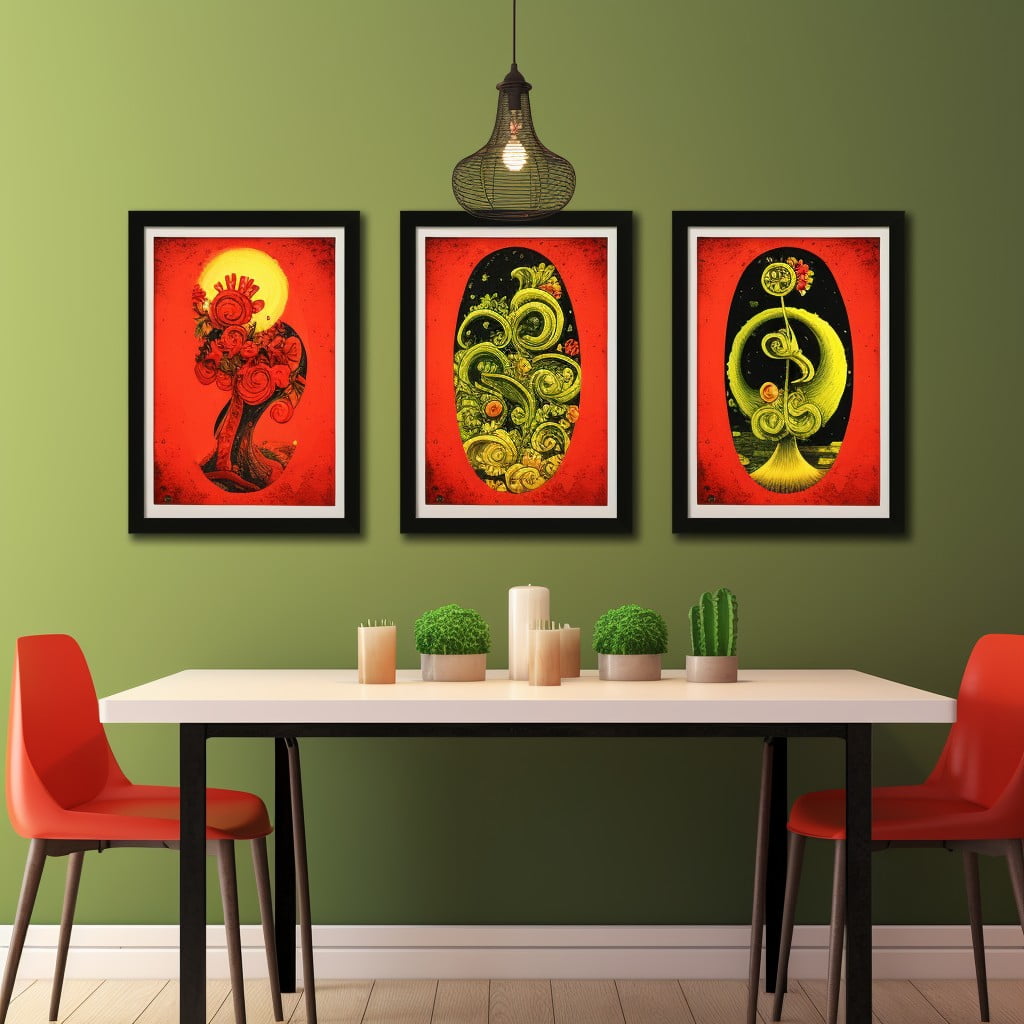 Incorporating Grinch quotes into your wall art can instill an additional holiday cheer within your home. These quotes, filled with humor and holiday spirit, can bring any wall to life.
Here's how:
1. Select memorable quotes: Opt for quotes that resonate with the season such as "Maybe Christmas, he thought, doesn't come from a store".
2. Customize your design: Fancy cursive or bold block letters? Green or red? Make the design personal and aligned with your overall decor.
3. Experiment with sizes and placements: Not all your quote wall arts have to be the same size or be at the same height. Play around to create visual interest.
4. Opt for removable decals: If permanent changes aren't feasible, go for removable wall decals. These can be placed during the season and removed afterward without damaging the wall.
5. Combine with images: Alongside quotes, consider small Grinch illustrations. This creates a perfect balance between text and visuals.
Grinch Themed Outdoor Inflatables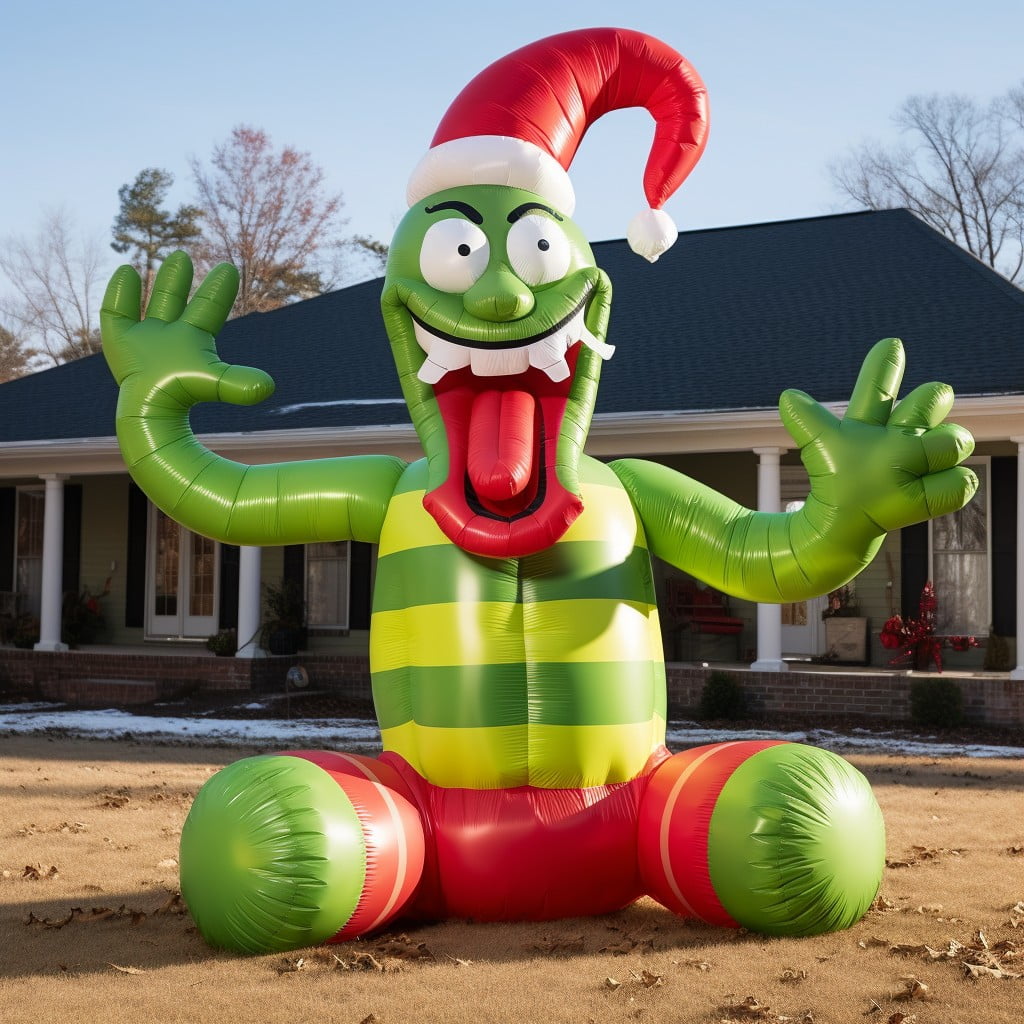 Creating a spectacular holiday display in your yard is simple with Grinch-themed outdoor inflatables. Known for their impressive sizes and designs, these items can capture the essence of the Grinch's sly grin and mischievous charm.
Firstly, size matters. Whether you opt for a towering 12-footer or a more modest 4-foot inflatable, make sure it fits your space and doesn't overshadow other decorations. Also, make sure it's weather-resistant, as outdoor inflatables endure many weather conditions through the holiday season.
Secondly, choose the design wisely. Some inflatables feature the Grinch alone, while others include his loyal dog, Max, or depict a particular scene from the book or film. Your choice should resonate with your overall theme and personal preferences.
Lastly, consider the inflatable's lighting. Many come with internal lights for enhanced visibility at night. This feature amplifies the Grinch's unique personality, bringing the character to life as daylight fades.
Remember to secure your outdoor inflatable properly, as high winds can cause movement. Utilize tie-downs or stakes which are typically included in the box. A well-placed, well-chosen Grinch inflatable will sure turn your yard into Whoville!
Grinch Inspired Garlands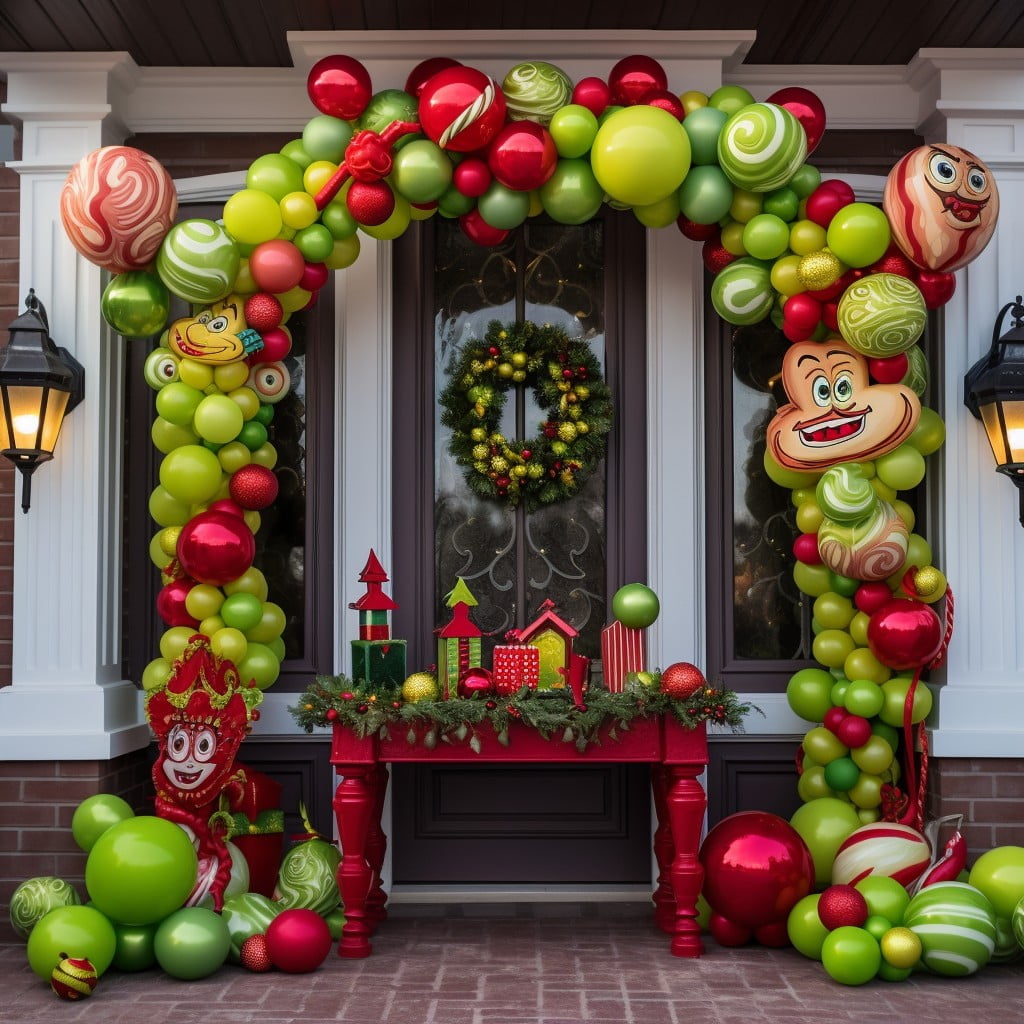 Creating your own garland offers a chance to inject personalized flare into the holiday festivities. Incorporate green feather boas as stand-ins for tinsel to capture that classic Grinch fur texture. For added variety and eccentricity, consider alternating strands with traditional Christmas lights.
If DIY crafting isn't your skill, plenty of themed garlands are available online. Some feature iconic quotes while others beautifully integrate character-themed baubles and beads. The most popular choice among these tends to be the Heart garland, usually paired with either the Grinch's hand or face.
Lastly, for a minimalist approach, simply intersperse sleek green lights against a monochrome background. The contrast keeps the Grinch motif alive without overwhelming the space, perfect for those who love a 'less is more' look.
Snow Globe With Grinch Figure Inside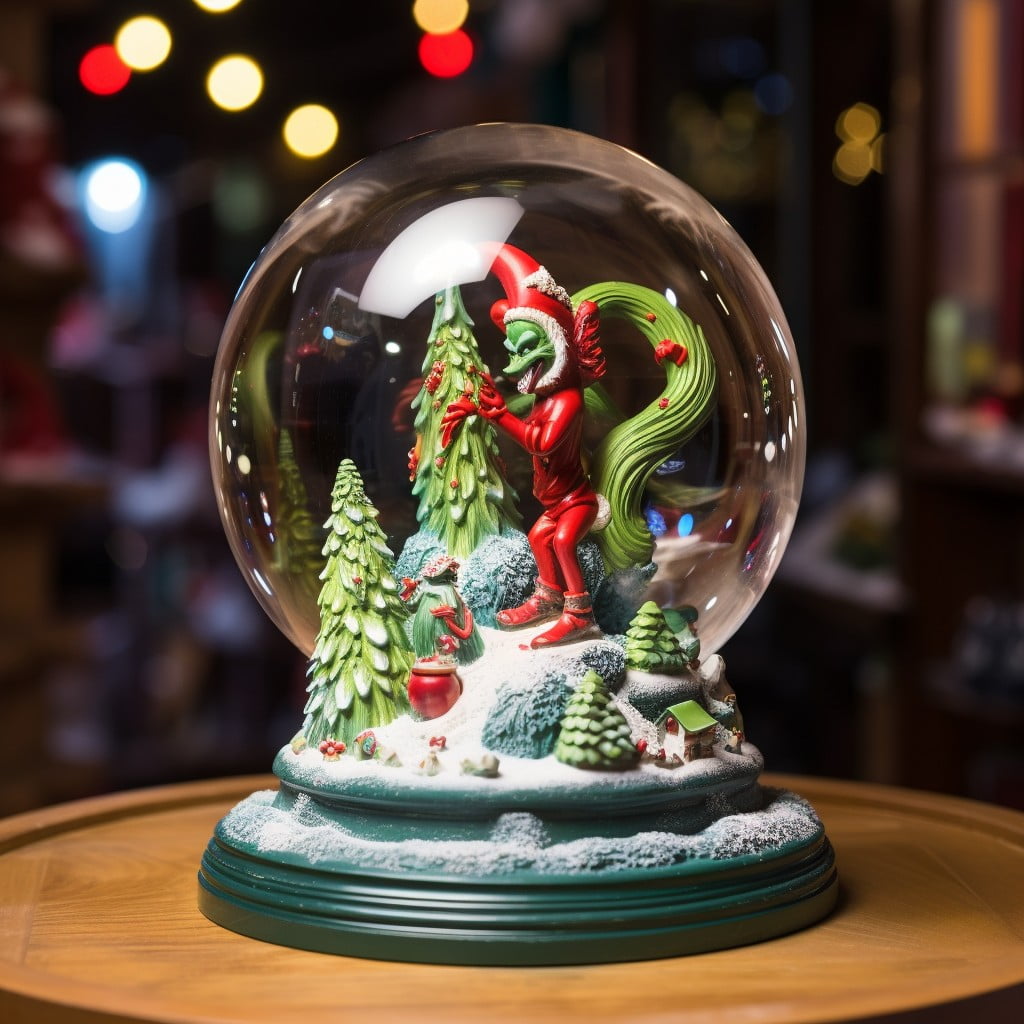 For a truly unique festive addition, consider incorporating a Grinch-themed snow globe into your decorations.
1. Create your own: Utilize miniature Grinch figures available at craft stores, a suitable jar with a sealable lid, distilled water, glycerin, and glitter to bring this scene to life.
2. Select a scene: Opt for a classic Grinch sneaking away with presents, an infamous scene of him disguised as Santa or even his eventual heart-melting epiphany moment.
3. Safety: Keep in mind the place of this decoration, ensuring it's out of reach from small children due to the glass component.
4. Coordinate with the rest of your decor: Position your snow globe near other Grinch decorations or use it as a unique standalone piece to add an element of surprise.
5. Gift Idea: Not only does this make a great addition to your own decor, but this customized snow globe could also serve as a memorable gift to a Grinch lover. Remember, the more personalized, the better.
Proceed to indulge in the sheer whimsicality of having a fitting Grinch scene captured within a glittering snowstorm!
Grinch Themed Cookies Jar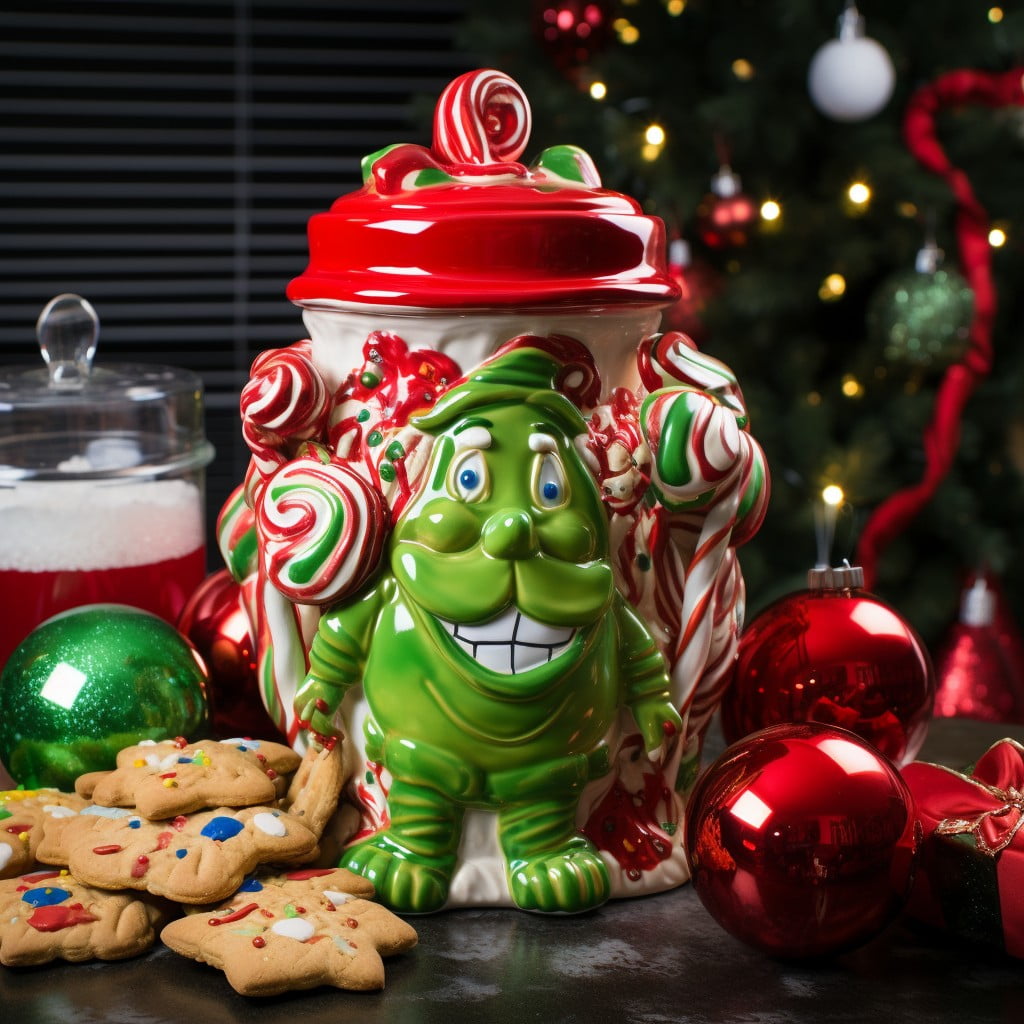 For a delightful display, consider placing freshly baked goodies into a jar adorned with the Grinch's iconic mischievous grin. Not only is this a sweet treat, but it also serves as an eye-catching decor piece.
Here's how to create your own cookie jar:
1. Choose a clear glass jar with a tight lid to maintain cookie freshness.
2. Purchase or create a vinyl sticker of the Grinch's face. Ensure it's small enough to fit on your jar, but large enough to be recognizable.
3. Apply the sticker carefully on the jar's surface. If necessary, utilize a squeegee to smooth out any bubbles for a professional finish.
4. For an extra holiday touch, tie a red ribbon around the lid or the jar's neck.
5. Fill up the jar with cookies—green colored or Grinch-themed ones will be sure to amuse guests and are a fun touch.
This offbeat idea is a creative way to blend functionality and festive spirit, making your Grinch-themed holiday even more unique and memorable.
Mount Crumpit Models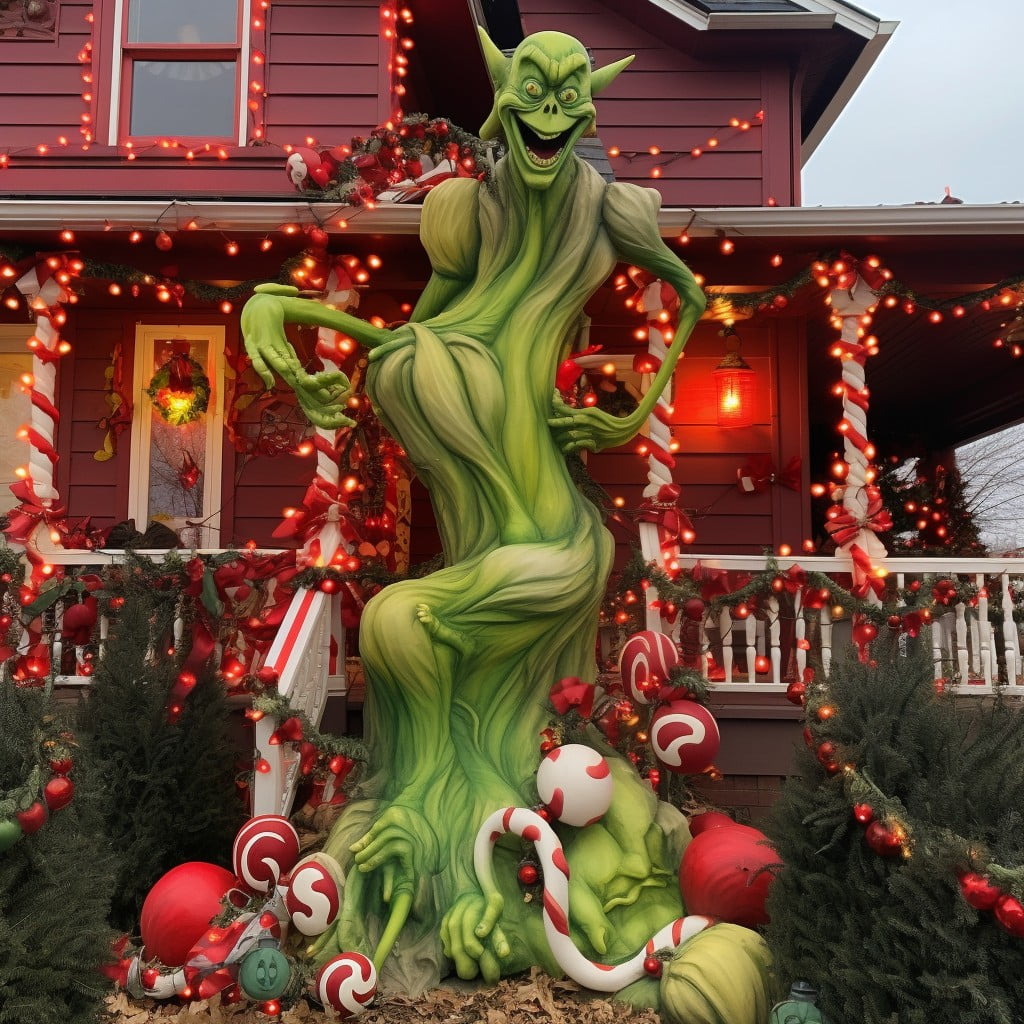 Creating your own model of Mount Crumpit brings a fun, crafty, and unique element to your Grinch decor.
Start with an assortment of craft materials such as aluminum foil, paint, and craft paper.
Sculpt the foil into the shape of the mountain, then cover with paper and paint to mimic the snow-dusted peak seen in the story.
Don't forget to add a small sleigh filled with presents at the top, signifying the moment the Grinch's heart grew three sizes.
A miniature lite Grinch standing next to the sleigh would be a neat addition too.
Remember, your model can serve as an enchanting centerpiece or a quirky addition to any vignette in your home during the holiday season.
Craft away and allow the spirit of the Grinch to radiate from your very own Mount Crumpit.
Grinch Themed Snowflakes Decorations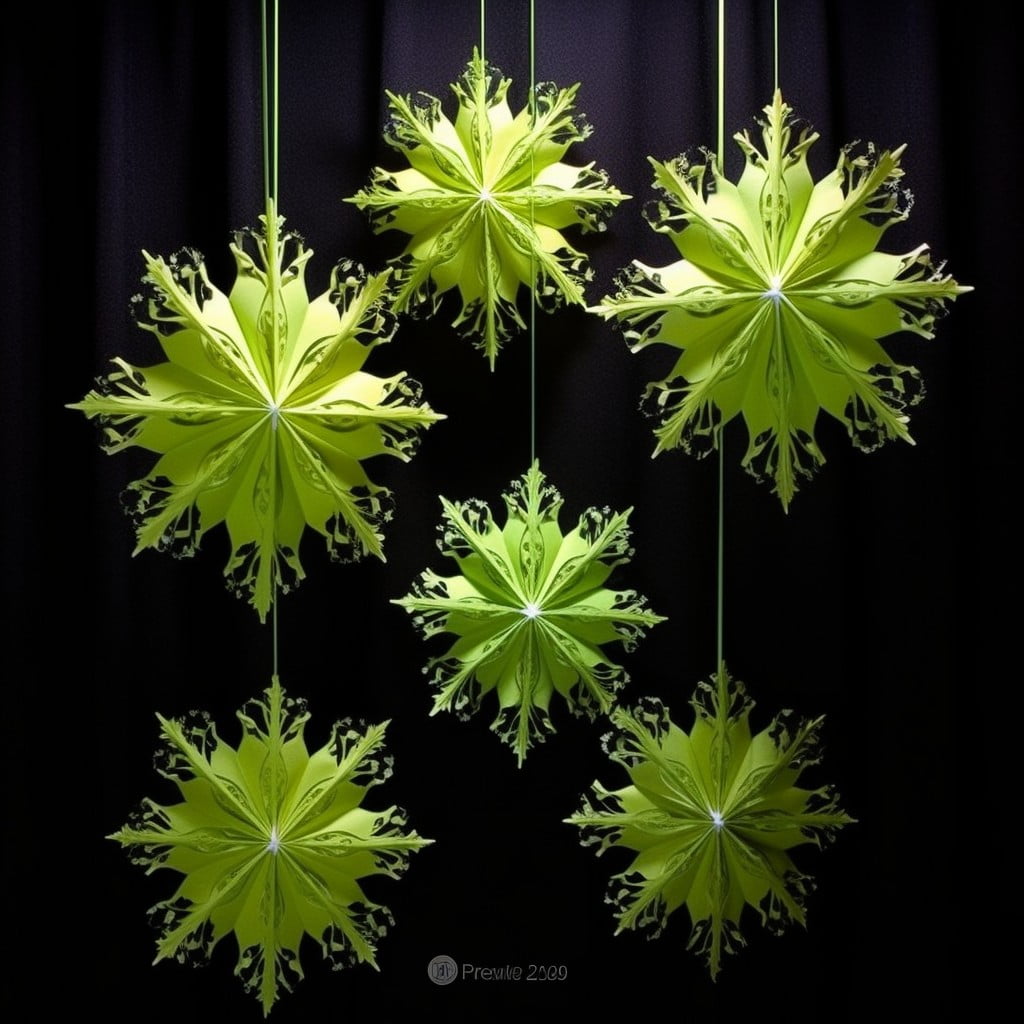 Capitalizing on the holiday's inherent wintry charm, these snowflakes provide an opportunity to showcase your Grinch fandom in a subtle, elegant way. They're easily crafted from green paper or felt, retaining the whimsical hue iconic to our favorite Christmas curmudgeon.
One popular design involves integrating Grinch's distinctive, curvy face and hair silhouettes into the snowflake's pattern, a playful nod to the beloved character. For a more sophisticated spin, consider crystal or glass snowflakes tinted Grinch-green, which catch the light beautifully and add a touch of sparkle to your décor.
Another approach might be to intermingle classic snowflakes with these Grinch-inspired versions throughout your decorations. This mix could be strategically placed to narrate the heartwarming transformation of the Grinch, changing from being the grumpy green outcast to the town's holiday hero.
Lastly, remember that these snowflakes make delightful craft projects for children. They get to enjoy a fun, creative process while contributing to the family's holiday decorations. Remember to supervise the crafting process, especially when using scissors or other sharp tools.
Liked reading this? Here's more:
Recap: