Last updated on October 5, 2023
Shabby chic — an electric array of different patterns and textures without one true era of origin. Vintage, but modern. Old, yet new.
However, rather than being chaotic, this design style does have some notably distinct elements.
Let's discuss these elements and 7 tips to create a shabby chic outdoor lounging area that is whimsical and fun while maintaining cohesion and style.
Weathered, Rustic Furniture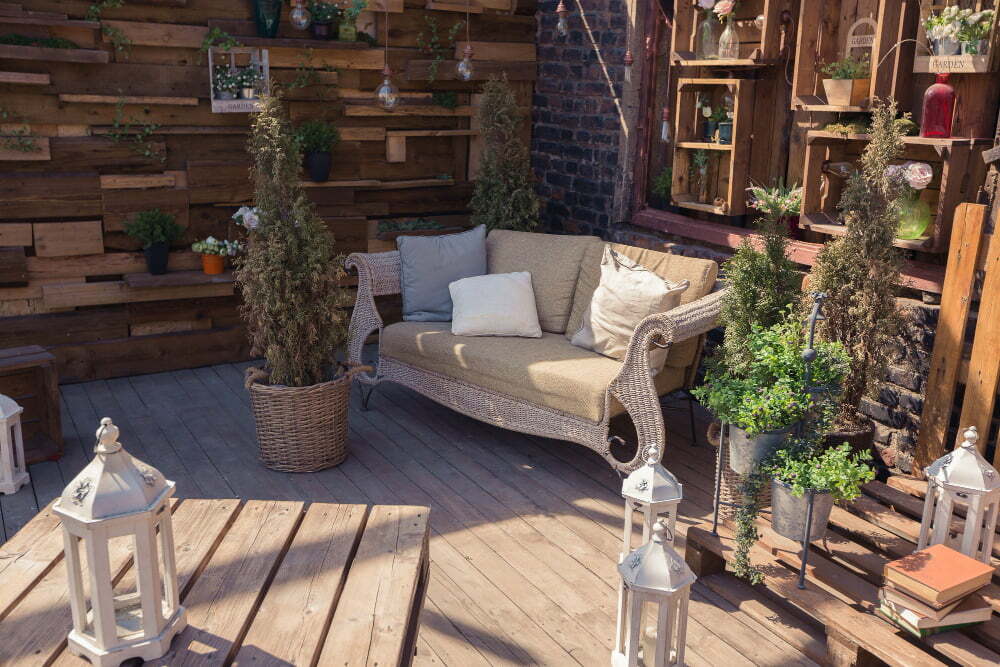 The shabby chic decor style is characterized by timeless furnishings with a lived-in look.
Bring in any weathered, touched-by-time wooden furniture items you have stored away. Distress newer wooden elements with sandpaper and paint thinner to create a rustic patina.
Repurpose random items like an old ladder. Turn it into a curious bookcase! Grandma's ancient suitcase could become a fun side table.
There are charming antique pieces to discover at vintage stores or flea markets that are slightly worn or dated-looking. Keep your eyes open for rattan settees, farm tables, step ladders, birdhouses, garden gear, and anything wicker!
Upcycling and thifting is also a super eco-friendly decorating idea!
Mismatched Antiques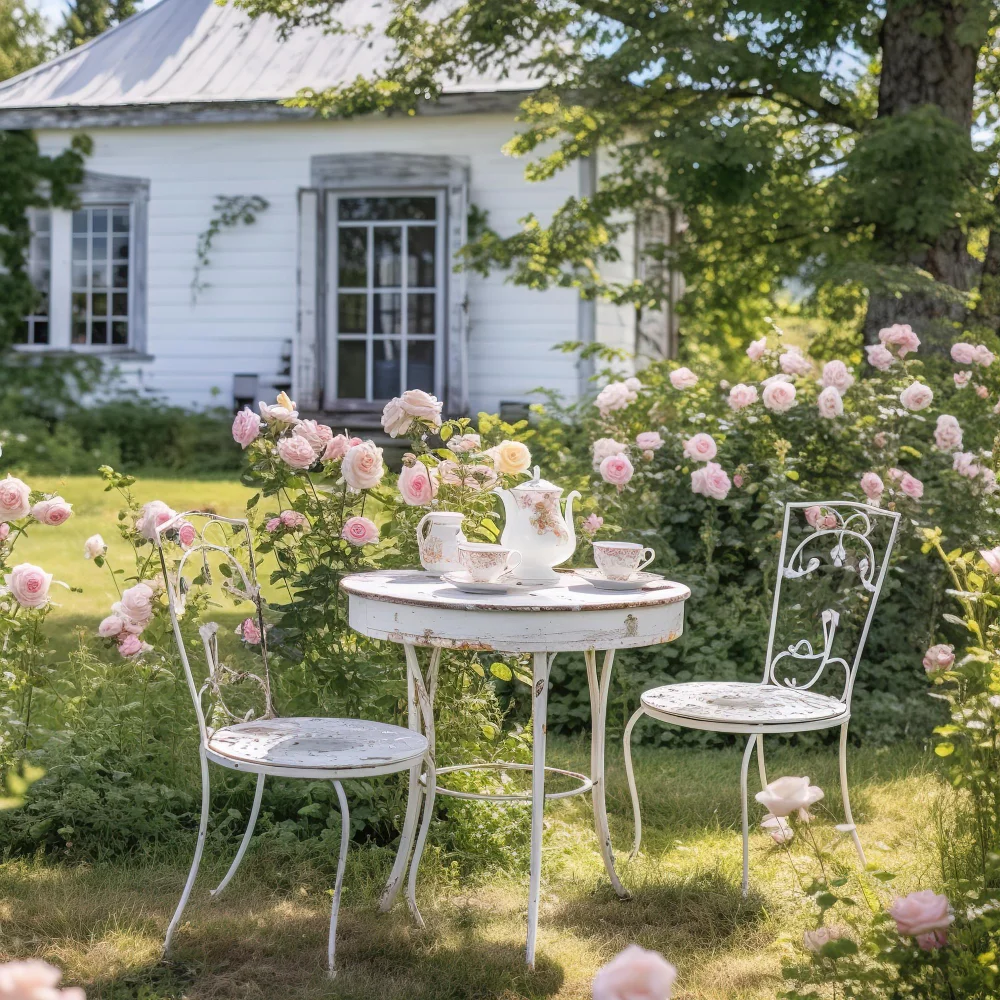 Avoid sets! Rather than a traditional collection of perfectly matching china, incorporate various colors and patterns from differing vintage crockery sets. Flea markets and thrift stores have these in abundance! The same applies to vintage chairs with curvy, sweeping, spiraling details and cabriole legs.
Arrange your chairs around a modern outdoor transformer table that can be altered based on preference. Place your favorite artisan picks like canning jars and antique pottery at center stage on this contemporary table.
Create an outdoor gallery wall that captures your personality and interests. Old advertising and road signs can reflect your travels. Hang a vintage beveled mirror amongst your chosen pieces as a classic addition to the design style.
Combine with Midcentury Modern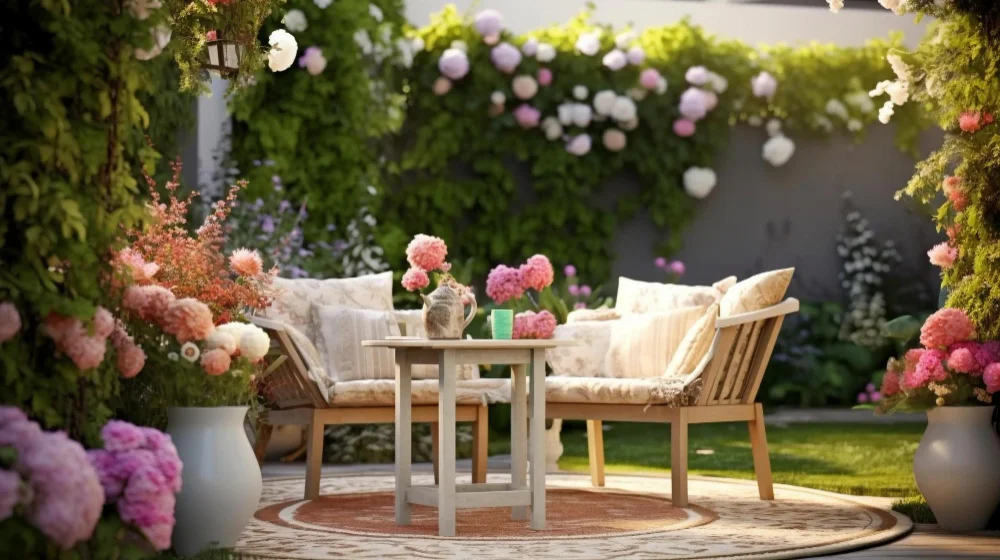 Mixing and matching is the whole point of shabby chic. Aim to juxtapose the comforting, antique, rustic style with elegant, refined, modern beauty.
Modern decor is often characterized by long, straight silhouettes and geometric designs. Introduce a geometric area rug to add movement and liveliness to your outdoor lounging area.
Remember that creating the perfect combination of past and present can be tricky. You don't want the space to become cluttered but rather blend intriguingly.
Incorporate modern clean lines through your larger furniture selections. A single touch of glass, a definitively contemporary element, is enough to create a subtle, dynamic flow. How about a small glass side table? Or glass flower vases?
Neutral Colour Palette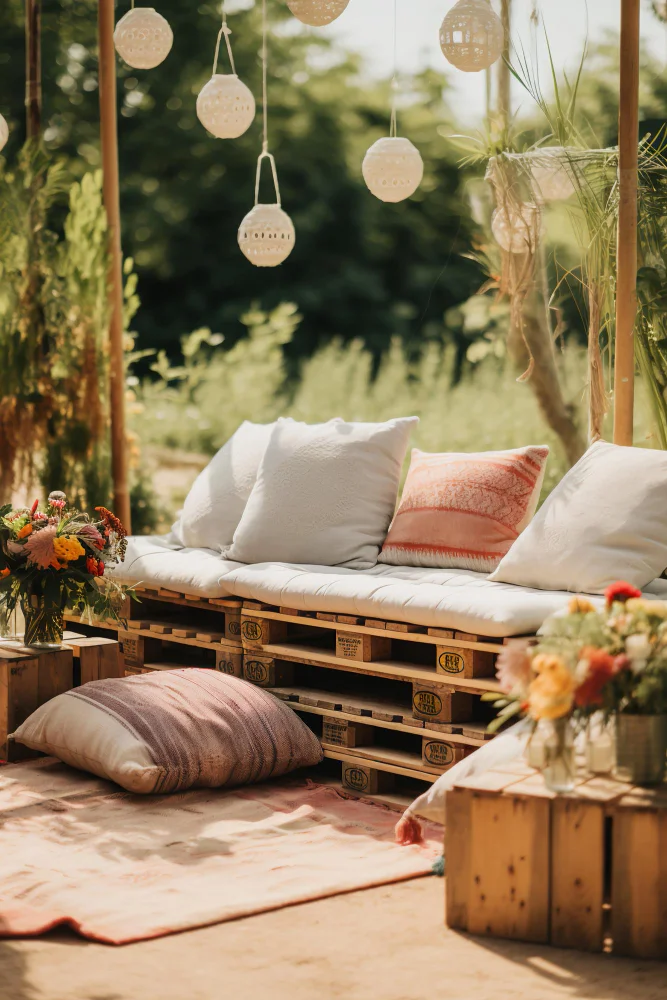 The shabby chic design style typically has a light and airy feel. Therefore, it's often compiled of a neutral color palette with chalky hues.
You're looking at minimal color with maximum detail. Keep it organic with whites, ivories, creams, grays, and beiges. These colors can be applied to walls, trims, flooring, etc.
Keep an open mind when it comes to your shabby chic outdoor lounging area. Your neutral color palette doesn't have to be boring!
For example, consider the burlap sack that was used to hold coffee beans, animal feed, or seeds for planting. Would these textured, organic, neutral-colored sacks not make excellent chair covers?
Boho Feminine Prints and Pastels
Accent the neutral colors with a pastel aesthetic. Shabby chic is decidedly bohemian, which has an undeniable feminine feel.
There are many areas in which you can bring in soft, muted pastels and femininity. Inject couch pillows and slipcovers in light greens and yellows, dusty pinks, and sky blues. Bark cloths, splashy oil cloths, and ticking fabrics with pretty, floral prints make perfect coverings for cushions, pillows, and tabletops.
Energize the aged appeal of your rustic, weathered furniture with floral upholstery, lace curtains, chenille trimming, intricate carvings, and hand-crafted/painted/woven/quilted details. And don't forget the classic rose prints!
Natural Fabrics and Textures
Your outdoor lounging area should feel cozy, comfortable, quaint, and homey. Natural elements allow for a warm and welcoming atmosphere.
Opt for rugs, curtains, shelves, chairs, and tapestries made from natural materials such as rattan, sisal, linen, bamboo, and jute. These textures will effortlessly transform the space into the natural aesthetic you're aiming for.
Of course, a nature-inspired shabby chic lounging area will require fresh flowers and potted plants. This is where you can add pops of color! Put your bright fresh flowers in vintage flower pots. Line a wooden shelf with vines.
Shiny Metal Accents
Metal accents gain a beautiful patina with age, and can be both vintage and modern.
Incorporate weathered metal vintage lanterns, chandeliers, candelabras, and lamps for lighting with sculptural silhouettes.
Examples of vintage metal accents are black iron lanterns, a wall-mounted iron grid, and dangling copper stars. Oxidized iron lighting, knobs, and drawer pulls are the way to go to create a vintage ambiance.
Chrome, stainless steel, and aluminum are midcentury modern metals. One way of bringing these elements in is by refreshing your vintage outdoor furniture with spray paint. End tables, chair frames, bookcases, and table bases will glow beautifully with metallic silver, gold, bronze, or copper.
Liked reading this? Here's more:
Recap: