Last updated on September 20, 2023
Garden decking is a great addition to practically any outdoor space. But getting someone in to build it can be expensive. Well, believe it or not, building a garden deck is doable as a DIY project. So, you can improve your backyard's appearance and usability without needing to spend a fortune.
But how do you build garden decking, and what do you need to construct it? Let's take a look at the basics:
In This Post:
What You Will Need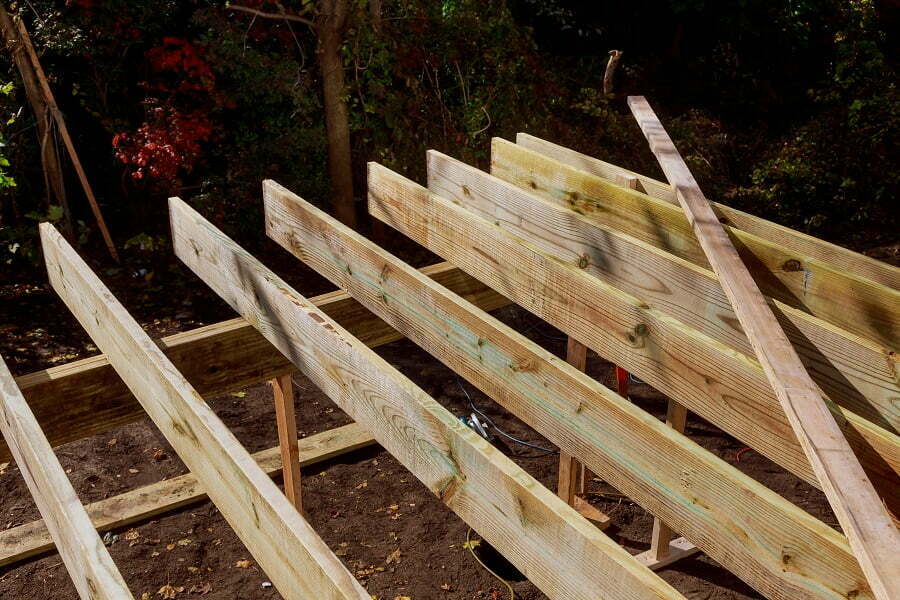 The tools:
Mitre saw
Hand saw
Spirit level
Tape measure
Drill-driver and bits
Spade
Rake
Paintbrush
The materials:
Decking boards (make sure you use the best wood for decks)
Decking joists
Coach screws
Decking screws
Weed control fabric and gravel
Concrete decking blocks
Wood preservative
These are the basic tools and materials you'll need. But every project is a bit different, so use this as a starting point when planning your deck and add to it as necessary.
How to Build Your Garden Decking Base
Firstly, you'll need to clear the space where your deck is going. This may mean you need to dig out the ground to make a level base unless you already have a solid, level surface. And laying down some weed control fabric and gravel to keep it nice and low maintenance.
Next, you'll want to lay down your concrete decking blocks as the footings for your joists to rest on. If you get ready-made decking blocks, they should have handy slots for you to rest your wooden joists on. These blocks will go in each corner of your deck.
Then, you'll need to measure and cut your decking joists so that they're the right length to layout in a square on your blocks. This is the supportive framework for your decking boards. The decking joists are best fixed together with coach screws rather than being simply fixed together with standard nails or screws. You'll also need to fix joists at regular intervals inside the framework to create a solid base for your boards to rest on.
Laying Your Decking Boards
Once you're happy that your base is solid and rigid, you can start to measure and cut your decking boards to lay on top.
Use decking boards made from wood or composite material, rather than standard planks of wood. These will be the right strength and be pre-treated. They should also come with grooves to make them grippy.
Cut them to size, so they fit over your base, and screw them down onto your joists with decking screws. You should be able to find these in your hardware store. If you plan to attach decking boards to the side of your framework to make it look attractive, then you'll need to give your top boards an overhang that's the same width as your boards. This will give you a flush finish when you attach the boards to the sides.
When fixing your decking boards, remember to leave a 1/4-to-1/8-inch gap between each one to allow for wood expansion, air circulation, and drainage.
Tips for Building Your Garden Decking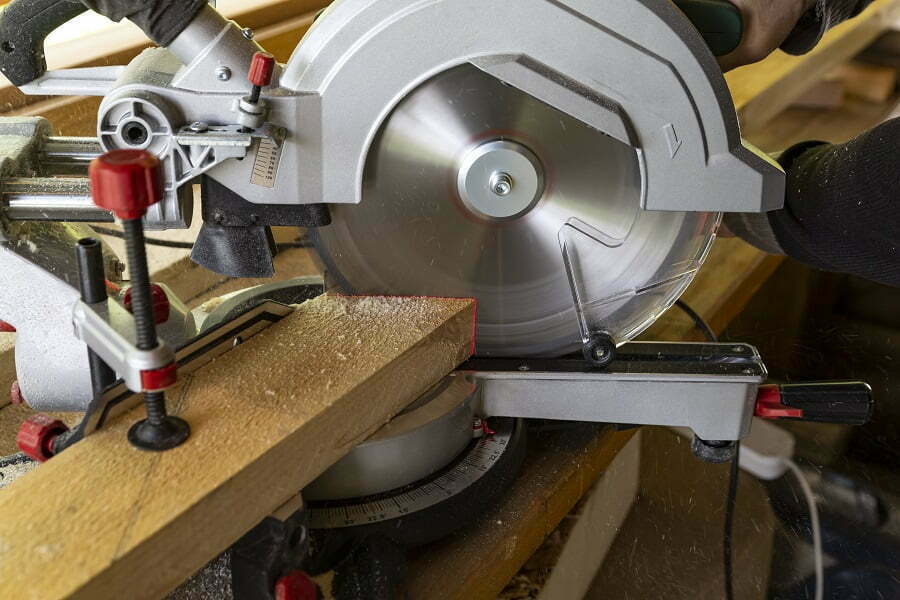 You will have lots of board cutting to do when you build your decking, so upgrading to power tools will speed things up. Buy the best mitre saw you can afford, so you can use it for future projects. Look for a saw that has an adequate cutting depth, plenty of safety features, and is straightforward to use. If you're using it outside on a workbench, then choose a portable model with good securing clips and a suitable power option.
Although your wood should be treated for outdoor use, the cut ends of the boards will be vulnerable to the weather. So, make all of your cuts and then brush each end with a good coat of wood preservative to make sure your decking lasts for a long time.
Garden Decking Ideas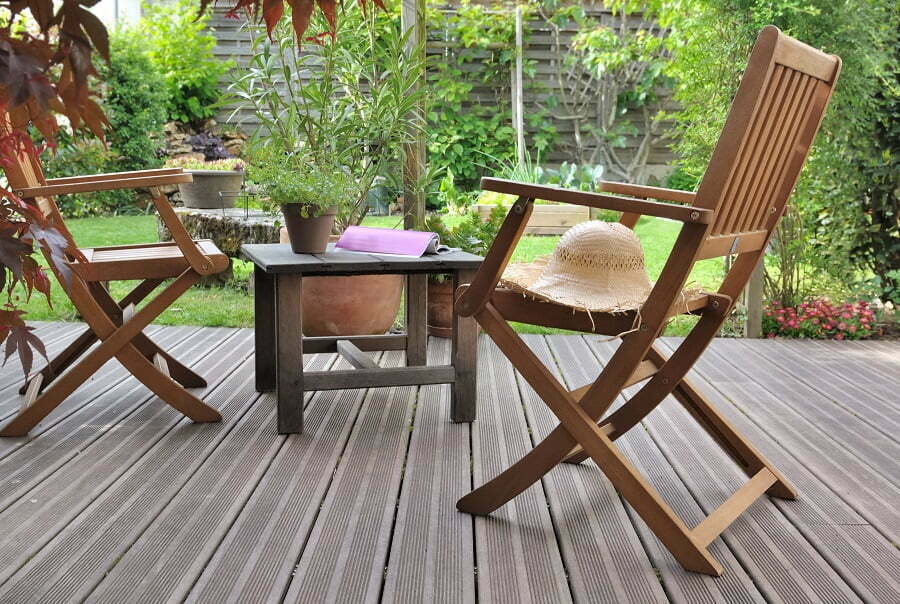 Once you've built your decking, you may wish to dress it to make it look its best. You could simply style it with reclining chairs and a little table for drinks to make it the perfect space for chilling out.
If you want to make it look prettier, you could pop some wooden planters around the edge to add a bit of color and help it blend in with the rest of your garden.
And adding some lanterns and fairy lights will help turn your decking into a fun entertaining space on warm evenings.
Liked reading this? Here's more: