Last updated on March 7, 2022
If you're like most people, your closet is a mess. It's full of clothes you never wear and accessories you never use. You don't know where to start when it comes to organizing it.
But don't worry, we're here to help. In this handy guide, we'll show you how to create a closet just for you.
In This Post:
Assess Your Needs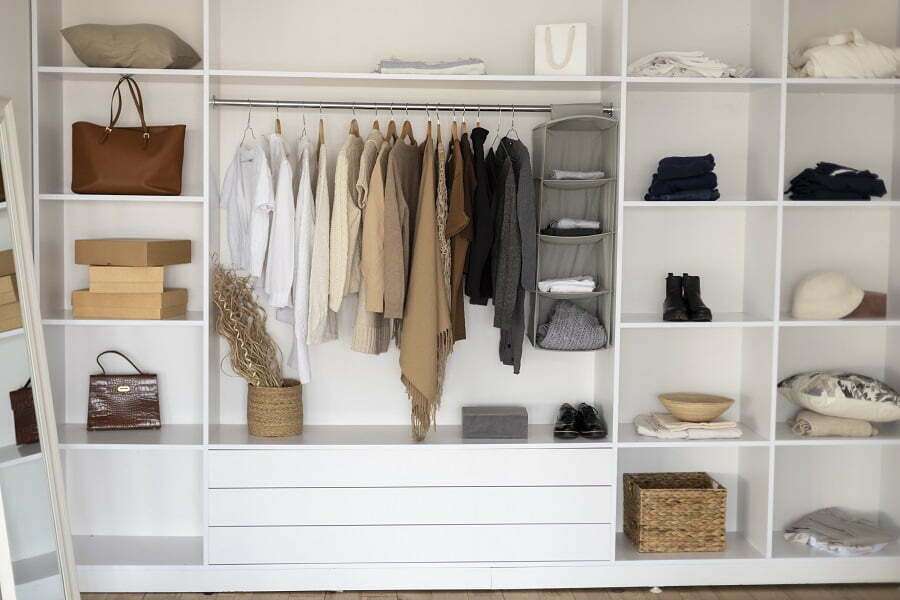 The first step in creating the perfect closet for you is to assess your needs. What type of clothes do you need? What type of accessories do you need? For example, if you work in a professional environment, you'll need suits, dress shirts, and ties. If you're more casual, jeans and T-shirts will work best for you. Think about the things you wear most often. What type of clothing do you typically put on first thing in the morning?
If you tend to gravitate towards dresses or skirts, then you'll want to allocate more space to those items. If jeans are your go-to pants, then make sure to have plenty of room for them.
Create a Plan
Once you know what you need, it's time to start designing! Draw out a plan for your closet and make sure to include all the necessary storage spaces. Think about the space you have available.
How much closet space do you have? How much floor space do you have? You'll need to consider both when planning your closet. If you're not confident in your design skills, this site is one excellent option among the numerous online resources available that can help. It's good to have an inventory of the clothes and accessories you currently have and plan to purchase. You can include it in planning the design of your closet.
If you're stuck on what type of closet to create, there are a few different options to consider. If you have the space, a walk-in closet is a great option. This type of closet allows for plenty of storage and organization. If your budget or space is limited, consider using an armoire or wardrobe to create a custom closet. These pieces can be used to store clothing, accessories, and even shoes.
Choose Your Materials
Now it's time to choose the materials for your closet. Depending on your budget and preferences, you can go with a custom closet or a pre-made one. If you choose to go with a custom closet, be sure to factor in the cost of installation and materials.
When choosing storage pieces, think about both functionality and style. You'll want shelves that are deep enough to store folded clothes, and racks that can hold both shirts and pants. Make sure to choose colors and finishes that will complement your existing décor.
Install It Yourself
If you choose to install your closet yourself, there are a few things you'll need to know. Make sure to read the installation instructions carefully and use the proper tools. You may also need help from a friend or family member for larger closets.
Creating the Closet
You can also choose the DIY route if you, your partner, or a family member knows basic carpentry. For the closet materials, you will need the following:
Wooden dowel
Ruler or a straight edge
Circular saw
Paint or a sealant
Sturdy hooks
Shelf brackets
Screws
Hinges
Knob or handle
Once you have the materials ready, it's time to proceed with creating the closet.
Measure the width of the closet opening and cut a wooden dowel to that length with a circular saw. If you want the dowel to be hidden, paint or seal it before installing.
Attach sturdy hooks to each end of the dowel using screws.
Measure the height of the closet opening and cut two pieces of wood to that measurement with a circular saw. Paint or seal the wood before installing.
Install shelf brackets to the top piece of wood using screws.
Hinge the bottom piece of wood to the closet opening and attach a knob or handle to the front.
Install screws into the wall behind the closet to hang your clothes on the dowel hooks.
Organize Your Stuff
After your closet is ready, it's time to start shopping for clothes and accessories. Think about what you need and what will fit in your closet. Don't buy anything that won't fit!
Once you've got all your clothes and accessories, it's time to start organizing them. Use shelves, rods, and hooks to organize your clothes and accessories the way you want them. Make sure everything has a place so you can easily find it when you need it.
Hopefully, this information has been useful to you in some and helps you get organized in style. No matter what type of closet you choose to create, the most important thing is to make it personal. Add touches that reflect your unique style, and you'll be able to get dressed with ease each day.
Liked reading this? Here's more: