Last updated on July 9, 2023
Discover twenty creative and eye-catching ideas to transform your bar's chalkboard into an irresistible focal point, drawing customers in with its unique charm and clever designs.
If you're looking to add a touch of personality and charm to your home bar, a chalkboard is the perfect addition. Not only does it provide a place for you to showcase drink specials or menu items, but it also allows you to get creative with your decor.
From vintage-inspired designs to modern minimalist styles, the possibilities are endless. In this article, we've rounded up 20 of our favorite bar chalkboard ideas that are sure to inspire your inner decorator.
So grab a drink and let's dive in!
In This Post:
Happy Hour Specials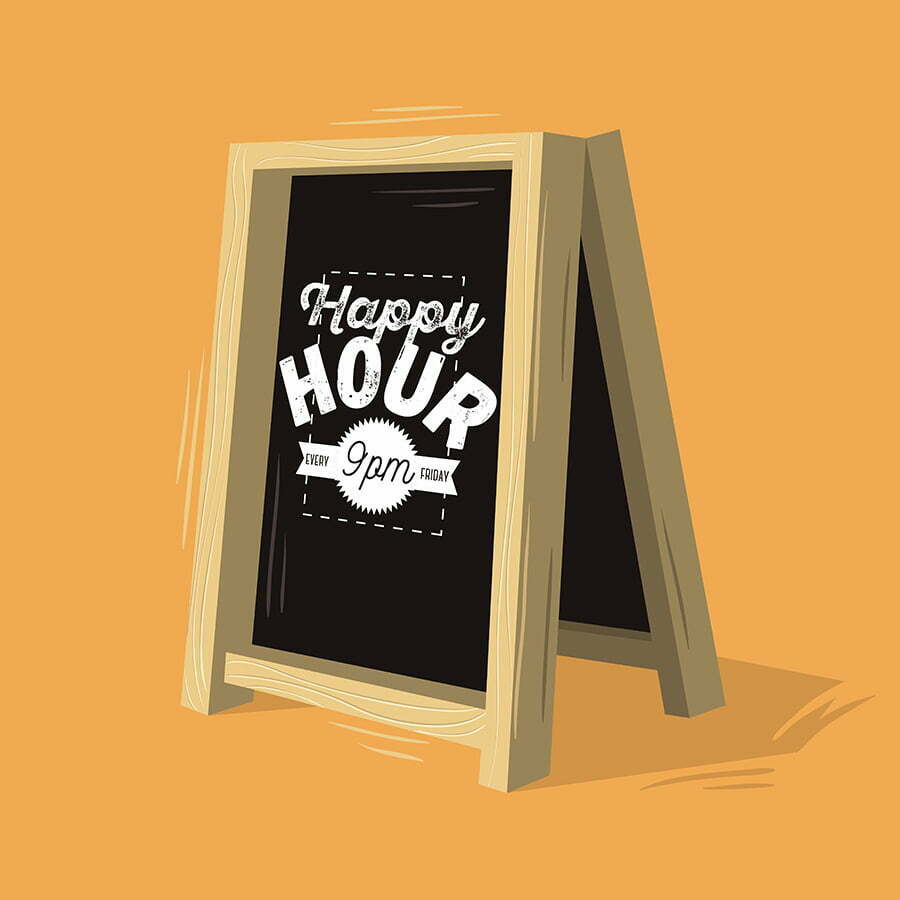 Happy Hour Specials are a great way to attract customers and keep them coming back. Offering discounted drinks or food during specific hours of the day can be a win-win situation for both the bar and its patrons.
Some popular Happy Hour specials include half-priced appetizers, discounted beer pitchers, two-for-one cocktails, or even free snacks with every drink purchase. It's important to promote these specials through social media channels or chalkboard signage in order to increase foot traffic during slower times of the day.
By offering Happy Hour deals that cater to different tastes and preferences, bars can create a loyal customer base while also boosting their revenue streams.
Trivia Night Schedule
Use the chalkboard to display the date and time of Trivia Night, as well as any special themes or categories for that week's game. You can also use this space to advertise prizes for winners or drink specials during Trivia Night.
By using your bar's chalkboard in this way, you'll attract more customers who are interested in participating in trivia games while enjoying their favorite drinks with friends.
Daily Drink Specials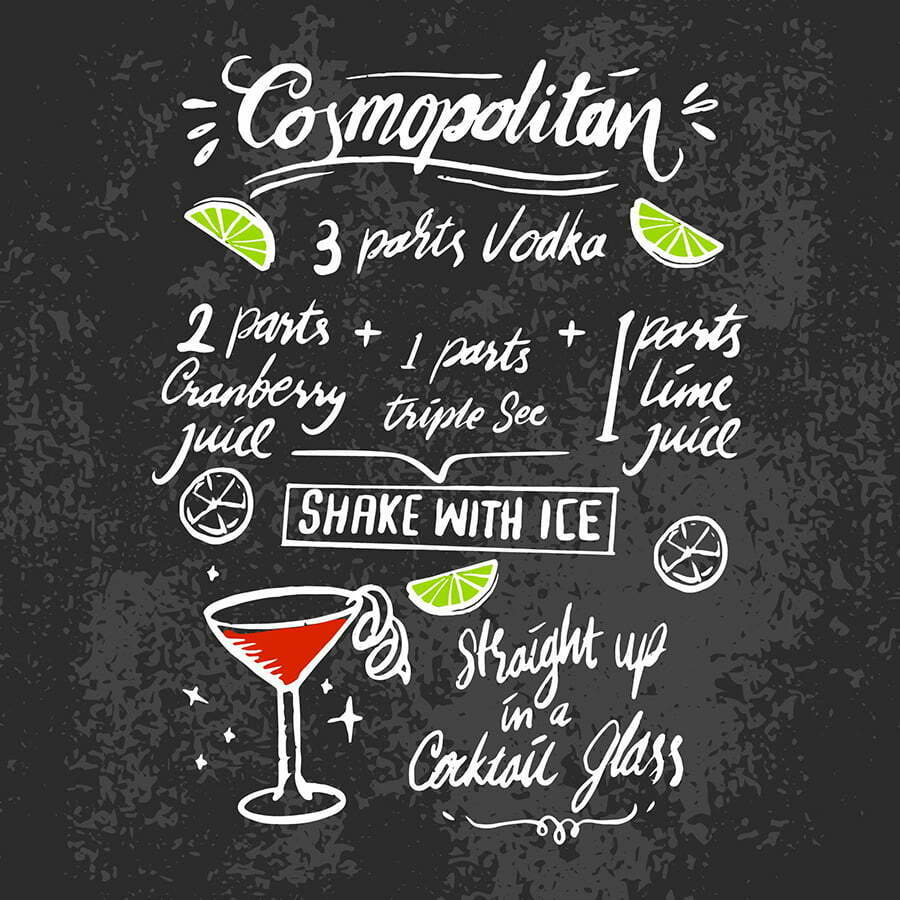 Whether it's half-priced margaritas on Mondays or $1 off all beers on Thursdays, having a rotating list of daily specials can entice patrons to visit your bar regularly. Consider offering deals that coincide with popular events like game nights or trivia competitions, and be sure to promote them prominently on your chalkboard.
By keeping things fresh and exciting with new drink specials each day, you'll create an atmosphere that keeps people coming back for more.
Beer of the Month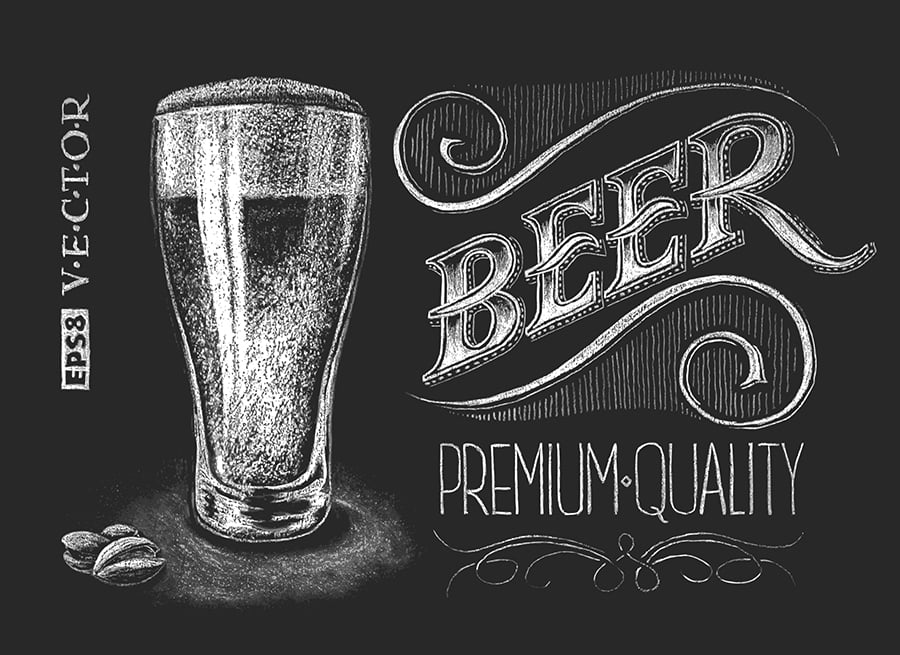 It allows customers to try new beers every month, expanding their palate and knowledge about different beer styles. The chalkboard can display information about the selected beer, such as its origin, brewing process, flavor profile and alcohol content.
Some bars even offer discounts or promotions for purchasing the Beer of the Month during its featured month. This is a great way to keep customers engaged with your bar's offerings while also promoting new products that they may not have tried otherwise.
Mixologist Creations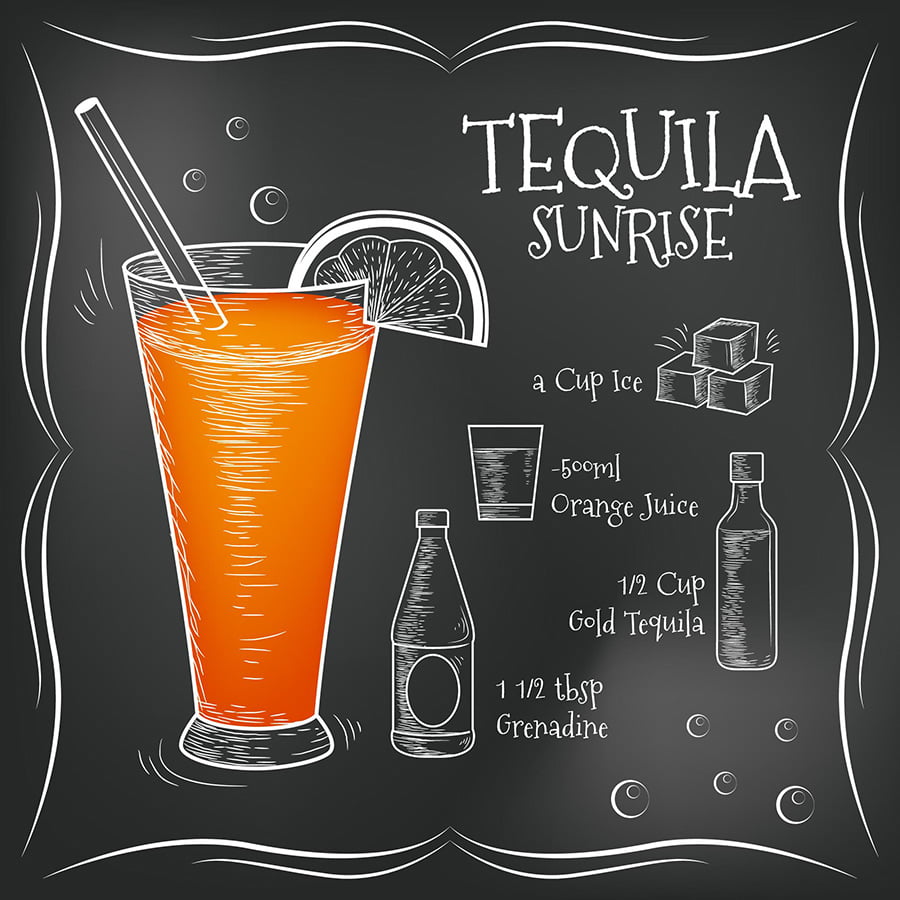 A bar chalkboard can be used to showcase mixologist creations, which are often made with fresh ingredients, unusual spirits or liqueurs, and innovative techniques. Some popular examples include smoked cocktails, molecular mixology drinks that use foams or gels for texture, or seasonal twists on classic recipes like a pumpkin spice margarita in the fall.
By highlighting these special concoctions on a chalkboard display near the bar area or entrance of your establishment you can entice patrons to try something new while also showcasing your bartenders' skills and creativity.
Food and Drink Pairings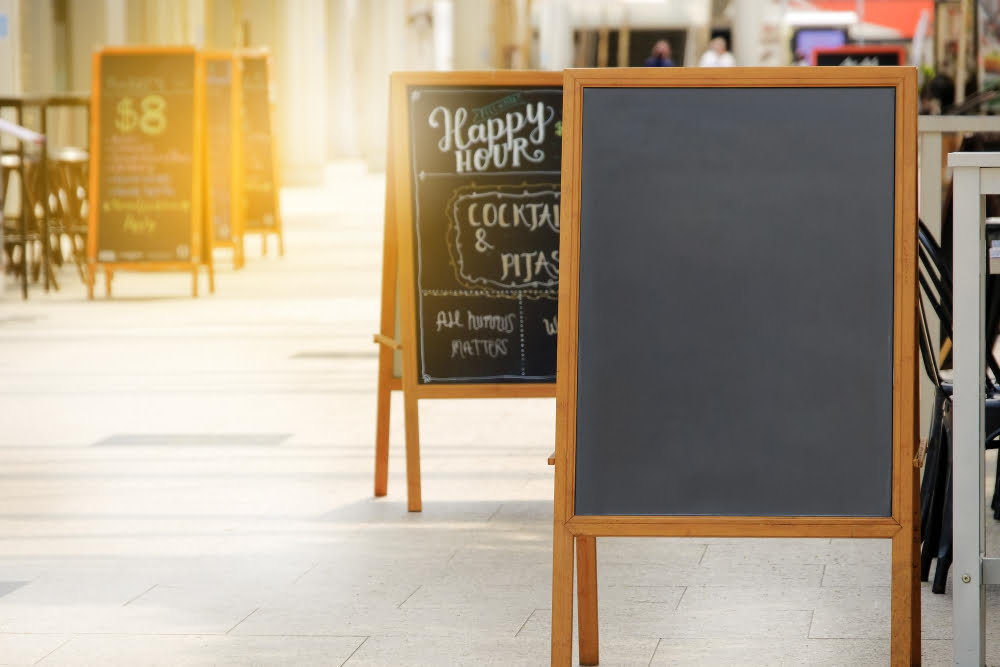 A chalkboard displaying recommended pairings can help customers make informed choices. For example, a bold red wine pairs well with a juicy steak, while a crisp white wine complements seafood dishes.
Similarly, pairing spicy foods with hoppy beers or sweet cocktails can balance out the flavors in your mouth. Don't be afraid to get creative and experiment with different combinations!
Seasonal Cocktails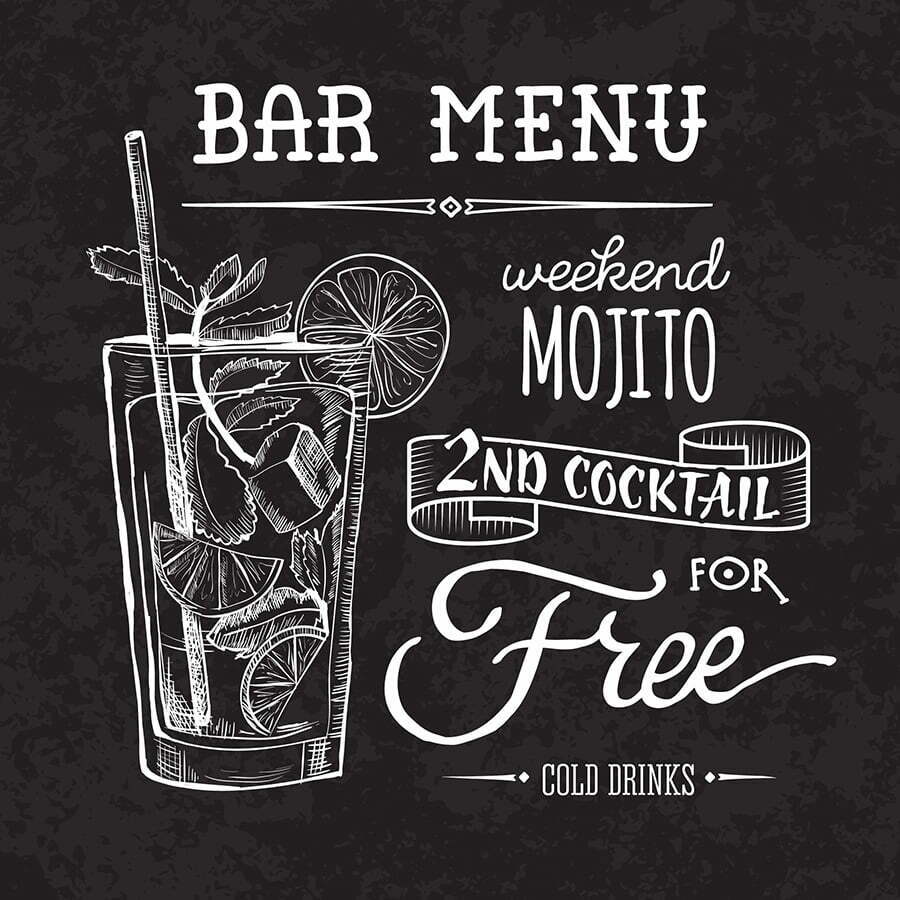 These drinks incorporate seasonal ingredients, flavors, and colors that can make them stand out from the rest of the year-round offerings. For example, in the fall you might feature cocktails made with pumpkin spice or apple cider while winter could bring peppermint or eggnog-inspired drinks.
Springtime is perfect for refreshing fruit-based cocktails like strawberry margaritas or raspberry mojitos while summer calls for tropical flavors such as coconut and pineapple mixed into daiquiris or piña coladas. By offering seasonal cocktails on your chalkboard menu, you can entice customers to try something new each time they visit your establishment!
Craft Beer Selections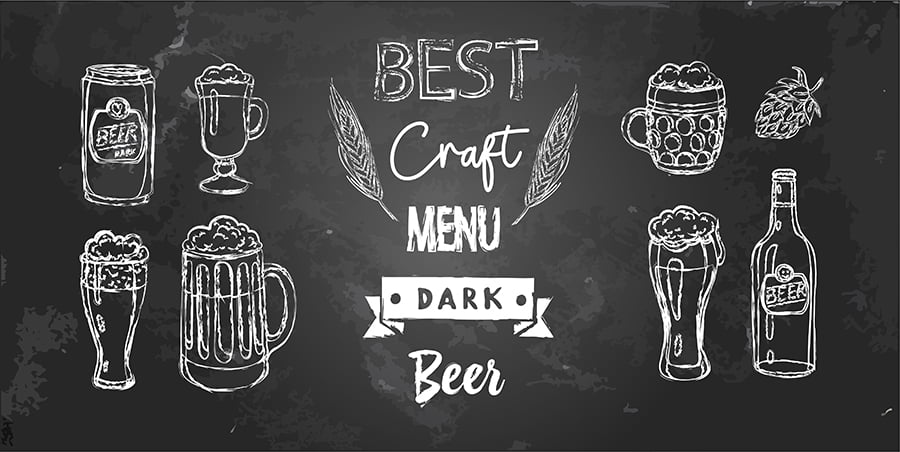 A well-curated list of local and international brews can attract customers who are looking for unique and flavorful options. Some bars even rotate their selection regularly to keep things fresh and exciting for regular patrons.
Whether it's an IPA from a nearby microbrewery or a Belgian-style ale that's hard to find elsewhere, highlighting these specialty beers on the chalkboard can help set your bar apart from others in town.
Wine Wednesday Discounts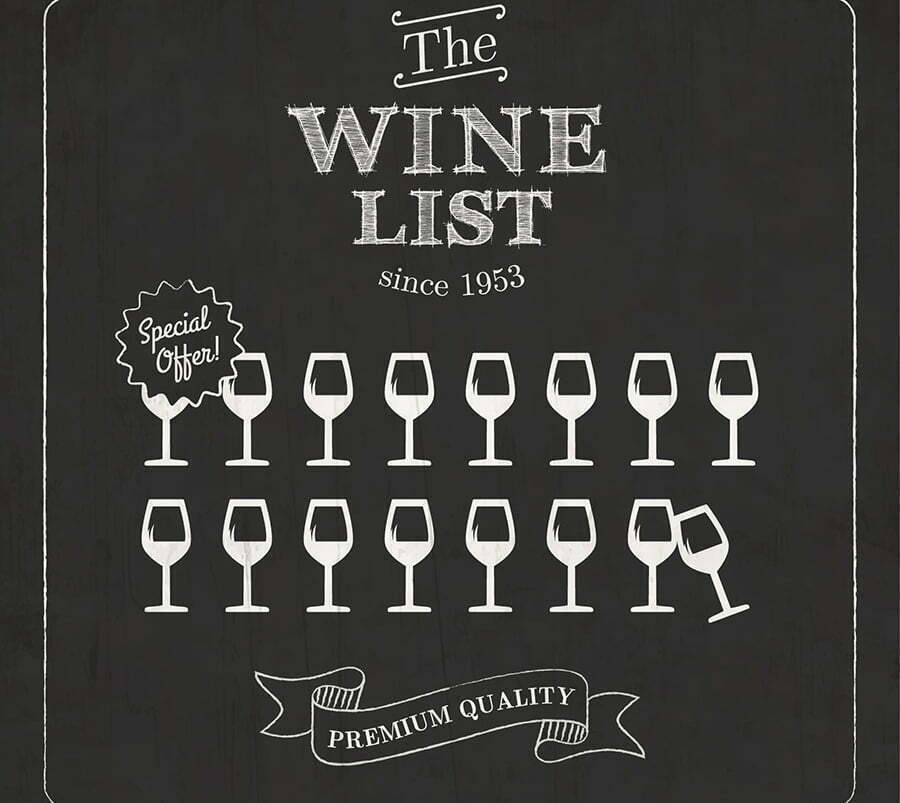 On this day, customers can enjoy discounted prices on select bottles of wine or glasses of their favorite varietals. This is a great opportunity for wine lovers to try new wines without breaking the bank.
Bars often feature different types of wines each week, so customers can expand their palate and discover new favorites at an affordable price point. Wine Wednesdays also create a fun atmosphere where friends can gather over good food and drinks while enjoying some mid-week relaxation time together.
Live Music Nights
Many bars feature local musicians and bands, providing a unique atmosphere for patrons to relax and unwind. Check out the bar's schedule or social media pages for upcoming live music events, as they often draw in large crowds.
Whether you prefer jazz, rock or acoustic performances, there is something for everyone at these lively gatherings. So grab your friends and head over to the bar on their next live music night!
Sports Game Schedule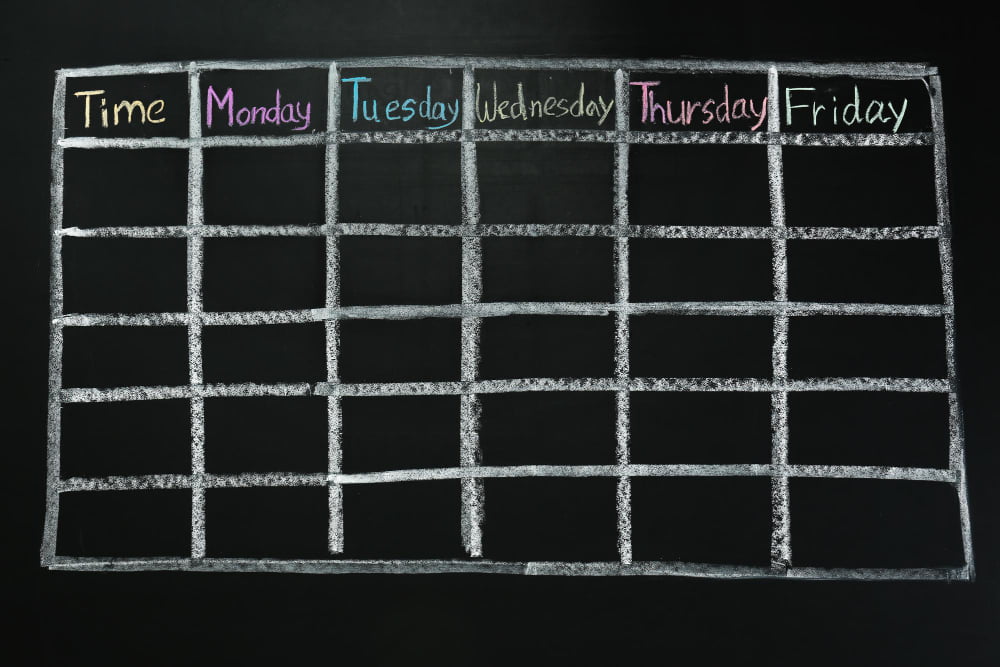 Whether it's football, basketball, baseball or any other sport that your customers are interested in, they will appreciate being able to see when their favorite teams are playing. You can also include information about which channels the games will be broadcast on so that customers know where to go if they want to watch them at home.
Updating this section regularly with new game schedules and scores can help keep your patrons engaged and coming back for more sports action at your bar!
Upcoming Events and Parties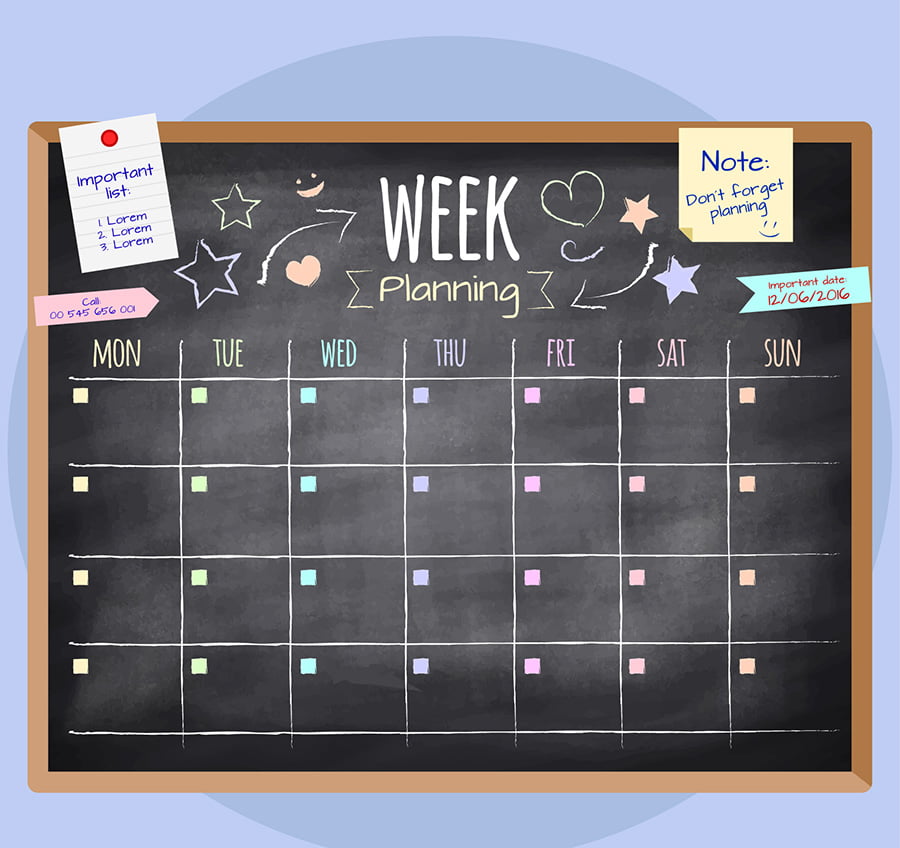 Whether it's a holiday celebration or a themed party, make sure your chalkboard highlights all the important details such as date, time, dress code (if any), special promotions or discounts for attendees. You can also use this space to promote upcoming live music performances or comedy shows that will be taking place at your establishment.
By keeping customers in-the-know about what's coming up next on your calendar of events you'll create anticipation and excitement which can lead to increased attendance at these functions!
Signature Drink List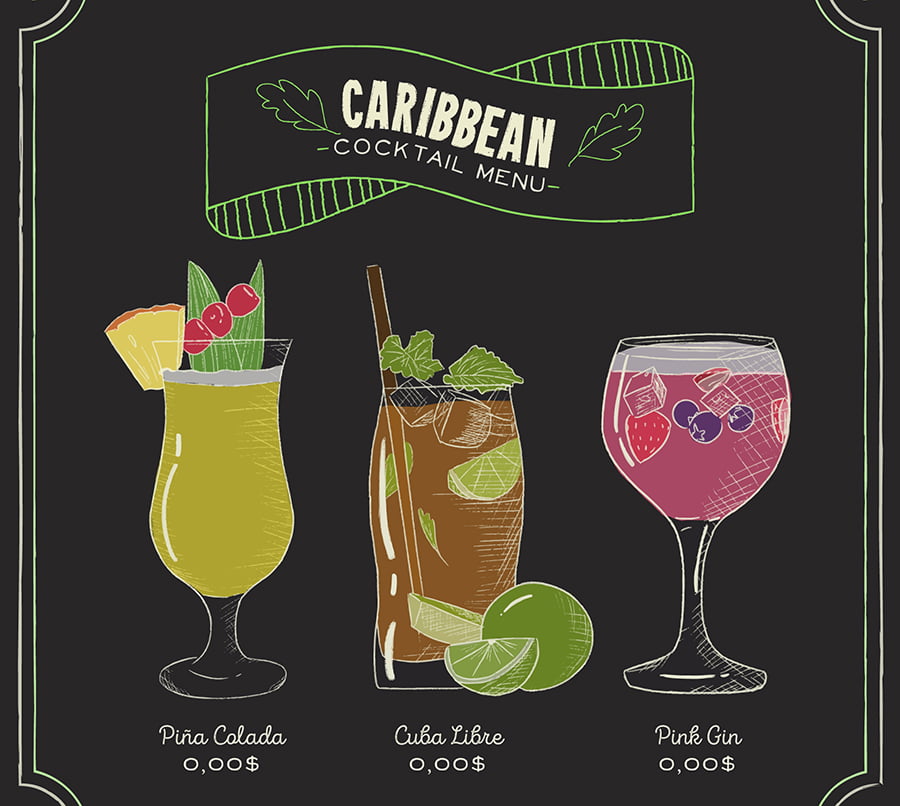 It can be a mix of classic cocktails with unique twists or entirely new creations that are exclusive to your establishment. The chalkboard is an ideal platform for displaying this list, as it allows you to update and change it regularly based on customer feedback and seasonal ingredients.
Make sure each drink has an eye-catching name, description, and price point so customers can easily choose their favorite concoction from the menu. A well-crafted signature drink list will not only attract new customers but also keep regulars coming back for more!
Brewery Features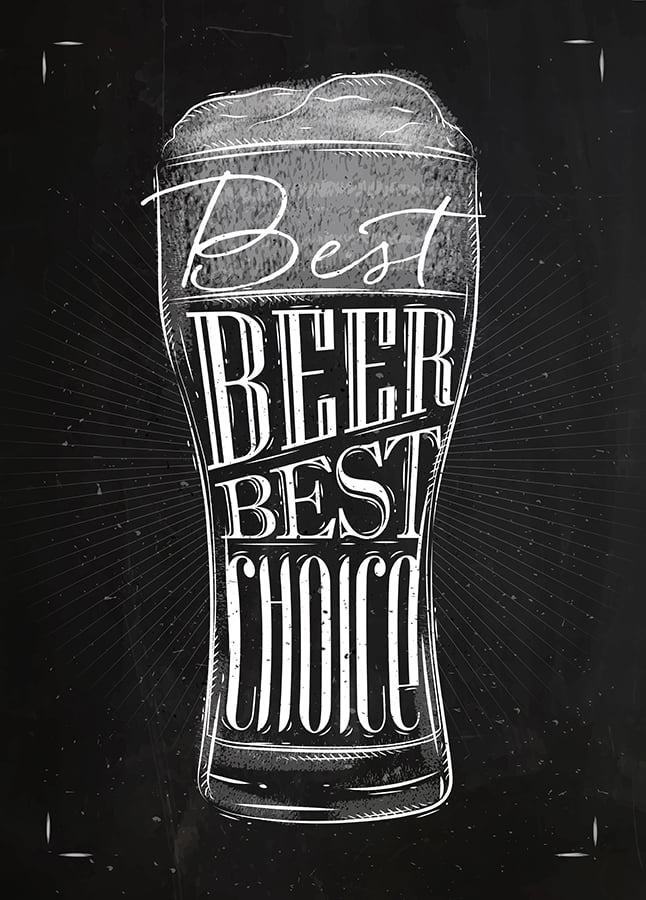 This is a great way to showcase local breweries or new and exciting beers that you've recently added to your menu. You can include information about the brewery's history, their brewing process, and what makes their beer unique.
You could offer special discounts on drinks from the featured brewery during certain days of the week or happy hour specials. By featuring different breweries regularly on your chalkboard, you'll keep customers interested in trying new things while also supporting small businesses in your community!
Tasting Sessions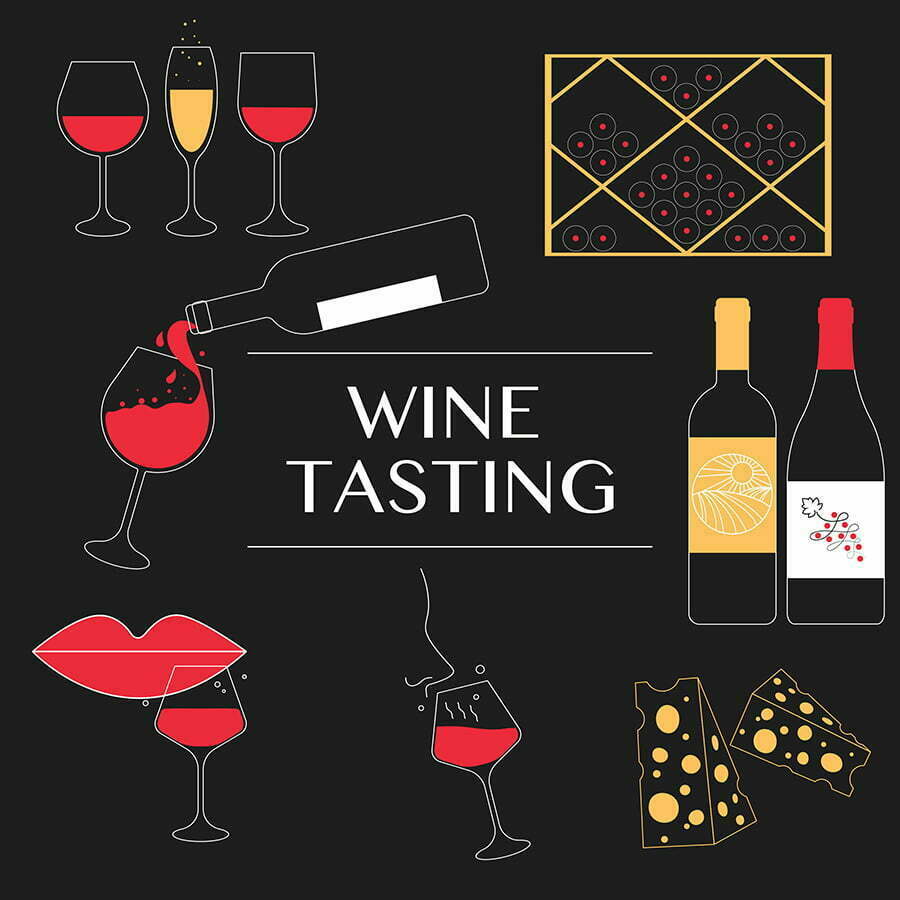 Whether it's a wine tasting, beer flight, or cocktail sampler, these events can be both educational and fun. Use your bar chalkboard to advertise upcoming tasting sessions and include details such as the date, time, cost (if any), and what will be featured.
You can also use the board to showcase customer feedback from previous tastings or highlight any awards won by the products being sampled. Tasting sessions not only provide an opportunity for customers to try something new but also create buzz around your establishment and encourage repeat business.
Bar Merchandise
From t-shirts and hats to pint glasses and coasters, there are many options for bar merchandise that can be customized with your logo or slogan. Not only does it provide an additional revenue stream, but it also serves as a marketing tool when customers wear or use the items outside of the bar.
Consider offering limited edition merchandise for special events or holidays to create excitement among patrons. Don't forget about online sales through your website or social media channels as well!
Chalkboard Art Contest
Bars can invite artists to create unique designs on their chalkboards, with the winner receiving a prize or having their artwork displayed for an extended period of time. This not only adds visual interest to the bar but also creates a sense of community involvement and support for local artists.
Customers will enjoy seeing new designs each month, making it an excellent way to keep them coming back regularly.
New Drinks Preview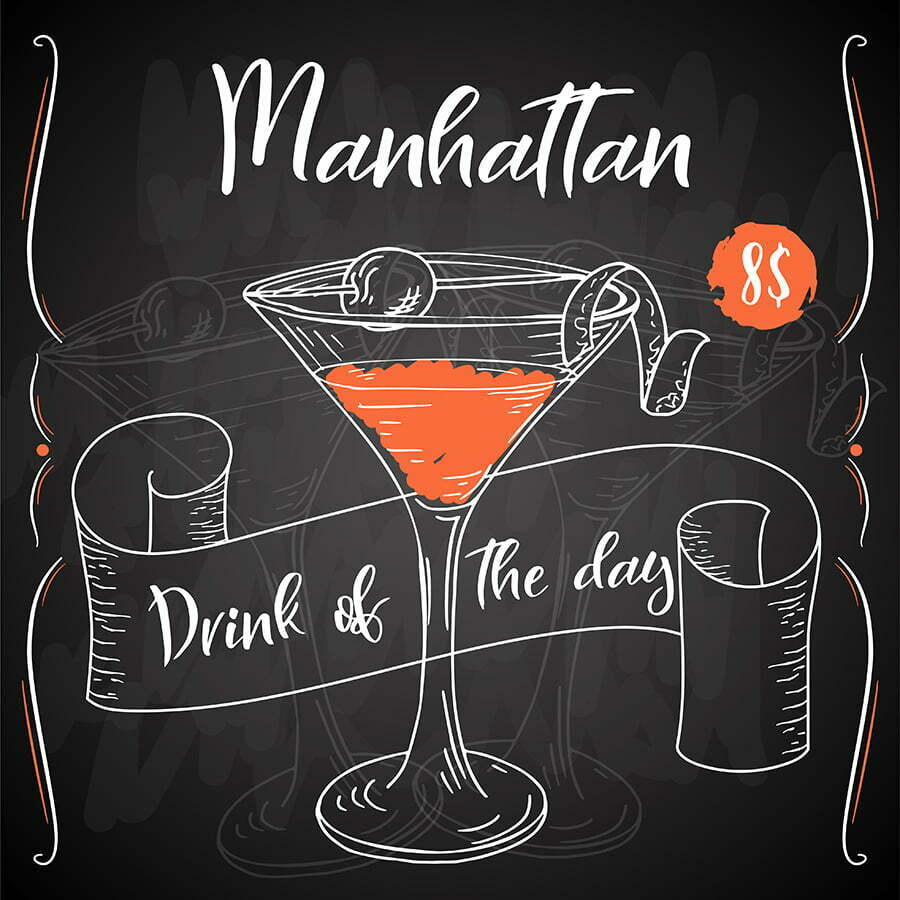 Use your bar chalkboard to showcase upcoming drink specials or seasonal cocktails that are soon to be available. This will create anticipation among your regulars and attract new customers who are curious about what's on offer.
Make sure you include a brief description of each drink, along with its name, so that people know what they're getting excited about!
Customer Shoutouts
This can be a fun and interactive way to connect with your patrons and show them that you appreciate their business. Consider dedicating a section of the chalkboard for customers to leave comments or reviews about their experience at the bar.
You could also feature positive feedback from online reviews or social media posts, giving credit where it's due and showing potential new customers what they can expect when they visit your establishment. Not only does this create a sense of community within the bar, but it also helps build trust with potential new customers who may be looking for recommendations on where to go out for drinks in town.
Bar Staff Highlights
Use your chalkboard to showcase the individuals who make your establishment stand out. Highlight their unique skills, favorite drinks to mix, or even fun facts about them that customers may not know.
This personal touch can help create a sense of community within the bar and encourage patrons to engage with the staff beyond just ordering drinks. Plus, it's always nice for employees to feel appreciated and recognized for their contributions!
Liked reading this? Here's more: