Last updated on September 20, 2023
Here are eight ideas for choosing and hanging curtains in every room of your home. Read on!
The right curtain ideas can make or break a design scheme. They're practical, of course, but also very versatile. They can be the unnoticeable finishing touch or the bold focal point that adds all the color and pattern a space needs. 
Unbelievably, curtains can be like a piece of art. They can hold all the colors from the rest of your design scheme and bring them together in a single motion. Hanging up new curtains can be a pain, but they can completely transform the look of your room.
In This Post:
Select the Ideal Curtain Material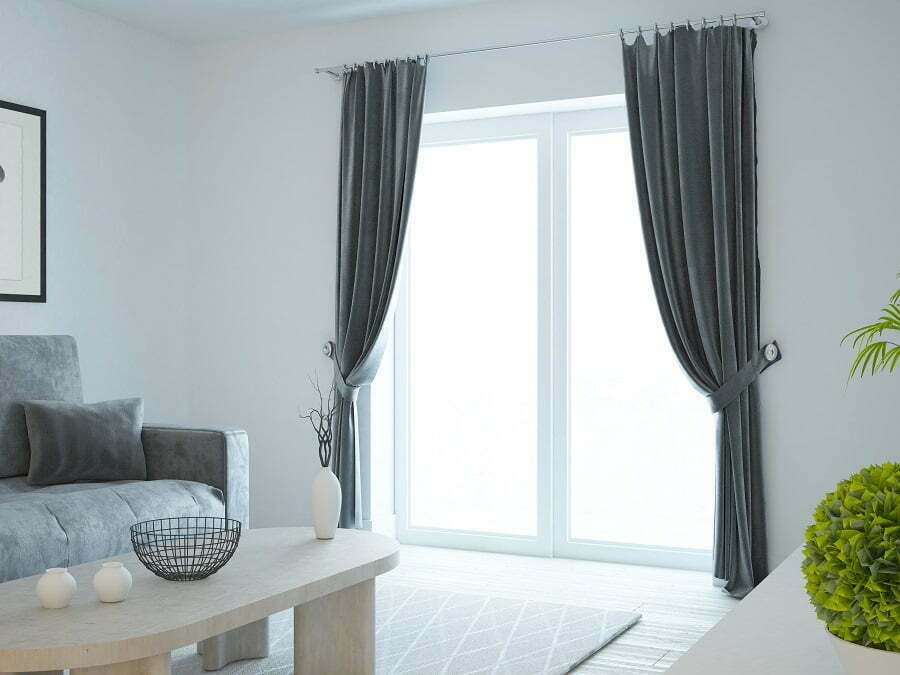 Think about your room and available materials when selecting curtain fabrics. A room will appear smaller and more confined if it is covered in dark fabric or has a large print, whether floral. This can occasionally help achieve the desired look, especially if you're going for a cozy, sleek feel. 
Avoid large prints and dark colors for a room that feels lighter and larger. The best option is to use light-colored fabrics or small, subtle prints in simple colorways. Floaty sheer materials like voiles, which give a room another dimension without taking away from the décor, also contribute to this feeling.
Choose Airy and Light Curtains for a Small Bedroom
You need to think about your space when selecting your drapes. For example, you don't want to hang dark and heavy curtains in a small but perfectly shaped bedroom with a beautiful airy feel with whites and off-whites.
Select a full-length sheer curtain with a softly textured texture to achieve a delicate yet tailored aesthetic. This will offer privacy and layering while allowing light to illuminate the area softly. Add a roller blind inside the window to customize the amount of transparency for a comfortable night's sleep.
Panel Curtains
Typically, panel curtains come in two different varieties—both a single panel and several panels. A single panel curtain completely encloses the window. Additionally, as the name implies, multiple panel curtains have more panels than just two. The curtain panel can be tied back to give it a contemporary, asymmetrical appearance and can be pulled open from either side. These curtain styles fit well in most decorative settings because they are contemporary and classic.
Bedroom Blackout Curtains
You can use these curtains to give your room visual privacy. Blackout curtains are the exact opposite of sheer curtains. The least amount of light can enter a room when blackout curtains are closed, enabling you to give your room a sense of visual privacy.
These drapes frequently have built-in linings and are made of heavy-weight materials. The best privacy is provided by blackout curtains, which frequently have features in addition to their decorative function. Blackout curtains are frequently used in theatres, bedrooms, dens, and other spaces where blocking out natural light is a concern. The bedroom is the best place for these curtains.
Choose Low Maintenance Curtains
Think about how much time you can set aside for maintenance and cleaning. Curtains that require time-consuming cleaning are a good choice if you have the extra time to keep them clean. The safer option is to choose curtains that can be washed in a washing machine if you are constantly pressed for time and handling multiple tasks at once.
The type of material and construction of your curtains—the following crucial aspect—will also be impacted by your decision. Cleaning and maintenance of blinds typically depend on how they were constructed. For example, some reflectors have a simple surface to wipe down and clean, while others need the individual panels to be removed and thoroughly cleaned.
Add Some Pattern to a Plain Space
Nothing brings more drama to a boring bedroom than a large, eye-catching pattern. Like these curtains, tropical or botanical prints are perennial favorites for bedroom décor to add a classic appeal. Keep the rest of the room simple if you choose a colorfully patterned curtain so your curtains can speak for themselves.
Choosing the Proper Length
Make sure to get the length of the curtains just right so that they skim the floor or puddle a little at the bottom. Machine-washable curtains may need to be shortened, so be sure to run them through a full cycle before measuring to account for any shrinkage. Remember to allow enough length for a hem and measure from where the fabric would sit on the pole or track rather than from the top of the window.
Putting Up Curtains
It's important to hang the curtains as high as possible, possibly even with the track or pole almost touching the ceiling. This will not only give the appearance that the window and the entire space are taller, but it will also give the space a much more elegant appearance and keep the curtains from hanging awkwardly in the center of the wall. 
Choose a pole or track that is wider than the window itself in terms of width. In general, it will look much nicer, and partially covering the glass will prevent the curtains from blocking light when they are opened. The pole or track could even be extended across the entire width of the space.
You can hang one wide set of curtains that pull across every window or place several narrower pairs along the wall to cover windows that are close to one another.
Liked reading this? Here's more: